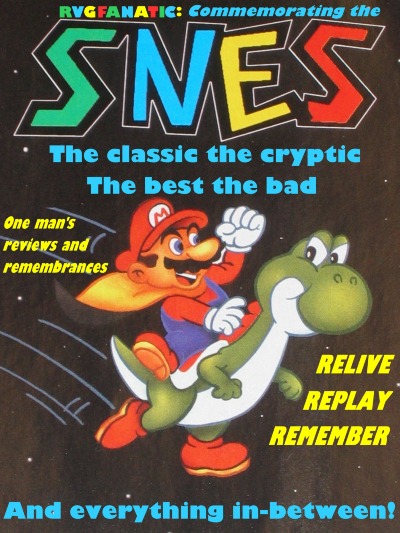 RVGFanatic aims to commemorate the Super Nintendo from A-Z. The 16-bit era was the greatest time to be a video game fan, in my book, and this site aims to capture even the tiniest bit of magic from that very special period in gaming history. Join me for a nostalgic trip down memory lane as we explore the very best, the very worst and even the obscure games of the Super Nintendo's vast library. And everything in-between!
EDIT: RVGFanatic now features an entirely new section for the first time in 13+ years… BOOKS R US! This section will be dedicated to my random book reviews and remembrances.
Thanks for visiting. Happy gaming 


-Steve
PS- See FAQ for site history and philosophy.
SNES REVIEWS
—
3 Ninjas Kick Back
ActRaiser
ActRaiser 2
Addams Family
Adventures of Hourai High
Aladdin
Alien³
Ardy Lightfoot
Arkanoid: Doh It Again
Axelay
Bahamut Lagoon
Barkley Shut Up and Jam!
Batman Returns
Battletoads & Double Dragon
Battletoads in Battlemaniacs
Blackthorne
B.O.B.
Bonkers
Brain Lord
Brandish
Brandish 2
Breath of Fire
Breath of Fire II
BS Out of Bounds Golf
BS Shockman
BS Zelda
Bust-A-Move
Captain Commando
Castlevania: Dracula X
Clay Fighter
Claymates
Clock Tower
Combatribes
Contra III: The Alien Wars
Demon's Crest
Dino City
Donkey Kong Country
Doom
Double Dragon V: The Shadow Falls
Dragon Quest I & II
Dragon: The Bruce Lee Story
EarthBound
Equinox
Fatal Fury 2
Fighter's History
Final Fantasy: Mystic Quest
Final Fantasy II
Final Fight
Final Fight 2
Final Fight 3
First Samurai
F-Zero
Ghoul Patrol
Goof Troop
Gradius III
Gunman's Proof
Harley's Humongous Adventure
Hook
Ignition Factor
Illusion of Gaia
Incredible Crash Dummies
Jurassic Park
Jurassic Park 2
Justice League
Ken Griffey Presents Major League Baseball
Killer Instinct
King of Dragons
King of the Monsters
King of the Monsters 2
Knights of the Round
Lagoon
Legend of the Mystical Ninja
Legend of Zelda: A Link to the Past
Lennus II
Looney Tunes B-Ball
Marvel Super Heroes: War of the Gems
Mask
Mega Man 7
Mega Man X
Mega Man & Bass
Michael Jordan: Chaos in the Windy City
Mighty Morphin Power Rangers
Mighty Morphin Power Rangers: The Fight
Mighty Morphin Power Rangers: The Movie
Mortal Kombat
Mortal Kombat II
Natsume Championship Wrestling
NBA Give 'N Go
NBA Jam Series
NBA Live Series
Ninja Gaiden Trilogy
Ninja Warriors
Nosferatu
Operation Logic Bomb
Oscar
Out to Lunch
Paladin's Quest
Plok
Power Moves
Prehistorik Man
Ranma ½: Hard Battle
Rocky Rodent
Run Saber
Saturday Night Slam Masters
Secret of Mana
Secret of Mana 2
Shadowrun
Skyblazer
Soul Blazer
Sporting News Baseball
Star Ocean
Street Fighter II
Street Fighter II Turbo
Super Adventure Island
Super Adventure Island II
Super Baseball 2020
Super Baseball Simulator 1.000
Super Bases Loaded 2
Super Bomberman
Super Bomberman 2
Super Castlevania IV
Super Double Dragon
Super Ghouls 'n Ghosts
Super Mario Kart
Super Mario World
Super Metroid
Super Punch-Out!!
Super Star Wars
Super Street Fighter II
Tales of Phantasia
Tecmo Super Baseball
Tecmo Super Bowl
Tecmo Super NBA Basketball
Terranigma
Tetris Attack
Thunder Spirits
TMNT: Tournament Fighters
TMNT IV: Turtles in Time
Treasure Hunter G
True Lies
Twisted Tales of Spike McFang
Ultraman
Wolfchild
Wolfenstein 3D
World Heroes
World Heroes 2
WWF Raw
WWF Royal Rumble
X-Men: Mutant Apocalypse
Zombies Ate My Neighbors
SNES ARTICLES
—
10 Year Anniversaries!
Christmas Memoirs
Collection Q&A
Craigslist Memoirs
Flea Market Memoirs
Memories of Renting
My SNES Collection
My SNES Comeback
My SNES Genesis
RVGFanatic Retrospective
RVG Turns 15!
SNES Classic Edition
SNES Halloween Special
SNES Party Games
Super Play's Top 100 SNES Games
The Lost Weekend
The Mode 7 Year Itch
The Summer of Imports
The Super Play Drama
Top 20 Most Wanted Arcade SNES Ports
Top 50 Obscure Super Famicom Games
WWF-SNES Connection
OBSCURE SUPER FAMICOM
—
Amazing Spider-Man: Lethal Foes
Araiguma Rascal
Battle Cross
Deae Tonosama Appare Ichiban
DoReMi Fantasy
Dossun! Ganseki Battle
Dream Basketball: Dunk & Hoop
Fighter's History: Mizoguchi Kiki Ippatsu!
Firemen
Ganbare Daiku no Gensan
GeGeGe no Kitarō
Gekitou Burning Pro Wrestling
Ghost Chaser Densei
Ghost Sweeper Mikami
Godzilla: Kaijuu Daikessen
Go Go Ackman Trilogy
Gundam Wing: Endless Duel
Iron Commando
Jungle no Ouja Tarzan
Kamen Rider
Keeper
Little Magic
Lode Runner Twin
Magical Pop'n
Majyuuou
Mickey & Donald: Magical Adventure 3
Mickey Tokyo Disneyland
Miracle Girls
Nangoku Shounen Papuwa-kun
Otoboke Ninja Colosseum
Poko Nyan!
Pop'n Smash
Pop'n TwinBee: Rainbow Bell Adventures
Power Lode Runner
Power Soukoban
Pro Yakyuu Star
Puzzle'n Desu!
Ranma ½: Chougi Ranbu Hen
Rendering Ranger: R2
Sandra no Daibouken
Sanrio World Smash Ball!
Sengoku
SD F-1 Grand Prix
SD Hiryu no Ken
Shin Nippon Pro Wrestling Trilogy
Shōnen Ashibe
Spark World
Super Back to the Future II
Super Bomberman 5
Super Bomberman: Panic Bomber World
Super Family Tennis
Super Fire Pro Wrestling X Premium
Super Genjin 2
Super Mad Champ
Super Puyo Puyo Tsuu Remix
Super Soukoban
Super Tekkyu Fight!
Super Ultra Baseball 2
Sutte Hakkun
Tetris Battle Gaiden
Tetsuwan Atom
Tsuyoshi Shikkari Shinasai Taisen Puzzle
Ultra Baseball Jitsumeiban Trilogy
Umihara Kawase
Undercover Cops
Violinist of Hamelin
Zen Nippon Pro Wrestling Trilogy
MISCELLANEOUS REVIEWS
—
Blaster Master (NES)
Contra (NES)
Corridor 7 (PC)
Die Hard Arcade (Saturn)
Double Dragon Trilogy (NES)
Karnov (NES)
Legend of Zelda: Breath of the Wild (Switch)
Mega Man 2 (NES)
Mike Tyson's Punch-Out!! (NES)
Rampage (NES)
Resident Evil (Saturn)
Sonic the Hedgehog (Genesis)
Streets of Rage (Genesis)
Super C (NES)
Super Mario Odyssey (Switch)
MISCELLANEOUS
—
Adventures in Africa
Bret "The Hitman" Hart
Buon Compleanno
Fast Times At Bayside High
Fast Times At Bayside High: The Reunion
Field of Dreams
For Whom The Belch Tolls
Halloween
Halloween II
Halloween Memories
Hunting the Boogeyman
Jesse's Girl
Mean Gene Okerlund
Mr. USA Tony Atlas
Nightcrawler
Of Mastodons and Men
Remembering 9/11 and Coach Butler
Santa Haas
Sega Saturn Magazine Interview
Sega Saturn Magazine's Top 50 Games
Sega Saturn Saga
Switched: How Nintendo Won Me Back
The Tale of the Lonely Ghost
WWF Memories
Your Friendly Neighborhood Nintendo Man
BOOKS R US
See sub-genres below!
ARTICLES
—
Adventures in Book Shopping
BEAST QUEST!
Goosebumps Memories
It Came From The Book Store
It Came From The Book Store Part II
MANGA MANIA!
Remembering Bruce Coville
Remembering Guy N. Smith
Remembering Richard Laymon
Return To Fear Street
FICTION
—
11/22/63
Boy's Life
Die Hard
Of Mice and Men
GRAPHIC NOVELS AND MANGA
—
Adventure of Tintin
Basewood
Fragments of Horror
Summer Spirit
The Promised Neverland
The Sleepover
HORROR
—
Cannibals
Halloween I, II, III and IV
Halloween 2018
Halloween Kills
IT
Manitou Doll
Night in the Lonesome October
Night of the Crabs
Spiders
The Girl Who Loved Tom Gordon
Voice of the Night
MIDDLE GRADE
—
Finding Orion
The Bullies and Me
The Friends
MIDDLE GRADE HORROR
—
Frankenturkey
TEEN HORROR
—-
Hit and Run