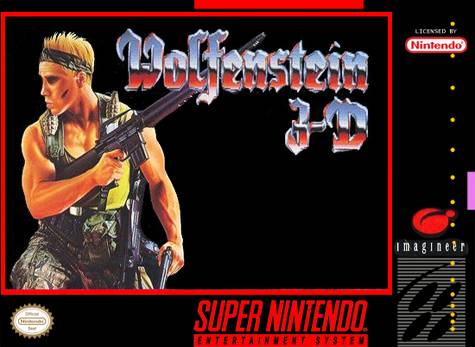 Ahh, Wolfenstein 3D. When this came out in early '94, I was just beginning my torrid obsession with first person shooters. Something about the genre really appealed to me. Something about being a one man strike force mowing down gun-toting soldiers and mutants one after another. It's a raw, visceral kind of experience no other genre offers! It provides the kind of thrill you won't find in any other genre. Growing up in the early-mid '90s meant living through the 2D fighting game golden age, the 16-bit wars and the Doom era. What a great time it was to be a kid in those days. While Doom gets most of the accolades and glory, there might not have been a Doom without a Wolfenstein 3D.
TRAILBLAZER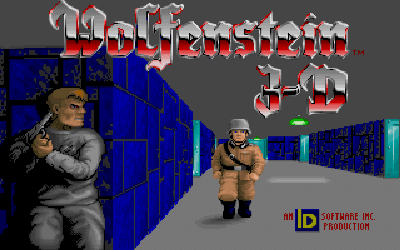 The first time I experienced Wolfenstein 3D was at my friend's house. As he booted it up he flapped his gums excitedly about this killer new game that was supposedly unlike any other video game he had ever played. I thought he was just blowing smoke up my you know what, but I quickly became a believer of the hype the second I saw Wolfenstein 3D in action.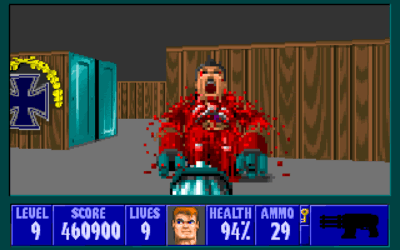 The blood, the carnage, the sheer mayhem — it was unlike anything I had ever seen before. It felt like we were playing something taboo… something we weren't supposed to be playing. It was one of those awesome gaming experiences that stay with you for the long haul, not unlike the first time you saw the likes of Doom, Resident Evil or Super Mario 64. Even nearly 25 years later, I remember it vividly. The adrenaline rush shooting through my nine year old body at the time was damn near palpable.
MARCH 1994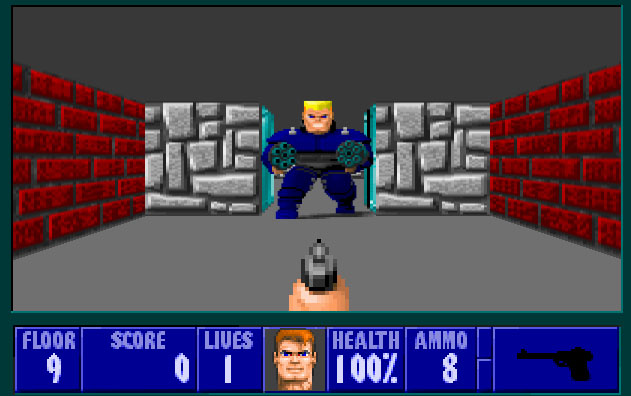 Back in the day my brother would always ship me on the weekends to go rent a Super Nintendo game of his choosing. (See Memories of Renting for more). Wolfenstein 3D was one of those games my brother directed me to rent. It's funny — I ended up playing the game more than he did. I loved Doom at the time but I had yet to play Wolfenstein 3D thoroughly. I only briefly played it at my friend's house in mid 1992, but mostly I remember watching him play it. So the SNES port was my first taste for all intents and purposes. And boy did I love it. I even made a mini strategy guide where I rated the enemies and guns. Unfortunately that guide is just another childhood thing lost to time…
LATE 1996
One night my dad took my brother and me to FUNCOLAND. It was there I saw Wolfenstein 3D for $30. It wasn't cheap per se, especially for an older game, but seeing it suddenly brought back good memories of that weekend I spent with Wolfie back in March of 1994. The nostalgic feels were too strong and I caved. My brother wanted to get the latest NHL game. But being that Wolfenstein was cheaper, my dad went with my choice much to my brother's chagrin.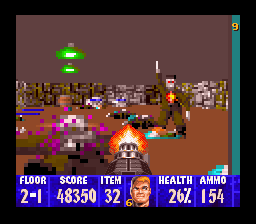 I remember rushing home and beat the game for a second time that weekend. It was an absolute blast (no pun intended). I also enjoyed revisiting random levels and messing around with the God mode. I sure made the most of it.
MARCH 27, 2006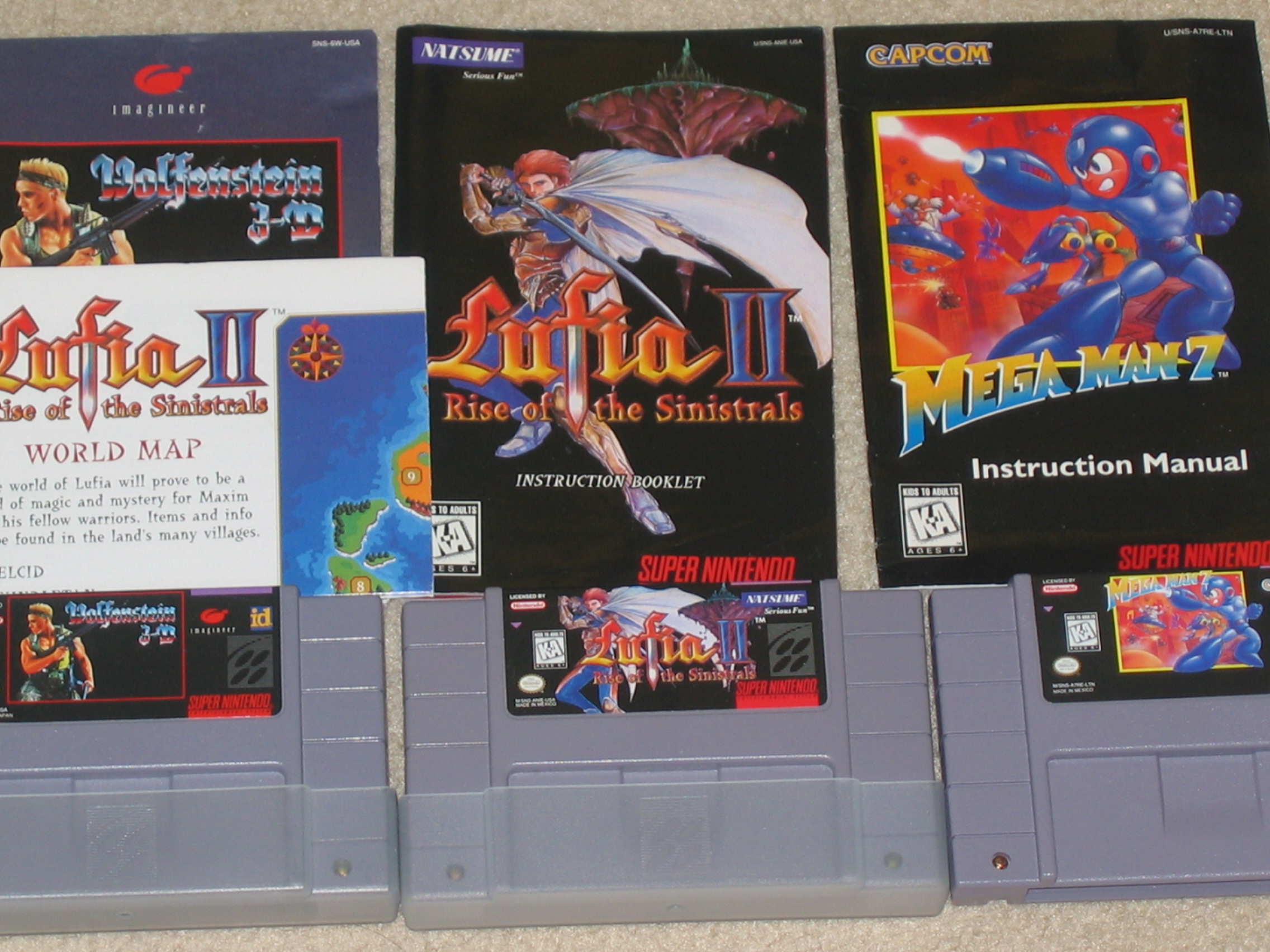 Two months into my SNES resurrection, I fondly remembered my old friend, Wolfie 3D, and all the good times I had with it back in the '90s. Found a copy on eBay and sniped it with ONE second to go. My max was originally $2.22 but at the last second I decided to add a nickel, making my new max $2.27. Funny enough, I won the game for $2.25. That nickel made all the difference! It felt great to add this childhood favorite to my growing SNES collection. I remember it arriving bright and early on a Saturday morning of April 1, 2006, along with Lufia II and Mega Man 7. Back when these expensive games were going for cheap. Also, they arrived the day before WrestleMania 22. Wow, it's almost been 11 years. Ah, good times. But it took me nearly a year later to finally replay Wolfie.
RETURN TO CASTLE WOLFENSTEIN
Wednesday, January 31, 2007. Looking through my collection for the next game to play and review, Wolfenstein 3D caught my eye. Has it held up? Or has time been unkind to it? Only one way to find out…
PS- I'm going to rate the enemies and guns here like I did so many years ago. The higher the rating, the tougher the enemy and the more useful the gun. Because why not?

THE WEAPONS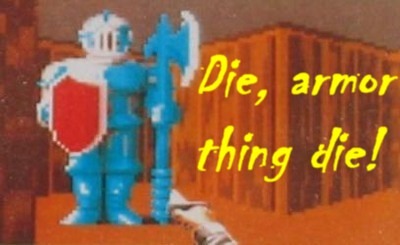 If this were a horror movie, the knife would rank much higher. But it's not. And in the world of Wolfenstein 3D, the knife is basically suicide. Never bring a knife to a gun fight, right? This game proves that and then some. On a side note, you can't switch to the knife in the SNES version unless you're out of ammo. That always annoyed me. Sure the knife sucks, but it would have been fun to use with the God mode (rather than firing all my ammo first in order to use the knife).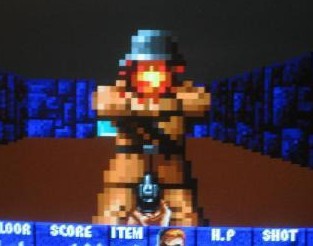 The pistol is better than nothing but it doesn't pack much of a punch. Still, it gives you a long range weapon and you at least have a fighting chance. However, the rate of fire is rather pitiful and you'll want a much more powerful gun beyond the first couple levels. It should be noted that once you acquire a stronger weapon, the pistol cannot be switched to. Odd. It's fun to put the God mode on and use this gun against the bosses.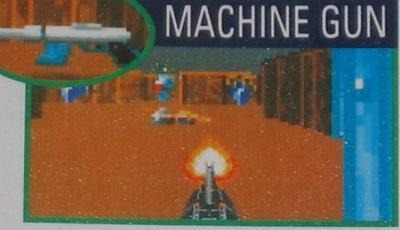 This quirky little gun would seem like a sizable step up from the pistol but it isn't. Sure, the rate of fire is much faster than the pistol, but oddly, at times it seems even weaker than even the pistol! Not sure what happened with the damage ratio here, but it sometimes takes three even four shots to kill a guard whereas I can kill said guard with two pistol shots. Nevertheless, I've always liked this gun and it's a blast to use on the bosses with the God mode!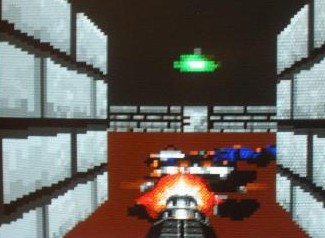 Now we're talking! This is the weapon to use 90% of the time. Rapid fire chaos and it's also fairly strong. Only time that the chain gun shouldn't be used is perhaps during some of the later boss fights, where it's just a bit outmatched. But yeah, there's no better feeling than firing this gun at will, mowing down a room of 10 Nazi guards in no time flat.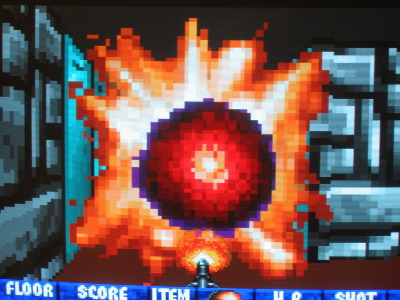 The flame thrower sure lights up the screen! Burn your enemies to a crisp (although unfortunately you'll just have to imagine the burning flesh). Fast rate of fire and quite potent indeed.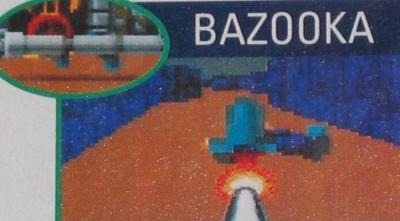 The BFG of the game, this is the only gun in the game that can kill multiple enemies in one shot. Its only downside is the lack of ammo available and the fact that it fires a very small shot, leaving little room for error. On the plus side, there's zero splash damage. Meaning you can fire it two feet away from an enemy and not take any damage yourself.
THE BAD GUYS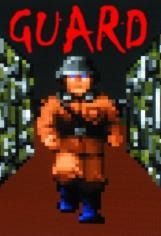 A low tier enemy, the guard fires a pistol and doesn't have the greatest mobility. They're a notch above a sitting duck, really, and you should be forced to turn in your gamer badge if you let one of these bastards take you down. They're most memorable for screaming "HALT!" or in this case "STOP!" Sheesh, come on, no means no. Who's the bad guy here?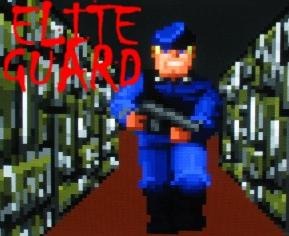 Elite guards are a step above the regular guards. These burly blue uniformed men are far more menacing and pack a more powerful wallop. Their machine gun will take off more damage than the guard's lowly pistol. However, they're pretty slow both in terms of moving around and firing their weapon. This allows you to usually land the first shot. Repeat a few more times and before you know it this bastard will bite the dust. They're formidable in packs, though.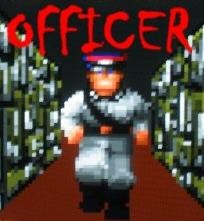 Although weaker than the elite guard and carries a weaker weapon, the officer is not to be taken lightly. They react the quickest of all the enemies, often ambushing you with shots from left field. They tend to stay silent too, and zig zag about the castle floors making it more difficult to pelt them. They'll sap more health from you than you may think. Hence the slightly higher rating than the bigger elite guards.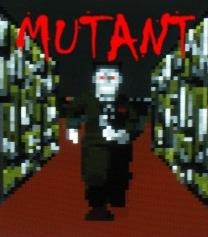 Proud product of the mad Doctor Schabbs, mutants don't make a sound until they shoot, greeting you with the crack of gunfire. The mad doc inserted a pistol into the center of their chest and topped them off with cleaver-tipped arms! They're pretty agile suckers to boot. The toughest of the regular enemies you'll face. I always liked them as they brought a hint of macabre and a light occult flavor to the game. Besides, it can get pretty boring killing just human guards and dogs (oops, rats in this version). The mutant brings much needed diversity!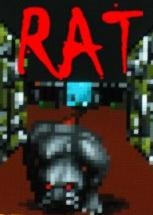 The killer dogs have been changed into… mutant rats?! Yes, it's true. It's just another sign of Nintendo censorship before they changed their family friendly image in late 1994 starting with Mortal Kombat II. Dogs or giants rats, it's all the same at its core, however. This enemy is a joke. In fact, in all my years playing Wolfenstein 3D I don't think a rat has ever successfully been able to bite me. Nuff said.
THE MISSIONS AND BOSSES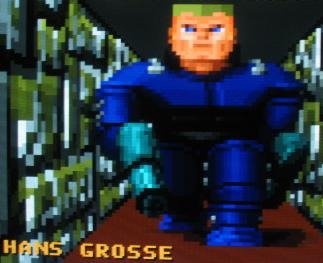 Mission One: Dresden Strike
Location: Castle outside of Dresden
Objective: Terminate Hans Grösse
Hans is the first boss and a relative cake walk with the chain gun. Hell, even his level has no other enemies. The same can't be said for the other bosses who send wave after wave of guards and mutants your way before the ultimate showdown. But being a first boss, I get that id Software wanted the spotlight solely on Hans. It's certainly a memorable moment when the door opens and you see his huge ass sprite for the very first time. I mean, it's nowhere near the Barons of Hell debut, but it's pretty solid in its own right. Many first aid kits lie in an isolated room nearby just in case, but you won't need them if you skillfully strafe about. Upon detection he yells "I'M COMIN' TO GIT CHU!" It's a nice touch that always came off a bit creepy to me. Makes it feel a bit like a B-movie horror film…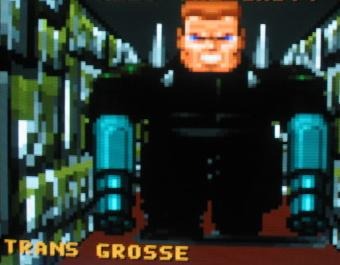 Mission Two: A Dark Secret
Location: Castle Erlangen
Objective: Terminate Trans Grösse
As you would expect, Trans is a fair bit tougher than his brother, Hans. Not only that but he's also flanked by eight of his most trusted lackeys. That extra firepower can prove fatal if you aren't quick on your feet and precise with your trigger finger. From this point on the enemy count in addition to the boss only increases. After communication with Hans Grösse proved futile, the Nazi forces realized they have underestimated your abilities. Hopefully, you've found a stronger weapon than the chain gun by now. Trans is more durable than Hans AND he's extra pissed that you've killed his brother.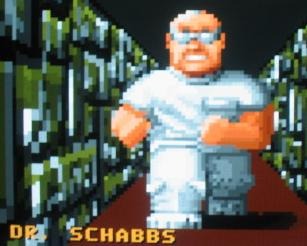 Mission Three: Operation Eisenfaust
Location: Dr. Schabbs' Research Laboratory
Objective: Terminate Dr. Schabbs
The maniacal doctor has been working hard late into the night. Malpractice, foul intentions and diabolical schemes are all on the menu. Grafting a pistol on to the chest of the recently deceased, he's found a way to bring slain guards back to life! Somewhere in the depths of his laboratory he lurks. He may look like a simpleton but don't be fooled by his appearance. Throwing unknown harmful chemicals and rusty syringes at you, Doctor Schabbs is more than a handful. Creepy bastard.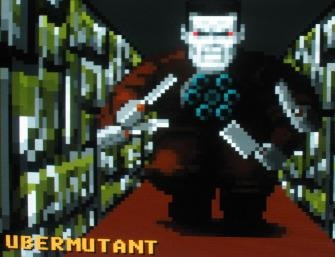 Mission Four: Trail of the Madman
Location: Mountain Fortress
Objective: Terminate ÜBERMUTANT
Despite killing the mad doctor, his efforts live on. Here's his prized creation… the ultra deadly ÜBERMUTANT! Hidden in the dank dungeons of the Mountain Fortress, he awaits your arrival with many of his mutant friends in tow. This sprite never fails to impress me. The huge chain gun embedded in the middle of his chest… his four freaky arms each wielding a butcher knife… this is Michael Myers on steroids…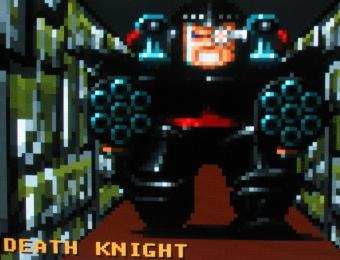 Mission Five: Confrontation
Location: Castle Heidenheim
Objective: Terminate Death Knight
If you thought the ÜBERMUTANT was incredibly tough, you haven't seen squat yet! The Death Knight is by far the hardest boss in the entire game. Being accompanied by dozens of guards and mutants is a big reason why, but even on his own he's a force of nature. His gas attack inflicts tons of damage and he's as durable as they come. I once beat him with only 2% health remaining. Whew…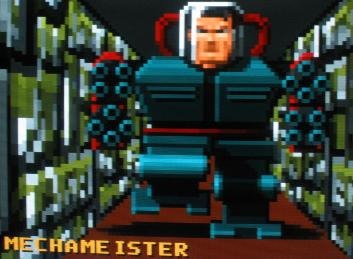 Mission Six: Staatmeister's Last Stand
Location: Castle Wolfenstein
Objective: Terminate Staatmeister
The final line of defense, as it were. The Staatmeister first appears in this exosuit and is actually pretty easy. It's a bit anti-climactic, especially following the hard fought battle with the Death Knight. The suit is more bark than bite. That's not to say he's a walk in the park, because he isn't, but you would expect the final boss to be a little tougher than this.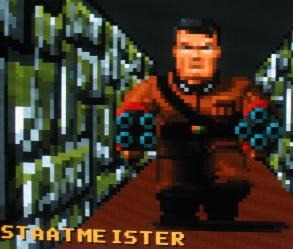 After destroying his exosuit, you square off with his more vulnerable second form. It's more of a formality than anything else, as the battle is truthfully a bit pitiful. In this state the chain gun will serve you just fine. But getting to him will prove tricky as the final castle floor is littered with pesky guards, crack shot officers, nasty elite guards and vicious mutants all hell bent on your destruction.
THE MANY FACES OF B.J. BLAZKOWICZ
I like the various reactions of B.J. Blazkowicz. When you grab a big gun he'll signal his approval with a fat grin. When he's low on health he will look the part. But best of all, he turns his head in the direction he was shot from, which can save you some extra damage points if you react quickly enough. Not just a cosmetic feature, this was pretty cool stuff. Doom Guy seems to get all the love but let's not forget B.J. did it first.
THE GAME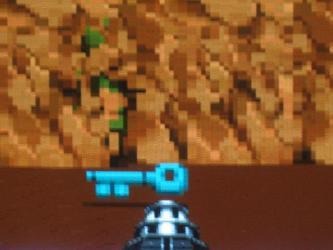 Each stage contains two different types of locked doors with two corresponding keys to find. Some keys lie around in the open while others are guarded by a horde of bloodthirsty soldiers and mutants.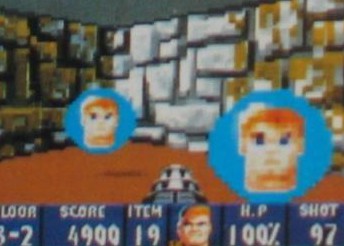 These guys give you a 1-UP.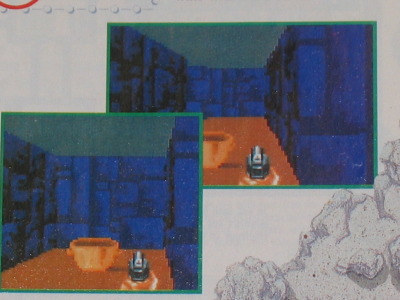 There are many secret passageways hidden within the 30 levels of Wolfenstein 3D. Simply approach any section of a wall, painting or closed curtain and press the A button. A portion of the wall will slide back if a secret room is hidden behind the panel. These rooms may contain valuable items such as 1-UPs, ammo, guns, etc. One secret room will even warp you to a special bonus level!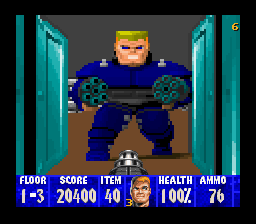 See if you can locate the hidden warp to play the bonus level where MULTIPLE Hans Grösse bosses call home. It's quite the barn burner! HINT: it's hidden somewhere in level 25.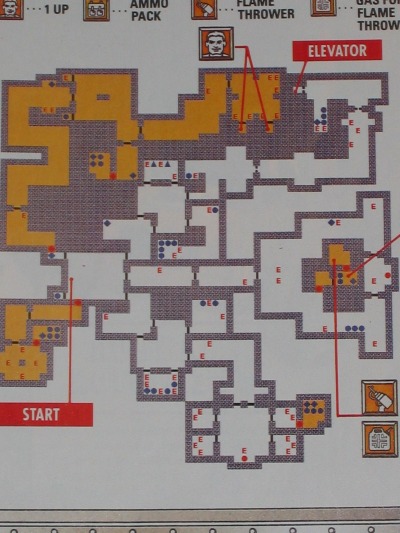 The levels have been reduced in size as compared to the original computer game, but they're still plenty big. I still occasionally find myself getting lost within the mazes and labyrinths despite the reduced size.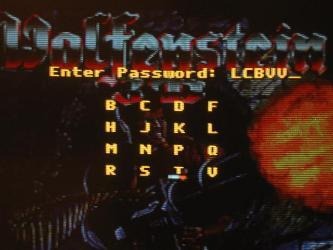 After each level a password is given. This is how all passwords should be. Succinct, clear and only takes five seconds to input. None of that "Is this a 5 or S? ARGHHH!" crap.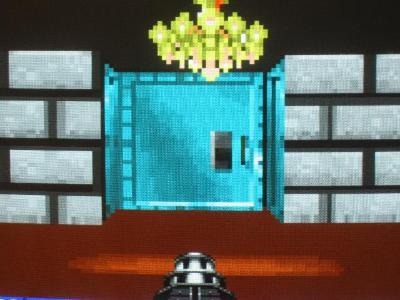 Although many of the more questionable designs have been removed (the Hitler portraits and the swastika), the levels still maintain a nice look all things considered. Chandeliers can be found on the earlier floors, while later things become more depressing and macabre. You'll find decaying walls, human bones and so forth. I like how the game handles these transitions and becomes progressively more bleak.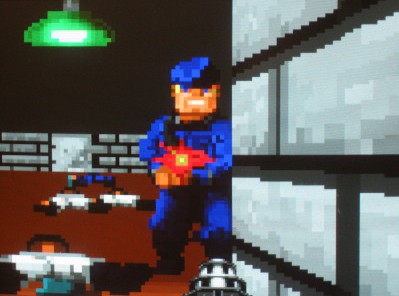 The goal is simple: reach the exit of each stage before the Nazi soldiers can take you out. It's a classic concept that has stood the test of time. The game still makes me flinch on occasion when I turn a corner and blindly walk right into a bad guy from seemingly out of nowhere. It's me versus him. Only one of us can survive. It's raw and visceral like no other genre can offer. Good stuff.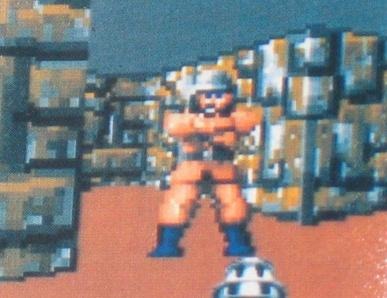 Be weary of alcoves in particular. They are usually home to soldiers and mutants just waiting to ambush you. Strafing (shoulder buttons L and R) will be key to your success and thankfully works rather smoothly.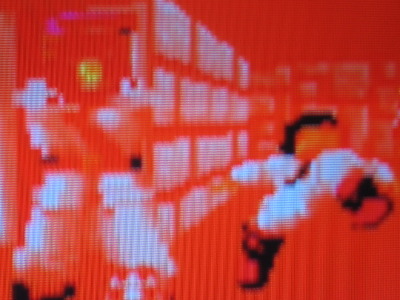 Always unhinges me a bit to see this…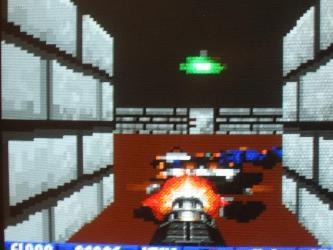 Wolfenstein 3D gives you a great feeling of being a one man strike force. The destruction you can dish out is, at times, a great rush. Despite the lack of blood, it's still a satisfying experience to mow down a room full of Nazi soldiers in no time flat.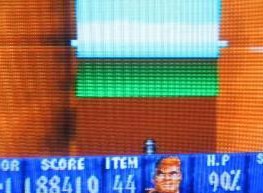 Here's another detail to the game that I've always appreciated as a kid. Early on the sky has a nice, cheery look to it with a few clouds. It almost feels serene… as if you're at the park about to enjoy a picnic. However, later in the game if you peek outside the sky will be dark and gloomy. It's a nice touch that reminds me of a quote from the 2004 film Sideways.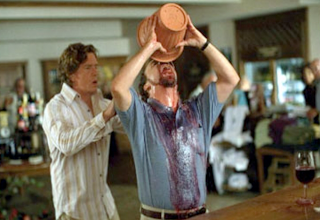 When asked if he preferred the strawberry or chocolate cake, Paul Giamatti's depressed character answered, "I prefer the dark…"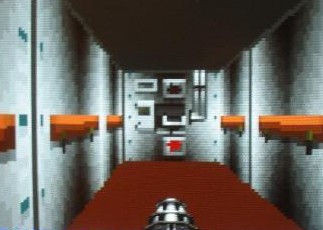 Seeing an exit always made me happy. Not just because it's on to the next level but because I just enjoy the quirky design of the exits. It's one of those things you can't really put into words, but seeing an exit never fails to make me smile.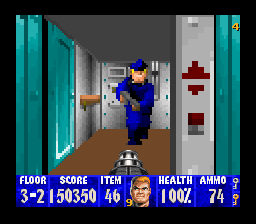 By the way, don't always assume an exit means you're home free. Some exits contain elite guards and mutants just waiting to take advantage of lackadaisical players.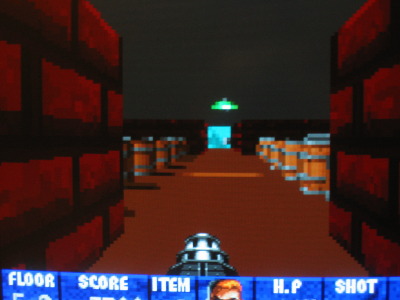 One of my favorite parts from the game… the next door lies in waiting straight ahead. But between you and that door?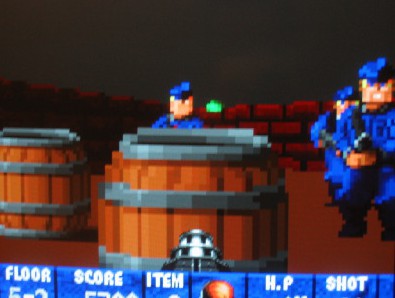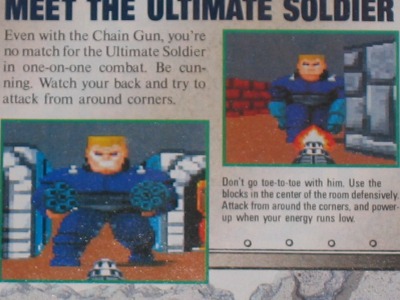 This picture illustrates the beauty of this game. The bosses (as well as the regular enemies) stalk you relentlessly once you've been spotted. No short term memories here. Navigate around those walls strategically, using them to your defense. Wolfenstein 3D is far from being simply just a gung-ho kill kill affair. There is some strategy and crafty skills required in order to succeed.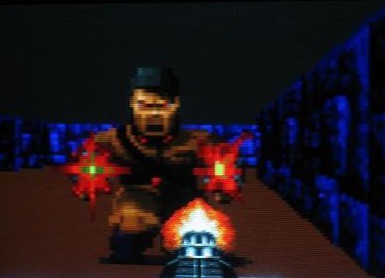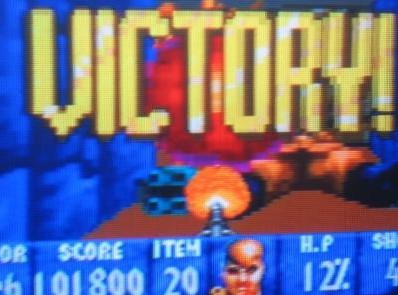 CENSORSHIP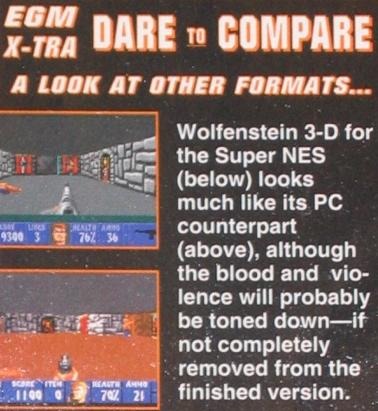 It'd be easy to blame the developers for censoring the game when in fact the preview version contained plenty of gore. Unfortunately, Nintendo censored the bloody thing — pun intended. Keep in mind this was half a year before Nintendo changed its stance and adopted a ratings system, which allowed such violent games as Mortal Kombat II to exist.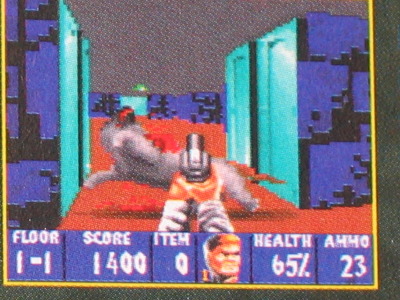 The rabid dogs were originally present in the SNES port but after Nintendo got through with it, we got mutant rats instead. It's largely cosmetic for the most part, but it's easy to see why this degree of strict censorship left a bit of a sour taste for many people.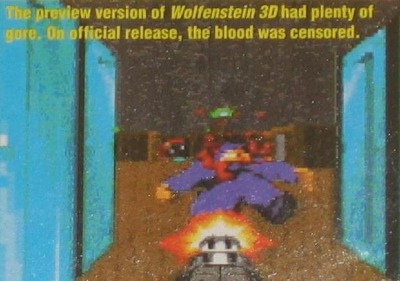 In fact, you can play the beta version as it's floating out there in the vastness of cyberspace. Those of you adamant on experiencing Wolfenstein 3D on your SNES with red blood over sweat will be pleased — all two of you. Be forewarned though, it's incomplete. After the first three missions or so it loops. That way you'll never be able to finish the game. Bummer.
Glorious sight indeed. But alas, it just wasn't meant to be.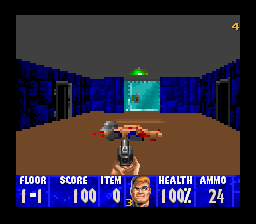 Does the censorship hurt? Sure. Game killer? Definitely not. The game still plays very well and that's the most important thing.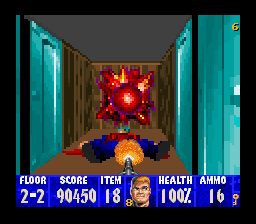 THE ESSENTIALS ARE STILL INTACT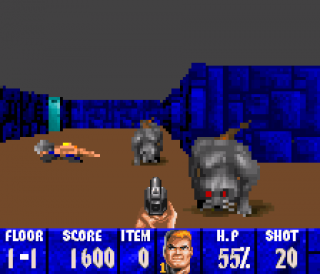 It's impossible to deny that the SNES port was stripped and gutted — killer dogs have been turned into mutant rats, the blood is missing, the levels are smaller and all Nazi signs have been removed. But at its core, Wolfenstein 3D is a good game and that hasn't changed.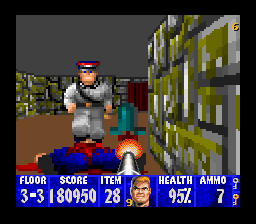 The gun sounds are relatively weak, but everything else is very well handled. The music has a great beat, the boss themes are intimidating and the voices are surprisingly rather clear. Playing this in stereo is a treat. Hearing "STOP!" from the left and right side simultaneously will get your heart racing. I've flinched more times than I care to willingly admit simply by turning a seemingly innocent corner only to be greeted by a loud "STOP!"
Bosses are huge and will make you sweat a little upon first glance.
Better not run out of ammo or else you're stuck with a puny knife!
Doctor Schabbs is unsettling to the core. First of all, why is his fat ass grinning so much? And check out the dirty syringes that he chucks at you. Ugh, it kind of makes me shiver. There's nothing worse than a creepy doctor.
Seriously creepy. Stop smiling at me! But you get a key for your troubles.
The bosses utter their one liners with a strange inhuman tone. "I'M COMIN' TO GIT CHU!" and "I'M COMIN' FER YOOH!" works surprisingly well. You're in awe of their sheer size the first time you see the towering bosses. The ÜBERMUTANT in particular is quite the sight for sore eyes. You know he's waiting for you… you're strafing the corners and just waiting to find him… finally, when you let your guard down and turn the turner — "I'M COMIN' FER YOOH!" It's a rush, no doubt. Not many SNES games are as (in)tense as this one.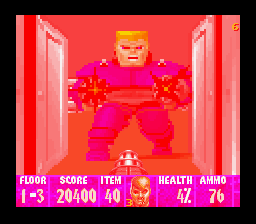 Backpacks (which allow you to hold more ammo) and first aid kits are scattered about. You'll also find turkey meat and cheese. The cheese health refills are hilarious. They only recover 4% (!) health. What a strange low number. And why haven't the mutant rats already eaten the cheese? It's odd as all hell!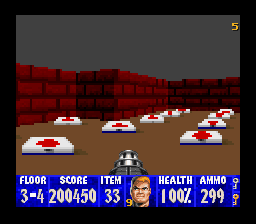 CHEATS
299 Rounds
Press and hold R while turning the power on. Release R at the title screen, then start a game. Pause and press R, up, B, A
All Weapons + Maximum Ammo
Hold R on controller 2, turn on the SNES and release R at the title screen. During game pause and press R, up, B, A
Full Map + All Keys
Hold R on controller 2, turn on the SNES and release R at the title screen. During game pause and press A, A, up, B
God Mode
Hold R on controller 1, turn on the SNES and release R at the title screen. During game pause the game and press B, up, B, A
Level Select
Hold R on controller 1, turn on the SNES and release R at the title screen, then immediately press up and select
Level Skip
Hold R on controller 1, turn on the SNES and release R at the title screen. During game pause the game and press up, B, R, B
WHAT THE CRITICS SAID
Wolfenstein 3D received scores of 8, 7, 7 and 6 from EGM.
Ed Semrad- 7: Good music and huge mazes help you come back for more and more. While there are changes it is still a very good translation… a great game that moves fast
Danyon Carpenter- 8: So the blood was removed. Who cares? The game is still a riot! Not many other games put you in the role of gun-toting soldier running rampant through a maze shooting guards and mutants
Al Manuel- 6: Although the Swastikas on the wall and Hitler have been removed, this is a pretty good translation
Sushi-X- 7: As one of my favorite PC games, this Super NES version almost has everything in the sense of the game play. A good translation
Super Play gave it a 78%, citing "Blocky but fun shooter"
GameFan gave it scores of 89, 89, 80 and 77% citing "Major fun, buy it!" and "Hair-raising action and sweat-inducing intensity!"
CLOSING THOUGHTS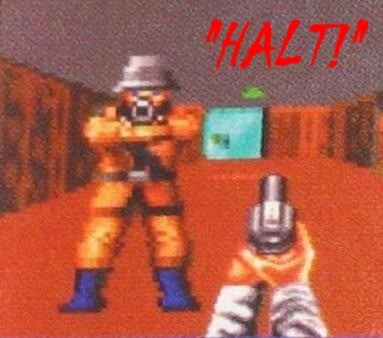 There have been quite a few critics of the SNES port but I've always loved it. And quite frankly I still do to this very day. Granted, I've never thoroughly played the original computer game and thus can't compare it to the superior originator. I can only base Wolfenstein 3D to other SNES games of its era. There simply aren't many games like this on the Super Nintendo. Running through mazes mowing down guard after guard is a rush few other SNES games can replicate. It's a raw and visceral experience. I still break it out every now and then as it's fun to revisit even after all these years.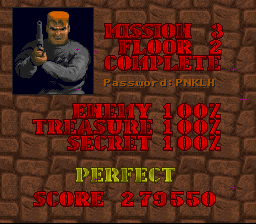 Yeah, the graphics get very pixel-y up close but considering the hardware it's a relatively admirable job. Enemies can still be spotted from afar, which is critical. The boss sprites are incredibly massive, detailed and menacing. The music is catchy — I can still hear some of those tunes in my head. "STOP!" will make you flinch in your seat on occasion and the large mazes are complex and well designed. The gameplay is simply timeless and holds up well. It's not just a mindless shoot 'em up. Strafing throughout the labyrinths is key to success as well as using doors and corridors to your distinct advantage.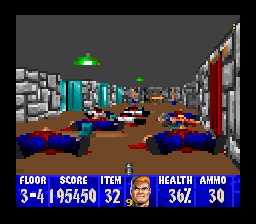 The enemy AI is very strong to boot. Enemies bum-rush you relentlessly upon sight. They'll even come from other rooms when they hear the crack of gunshot. Not all doors are soundproof! This lends Wolfenstein a realistic feel and makes things much more interesting, not to mention extra tense! You never know when one innocent shot will lead to a summoning of the undead from many rooms over. You'll hear doors opening in the far distance faintly. Then as the bad guys come closer and closer, the sound of the door opening gets louder and louder. You're being stalked throughout the mazes. And it's an absolute rush laying waste to 20 bad guys within the short span of 30 seconds! Some games never get old, and Wolfenstein 3D is definitely one of those games for me.
Graphics: 7
Sound: 8
Gameplay: 9
Longevity: 7