Ah, Rampage. Hard to believe the 1986 arcade game turned 30 last year. Next year will mark 30 years for the 8-bit NES port. Who didn't play this game back in the day? I remember seeing the lovely cover at my local mom 'n pop rental shop EVERGREEN VIDEO and absolutely going nuts. I loved monsters and the cover promised monster mayhem and destruction. My old man handed a Washington over to Tom, Evergreen Video's owner, as my dad did every Saturday afternoon when my brother and I would go to rent the latest NES title. Remember when games were that cheap to rent? Hell, remember when renting games was a thing?! But I digress. That whole car ride home, all five minutes of it, was the longest five minutes of my life. I couldn't wait to play Rampage. We rushed to our game room, popped it in and the rest is history. The fact that I remember it fondly to this day nearly 30 years later says it all.
KING KONG VS. GODZILLA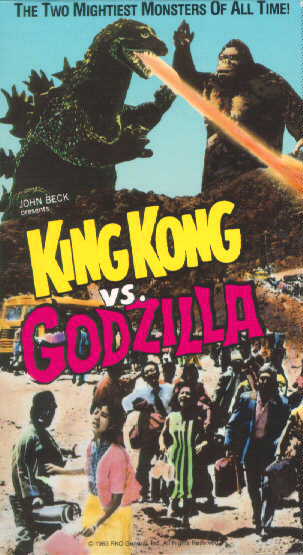 Man, I remember gawking at this VHS cover at Toys R Us in the late '80s. Toys R Us used to have a super small VHS section that contained Disney movies and the odd Godzilla film. Long before Capcom made crossovers popular in the late '90s, there was 1962's KING KONG vs. GODZILLA! I had no clue such a film existed so I nearly crapped my pants when I first saw the box sitting pretty on the shelf. Suddenly I no longer cared about buying that latest ThunderCats toy or the newest Nintendo game. Rather, all I wanted was to walk away with just a movie… from Toys R Us! We're talkin' TOYS R US here! You know it had to take a pretty damn special movie to possess any kid to want to do that. King Kong vs. Godzilla was that special. My parents bought it on sight and I remember being a bit disappointed when I finally saw the movie. Still, I liked it enough and had no regrets of not buying Leonardo: Scuba Diving Edition!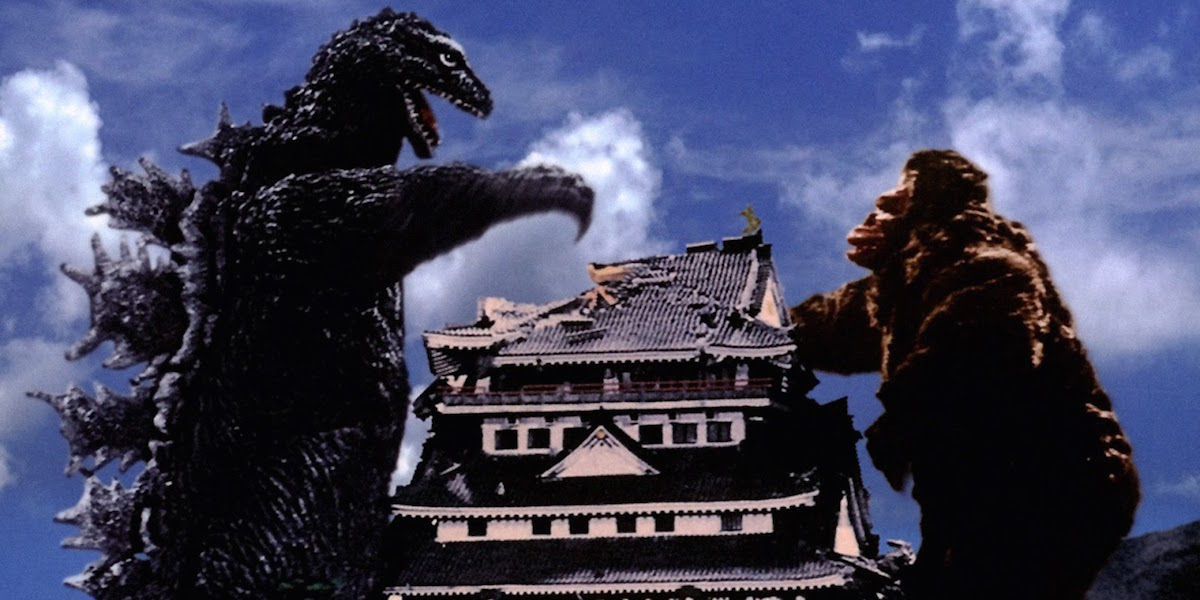 Speaking of King Kong, I just watched Kong: Skull Island the other night. It was pretty good, and I am excited for this new "MonsterVerse" that Legendary has created. Crossover franchises are all the rage now, and I can't wait for King Kong vs. Godzilla to hit theatres on May 29, 2020. That's sure to be epic.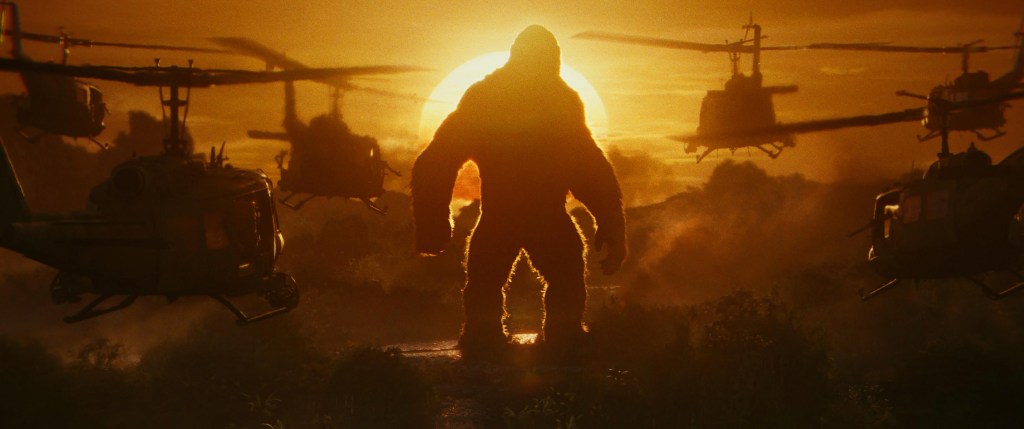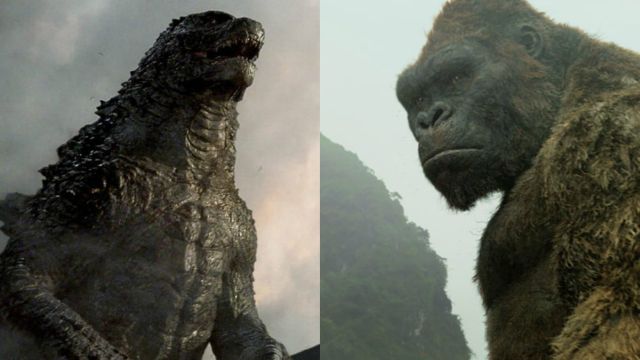 After discovering the internet in the late '90s, I purchased a subtitled version of King Kong vs. Godzilla. I enjoyed it a lot more than the English dub. So, how does this all relate to Rampage? Well of course…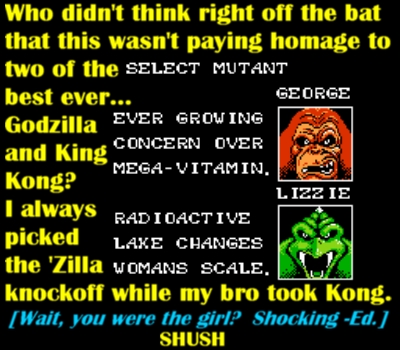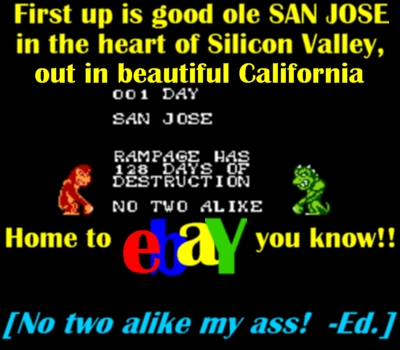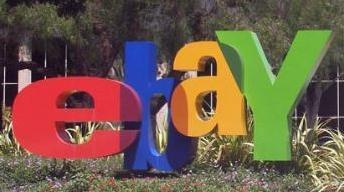 Yeeeeee-ahhh
A used… pink bathrobe
A rare… mint snowglobe
A Smurf… TV tray
I bought on eBay!

My house… is filled with this crap
Shows up in BUBBLE WRAP
Most every day
What I bought on eBay!

Tell me why I need another pet rock
Tell me why I got that ALF alarm clock
Tell me why I bid on Shatner's old toupee
They had it on eBay!
I'll buy… your knick-knack
Just check… my feedback
"A++!"  they all say
They love me on eBay!

Gonna buy a slightly damaged golf bag
Gonna buy some Beanie Babies, new with tag
From some guy I've never met in NOOOORWAAAY
Found him on eBay!
I am the type who is liable to snipe you
With two seconds left to go, whoaaaa
Got Paypal or Visa, whatever'll please ya
As long as I've got… THE DOOOUGH!

I'll buy… your tchotchkes
Sell me… your watch, please
I'll buy… I'll buy, I'll buy, I'll buy…
I'M HIGHEST BIDDER!!
JUNK KEEPS ARRIVING IN THE MAIL
FROM THAT WORLDWIDE GARAGE SALE (Dukes Of Hazard ashtray)
Hey! A Dukes Of Hazard ashtray
OHHHH YEAH… I bought it on eBay!
Wanna buy a Pac-Man Fever lunchbox
Wanna buy a case of vintage tube socks
Wanna buy a Kleenex used by Dr. Dre, used by Dr. Dre!
Found it on eBay!

Wanna buy that Farrah Fawcet poster
Pez dispensers and a toaster
DON'T KNOW WHY… the kind of stuff you'd throw away
I'll buy on eBay!

What I bought on eBay-y-y-y-y-y-y-y-y-y!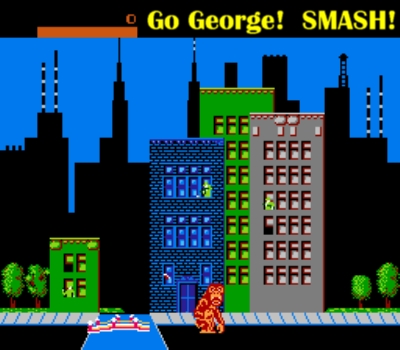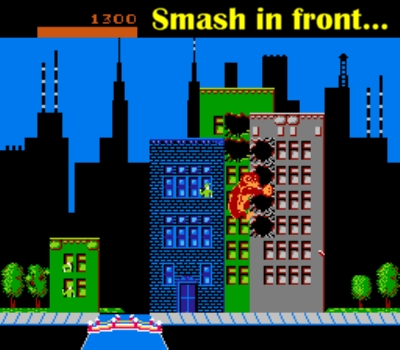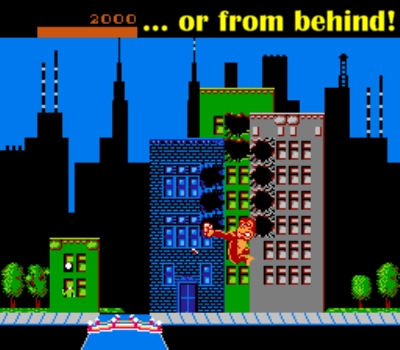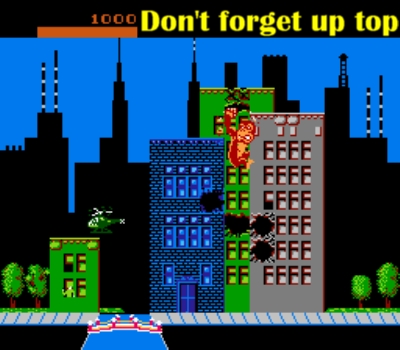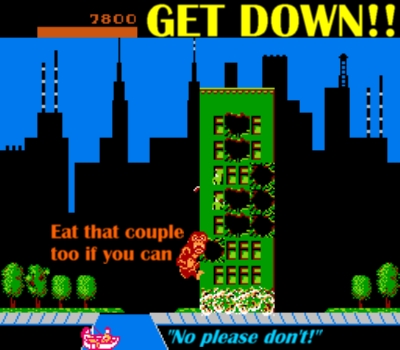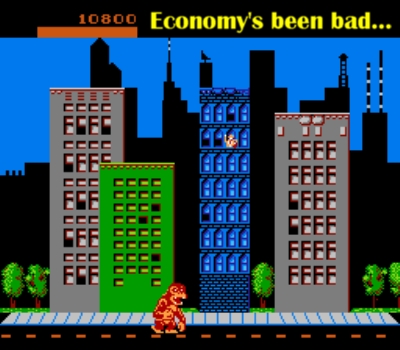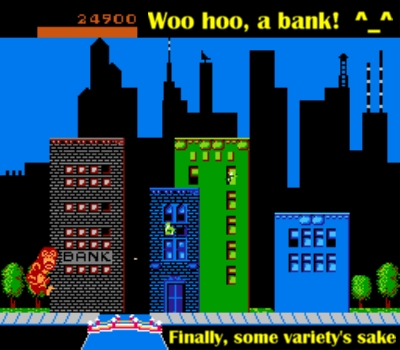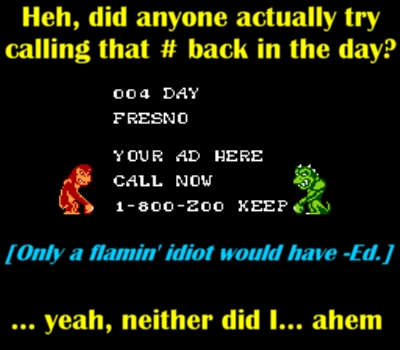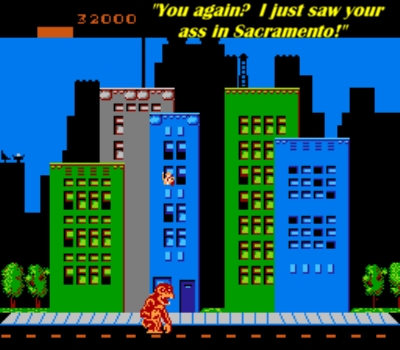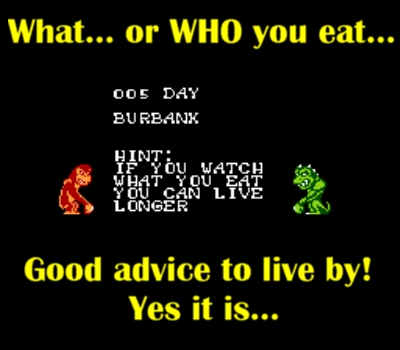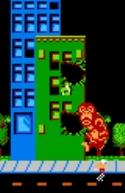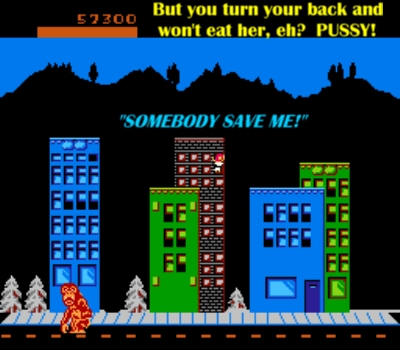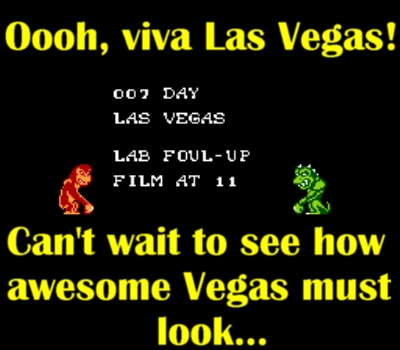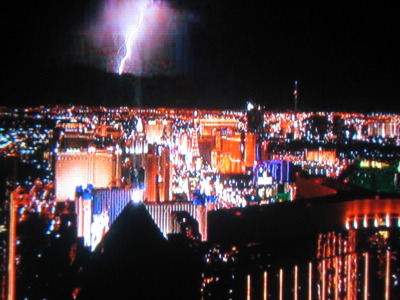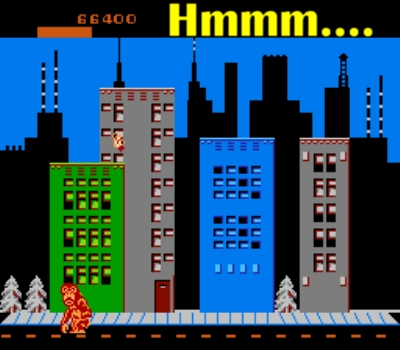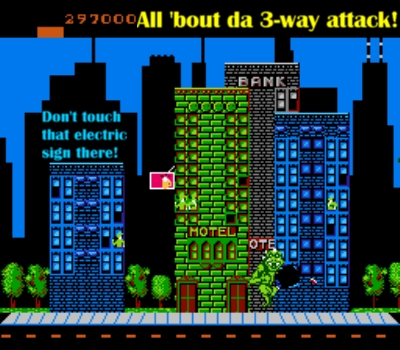 Indeed. The best part of the game is scaling a building that allows you to clobber that one, the one behind it and the one next to it as well. That, along with playing with your brother or friend, was as good as it got in Rampage.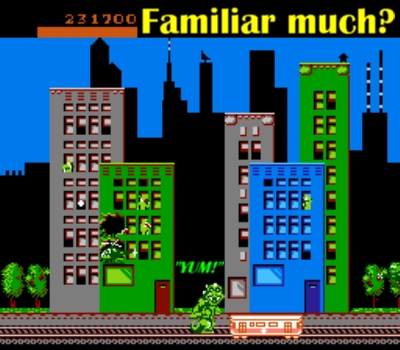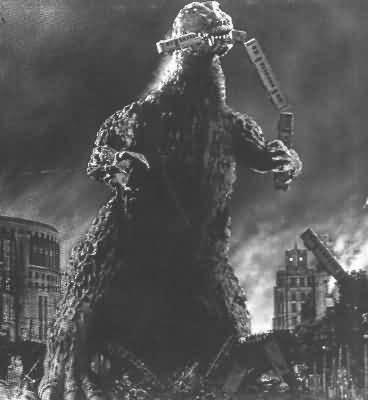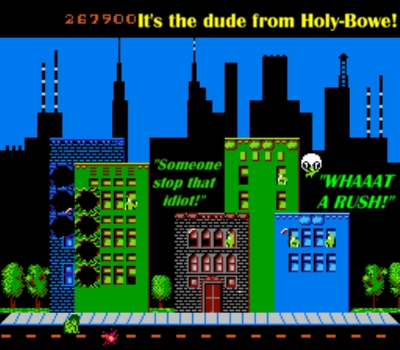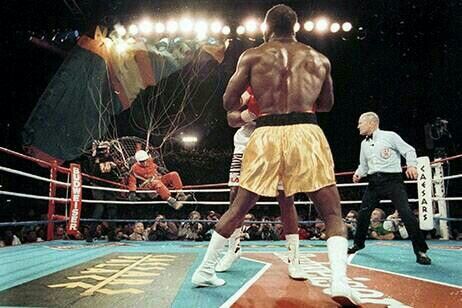 November 6, 1993 marks one of the strangest incidents ever witnessed in sports history. It was a rematch between Riddick Bowe and Evander Holyfield. During round seven, a fan parachuted down just missing the ring. The bizarre incident caused a 21 minute delay.
Holyfield eventually won the bout after the fight went 12 rounds. He regained his World Heavyweight title. It was the only loss Riddick Bowe would ever suffer in his boxing career.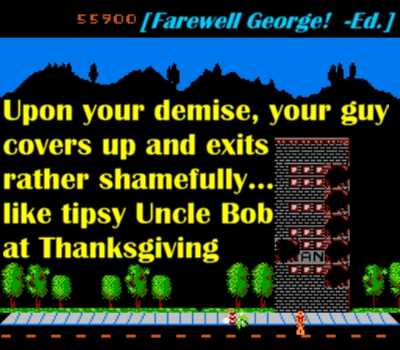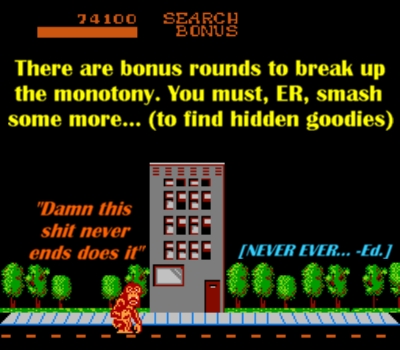 Every five or so stages, you conquer another region. No password or save system made beating this game a daunting and tedious chore.
RAMPAGE THROUGH THE YEARS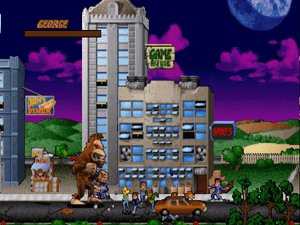 I was a bit saddened when we never got a Super Rampage on the SNES. I thought that spelled the end but Rampage saw a revival during the 32-bit generation in the form of Rampage World Tour. I bought a copy back in 2003 and it's OK for what it is, but I was disappointed there wasn't a three player mode. There was no excuse for that especially since the Saturn could more than handle it. Therefore the port always came off as incredibly lazy to me.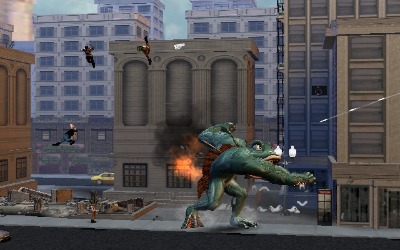 Rampage: Total Destruction came out on the Wii in 2006. Who knows if Rampage will ever be resurrected again (in video game form).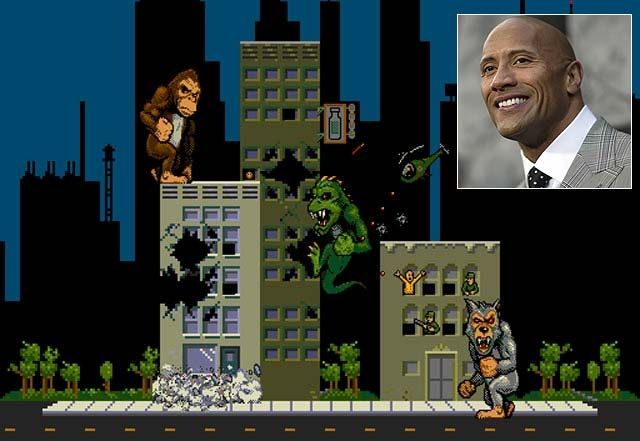 Coming to theatres in April 2018 — Rampage starring Dwayne "The Rock" Johnson. The Rock is no stranger to video game movie adaptations. This will be his second video game film, with his first being 2005's Doom. That was not a good movie. Hopefully Rampage turns out OK, and I think it will. We'll find out in about a year!
CLOSING THOUGHTS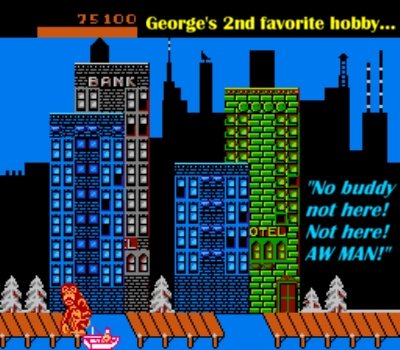 Even nearly 30 years ago, I knew Rampage wasn't a great game or anything. It's best played with a like minded bud for no more than 15 minutes. Is there a more mindless one trick pony game than Rampage? It is what it is. It can be fun to pop in for a few minutes once in a blue moon but it's not something you'll want to play often. I'll always remember Rampage for its cool box art and allowing kids to live out our fantasy of being a towering monster crushing buildings left and right — even if it fell way short of what we imagined. I guess there's only so much you can do with this sort of format. Rampage is one of those games that gives you the nostalgic feels but the memories far surpass the actual experience, if that makes sense. It's certainly a memorable relic from the good old NES days of late '80s yore.