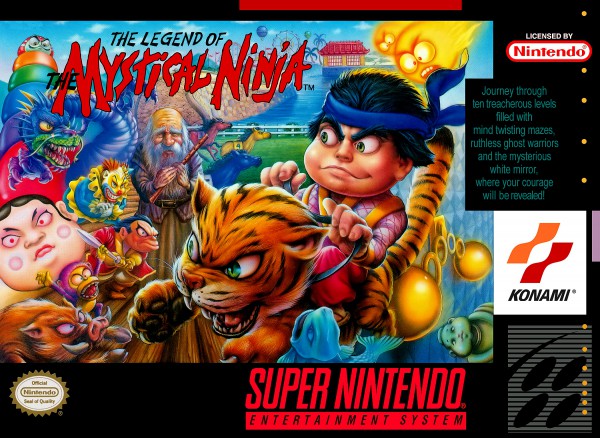 The Legend of the Mystical Ninja was one of those games I briefly played with my buddies back in the day but never fully explored. I bought a copy in 2006 during my my SNES resurgence but it took me over a decade later to finally play it. Around this time last year I wrote a massive article highlighting my SNES collection. In it I talked about some of my most anticipated titles. That is to say, the most high profile games in my collection I've yet to play but can't wait to. I cited Legend of the Mystical Ninja as one example. Some of my readers told me this was a matter that needed to be rectified ASAP. So this past October my girlfriend and I sat down and started going through the game. It is every bit the SNES classic that most say it is. Ah, it seemed like Konami could do no wrong back in the early '90s.
25 YEAR CURIOSITY AT LAST QUELLED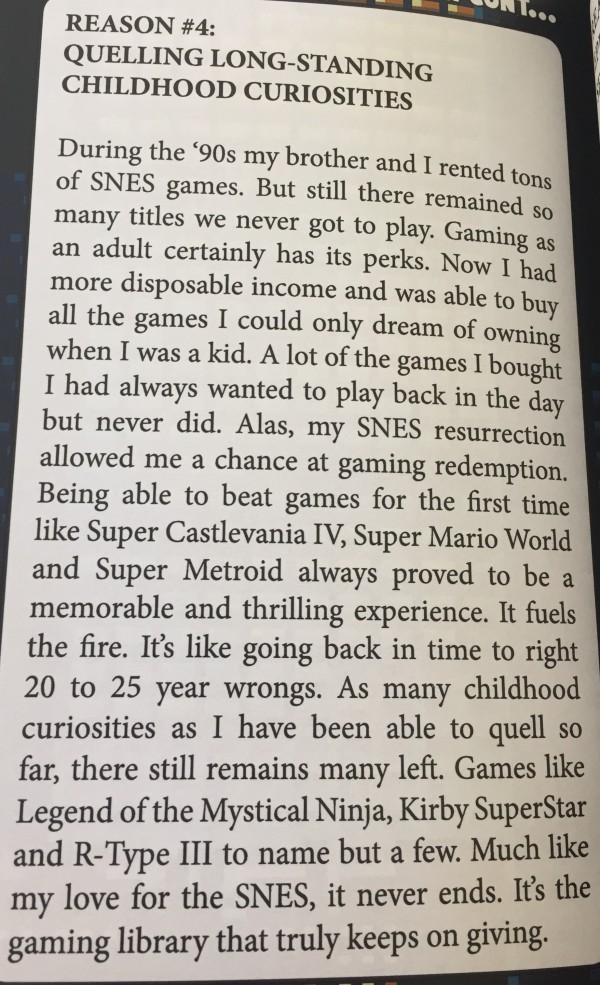 The excerpt above is a story/article I wrote that my buddy Jeffrey Wittenhagen published in his SNES Compendium book released earlier this year. This article is about the seven reasons why I love the SNES so much. Reason #4 is the ability to quell longstanding childhood curiosities. As you can see, Legend of the Mystical Ninja was listed first. Glad I righted that wrong!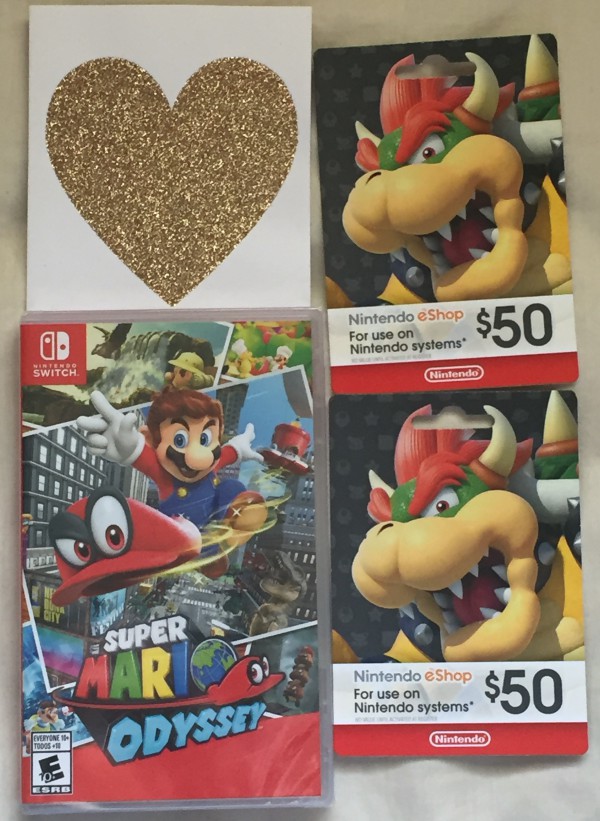 And yes, it is late Christmas night as I write this. A few minutes to midnight, in fact. Look what my girlfriend got me. Best Christmas ever

THE EVOLUTION OF GOEMON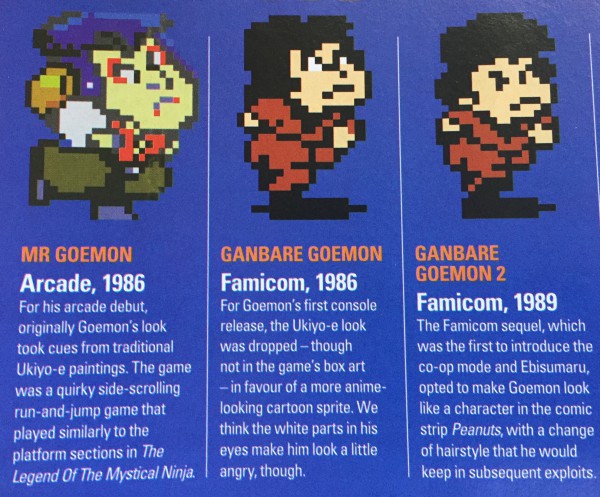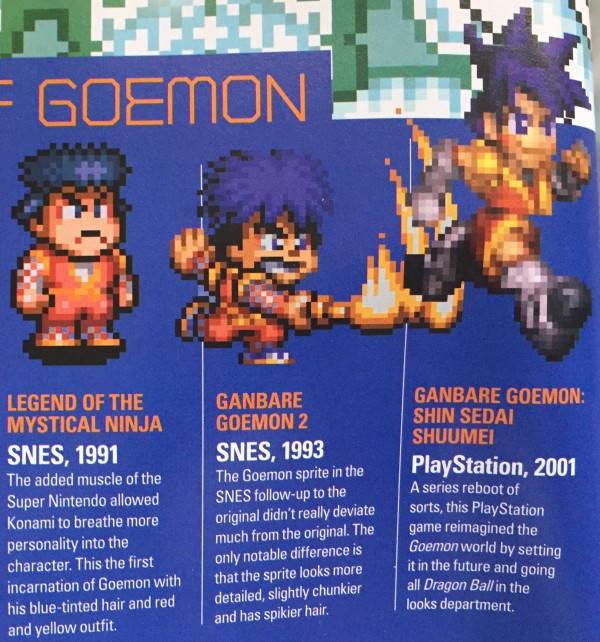 WHY MYSTICAL NINJA ROCKS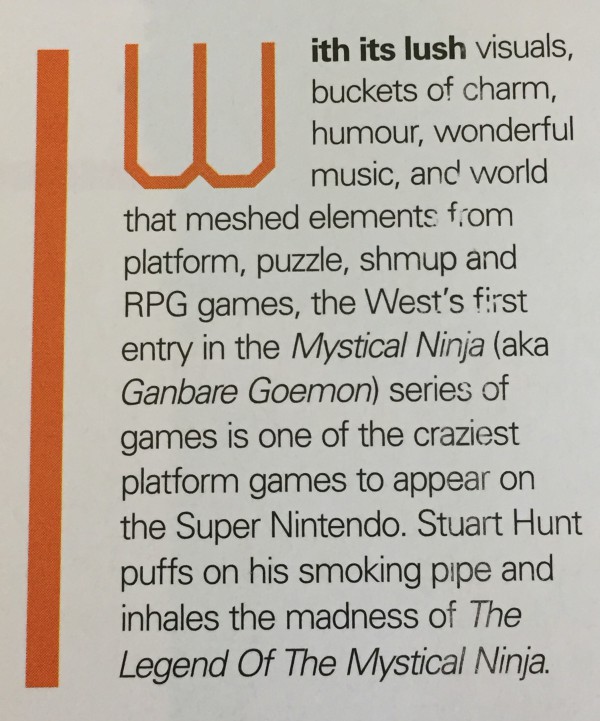 The following pictures come courtesy of Retro Gamer Magazine. It gives a great overview on what makes Legend of the Mystical Ninja so good.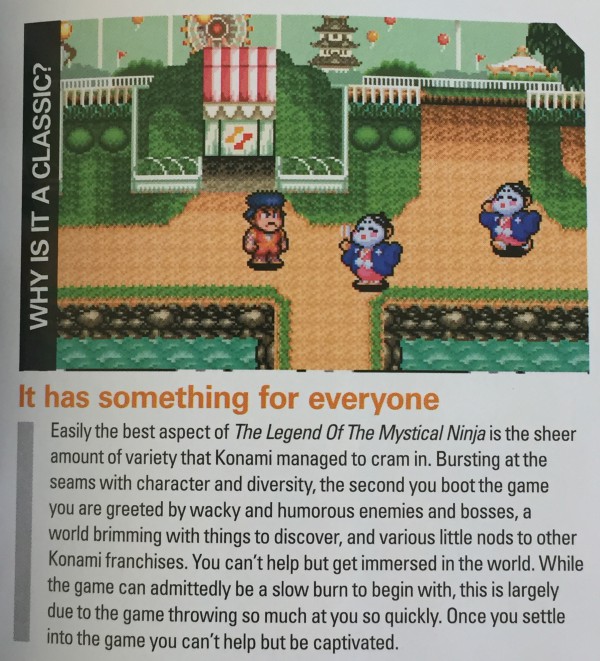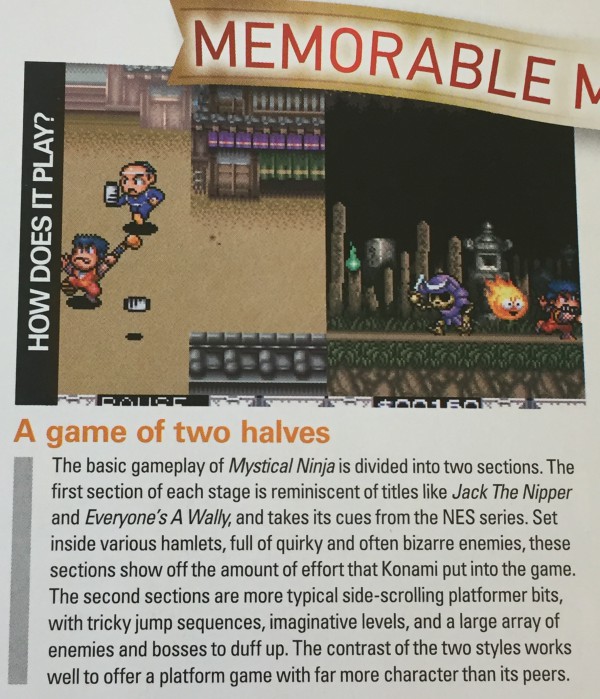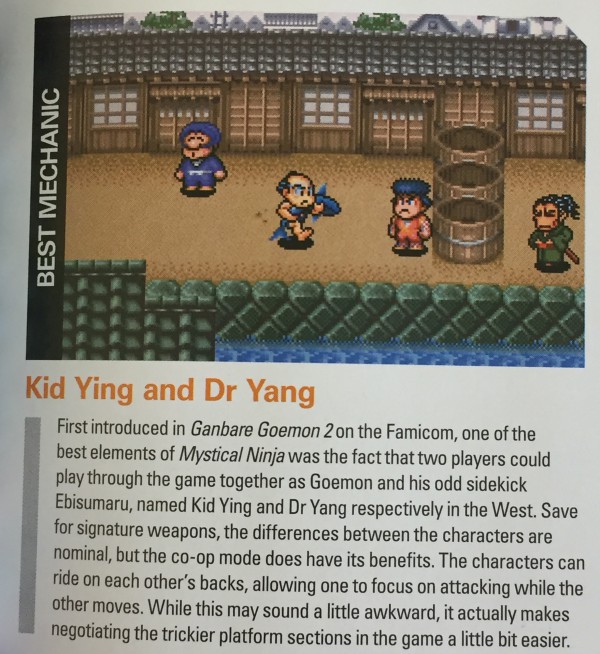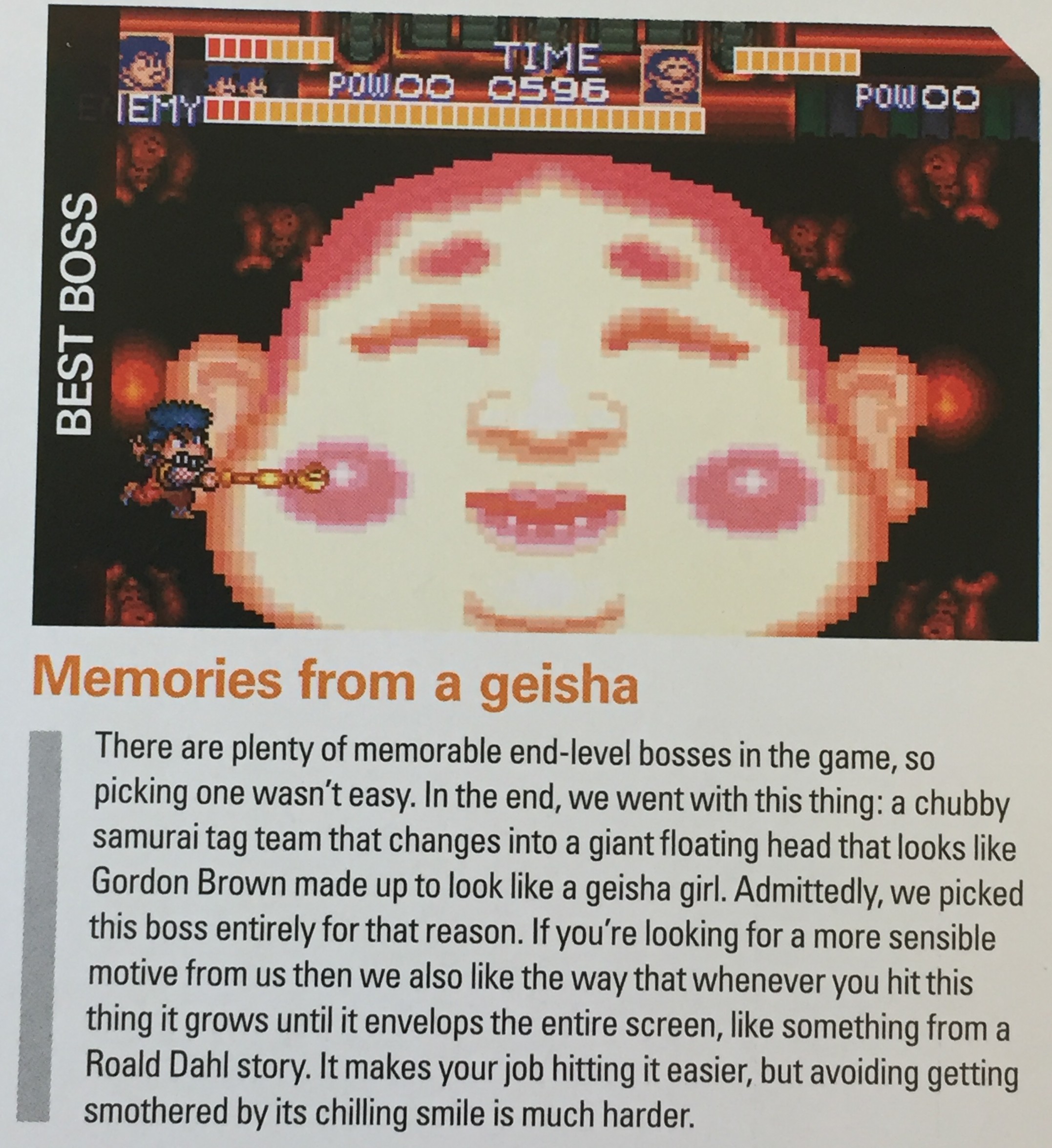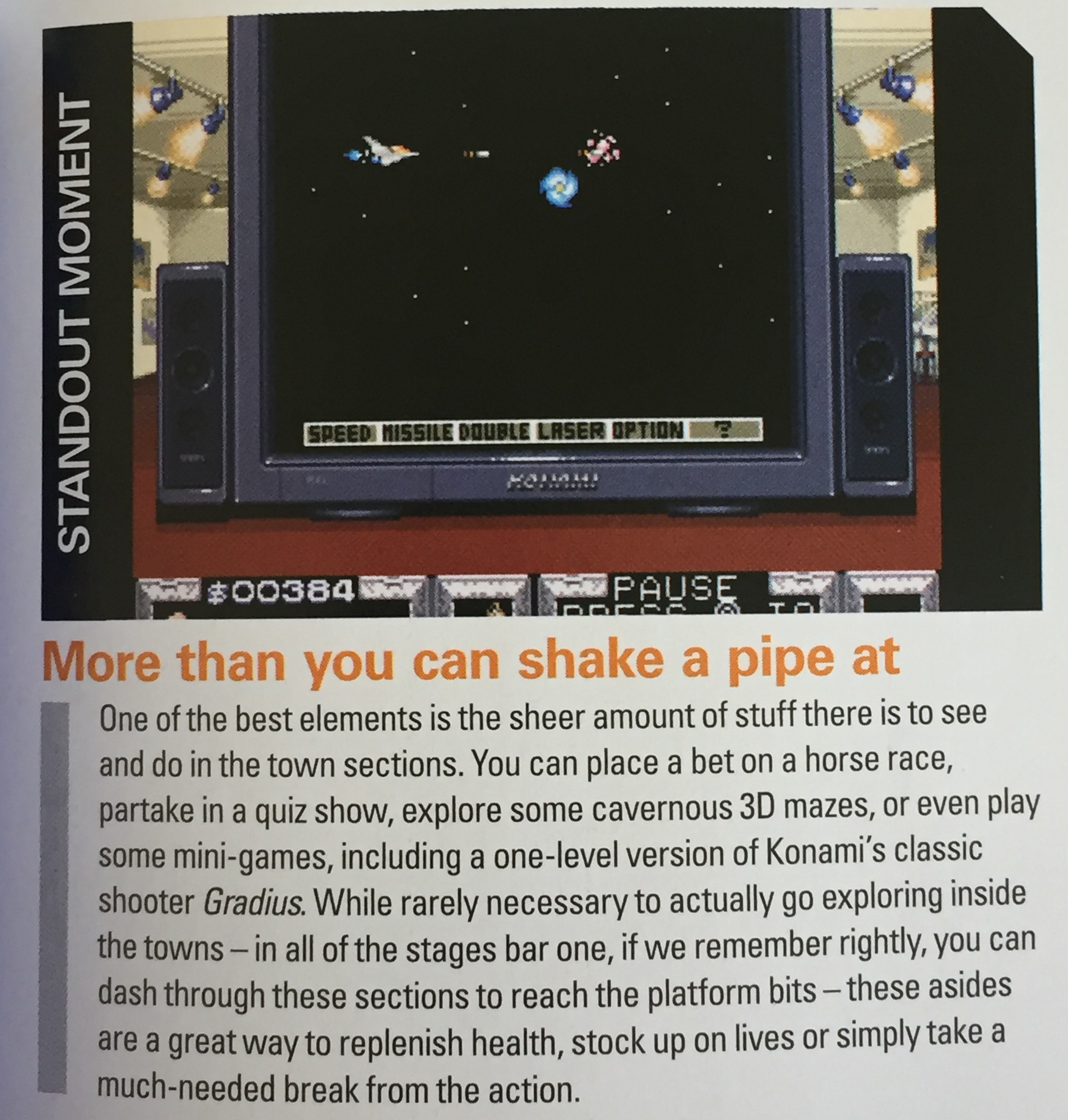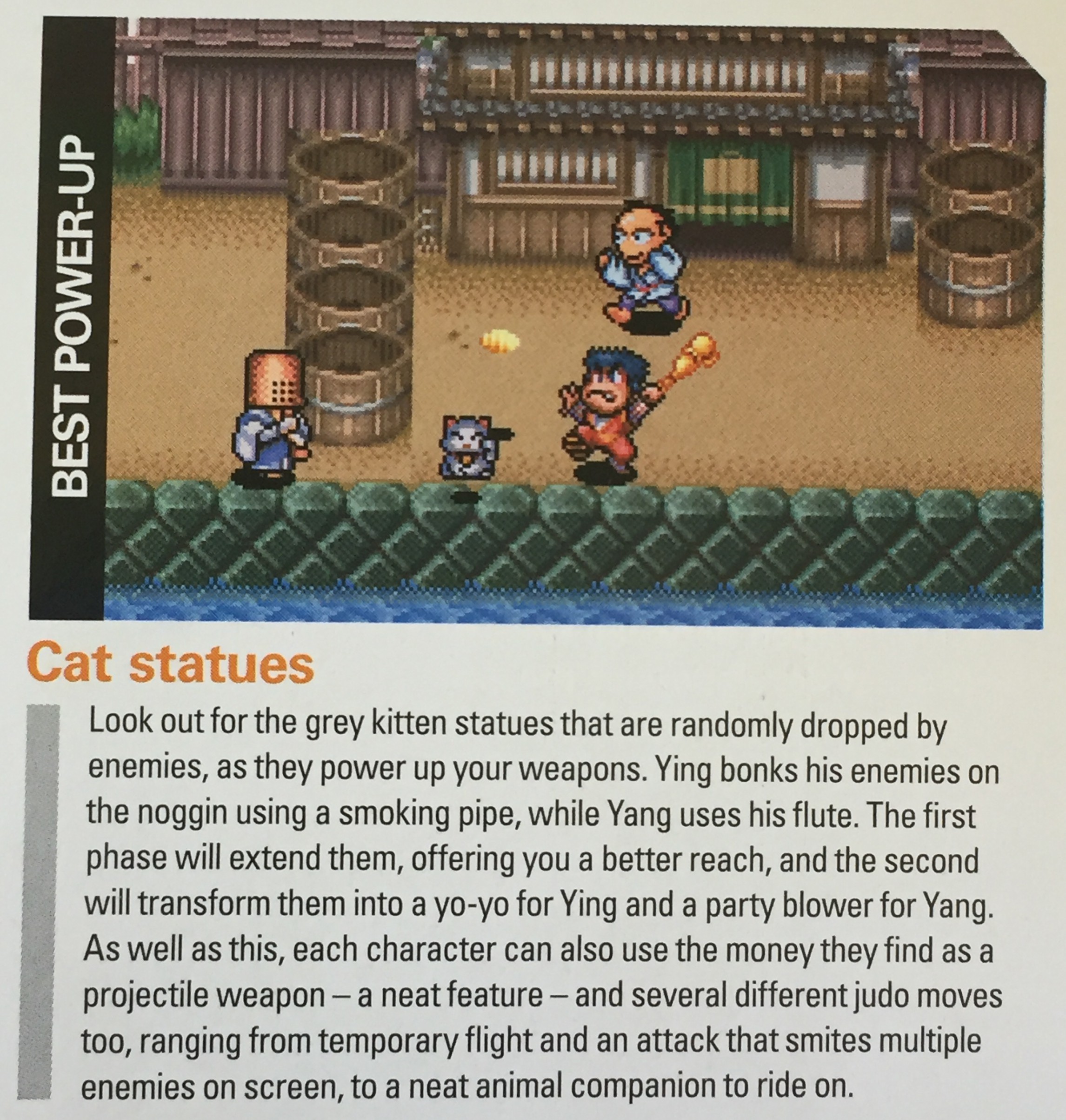 MEET OUR HEROES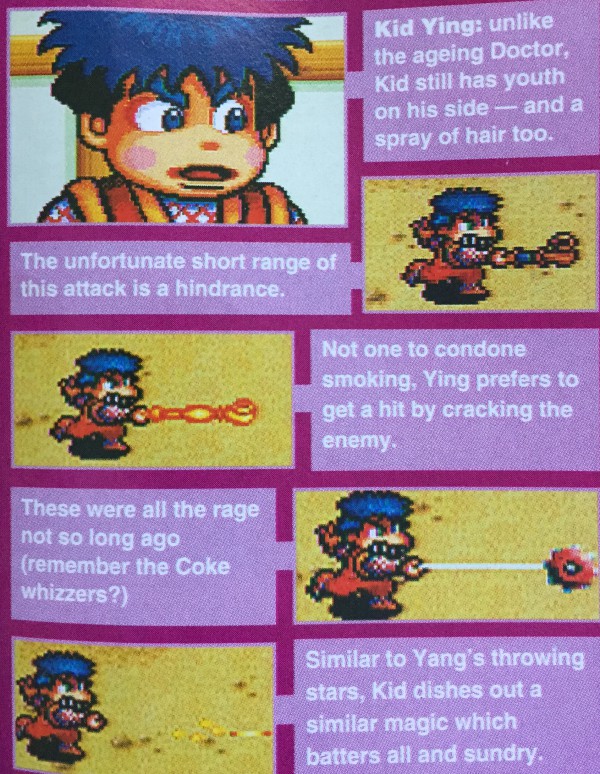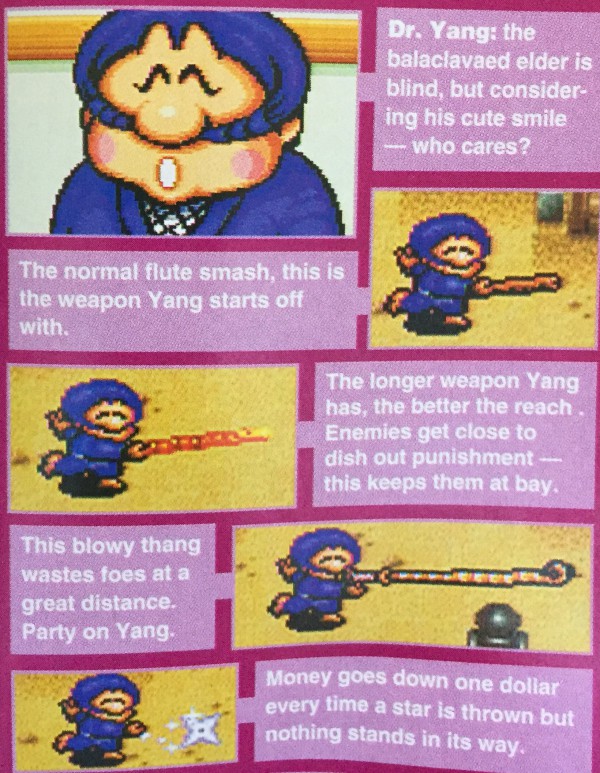 MASTERING THE ART OF JUTSU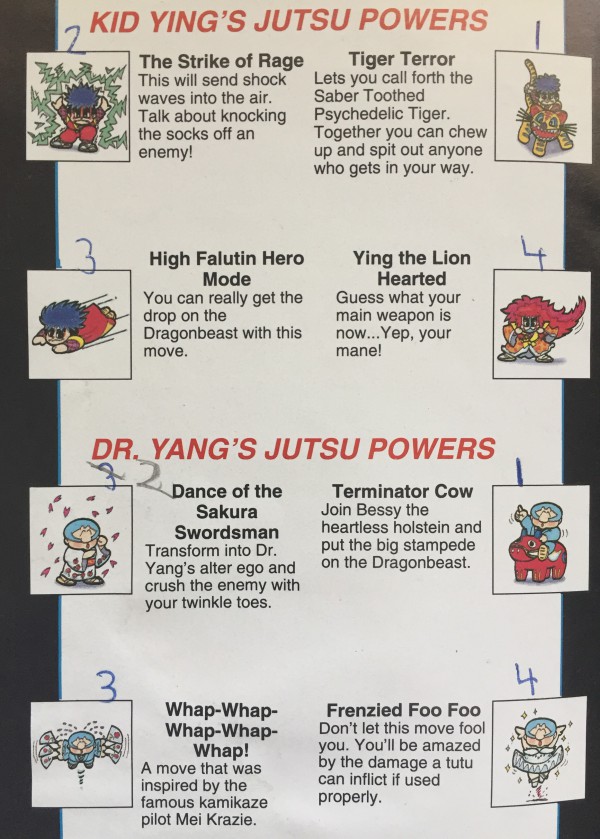 In addition to your regular attacks, you can master the art of Jutsu throughout the game which grants you some special powers that will make your life a whole lot easier.
THE STORY GOES…
Diabolical forces has struck the village of Horo-Horo. Their beloved princess has vanished and without her powers, a plague of locusts will ravage the helpless. Only two brave souls can save the village… Kid Ying and Dr. Yang!
I THINK I'M TURNING JAPANESE
Oriental flavor was thankfully retained. Back then, it wasn't uncommon for SNES games featuring Japanese-esque elements to be Americanized. Luckily, there wasn't much of that here. There are 10 Warlock Zones in all with each composed of two sections. It's not a long game but it's certainly fun (especially co-op) while it lasts.
SHOP 'TIL YA DROP
Rather than being a straight-laced action platformer, Konami added in shops where you can buy useful items or simply gather information by speaking with the locals. It helps to break up the action and definitely adds a bit of strategy. Here's a more in-depth look at the places you can visit.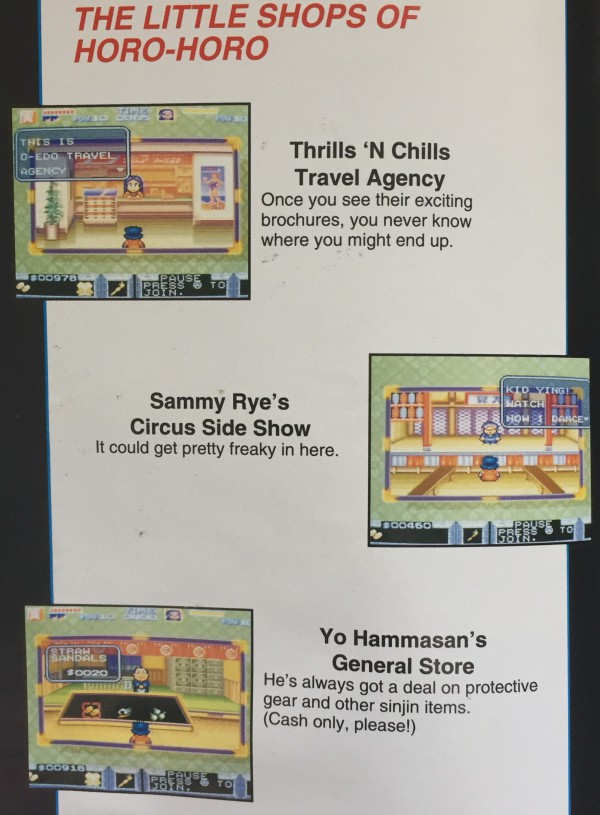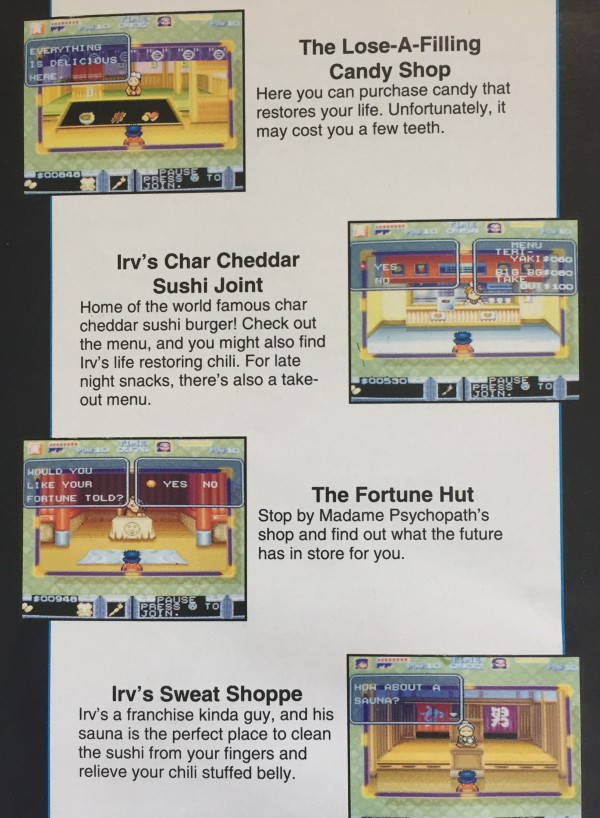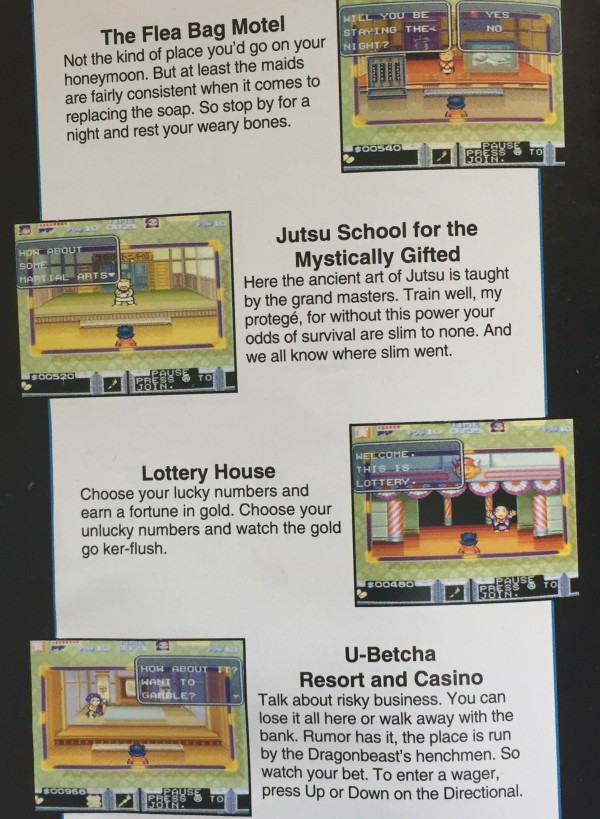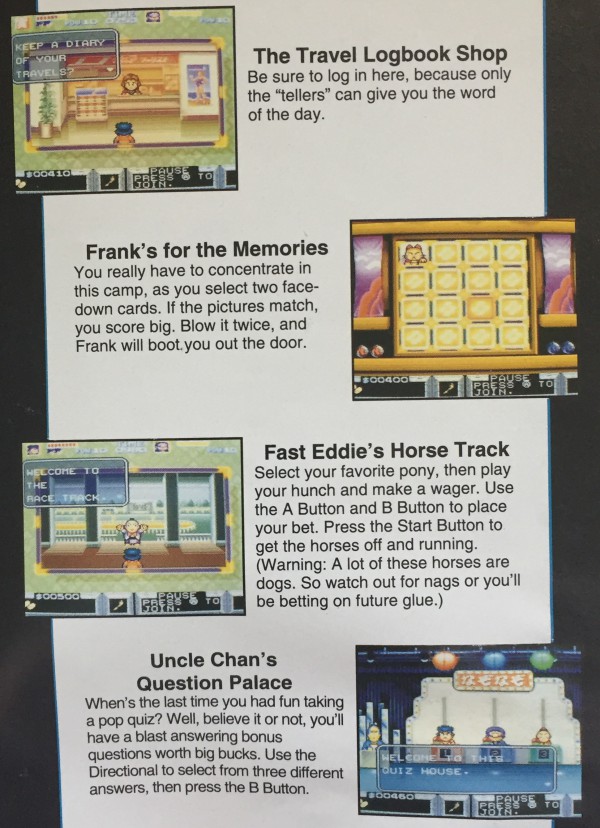 I like how Konami gave players a choice. Sure, you could rush to the end of the level to face the boss and avoid entering any of the shops, but it will make the game a lot more difficult. Take your time, explore what each town has to offer and fortify your skills! All of the shops are helpful in their own little way but keep an eye out for the Travel Logbook Shop. It will give you a password (albeit an absurdly long one) that pretty much acts like a direct save system.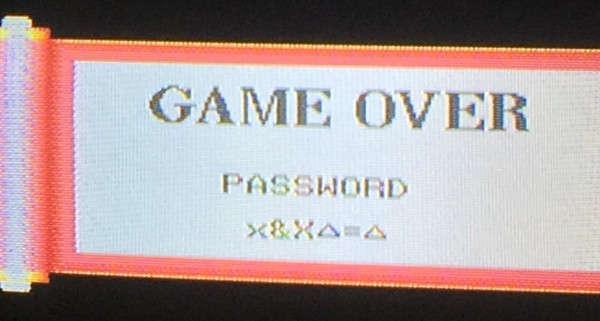 You get a short password when you Game Over. This allows you to continue at the last level.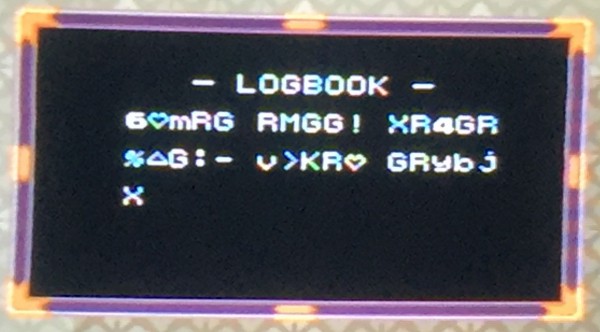 However, with the Logbook password, although much longer and more tedious to input, it allows you to leave right off where you were, items and power-ups intact. Pretty cool that we got both options! I don't really recall many games using a similar style as this one. On a side note, I'm sure this was a bitch to write down back in the '90s. Playing Mystical Ninja in the year 2017 with smart phones FTW.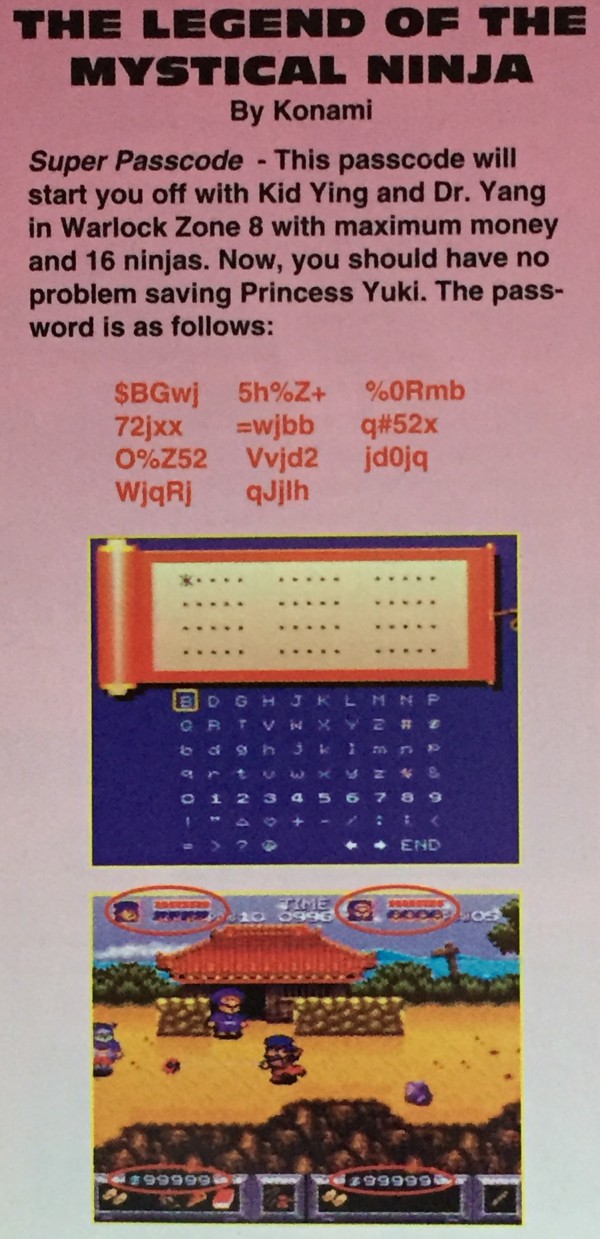 THE JOURNEY BEGINS
Sinister samurais and fretful fishermen mill about. Bash them with your not so peaceful pipe. Killing them earns you coins which can be redeemed at the various shops. This is crucial to getting better equipment and the like. Also, you can fire your coins as a projectile attack. Obviously the more coins you have the better. The first level even transitions to a spooky night time. Oooh.
Tanuki (raccoon dog) greets you. This leads to the second section of the first level, which now takes place on a single plane. If playing with two, the Tanuki will even give you a choice: go solo or play with two. This allows more skilled players the chance of beating these sections without a less experienced player struggling to keep up. It's nice Konami gave us options, but my girlfriend and I like to team up. Besides, it's all part of the fun.
Pound that big bell to extinguish the flames. The first boss can only be hurt by deflecting her projectiles back at her. Pro Tip: it's a good time to fire off some of your coins. That's why you don't want to rush through the levels!
Cutscenes break up the action in-between the levels and advances the plot. It's nothing mind blowing but a nice touch nevertheless.
Warlock Zone II is most memorable for this wacky bit. It's so peculiar that it feels like a sordid scene right out of a weird nightmare. If you have plenty of coin then try standing on those ledges there and firing away at the lantern boss.
Warlock Zone III takes you across a lovely bridge that leads into an amusement park.
What's more Japanese than being a contestant on a quiz show? [I can think of a few things that shall go unmentioned… -Ed.]. Later on, you even encounter an arcade where you have a choice of playing the original Gradius — nice! Or you can play Tear Down The Wall. Insert Donald Trump joke here.
Gradius in all its miniature glory. This was quite the lovely surprise. Of course it's no Gradius III, and you only get to play the first level, but hey it was still pretty damn cool!
Amusement parks with sumo wrestlers posing as statues can never be trusted, I've always said. Fun Konami fact: the end boss for this stage is Takosuke, a giant octopus which first appeared in Parodius Da! (1990).
Warlock Zone IV takes us back to another small village, this time by the sea. Get to the second section where more hi-jinx ensues. My favorite being the ability to go either into the background or foreground of the dojo.
Starts out pretty standard before evolving into an impressive bit of Mode 7! Talk about getting big-headed…
Warlock Zone V intensifies with savage barbarians, rock firing henchmen and wild boars. Not to mention a bomb-infested race to the interior of a ninja castle where your troubles have only just begun.
Travel by way of those giant golden wrecking balls. Thankfully, control is pretty tight and snug. The boss, a ninja assassin, throws a ton of foot soldiers your way before deeming you worthy enough to crush.
Warlock Zone VI takes us to Tengu Mountain. Beware of the crazy monkeys that litter the second part of this stage. More than mischievous, they are downright nasty if not defeated immediately.
Awesome set piece! The Tengu Demon Warrior statue leers at you ominously while you're fighting for your life. Those two Tengu Warriors may look like the end boss but they are in fact only mid bosses. The actual boss defending Tengu Mountain is a killer Kabuki fighter. The difficulty ramps up with each passing stage.
Four more taxing levels await. My girlfriend and I are currently stuck on Warlock Zone VI. We'll beat it one of these days!
WHAT THE CRITICS SAID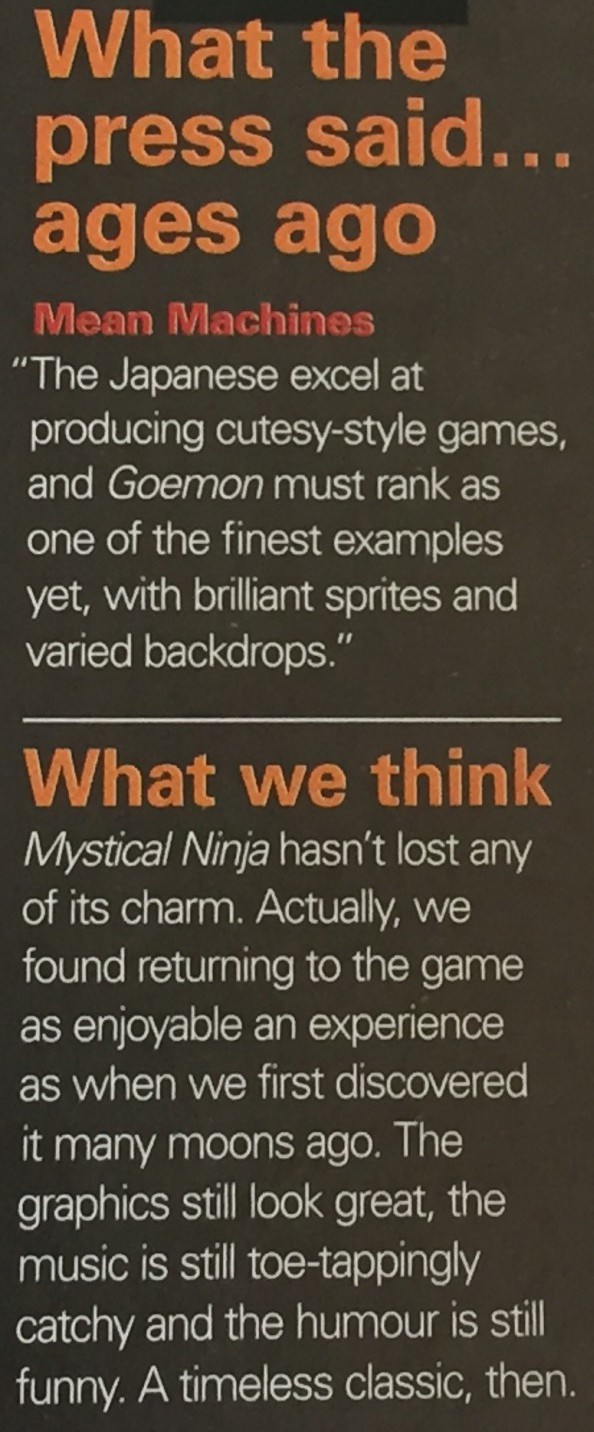 The Legend of the Mystical Ninja is heralded as a Super Nintendo classic, and rightly so. Super Play rated it 90%, ranked it a lofty #7 on its Top 100 SNES Games list back in 1996 and deemed it "Konami's finest hour." Very high praise indeed. The folks at Retro Gamer seem to agree, calling it "a timeless classic." The game is well beloved by SNES fans and is considered one of the finer action games on the system. Certainly no SNES collection is complete without a copy.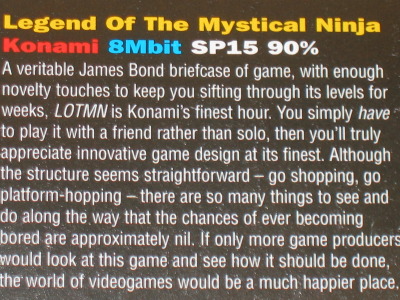 CLOSING THOUGHTS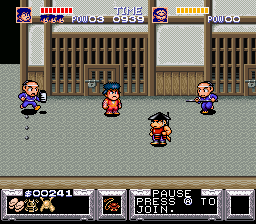 I remember playing this game with my good buddy on a lazy Sunday morning in Sacramento 25 years ago. We only got to play it briefly however, but I remember having a blast with it. I always wanted to play it more thoroughly but never did until very recently. This past October, my girlfriend Cindy and I began tackling the game together. We're having a good time! Whether it's hopping from shop to shop, playing mini games galore, farming (i.e. killing bad guys for coins and goodies), or performing tag team techniques in the single plane sections, there's always something to see and do. I also like the fact that there is a very minor open world aspect to each stage, or at least the first part of each stage anyhow. It's not a linear game as you can travel up and down the towns and villages as well as left and right. This gives the game sort of an open feel but it never gets so big that it gets frustrating or requires you to chart out a map.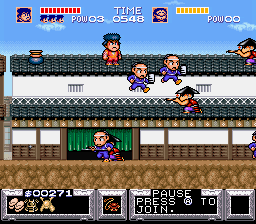 For more traditional action platforming fiends, that's where the second section of each stage comes in. The open world shrinks into a single plane field where it's a lot more linear. Versatility is a major positive as this game offers something for almost everyone. And it does it with bucket loads of charm that will appeal to even the most casual of players. My girlfriend for example is a fairly casual gamer. She's played games before meeting me but it's probably not something she'll feel compelled to do on her own. However, she loves the wacky Japanese charm of this game and enjoys playing it with me. I've played it both with her and without. It's fun both ways but it's definitely more fun playing with two. Nothing beats a good couch co-op after all and this is certainly one of the better two player offerings on the SNES.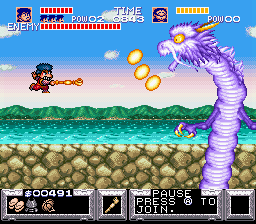 The visuals are very good but they're not quite on par with some of Konami's other SNES titles from that era (such as Contra III: The Alien Wars). But they more than get the job done, with nice colors and an authentic Japanese style that makes it stand out from the crowd. The music and sound are typical classic Konami. Town themes are serene and soothing while action sections get a bit more intense. Boss themes are frenetic and intimidating, just like the bosses themselves. Control is tight and responsive. Very rarely did I die and felt like it was the fault of the game. Difficulty picks up steam with each stage. I wouldn't call it insanely hard but it's no walk in the park.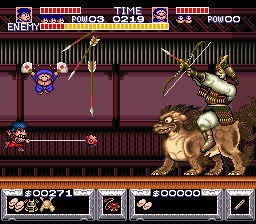 Some games live up to the hype and some don't. I always approach playing these higher profile games for the first (legit) time with some form of trepidation. I want to like them too obviously, but that's not always the case. Fortunately, The Legend of the Mystical Ninja proves to be a damn good game. In fact, I don't hesitate to call it great. I don't quite agree with Super Play calling this Konami's finest hour however. There's some stiff competition there but it speaks more to the greatness of those other games. Bottom line, I'm glad I finally played this game. 25 years late to the party but better late than never. Now, where's my trusty yo-yo?
Graphics: 8
Sound: 9
Gameplay: 9
Longevity: 8