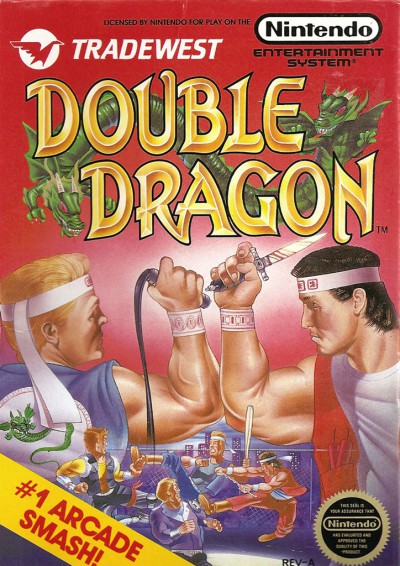 Double Dragon. Man, the series brings back a lot of fond memories for me. It originated in the arcades in 1987 and received a Nintendo port in June 1988. The NES game was where many of us were first exposed to the exploits of the Shadow Warriors and the Lee Brothers. It's hard to believe the NES version is almost 30 years old. Let's kick off Double Dragon week here on RVGFanatic with the classic (well, mostly, anyhow) NES trilogy.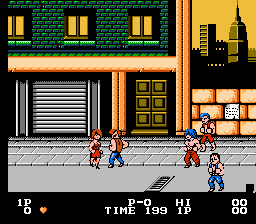 Who could forget this intro?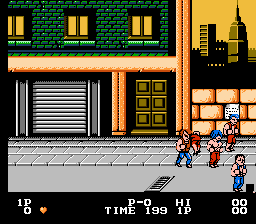 THE FIENDS!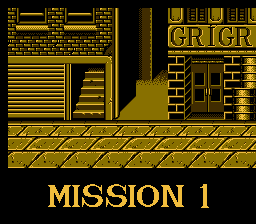 Remember the little music here?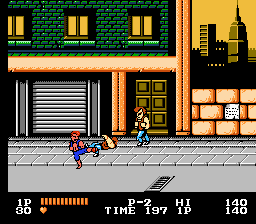 Make them pay for their sins.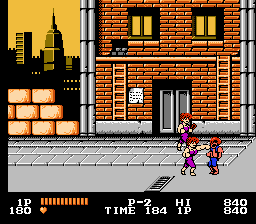 Remember climbing the ladders?
Or stealing Linda's whip?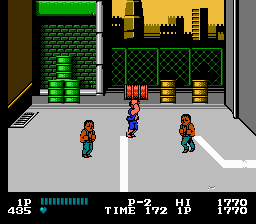 Love the city in the backdrop.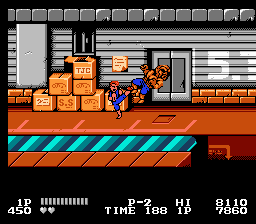 Abobo is an all-time iconic NES villain.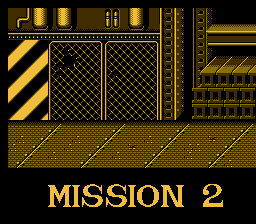 They weren't levels.
They weren't stages.
They were missions!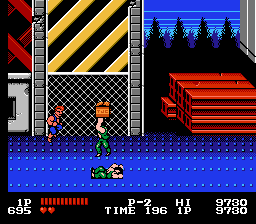 Ever been hit by a cardboard box?
They're more vicious than they look!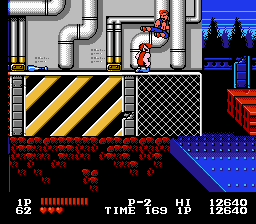 You really felt like you were on a mission.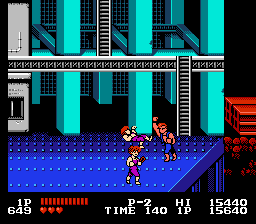 Scaling this tower was some epic shit.
Seriously made you feel like Bruce Lee.
Speaking of Bruce Lee…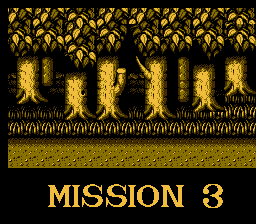 Don't think these are friendly woods.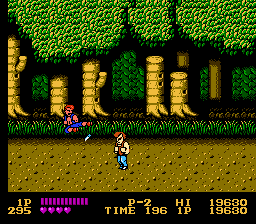 Take his knife and throw it back at him!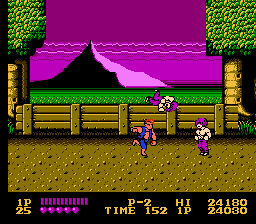 This was so atmospheric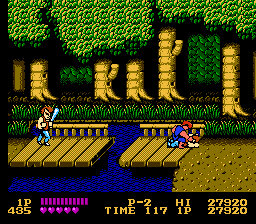 Batting practice, anyone?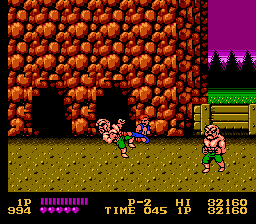 Abobo twins busting out was so epic.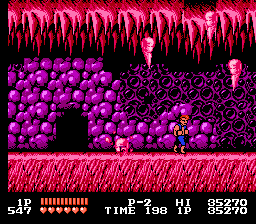 This part always did me in.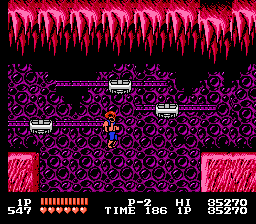 As did this, if I made it this far.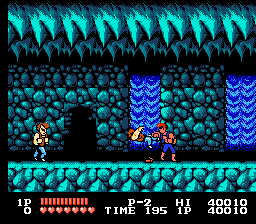 Watch those sticks of dynamite…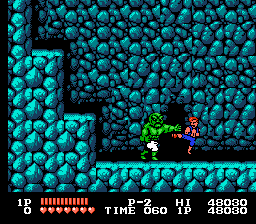 The Incredible Abobo.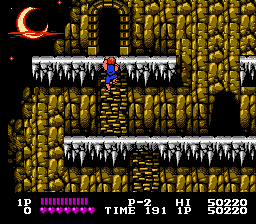 That moon is straight up Konami!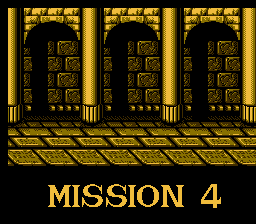 How ominous looking…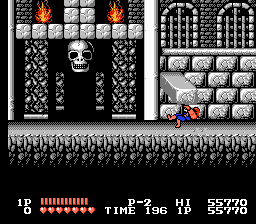 OH BLOODY HELL!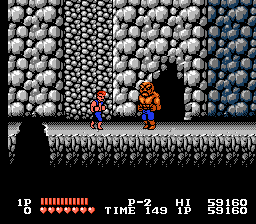 Come here often?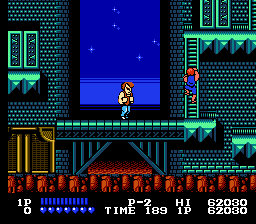 I've got better things to do tonight than die!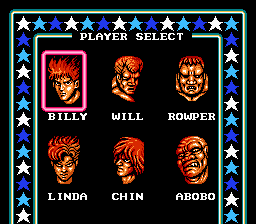 Ah, the 2-player mode we didn't want.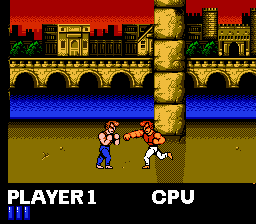 A novelty act that didn't last long.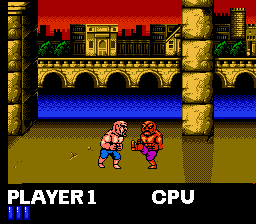 Well, at least you could use Abobo.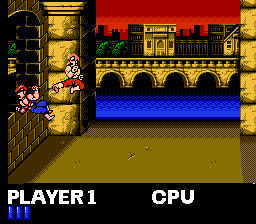 How about 2 players in the real mode?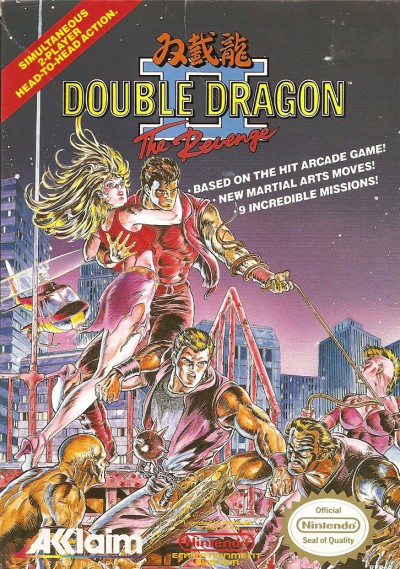 Double Dragon II: The Revenge was everything we wanted in a Double Dragon game and more. Now you could play co-op with a buddy and take out the bad guys together. I have so many fond memories of playing this game with my uncle and brother switching off back in January 1990 when it first came out to North American shores. We played the crap out of this game and it was one of our absolute favorites.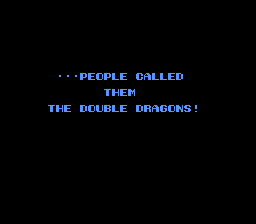 DAMN RIGHT!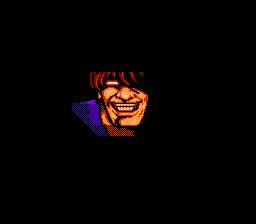 I remember thinking this was a bit spooky.
Let's just say Marian is in trouble…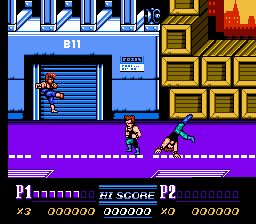 Look, it's Williams with a new makeover.
Yup, must have been the '90s.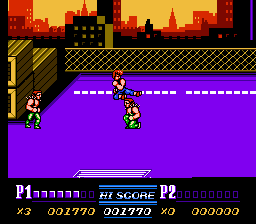 I used to call these guys "Leaf Men"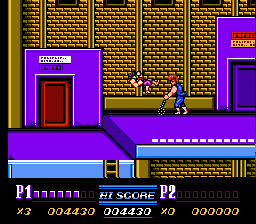 Never gets old stealing their weapons.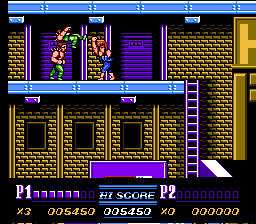 Remember throwing them off the ledge?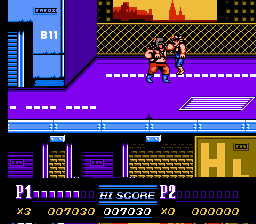 Reminded me of WWF's Demolition!
Here comes the Ax.
Here comes the Smasher.
The Demolition — walking disaster.
Pain and destruction is our middle name!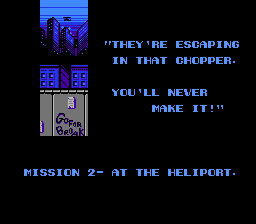 "GET TO DA CHOPPA!"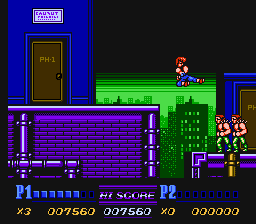 Such an awesome moment.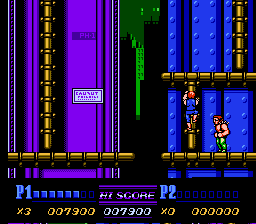 Not the best position to be in…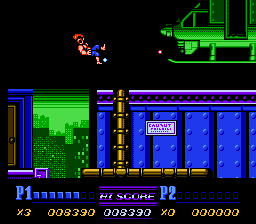 This was even worse.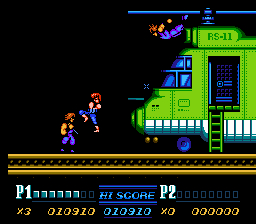 I called these guys "Ninja Scarecrows"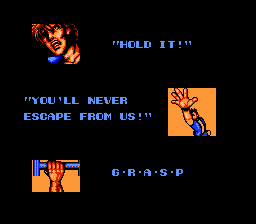 I loved these little cutscenes.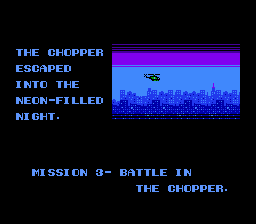 "Neon-filled night" — beautiful phrase.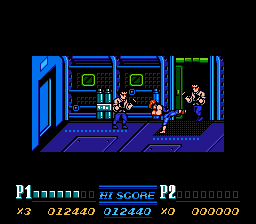 I called these guys "Paintbrush Men"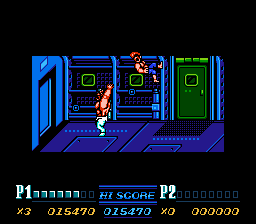 Watch out for the opening chopper door!
Hell of a mustache on this guy.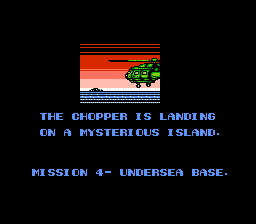 Welcome to Skull Island.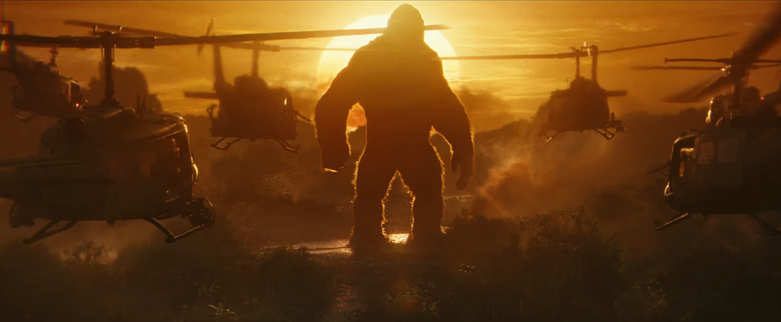 "Is that a monkey?"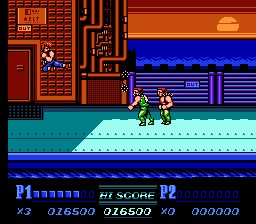 Love that sunset.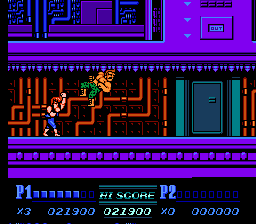 It's the Arnold mid-boss!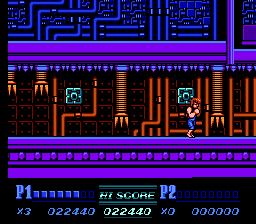 Shades of Contra, anyone?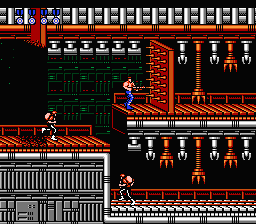 Imitation is the sincerest form of flattery.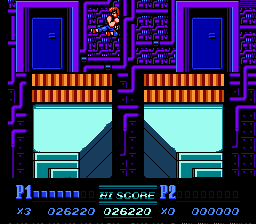 Bit tricky this was.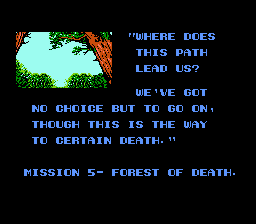 "This is the way to certain death."
Another great action movie line.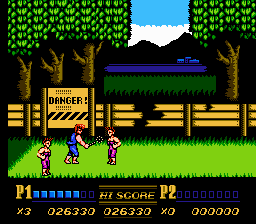 Gotta have a forest stage.
Wouldn't be Double Dragon without one.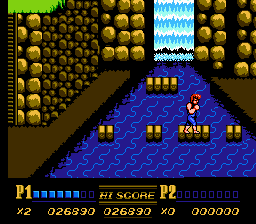 This part claimed so many lives…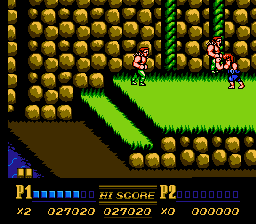 What lies up ahead?
Only one way to find out…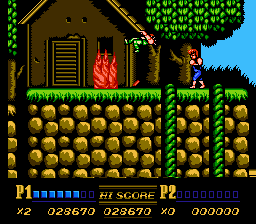 So fun setting these guys on fire.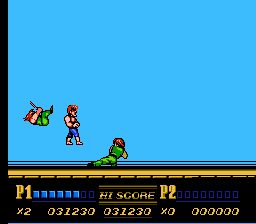 It's Chin from the first Double Dragon!
Oh man, that early '90s fashion though.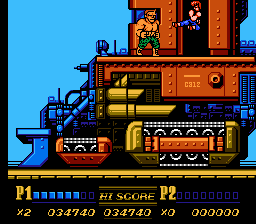 We meet again, Arnold.
"I'LL BE BACK!"
Yeah, we'll see about that.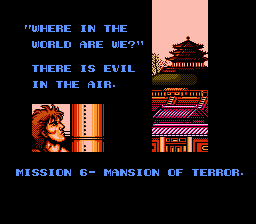 "There is evil in the air."
It's cheesy but that's the charm.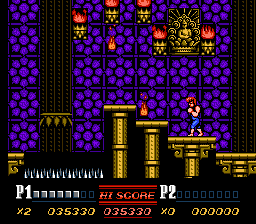 Disappearing platforms, yay…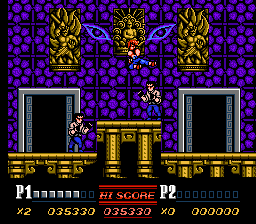 "Paint THIS, bitch!"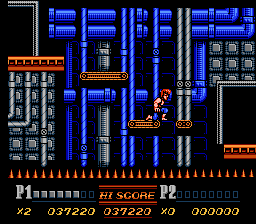 Concentrate, young Jedi.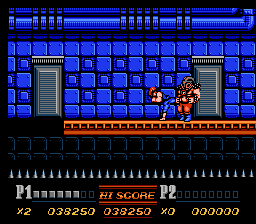 Send my regards to Mr. Fuji!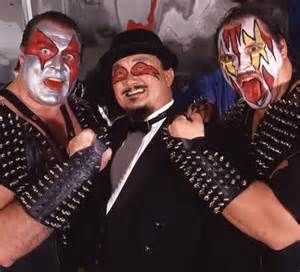 *devious Mr. Fuji crackle*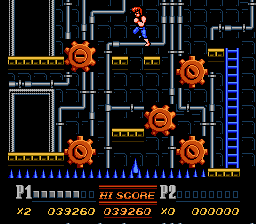 Just a cog in the machine…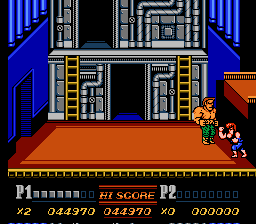 Back again? You weren't lying, Arnold.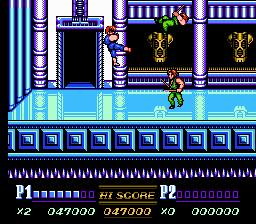 "Damnit, we just wiped this floor clean!"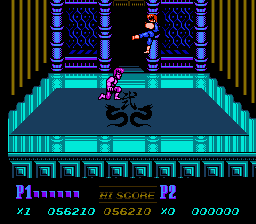 Your greatest enemy is yourself…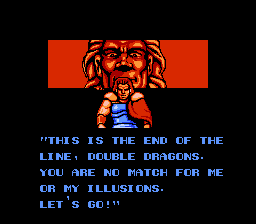 This guy kicked my ass hard.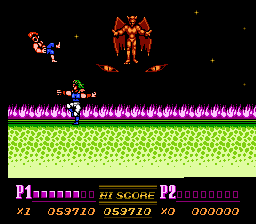 Remember using the Game Genie on him?
Yeah, you weren't alone. Game Genie FTW.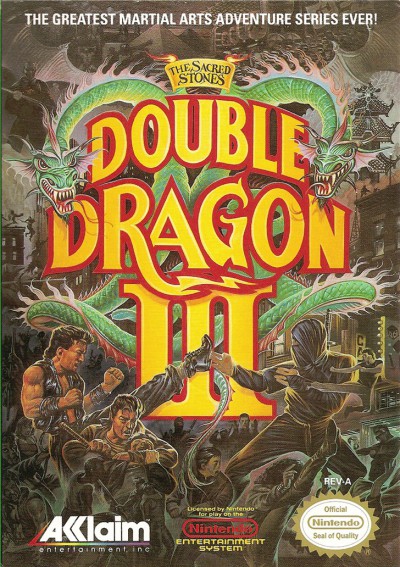 Double Dragon III: The Sacred Stones came out in the US February 1991. To put it simply, my brother and I felt it was a grand disappointment. It didn't really feel like a Double Dragon game. Certainly there was a lot of potential there but we felt it was never realized. It was hard as hell, too. I don't mind a difficult game, but when it feels damn near impossible to get past the second level or so, something is not right. I know some people might enjoy this game and that's fine if you do. I just never did. Nevertheless, let's take a quick look.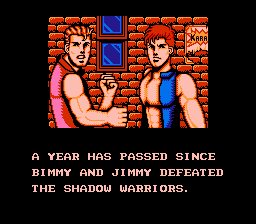 Ah, the infamous Bimmy blunder.
This was a sign of things to come.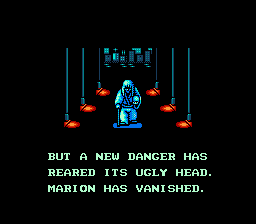 Creepy intro, though.
Points for that.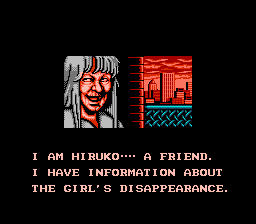 I dunno, old lady, you look a bit shady…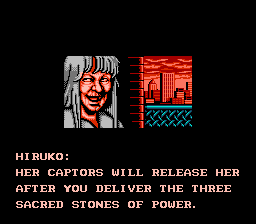 Ah what the hell. Let's go.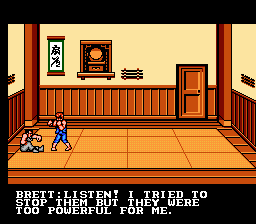 He nails the homeless man impersonation.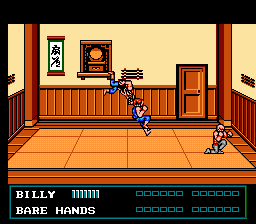 I never liked the aesthetic.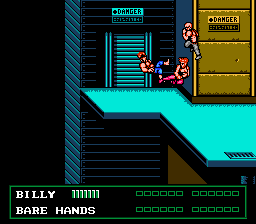 Double Dragon II looked way better.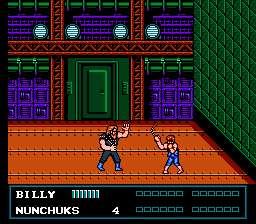 This is the boss? How disappointing.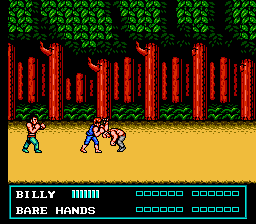 At least they still have a forest stage.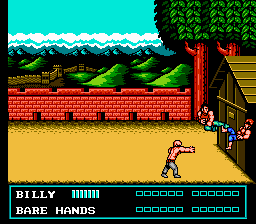 Nice to see the Great Wall of China, too.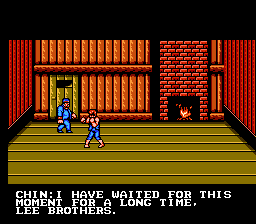 Chin, you've really let yourself go…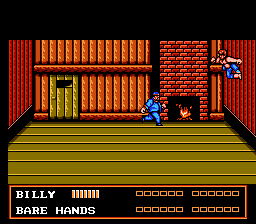 It's a little depressing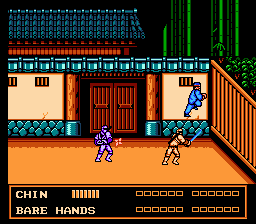 Wait, you can use Chin?!
That's not jumping the shark at all…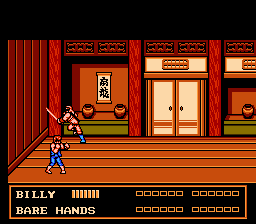 Beat Ranzou and he becomes an ally.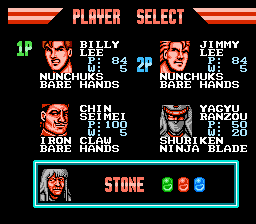 Props for branching out, I guess.
But some things don't need branching out.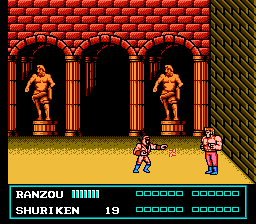 He's certainly no Abobo.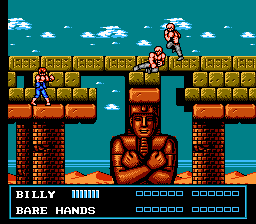 Best looking part of the game.
So let's end it on a high note

CLOSING THOUGHTS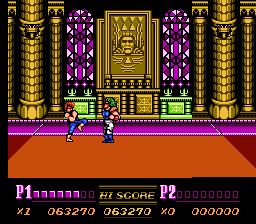 Double Dragon is a classic franchise that I feel has been overlooked and somewhat forgotten over the years. For me growing up with the NES in the late '80s and early '90s, the brand of Double Dragon in my mind was right up there with the likes of Mario, Punch-Out!!, Mega Man, Metroid, Castlevania and Contra. It saddens me that it kind of faded away from the spotlight but hey, we'll always have the memories. On a side note, we did receive Double Dragon IV for PS4 and Steam on January 30, 2017. So the Lee Brothers aren't officially dead yet.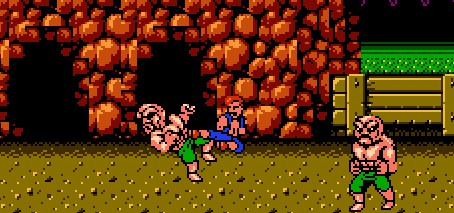 The NES trilogy was a mixed bag. The first one was great for its time. The visuals and sound were both excellent. I also kind of liked that you learn more moves as you gain experience. It makes sense being the first game that the Lee Brothers would slowly learn more moves as they go along. The only thing missing a 2-player co-op mode in the regular game mode. The second one is the best. Now you get 2-player co-op and the Lee Brothers know every trick in the book from the very beginning, so there's no limitations or holding back from jump street. It's an action-packed game that's great fun with two. My only complaint? A little bit too much platforming for my liking. I don't mind a bit of platforming in my beat 'em ups as long as the control is on point. I can't say that about Double Dragon II — I've lost many a life trying to complete all the damn jumps in that game. As for the third game in the series, I never liked it. It felt outdated and didn't even feel like Double Dragon, names aside. Guess you can't win 'em all. See ya next time for the Lee Brothers' SNES debut!
Double Dragon: 8.5
Double Dragon II: 9.0
Double Dragon III: 6.0