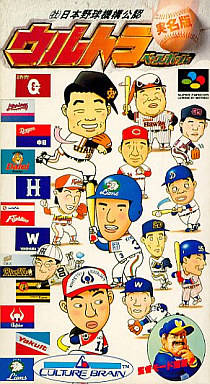 You might recall a somewhat obscure company (especially when compared to bigger names like Capcom and Konami) by the name of Culture Brain back in the day. They had a knack for making "quirky" games with features that were a little outside the box (to say the very least). You might remember them for the little quirky SNES game Super Baseball Simulator 1.000. Its Japanese title is Super Ultra Baseball and it was released in Japan on July 12, 1991. It graced North American shores in time for Christmas 1991 and earned itself a semi-cult following with many SNES players harboring fond memories of those early days. Well, did you know that Culture Brain released ANOTHER Super Nintendo baseball franchise but exclusively in Japan? This trilogy was known as Ultra Baseball Jitsumeiban. They share a lot in common with the Super Ultra Baseball series and I find it oddly fascinating that one little company had essentially two similar but different baseball franchises running simultaneously on the same system. It's about as quirky as Culture Brain itself was!
SUPER BASEBALL SIMULATOR 1.000 2?
Released on August 28, 1992, Ultra Baseball Jitsumeiban feels more like the true sequel to Super Baseball Simulator 1.000 than Super Ultra Baseball 2 does, on account of the gap being one year as opposed to three. One thing that caught my eye right away was the ability to play in the early evening time which the original game did not present. I'm a sucker for night time in my video games, and that definitely (if not especially) includes baseball.
Sunny days are meant for baseball. But there's also something beautiful about baseball in the early evening, and this game captures that.
Similarities between the two are inherently apparent. I dig the improved visuals of Ultra Baseball Jitsumeiban. There's something real clean and classy about it especially when compared side by side to the original as seen here.
Surely you can guess which game is which. What a difference one year makes.
Cosmetics aside, Ultra Baseball Jitsumeiban also improved on its fielding. Players control a hair smoother.
Nothing compares to a close dramatic play at home plate!
WHAT THE — ! Culture Brain trying to infiltrate my brain…
Celebrate your big shot by shouting WAO! Who doesn't?
There's something truly majestic about smashing the ball deep into the night. You can almost smell the fresh cut grass and hot dogs. If you look closely you can even see the ball heading for those fancy lights there.
Admiring your handy work is all part of the fun.
Worry not, the Ultra Plays are back.
They're what made the original game so popular and memorable. And just like the first game, when you activate an Ultra Play you and any base runners will flash as well. Good stuff.
That's definitely going to leave a mark.
Missile Hit returns in all its glory.
That's not the Flash. But you sure feel like him!
CLOSING THOUGHTS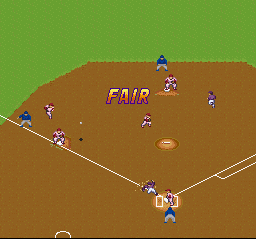 Jitsumeiban in case you were wondering means "Real Player Version." Culture Brain acquired the rights to use professional Japanese ball players in this trilogy, and this accounts for the major difference between this series and the Super Ultra Baseball one. Obviously there's some Japanese text to wade through but it's very manageable and just a really well made baseball game overall. I probably prefer Super Baseball Simulator 1.000 on account of English and nostalgia, but it's definitely not a bad pick up if you're so inclined.
ULTRA BASEBALL JITSUMEIBAN 2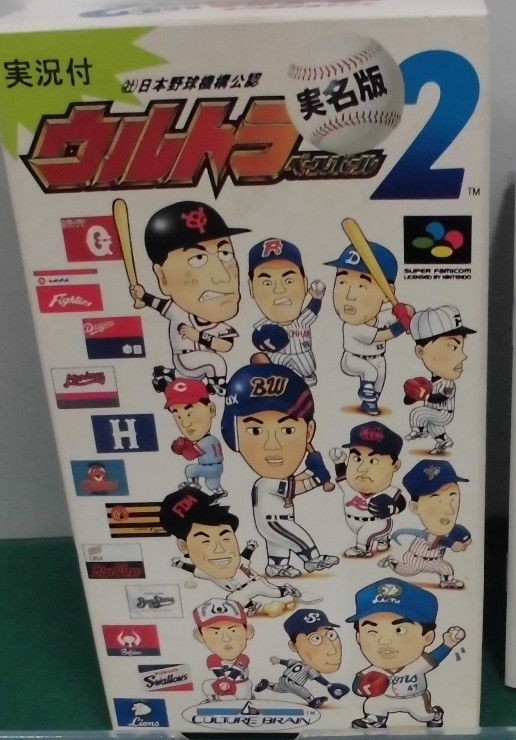 Funny story right off the bat [HAR HAR -Ed.], I bought this game back in 2006 and for a number of years was convinced it was the direct sequel to Super Baseball Simulator 1.000. After all, it was a Culture Brain baseball game with the number 2 attached at the end of it. How many bloody different baseball franchises on the same system can one company make? Well, apparently two. It came to my attention in 2008 or so that the direct sequel was Super Ultra Baseball 2. And that this game here, in fact, was Ultra Baseball Jitsumeiban 2. Yes, Culture Brain's other baseball franchise on the Super Famicom. Confused yet? Don't worry if you are, I sure as hell was nearly a decade ago. Who knew Culture Brain were such whores for baseball?

They truly were the Capcom of this particular genre. So how does Ultra Baseball Jitsumeiban 2 separate itself from the crowded pack?
… IN SMALL AND BIG WAYS APPARENTLY
WHOA! Right away you notice there are two vastly different presentational styles. The default is a cute Chibi, almost Super Deformed style. But there's also an option to switch to more traditional, typical 16-bit looking baseball sprites.
Honey, I Think I Shrunk The Ball Players! Call me a sucker for the small stuff but I love this! I personally prefer the Chibi style as it gives the game an even quirkier atmosphere not to mention it plays better in this mode.
Super Deformed mode allows you to see much of the field on defense. The other mode, however, doesn't. It makes a huge difference when you lose that MUCH real estate! Playing defense takes a huge hit because you see less.
While it's cool that Culture Brain threw in this mode, it honestly feels more like a throwaway than a well thought out process. Look at the fielding. You can't see much and it really hinders play. Shame they didn't adjust the scope because then it would truly feel like two games in one. Still, being an option, it's hard to complain much about this. Just stick to the Chibi mode and you'll be fine.
These two shots above are from Super Ultra Baseball 2 (July 28, 1994). Ultra Baseball Jitsumeiban 2 only came out less than five months later on December 22, 1994. It's easy to see Culture Brain just slapped on the sprites from Super Ultra Baseball 2 as a bonus. But look at the much more reasonable fielding in that game. Why they didn't convert that over as well is much to the detriment of this additional mode. So it's a nice novelty but not one with any real staying power.
Nevertheless, I still admire that it's even there to begin with. It kind of feels like this game Culture Brain wanted to sort of melt their two franchises together: the Super Ultra Baseball series with Ultra Baseball Jitsumeiban. While not a home run, I admire the swinging attempt, anyhow. Besides, the Ultra Plays will forever connect the two series and it's always a welcomed sight.
Charming, isn't it? It's a lot of fun to play, too.
Baseball pitchers or Street Fighters? It's hard to tell at times. But it's absolutely brilliant all the same.
There's even sort of a quasi-EarthBound style to its visuals…
Speaking of the Bomb special (as seen above next to EarthBound), it always cracks me up to see the ball exploding in the bleachers. Hope those fans are OK!
ProTip: Avoid meteors whenever possible.
Taking out multiple defenders with the Missile Hit? Priceless.
Nervous, are we? Oh, I see why. Hey, this is baseball. Not ballet!
CLOSING THOUGHTS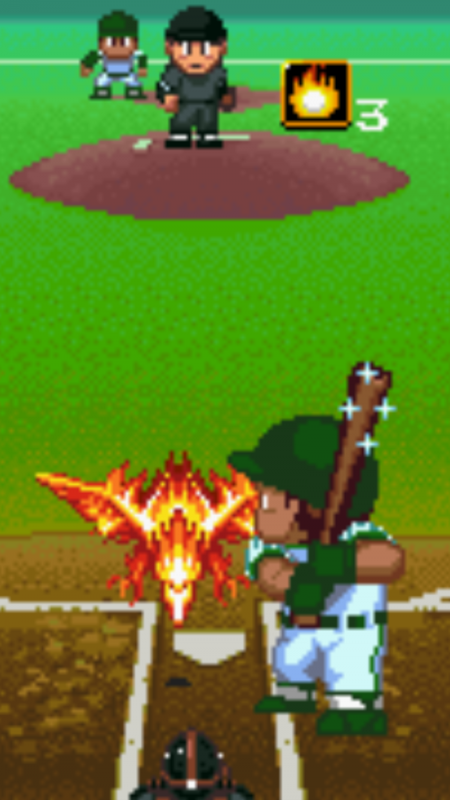 There's something about Ultra Baseball Jitsumeiban 2 that I can't help but love. I admire Culture Brain's attempt to blend the two franchises together. Of the trilogy, this is the closest example to such a feat. While it isn't perfect, you have to admire the attempt. If only they nailed it then this could have been Culture Brain's definitive baseball game. Still, I love the default Chibi mode. It plays well and it's the closest thing we'll probably ever get to EarthBound Plays Baseball. If that sounds like a good thing to you then give Ultra Baseball Jitsumeiban 2 a swing.
ULTRA BASEBALL JITSUMEIBAN 3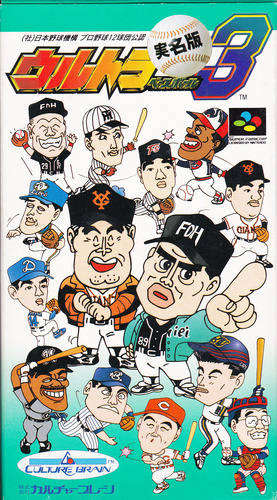 Arriving mere days before Halloween 1995 (October 27), Ultra Baseball Jitsumeiban 3 is what you'd get if you took the previous two Jitsumeiban games and mixed them in a visual blender. It's not quite Super Deformed as the second game but it's not as serious looking as the first one. It's almost as if Culture Brain settled on a balance of the two. I appreciate their efforts in making each game in this trilogy look different. At least you can't say they just put out the same game every year like you can with some other companies, ahem…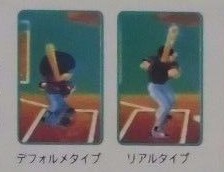 And look, they did it again! You get two different styles of play. The left is the default. Thankfully, the optional mode plays a little better than the previous game's optional mode, but it's still not the best and I recommend sticking to the default style for optimal gameplay. But more on that in a bit.
Exclamation speech bubbles are a nice new touch. Other added details include batters taking practice swings and digging their cleats deep into the dirt. Unfortunately, while you would think added details are a good thing, perhaps not always. Extra animation leads to games taking a wee bit longer to complete. We're not talking significantly longer, but long enough to be noticeable. It still plays extremely well but you'll need a little more patience with this one.
Whereas the alternative visual mode in the previous game was appealing, I have to say not so much on this one. It feels extremely generic in this visual style. Stick to the default.
Besides, the default style plays a lot better since it gives you a better scope of real estate on defense. The alternative mode still suffers from being too closely zoomed in as it did in the previous game. It's a little better but still not ideal.
PRO YAKYUU STAR
Culture Brain's true swan song on the SNES though came with 1997's Pro Yakyuu Star. It was a standalone title that took a bulk of the graphics engine from Ultra Baseball Jitsumeiban 3 but it improved vastly on gameplay. Fielding and catching the ball never felt so smooth. Unfortunately, the trade-off is there are no Ultra Plays anywhere to be found. Still, as far as straight-laced baseball games on the SNES go, Pro Yakyuu Star is easily one of the better ones.
CLOSING THOUGHTS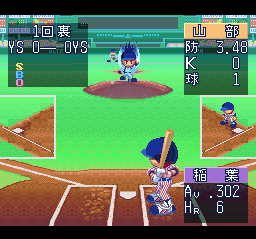 Ultra Baseball Jitsumeiban 3 is yet another solid addition to Culture Brain's long running series of baseball games. Don't worry, the Ultra Plays are in this game as well. However, Pro Yakyuu Star plays a lot better so my problem with this game is whenever I play it I often feel like I'm playing a lesser version of Pro Yakyuu Star, due to the similarities in graphics. As mentioned earlier, it also takes a little longer finishing one game here than it does in previous ones, due to the added animation. If I had to rank the three Jitsumeiban games I would go 2, 1, 3.
Ranking Culture Brain's six SNES baseball games:
1. Super Baseball Simulator 1.000
2. Ultra Baseball Jitsumeiban 2
3. Pro Yakyuu Star
4. Ultra Baseball Jitsumeiban
5. Super Ultra Baseball 2
6. Ultra Baseball Jitsumeiban 3
Because I'm a nut for baseball, I own all six of these games. They're all very good but you probably don't need to play all six (unless you're crazy like me). If you can only play a few, I recommend checking out the top three in my list above. Pro Yakyuu Star, being the last one released, honestly probably plays the best of them all but because it lacks Ultra Plays I have a soft spot for the earlier games and tend to prefer playing them instead. Enough yapping — there's only one thing left to do…