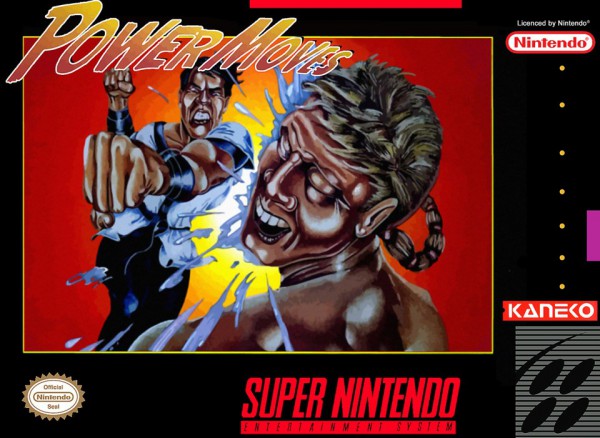 Power Moves, believe it or not, turns all of 25 years old this month [said no one ever -Ed.]. Hey! I just said it! [Like I said, said no one ever -Ed.]. Ahem, at any rate, 2018 is a crazy time. A lot of our favorite (and not so favorite) SNES games from 1993 will be turning 25 years old. Power Moves didn't move the needle at all back then, and it's a safe bet you won't be seeing many (er, any) "Happy 25th Anniversary" messages for this game. Nonetheless, it stands as a critical game in my SNES fandom. I have a ton of nostalgic memories tied to this game even if it isn't any good. Why is that? Well, let's fire up the DeLorean…
THE YEAR WAS LATE 1992…
My brother was too shy to go rent video games so he would always ship me to do his dirty work. 90% of the time he gave me a specific game to rent. On this particular Saturday morning however, he didn't have a choice title in mind. It was one of those rare "just rent whatever looks good" weekends.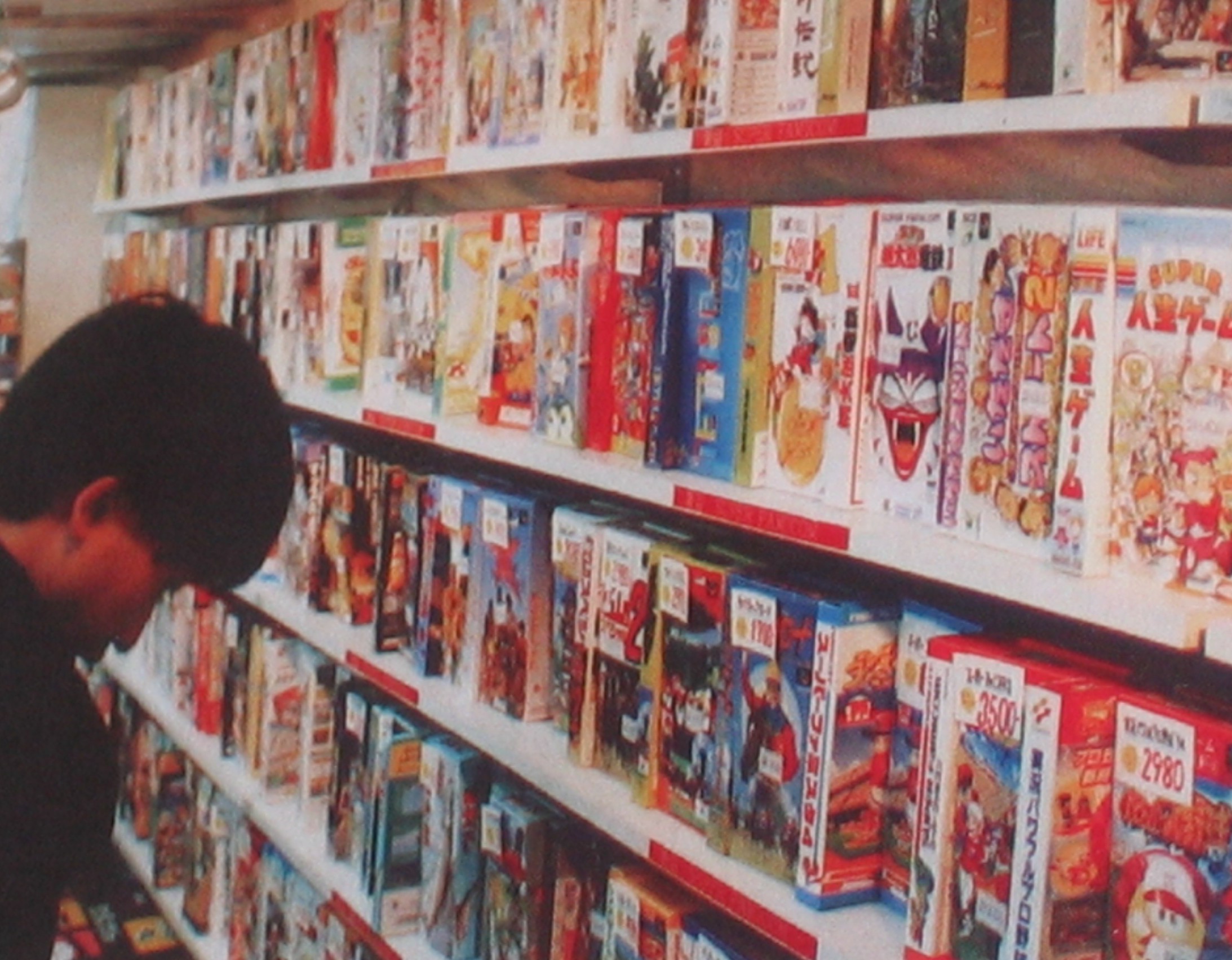 Around this time a hot new rental store called GAME HUNTER burst onto the scene. Game Hunter prided itself on catering to the hardcore. No movies, just video games. You name it, Game Hunter had it. NES, Genesis, SNES, portables and even Neo Geo. But best of all were the imports galore! Walking in seeing a wall plastered by exotic Super Famicom boxes was mind blowing especially back in late 1992. Game Hunter had a HUGE cult following in my area and for damn good reason. They were, simply put, gaming paradise personified.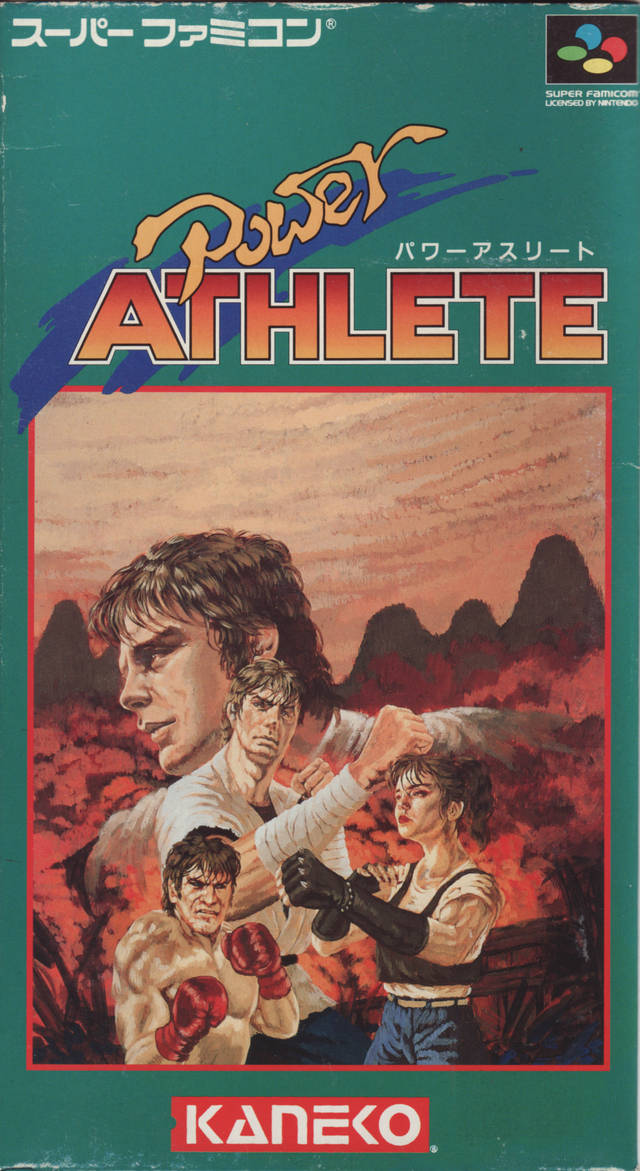 Strolling the SNES aisle I was taken aback by the countless rows of boxes on display. It was a visual feast! A game by the name of POWER ATHLETE eventually caught my eye. A Street Fighter II clone, eh? I was sold. Sadly for me, I didn't realize until I got home that it refused to play on my SNES. My brother snapped at me. Not only did I waste my dad's money and time, but now we had a game we couldn't even play for the weekend! I immediately called Game Hunter to explain the situation and they told me about the special adapter that would allow an American SNES console to play Super Famicom imports. Thanks guys — a little warning in advance would have been appreciated! My dad, being a great father, drove me all the way back to rent that damn adapter.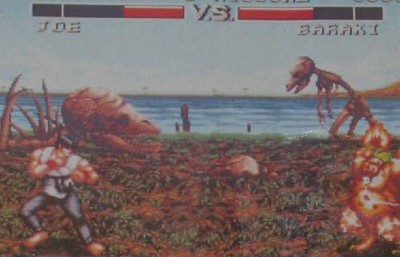 Some 40 minutes later, all systems were GO. And the rest is history. Power Athlete was my first import experience. My brother's best friend came over that weekend and he loved the game. I liked it for what it was, and so did my brother. We had fun with it that weekend. It was no Street Fighter II but it has a cheesy charm to it. Now granted, I think we all knew it wasn't good per se, but we still enjoyed our time with it. After all, kids have a funny way of making the most out of any given situation.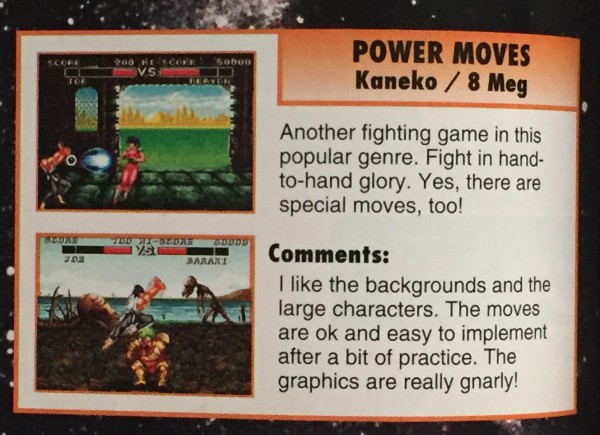 ***13 YEARS LATER: JANUARY 2006***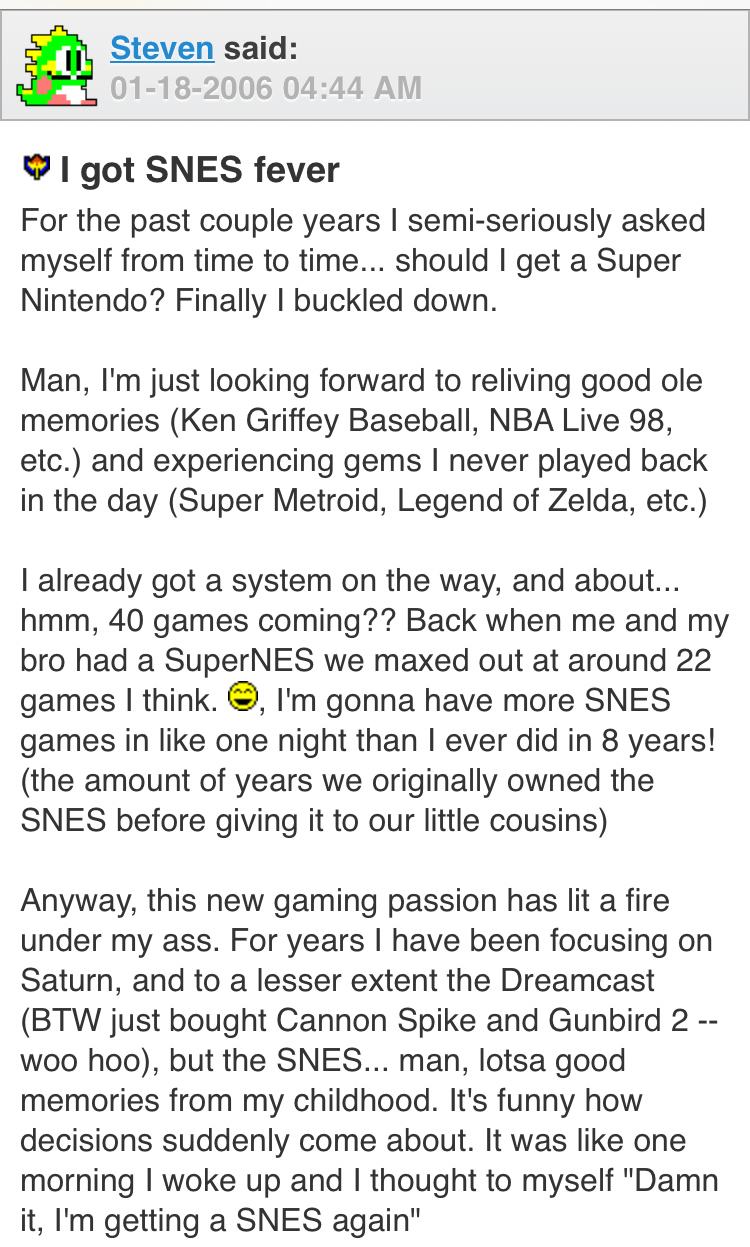 During my winter break of December 2005-January 2006, I developed a nagging feeling I could no longer ignore: it's time to get back into the SNES. On January 17, 2006, I logged on eBay to search SNES. The first auction ending (in 38 seconds) was none other than Power Moves. What were the odds? It was fate. How fitting, too, that my first import rental ever would become the first game purchase of my SNES comeback.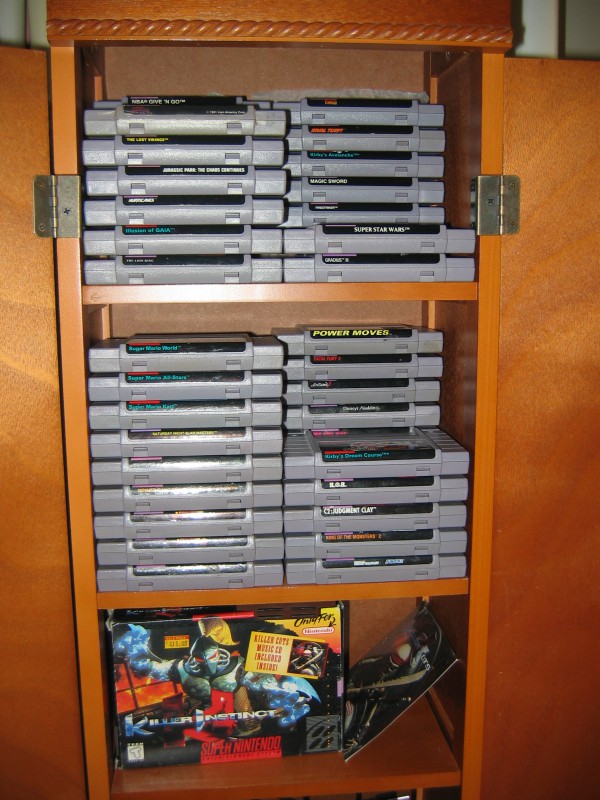 By the time the SNES came on January 30 I already had 51 games in my possession. Can you guess the first game I chose to play? Of course… POWER MOVES.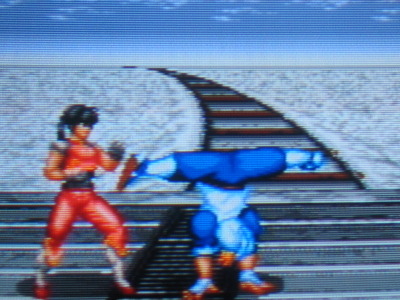 Seeing the old sights and sounds for the first time in 13 years was rather surreal. A lot I'd remembered precisely like certain stages, special moves and the cheesy fighters. It was quite the neat little trip down memory lane of a bygone era.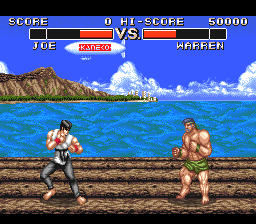 The graphics brought a smile to my face. They're decent in some places while lacking in others, all while having a semi-nice (nostalgic) look to it all — if that makes any sense. The images of Warren and Baraki's stages were burned into my retina 13 years ago. Warren's stage features a big raft sailing across a ocean. Floating high in the air in the background is a blatant and shameless KANEKO blimp. Sure, it may look largely unappealing today, but back in late 1992 it was quite a sight.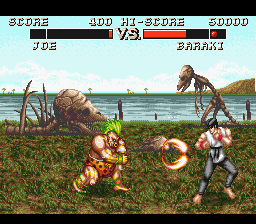 Baraki's stage, located in the exotic outreaches of Kenya, sees the fight taking place on soiled ground full of foliage. Littering the background quite nicely are a pair of huge dinosaur remains. A small river flowing about can be seen beyond all this. 13 years later, it still looked pretty damn cool to me at least.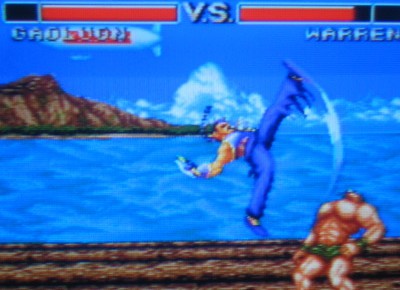 Each character has two special moves. These are executed by holding punch and kick, and tapping forward or back then forward, etc. Control could have been better. They can be somewhat difficult to pull off in the heat of battle at times. Sound and music is generic but passable.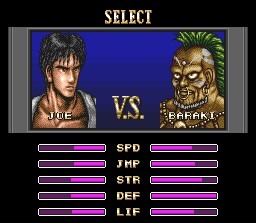 The 1 Player mode only allows you to control Joe. You must build up stats in various categories as you progress through the ranks. It's an interesting idea in theory but not so in execution. It's a shame too that you can't pick from any of the eight fighters in this mode. Only the 2 Player mode allows you full access.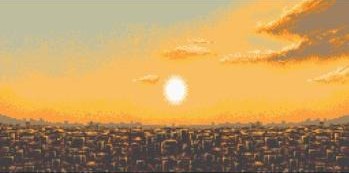 The combo system is very basic and simple. It's nothing special, although it does feel sweet to jump kick someone deep followed by connecting a hard punch straight to the jaw. Like I said, there's sort of a weird nostalgic charm to this game. Let's meet the characters now.
POWER ATHLETES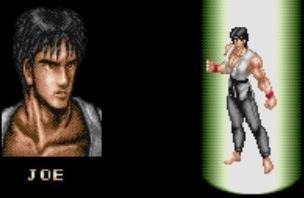 Meet Joe [Black -Ed.]. You better get used to liking him because he's the only fighter you can control in the 1 player mode. One of the most generic and forgettable Ryu clones of the early-mid '90s, Joe is obsessed with being the best in the world. Hmmm, where have I heard that before…
Hadoken? No, meet the Ken-Do-Ha! That's not its official name of course; I just like to think of it as such. To Joe's credit, his Dragon Punch is pretty cool and looks different from most other Dragon Punch variants. The Rising Dragon Palm is Joe's ticket to victory.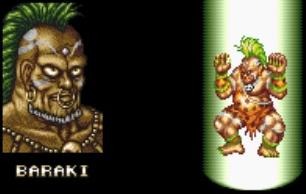 Baraki is what you'd get if Blanka and Baraka had a love child. This savage beast hails from Kenya so he's near and dear to my heart (see my Kenya adventures for more). Baraki's stage is quietly underrated. The huge dinosaur bones littered about and the quaint little river flowing in the background blew my mind when I first saw it 25 years ago in December of 1992.
"FIRE!" shouts the savage each time you unleash his Sonic Boom-like fireball. Not creative, but cheesy and charming in its own weird Power Moves way. He also rolls up in a ball and launches himself at opponents with no regard for human life. A goofy Blanka clone with a fireball? Yes, please.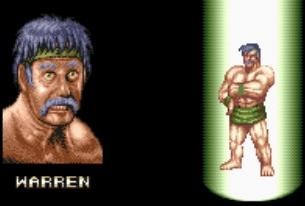 I remember calling Warren "The Old Muscle Man" as a kid.  He's got one of the creepiest looking portraits I've ever seen in a fighting game. Imagine running into Warren down a dark alley. No thank you!
Warren is a dangerous and capable adversary in spite of his goofy looking ass. The Hawaiian brute is deceptively agile and quick.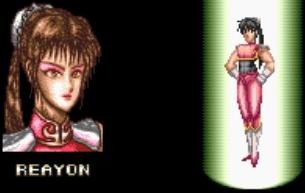 Hey look, it's Discount Chun-Li! Reayon is your standard token female fighter. Nothing about her really stands out — she's pretty forgettable. I couldn't even remember her name until I went to write this review. Considering my memory, that's saying a lot…
Shades of Sonya Blade!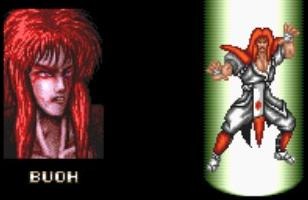 Kabuki fighters weren't too uncommon in fighting games back then. Kyoshiro from Samurai Shodown is probably the most famous one, but Buoh came out about seven months prior. He's nowhere as interesting, though.
Teleport and use Buoh's long hair to your advantage. Battles take place in front of a Japanese shrine complete with a Torii gate.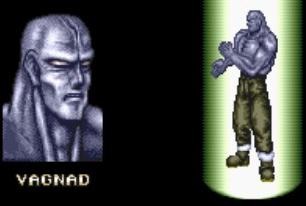 Shades of Neo Geegus from World Heroes, anyone? This mutant is the strongest fighter in the tournament.
Vagnad is the king of the double attack. This includes a double piledriver and a double rushing punch. Combatants duke it out on a roaring train. The scrolling was rather impressive for its time to a nine year old kid, anyhow. Dreary as hell, which suits the character perfectly.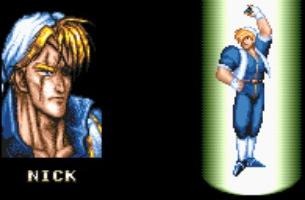 An elite athlete, Nick spent years honing his craft. He tried to channel all his inner energy to unleash a fireball but he could never muster enough chi. Fed up, one day he realized, "Shit, I could just use daggers." And the rest is history.
Flamboyant and graceful, Nick uses his breakdancing skills and deadly daggers to inflict barrels of pain unto his opponent. His stage is reminiscent of Rolento's from Final Fight. Nice looking sunset!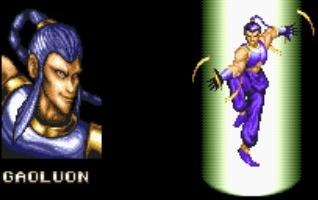 China, known for its savage warriors, has produced Gaoluon — Master of the Bladed Tonfas.
Gaoluon's deadly tonfas act like boomerangs and has the ability to hit you twice. He also does one hell of a Flash Kick impersonation.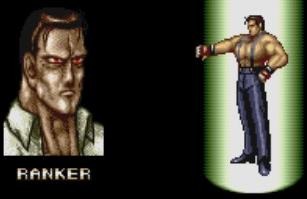 After defeating all seven opponents, you face off with the big bad bruiser known only as Ranker.
Ranker isn't exactly top tier M. Bison Geese Howard Wolfgang Krauser level but hey, it's Power Moves. In its own weird little universe, he's not the worst final boss I've ever seen.
BONUS ROUNDS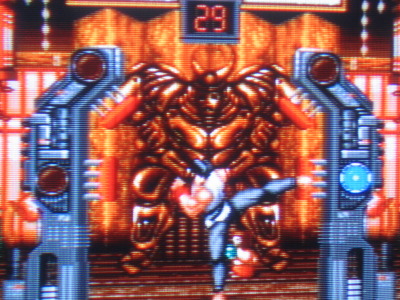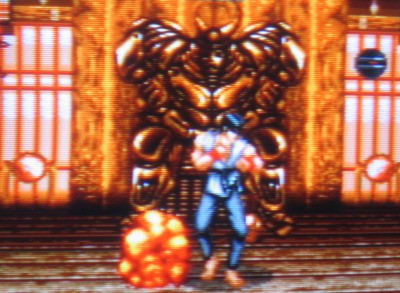 WHAT THE CRITICS SAID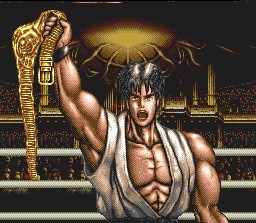 GameFan, notorious for doling out generously high review scores, gave this game ratings of 80, 85, 87, 90 and 90%. Pretty safe to say they would admit in hindsight that those scores were way too high. Power Moves is often considered a poor fighting game. Coming out roughly half a year after the amazing SNES port of Street Fighter II didn't do it any favors, either. It would have fared better had it been released a year earlier in January of 1992. Power Moves felt like a massive step down by early 1993. Super Play, ever the reliable voice of reason especially when contrasted to GameFan, rated it 49%.
CLOSING THOUGHTS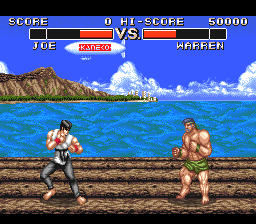 I always say when it comes to the SNES that nostalgia is a nice added bonus, but there has to be more to a game than just nostalgia. After all, that will only take one so far. The game still has to be fun to play. Unfortunately, Power Moves falls flat in that department. It isn't your typical single plane fighting game. Imagine a beat 'em up playing field, shrink that down and you get Power Moves. This means that pressing up moves your character up instead of jumping. Pressing down moves them down; fighters cannot duck. To jump you must press a button. Thankfully, blocking is still holding back on the D-Pad. While the freedom of movement is certainly unique — it's easy to avoid fireballs and attacks — this engine sadly doesn't make for a good 2D fighting game. It's even more baffling when blocking special moves doesn't inflict any harm whatsoever. It takes away from the gimmick of the more open ended playing field. Dubious decisions all around plague what could have been a semi-decent fighting game.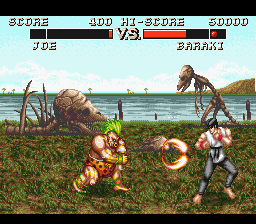 To make matters worse, players can only control (Average) Joe in the 1 player mode. You can only use the seven other fighters when playing against a friend. So whatever limited replay value there was to begin with has been slashed even further. Surely there must be some sort of code? Nope. Not that it would have helped much, but hey, it can't hurt to have more choices. Speaking of bad, special moves are awkward to implement. If there's one thing a fighting game absolutely cannot suffer from, it's bad controls.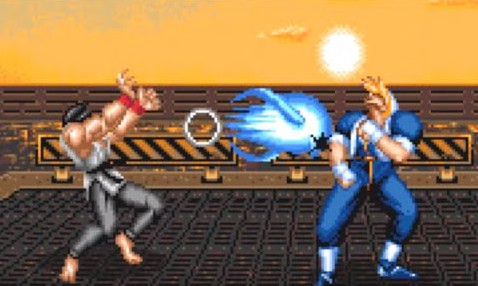 Still, there's a part of me that will always appreciate what this game means personally to me. It was my very first taste of import gaming at a time when the word "import" still meant something very sacred and special. Nowadays with the internet and everything, gamers can play and buy imports at the drop of a hat. But things were a little lot different 25 years ago in late 1992. Imports back then carried a certain high level of mystique. They were exotic and almost mythical, even. I'll never forget that weekend I rented Power Athlete in December of 1992, and the stupid fun my brother, our friends and I had with it. In addition, Power Moves became the first SNES game I bought during my SNES comeback 12 years ago in January of 2006. It also marks the first SNES game I reviewed exactly 11 years ago on my original RVGFanatic website. While the game itself borders on being bad (although not entirely unplayable), the rich history it has in my gaming fandom cannot be understated. As such, Power Moves will always have a spot in my gaming heart.
Graphics: 5.5
Sound: 4.5
Gameplay: 4
Longevity: 4
Overall: 4.0