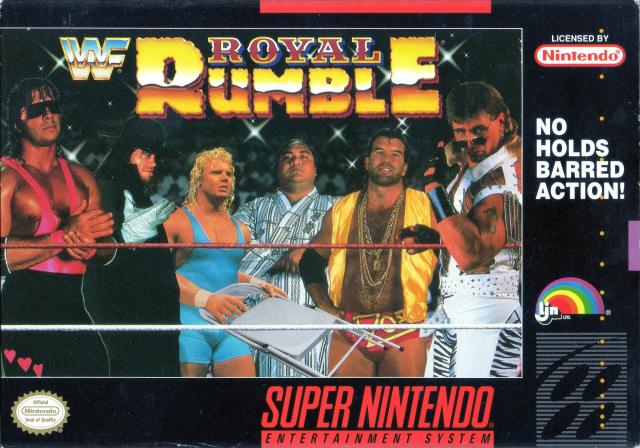 I grew up on professional wrestling and have been a fan for over 30 years now. I first fell in love with the WWF when I witnessed the birth of the Mega Powers on a Saturday Night's Main Event episode in late 1987. Throughout the years I've attended shows and followed the product. It's had its ups and downs but it's one of those things that has become a part of me, much like video games. One of my favorite WWF events growing up was the Royal Rumble. So imagine my joy back in the summer of 1993 when WWF Royal Rumble was released on the SNES. The previous WWF game on the SNES, WWF Super Wrestlemania, was pretty meh. Would Sculptured Software redeem itself with Royal Rumble?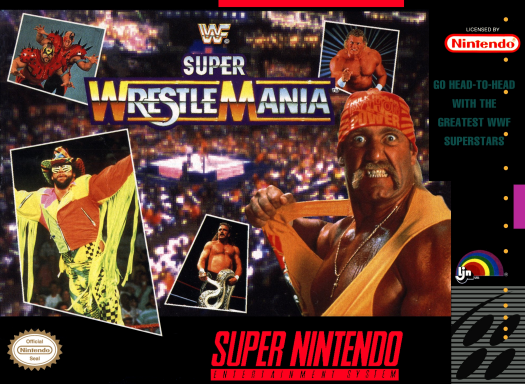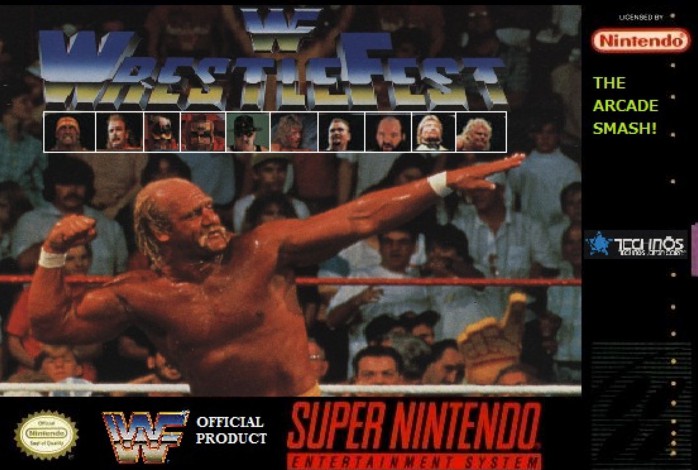 Released in 1991 by Technos, WWF Wrestlefest was something of a mythical legend in my gaming group growing up. The game was larger than life and as colorful as the wrestlers themselves. One of my biggest SNES disappointments is that there was never a Wrestlefest port. Instead we got WWF Super Wrestlemania and it sucked.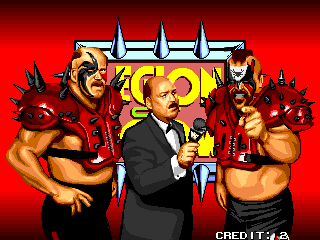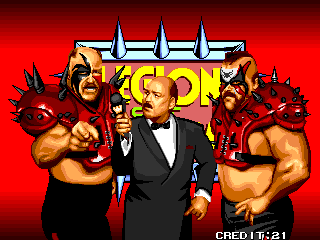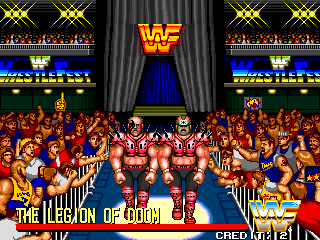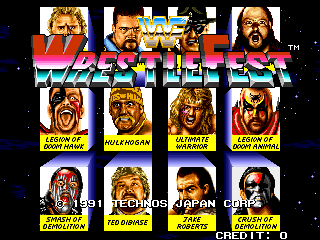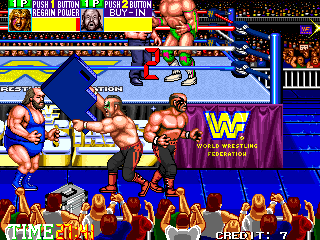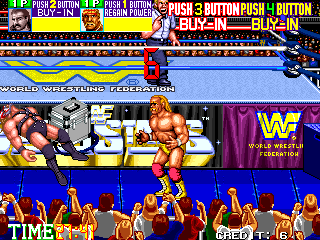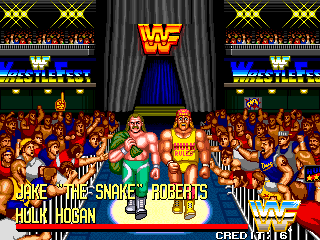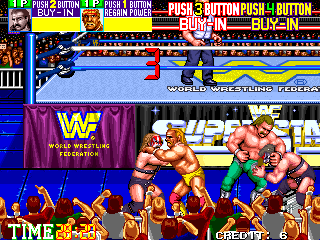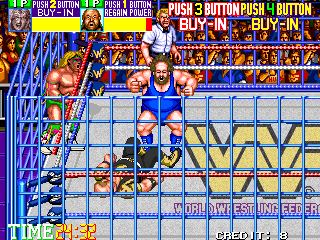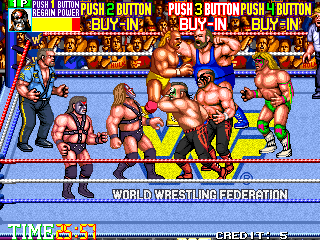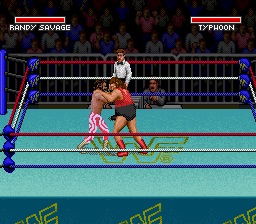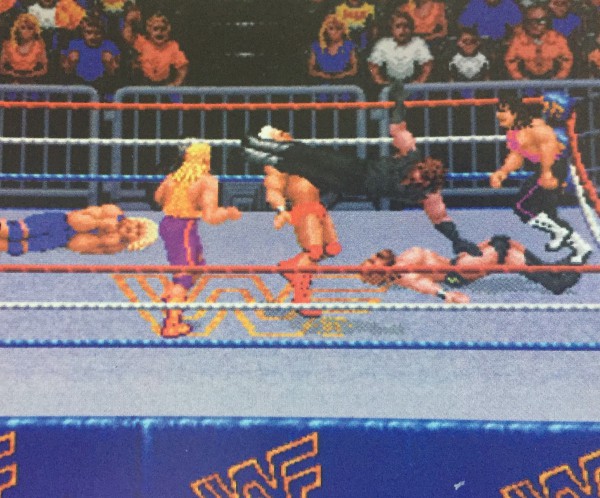 THE ROYAL RUMBLE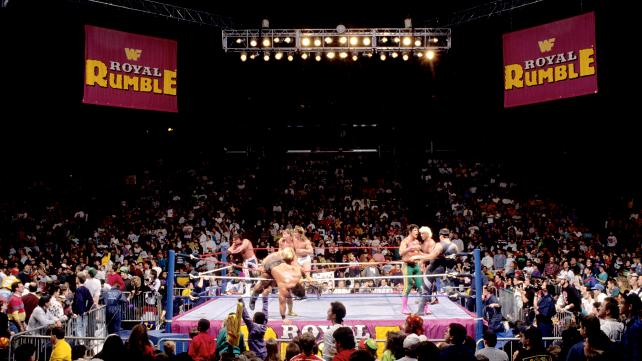 The Royal Rumble has always been one of my favorite WWE events of the year. 30 men duking it out, a new wrestler comes out every two minutes (ish) and surprises galore. From returning superstars to one-off legend returns to debuting talent, that buzzer always brings a certain level of excitement and anticipation.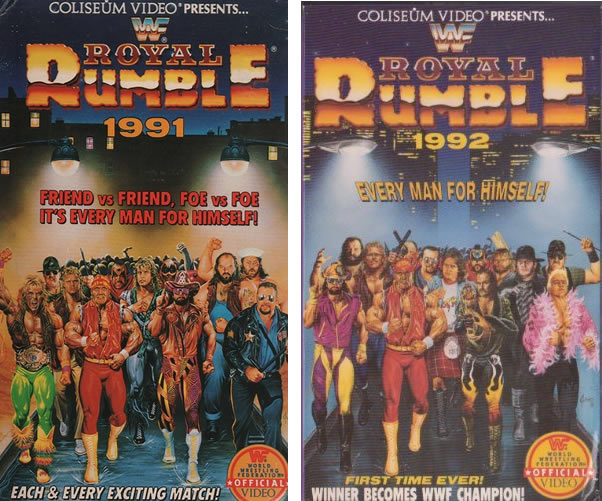 Tonight marks the 31st Annual Royal Rumble. It will also feature the first ever 30 women Royal Rumble match. Whatever happens and whoever wins, I'm expecting a pretty good show. My favorite Rumble would have to be the 1992 edition where "The Nature Boy" Ric Flair went the distance to win not only the Rumble but the WWF Championship as well. Besides, who could ever forget Bobby "The Brain" Heenan's classic commentary on that match? "THAT'S NOT FAIR TO FLAIR!"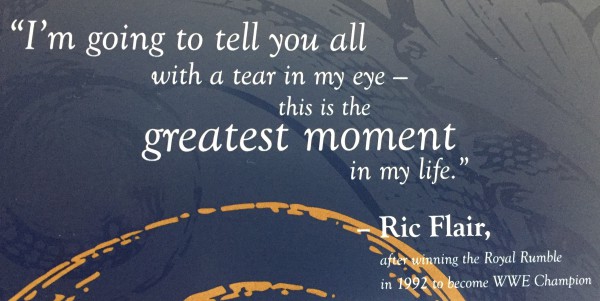 Another personal favorite is the 2006 Royal Rumble. I remember this one fondly for a number of reasons. For starters, it was one of the few WWE pay-per-views I bought and the last one I purchased before the WWE Network launched in early 2014. Secondly, I watched it with my cousin David and we both became five year old wrestling marks again that fine evening. Last but not least, it was the night before I received my massive Super Nintendo package along with 30+ games. I remember that Sunday night at David's house like it were only yesterday. January 29, 2006. Crazy that it's been 12 years.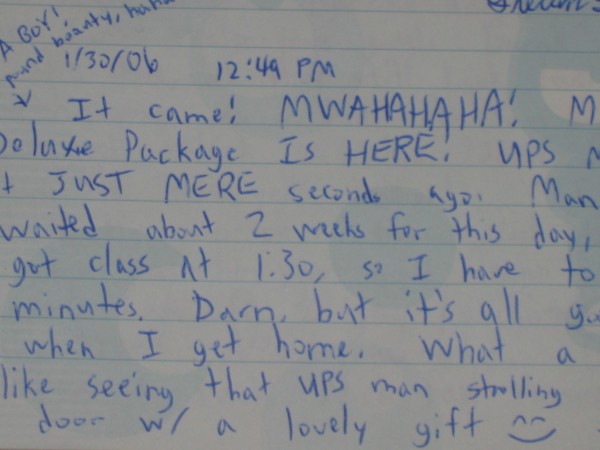 It was an exciting time. I was at David's house watching the Royal Rumble with him and knowing that my big SNES package was probably just a day away. It was just a perfect evening… one of those nights that live on forever in your soul.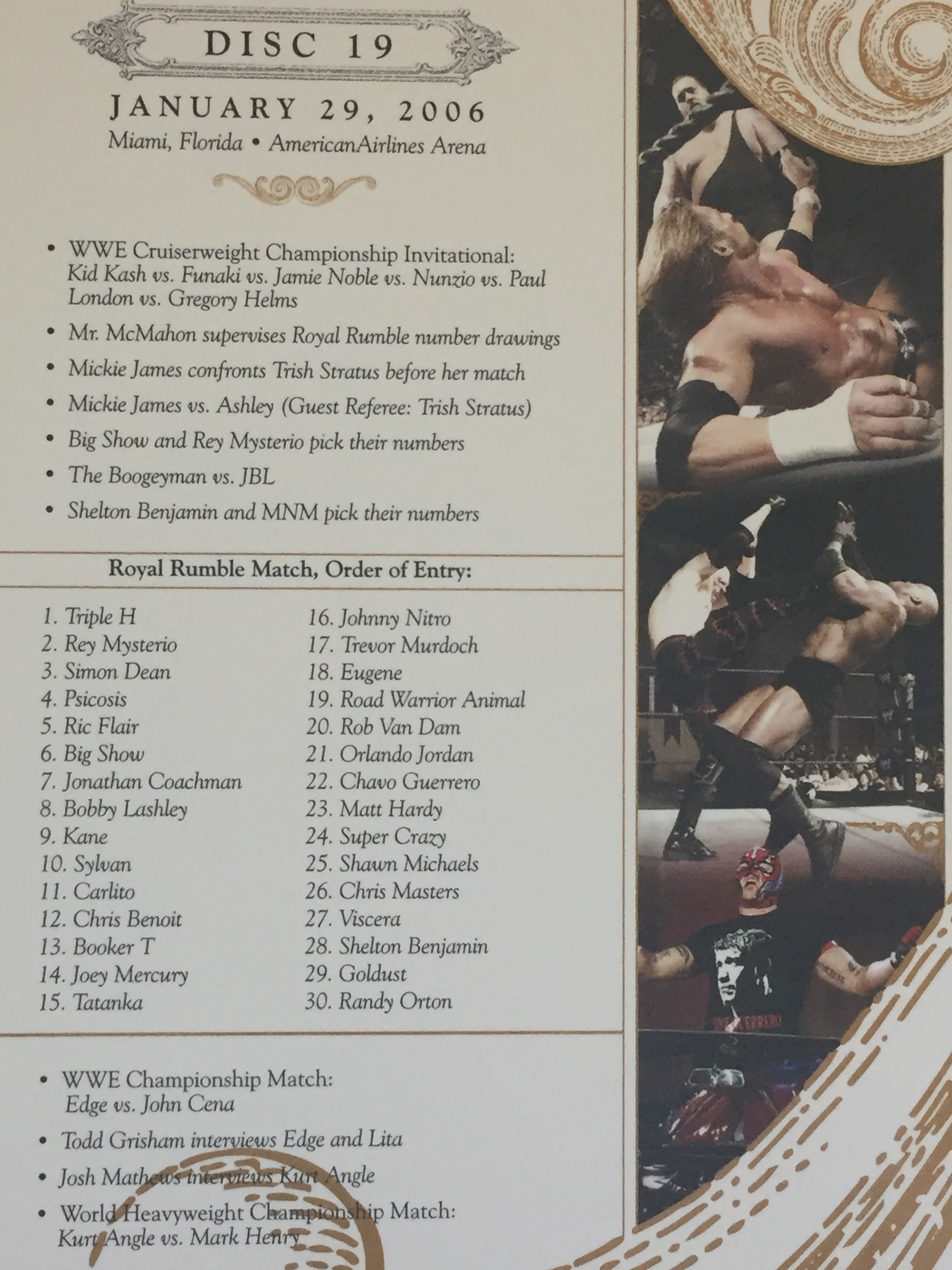 2006 Rumble was when Rey Mysterio went over and began his Cinderella run to the top following the death of Eddie Guerrero.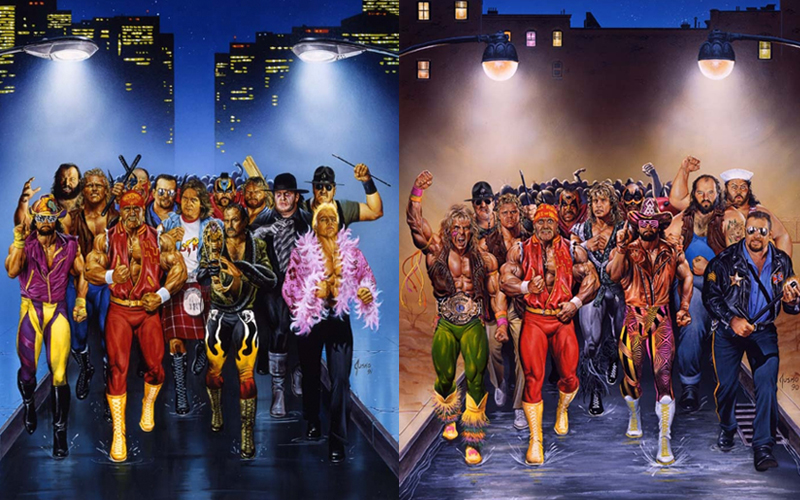 God damn, look at all those Hall of Fame legends. It's sad though when you think about who has already passed. Cue Dead Wrestler Beach.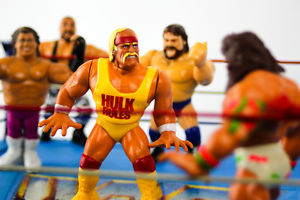 Who will win the 2018 Royal Rumble later tonight? Some are saying Shinsuke Nakamura. Others are citing a returning Daniel Bryan. The safe bet may be Roman Reigns. Regardless, I look forward to another fun evening with the boys.
One of my favorite things about the Rumble? The theme, particularly from 1991-1992. Talk about childhood memories. Remember the wrestlers' portraits flying in and out of the screen as Vince McMahon would scream their names? Classsic!
SMASH!
HAAAA-KUUUUU!
THE ULLLLLLL-TIMATE WARRIOR!!!!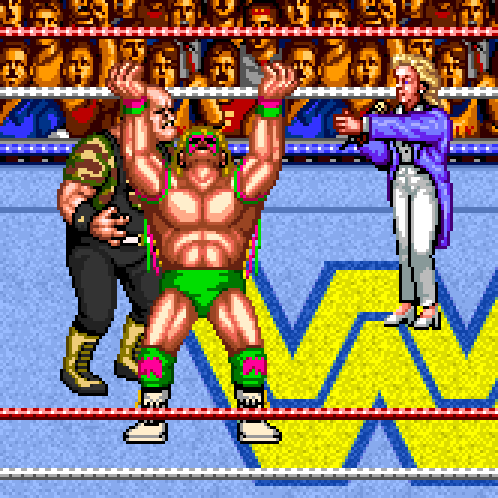 ROYAL RUMBLE THE VIDEO GAME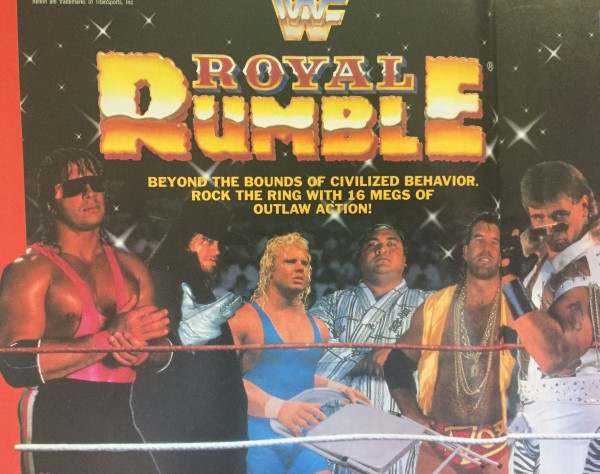 Being huge WWF and SNES fans back in 1993, my friends and I were super hyped for WWF Royal Rumble. I remember a lot of boasting about its hefty 16 MEGS. It's funny looking back what a huge deal was made out of games that boasted 16 MEGS. It was just a sign of the times.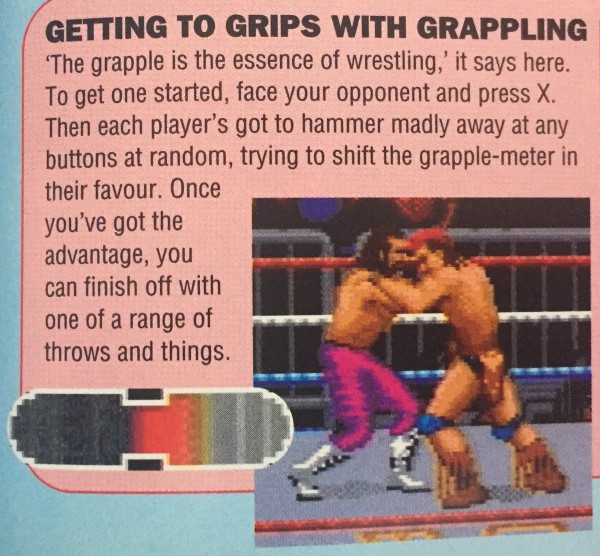 I wasn't the biggest fan of its "who can tap the fastest" gameplay system, though. Then again, I always had the slowest thumbs of my gaming group

Each WWF wrestler has a special finishing move that WWF Royal Rumble nicely duplicates. This was one of the many things missing from Sculptured Software's initial effort, WWF Super Wrestlemania. No finisher is better than Undertaker's Tombstone!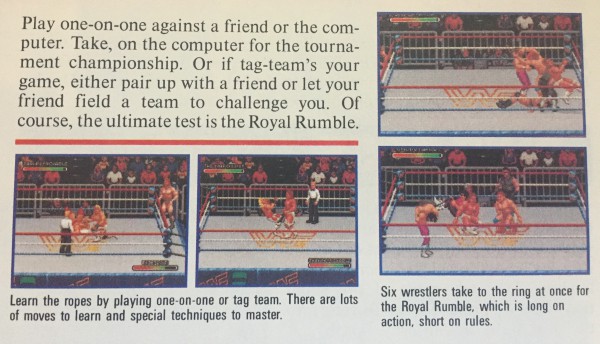 There are plenty of modes on hand but the main appeal is of course the Royal Rumble match itself. Up to six wrestlers can be on screen at a time. Unfortunately this game doesn't take advantage of the multitap. So only up to two people can play, which is a shame. Luckily, Sculptured Software learned from this and made the appropriate changes to their follow-up game, WWF Raw.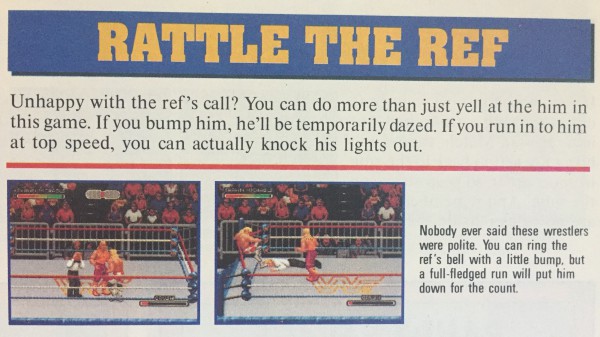 Knock out the ref just like in real life WWE. This entertained the crap out of me and my friends back in the day.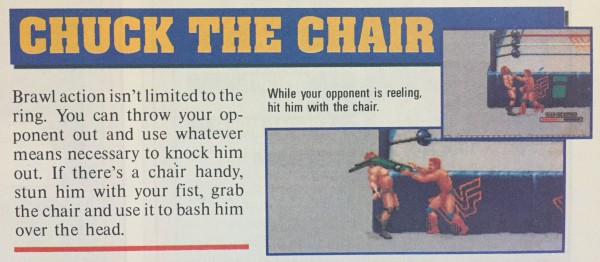 Chair head shots have long been banned from the WWE, but you can still relive those glorious headbangers in Royal Rumble.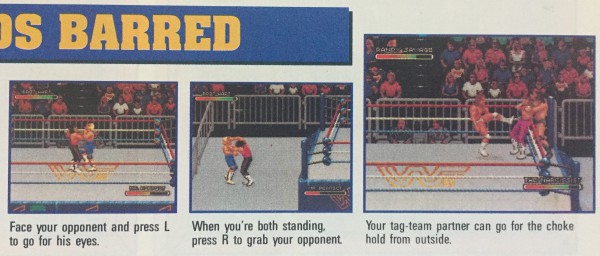 Nothing like a little cheating. Choke 'em, rake 'em and kick 'em!

We had way too much fun with this back in the day.
THE WRESTLERS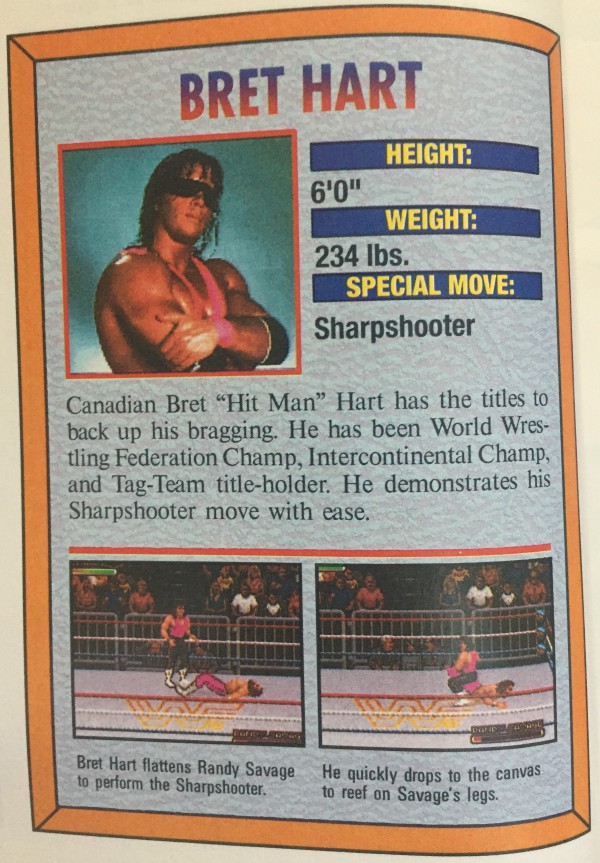 Bret Hart was always one of my favorites. The Excellence of Execution was one of the best wrestlers I've ever seen. His 2006 Hall of Fame speech was awesome.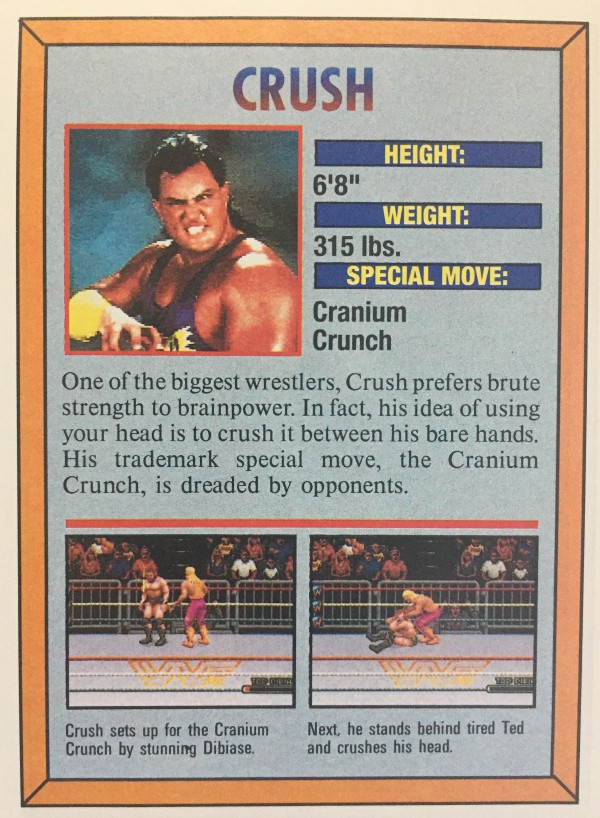 Crush started out in the WWF as the third member of the declining Demolition. He then turned babyface and took on this Hawaiian persona. I always liked him.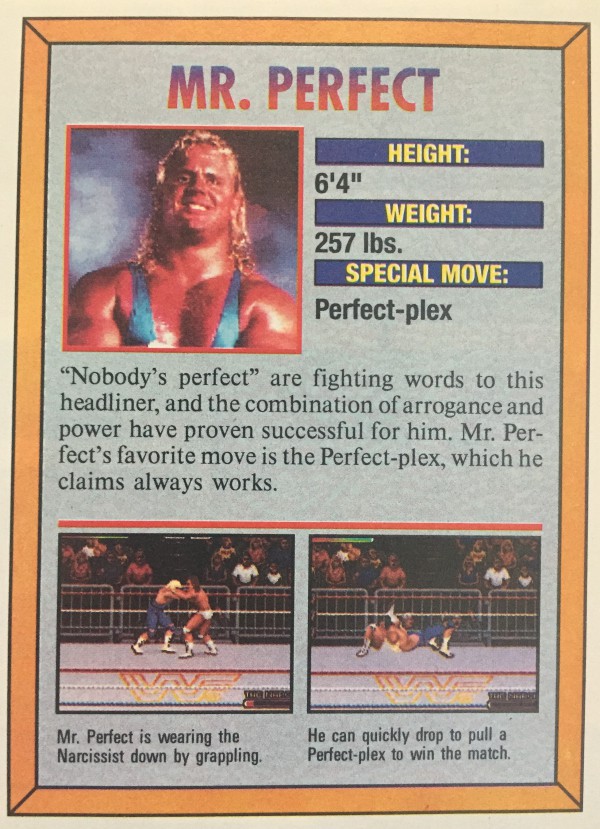 Ah, Mr. Perfect. It's hard not to appreciate Curt Hennig. He was one of the first heels (bad guys) I can remember liking. He was just so athletic and smooth in that ring. Everything he did, he did it to perfection. And who could forget his classic manager, Bobby "The Brain" Heenan? Good times.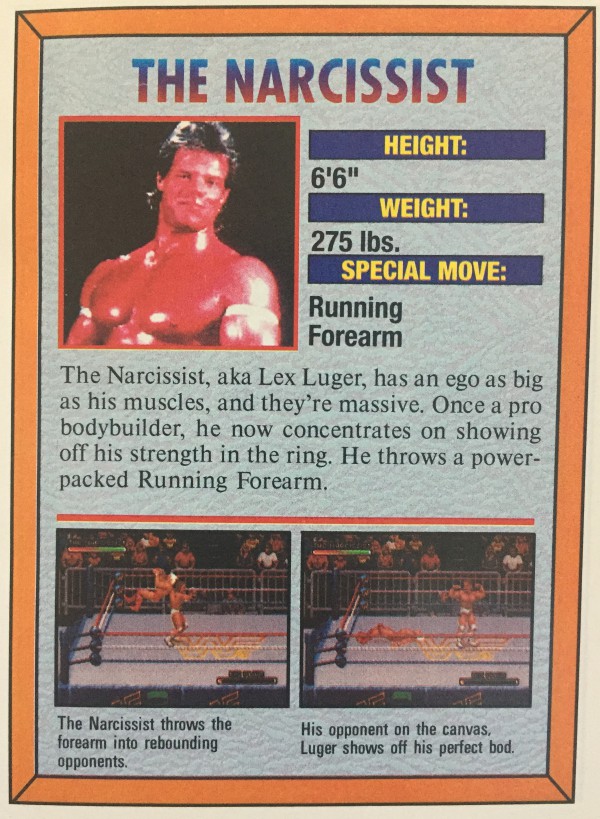 Lex Luger made his WWF debut coincidentally enough at the 1993 Royal Rumble. Unveiling a brand new gimmick, The Narcissist flexed and posed in front of many elaborate mirrors. This was before he became Mr. America Lex Luger with the Lex Express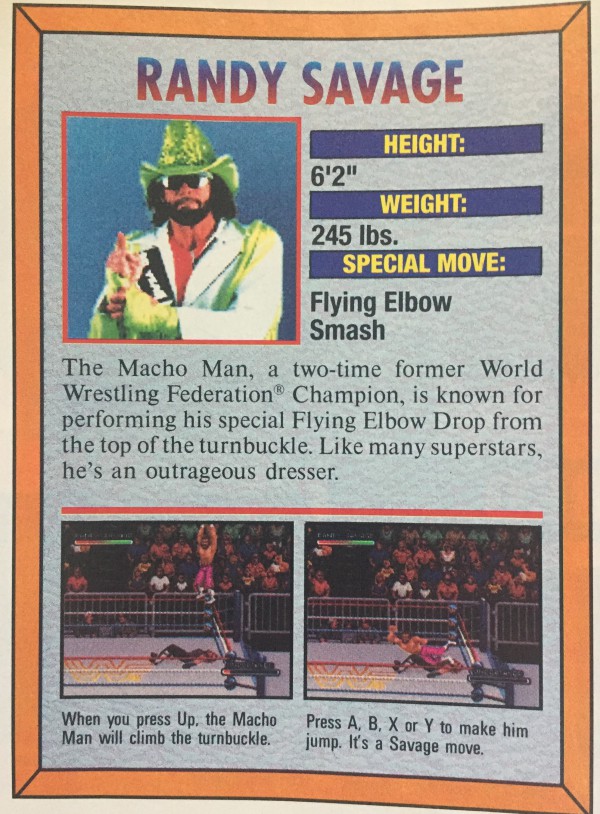 My favorite wrestler of all time, Macho Man Randy Savage is the total package. Personality, charisma, mic skills and in-ring acumen. The dude had it all. "Oooh yeah, DIG IT!"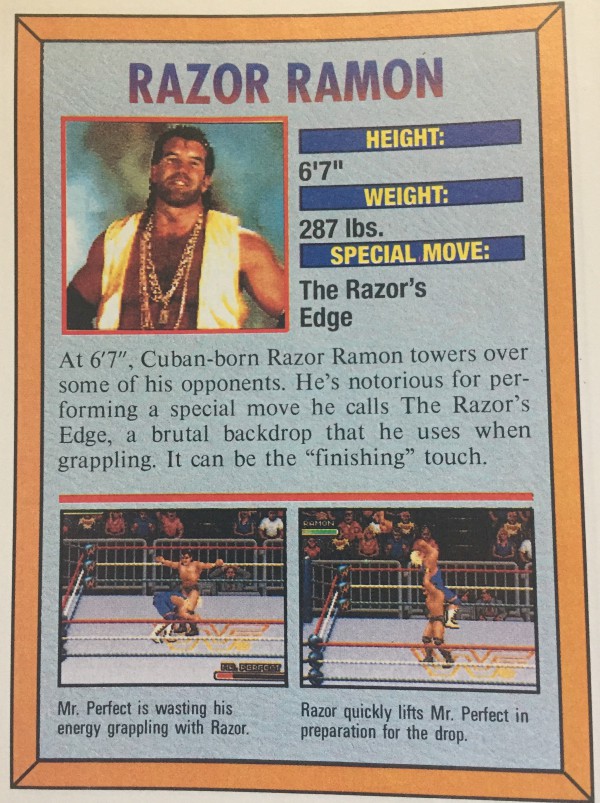 Say hello to the Bad Guy. Oozing with machismo, Razor Ramon had an IT factor unlike many other guys. Whether he was flicking his toothpick at the camera or hoisting up fools in the Razor's Edge, Scott Hall was always entertaining as hell.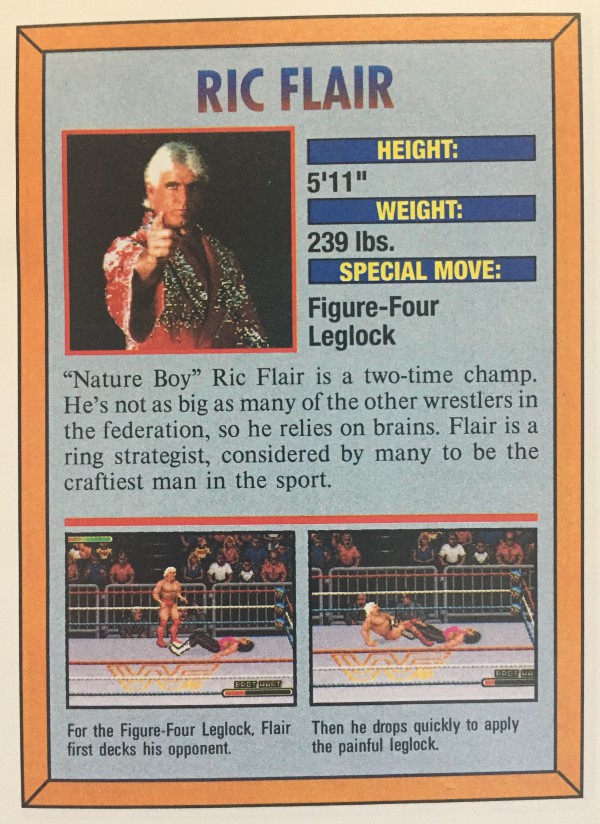 16-time world champion The Nature Boy Ric Flair is one of the few who have managed to transcend the sport of professional wrestling. The dirtiest player in the game is right at home with those eye rakes and choke holds. "WOOOO!"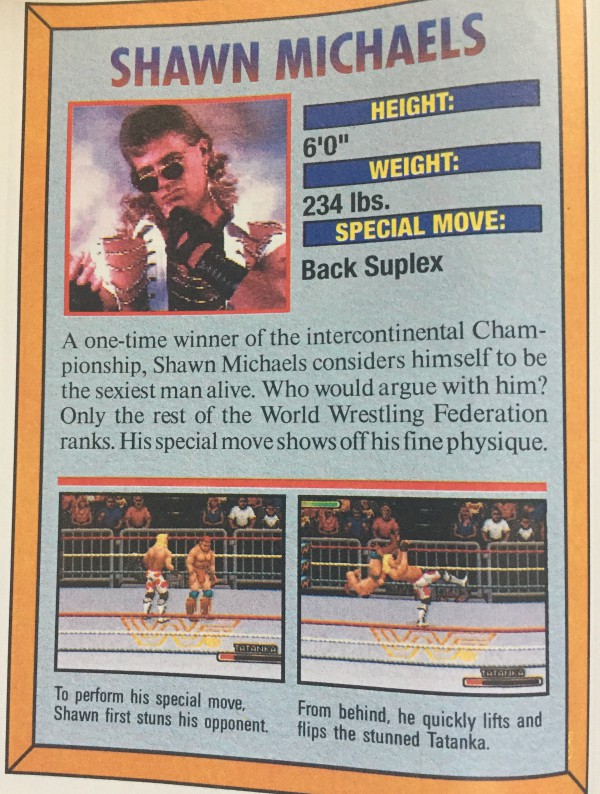 The Icon. The Main Event. The Show Stopper. Mr. WrestleMania! Before Shawn went on to become all those things, he was simply Shawn Michaels. A brash up and coming youngster who quickly rose through the ranks with his superior athleticism and knack for putting on the best performance of the night. This is the beginnings of The Heartbreak Kid, even before he used Sweet Chin Music as his finisher.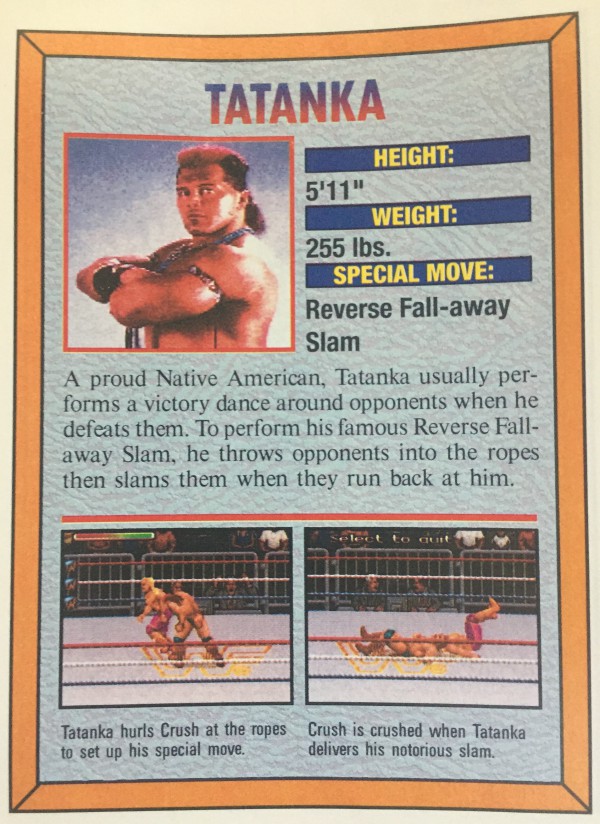 The Native American made his WWF debut in 1992 and was undefeated for a great many months (nearly two years). Tatanka went 10 years between Royal Rumble appearances — 1996 was his last Rumble match until he came back 10 years later in 2006. Speaking of battle royals, Tatanka competed at the Andre the Giant Memorial Battle Royal at WrestleMania 32 in front of over 100,000 screaming fans a few years ago in 2016. Maybe we'll see the great Tatanka in another battle royal in 2026…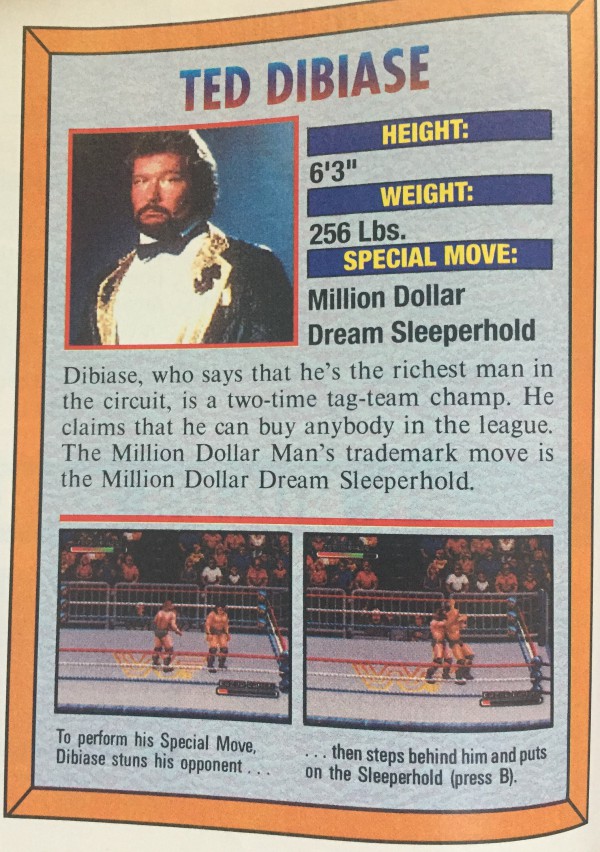 The Million Dollar Man Ted DiBiase was one of the truly iconic wrestling villains of '80s lore. He and Mr. Perfect were my guys, so it was nice to see both of them make the cut here. DiBiase was showing his age by 1993 and his last WWF match was against Razor Ramon in a short seven minute match at SummerSlam '93. Thanks for the memories, Ted. I'll never forget the time you kicked that kid's basketball. So dastardly!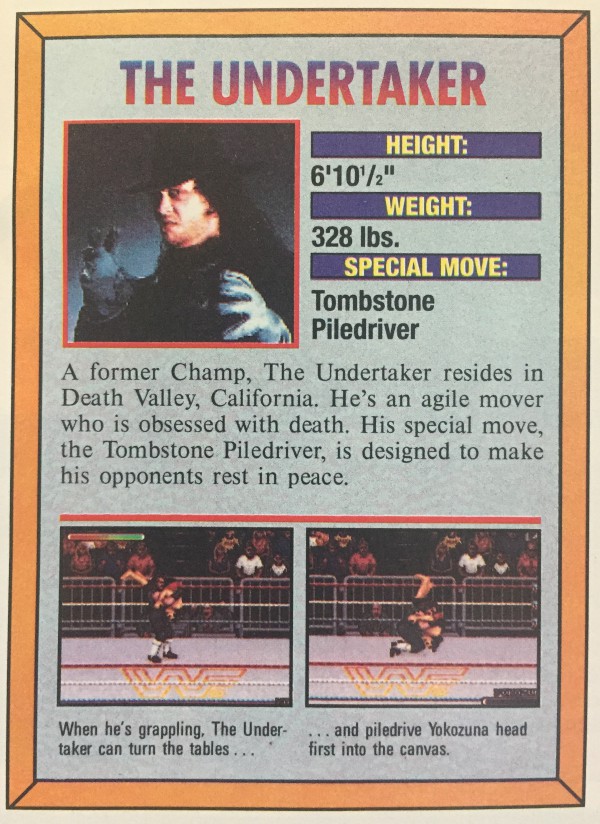 THE PHENOM. The Undertaker. A mainstay in WWE for over 20 years, who knew when he made his debut back in 1990 at the Survivor Series that he would go on to become one of the biggest superstars to ever grace a squared circle. Much respect!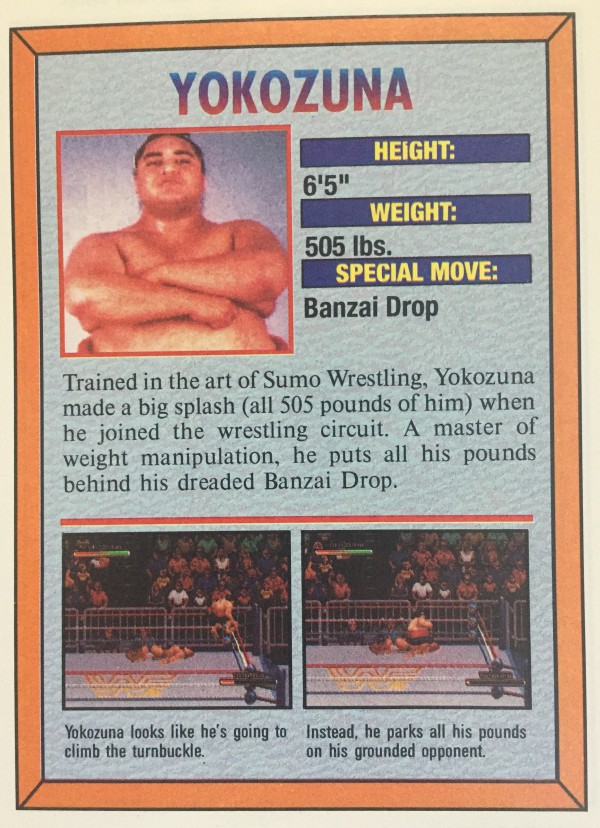 I always thought as a kid that Yokozuna was Japanese. It wasn't until years later that I found out Yoko is actually Samoan. He's part of the famous Anoa'i wrestling family, which includes the likes of The Rock, Roman Reigns, Nia Jax, Rikishi, The Usos, Umaga and many more. I hated Yokozuna as a kid. He defeated Hulk Hogan for the WWF Championship in Hogan's last WWF match in the '90s. King of the Ring 1993 AKA The Day Hulkamania Died.
GENESIS VS. SNES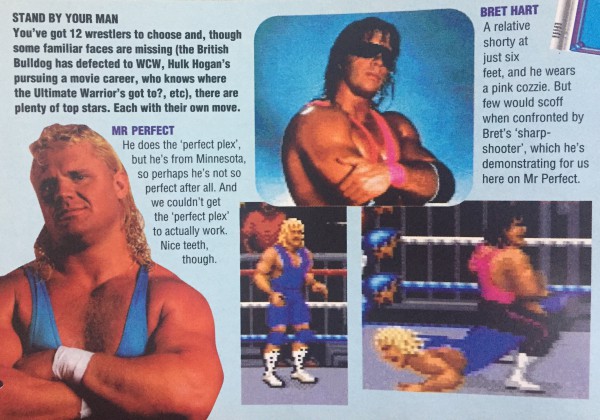 The SNES version came out in June of 1993 while the Genesis version was released in September. Each version had five exclusive wrestlers. SNES: Ric Flair, Mr. Perfect, Ted DiBiase, Yokozuna and Tatanka. Genesis: Hulk Hogan, IRS, The Model Rick Martel, Papa Shango and Hacksaw Jim Duggan (the first ever Royal Rumble winner way back in 1988).
WHAT THE CRITICS SAID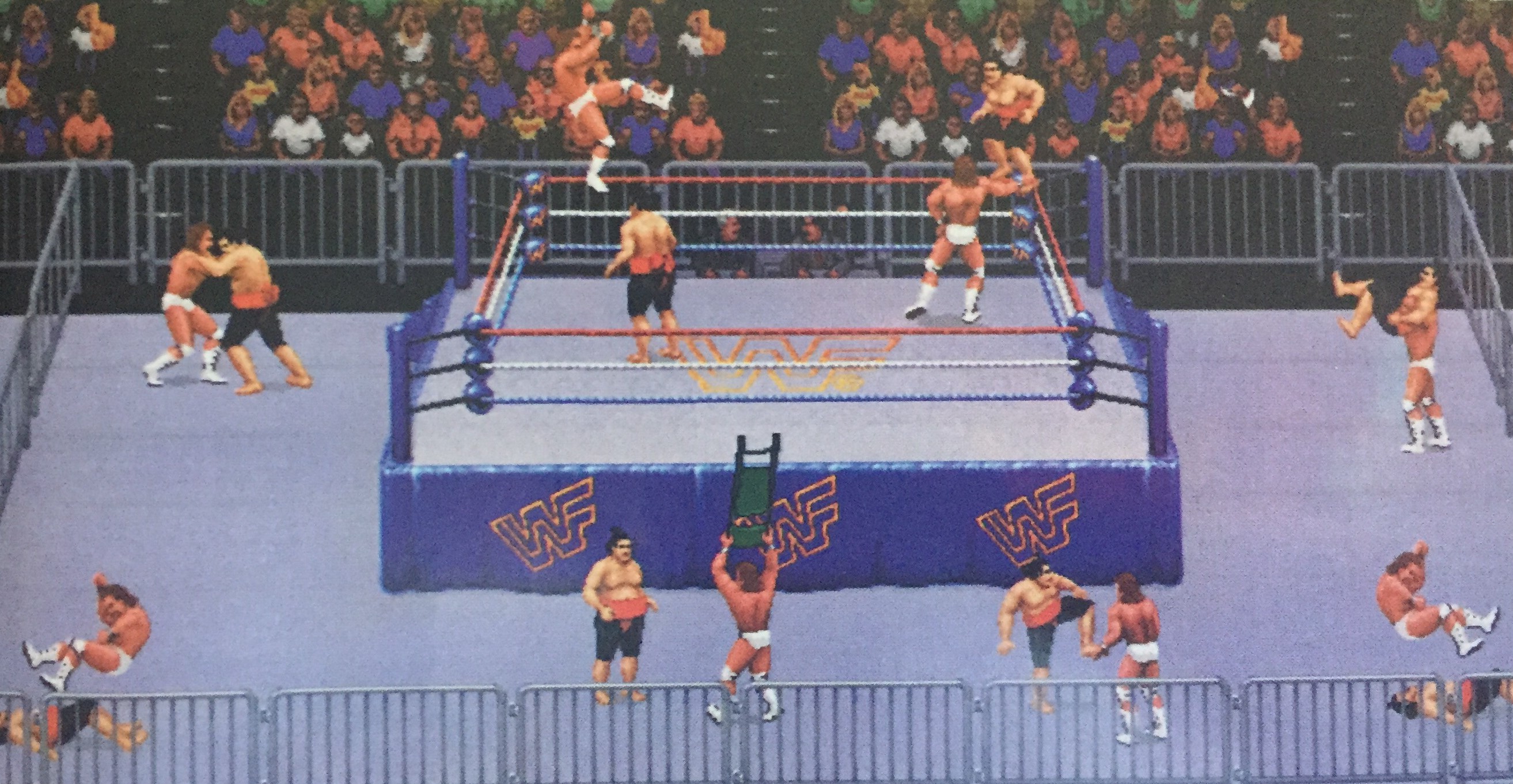 WWF Royal Rumble fared pretty well with the critics. Many considered it the first viable and legitimate home console game under the WWF umbrella. It's certainly come a long way since the days of WWF WrestleMania on the NES. EGM gave it scores of 7, 7, 7 and 7. GameFan gave it ratings of 84, 85, 85 and 89%. Super Play rated it 79%.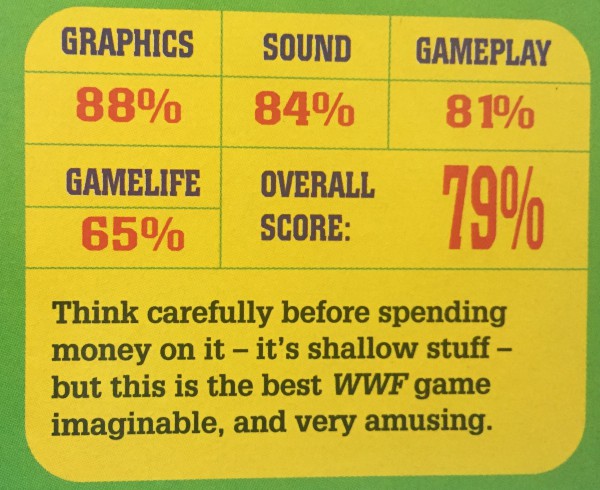 CLOSING THOUGHTS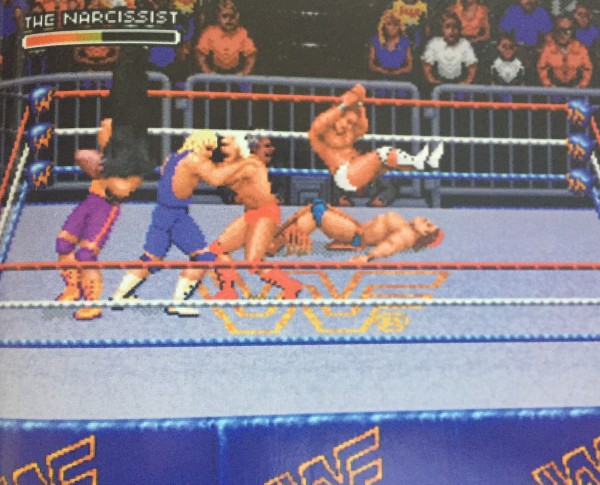 WWF Royal Rumble was a definite step in the right direction as far as WWF games were concerned. Wrestlers were given their finishing moves and visuals were significantly upgraded. I guess that's what 16 MEGS can do for ya! The Royal Rumble match is a fun novelty but unfortunately, time has not been so kind to this game. WWF Raw, which came out in November of 1994, is essentially an improved version of this game. I've never been a big fan of the grappling meter. I much prefer wrestling games that are based on timing rather than who can mash the buttons faster. Some fine examples of the former include the Fire Pro and Zen Nippon Wrestling games. Another thing that Sculptured Software missed the mark on here is that every wrestler shares the same moveset, sans finisher. Part of what makes wrestling so much fun is that each guy has his own set of moves unique to him. At least WWF Raw fixed this.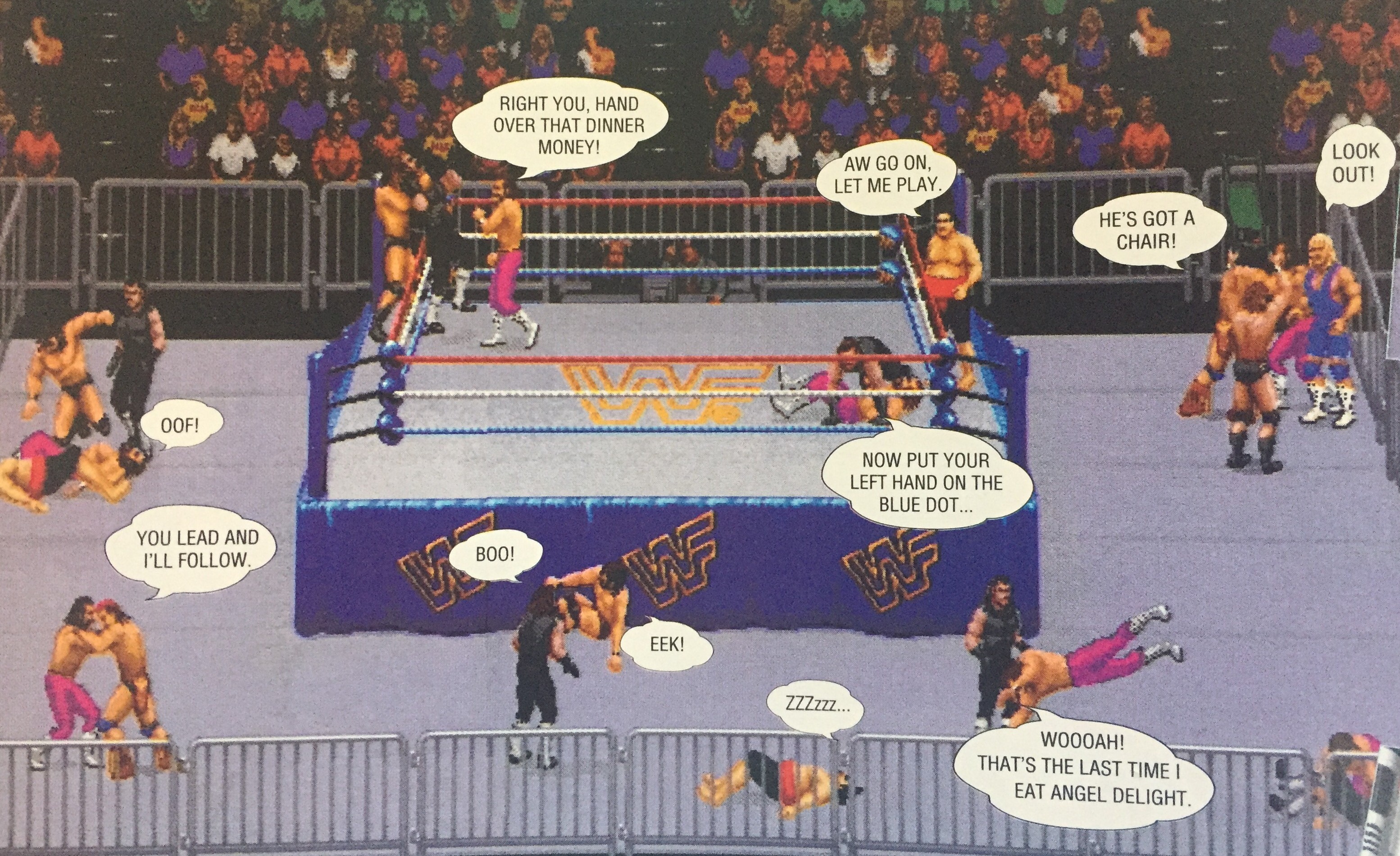 Tonight, the 31st Annual Royal Rumble emanates from Philadelphia. As someone who grew up loving the Royal Rumble event, I am so looking forward to it. And being that it's Rumble season, I recently played WWF Royal Rumble for the first time in… gosh… almost 25 years. My friends and I had a blast with it back in the day but it definitely hasn't aged so well. Back in mid 1993 when the pickings were slim, this was a good game. But now there are so many better wrestling games on the SNES alone that it renders WWF Royal Rumble a bit obsolete. It's not bad, but it's not really that good, either. If you absolutely have to play a WWF game on the SNES, make it WWF Raw.
Graphics: 7
Sound: 6
Gameplay: 6
Longevity: 5
Overall: 6.0
***ROYAL RUMBLE 2018 SPOILERS***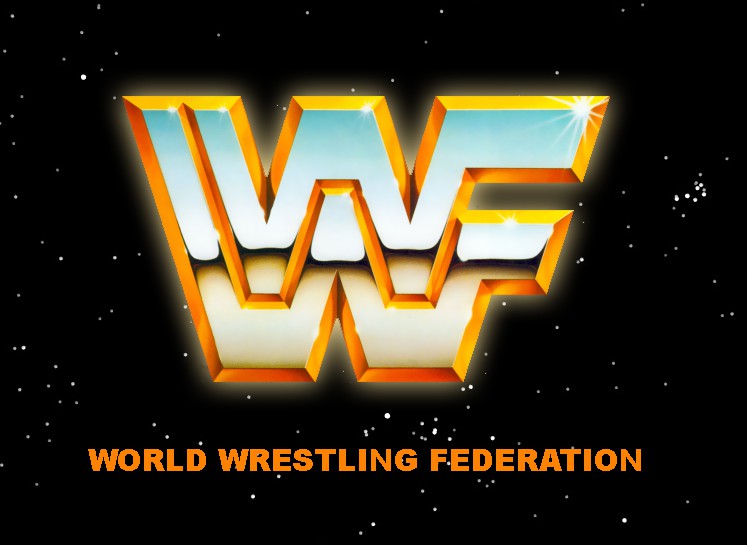 I just finished viewing the 2018 Royal Rumble and wow. I'll be damned. WWE finally gets it right. The two Rumble matches were a ton of fun and I can't complain about the booking. It wasn't perfect, but it was a lot better than the past five years or so. Hats off to the guys and gals. I was thoroughly entertained.
I marked out so hard for the return of Rey Mysterio! He was the winner of the 2006 Royal Rumble which I ordered on Pay-Per-View and watched with my cousin David the night before my SNES package arrived. Fond memories and seeing Rey coming back tonight was a rush of nostalgia. Best of all, Rey can still go. Bravo!
The biggest moment though might have been Ronda Rousey. Sure it was corny and cheesy, but I loved it. Ah Royal Rumble, you did it again.
For more WWF ramblings, see WWF Memories.