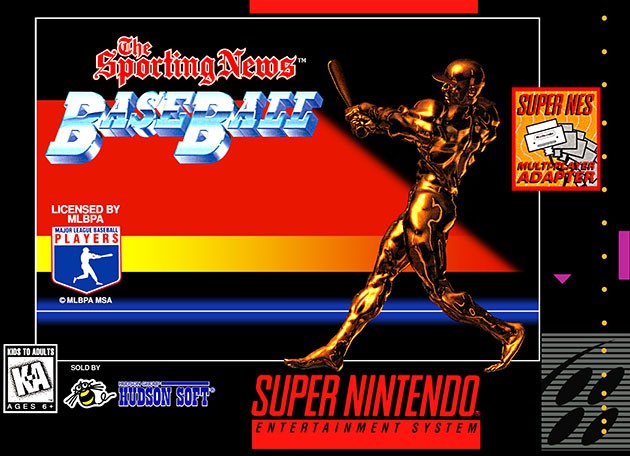 Yesterday marked the official end of Major League Baseball's 2019 season. It was the last day of ball for 20 MLB teams. Now 10 teams have emerged victorious and are prepping to do battle in the postseason. My team of choice, the Oakland A's, will be taking on the Tampa Bay Rays on Wednesday, October 2nd. As an A's fan for most of my life, I've witnessed some epic choking. Sadly, there's a reason why they're known as the Chokeland A's. They make the playoffs fairly consistently but never quite make it far. Hopefully things turn around come Wednesday. At any rate, as I gear up for the big game, it made me think of an old obscure SNES baseball game that my brother and I enjoyed playing back in the day. I recently played it again after not doing so for over 20 years. Much to my pleasant surprise, it's still a fun little baseball game even nearly 25 years on.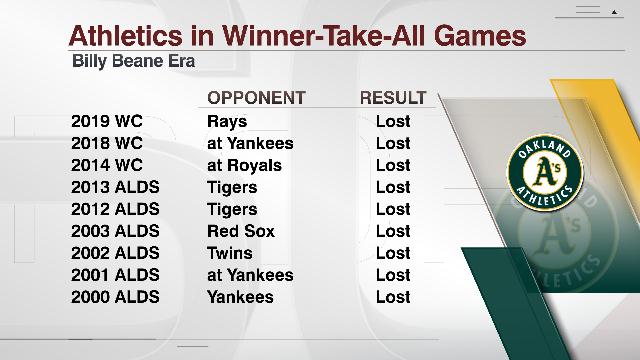 EDIT: October 2, 2019. DAMN. The A's just dropped the Wild Card game 5-1 to the Rays. The A's are now 0-9 in elimination games, setting a MLB record. Damn. Feels like they're cursed. But that's baseball. There's always next year!
A FIELD OF DREAMS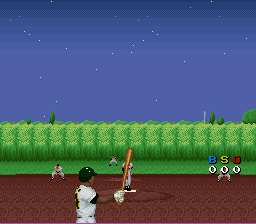 In the summer of 1995, my brother had me rent The Sporting News Baseball. We both grew up baseball fanatics. I've been a fan of the game ever since my 5th grade class went to a ball game in 1994. The Sporting News Baseball isn't the most refined baseball game on the SNES, but one thing it definitely had going for it was being able to play on that magical cornfield featured in Field of Dreams. Although I had yet to see the movie at that time, I knew it was an iconic field and it absolutely captivated my imagination. My bro and I played on that field every chance we got. There's something truly magical about launching one deep into the corn stalks on a starlit night.
MLB LICENSE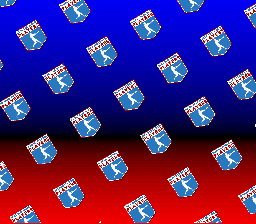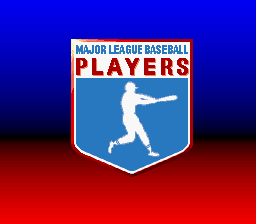 Back in the '90s, there weren't too many MLB licensed games. But this one had the real players and the real teams. It was always nice when you ran across a baseball game featuring the real deal.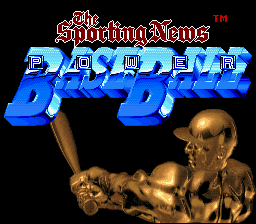 This game came out in Japan originally as Super Power League, so perhaps Hudson Soft forgot to remove the Power there from the title screen.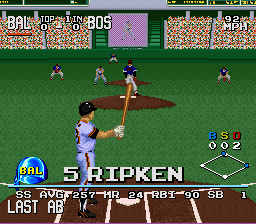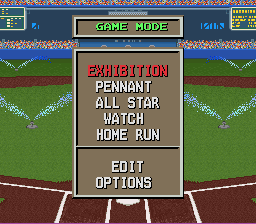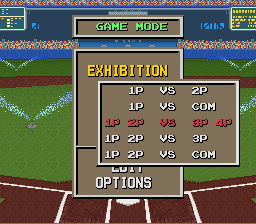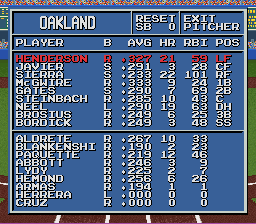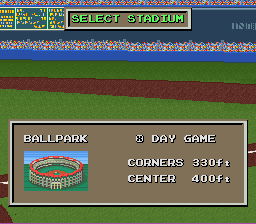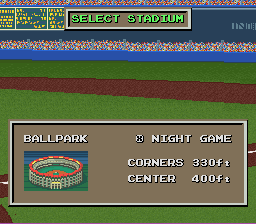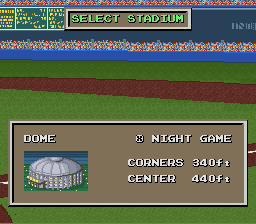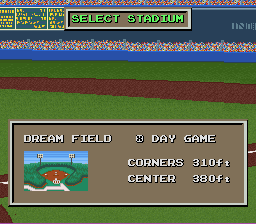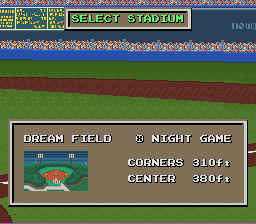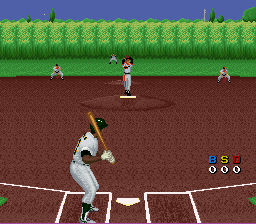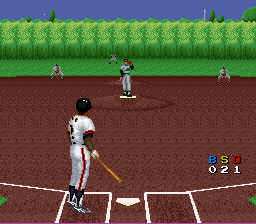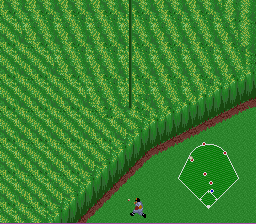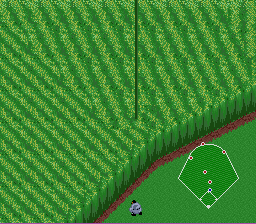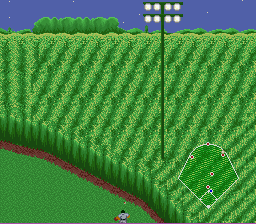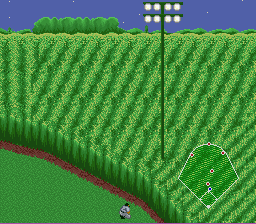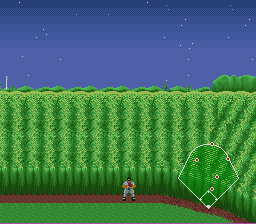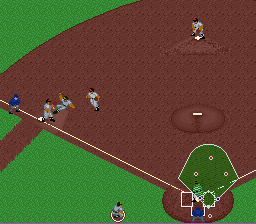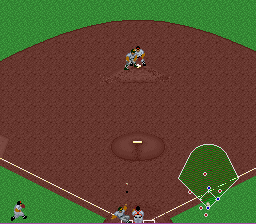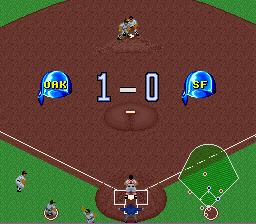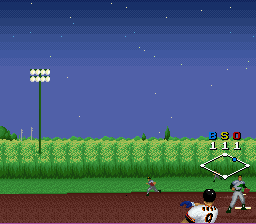 Matt Williams puts a charge into that baseball as he launches it high into that starry night. The irony? Matt Williams, most well known for his Giants stint during his playing days, is now the Oakland Athletics' 3rd base coach. You can't make this stuff up. Such is life. Such is life.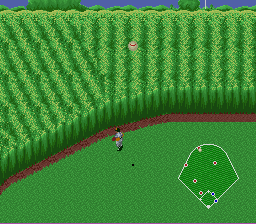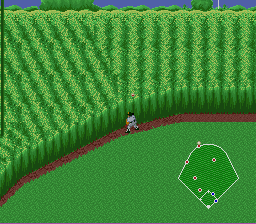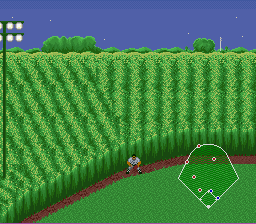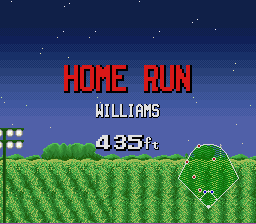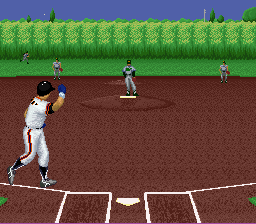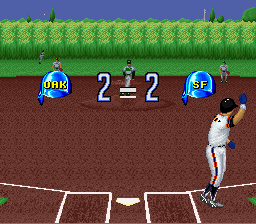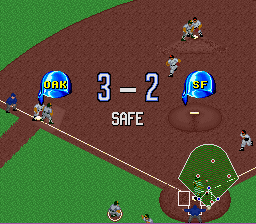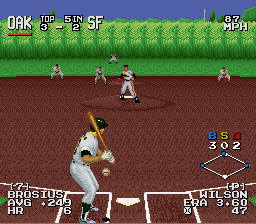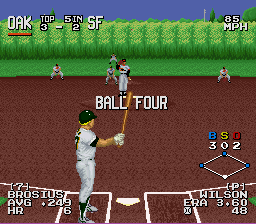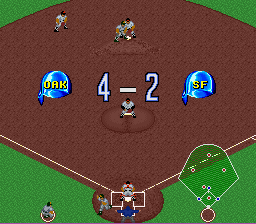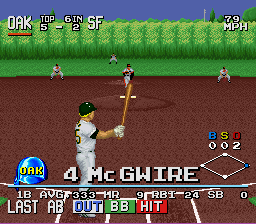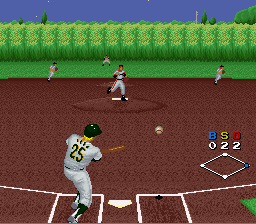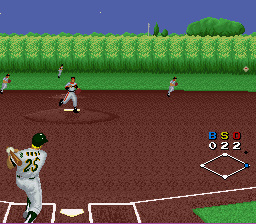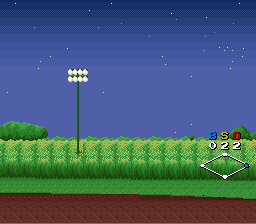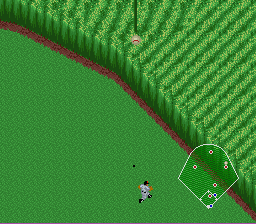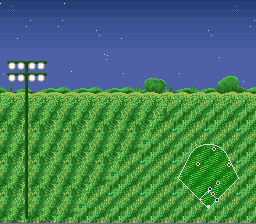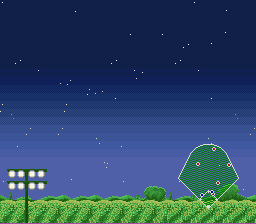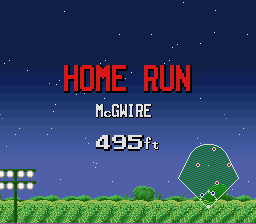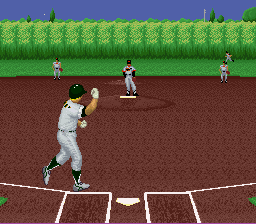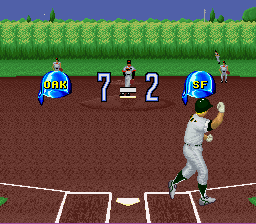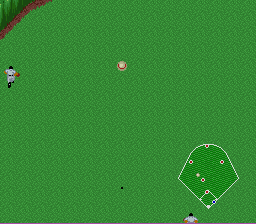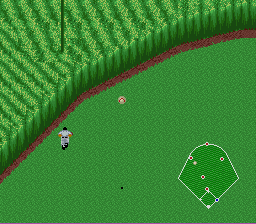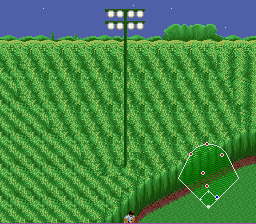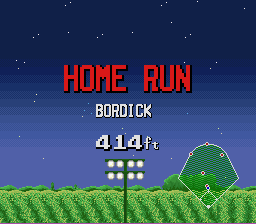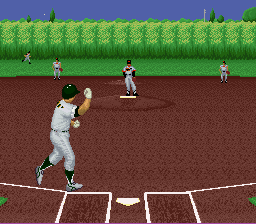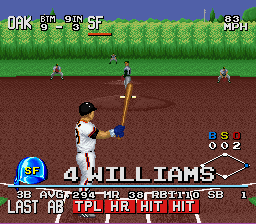 Results for previous at-bats are cited, which makes for a nice touch.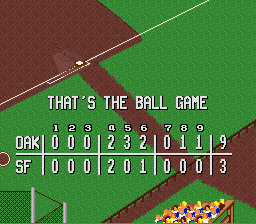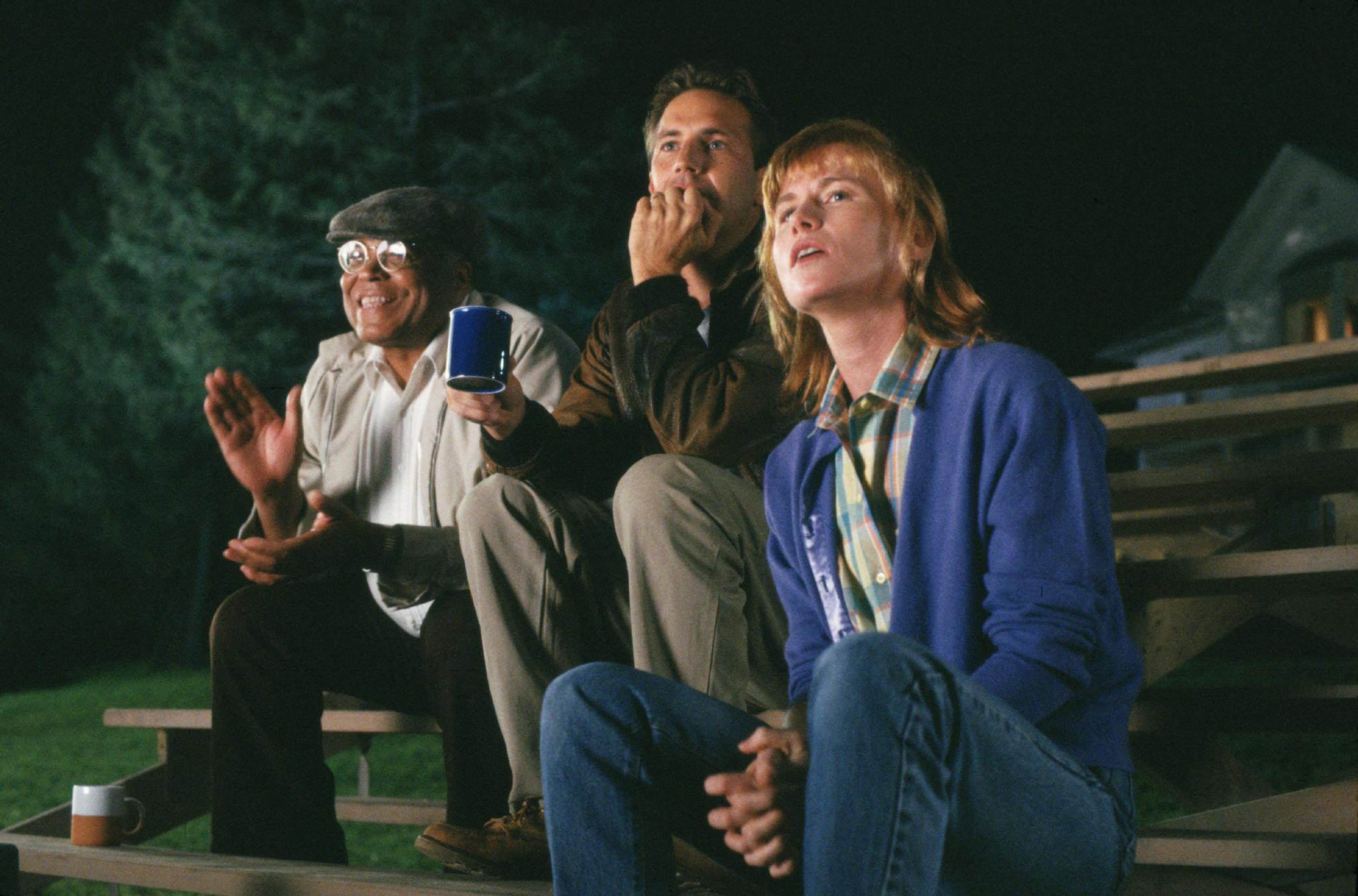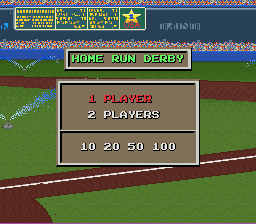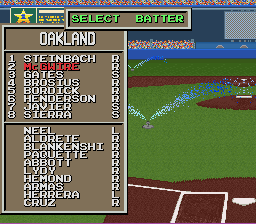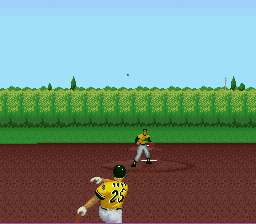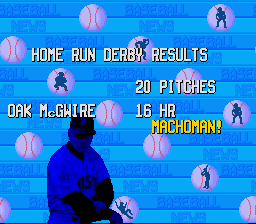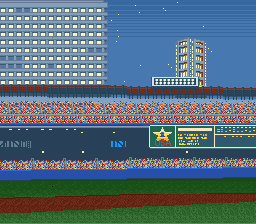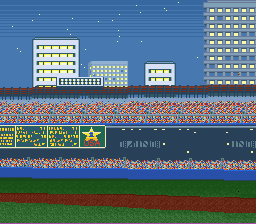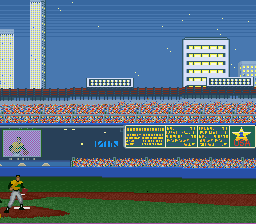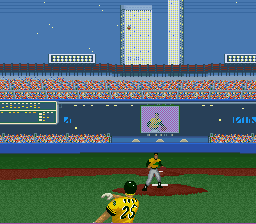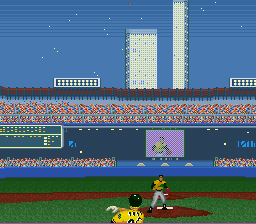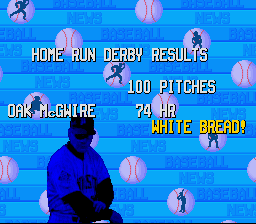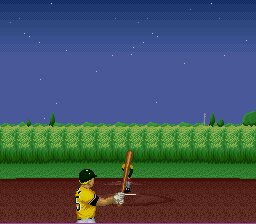 I love how the camera pans down to give you the full scope. The Field of Dreams ballpark at night in particular is simply majestic.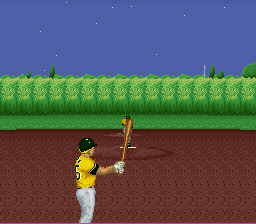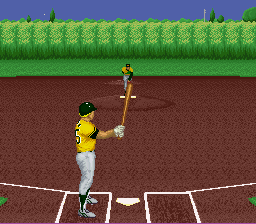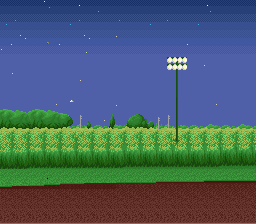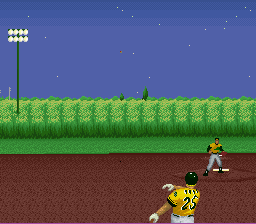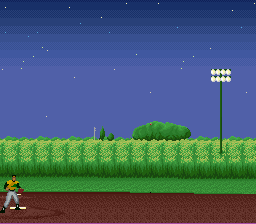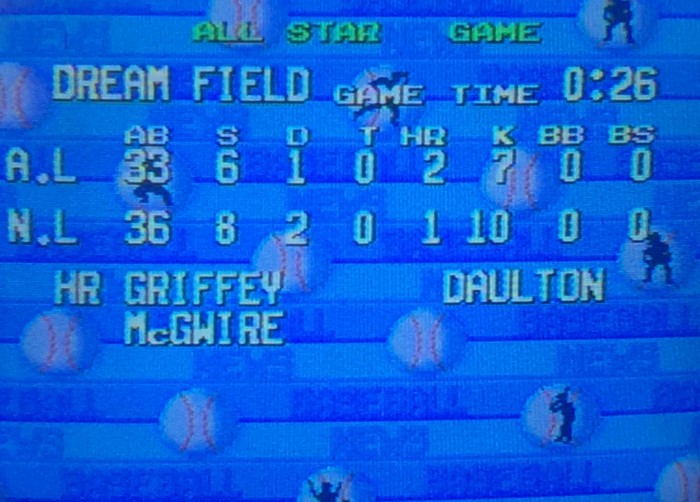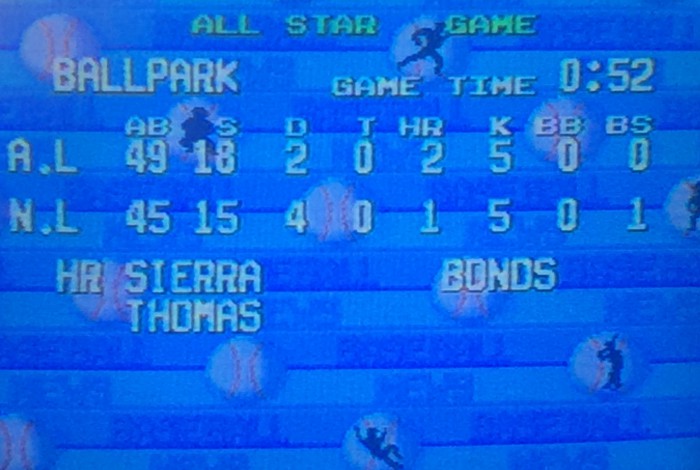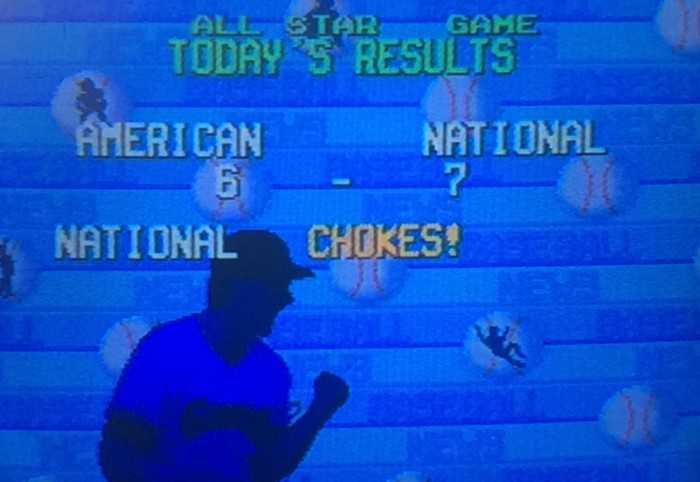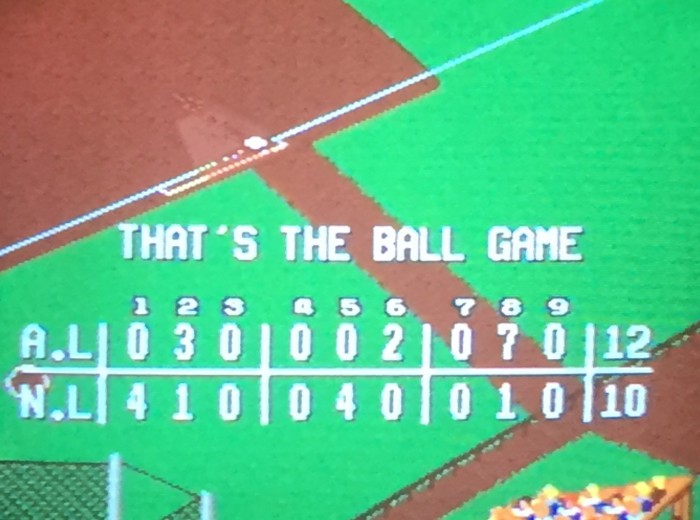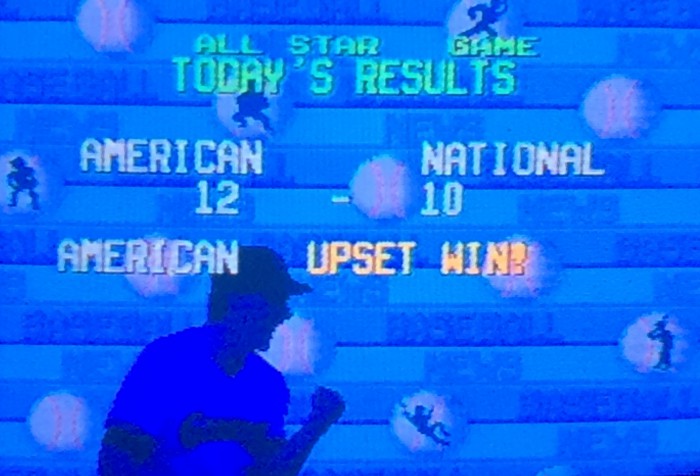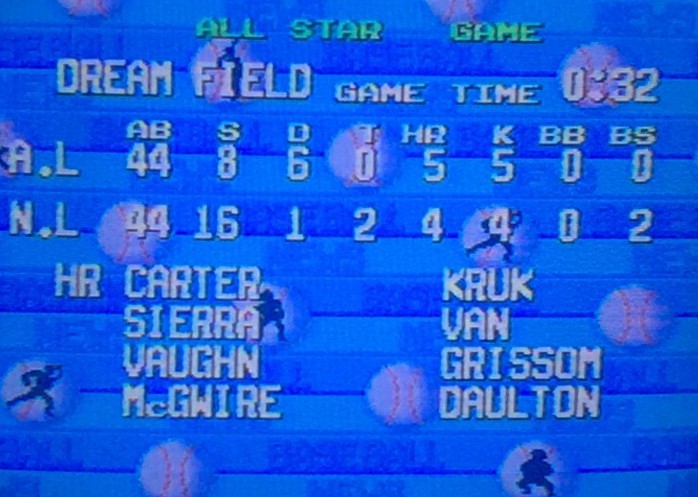 CLOSING THOUGHTS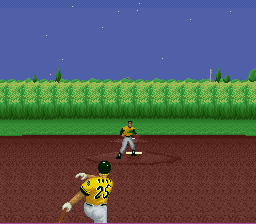 My brother and I had more than our fair share of fun with The Sporting News Baseball back in the mid '90s. Having played it recently in late 2018, I'm happy to say that for me at least, it's held up pretty well. Granted, you're probably not going to play this over the better baseball games available, but there is a quirky charm to this game. It's definitely the cornfield — who doesn't want to play a ball game on the iconic Field of Dreams cornfield? It just takes me to a happy place and makes Sporting News Baseball, at the very least, a notable effort. Speaking of which, it's also the only 4-player baseball game on the Super Nintendo. Real players and teams, and plenty of editing options, round out the package. Unfortunately, there are only 3 ball parks to choose from. But in its defense, when you got the cornfield option, there could be 100 different ball parks to select from and I'd still pick the cornfield one 99 times out of 100. If you're into old school 16-bit baseball games and you love Field of Dreams, Sporting News Baseball will likely entertain you enough for a few hours. It's no Ken Griffey Jr. but what is? This certainly isn't the worst alternative out there.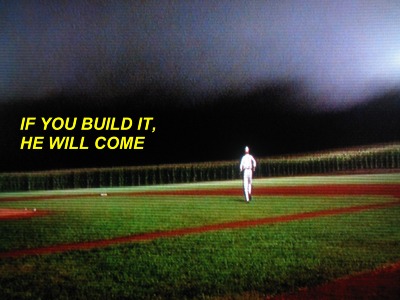 Graphics: 6.5
Sound: 6.5
Gameplay: 6.5
Longevity: 6.5
Overall: 6.5