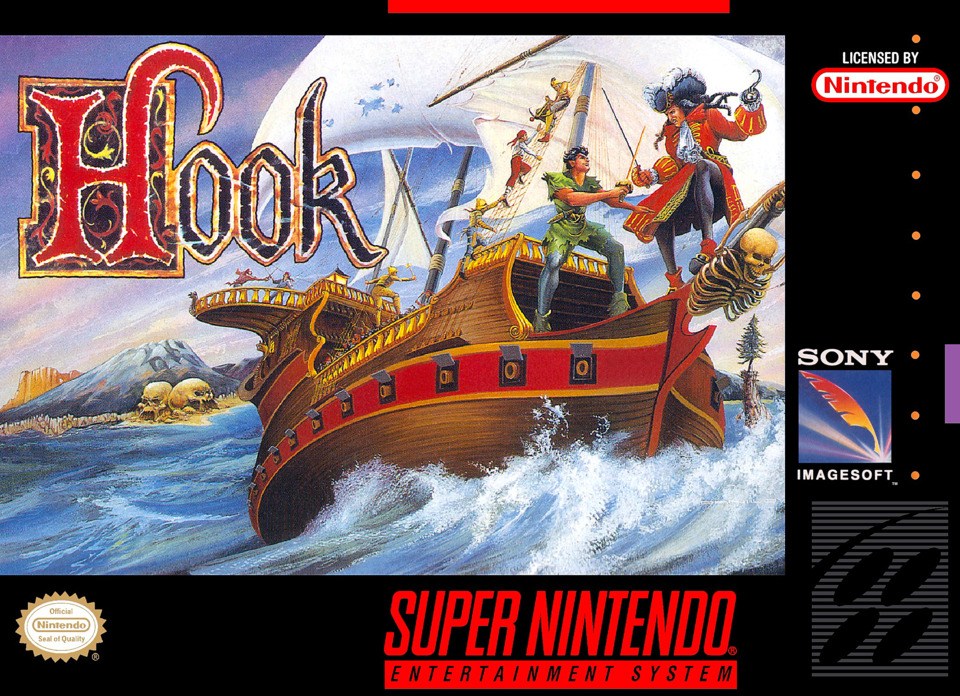 Hook tells the story of Peter Banning, a 40 year old man who works hard to provide for his wife and two little children, Jack and Maggie. Peter is very much grown up and has lost sight of his imagination. In the magical realm of Neverland, Peter Banning is better known as Peter Pan. This video game adaptation is a side-scrolling platformer with pretty visuals and a soaring soundtrack. It does move a bit slowly at times, but there's an overall whimsical magic to it all. Let's revisit Neverland shall we?
THE STORY GOES…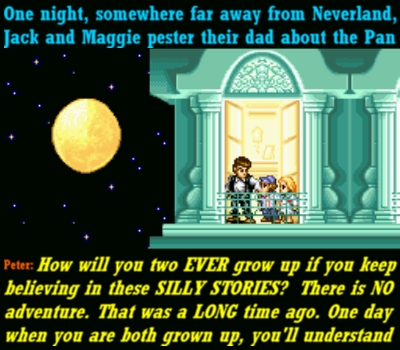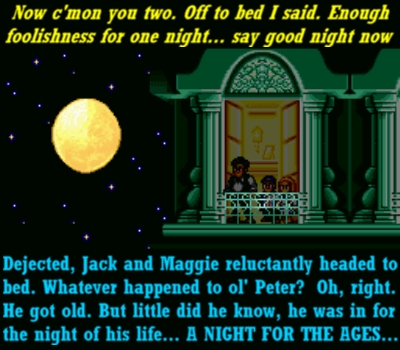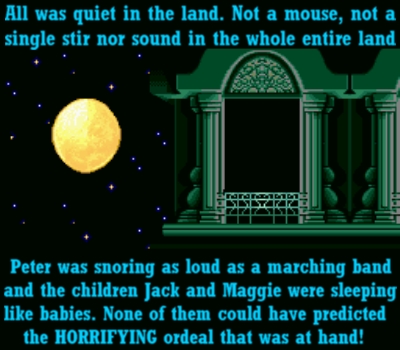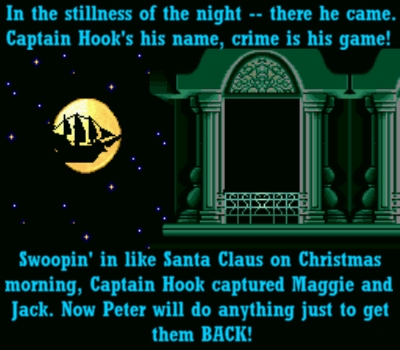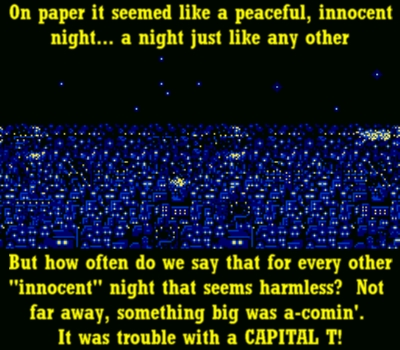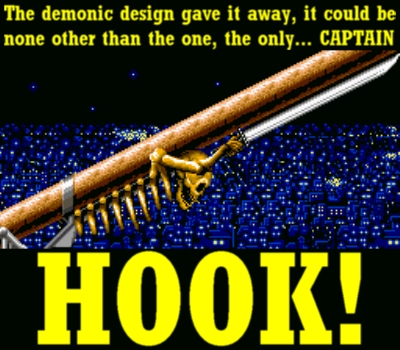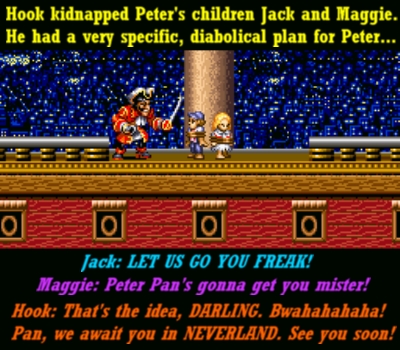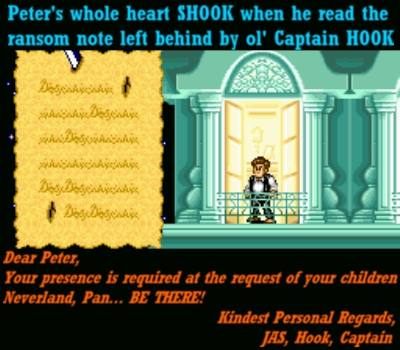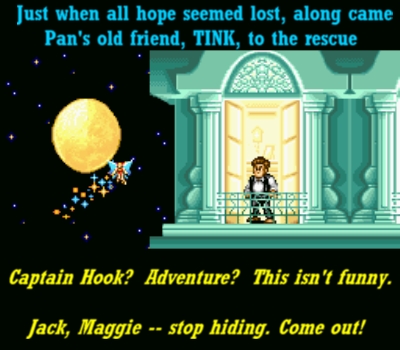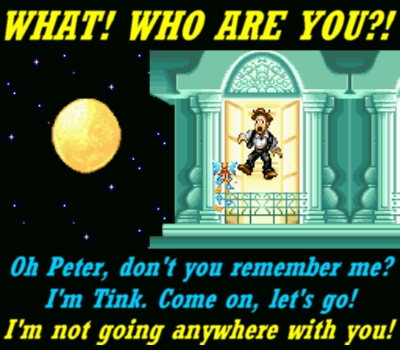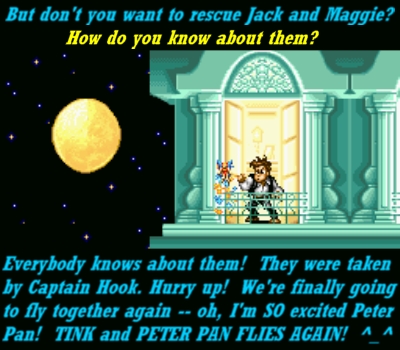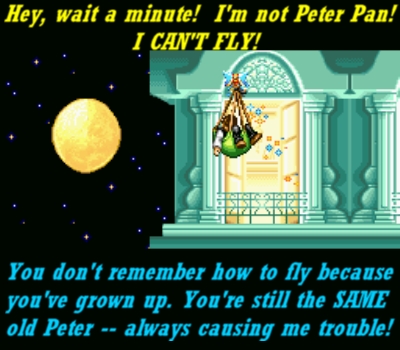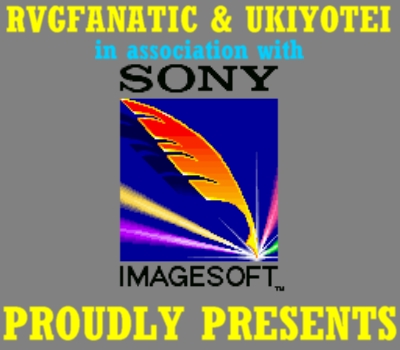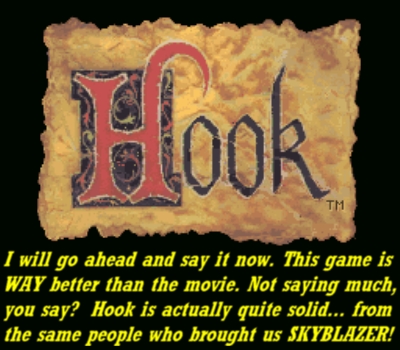 LEVEL ONE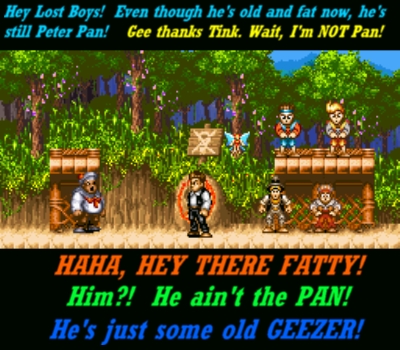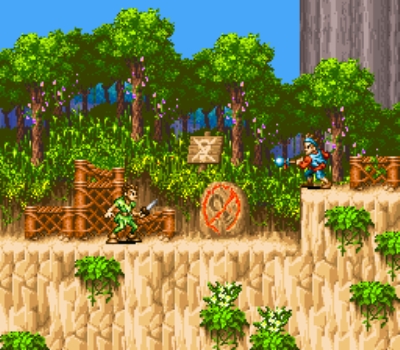 When I got back into the Super Nintendo in early 2006, I'd heard quite a few positive things about Hook being a solid underrated little title. I passed over it in rental stores back in the day because Hook the film never grabbed my fancy. However, seeing as how a large reason why I got back into the SNES was due to my overwhelming desire to play platformers, Hook looked very appealing all of a sudden. Upon firing the game up and seeing this first level here any worries that this was just another "bad licensed video game" went straight out the window.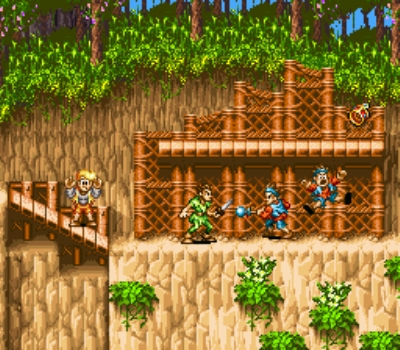 The colors were so vibrant and lush. The sound and music came straight from the movie. It looked and sounded like a Capcom SNES game, and more times than not, that's a good thing. Pan moves around a little slowly, however, which is my biggest gripe with the game. But far from a deal breaker. The game instantly clicked for me as I maneuvered Peter Pan around the first stage.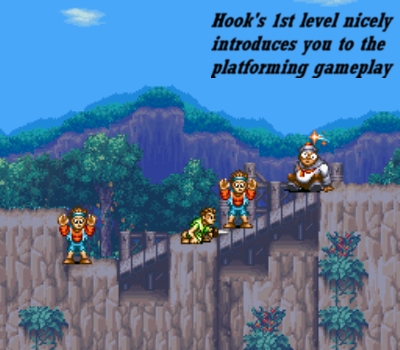 Don't worry, you don't actually hurt the Lost Boys. It's just a friendly game of tag… with your dagger. But see how they freeze in place? No harm done… really. Shout out to Thud Butt! My man!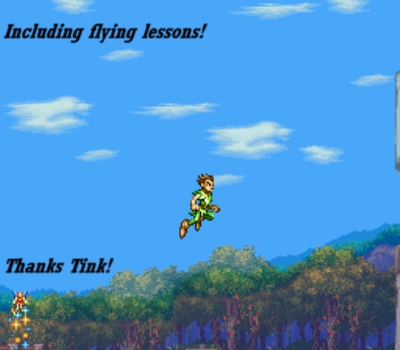 Just like the movie, Pan can fly but he needs to find Tink first. Watch your flight meter. The flight system is handled much smoother here than what we saw in Ukiyotei's SNES follow-up, Sky Blazer.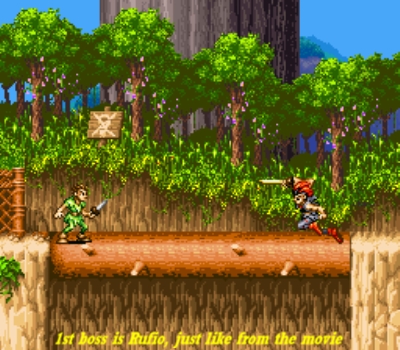 Rufio, the stand-in leader of the Lost Boys, is your first boss encounter. He doesn't believe you are the actual Pan, so show him who's really the boss around here!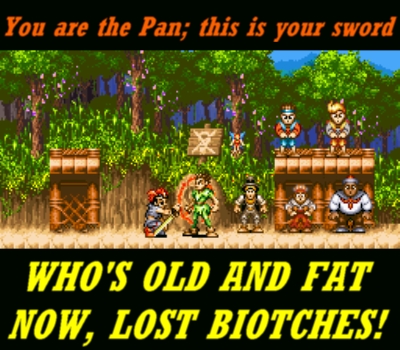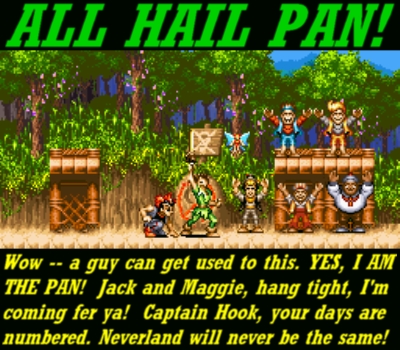 LEVEL TWO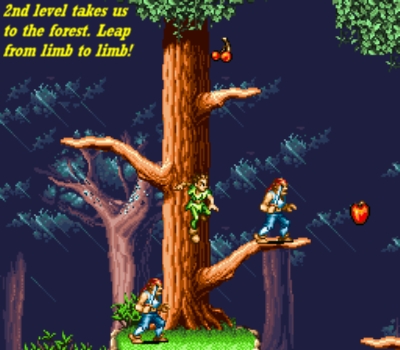 Cherries fill your health bar by one. Apples fully restore your health.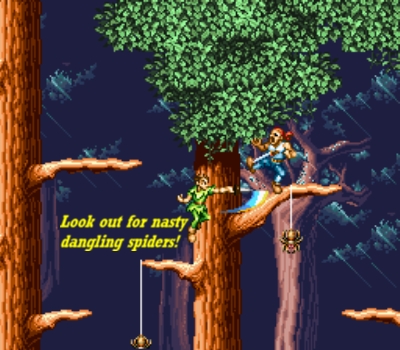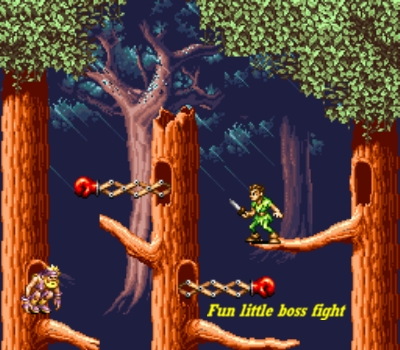 Smee, a fitting name for a weird little critter, guards the end of this forest. All the boss fights in Hook are quite easy. Nevertheless they're still fun.
LEVEL THREE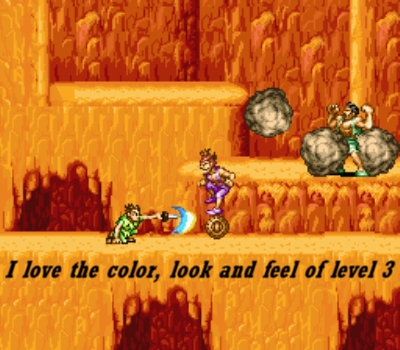 It's hard to articulate but there's something about the look of this stage that simply does it for me. It just fits in with the whimsical nature of Hook — there's a child-like charm to it all.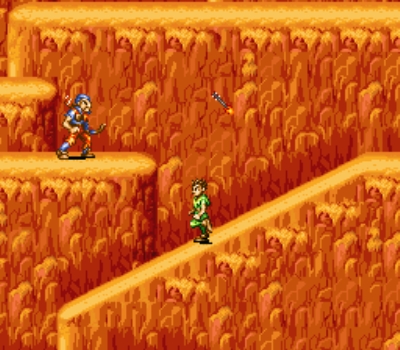 There's a simplicity to the game in which I greatly admire. I guess, like Pan himself, we're all grown ups (and some of us are in some way) searching for remnants of our childhood in the midst of a cruel world. A spark or ember of when life was simple and carefree.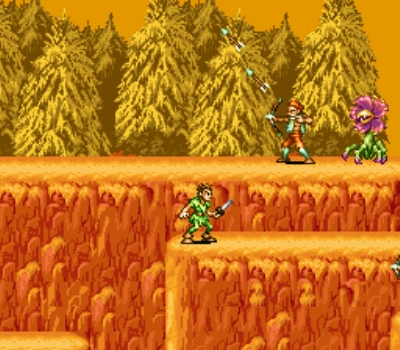 If you've read my work for some time now then you know I'm a huge fan of the little details. I love the look of the trees in this level — they add a nice touch to this stage.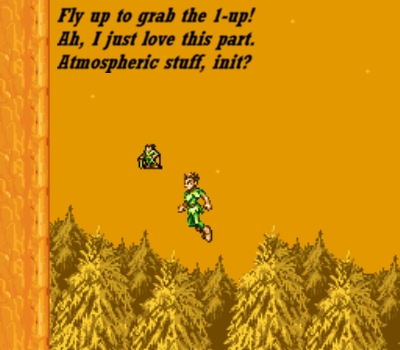 Certainly is. Although Pan moves a bit slow, you'll soon get used to it. It's really not that bad after a while. Plus he can run and fly to collect bonuses like this with the greatest of ease. Overall, the control is pretty good.
LEVEL FOUR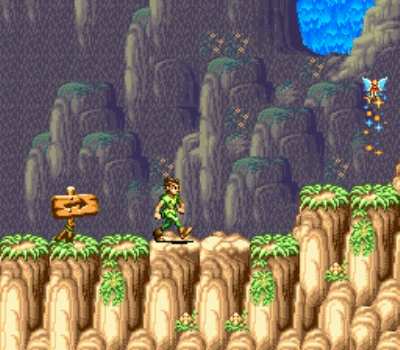 Ah, our old friend Tink appears right at the beginning. That must mean we're in for some flying lessons…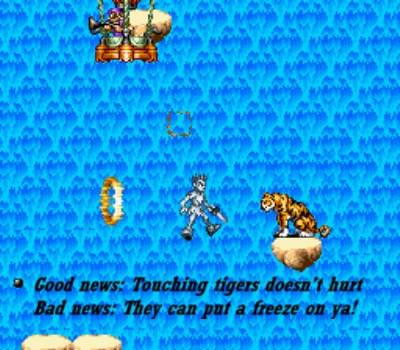 Is it just me or do those tigers remind anyone else of the tigers from Mega Man 5? Alas, I digress. Your flight meter drains rather quickly so make haste! If you don't waste time you should be able to make it to the next "Tink refill station" just in the nick of time. These spots are perfectly placed to avert frustration and promote a sense of satisfaction.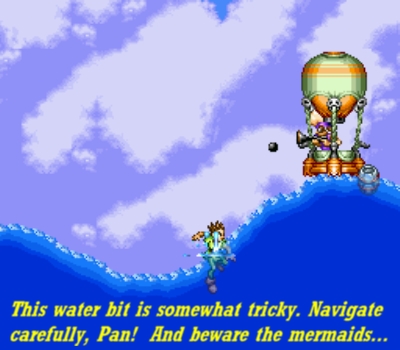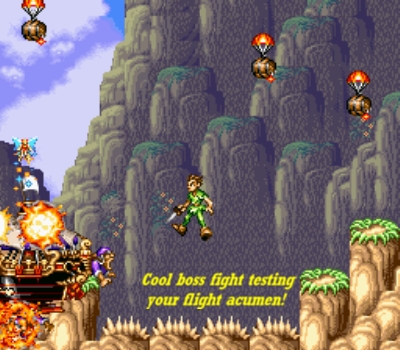 I like how this stage really focuses on Peter's flight ability. Even the boss fight requires flight precision! It's levels like this that help to keep the game varied and interesting.
LEVEL FIVE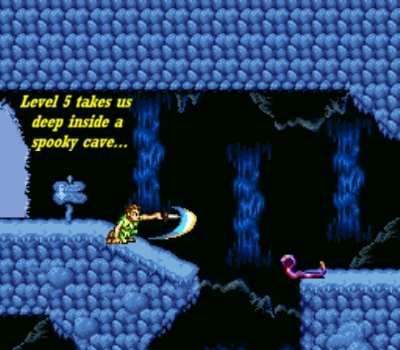 Although level five has no boss, it's super fun to navigate and has a decisively adventurous atmosphere. It's a great stage to play through in the middle of the night in particular…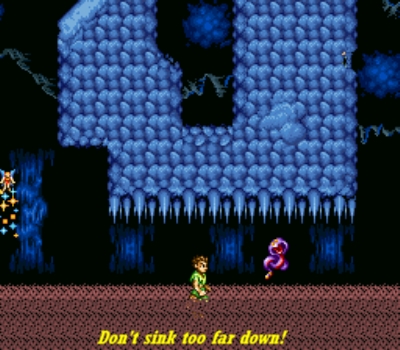 Remember how in Sky Blazer you slip through the foliage of trees and bushes? It's easy to spot the similarities between that game and Hook.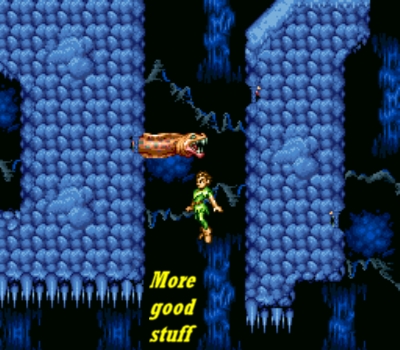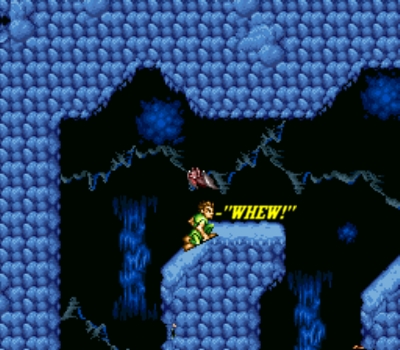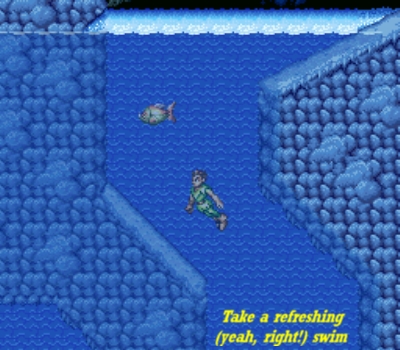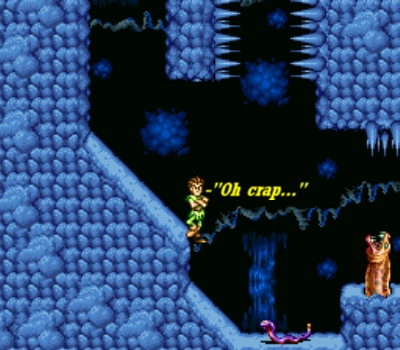 Another cool moment There's just something special and precious about these old 16-bit games that resonate deeply with me. Hook is as fun to play as it is to look at!
LEVEL SIX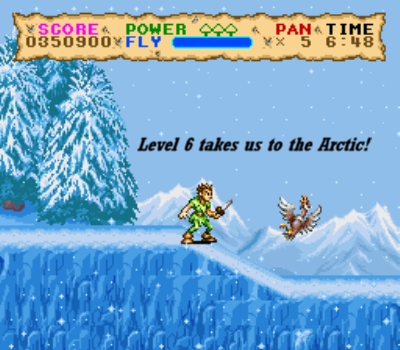 We've seen forests, oceans and caves. So of course, what's left but the standard ice level! And it's quite a good one.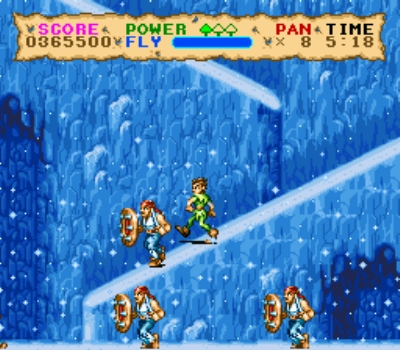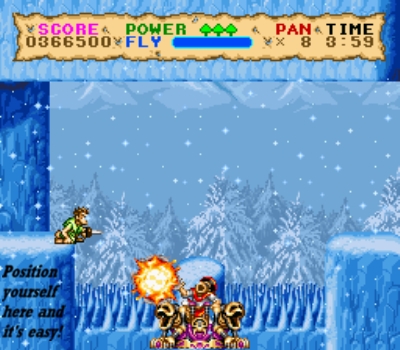 Easiest boss fight ever. You don't even have to move an inch after positioning yourself correctly. A little disappointing but I always say it's better for a game to be too easy than too hard, if forced to pick between the two.
LEVEL SEVEN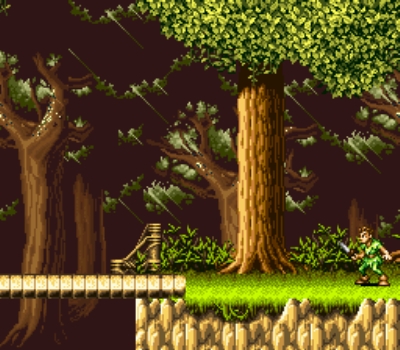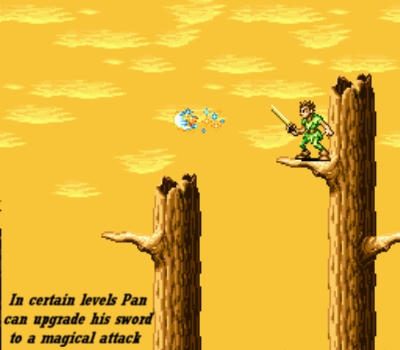 This is the strongest attack in the game, but sadly it's scarcely available. You also lose its power on first hit. Oh well, the game's easy enough as it is.
LEVEL EIGHT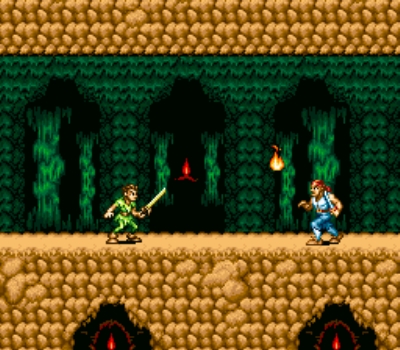 Try hitting that ball of flame and see what happens…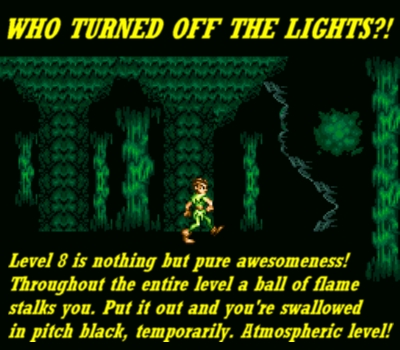 Hit the ball and you snuff out the lights. But don't hit the ball and it'll chase you. Quite the dilemma. The trick is to balance the two, naturally. This leads for a very cool on and off effect that carries throughout this level.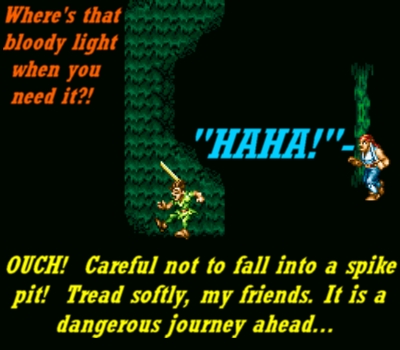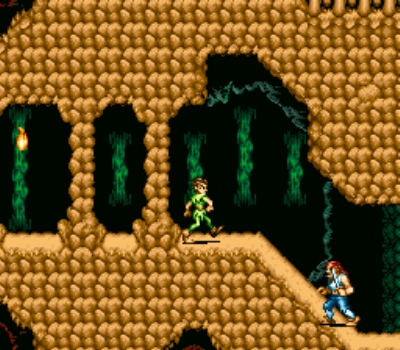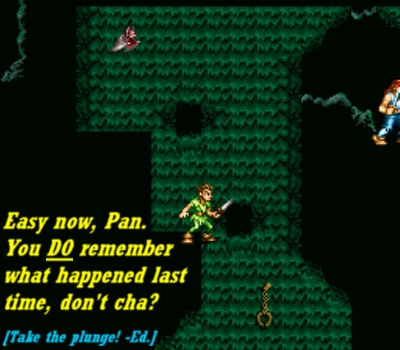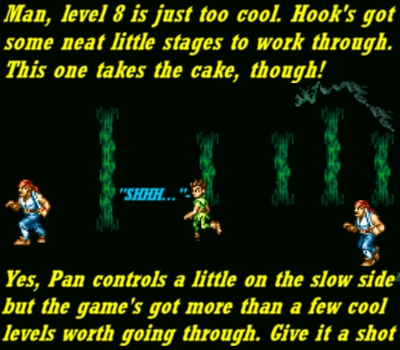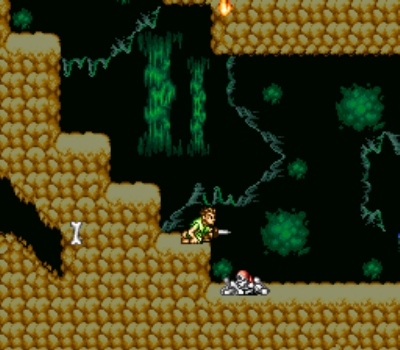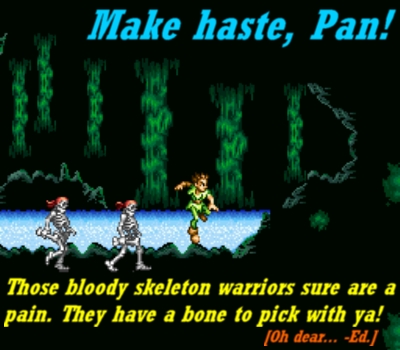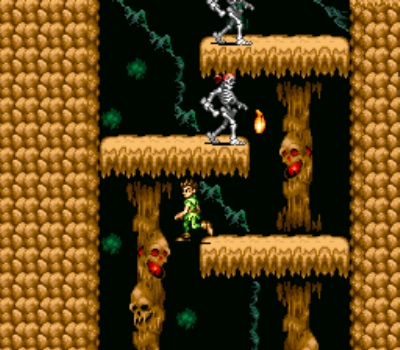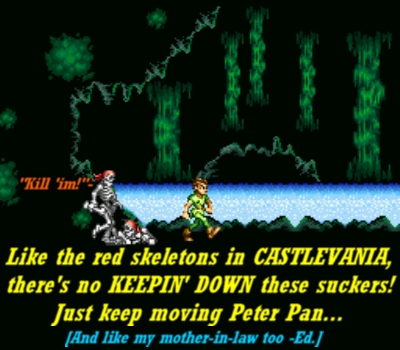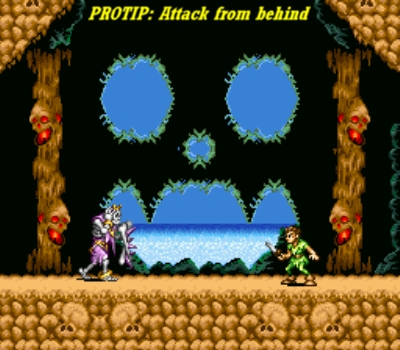 LEVEL NINE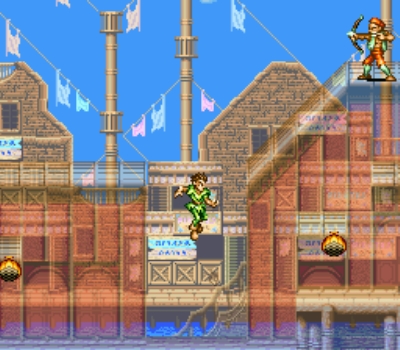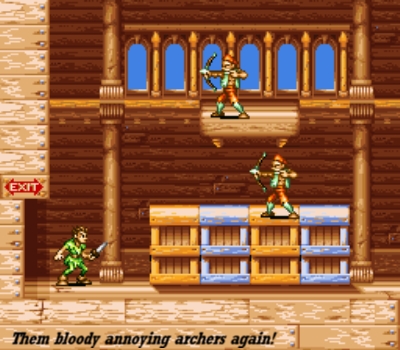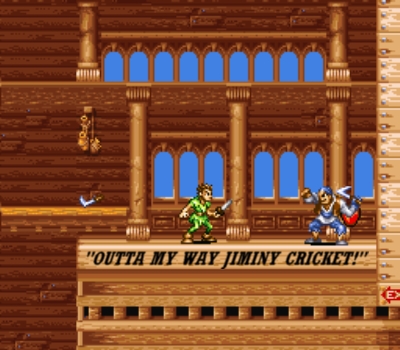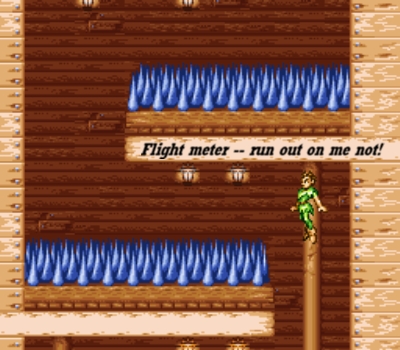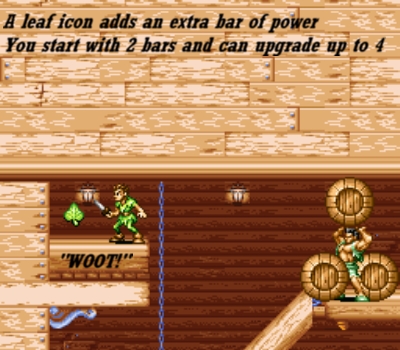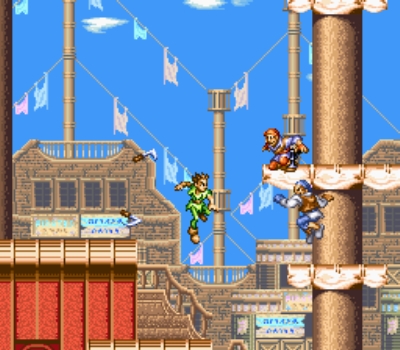 Level nine is definitely a dog fight, especially compared to the other levels. After level nine it's on to the final level and the showdown with Captain Hook. Can you save Jack and Maggie?
THANK YOU FOR BEING SO TRANSPARENT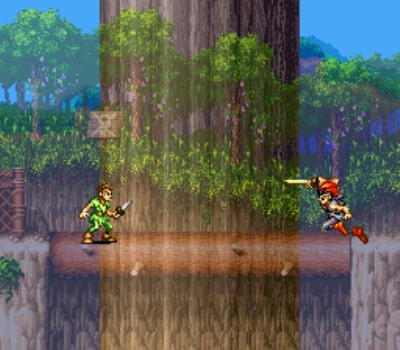 As you saw with a screenshot from level nine, don't be fooled thinking that Hook features fancy transparencies. It's just a graphical glitch that only appears in the rom. Thankfully this visual hiccup doesn't appear with the actual cartridge game.
WHAT THE CRITICS SAID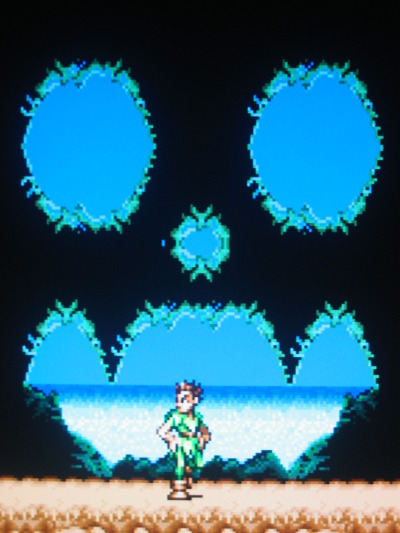 When I got back into the SNES on January 17, 2006, my goal was to buy all the games I ever loved as well as the ones I missed out on. I remember browsing various retro gaming forums reading up on different opinions in my early days. Hook always received rather favorable praise. The ad back in the day stated "The Critics Are HOOKED!" It went on to quote, "One of the hottest action games I have ever played. The music is absolutely beautiful and the graphics are top-notch" (Super NES Buyer's Guide), "Hook is intelligently made from start to finish. Its execution is excellent" (Game Players, Nintendo Guide) and "Hook's multi-layered, smoothly scrolling visuals inspire comparisons to Super NES legends such as ActRaiser and Super Castlevania IV. The music is so good, you'll want to crack open the cart and see if there's a Compact Disc inside! Five star gameplay. Hook succeeds in every way." (GamePro). EGM gave it scores of 8, 9 and 9. Super Play rated it 72%.
CLOSING THOUGHTS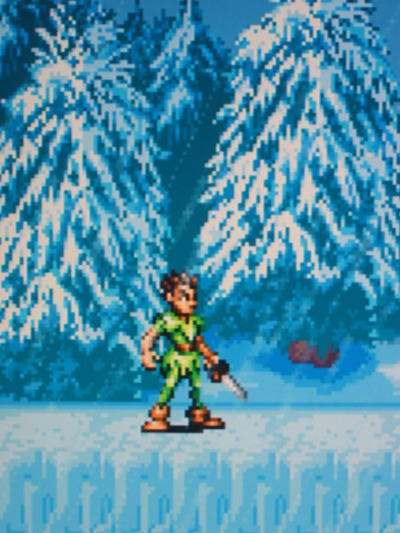 Hook is a simple fun little game. It weighs heavily on the easy scale. The ten levels are short, and some don't even feature bosses. Most of the bosses are a cake walk. Yet I can't help but like this game. I'm not a fan of the movie but there's something basic and charming about this game. It takes me back to the good old days when action games were magical and whimsical. Sure you got your clichés, but really, what would a game of this type be without them? Hook is a pleasure to play through thanks to some rather atmospheric stages, vibrant visuals and a banging soundtrack straight out of the movie. It also features one of the coolest intros in SNES history, instantly transporting you to a land of magic and wonder.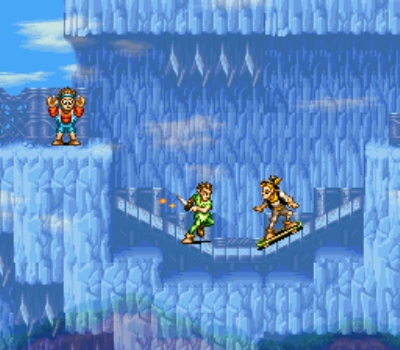 Don't get me wrong, I'm not saying Hook is one of the best games you might have never played. I wish Pan moves a smidgen (or two) faster. I wish it was a bit more challenging. And similar to Sky Blazer, when the levels start to reel you in, before you know it it's over with. It would have been nicer to see meatier levels. The gameplay is not shabby, just good enough in most places to be satisfying overall, but not quite good enough to take it a notch above the norm. Therefore, Hook falls short of being a very good game. Still, I don't hesitate to recommend Hook to all SNES gamers. Too lightweight to be considered for heavyweight contention, Hook nevertheless put a smile or two on my face. Like Peter Banning himself, most of us are now grown-ups. Yet deep down, there is still a little child inside each one of us. This video game does a good job representing that. Playing Hook reminds me of a simpler time where junk emails don't exist but pixie dust and flying sure do! Better than the movie, and better than most movie to game adaptations, Hook deserves a spot in any Super Nintendo collection.
Graphics: 8.5
Sound: 9
Gameplay: 7.5
Longevity: 6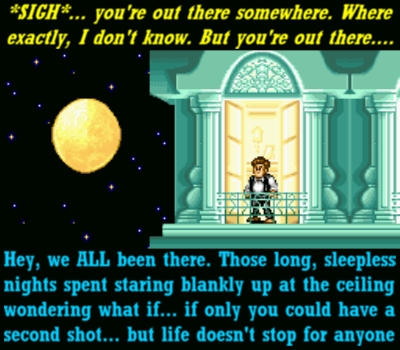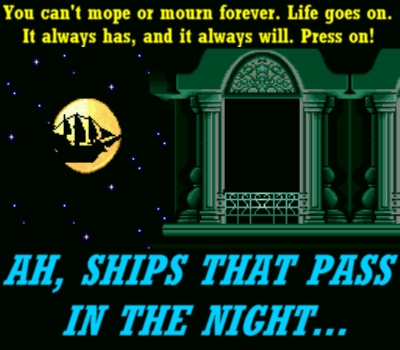 I don't know who this might be for but I feel compelled to share this. Could be YOU… if you've had a 'ship pass in the night' recently, my heart goes out to you. Myself, been there too many times to count. May I suggest some further reading/viewing? This might bless you: Jesse's Girl. Take care, and always, chin up!