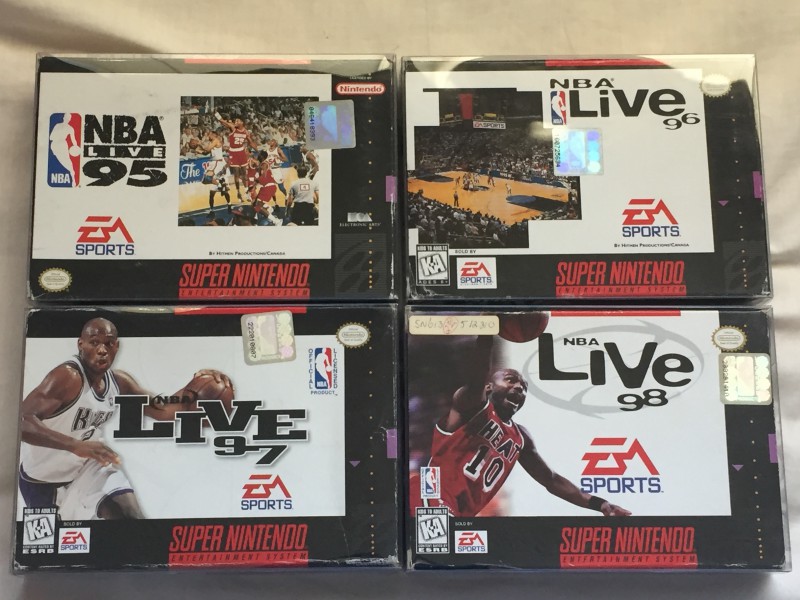 Ah, the NBA Live series. Anyone who grew up with a Super Nintendo and loved basketball back in the mid '90s most likely would remember this franchise well. The first one, NBA Live '95, came out on Halloween of 1994. NBA Live '96 came out exactly one year later (Halloween 1995). NBA Live '97 was released in December 1996 and the final entry, NBA Live '98, made its way to the SNES in March of 1998. What made these games so special? GAMEPLAY. Never before did SNES owners enjoy such fast paced basketball in the traditional 5 on 5 sense. NBA Jam might be the king of arcade style basketball, but when it came to simulation, NBA Live ruled the roost.
BEFORE NBA LIVE…
Before NBA Live the pickings were pretty slim. I mean, these games weren't bad for their time, but even as kids we knew there was something missing about them. Namely, SPEED. NCAA Basketball (October 1992) was certainly groundbreaking for its time, but it's not everyone's cup of tea. Then came Bulls vs. Blazers and the NBA Playoffs (what a terrible title) in December 1992. Again, for its time it was something we played but man was it slow. Tecmo Super NBA Basketball (March 1993) was a step up and easily the best of the lot prior to NBA Live '95. But even then it failed to replicate the excitement of the NBA. NBA Showdown (October 1993) was infamously known as NBA Slowdown. Finally, a year later EA Sports got it right when they unleashed NBA Live '95.
2017 NBA CHAMPIONS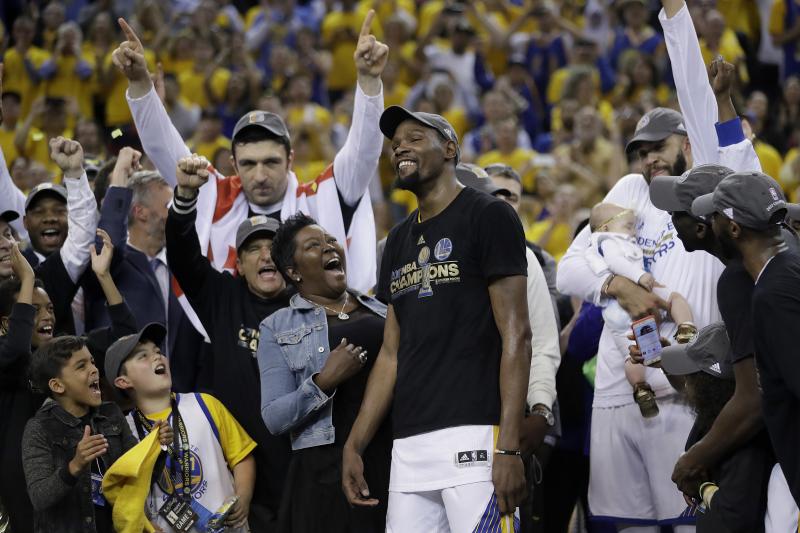 The Golden State Warriors defeated the Cleveland Cavaliers this past Monday evening at the Oracle in Oakland, California, to secure their second championship in three years. Kevin Durant dominated the Cavs and Steph Curry was an afterthought despite averaging nearly a triple double. That's how good KD was. It was great to witness and definitely put me in a basketball state of mind.
Yesterday the Warriors and their fans celebrated their Finals victory with a parade. Over one million people attended, according to estimates. Crazy.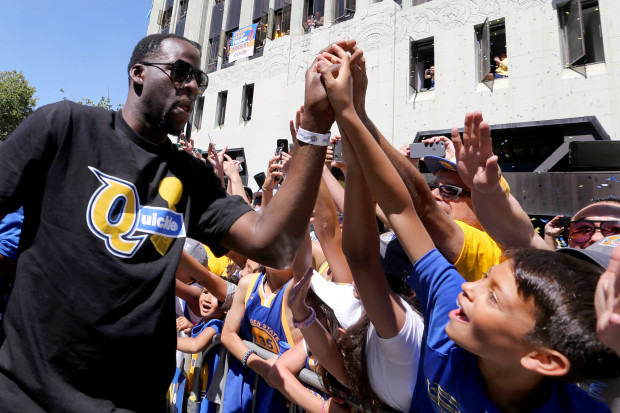 The Cavs were a little petty with their celebration last year coming back from a 3-1 deficit. For their Halloween party they made "R.I.P." cookies for Steph Curry and Klay Thompson. They also had a band named "3-1 Lead." At the parade LeBron James wore an "Ultimate Warrior" t-shirt. Naturally, Draymond Green had to respond. He wore a "Quickie" shirt at the parade yesterday. This represents the Q (Quicken Loans Arena, where the Cavs call home) and the fact that it was a quick series with the Dubs winning 4 games to 1. Classic Draymond. Never change, my man. Never change.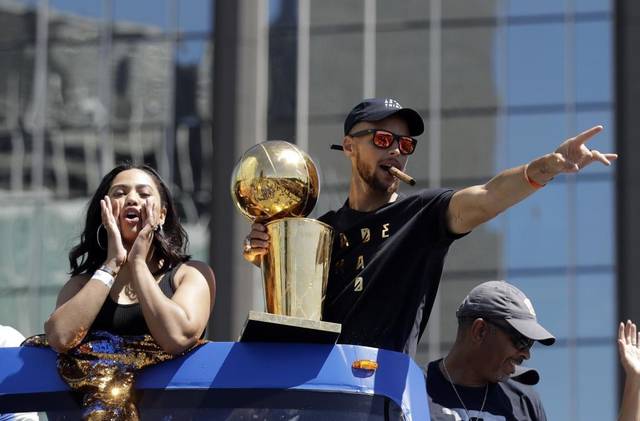 Barring injury, I look forward to Cavs-Warriors Part IV next June. Jason, Freddy and Michael Myers would be proud [Don't forget Capcom -Ed.]
"IT'S IN THE GAME!"
Electronic Arts, better known as EA, created a monster with this first edition. How about that skyline there — what is this, Streets of Rage?!

Shaquille O'Neal that is. Your eyes do not deceive you. Shaq didn't appear in the SNES versions of NBA Jam, but he's here in all his 7 foot 1 inch glory.
Simulation-based, yes. But there's a healthy amount of arcade style thrown in there as well. You can adjust various options to make it as arcade-like as you wish. It strikes a nice balance.
Player ratings are ranked out of 99. It was always fun to see how each player was scored in all the categories they had.
Veterans of the NBA Live games know the "secrets" of the numbers. For example, when it came to 3 point shots, 75 was the magic number. If you were rated 75 or better, you could hit a good percentage of your 3 point shots. 74 and under drops dramatically. So guys like Derrick McKey of the Indiana Pacers were screwed, but Mark Jackson and Haywoode Workman could nail a decent amount of their 3's, despite being separated by just one point. The Milwaukee Bucks in NBA Live '96 had a whopping six guys rated 77 or higher in 3's, making them extremely dangerous beyond the arc.
Dribbling is even rated. 75 is once again the magic number. If you were a 75 or higher in dribbling then you can do the crossover dribble. Guys like Jeff Grayer got the short end of the stick with a 74. But Donyell Marshall, barely cracking 75, could perform the crossover dribble. The (then) Washington Bullets had six guys rated 75 or better.
Cavaliers vs. Warriors was a different look back in the mid '90s…
Switch substitution to manual in the strategy option screen. Trust me. If you left "fatigue" on then be sure to monitor your guys' stamina bars throughout the game. Like I said, you can customize it to be as arcade-like as you want.
Statistic guy? If you're like me then you'll appreciate the amount of facts these games threw at you. You can see everything from total games played to points per game and more. Remember, this was back when the internet wasn't really a thing, so having these features made it feel like your very own basketball encyclopedia!
Curious about a guy's field goal percentage? Check. Curious about his exact number of shots made and attempted? Check. This game had it all.
THE MAN, THE MYTH, THE LEGEND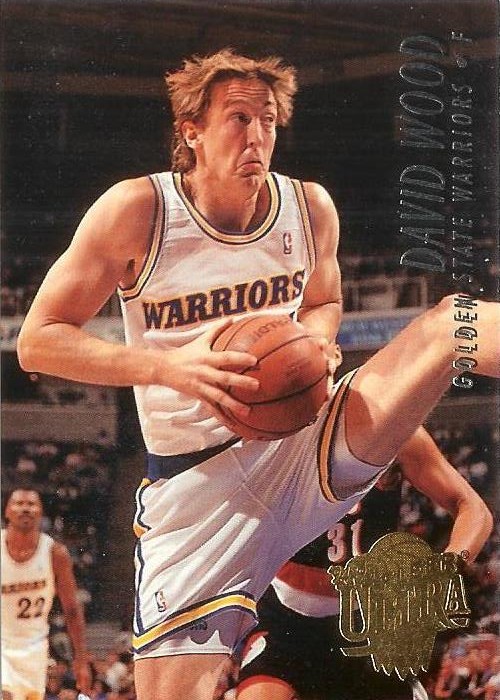 My brother was once a big basketball card collector in the early to mid 1990's. One day he ripped open a fresh pack and out popped this curious little card. I remember us laughing at David Wood's expression like it was the funniest thing we had ever seen. But I also became a David Wood fan that day. He was an end of the bench player who bounced from team to team. There was something incredibly endearing about his playing style, however. He was fierce, and although he lacked talent compared to his NBA contemporaries, David Wood could never be accused of not trying. Wood was the motherf*cking man!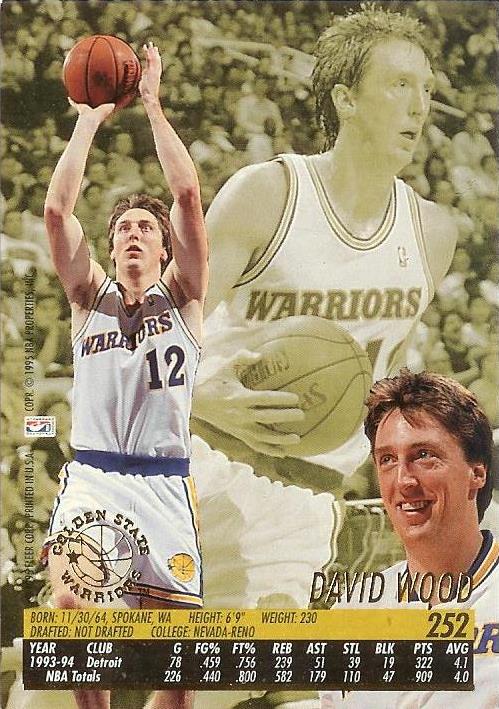 The reason why I'm highlighting David Wood here is because he really was my favorite player in the NBA back in the mid '90s. Some people were Jordan fans. Others, Patrick Ewing or Reggie Miller. But me? I was team David Wood all the way. Even back then I was rooting for the underdogs and a supporter of the obscure! I mean, look at those staggering statistics there. How did this guy never make a single NBA All-Star team?! Highway robbery.
Here's a five minute highlight reel of David Wood. Some of the footage is grainy due to the age, but it'll give you a sense of why so many NBA fans in the '90s adopted him as a pet favorite. Dude was scrappy and 110% heart.
GAME 7 OF THE NBA LIVE '96 FINALS
Cleveland gets on the board first with a nice little push shot.
David Wood attempts to answer back. A little strong there, my friend…
Chris Mills stuffs it home to end the first quarter.
Warriors are off to a hot start shooting 75% from the field. They've doubled up Cleveland. Let's head to the second quarter.
David Wood nudges Bobby Phills (R.I.P.) out of bounds. Crafty bastard.
SENSATIONAL move by Mark Price!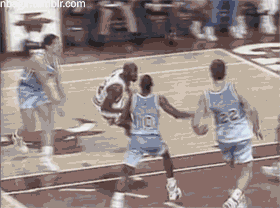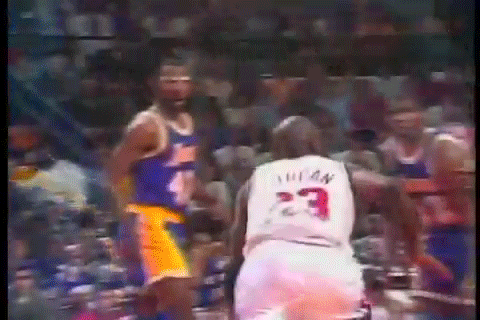 Battle of the Chris!
Mullin filled up the stat sheet at the half. But he had zero blocks. That's now been taken care of. He even knocks down the 3 pointer in transition. Cold blooded Chris Mullin. Steph Curry would be proud.
David Wood was known to knock down the occasional 3. For a 6'9″ Power Forward at the time, it was rather uncommon (unlike in today's NBA). Wood could stroke it from downtown!
Sloppy pass leads to a fast break monster jam.
Bobby Phills channels his inner JR Smith to end the quarter and keep the Cavs within striking distance. Even though NBA Live is more of a simulation based basketball game, you can make a lot of crazy running shots like such. It really blends the two (simulation and arcade) masterfully.
Trivia question is presented at halftime. The answer is revealed end of the third quarter. Some of the questions are tough enough to stump even the most knowledgeable of NBA fans.
David Wood times his leap perfectly to block Mark Price's shot. Wood dribbles down the court and launches a 3 pointer. Hey Mullin, whatever you can do Wood can do better. OOF. Or maybe not. Wood's 3 point rating, by the way, 74. One point shy of the magical mark. ROBBERY!
Fortunately, Mullin grabs the offensive rebound. Yo Wood, this is how it's done. OOF. Or maybe not.
Critical basket by Mark Price puts the Cavs up by 3. 50-47. 30 seconds left. Game 7. Who's going to save the day for the Dubs?
Latrell Sprewell makes eye contact with a streaking David Wood. Wood wants it. Sprewell passes the ball to Wood who then rises for the potential game tying 3 point shot…
WHAT?!? DAMN THAT 74 RATING! SHOULD BE 75!!
Luckily, Latrell Sprewell manages to steal the ball and launch a game tying 3 point shot with less than a second to go! We're all tied up 50 a piece — it's Overtime!
Nothing beats a Game 7 Overtime.
Absolutely ruthless, that Mark Price. 53-50 Cavs.
Mullin answers! Tied at 53 a piece.
Victor Alexander tries to scoop the ball off to a wide open cutting David Wood, but sadly Big Vic is too slow, resulting in a critical turnover.
Remember that play earlier where Wood nudges the Cavs player out of bounds? Deja vu! Wood was always one scrappy son of a gun.
REDEMPTION! This time Big Vic reacted faster and made the connection with David Wood for the clutch game tying reverse jam!
Nothing beats a Game 7 DOUBLE Overtime.
ZOINKS! Mark Price blows the layup! Fatigue has set in. Those legs aren't as light as they were in the first quarter. Hey, just ask Kyrie Irving…
Massive dunks both ways to tie it up 61 all.
Hardaway with the vision and excellent deep pass to a wide open streaking Chris Mullin for the clutch go ahead 3 pointer in transition! This is another aspect that the NBA Live games nailed down. Other SNES basketball games struggle with the passing game. They often result in annoying turnovers and it was practically impossible to make a long pass like you just saw here. These little details go a long way and really separate NBA Live from the pack.
Kyrie Irving is much better but man Mark Price had some game. Big 3 point shot here to put the Cavs up by two with less than 30 seconds to go!
David Wood for the tie!? … Nope.
Hardaway, the smallest guy on the court, with the big offensive rebound and game tying layup! Tim Hardaway was sick back in the day.
Hardaway with the heads up defense!
David Wood gets a shot, literally, at redemption. Nothing but net!
Warriors win 68-66 in Double Overtime! Mark Price might have won the Player of the Game award, but the Warriors win the war.
Player stats can also be viewed.
Bloody hell, Wood had a bad shooting game but hey, he made them when they counted the most!
FREE THROW GIMMICK
Every NBA game back in the '90s had their own free throw system. Nobody did it better than EA Sports with their NBA Live franchise. A crossbar appears on the screen and your job is to center both basketballs in the middle as best as you can. The speed of the ball traveling is dependent on your player's free throw rating. The higher his rating, the slower the ball travels. The lower his rating, the faster.
Failure to align the balls closely in the middle results in bricks. The best part of this gimmick? The away team's basketballs in the cross section become clear circles with white outlines. And the home player can madly tap buttons to cause the fans in the free throw background to wave their arms around. It's such a small detail but one that my brother and I loved back in the day. It truly brings forth the meaning of "home court advantage." Brilliant.
Ratings were based off their actual performance from the free throw line that season of 1994-1995. I have to say, though, that Chris Mullin was robbed. He shot 87.8% on the season but EA gave him a free throw rating of 87. Round that sucker up to 88, would ya?! Talk about stingy

Nothing like a pure swish. Love the way the net either sways to the side or straight up. By the way, NBA Live '96 has the best sound effects in the series. For some reason, the other entries are a bit muted.
WHICH ONE IS THE BEST?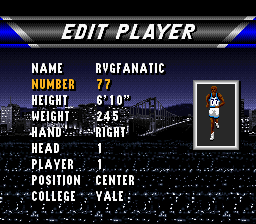 For my money, NBA Live '96 is the best of the lot. NBA Live '95 started the groundwork, but NBA Live '96 refined the foundation. This included crossover dribbles, a create a player mode, trading players and so forth.
NBA LIVE THROUGH THE YEARS
Going from top left to bottom right: NBA Live '95, '96, '97 and '98. Notice that the Boston Garden looks the most different in NBA Live '95. I actually like the look and aesthetic of NBA Live '95 the best. But '96 captured the magic of the series in general. '97 and '98 are great too, but feel more like afterthoughts milking the cow. It's interesting to note that Hitmen Productions developed '95 and '96, not EA Sports (they were the publisher instead). NuFx developed '97 and Tiertex Design Studios developed '98. '97 added a half-court 2 on 2 and 3 on 3 mode, for what that's worth.
CREATIVITY AROUND THE HOOP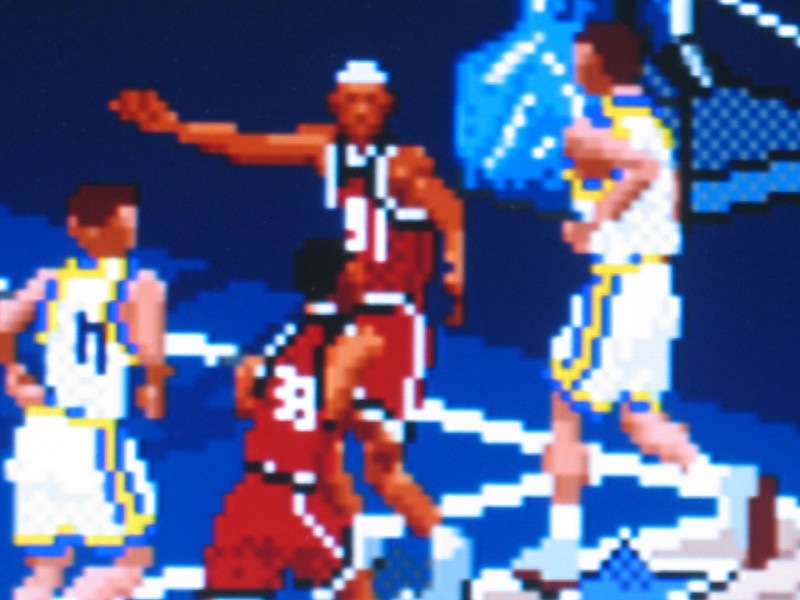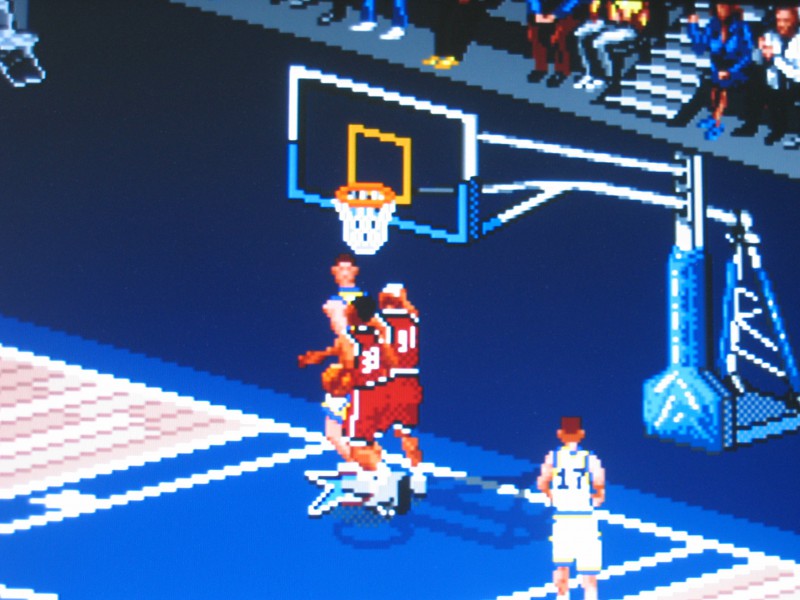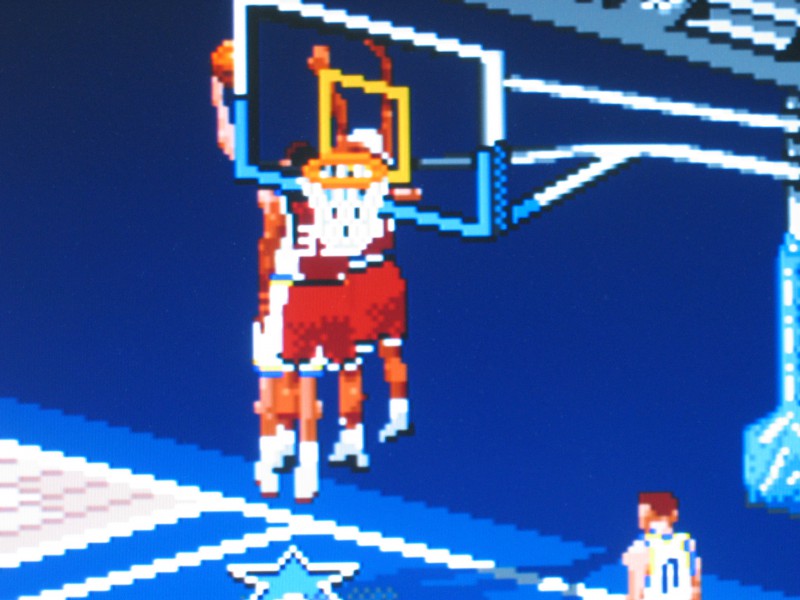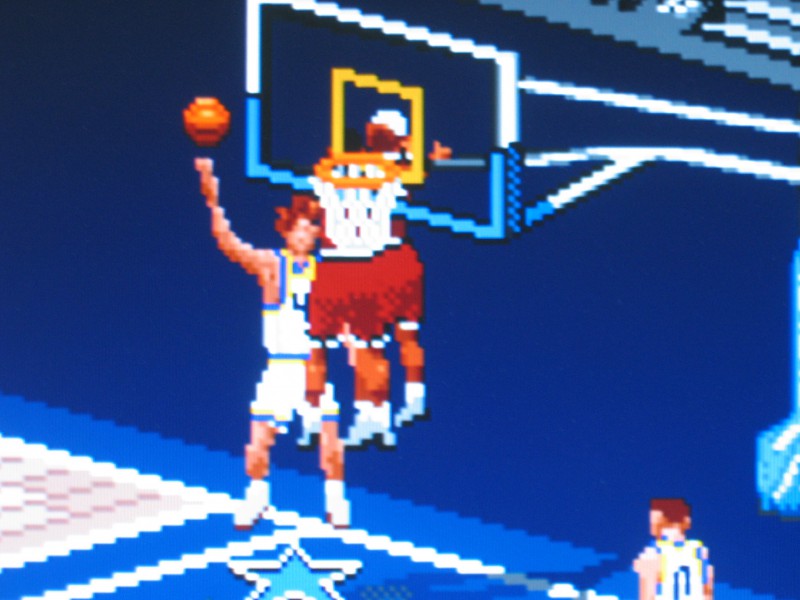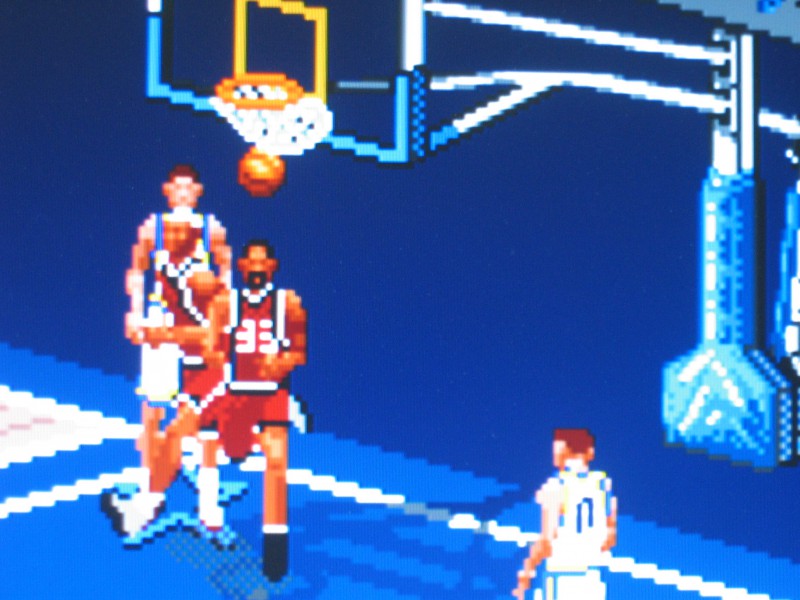 WHAT THE CRITICS SAID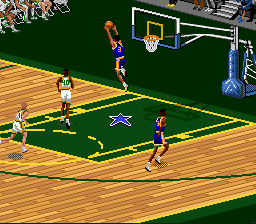 The NBA Live series on the SNES is often regarded as the finest simulation basketball titles of the 16-bit era. And rightfully so. Talko from GameFan fame gave NBA Live '95 a whopping 98% score. He called it unquestionably the best sports game he had ever played. Super Play rated it 84%. Some folks go back and back on whether they like the NBA Jam or NBA Live series better, but it's a bit like comparing burgers and pizzas. Both are excellent; it just depends on your mood.
CLOSING THOUGHTS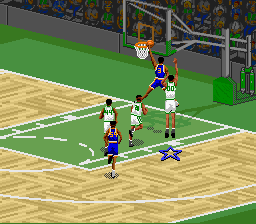 I have such fond memories of the NBA Live games. They played great back then, and still to this day they hold up remarkably fine. The new isometric perspective brings the action full throttle like never before seen. You can finally throw baseball passes and execute fast breaks properly, just like you see in the pros. Best of all, NBA Live added a turbo button (not unlike NBA Jam) which allows a speed burst to add some spice to the gameplay. Previous SNES basketball titles had no turbo option, making them a bit clunky to play and penetration in the paint proved to be difficult. Not the case here. It really brought a new sense of life to the way we viewed basketball games. There's never a moment of slowdown and although NBA Live is more simulation-based, there is a great mix of arcade action as well. It's a near perfect marriage of the two.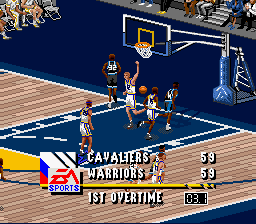 You can't go wrong with any entry from this series. But if I had to recommend just one, I'd definitely go with NBA Live '96. I still occasionally replay it these days from time to time. As far as sports games go on the Super Nintendo, this is one of the very best. It's simply a ton of fun and has aged remarkably well. Yes, it's a little too easy to hit shots, and you probably shouldn't be able to make so many 3 pointers fading away, but it's all part of the charm. Maybe it won't convert non basketball enthusiasts, but basketball aficionados are sure to be in NBA heaven here.
NBA Live overall score: 9.5