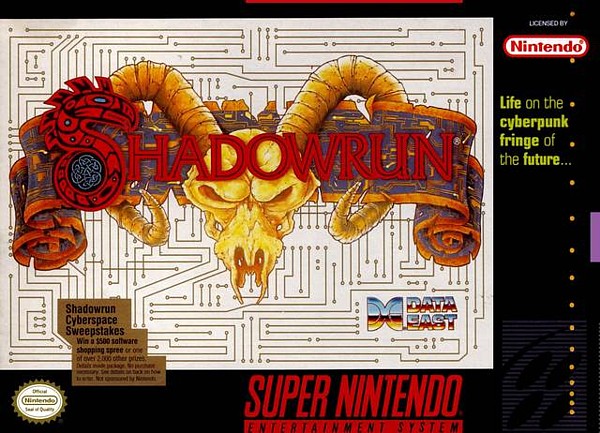 As I write this it's Halloween 2016. It brings back fond memories as exactly two years ago, I left work early Halloween 2014 due to being under the weather. That was a memorable day for a couple reasons. Number one, it marked 20 years since I experienced the greatest Halloween of my life (October 31st, 1994). And number two, it was the night I finally played Shadowrun. It's been a game long on my to-play list, and on that rainy evening, with me being sick, I couldn't think of a better game to start than Shadowrun. Even though it's not a "Halloween" game in the vain of a Super Castlevania IV or Zombies Ate My Neighbors, it's got a dreary and grim atmosphere that is great to play this time of the year. Prepare to immerse yourself in the morbid and sordid universe of Shadowrun.
YOU AWAKE ON A SLAB IN THE CITY MORGUE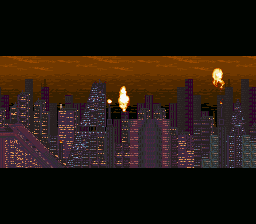 Explosions are erupting all over the city.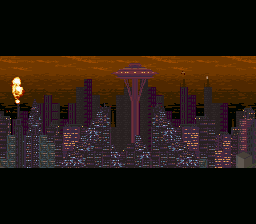 It's Seattle. The year is 2050. And civilization has devolved.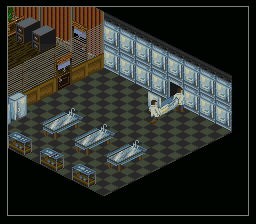 The game opens up with this rather intriguing bit. Two night shift workers load you, Jake Armitage, onto a slab in the city morgue. You're apparently done for.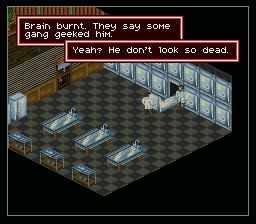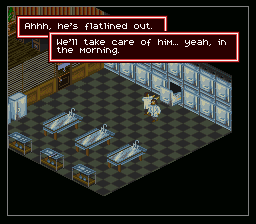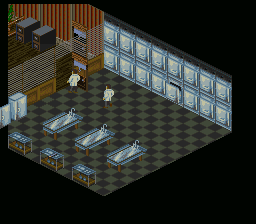 The slackers take off. Look, they didn't even bother to shut the slab all the way in. What a bunch of assholes, eh? Just can't find good help these days.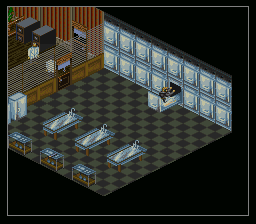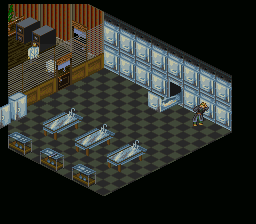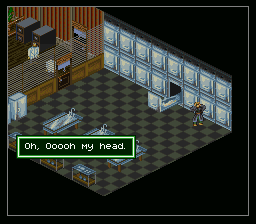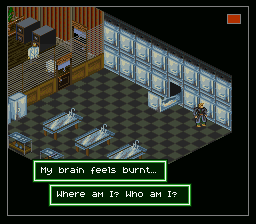 Shaking off the cobwebs, you don't have any memories of who you are or where you came from. It's a race against time and technology as you fight for your life.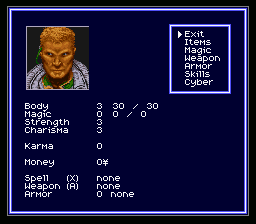 Pulling up the menu you have all you need at your fingertips.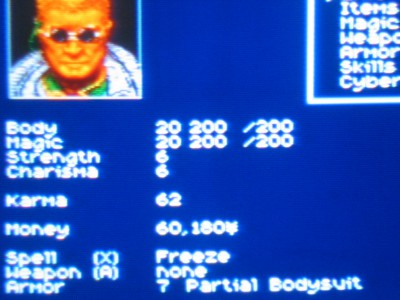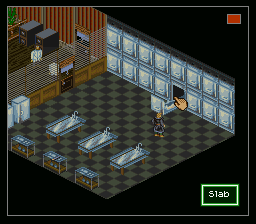 The hand cursor helps you to explore your environment. Move it around the screen and place it on items of interest. A little note will appear if further action can be taken.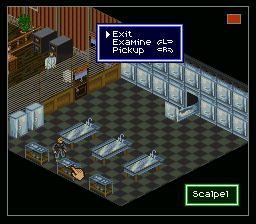 A really cool feature Beam Software implemented was the use of the shoulder buttons. Yeah you can click on a button which brings up a menu to give you further choices, or you can examine or pick up by simply pressing L or R respectively. It saves an extra button press and is just convenient and makes the overall playing experience much more smooth than having to press extra buttons unnecessarily.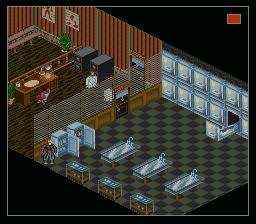 Don't forget to check and raid the fridge. That's rule number one in life and video games. For sure.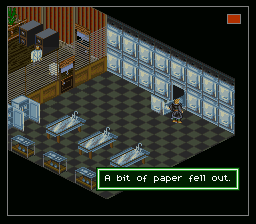 It's easy to miss small items like this. Every piece of information is integral to your success, so make sure to comb each playing area thoroughly.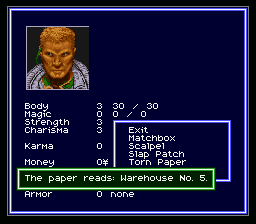 What's inside Warehouse number 5? Hmmm.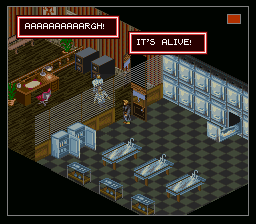 You fling the door open and scare the living daylights out of the night shift workers. It's a fun little moment that just pulls you in. Very effectively done.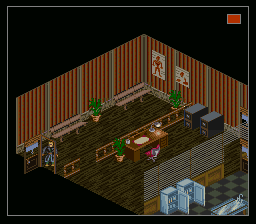 I appreciate the mood and atmosphere of Shadowrun. Its cyberpunk universe, the detailed visuals and the isometric view. Makes you wish there were more games like this on the Super Nintendo.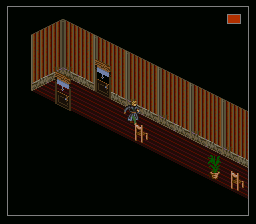 Each new playing area brings with it a new view. Some screens are full screen while others are smaller. I love this — it brings a quirky, unique sense of 'flavor' to the game.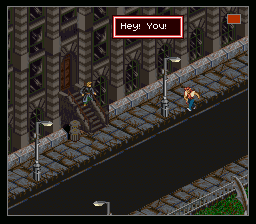 Heading out of the city morgue, you run into a strange lad roaming the streets. You call out to him and the following conversation ensues…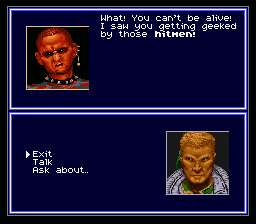 I love the portraits of the characters in this game. They add perfectly to the seediness of Seattle 2050 as this game envisions it.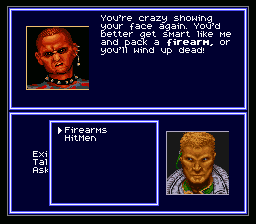 An interesting aspect of Shadowrun is that you have preset talking points and can select from a list of topics to ask the various NPCs that appear throughout the game. Sometimes you have to broach a topic in order to unlock new topics. It was quite a unique system and lends a sense of discovery and deduction.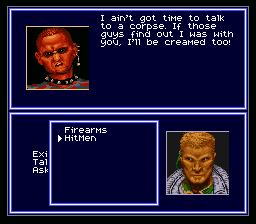 If one topic doesn't bring about any results, try the next topic. I like the dialogue in this game, by the way. Really gives off an air of shadiness and bleakness.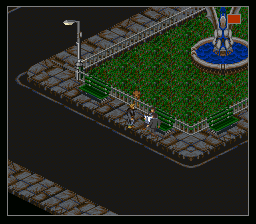 You know a game's dialogue is top-notch when you look forward to talking to every single last NPC. Here is another fun little interaction.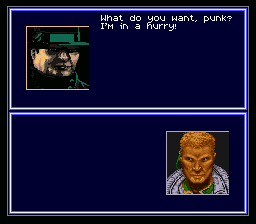 In a hurry to do what, fella? Certainly not hitting the gym, are we?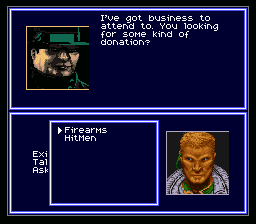 Go through the list of preset topics. Rinse and repeat. It may seem repetitive but it quickly grew on me and it somehow works for this game. I can't imagine it any other way.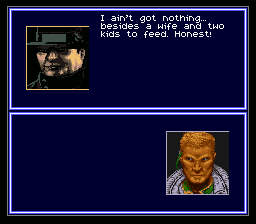 Hmm, not sure I trust him. But whatever the case may be, he's definitely low ranking in the grand scheme of things. Leave him be to his newspaper and find bigger fish to fry.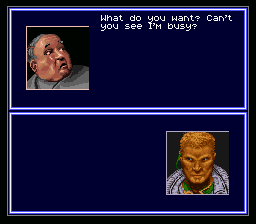 Yeah, this guy doesn't look like a shady character whatsoever…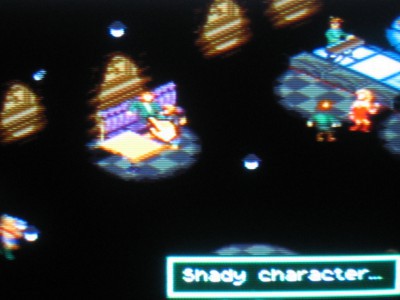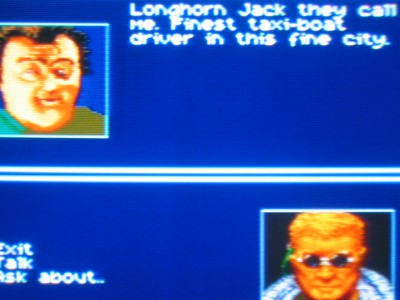 Speaking of shady, Longhorn Jack… what a gimmick name.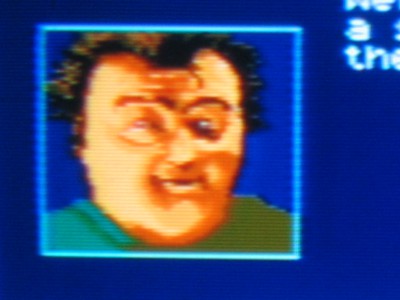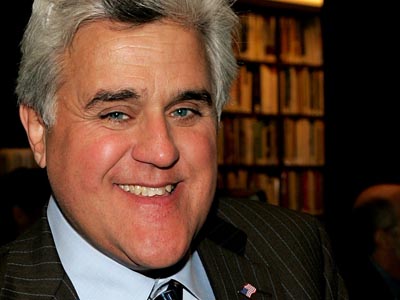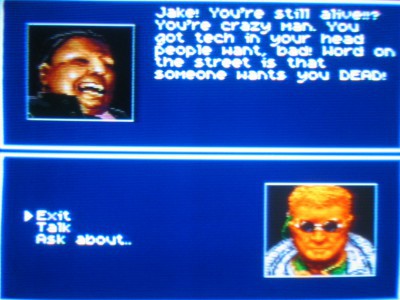 The NPC dialogue adds to the sense of dreadful urgency that runs rampant throughout Shadowrun. Very well done there, Beam Software.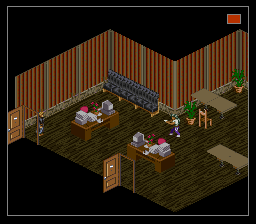 The battles take place in real time. You aim a crosshair icon at a bad guy and fire away. Each hit either way brings a number point over the character's head as to indicate the damage points incurred. Kill more bad guys to earn karma (think skill points in RPGs) and nuyen (money). The more karma you earn the better you can level up your skills and attributes.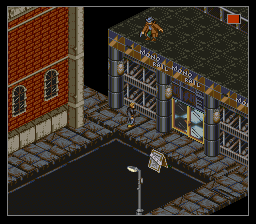 Some battles take place inside buildings while other wars are waged in the middle of the street. As you run through the seedy streets of Seattle, you never know when some scumbag will pop out of nowhere to fire shots at your head. I love the battle music that plays for each gun fight.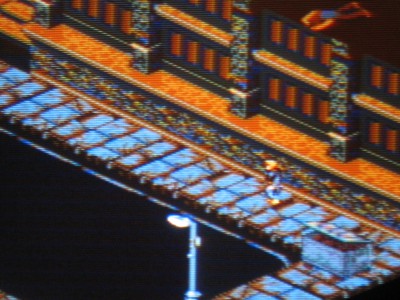 Scumbags pop out of nowhere. From rooftops to dumpsters, you always have to watch your step. Love the way their carcasses litter the screen when you're through with them!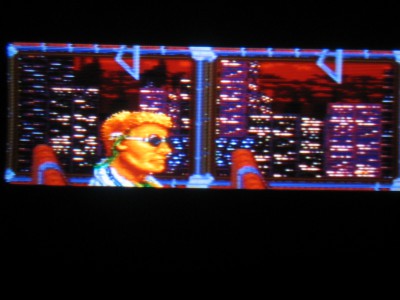 I like these mini cut scenes whenever Jake travels. There's one for a train, a chopper, an elevator, a boat, etc. It's simple but an effective way to convey the feeling that you're really traversing various parts of town.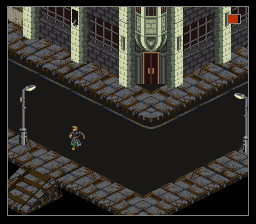 I can't imagine Shadowrun being anything but isometric. It just wouldn't be the same if the perspective was, say, Link to the Past.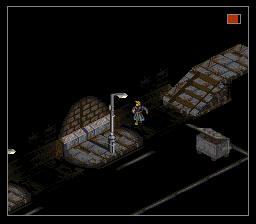 I just love how gritty and grimy the whole world of Shadowrun is. Really a nice little action adventure game to play at midnight with all the lights turned off!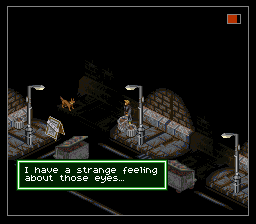 This is an odd recurring character you will run into throughout to say the very least…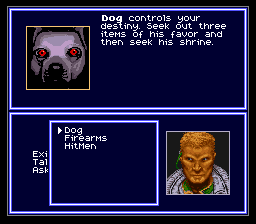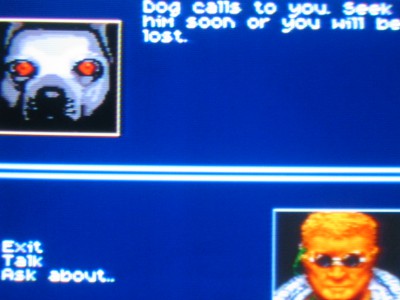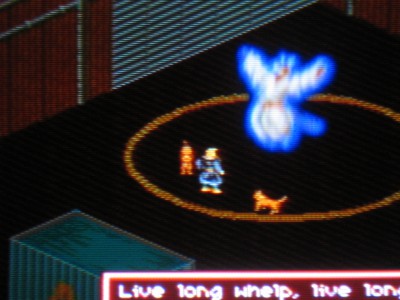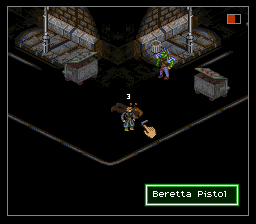 Upgrade your guns as you progress to stand a chance. There's nothing like a dark alley gun fight, is there? Really gets the blood flowing… literally.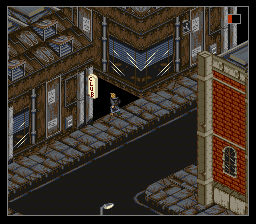 The game map isn't too big, but is big enough to convey a real sense of being immersed in a dubious, underhanded world. You never really get too lost (at least I didn't, anyhow) but there are enough interesting little nooks and crannies to be explored that really suck you into its twisted world.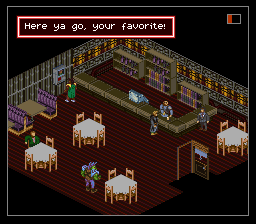 Go to the bar to find out more information. You can also hire mercenaries! So even though you only control Jake, he can have up to 3 mercenaries trailing him at any point to help you in your quest. The computer AI on your mercenaries isn't perfect, but it's good enough to get the job done.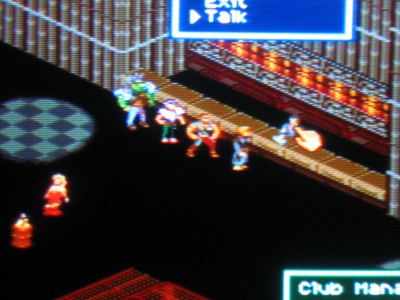 Hiring help is not mandatory but it sure helps Jake's cause. They have some funky names too — my favorite name being "Dance With Clams."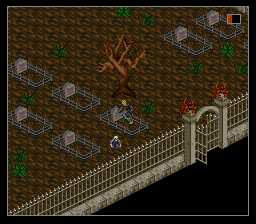 Love me the graveyard section! Zombies come crawling out the earth looking for a taste of human flesh. It's slightly creepy and goes extremely well with this time of the year.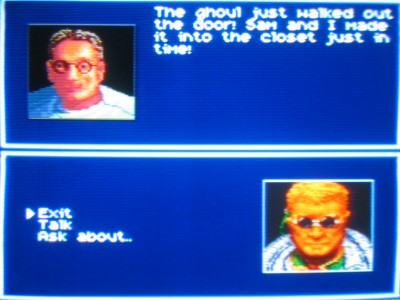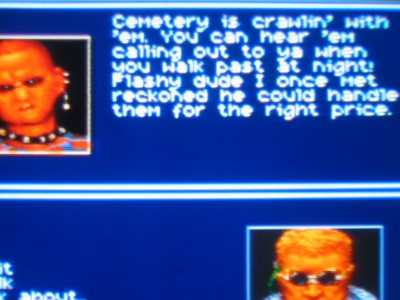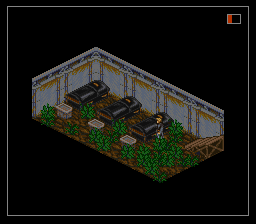 If you haven't experienced playing Shadowrun at midnight with the lights turned off, you need to.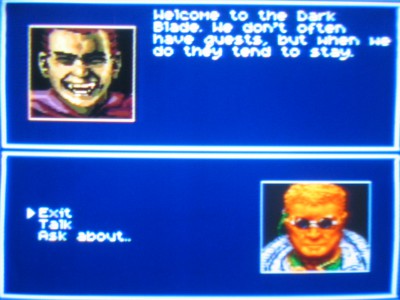 My favorite occult-ish moment of the game is when you run into a nest of vampires. They're hiding off in some big fancy house near a graveyard. Better come armed with some mercenaries in tow!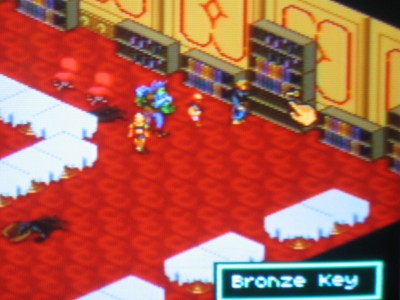 There are a few tricky moments here and there where if you miss a key item (pardon the pun) the game comes to a screeching halt. I always try to solve a game on my own first without resorting to a FAQ. It took me a while here until I realized there was a bronze key laying on the book shelf that was somewhat hard to make out at an initial glance. One of those "D'OH!" moments when you finally see it for the first time.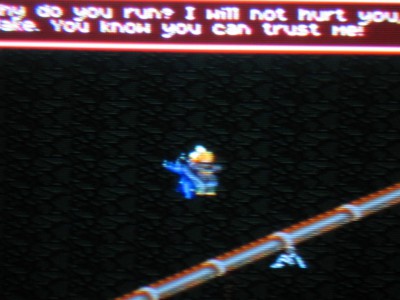 The boss battle with Dracula himself was a fun one, if not a little creepy. I hate the way he moves. It was unnatural and very stilted. Gave me the creeps…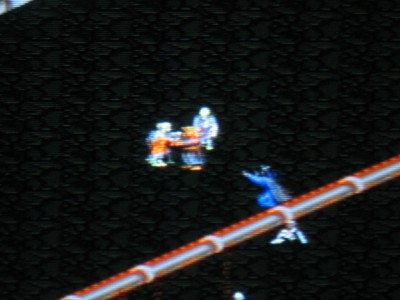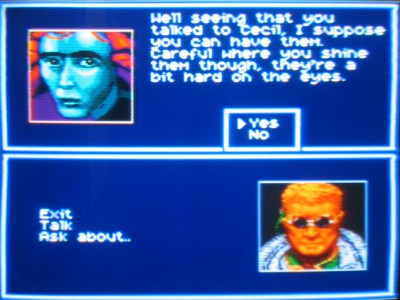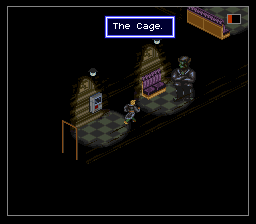 Oh great. This big bastard guards this night club. But you got to find a way to somehow bust through. Hmmm…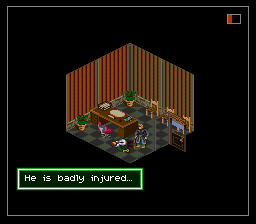 Love the small rooms. It reminds me of EarthBound because some of the rooms take up half the size of the screen, or even less!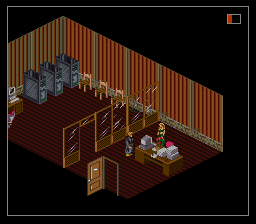 Shadowrun will suck you right into its fascinatingly squalid world.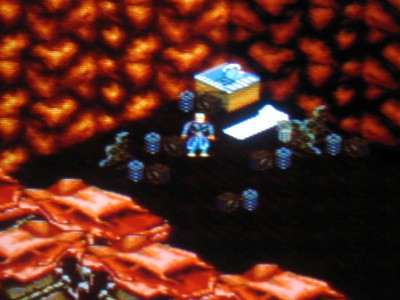 I suppose no seedy underworld is complete without an equally seedy junkyard.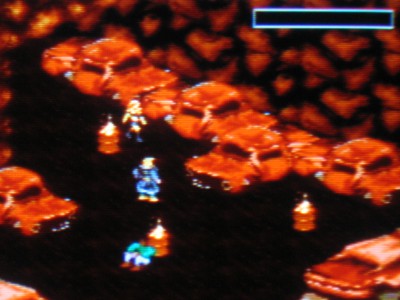 Hobos litter the area as does gun-toting mad men. It's quite the ruthless and dog-eat-dog world. By the way, is there nothing better than surviving a fight with next to zero health remaining? It never fails to get the heartbeat racing a bit as you scramble around to find a health kit refill, or the like.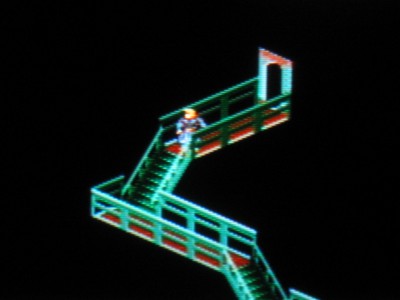 Make your way through this giant boat. I love the way the screen is mostly black and the only thing that is detailed are the green stairways. It's really quite an artistic little game.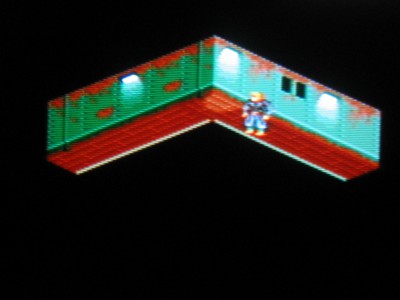 You gotta appreciate a video game that does things to differentiate it from the crowd. Shadowrun is definitely a unique title in the vast ocean of SNES goodness.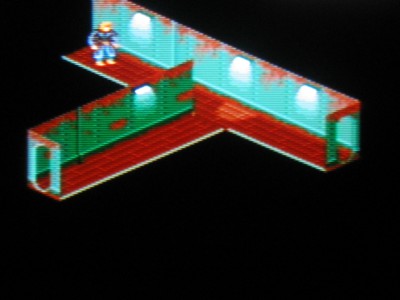 Another thrilling section, you can feel the pressure kicking in as you slowly uncover bit by bit the Jake Armitage mystery.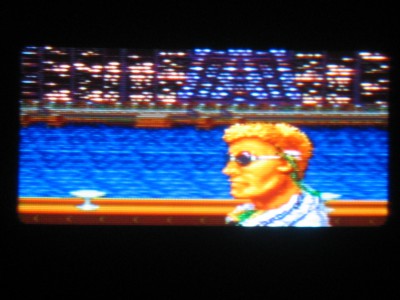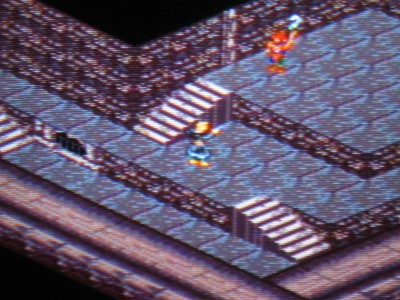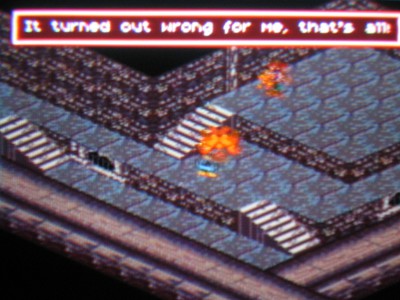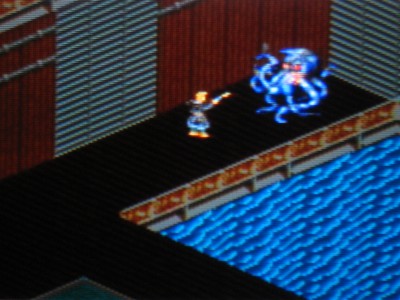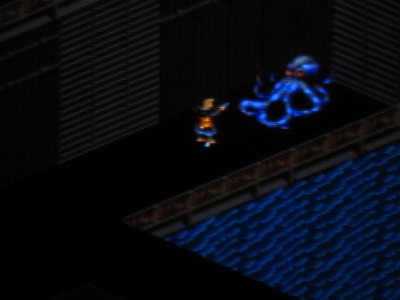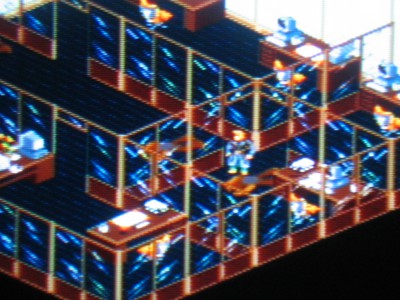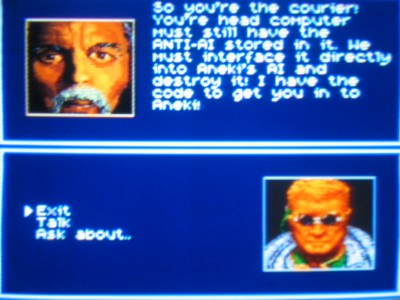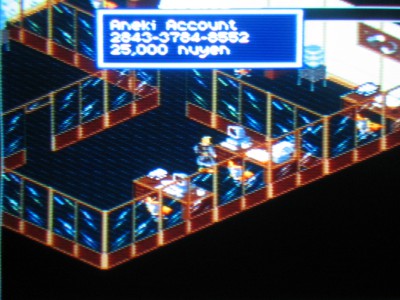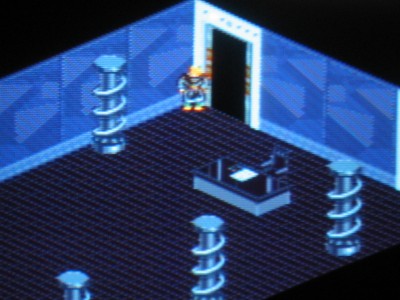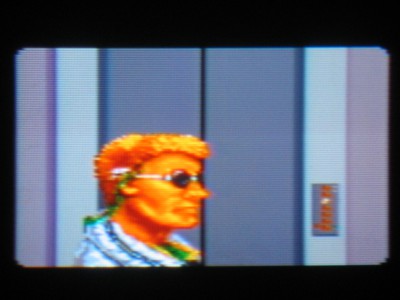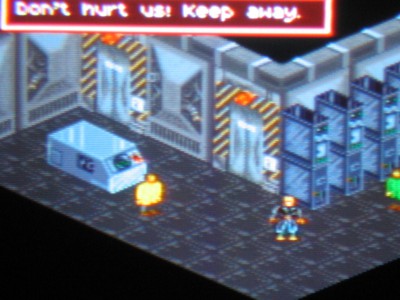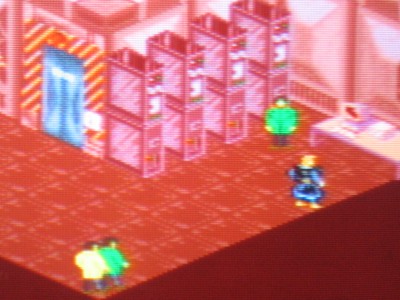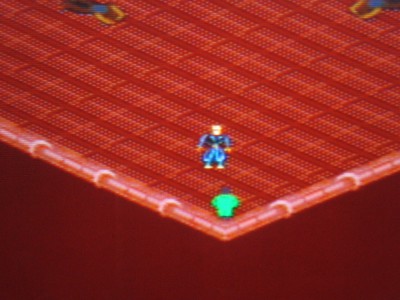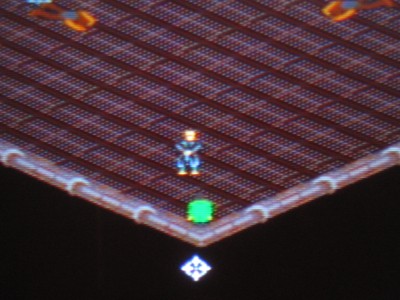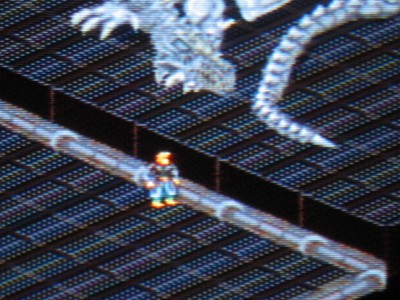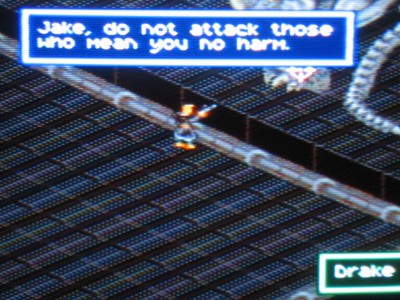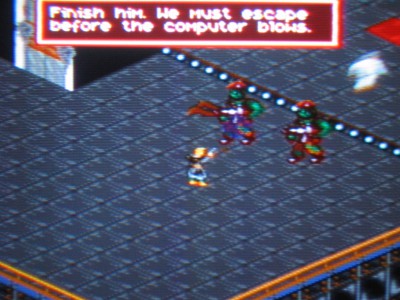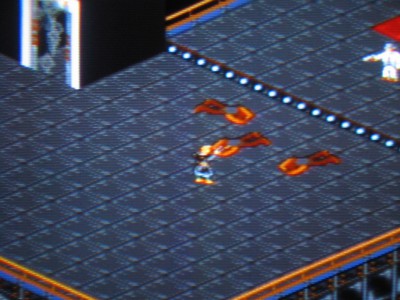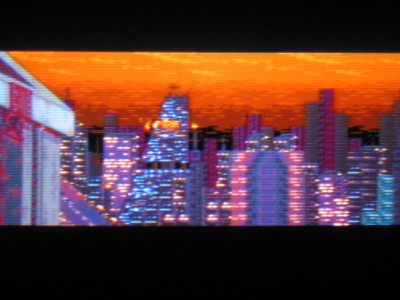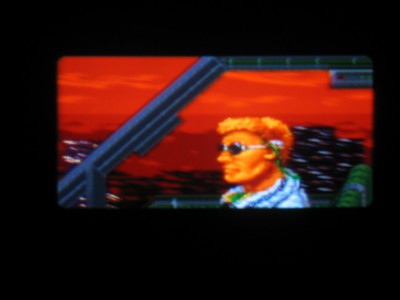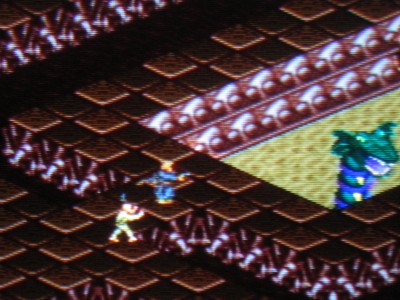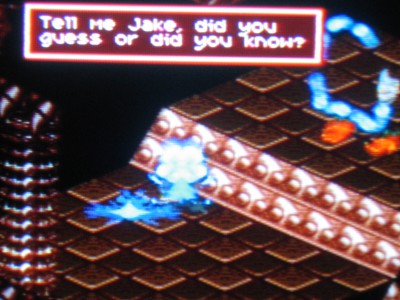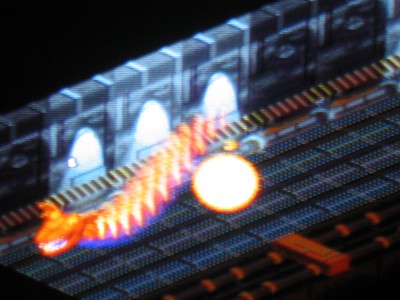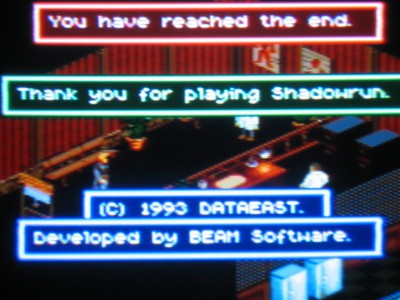 WHAT THE CRITICS SAID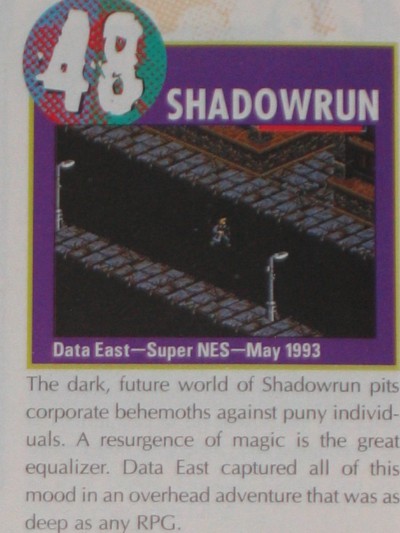 Shadowrun scored positive reviews with the critics. Well at least for the most part it did. EGM gave it scores of 7, 7, 6 and 6. GameFan rated it 89, 84, 80 and 80%. Super Play scored it 85%. It has a positive reputation within diehard SNES circles. It's not your typical bright and cute Super Nintendo title, which is part of its appeal. There have been many talks over the years on which is better: the Genesis or SNES version of Shadowrun. Both play differently. I've never played the Genesis version myself, but I can say I love SNES Shadowrun. Not only is it a blast to play but I love the whole vibe of the game. There's no teenage angst or love side story BS. It was just a man on the run fighting time, magic, monsters and unraveling the mystery of the puzzle piece by piece. Good stuff.
CLOSING THOUGHTS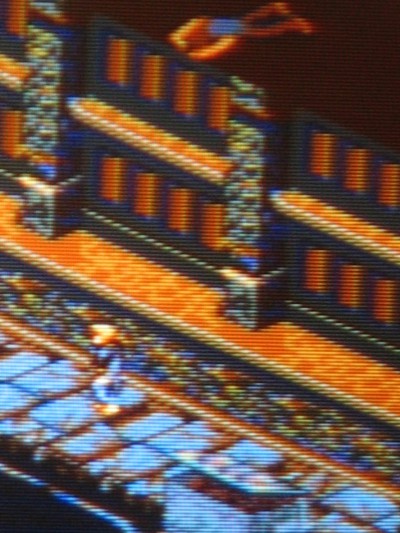 Two years ago — Halloween 2014. I left work early on a dreary late afternoon due to losing my voice. I was bummed I wouldn't be able to head out that night for Halloween shenanigans, but it worked out OK. There was nothing I wanted to do more than finally at long last firing up Shadowrun and seeing what it was all about. It's a game my brother played to death over 20 years ago. I have fond memories of that Halloween night exploring the first few hours of this game. It was raining and I made sure to wait until after 9 PM when the trick-or-treaters had all gone home. Now it was nothing but me, Jake Armitage and the crazy sordid universe of Seattle 2050. All things considered, it turned out to be a pretty good Halloween. And on a side note, the following week I told my brother I was finally going through the game for myself, and he grew very nostalgic at the mere mention. Next thing I know we're talking about deckers and Drake. This may sound silly but that's the magic of video games. You can go 20+ years without playing or even thinking of a certain game, but the second you recall it, you're transported back to a more innocent and carefree time in your life. A time when it was just taking out the trash, doing your homework and playing the latest and greatest 16-bit games. Good times.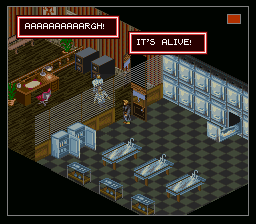 I enjoyed upgrading Jake's armor, guns and magic. I like how karma is awarded for kills which allows you to upgrade abilities such as shot accuracy and health. There is a bit of "farming" you can do in order to increase your karma. The gun sound effects are pretty weak but I love seeing the numbers pop up over their heads, letting me know how much damage I just inflicted. The visuals are not spectacular but I do like the little details and overall art style. I found myself getting lost a bit here and there, but it's nothing too bad. Mainly I forgot to grab an item that forced me to be stuck. Each locale feels different from the other, and it's fun to see what weird scene you'll run into next. It's a tight 15-20 hour adventure, so it's just long enough to satisfy but not too long that it wears out its welcome. Combat isn't the greatest as you just point the cursor and fire away, but it works for the game and serves its role. Shadowrun isn't perfect by any stretch, but it really is rather one of a kind as far as Super Nintendo titles go. Cyberpunk, monsters, magic, mystery and noir! Hard to go wrong. Just remember, never ever cut a deal with a dragon.
Graphics: 7
Sound: 9
Gameplay: 8.5
Longevity: 8
Overall: 9.0