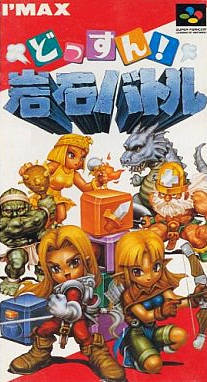 Dossun! Ganseki Battle is an awesome puzzle game. It feels like sort of a beta version of Super Puzzle Fighter II Turbo. Not as good but for its time it was a damn fine puzzler. Let's take a closer look.
The game intro reveals a demon trying to conquer the land (supposedly). Jeez, don't these demons have anything better to do? At any rate, there isn't much Japanese but interestingly enough there is a fan translated version floating out there. Not that you need it but it's there if you want the full English experience.
This game has a unique battle system. Two ways to claim victory:
The opposing player's well fills up
Their energy bar hits rock bottom
Energy bar? In a puzzler? Say whaaaa??
Like Puzzle Fighter, the attacker sends over a spiffy, er, attack.
Eliminating 3 or more like pieces have varying results:
Green Rocks: Sends forth a dragon (see above)
Yellow Swords: Piercing swords
Blue Potion: Replenishes your health slightly (if needed)
Purple Squares: No effect whatsoever
ONE PLAYER MODE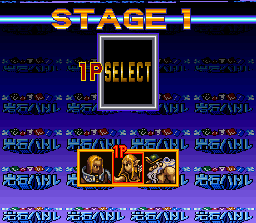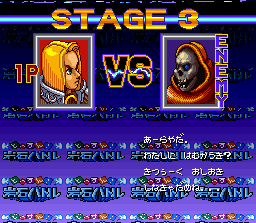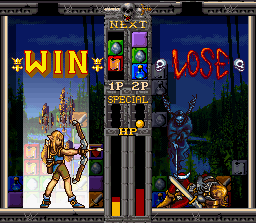 TWO PLAYER MODE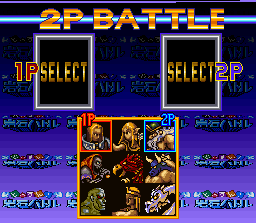 TODAY'S SPECIAL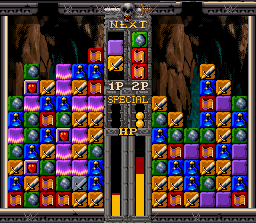 Most puzzle games have a special piece or power. Dossun is no different. When you have a special pellet stored, pressing R clears every purple square. Although the graphics could easily be confused for an early Mega Drive title, this visual effect is somewhat noteworthy.
DO A COMBO MEAL
Like fighting games, special moves are a good way to inflict damage but the best players utilizes devastating combos. The same applies here. While clearing 3 pieces at a time is fine and dandy, pulling off 3-plus chain reactions is the meal ticket. Diagonal matches yield the best results if you set yourself proper.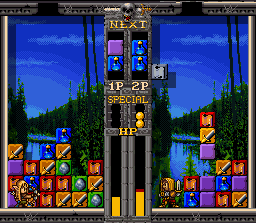 Observe this lethal chain. The green rocks match diagonally and disappear.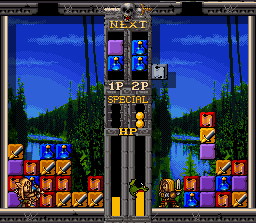 The yellow sword drops, connecting with 2 other swords.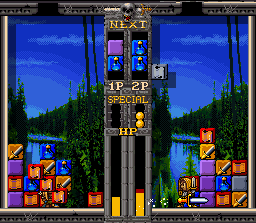 The swords' elimination drops the red scroll… forming a crushing 5-PIECE horizontal and diagonal red match to end the 3 hit chain.
PICK A FIGHT
After completing a big combo, the character enlarges and performs a fancy attack.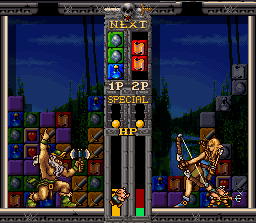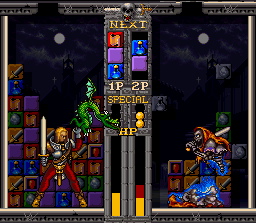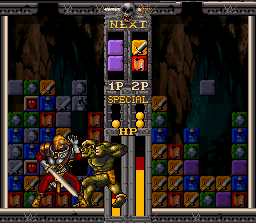 HANG IN THERE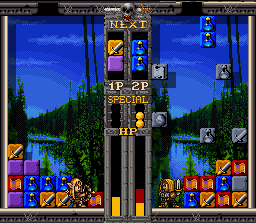 Major attacks result in leaving the opposition hanging.
[By a moment! Desperate for changing, chasing after you… ahem, sorry -Ed.]
ANY REQUESTS?
There's only one music theme throughout the entire game, and it can get tedious. When someone's energy bar flashes, the music breaks into a frenzy, sounding much better and adding nicely to the tension. But the regular music is a bit "meh."
CLOSING THOUGHTS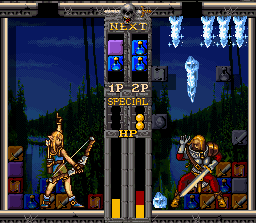 It's essentially COLUMNS with a medieval fantasy battle theme. Dossun! Ganseki Battle really grew on me; I found myself saying "one more game" several times. It's amazingly addicting. Sure the graphics and music are nothing to write home about but the gameplay is largely enjoyable and that's what it's all about. Definitely one of the finer puzzle games you could play on the Super Nintendo and one that should be in your collection if you like the genre even an iota.
Sweet game!