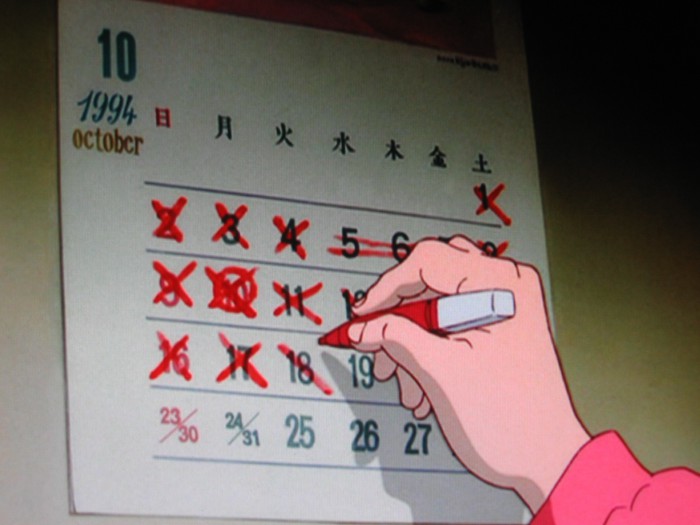 October is quite possibly my favorite month of the year. Fall is one of my favorite seasons thanks to its darkening late afternoons, the soothing sound of leaves crunching beneath your sneakers and bundling up with horror movies galore. And my favorite horror movie of all time also happens to be one of my favorite holidays: HALLOWEEN. I have many fond memories of the holiday, but I've always wanted to write an article exclusively featuring the Halloween film franchise. What better night than tonight, Halloween 2018, to get that started once and for all? So light up your pumpkins, turn off the lights, grab a cold drink and kick back with me as we stroll down memory lane. But beware — the Boogeyman may be lurking right around that dark corner…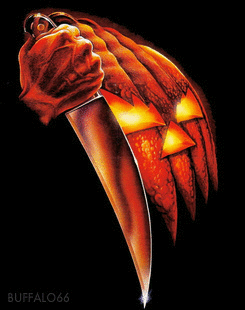 It all began innocently enough in 1989 when my uncle took me to a local mom and pop rental store. We frequented the small humble establishment of Video Mart on many nights, but this night proved to be one for the ages. The cover of Halloween immediately resonated with me. Despite the knife posing in a very volatile way, my 6 year old self imagined an epic movie about trick or treating. I was sold like a cheap hooker on a sordid Saturday night. Uncle Jimmy, being a super rad uncle and all, obliged and I spent the whole movie behind the couch watching bits and pieces of it with my hands covering my eyes. That very night I had a nightmare of Michael Myers stalking me. The door creaked open ever so slowly, revealing the ghastly sight of the Shape standing there in the doorway. That cold and blank mask burned a hole through my soul as I laid there in bed paralyzed. I became a fan for life from that point on. Go figure, right?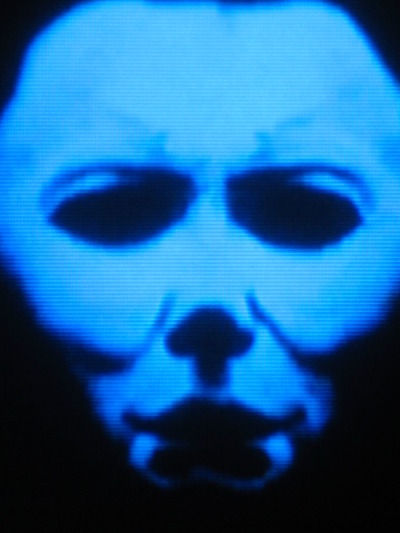 HALLOWEEN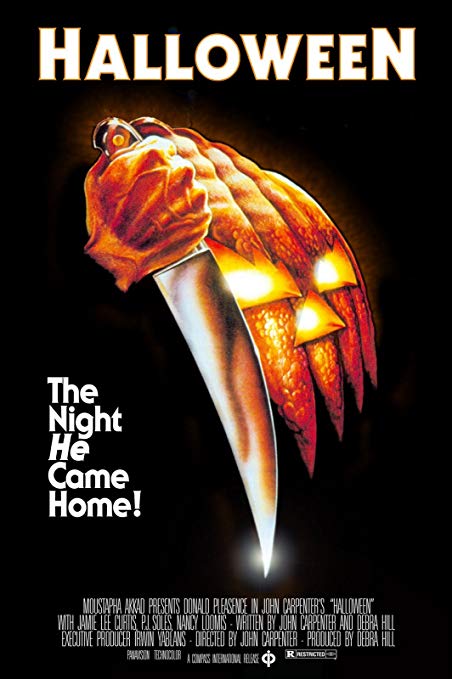 A little over 40 years ago, John Carpenter and friends changed the entire horror genre when Halloween landed and became a smash success. Initially, it flopped as critics were harsh. But soon word of mouth spread and critics started giving it more favorable reviews. It took off like a speeding bullet and never looked back. So what made the original Halloween so damn captivating?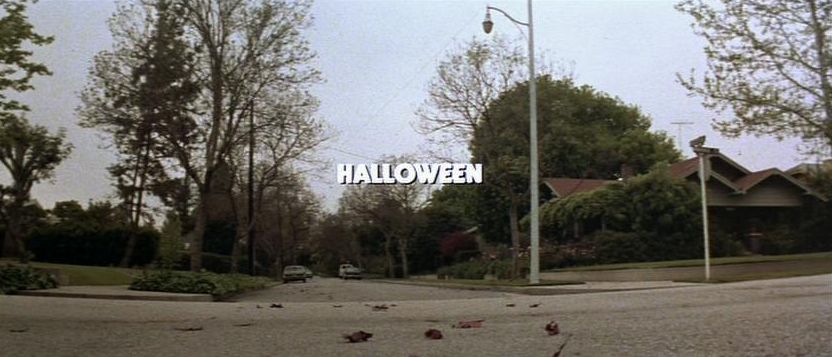 The plot was simple and perfect. A masked maniac escapes a sanitarium the night before Halloween. He was admitted 15 years prior for brutally stabbing his sister to death when he was 6 years old in 1963 on a cold Halloween night. Now, exactly 15 years later in 1978, evil roams the streets once again. The Boogeyman began stalking and murdering babysitters on Halloween night in the sleepy suburbs of Haddonfield. It struck a chord with viewers because Haddonfield was essentially "Anytown, USA." It felt like Halloween could happen on any street in America, including your very own. And there's something very harrowing about that.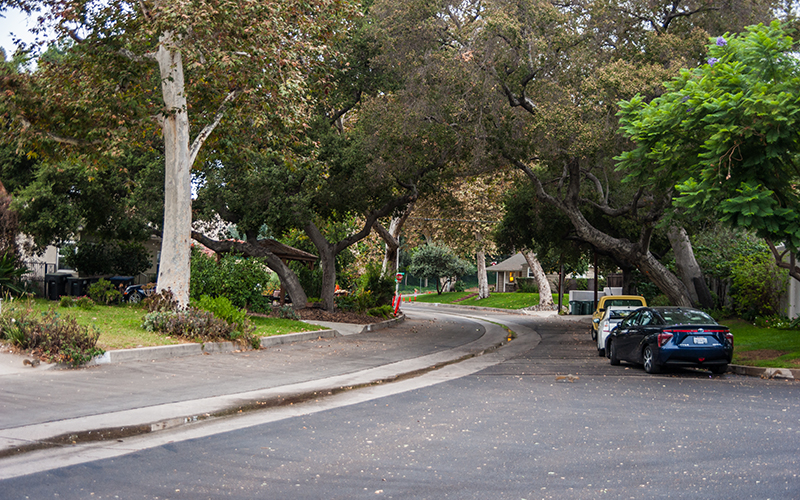 In Jaws, you're not safe only when you're in the water. In Friday the 13th, you're not safe only when you visit Camp Crystal Lake. But in Halloween, you're not safe anywhere… not even in your own backyard. It's the idea that the Boogeyman could be hiding in the shadows as you take out the trash or that he may be lurking in that dark corner of your garage…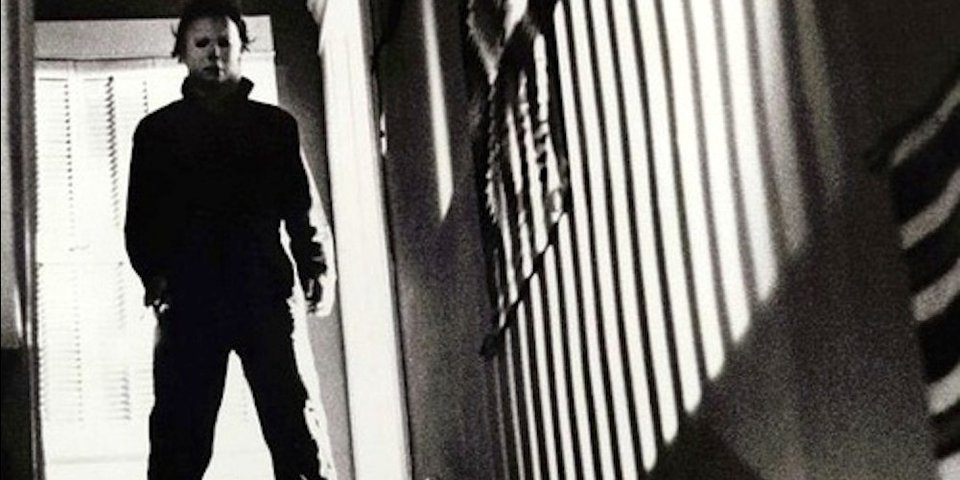 Michael Myers was a brilliant antagonist, and continues to stand the test of time 40 years later. A silent and swift killer, "The Shape" is a relentless force of nature. That William Shatner mask painted white is iconic and forever part of horror movie lore. For my money, Michael Myers is still the quintessential Boogeyman and the best villain the horror genre has ever produced. No one else comes close.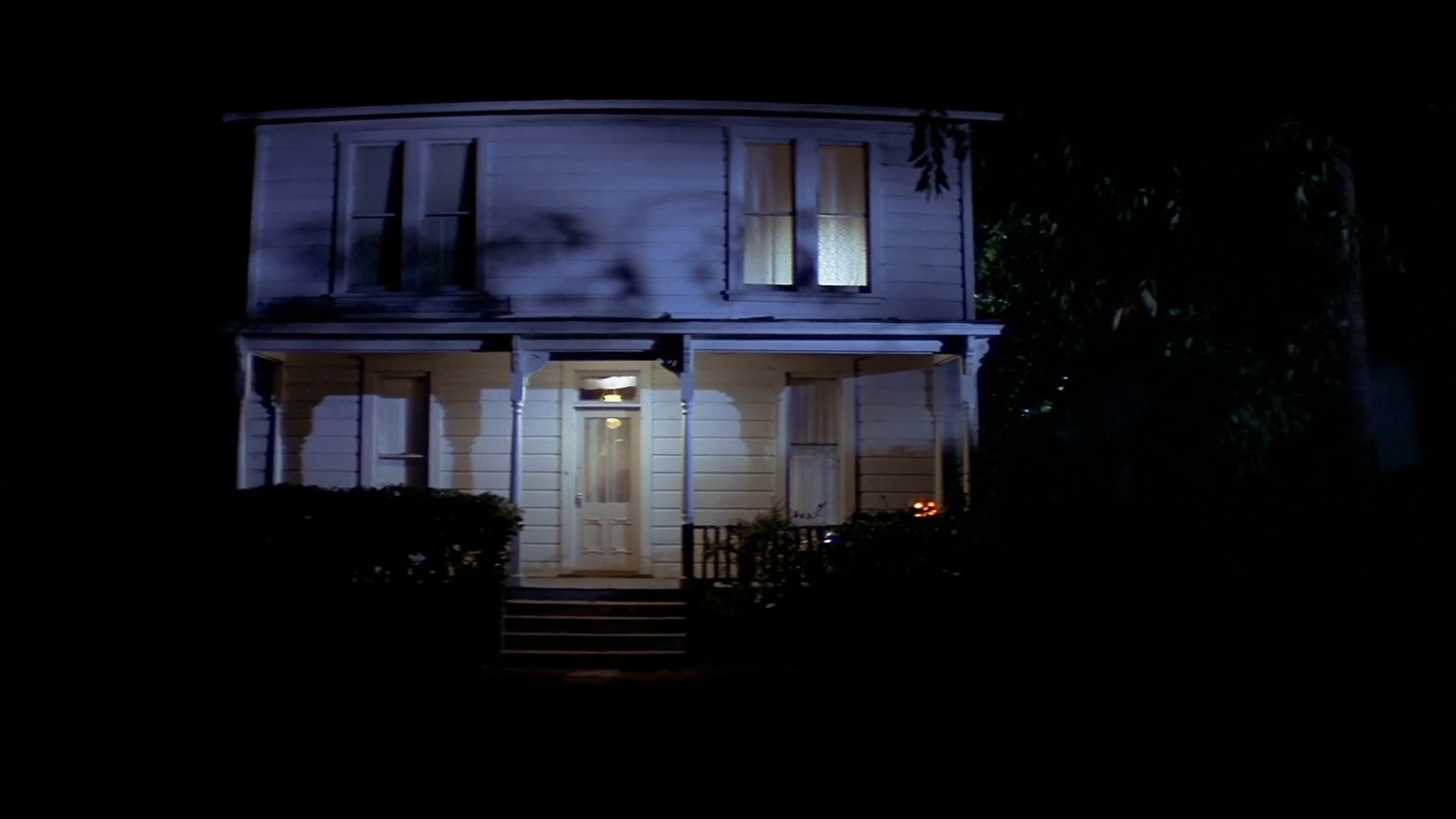 Who could ever forget that classic opening shot with young Michael's point of view? There was an eerie and uneasy feeling to this continuous tracking shot as viewers were put in the deranged shoes of Michael, stalking his sister and watching from the shadows, before ultimately stabbing her to a gruesome death.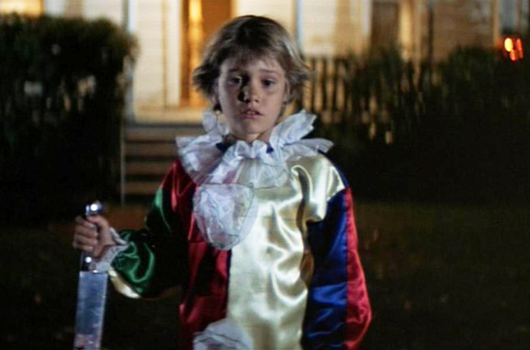 The shot ends with Michael's parents coming back to the house, lifting Michael's clown mask off in the driveway and staring at him in utter disbelief. Young Michael's blank and emotionless face added to the creepiness. It was as if a silent alarm went off in his head, triggering him to commit a most heinous act. The camera cranes back as the chilling piano theme playing in the background picks up its cadence, perfectly punctuating the moment. It was movie magic at its best. Halloween didn't miss a single beat.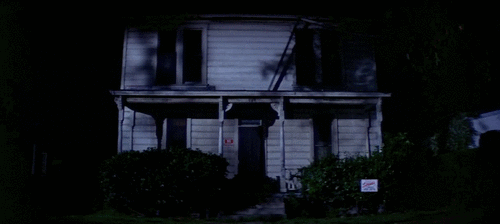 From that point on, the Myers house became the spook house. Growing up, it always felt like it was an urban legend that every little town has that one house where unspeakable horrors happen and kids are warned to stay far away from. Halloween hit on all these notes and did it better than any other horror movie.
The infamous theme was a huge key to its effectiveness. It resonates with audiences still to this day 40 years later.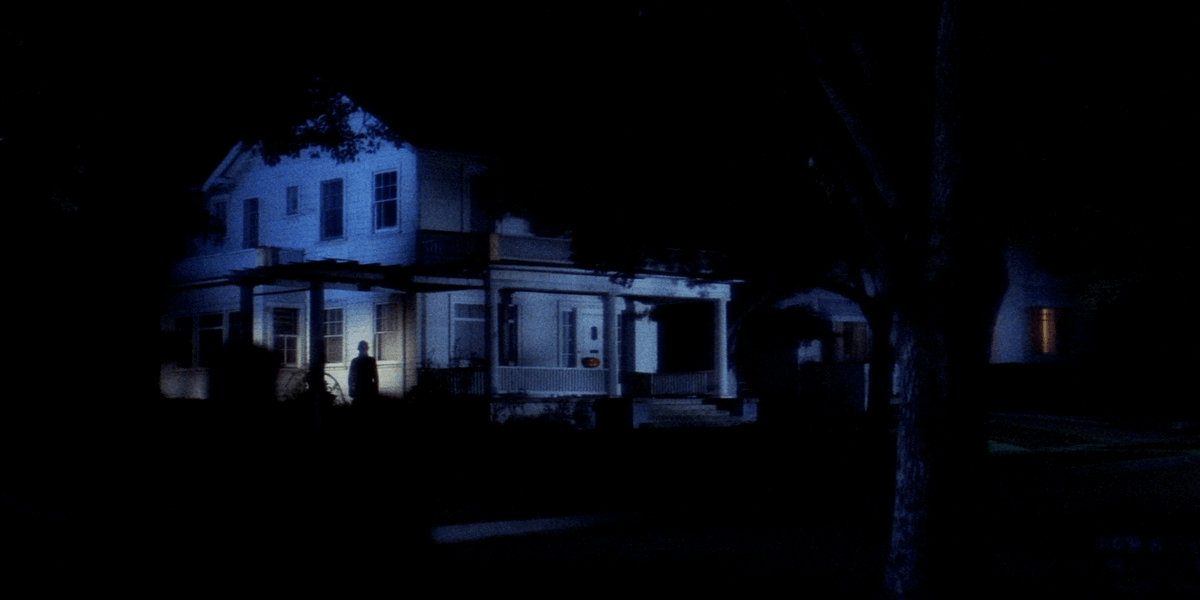 Halloween was full of classic scenes and masterfully crafted shots that represented John Carpenter's finest work.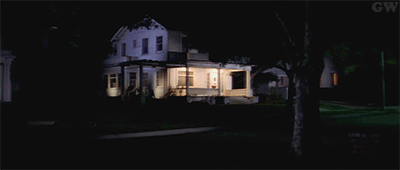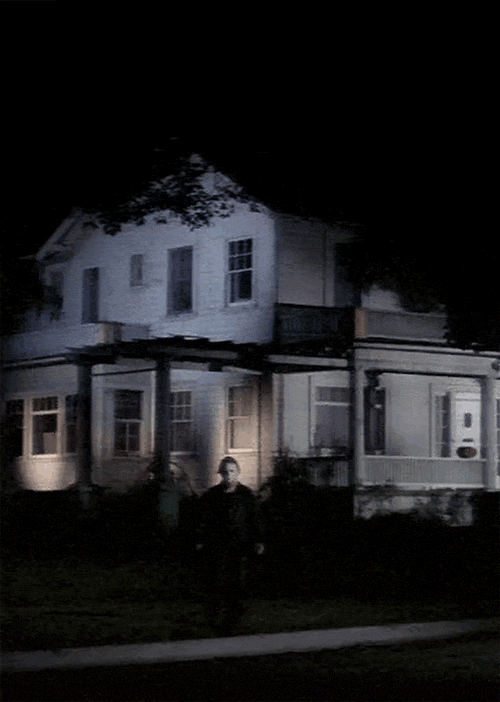 And who could forget that iconic "chase scene" between Michael and Laurie Strode? Many horror movies have imitated it since in the past 4 decades, but there's only one!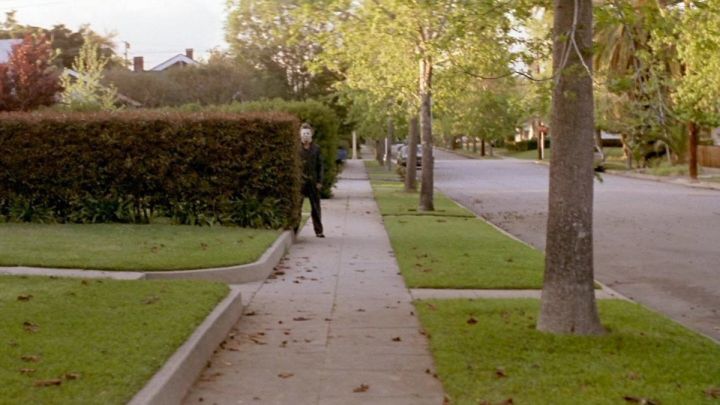 The great thing about Michael was that he didn't just appear at night. He shows up plenty in the middle of the day. It really gave off the feeling that danger was lurking behind every corner.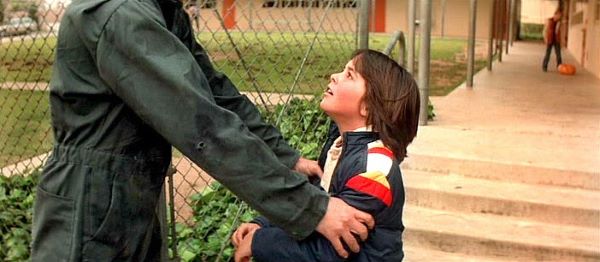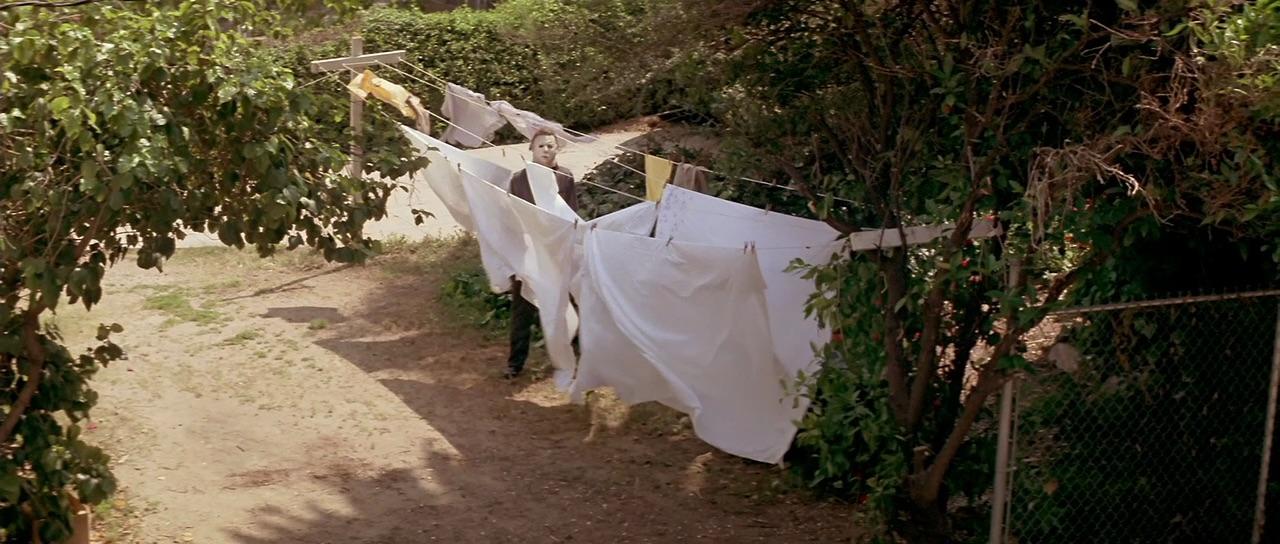 Poor Laurie. For some unexplained reason, Michael set his sights on her and went on a relentless pursuit. Later sequels bogged things down by explaining how they were brother and sister, but the original did it best because the ambiguity made it effectively scary. After all, why do psychos go after the victims that they do? Nobody knows, sometimes not even the psychopaths themselves. And that's what makes it so unsettling: it could happen to anyone. You could be going about your day innocently and innocuously enough when someone suddenly decides to make you their next target.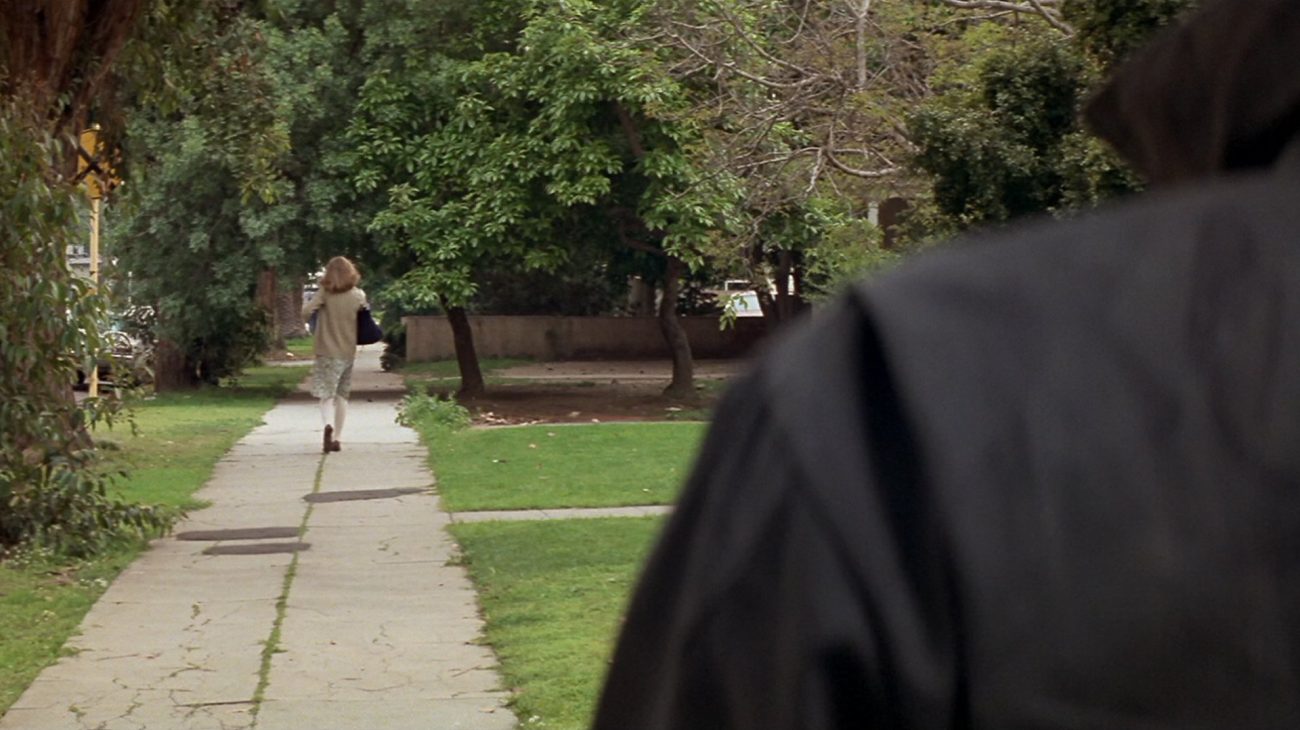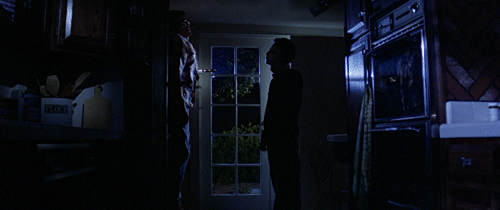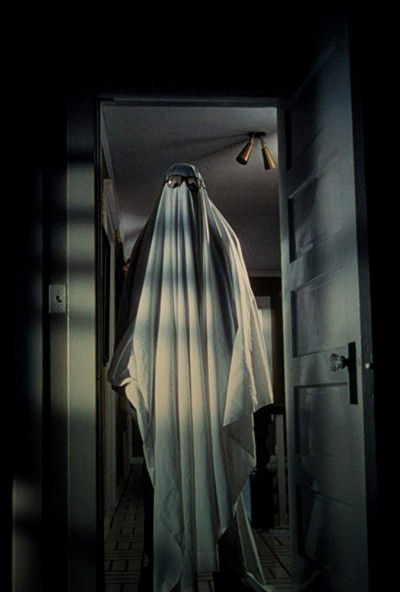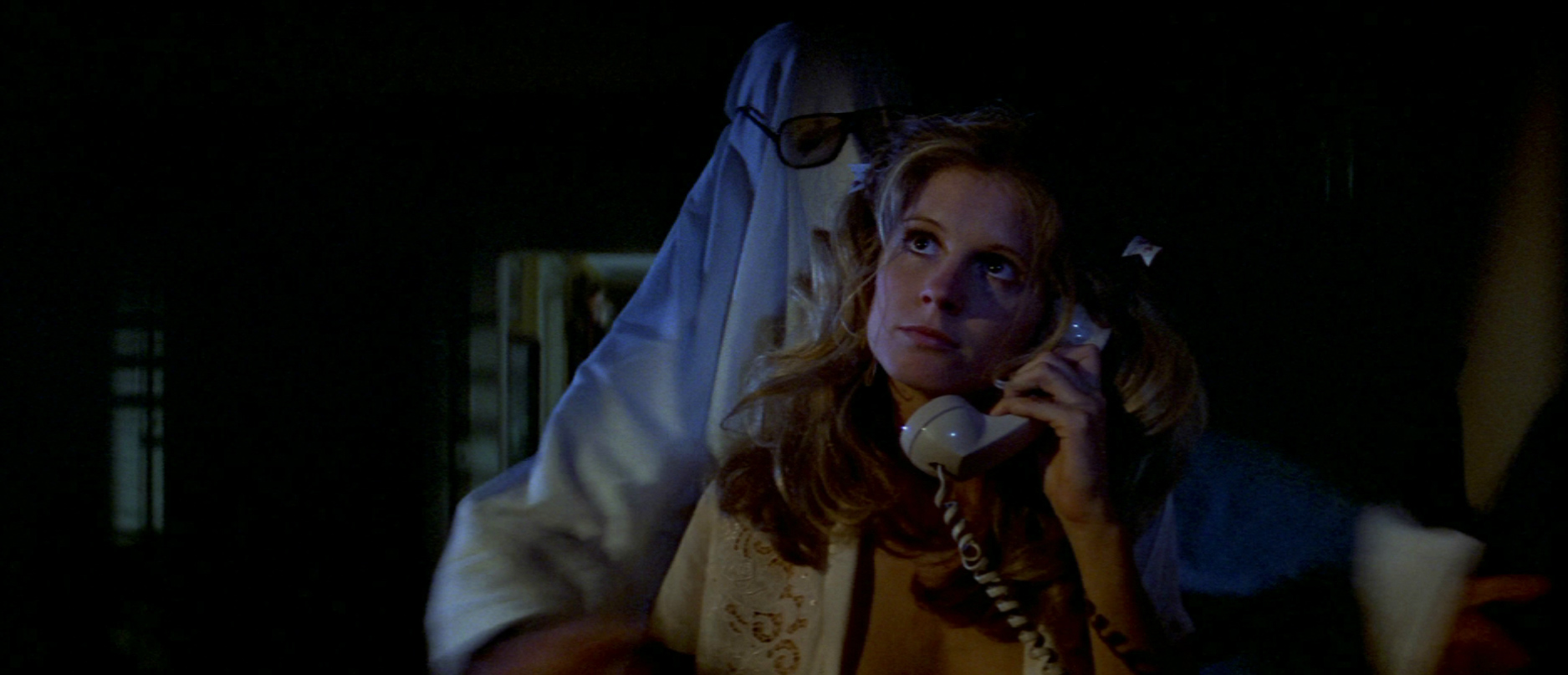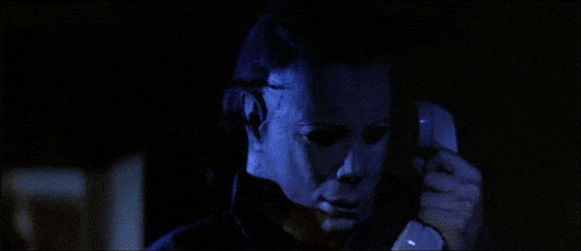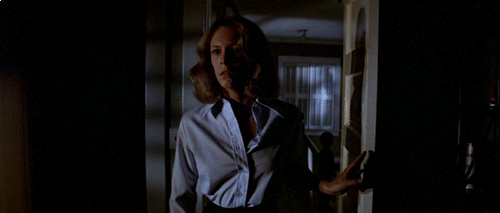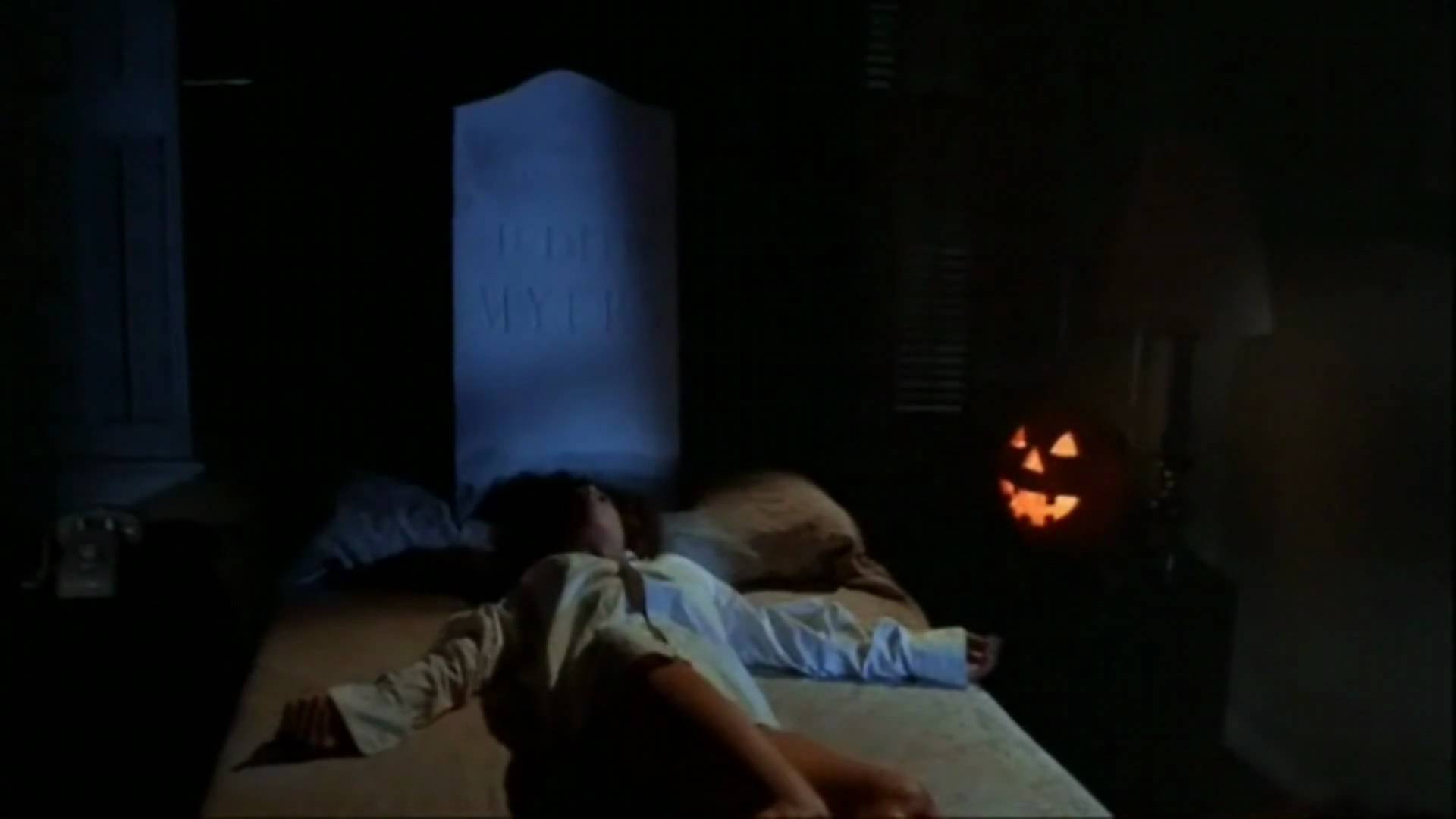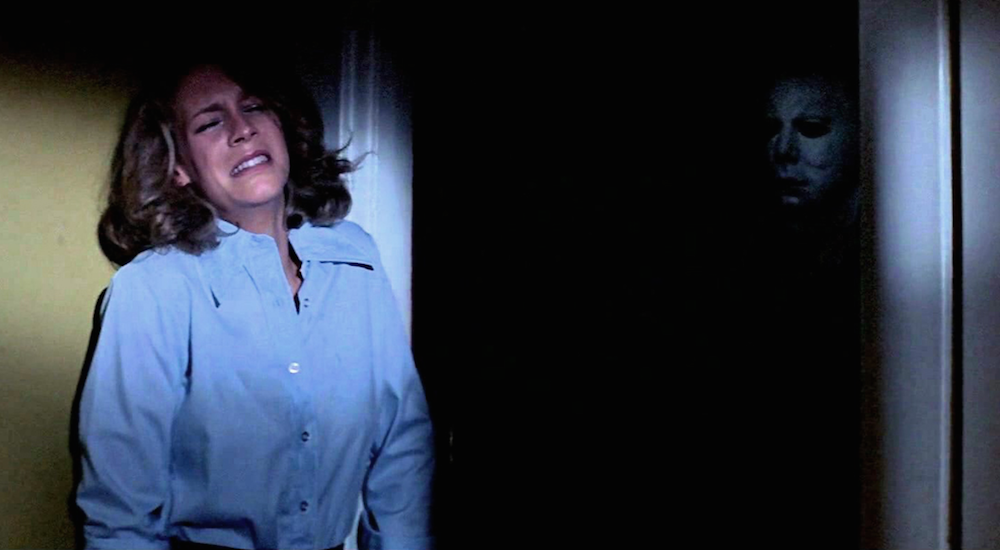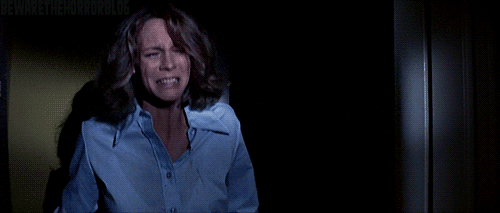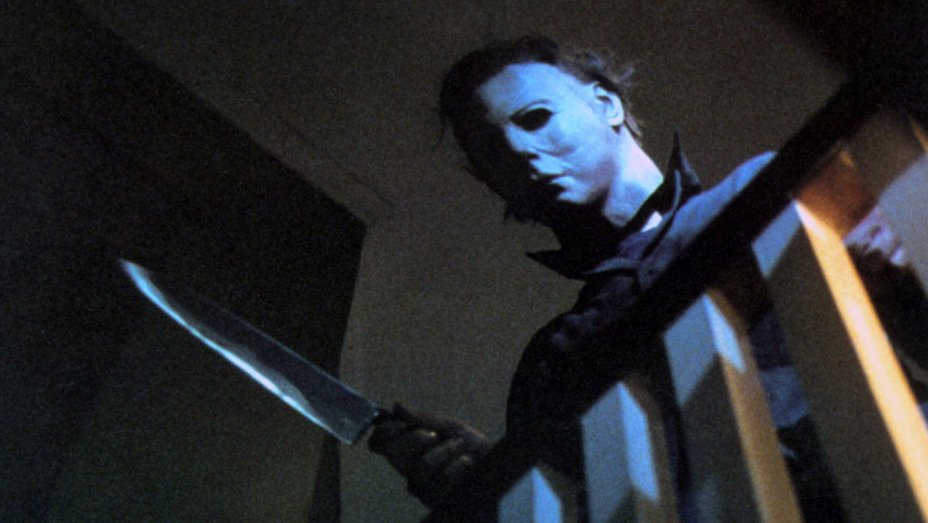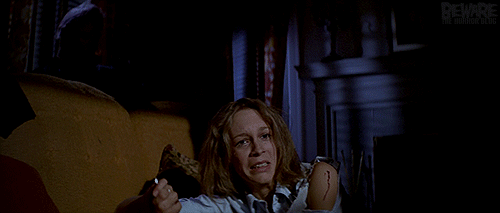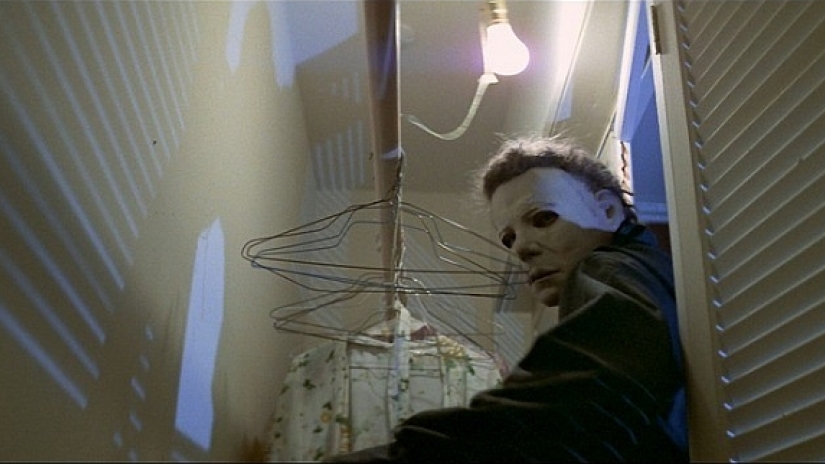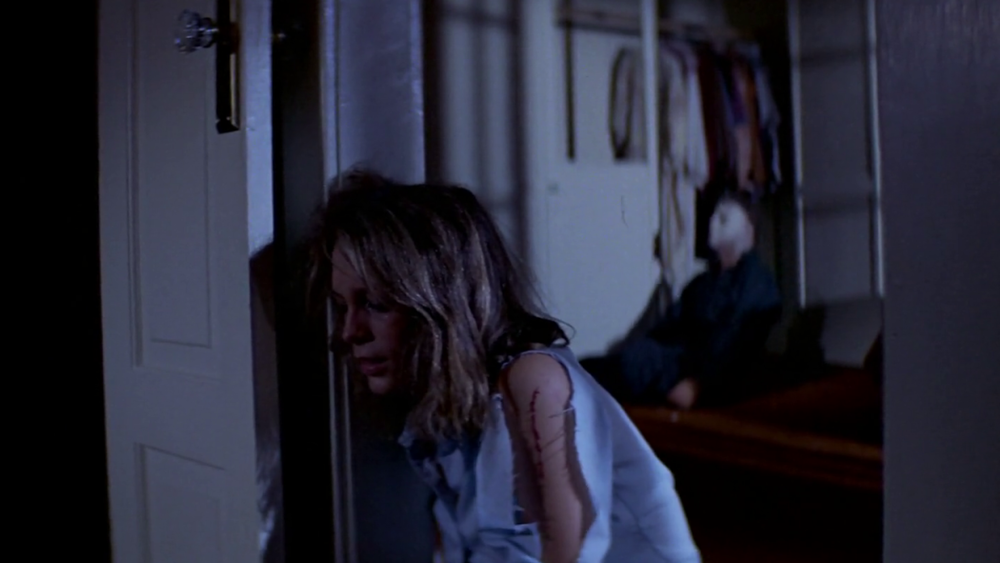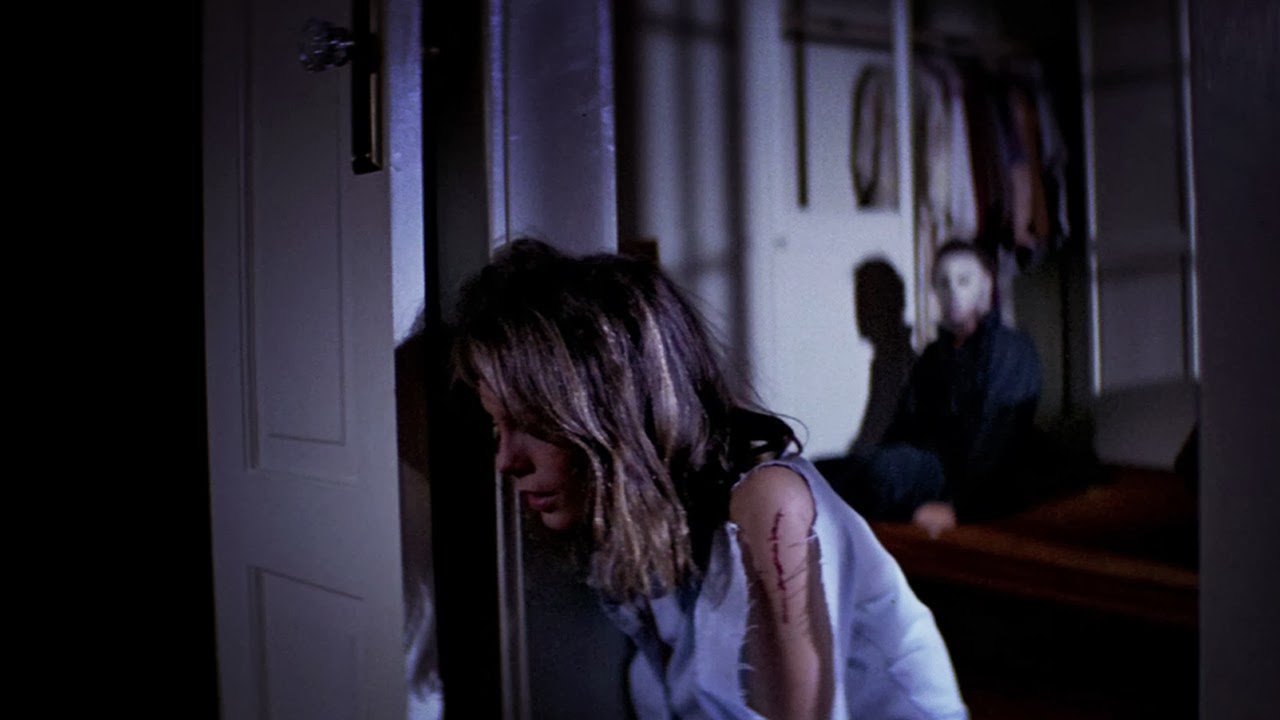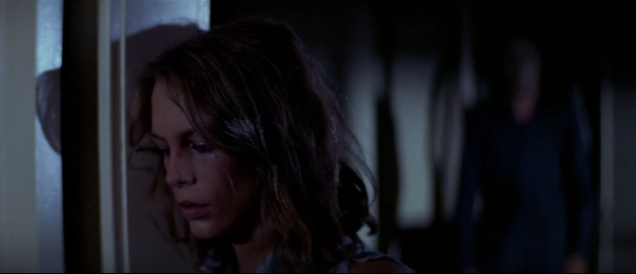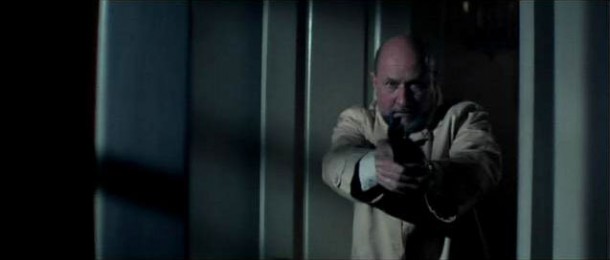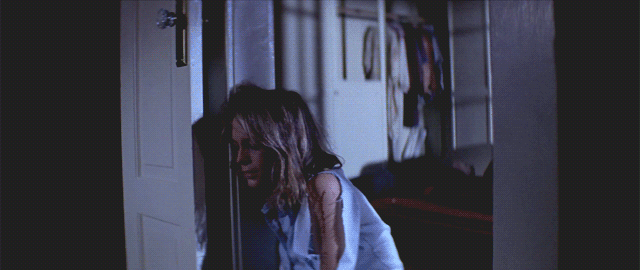 Halloween really is as close to being a perfect horror movie as one can get. It was really scary watching it as a kid and it has left an imprint on my soul, as it has to countless others. It's somewhat of a slow burn — one that modern audiences watching it for the first time today may not quite get or appreciate — but that doesn't take away from its greatness still. Michael Myers is the perfect villain and Jamie Lee Curtis played the perfect victim, bringing Laurie Strode to life. Donald Pleasence added further legitimacy to the film with his veteran acting chops in the fan favorite role of mad raving Dr. Loomis. John Carpenter's classic Halloween theme was the icing on the cake. It's one of the most iconic movie themes ever created. Back to the Future, Star Wars, Jurassic Park, Jaws… you can't include such a list without Halloween firmly near if not at the very top. I give Halloween a perfect 10 out of 10.
HALLOWEEN II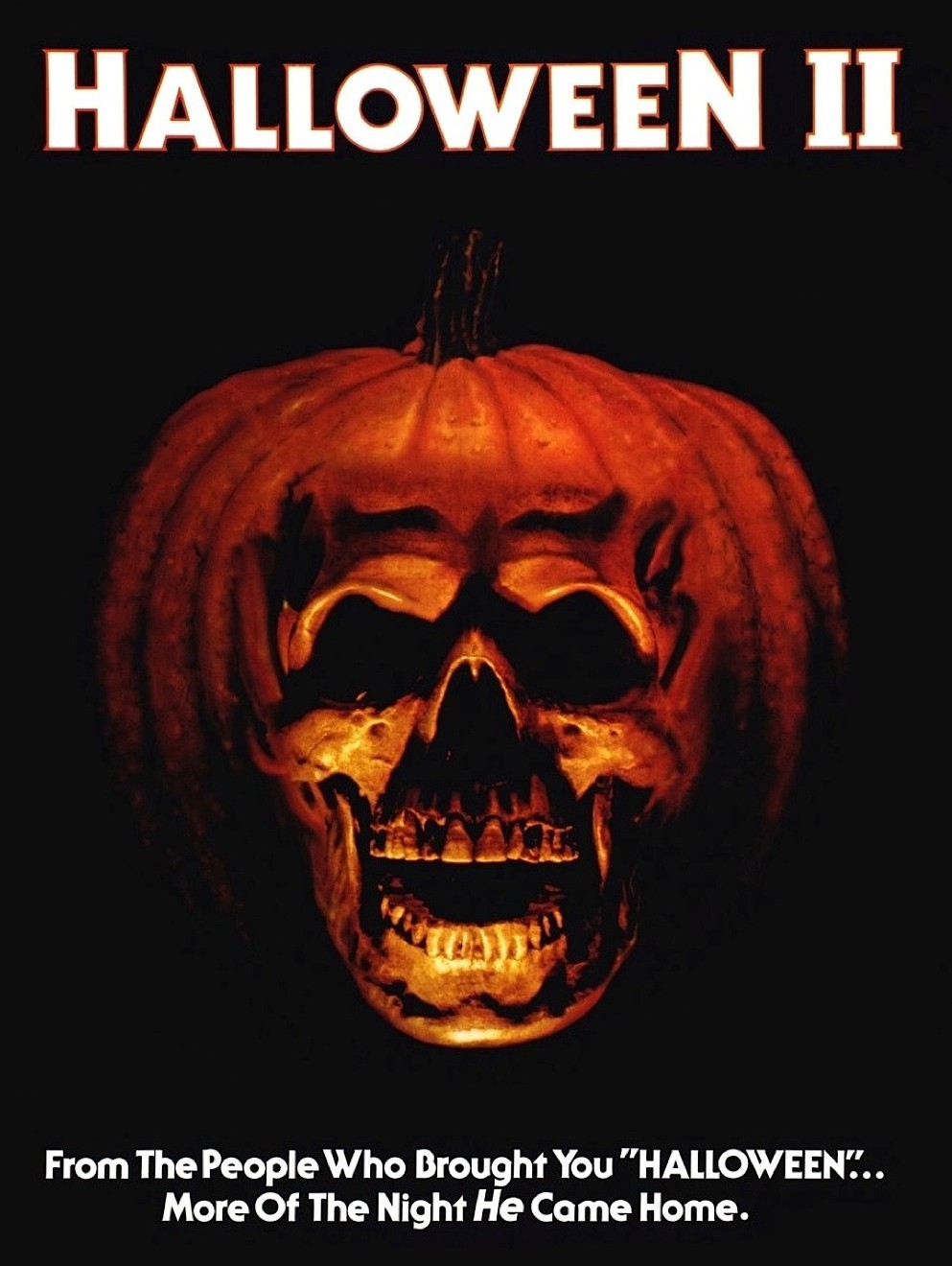 I caught Halloween II not terribly long after first watching the original in 1989. It was maybe around 1990 or 1991 that once again my uncle rented me the sequel. It picks up right after the events of the first film.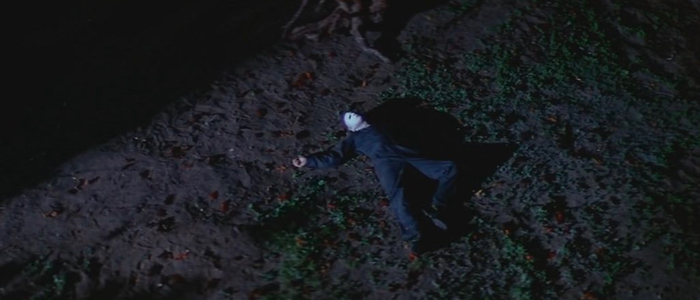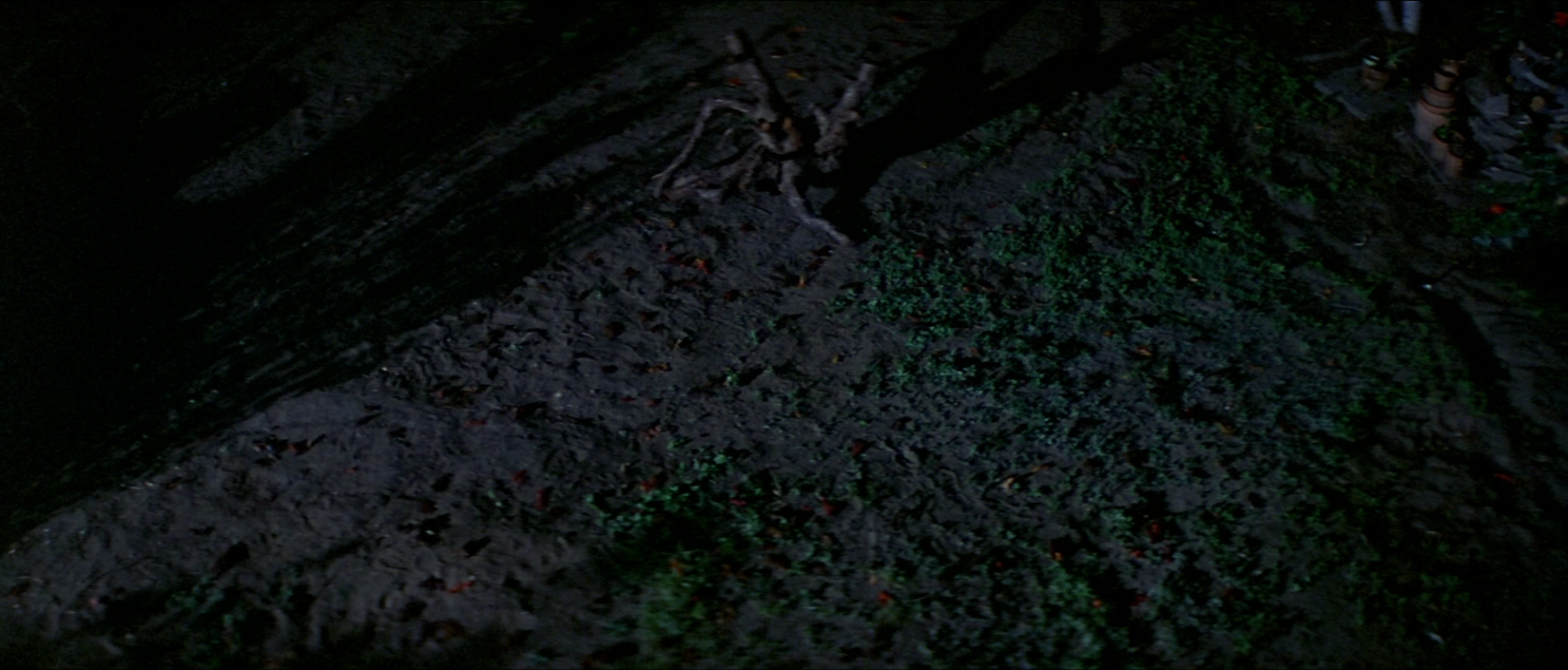 I love how Halloween II is a direct continuation of Halloween. We see a bewildered Dr. Loomis running out of the house. He stares at the bloody space where Michael's body once laid. The blood dripping off his fingers indicates pure evil is on the loose. Then the next door neighbor pops out of his house and we get this memorable interaction:
Neighbor: What's going on out here?
Loomis: Call the police! Tell the sheriff I shot him!
Neighbor: Who?
Loomis: Tell him, he's still on the loose!
Neighbor: Is this some kind of joke? I've been trick-or-treated to death tonight.
Loomis: [looks at the blood on his hand] You don't know what death is!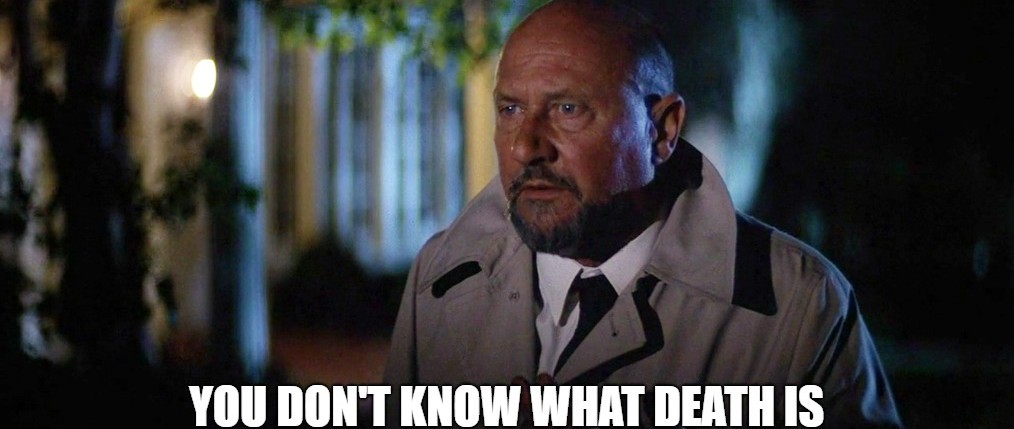 It was such a banging intro! I get chills whenever I see it. The music continues to play as the wicked looking pumpkin cracks open slowly to reveal a skull. I always thought this movie had more of a Halloween seasonal feel than the first one.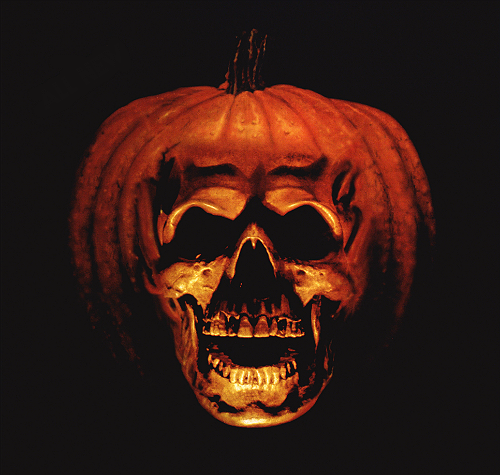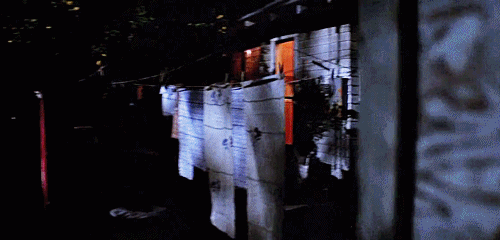 Indeed, Halloween II was an unsettling watch. In some ways, as a kid at least, I found the sequel even scarier than the classic original. Michael creeps around in the shadows a lot here, and now knowing that he's some kind of unstoppable Boogeyman made him more dangerous than ever before.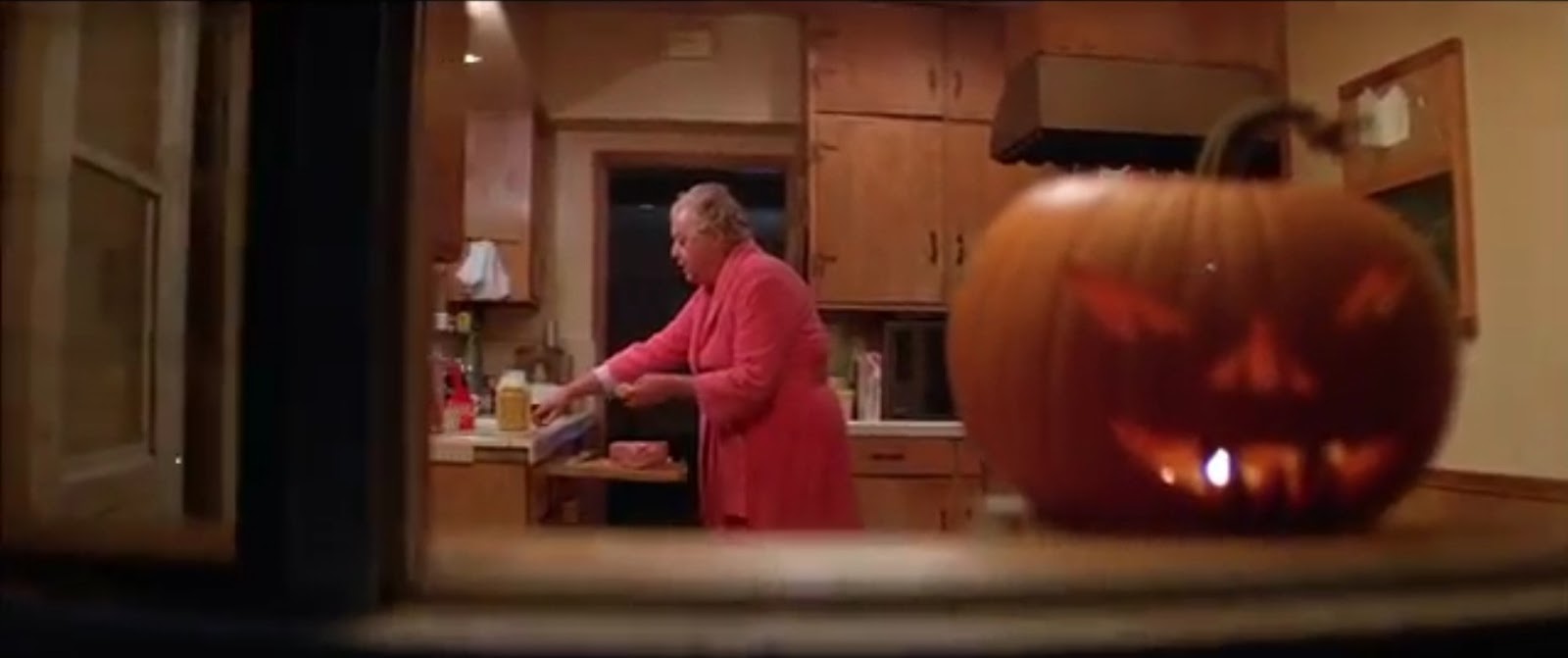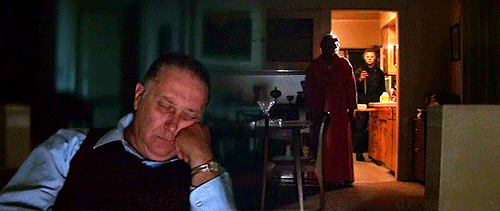 One of my favorite scenes from the entire franchise. That's a money shot right there. The reporter's haunting last line lingers in the air right as Michael picks up the kitchen knife. Great stuff.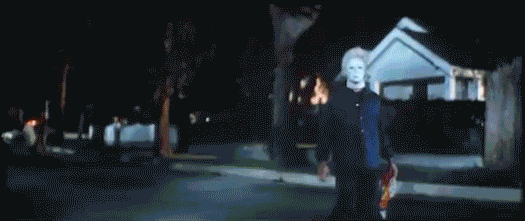 Following on the heels of 1980's Friday the 13th and a host of other slashers that proliferated the early '80s, Halloween II ups the violence, body count and chaos. Not to mention the budget, which jumped from 325,000 in the original to 2.5 million in the sequel. As a result, more costly scenes were staged. Poor Ben Tramer. He just wanted to get home from the Halloween party. And what the hell was a police officer thinking going 40, 45 MPH in a residential neighborhood on Halloween of all nights?! The '80s… what a time to be alive (or not).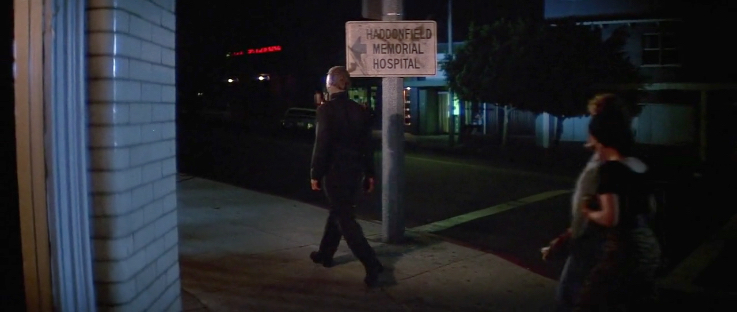 Most of the movie takes place at Haddonfield Memorial Hospital, which hands down ranks as the creepiest hospital in the history of movies. After hearing the news on the radio that Laurie Strode has been transferred to Haddonfield Memorial, Michael Myers makes a beeline for the hospital.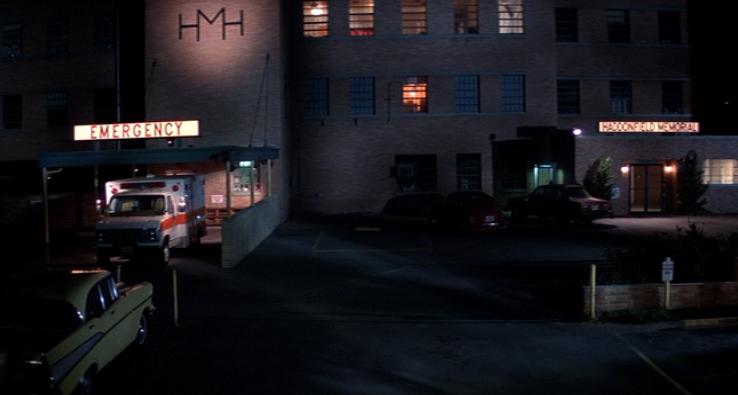 There's something naturally creepy about a dimly lit hospital with very few staff workers. Sure it's not realistic in the least, but it made for one hell of a spooky setting.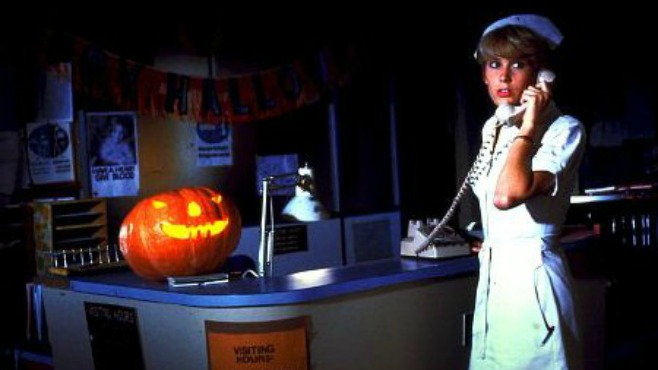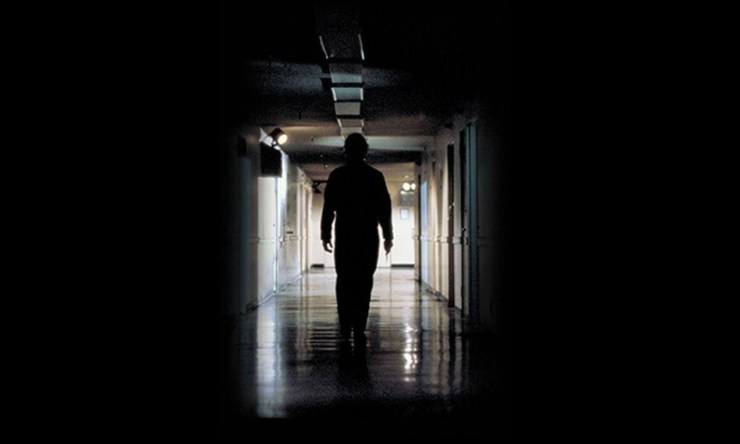 Dark long hospital hallways, a lurking Boogeyman and a dreadful sense of isolation and despair made Halloween II a wonderfully atmospheric film.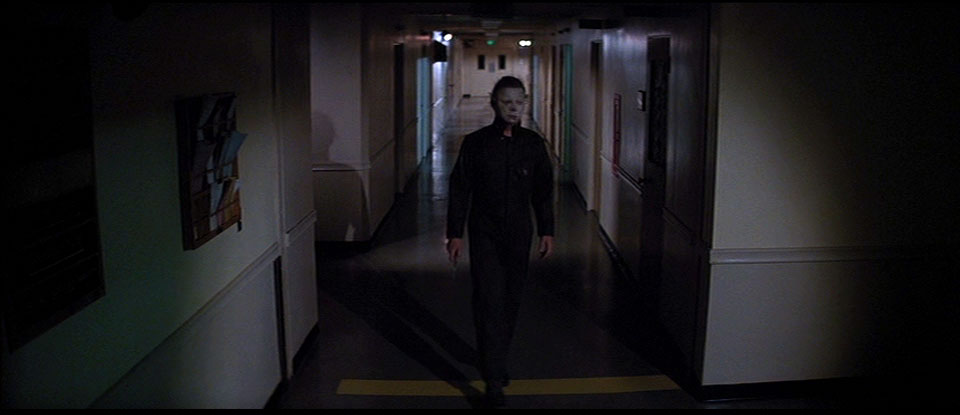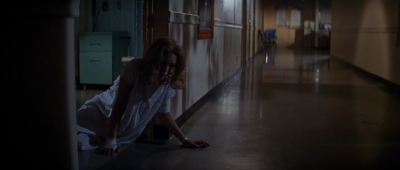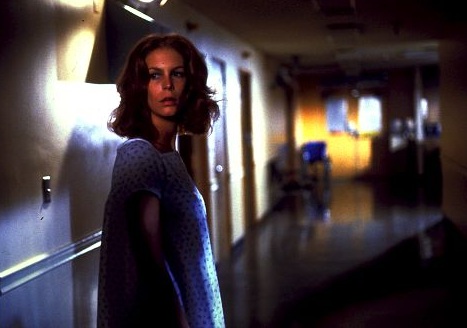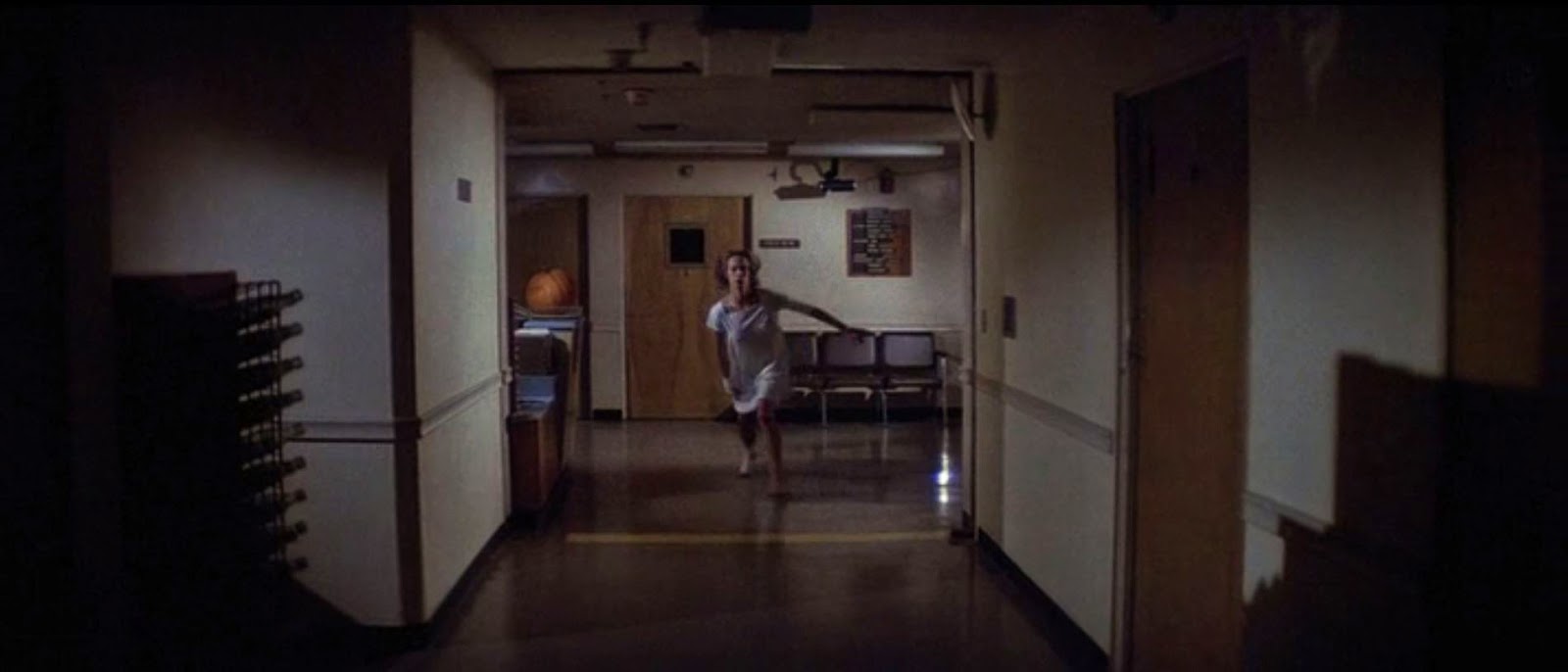 The remixed chase theme makes my hair stand up on end…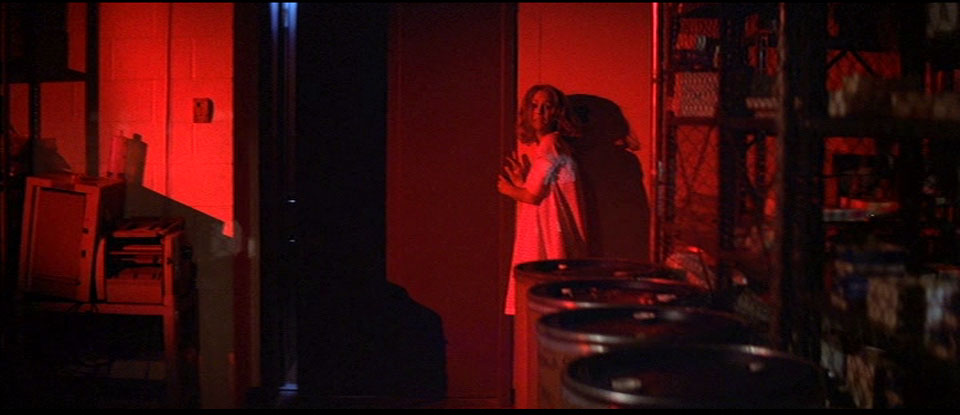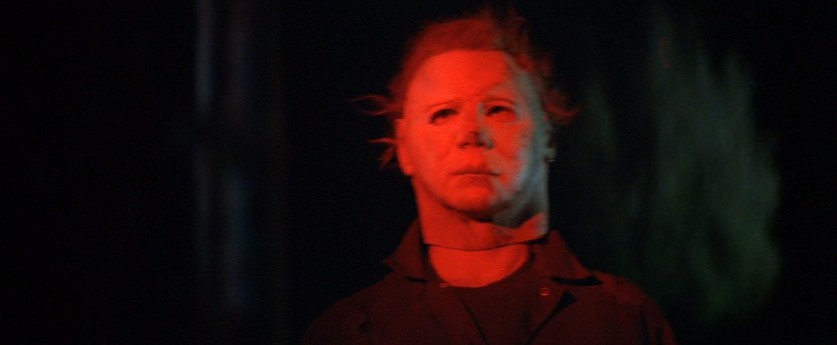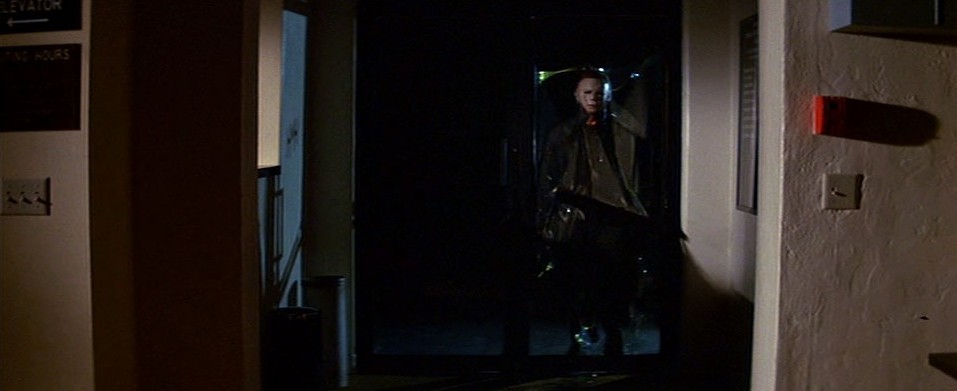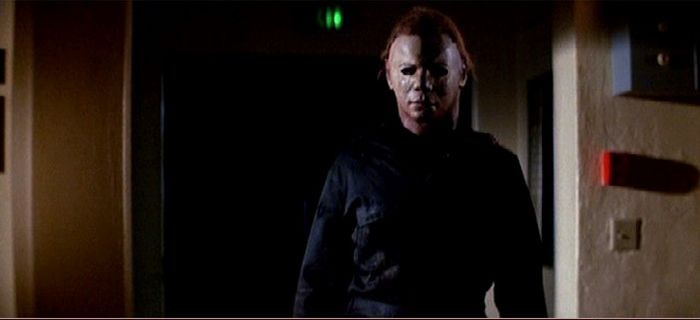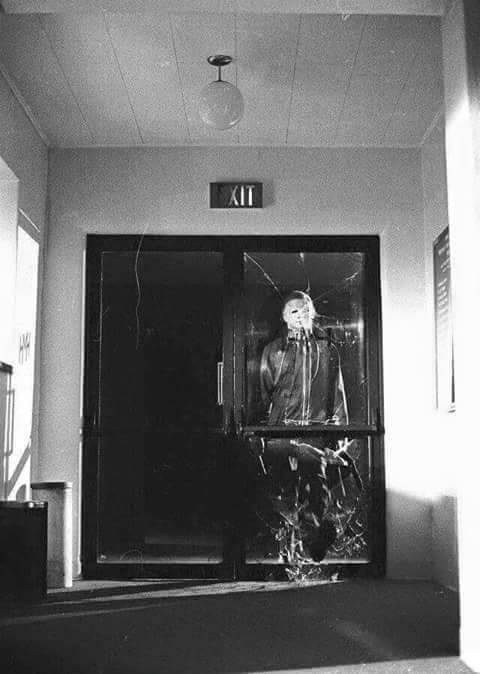 There was something frightening about the way he simply walked through the glass window without so much as flinching a single muscle. He was robotic and relentless — the perfect killing machine. I could barely watch it as a kid.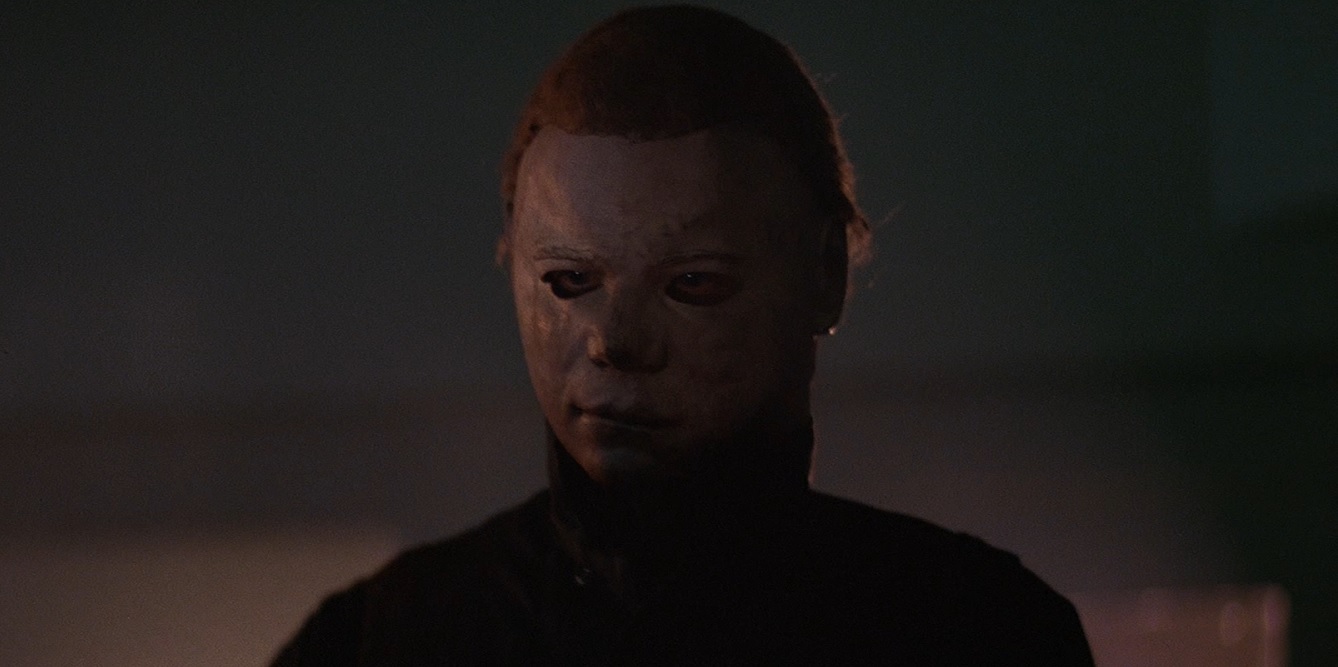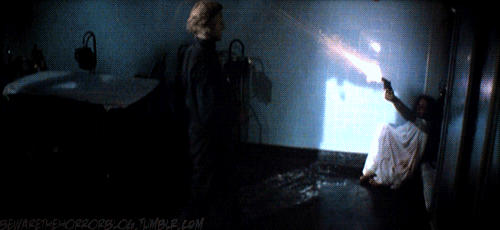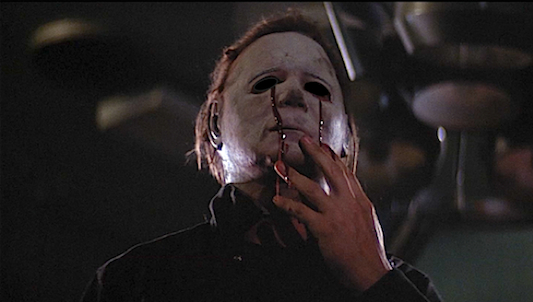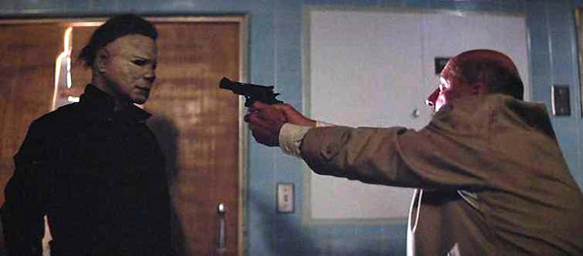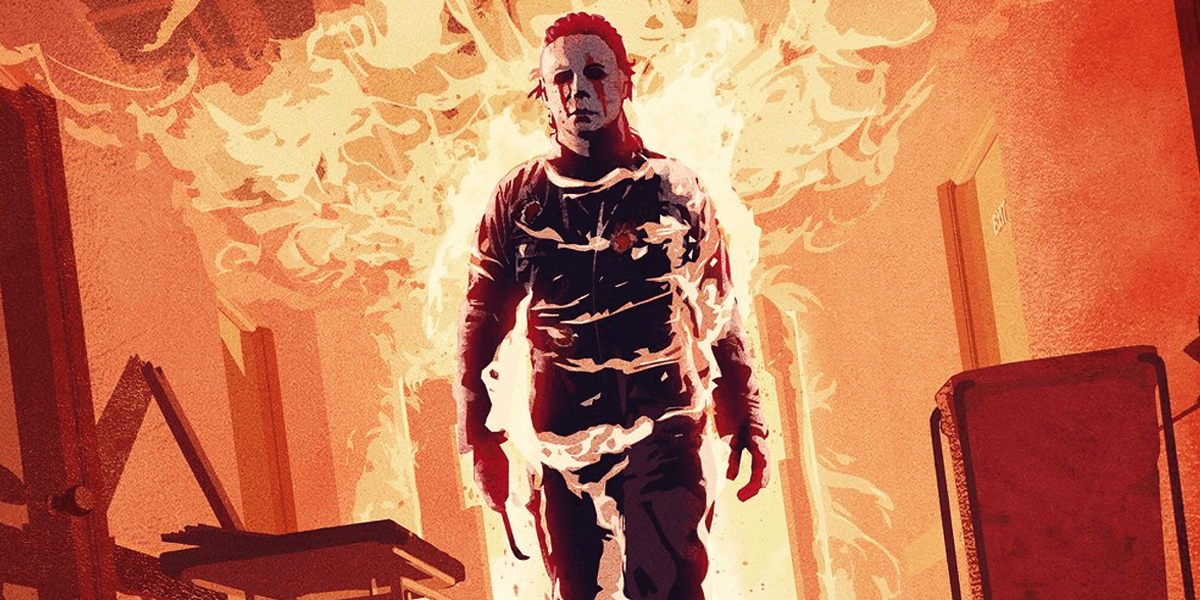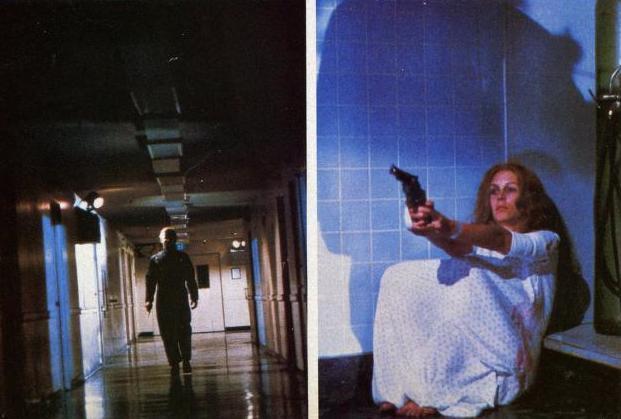 Far from a perfect sequel, Halloween II nevertheless is more than serviceable. It pairs well with the original Halloween since it picks up directly following the events of the first film, which means both movies make for a nice little Halloween marathon. Laurie Strode's character has understandably been nerfed but I found myself sometimes wishing she was written a little better and had more to do. Halloween II fails to recapture the success and magic of the original, but it's a solid sequel especially when you compare it to the other sequels to come. I give it a very respectable 7.5 out of 10.
HALLOWEEN III: SEASON OF THE WITCH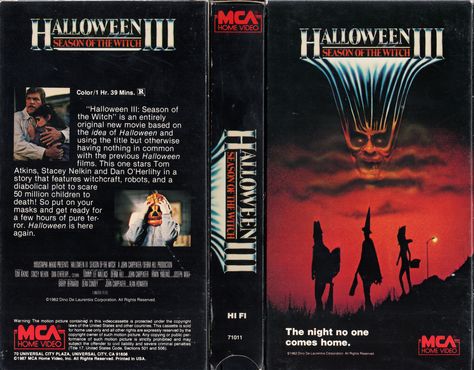 I remember my dad renting this from Hollywood Video circa 1994. The cover intrigued me, as I thought a wicked witch would be the film's main villain. And the idea of a killer witch on the prowl on Halloween night really captured my imagination. The cover had three spooky looking trick or treaters and I loved the tagline: The Night No One Comes Home. Very clever play off the first film's tagline: The Night He Came Home. The witch looming over the kids was super sinister looking as well, and I loved the way they used the red shade to give it a really ominous aura. But when I actually saw the movie, I got something completely different. Not bad different, just it wasn't what I expected. And at the time, being around 10 or so, I didn't like different. I wanted Michael Myers or at the very least, a killer witch. I know it would be cliché but it would have fit Halloween so perfectly.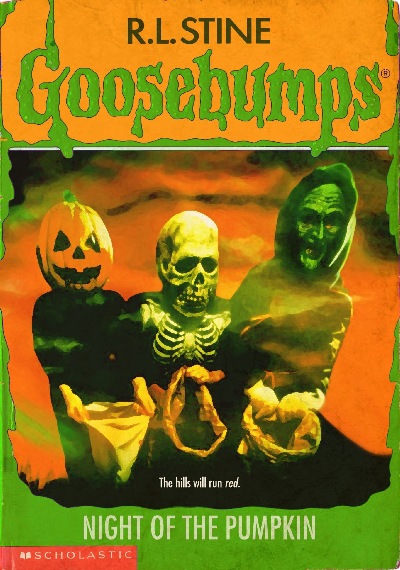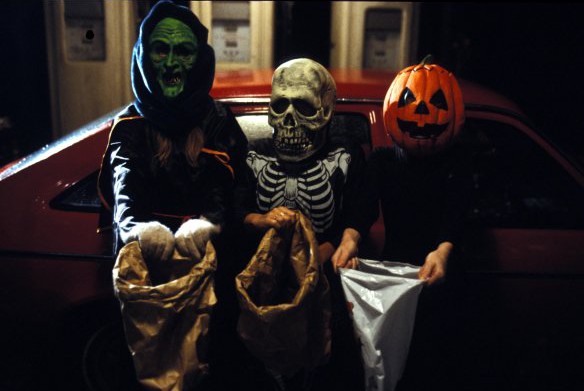 Halloween III: Season of the Witch marked a drastic change in the series. Michael Myers was nowhere to be found, other than a TV cameo, and the hope of the producers was to turn Halloween into an anthology series. It made sense on many levels but the critics killed it. No Michael, no mas.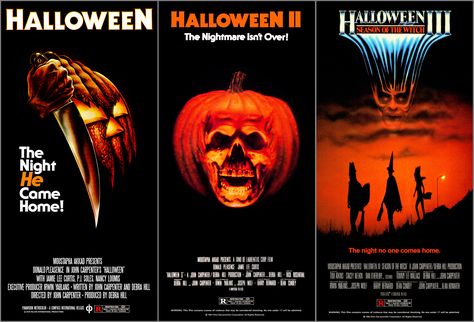 However, taken on its own, this isn't a bad horror movie. In fact, it's garnered a bit of a cult following in the past 15 years or so. I haven't watched it in nearly 25 years though, so I can't accurately give it a rating.
HALLOWEEN 4: RETURN OF MICHAEL MYERS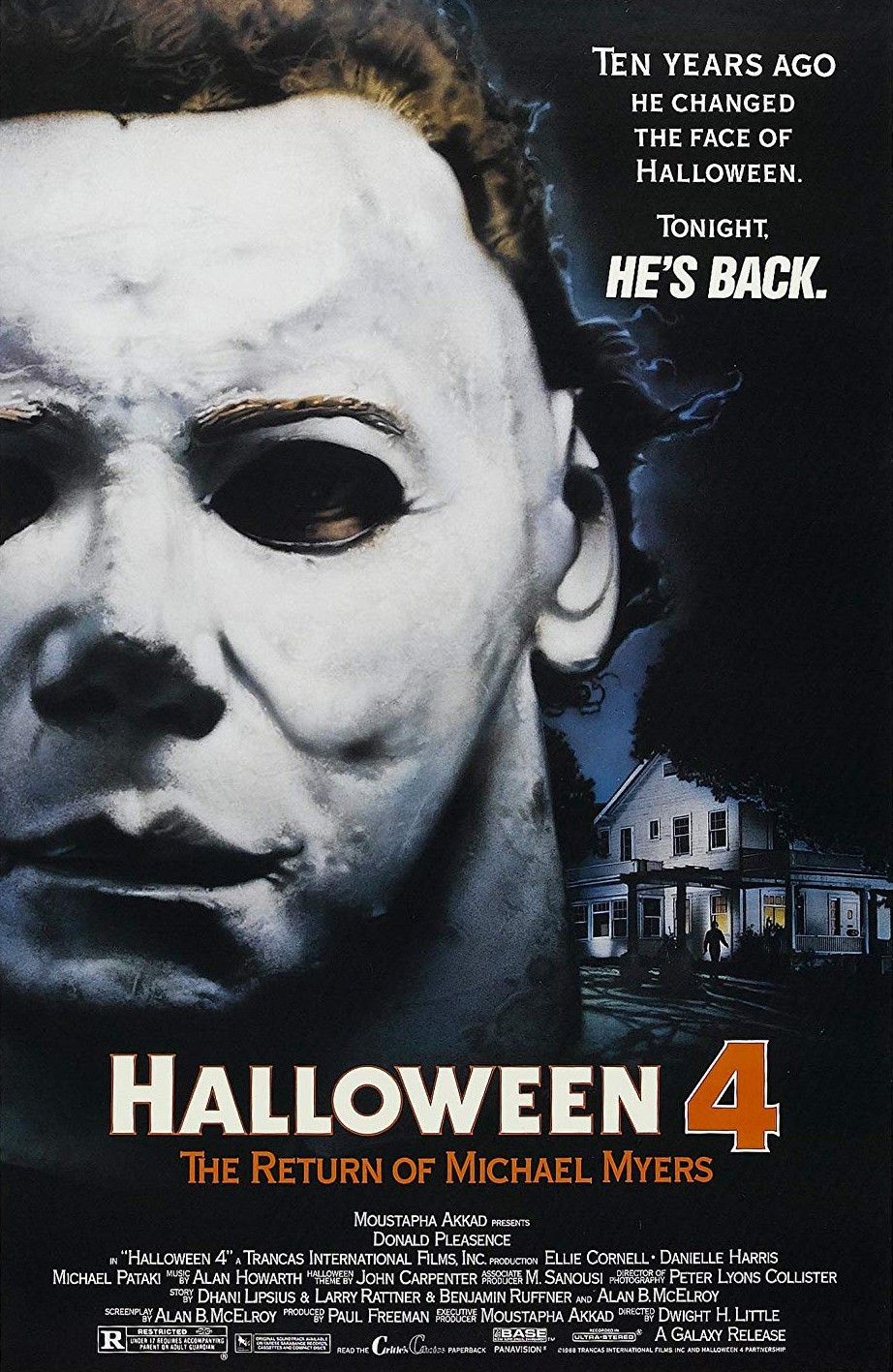 He's baaaaaack. After a long grueling 7 year hiatus, and coming home in time for the 10 year anniversary, Halloween 4: The Return of Michael Myers was a nice return to basics. Haddonfield, Illinois. Sleepy suburbs. Halloween decorations. Dr. Loomis rambling and raving about evil. And of course, a certain deranged masked maniac.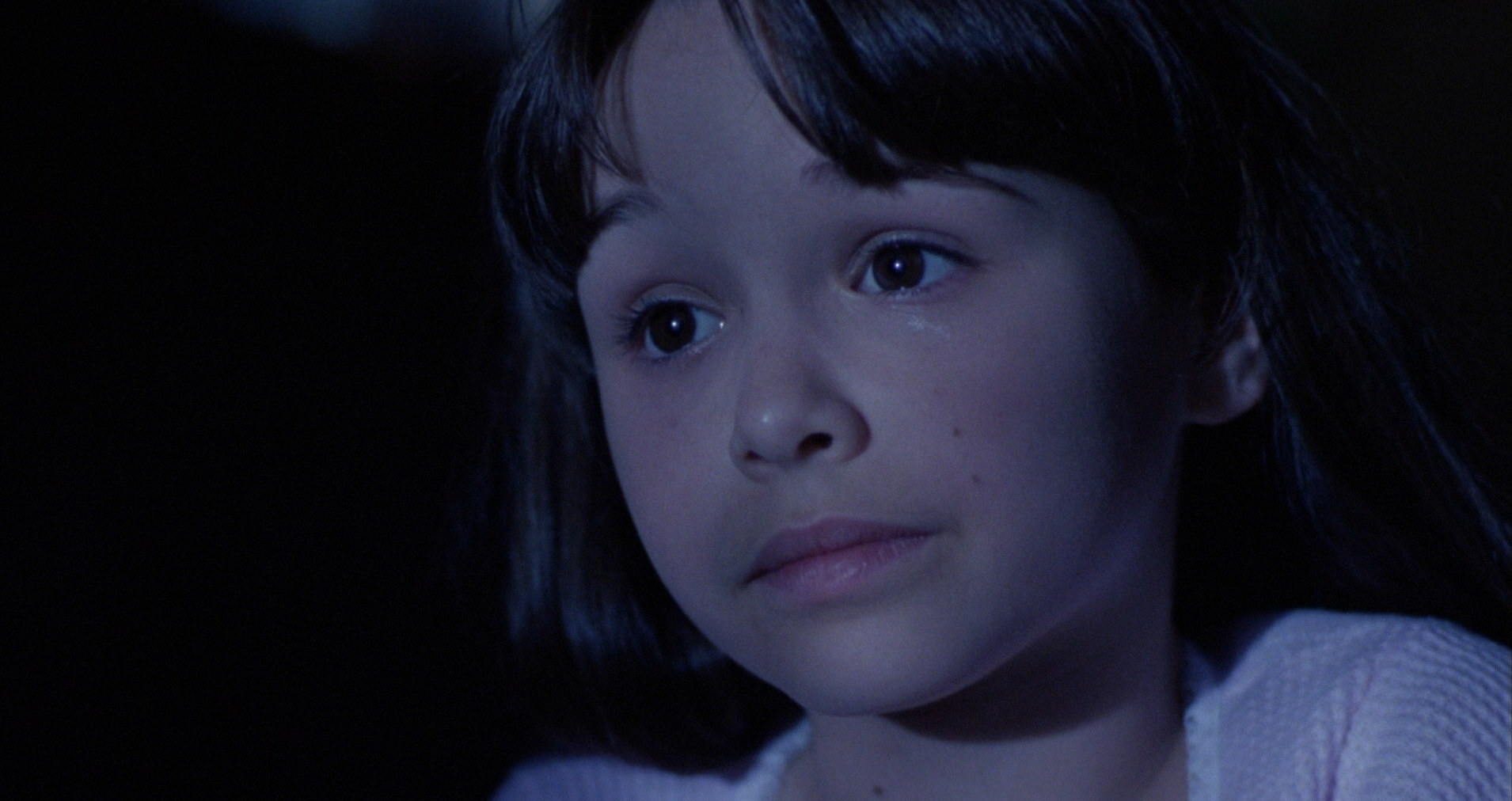 Laurie Strode was written to have died in a car crash, and the new star of the show was her daughter, Jamie. Played by Danielle Harris, the movie revolves around her and Michael's obsession to kill his niece.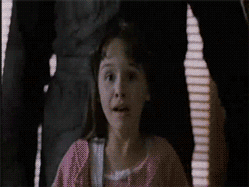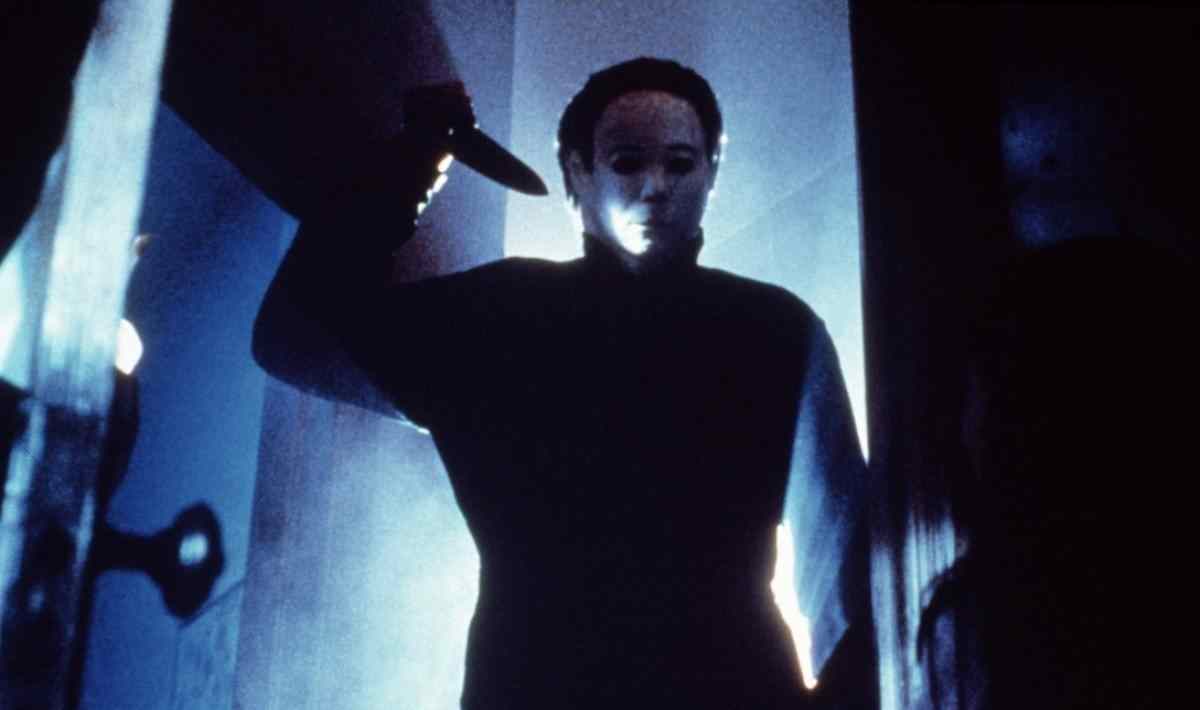 The mask was a little weird looking to me but it's a pretty solid sequel. The best thing it's got going for it is atmosphere.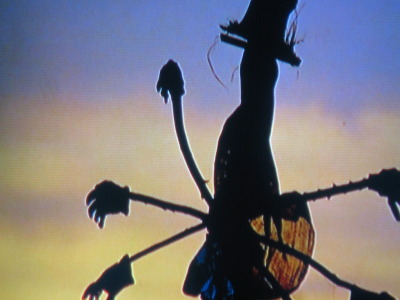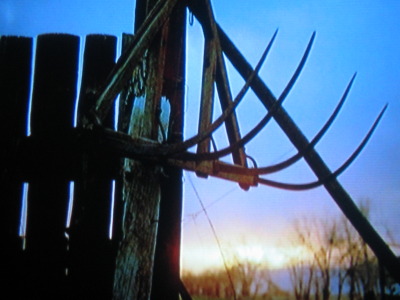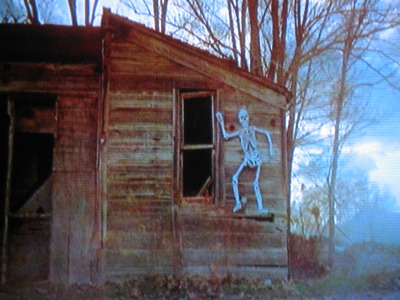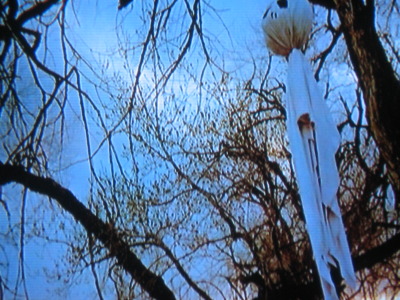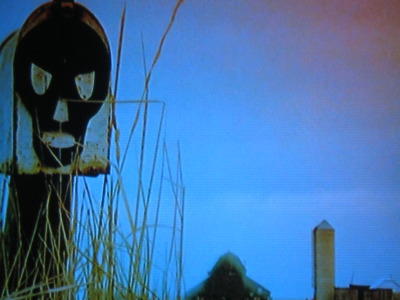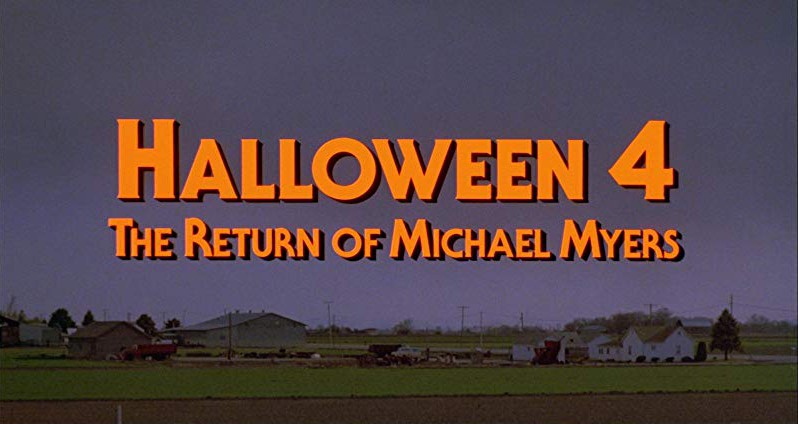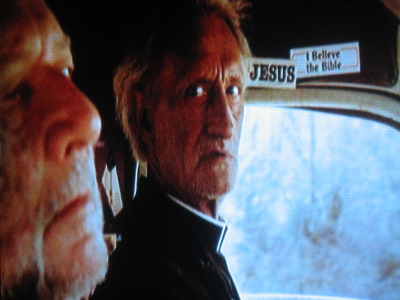 Sayer: You're huntin' it, ain't ya? Yeah, you're huntin' it all right. Just like me.
Loomis: What are you hunting, Mr. Sayer?
Sayer: Apocalypse, end of the world, Armageddon. It's always got a face and a name. *pause for a swig* I've been huntin' the bastard for 30 years, give or take. Come close a time or two… too damn close. *pause for self-reflection, with slight head shake* You can't kill damnation, mister. It don't die like a man dies.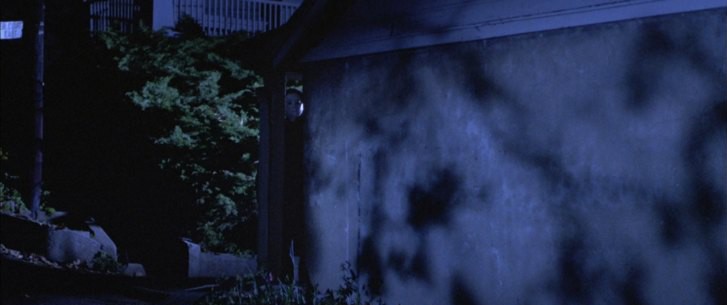 Michael was back to his lurking ways. The film is a little slow in spots, but there's no denying it's packed with atmosphere.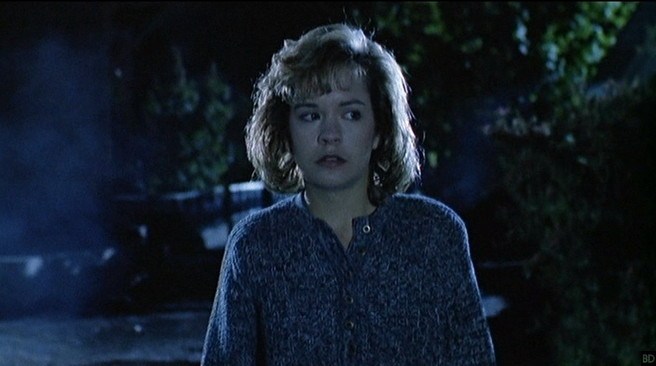 Rachel Carruthers was such a great character. She's no Laurie Strode, but she made the absence of Jamie Lee Curtis a bit more bearable. Total girl next door vibe to Rachel and she was just cool as shit.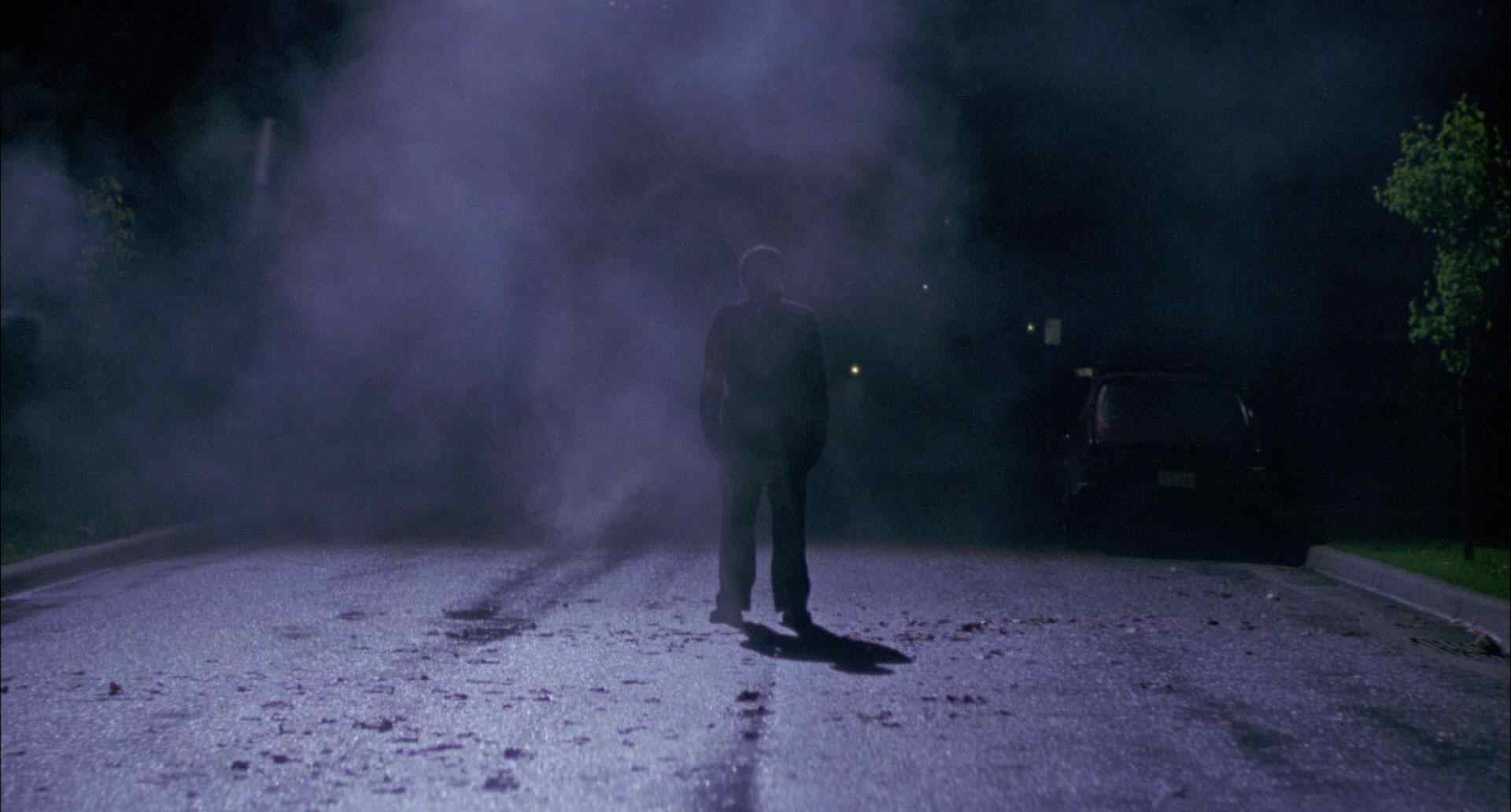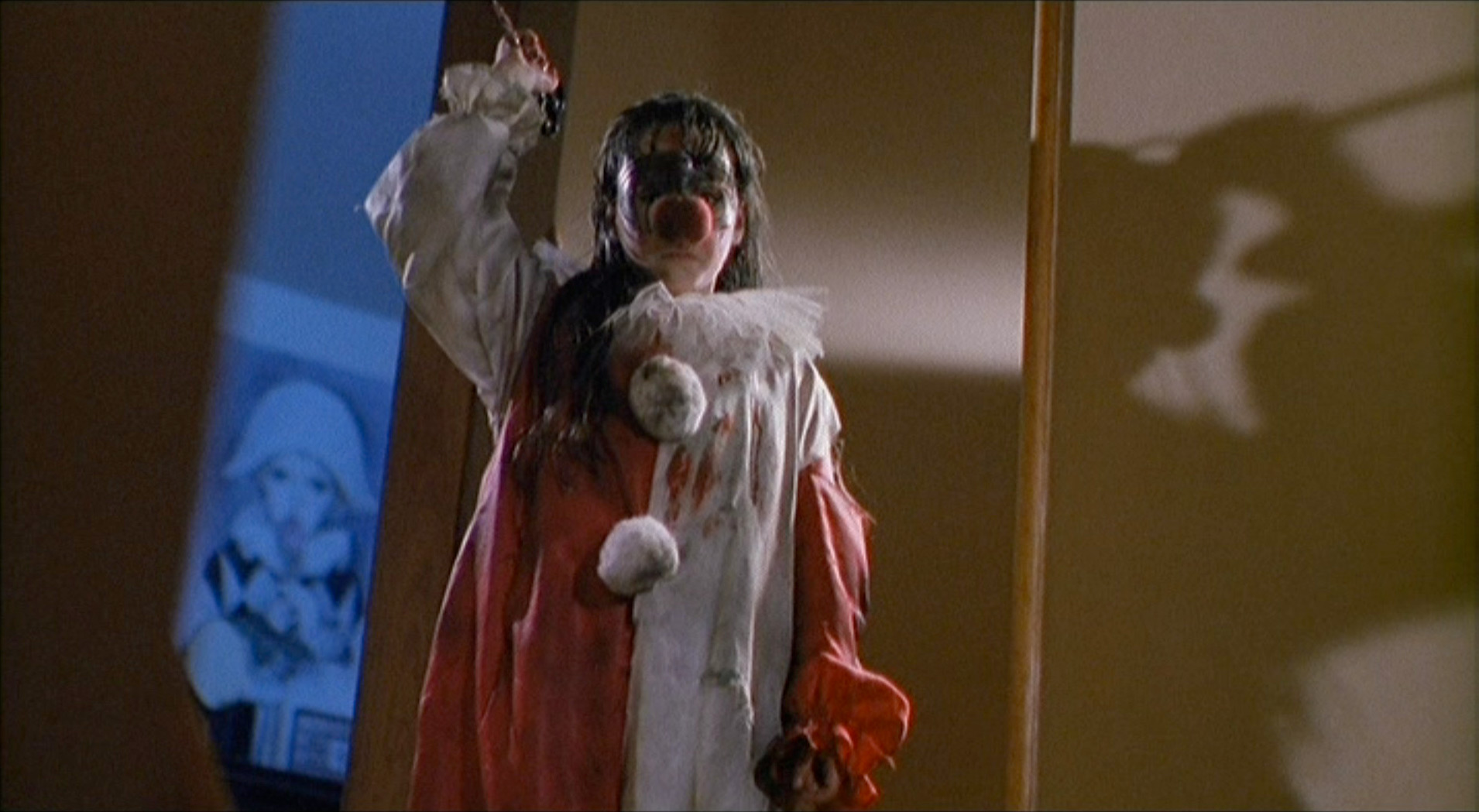 Halloween 4 ends ominously with Jamie pulling a 1963 Michael Myers. Dr. Loomis trying to shoot her at the bottom of the staircase as he screams "NOOO! NOOOO!!" was very unsettling to say the least. Halloween 4 has its share of blemishes but is a solid return to form, and many fans regard it as one of the better sequels in the franchise. I give Halloween 4 a 7 out of 10.
HALLOWEEN 5: REVENGE OF MICHAEL MYERS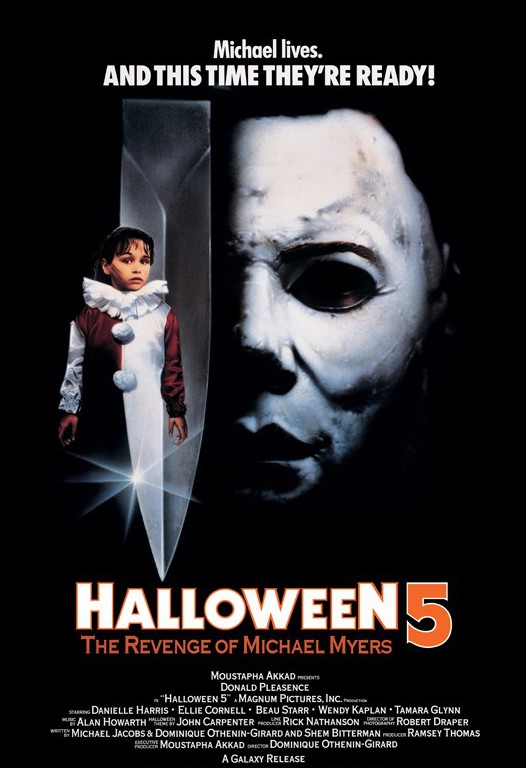 It's fitting that Halloween 5 was released on a Friday the 13th. Less than a year removed from Halloween 4, Halloween 5 was rushed into production and theatres. Critics were very harsh on it and Michael would disappear for 6 years following this "debacle." Of course, your mileage may vary.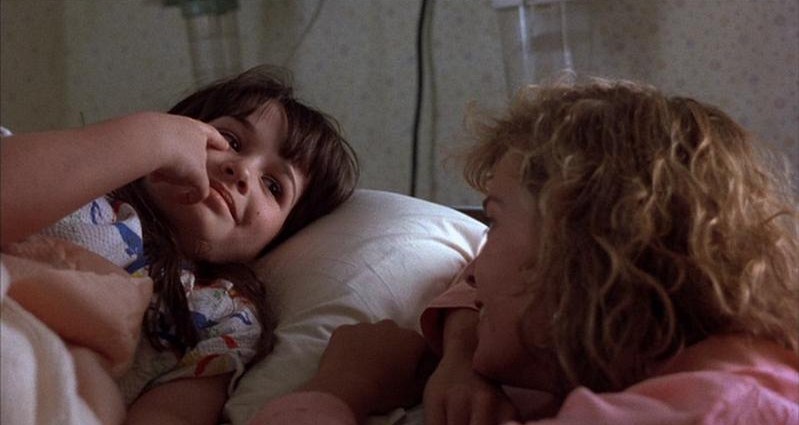 The dynamic duo of Jamie and Rachel return. Unfortunately, similar to her "mom" in Halloween II, Jamie is subdued and doesn't talk for much in the film due to the trauma of last year's events. I wish she wasn't so limited. In another dumb decision, they killed off Rachel in the first act and the film heads downhill after that. Hey Rachel, Bryan Cranston from Godzilla says hi.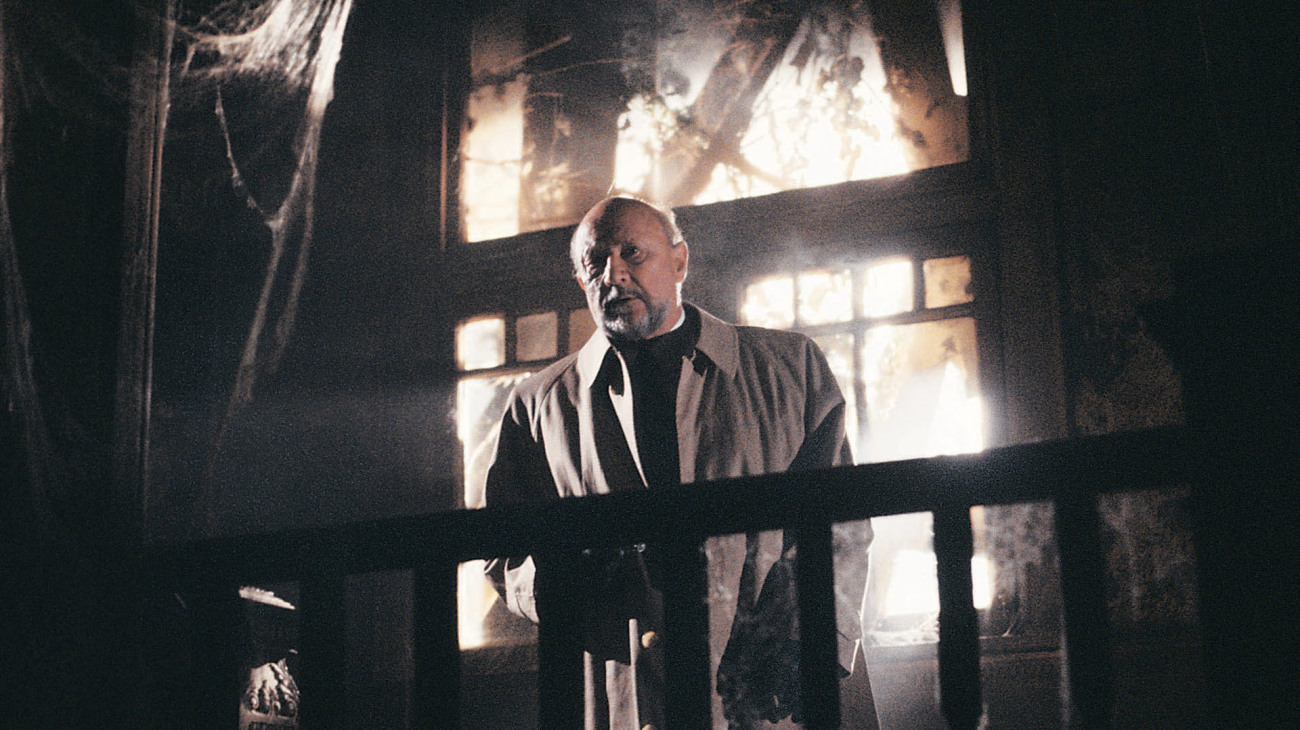 The good doc also returned. Loomis is perhaps crazier than ever, even threatening to offer up Jamie as bait. He's pretty much a caricature at this point, but a beloved caricature nonetheless.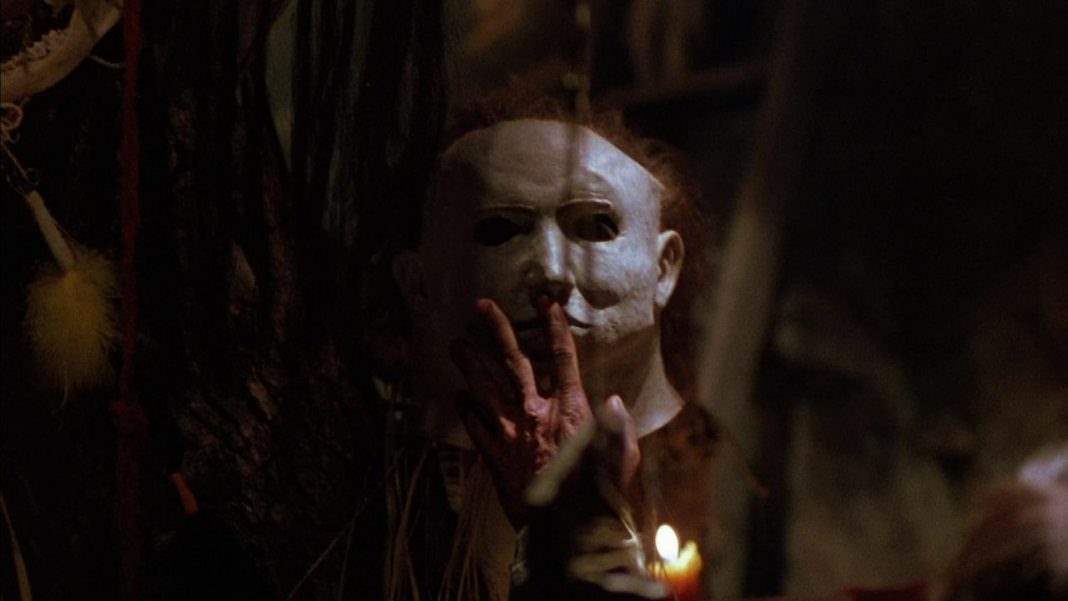 The film opens up with a hermit taking care of Michael… supposedly for the past year?! It's a bit ridiculous, but I have to admit there's a certain cheesy charm to it that I can appreciate. Of course, Halloween nears and the alarm in Michael's deranged mind goes off. He grabs the mask…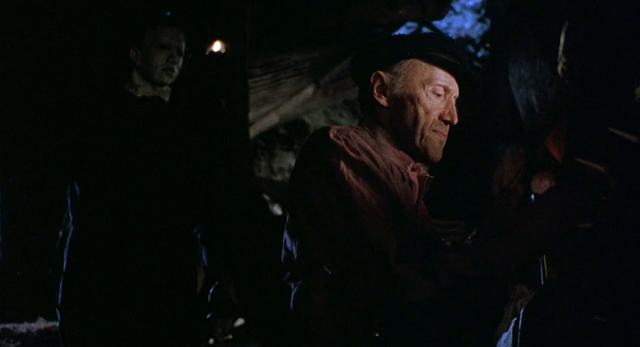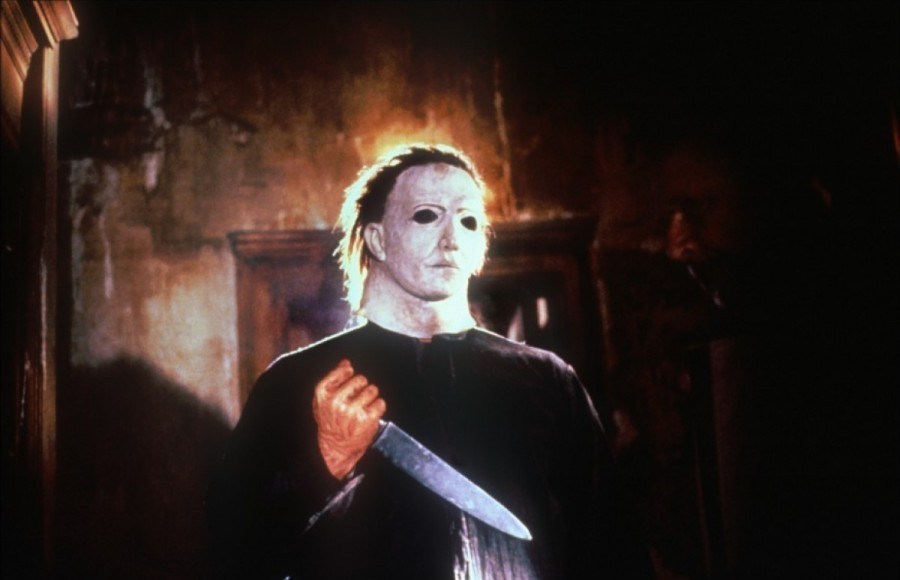 Speaking of the mask, there's been a lot of hate on the mask here. But I actually kind of like it. I like it more than the Halloween 4 mask, that's for sure. Sometimes referred to as the "long neck" mask, it's got a certain creepiness to it.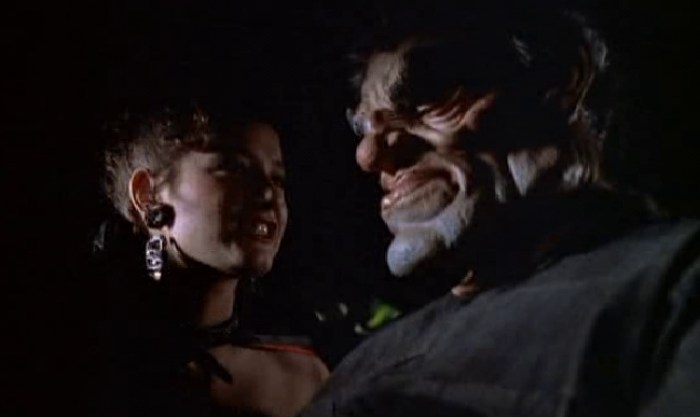 Speaking of masks, at one point Michael dons the "Brute" mask in a very chilling and effective scene. Though heavily flawed, Halloween 5 isn't without some nice moments.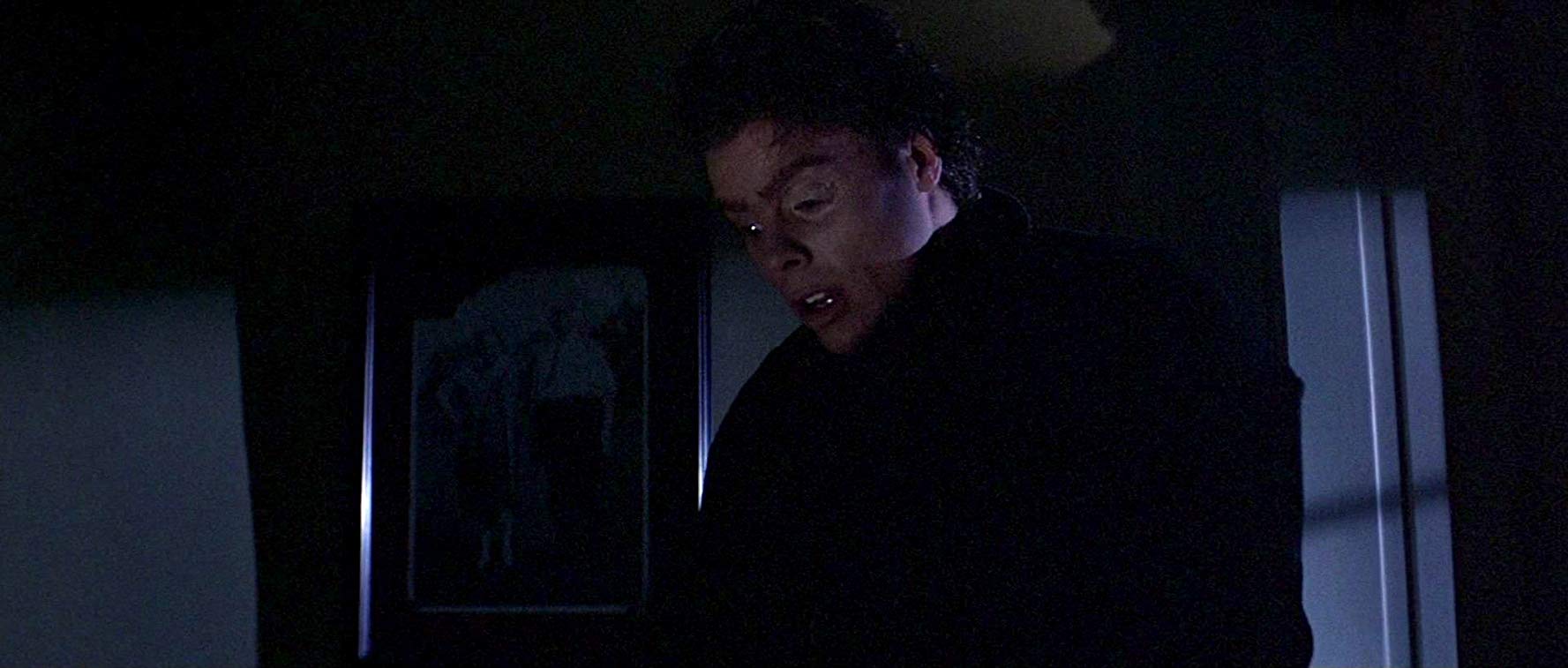 I remember the advertising for Halloween 5 being that audiences can now see Michael's face. I always thought that funny since we sort of see his face back in the very first movie. Michael even cries in part 5. That's just wrong.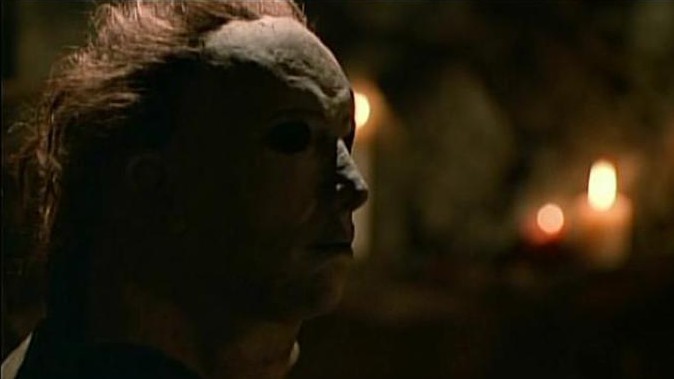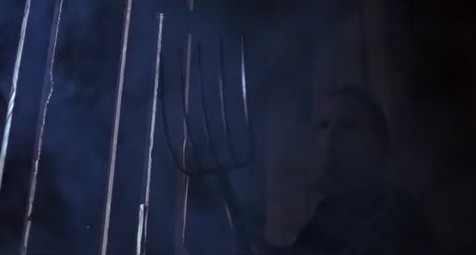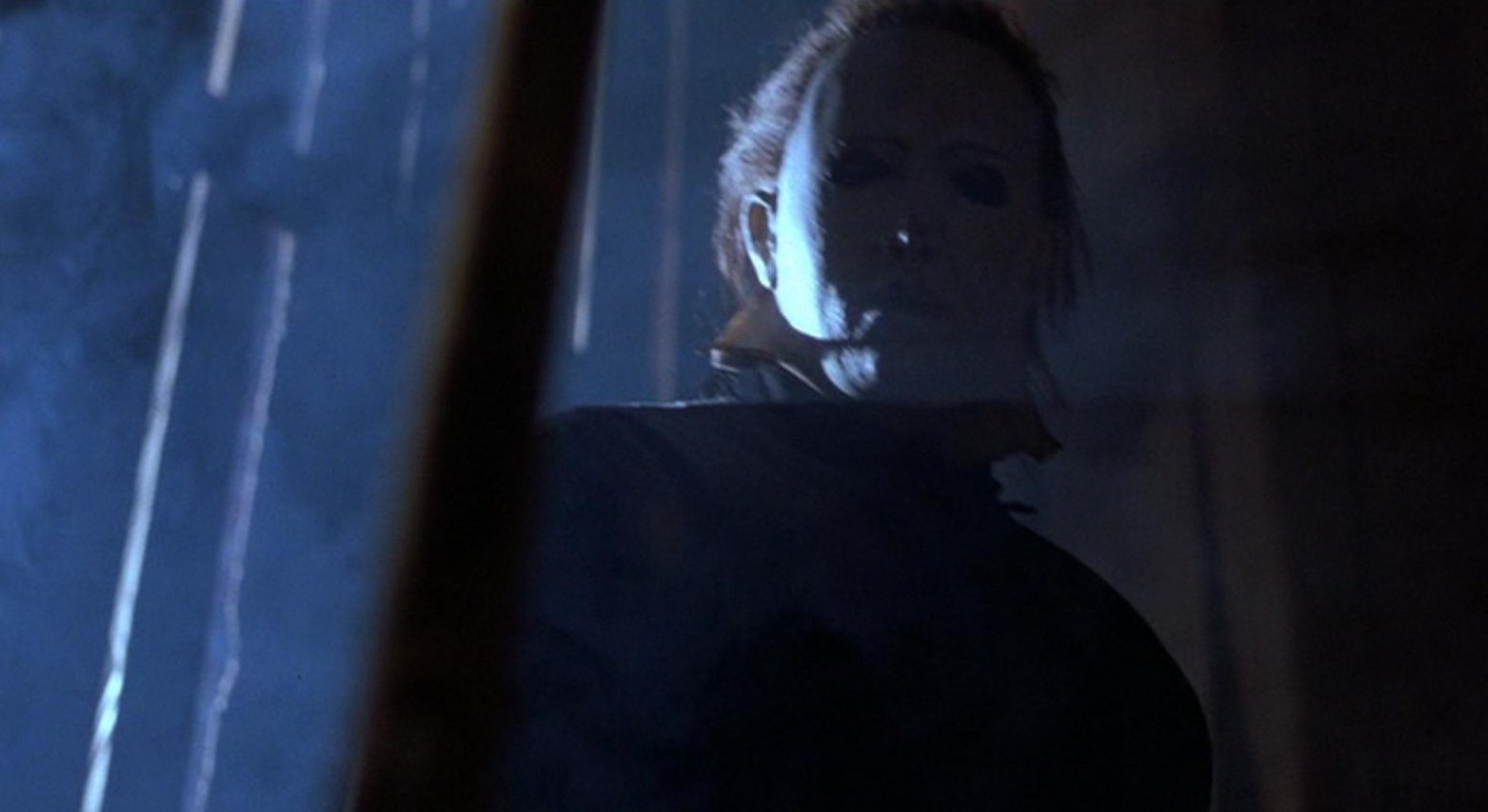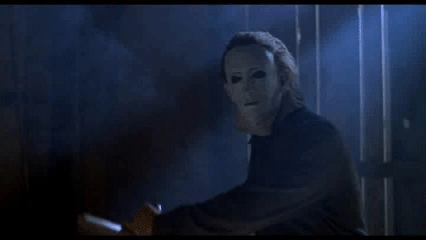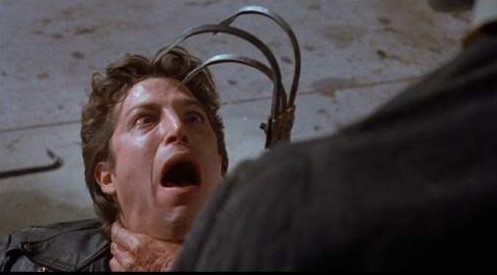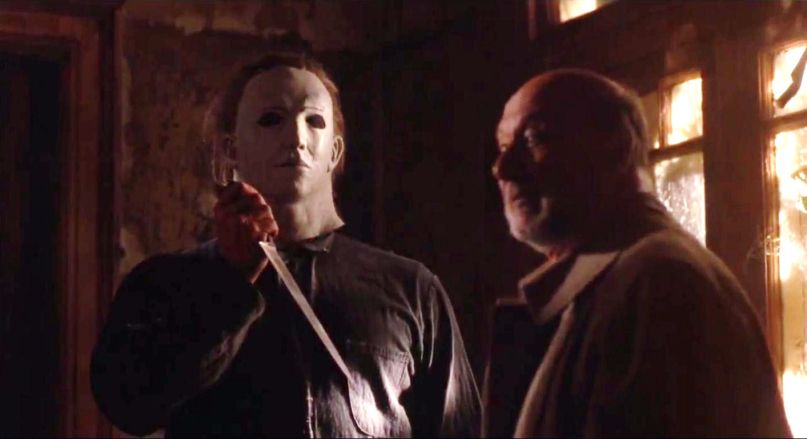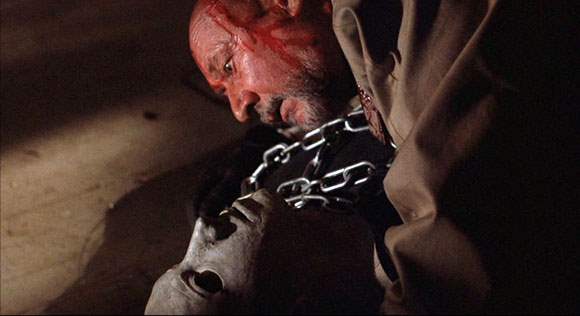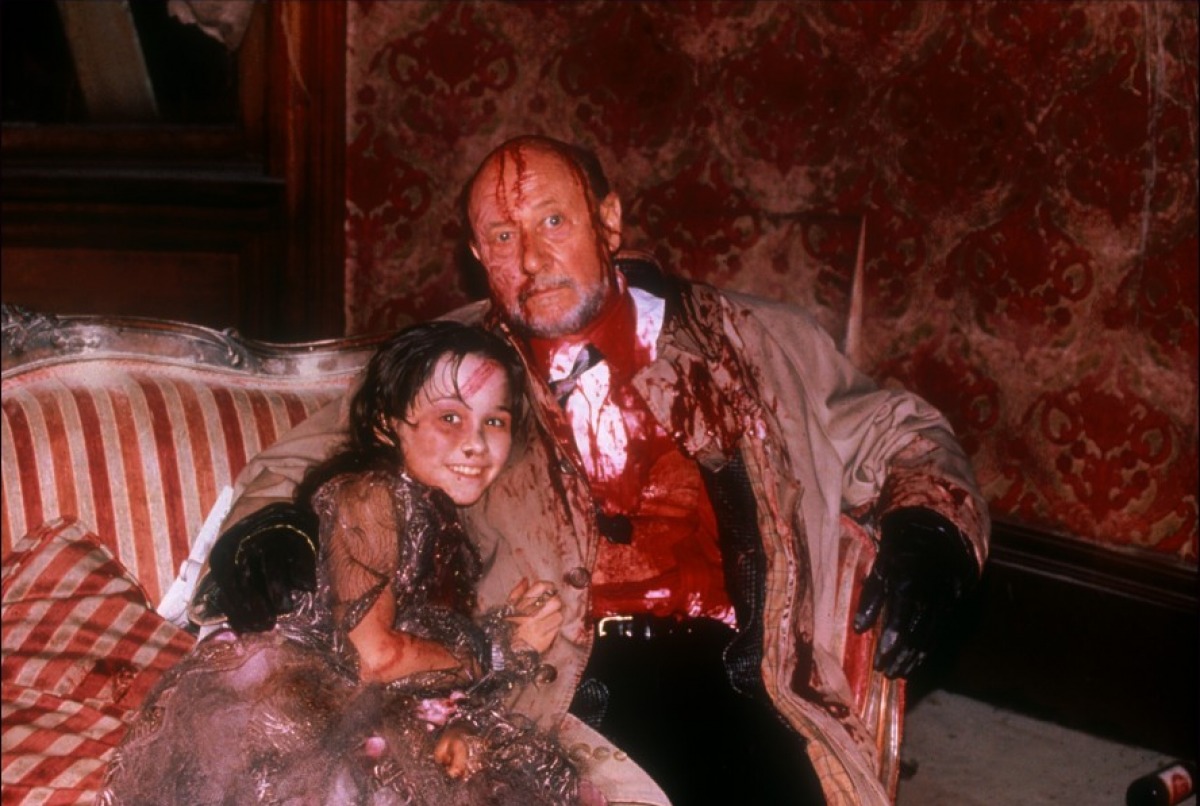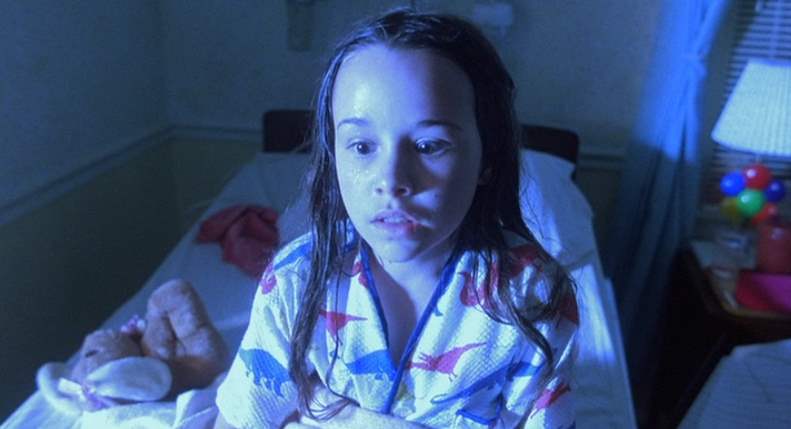 Truth be told, it's a guilty pleasure for me. I know it isn't good, and it certainly represents a down point in the series. In fact, Michael would go dormant for 6 years following this critical and commercial flop (it was the lowest grossing Halloween film at just 11.6 million dollars). But for me at least, there's a certain charm to it that I sort of dig (and embrace). It's got this European Gothic vibe to it and it's pretty creepy in a few spots. Don't get me wrong, it's definitely one of the weaker entries in the franchise but I don't find it nearly as unwatchable as many do. I give Halloween 5 a 5 out of 10.
HALLOWEEN 6: CURSE OF MICHAEL MYERS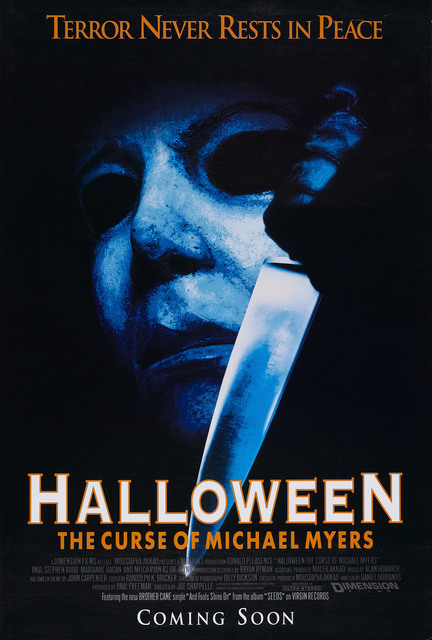 Halloween 6 has a messy backstory. It went through many script revisions and studio issues. The theatrical version is a plodding mess, but I quite liked the Producer's Cut. Originally titled Halloween 666: The Origin of Michael Myers, one day someone jokingly pitched The Curse of Michael Myers because the film felt cursed and was one big headache. The joke stuck and that became the subtitle of the film. Fun fact: Pink Panther and Halloween are the only franchises to have the subtitles of Return, Revenge and Curse. And why oh why the release date of September 29? Could they not have waited at least one more week if not two? I guess it's fitting; it's a sign that this movie was full of questionable choices.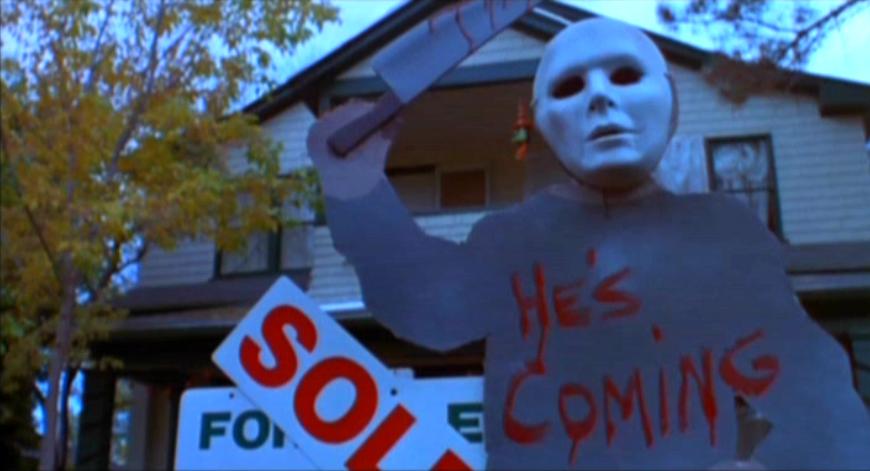 I do like certain parts of Halloween 6, though. Especially the Producer's Cut. It's full of Halloween atmosphere and it was just nice to see Michael again after a 6 year hiatus.
The remix theme is badass! I like how it has sort of this violent techno vibe to it. Really differentiates it from the other versions.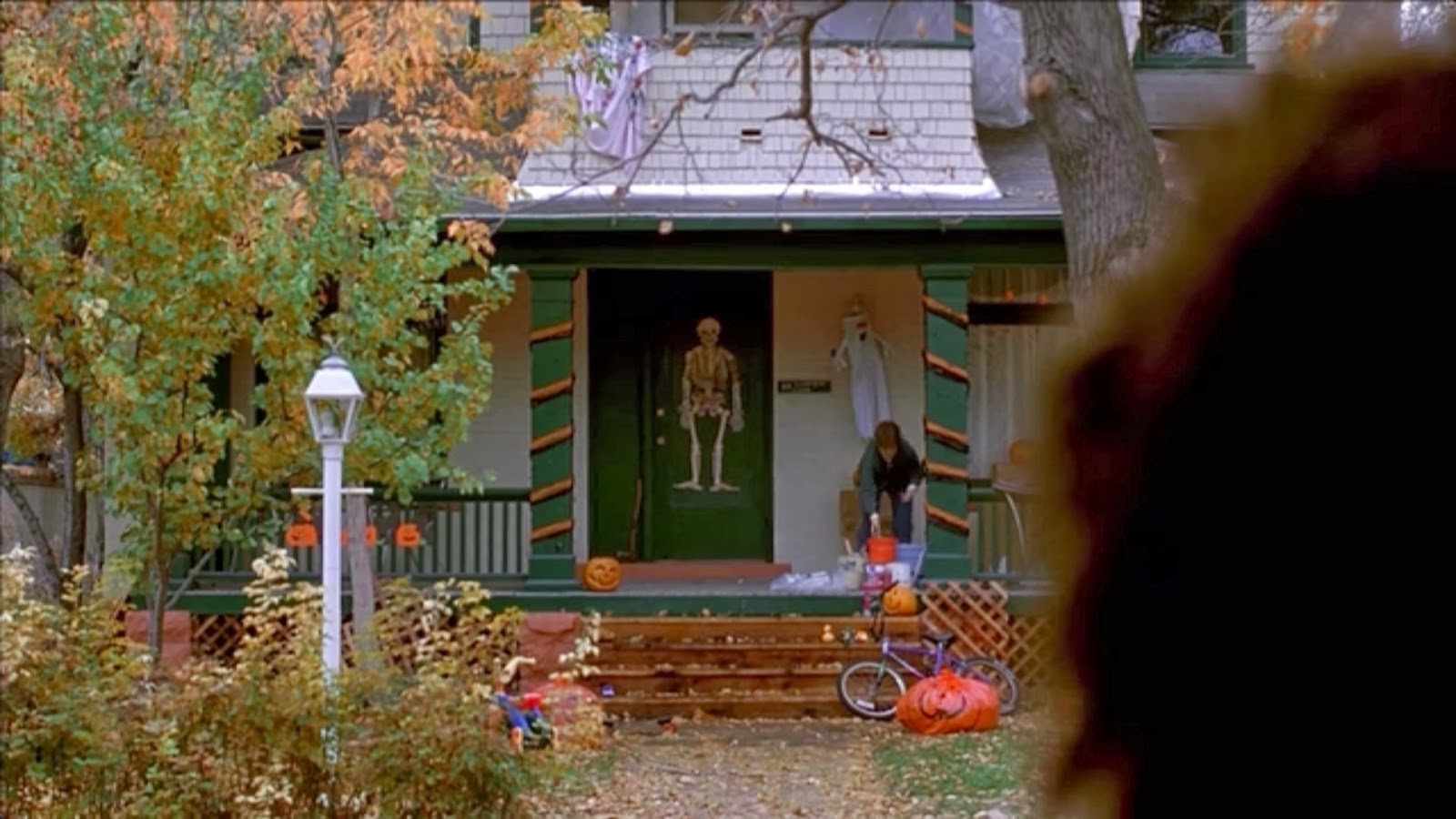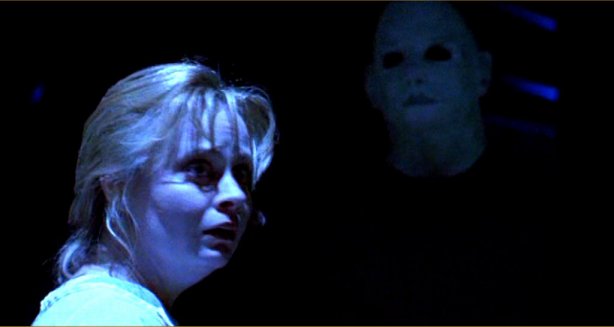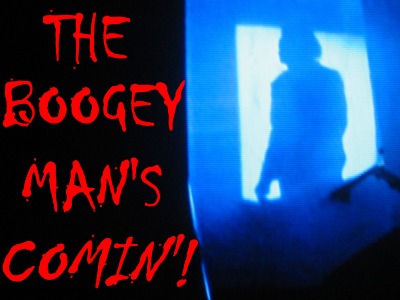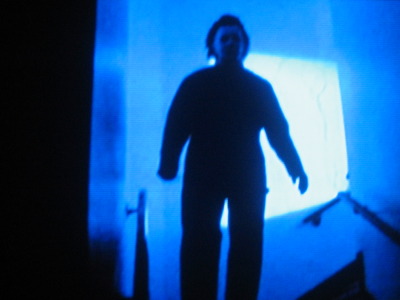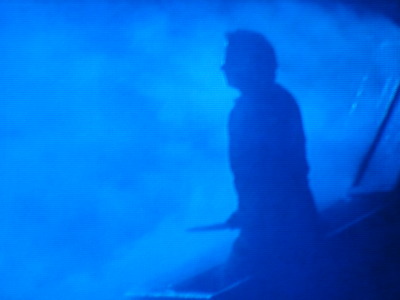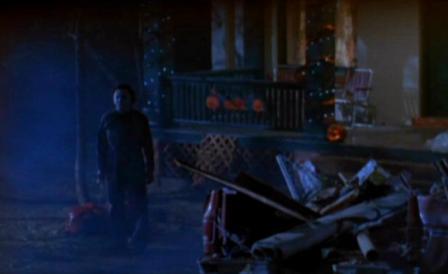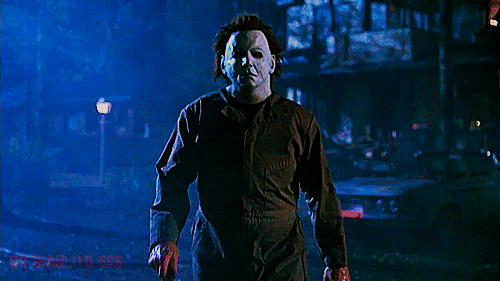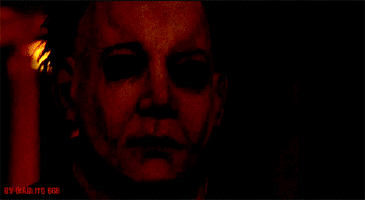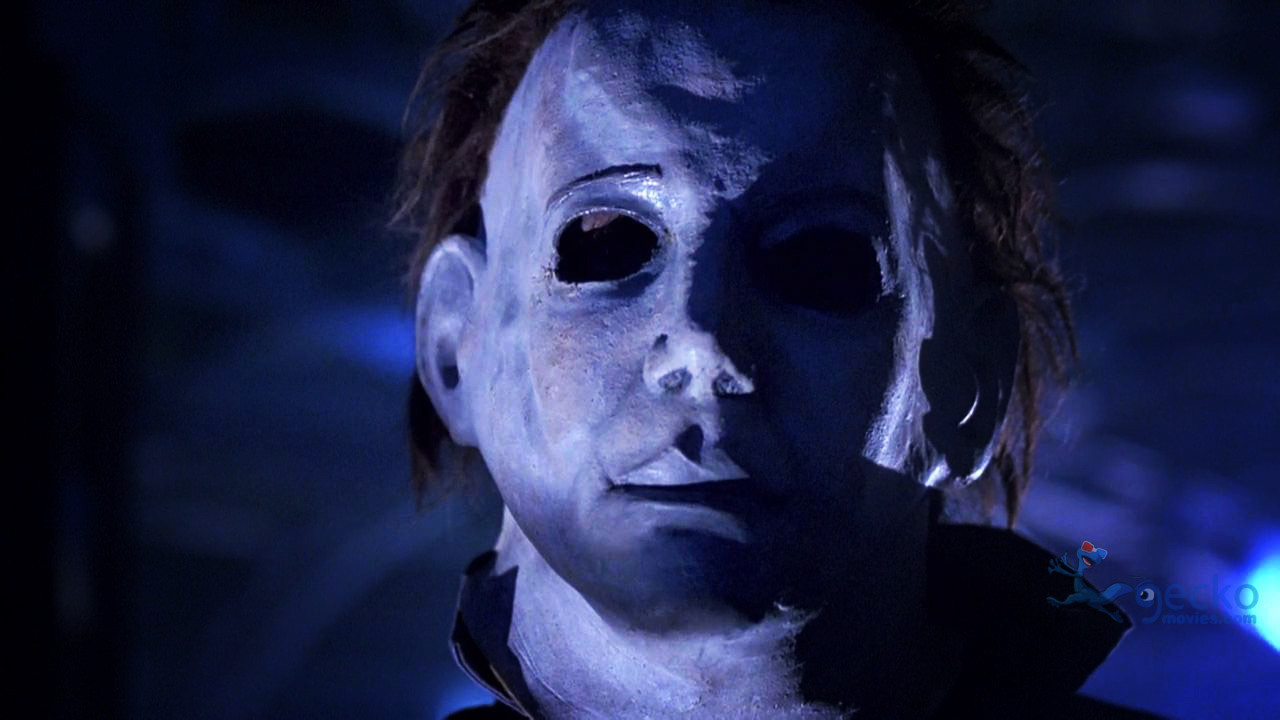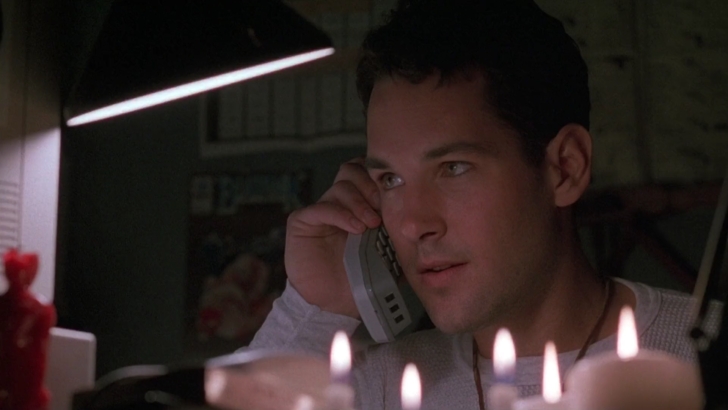 A young Paul Rudd played Tommy Doyle, the boy Laurie Strode babysat in the original film. This was before his breakout performance in Clueless, which came out before Halloween 6 despite Halloween 6 being filmed first. Michael Myers vs. Ant-Man… an interesting thought indeed.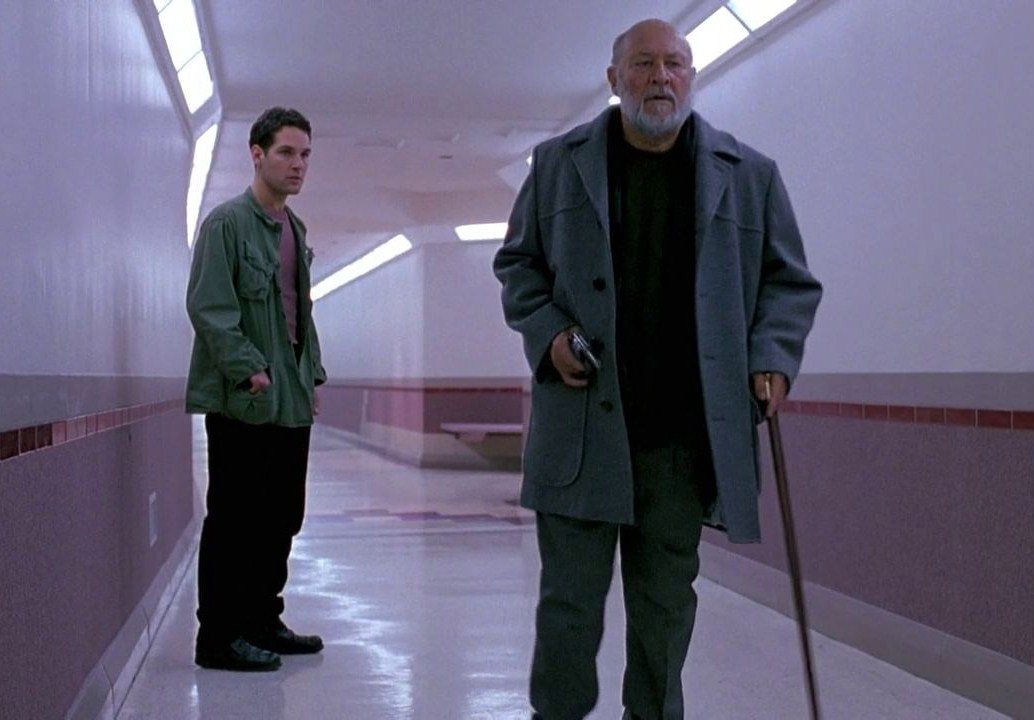 This was Donald Pleasance's final appearance in the Halloween franchise, as the 75 year old veteran actor died in February of 1995. There were a ton of reshoots that took place following his death. It's sad that he had to go out in this way, but part of me feels perhaps he wouldn't have it any other way: fighting Michael to the bitter end.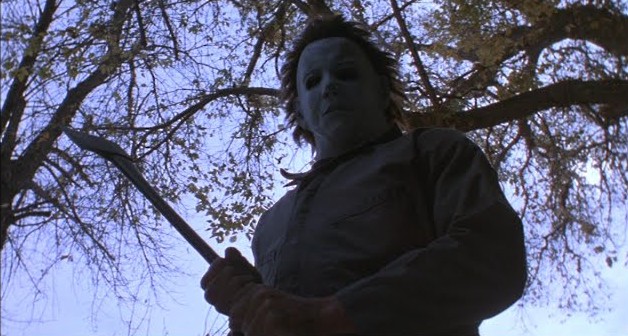 Halloween 6 was universally panned at the box office. Made on a budget of 6 million, it only grossed 15 million and we wouldn't see Michael for another 3 years. I dislike the theatrical version but I am a fan of the Producer's Cut, even if it is still somewhat of a jumbled mess. I was never keen on the whole Thorn mythology that parts 4, 5 and 6 adopted but I do like the Halloween atmosphere of part 6. I rate the Producer's Cut of Halloween 6 a 7.5 out of 10.
HALLOWEEN: H20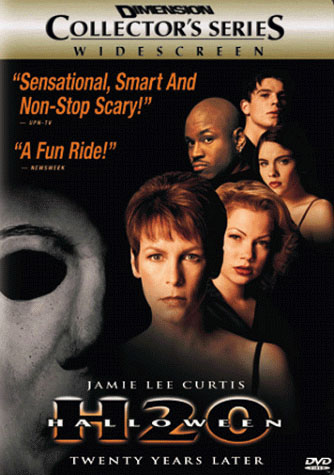 Other than its nonsensical release date, I'm a fan of Halloween: H20. This was the big 20th anniversary bash for Halloween and its original scream queen, Jamie Lee Curtis, was back in the fold. Sure, it's a bit teeny boppy and it has some of that Scream spirit to it, but it was a fun sequel and a satisfying end to the series (until it wasn't, of course).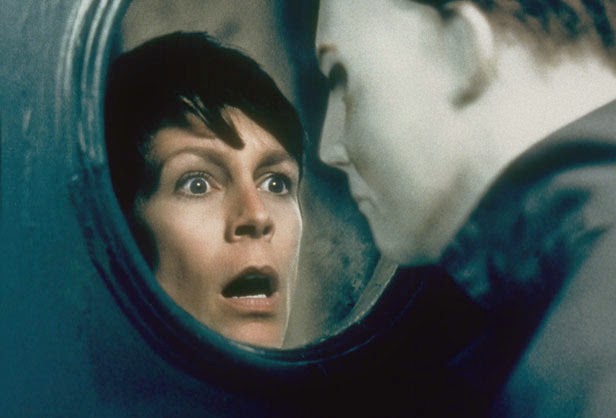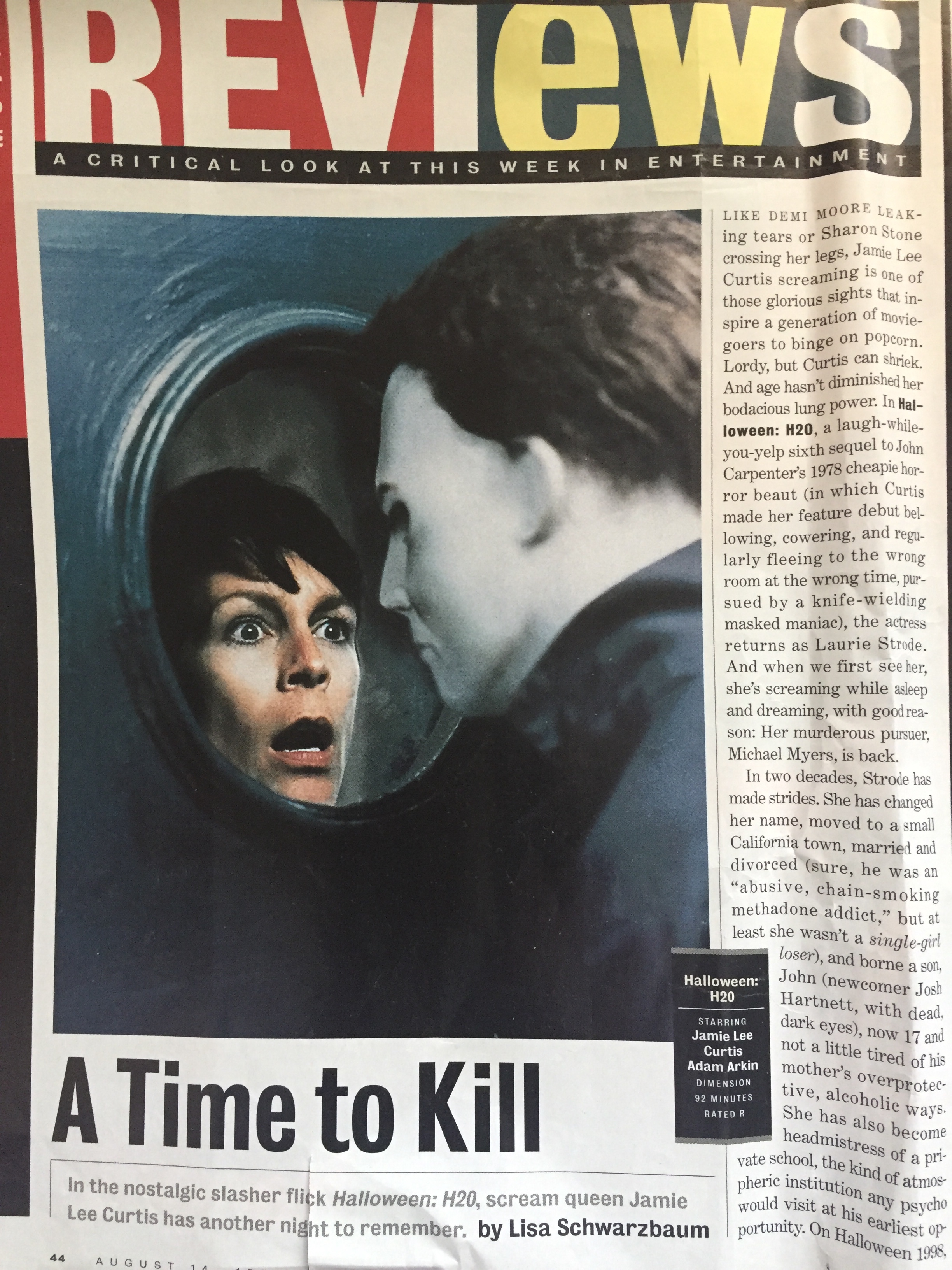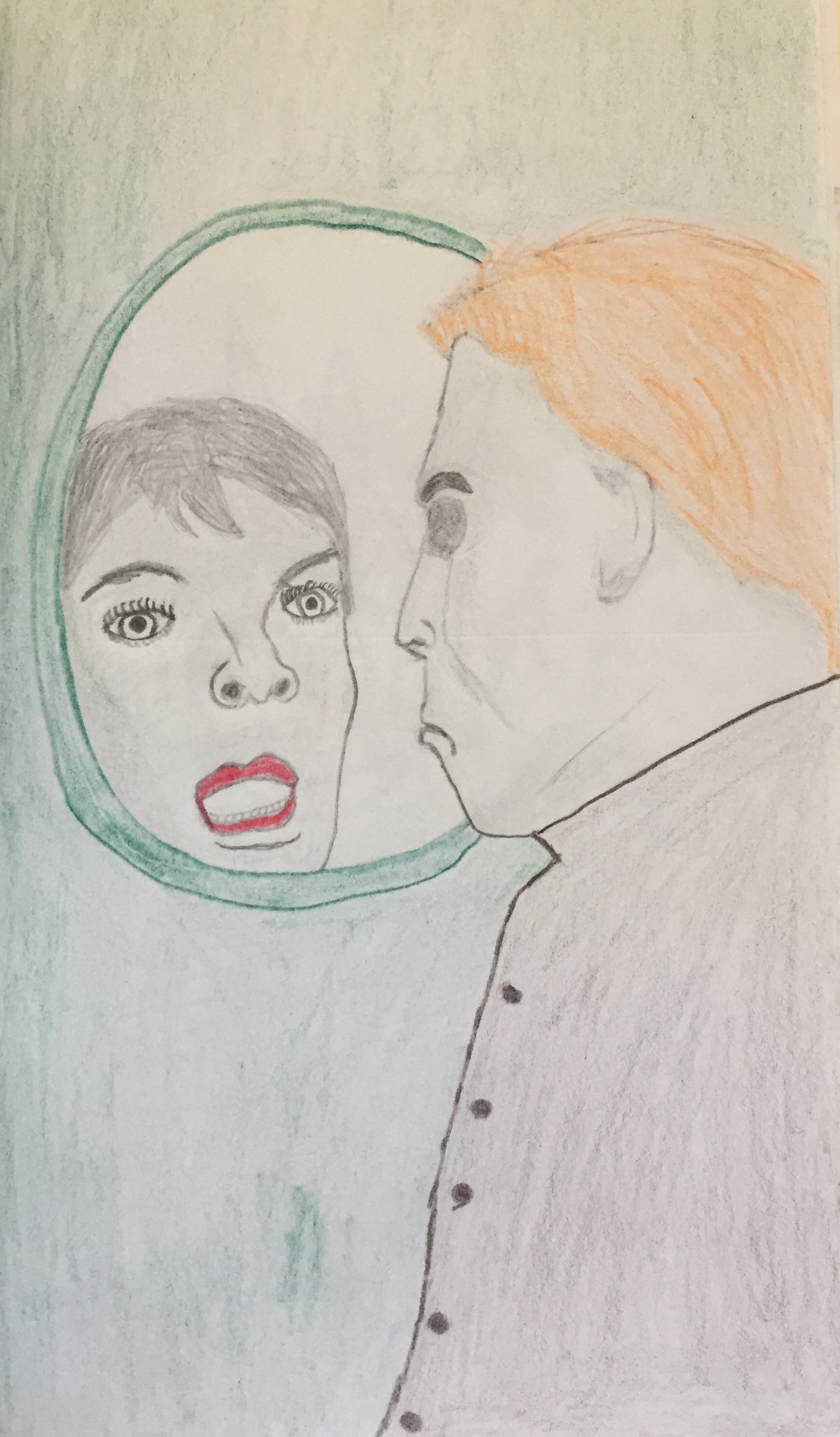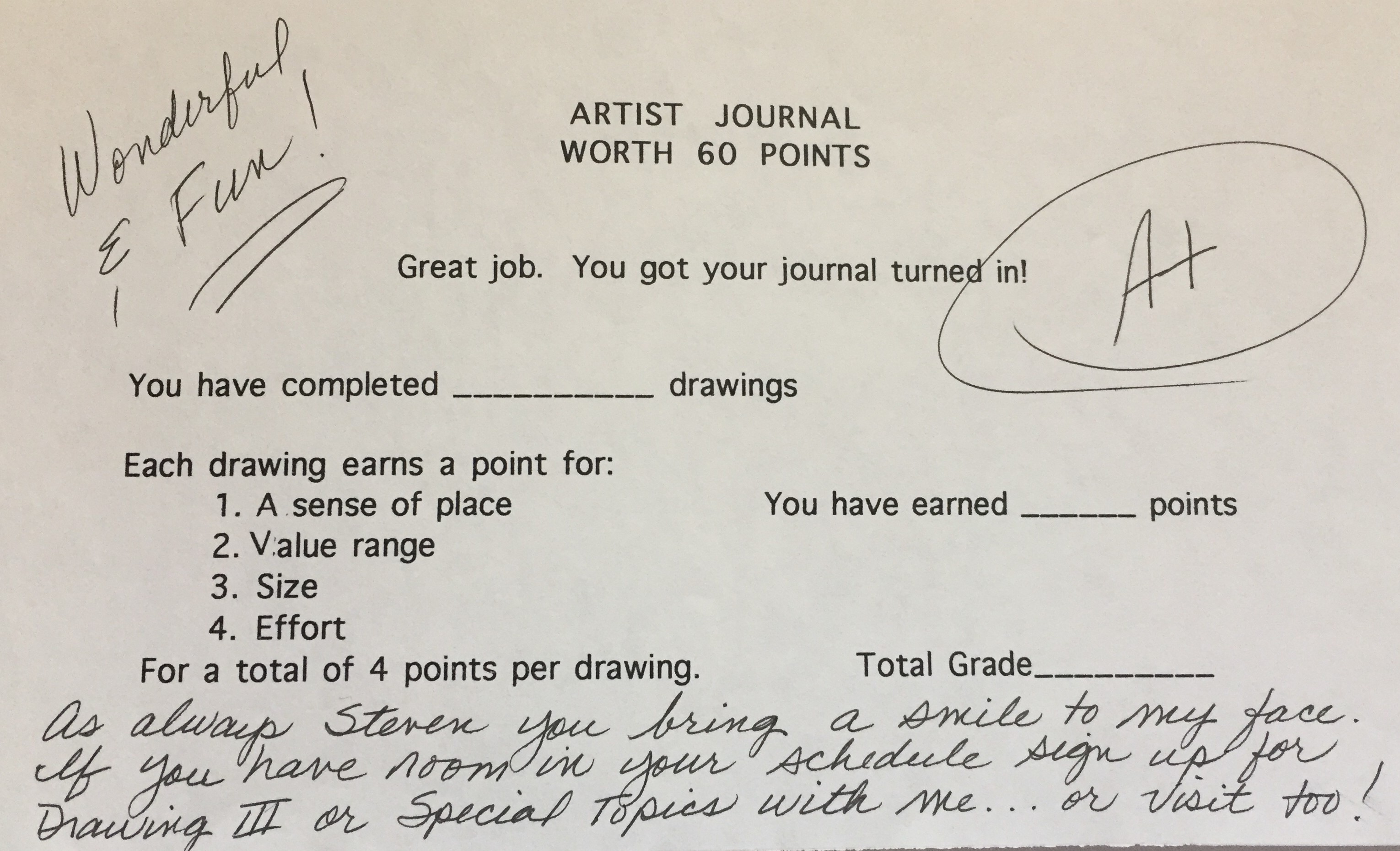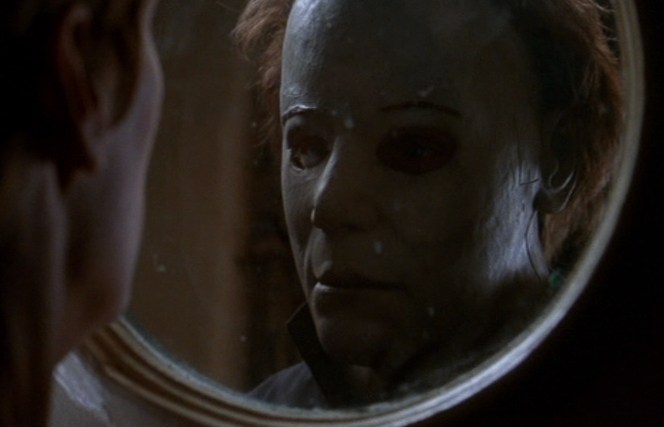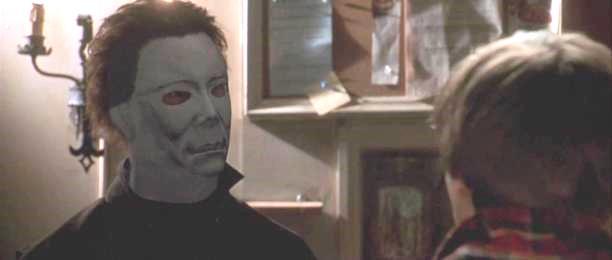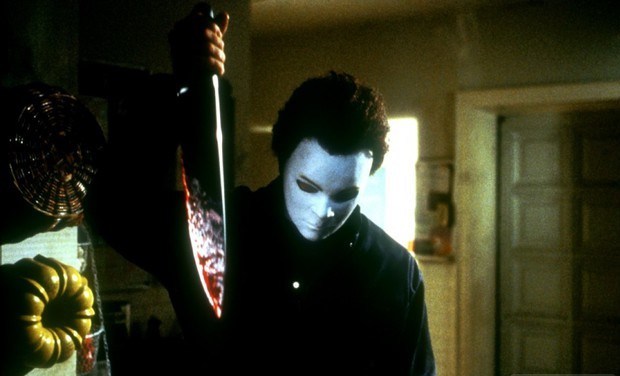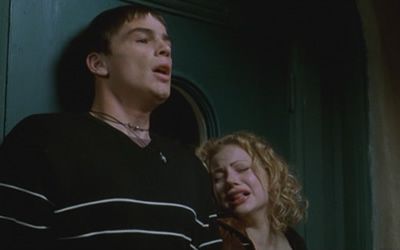 Featuring then teen heart throb Josh Harnett and Michelle Williams from the hit TV show Dawson's Creek, it was clear which audience H20 was catering to.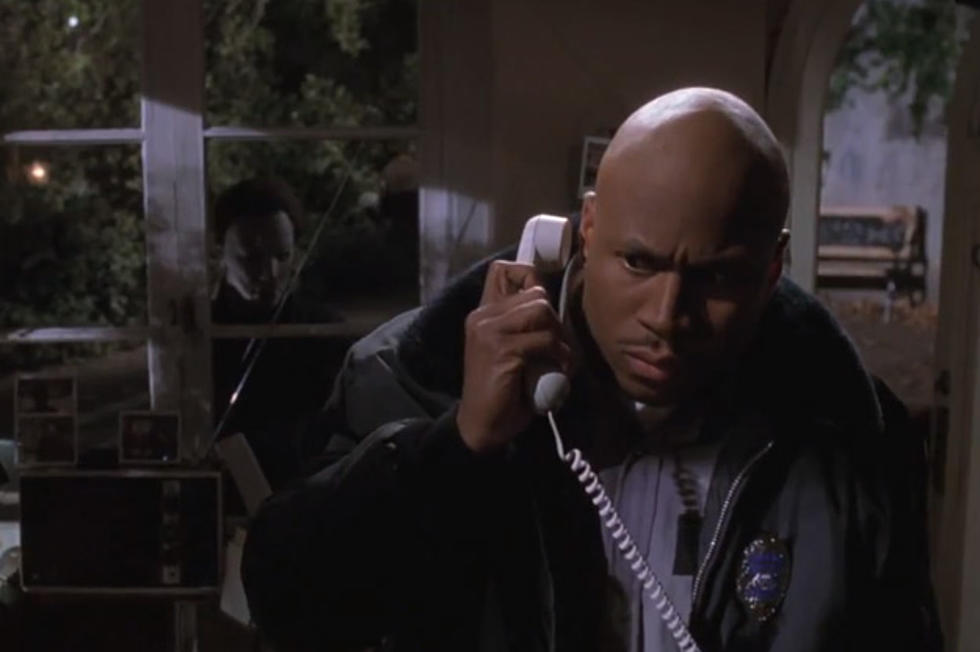 It also featured LL Cool J, who was the first African American in the series since Gloria Glifford portrayed Mrs. Alves, a no-nonsense charge nurse at Haddonfield Memorial Hospital in Halloween II (way back in 1981). LL Cool J was a huge hip hop star and he did a great job as Ronnie, stealing each scene he was in.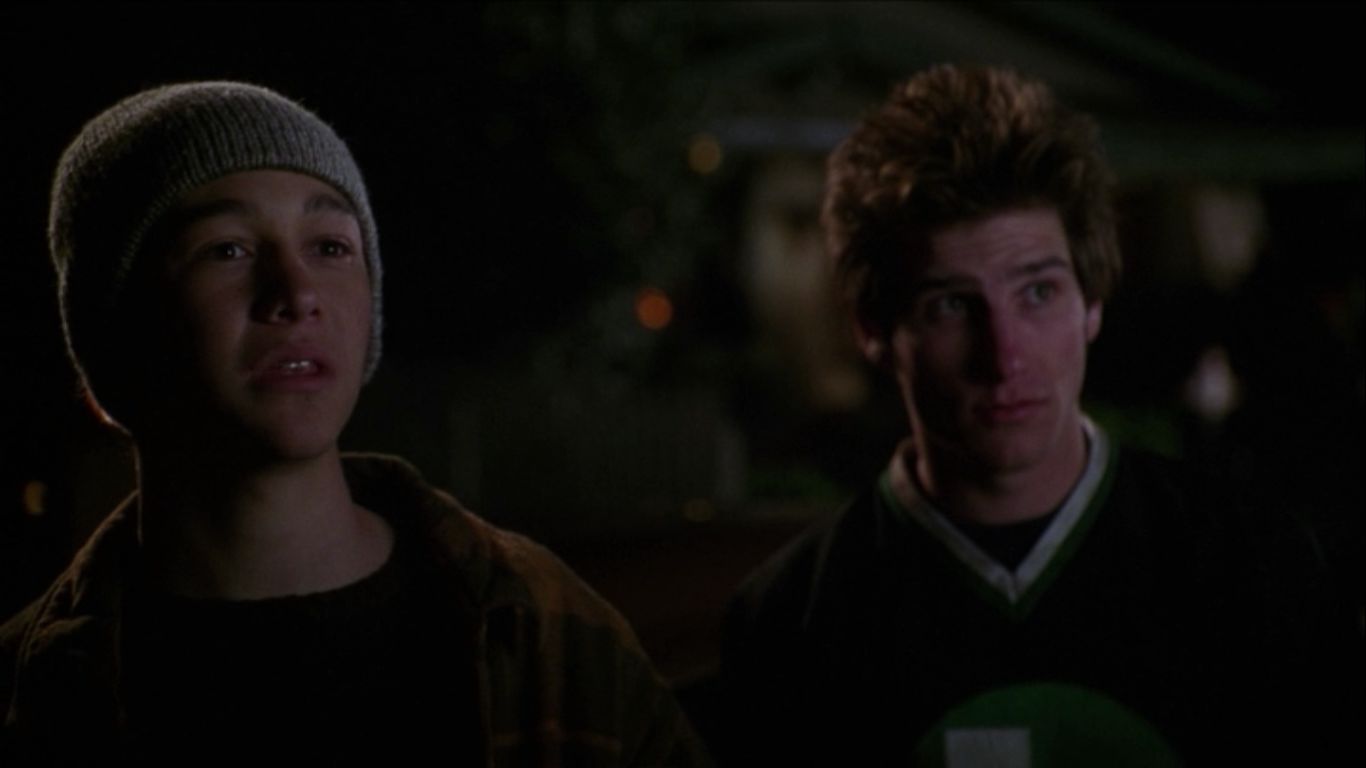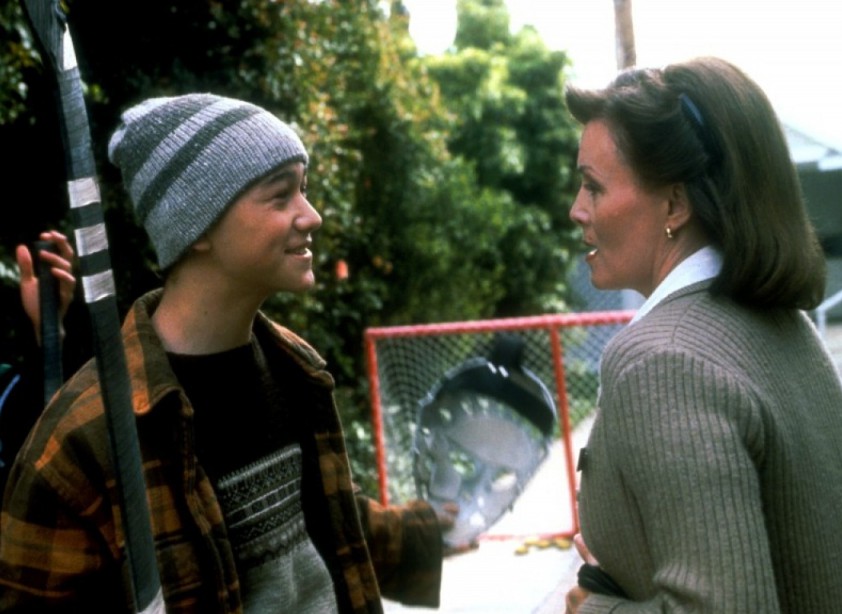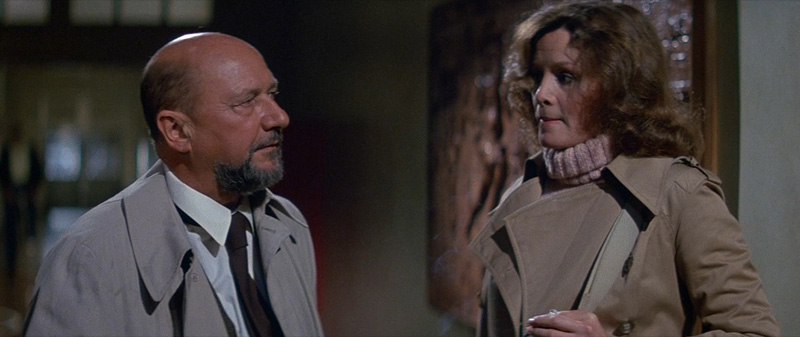 Nancy played Nurse Chambers in the first two Halloween films.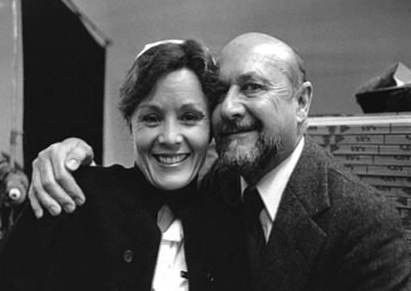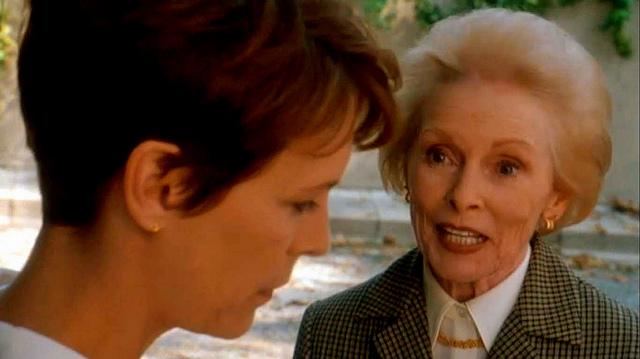 A really nice scene occurs when Janet Leigh shows up. She was Jamie Lee Curtis' real life mom, and the star actress of Psycho (the original horror film many like to call it). She even throws in the clever line "If I may be maternal for a moment…" this was a nice wink and nod to the diehard fans out there.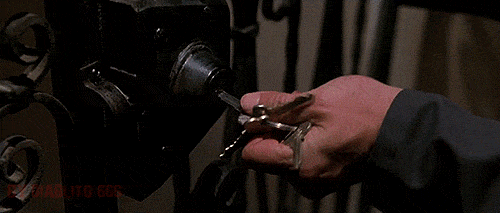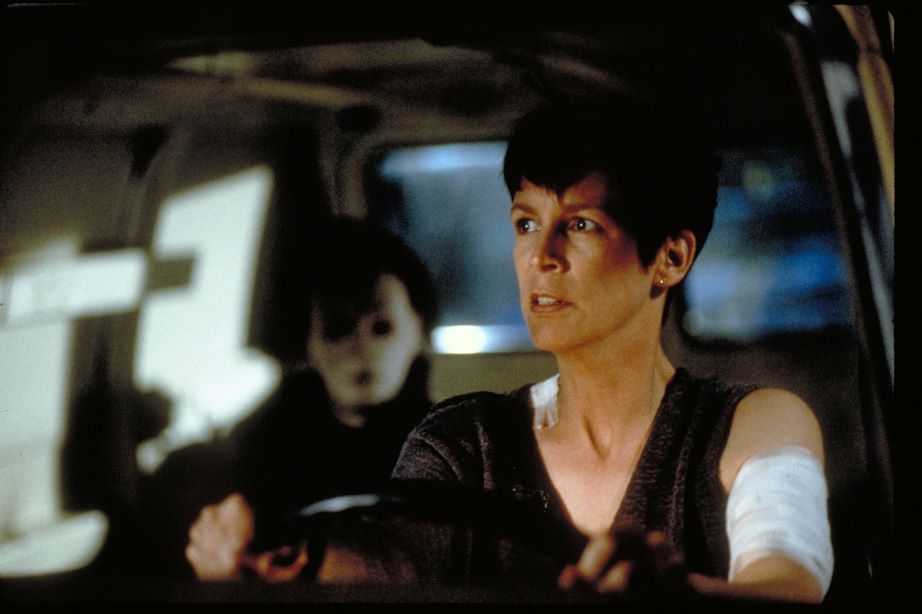 I love how Laurie Strode fights back and confronts her monster. She was a real badass in this one.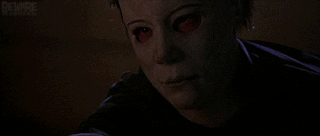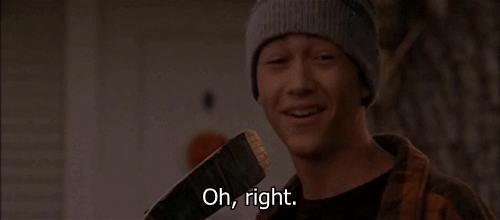 I remember catching H20 in theatres with my uncle and friend. I really liked it. Upon repeated viewings though, there are a few areas that could have used improvement. But overall, it's a fun ride that's well paced and gives us a mostly satisfying finale. It's perhaps a bit too teeny boppy but it was nice to see Michael back in the limelight making a killing at the box office. H20 raked in a cool 55 million dollars. I rate Halloween: H20 a 7.5 out of 10.
HALLOWEEN RESURRECTION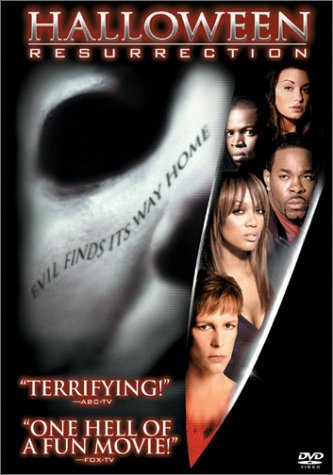 Halloween Resurrection is often considered as the worst entry of the franchise (when not counting the Rob Zombie versions). Jamie Lee Curtis returns for an awkward cameo where she apparently dies like nothing within the first 10 minutes or so. It was so jarring and somewhat negated the effectiveness of H20.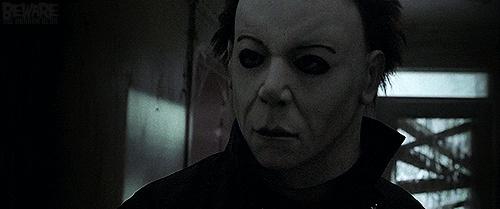 A product of its time, Halloween Resurrection played around with found footage and reality TV. It's not without a few fleeting moments of mediocrity and it even grossed a very respectable 30 million dollars. But the critics and fans hated it alike, and Michael was buried for 5 more years until Rob Zombie came along…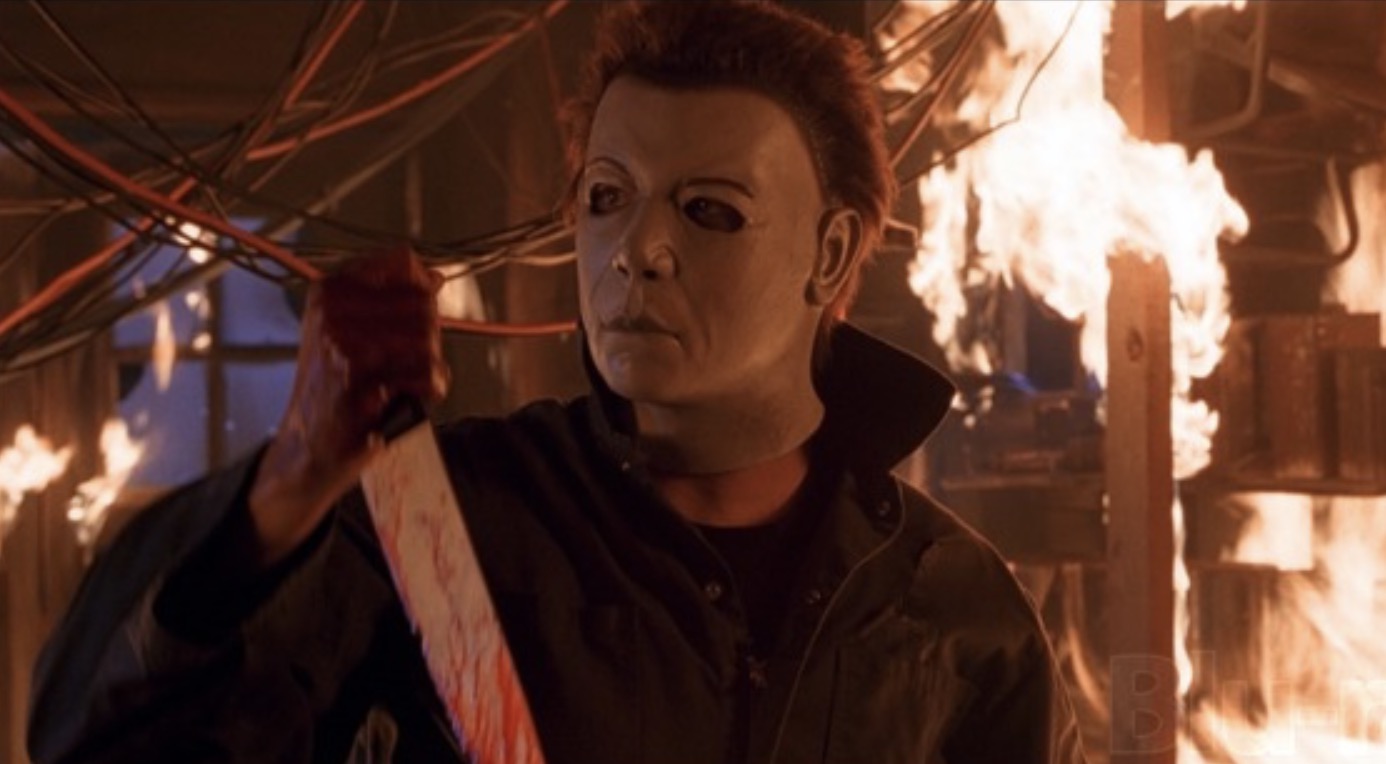 The mask was just weird. And as any Halloween diehard fan will tell ya… Busta Rhymes going Bruce Lee on Michael Myers' ass was just plain goofy and wrong.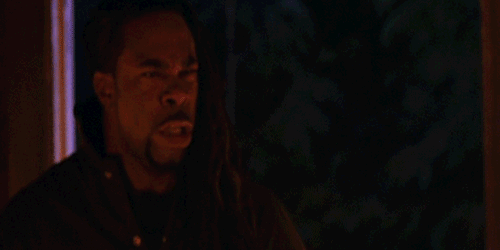 It's not unwatchable but it's definitely my least watched Halloween movie of the first 8 films. It just strays too far away from what made the Halloween movies so effective and fun to watch. I give Halloween Resurrection a 4 out of 10.
HALLOWEEN (2007)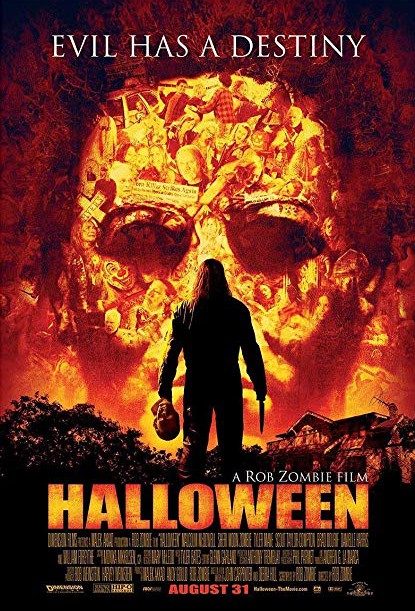 Rob Zombie's reimagining of Halloween was a very polarizing film. There are parts I liked a lot and other parts I could have done without.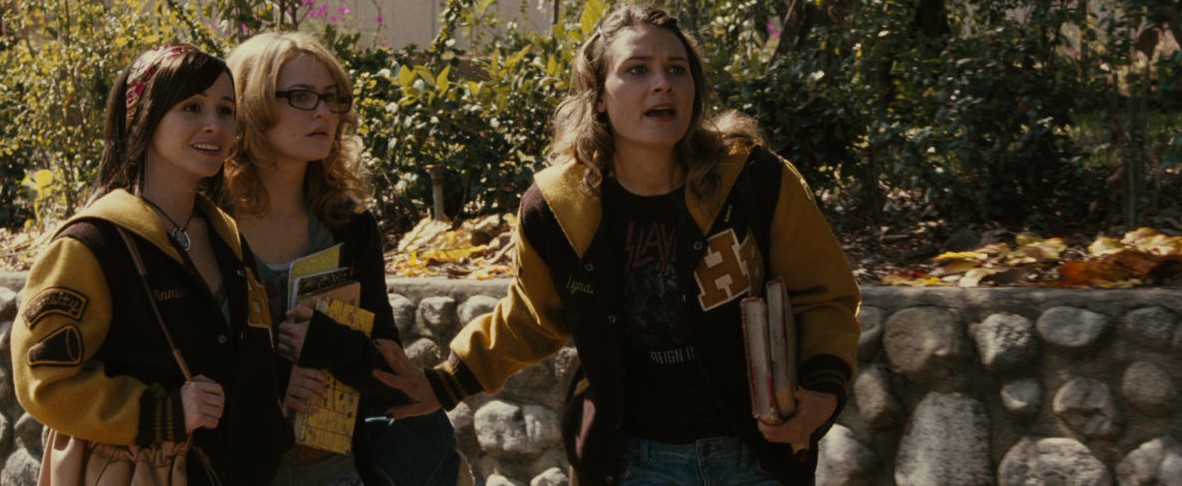 Danielle Harris, who played Jamie Strode in Halloween 4 and 5, returns to the series but as a different character. How's that for bizarre and confusing?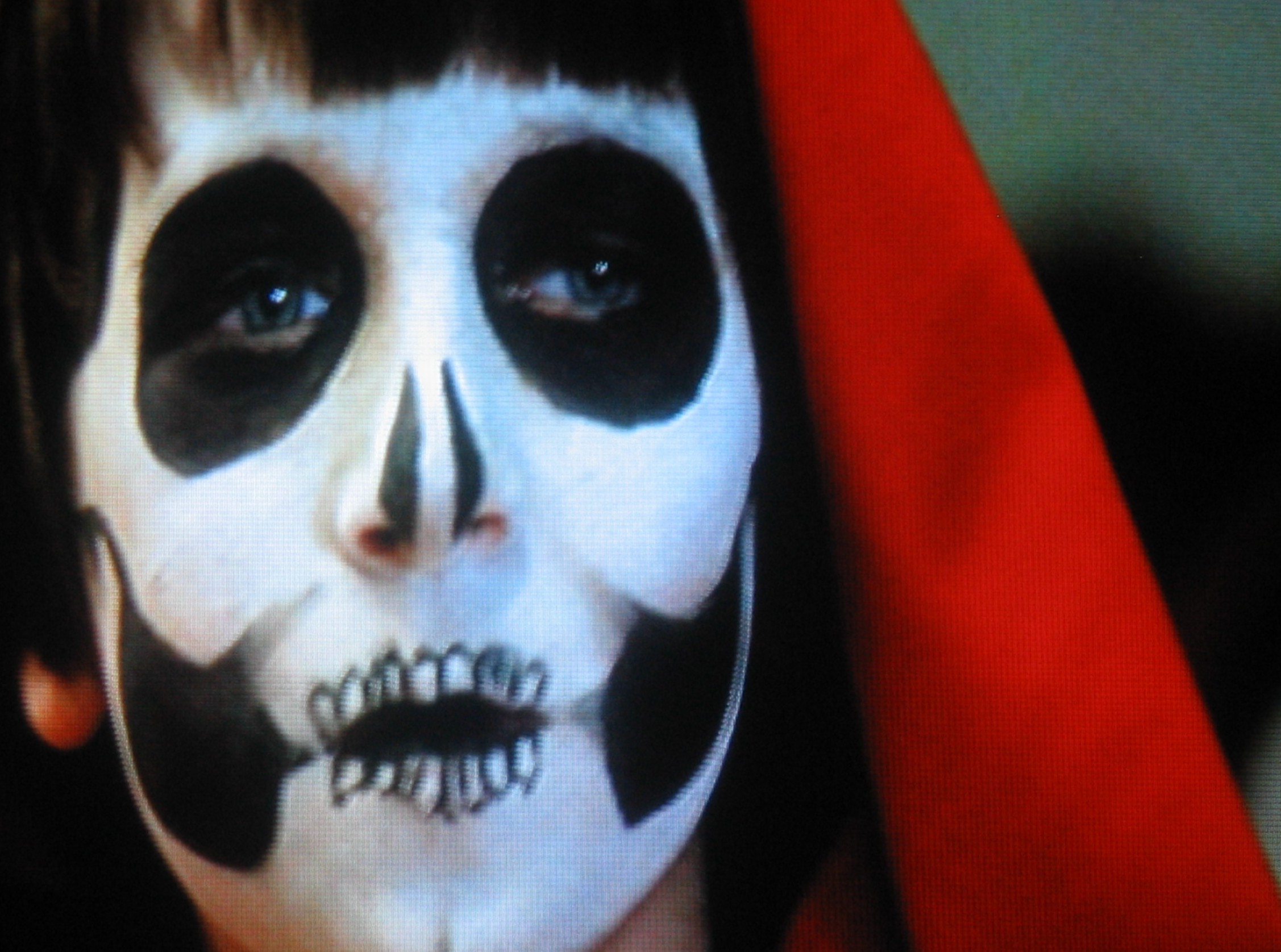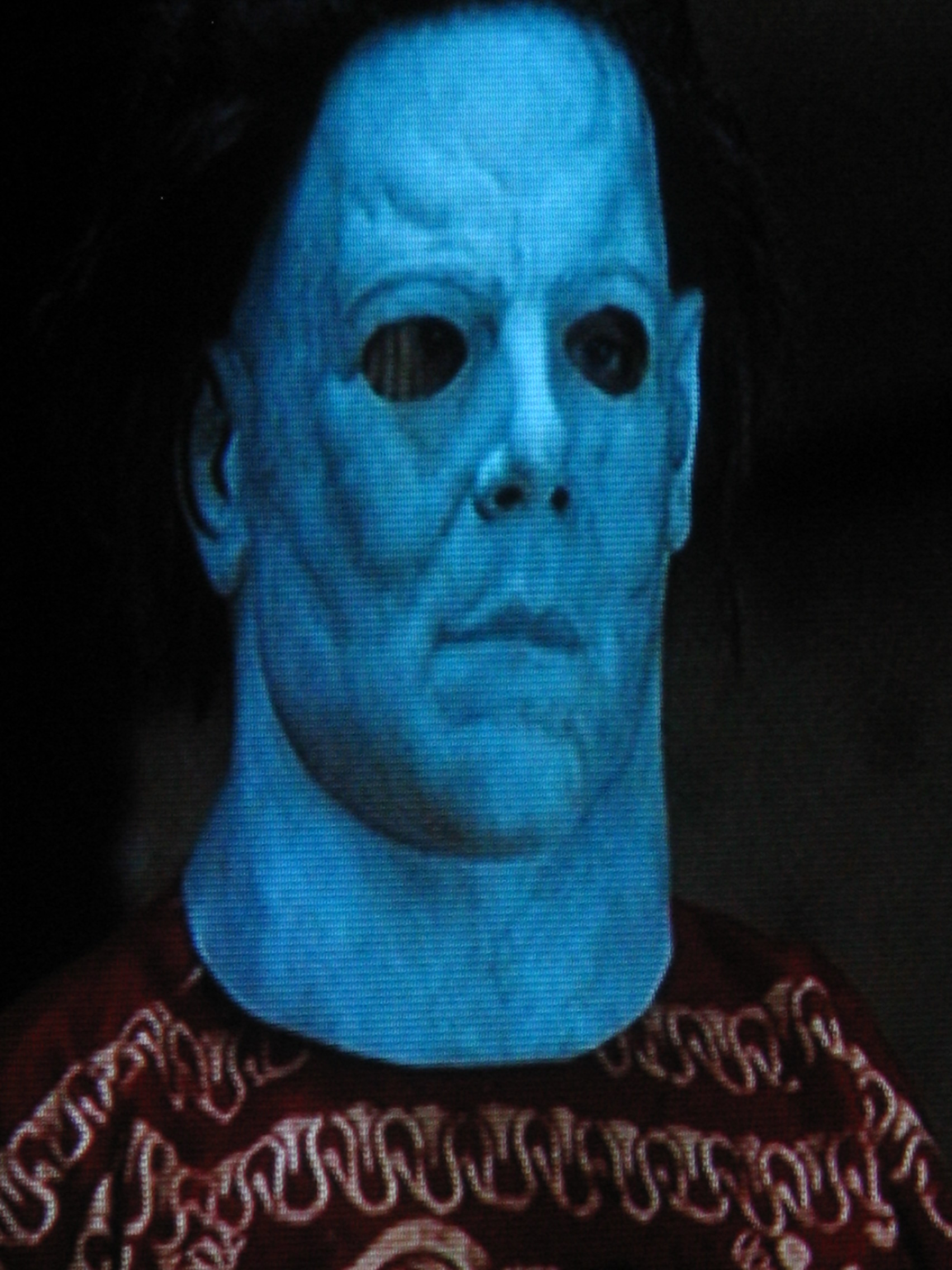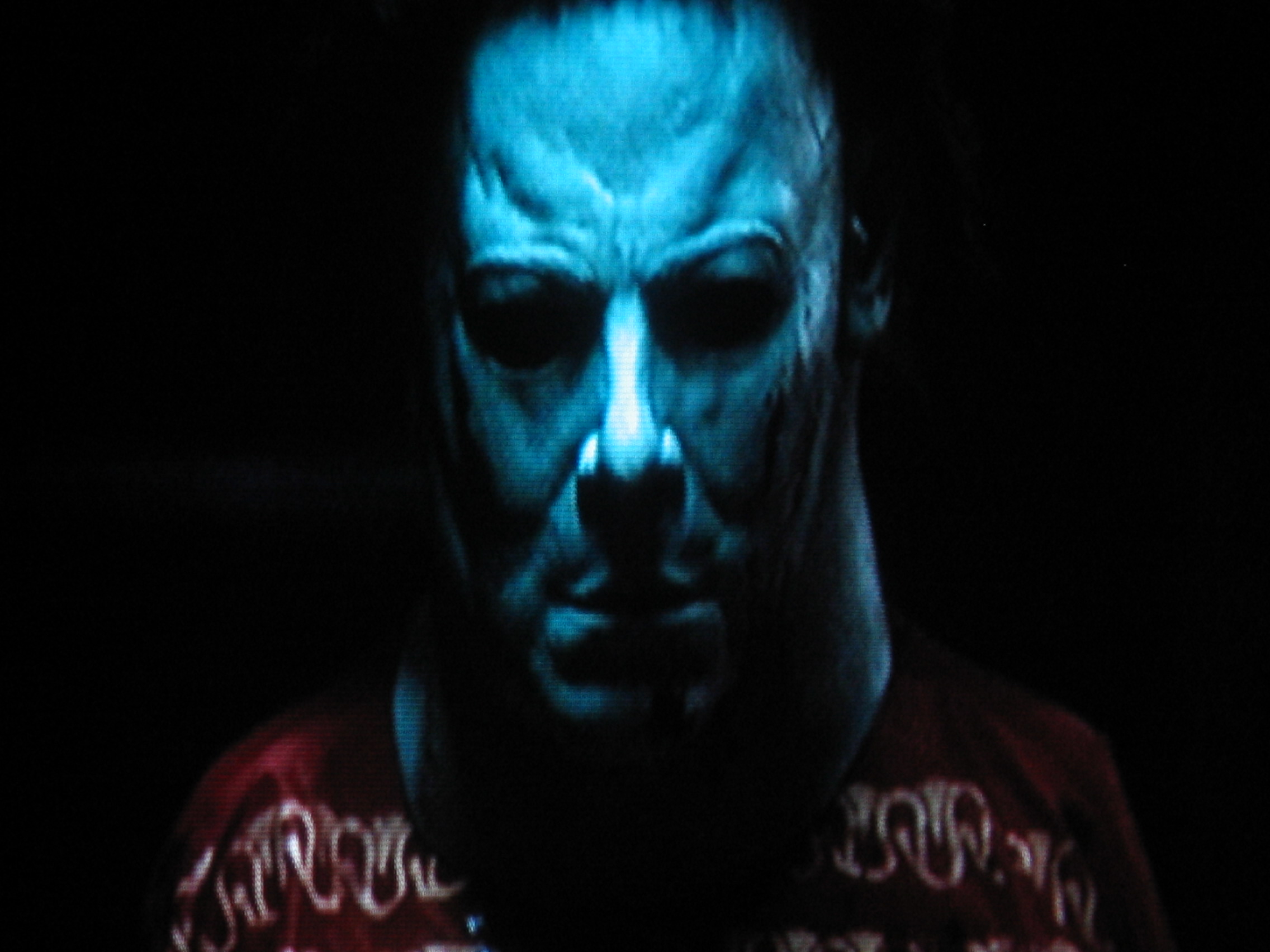 The 1978 original is a million times better but I kind of like this one. Rob Zombie had some good ideas and it came together fairly well minus a few missteps. I give Halloween (2007) a 6 out of 10.
HALLOWEEN II (2009)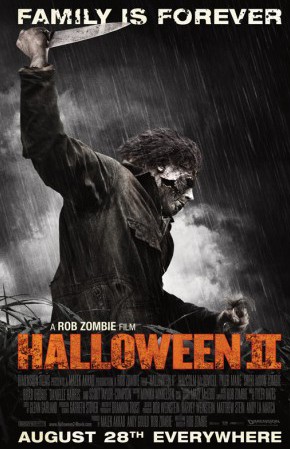 I hated this movie. The less said, the better. I give Halloween II (2009) a 1 out of 10.
HALLOWEEN (2018)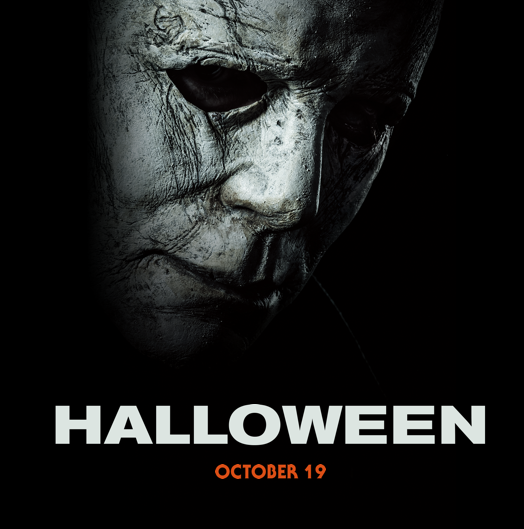 After being dormant for nearly a damn decade, Michael Myers exploded back on the scene with a bang. The highest grossing film of the franchise to date, Halloween was met with mostly positive reviews. I caught it with my girlfriend and we both liked it, but we also both agreed that it was missing that wow factor. It's a well made film but there were a few uneven instances where the film never quite hit that next gear for me.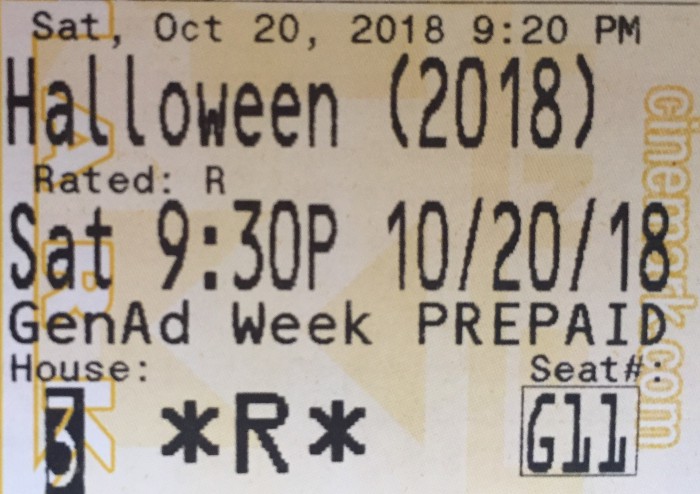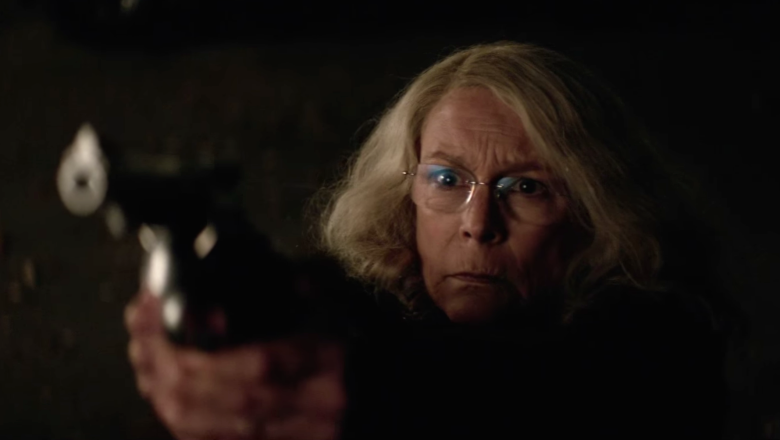 It was nice to see Jamie Lee Curtis return for the 40 year reunion. She does a bang up job as usual. Unfortunately, the writing and direction was a little wonky. Laurie Strode made some questionable decisions that took me out of the moment. For example, for someone who was preparing for Michael for the last 40 years, why would she stand against the front door with glass knowing that Michael could easily break the glass and grab her? Little details like this disappointed and frustrated me. Jamie Lee Curtis did the most she could but a film is hampered when a script is written poorly.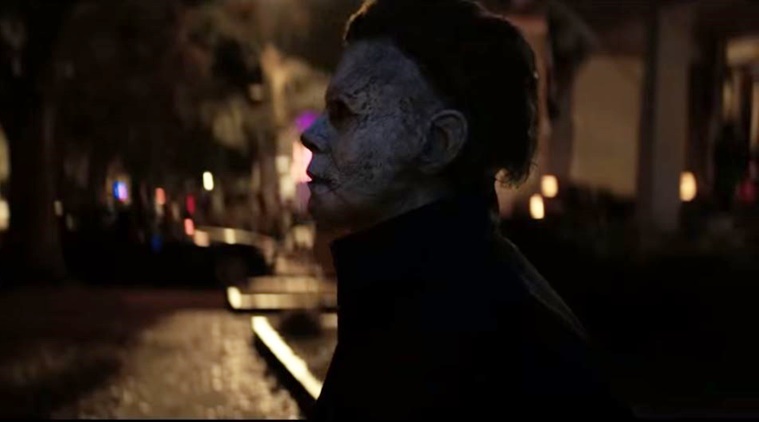 I'm happy to see the success for this latest Halloween, knowing that Michael will stalk the streets of Haddonfield again. However, I was slightly underwhelmed by this movie, especially given all the hype and rave reviews. I still like it, but I didn't love it. I give Halloween (2018) a 6.5 out of 10.
CLOSING THOUGHTS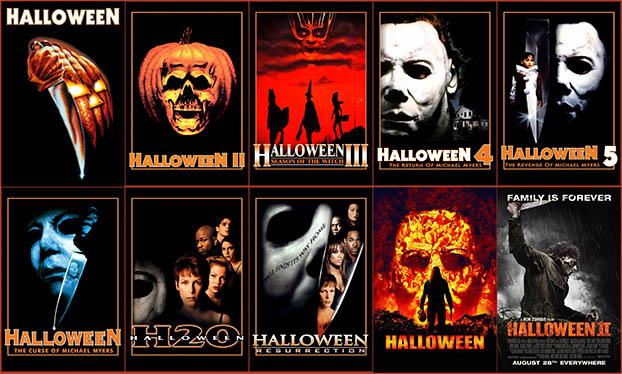 11 movies (10 of which he appeared in), multiple timelines and directors… yet through it all, Halloween continues to endure. It's one of the most beloved horror franchises of all time. Despite a handful of questionable sequels of varying quality, the series continues to power through. It's easily my favorite horror franchise of all time and that will never change.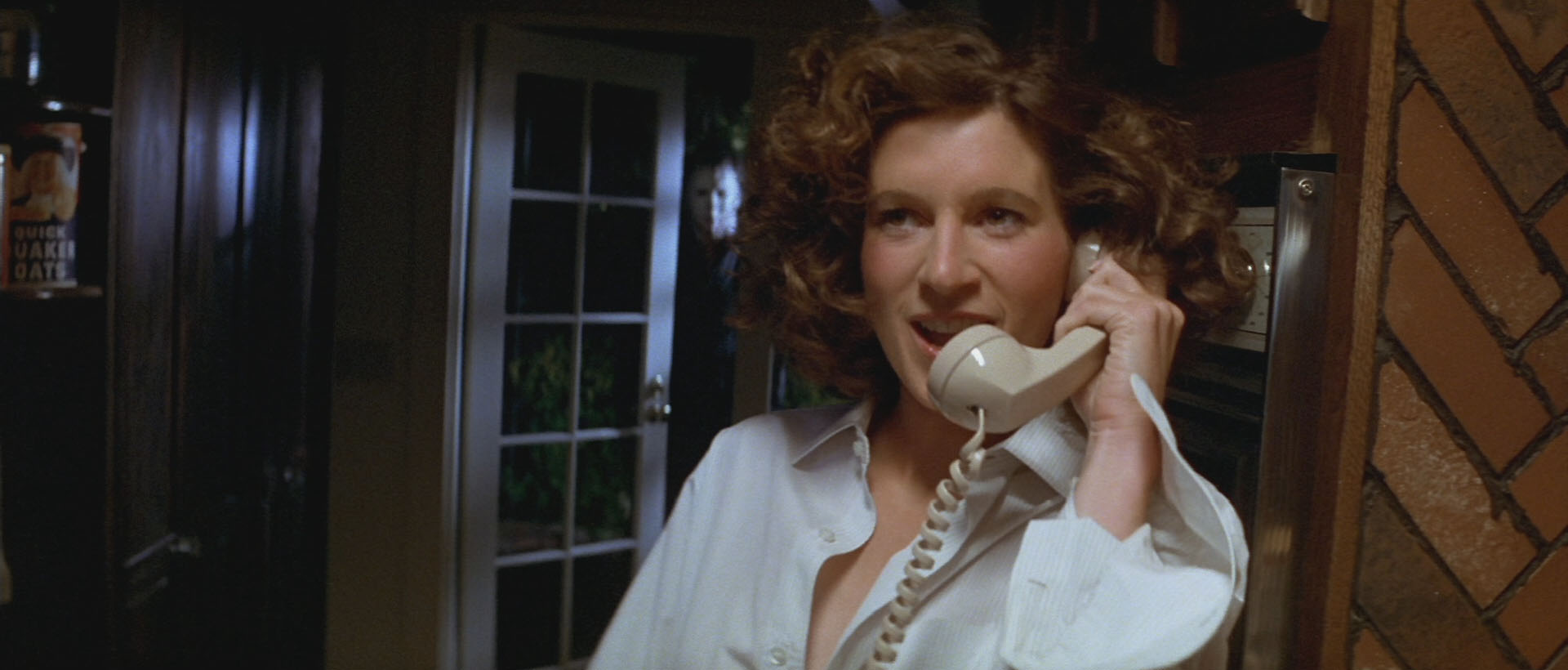 Michael Myers is timeless. An icon then, and an icon now. He is the quintessential Boogeyman. That stalker in the night that roams the dark streets and backyards, waiting patiently for his next victim. The mask, the mannerisms, the music… it all works like a perfect symphony to give Michael the life that has carried him through the different generations. He'll always live, because pure evil can never die. More importantly, the fan support deems it so. Halloween will rage on, and Michael's warpath will never truly end. We wouldn't have it any other way.
MY PERSONAL RANKING
1. Halloween (1978)
2. Halloween: H20
3. Halloween II (1981)
4. Halloween 6 (Producer's Cut)
5. Halloween 4
6. Halloween (2018)
7. Halloween 5
8. Halloween (2007)
9. Halloween Resurrection
10. Halloween II (2009)