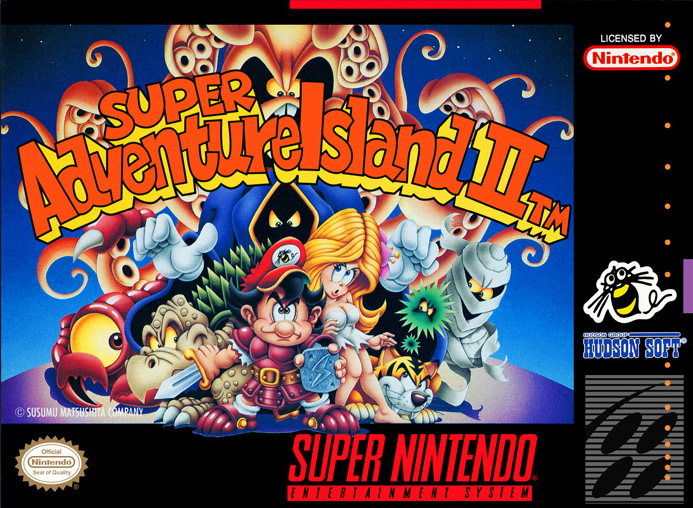 Last month marked the 25th anniversary of Super Adventure Island (released April 1992). It was the most simplistic platformer on the market at the time. For some it was a little too bare bones, but there's a charm to its simplicity. It was far from being a gem however, as Master Higgins was a little stiff in his movement. In late 1994, Hudson released Super Adventure Island II. I remember seeing the ad in EGM and thinking it looked super cool. It was clearly a platformer but they seem to have added various adventure components to it, making it almost look like an action RPG. Surprisingly, the game came and went with little fanfare. I always wanted to play it, but never did. That was until last month in honor of the 25th anniversary of Super Adventure Island. It was time to finally right a wrong. Better late than never! While Super Adventure Island II may fall a little shy of true "classic" status, it's a very strong entry into the SNES library, and comes highly recommended.
THE STORY GOES…
Lovers torn apart by a vicious storm. Poor Tina has lost her memory.
Master Higgins also lost his memory. Tina stumbles upon a castle where the king falls in love with her. But before he can marry her, a winged fiend captures the lass. Higgins spots this heinous act from far away. Not sure of who she really was, he knew he simply couldn't stand idly by. Higgins might have lost his memory but he sure didn't lose his sense of bravery and justice.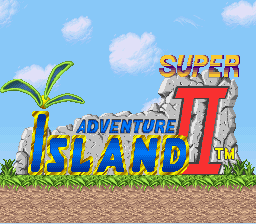 Super Adventure Island II is very much a side-scrolling platformer, but there are a few NPCs that you'll talk with from time to time. This, along with a few other aspects, really help to give it the slightest hint of light action RPG flavor.
There's even a world map where random encounters occur on occasion. Thankfully, these raft battles are extremely brief and quick. It's cool the first few times you see them, but pretty soon you'll breeze through them mindlessly. Still, it was a pretty neat touch that definitely set it apart from other SNES platformers.
Speaking of RPG undertones, there's even a life recovering gimmick and best of all, a save anywhere option. Unfortunately, regardless of where you save your game when you boot it up it always starts you in front of the king's castle. A little bit annoying but not the end of the world by any means.
Following the king's advice, you head southwest to Poka-Poka Island. Battle man eating plants and an enemy that looks an awful lot like Tails. Right away you're thrown into a fun platforming world that hits all the right notes thus far.
Simply calling it a platformer would be selling it a bit short, however. You soon realize this plays like Super Metroid Ultra Lite. There are certain inaccessible sections of each world that only become accessible after you've picked up a certain item or hit the appropriate switch. Sometimes it's within the same world. Other times it's in a different one. Thus, you'll be doing a bit of backtracking. This is one of those games where having a notepad handy nearby would be prudent.
Plaques are scattered throughout which contain vital information. Switches activate or deactivate designated blocks. As you can see from the first shot here, you cannot jump on those blocks until they've been activated. By the way, is it just me or does the sound effect of Higgins climbing a rope sound an awful lot like Donald Duck? It never fails to trip me out…
Perfect example of the powers of the (Nintendo) Switch.
Treasure chests abound! Seeing one always provides for a nice jolt of joy. They contain valuable items such as armor, life bottles and swords to name but a few. Yes, I said SWORDS. It all adds to the light RPG undertones of this game.
Before you couldn't break through with just your fist. But now armed with the Silver Sword, you can. The rock shatters, sending forth a huge wave of water. Now the rest of the level opens up…
Damnit, more teasing blocks. That one has the moon symbol, which is in an entirely different realm. Mark that one in your notes. Later on, you come across a unique set of blocks with arrows pointing down. You won't be able to access that treasure chest until you learn a certain skill that's introduced later in the quest. Yup, you'll definitely want to keep a journal nearby…
Because there's a fair bit of backtracking to be done, the developers were kind enough to strategically place "teleporters" within each world. You might think that's an example of one right there but that marker actually opens up a brand new area of this world after you acquire a certain item late in the game. Each world has its own marker waiting to be unlocked toward the end of the game. Meanwhile, some rocks are immune to your Silver Sword and can only be shoved after learning the proper technique.
Nothing feels better than unlocking a previously inaccessible portion of any given level and claiming the latest prize. Life bottles are essential to increase the number of hits you can sustain. Speaking of life, slain enemies may drop small or large health refills. Seeing a large one in particular when you're on the brink of death never fails to satisfy. Enemies do respawn so one can even farm if they so choose…
There are even side weapons available. The dagger offers sweet long distance pain, but its strength is a fair bit weaker than the mighty sword. It's a nice trade-off, and I love that there's no ammo count found anywhere in this game.
Intimidating boss doors are so underrated. Super Adventure Island II delivers it in spades! It just builds up the suspense of what's to come. The very first boss is a mutant tree which can only be harmed when attacked in the face. All other areas, such as the arms, prove to be ineffective.
Apples are tossed at you in a variety of ways, and it even spits out these nasty little tree babies. It's a fun little first boss fight — I only wish there was a boss energy bar of some sort.
Defeating each boss leads to the acquisition of a new stone. The first being the Light Stone. These Stones unlock new worlds on the world map.
Princess Tina has a brief message for our hero following each boss conquest. Higgins' response can be a little jarring since it's in the same color and there's nothing to indicate (other than reading it and using common logic) who is speaking. It's a small gripe but one worth mentioning anyway.
Where to head next is usually pretty obvious, but if you ever get stuck head back to the castle. The king will offer you free tips as to your next destination. Place the Light Stone on the pedestal to break open the next section of the game. Rinse and repeat. This formula can get a bit tedious from time to time, but the game is so short and relatively well paced that the repetition is kept to a bare minimum. Besides, with the save feature handy, simply quit when you feel you've reached diminishing returns, and restart your adventure when you feel refreshed and re-energized.
Apparently, Master Higgins is the real He-Man. These challenges lead to a boss fight. Win a special item if you're victorious; you should be as these battles are very easy.
Locate the hermits scattered throughout and learn various special techniques. The first one allows Higgins to move large rocks. Of course, the hermit will only teach you the tricks of the trade for a fine little fee. Bastard.
Employ the Ice Bell to open up the section of the next world. You can tell by the quirky text that this game doesn't take itself seriously all that much.
Shoving skill comes in mighty handy. This frozen island is known as Hiya-Hiya. It's my favorite world — it's incredibly atmospheric and features the game's best visuals. Ah, more blocking. As I said before, get ready to take notes and backtrack.
Platformers can sometimes suffer from pixel perfect jumps that are overly difficult to make. Thankfully, Super Adventure Island II is rather generous in that regard. There are a few jumps that don't initially appear to be enough, but that chubby little lad always manages to get his toes just on the edge. Here you upgrade to the Fire Sword, ideal for the frozen world of Hiya-Hiya.
Swords get progressively stronger and some serve special purposes. It's nothing advanced or mind-blowing, but it works. Frozen columns can only be shattered by the Fire Sword. Sweet.
Watch out for falling icicles, abominable snowmen, bloodthirsty bats and more. See that entrance there? Unfortunately they don't lead to brand new playing areas of significance. Instead, they lead to single screen rooms. A longer more branching experience would have taken SAI II to the next level.
Blockage. Bloody blockage. What's this?! Ah bloody hell. Trick pit!
Special technique to be learned later. Keep that notebook handy nearby. I love the blocks of ice which you can shatter.
Armor in an Adventure Island game?! Adds to the light RPG undertones and it gives Master Higgins a nice new visual flare. You need to find the Star Switch to free that block of ice there. Looking good, Higgins!
Falling down another pit but be sure to veer to the right. After pressing the Star Switch you'll be able to pick up the Fire Shield in this little alcove here. I know it doesn't make a bit of difference but I can't help but switch from the Fire Sword to the Dagger to take out the ice turtle. Why? Why not?

Pushing the block over produces a major hole in the ground which allows you to reach the guardian of this world.
Great sprite work on this massive mastodon. Nail it between the eyes and watch out for its swaying trunk.
Another nice little exchange with Tina. Wish they indicated who's speaking for the sake of convenience but it's nothing you can't discern. Just highlights that perhaps this game was rushed a bit.
Speaking of special, once you locate the Magic Wand you'll be able to use the various magic tricks that Higgins employ. From this point on you'll be able to collect magic bottles. Each bottle added automatically opens up the next spell. These range from health refills to offensive strikes. They're simple and you won't need to use them too often, but it's a nice touch regardless. The spell to fly back to the beginning of a world is particularly helpful, thanks to all the backtracking.
Stuck? Go see the king for a good tip. Sun Ring it is, then.
Welcome to Boa-Boa Island. Unfortunately, especially compared to the beautiful previous world, Boa-Boa leaves a little something to be desired in the graphical department. As I said earlier, at times you can't shake the feeling that this game was rushed a bit.
Godzooky lives! Ah, look at all that soft ground there. If I only had a shovel…
I'll leave you to explore and discover the rest of this game. Let's switch gears and take a closer look at some of the aspects that make this game stand out from the me-too crowd of platformers that call the SNES home.
ISLAND HOPPING
Thankfully, backtracking is made a little easier due to the worlds having special gateways to another world. This allows you to go back without rowing your raft across the entire damn ocean on the world map. It's not always perfect, but it's better than nothing. Personally, I wish they just had a spell that lets you pick which island you wanna visit.
Speaking of backtracking, there are portions of each level that you won't be able to immediately access until you learn a certain skill down the road. Here you see two different types of blocks. It definitely extends the length of the game, which is already short to begin with. But I always like a game that allows me to take some notes and revisit at a later date. Really makes it feel like an adventure.
Blocks either have to be activated or deactivated in order to achieve said goal. Sometimes you'll need to turn blocks ON in order to stand on them. Other times the blocks are blocking your path to a treasure chest, in which cases they must be turned OFF. It can get a little confusing if you don't keep brief notes throughout your journey.
NOT JUST A PLATFORMER
Super Adventure Island II definitely has light RPG undertones. Look no further than being able to sleep at an inn to recover your HP, as well as a bit of quirky dialogue. Not to mention different NPCs to interact with that will light the path of your journey should you get stuck on what to do next. It's super simplistic in the most basic form, but it does help to separate this game from the typical platformer.
Thanks for the tips, sir! It's the least you could do for being a homewrecker! The world map and possible random encounters also add to the RPG-ish atmosphere.
Explore the world map — you never know what items you may find or who you might run into…
Health and magic refills are sometimes given when enemies perish. Since enemies respawn, you can actually "farm" by going back and forth until you've reached your desired status. It takes me back to my Metroid and Mega Man days.
Acquiring the shovel later on in the game allows you to backtrack and dig up those soft areas of each world to gain access to previously inaccessible areas. These often lead to life bottles, magic bottles and various other assorted goodies. There is a con to this, however, which I will highlight in a little bit…
Platformers that include magic as a secondary means of offense (or defense) always score highly in my book. It just always adds this extra layer to a game, even when the magic system is super elementary as this one is. You learn new spells automatically as you collect bottles. The recovery spell refills half a heart, which can be crucial in moments such as these. The ultimate spell fully recovers your health, and you'll likely need it for the final boss battle.
Curly's Casino appears later in the game and allows you to either gamble away to your heart's content or to cash in your coins. Yes, another feature that makes Super Adventure Island II a little bit different from your typical SNES platformer is that on occasion slain enemies will drop a coin which you can collect for a value of five. There are a total of five items you can purchase from the shop: an extra half life bottle, Higgins' classic weapon the boomerang, the Light Shield, Light Armor or the almighty Light Sword (which commands a whopping 49,950 coins). The Light Sword is the BFG of the game and makes rather short work of the final boss. I would save my coins for that bad boy.
Boomerang sure brings back that classic Adventure Island feel. However, it costs nearly 15,000 coins and truthfully, it's hard enough to amass the 50K that the Light Sword requires. I recommend therefore skipping the Boomerang, although it's a fun badass weapon for sure!
Gambler, are ya? Then check out Flash 'N Cash or Money Maker. Always a sweet feeling betting 99 coins on the white and landing on it for the maximum coin benefit of 1980. KA-CHING!
However, if you really want to make money fast and most easily, select the third mini-game, Run For Doe. Four random contestants with betting odds are given. The lowest one usually wins, although sometimes the second or third lowest may eek out a win. The highest rarely wins out. It gets tricky though when the two lowest are tied or really close as seen above (7.2 and 7.6). Sometimes the second lowest wins out. But this is the fastest method to earn coins. I had to win like 30,000 coins from this to get enough at the end of the game to afford the Light Sword…
SHOVEL KNIGHT-MARE
Unfortunately, there are a few annoying aspects to this game. Not annoying enough to derail it, but annoying enough to keep it from being an upper echelon game. It's always the small things that add up, after all. First, the shovel. In theory it's such a great idea. Switch to the shovel and dig up new areas of a level. Love it. However, you automatically take off your armor, shield and sword when you use the shovel. Not a big deal, right? Until you consider you have to access the menu, go down to shovel and click on it. Then when you want to switch back to your latest sword, you must click on menu and go back to your desired sword. Thankfully, selecting the sword automatically selects the latest shield and armor as well. Still, it all feels a bit cumbersome and puts a dent in the action. A simple usage of the R shoulder button to automatically switch through weapons would have made this a much more seamless experience.
Super Adventure Island II starts off looking pretty good. Then things looks very good in the second world. But get to the third world and you start to go eh? It begins to feel like the developers were crunched for time. The Indiana Jones bit is pretty cool but marred by the atrocious pink bare background. What the hell? It just kind of takes you out of what should have been a landmark moment in the game.
Tension and drama somewhat killed by the sore thumb background.
Seriously? OK I know this is a very minor thing but still disappointing nevertheless. The game therefore is a bit uneven graphically. Looks great in some places, looks OK in others and in some, like here, look completely unfinished.
Gamera nod, nice. Ugly ass background, not so nice.
Princess Tina talking, or Higgins? Not made instantly clear. You have to read a bit to find out, which isn't a huge deal but again, highlights a few of the game's shortcomings. It doesn't come off as highly polished. It's still a good game but misses that great mark by missing those little details that add up.
WHAT THE CRITICS SAID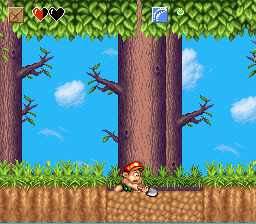 Sadly, and bizarrely, Super Adventure Island II was never reviewed by either EGM or GameFan. Even crazier, neither publication even PREVIEWED it. Considering it came out in October of 1994 during the height of the Super Nintendo's lifespan and coverage of said system, this shocked me as a kid to no ends. Particularly a game of this status. It was a sequel to a fairly popular franchise. All I ever remember seeing was the ad in the pages of EGM and being intrigued as hell by its unique looking mix of platforming and RPG tropes. It was weird to see such a "high profile" sequel get the shaft as this one did. Thus, Super Adventure Island II has never been too popular, and is kind of in that "hidden gem" category.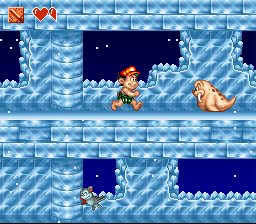 CLOSING THOUGHTS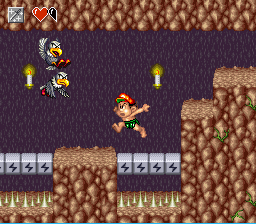 Super Adventure Island II is a fun game that is largely a platformer but with some light RPG undertones. It's unique enough to separate itself from the typical SNES platformer pack. I like the backtracking gameplay, being able to slowly but surely reveal new playing sections of the world. It's not a long game at all and can easily be beaten in a single weekend. Looking at maybe 6-8 hours here? It's just long enough to sink your teeth into but not overly long to the point of exhaustion or wearing out its welcome. I like the save feature and the overall feel of the game. Higgins controls well this time around, unlike his first SNES outing. Jumps are handled generously and the challenge hits a near perfect balance. It's rarely ever too hard, and it's never overwhelmingly easy. Rather, it nearly hits that "just right" barometer where you'll be challenged enough but not to the point of wanting to chuck the controller. Is it better than the first Super Adventure Island? You betcha.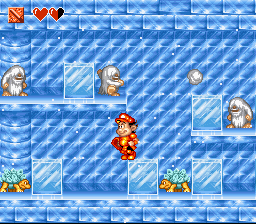 Sure it's got its fair share of shortcomings. These were highlighted earlier but to briefly reiterate, switching through weapons via the R shoulder button would have so much more convenient. Certain parts of the later levels appear to be a little unfinished or rushed. But the positives far outweigh the few negatives that this game has. The music is pretty good and catchy in certain parts but not as good as it was in Super Adventure Island (Yuzo Koshiro a big reason why). The gameplay is what shines brightest. I like the interconnected worlds and how they all sort of fuse together. It very much feels like a kids' version of Super Metroid or even a Demon's Crest, both games which I love and consider top of the line as far as SNES action adventure games are concerned. The difficulty of this game is just right. Perhaps teetering a little on the easy side of things but it hits that sweet spot for the most part. And although a short game, it's definitely much longer than your stereotypical 16-bit platformer that takes anywhere from 45 minutes to two hours to beat. It's got some meat to its bones but isn't so long that it's a one and done for me. I'm sad I waited this long to finally play it, but I'll definitely be back one day to play through it all over again.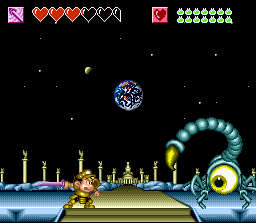 After playing through this game, I'm even more befuddled as to why EGM and GameFan never gave this the time of day. Not only is it a sequel to a pretty popular early generation SNES game but it's also probably one of the better action games to come out for the system that year! Ah, some things simply remain a mystery. What I do know is this: Super Adventure Island II is good old fashioned platforming fun, with some cool boss battles and lovely RPG undertones. Master Higgins definitely goes out in style, swords a'swinging!
Graphics: 7.5
Sound: 7.5
Gameplay: 8
Longevity: 6.5