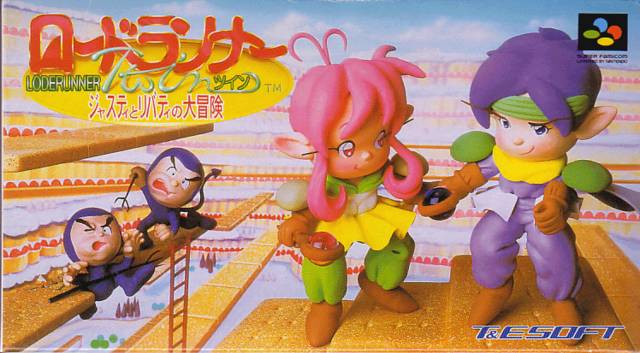 Lode Runner was first developed in 1983 by Douglas E. Smith. It was released on many platforms, such as the Apple II and Commodore 64. More than a decade later, the Super Famicom received its own variation in the form of Lode Runner Twin.
*CUE MOVIE TRAILER VOICE GUY*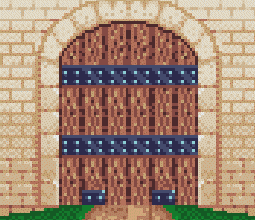 WHERE LIVES WILL CHANGE AND A NATION WILL CRY… or something.
*End Movie Trailer Voice Guy*
[Wait a second, how much does he cost us anyway? -Ed.]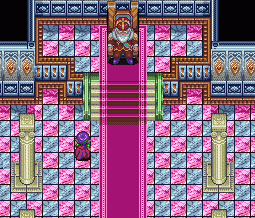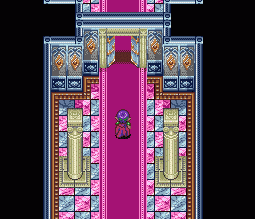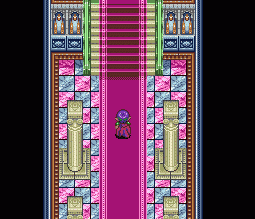 Lode Runner, to some of us retro gamers, is like an old trusty friend. You may not call this friend every week or even every month. But whenever you do, you pick up right where you left off. Thanks to T&E Soft, Super Nintendo players have a version to call their own. And while the mechanics are similar to classic formula, the look and atmosphere is distinctly different.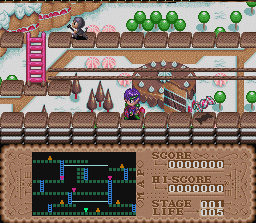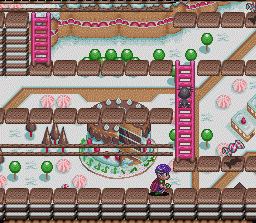 HEY THAT'S NOT JACK PERIL!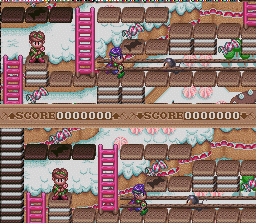 Indeed it's not. Say bye to Jack Peril (from Lode Runner Returns) and hello to Justy and Liberty, two chaps that look like they stepped right out of an anime. Lode Runner Twin has a story mode (complete with password), free play and a couple 2 player split screen modes.
CANDY MAN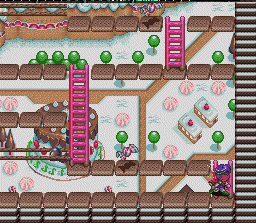 Collect all the candy wrappers. Only then will a ladder magically appear to whisk you to the next level.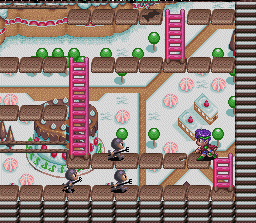 Bad guys quickly attempt to gang up on you, but you can cave in floors where applicable and walk safely over their head(s).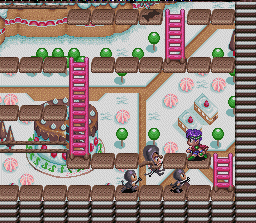 Gone are the cannibalistic monks from previous Lode Runner games. In their place are trident wielding little imps. The game has a very cute look.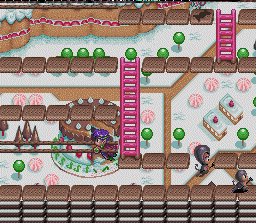 Our hero gracefully glides his way to safety, leaving the devilish lackeys in the dust.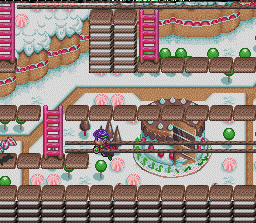 There's something very satisfying about gliding through the ropes.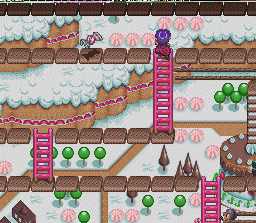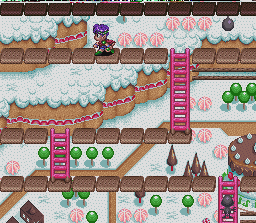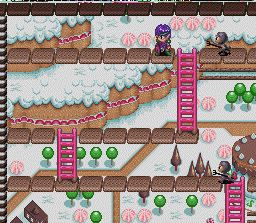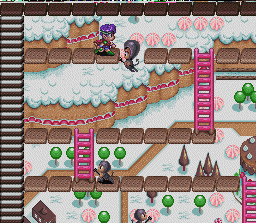 You might have gotten rid of that one, but notice his buddies quickly gaining ground. A magic sound effect rings out after you've collected the last piece of candy. A ladder appears, which will take you to the next level. Of course, the bad guys will give chase to the very bitter end.
TRICKING THEM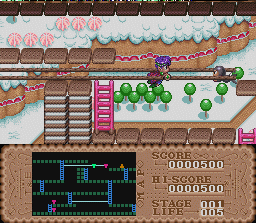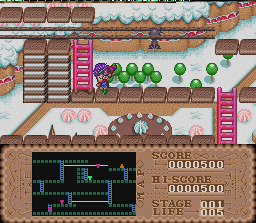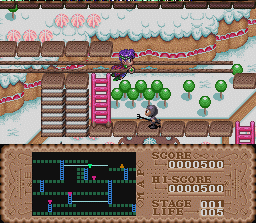 As soon as you land, make your way toward the ladder and slide across the rope. You're home free! It's easy but moments like this make the game fun to play and satisfying.
CLOSING THOUGHTS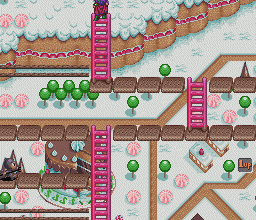 I love retro games. It's the spirit of the age you know, the zeitgeist — looking forwards by looking back. Or something like that. Heck, maybe I'm just an old codger. I remember when games were rationed, you know. But in all seriousness, I enjoyed Lode Runner Twin for what it was. If you can overlook the annoying music, what you have here is a nice variation of a classic game. If you like this, be sure to check out Power Lode Runner too. And as a final fun aside, Super Play ran a review for Lode Runner Twin back in the '90s. They rated it 55%, which I feel is a pretty harsh rating. It's not the best game ever, but it's certainly fun and has its moments.