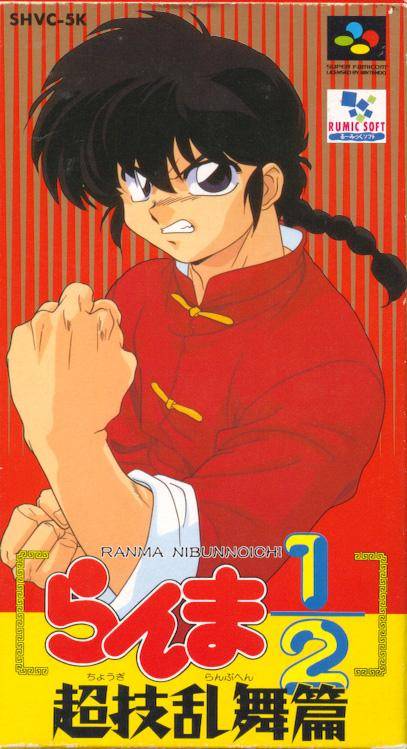 There were three Ranma ½ fighting games on the SNES. The first one was embarrassingly repackaged as Street Combat. The second one, Ranma ½ Hard Battle, was released in North America 25 years ago and received mixed reviews. The last of the trilogy, Ranma ½: Chougi Ranbu Hen, was scheduled to come out stateside but was canned due to poor sales of its predecessor. It's a shame since Chougi Ranbu Hen is easily the best of the trilogy. It plays a bit like an old SNK fighting game. The lack of speed takes some getting used to but unlike Hard Battle which features an awkward control scheme, Chougi Ranbu Hen is much more traditional with special moves performed in Street Fighter II fashion. Not only does that make for a more enjoyable experience but Chougi Ranbu Hen also features a rare tag team mode. Very few SNES fighting games can claim that!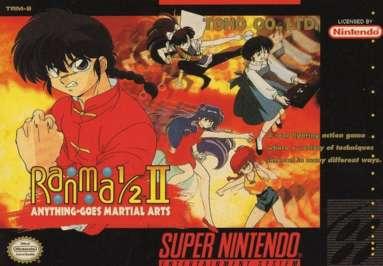 MEET THE FIGHTERS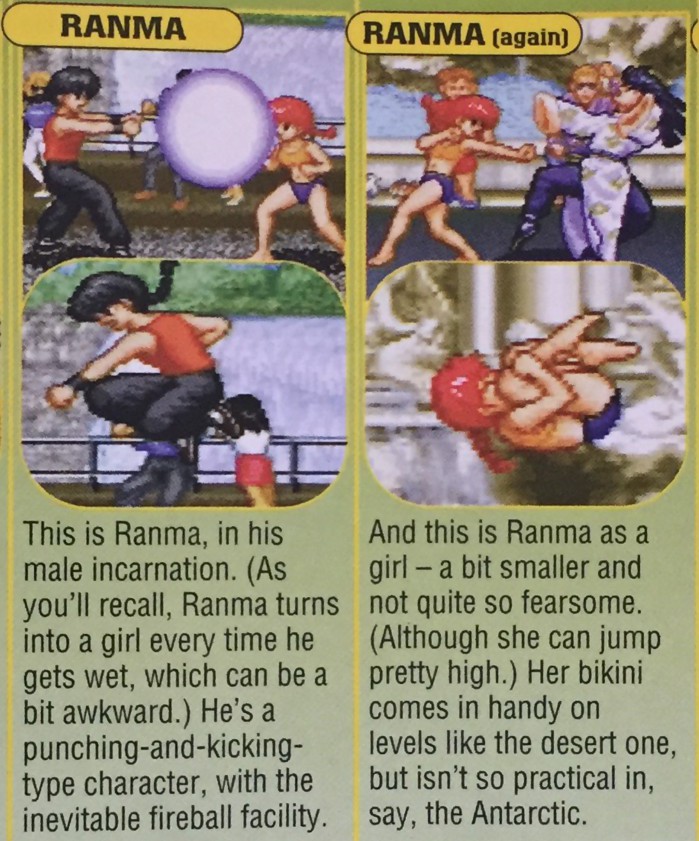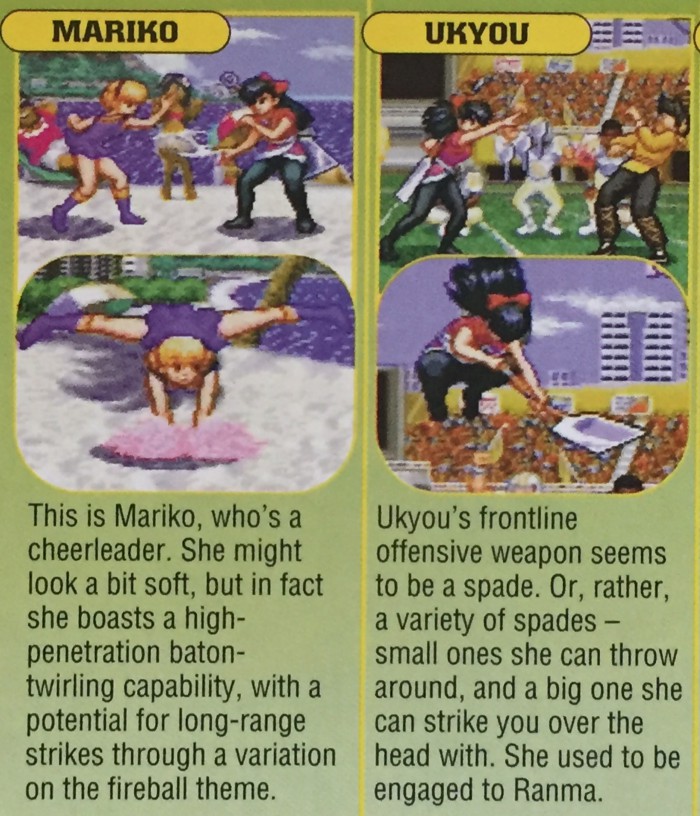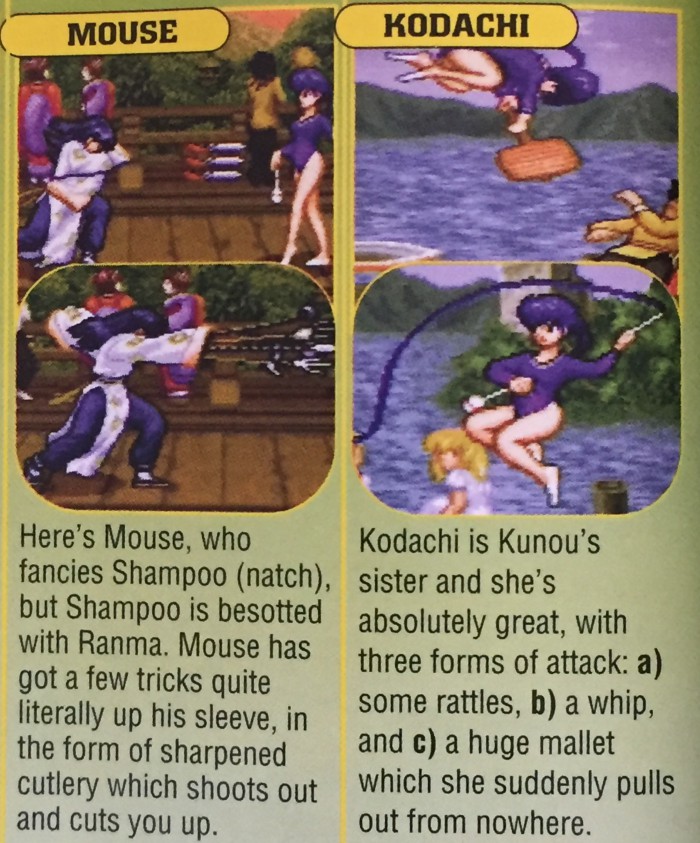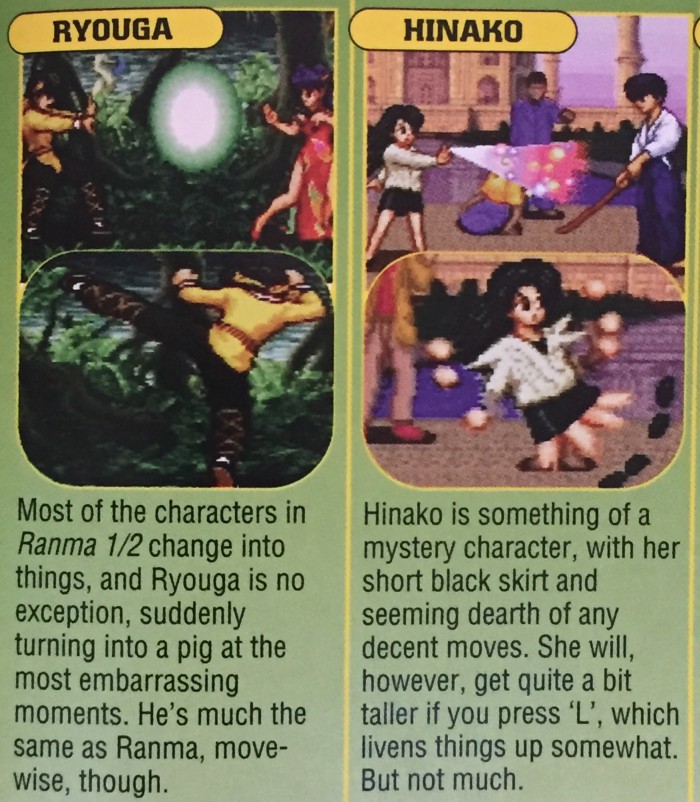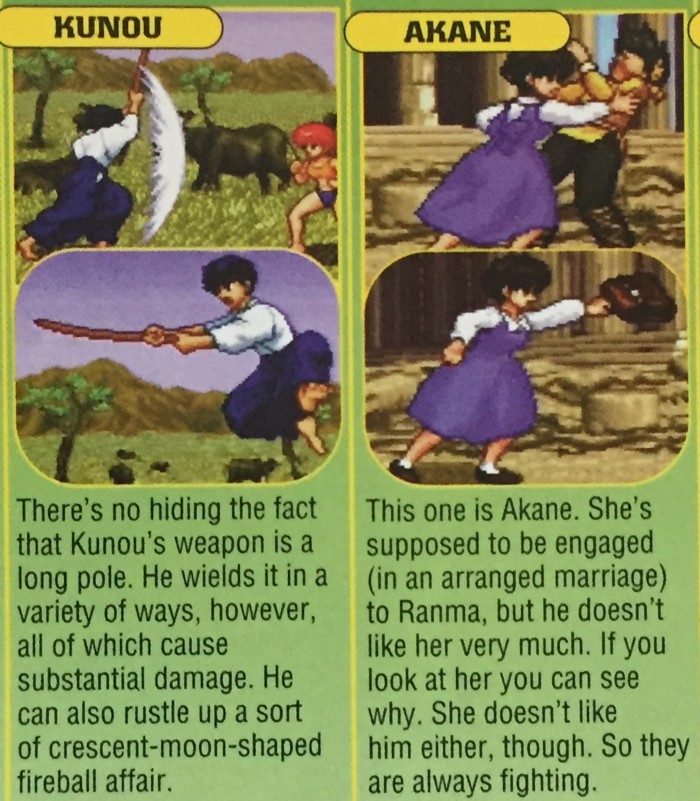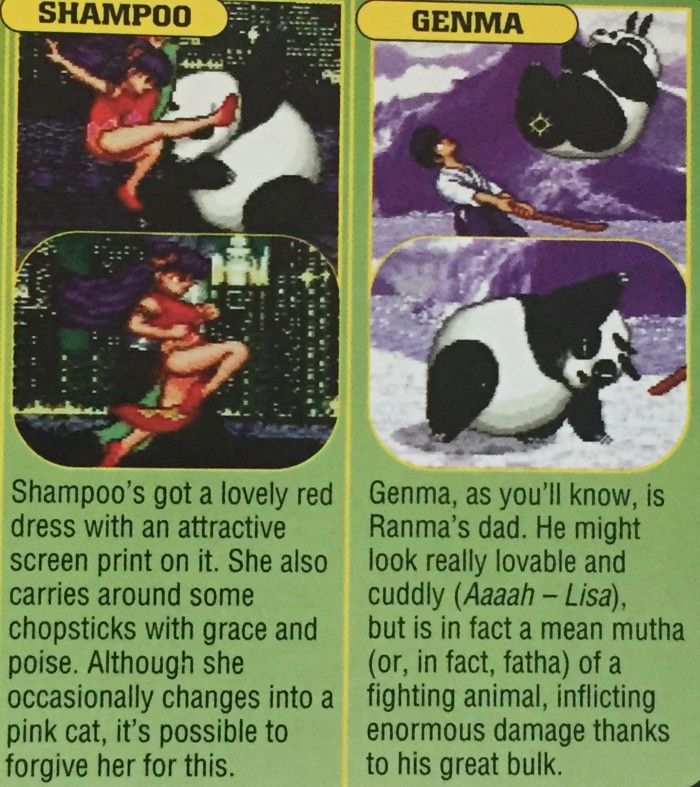 SUPER MOVES

By pressing the "L" button at any point during the battle, your character will perform a rather long taunting animation. If you can successfully pull this off without getting hit, you will activate your super power. Your moves will inflict more damage and you can even perform a super desperation move.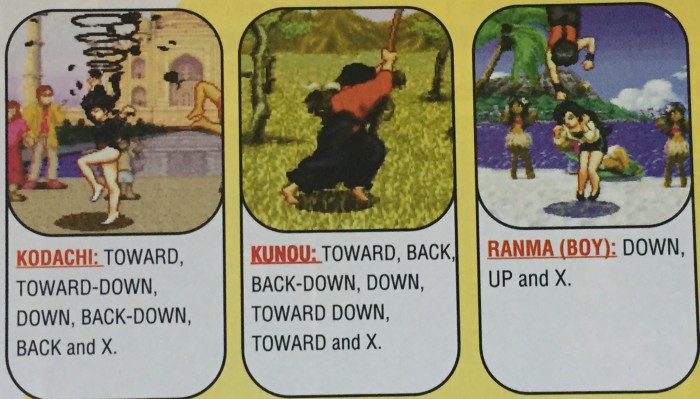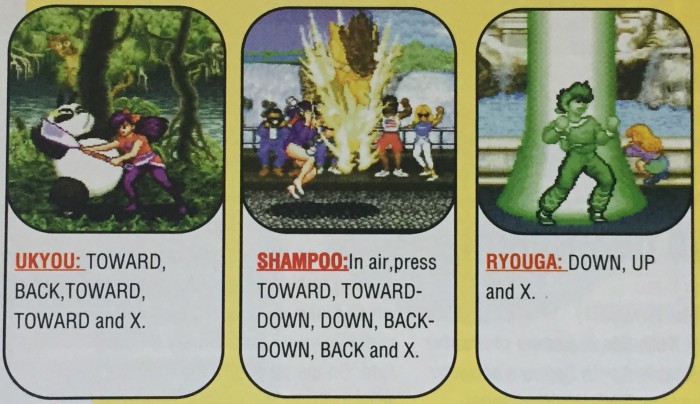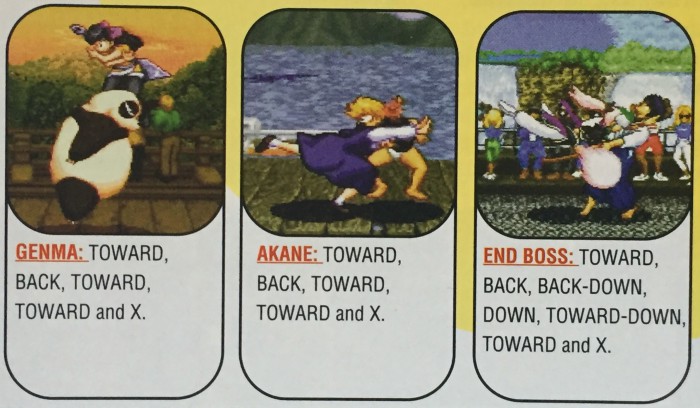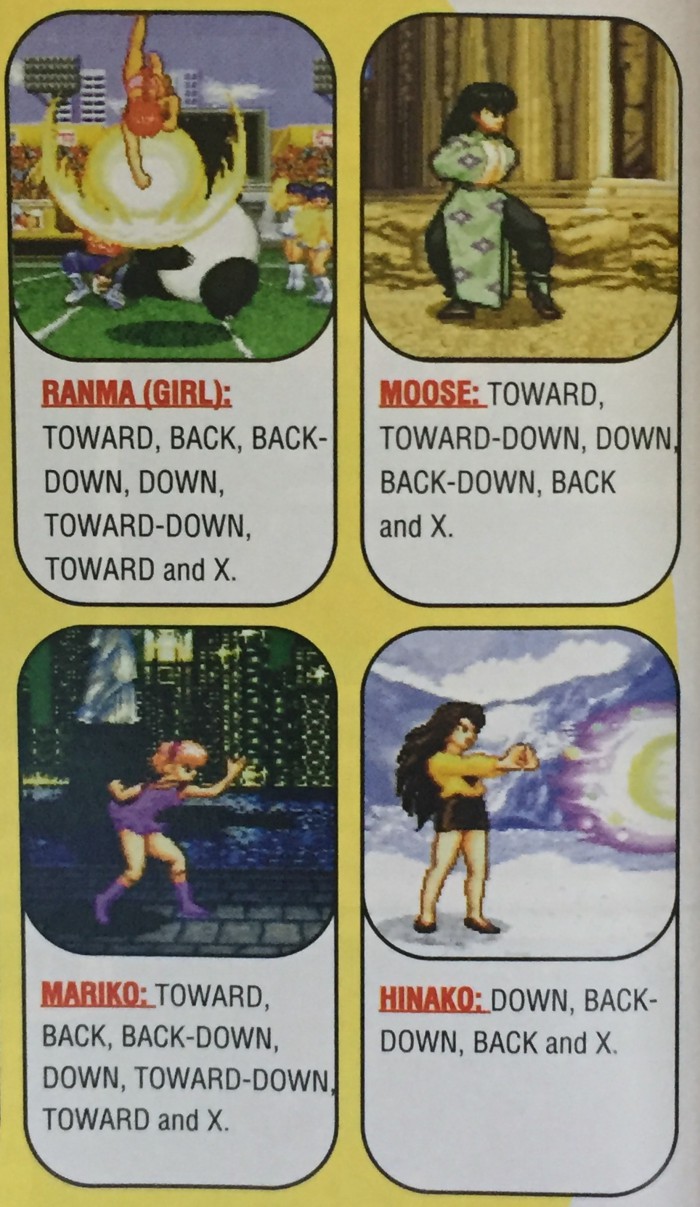 CAN YOU KEEP A SECRET?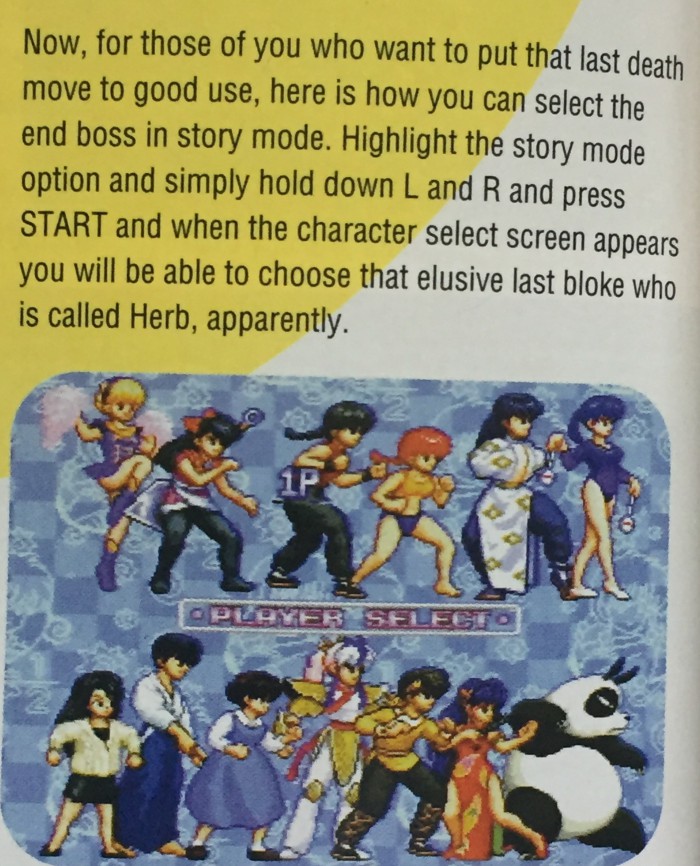 WHAT THE CRITICS SAID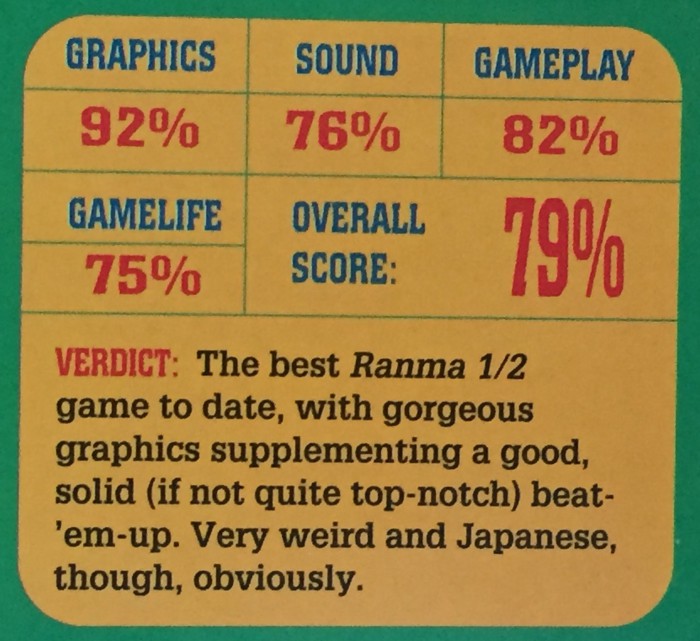 Ranma ½: Chougi Ranbu Hen received mostly positive reviews from those who have played it. Consensus has it that it's easily the best of the SNES trilogy. Super Play rated it 79%. It's often considered as one of the best fighting games found exclusively on the Super Famicom, ranking right up there with the likes of Godzilla: Kaijuu Daikessen, Gundam Wing: Endless Duel and SD Hiryu no Ken. Personally, I like those three brawlers a lot more than Chougi Ranbu Hen. Nevertheless, it definitely belongs in the conversation.
CLOSING THOUGHTS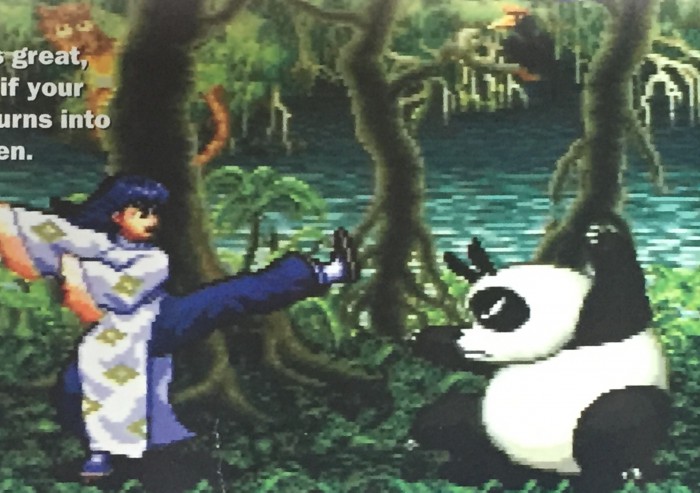 If you like old school fighters, don't mind a slower paced fighting game and you're a Ranma ½ fan, then I recommend this game. If those parameters aren't suited for you, however, then this game won't sway you the other way. It's a perfectly decent fighting game that represents the brand well. Control is smooth and combos are easy to execute (something the previous two Ranma games lacked). The tag team mode adds some extra novelty and there are other cool little options. Examples include four color choices for each fighter, the ability to select stages and play the computer even in the VS. mode (and not just the story mode). However, it is disappointingly slow with no speed option available. If only it played a little faster, I would have enjoyed this game far more. But all in all, Ranma ½: Chougi Ranbu Hen is solid fighting fare, and is easily the best of the Ranma ½ trilogy.