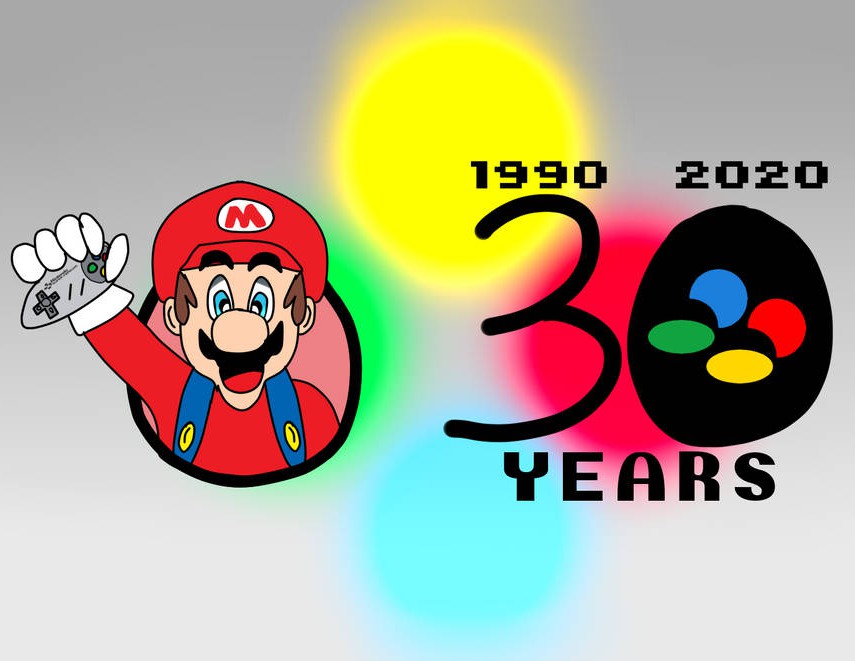 This past November the Super Famicom (SNES as it's known over in Japan) turned 30 years old. But on the North American side, it was on this day 30 years ago (August 23, 1991) that the Super Nintendo made its debut. Naturally, you're going to see a lot of tribute pieces and articles praising the system's amazing library of games, as well as plenty of retrospectives sure to bring a virtual nostalgic tear to your eye. Heck, you might even see some Top 30 or Top 100 lists floating around in celebration of the big 3-0. But I'm going to do something a little different. As great as the SNES has been these past 30 years, I can think of more than a few games that never made it to the SNES that would have made the console even stronger had they been. Specifically, I'm talking about 20 arcade ports the SNES should have received but, for one reason or another, never did.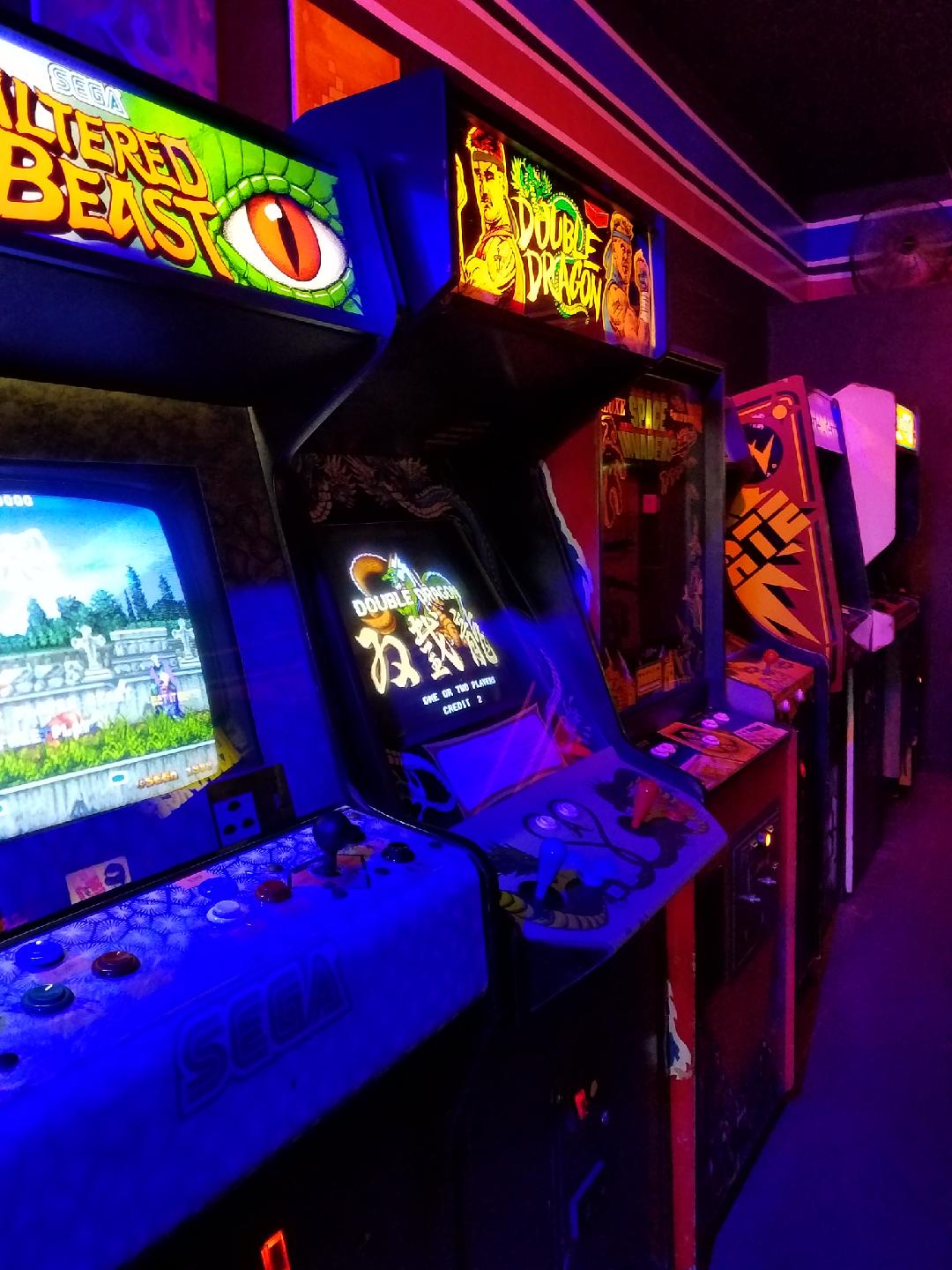 Arcade gaming in the '90s was a magical thing to experience as a young kid. There was something intoxicating about being in the thick of an arcade hall, with the flickering lights and glowing screens all vying for your quarters, iconic gaming sound effects galore blasting your ears, the alluring aroma of a cheese pizza wafting through the air. It was a social playground and THE place to be on Friday nights and weekends. All you needed were a few friends and a few quarters and you had a one way ticket to gaming nirvana.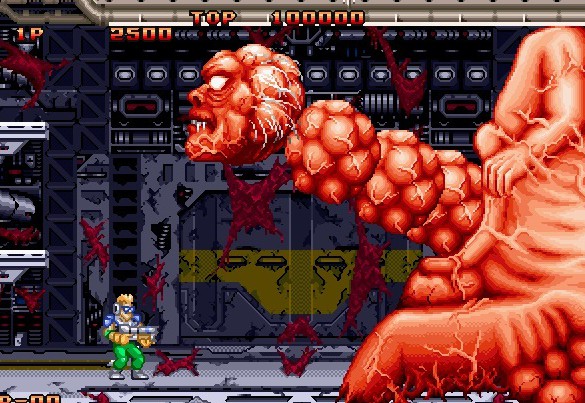 But it was impossible for all my favorite arcade games of my youth to make the home leap. For many, it was like two ships passing in the night. Never meant to be, never saw the light of day. However you want to put it, these ill-fated arcade greats never made their way home to a Super Nintendo. But first, let's examine the thrill of arcade to home ports back in the early-mid '90s…
THE MAGIC OF 16-BIT ARCADE PORTS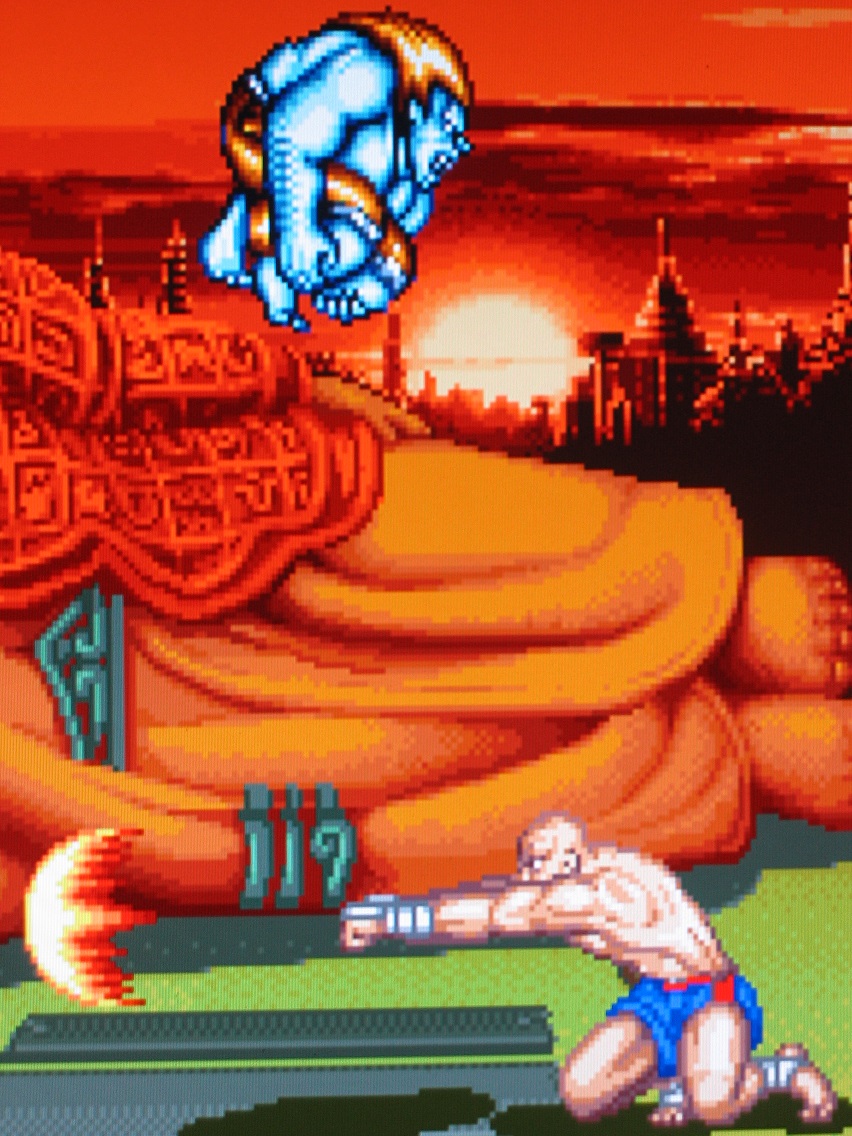 One of the best aspects about growing up as a gamer during the early-mid '90s was hyping yourself up about all the arcade ports that companies would develop for the Sega Genesis and Super Nintendo. Playing the arcade game, loving it, dreaming about a Genesis or SNES port, then reading a few pages (sometimes less) about said port in EGM or GameFan Magazine (or both), and letting your imagination run wild as you studied the small grainy screenshots 20 times over. Rinse and repeat. It was a tried and true formula of that era! You knew both systems lacked the horsepower to replicate an arcade-perfect translation, but you were ecstatic if the home port captured the essence and spirit of its arcade counterpart. And sometimes, there was just enough magic out there in the moonlight for that to ring true.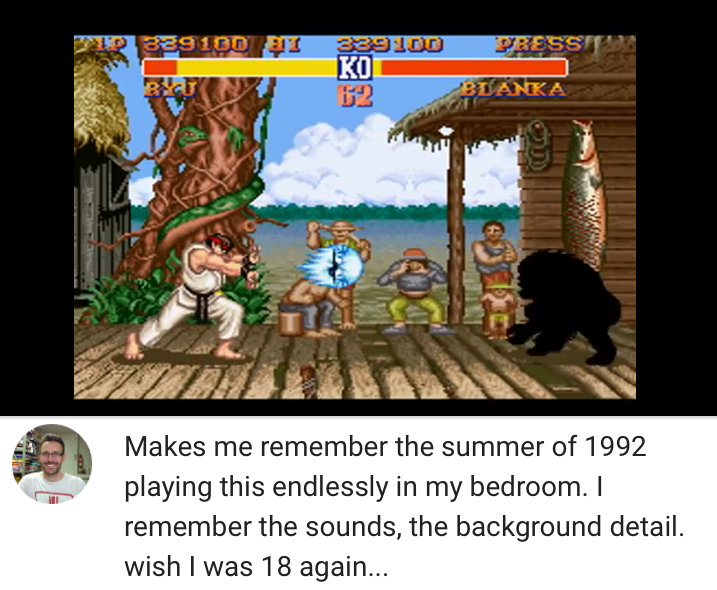 The gaming world changed when Capcom unleashed Street Fighter II on the SNES in the summer of 1992. Capcom blew everyone's minds by how well the home port looked, sounded and played. Sure it wasn't arcade perfect, but it was more than good enough. It was, for its time, phenomenal. It truly felt like a piece of the arcade game was right there in your very own living room.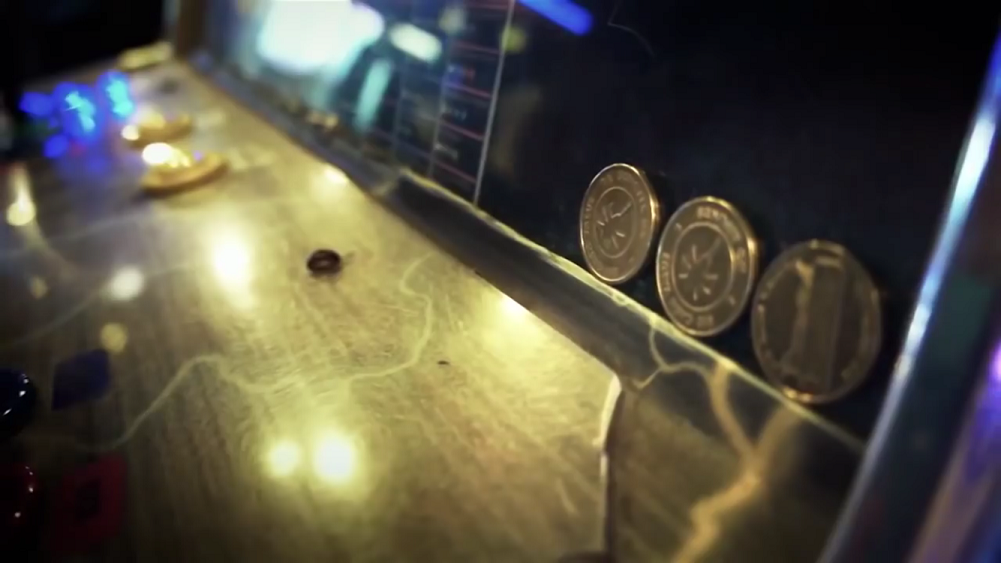 As a kid I remember telling my best friend Nelson, "Man, a quarter per play? If we play the home port of so and so at least 240 times, we'll match the value of what my mom paid, and eventually get more than her money's worth!" Because SNES games cost around $60 and 240 multiplied by 25 cents is $60. Ah, the innocence of youth…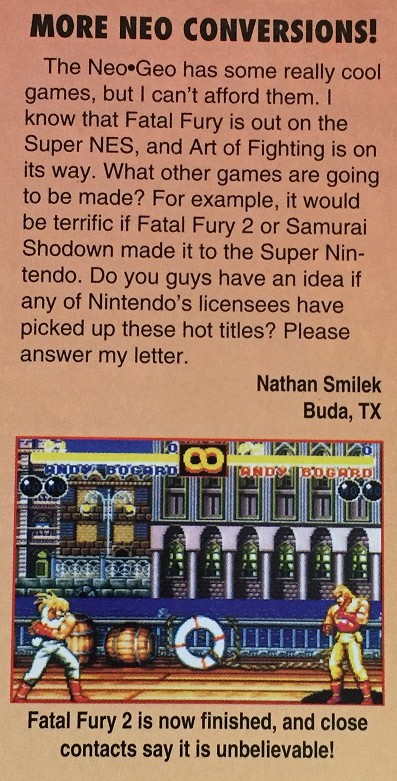 Arcade ports on the SNES, especially those of arcade fighting games during that Golden Age of 2D fighters, became all the rage in the early-mid '90s. Gamers couldn't get enough and wanted more and more. If you played a game in the arcade circa 1992 or '93, chances were that a 16-bit home port was inevitable the following year.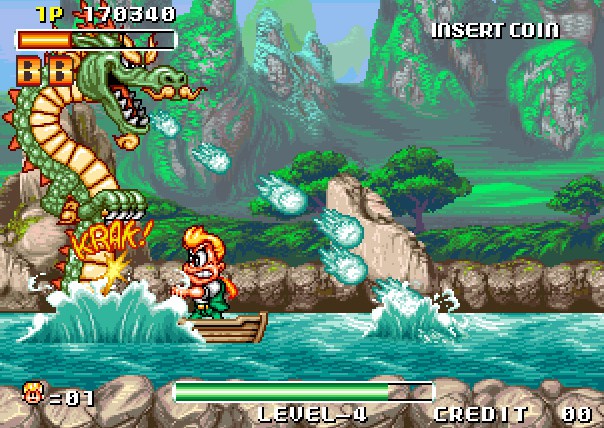 But that wasn't always the case. There were many awesome arcade games that never saw a Super Nintendo conversion, for one reason or another. Here are my top 20 arcade games that sadly never saw the light of day on the Super Nintendo.
HONORABLE MENTION: TIME KILLERS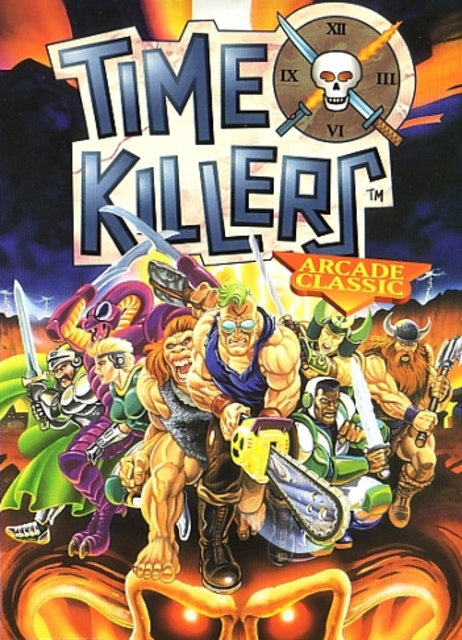 What would a list be without an honorable mention? I'll keep it to just one this time, however. Time Killers, admittedly, wasn't a good game even in its original arcade form. I'm not citing it for its quality of play. This is based upon pure curiosity and nostalgia.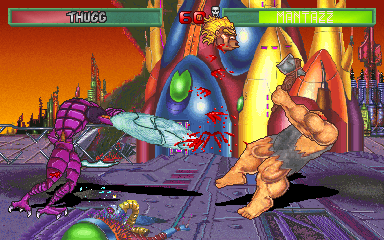 Released in November of 1992, Time Killers is a weapons-based fighting game with buckets of blood for days. Players can aim specific body parts and cut them off. It didn't play very well but it was like a 9 year old boy's perverse dream come to life.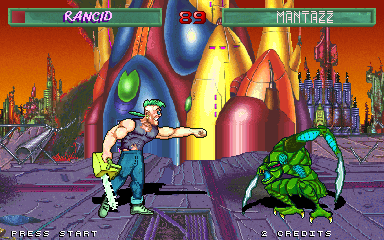 Almost every fighting game back then had your prototypical Ryu clone, but Rancid was in a class of his own. A punk rocker type wielding a chainsaw. Yeah, he was my guy whenever I plopped a quarter into this vile game.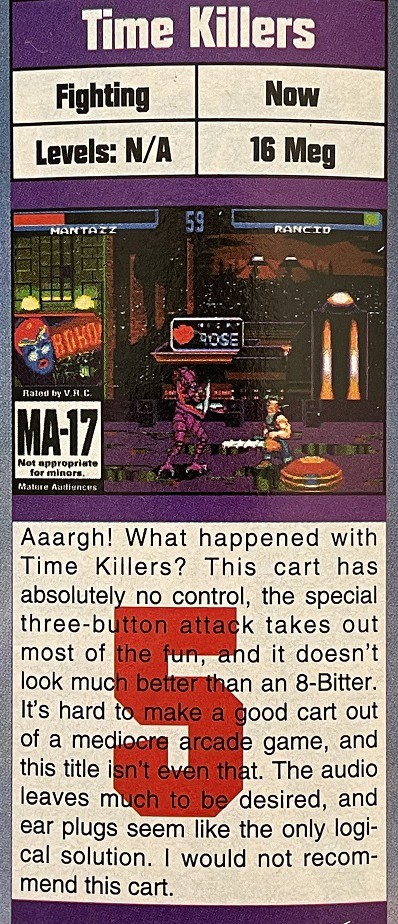 A Sega Genesis port was planned but scrapped. Then in 1996, for some inexplicable reason when the Genesis was on life support, Time Killers finally came out. It received overwhelmingly negative reviews (EGM gave it scores of 5, 3, 3 and 3). As bad as the Genesis home port was, part of me still wanted to see a Super Nintendo conversion.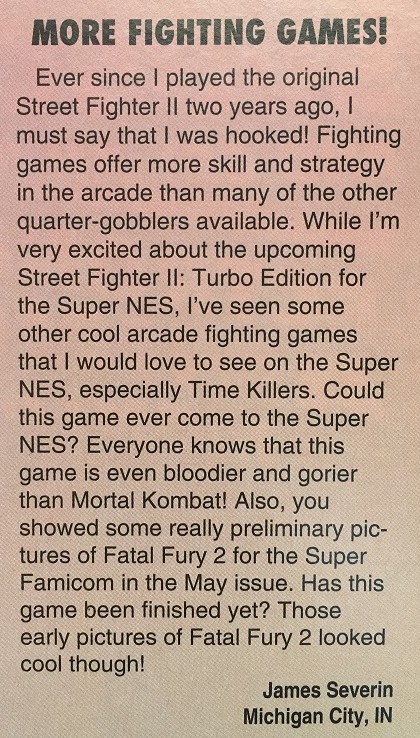 James Severin from Michigan City did as well!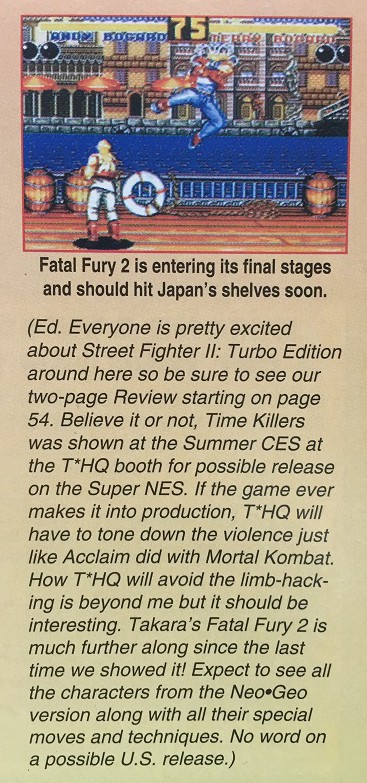 According to this response, it appears as though there MIGHT have been plans for a Super Nintendo release but alas, it was never meant to be.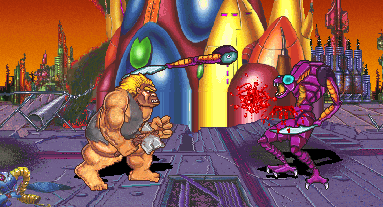 #20: THREE WONDERS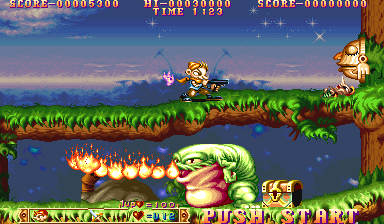 Released in May of 1991, Three Wonders features, not shockingly, 3 games in 1. The winner of the lot is easily Midnight Wanderers. It's so good that it could have been a standalone game.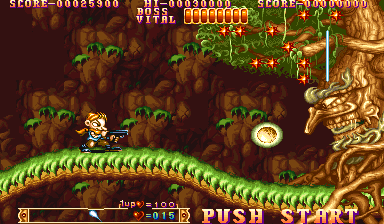 Midnight Wanderers is one of Capcom's best lesser known games for my money! There was a Sega Saturn version of Three Wonders released, but only in Japan. Still, I would totally have loved this on the SNES!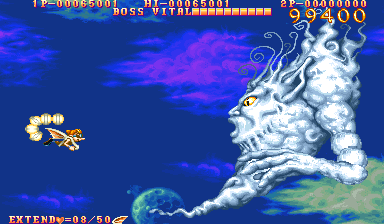 The same protagonists return for a shooting game in the vein of Gradius. Chariot is fine but nothing special.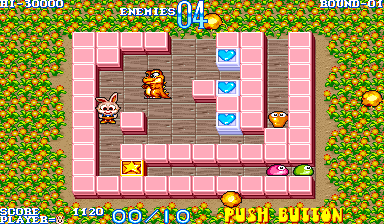 The third and final game in the package is a puzzle game by the name of Don't Pull. It's definitely NOT Don't Play as it is perfectly playable and entertaining, but much like Chariot it's nothing particularly memorable. Three Wonders didn't make this list for the last two games. Consider those two as the appetizers and the main course being Midnight Wanderers (which has got to be one of the most underrated badass video game titles of all time).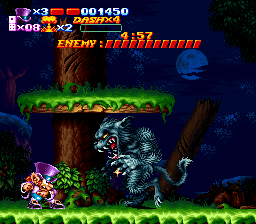 Speaking of never seeing the light of day, Nightmare Busters was clearly inspired by Midnight Wanderers. Sadly, its planned SNES release was canned and even sadder, it's an incredibly disappointing game. Although never officially released, there are ways to experience this game. You can if you want out of wild curiosity, but I was crushed by the broken mechanics of this game.
#19: SHOGUN WARRIORS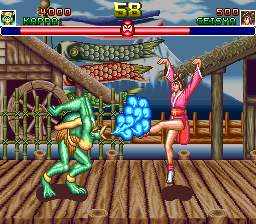 One of the earliest arcade games I can recall playing, Shogun Warriors is a massively nostalgic game for me. It features 8 generic characters who don't even have proper names! They simply go by Geisha, Samurai, Ninja, Sumo and so on. I love the game's exotic Japanese atmosphere. I was obsessed with Kappa, the green turtle-like creature who could stretch his limbs like Dhalsim and hurtle himself into a rolling attack like Blanka.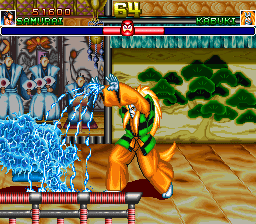 Developed by Kaneko and released in April of 1992, Shogun Warriors was one of the earlier Street Fighter II clones to hit the market. And it plays exactly like how you would expect a fighting game from early 1992 to play. 8 characters, all with 2-3 special moves each, bonus rounds and 4 bosses to battle. There's a certain charm to how simple this game was. It certainly was inferior to Street Fighter II but I always appreciated the underdogs and had a good time whenever Shogun Warriors and I linked up.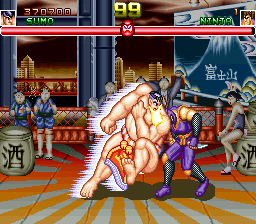 I remember hoping that I would be able to play this game on my SNES either by Christmas of '92 or spring of '93 by the latest. Sadly, as is the case for every game on this list, that wasn't meant to be. And unlike some of the other games on this list, there's absolutely no question the SNES could have handled a very spot-on port of this arcade game.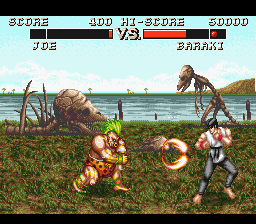 Instead, Kaneko gave us Power Moves on the SNES in early 1993. It was bleh. Should have given us Shogun Warriors! But I digress…
#18: MARTIAL CHAMPION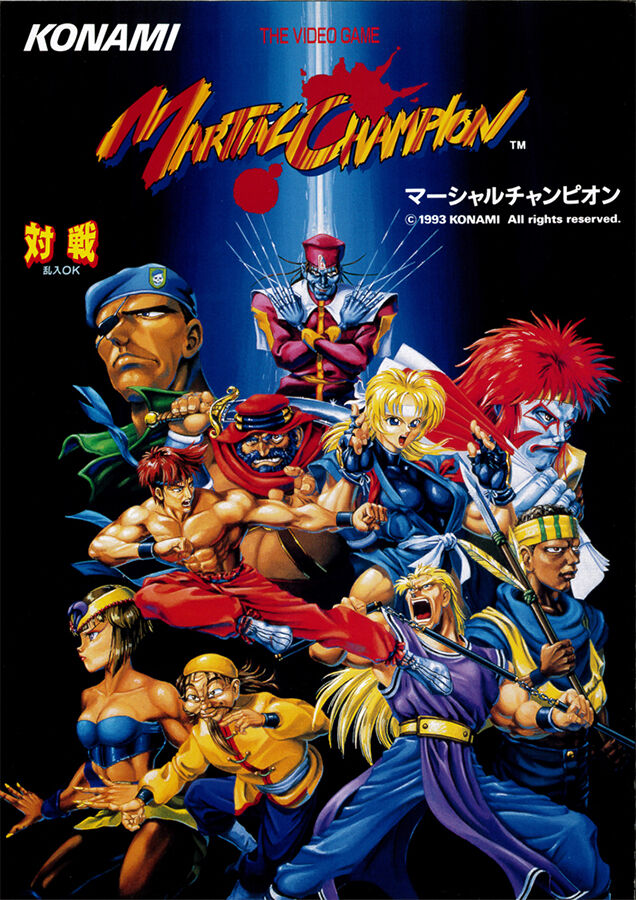 For years Capcom and Konami battled it out for supremacy. Both companies were wildly beloved, produced seemingly an equal amount of fan favorites and were often cited as the top two developers in the industry. Konami dipped its fingers in the fight game with the release of Martial Champion in early 1993.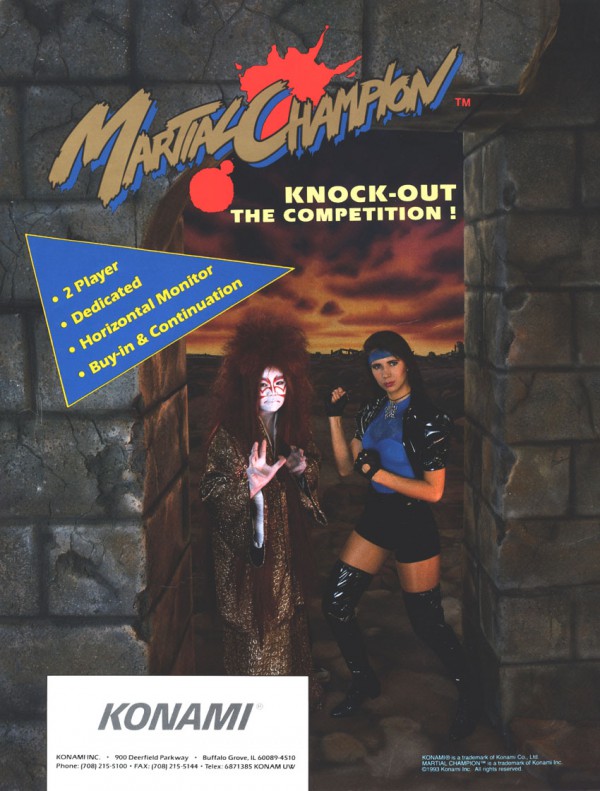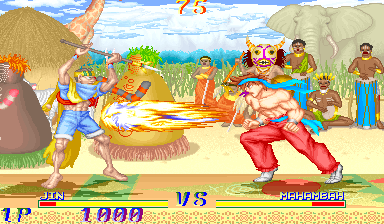 The year was 1993. Every week it seemed as though a new fighting game came out. It was the very height of the 2D fighting game boom. Martial Champion was one of my guilty pleasure favorites that year. I say guilty pleasure because deep down I knew it wasn't the best. It was decent, but nothing special. I really dug how huge the fighters were, though. And the bright vibrant visuals were always catchy whenever I walked by the arcade cab. I just think it would have made for a fun SNES home conversion. But Konami clearly had other plans.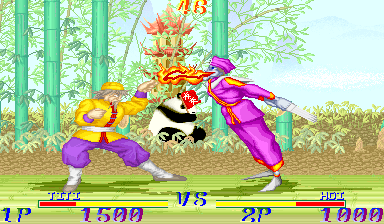 I was all about Titi — I know that sounded funny but how can you NOT love a Chinese hopping vampire?! Honestly, I wanted a home port just so I can play as him.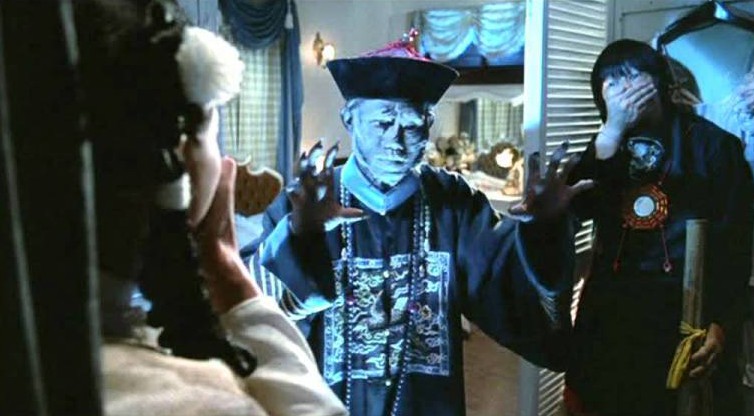 Never seen a hopping vampire movie before? You're missing out! I highly recommend Mr. Vampire (1985). It's essentially the one that started it all, and has never been outclassed. To me it's the Halloween (1978) of hopping vampire films.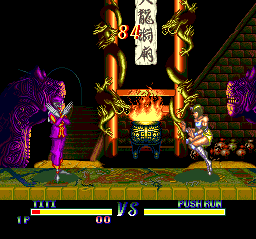 A home port of Martial Champion was released, but only for the PC Engine. It looked drastically different from the arcade game. I like to believe a Super Nintendo port would have been more faithful.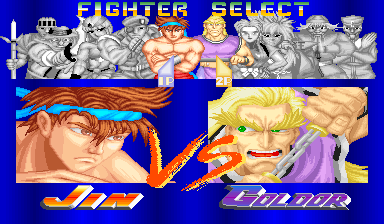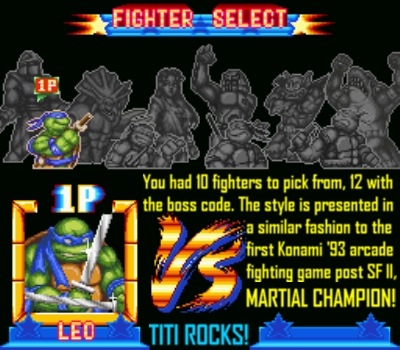 Instead of working on a port of Martial Champion, Konami gave SNES fans Teenage Mutant Ninja Turtles: Tournament Fighters. That game rocked, but I still wish we got Martial Champion as well. But if I had to pick one, Konami made the right call for sure.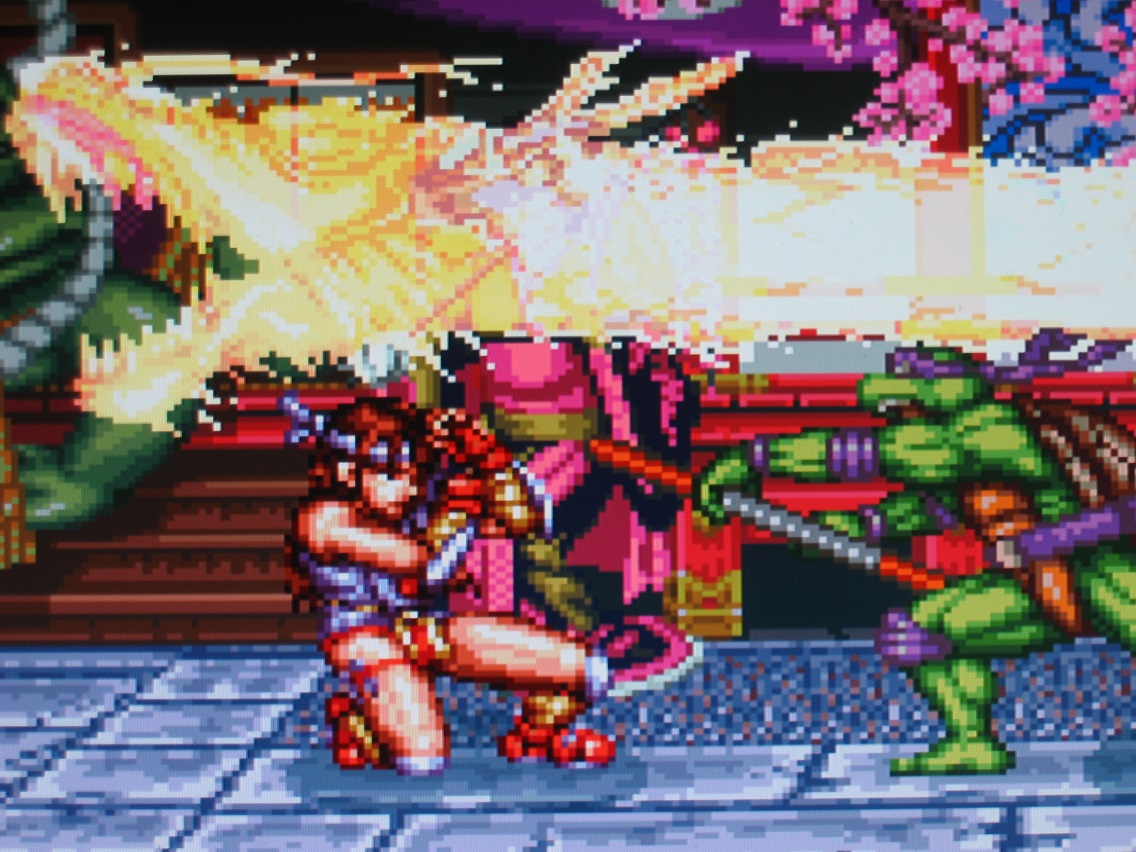 #17: WORLD HEROES 2 JET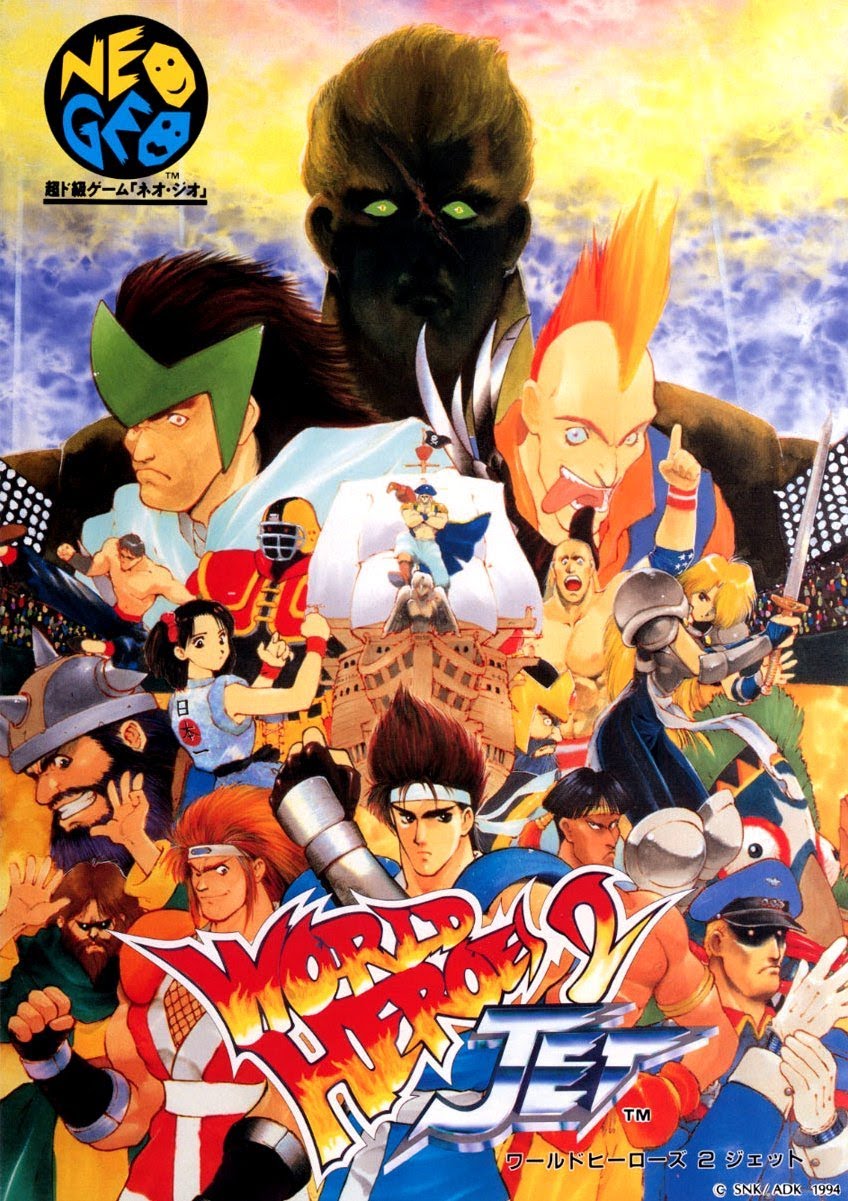 For a long time, if you'd asked me for my all-time favorite gaming franchise, my answer would have been World Heroes. Both SNES ports of World Heroes and World Heroes 2 were top-notch. So when World Heroes 2 Jet hit the arcade scene in April of 1994, I figured I would be playing it on SNES at some point in '95. Nope!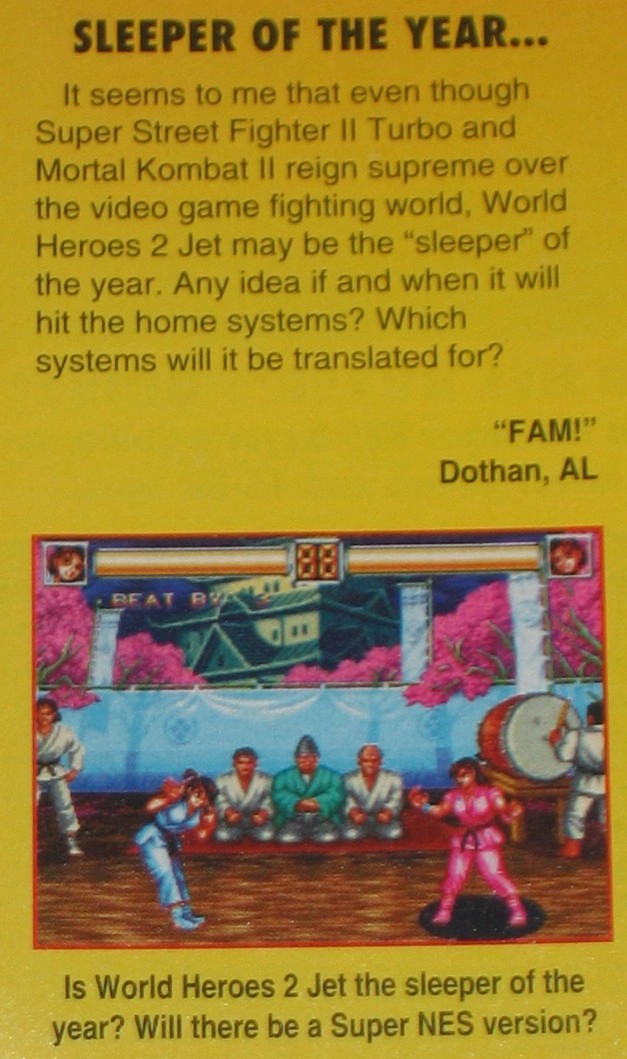 Yes, I'd argue it was the sleeper hit of 1994. Apparently, I wasn't the only one who felt that way, as seen above. But despite the positive reviews and desire for a Super Nintendo translation, it never materialized. Possibly it was because it would have been released a little too late in the system's life span — the 32-bit "next gen" consoles were fast on the move by 1995. The other reason could be perhaps sales of World Heroes 2 on the SNES indicated diminishing returns.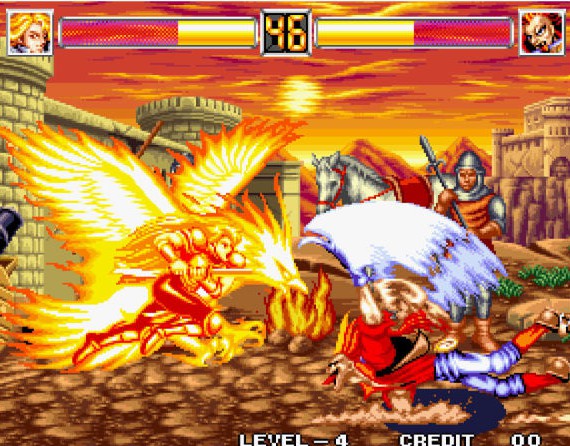 It's a shame it never came out because Jet introduced faster gameplay (hence the name), 2 new playable characters (Jack and Ryofu) and brand new special moves for certain fighters. Janne for example now has a stunning phoenix attack. Jack, by the way, was based off the infamous serial killer Jack the Ripper.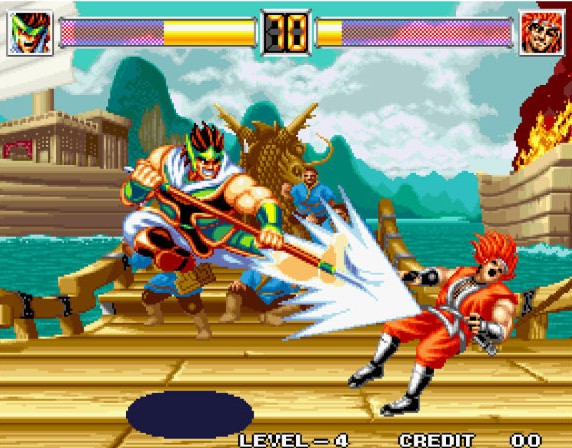 For fans of Romance of the Three Kingdoms, Ryofu was based off legendary warlord, Lu Bu.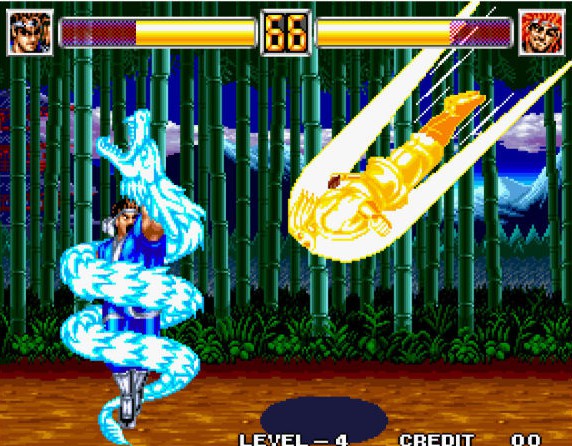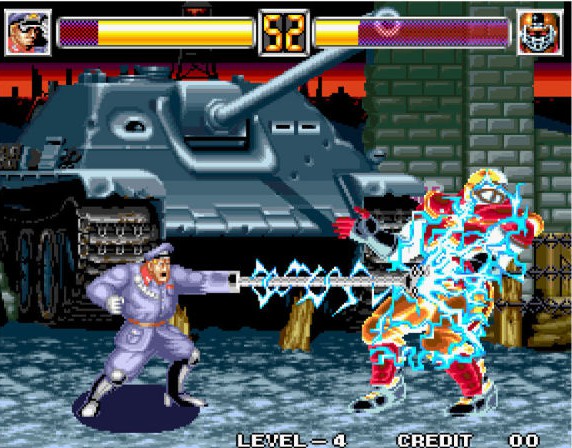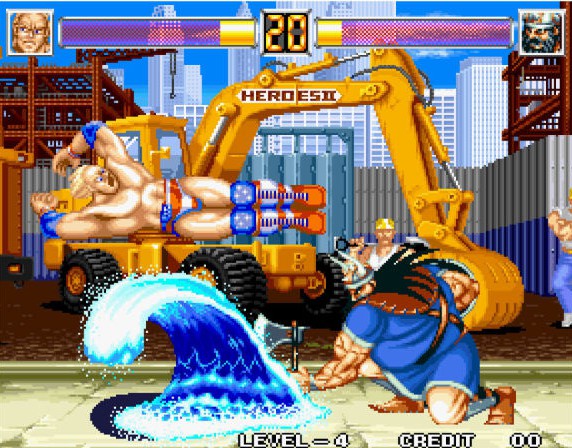 World Heroes will forever hold a special place in my gaming heart. Oh, and oddly enough, there WAS a port of World Heroes 2 Jet… on the Game Boy of all systems!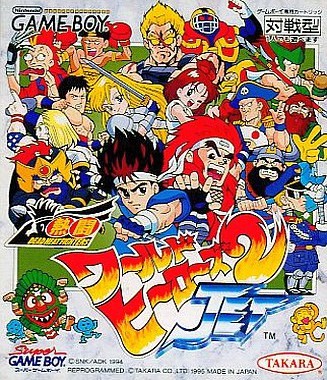 The fighters have adopted a cute chibi look. Surprisingly, all 16 characters remain intact. For a Game Boy port, it plays amazingly well. It makes me only wonder even more how great a Super Nintendo port would have been. But hey… technically… you can hook this game up to a Super Game Boy and play World Heroes 2 Jet on a Super Nintendo. Fact: I have done that before and it is quite a damn good fighting game. I just wish it received the full 16-bit SNES treatment!
#16: TOP HUNTER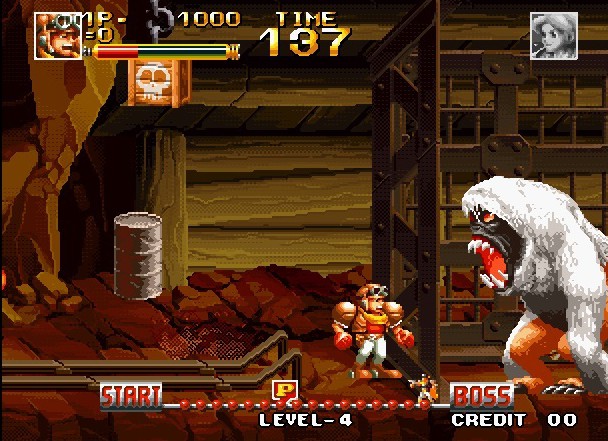 A delightful 2 player romp, Top Hunter is unique among its peers for a few reasons. The first being that you can execute special moves with Street Fighter II-esque commands. There are also super special moves because it was 1994 and why not? Another cool feature is the ability to switch between the foreground and background. These aspects added some depth to what would have otherwise been another side-scrolling co-op action platformer. Oh, and some of those bosses are crazy!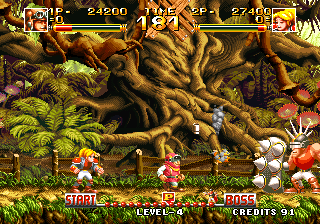 The SNES has its fair share of fun co-op games; Top Hunter would have fit in beautifully. The graphics are quite detailed so there definitely would have been a dip there. But I like to think the SNES could have handled some version of this game in a satisfying manner.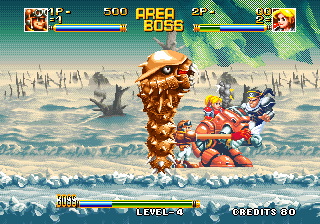 It did come out in the summer of 1994 though, and that period seems to be a cut-off point for the SNES. By virtue of the fact that by the time a port of a mid '94 arcade game is ready for release on the SNES, it'd be spring or even summer of 1995. By then the 32-bit monsters were already gnawing at the door. Perhaps developers and publishers alike knew it did not make sense from a cost-effective perspective.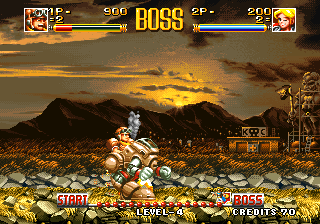 Whatever the reason may be, I think we can all agree Top Hunter would have been a welcome addition to the Super Nintendo's amazing library!
#15: BUCKY O'HARE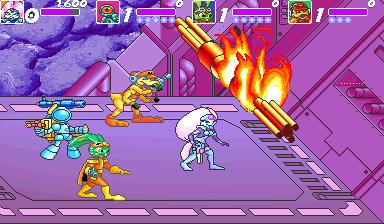 As a kid growing up during the peak of Saturday morning cartoons, I was lucky to witness many fantastic shows. From Transformers to ThunderCats, I gobbled them all up like a sugary bowl of frosted cereal. There were many lesser known and underrated cartoons that flew under the radar, however. In late 1991, I was introduced to Bucky O'Hare. Based off a comic series in the mid '80s, I fell in love with the quirky characters and space-based battles. Not surprisingly, like many cartoons during that time, someone snatched the right to make a video game out of it.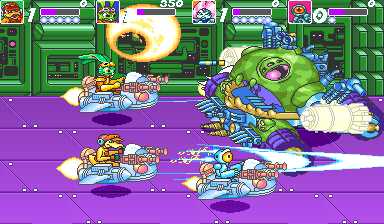 Even better, that company was Konami. In such reliable hands, Bucky O'Hare was a terrific 4 player shoot 'em up that would have been great on the SNES, even as a 2 player game. But, we all know how that turned out…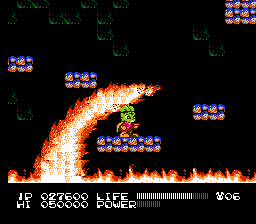 Curiously, Konami did release a Bucky O'Hare game on the 8-bit NES in early 1992. It's often cited as one of the system's best "hidden gems." While I'm happy Konami gave us that stellar game, I'm also a bit saddened that they never made a Super Nintendo version of any kind. Bummer indeed!
#14: WILD WEST C.O.W.-BOYS OF MOO MESA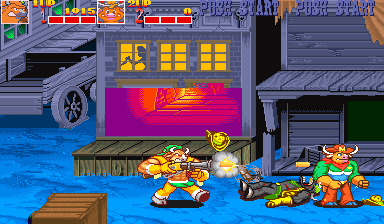 They say the only things certain in life are death and taxes. Add to that Konami making badass games out of cartoon IPs during the early '90s. The cartoon series made its debut in September of 1992; the arcade game came out only 2 months later. I remember watching the cartoon. It was one of those shows I always wanted to like more than what I actually did. The arcade game, on the other hand, did not disappoint whatsoever.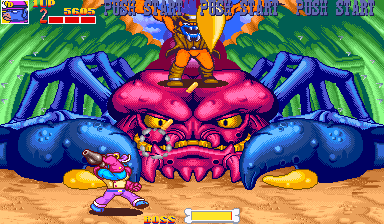 With up to 4 player simultaneous mayhem, Wild West C.O.W.-Boys of Moo Mesa was a rollicking good time. It plays similarly to Konami's other run and gun, Sunset Riders. Some people even see this as sort of a spiritual successor. Alls I know is it's yet another stellar Konami game from the early 1990s. What else is new?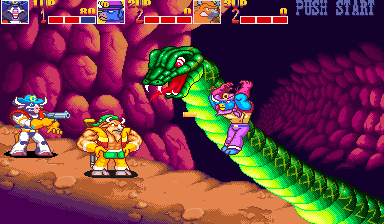 The fact that Sunset Riders (September '91) received a SNES port (October '93) and a DAMN GOOD one at that… makes this omission a harder pill to swallow. But it makes sense when you factor in that the show went off the air in late '93, and a port would have been released no earlier than '94. Unless it's a super popular IP, such things can have a short shelf life with only a small window to capitalize.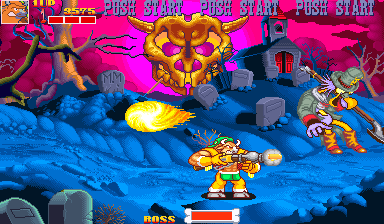 "This town ain't big enough for both of us," the old saying goes. That rang true as only Sunset Riders saw a SNES home port. Forced to pick one, I can't argue with Konami. I just wish there was room for both.
#13: BASEBALL STARS II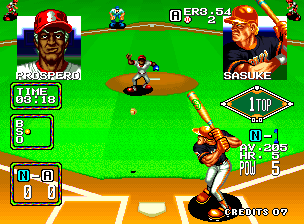 One of the most beloved baseball games of all time, Baseball Stars II is loads of fun. Ken Griffey Jr. Presents Major League Baseball is my favorite baseball game of all time, but Baseball Stars II gives Griffey a run for its money.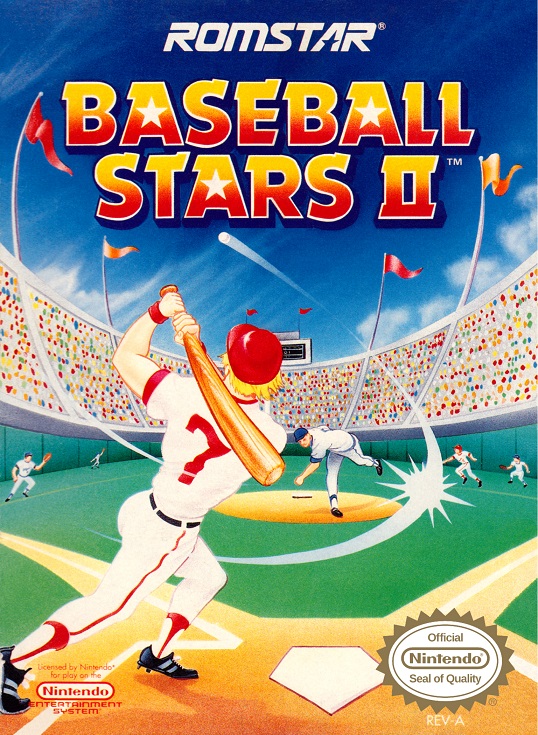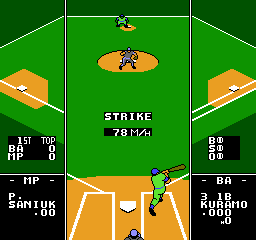 We could only imagine how awesome a 16-bit port would have been. Sadly, that was a swing and miss… [I see what you did there -Ed.]
#12: CADILLACS AND DINOSAURS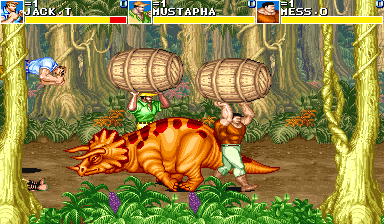 In the early '90s Capcom could seemingly do no wrong. That continued with Cadillacs and Dinosaurs, a wild beat 'em up that, much like the name suggests, affords you the opportunity to drive fancy Cadillacs and beat up agitated dinosaurs. It was simple and so, SO '90s. It was perfect.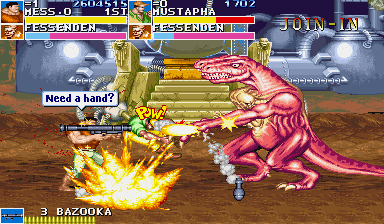 Capcom converted many of their early '90s beat 'em ups to the SNES. Games such as Final Fight, Knights of the Round, The King of Dragons and Captain Commando all received ports that ranged from pretty good to very good. Major bummer that this wasn't one of them!
#11: CYBER-LIP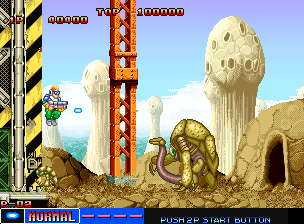 There are few things I enjoy more than some classic run and gun action. Contra was always one of my favorite NES games. And Contra III: The Alien Wars was perhaps even better! Cyber-Lip is definitely no Contra, but man would I have loved to play this in the comfort of my living room back in the early '90s.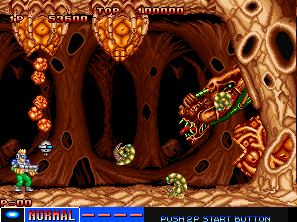 Released in November of 1990, this is the oldest game on my list. The Super Famicom just made its debut over in Japan during that time. Imagine Cyber-Lip as an early launch title to go along with the Super Nintendo in North America circa September 1991! The units it would have sold… what a missed opportunity.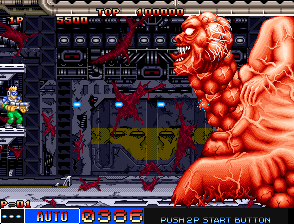 Featuring some of the most memorable and craziest looking bosses I've ever seen, Cyber-Lip left a definite impression on me. More than 30 years later, some of those unforgettable visuals are still vividly seared in my mind. Seriously, whoever created that boss design above is one sick and twisted individual. There are better examples of this type of game out there, but to me few are as nostalgic!
#10: SPINMASTER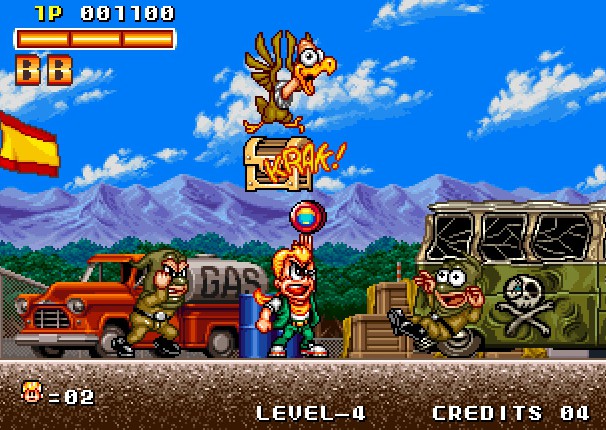 Ever since playing NES games such as Rygar and Yo-Noid, I've always been a fan of games where your main weapon is either a yo-yo or a boomerang-like weapon. Data East's Spinmaster satisfied that itch and more!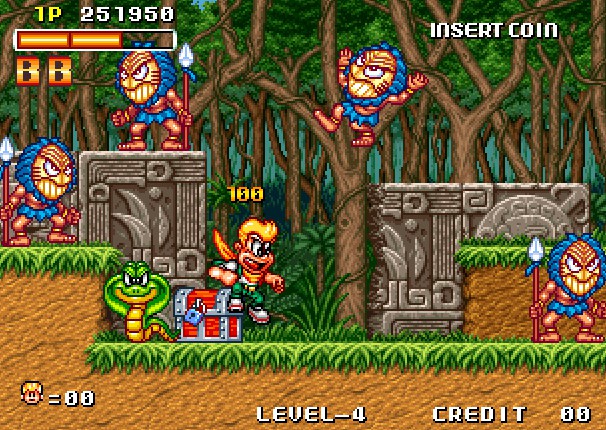 I couldn't help but stop and gawk at this game anytime I came across it in the arcades back in late 1993. The graphics were so rich and colorful. It looked like a Saturday morning cartoon come to life. There's something about the aesthetics of Spinmaster that really speak to me. And it just looks like the kind of game that would have fit perfectly on the SNES! Toned down of course, as was always the case with arcade conversions, but still capturing the essence of the arcade original.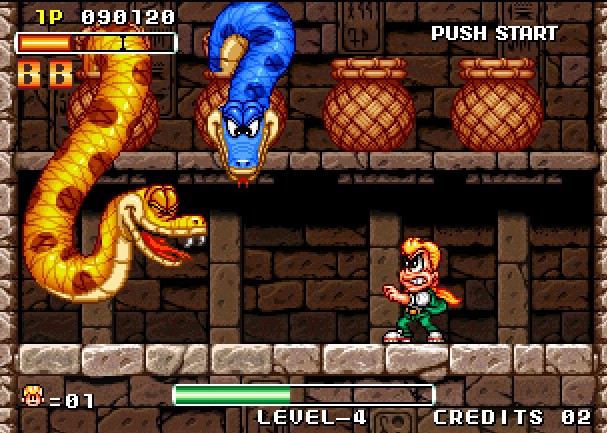 Data East was a solid company back in the '90s. They weren't on that magical Capcom or Konami tier, but you could almost always count on them to deliver something worth your precious quarters.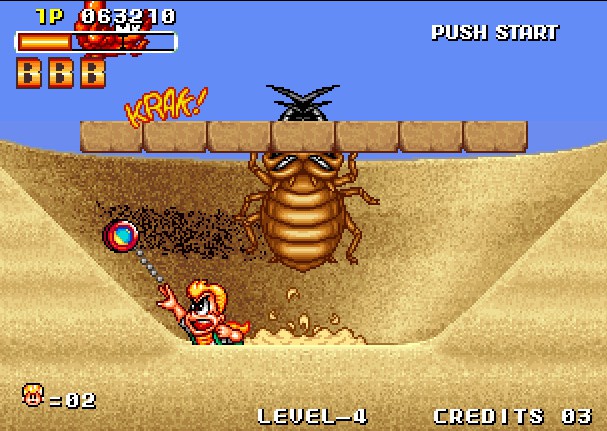 While Spinmaster may not top many people's minds when talking about favorite arcade games from the '90s, it's one of those games that I always had to plop a quarter (or two) into whenever I spotted it in the wild. Be it some random pizza joint or even a laundromat, it was always fun to play especially with a friend fighting the good fight right beside you.
#9: NIGHT SLASHERS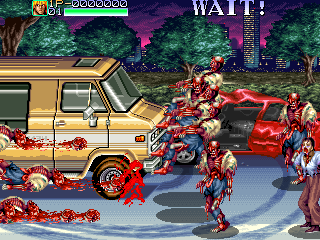 Speaking of the devil Data East, in early 1993 they combined two of my most favorite things: horror and beat 'em ups. And it was, as you can surmise, glorious. Who didn't want to dispose of rotting zombies and various monsters of all sorts? It was bloody, brutal and simply splendid.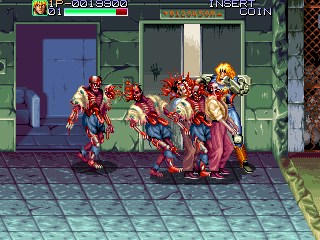 Unfortunately, like all games on this list, Night Slashers and the SNES were like two ships passing in the night. This was before Nintendo loosened up on their family friendly image circa mid-1994, allowing SNES games to take on more of a violent nature if need be. What a shame too, as this would have been a hell of a fun game to play at home with a friend.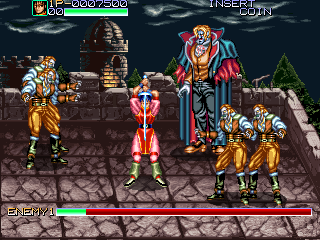 Thankfully, the selection of excellent beat 'em ups already on the system softens the blow of missing out on this port. Games such as Teenage Mutant Ninja Turtles IV: Turtles in Time, Return of Double Dragon and Final Fight 3 are all great examples of the genre. Still, none of those games stand up to Night Slashers in the way of offering gruesome and visceral satisfaction. A shame we never saw a SNES port, indeed.
#8: VENDETTA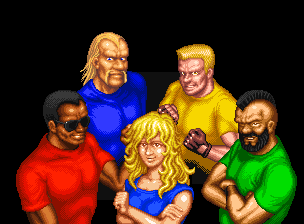 One of my favorite arcade games in 1991, Vendetta by Konami is often times the game I have in mind whenever I think about beat 'em ups. To me there's just something quintessential about Vendetta that warms my beat 'em up loving heart. For one, I love being able to play as either the clone of Mr. T or Hulk Hogan. Right off the top, you simply can't beat that.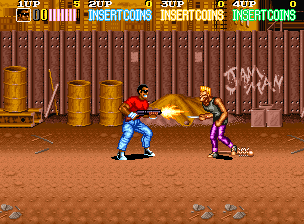 Another huge win for Vendetta were all the cool weapons littered throughout that you can use to even the odds. Knives, guns, spiked baseball bats, wooden crates, garbage cans, whips, beer bottles, chains, barrels, hell even bags of flour! As a kid it blew my mind the insane number of weapons available at your disposal. Vendetta was all about having a good time.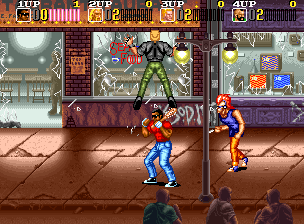 Up to 3 friends can join you for the mayhem and destruction. A Super Nintendo port would surely have been reduced to just 2 players, but it still would have been a blast. I loved all the locales too, with my favorite being a goddamn grocery store of all places. That's the kind of ingenuity I want in my beat 'em ups!
#7: SUPER PUZZLE FIGHTER II TURBO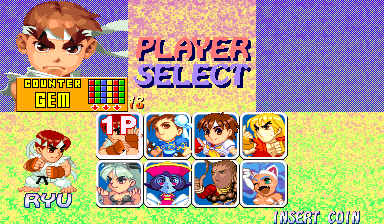 Arriving in arcades in May of 1996, the SNES was already nearing life support in North America at that time. So one might think a conversion of Puzzle Fighter to be highly unlikely. I would agree had it NOT been for Capcom releasing an amazingly competent port of Street Fighter Alpha 2 on the SNES in late '96. I could easily envision Capcom doing the old 1-2 punch combo releasing BOTH titles that holiday season as one last hurrah, but perhaps they decided instead to put all their SNES eggs into one basket. Puzzle Fighter pits Street Fighter and Darkstalkers characters against one another, all in the name of gem smashing supremacy.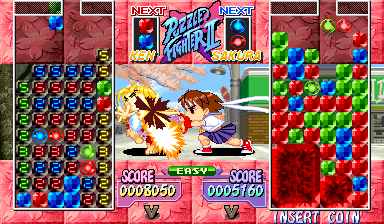 Each of the 8 characters have their own gem patterns, which added to the game's strategy and replay value. Chibi renditions of the fighters stand center stage and perform their special moves on one another when players execute big combos. It all added to the fun and charm of Puzzle Fighter. It's one of those simple games that is easy to pick up but hard to put down.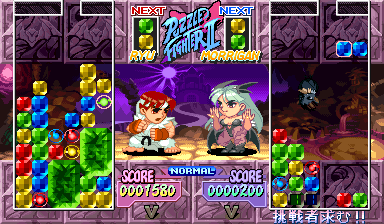 And not being a particularly demanding game in terms of graphics and specs, I'm sure Capcom could have easily converted this for a quick buck for those still clinging to their SNES that holiday season of 1996 (surprisingly more people than you think because some were not ready, for one reason or another, to move on to the 32-bit systems just yet). I sure wish that were the case, because Puzzle Fighter would have given Tetris Attack a good run for its money as best puzzle game on the SNES!
#6: SAMURAI SHODOWN II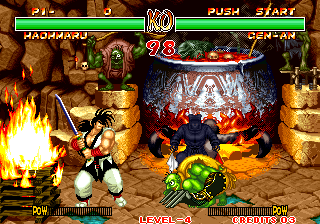 Samurai Shodown (known as Samurai Spirits in the Land of the Rising Sun) made waves when it landed on the arcade scene back in the glorious summer of 1993. Similar to Shogun Warriors (featured earlier on this list at #19), Samurai Shodown is set in feudal Japan with a focus on weapon-based combat. It caught many an eye with its unique aesthetics and atmosphere. The sound effects of swords clanging and slicing flesh were haunting! Even the smallest details, such as the whipping wind sound effect of Haohmaru's tornado projectile, is seared in my memory bank nearly 30 (!) years on. A scaling effect had the camera zoom in when combatants were in proximity of each other, and would pull back to show the scope of the battlefield when the fighters were farther apart. Either view was awe-inspiring and further helped to separate Samurai Shodown from the rest of the fighting game pack.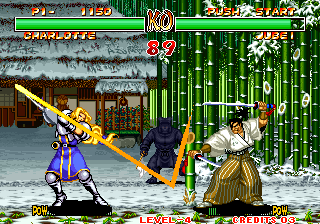 With a fantastic foundation already in place, the sequel blew the door off the hinges with 4 new fighters, more special moves (including super special attacks with the RAGE meter), advanced techniques such as ducking and rolling, and easter eggs just to name a few. Samurai Shodown II was the pinnacle of fighting game nirvana in late 1994. That was around the same time the SNES received a decent (but not spectacular) port of the first Samurai Shodown. Gone was the scaling and humongous fighters. The fighters were sadly reduced to a pint size, and some censorship issues marred the SNES port. Still playable, but definitely missing some of the key aspects that made the arcade original so fun and special.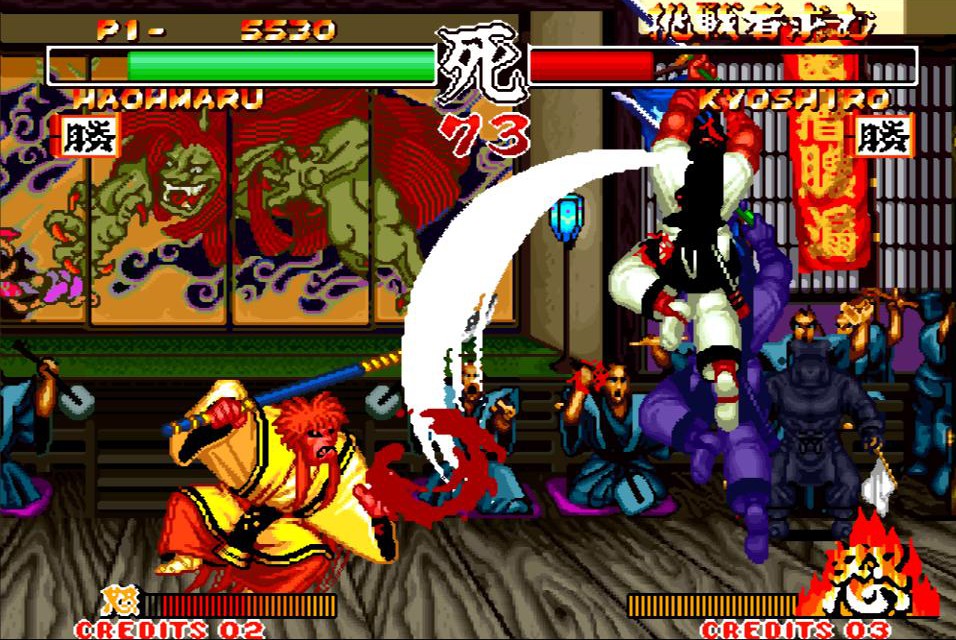 But as we saw with the SNES ports of Fatal Fury 2 and King of the Monsters 2, there are some examples of mediocre (or even awful) first ports in a series that received a far superior sequel port. I am of the mindset that Samurai Shodown II would have been one of the best fighting games on the SNES. Alas, the world shall never know.
#5: ELEVATOR ACTION RETURNS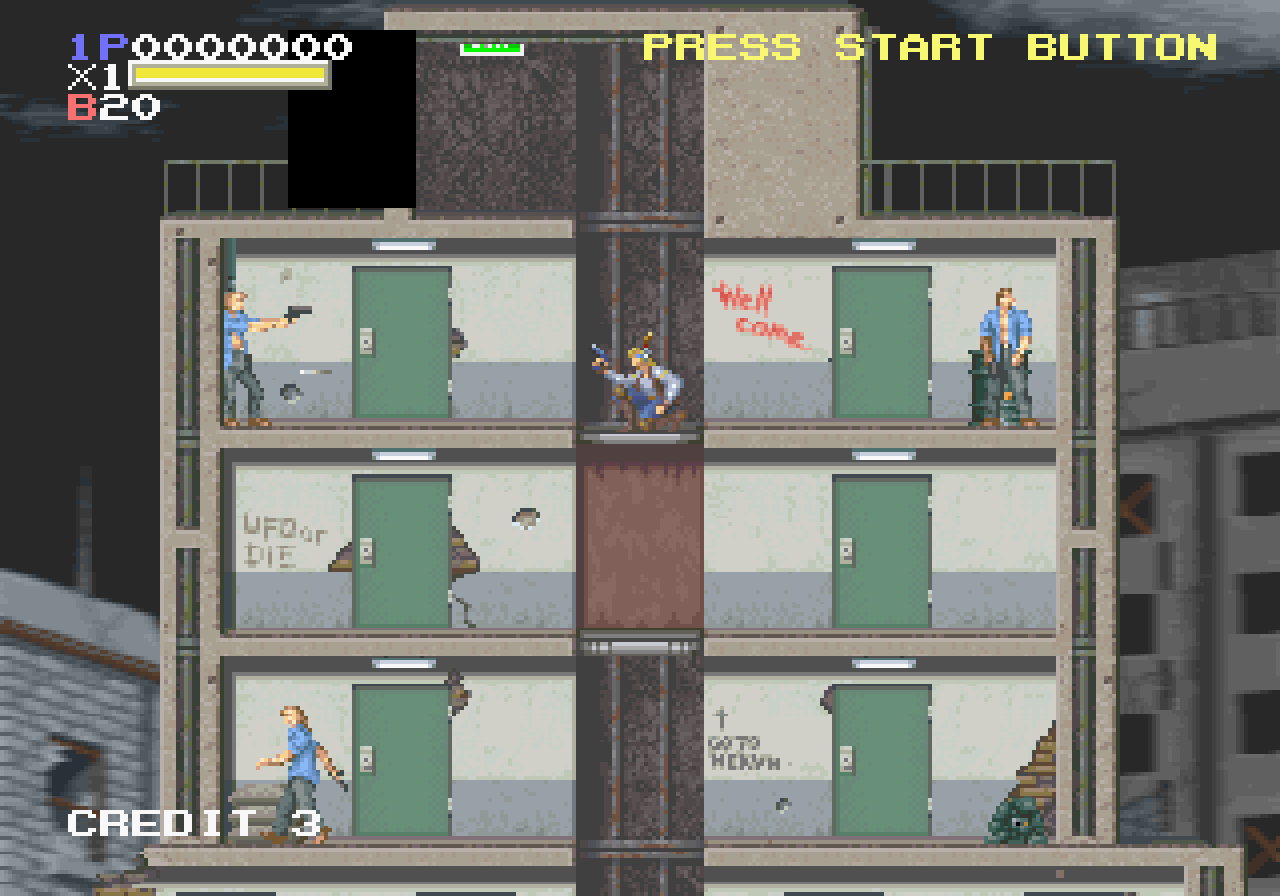 Most of us who grew up gaming in the late '80s are likely to remember Elevator Action on the 8-bit NES (although it began its life in the arcades in 1983). An interesting game in theory, I never quite liked it as much as I was hoping to. More than 10 years later (1994), Elevator Action Returns rectified all of the previous game's shortcomings. The game I always pictured in my mind wanting the NES version to be finally came to fruition, and it was nothing short of amazing.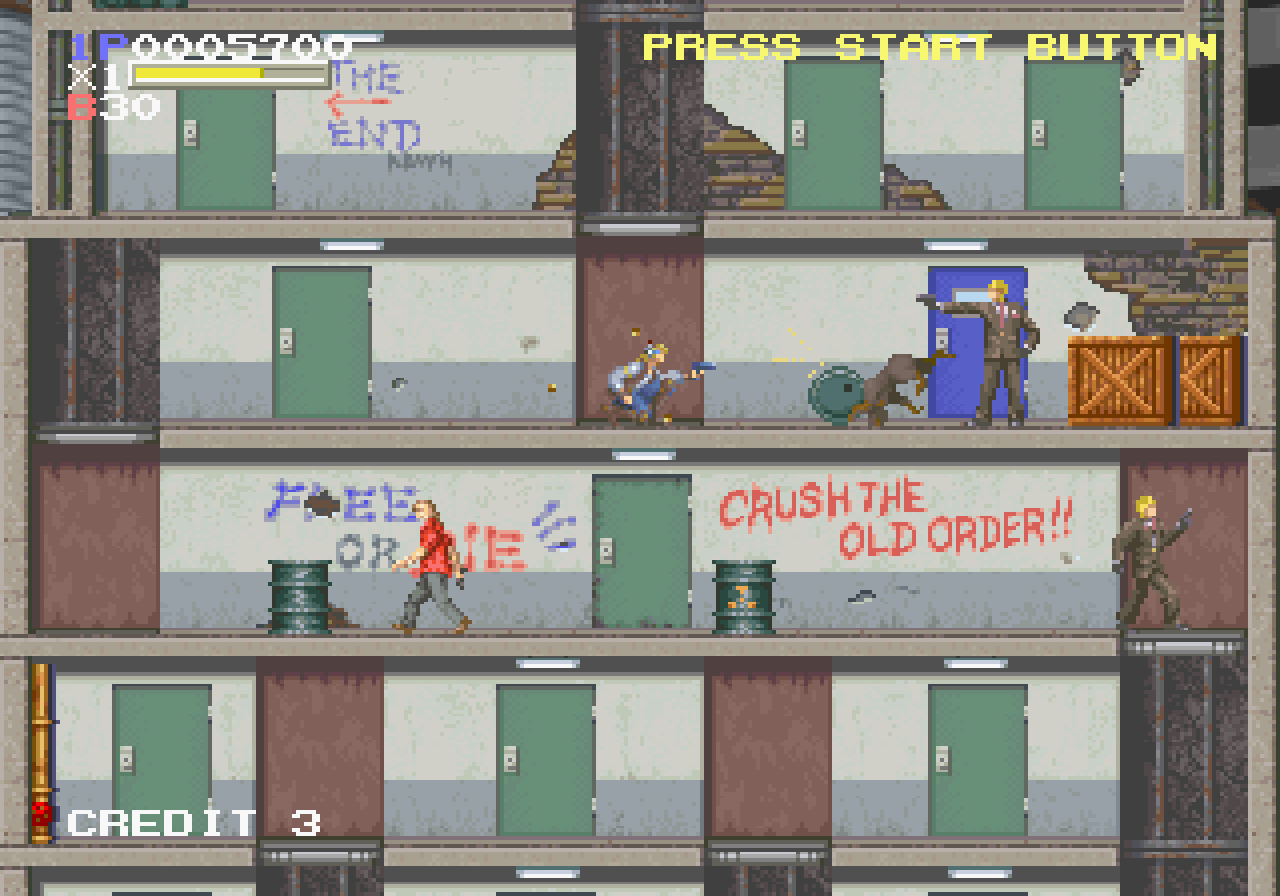 Taking on a grittier atmosphere, as one of 3 agents you navigate the various stages shifting elevators, blasting bad guys and blowing shit up. The game tickles the imagination in a way that most games can only dream of doing. Among the many things I love about this game are all the little touches, such as graffiti sprawled on the walls. My favorite being CRUSH THE OLD ORDER!! It really transports you to a far-flung dystopian world that's corrupt beyond repair, dripping with evil and decay at every nook and cranny.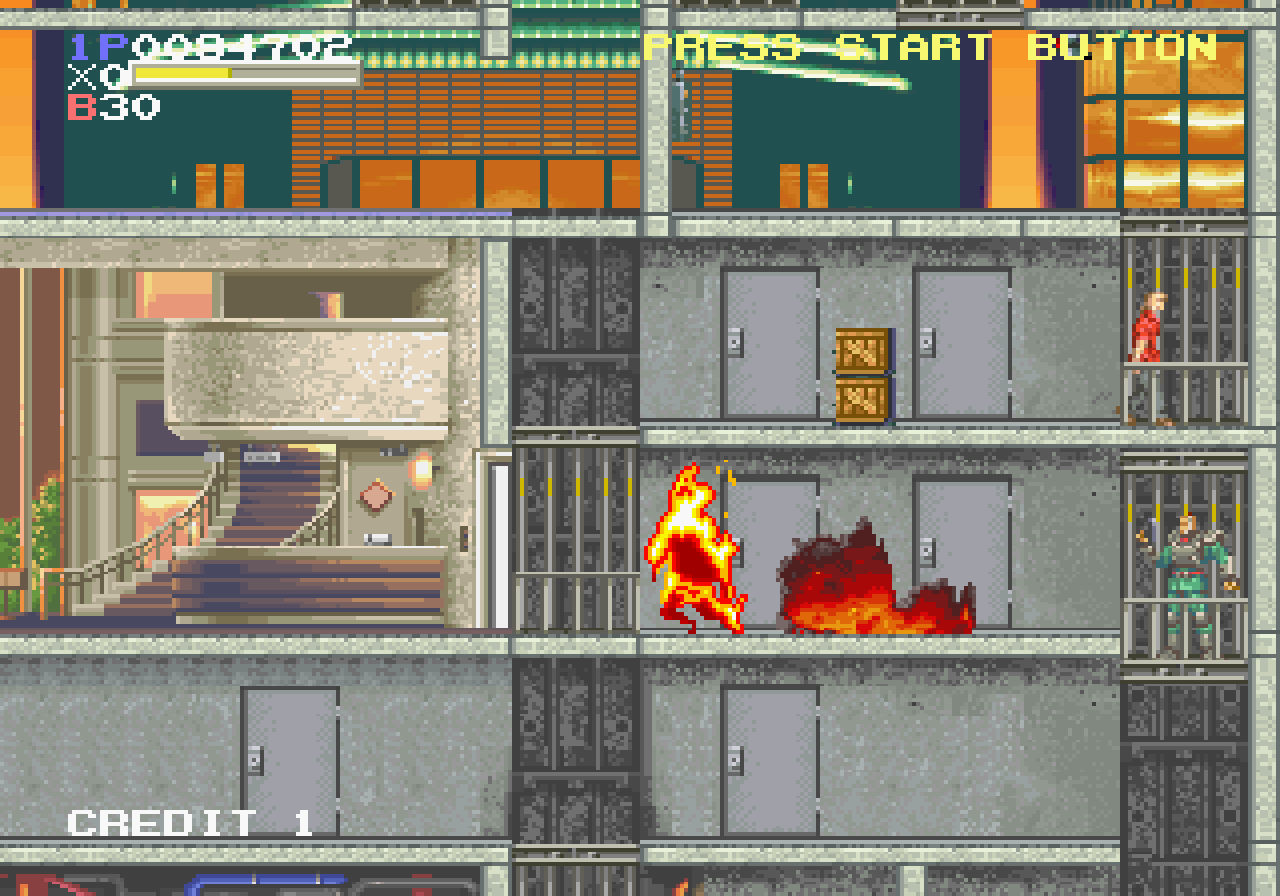 Few things are as satisfying as blowing up a box of explosives in a hallway and seeing a bad guy come out of the door right on cue, thereby setting himself aflame. Even better? Seeing his friends follow suit one after another, lighting each other up like a trail of birthday candles! Elevator Action Returns has a subtle sense of dark humor that adds to the overall enjoyment and really elevates it (sorry) above the rest. Who knew crushing enemies underneath an elevator could be so much damn fun?!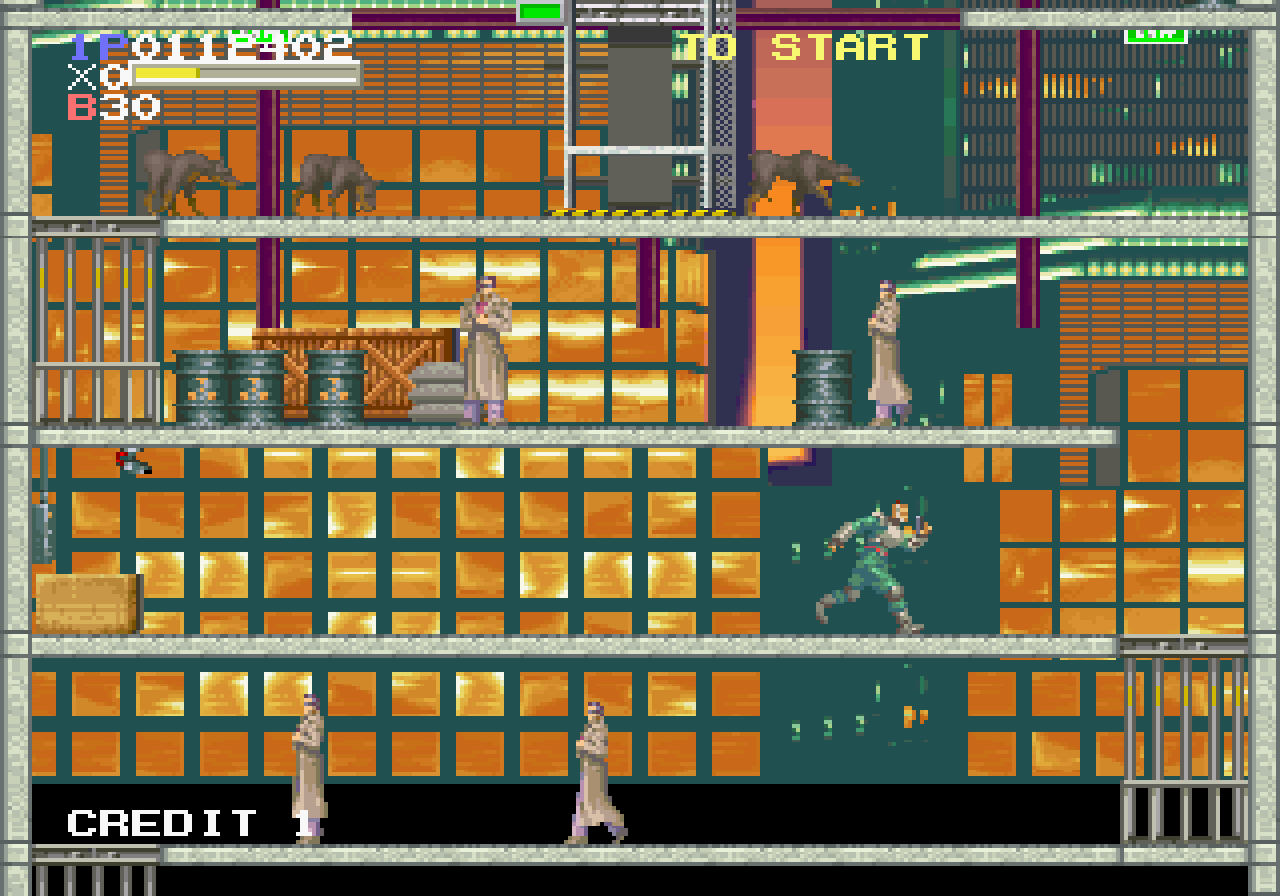 Best of all, you can save the world with a friend in tow. Each of the agents have their own strengths and weaknesses, as well as a special attack, to increase replay value. The game is short and sweet, and one I often revisit. Sega Saturn owners were lucky enough to receive a flawless port. It's one of my top 10 Saturn favorites — I replayed it so much in the early-mid 2000's and still play it once in a while to this very day.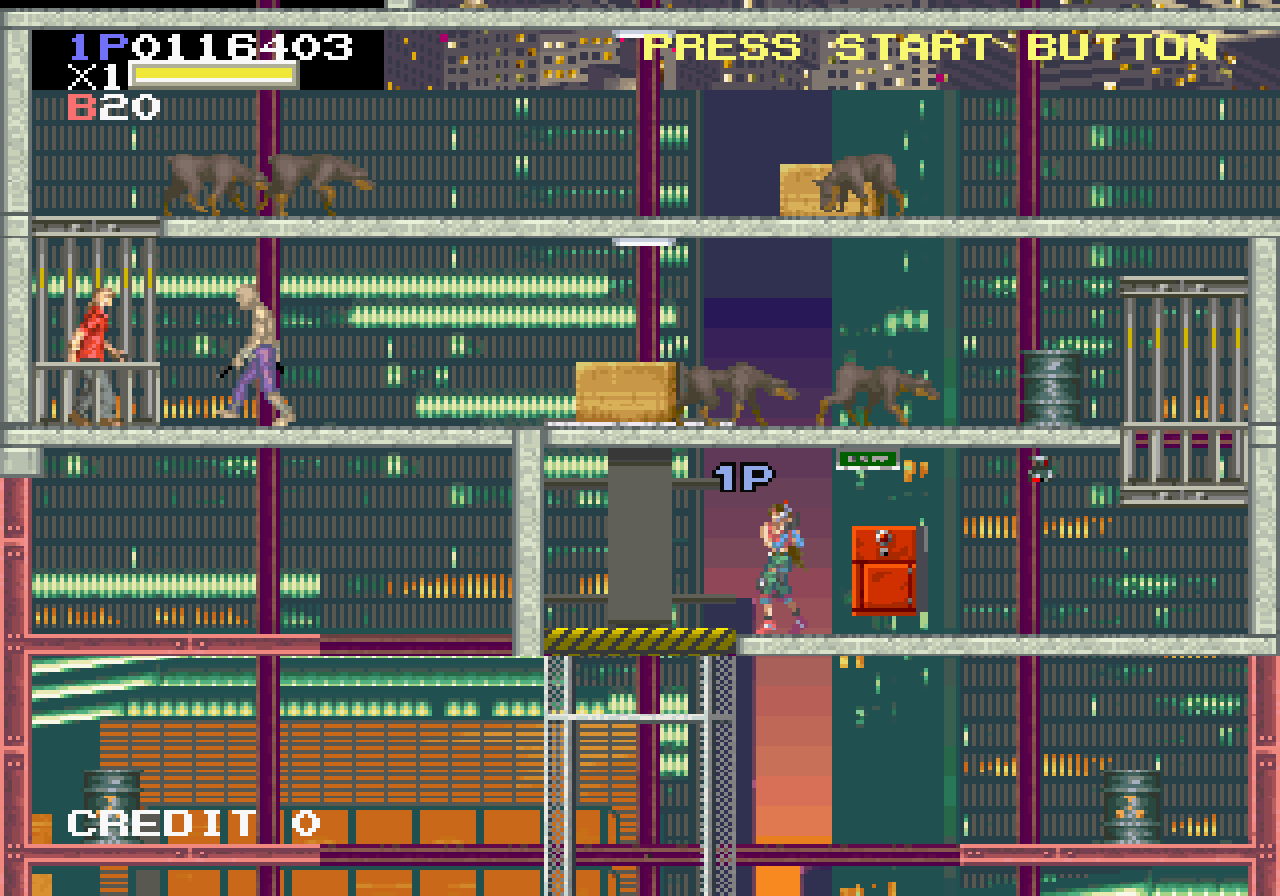 Still, I would have loved to play Elevator Action Returns on the SNES back in the '90s with my gaming pals. There aren't enough quality 2 player run 'n gun experiences on the SNES, and EAR would have been a much welcome addition.
#4: WWF WRESTLEFEST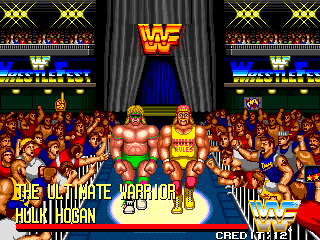 I grew up watching the WWF religiously with my uncle, brother and best friend. I loved the larger than life characters and the zany circus world of professional wrestling. In the summer of 1991, we were graced with the presence of WWF WrestleFest at our local arcade. The huge sprites, the insanely colorful visuals and the ability to play as the heroes of my childhood (such as Hulk Hogan and the Ultimate Warrior) made WrestleFest a damn near religious experience.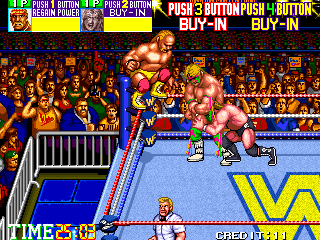 WrestleFest quickly took on sort of a mythical status within my gaming crew in the early '90s. As ardent wrestling geeks, we poured countless quarters into the machine as we punched, kicked, scratched and clawed our way to the top. It's one of those special games that's definitely in my Mount Rushmore of "Oh man, how I wish this came out on the SNES!"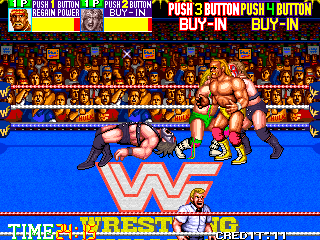 It has some of the greatest aesthetics I've ever seen in any game, ever. The wrestlers were big and beefy just like they were in real life. The blue mats with the classic old school WWF logo really popped, and the short yellow energy bars (with red indicating the damage  inflicted) made it visually very satisfying to look at. It's exactly how I picture a WWF arcade game to look like (don't get me started on the crappy aesthetics of WWF WrestleMania: The Arcade Game…)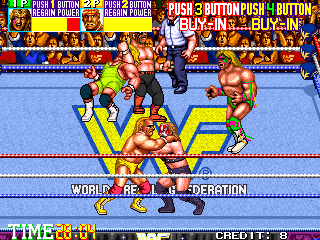 Sadly our hopes and dreams were crushed when a home translation never materialized. Instead, SNES owners were "treated" to the very forgettable WWF Super WrestleMania. Some small form of redemption appeared in 1993 with WWF Royal Rumble and WWF Raw the following year, but neither could hold the jock strap of WrestleFest.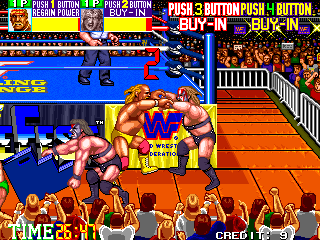 A Super Nintendo port would come with much (graphical) sacrifice, but I bet it would have been a competent effort easily worth one of our birthday or Christmas bullets. Alas, CARD SUBJECT TO CHANGE…
#3: THE SIMPSONS ARCADE GAME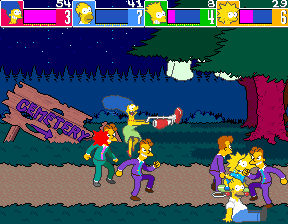 In 1991, both The Simpsons and Konami were on fire. Neither could seemingly do any wrong. So when the two mega brands joined forces, you knew the end results would be nothing short of phenomenal. And that's exactly what eager arcade goers got with (un)arguably one of the most memorable arcade games of all time.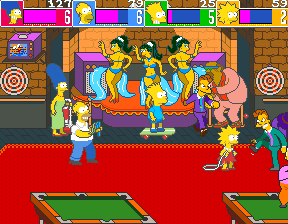 Playing as one of either Homer, Marge, Bart or Lisa, The Simpsons Arcade Game perfectly captured the zaniness and wacky appeal of the popular cartoon show. Few things could rival corralling 3 buddies and bashing your way through Springfield.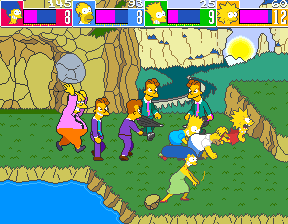 I can't tell you how many quarters my friends and I wasted lovingly spent on this game. It was just one of those games that whenever you saw the arcade cab, you JUST had to play it. There's an instant pick up and play factor to it that reminds you of why you love video games so much. At their core, video games should be fun distractions that help to take your mind off the real world and transport you to a magical land where clogged six lane highways and bills don't exist. Few did that better than The Simpsons Arcade Game.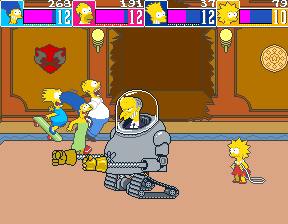 Obviously, a SNES port would require some scaling back. No 4 player mode. Less animations. Lower quality of sound and visuals. All perfectly acceptable. My buddies and I were ready for the "inevitable" home port. Therefore, a small part of us collectively died when it sadly never did.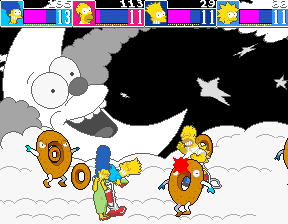 As much as never being able to play this on our SNES crushed us, there was another Konami brawler based off another highly popular IP that cut us even deeper…
#2: X-MEN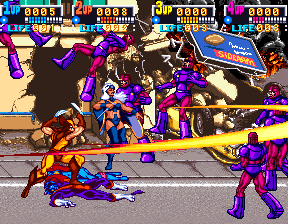 In 1991 my friends and I were absolutely obsessed with Marvel's 1991 trading cards. We bought packs like crazy at a local card shop by the name of Triple Play. Each pack, costing only $1, contained 12 cards. It was awesome because $1 was easy enough to wrangle from your parents on any given day. Then you'd head to Triple Play, buy a pack or 2, check out your new goodies and negotiate to trade away your doubles for that elusive card still missing in your ever growing collection. This, mind you, was all conducted while waiting excitedly for the Street Fighter II line off in the corner to die down. It was a foolproof recipe for a perfect lazy Sunday.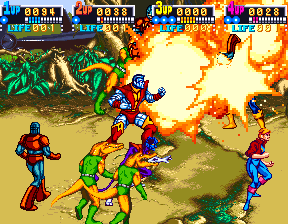 In early 1992 Konami dropped yet another gem, this time featuring the incomparable X-Men. To say that my friends and I were over the moon would be the understatement of the year. Up to 6 players can team up and take out Magneto and his vile lackeys. My ride or die character? Colossus. Always Colossus!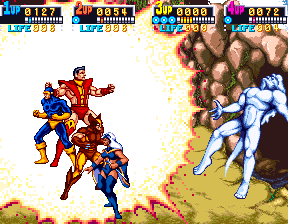 Confession time: There was a time in 1992 when I was being an outright prick. My friend and I used to cruise the arcade hall, and whenever we saw a little kid playing X-Men, I would walk right up to his control panel and spam the special attack button. This unleashes a powerful attack BUT at the expense of a little health. So I would basically drain the poor guy's health bar to zilch and then he'd die in quick fashion. I remember doing this maybe 2 or 3 times, and laughing with my friend as we ran off. I don't know why I did that — I'm certainly not proud of it and usually was a goody two shoes by all accounts. I guess it was a phase I went through and I just had to get it out of my system. To this day I can still see Colossus spamming his special attack. Poor kid. If you're reading this, I apologize for being an asshole. I know it's an apology 30 years too late, but yeah.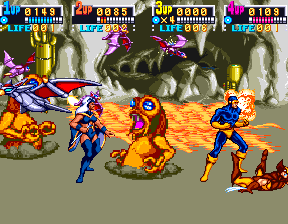 So I'll take ownership and full responsibility. My terrible actions led to some bad karma, which then nixed any chance of a Super Nintendo port. At least Capcom gave us X-Men: Mutant Apocalypse in late 1994. It's nowhere the same as the X-Men arcade game in terms of quality, but it was at least pretty solid in its own right. Hey, sometimes you gotta take what you can get, right?
#1: DARKSTALKERS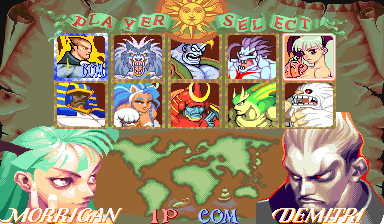 The year was 1994. I was in the 5th grade and at the height of my childhood prime. Fighting games were still on top and my love for monsters and all things macabre were at an all-time high. So it was a match made in heaven (er, hell?) when Capcom released Darkstalkers in the summer of 1994. Featuring 10 monstrous characters, ranging from clones of Dracula to Frankenstein to a werewolf and more, it was a true monster mash of epic proportions.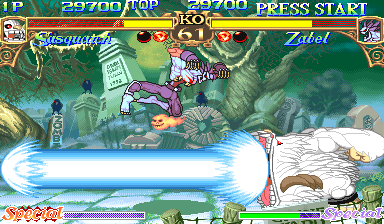 To simply label Darkstalkers as "Street Fighter II but with monsters" would be doing it a gross disservice. It has its own distinct feel that made it so fun and unique to play. The visuals and aesthetics were all top-notch as we came to expect from Capcom in the '90s. Hell, I can still hear the memorable music and sound effects loud and clear in my head to this very day.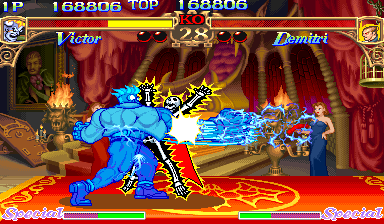 Like many of the other games on this list, a SNES port would have been scaled down by a great degree. Fewer frames of animation, less vibrant colors and other sacrifices would have been necessary to fit it all on one tiny 16-bit cartridge. But I believe it could have been done successfully. The monsters would be smaller and the speech samples would have less impact but man would I have loved to play this on my SNES in 1995!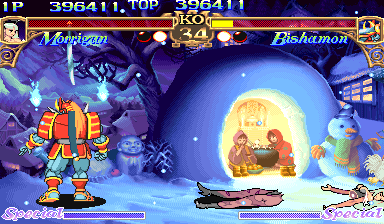 Some of the more gruesome parts, like Bishamon slicing his opponent in two, would need to be cut (sorry, no bad pun intended). But especially knowing what Capcom managed to pull out of the SNES with their stellar port of Street Fighter Alpha 2, Darkstalkers would have been a cinch for the Big C.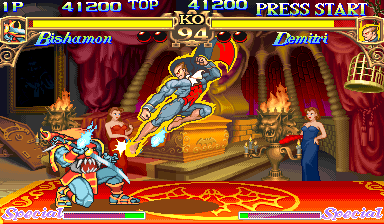 Capcom didn't do much wrong in the '90s or on the Super Nintendo, but never releasing a Darkstalkers port tops my very short list of things they misfired on. But given all the great SNES titles they bestowed upon us, this glaring omission is a forgivable sin. Still, a competent Darkstalkers port would probably have been one of the top 5 fighting games on the SNES.
CLOSING THOUGHTS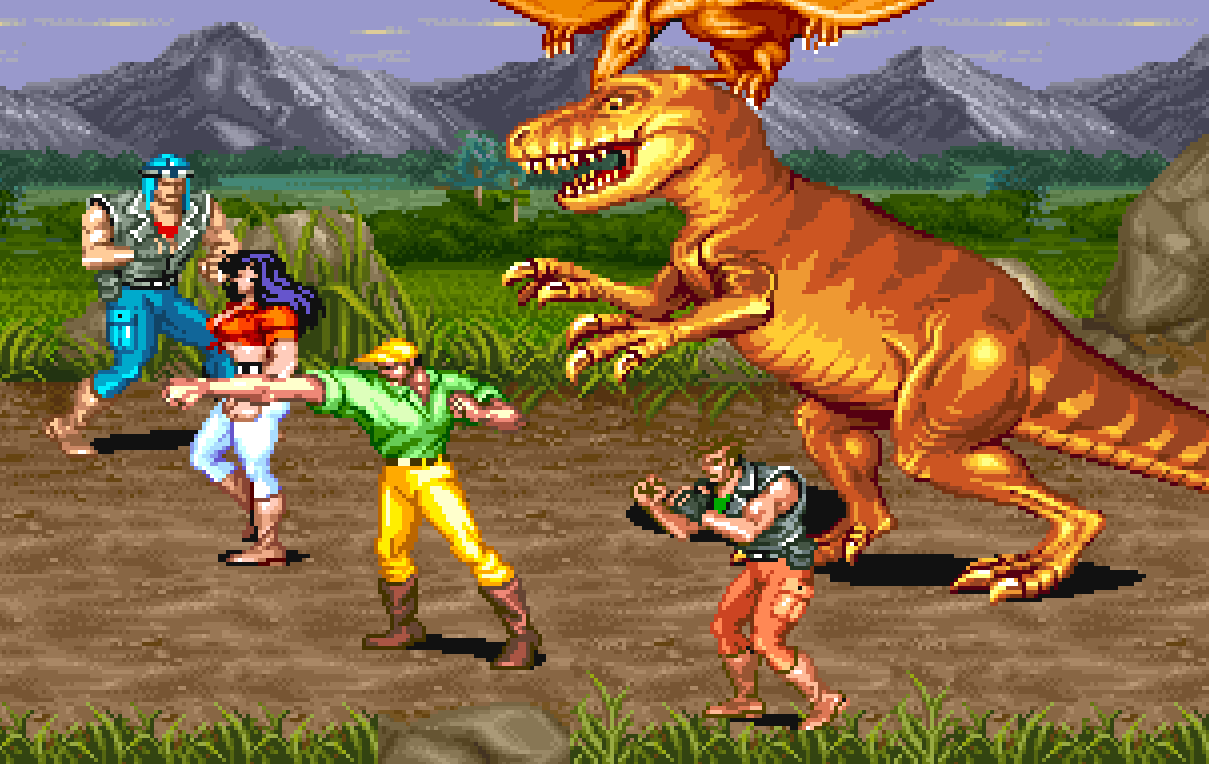 Thankfully, many of the games on this list has been made playable on the Nintendo Switch. And there are few, if any, imperfections. Still, there's no accounting for how priceless it would have been if all these games came out on the SNES when we were kids in the '90s. Because even though all Super Nintendo ports of arcade games had some degree of flaws and warts, a good number of them managed to capture the feel and essence of what made their arcade counterpart so much damn fun to play. And it was that special feeling of bringing them home from the rental store (or Toys R Us) for the first time and being blown away that you were playing a variation of the arcade game you loved so much in the comfort of your very own living room. There was something pure and magical about that. It's a time capsule to what is a very nostalgic period of our lives for many of us reading this. So long as the home port represented the arcade game moderately well, we were as ecstatic as vampires crashing a bloodmobile. So here's to 30 years of the Super Nintendo kicking ass and taking names. What a damn fun journey it has been. But as great as it was, it would have been even better had these 20 games come out. Yet for all the great home ports we missed out on, let's remember how lucky we have been over the past 30 years. To this day, the SNES for my money still boasts one of the best gaming libraries ever assembled. Happy 30 years, SNES!