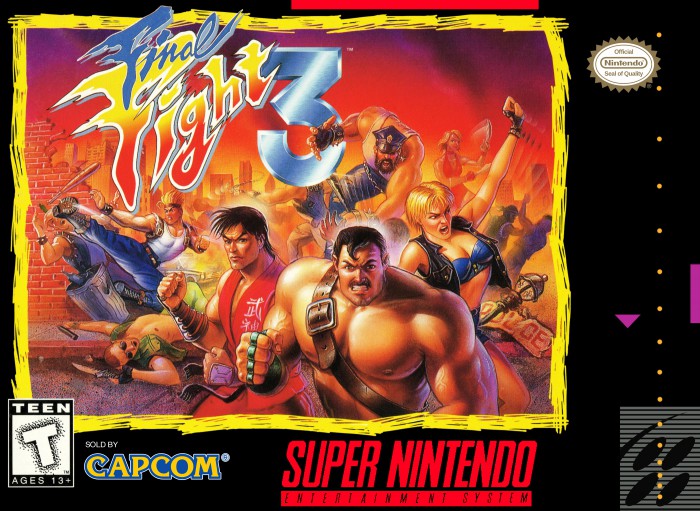 The original Final Fight was ported over to the Super Famicom on December 21, 1990. It came out exactly one month after the Super Famicom launched in Japan. Final Fight 3 came out five whopping years later, landing in Japan on December 22, 1995. This time however, instead of being a revolutionary console on the upswing, the SNES was a grizzled vet practically on its last leg. Capcom cranked up the voltage as Final Fight 3 clocked in at an impressive 24 MEGS, making it the largest beat 'em up on the SNES in terms of megabits. It featured branching paths, special moves, SUPER special moves and even a 2-player mode where the second player can be controlled by the computer if you didn't have a buddy nearby. Capcom definitely redeemed themselves for the disappointment that was Final Fight 2. Let's head back to Metro City one final time…
THE FINAL FIGHT — REALLY THIS TIME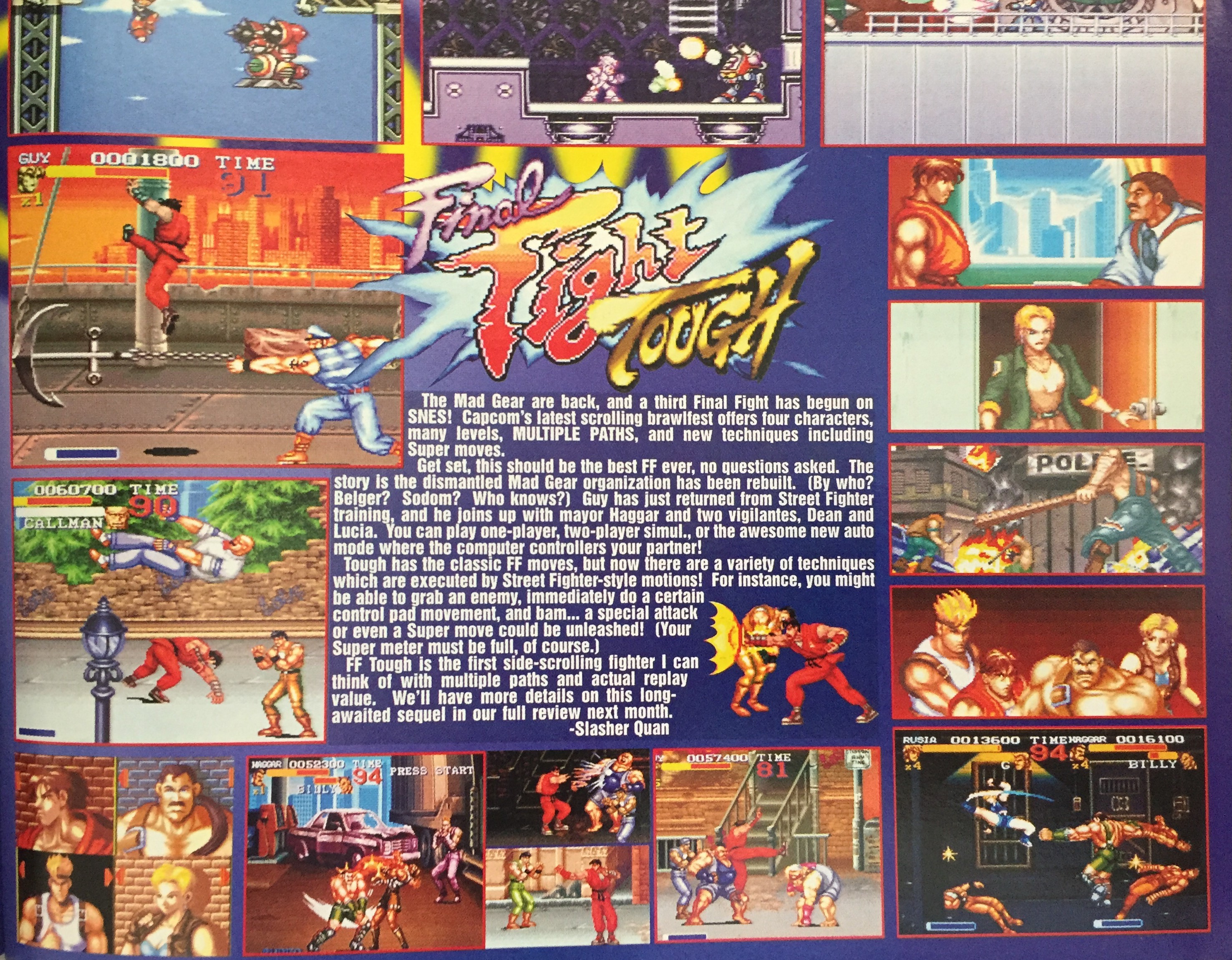 I remember seeing previews for Final Fight 3 and Mega Man X³ in the back pages of GameFan in late 1995. Capcom was back at it milking more sequels than Friday the 13th. But that's fine by me. Final Fight 2 was a sore disappointment and I had pretty decent hopes that they might get it right with Final Fight 3. Mega Man X³ looked like a welcomed addition to the series and it was just nice to see the Big C still supporting the Super Nintendo.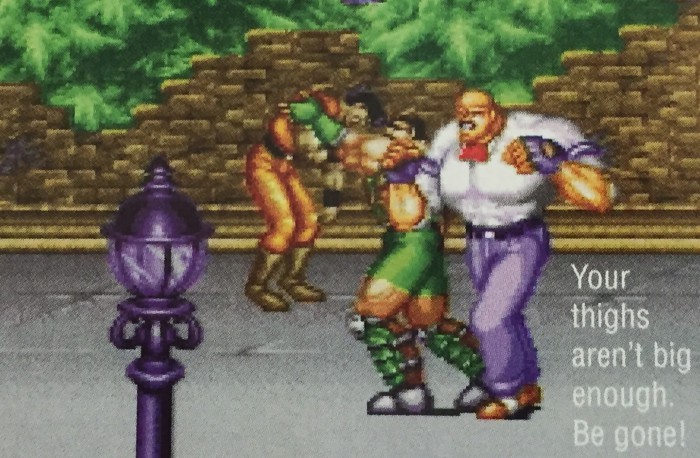 My brother and I hadn't 'upgraded' to the PlayStation or Sega Saturn yet. We clung on to our Super Nintendo during its twilight years, although we certainly didn't play it as much as we had done during the system's peak. Still, I remember feeling like Final Fight 3 and Mega Man X³ was something of a last bastion of hope. A beacon of light in the darkness for the remaining loyal SNES fans who stuck by the system's side even in its dying days.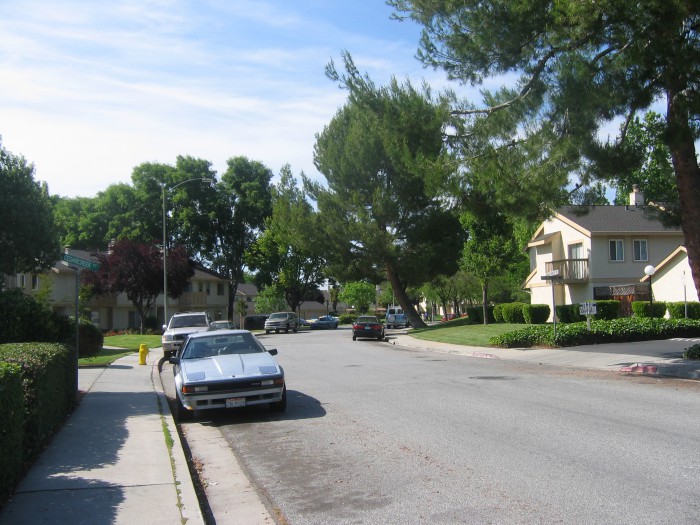 Final Fight 3 is something of a special game to me in many ways. My family moved in late January of 1996. My childhood home. The place where I carved out countless memories with my parents, brother, uncle and friends for 10 years. The place that meant so much to me and was more than a town, more than a suburb. It was, in many ways, the wonder years.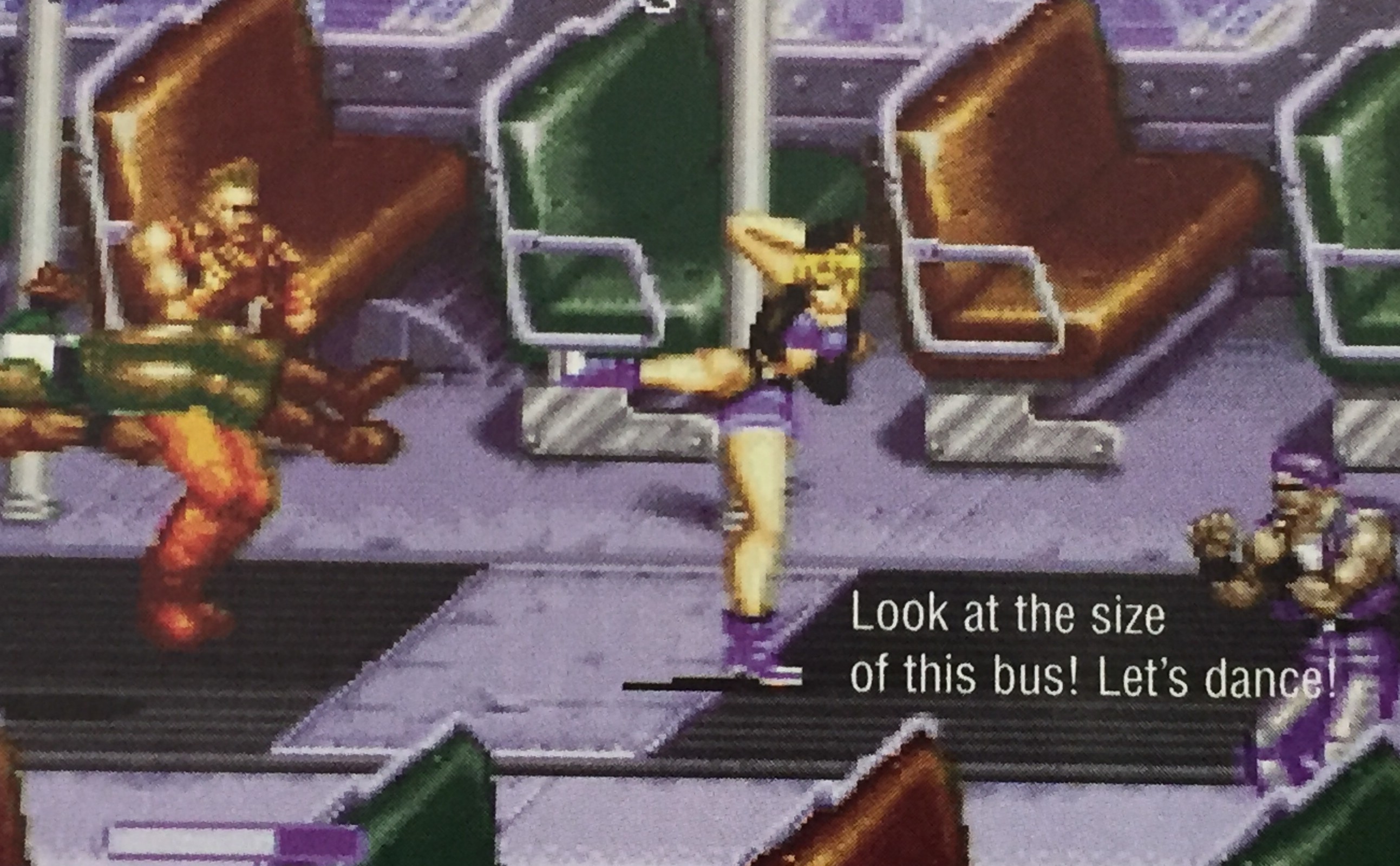 And Final Fight 3, of the hundreds and hundreds of SNES games I rented from 1991-1996, proved to be the final (har har) Super Nintendo game I ever rented while living in my childhood home. In fact, it was just the weekend before we moved. I remember playing it with moving boxes all around the living room, cleaning up the streets of Metro City one last time alongside my older brother. Made for some good times and memories. As such, Final Fight 3 will always hold a special place in my heart.
THE FINAL FIGHTERS

Guy returns! As does good old standby, Mike Haggar, complete with a brand new ponytail. Some fans are split on the look but I always dug it. Dean and Lucia are the two newcomers. Bye bye Carlos and Maki from Final Fight 2. Honestly, I never liked them much.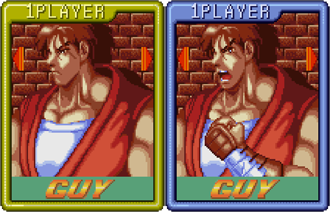 After completing a martial arts training trip, Guy returns to Metro City only to find himself caught up in a riot. He is happy to once again team up with his old comrade, Mayor Mike Haggar, and bring justice to Metro City once and for all.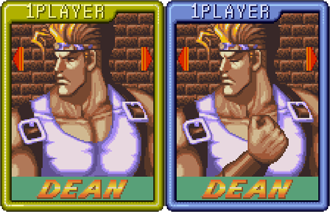 A former street fighter with a thorough knowledge of Skull Cross gang operations. He always carries a small picture of his family wherever he goes. The Skull Cross maniacs slaughtered his family when he refused to join up. Now Dean seeks swift retribution and some good old fashioned cold blooded vengeance!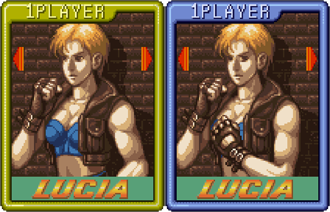 A detective in Metro City's Special Crimes unit, Lucia became Haggar's ally after he helped clear her of a corruption charge. Now she's returning him the favor.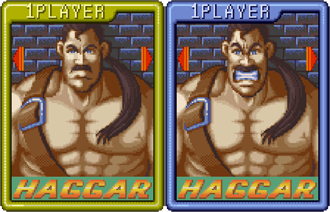 The most popular mayor Metro City has ever known, Mike Haggar seems to become more powerful with age. And who says you can't teach an old dog new tricks? Haggar has a few new moves up his sleeve… well, if he wore sleeves. Ah, you get the expression.
THE STORY GOES…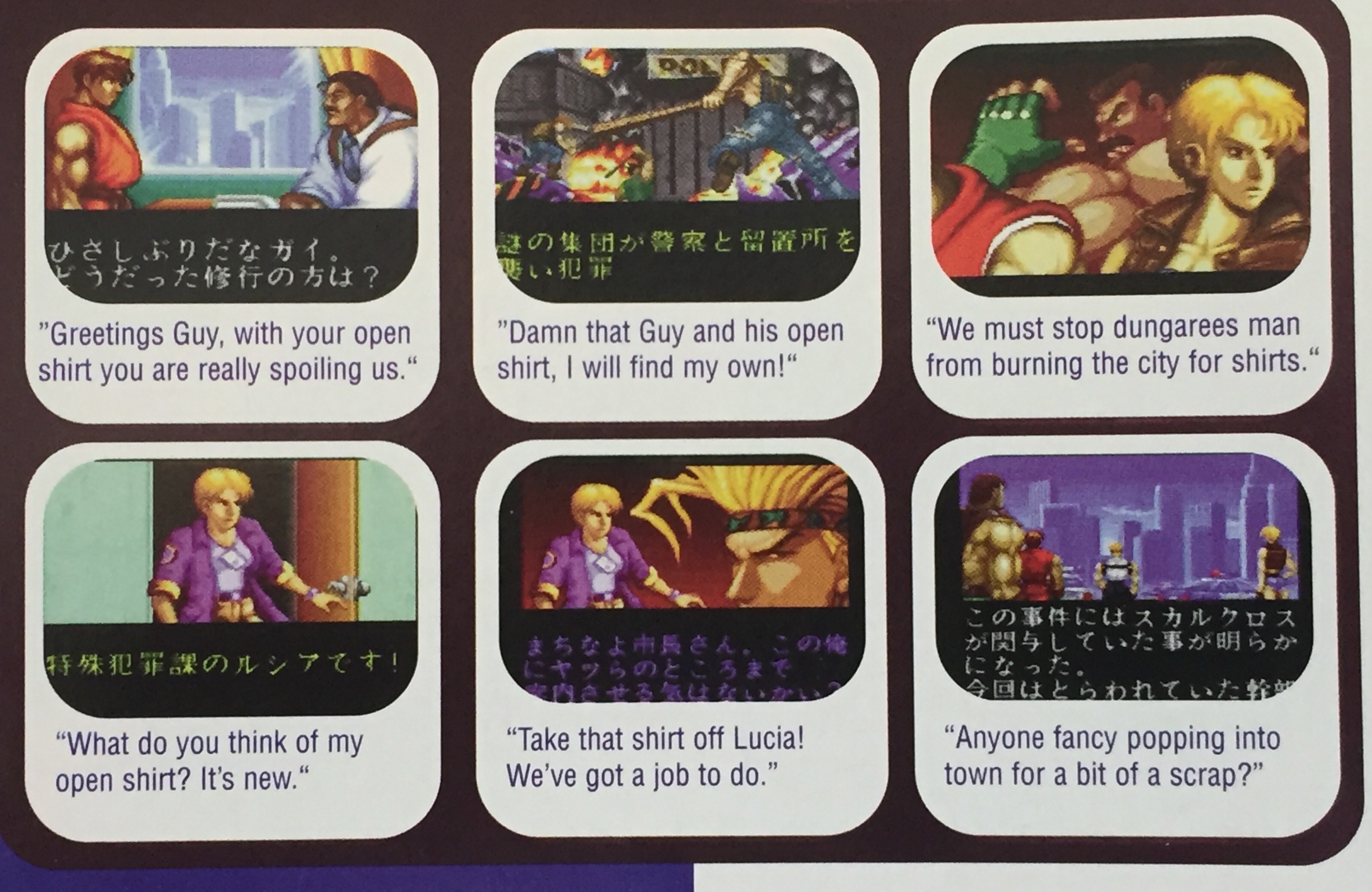 Well, that's Super Play's interpretation, anyhow. Classic SPLAY. No, here's the real plot…
Classic Metro City map from the first Final Fight returns.
"GODDAMN look at you, Guy! Looking good as ever. How did your training go?"
"I picked up a few new tricks…"
"Metro City is under attack! If we don't intervene quick, the Skull Cross gang is going to rip the city apart!"
"HOLD UP — WHO THE FUCK ARE YOU?!"
"Does it really matter? All you need to know is I know where those scumbags are headed."
"I guess I don't have much of a choice. But if you're lying, I'm gonna kick the shit out of you!"
"GONNA BE JUST LIKE OLD TIMES… FOR THE FINAL TIME."
Questions abound — will the Skull Cross gang succeed where the Mad Gear gang failed? Will Dean get his revenge? Will Haggar's ponytail choke a bitch? Let's find out!
Japanese version on the right. Notice that it's much fancier and was known as Final Fight Tough over in Japan.
ROUND 1: POLICE STATION
Running attacks are new to Final Fight 3. Each character also has a special move which is executed in Street Fighter fashion. These new tricks really add to the gameplay and helps to keep things fresh.
Another brilliant addition by Capcom, SUPER special moves can be performed when you fill up a small meter at the bottom of the screen. SUPER specials inflict a ton of damage, not to mention they just look frigging cool.
Barrels contain goodies to recharge your health or boost your point total. Making your way through Metro City Police Station, incarcerated members of the Skull Cross gang can be seen from behind their prison cells. Nice touch, along with the dim flickering lights.
Capcom delivers a nice tip of the hat to its roots. This scene is reminiscent of the car bonus stage from the first Final Fight. "OH! MY CAR" remains one of the most memorable lines in gaming history.
Known for its big beefy bosses, Final Fight 3 continues that tradition well. Meet Dave, a corrupt massive cop gone rogue. Gorilla slam his ass into oblivion, Ultimate Warrior style.
Unfortunately, our heroes were duped. The Skull Cross gang staged the riot to keep the police busy as they freed one of their leaders from prison. Meanwhile, Dean apologizes for before. He didn't have time to explain then. He tells them he was a former street fighter on the circuit, and when he refused to join the Skull Cross gang, they slaughtered his family. Now it's payback time!
ROUND 2: MAIN STREET
Haggar loves to show off his sinewy tight muscles as he sprints ahead. Now that Costco is infamously no longer selling their $1.50 polish dogs, everyone is flocking to Metro City for their hot dog needs.
Although perhaps not quite mutant, I like how Final Fight 3 introduces some gray area into some of their bad guys. I've always preferred my beat 'em ups to stray a bit from the beaten path. Some of the fat enemies don't look quite human. It's almost like some of them are failed experiments gone wrong, or right, depending on your perspective.
Speaking of paths, one of the best things about Final Fight 3 is that there are multiple routes to take. Bust that door open and you'll enter the Club. And speaking of best, what's better than finding a big piece of BBQ chicken (that will fully recover your health) when you're just one hit away from dying?
Callman, another big beefy (bald) badass, will kick the ever living shit out of you if you aren't careful. The furniture goes flying!
Haggar's mighty axe swing helps even up the odds.
Callman would be a hell of a linebacker in the NFL. I love how he's so damn big that Haggar's spinning piledriver on him looks a bit ridiculous!
Destroy the fence instead however and you'll find yourself in a rundown park. Notice on the bench (zoom in if you're on a mobile device) the word FUK. How that slipped by Nintendo of America… I'll never know! You still fight Callman at the end here if you take this route.
ROUND 3: BUS STOP
Shattering glass windows is quite satisfying. This stage allows you to take a shortcut and skip directly to the next level by breaking the bus stop sign. But if you don't, a bus will come by to pick you up.
Daaaamn! That's the first thing I thought when I first boarded this bus. Look at the size of that ham hock! It's almost big enough to fit a T-Rex.
Electrocute the competition with Dean's mighty fist. There was a rumor that Dean is really a robot but that's never been confirmed. Also, because the game refers to his family, that's reason to believe the robot theory is off. Andore makes his first appearance here. Get too close and he'll choke the hell out of you.
Showing off his strength, Dean lifts Andore high over his head before sending him crashing down across his knee. Ouch! Talk about a mean back breaker.
Eventually the bus stops at a scrap yard. Next stop: ELECTRIC AVENUE!
Soaring high into the air, Dean's SUPER special is a throw from the heavens.
Jumping on top of the bus now, Dean faces off with Caine and his cronies. Caine is a lot tougher than Dave and Callman.
Caine's odd design left me feeling a little unsettled as a kid. The hunchback, the abnormally long arms and incredibly shrunken head made him exactly the kind of creep you wouldn't want to run into down a dark alley…
ROUND 4: THE SHIP
Destroying the bus sign allows you to skip the bus and fighting Caine. It takes you straight to the docks. Haggar loves a beautiful sunset.
Andore continues his progressive transformation toward becoming a full time Frankenstein. Watch out for those killer abs!
Running attacks brought a sense of speed to the game. It never gets old hitting a running clothesline on some sucker.
Finally, we get female enemies in a Fight Fight game on the SNES! The previous two games in the series altered the female enemies to be guys. ProTip: Avoid being in the middle of an Andore sandwich.
There's an age old debate among some folks pertaining the question, is a hot dog really a sandwich? Fear no more, Final Fight 3 puts a definitive end to that debate.
Survey says… NOT A SANDWICH! Thank you, Capcom, for putting that silly notion to bed. You have a choice to go up the stairs or through.
Careful there Mike, those tiny masked guys are fragile. Most beat 'em ups on the SNES features three enemies on screen at the most, but Final Fight 3 has a few sections where there's four (as seen above).
Carrying a huge anchor, Drake (nope doesn't look like Dave whatsoever…) will swing it around and try to crush you with it. If that fails, he'll rely on his heavy bottom to take you out.
Another cool aspect about Final Fight 3 is that the shoulder buttons allow you to lock in on a direction. Double tap back when doing this and your character will do a quick hop backward. It just adds another layer of depth and nuance to the game and is the only SNES beat 'em up to feature this.
BONUS ROUND 1: THIS IS SOME BULL
Bulldozer comes steaming after you, trying to knock you off the pier. Only jumping attacks work, and there's barely any room (literally) for error.
Should you fail, one of your teammates will fly in for the assist. But if you can beat it, you'll earn extra points.
ROUND 4B: CHINA TOWN
Boarding the bus and defeating Caine takes you straight to China Town. It's a beautiful depiction of China Town at night with all the fancy lights shining.
Detective Lucia reporting for duty!
Andore likes it rough but not THAT rough.
Haggar takes over as we enter the kitchen. Wong comes busting out!
Similar to Caine, there's something that's just OFF about Wong. It's definitely his creepy looking eyes, which left me a little unsettled as a kid. Watch out for his Blanka-like rolling ball attack.
Sleeping burning on the job there, are we, Wong? The way he convulses at the end is also a little disturbing. Quit staring at me with those alien eyes!
ROUND 5: FACTORY
Haggar finds himself trudging through a sewer to begin this stage. Capcom's classic Yashichi icon can be picked up for temporary invincibility. Look between Haggar's legs… damn that sounds like a sordid piece of fan fiction right there.
Another cool thing about Final Fight 3 is that certain weapons are better used by certain characters. For example, Haggar really knows how to swing the lead pipe whereas Guy is not nearly as competent with it. Again, this is another feature that you won't find in any other SNES beat 'em up.
Haggar in a shady back alley? Nope, nothing wrong with that. A new enemy called Hunter appears on this stage. Armed with a baseball bat and a mask, he's pretty cool looking but is painfully slow. Still, a unique enemy especially in the Final Fight universe.
Hunter reminds me a lot of an enemy from Undercover Cops, who also wields a baseball bat.
Always fun to see stuff like this.
Destroy the second door to unlock a secret area.
Decimate all the computers here and you'll be taken to the final round without having to face the boss of this stage!
However, if not, you'll have to work your way to the boss.
Obviously, doing so is going to make your life harder but it also extends the game and lets you face arguably the toughest boss from the Skull Cross gang, Stray.
BONUS ROUND 2: RUNNING OF THE BARRELS
ProTip: Avoid barrels. Break computer.
ROUND 6: SKULL CROSS HEADQUARTERS
Finally, we come to Skull Cross HQ. Guy takes over, tossing bad guys around like sacks of potatoes.
"HADOKEN!" Not quite, but it's still pretty cool. As is his spinning kick.
Capcom messed up on Guy's SUPER special move. The bad guy always falls down before Guy can hit his little fireball, making this move look a bit silly.
Uncover more bonus rooms by breaking them open.
Peculiar to see BBQ chicken hiding inside a water dispenser, but alright then!
Andore's no match for Guy's fireball. And here's another section of the game where four enemies crowd the screen at once.
Special moves really add to the quality of gameplay, requiring some level of skill to execute rather than just mashing away at the buttons. Toward the end, a chopper reveals itself to set up the final battle.
Details are on point here. Shock waves can be seen on the ground complete with a perfectly matching sound effect to punctuate the arrival of Black, the big bad of Final Fight 3 and leader of the Skull Cross gang.
Bursting out of his jacket, Black uses a spinning attack even more effectively than Haggar's. That's because Black's spin attack actually sees him zipping around the screen like a mad man!
Beware of all the knives he'll throw as well. When his health is depleted to the last bar, the screen will shift to the right slightly, revealing an electric generator.
Satisfying way to kill him! But you won't have long to celebrate — the generator goes bonkers and the whole place is about to blow. RUN!
Haggar: "We saved Metro City! Thanks, Guy!"
Lucia: "AHEM!"
Haggar: "Er, I meant thanks, guys."
Guy: "No problem. But look at the city — it's nearly in ruins."
Lucia: "Well, that's a problem for Mayor Haggar to deal with, isn't it now?"
Haggar: "Don't remind me…"
Drifters, by nature, come and go. Dean's work is done. For now at least.
Kansas' Carry On Wayward Son can suddenly be heard playing in the background…
"Carry on my wayward son.
There'll be peace when you are done.
Lay your weary head to rest.
Don't you cry no mooooore."
Haggar and friends go out in style.
UH EXCUSE ME — PRESS START ANY SECOND NOW!
Capcom always had the greatest continue screens with their Final Fight games. Final Fight 3 is no exception.
GLITCHES R US
Although the production values for this game is solid enough, there are a few instances where you can see ever so briefly (less than a split second) some funky not-so-fluid glitches. It really doesn't kill the game in any way (especially since it's really not that bad) but it's interesting to note regardless.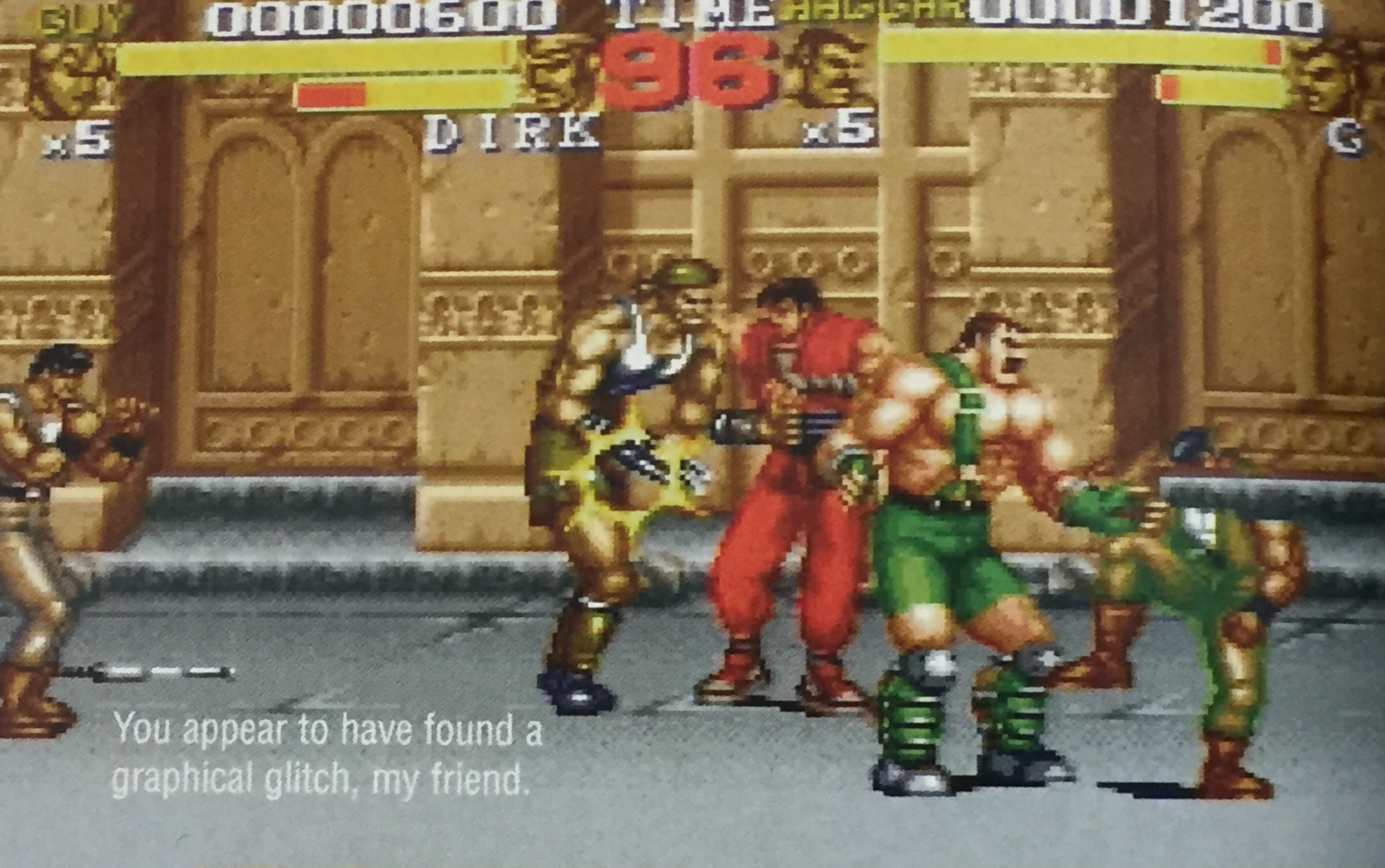 WHAT THE CRITICS SAID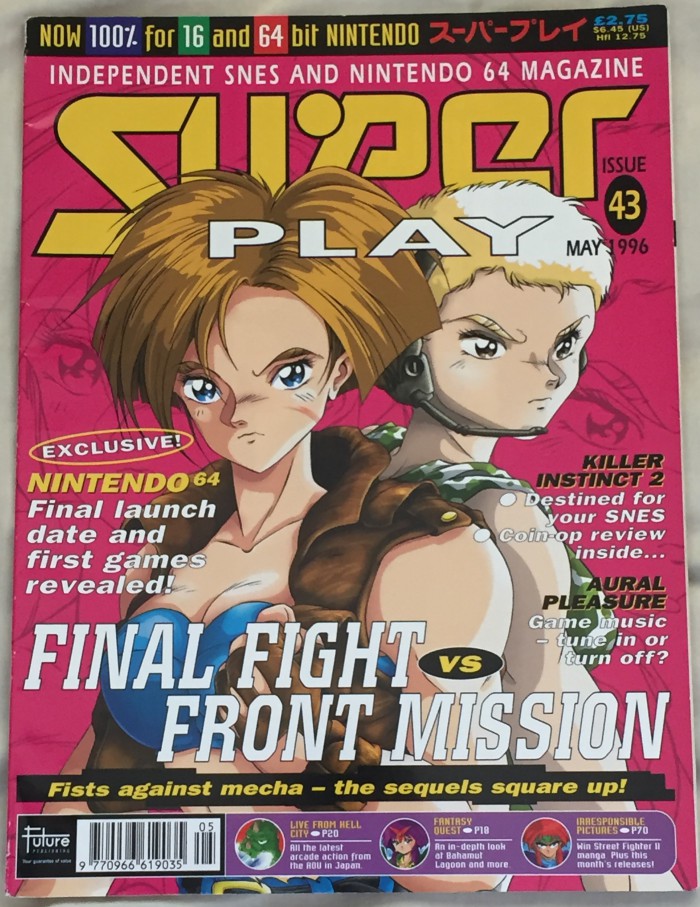 Final Fight 3 pretty much got brutalized by the critics when it was initially released back in January of 1996. The game was criticized for being outdated, out of touch with the times and not offering anything new. Which is crazy, considering Final Fight 3 not only added special moves but SUPER special moves (among other standout features). But I get it. It was simply a victim of its time. Back in 1996, most people were not looking to play an "archaic" 2D side scrolling beat 'em up, and the game's review scores reflect that sentiment. EGM gave it scores of 6.5, 5.5, 5.5 and 5. GameFan gave it ratings of 77, 67 and 55%. Super Play minced no words, slapping it with an embarrassingly low rating of 49%.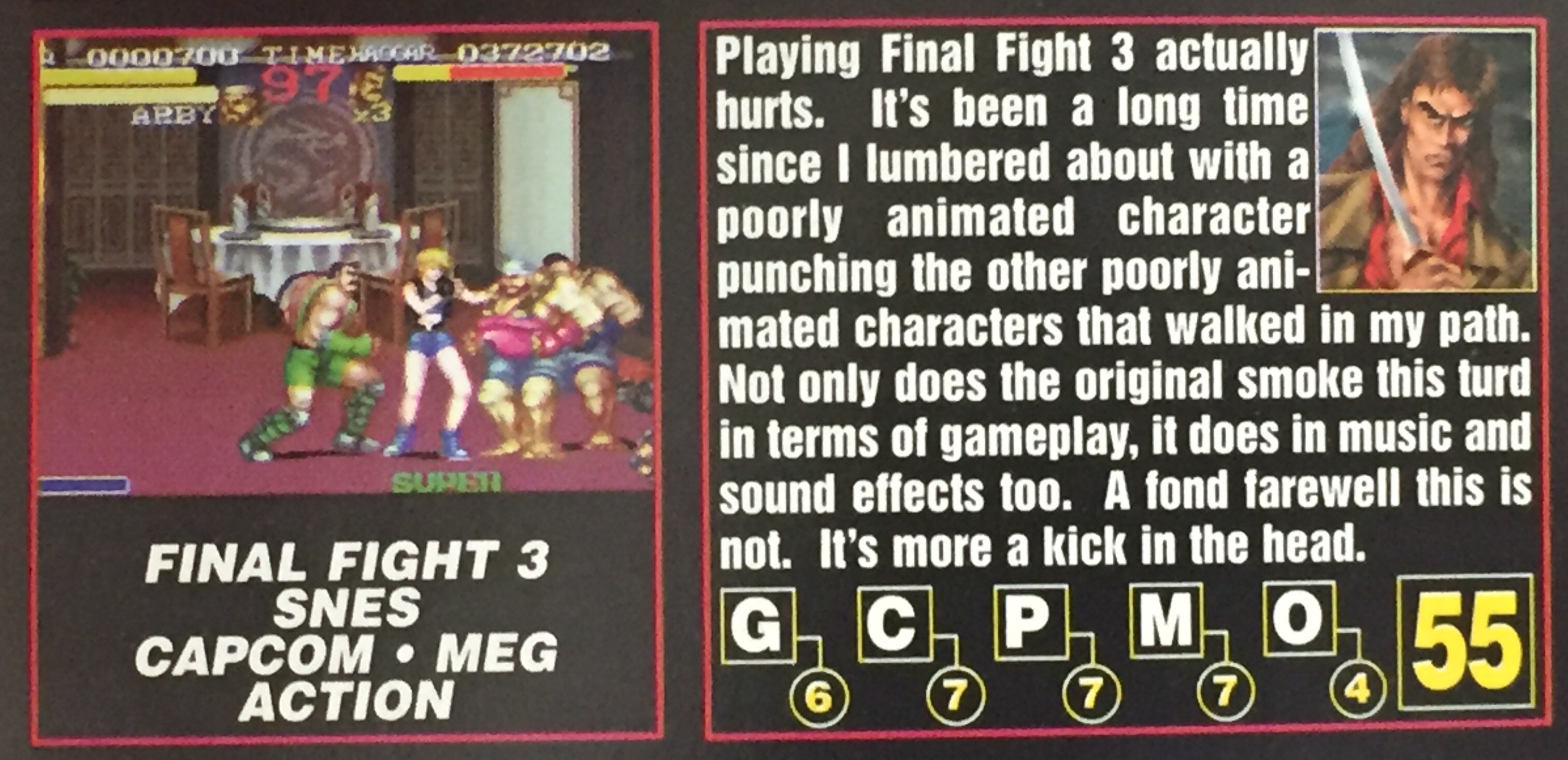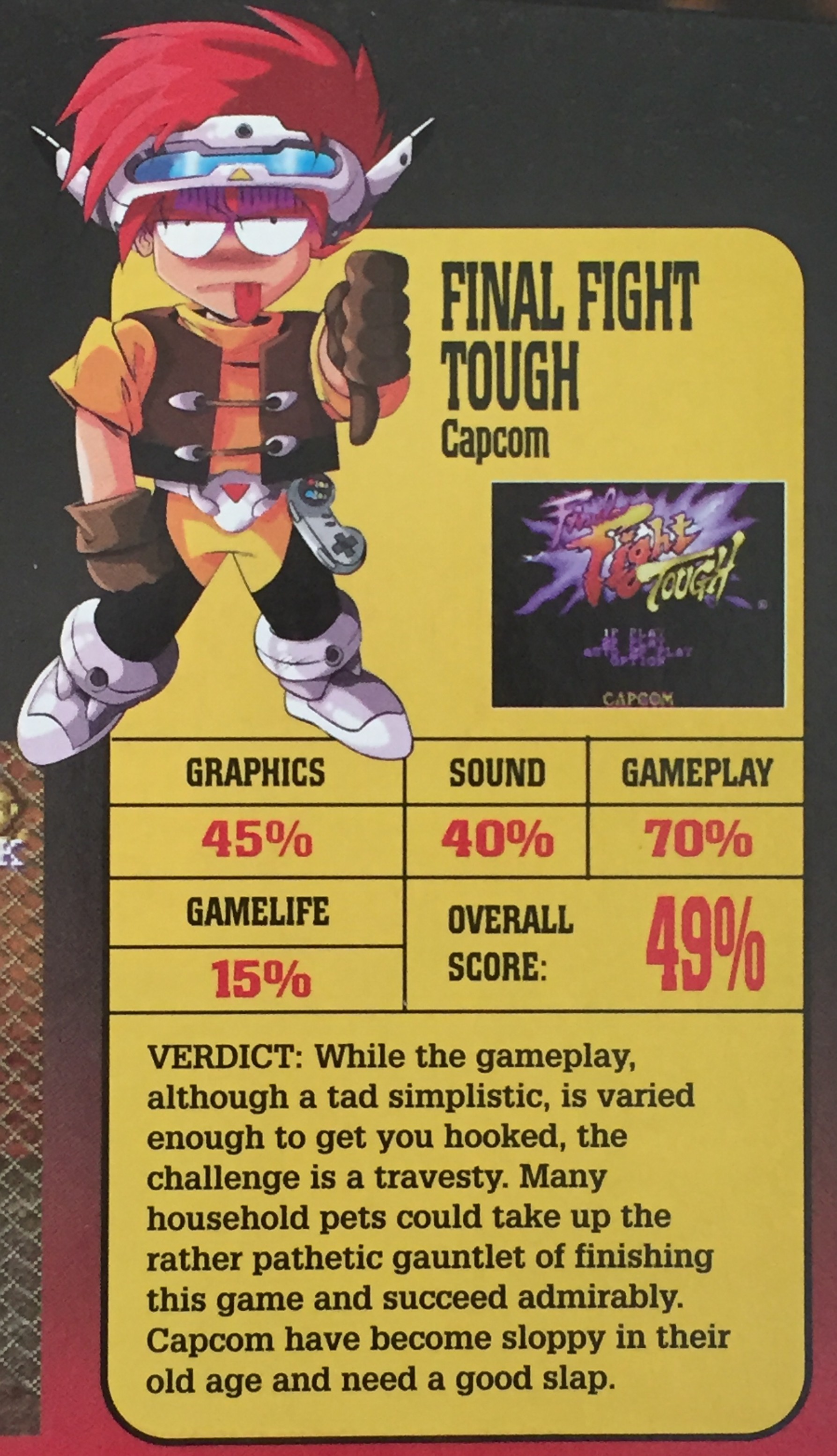 I love Super Play. That fact is well documented around these parts. But I vehemently disagree with their assessment of Final Fight 3. First of all, to me it's just ludicrous that you can rate a game's gameplay as 70% but rate the game an overall score of 49%. I believe the gameplay and overall score should be similar. Yes, graphics, sound and longevity all play a factor in deciding the overall score but gameplay has to be where the emphasis lies. Come on Super Play, that wasn't cool.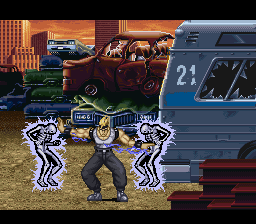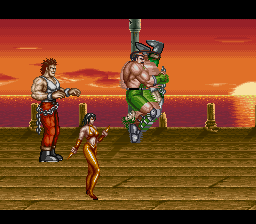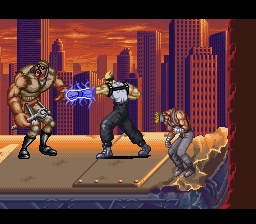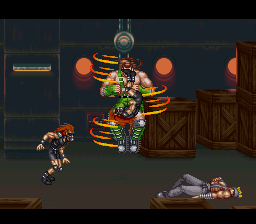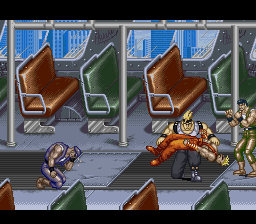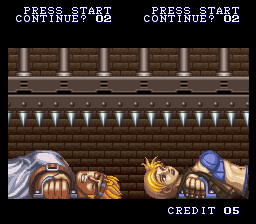 CLOSING THOUGHTS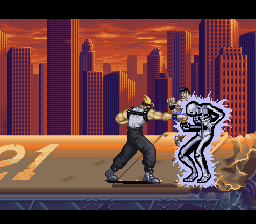 Final Fight 3 is one of those games that got killed in the press when it initially came out but is now acknowledged as a (really) good game. In fact, I can't think of an SNES game that was more criticized at the time of its release yet is now so beloved as Final Fight 3. Again, it was a matter of timing and circumstances. Back in 1996, with all eyes toward the (32-bit) future, a game like this looked like a couple years too late. Capcom was accused of once again releasing a lazy sequel. But now however, Final Fight 3 has been received with welcome arms and is often considered as a top 5 beat 'em up on the SNES. It added some great new features to the fold, including special and SUPER special moves, running attacks, throws from behind, the ability to lock your direction and even retreat with a quick dash backwards.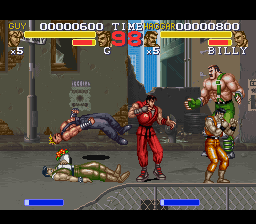 Lest we forget the branching (and secret) paths which help add to the game's longevity. Hey remember those old "CHOOSE YOUR OWN ADVENTURES!" books? Yeah, Final Fight 3 kind of has that vibe thanks to its multiple routes one can take. Of course, perhaps best of all, two players can FINALLY use Mike Haggar AND Guy simultaneously. The two new characters, Dean and Lucia, aren't too shabby themselves and are much more interesting and fun to use than Carlos and Maki from Final Fight 2. Oh and you can't forget the brand new Auto 2-Player mode. This option allows the computer to control the second player. It's handy for those nights where it's just you and your Super Nintendo [Isn't that you every night? -Ed.] Shush! *looks into imaginary camera* This is a cry for help!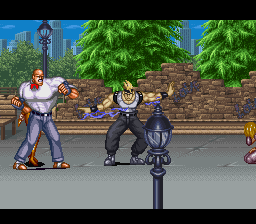 The graphics are pretty good. Sprites are big and beefy. There's a good amount of color on screen, although a few areas are rather drab and lacking in intricate detail. Animation is a little on the wonky side though. Some animations could have benefited from more frames, but it's certainly not wooden by any means. It's just not as silky smooth as you would expect coming from Capcom. Sometimes Final Fight 3 looks great, and other times it looks only average. The same could be said for the music and sound effects. Some sound effects are a little muted while others, like the chopper landing sending out shock waves, are spot on. The music is pretty good in certain areas while forgettable in others. Thankfully, it's the gameplay that matters most, and this is where Final Fight 3 delivers its biggest punch. It's simply a blast to play, and thanks to all its nuances, it doesn't grow nearly as repetitive as many other beat 'em ups I could name.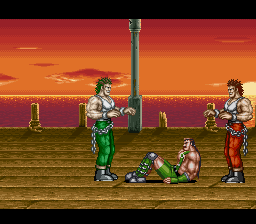 But the game's biggest flaw is that it suffers from some slowdown in the 2-player mode. Not to the point where it's unplayable, but enough where it's definitely a bit annoying. Still, that doesn't stop Final Fight 3 from being the best Final Fight game on the SNES by a comfortable margin. It's funny how so many people came to appreciate this game more only years and years following its initial release. There are a few other SNES games I can think of that fit this bill, such as Mega Man 7 and Street Fighter Alpha 2, but none wears it finer than Final Fight 3. While it has its share of flaws, Final Fight 3 is easily one of the top 5 beat 'em ups on the SNES and a damn fine example of a beat 'em up done (mostly) right.
Graphics: 8
Sound: 7.5
Gameplay: 8.5
Longevity: 8
Overall: 8.5