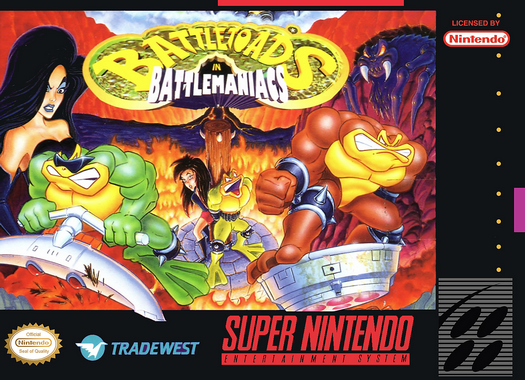 The Super Nintendo in the early-mid '90s was where all your old 8-bit favorites went on to become immortalized. Taking everything that made the 8-bit classics so great and adding some 16-bit horsepower to the mix often times made for an even better game. Sadly though, not all 16-bit sequels lived up to the hype. And in some cases, they even fell way short. But I'm getting ahead of myself. Let's rewind the clock back to the summer of 1991…
LEAN, MEAN AND GREEN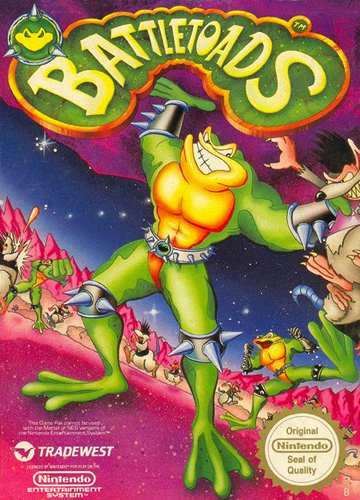 When the Teenage Mutant Ninja Turtles cartoon hit airwaves back in 1987, it sparked a revolution. It wasn't long before we saw other similar mutant animal factions sprout up overnight like a bad pimple [I see what you did there -Ed.] on prom night. The first time I laid eyes on the Battletoads box at Evergeeen Video one hot June afternoon in 1991, I was hooked. Instead of beating up foot soldiers, you took on mutant rats. Instead of playing as turtles, you played as some badass toads. The game immediately grabbed my attention. No sooner then did I take it to the counter for the old man to rent.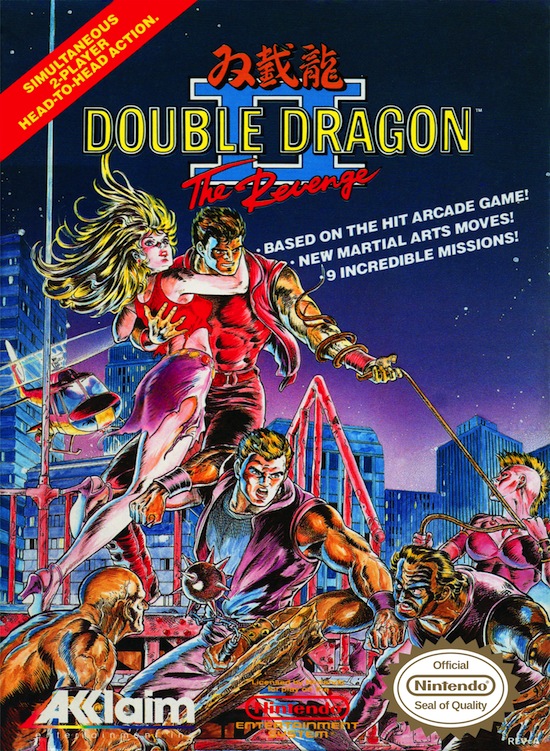 Double Dragon II was our jam. My uncle bought us a copy and we played it to death. Back then there was nothing like kicking in skulls and cleaning up the streets with a buddy in tow. As far as my 7-year-old self was concerned, nothing could top that. A jump kick here. An uppercut there. I was a pig in mud.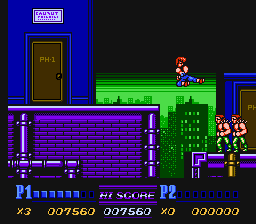 Double Dragon II was the pinnacle of NES beat 'em ups. So my brother and I were excited to try out Battletoads especially coming off the heels of the very disappointing Double Dragon III sequel (February 1991).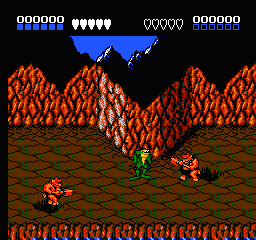 It didn't match the sheer awesomeness of Double Dragon II, but we definitely had our fair share of fun with Battletoads. One has to give it some credit for being different. At its heart you have another beat 'em up, but it did a few quirky things here and there that has stood out in my mind even 25 years later. Whoa, speaking of which, I just realized NES Battletoads turned 25 two months ago. Cue the obligatory "Damn do I feel old now" comment.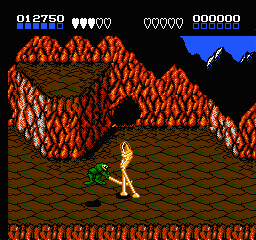 Just look at this enemy. Very unconventional looking. Not only that but you can break its legs, take one and beat bad guys with said leg. It's utterly ridiculous, but all part of that weird, unique Battletoads charm.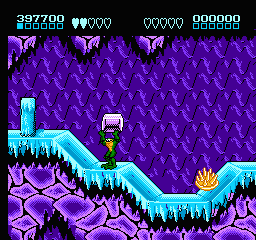 Unfortunately, Battletoads is also known for its gross difficulty, particularly that infamous air bike section. You know the one I'm talking about. Even to this day, it's still referred to as one of the hardest sections a video game has ever seen. But hey, maybe in the 16-bit sequel they'll reduce the difficulty, or get rid of it altogether, right? Right…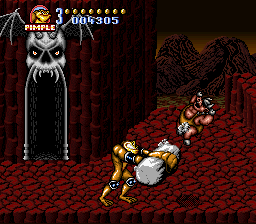 Things start out well enough. Unfortunately you can't pick the toad you want to use. Player 1 always uses Pimple while Player 2 uses Rash. Zitz was captured in the game intro. Kind of a downer you couldn't just select from any three, but whatever. It's fun seeing Pimple transform his fist into a stone hammer the very first time.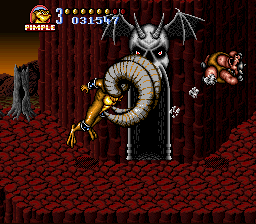 As well as this. It starts out being quite comical, and satisfying. That is until more than one enemy shows up, and the time it takes to produce such exaggerated animations begin to cost you. Enemies can easily score cheap hits because of these overblown moves, and they're no longer as fun to watch the 10th time. Which proves to me sometimes you just can't beat good old fashioned efficiency and practicality. These are fun gimmicks, indeed, but not very effective ones in the long run.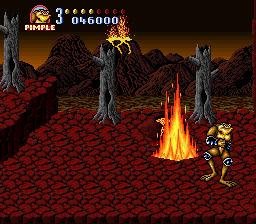 I do like though how the run option requires no double tapping. Just hold left or right for a little bit and your toad starts sprinting. Very handy for sections such as these.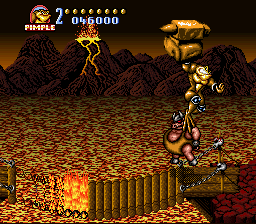 I love the exploding volcanoes in the backdrop of this stage. And all the excessive lava flowing around everywhere. It sets a pretty nice tone.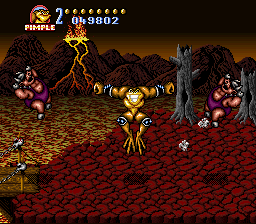 Ah, here's something more practical for ya. Surrounded by enemies? Smash both of them away at the same time. Very efficient, and satisfying.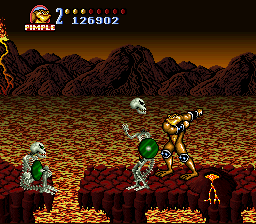 Shades of Golden Axe if you ask me! Try to knock these bozos off that little cliff there. Always a great feeling when you manage to pull it off.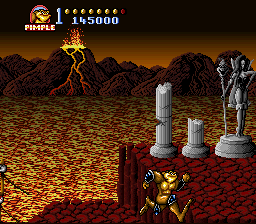 Not a big fan of level design like this. You know, where certain sections of the landscape give way and you have to be in the clear or else lose a life. Always felt cheap to me and particularly unnecessary in a beat 'em up. There's just no place for it.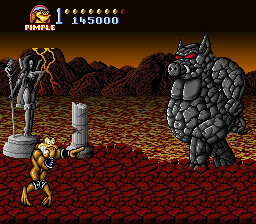 Love Pimple's reaction there. The game definitely has a sense of humor to it, and I'm sure I would have enjoyed it more if the game was more sensible rather than annoyingly cheap and difficult, which later on it does become.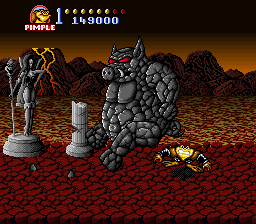 Speaking of annoying, be careful not to be squashed. If you are, you turn into a quivering pancake, and your sprite will wobble around the screen. Thankfully you can control it but you do run the risk of waddling right off the cliff and thus lose a life if you're not careful. It just adds another point to the annoyance meter for me.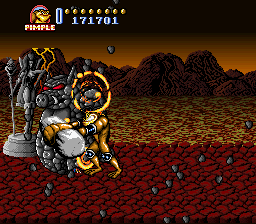 The final blow ends in a Michael Bay slow motion explosion. Quite dramatic and lovely. It's a shame this first level is really the only true "beat 'em up" level in the entire game. Yes, sad but true. This caught me off guard the first time. Stages 2-6 are all gimmicky bullshit that involves rides of one kind or another, and really take away from the enjoyment of the game. Honestly felt like I was duped. A classic case of bait and switch if I ever saw one before.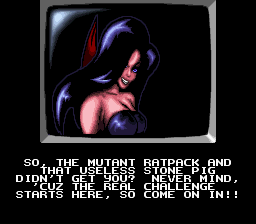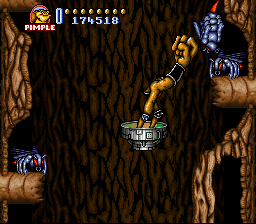 And so it begins. Your descent into gimmicky rides galore. At first it was like "OK, cool, they're switching it up for stage 2 for some needed variety." But then you realize these gimmicky scrolling stages never stop, much to the detriment of the overall game enjoyment.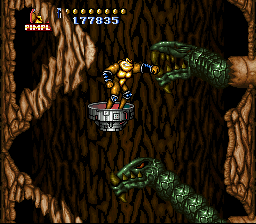 Another glaring flaw is when playing with two players, should any one of the players die, the game resets to the beginning of the stage. How is that fair? How is that a good idea? Answer: it's not fair, and it's not a good idea. It practically makes it unplayable with two because of that. Sigh, there's just so much that they got wrong with this one.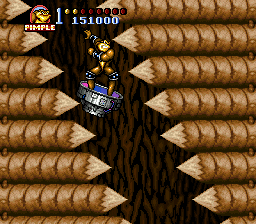 This part was just BS, too. At first it's manageable, but soon the screen speeds up and you essentially have no chance in hell but to experience a completely cheap death that relies mostly on luck. The screen scrolls way too fast and your sprite is way too big, leaving you little room to react as well as little wiggle room. A terrible combination that isn't fun but rather incompetently designed. Stuff like this really detracts from the game.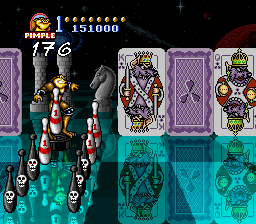 The bonus stages are OK, though. I like riding across the reflective surface there. It's got a cool look to it. And it's fun trying to collect as many of the good pins as you can while avoiding the bad ones. I just wish there were more regular beat 'em up levels.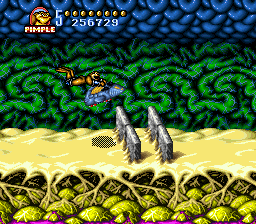 The infamous air bike section is back. And it's as hard as ever. I'm sorry but this just isn't fun. It's way too hard for its own good. I don't mind a legitimately stiff challenge as long as it's reasonably fair and well thought out. This is not. It's just borderline over the top ridiculous.
WHAT THE CRITICS SAID
Battletoads in Battlemaniacs received some amazing reviews when it came out over 23 years ago. EGM gave it scores of 9, 8, 8 and 8. GameFan rated it 94, 96, 99 and 99%. Wow. GameFan was notorious for handing out high scores like free condiments, and this is a pretty prime example of such. Two 99 scores for a game with its fair share of flaws — who knows what they were smoking back in the summer of '93? Finally, Super Play Magazine scored it 80%.
CLOSING THOUGHTS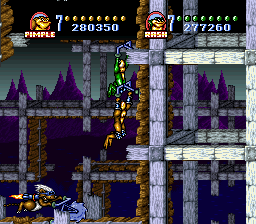 Earlier this summer I finally sat down to play Battletoads in Battlemaniacs for really the first time. Sure, I'm certain I had played it here and there for five minutes back in the early-mid '90s, but I don't recall ever thoroughly playing it. Needless to say, being a fan of the NES original, I came into this with lofty expectations. Imagine my shock when this turned out to be one of the most disappointing Super Nintendo games I have ever played. It's not the worst game. But in terms of disappointing? Sadly I have to say it ranks up there. After a decent first stage of good ol' beat 'em up action, the game decides for some absurd reason to turn into a scrolling gimmicky ride. I just want to move from left to right and punch anything that comes in my way.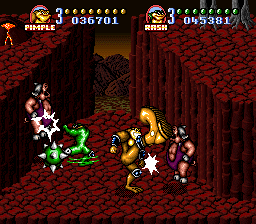 I can appreciate a game with a tough challenge. But when it crosses the line like it does here, it just feels wrong. This game simply didn't sit well with me outside of its visuals and music. Honestly, this game reminds me of a sleazy bait and switch. I came in expecting NES Battletoads on steroids. And it starts out decently enough. But as soon as that bloody second level hits, the game takes off its mask and says, "HA! TRICKED YA! THANKS FOR THE FIFTY BUCKS, BITCHES!" I've played a ton of SNES games in the past quarter century. There are some bad games in that lot, for sure, but Battletoads in Battlemaniacs was the last game I expected to be this disappointing. Not sure if I would have liked it more back in 1993 (perhaps it's aged very poorly), but this game is frustrating and broken. Not my idea of a good time or a game anywhere near deserving of a 99% or a 9 out of 10 score. If you like it, more power to ya. But this goes down as one of the most botched NES to SNES efforts I have ever seen. Oh well. Can't win 'em all. At least Battletoads & Double Dragon was somewhat playable and enjoyable…
Graphics: 8
Sound: 8
Gameplay: 4
Longevity: 4
Overall: 4.0