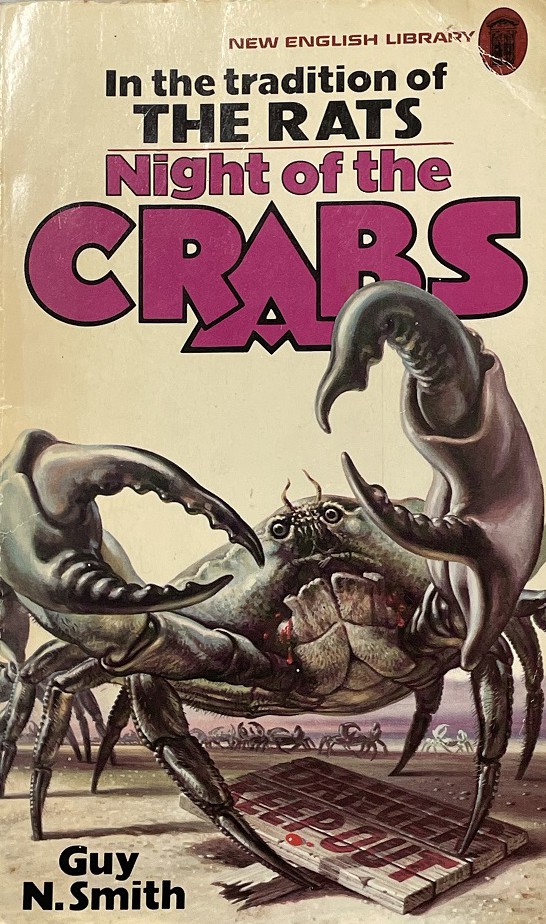 45 years ago, during that very hot summer of 1976, Night of the Crabs was published and Guy N. Smith's life would never be the same. Although he had a few horror novels published prior, it was Night of the Crabs that truly put Mr. Smith on the map. As one can surmise from the title, classic literature this ain't. Oh no, it's pulpier than hand squeezed orange juice and cheesier than grated Parmesan. And therein lies the beauty for those who are not opposed — or, better yet, inclined — to reading some B-Movie level pulp horror fiction.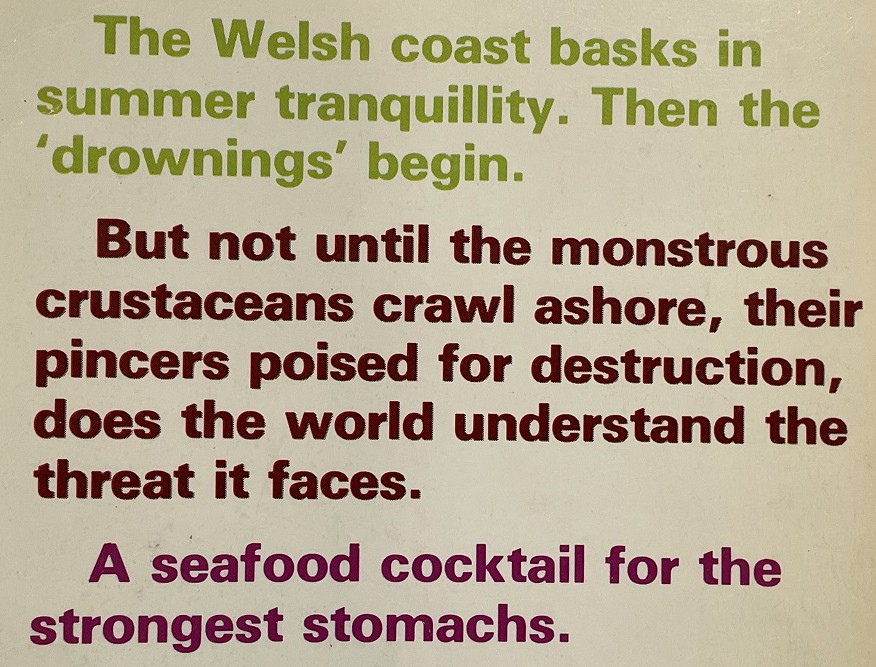 In a 2017 reprint, Guy N. Smith reflected on that scorching summer of '76.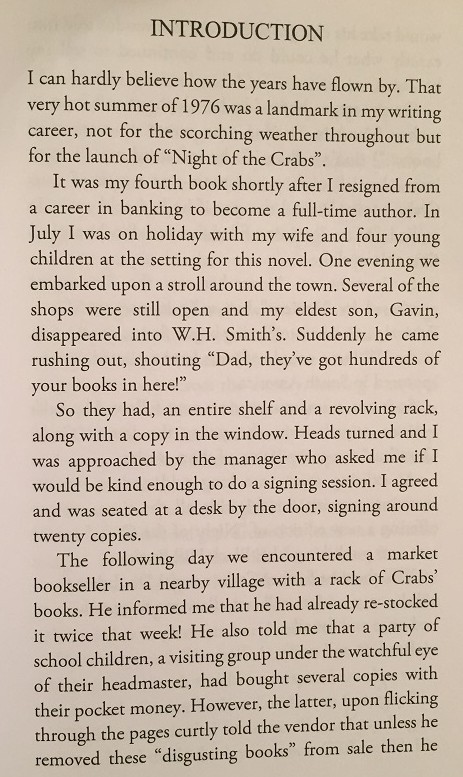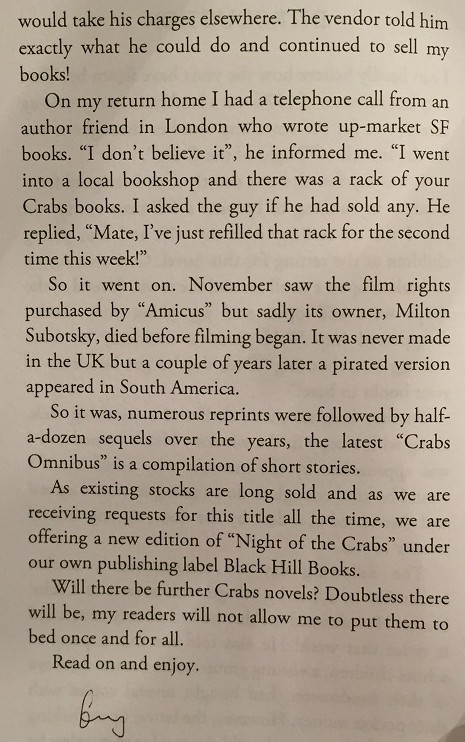 Sadly, Guy N. Smith passed away on December 24, 2020. He was 81. I'm sure he's looking down, smoking his pipe and grinning at the fact that his little book is now celebrating 45 years!

Guy's hilarious dedication. Jean's his wife and clearly, she "has to put up with it all." Whatever that entails!
RIDING THE WAVE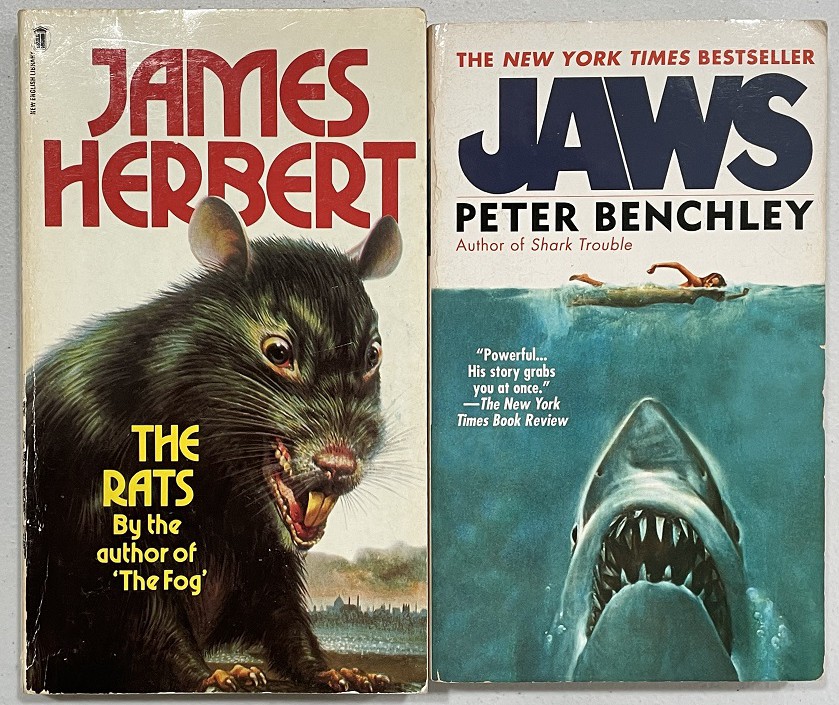 Peter Benchley's Jaws was published on February 1, 1974. The movie was released on June 20, 1975. Both the book and film were huge successes. The Rats was published in November of 1974 and was a massive hit for James Herbert. These books no doubt inspired Guy N. Smith to write about giant mutated murderous crustaceans. Heck, the front cover of Night of the Crabs proudly declares, "In the tradition of THE RATS." Just in case anyone thought otherwise.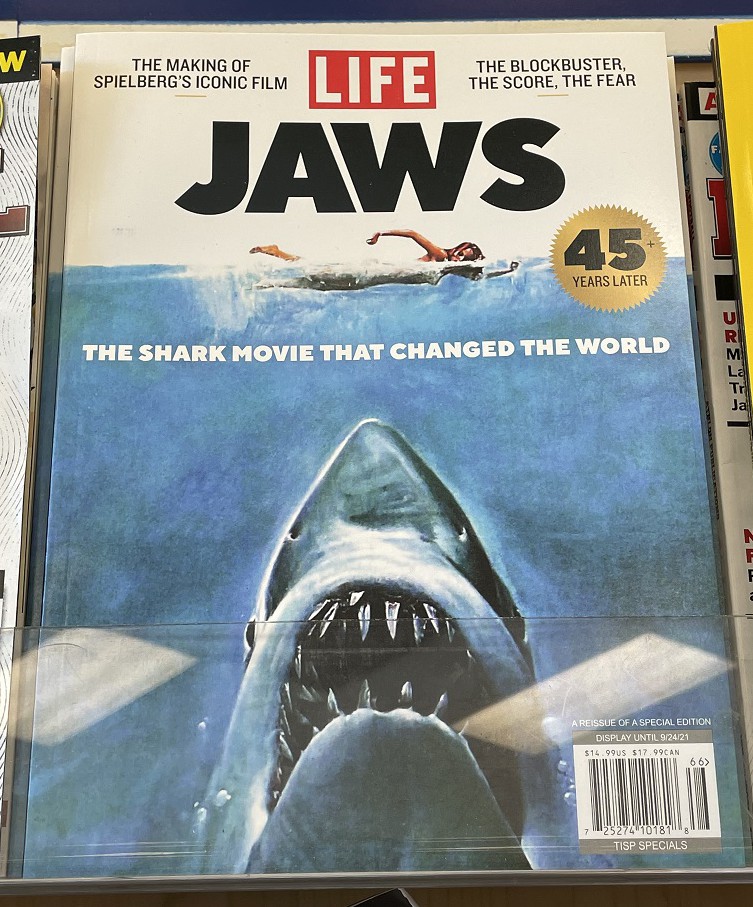 IT ALL BEGAN WITH AN INNOCENT SWIM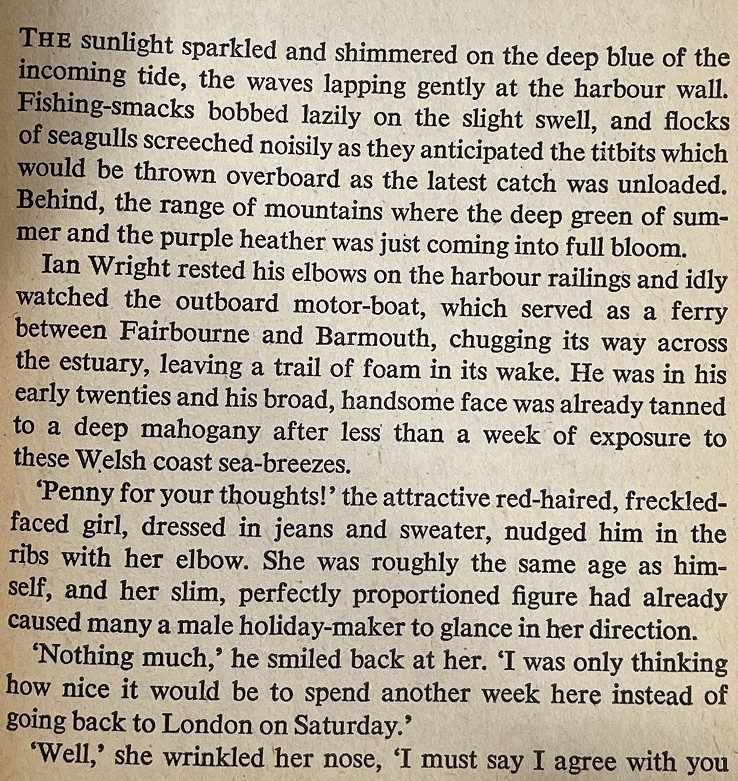 As so often was the formula for many horror books, the first page introduces 2 characters whose eventual and unfortunate demise becomes the start of a nasty chain reaction. The 2 unlucky victims here are Ian Wright and Julie Coles, a pair of hormonal teenage lovers. On a side note, I can't help but love the British lexicon — "holiday-maker" gets me every single time. Good ol' Guy.

Buddy, you wish it was just a cramp! The crabs are craving some soft tender human flesh…

Compared to some of Guy's later works, Night of the Crabs is fairly tame by comparison. Although, Ian Wright might say otherwise — if he could, that is.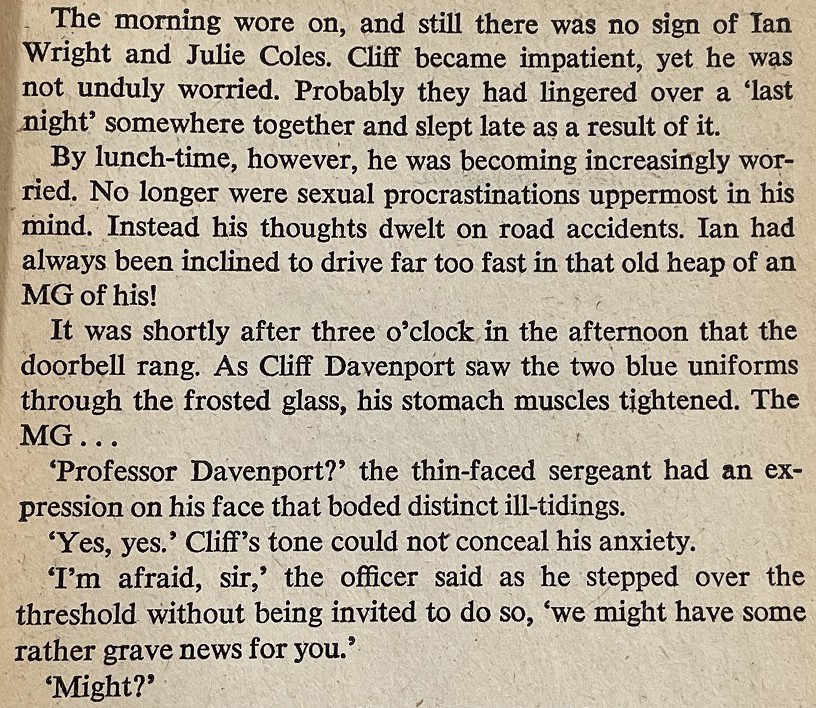 We soon meet marine biologist Cliff Davenport, Ian's uncle. Ian and Julie work for Uncle Cliffy, who becomes increasingly concerned when they fail to show up for work. He begins to fear something more than just "sexual procrastinations." Perhaps they were involved in some sort of road accident. Before his mind can race to another scenario even worse, there's a rapping at his door. A pair of officers. Oh bloody hell…

This part is such a heartbreaker. The stark contrast between the relief of the officers and Cliff's real emotions behind closed doors is so jarring. The air of finality that closes this chapter is crushing. And thus begins our protagonist's journey at uncovering the truth…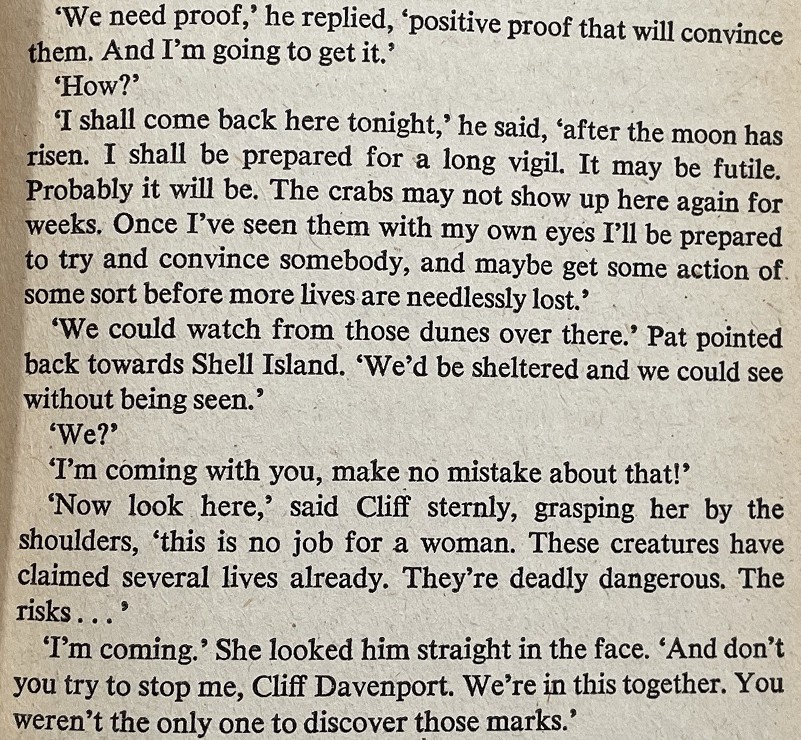 It isn't long before Cliff meets Pat Benson. Not surprisingly, the two become more than acquaintances with a shared mission. They discover the giant crabs and know that no one will believe them without any proof. It's time to concoct a plan to secure said proof. I love that this was written in 1976 and not 2021. Had it been the latter, acquiring proof would have been as simple as whipping out your phone. Imagine, mutated killer crabs on TikTok! But back then, with far less technology, things were a lot harder! There's a palpable sense of struggle and danger that exists because it was written in the age of long ago.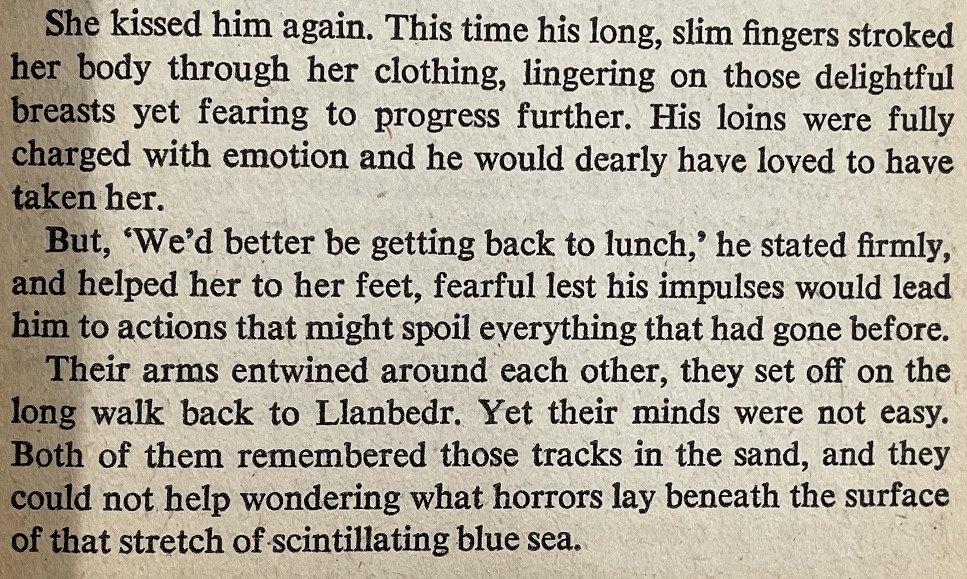 Guy's writing… it's not Hemingway but I do find there's a certain charm to it. His sex-related scenes are perhaps a bit clumsy, admittedly. But he redeems himself with paragraphs like the last one above. I've read a lot of crappy to below average horror writers — Guy N. Smith is easily better than the dreck that tried to capitalize on the horror boom of the '80s.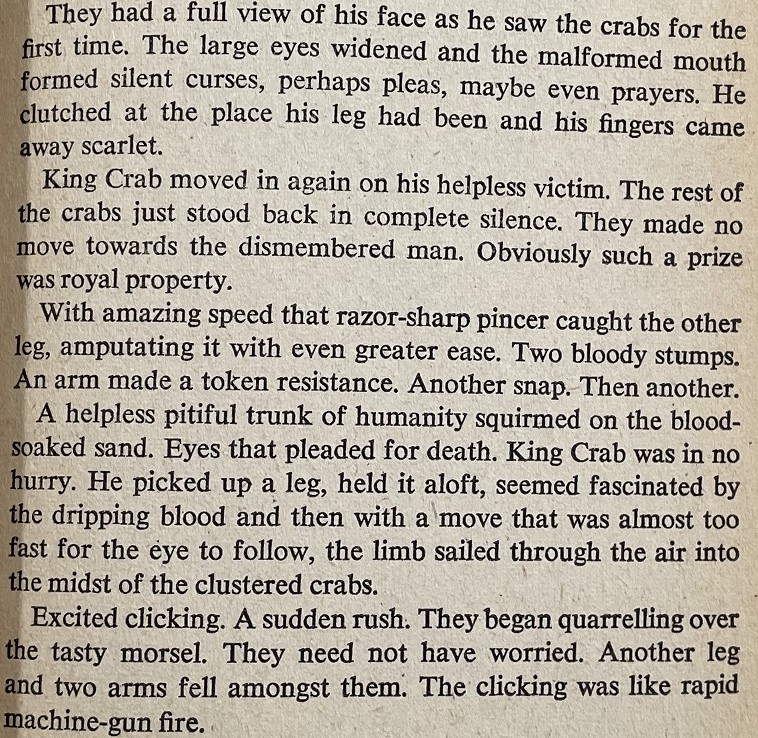 King Crab, being even bigger than the other crabs (who are said to be the size of cows), is the leader of the cast. Smith portrays King Crab in particular as being a crafty, sentient creature. As if a pissed off giant crab in command of an endless army isn't bad news enough, now you add brains to the equation and things quickly become catastrophic. And as you can see from the picture above, King Crab is absolutely vicious. Yikes!
CLOSING THOUGHTS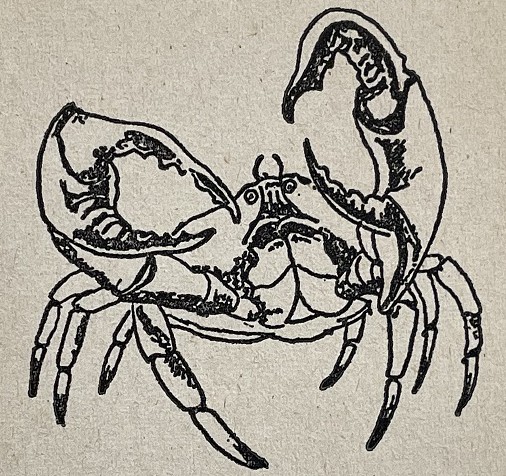 Will Cliff Davenport and Pat be able to save the day? What fate will befall King Crab and his minions? Read the book to find out! Guy N. Smith went on to write EIGHT sequels, with the last being The Charnel Caves released in 2019. It's his most popular series and this first entry is arguably his most (in)famous book. I had a good time with it and zipped through it in just a few days. It's nothing spectacular, just decent mindless fun. If you've never read Guy N. Smith before, know that he's very direct and to the point. He wrote in a day and age when horror books were not yet stuffed with background detail nor did they have to be 300+ pages. Guy gets you in and out. It makes for a super fast read that you don't have to commit a lot of time to, or clear out your calendar for. Night of the Crabs is far from his best work but being the book that really launched his career and put him on the map, it's a must read for any Guy N. Smith enthusiast. Night of the Crabs is the equivalent of a popcorn B-Movie. Or, in the literary world, a "beach read." How fitting. Now, only eight more Crabs books to read…