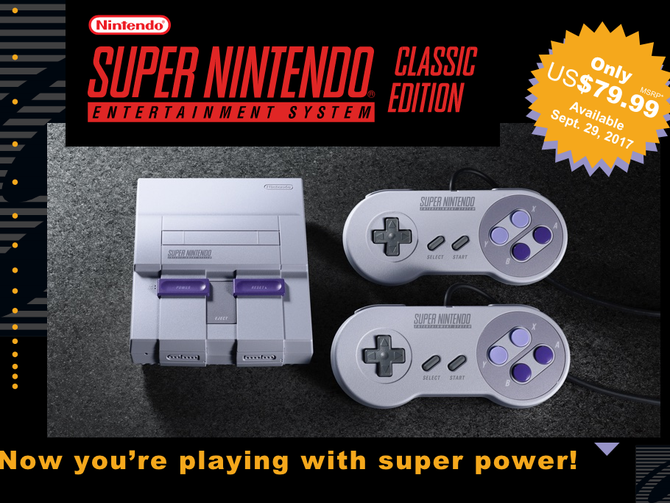 Yesterday news broke that Nintendo would indeed be releasing their SNES Classic Edition starting on September 29, 2017. Last year they released their NES Classic Edition for $60 and it was a smash hit. Rumors began swirling immediately that the SNES Classic Edition wouldn't be far behind and sure enough, it's almost here. For the low price of $80 here's what you get:
Two classic SNES controllers
21 classic SNES games preloaded into the system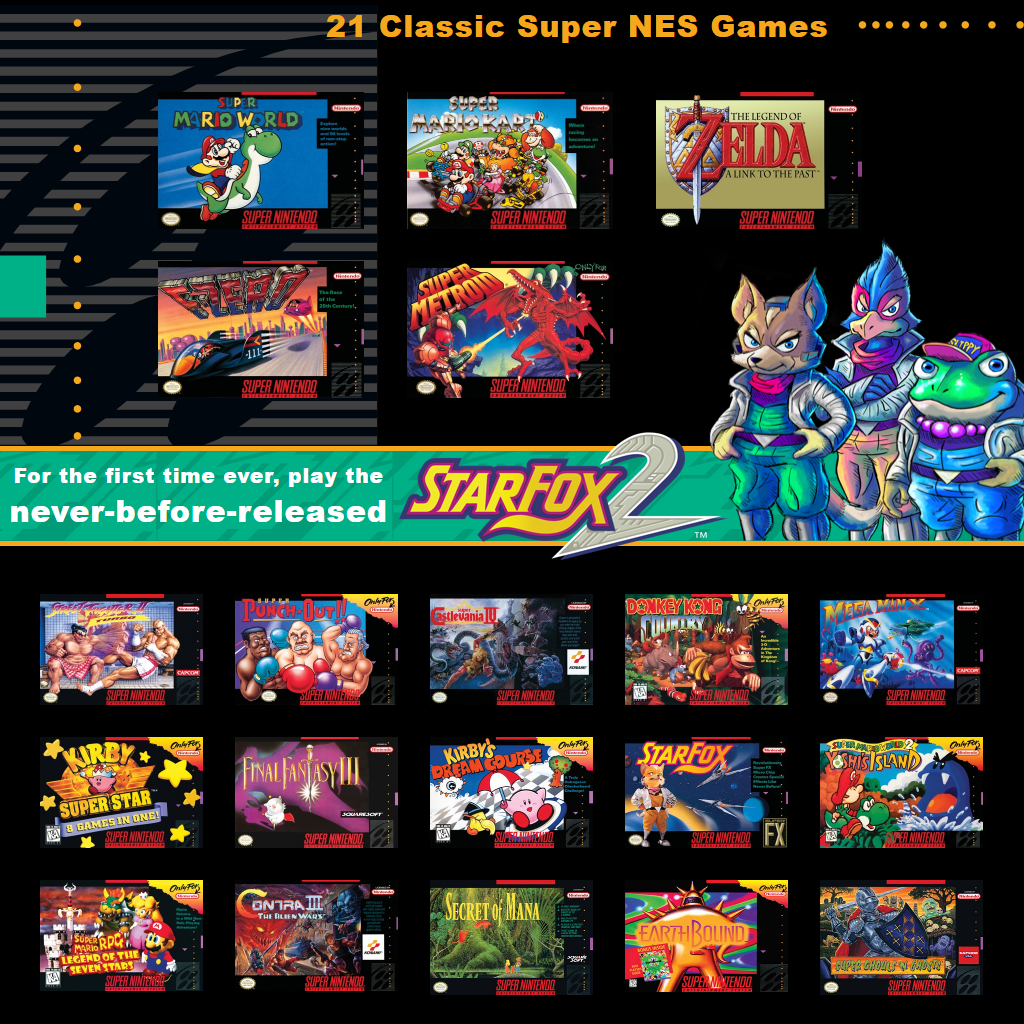 Let's take a closer look at all 21 games, in alphabetical order.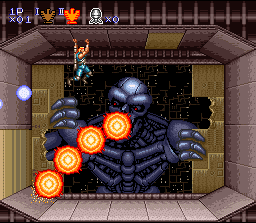 One of the most intense action-packed 2 player SNES games ever made. Contra III is classic run and gun mayhem. Best experienced with a friend in tow, there's nothing like blasting alien scum to Kingdom Come as you navigate your way through some of the most memorable moments in 16-bit gaming.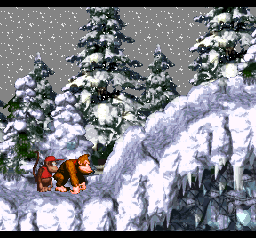 There were three DKC games released on the SNES, with many citing the second (Donkey Kong Country 2: Diddy's Kong Quest) as their favorite. I actually prefer the first one. Call it nostalgia but it was fresh, mind blowing for its time and the difficulty was just right. A little on the easy side at times, but it cranked it up when it needed to. Mainly, I enjoyed using Donkey Kong in all his glory. Don't forget those amazing tunes, either!
3. EARTHBOUND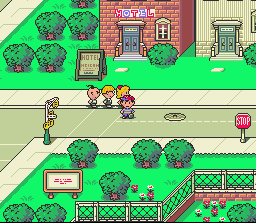 Take The Wonder Years, Peanuts, Doug, The Goonies, Dragon Quest and put them all in a blender. You'd probably get something like EarthBound. Whimsical, unique and different, EarthBound is charming and captivating as hell. But there also lies some sneaky mature themes throughout, such as the loss of innocence in a corrupt world. A classic RPG any SNES fan should play through before all is said and done.
4. FINAL FANTASY III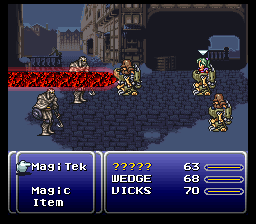 Arguably the greatest 16-bit RPG ever made, Final Fantasy III is an epic adventure. It took me nearly 50 hours to beat back in 2008 when I experienced it for the first time, and I loved every second of it. Memorable characters, plot twists, haunting music… it has it all. It's too bad the almost-just-as-good Final Fantasy II isn't also included, though. But if you had to pick just one, they made the right choice here.
5. F-ZERO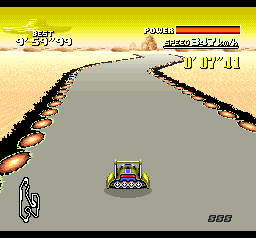 It may seem a little outdated today, especially to F-Zero virgins, but this blew our minds back in 1991. It still holds up well, although it is a bit bare bones. Still a good choice. The music is awesome. You could say that for most of these games, quite frankly.
6. KIRBY'S DREAM COURSE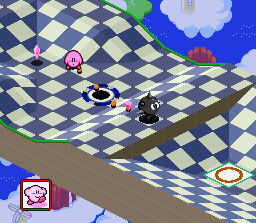 Of all the games featured on the SNES Classic Edition, this is the most surprising. I don't say that disparagingly! Kirby's Dream Course combines the best of Kirby and golf. It's a blast to play and addicting as hell. Glad this made the cut. It doesn't get the props it deserves. Now a larger audience will get to experience this for the first time. As well as SNES fans from the '90s who somehow missed out on this back in the day. A definite dark horse candidate for "Game I Didn't Expect To Sink So Many Hours On."
7. KIRBY SUPER STAR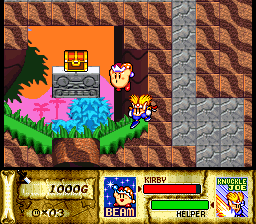 Rather than one grand adventure, Kirby Super Star is a compendium of nine standalone games. It's vintage Kirby, and it's loads of fun.
8. THE LEGEND OF ZELDA: A LINK TO THE PAST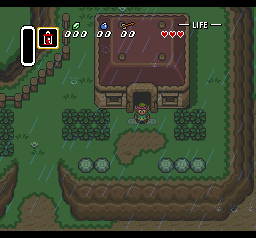 A no-brainer. One of the best SNES games ever, nay, one of the best video games of all time. A masterpiece in every sense, this adventure will forever remain timeless and quintessential. Who could ever forget the first time they saw that rain come whipping down?
9. MEGA MAN X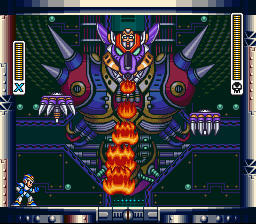 The best Mega Man game on the SNES. Never before could the Blue Bomber move around like he does here. The ability to scale walls, ride armored machines and even throw a Hadoken made Mega Man X one unforgettable journey.
10. SECRET OF MANA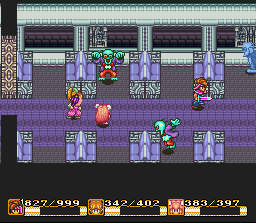 The first ever 3-player action RPG, Secret of Mana was a marvel for its time. It's a great game but one that I do feel is slightly overrated. Still, the ability to play it with two friends made it something special. It'll be interesting to see if Nintendo releases a multitap for the SNES Classic Edition. 2-player Secret of Mana is still awesome but it'd be a shame not to be able to experience it as a 3-player affair. On a side note, I much prefer the Super Famicom-only sequel, Secret of Mana 2 AKA Seiken Densetsu 3.
11. STAR FOX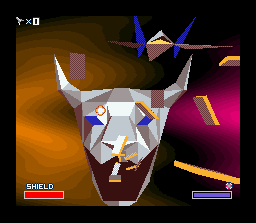 Star Fox was pretty amazing back in 1993. It's a little rough around the edges today in 2017, but hopefully people will be able to overlook the dated visuals which were considered fairly groundbreaking for its time.
12. STAR FOX 2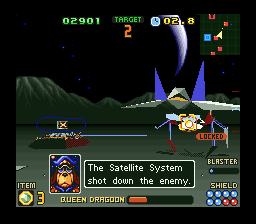 The biggest news of this SNES Classic Edition is the inclusion of never before officially released Star Fox 2. This game was programmed back in the mid '90s but never saw the light of day as the N64 was looming over the horizon. Of course the repro of this game has been available for many years now, but it'll be nice to have an official release (especially HDMI-supported).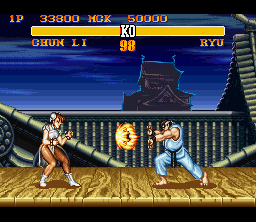 Some people argue Super Street Fighter II is better, but I'll take Street Fighter II Turbo. Street Fighter II created a revolution, but it was Turbo that refined it. For my money this is hands down the best fighting game on the SNES. So many sore thumbs and even more sore egos courtesy of this game back in 1993. Good times.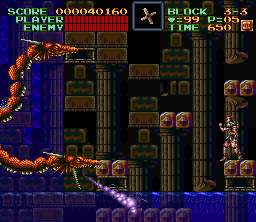 It's a little slow and the visuals are a bit outdated by today's standards, but this was the definitive Castlevania game for many folks prior to Symphony of the Night. Being able to swing Simon's whip in all directions made controlling him a breeze and loads of fun. There's a beautiful simplicity to this game. Besides, who doesn't enjoy taking down Count Dracula?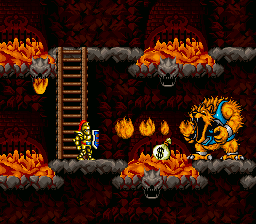 Probably the hardest game of this list, Super Ghouls 'n Ghosts suffers from some slowdown but still provides one hell, pardon the pun, of a romp through some ghastly levels. I'm glad this game made the list. It's a classic but often slightly overlooked in lieu of some bigger names such as Super Metroid and Contra III. Well deserved, Sir Arthur. Well deserved. You'll terrorize a whole new generation of gamers. Congrats, good sir.
16. SUPER MARIO KART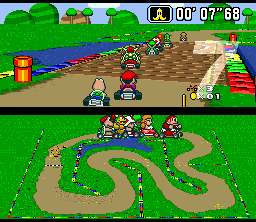 The Mario Kart franchise is one of the most beloved of all time. It's so good that it attracts even the most casual of gamers. There's something very likable about the characters from the Mario universe, the various weapons and imaginative course designs that constantly bring people back for more and more. This is where it all started — it's the granddaddy of all Mario Kart games. Still playable after all these years!
17. SUPER MARIO RPG: LEGEND OF THE SEVEN STARS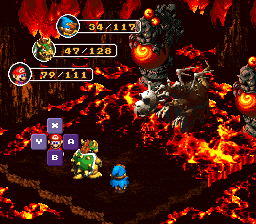 Mario in an RPG? Nuts. Bowser as a playable good guy? Even more nuts. Yet it all works, to no one's surprise. Super Mario RPG brings timing to the RPG party as well as some wacky, lovable characters. A good time for sure.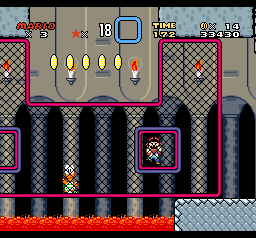 Released on the Super Famicom's Launch Day of November 21, 1990, Super Mario World is still as playable today as it was nearly 30 years ago. Shigeru Miyamoto knows how to make a damn good video game, and his fingerprints are all over this one. Great visuals, amazing music and smooth gameplay. Can't ask for much more.
19. SUPER METROID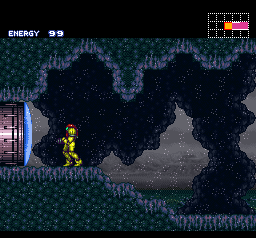 If there were a Super Nintendo Mount Rushmore, anyone who doesn't include Super Metroid automatically has their list disqualified. You just can't talk about the very best SNES games without mentioning this 24 MEG GEM. Adventure, atmosphere, gun slinging, exploration, Super Metroid has it all. And that is all.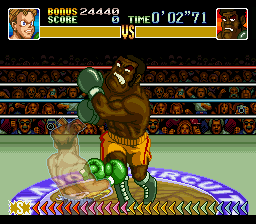 Mike Tyson's Punch-Out!! was one of the best NES games ever made. Its sequel, Super Punch-Out!!, is also an excellent arcade-like take on the sport of boxing. It's all about patterns, timing, memorization and execution. While the new boxers here may lack the personality of the NES game, it's still one of my favorites and I'm happy to see it made the list.
21. YOSHI'S ISLAND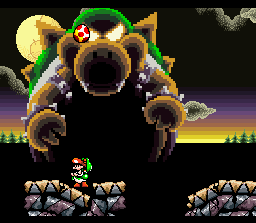 Aside from baby Mario's incredibly annoying crying whenever he's dismounted, Yoshi's Island is a daring and brilliant deviation from the standard Mario game formula. It's not everyone's cup of tea but I find it equally as splendid as Super Mario World — just in slightly different ways.
TOP NINE SNUBS
The NES Classic Edition had 30 games, but the SNES Classic Edition only carries 21. However, the 21 games here are obviously much lengthier than the ones found on the NES edition. While the 21 games represented are great choices, there are a few glaring omissions. Whether due to licensing or whatever, here are nine great SNES games (in alphabetical order) that are conspicuous by their absence.
Oh, and before we begin, I will refrain from including the following two titles due to the simple fact that it doesn't look like we'll be getting any sort of multitap with the SNES Classic Edition. While both these games are still great as 2-player games, the real magic comes with a room of 4.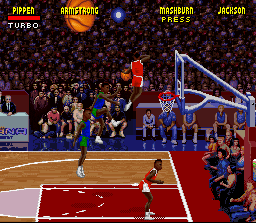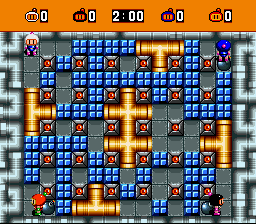 1. ACTRAISER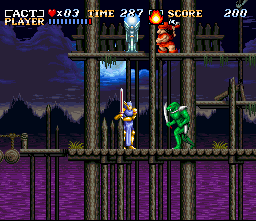 An early first generation title and a classic one at that. ActRaiser switches seamlessly between side-scrolling levels of good old hack and slash platforming and a simulation mode where you must help build the land and protect the people. It's a little simplistic but it didn't need to be complex.
2. CHRONO TRIGGER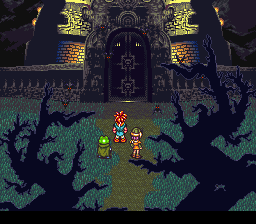 Perhaps the most glaring omission of all, some believe Chrono Trigger to be the best SNES game ever created. Quite a loss, then, not to have one of the very best titles ever made in 16-bit history. Although I do understand at least a little bit since Nintendo already packed in three RPGs. Still, it's tough losing out on this one.
3. DONKEY KONG COUNTRY 2: DIDDY'S KONG QUEST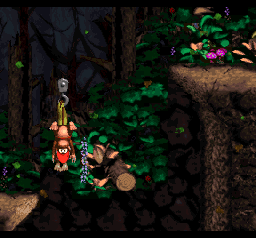 Although I prefer the original Donkey Kong Country, I'll concede that this does play slightly better. If you had Yoshi's Island to go along with Super Mario World, you probably should have added this as well. Alas, poor Diddy and newcomer Dixie Kong are left hanging… [HAR HAR -Ed.]
4. THE LEGEND OF THE MYSTICAL NINJA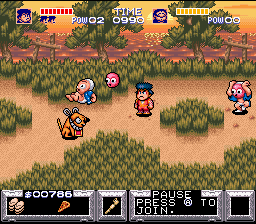 Another classic 2-player SNES game from the system's early days. Perhaps this was a little too offbeat for Nintendo to include for the mainstream, however. If that is the case, that's a shame because the gameplay shines through and speaks for itself. Note: This game is included in the Super Famicom Classic Edition as Ganbare Goemon.
5. POCKY & ROCKY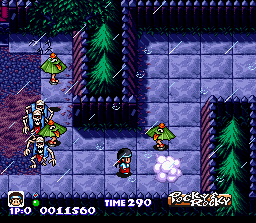 Hard as nails, but also super fun with a friend right alongside ya! It's too bad this got snuffed… it would have exposed Pocky & Rocky to a brand new generation of gamers.
6. SUNSET RIDERS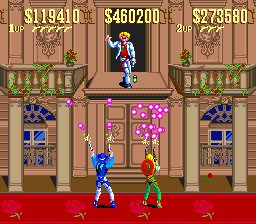 Vintage glorious 2-player gun slinging action. 'Nuff said.
7. TEENAGE MUTANT NINJA TURTLES IV: TURTLES IN TIME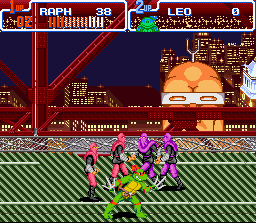 Next to Chrono Trigger, this is the biggest glaring omission. Not to mention it would have been the only beat 'em up on the SNES Classic Edition. That makes its absence all the more egregious. No beat 'em ups represented?! That's a crime! But I totally understand it might have been a licensing issue and Nintendo simply not wanting to pay the extra cost for the Ninja Turtles brand. Whatever the case may be, it's a shame. This defined many of our 16-bit childhoods and is arguably the finest beat 'em up on the SNES.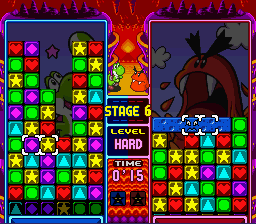 No puzzle games are represented either, and Tetris Attack is the best as far as I'm concerned. This inclusion would have provided endless hours of cutthroat competitive play, and it saddens me that it didn't make the cut. Well, at least for the American release. The Super Famicom Classic Edition does include this game but under its Japanese title of Panel de Pon.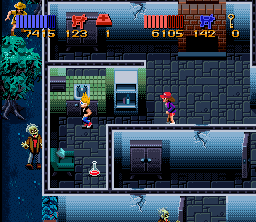 Come on, Nintendo. This is another classic childhood game for many of us who grew up in the early '90s. Every kid played this game to death that holiday season of 1993. Sure, it may be a little overrated but it's freaking ZOMBIES ATE MY NEIGHBORS! Nintendo, you could have even tweaked it to make it better. Think about an easier difficulty setting, a strafe button, etc. A missed opportunity any way you slice it.
10. KEN GRIFFEY JR. PRESENTS MAJOR LEAGUE BASEBALL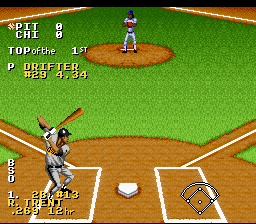 This is my honorable mention. I love this game and it was also published by Nintendo. I see why it wasn't included, though. Fake player names, outdated rosters and so forth. But damn is this game fun. Many people, even non baseball fans, still play it to this very day. It would also have been the only sports title featured in the package.
SUPER FAMICOM CLASSIC EDITION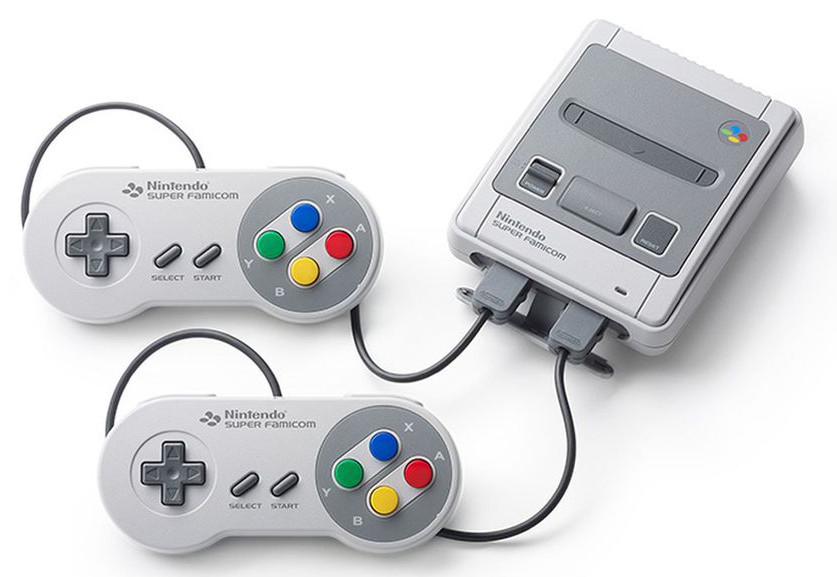 In Japan, the system will include Panel de Pon (Tetris Attack), Fire Emblem: Mystery of the Emblem, Ganbare Goemon: The Legend of the Mystical Ninja, Super Soccer, and Super Street Fighter II. These titles replace EarthBound, Kirby's Dream Course, Street Fighter II Turbo, Super Castlevania IV, and Super Punch-Out!! from the US model.
Super Punch-Out!! was never released in Japan. Strange but true. I guess they're keeping true to form 20+ years later…
CLOSING THOUGHTS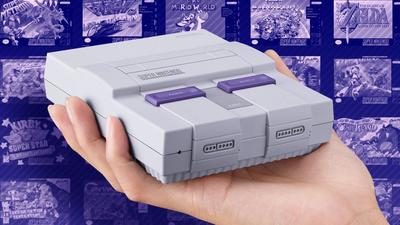 For $80 this is an insane bargain. Having 21 classic SNES titles, with HDMI support, in one tiny system is greatly appealing particularly to those who don't already own these classics. You're talking less than $4 a game, and that's not including the system. Sadly, the NES Classic Edition suffered from lack of production and over demand, causing scalpers to swoop in and take advantage. Preorders for the SNES Classic Edition are going fast and resellers are everywhere posed to capitalize. $300 markups would be a safe bet. Of course, when you consider some of these games sell TODAY for close to $300 individually, $300 might still seem like a good deal for 21 games. And it is, at less than $15 a game. But it would be a shame to pay $300 for something that is retailing for just $80. As always, it's a call only the individual can make. I already own all these games so I'd pass if the asking price is $300, but at $80 I would probably bite. But what are the odds I'll be able to find one for $80? Probably not high.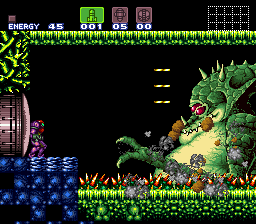 But on a more happy note, I'm just ecstatic that my favorite console, the Super Nintendo, is back in the mainstream spotlight. I expect a ton of nostalgia to overcome young adults in their 30s who see this package and go "Oh wow, I haven't played these games in 20, 25 years!" It just makes me happy knowing the SNES will once again bask in the glow of the spotlight. Nintendo plans to stop production of these Classic Editions at the end of 2017, so the spotlight will be short-lived, but it's nice knowing come September a lot of casual people will be buying a Super Nintendo in 20-freaking-17. And who knows, it may lead to something bigger. At the very least, exposure never hurts and it thrills me that younger generations of gamers will have a chance to play and appreciate these classics. That's a definite win in my book!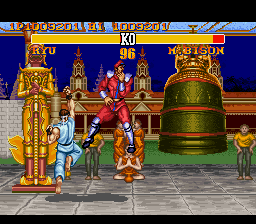 EXTRA EXTRA! READ ALL ABOUT IT!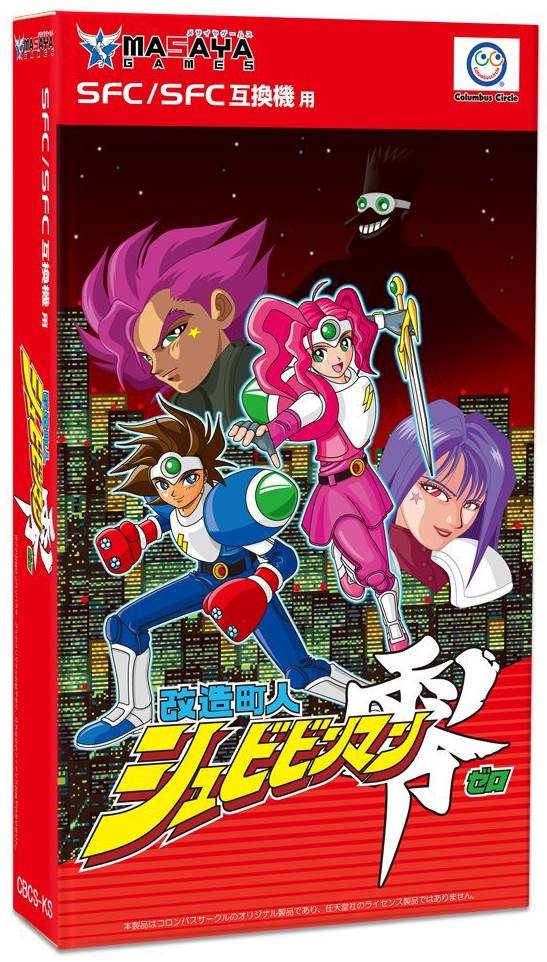 By the way, it recently came to my attention that BS Shockman is getting an official Super Famicom release June of 2017! Wow! The SNES scene is booming right now in a way we haven't seen in a long time. BS Shockman is also known as BS Kaizou Choujin Shubibinman Zero. Check out my review for more info.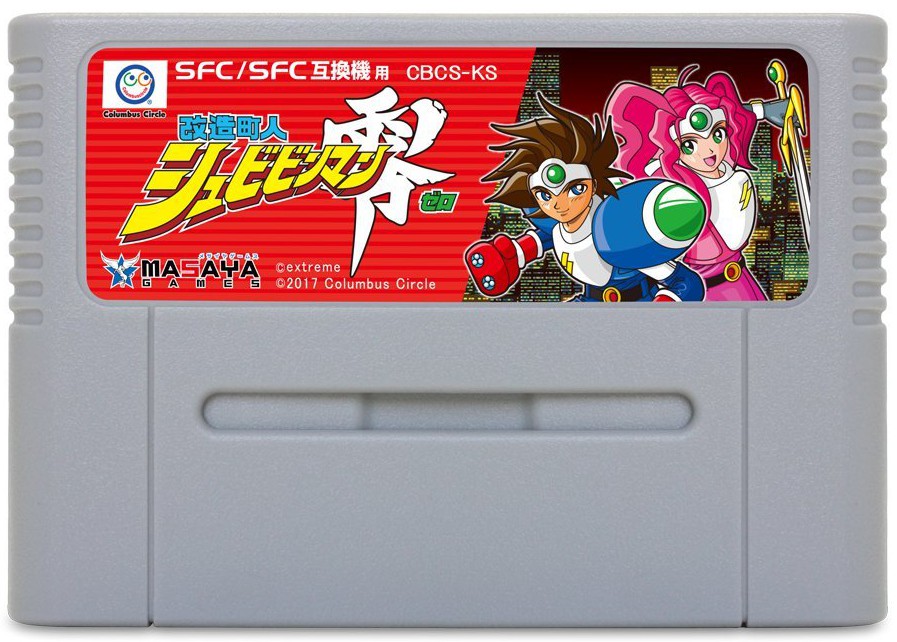 Rock on, SNES. Rock the f*ck on.