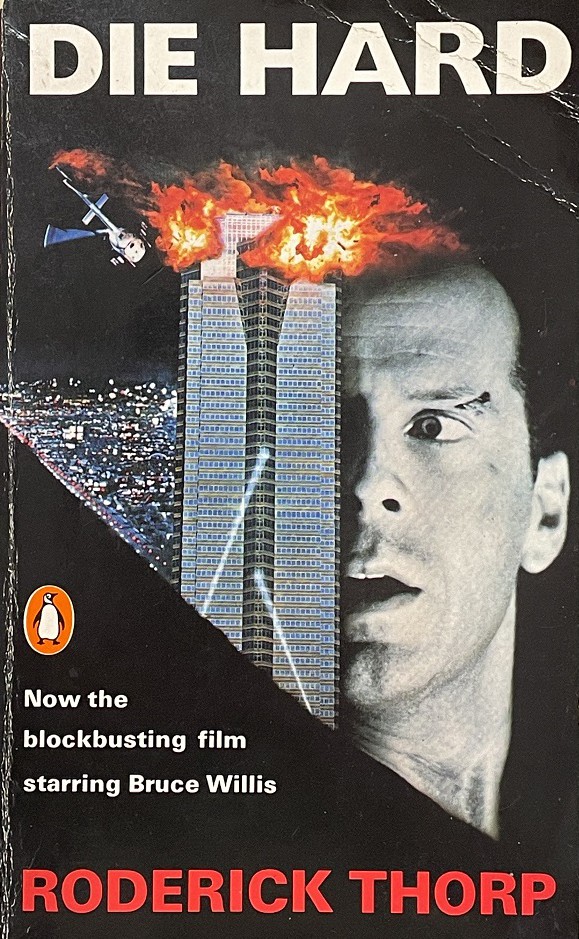 It's often been argued whether or not Die Hard is truly a Christmas movie. It's been debated and bandied about almost as much as "is a hot dog a sandwich?" If you wanna know my personal opinion, yes to the former and no to the latter. Die Hard is one of the most badass and coolest movies to ever come around. For me, it's right up there with The Terminator, Predator, Aliens and Back to the Future in terms of epic movies from the 1980s. So when I found out that Die Hard originated as a novel under the title of Nothing Lasts Forever, I had to get my hands on a copy pronto. Of course, you gotta go with the classic movie tie-in edition. I knew it would be next to impossible for the novel to be as awesome as the movie, so the question for me going into reading it was moreso along the lines of "is it in any way, shape or form a decent companion to the movie?" With that in mind, let's take a quick stroll down memory lane…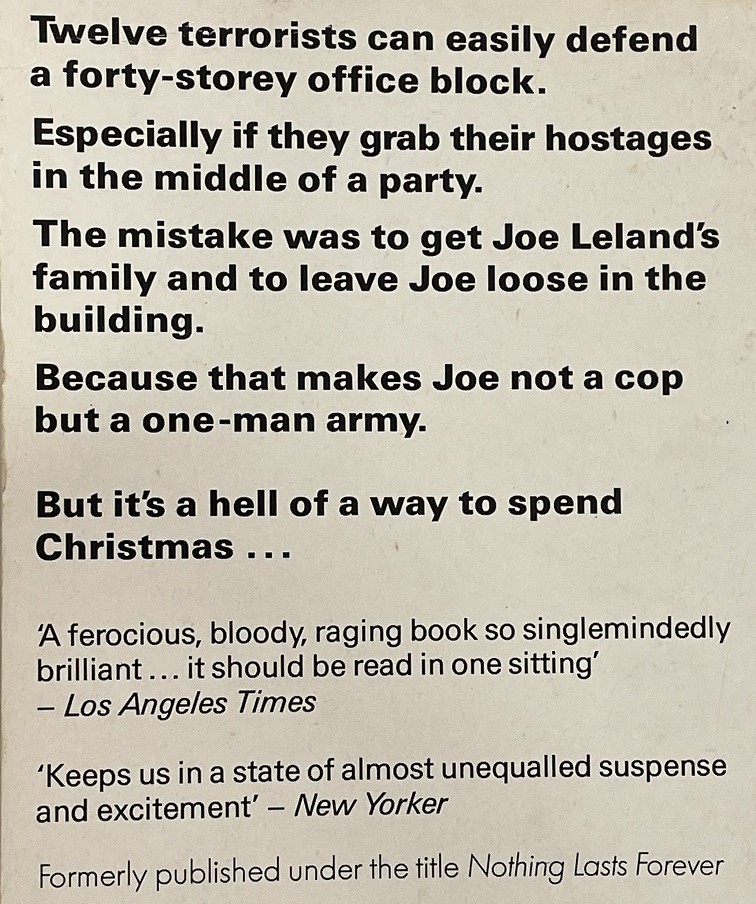 YIPPEE KI-YAY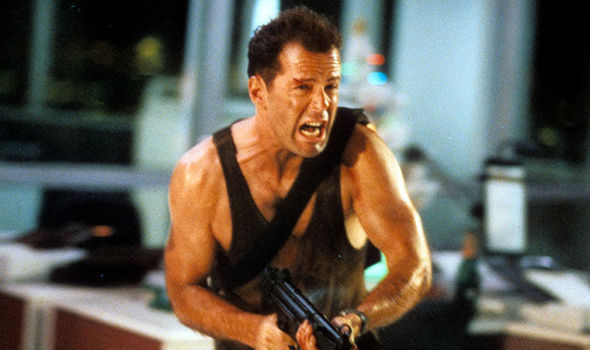 Die Hard roared into theaters on July 15, 1988. The film followed the exploits of John McClane, a one man wrecking crew, as he fights to save his separated wife and countless hostages from the vile clutches of some East German terrorists. Taking place over the course of one wild night (Christmas Eve) and one highly memorable set piece (the fictional Nakatomi Plaza), Die Hard was an action movie for the ages. It launched Bruce Willis into superstardom and had one critic call it "a perfect action movie in every detail, the kind of movie that makes your summer memorable."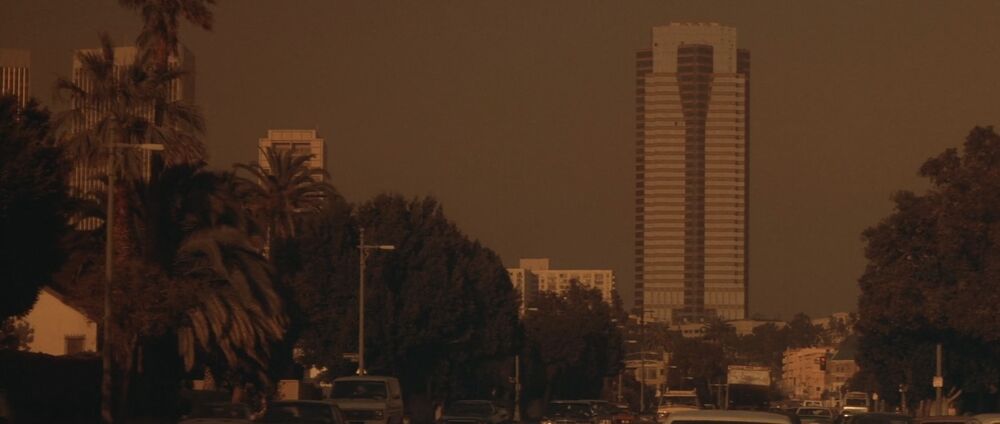 Die Hard was filmed at Fox Plaza in Los Angeles and completed in 1987. Fox Plaza is 35 stories tall (493 feet) and served as the film's memorable backdrop. Made on a budget of 28 million, Die Hard went on to gross that number five times over for a whopping 128.1 million. It's crazy to think that the film is close to celebrating its 35th anniversary.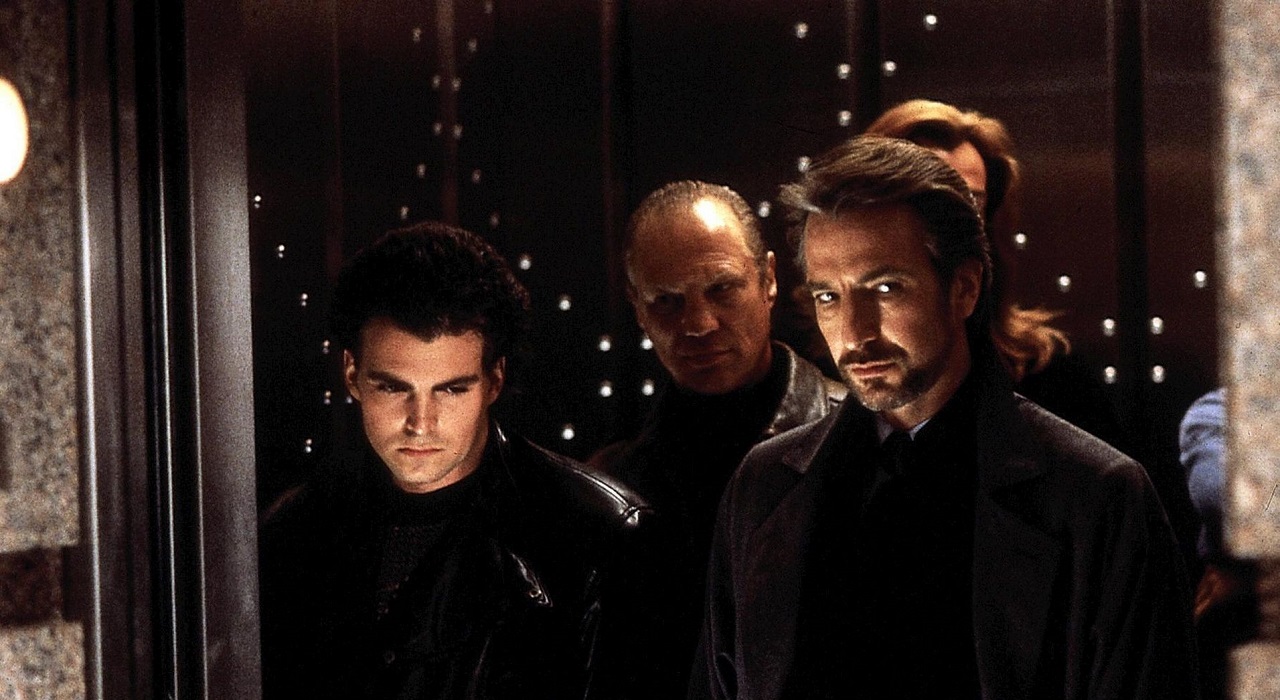 The film worked on so many levels. One of the biggest reasons was the pinpoint portrayal of villainous mastermind, Hans Gruber (one of the best movie villains of all time, up there with the likes of Darth Vader and Michael Myers). Played by Alan Rickman, Gruber's accent and wicked ways were masterfully memorable.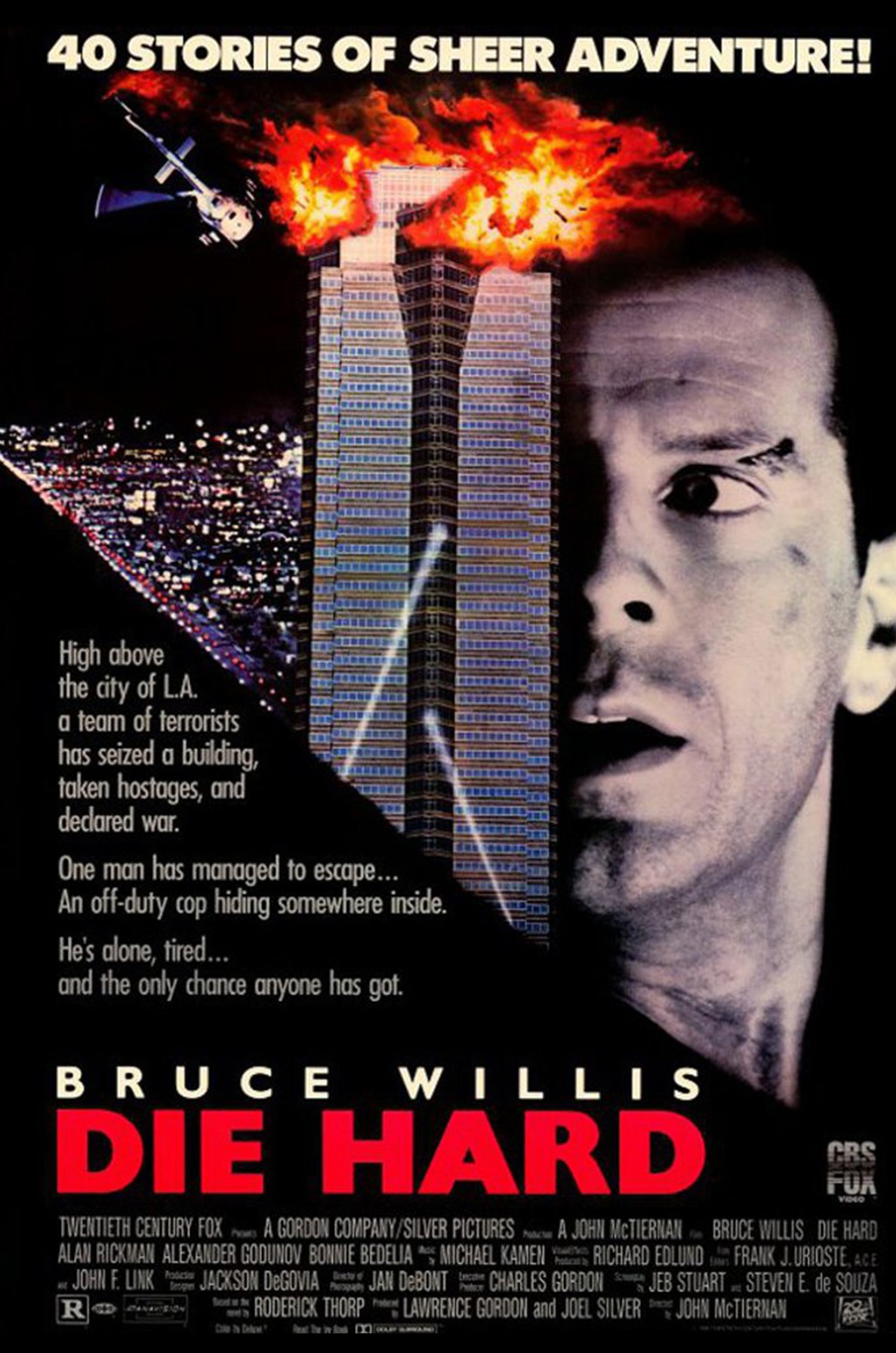 GET TOGETHER, HAVE A FEW LAUGHS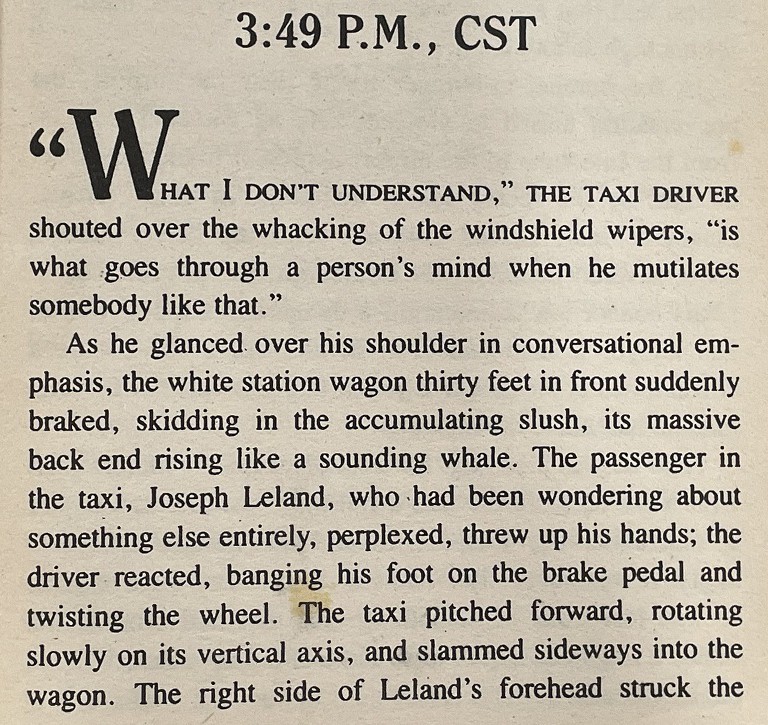 The first thing readers will discover, sadly, is that there is no John McClane in this book. Well, there is, but NOT John McClane, if that makes sense. McClane actually goes by Joseph Leland in this book. Not quite the badass name but I digress.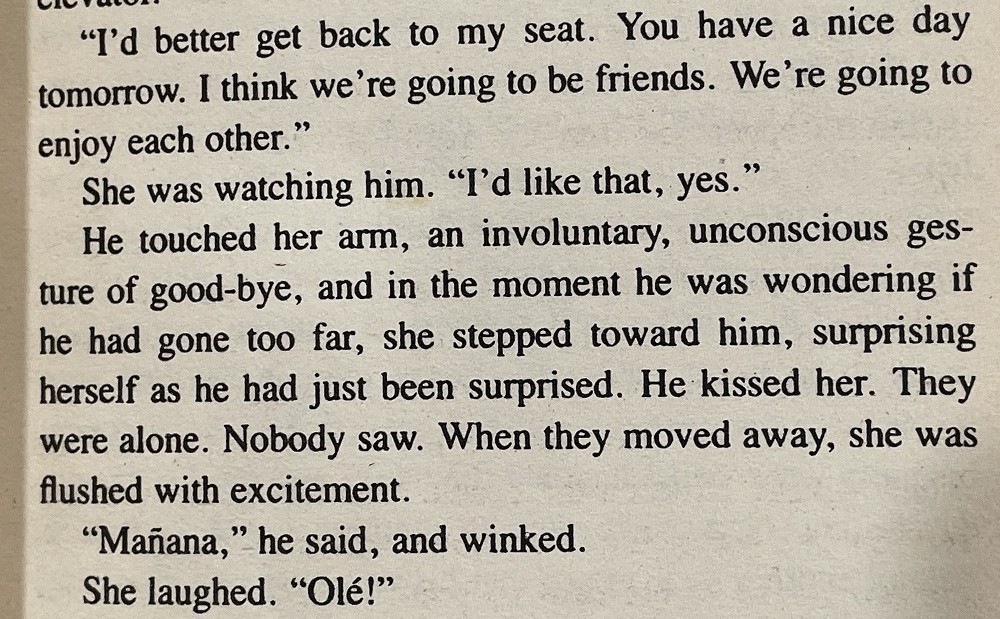 Another difference is Leland and the flight attendant develop a relationship whereas in the movie he remains committed to reconciling with his partner.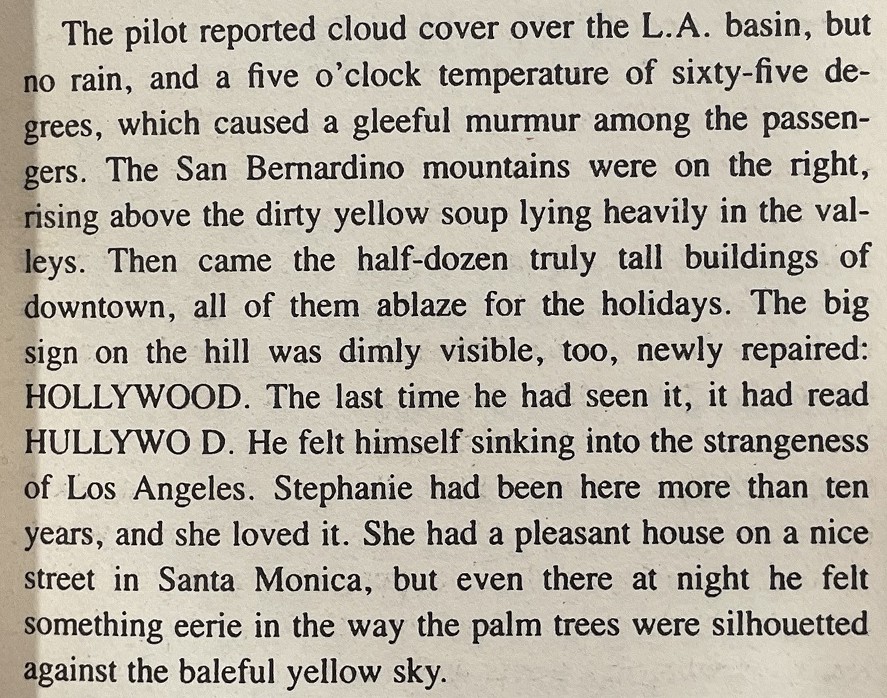 I love this description of Los Angeles. It simultaneously captures L.A.'s grime and beauty. "Dirty yellow soup lying heavily in the valleys" is an exceptional line. "At night he felt something eerie in the way the palm trees were silhouetted against the baleful yellow sky" really brings to mind L.A. at night time. It's too bad then Thorp didn't have more of these gems as his writing in this book, at times, is a tad clunky.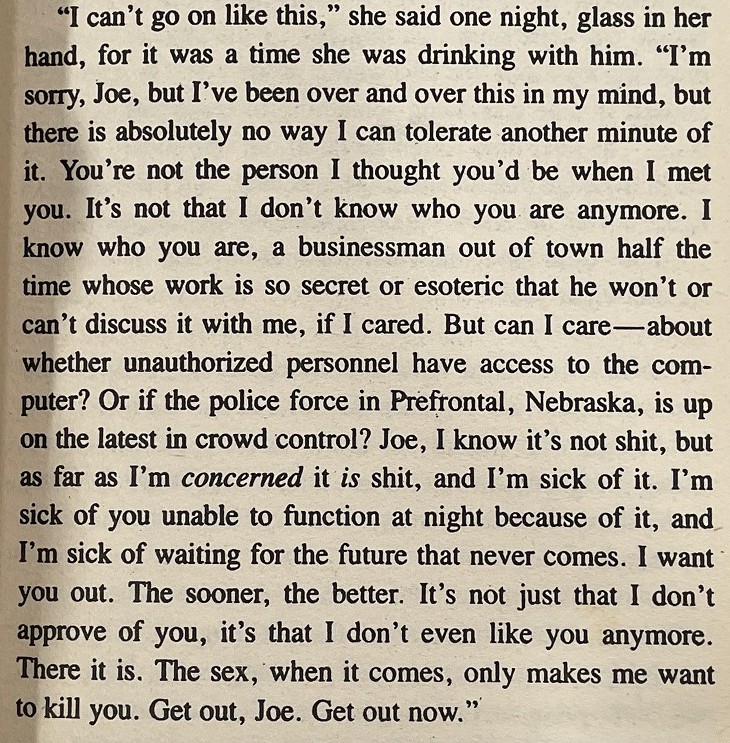 Stop it, he's dead. My God. What a scathing diatribe. You can't help but feel bad for Joe. It's realistic too, as it's often been said how being involved in law enforcement is often times difficult on relationships. Sometimes it's just too hard for the other partner…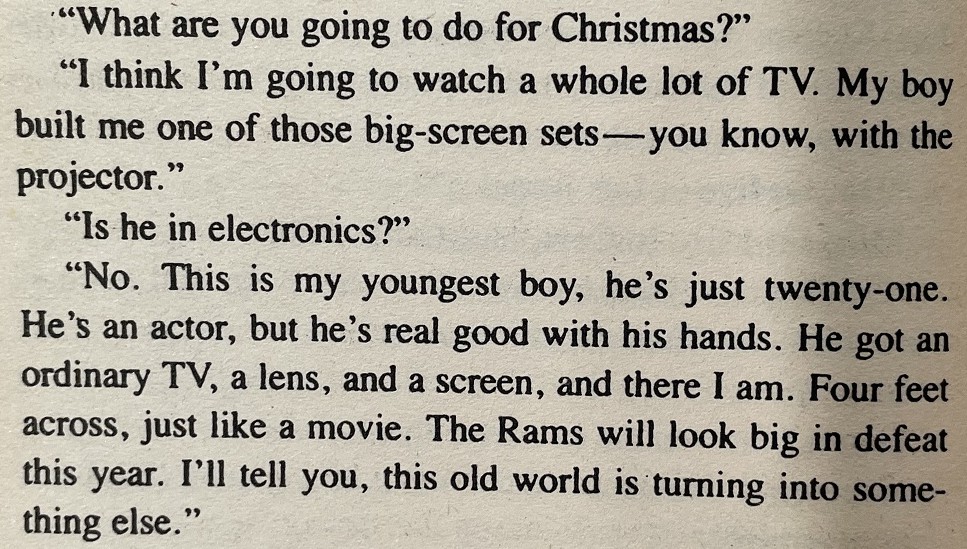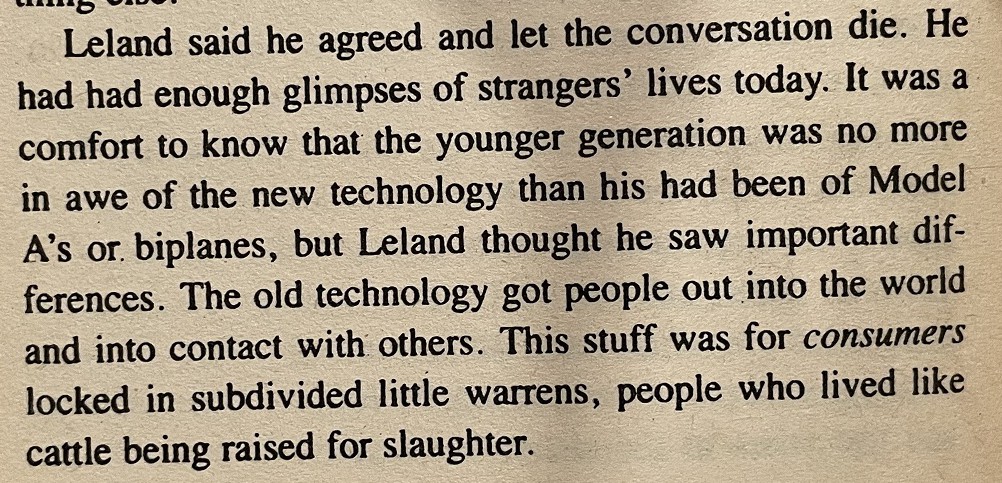 Another big difference between the film and the book is the age. McClane is in his 30s whereas Leland is significantly older. That might explain why Frank Sinatr, in his '70s at that point, originally received the role. And for a book written in 1979, surprisingly there are a few parts that have aged like fine wine. Leland's perspective on technology and consumerism, for example, is harrowing and quite accurate even when viewed from today's landscape, well over 40 years later. What that says about society I will leave that up to you to ponder…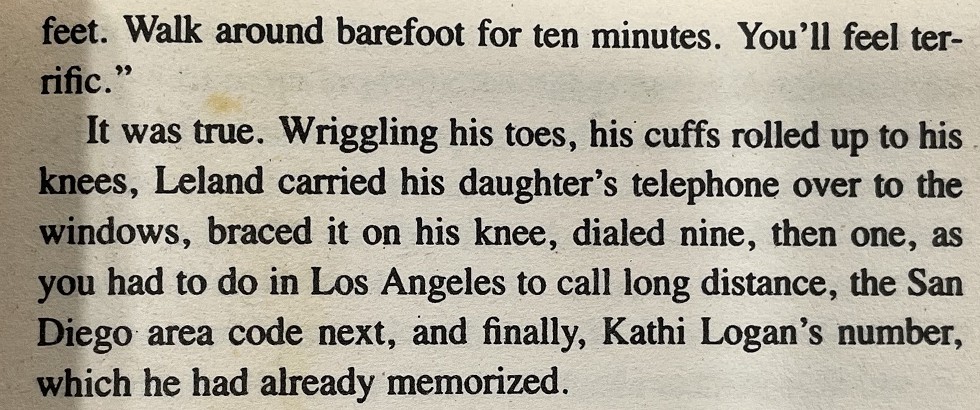 I'm glad the part about walking around barefoot was faithfully translated to the big screen. Hollywood definitely didn't alter that one. It's such a small moment, but it's one in which I instantly associate Die Hard with.

The 9:11 part made me feel some kind of way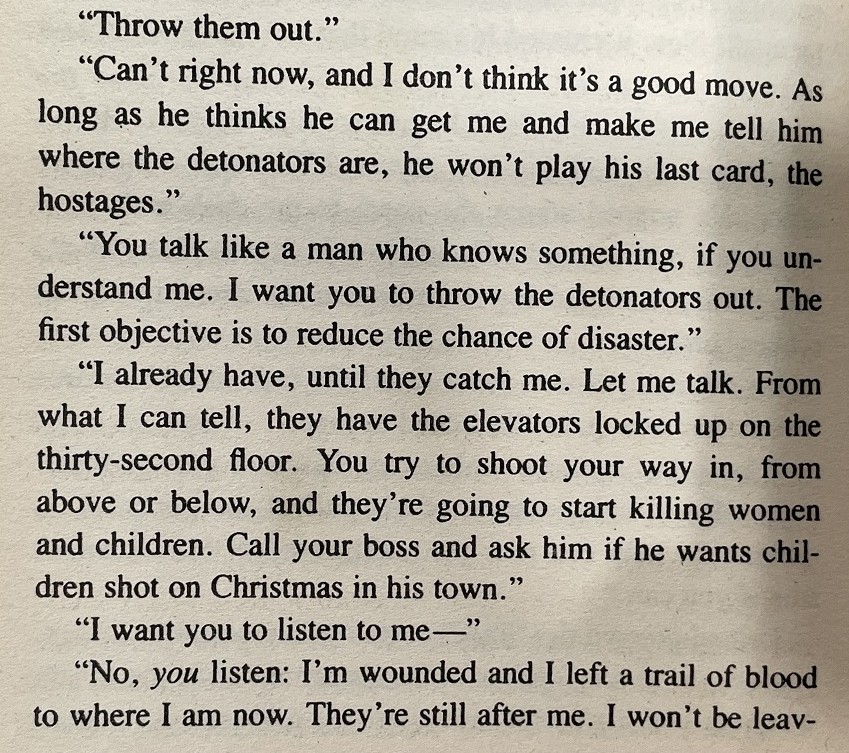 Whether you call him Leland or McClane, he's still a badass mutha.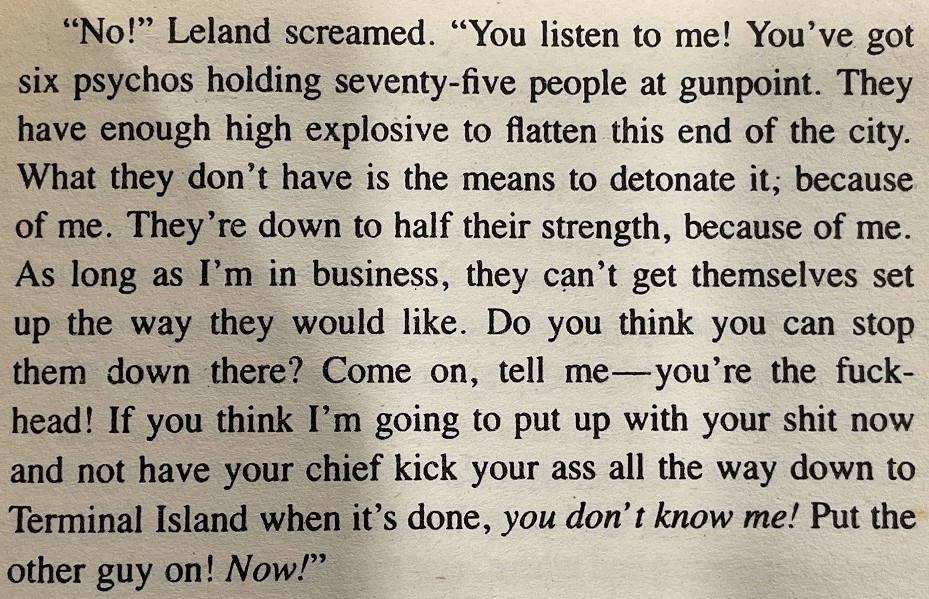 Leland tearing this guy a new ass hole is my favorite part of the book. You can just feel the intensity and machismo dripping off the pages.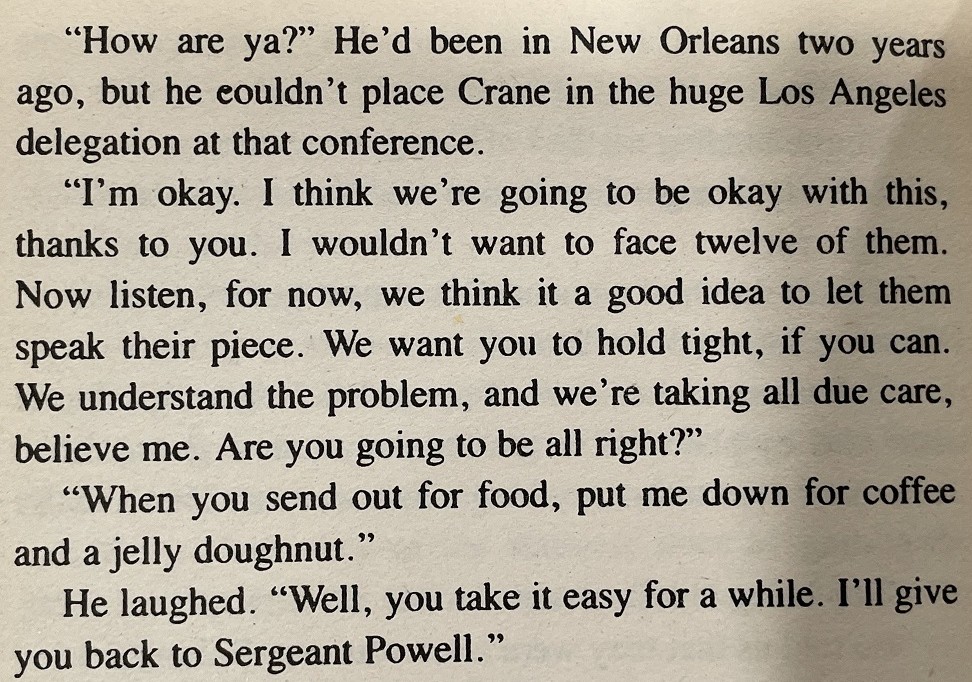 Just like McClane, Leland does have a bit of a sense of humor. Of course, Bruce Willis took it to the next level. It was good to read the interplay between Leland and Sergeant Powell (AKA Carl Winslow from Family Matters).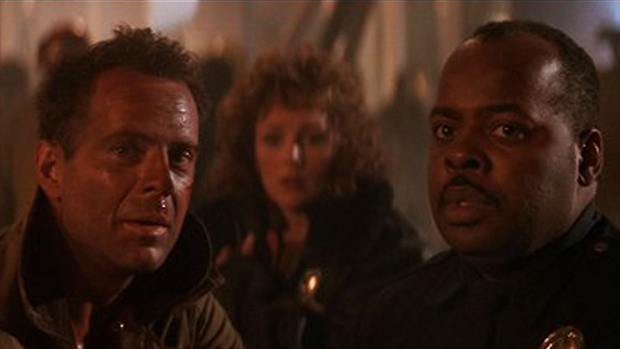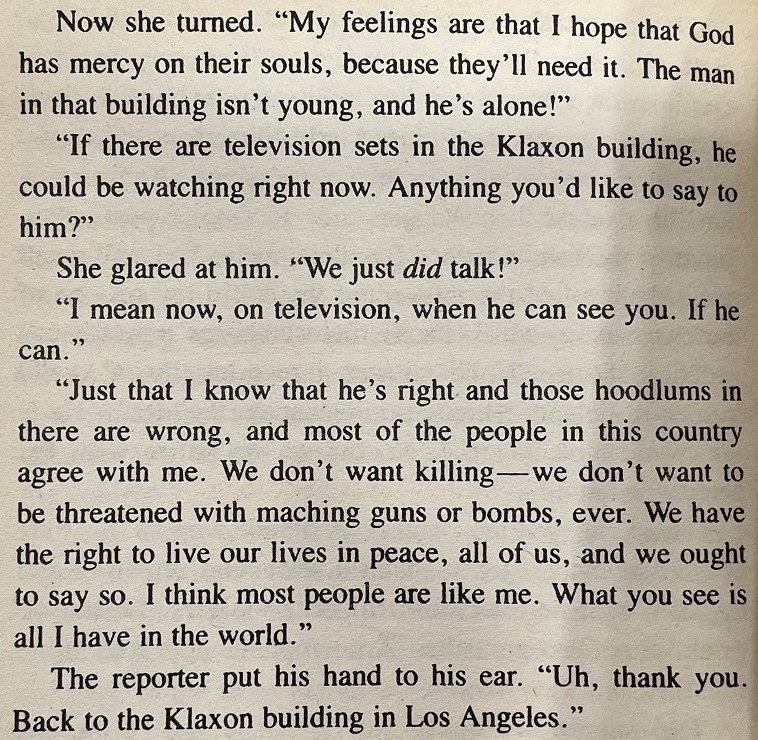 As stated earlier, some of Thorp's writing is a bit clunky. Take for example the passage above. I know this was written in 1979 but that's just poor writing in ANY era. My reaction to reading the flight attendant's comments matched exactly that of the reporter at the end there. "Uh, thank you?"
CLOSING THOUGHTS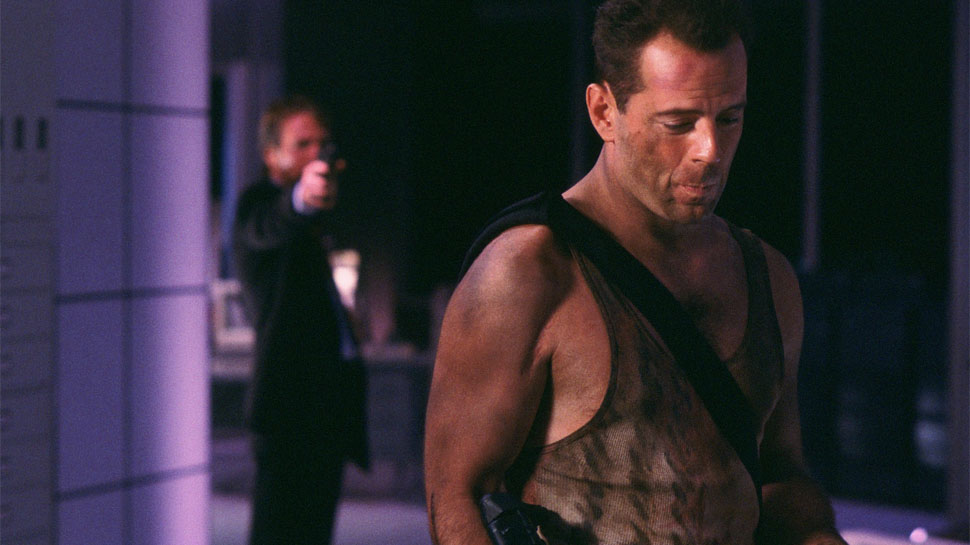 I came into reading Die Hard with tempered expectations. Rather than being a movie novelization, I knew it was written nearly a decade before Die Hard launched in theaters. Therefore, I knew I would have to adjust to McClane, er, Leland, not being as brilliant as Bruce Willis. Turns out the same should be said for Hans Gruber. He plays a much smaller role in the novel. In the movie however, Alan Rickman really elevated the Gruber character to legendary villain status. Die Hard is definitely a shining example of the movie being a thousand times better than the novel it was based upon. That's not to say that it was a bad read. It was just OK. I liked it enough for the good parts. And there are some extremely violent descriptions about how Leland takes out the terrorists (some of whom are female by the way). But some parts were way too dull and/or written poorly. At certain points, part of me just wanted to throw the movie on and throw the book out. But I persisted to the end. It was a very uneven reading experience. Some good parts mixed in with some bad ones. Now I hesitate to read the two sequels, but I digress. A belated merry Christmas and happy new year! Let's hope 2022 will be good to us all.