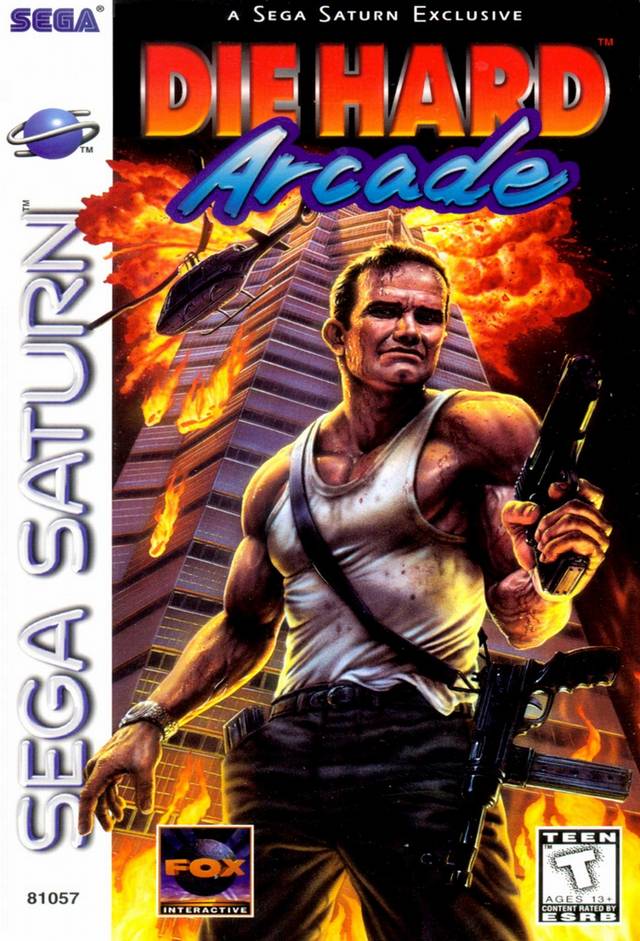 With the boom of the 3D era in 1996, some of our old favorite genres took a backseat to this changing of the guard. Or in some cases, they became an endangered species. One of those was the beat 'em up genre. From the glorious late '80s to early-mid '90s, beat 'em ups ruled the arcade (and home console) scene. From classics such as Final Fight, Double Dragon, Golden Axe and Streets of Rage just to name a few, they were a staple of many childhoods. But they went by the wayside when 3D gaming ushered in the next generation. Enter Sega's Die Hard Arcade. It was a 3D interpretation of the classic beat 'em ups of yore. A Saturn port was released a year later in March of 1997. It's not the best game in the world but damn if it isn't wacky fun.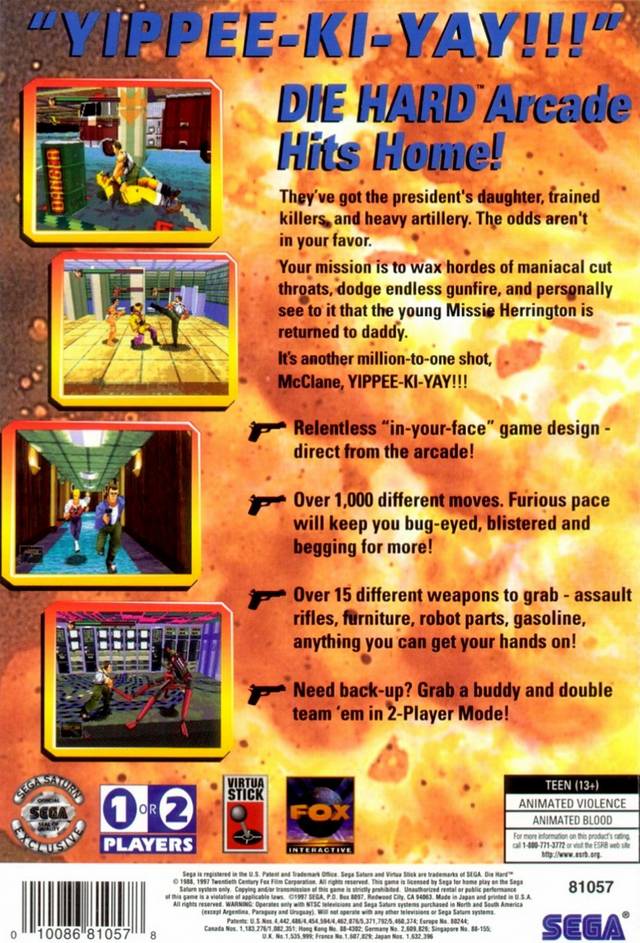 30 YEARS OF KICKING TERRORIST ASS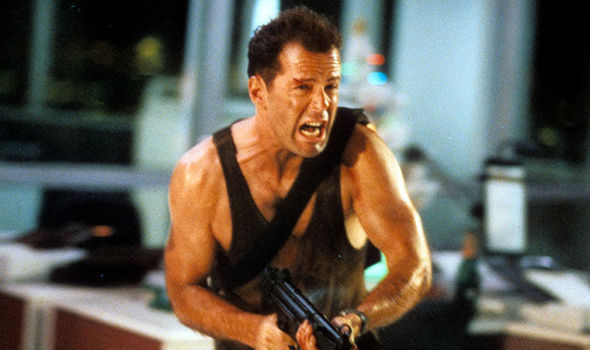 Today (July 15, 2018) marks the 30 year anniversary of Die Hard. Released in theaters on July 15, 1988, Die Hard carved its way into our hearts and memories. The film followed the exploits of one, John McClane. A one man wrecking crew, he attempts to save his separated wife and countless hostages from the vile clutches of some East German terrorists. Taking place over the course of one wild night (Christmas Eve) and one highly memorable location (the fictionally named Nakatomi Plaza), Die Hard was an action movie for the ages. It launched Bruce Willis into superstardom and had one critic call it "a perfect action movie in every detail, the kind of movie that makes your summer memorable."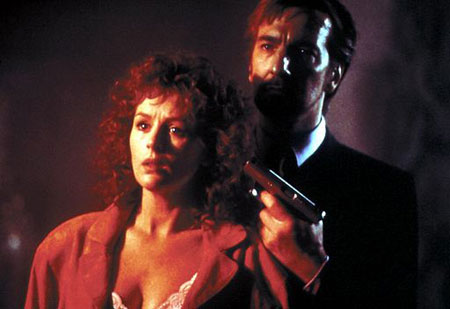 The film worked on so many levels. One of its biggest reasons was the pinpoint portrayal of villainous mastermind, Hans Gruber (arguably one of the best movie villains of all time, right up there with the likes of Darth Vader himself). Played by Alan Rickman, Hans Gruber was masterfully memorable for his accent and wicked ways.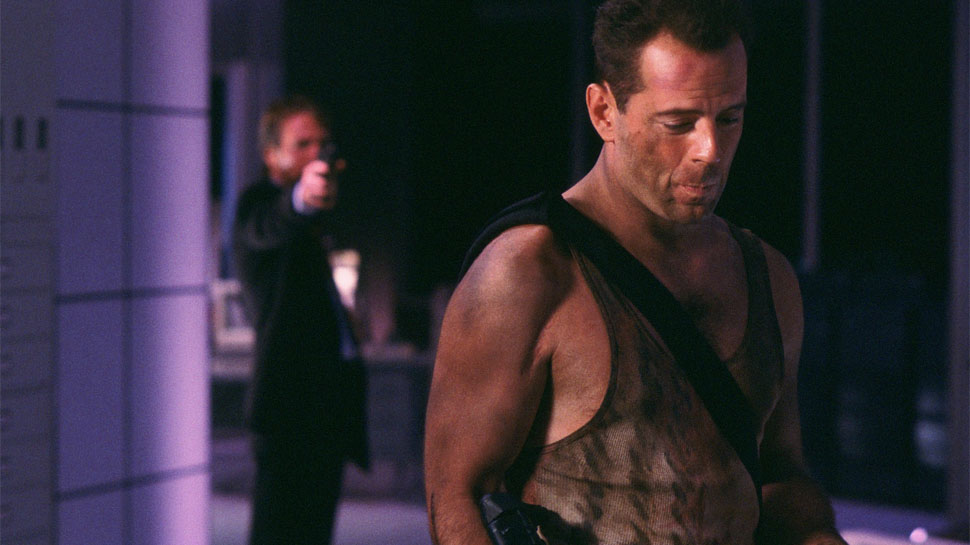 Die Hard was filmed at Fox Plaza in Los Angeles. Completed in 1987, Fox Plaza is 35 stories tall (493 feet) and served as the film's memorable backdrop. Made on a budget of 28 million, Die Hard went on to gross that number five times over for a whopping 128.1 million. There are currently five Die Hard films with a sixth one on the way. Willis will reprise the role of McClane but a younger version is being cast for the earlier portions of the film which will depict McClane as a rookie cop in the '70s. Happy 30 years, Die Hard!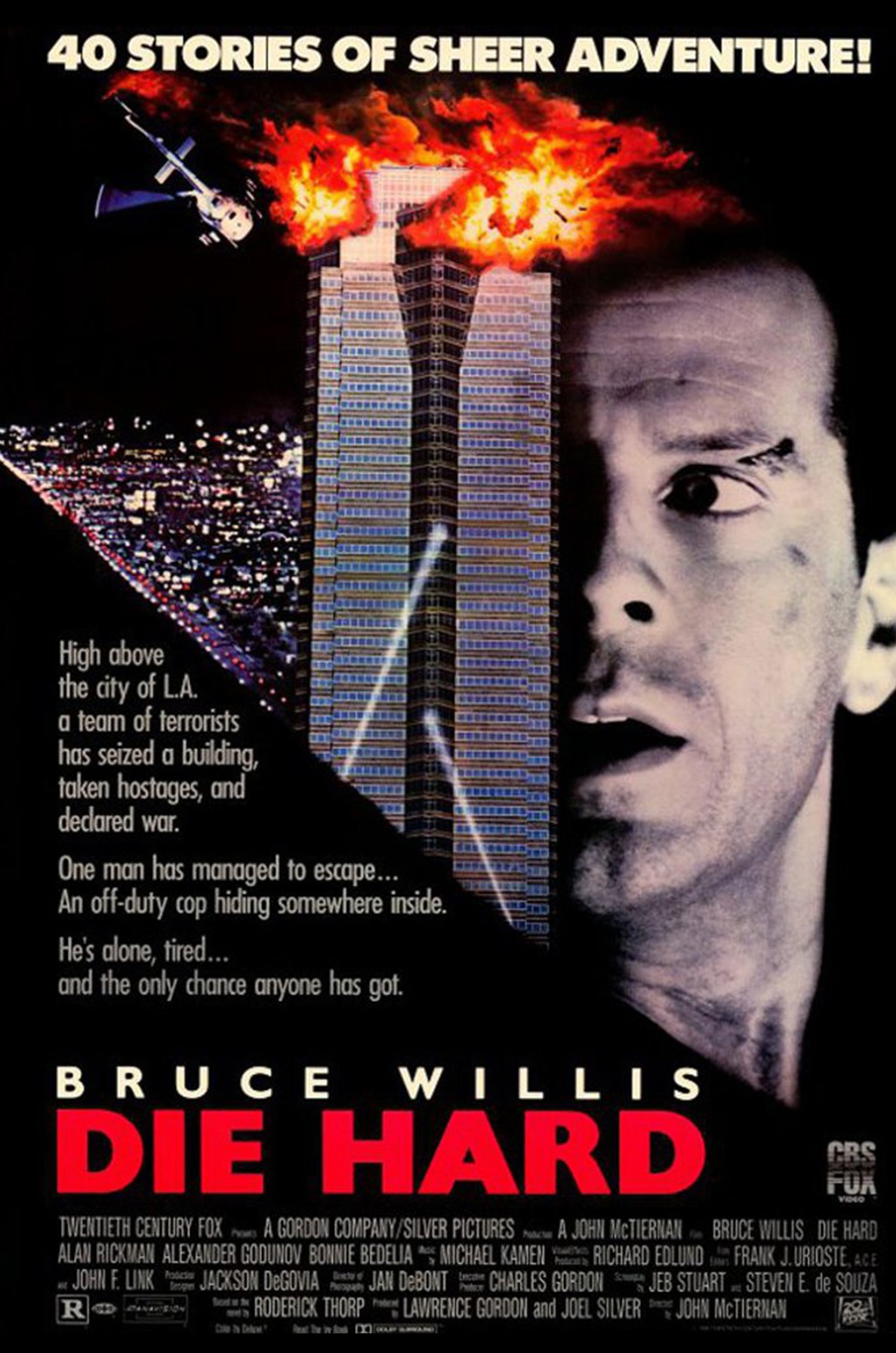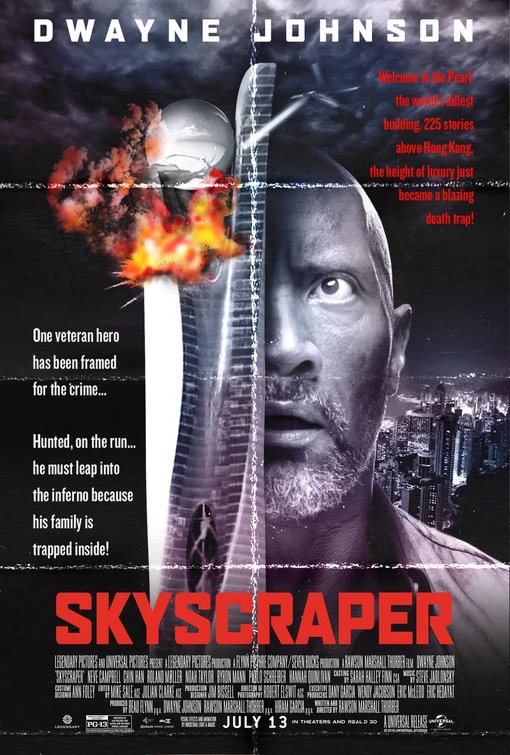 My girlfriend and I caught Skyscraper in theaters last night. I'm a big Rock fan but this one just didn't do it for me. Maybe I was subconsciously comparing it too much to Die Hard, but it had none of the charm and memorable characters.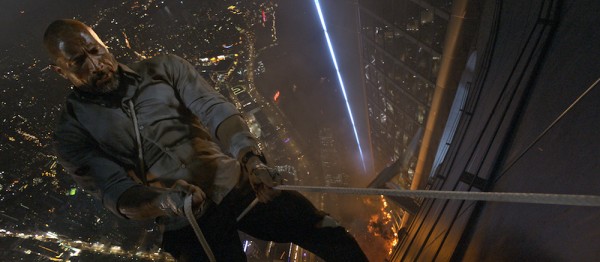 ARCADE ORIGINS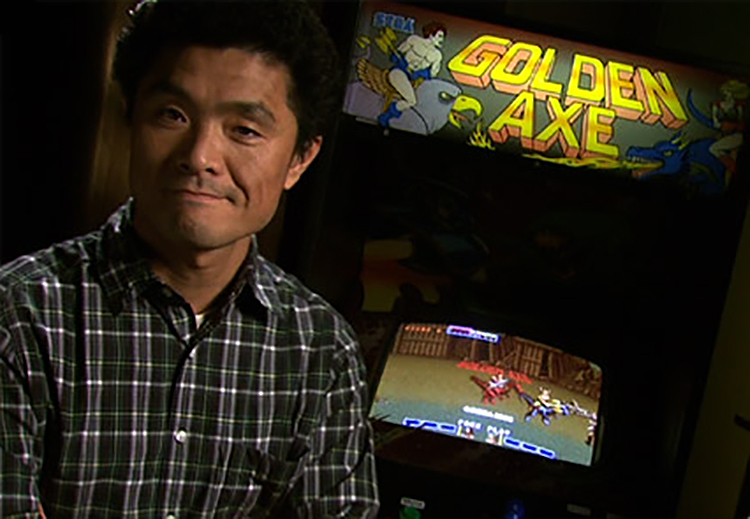 Die Hard Arcade was conceived by AM1's Makoto Uchida. Uchida worked on numerous well known Sega titles such as Altered Beast and Golden Axe. A big fan of the original Die Hard film, Uchida had the idea of creating a 3D beat 'em up with Die Hard as his main inspiration.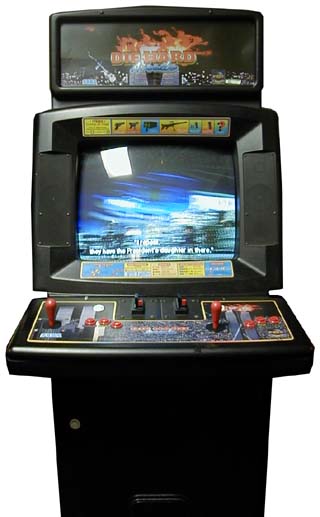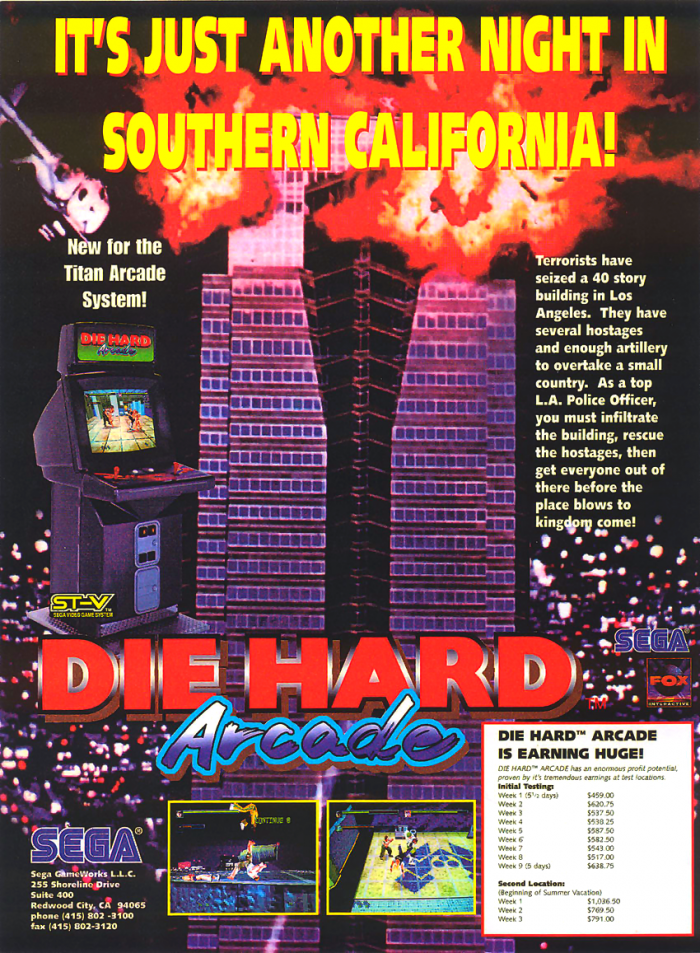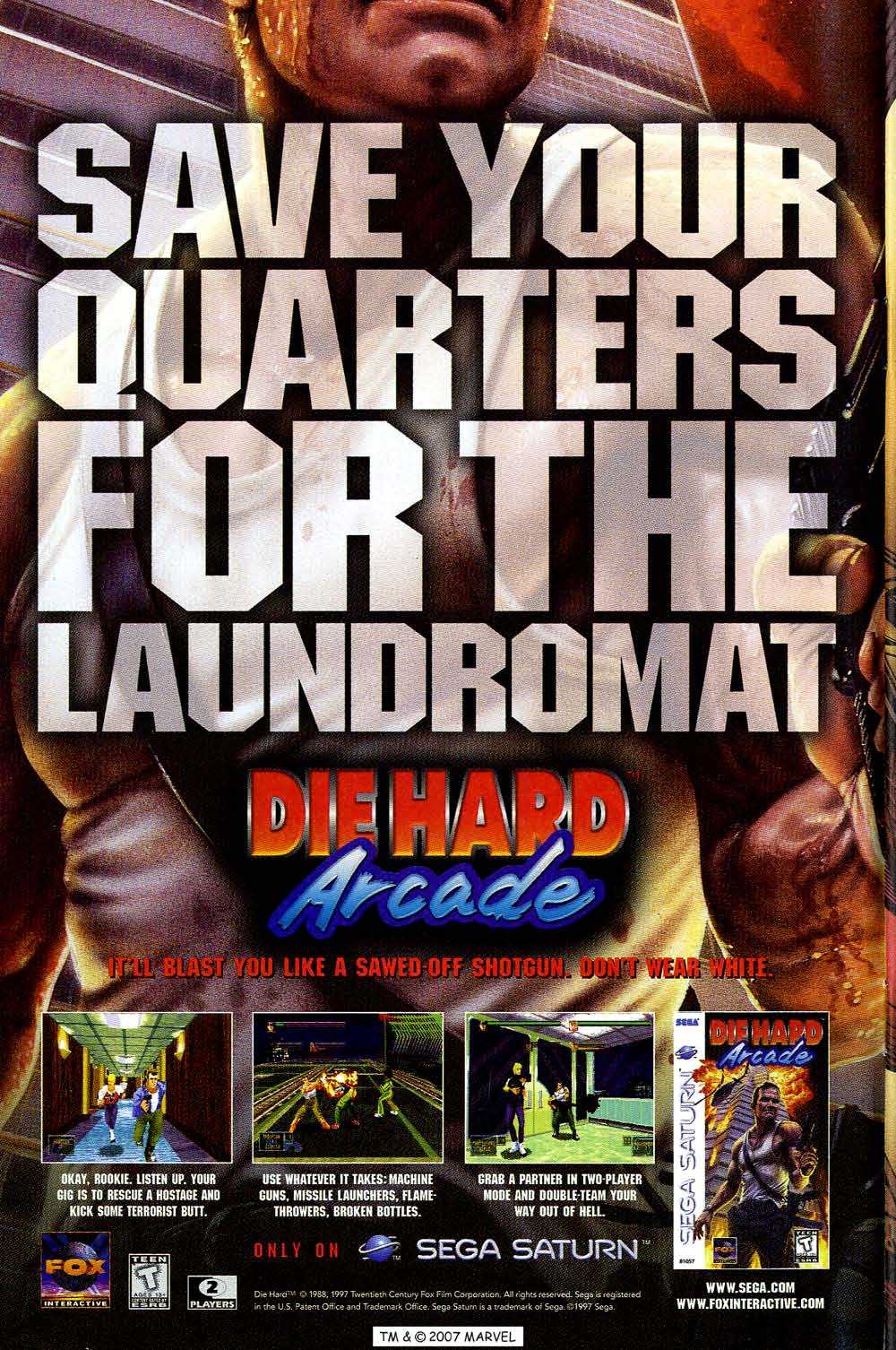 THE STORY GOES…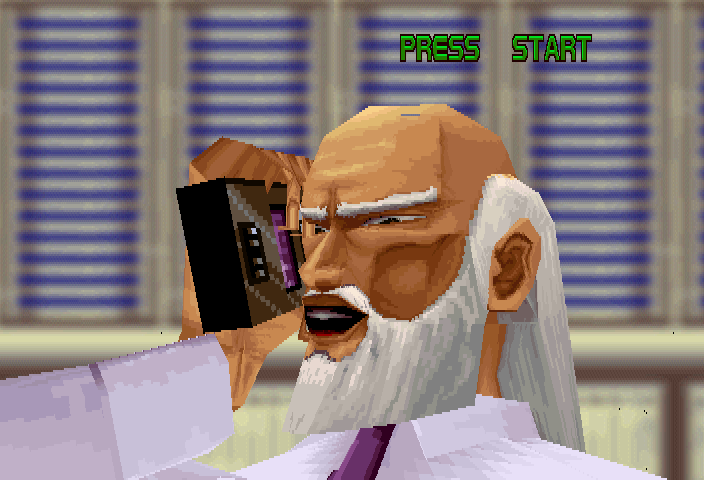 Wolf Hongo and his cronies have invaded a skyscraper in Los Angeles. They want the vast riches in the vault and have also kidnapped the president's daughter. It's up to you (and your partner) to stop Wolf.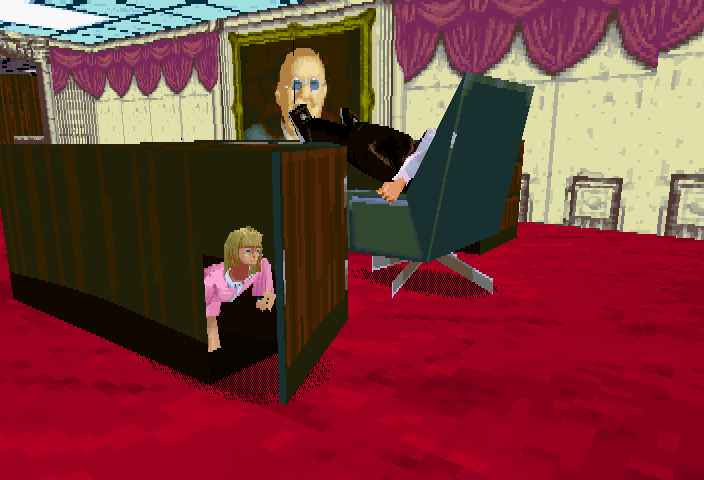 Die Hard Arcade doesn't take itself seriously as seen here. The president's daughter manages to elude the bad guys at some point and they cannot find her despite her being right under their nose.
DEEP SCAN CAMEO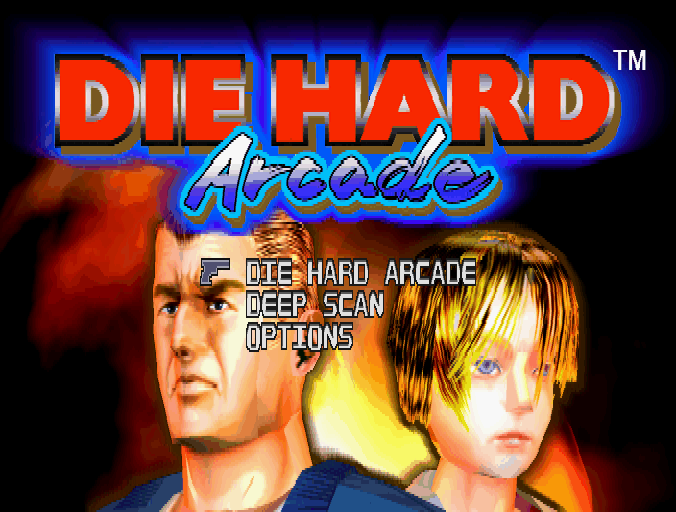 Deep Scan is a 1979 arcade game from Sega. Play it to earn extra continues.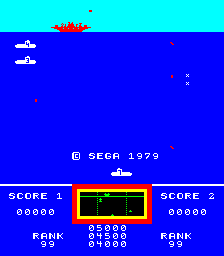 "WELCOME TO THE PARTY, PAL!"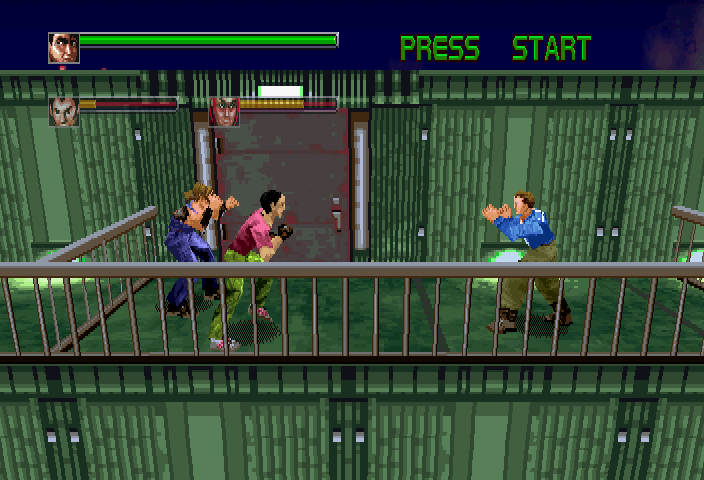 The action starts out hot and heavy on this little rooftop ledge.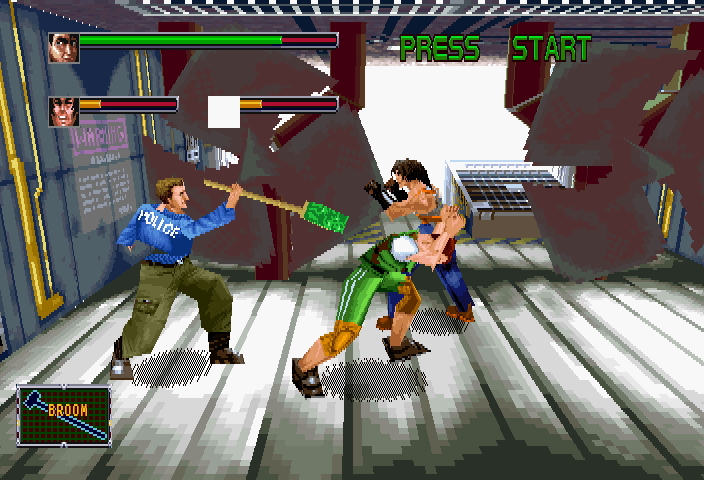 Many weapons are in play, including brooms!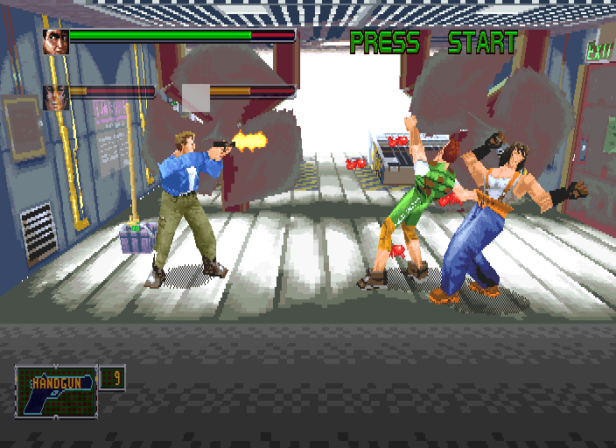 There's also the ever reliable handgun.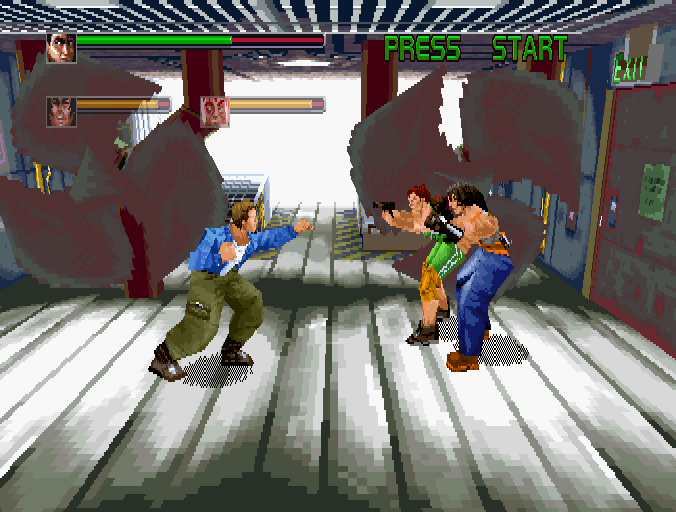 The blocky graphics add to the charm of the game. It's a little rough around the edges, literally, but that's just all part of the charm.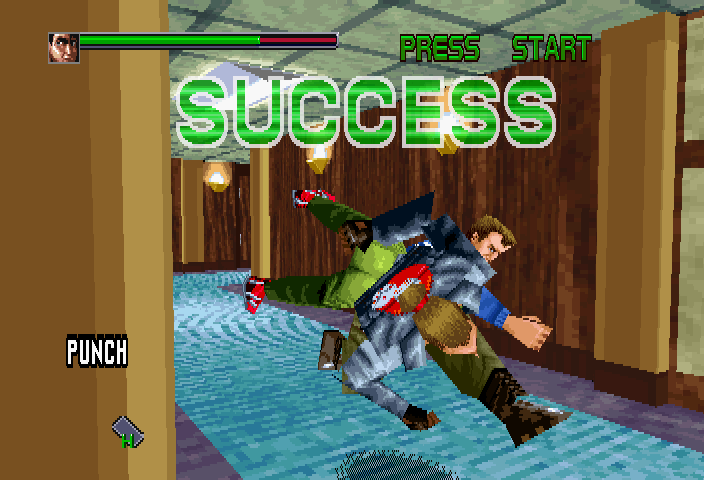 Quick time events, if handled right, allow you to recover some lost health. If you fail however, you'll need to clear that area of any bad guys that linger. You have to pay attention to which button they ask you to press, like a Simon Says. It's pretty neat and was later used in Shenmue on the Dreamcast.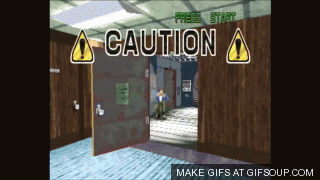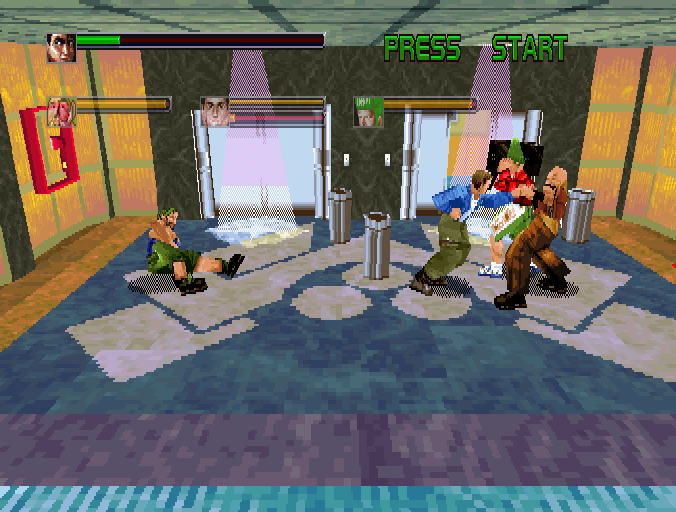 Next, make your way to this elevator lobby where you can beat up the bad guys with everything from a missile launcher to a grandfather clock! This game is ridiculous and I can't help but love how insane it is.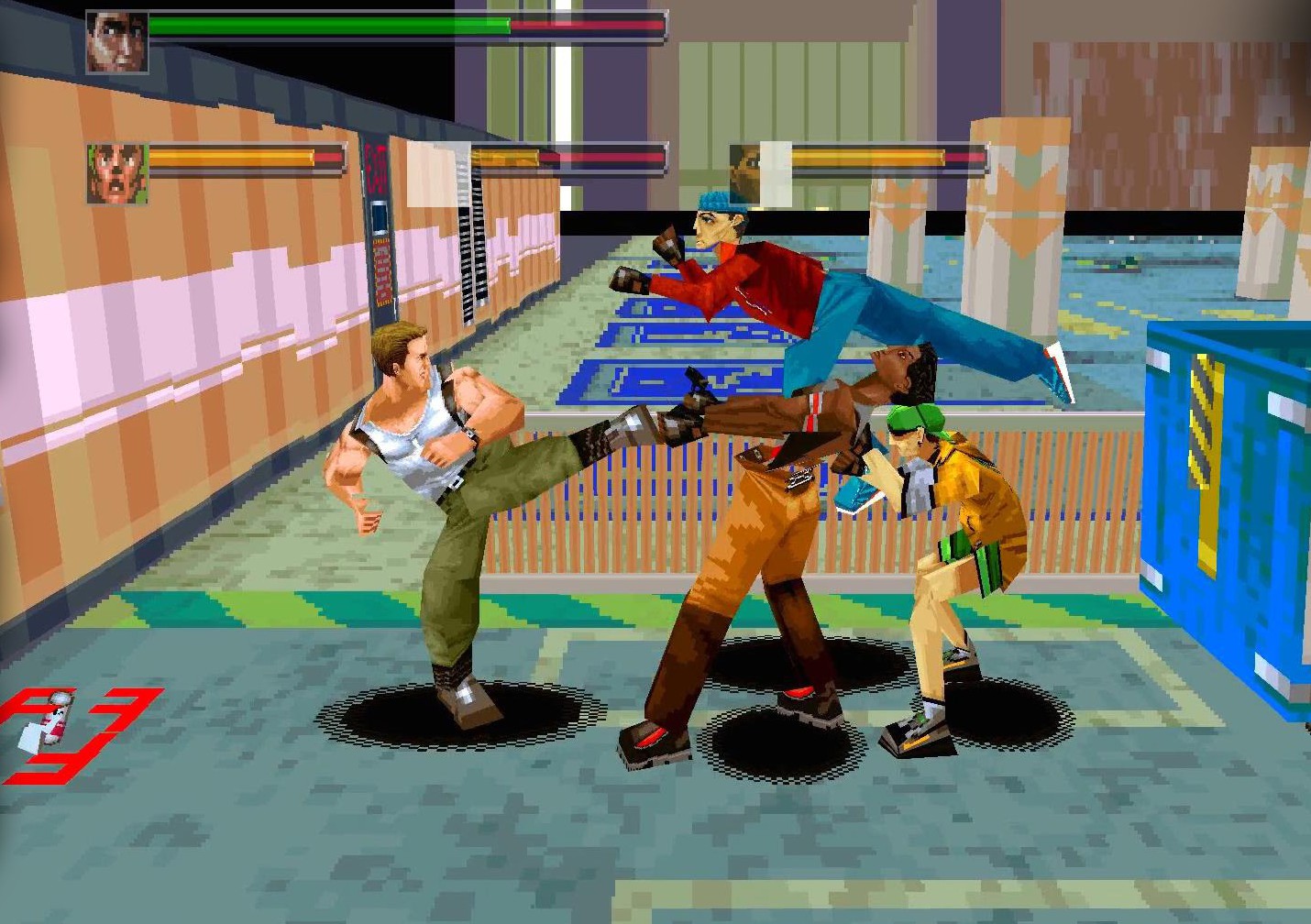 The bum in the green hat actually falls into the blue dumpster during a cutscene prior to McClane arriving on the scene. As stated earlier, Die Hard Arcade doesn't take itself seriously and has a ton of black humor.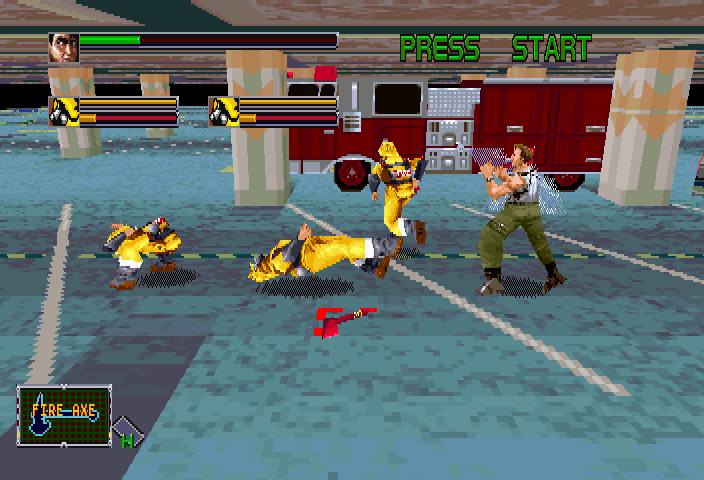 Watch out for the water spray, which can juggle you for damage. It can also hurt the enemies. Pick up the fire axe and hack away. There are also exploding barrels that you can heave their way.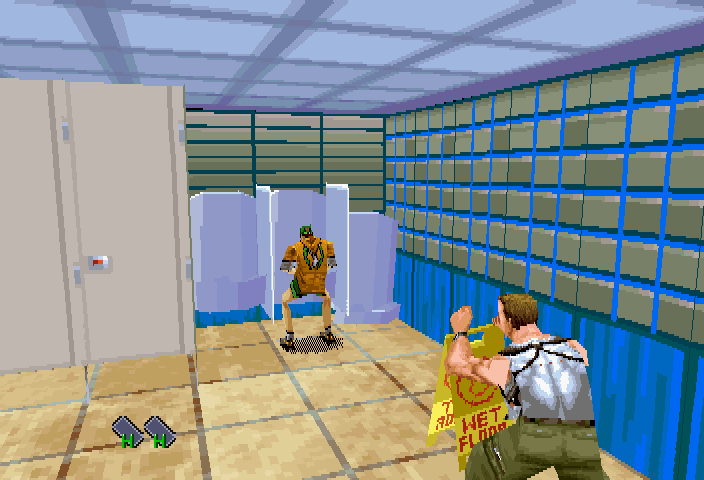 The next scene is unforgettable. One of the bad guys is relieving himself as you approach ready to maim. Stuff like this is what makes video games so great.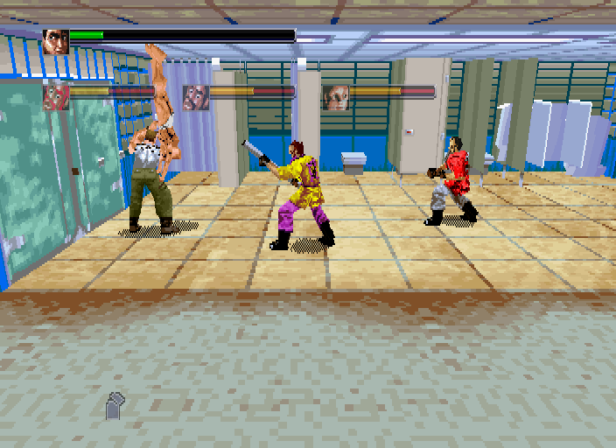 Yes, John McClane is suplexing a naked man in a diaper. Some descriptions defy logic.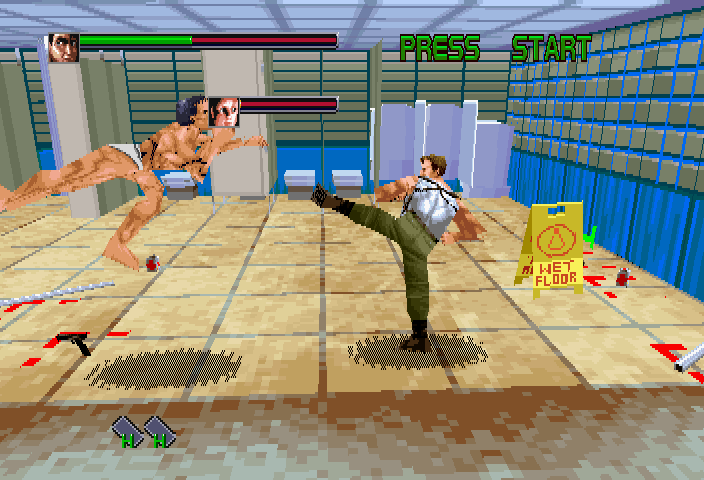 Anti-tank rifles, clubs, guns and more can be used here. Or just kick their ass the good old fashioned way. Toilet paper rolls roll around. This section is by far my favorite part of the game and I wish it were longer.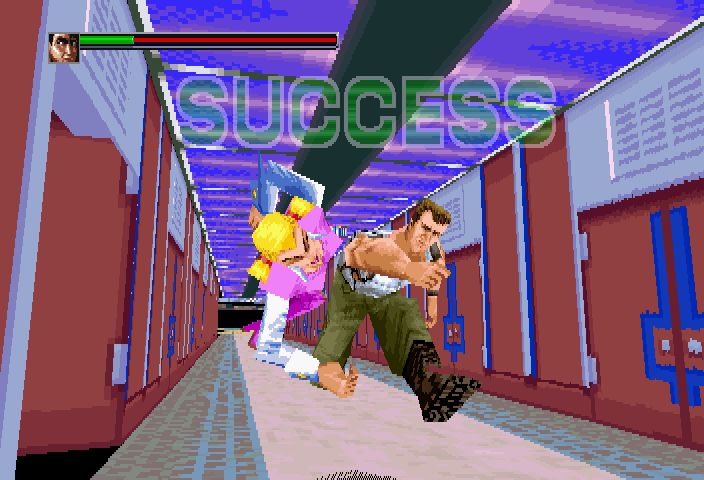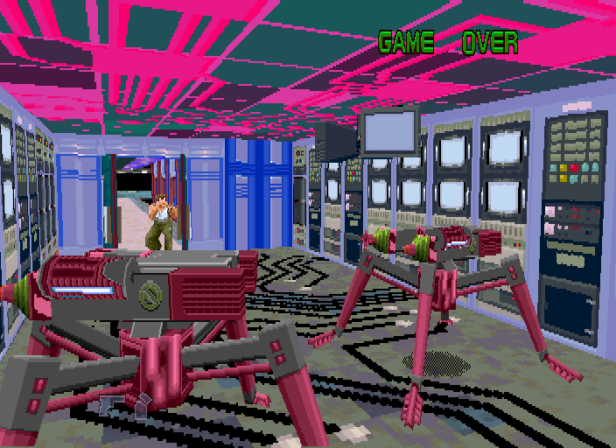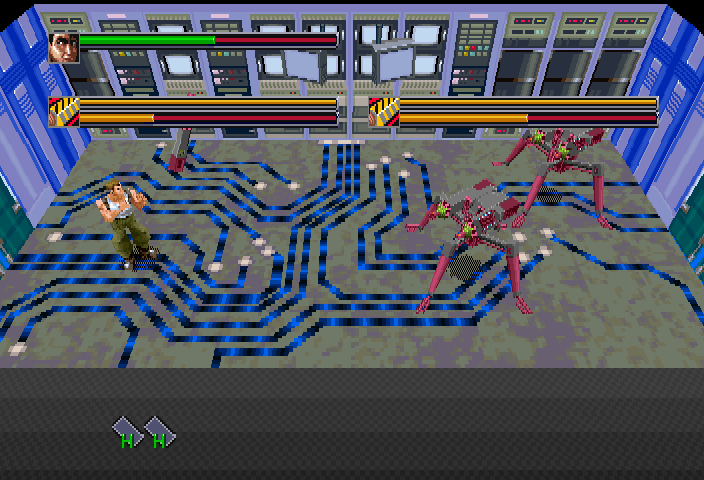 Use robot arms lying around to send these bastards back to the trash heap.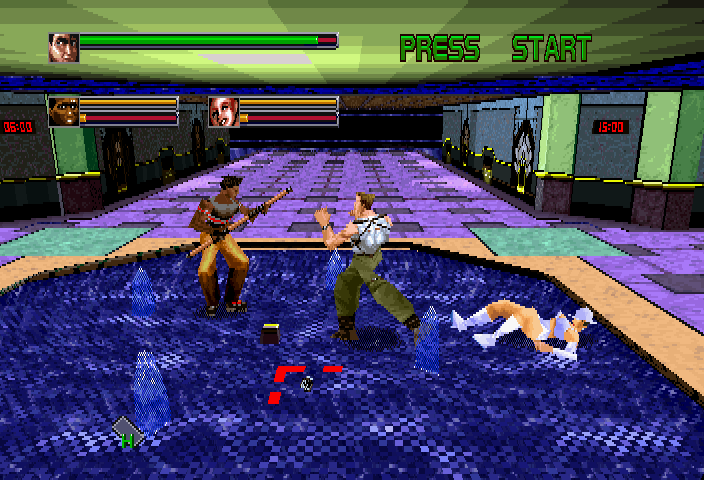 "Come on, hand over the club. We all know how this ends."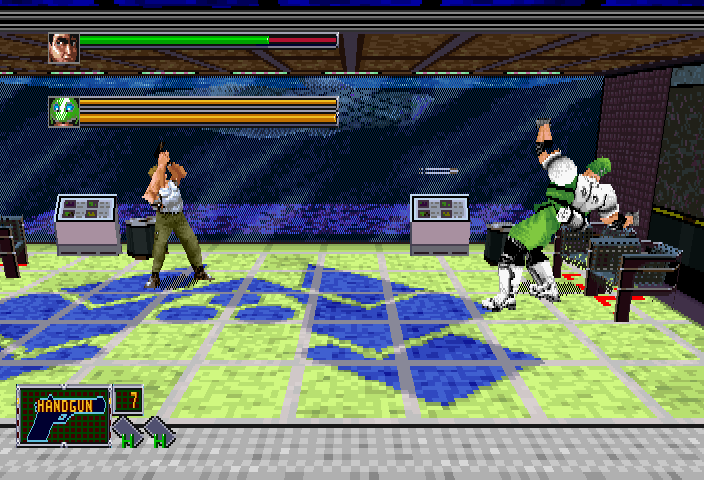 This big, beefy, masked mauler is one tough son of a gun. It's a good thing you can shoot his ass and throw chairs at him, then. I love the whale swimming in the aquarium tank in the background.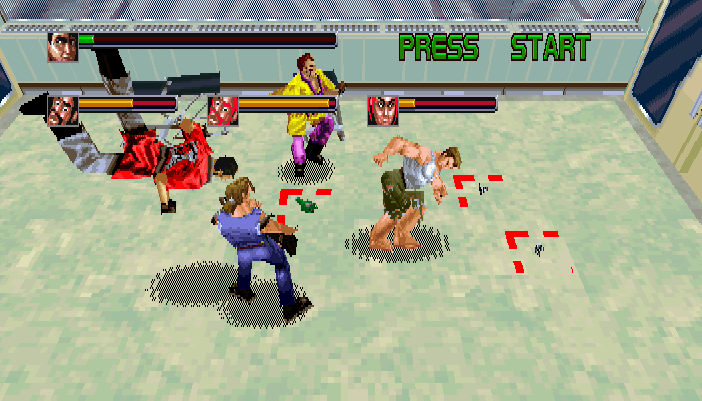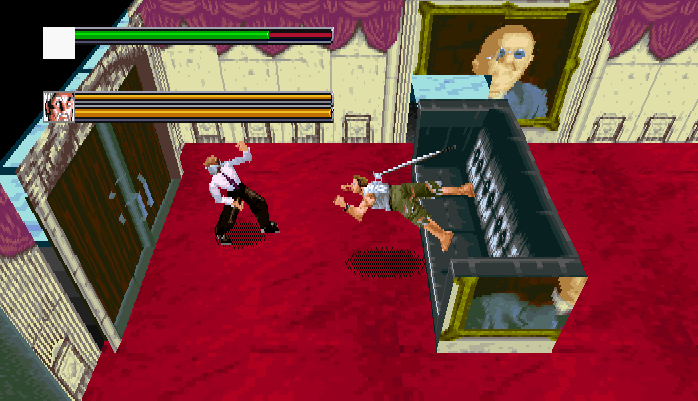 THE SEQUEL: DYNAMITE COP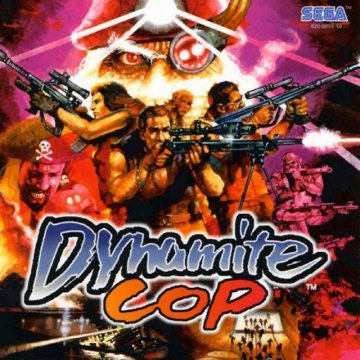 A sequel, Dynamite Deka 2 or Dynamite Cop in North America, came out in 1999. It was released in the arcade and on the Sega Dreamcast. It takes place on a boat and similar to the first game, has something of a cult following behind it.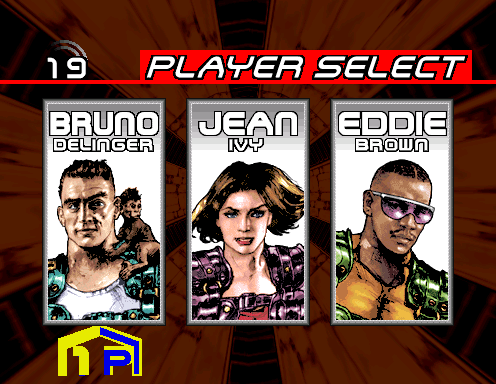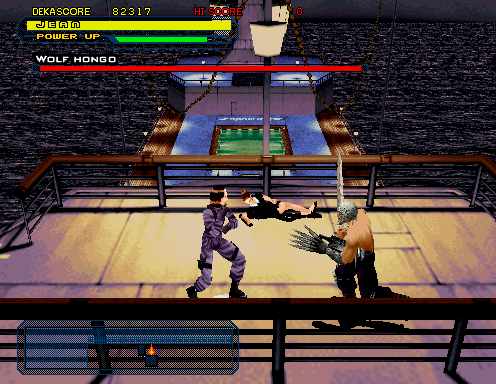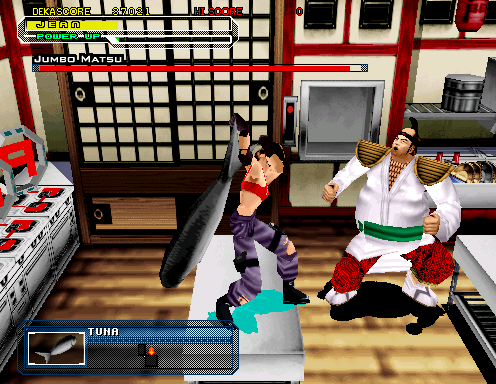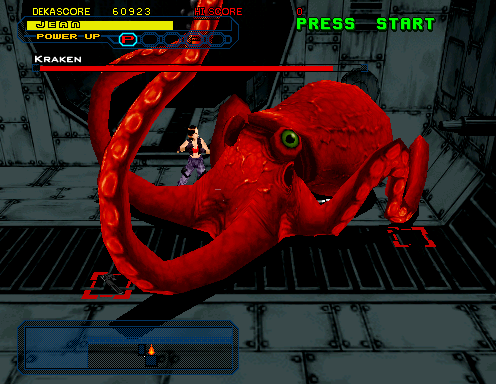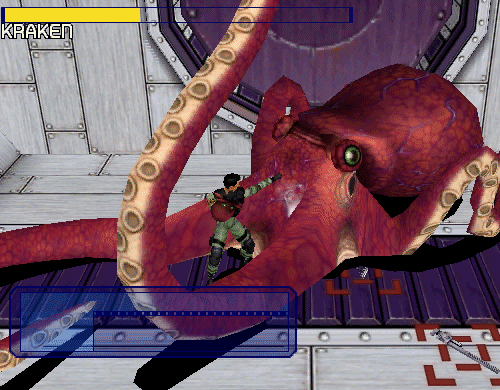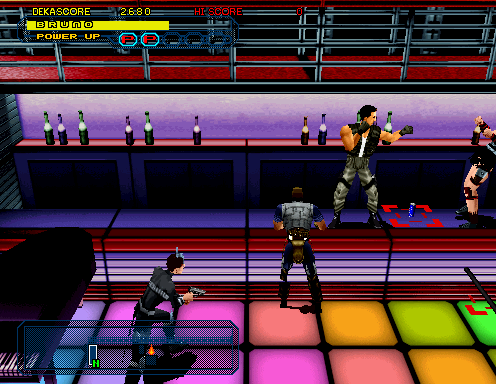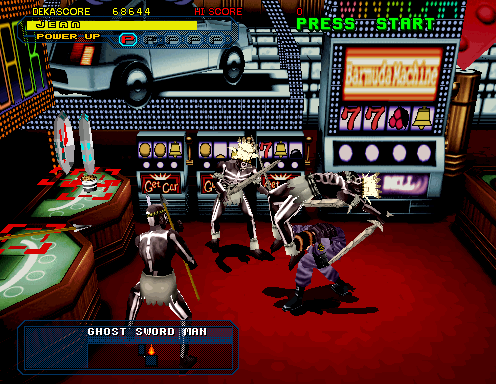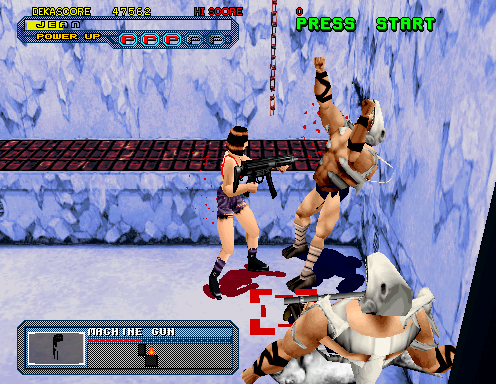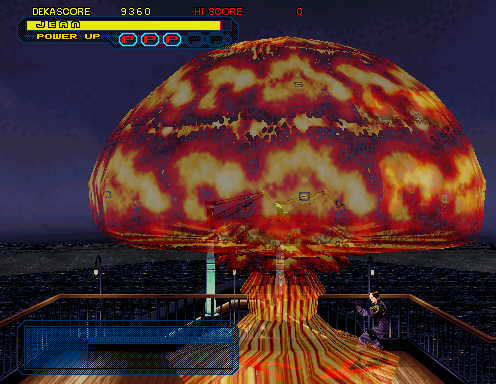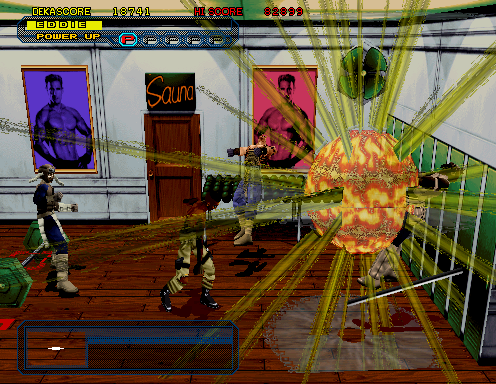 DYNAMITE DEKA EX: ASIAN DYNAMITE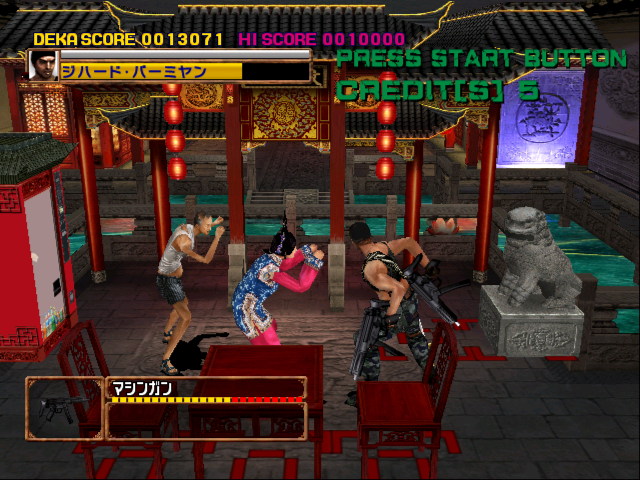 8 years later, a revised version of the second game was released in arcades in Japan only. It was an odd release to say the least. By then the beat 'em up genre was even more obscure than it had been in the early 2000s. The game was never ported to home consoles nor did it ever officially leave Japan.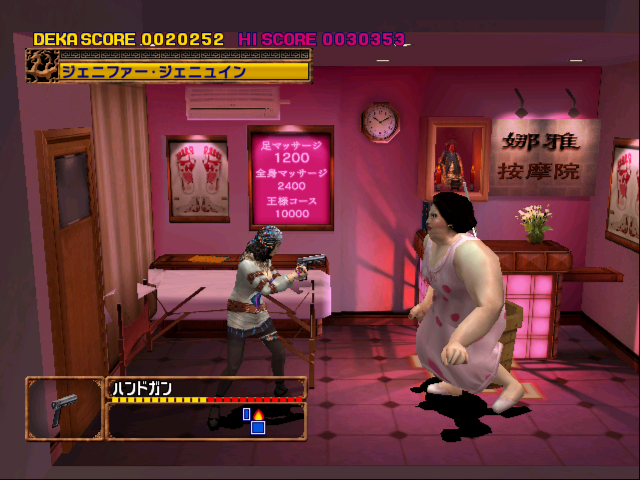 RE-RELEASE ON THE PLAYSTATION 2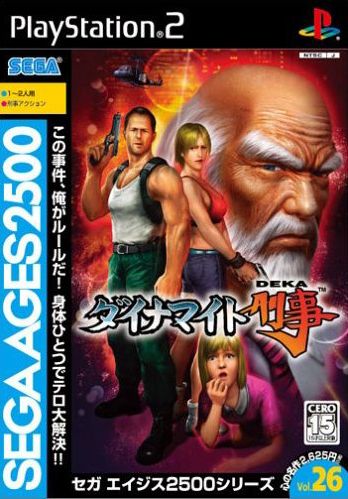 In 2006, Dynamite Deka was re-released in Japan for the PlayStation 2 under the Sega Ages 2500 budget line. It featured revamped graphics.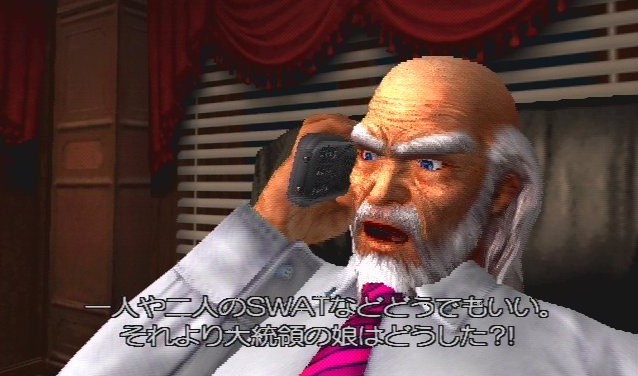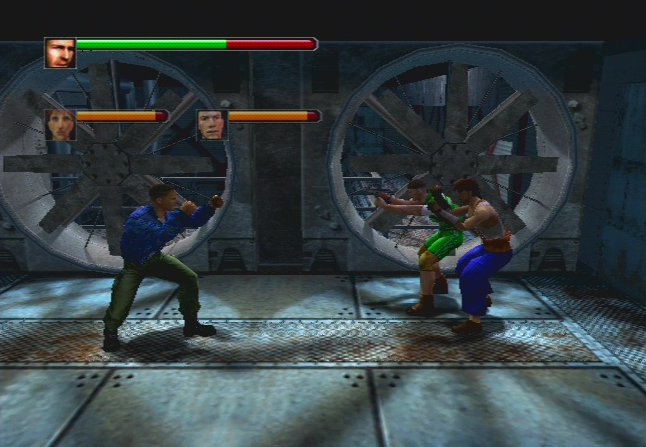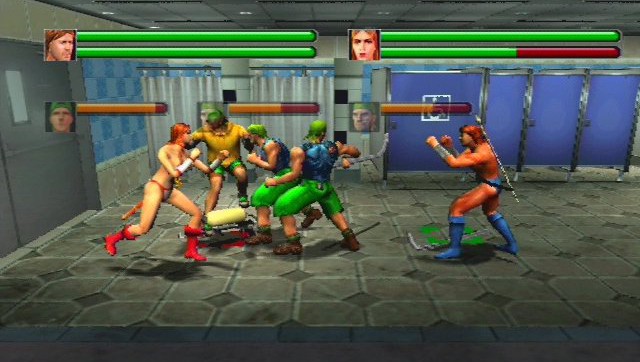 BURNING 2020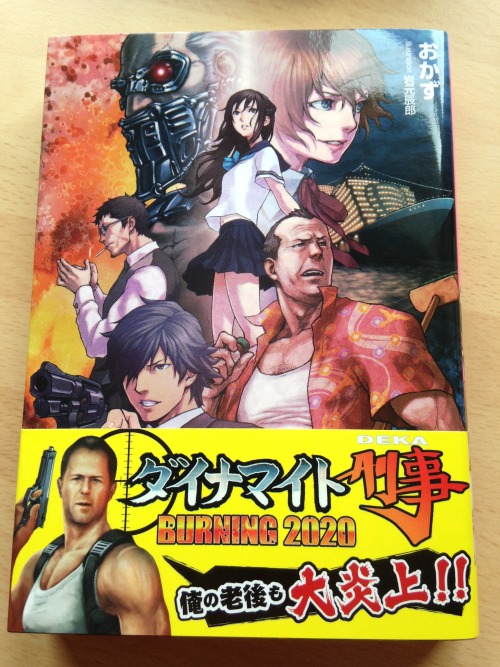 Die Hard Arcade was even made into a manga by the name of Burning 2020.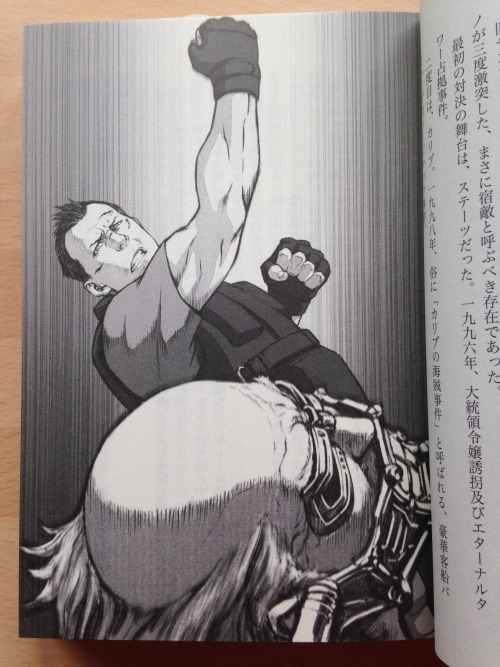 It's pretty incredible how Japan latches on to random entities and makes a "thing" out of them.
GAMETZ MEMORIES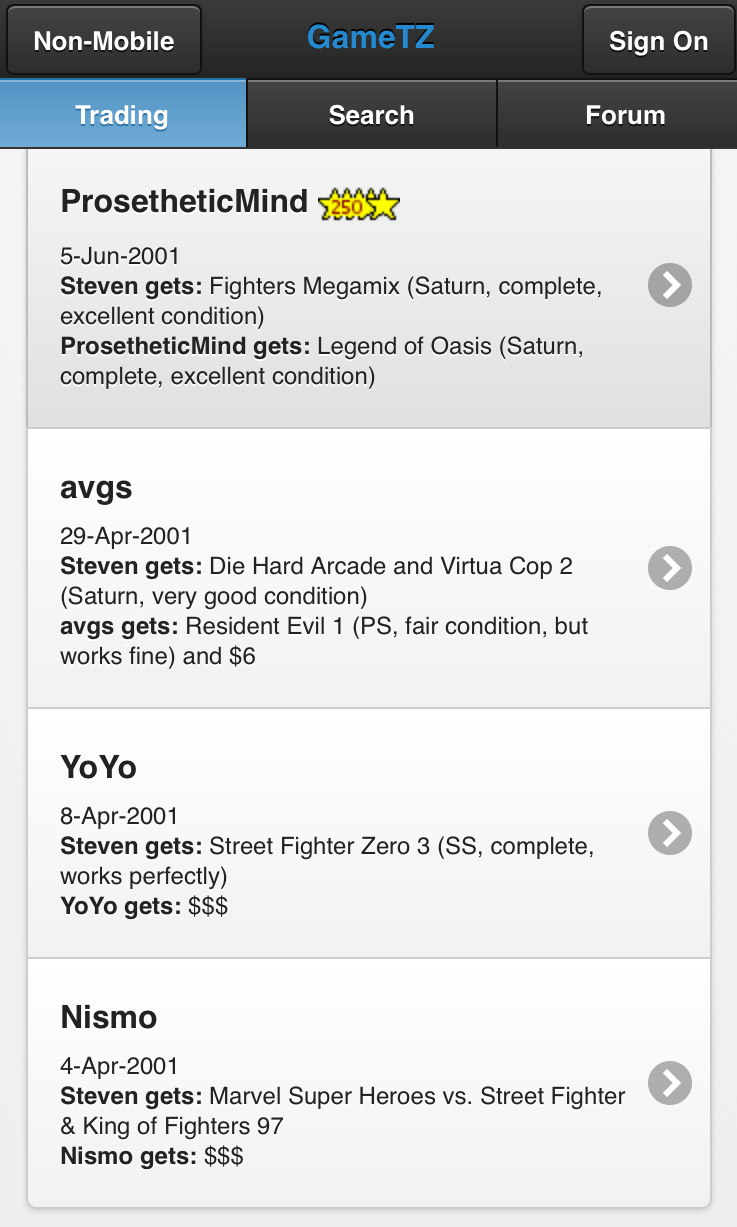 GameTZ (or Game Trading Zone) was a website where gamers can share their wanted and available list of games. You can browse other users' listings and message them to strike up trades. I joined on March 21, 2001 — I was still a few months away from graduating high school. It was a crazy fun time… it was like the Wild West of the internet back in those days. People were more willing to trade before the site became a shell of itself in the years to come. My third deal there was trading my copy of Resident Evil (PlayStation 1) and $6 for Virtua Cop 2 and Die Hard Arcade (Saturn). At that time, I had just gotten back into all things Sega Saturn and I vividly remember the day Virtua Cop 2 and Die Hard Arcade arrived in the mail. Later that night, my brother and I binged on both games and it was the best arcade experience at home I had had in the longest time. It sent me on a tailspin of endless Saturn love as I would explore the system's library further in-depth and uncover the most obscure of obscure games. Great memories!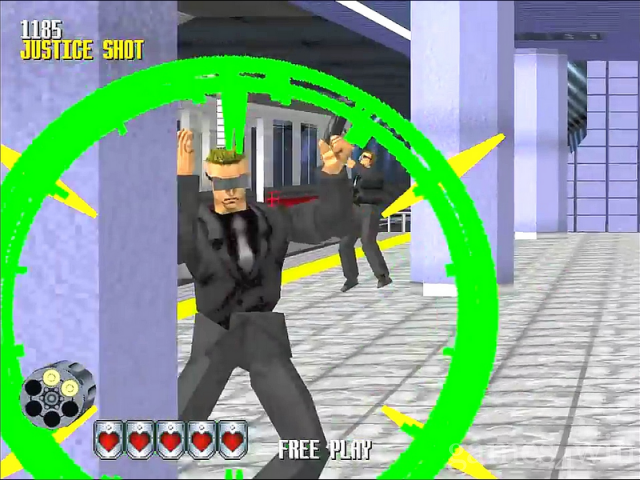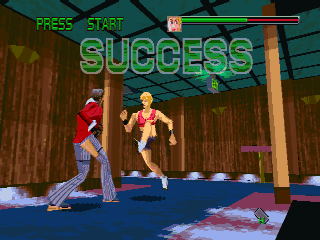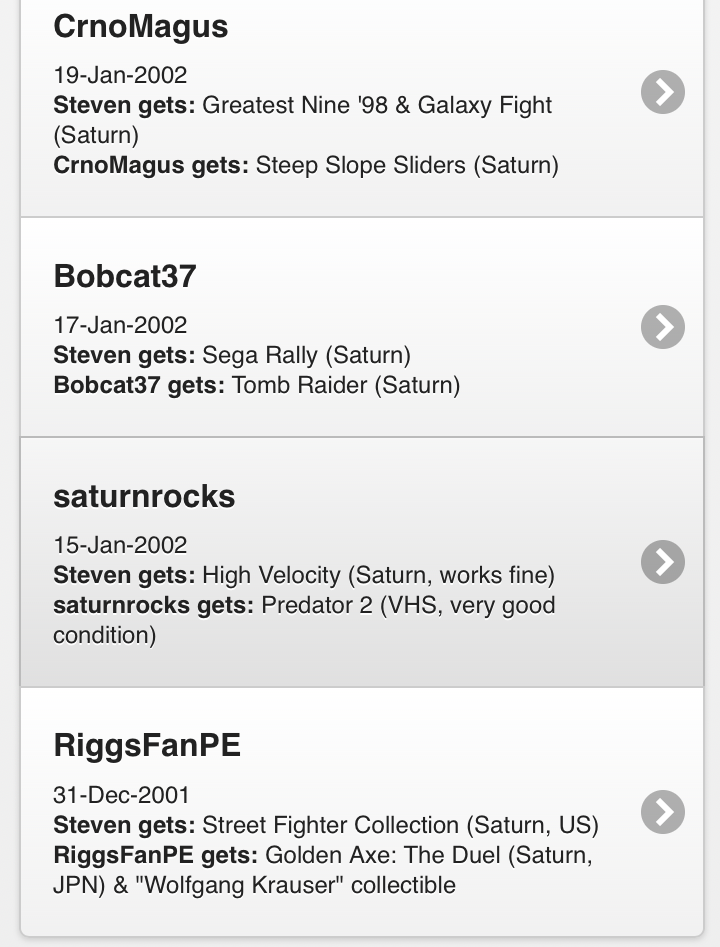 There were truly some funky deals I made on GameTZ. Maybe a story for another day. But I can't resist sharing a few right now. I once got Street Fighter Collection in exchange for Golden Axe: The Duel and an obscure Wolfgang Krauser collectible that I got in the mail circa 1994 via TAKARA. But perhaps my funniest trade was getting High Velocity (an obscure racing game for the Saturn) for my Predator 2 VHS copy. Ah, GameTZ, how I loved thee once upon a moon.
CLOSING THOUGHTS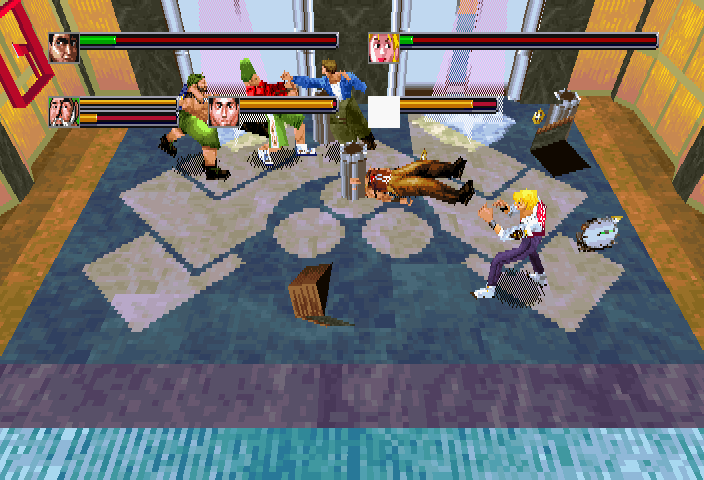 Die Hard Arcade is a blast. It never takes itself too seriously, it's violent as hell and it's stupid fun with a friend by your side. My brother and I loved playing this game and although it's short at around 20 minutes or so, we kept coming back to it over the years. It's a true testament to how fun and over the top the game is. We didn't care that the graphics were a little blocky or that the story wasn't anything we hadn't seen a thousand times before: a good beat 'em up should be fun and Die Hard Arcade most certainly is.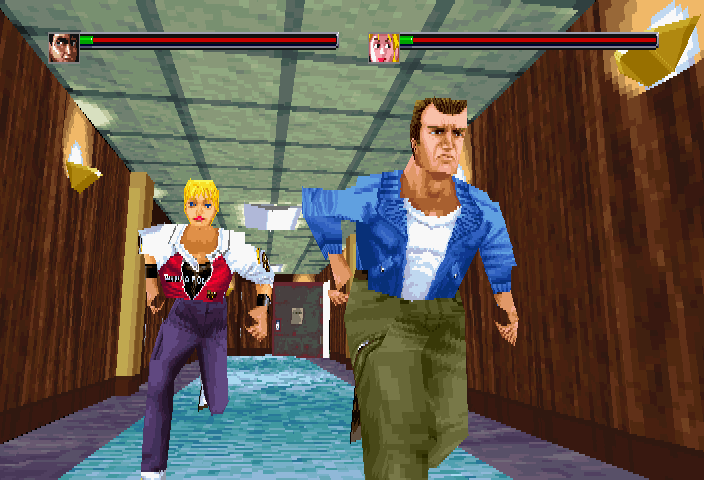 There's actually something charming about the blocky visuals. It was in the early days of 3D where polygons were mostly blocky. Developers were still finding their way with the new style of graphics; it was a sign of the times. But the best thing about this game is teaming up with a buddy to kick terrorist ass in the most amusing of ways. Whether you're chucking a grandfather clock at the bad guys or beating them upside the head with a broom, Die Hard Arcade is a memorable foray into the realm of the 3D beat 'em up. It's campy, over the top and balls to the walls nutty. It's not a perfect game, but for what it is, it's perfect (if that makes sense). Now excuse me while I find my copy of this game and dust off the ol' Saturn one more time…