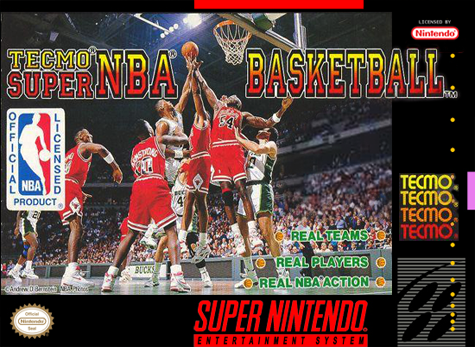 Let's conclude NBA week (in honor of the recent 2017 NBA Finals) with arguably the Super Nintendo's best basketball title prior to the NBA Live series. You know, there was a time when Tecmo had a foothold on the market of sports video games. EA Sports was rising but with smash hits like the Tecmo Super Bowl series, Tecmo was king. Tecmo was well known for the Ninja Gaiden games back in the '80s but for me and my friends we found Tecmo synonymous with "good sports games." Tecmo released Tecmo Super NBA Basketball to the Super Famicom on Christmas Day, 1992. The North American version would arrive in March of 1993. There weren't a lot of basketball games on the market at the time, and of the ones available, this was the best one. But has it stood the test of time? Let's take a look.
8-BIT EDITION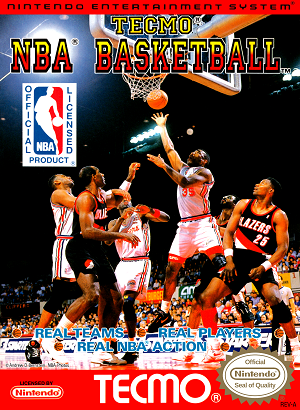 Tecmo NBA Basketball arrived on the 8-bit Nintendo in November of 1992. The NES was on life support by that time; the SNES had been out in the North American market for over a year by then. But many of us still owned the NES, and I remember playing this game with my brother and our friends. We had a good with it. That was no shock to any of us. After all, it was a Tecmo sports game.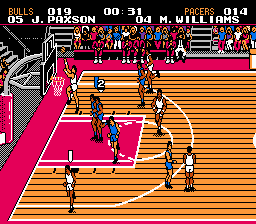 Tecmo NBA Basketball, similar to Tecmo Bowl, still has something of a cult following to this day. In fact, there are new versions still being released. It says something about the longevity of these old sports games and how much people enjoy them.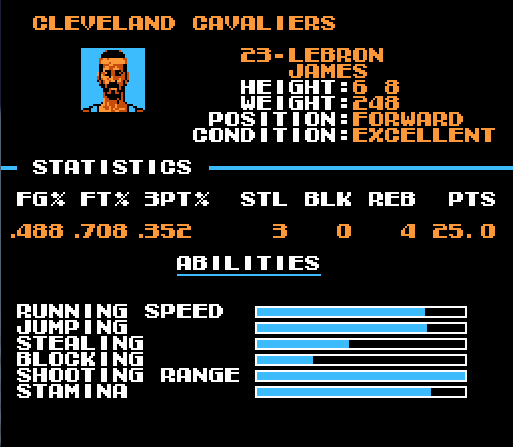 Barely four months after the 8-bit version came the 16-bit version. You can see the clear technical jump in graphics. Still got those sweet official NBA logos, too.
16-BIT EDITION
Tecmo Bunny for life! Them some fancy double doors.
Optimus Prime? No, still them fancy double doors.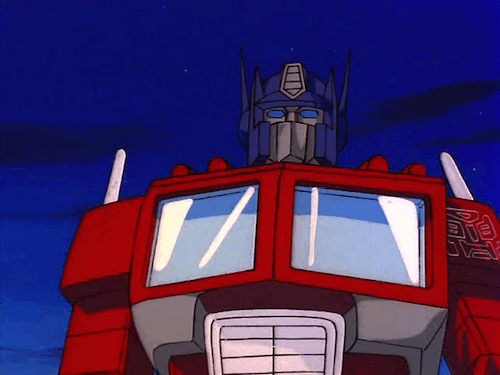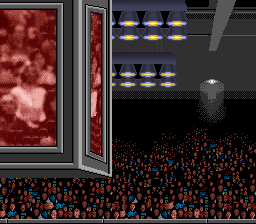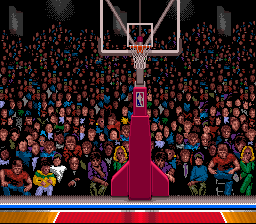 Fancy intro gets you hyped to throw down with the pros.
Tecmo sports games shared this classic menu. Like seeing a dear old friend, it brings a certain sense of comfort and nostalgia. Hint: put game speed to fast. Trust me…
Notice the striking similarity of their abilities. Hakeem the Dream Olajuwon, Patrick Ewing, David Robinson and Karl Malone — four of the best NBA big men of all time. I'm such a sucker for player ratings. Always fun to compare and scout.
Michael Jordan and Charles Barkley were MIA in some other basketball games after this but they're both here in all their glory. Well, the SNES version anyhow. The Genesis version has "Roster Bulls" player instead of Jordan.
Reggie Lewis tragically died during an offseason basketball practice in the summer of 1993. In the Genesis version of this game, he was replaced by "Roster Celtics" player. Speaking of Reggie, "Miller Time" was bad news for 26 other NBA teams.
Larry Bird and Magic Johnson — two legends that I never tire of using. One of the perks of this game using the 1991-1992 roster. Later NBA games lost out on these icons.
Select from any of the (then) 27 NBA teams.
Similar to Tecmo Bowl, you can select certain plays but unlike Tecmo Bowl, it's completely at your discretion rather than forced. You can strategize as much as you want or as little as you wish. Let's relive the '92 NBA Finals: Bulls vs. Blazers!
Cinematic cutscenes appear here and there. Not the biggest fan of them as they kind of impede the flow a tiny bit. Must be pretty intimidating to see Michael Jordan coming down the court ready to attack.
Scottie Pippen with the sick turn around hook shot.
Jordan swishes an 18 foot jumpshot. Nice.
Jordan doing what he does best: throwing down!
Details… it always bugged me how players jump for their free throw shots. Come on Tecmo, you're better than that…
Cinematic cutscenes can be great when used effectively. Not really here as it interrupts the flow. Not a fan. It worked for the Ninja Gaiden games, but not here.
Paxson's 3 pointer bounces around the rim and falls through. Making 3 pointers in this game isn't as easy as breathing (as it was in the NBA Live games). Really satisfying when you nail them.
Jordan cocks the ball and jams it home with ferocity.
Halftime stats are shown including a dance number. Good thing this isn't 2016 or that cheerleader would have dabbed.
REJECTED!  [Story of your life… -Ed.]
Annoying pet peeve: when you think you're close enough for a dunk but your guy decides to try a layup instead. Layups will occasionally bounce off the rim. Ugh!
Scottie Pippen with the exclamation mark.
Terry Porter heaves a halfcourt prayer and it bounces in, bringing the final score to Bulls 36, Blazers 20. Nice shot, Porter, but simply window dressing.
Making 3 pointers is pretty damn hard.
WHAT THE CRITICS SAID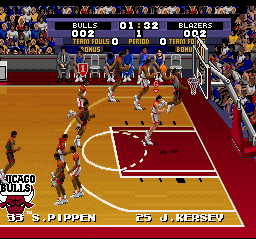 Prior to Tecmo Super NBA Basketball, SNES basketball games were slow and plodding. This game is no barn burner by any means but it played faster than the other available choices at the time. GameFan gave it ratings of 83, 89, 89 and 95%. Super Play rated it 86%. Critics applauded it for its control, stats and playability.
CLOSING THOUGHTS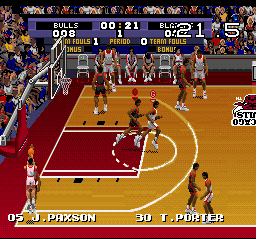 My friends and I enjoyed playing Tecmo Super NBA Basketball back in 1993. For its time, no other SNES basketball game could compare to it. One year later NBA Jam came out and took over as basketball king. Admittedly, that's a bit unfair as the two games were so different. However, NBA Live '95 was released in October 1994 and suddenly made it really difficult to go back to the 5 on 5 "action" of the much slower Tecmo Super NBA Basketball. NBA Live '95 increased the speed and even had a turbo button. Suddenly, penetration in the paint was not only possible but it was relatively easy. It did a much better job of simulating the game of basketball. That's not to say Tecmo Super NBA Basketball is no longer playable. It certainly still is. But it's one of those games that has become something of a victim to the passing of time. I can still enjoy a game now and again but only when nostalgia knocks. More often than not, when the basketball itch strikes on the SNES, I turn to either NBA Live, NBA Jam T.E., Looney Tunes B-Ball or Dream Basketball: Dunk & Hoop.
It's hard to recommend this game when you have several better examples of the genre on the same system. However, if you don't mind a slower, more methodical experience then it's worth a look. The graphics and sound were decent for its time. There are tons of stats to keep simulation freaks happy and a battery backup memory allows you to save your progress throughout a long NBA season. But unless you have nostalgic ties to this game, there are many better basketball titles I would personally rather play on the SNES. I wouldn't go so far as to call Tecmo Super NBA Basketball obsolete, but it's definitely an acquired taste from a bygone era.
Graphics: 6
Sound: 6
Gameplay: 6
Longevity: 6
Overall: 6.0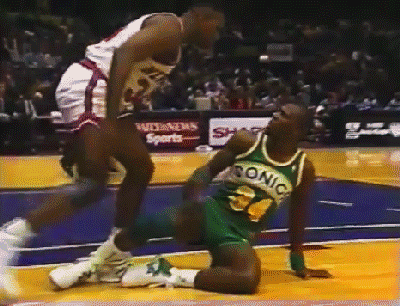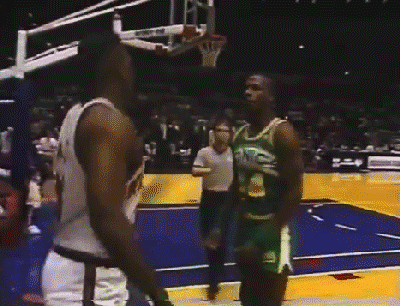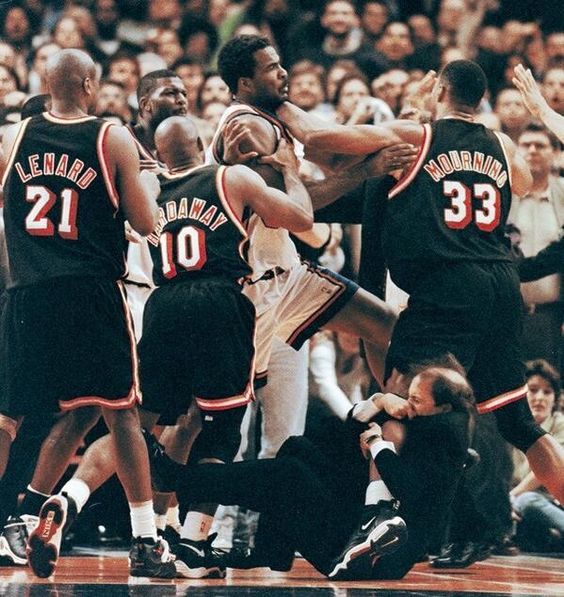 Charles Oakley never learned, I guess…
"PUSHING FOUL!"  Aye, some things never change…