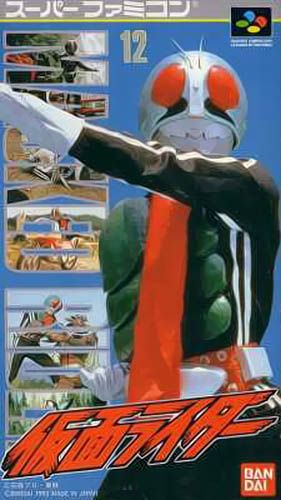 Premiering on April 3, 1971, Kamen Rider (translated as Masked Rider) was a smash hit TV show in Japan. An insect-like superhero who rides on a motorcycle and beats up bad guys was a winning recipe. Over 20 years later, Kamen Rider was released only on the Super Famicom where you clean up the streets of early '70s Japan in this fun and cheesy beat 'em up.
LEVEL ONE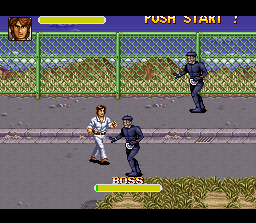 As you make your way through the levels, the boss' health meter at the bottom slowly increases. So don't mess around and beat up the lackeys as fast as you can.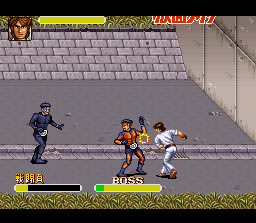 The garish blokes are tougher than their less colorful brethren.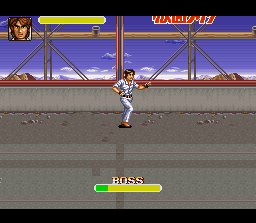 Enter the abandoned warehouse. Hmmm, it's awfully quiet in here. TOO QUIET…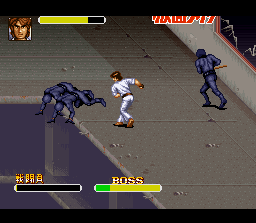 PEARL HARBOR! But even their nefarious schemes are no match for your fleet-footed prowess. Use the pit to send their sorry asses to an early grave.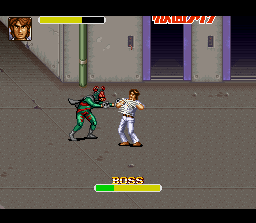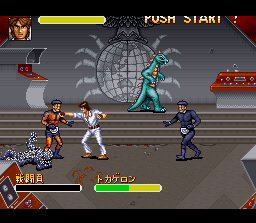 In classic beat 'em up fashion, the boss is joined by a legion of low tier lackeys.
The bosses even resemble their real life cheesy rubber suits! Nice. When things get hot and heavy, press "X" to become the mighty Kamen Rider.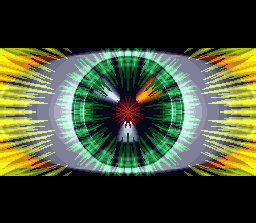 Kamen Rider is a superior fighter and he has a separate health bar as well.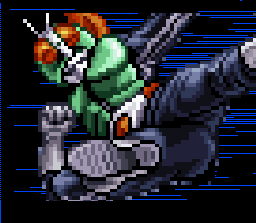 Of course, being the Super Nintendo/Famicom, Mode 7 madness ensues.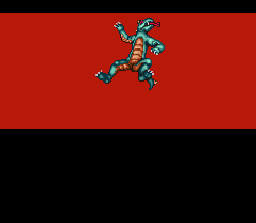 A cutscene depicting the demise of the assailant is shown to reward your successful effort.
LEVEL TWO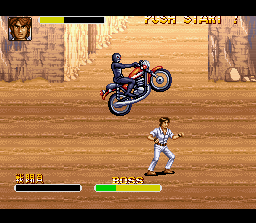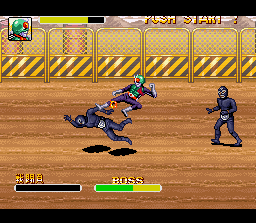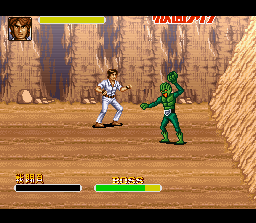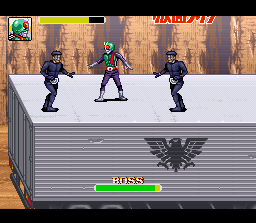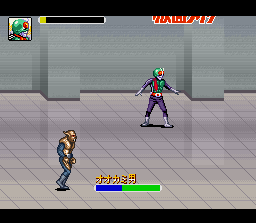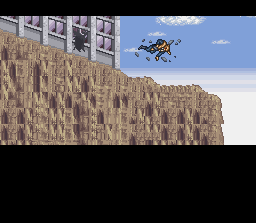 LEVEL THREE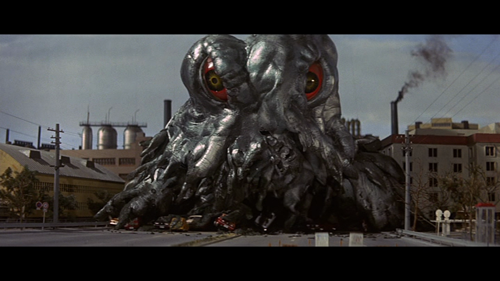 This stage is home to waste dumps and the like, lending the game a gloomy rundown atmosphere. It really places you in early '70s Japan. In fact, it somehow reminds me a lot of Godzilla vs. Hedorah (AKA The Smog Monster), which coincidentally enough also came out in 1971. There is a very bleak feel to that film and to this particular level. Battle your way through the outskirts of town before culminating in a rooftop tangle.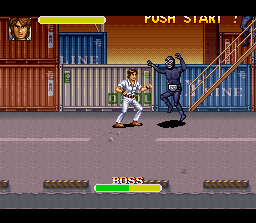 Bad guys come out of the woodwork from the staircase. Somewhere in the background a part of me can feel Godzilla and Hedorah battling it out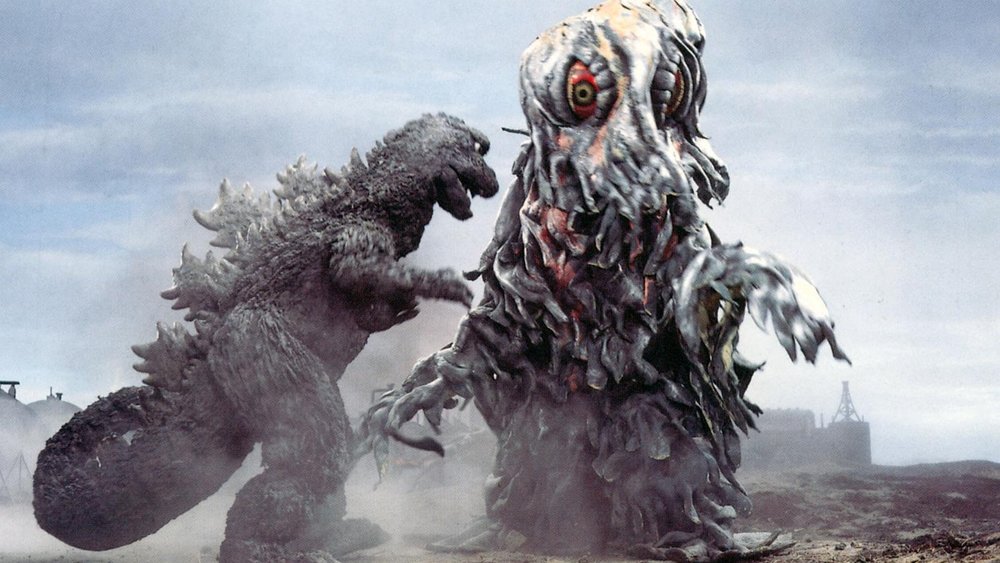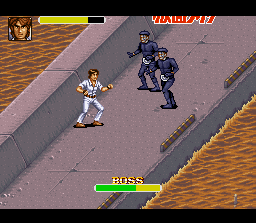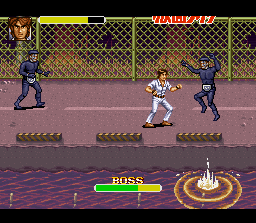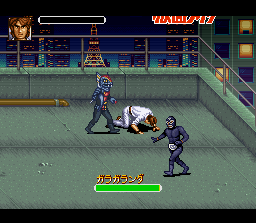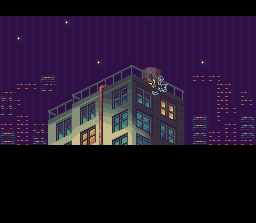 LEVEL FOUR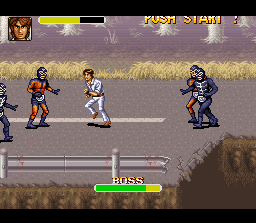 Similar to the legendary GOLDEN AXE series, gaping holes can be used to your advantage.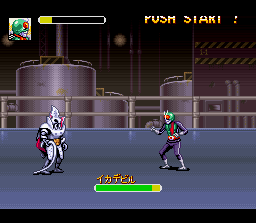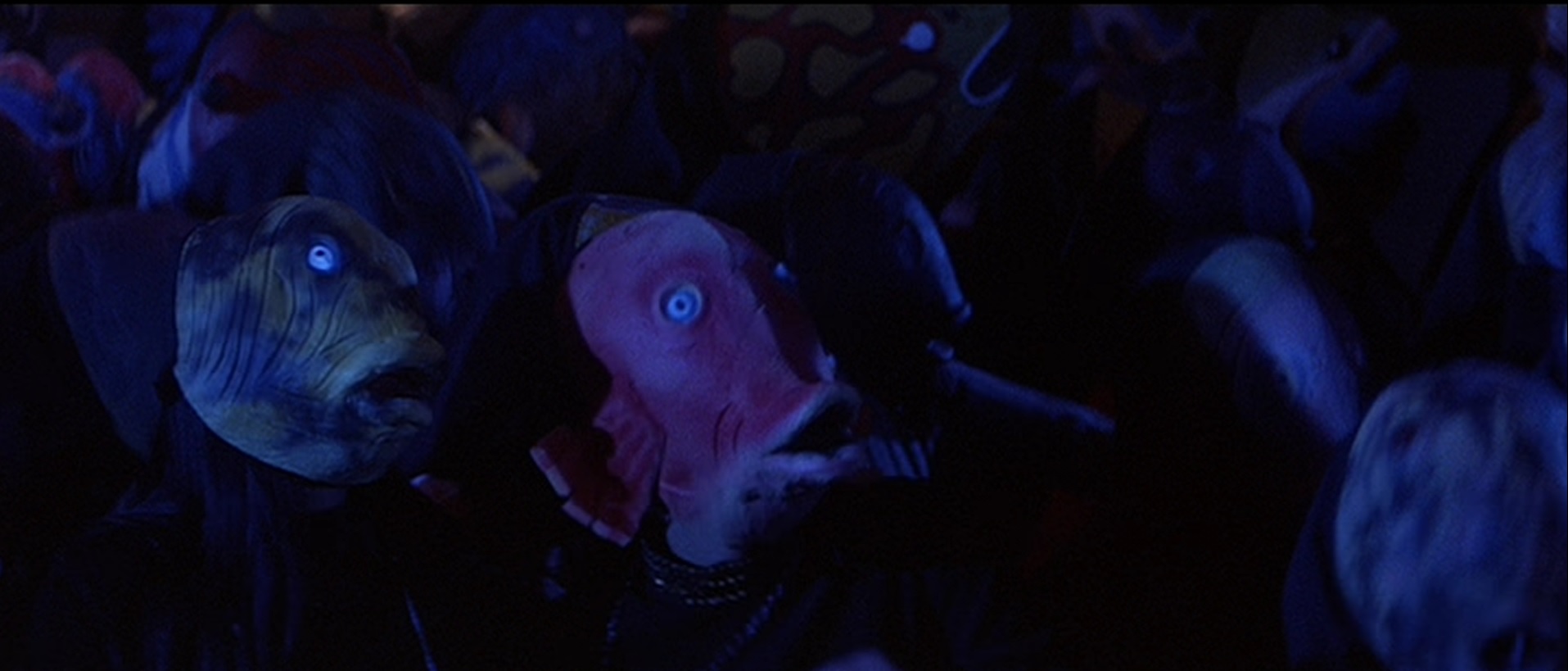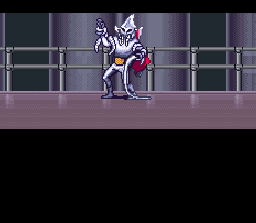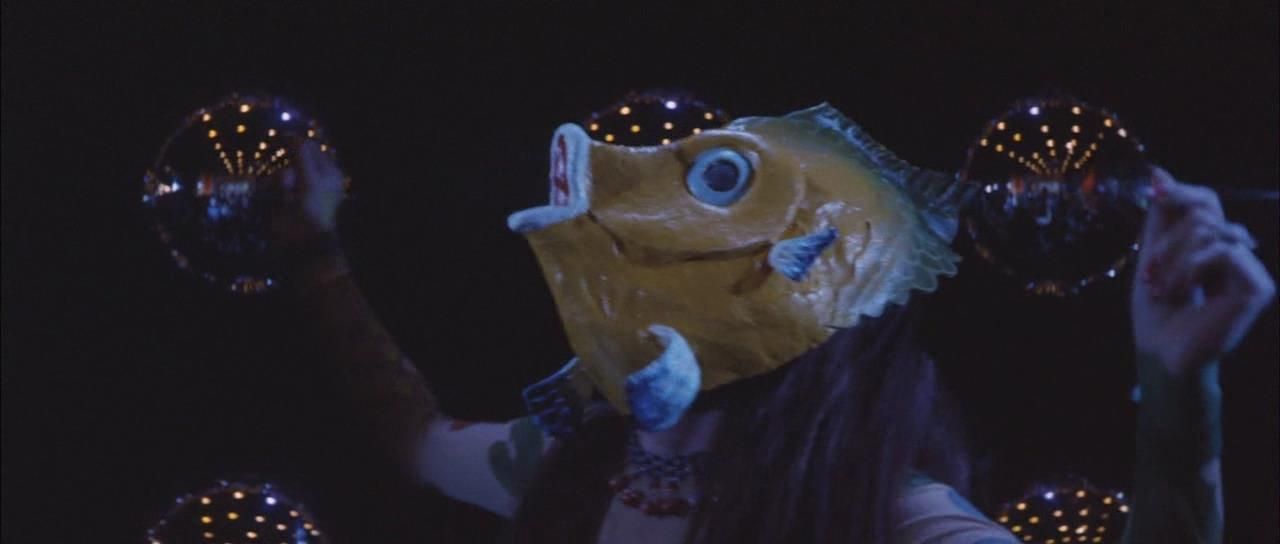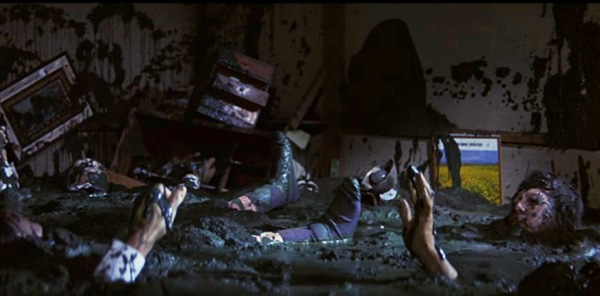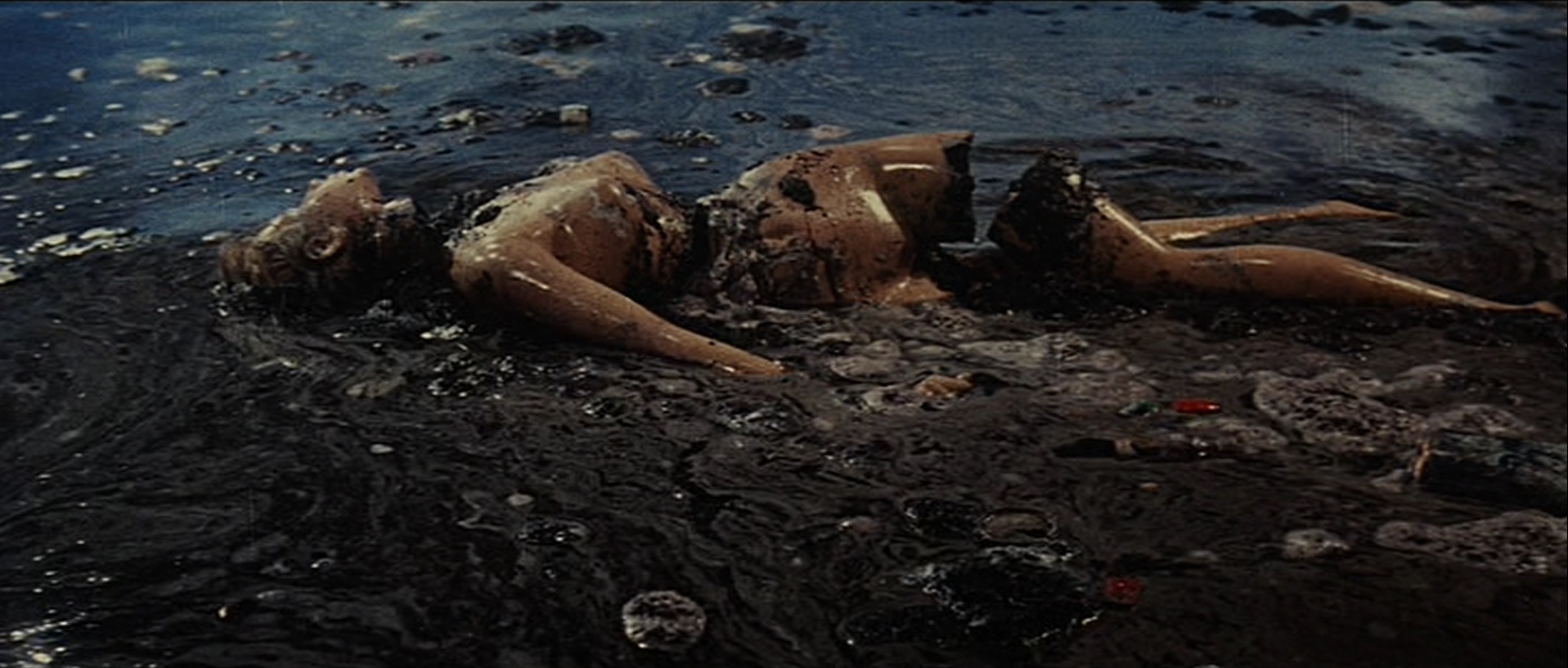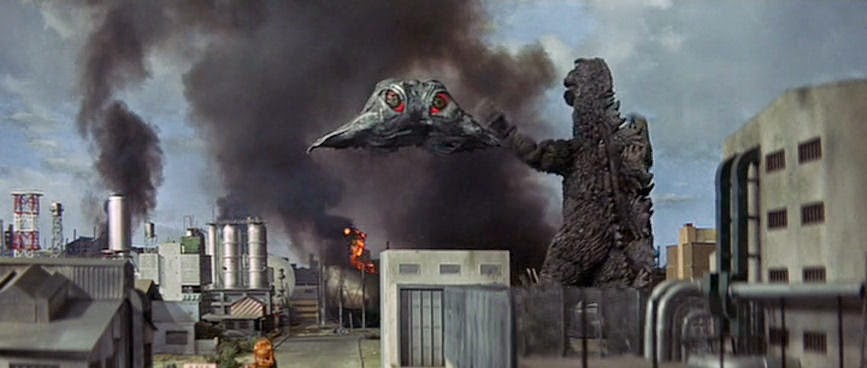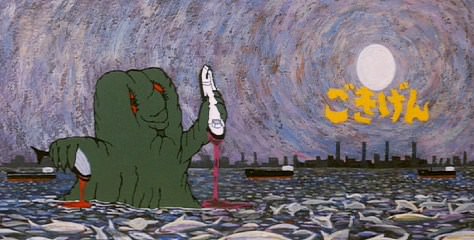 LEVEL FIVE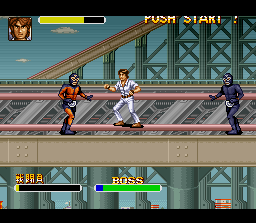 This amusement park is anything but! At least it provides plenty of cool set pieces though, like this roller coaster track.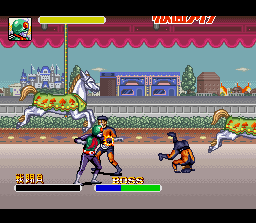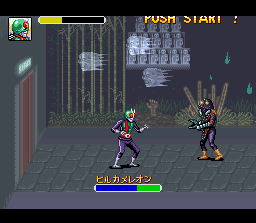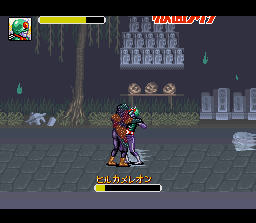 More levels await beyond this. Play the game to discover the rest on your own.
CLOSING THOUGHTS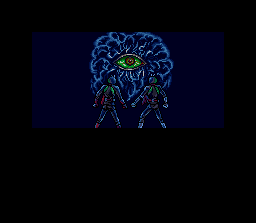 Temptations to modernize this old franchise wouldn't have been shocking, but Sun L. (makers of Mega Man Soccer) wisely and respectfully opted for an authentic early 70's Japan setting. It's nice to see a game remain so faithful to its source material. The setting really grew on me as I played the game. It's depressing, gloomy and there's just something so desolated about the whole thing that beckons for a superhero to save the day…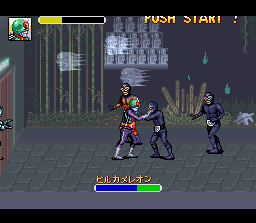 What began as lukewarm impressions quickly developed into something of an affection, even if said affection veers toward the guilty pleasure plane. The levels are divided into segments and a solid pace is maintained throughout. Best of all, a friend can join you to help sweep up the streets. Kamen Rider won't challenge for a top 10 slot on any SNES beat 'em up list, but it is a good old fashioned example of the genre akin to those from the halcyon days. And one you're likely to enjoy if you dig old Japanese rubber suited monster madness.