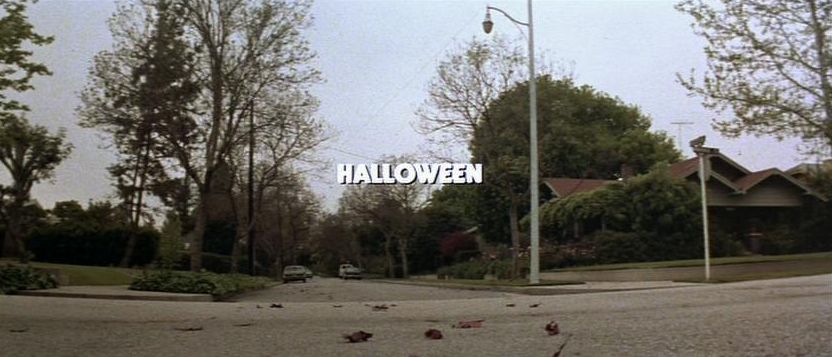 Friday. August 5, 2016. One of the most memorable days of my life. It was the last week of my summer break and I had to end it with a bang. And that I did. I drove hundreds of miles to Alhambra, California, to visit my childhood best friend. Nelson and I go way back. We met in Kindergarten and were best friends through 7th grade, but then my family moved in 1996 and things were never quite the same. Yet despite it all, we remained in touch throughout the years. Nelly and I share a special bond. We may go weeks, months and sometimes even years without talking, but as soon as we get back in touch it's like we never left. Those are the best! Little did I know when I left my house to go visit Nelson in LA that he only lived 3 miles away from many of the filming locations of the 1978 classic, Halloween.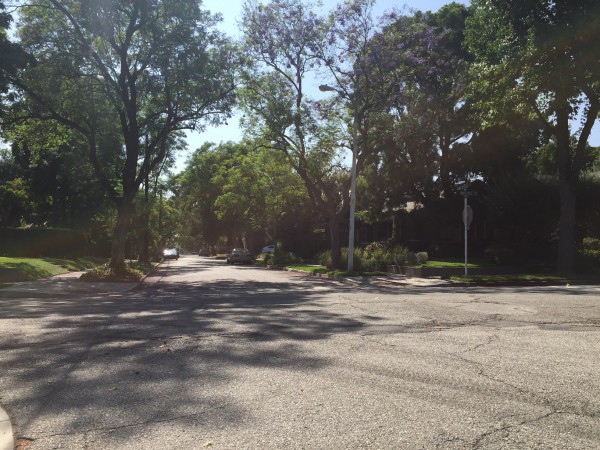 The initial plan was just to reconnect with my childhood best friend and go to Disneyland to hang out with Mickey Mouse. How serendipitous it was, then, to find Michael Myers unexpectedly lurking in Nelly's backyard! Nelson and I were literally running down the streets of "Haddonfield" (AKA South Pasadena) hunting the Boogeyman — we were not only chasing a piece of our past but we were living it up in the present while looking forward to the future. When all the cosmic forces in the universe magically collide like that, it makes for the absolute best memories.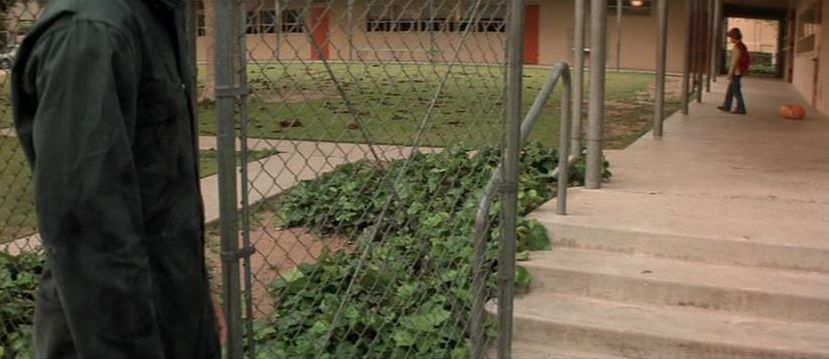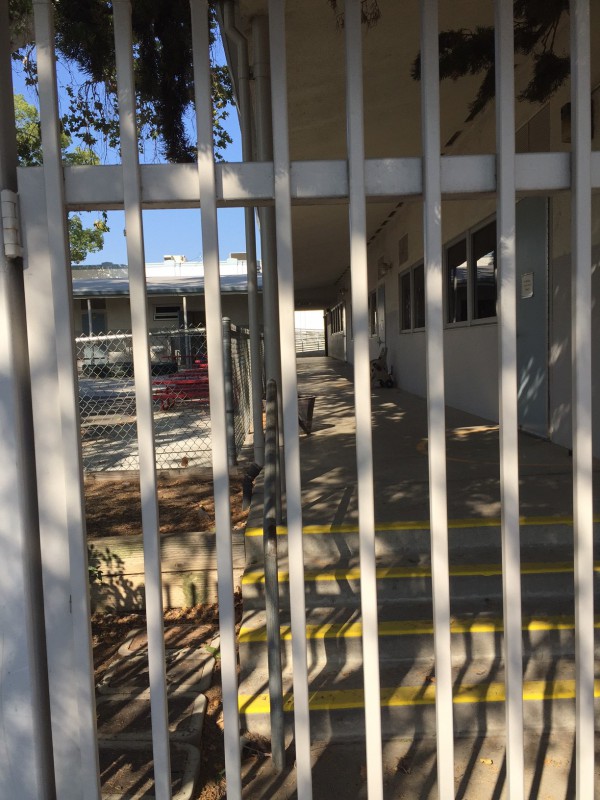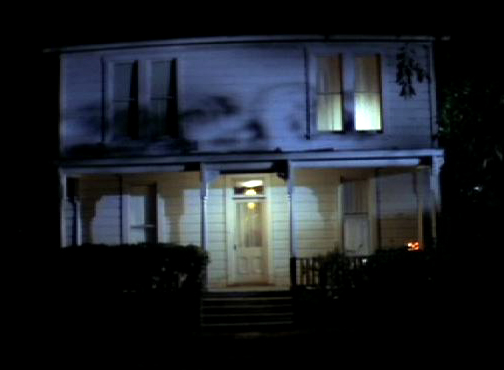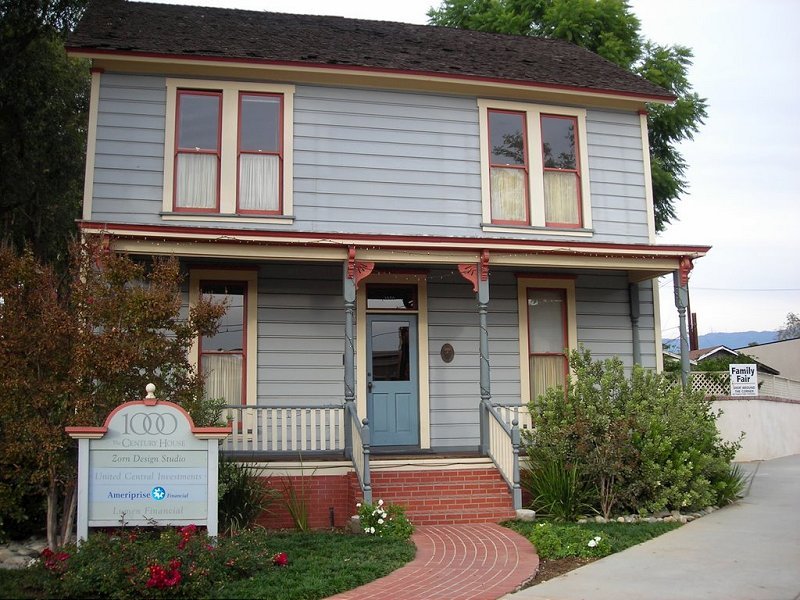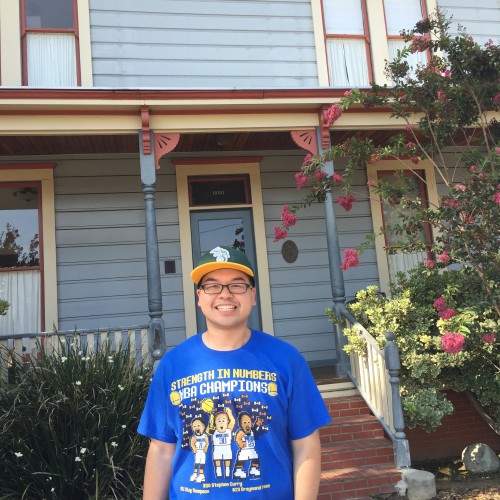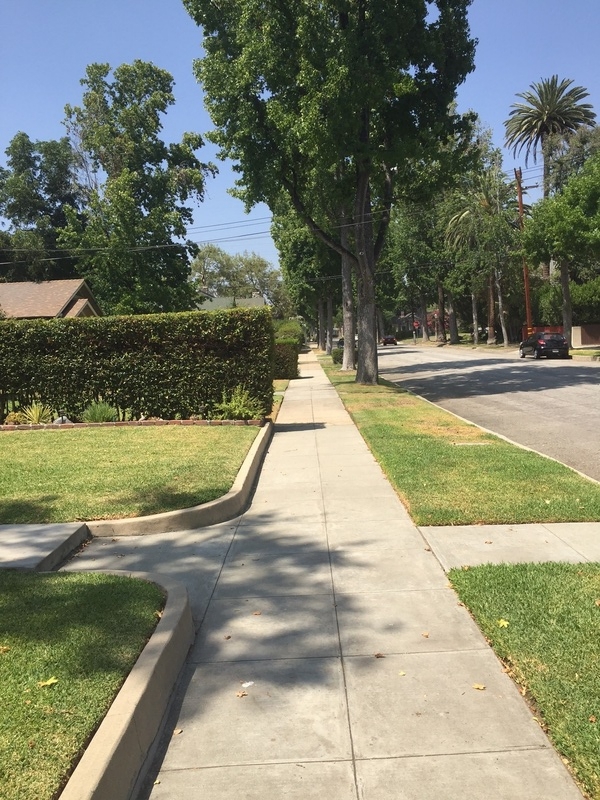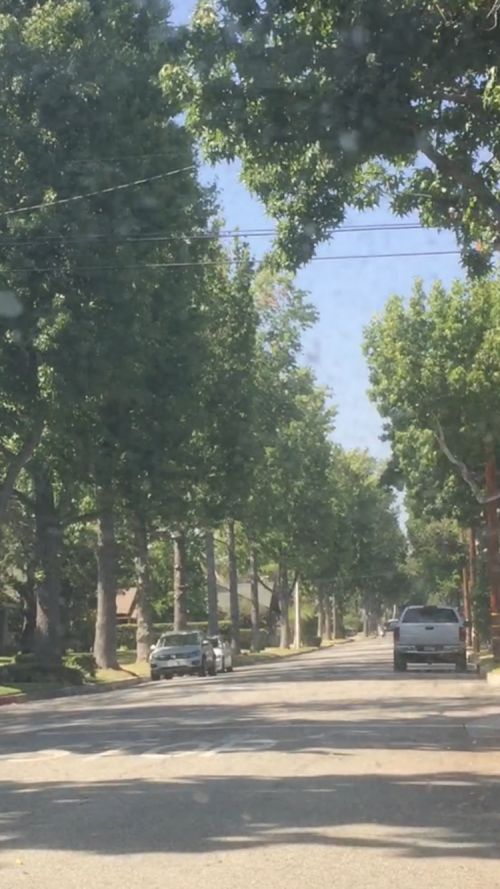 Hunting the Boogeyman indeed! There Nelson and I sat admiring the sights and sounds of Haddonfield. We fondly reminisced about our childhood memories growing up watching the Halloween movies together and a more innocent time of our lives. It was just what the doctor ordered to end summer with a bang and look forward to what the next chapter of our lives would bring. It's funny how that works, eh?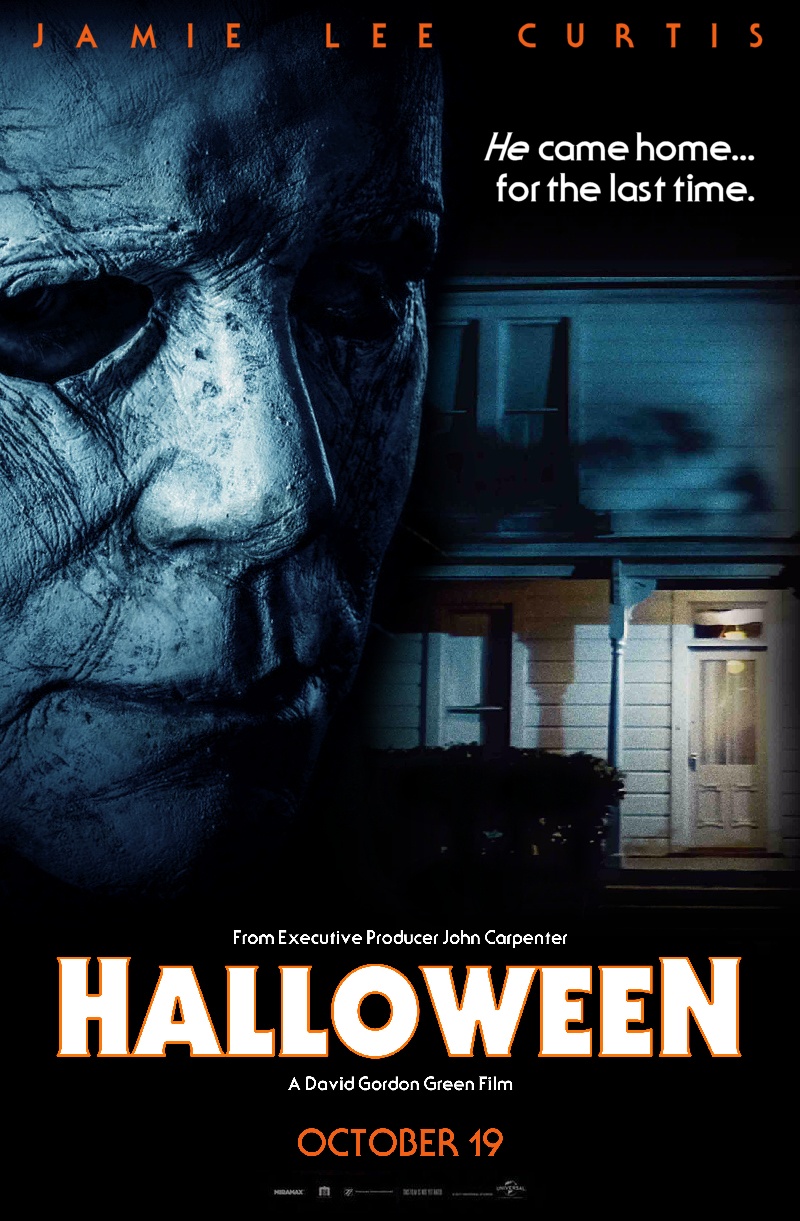 Jump to October 2018. Fall break was fast approaching as was the release of the new Halloween movie, which was rapidly racking up rave reviews. Since I had the week off from teaching, I decided to capitalize on a once in a lifetime opportunity. Horror's Hallowed Grounds with Sean Clark was doing a 40th Anniversary bus tour of Halloween. Sure, I had seen many of the locations just two years prior, but this was the 40th Anniversary! No way was I gonna miss that, especially with it perfectly landing during my 10 day fall break. This was all in addition to attending the 40th Anniversary Halloween Convention. Without further ado, here are some pictures and memories from that awesome weekend.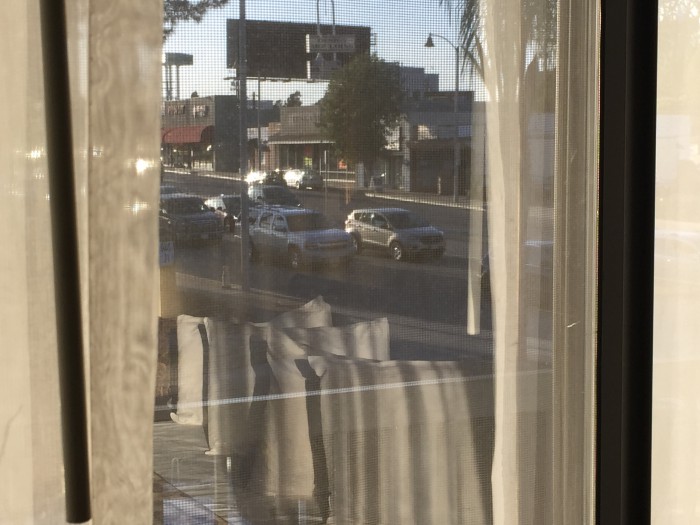 Going with Nelson would have been perfect but unfortunately it wasn't meant to be. He left to Thailand for the month to visit some family and since I left on a Thursday (October 11, 2018), everyone else was working. So it was the first solo trip of my life. They say everyone should experience a solo vacation at least once in their lives. I don't know if this qualifies per se, but I'll take it. It was a blast and a weekend getaway that I will always cherish and remember. I slept at America's Best Value Inn. It wasn't the most lavish of places but it sufficed for a 2 night stay.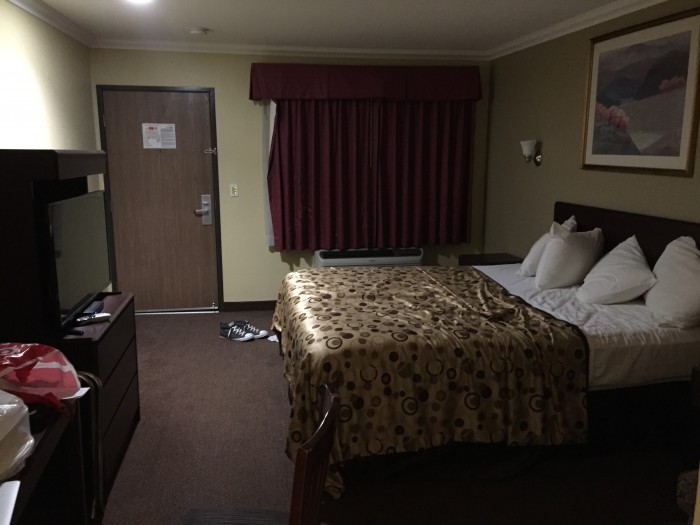 I left Thursday morning and hit Pasadena around 5:30 PM. After unwinding for 10 minutes in my room, I went out to grab an early dinner. The long drive had me feeling hungry as a mofo.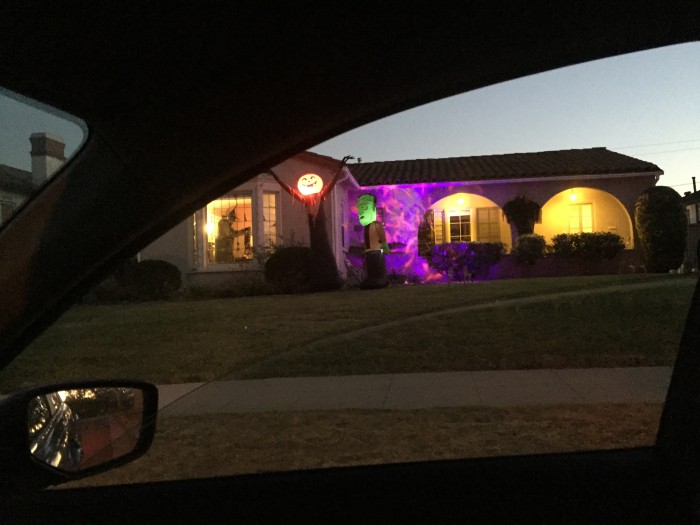 There were lots of cool Halloween decorations lighting up the darkening streets of South Pasadena.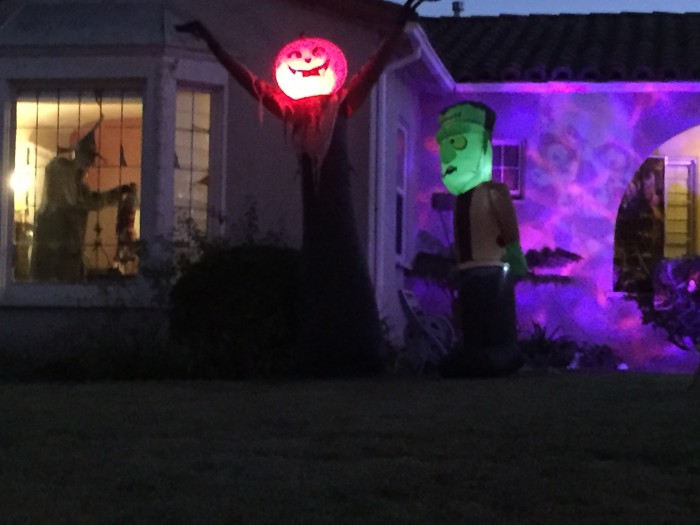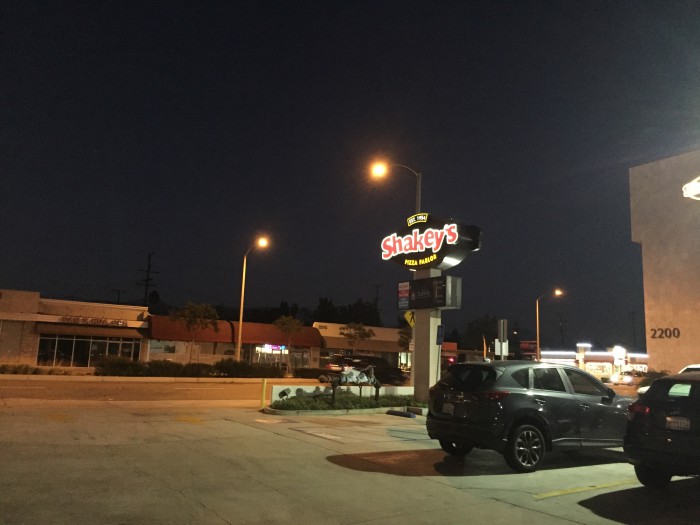 Back in 2016 when I visited Nelson, he took me to Shakey's Pizza Palor and I have been craving it ever since. It's just pizza, fried chicken and potato wedges but damn did it hit the spot 2 years ago. So I had to come back.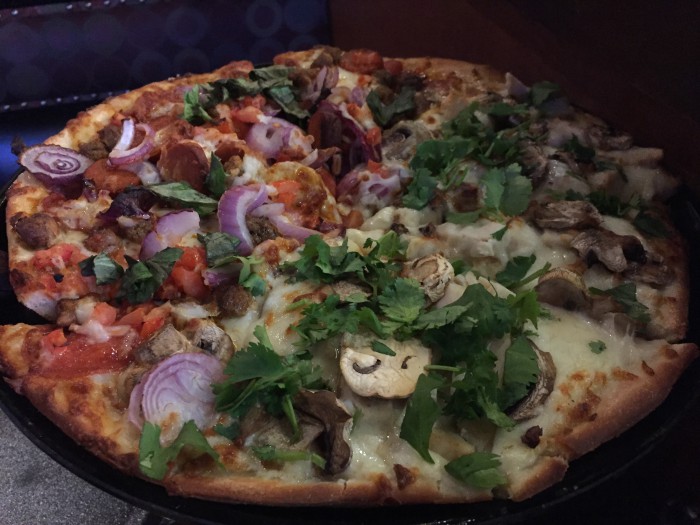 Mmm, so good. I wish there was a Shakey's where I live. I ate a few slices and took the rest to go.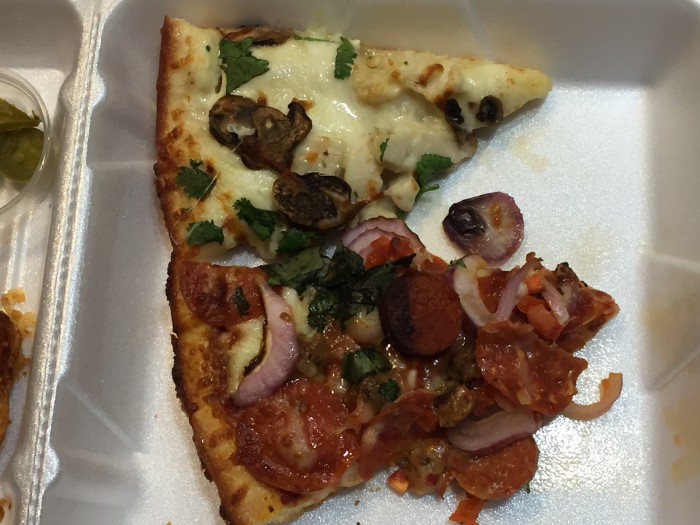 I then spent the better part of 3 hours texting a new lady friend before crashing for the evening…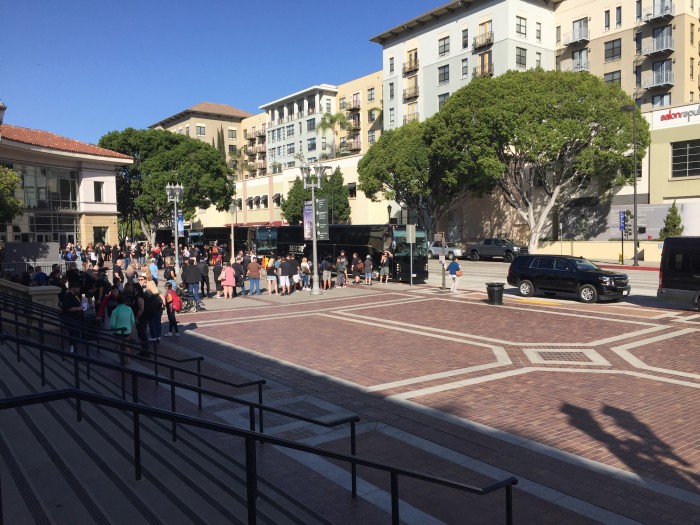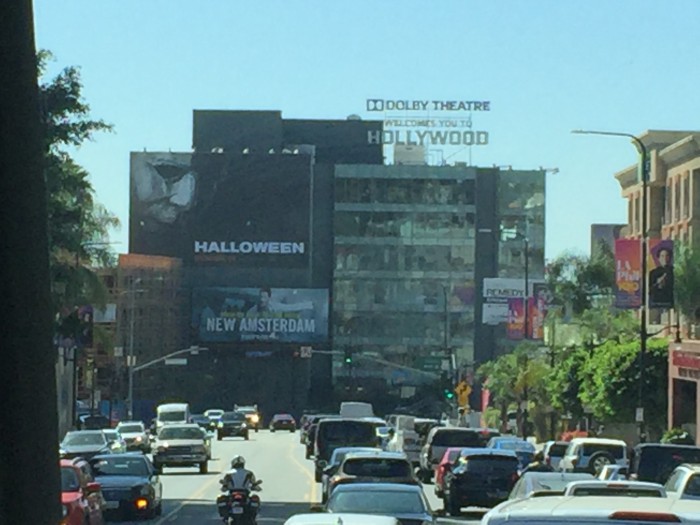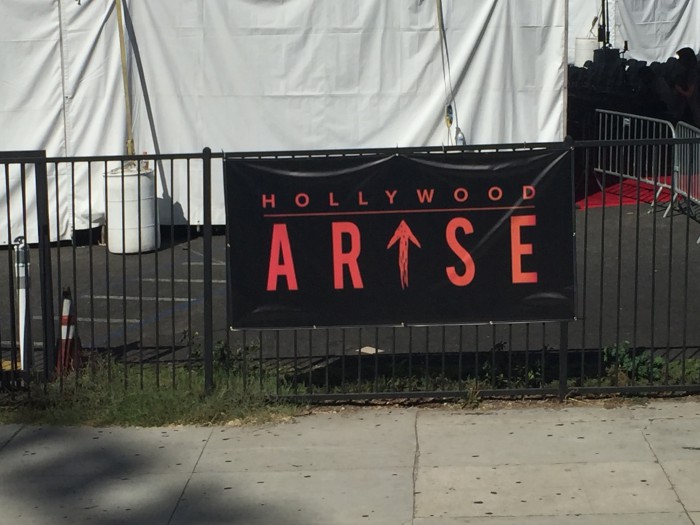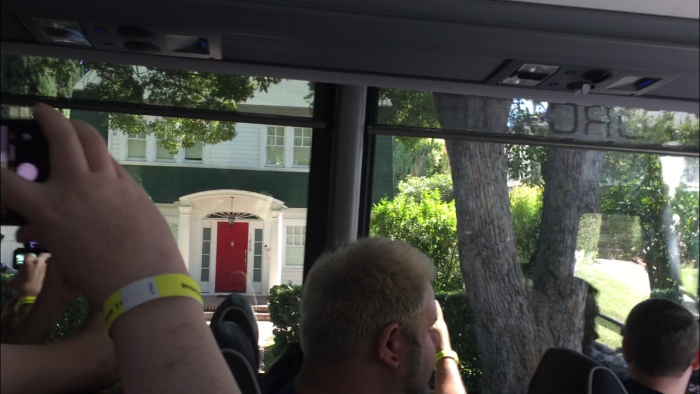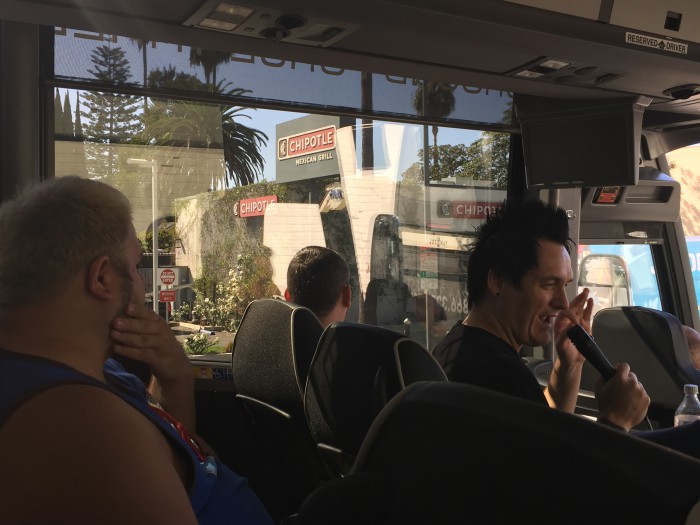 Here we are getting ready to pass by the now defunct All American Burger from Fast Times at Ridgemont High (1982). Good times.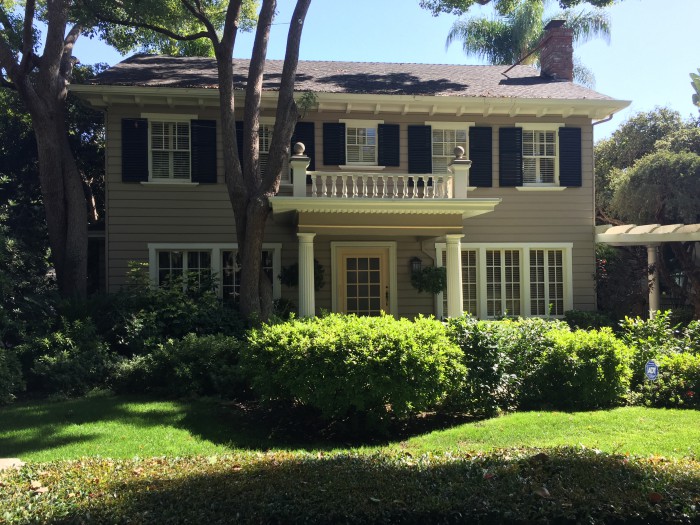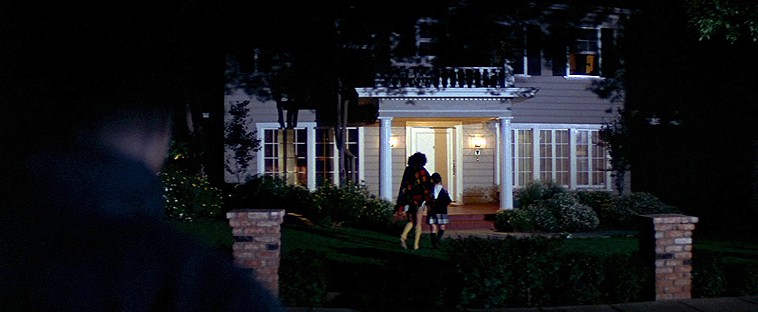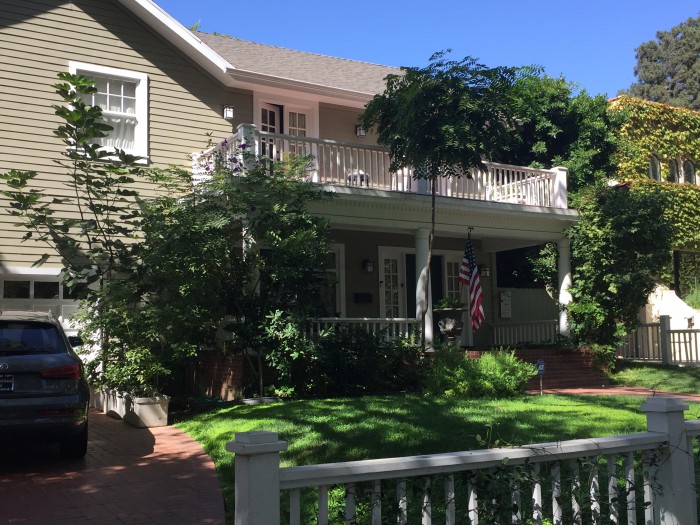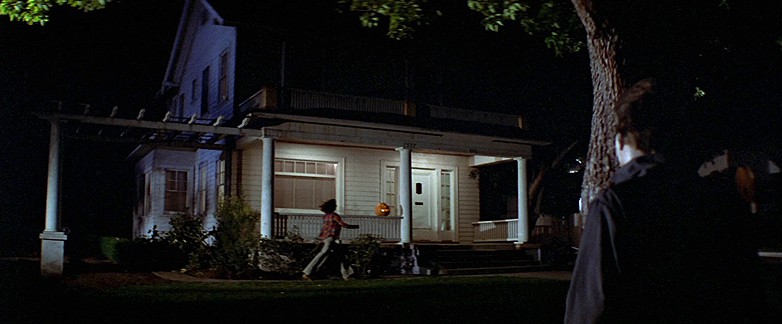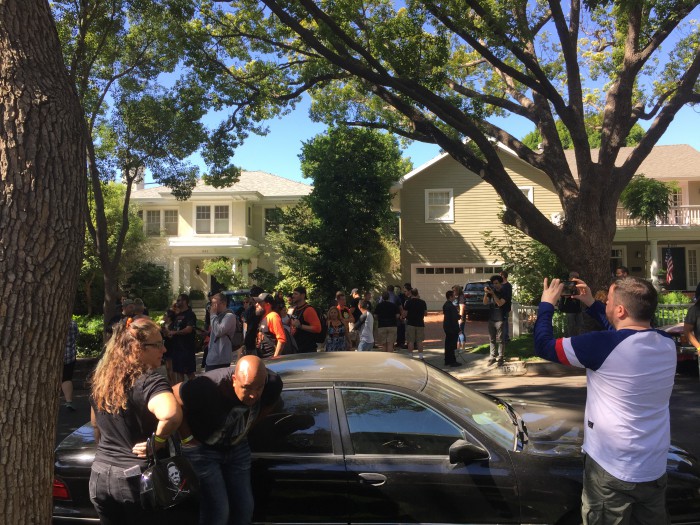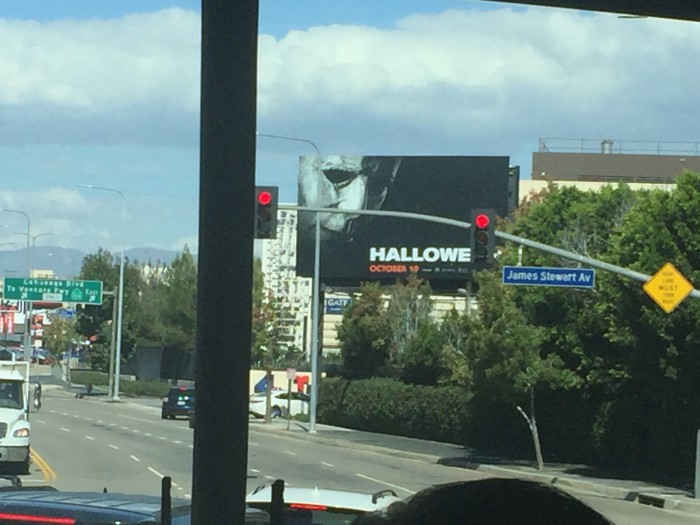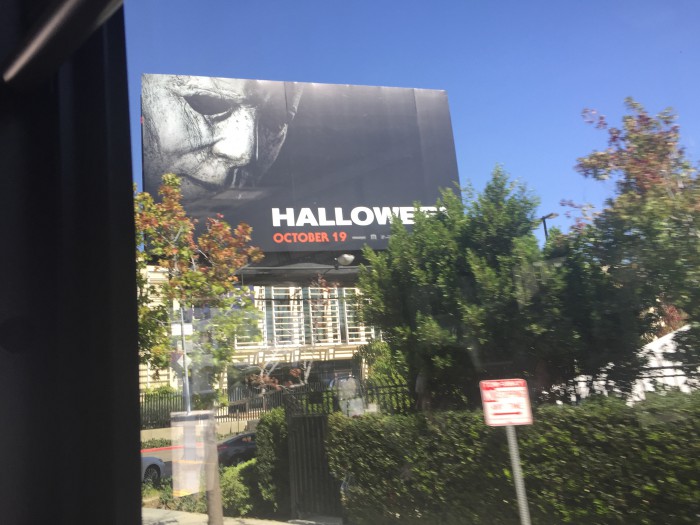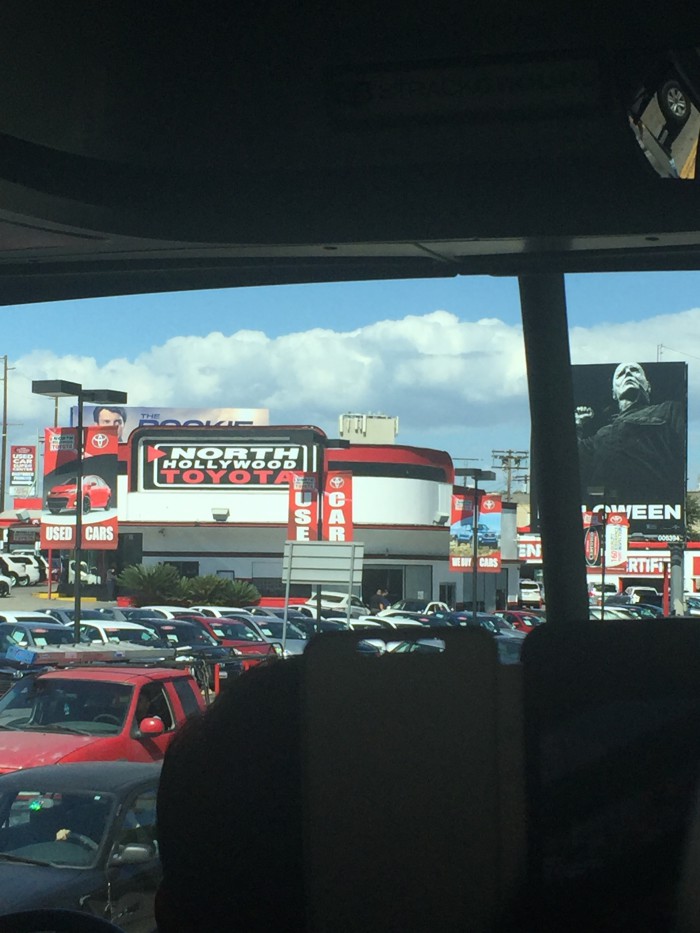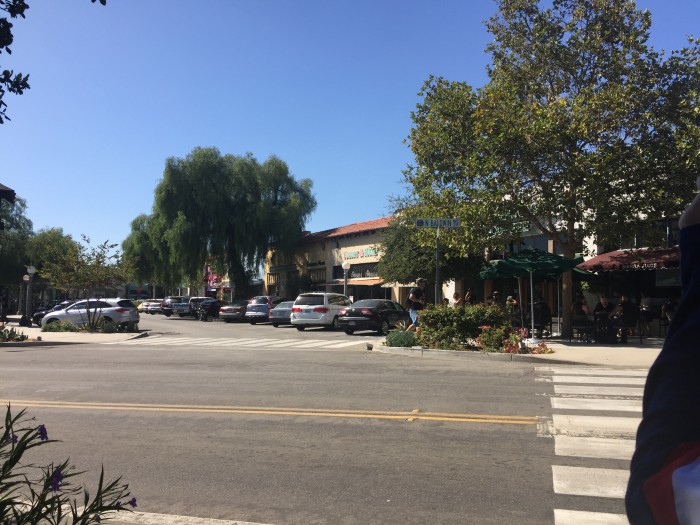 Here's the infamous spot from Halloween II where Michael Myers bumped into the boombox guy. After hearing the news that Laurie Strode has been admitted to Haddonfield Memorial Hospital, Michael Myers is once more on the move.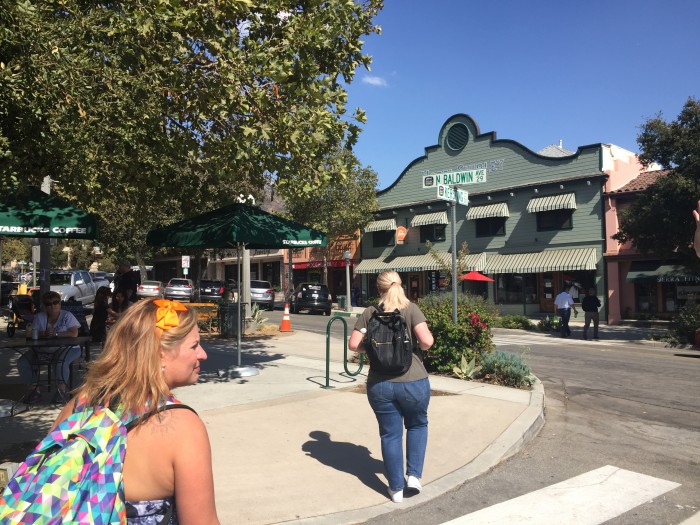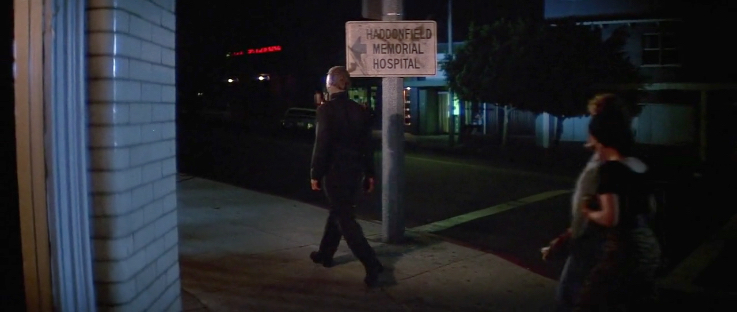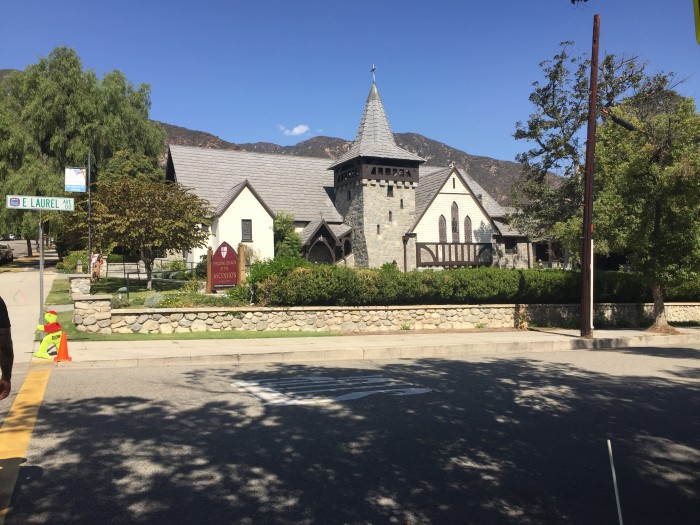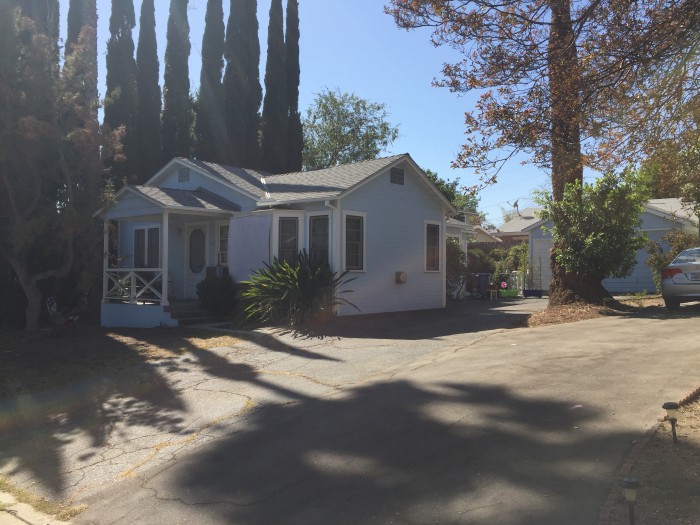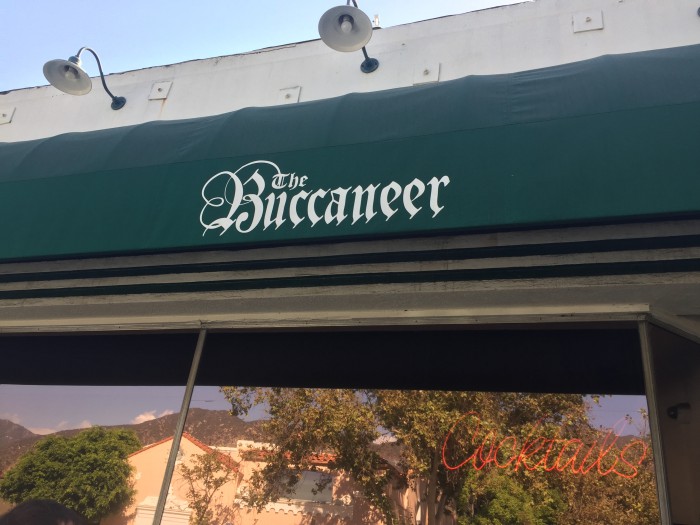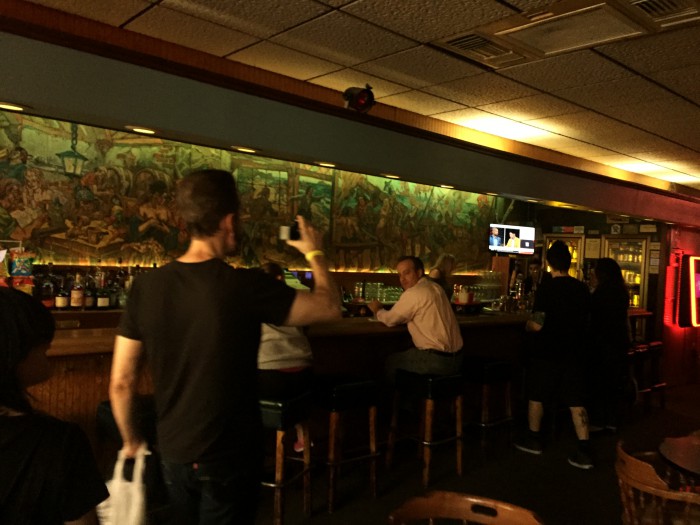 I took a seat at the bar and chatted with Craig. He asked what all the commotion was for. I told him it was a bus tour celebrating 40 years of Halloween. "Shit, it's been 40 years already?" He took the rest of the work day off to start his weekend early to drink

It was nice chatting with the locals.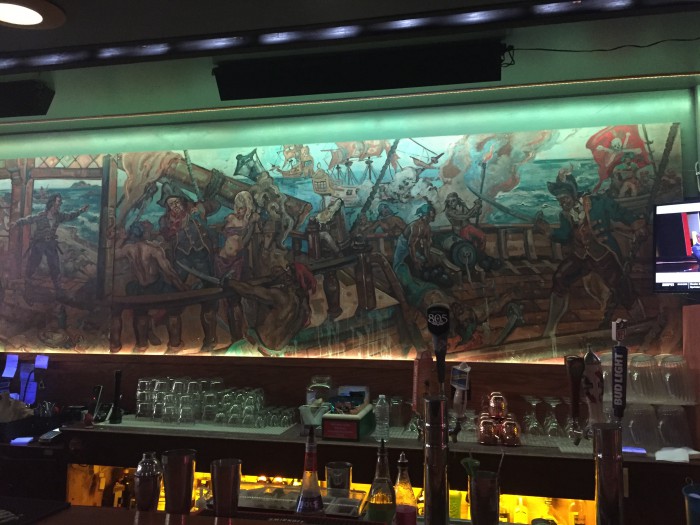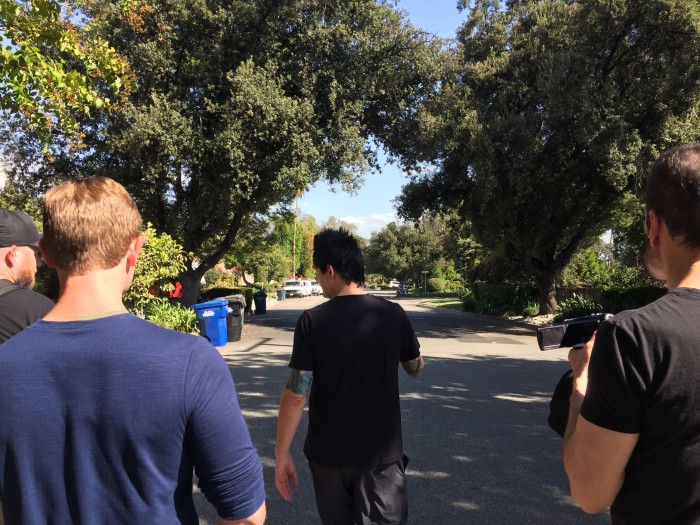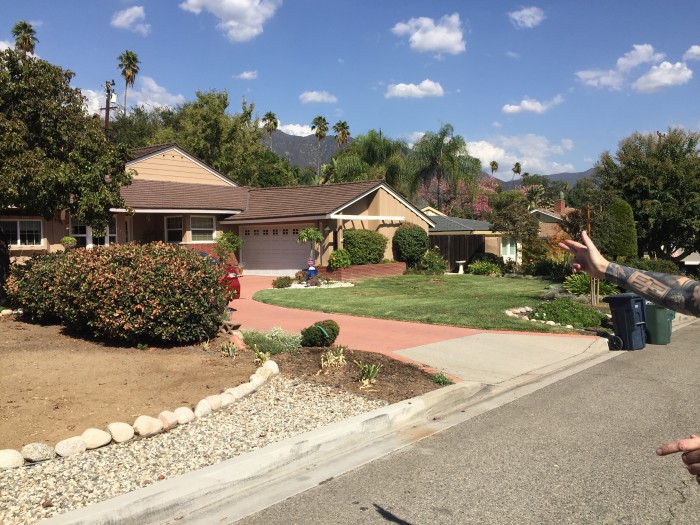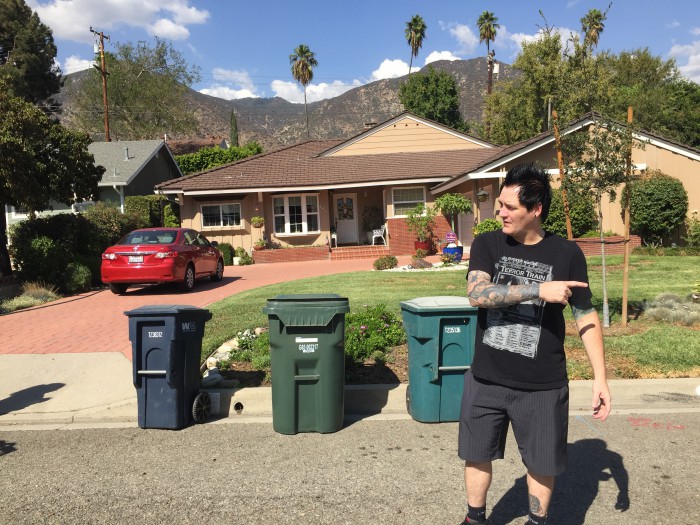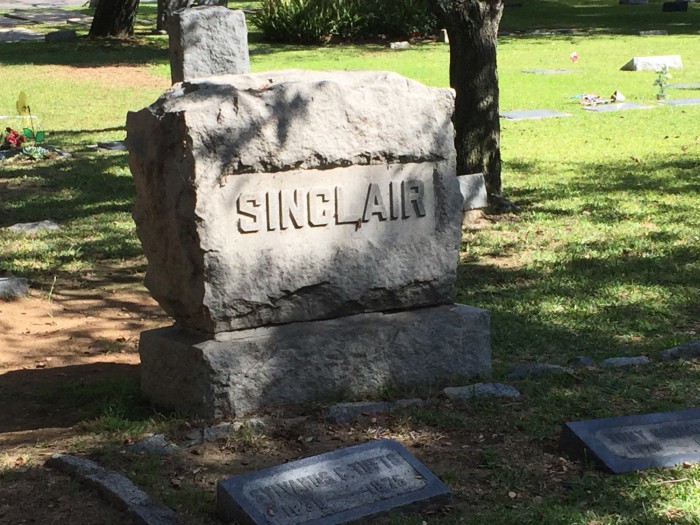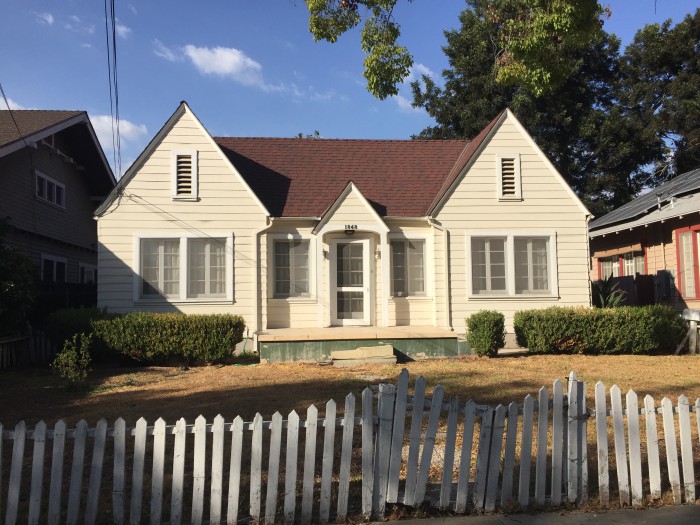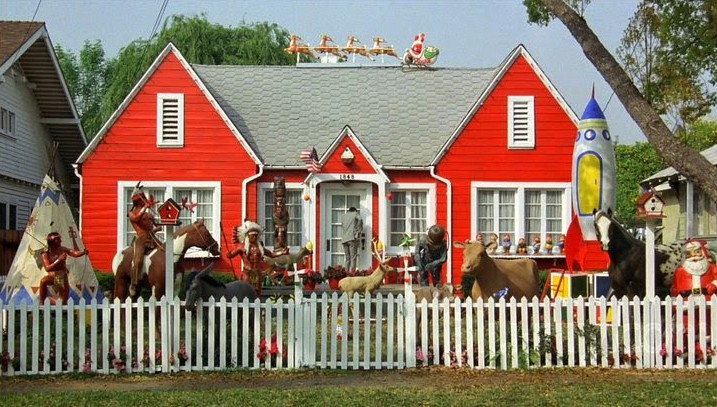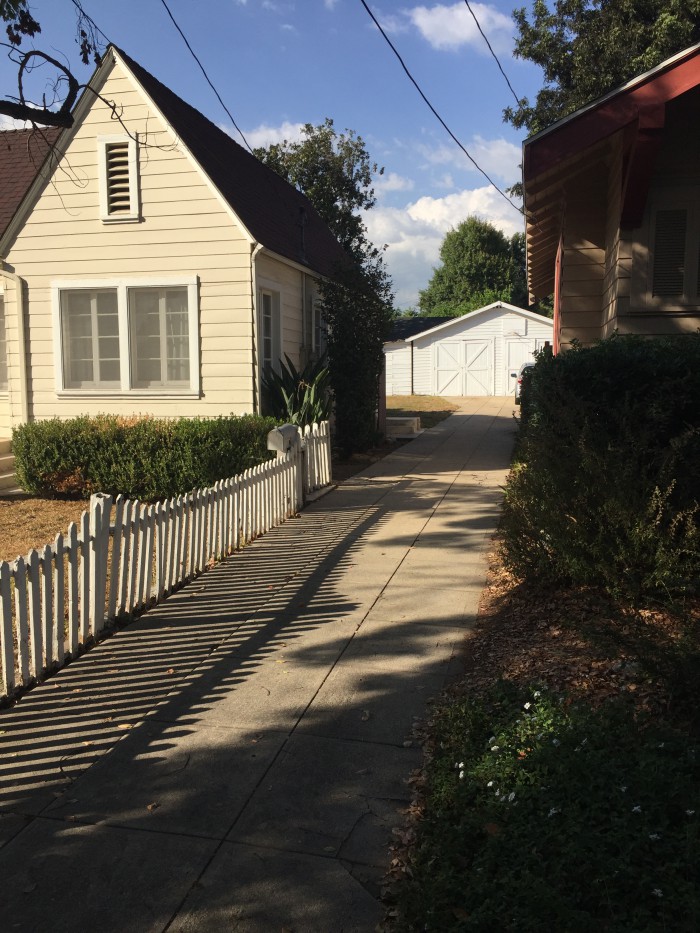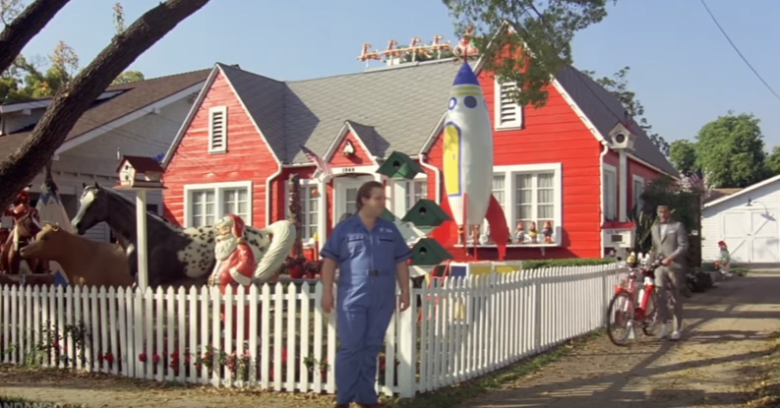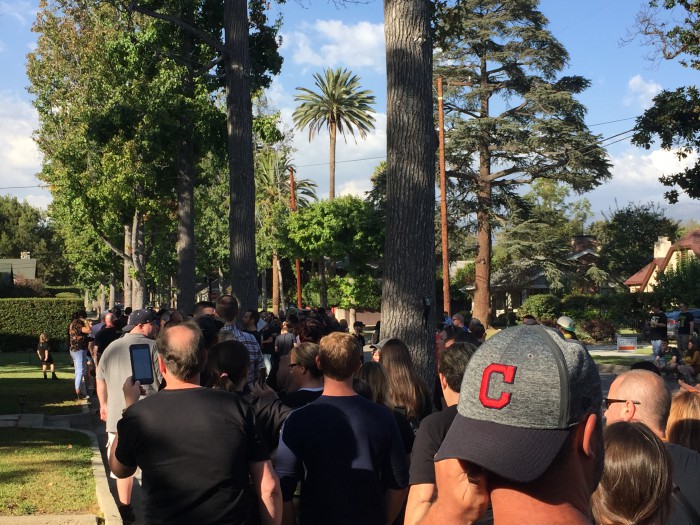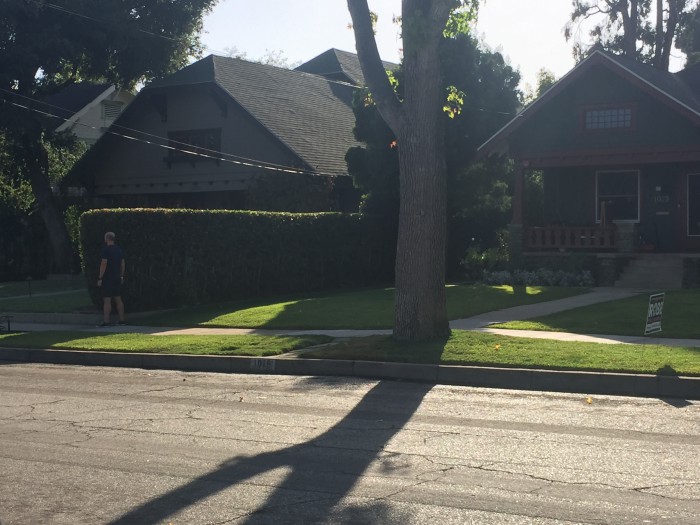 America… a precious land where dozens and dozens of horror movie fans can gather to take pictures standing half obscured by a 7 foot tall hedge. God bless America indeed.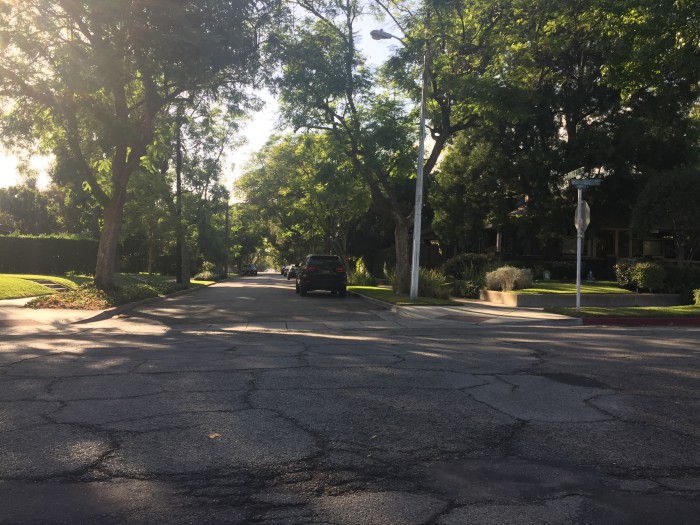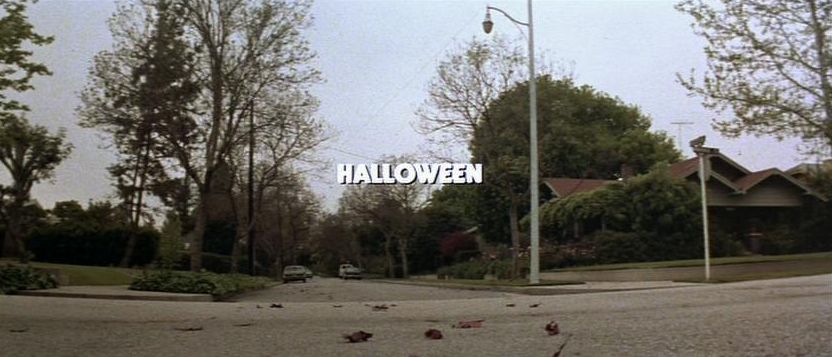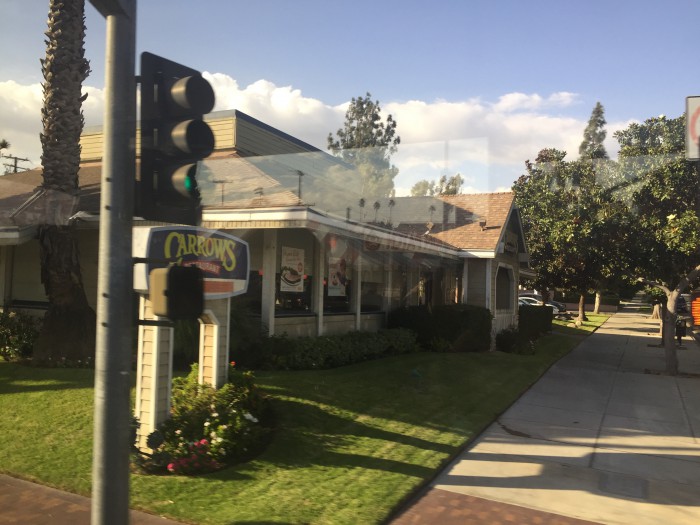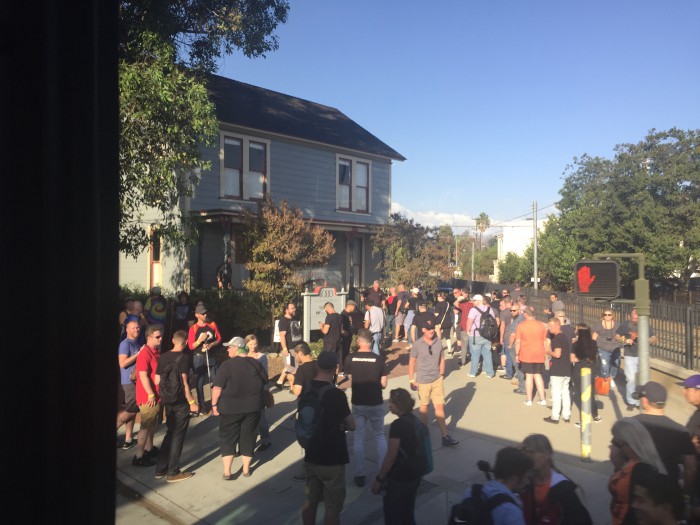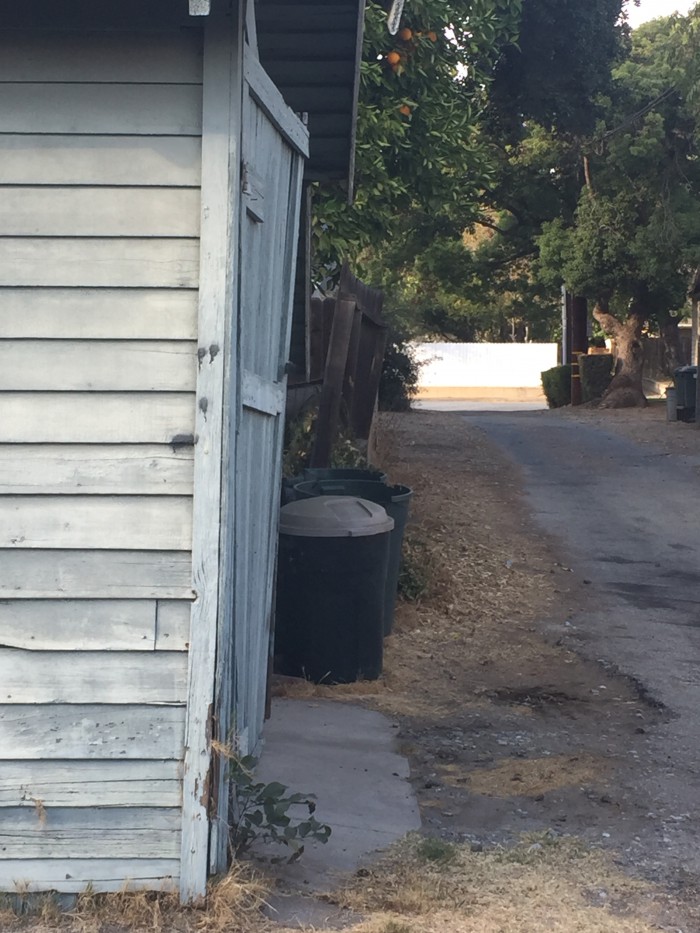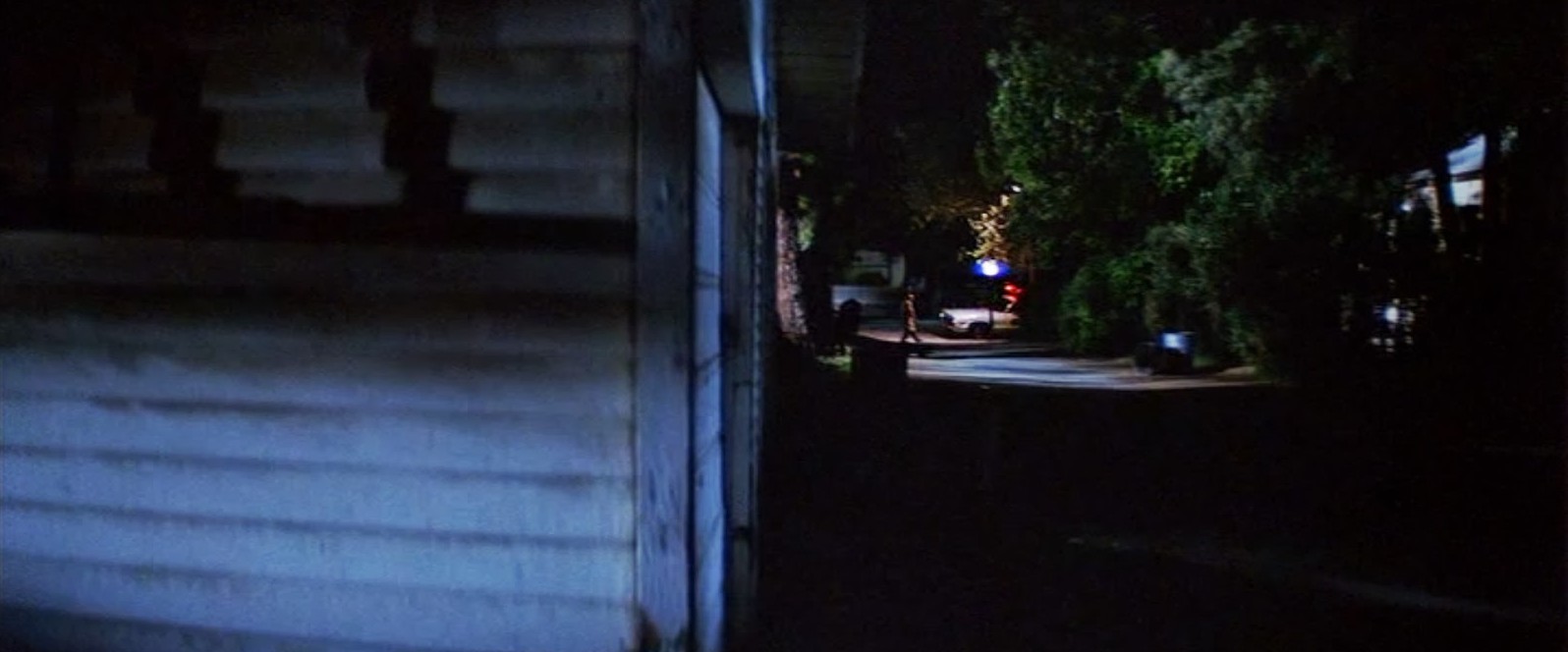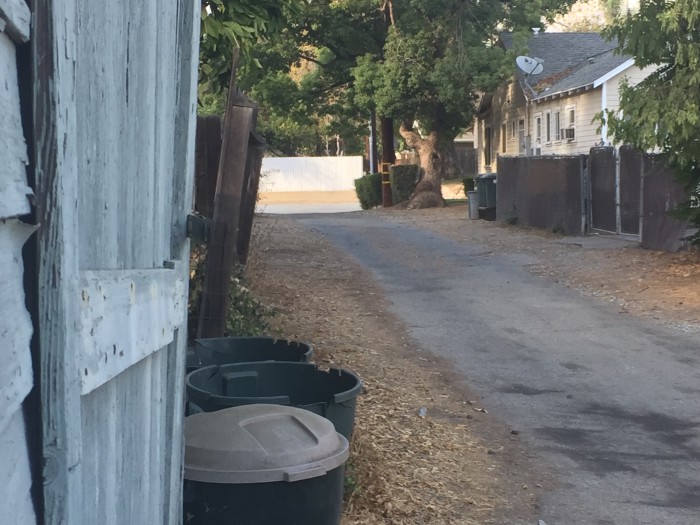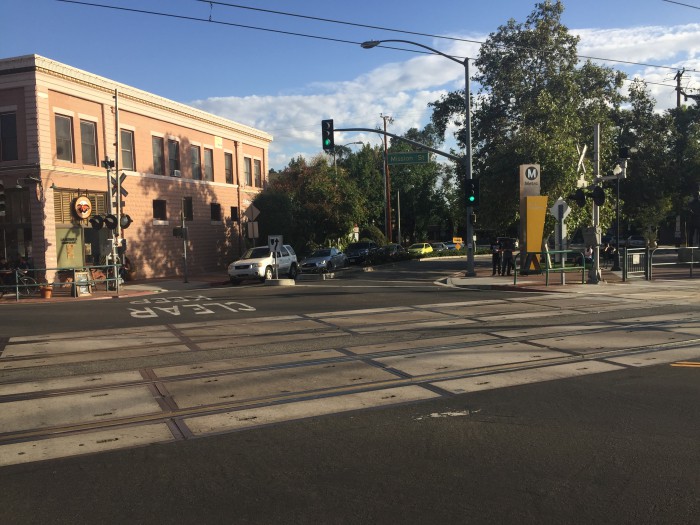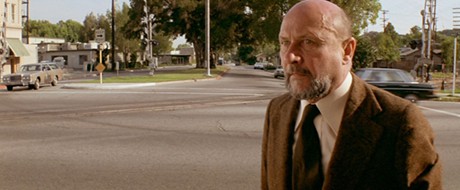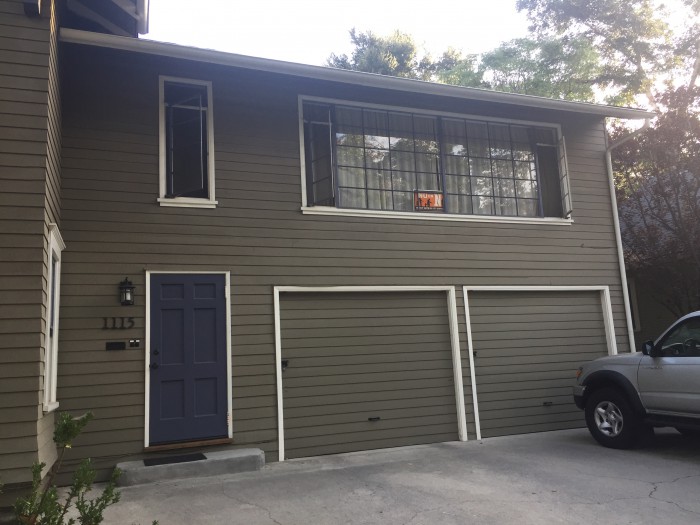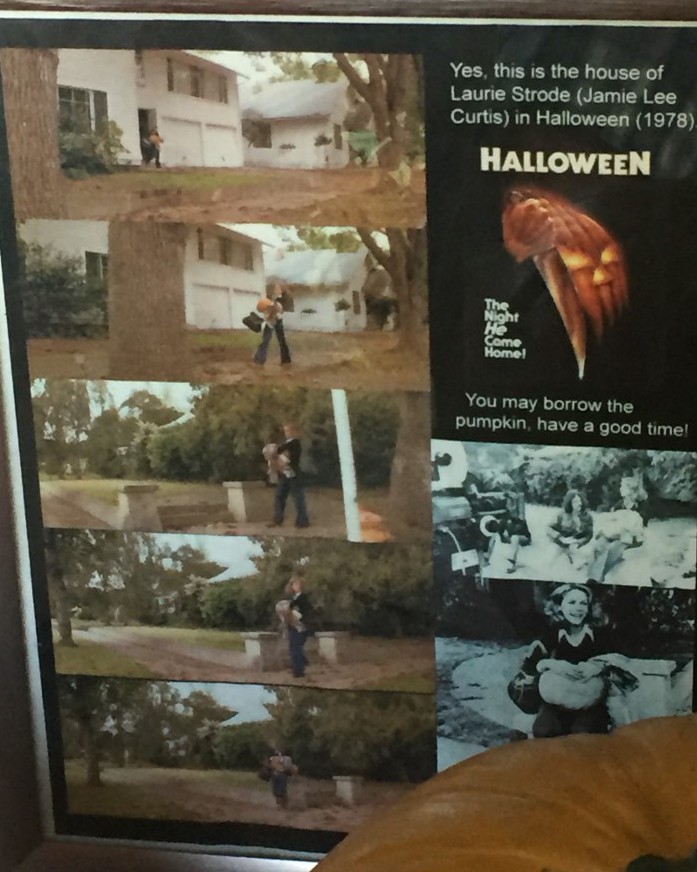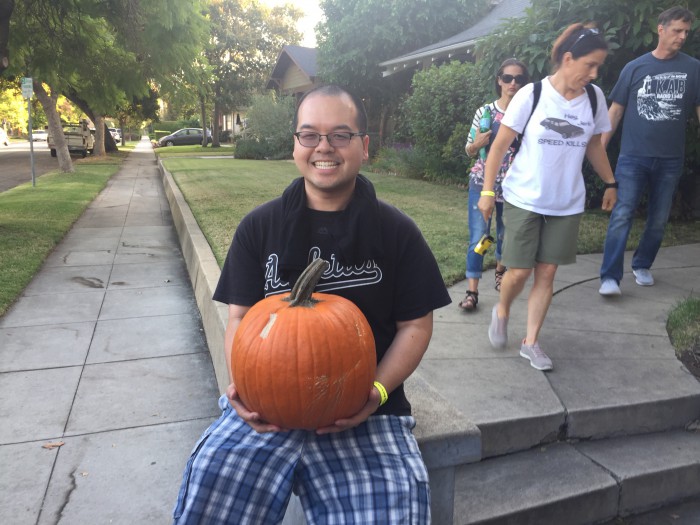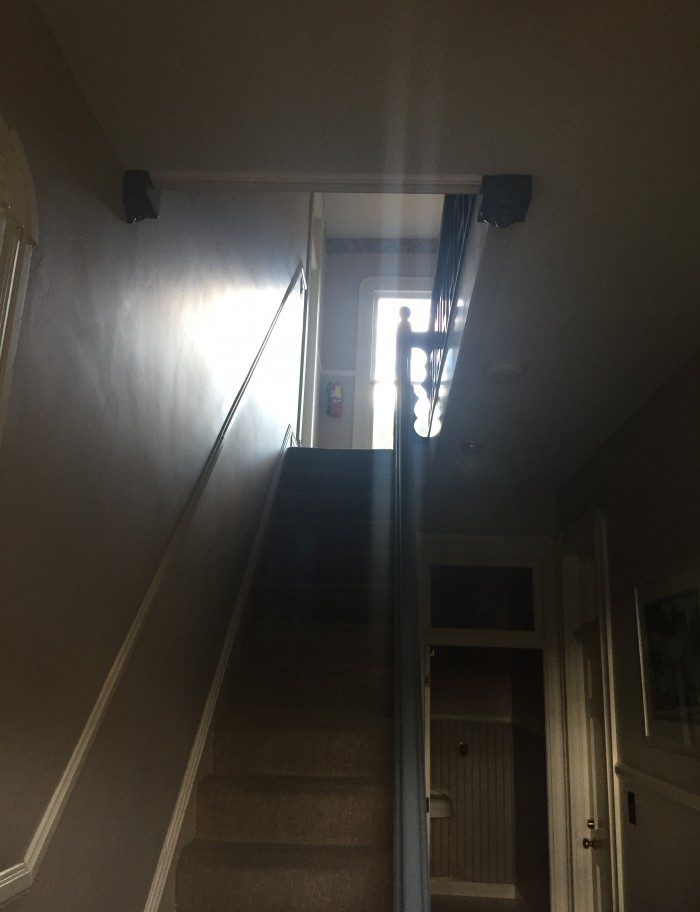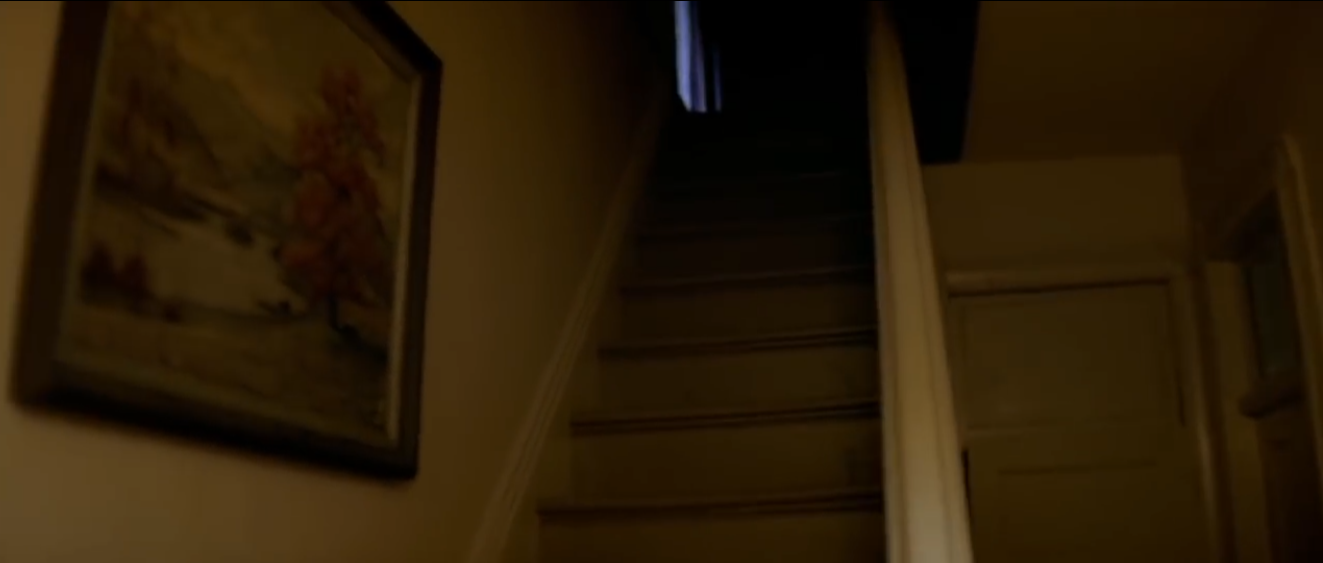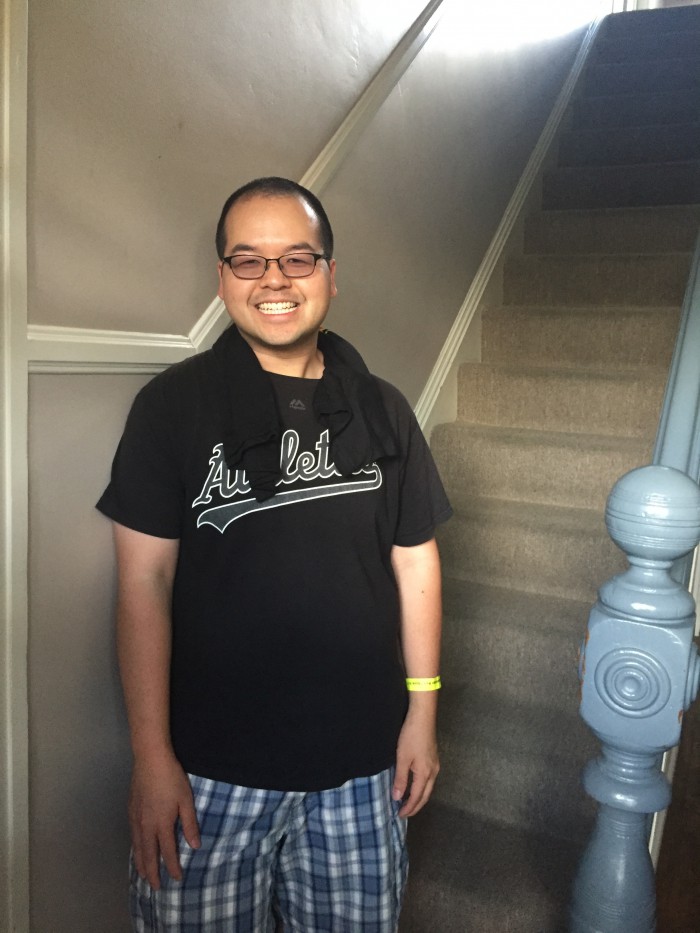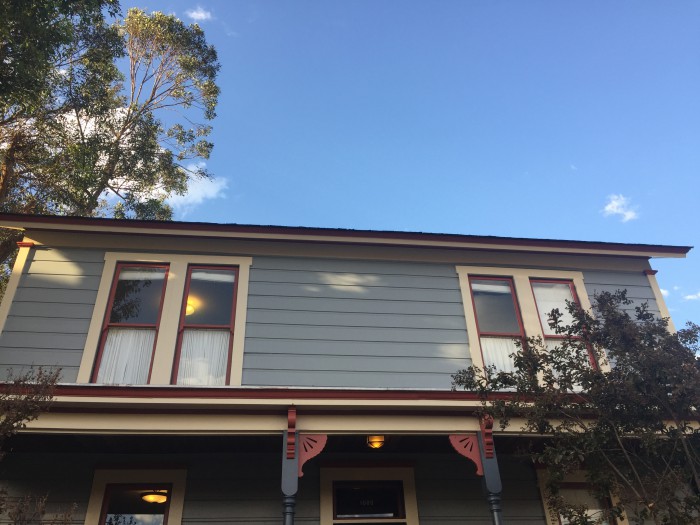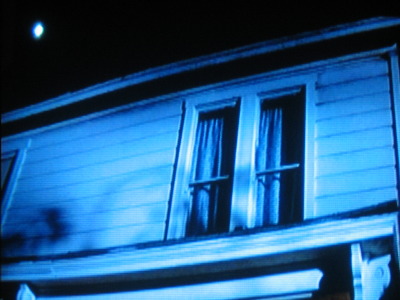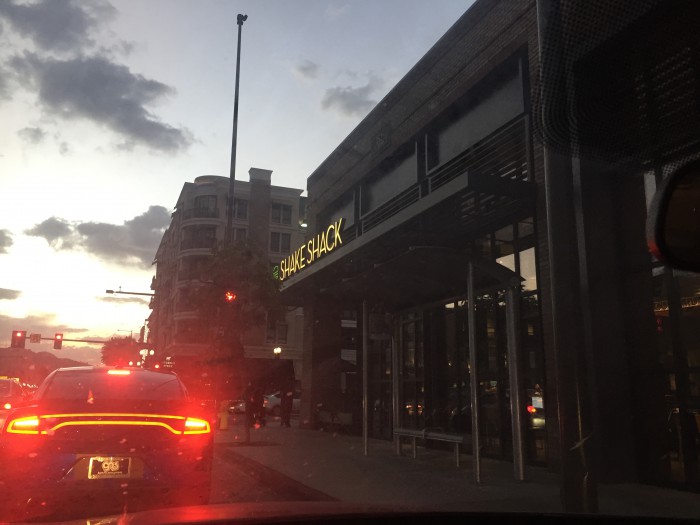 I've heard the hype for Shake Shack for years now, and finally I had a chance to try it out for myself.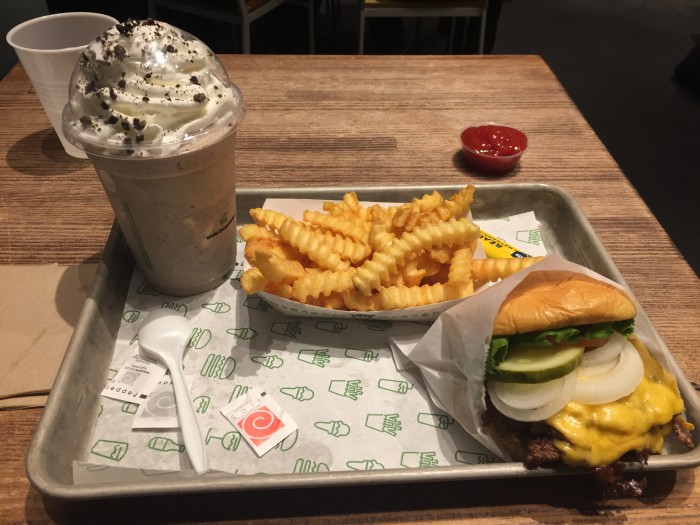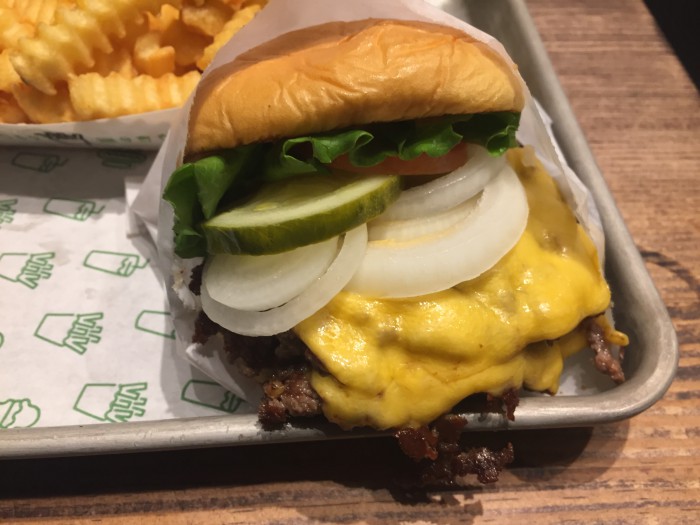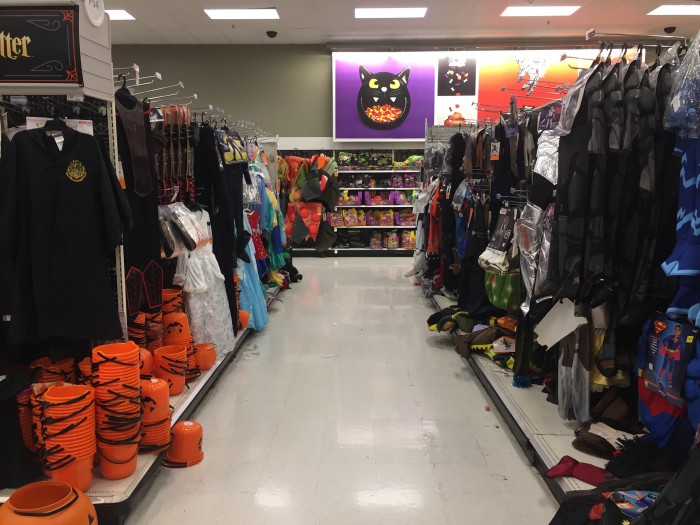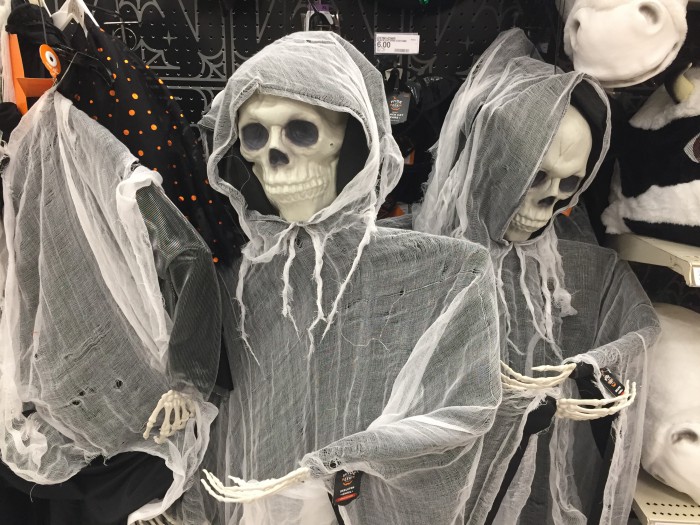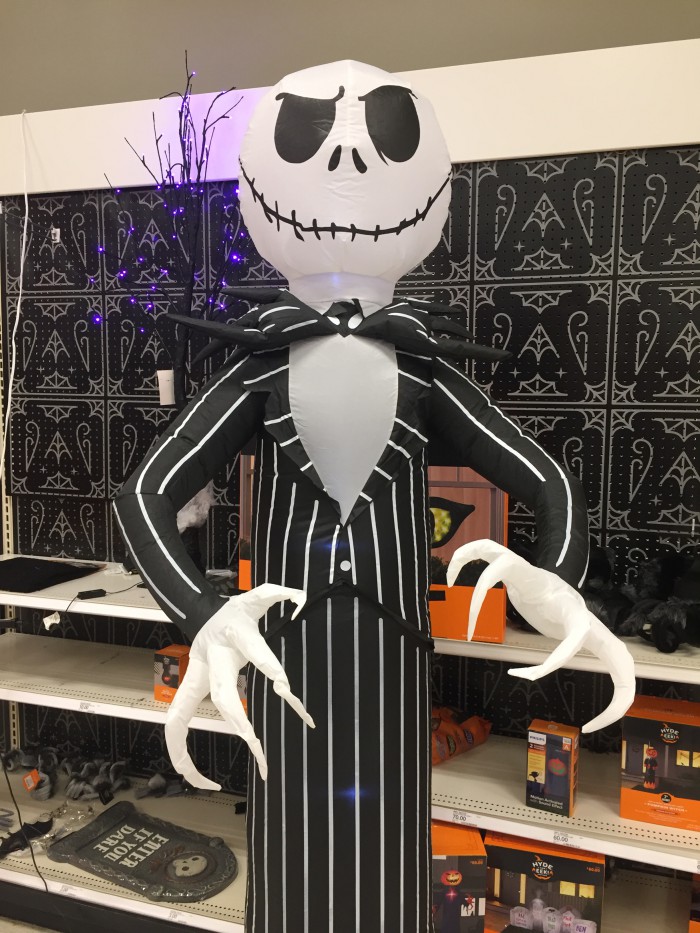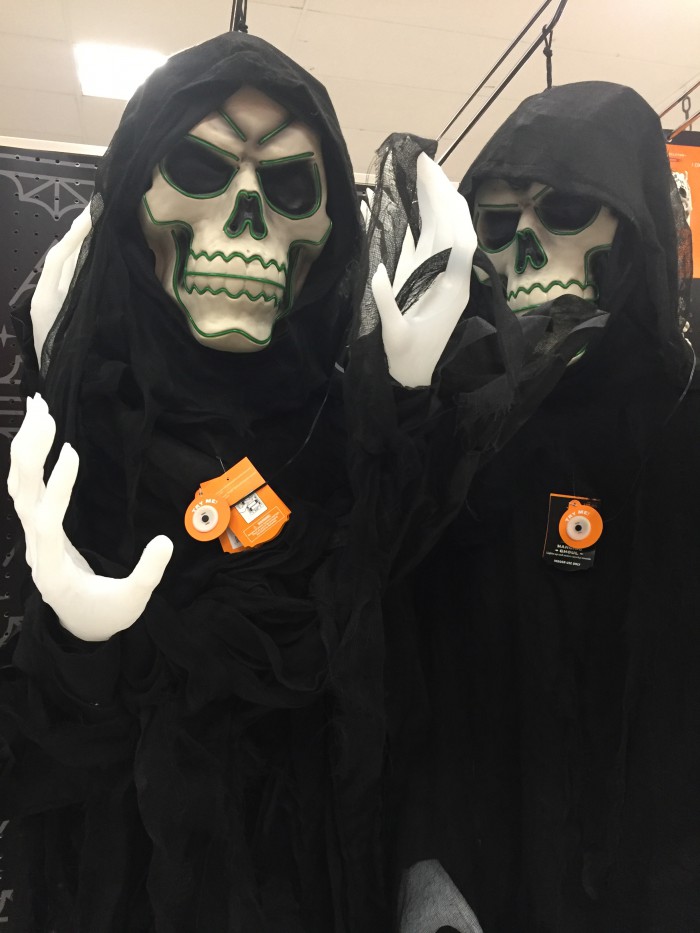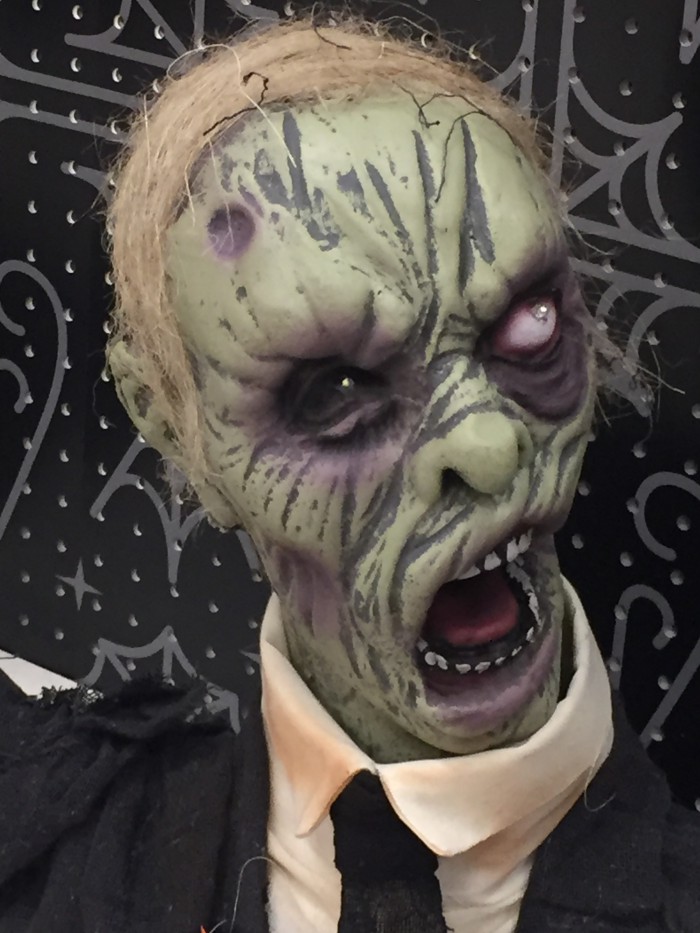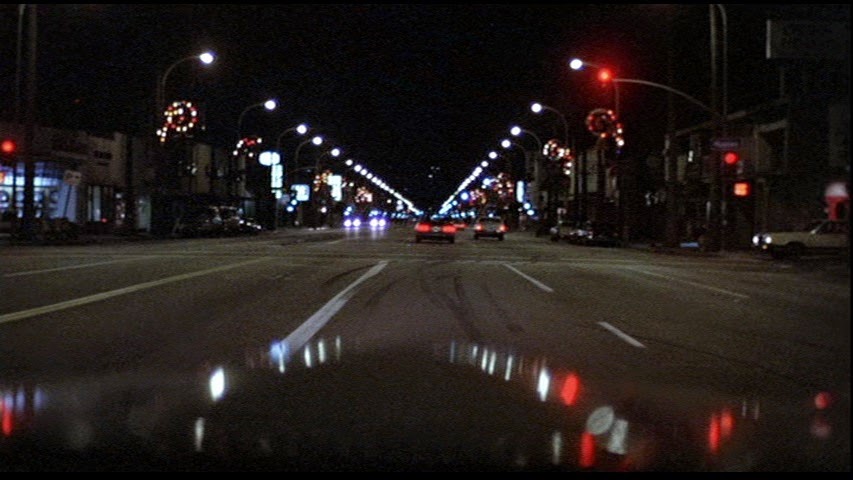 There's something about driving around LA at night playing all the old hits. I blasted Jackson Browne's Somebody's Baby as I drove up and down West LA. It was so damn peaceful and beautiful. The cool night air smacking my face as I left all my worries behind. Really transported me back to the '80s. I felt like I was going to see Damone at the next light!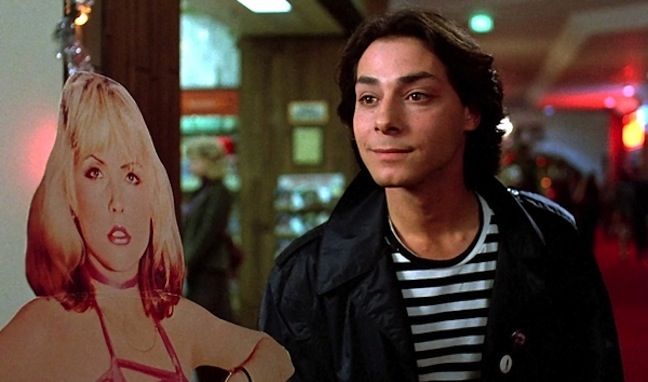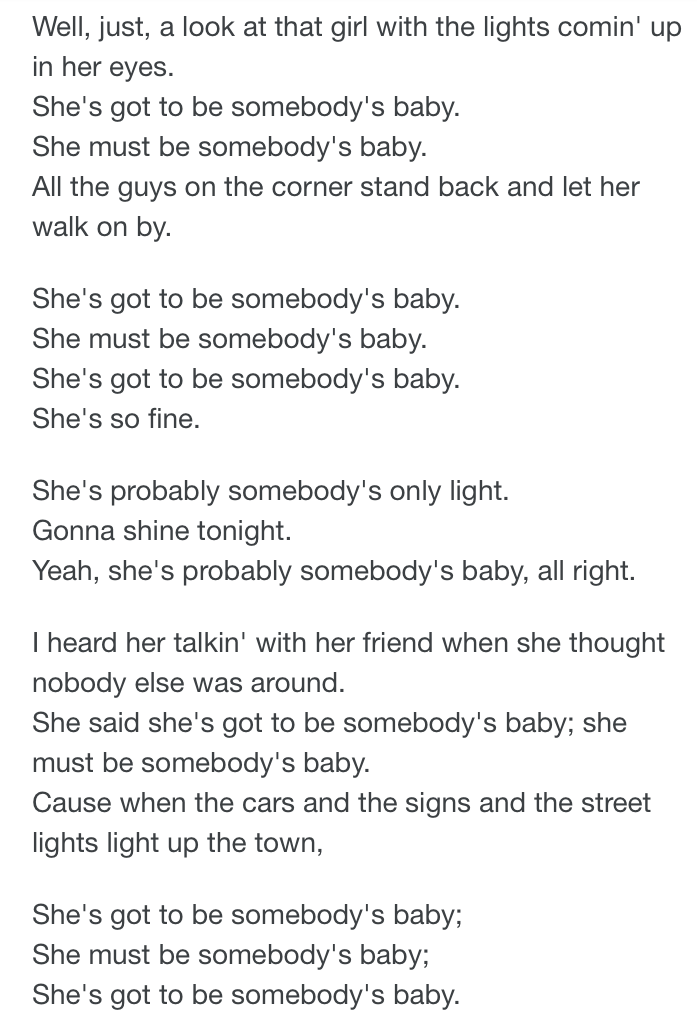 I eventually made my way back to the hotel and ended up texting a new lady friend for 4 hours before finally crashing…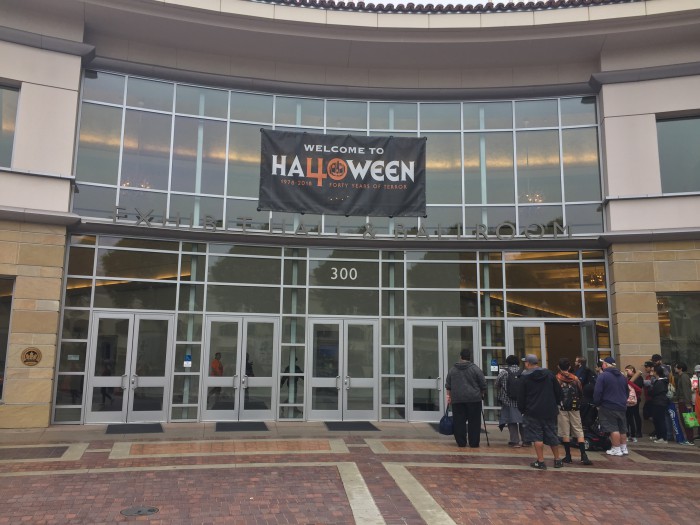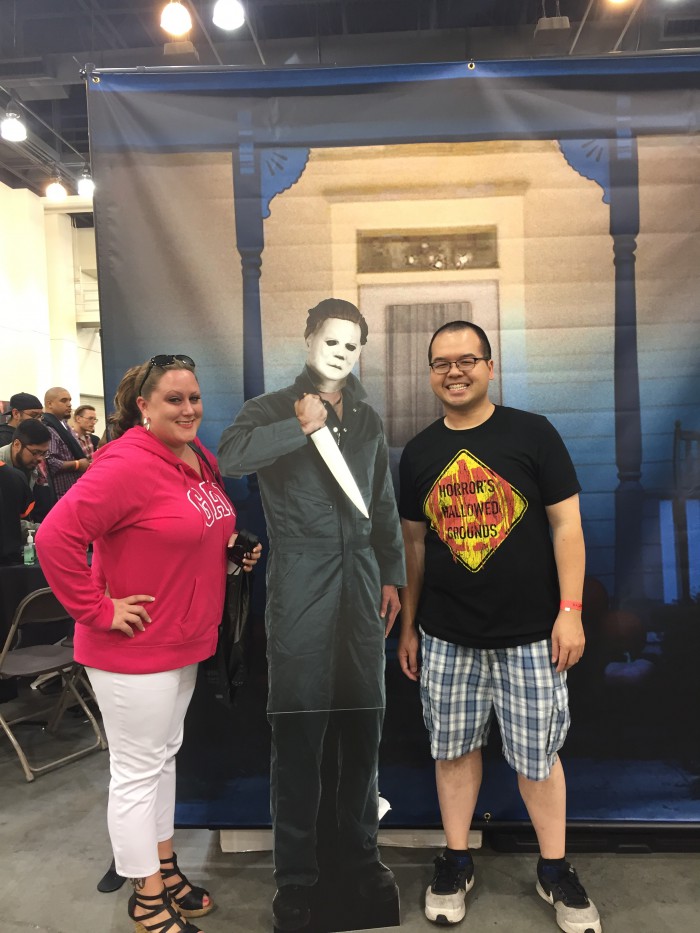 After parking and taking the elevator down, I ran into Crystal. She flew in from St. Louis and we became Convention buddies for the day

Shout out to Crystal. It was fun walking around the Convention and hanging out!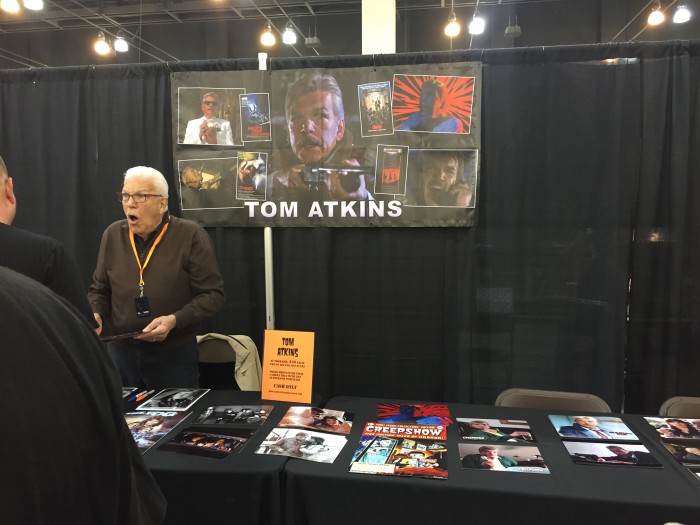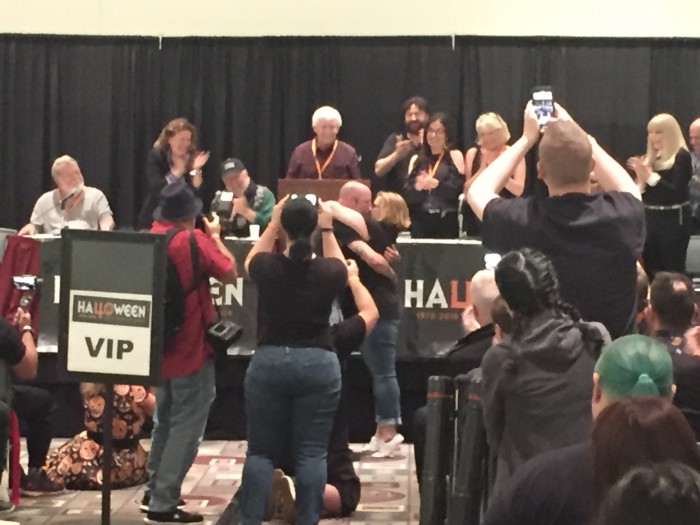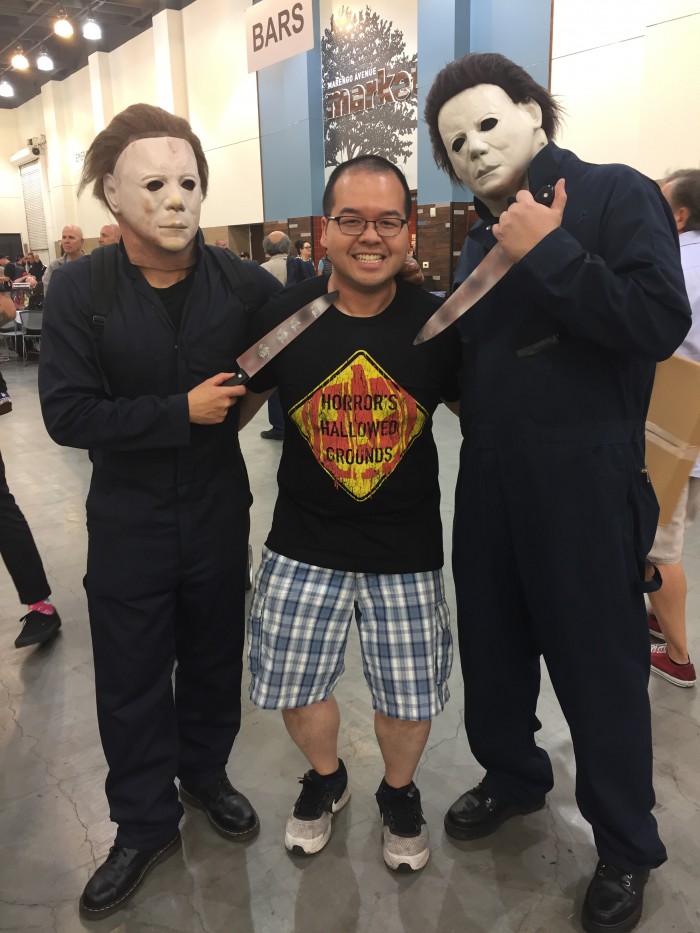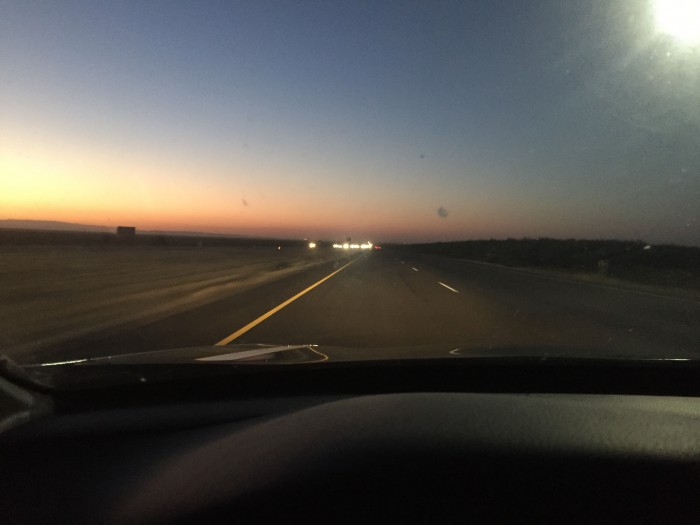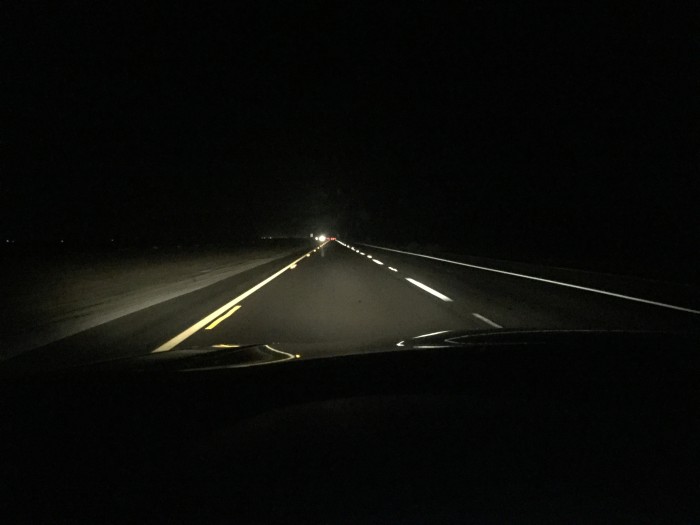 CLOSING THOUGHTS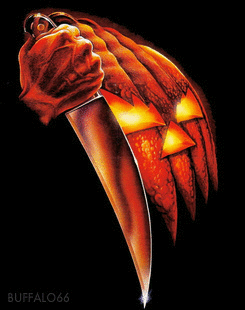 I had a blast roaming around in LA hunting the Boogeyman once more. Although Nelson was out of the country and unable to make it, I still made the most of it. Met a bunch of cool Halloween fans and we just got to live out our fandom and toast to 40 friggin' years. Not many movies carry with it such a legacy and fanbase as John Carpenter's Halloween. Best of all, I'll also remember this trip as the weekend I really hit it off with my new lady friend, who is now currently my girlfriend. We spent 7 hours texting Thursday and Friday night while I was in LA laying in my hotel bed. We had our first date on Sunday (the day I drove back from LA). The next week we went to see the new Halloween (fittingly so) and it just went from there. So yeah, I'll always look back on that weekend fondly. It was well worth the long drive and expenses I paid to make it happen. What else can I say but thanks for all the memories and long live Halloween!
Hey, who's that good looking guy at 1:32?!