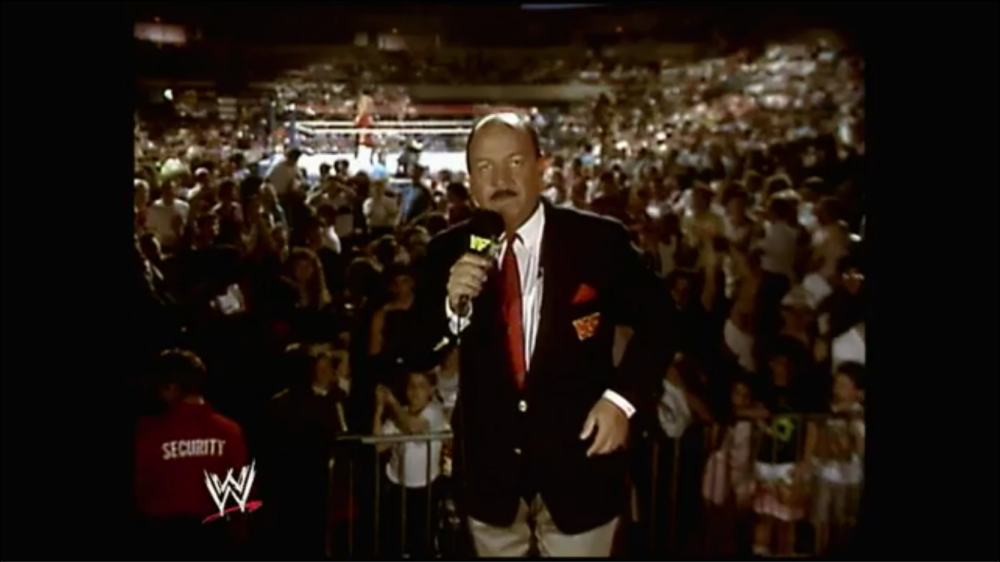 Earlier this week, the wrestling world was saddened by the loss of Eugene Arthur Okerlund (1942-2019). Better known to wrestling fans worldwide as Mean Gene Okerlund, Mean Gene was one of a kind. He was one of my favorite personalities in the wacky world of professional wrestling. I have so many fond memories of him conducting interviews with guys like Hulk Hogan, Macho Man Randy Savage, Ultimate Warrior and the list goes on and on. Hearing of his passing at age 76 was like losing a small part of my childhood. He meant a lot to me and millions of other fans who grew up on late '80s and early '90s WWF. To honor his legacy, I've transcribed his WWE Hall of Fame induction speech from 2006. Enjoy.
MEAN GENE OKERLUND
HALL OF FAME SPEECH
APRIL 1, 2006
Please welcome WWE Hall of Famer, Hulk Hogan!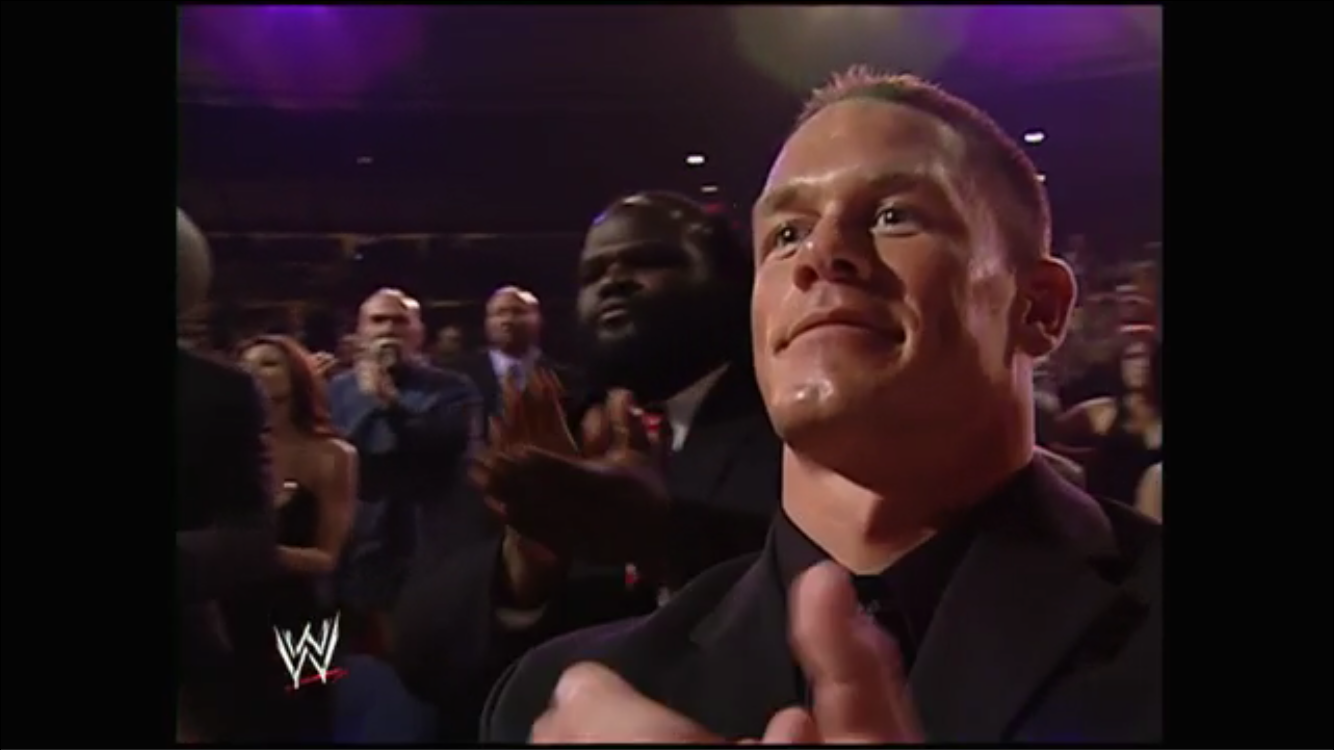 When it comes crashing down and it hurts inside…
You gotta take a stand; it don't help to hide!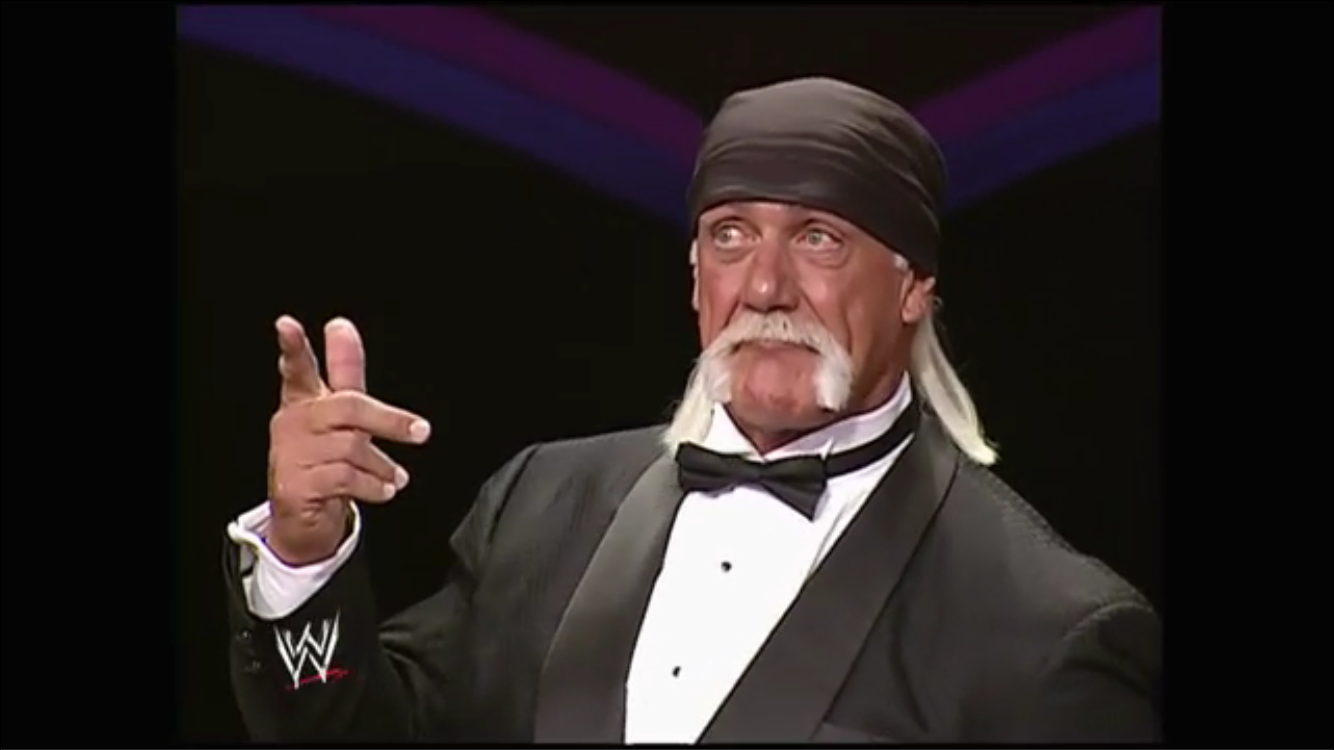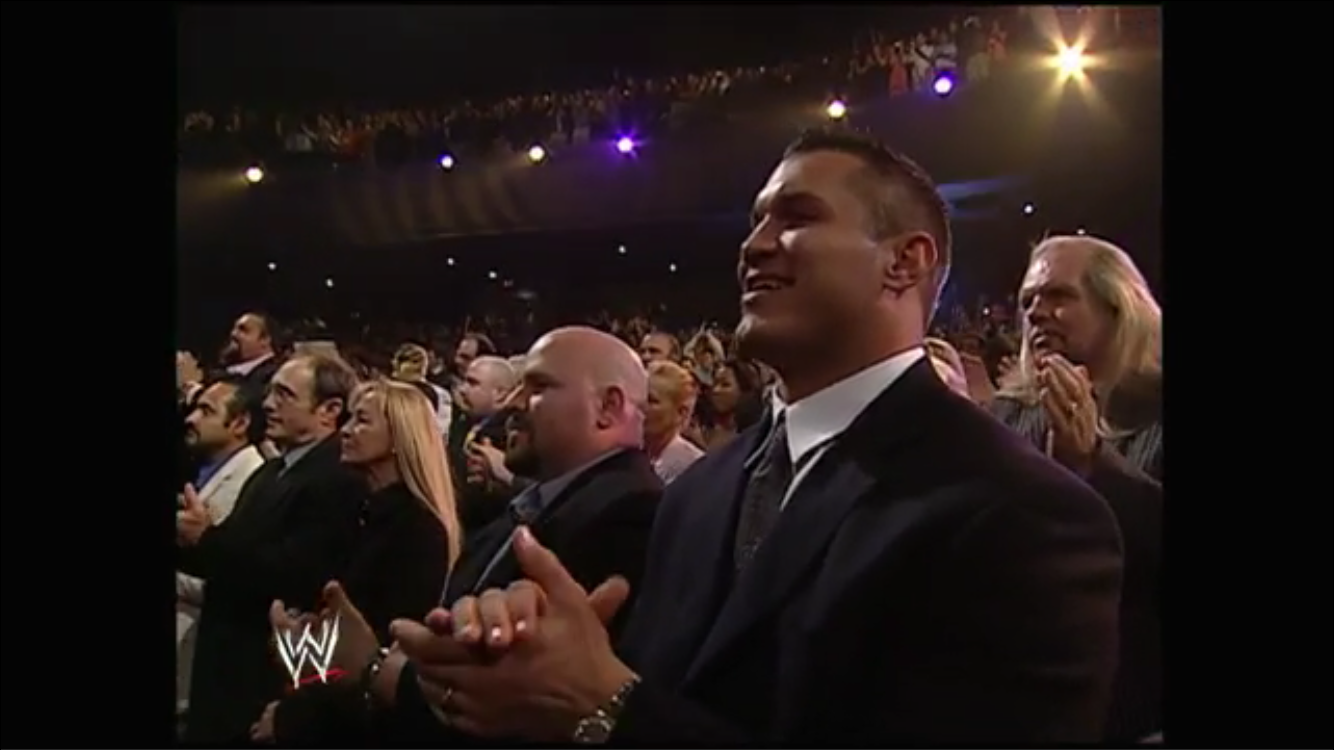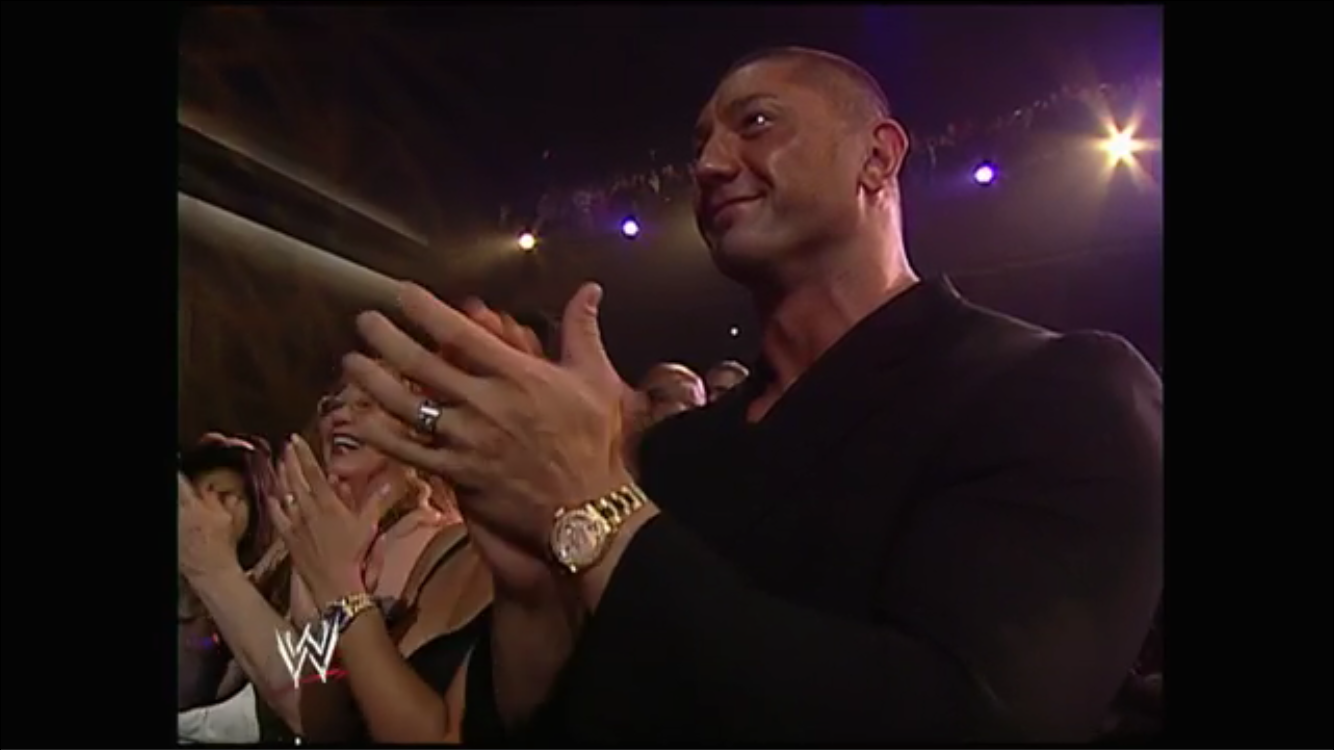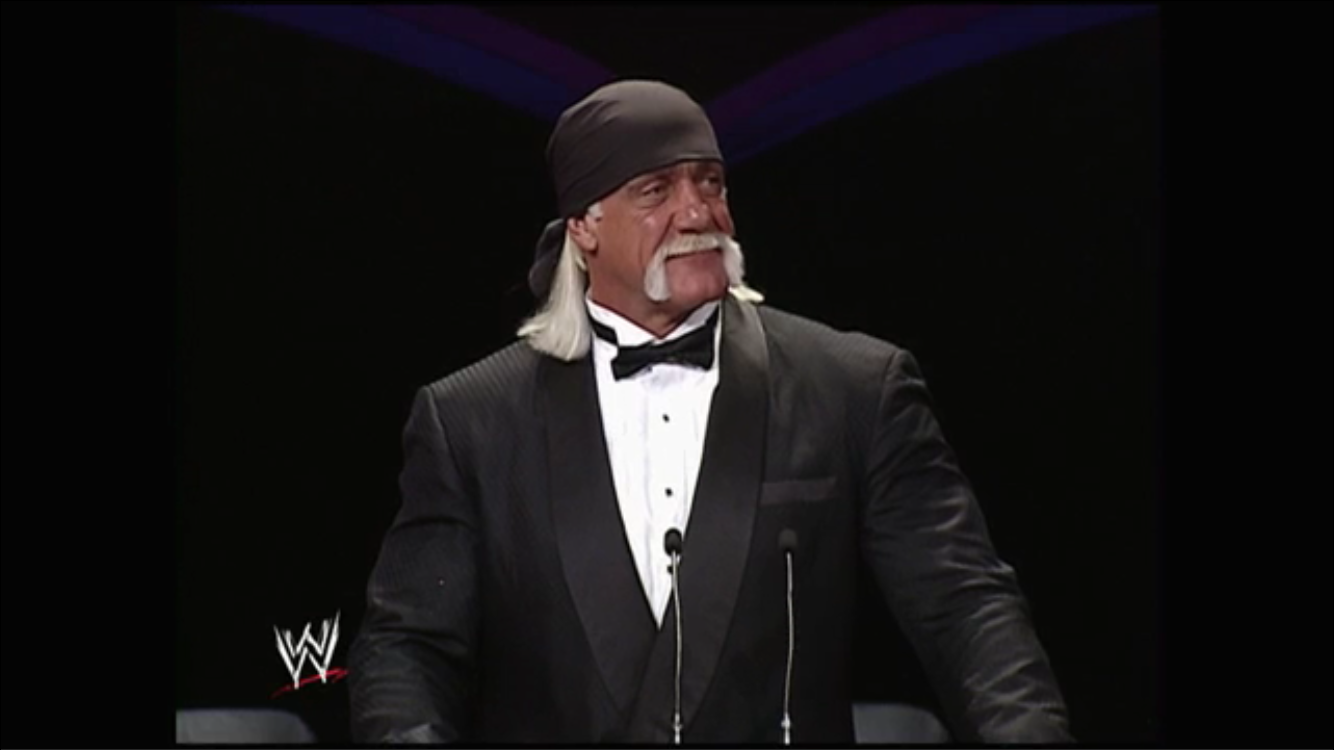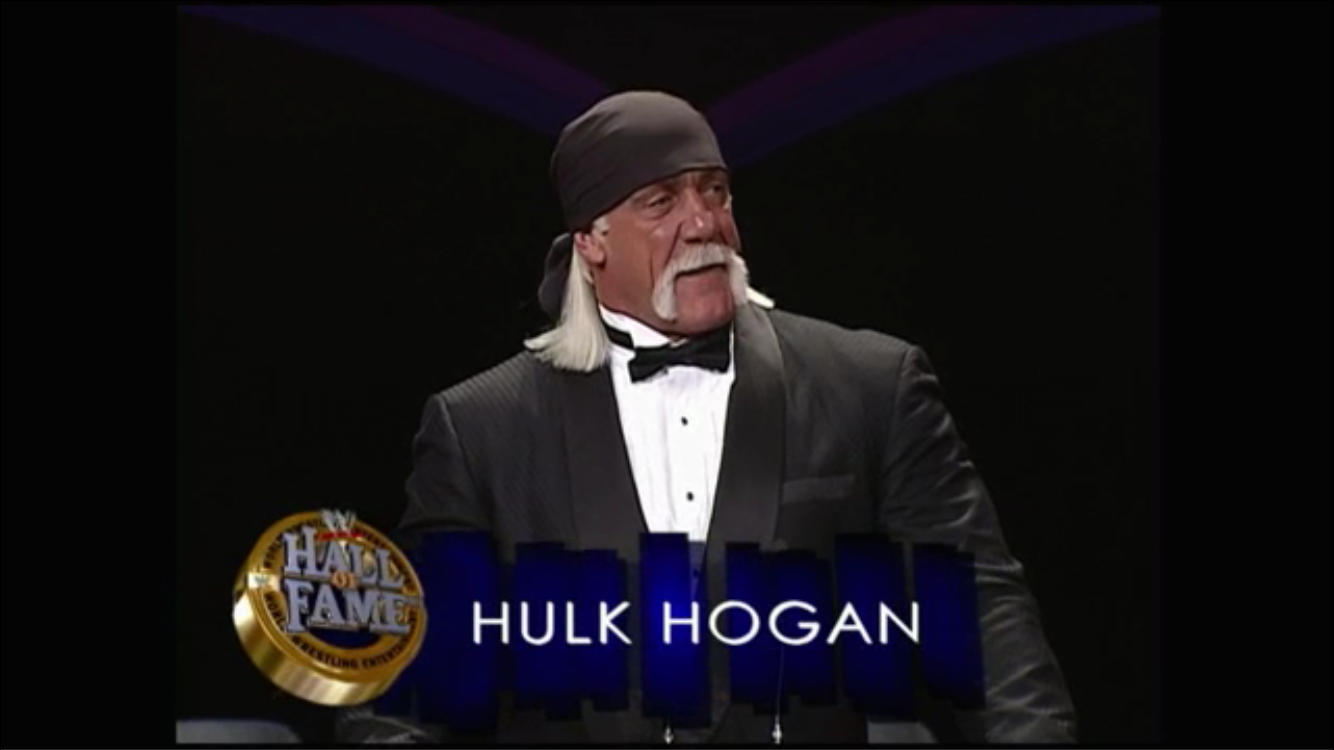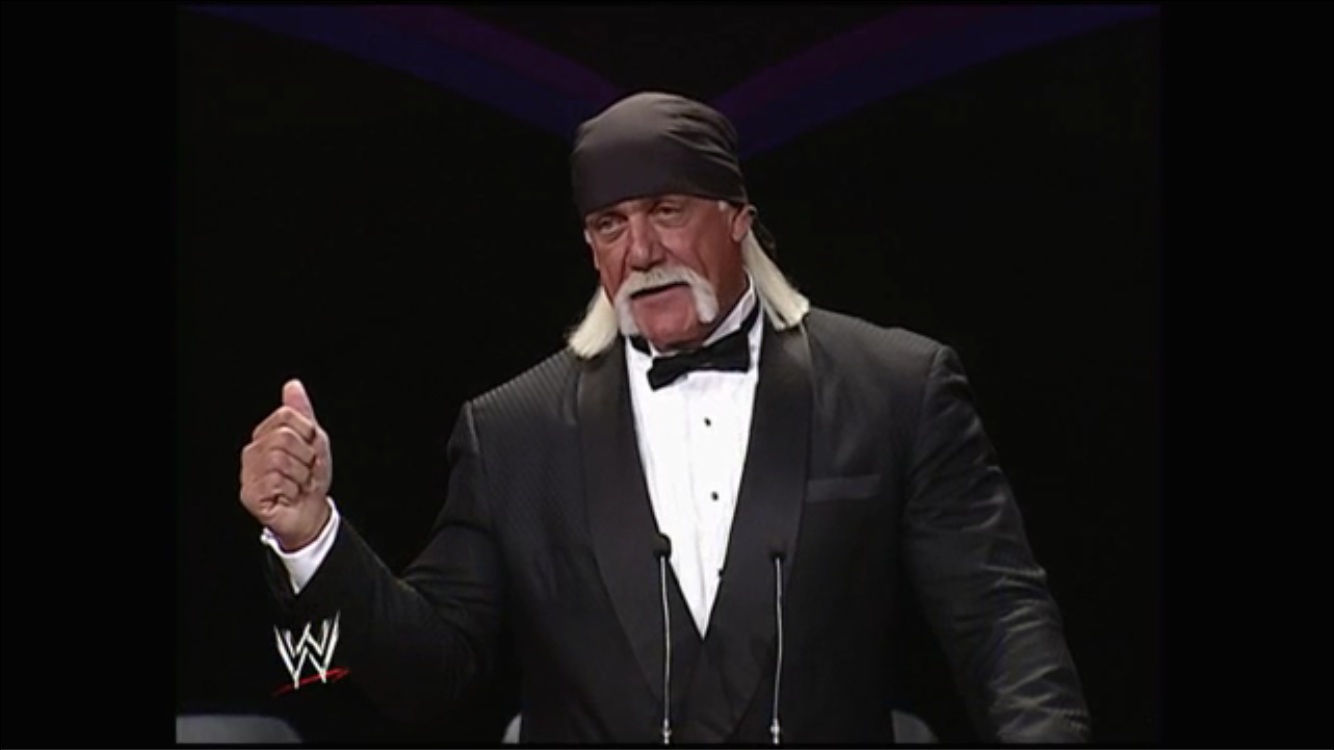 Um, it was really great to be in the back and come up to Gene Okerlund…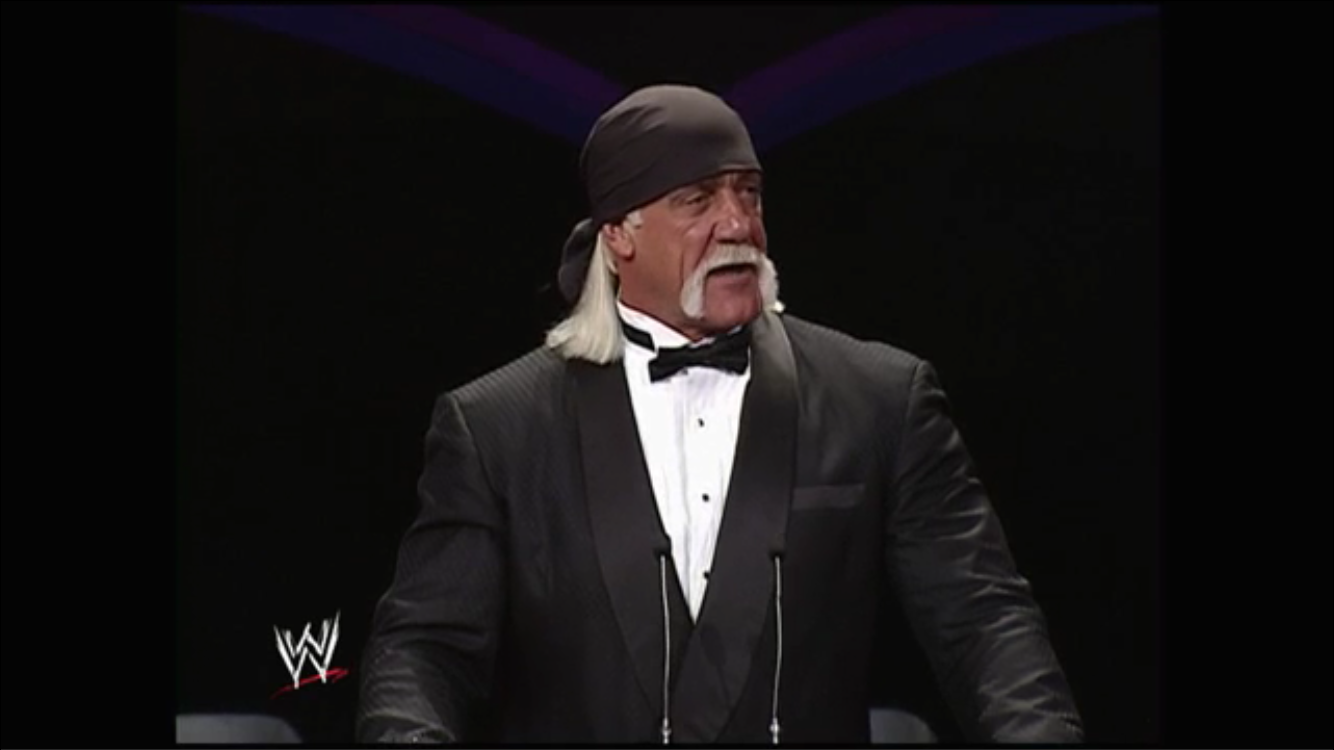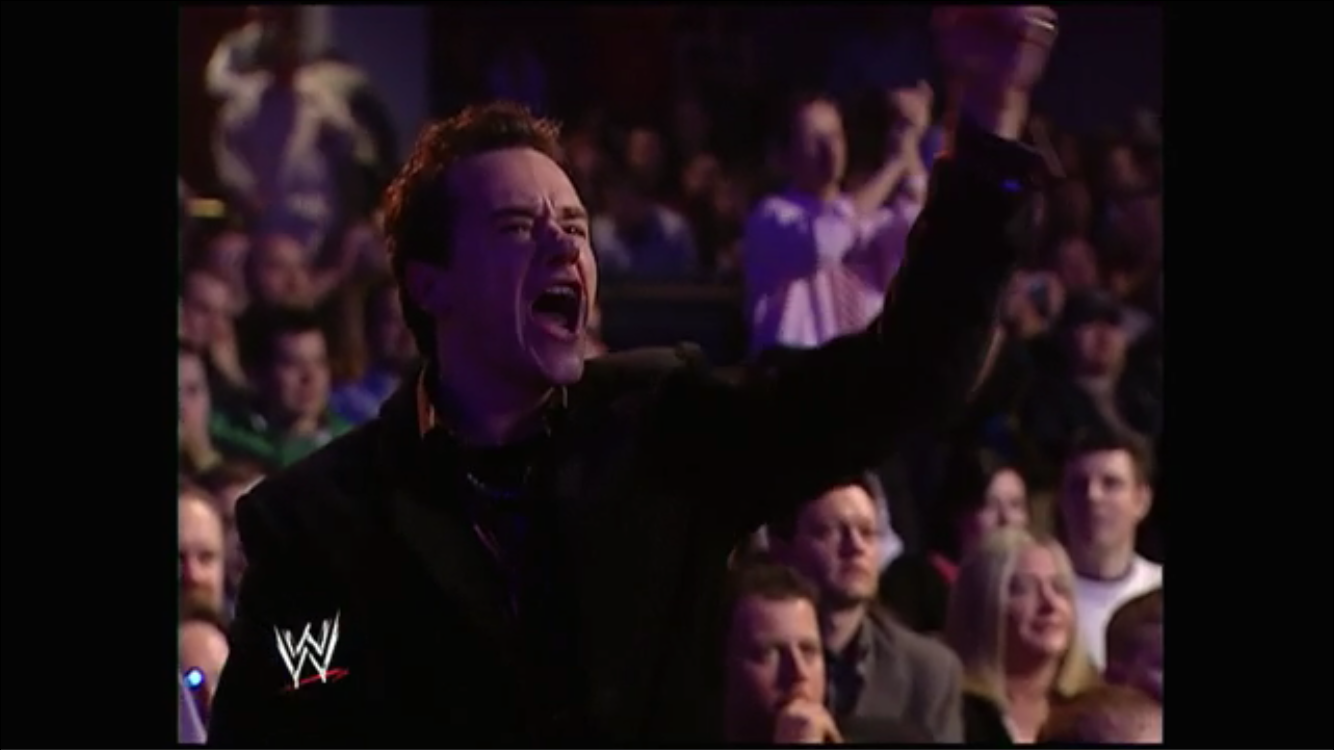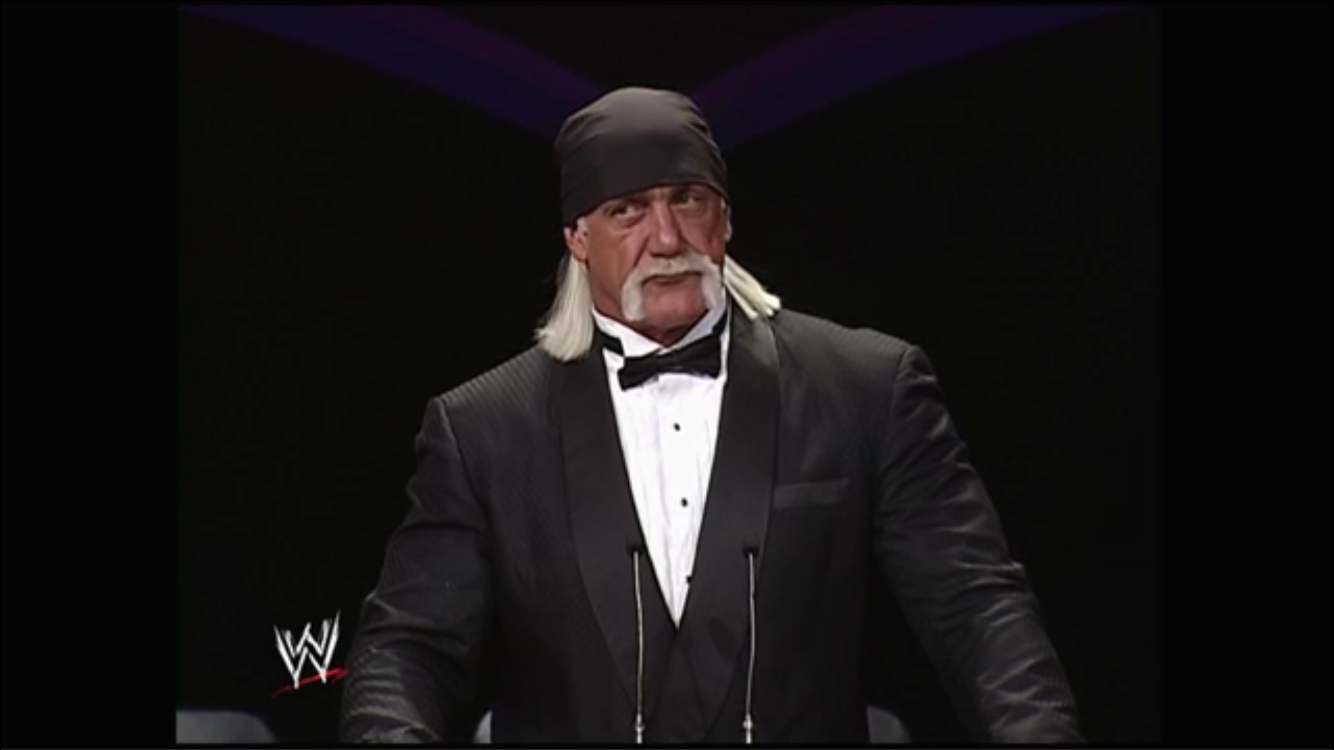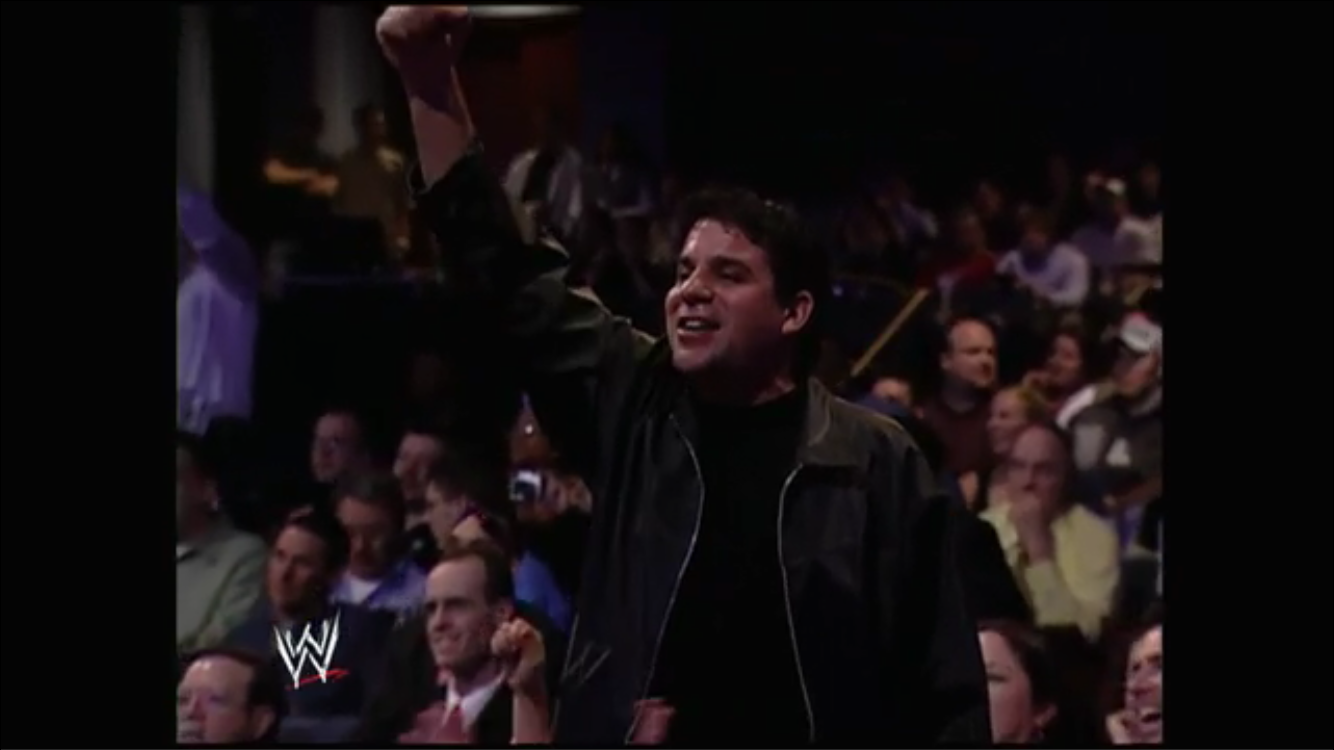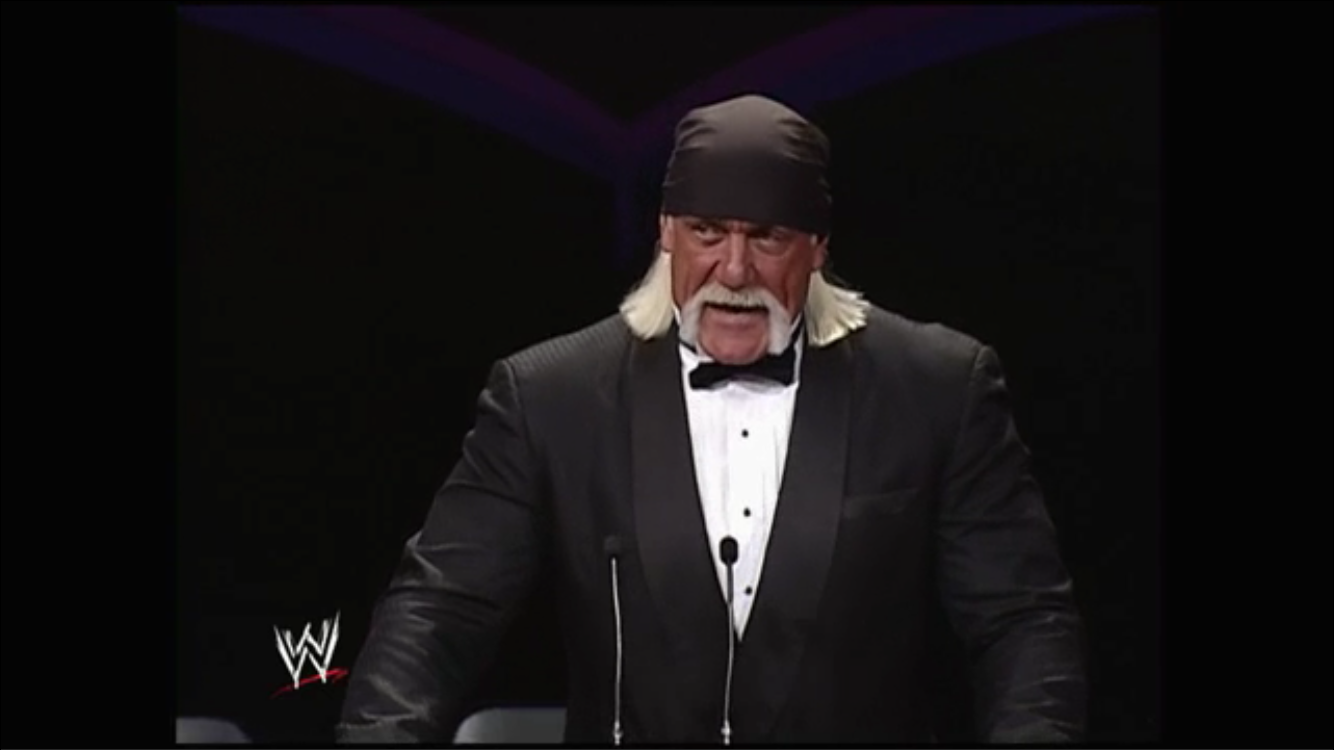 Alright you guys. Um, it, it was really great to be in the back and shake Mean Gene's hand and say hello to him…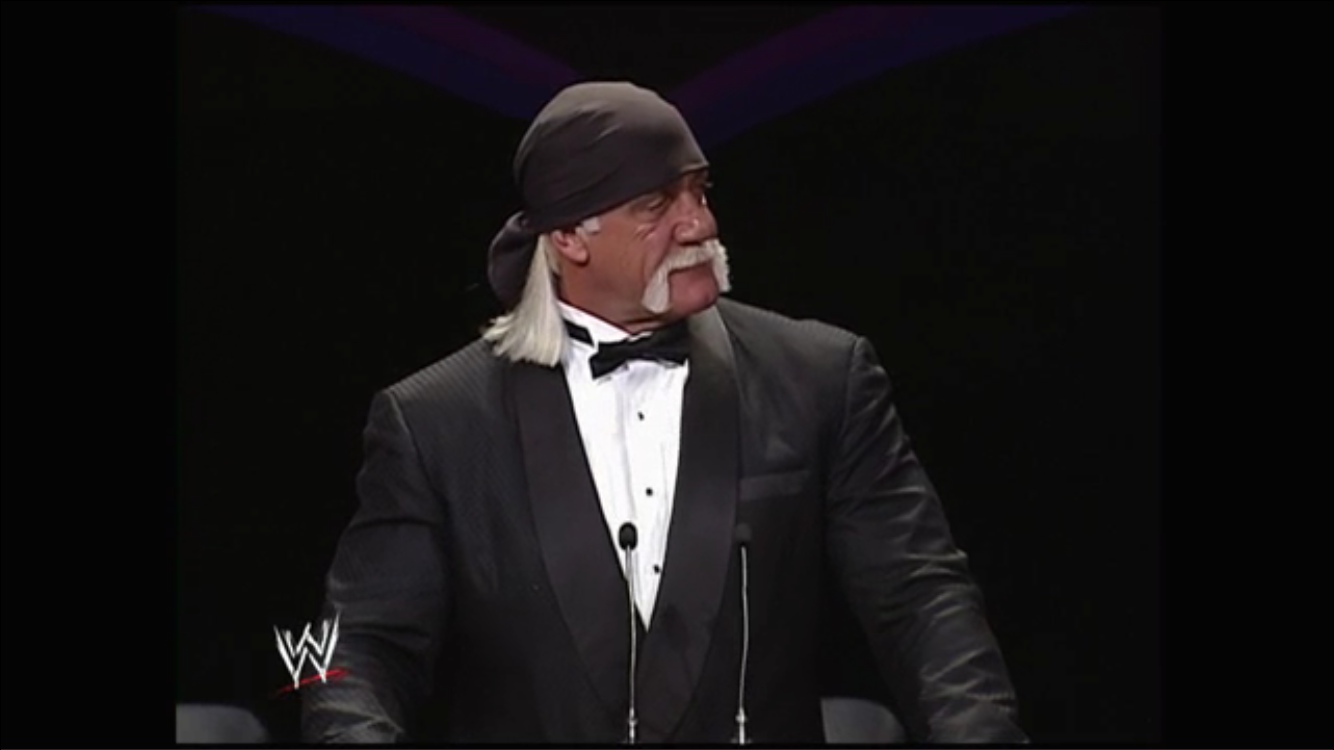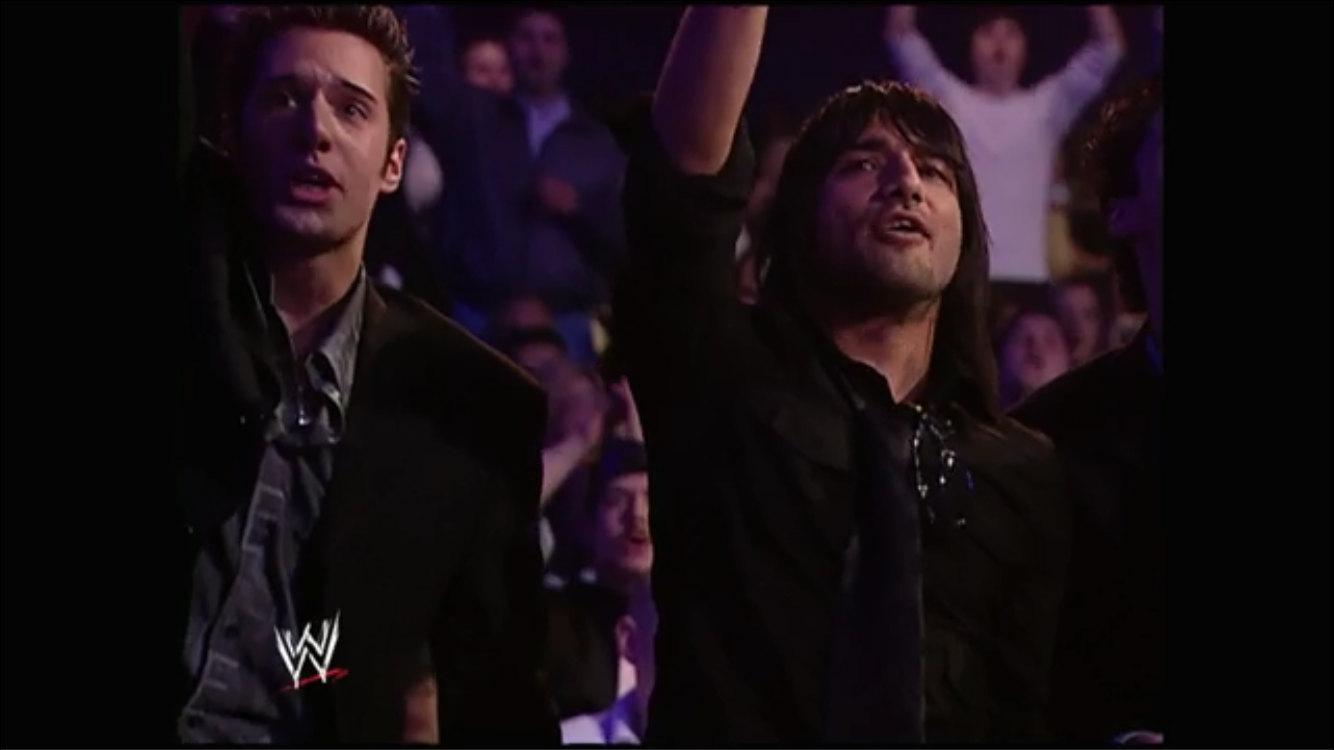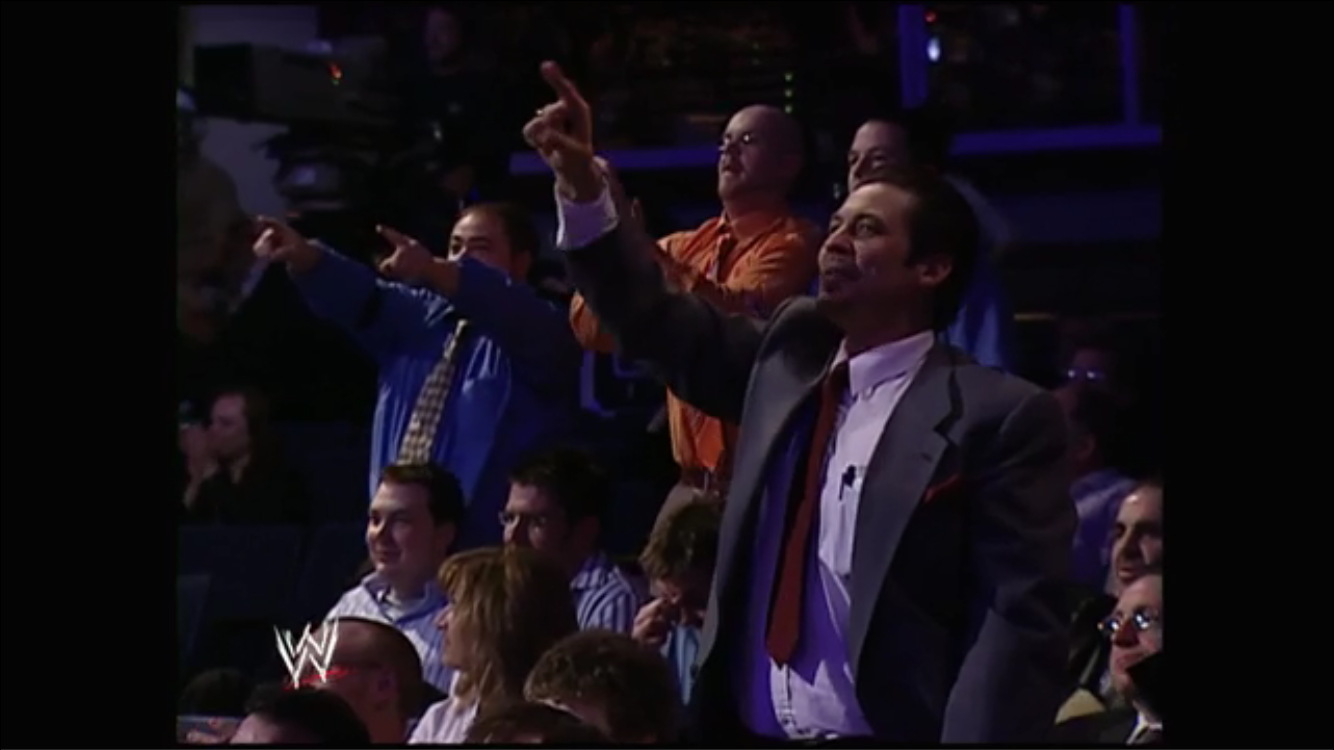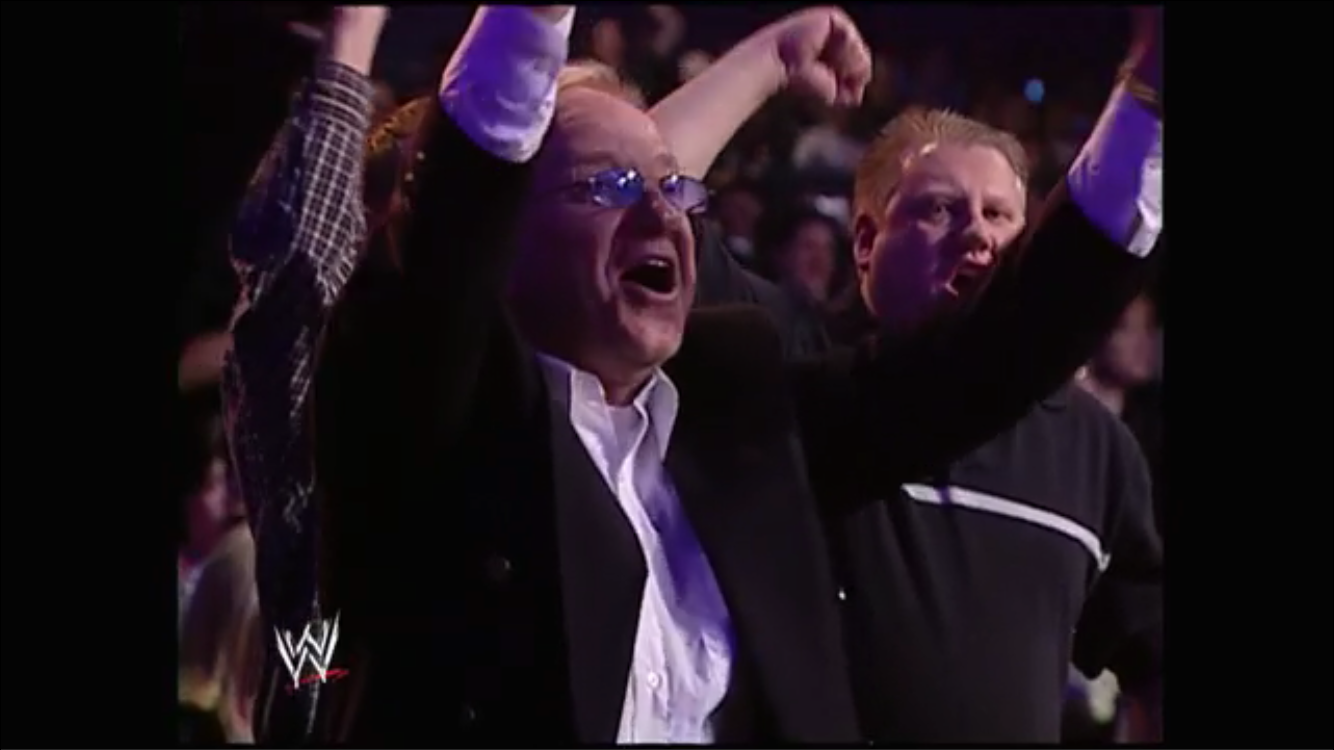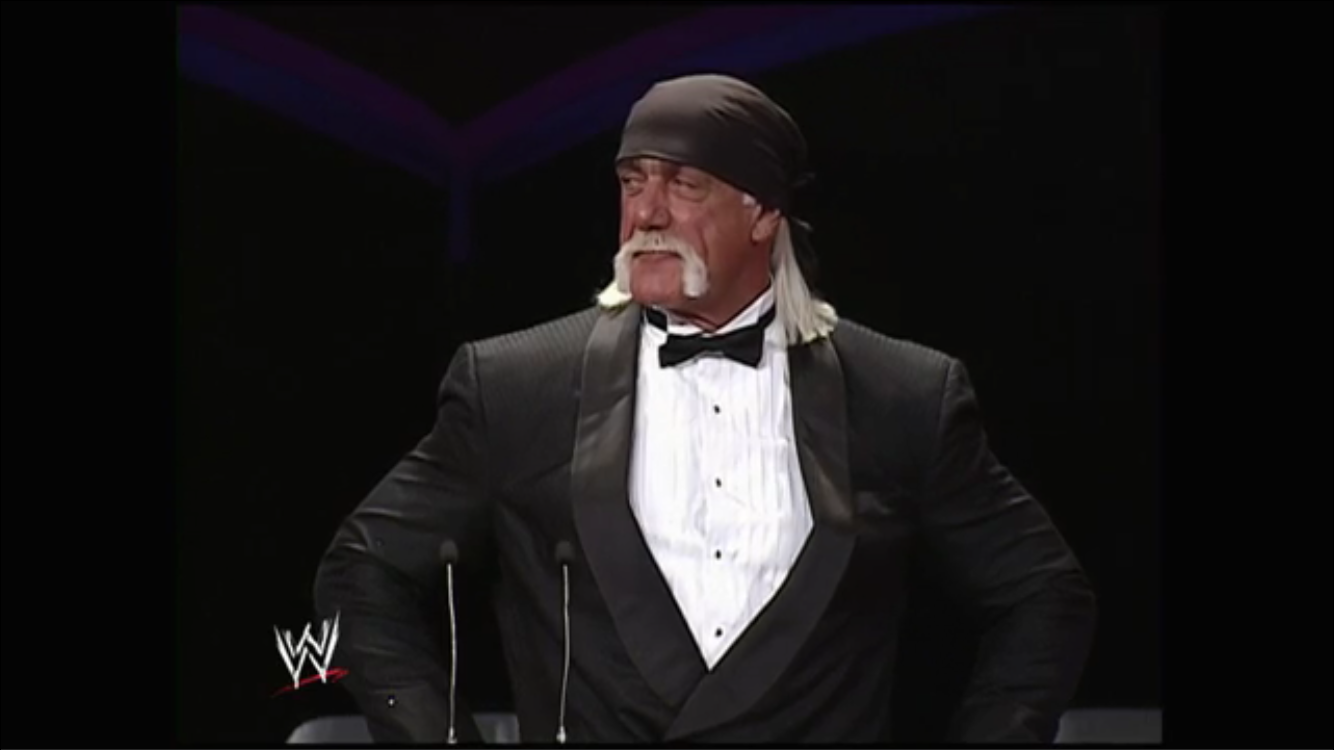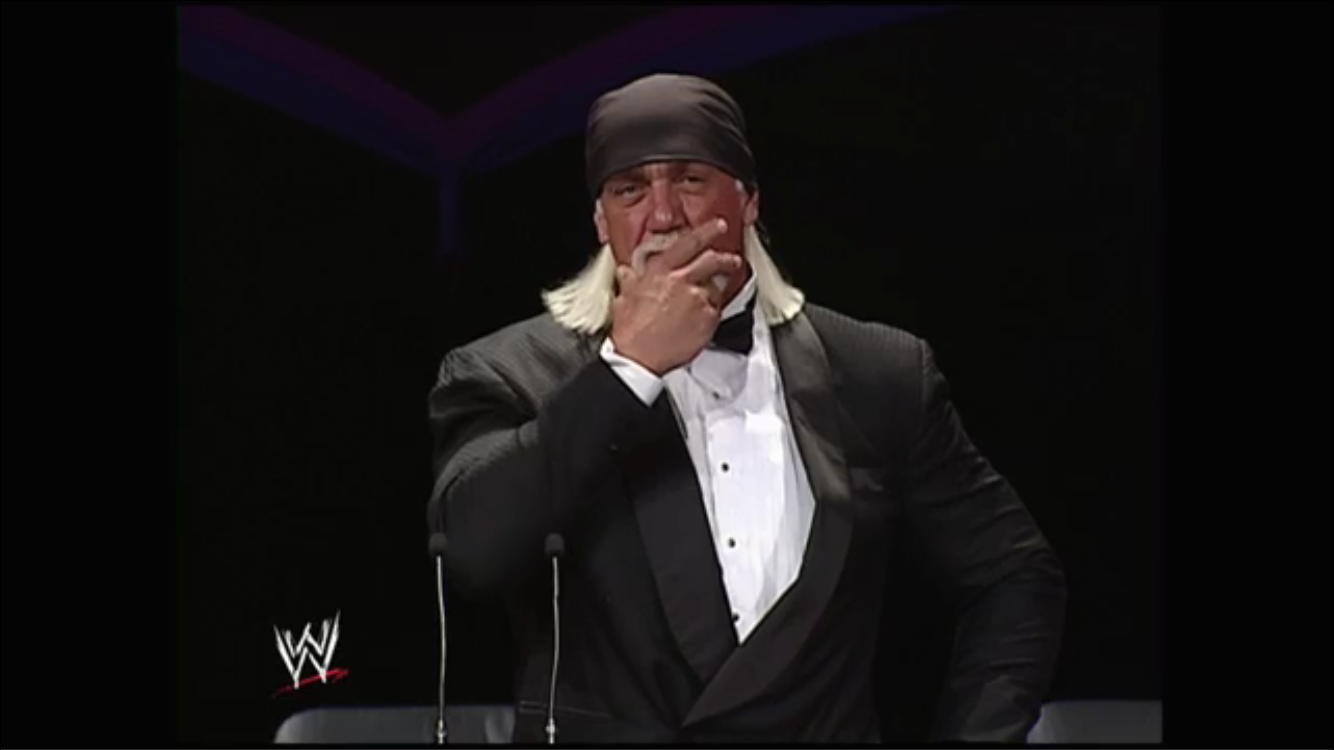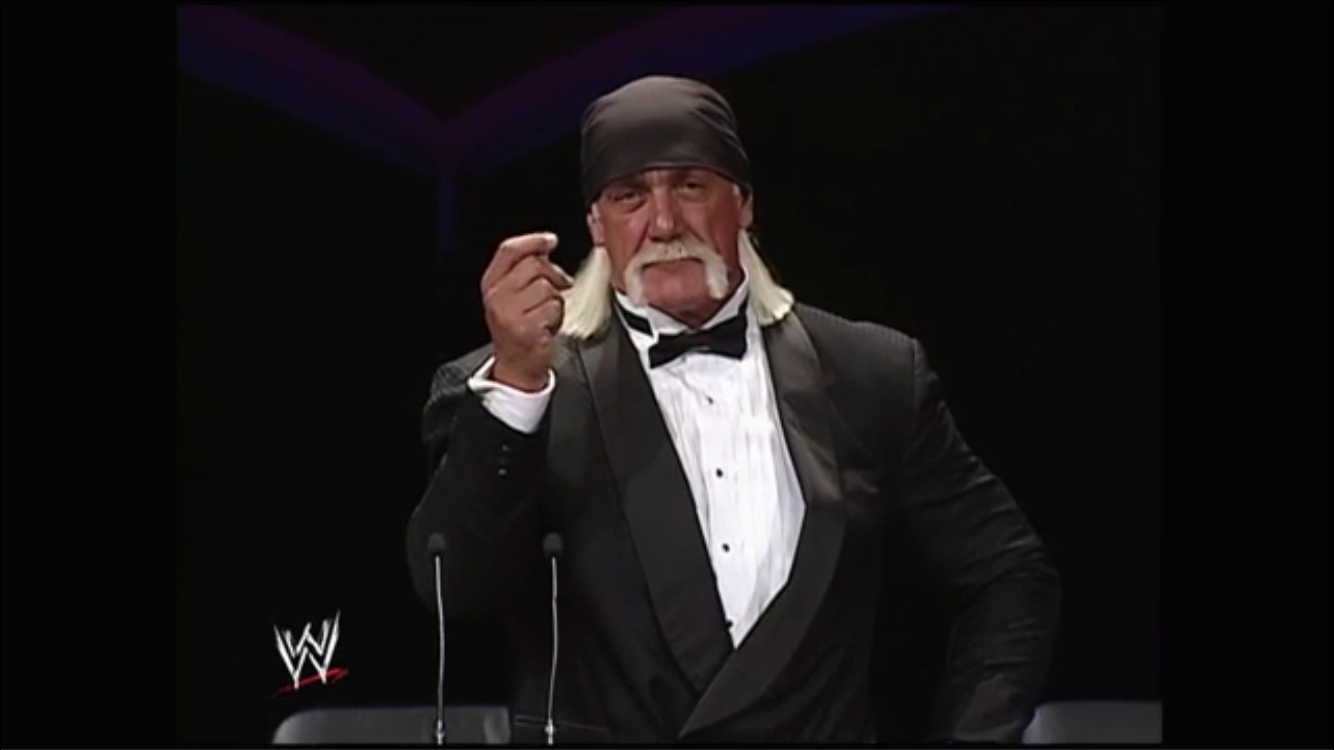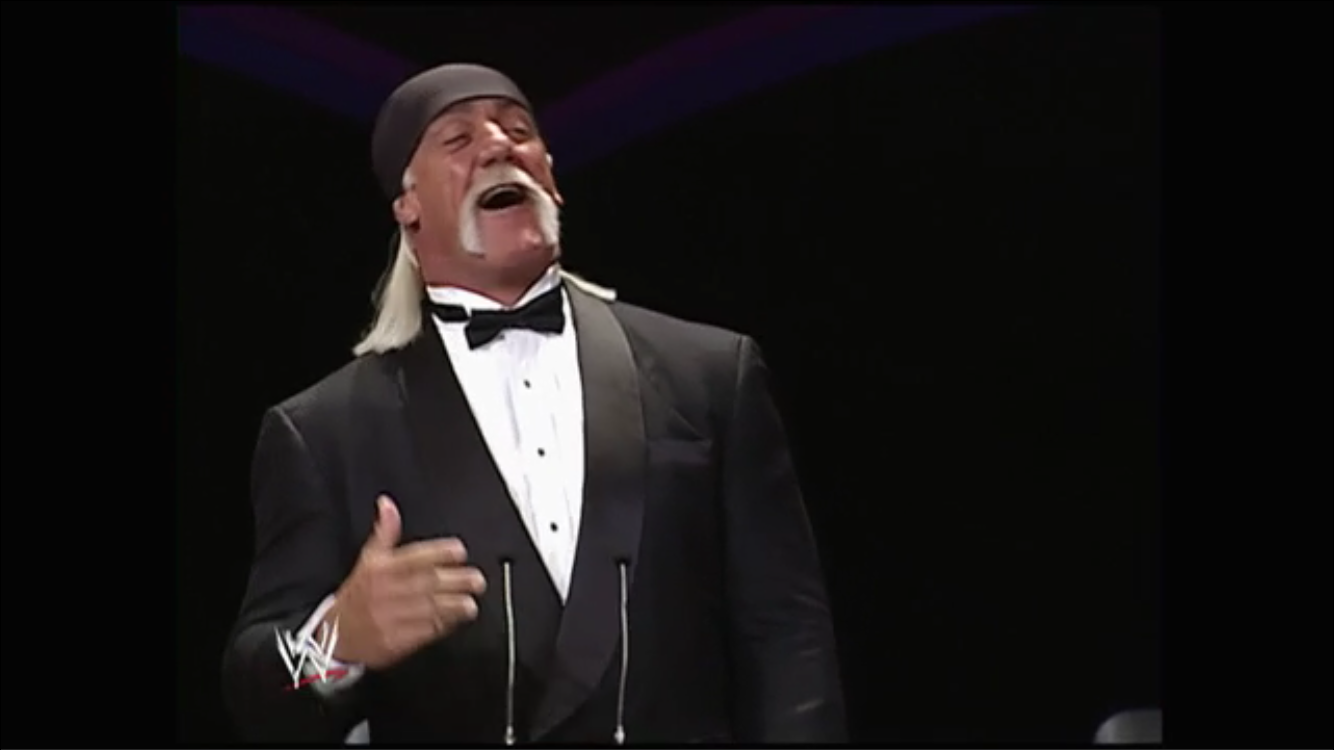 Aw, aw stop it! I knew I'd get you guys to shut up. No, thank you very much.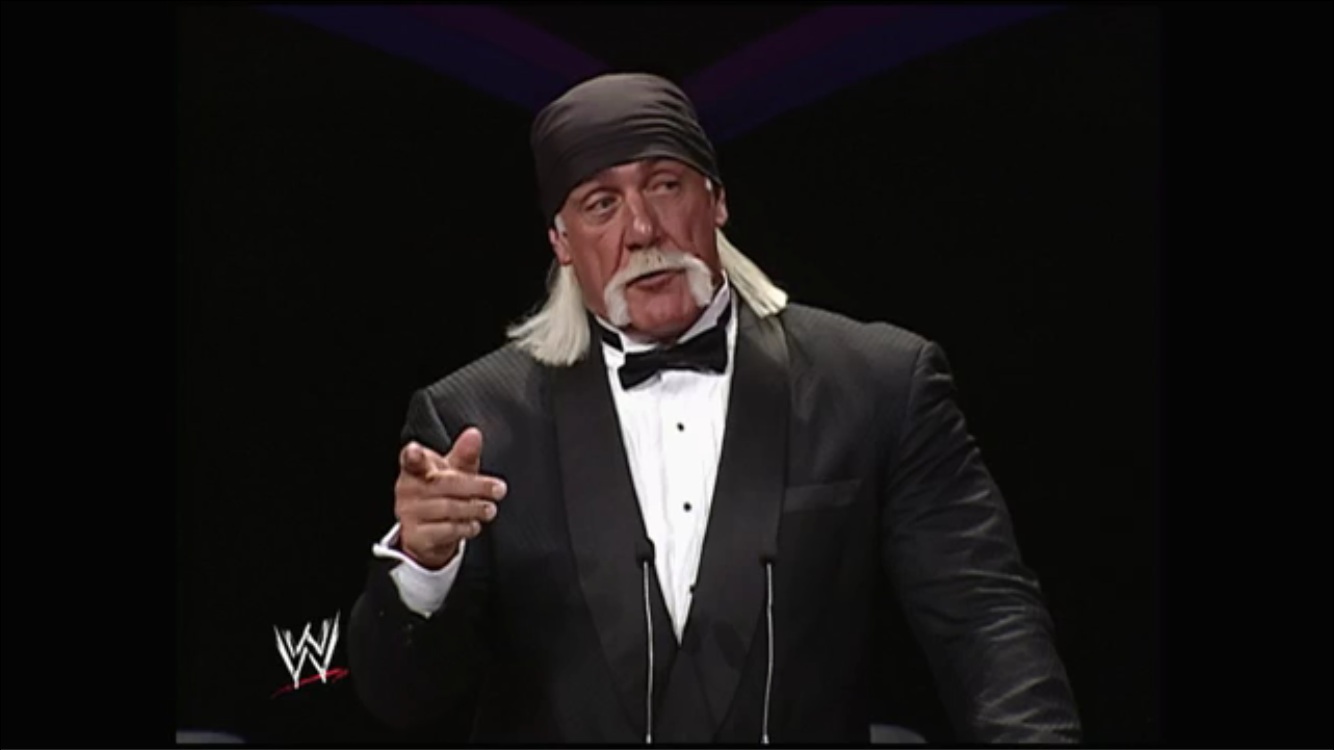 *Crowd massively pops*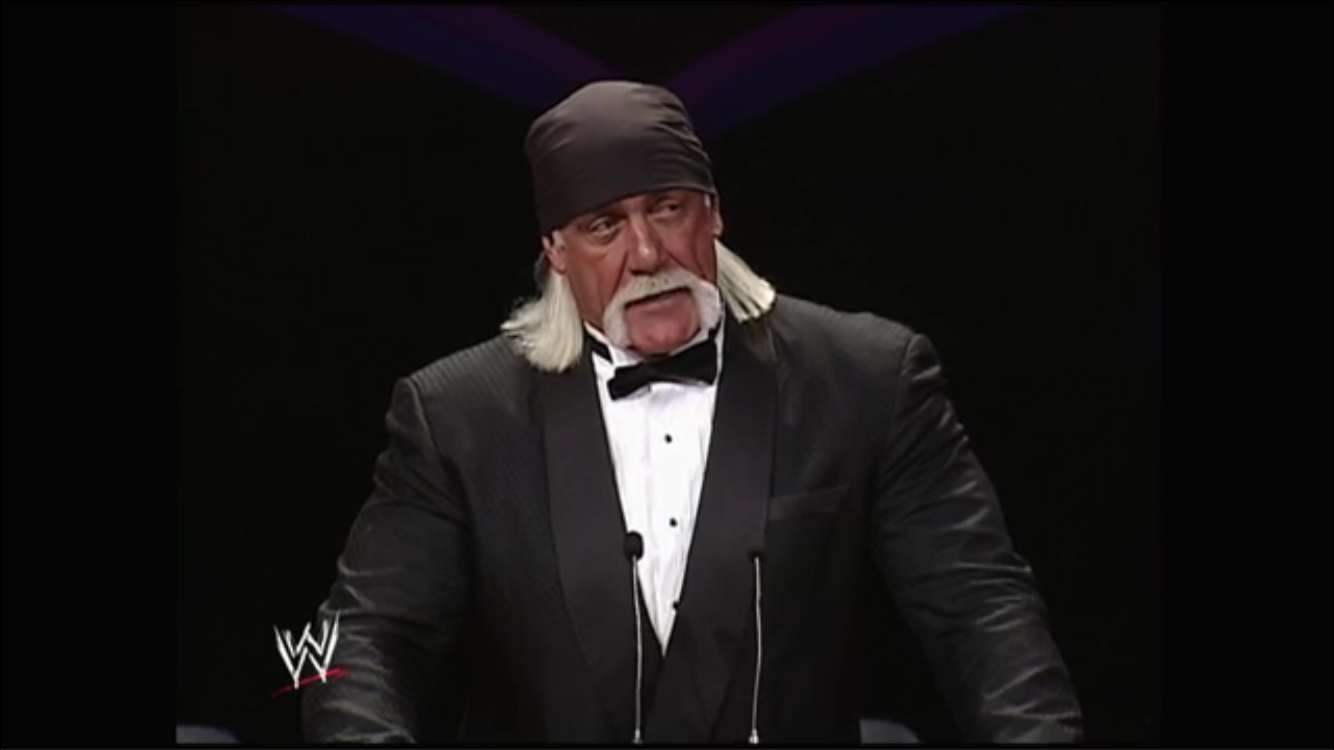 You think uh, Austin could handle the power of HULKAMANIA?
*Crowd boos a bit*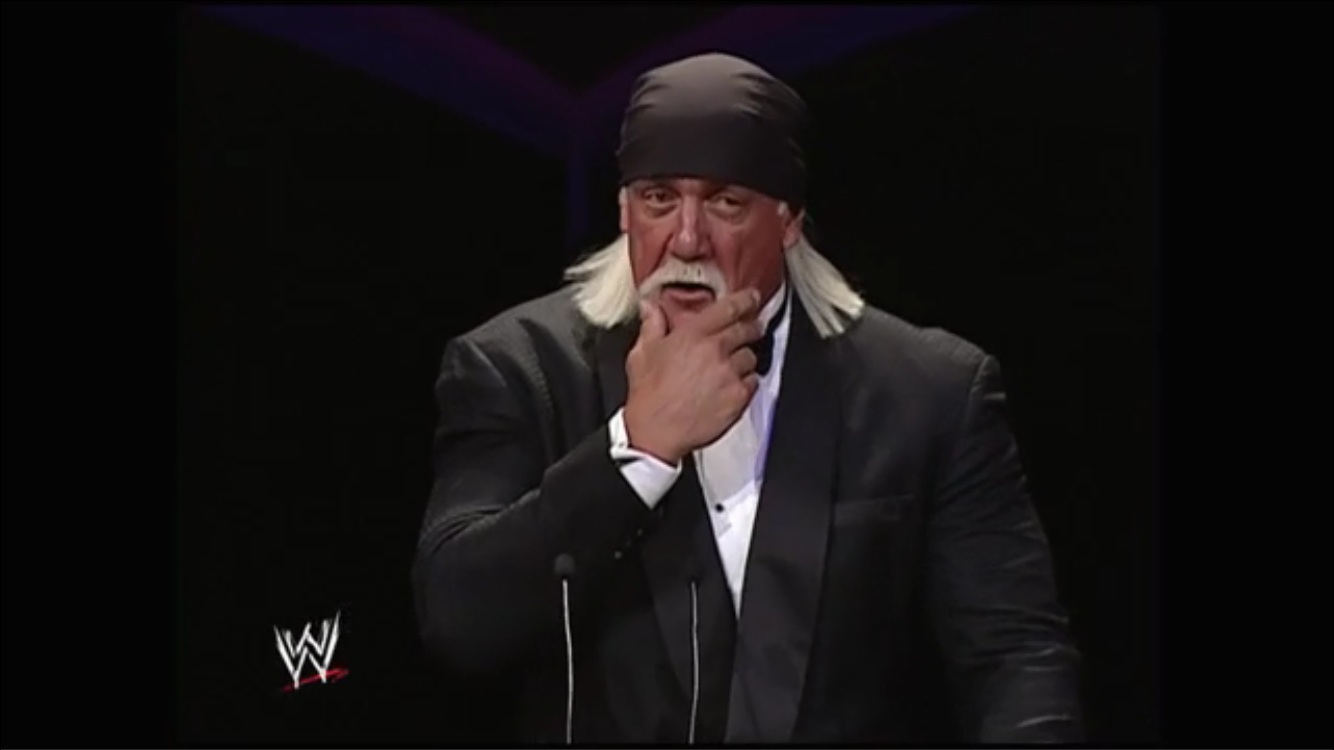 *Crowd pops*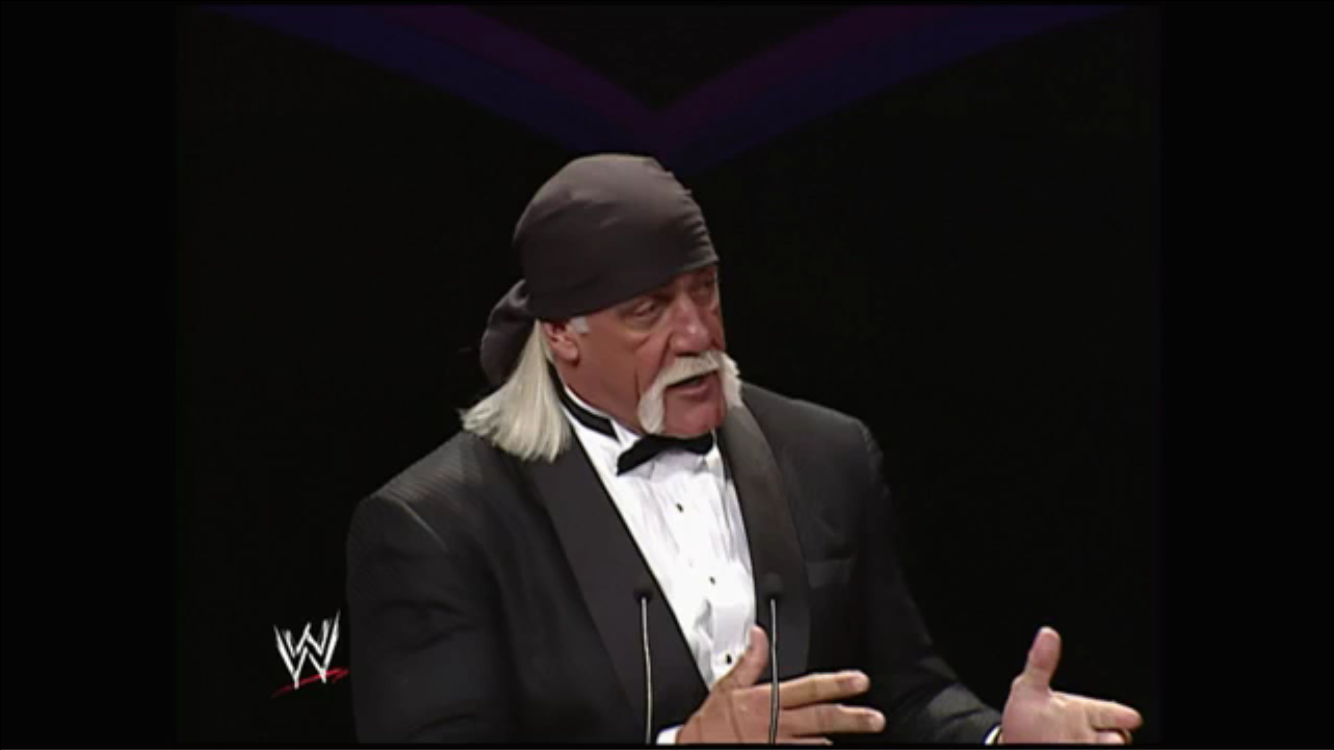 ANYWAY, tonight guys, it's a great night because I finally got a chance to shake Mean Gene's hand and give him a hug in the back. Because usually, we're on the run. And for 20 years, whenever I see Mean Gene, it was always last minute running.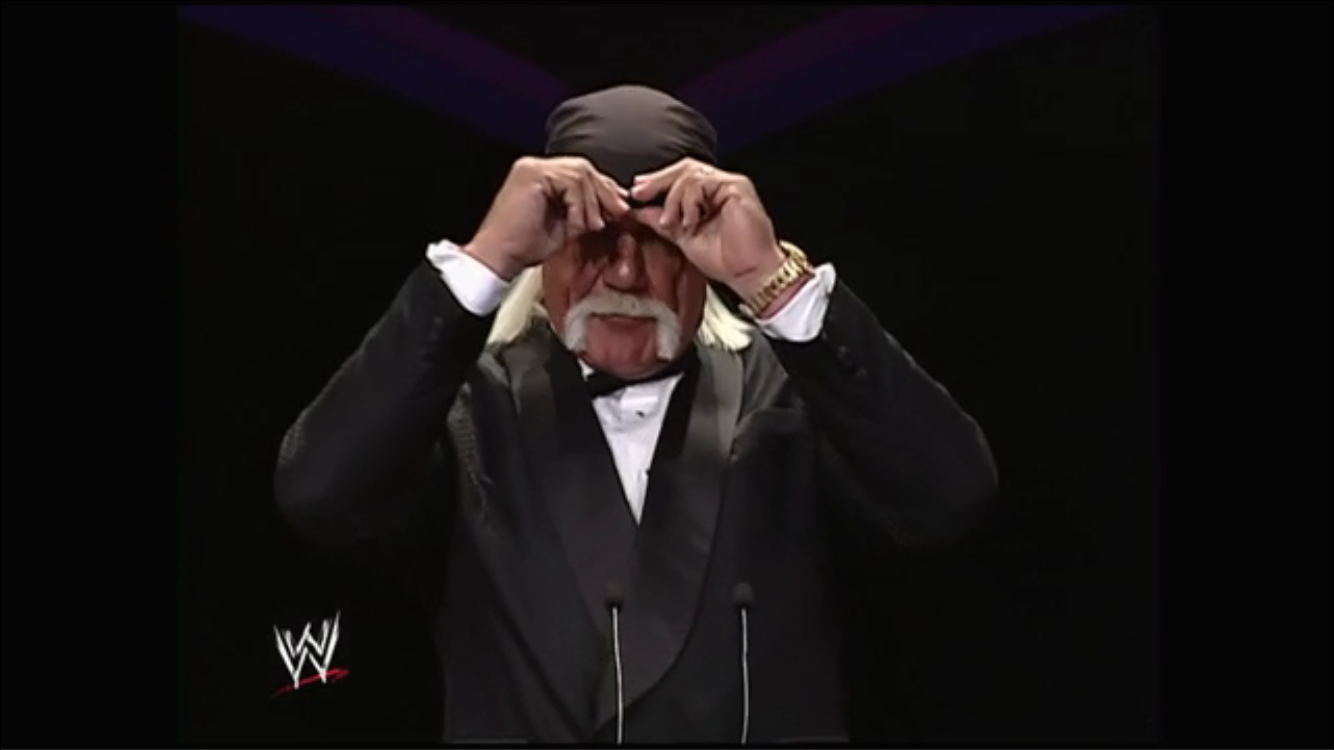 Trying to put the headband on my bald head, slide in front of the microphone…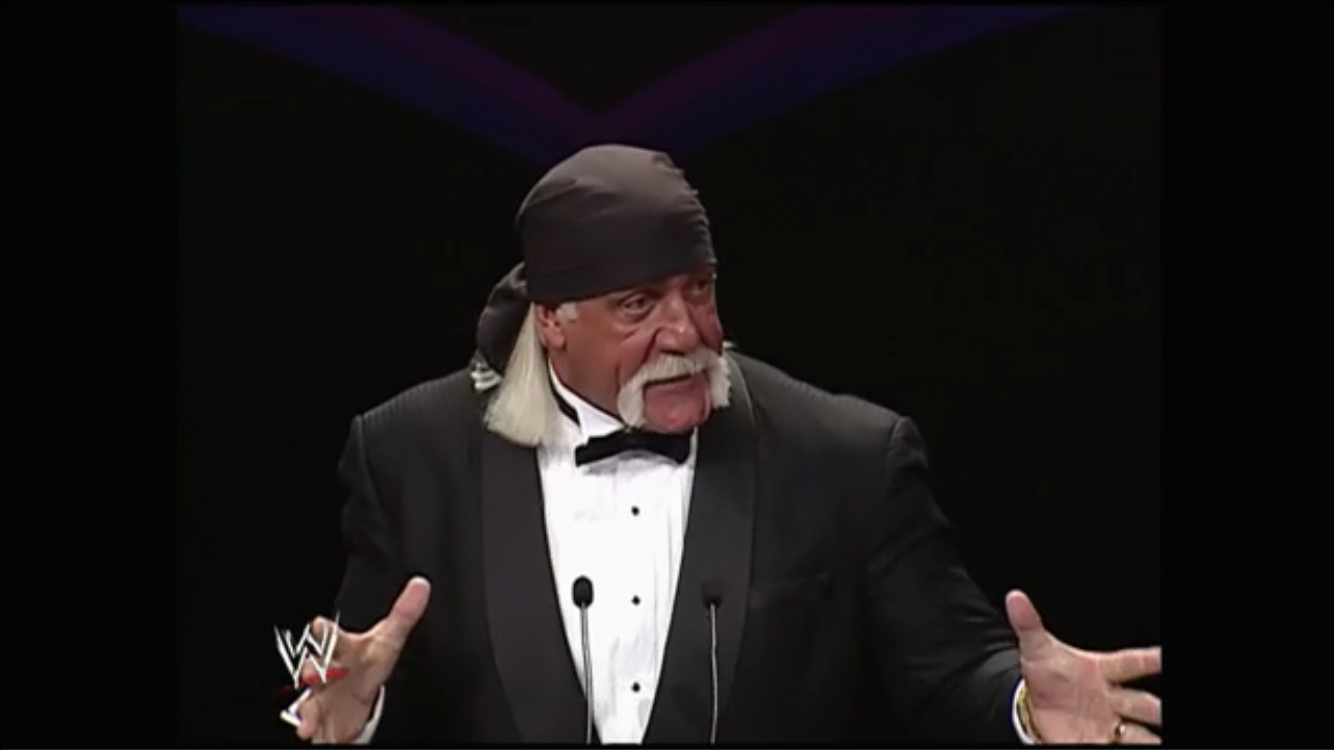 *Crowd goes bonkers*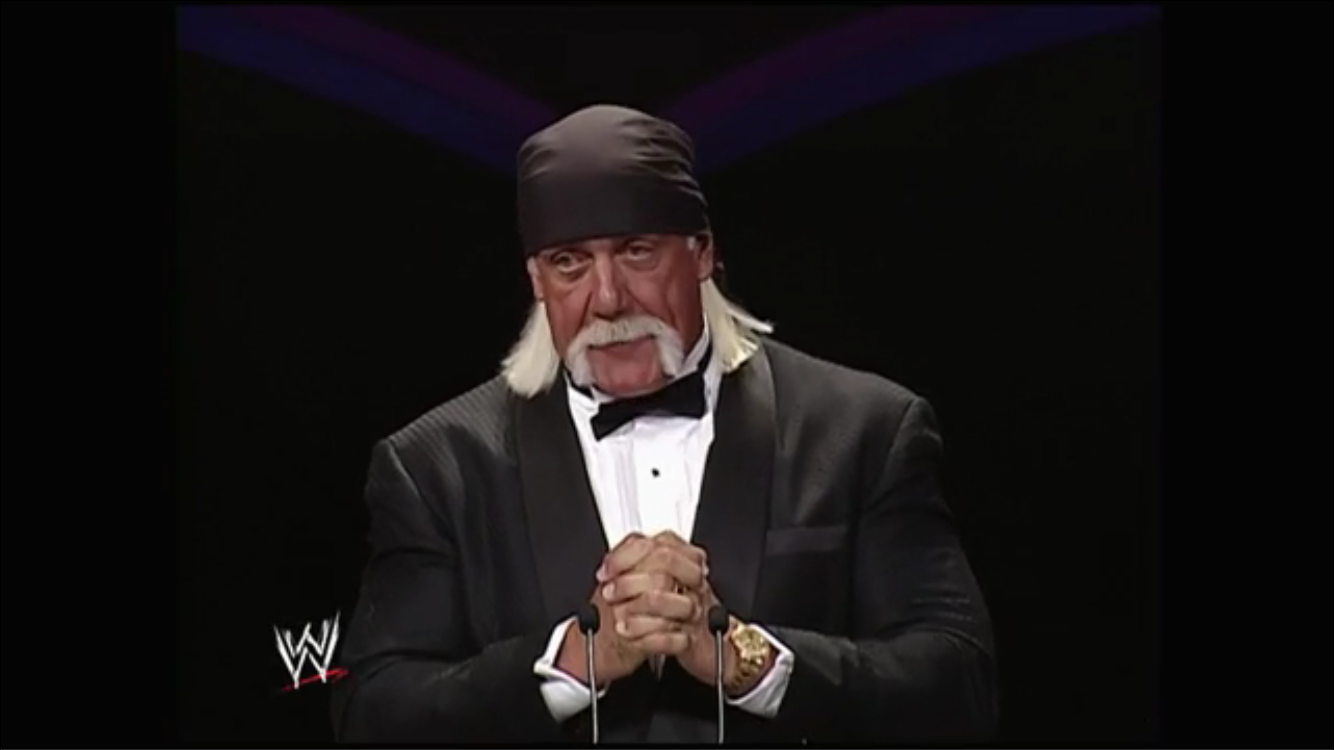 That's how we usually hooked up. But tonight I'm here to uh, induct Mean Gene into the Hall of Fame.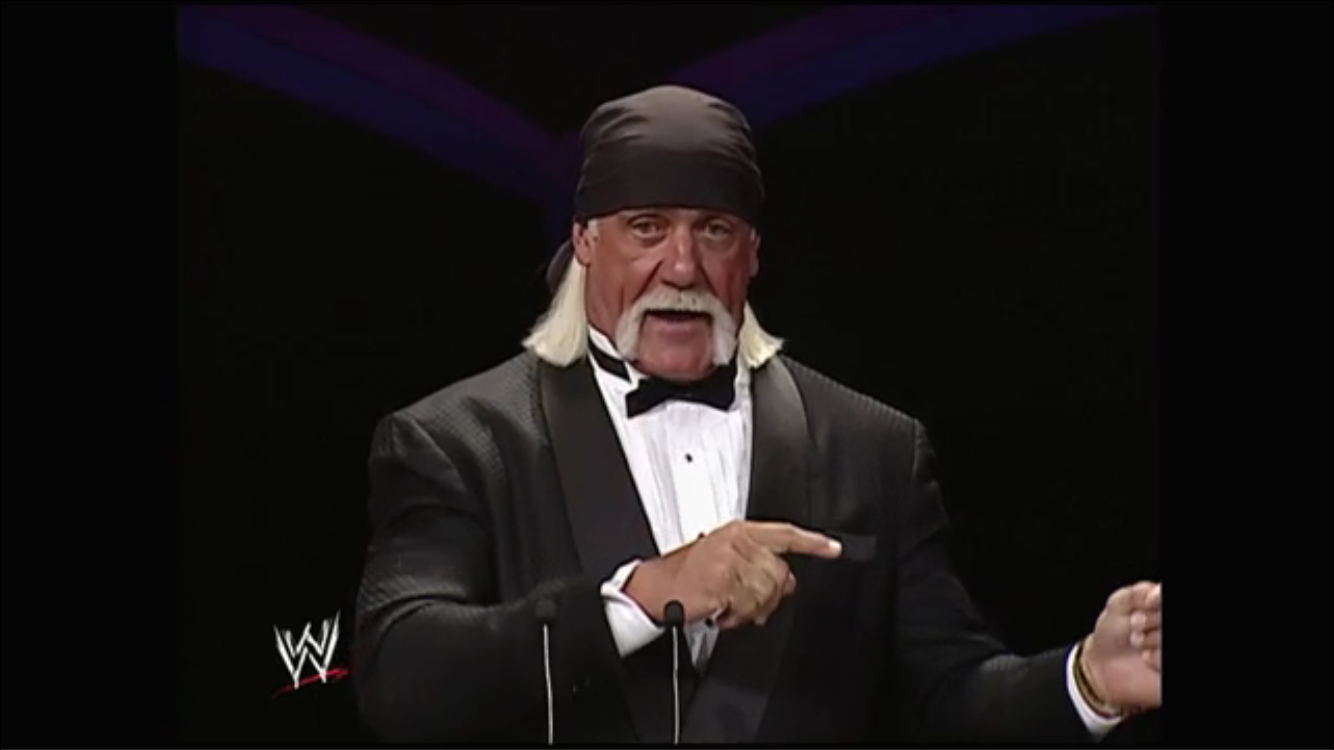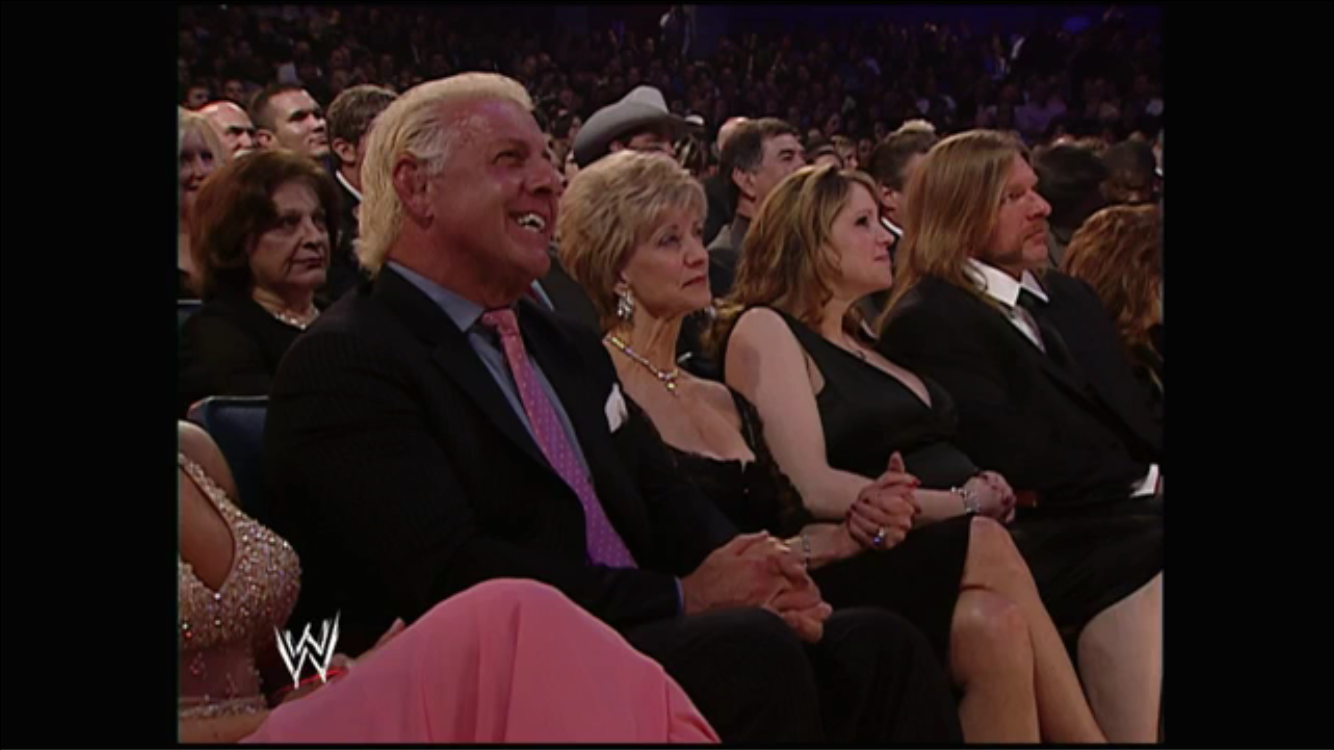 And I'd love to tell you a bunch of stories, but I don't think uh, it would be really appropriate for today's day and age.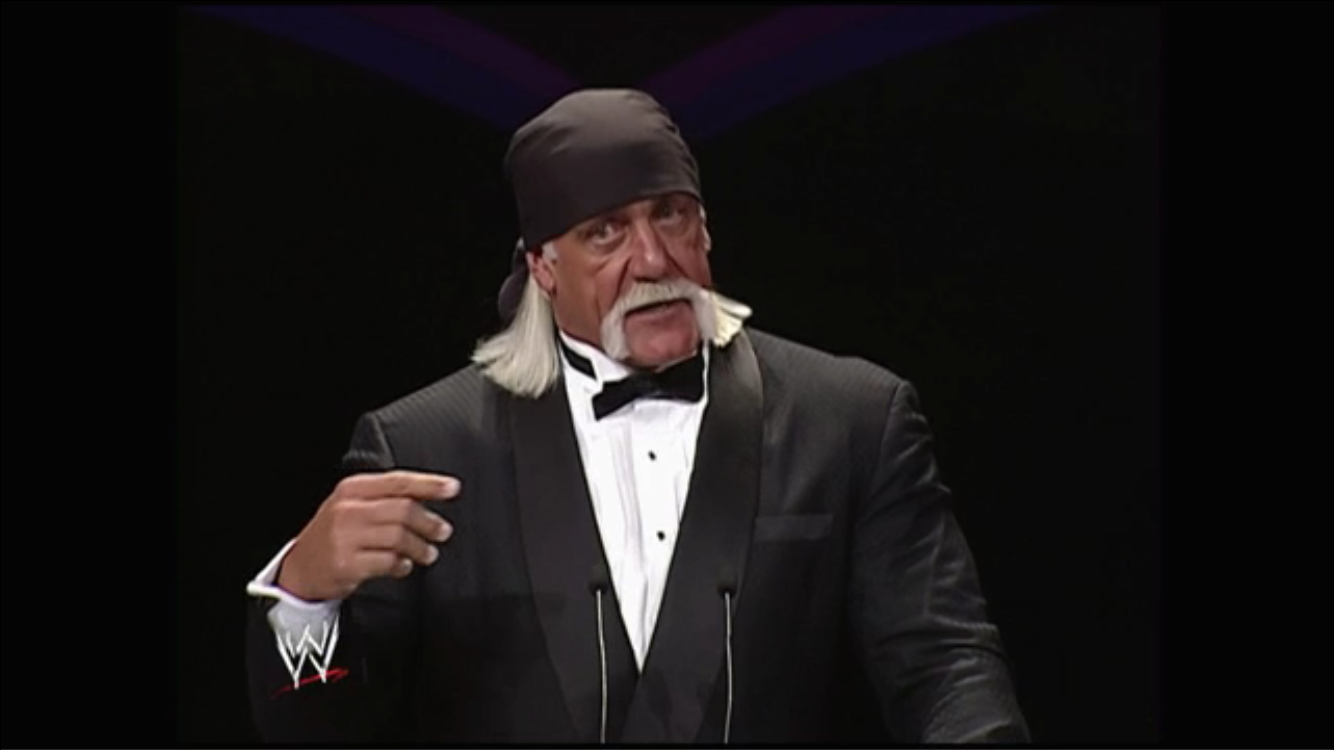 But anyway, Mean Gene started in this business when he was 16 years old. He started uh, in radio. And soon after he started in radio in the Twin Cities he moved right on to TV. And uh, at that time I was just getting ready to get started in the business. Just thinking about being a wrestler and had no idea that Mean Gene and myself would become very, very close friends.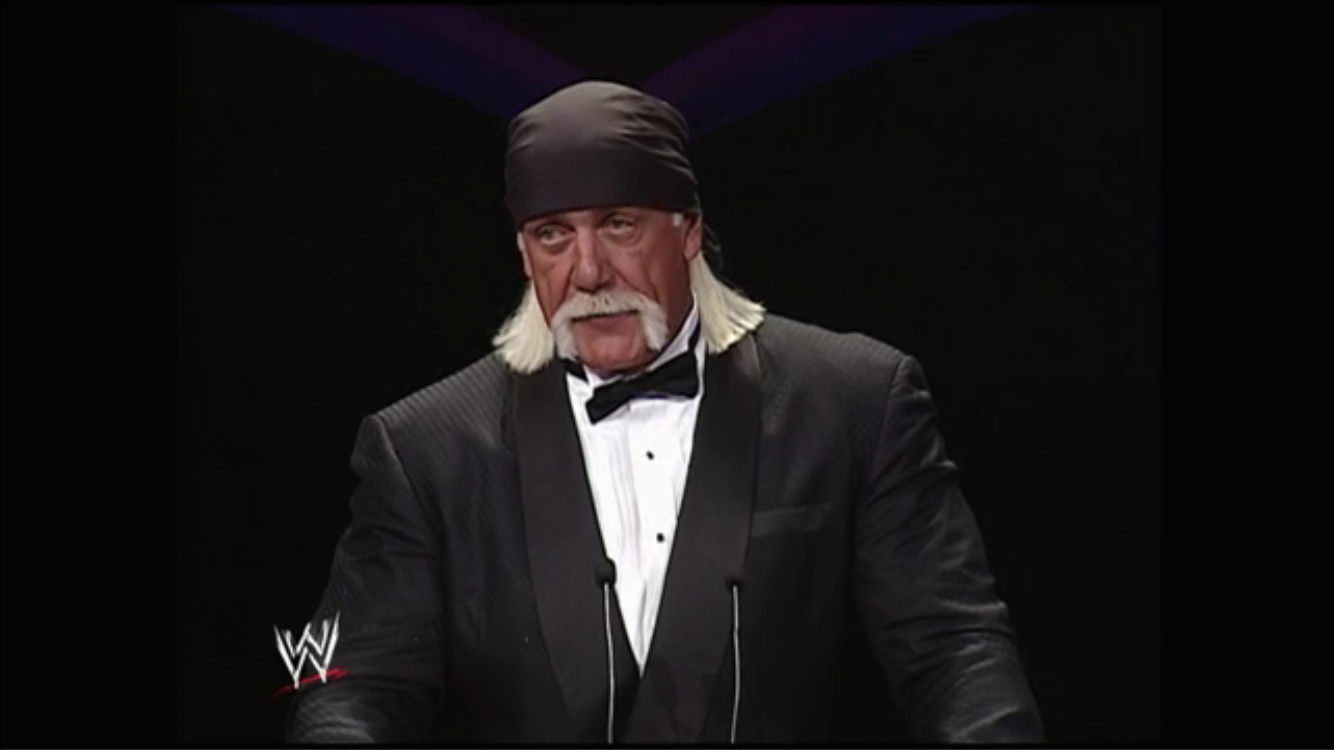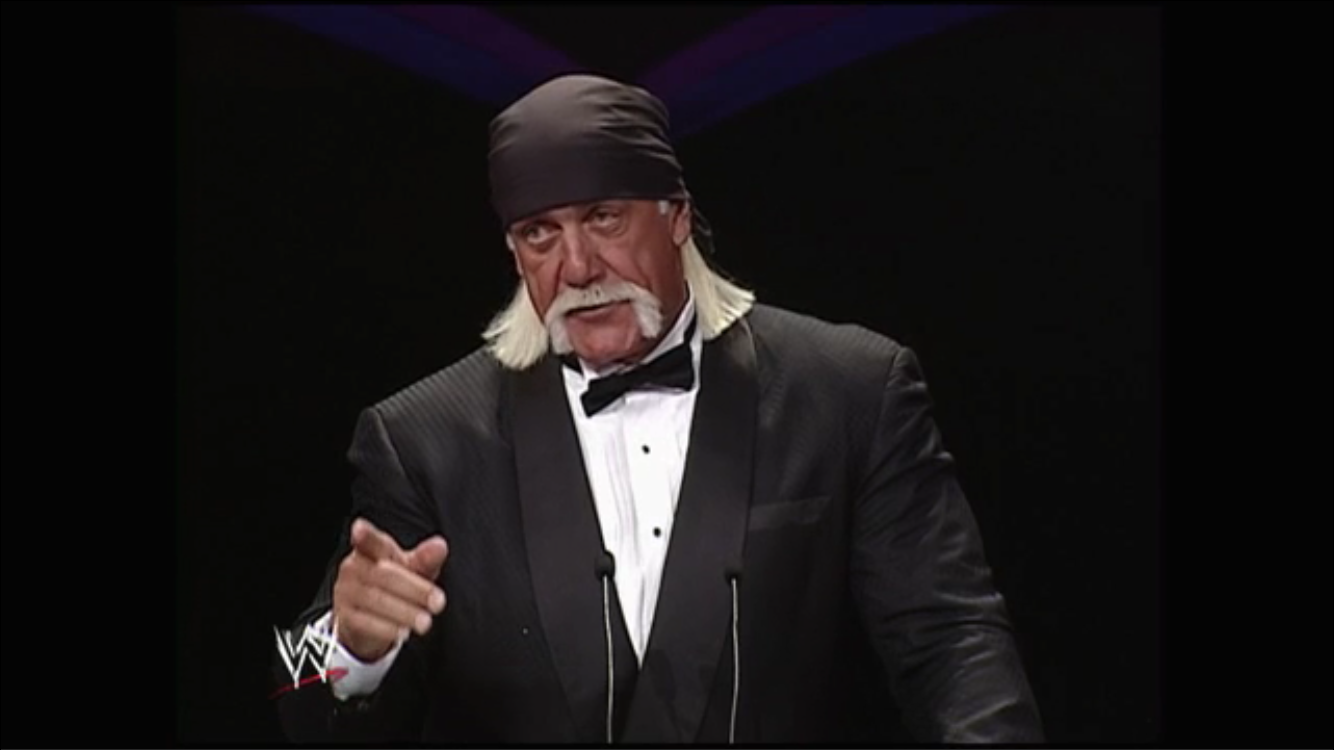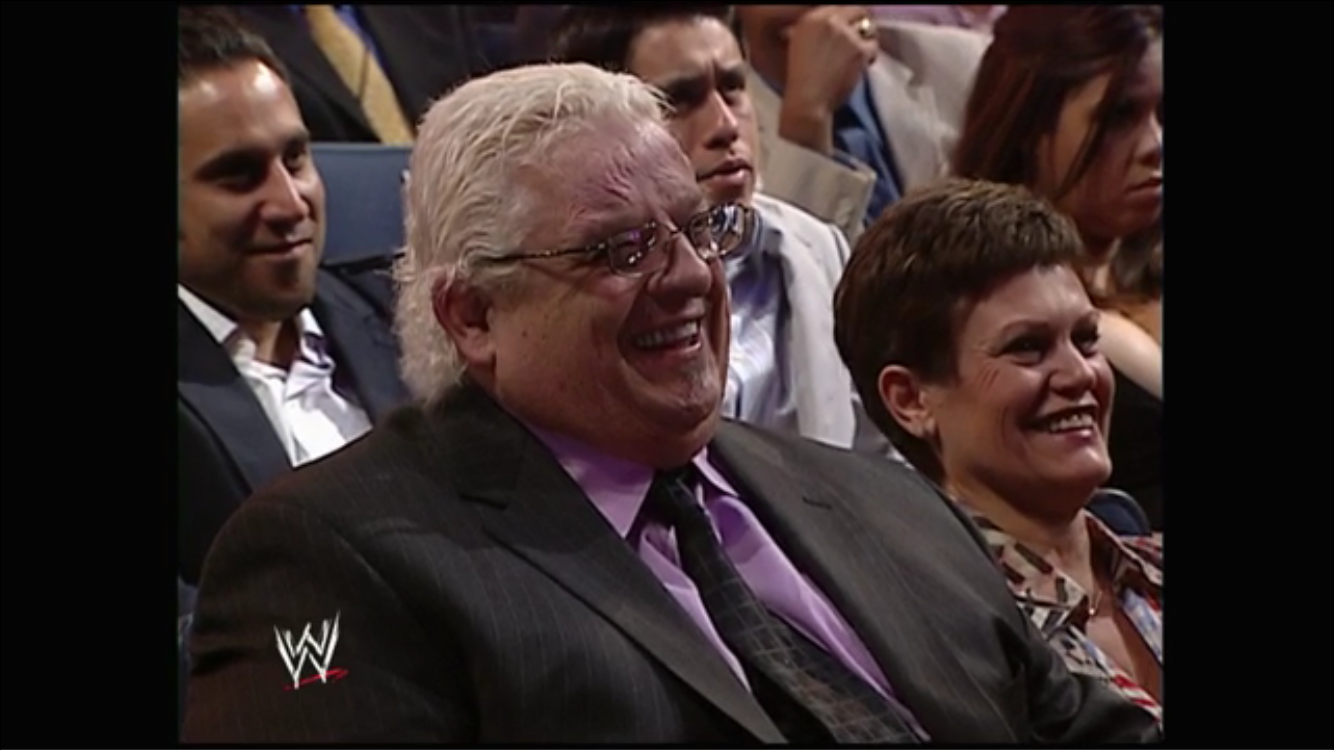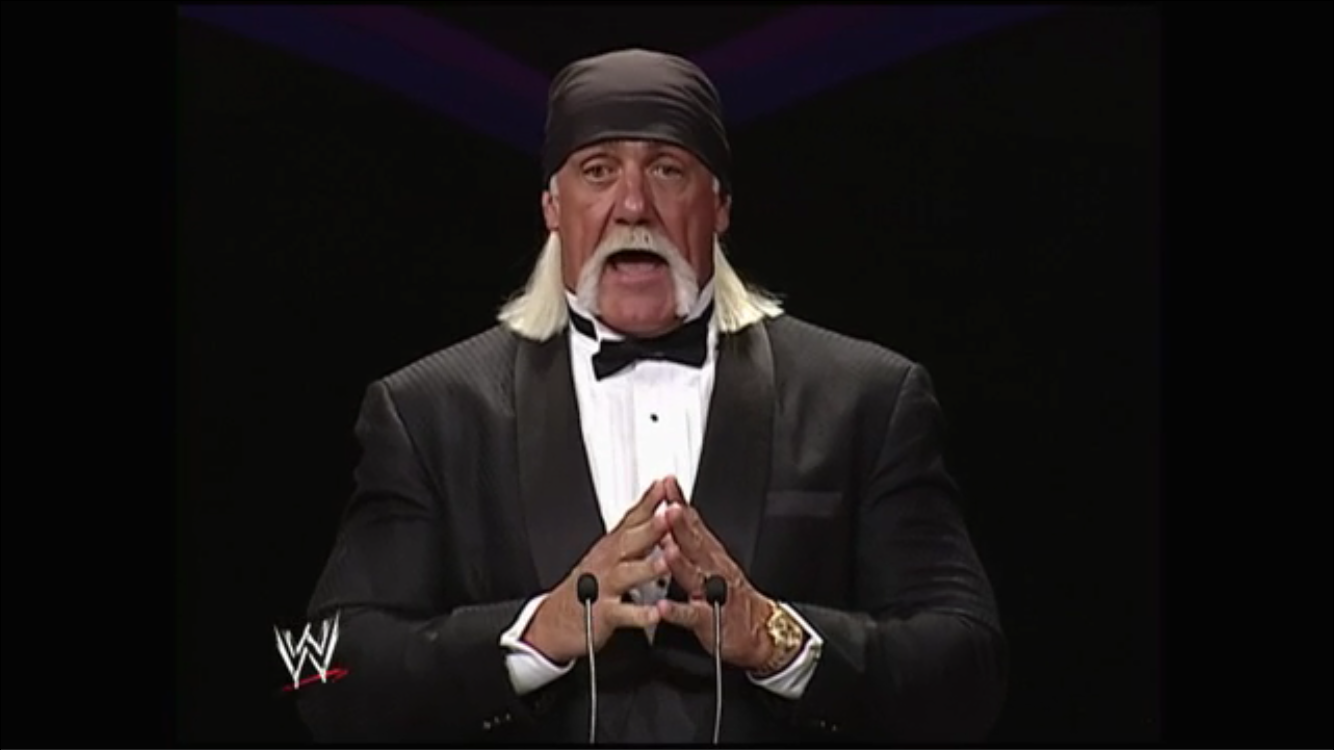 Anyway, in 1980 I had a little run here in the WWE. I worked for Vince Senior, Vince's dad, and had a great time here.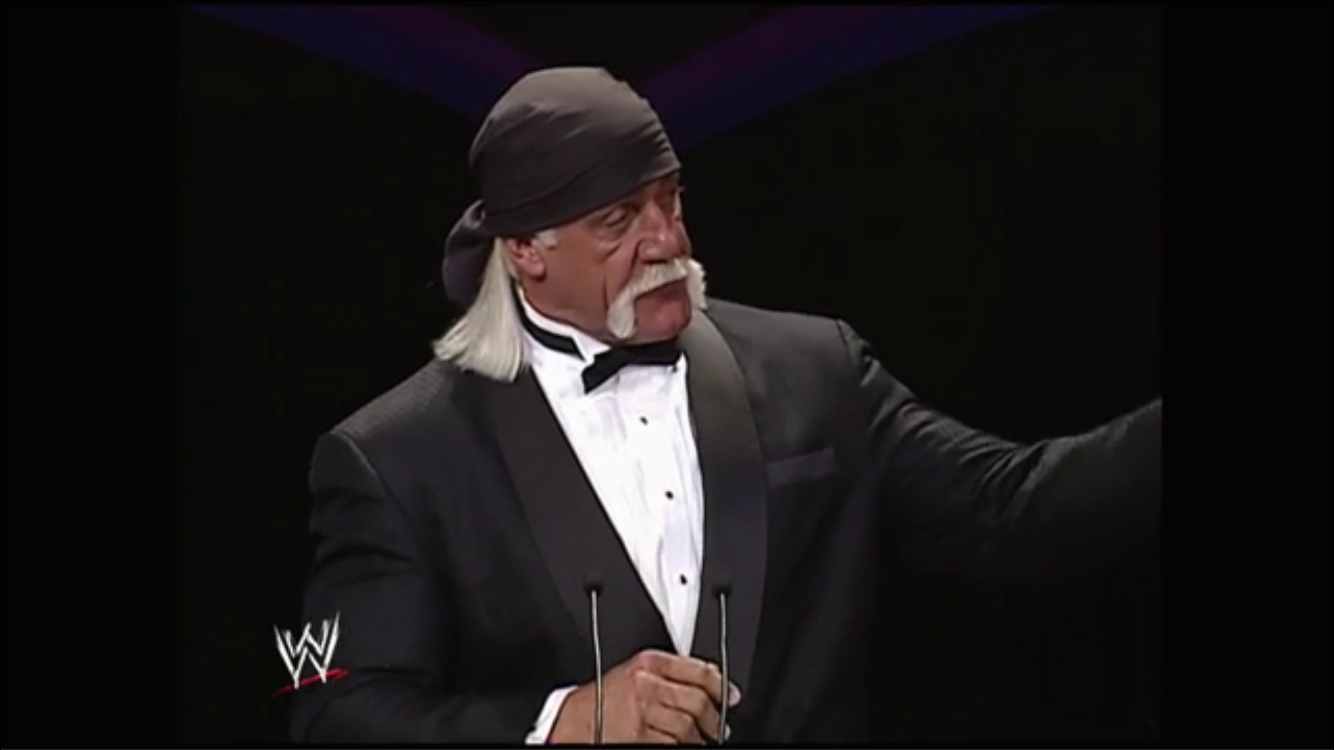 And after my little run here, I went to the AWA. Mr. Verne Gagne promoted and ran that company.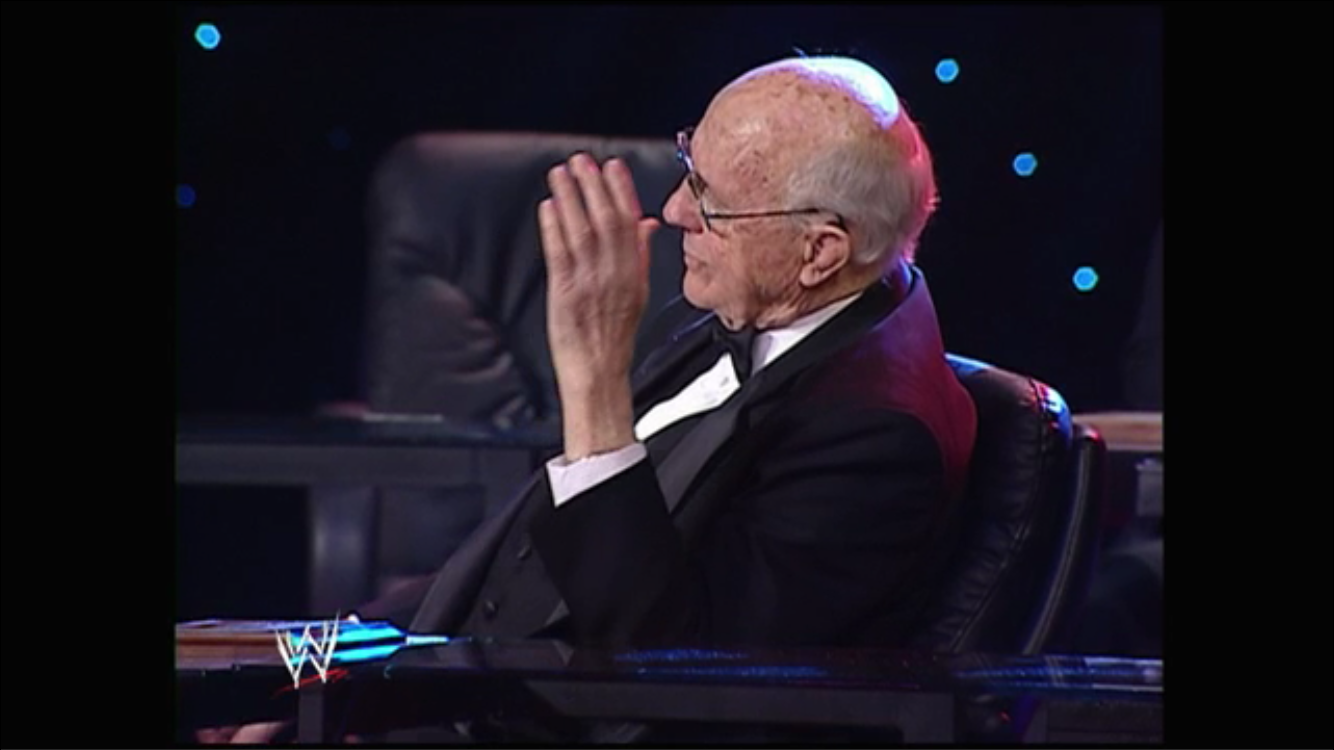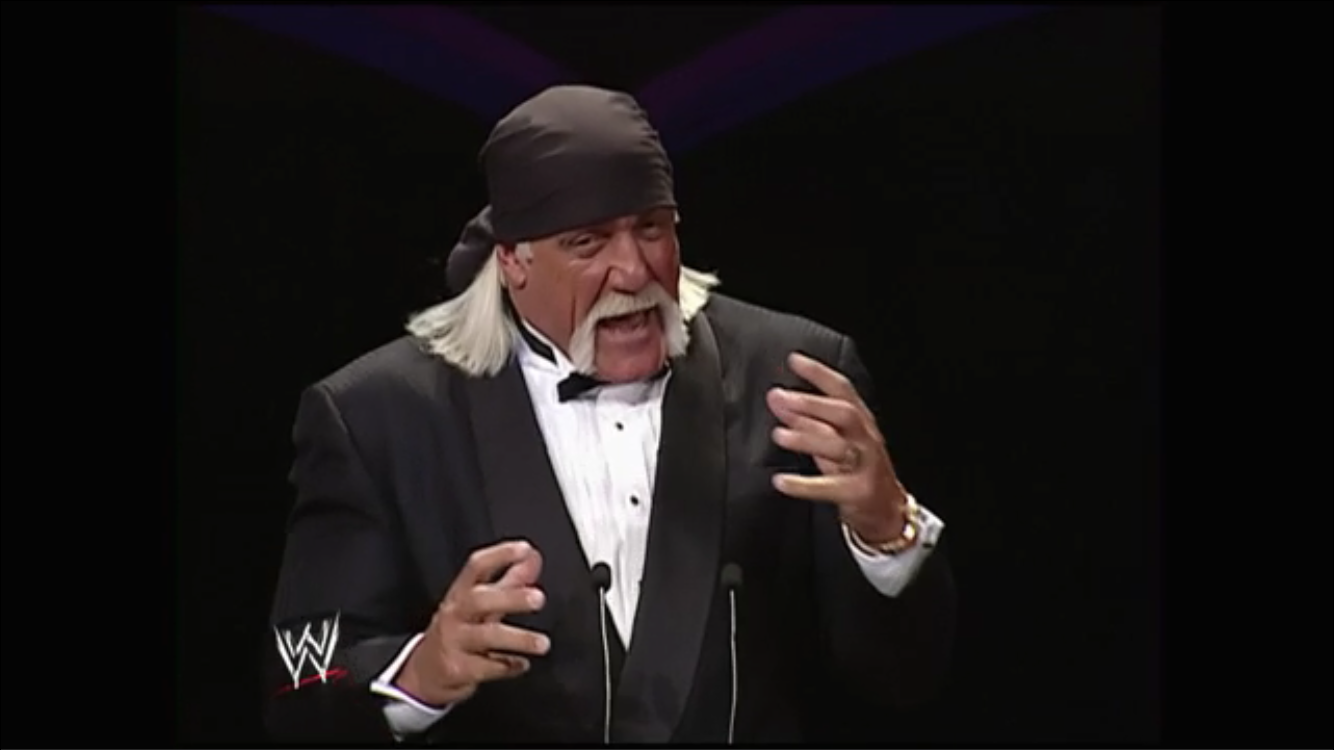 And that's where Verne and Greg started dialing me in to what Hulkamania was all about. Teaching me how to work like Hulk Hogan and get it together in the ring.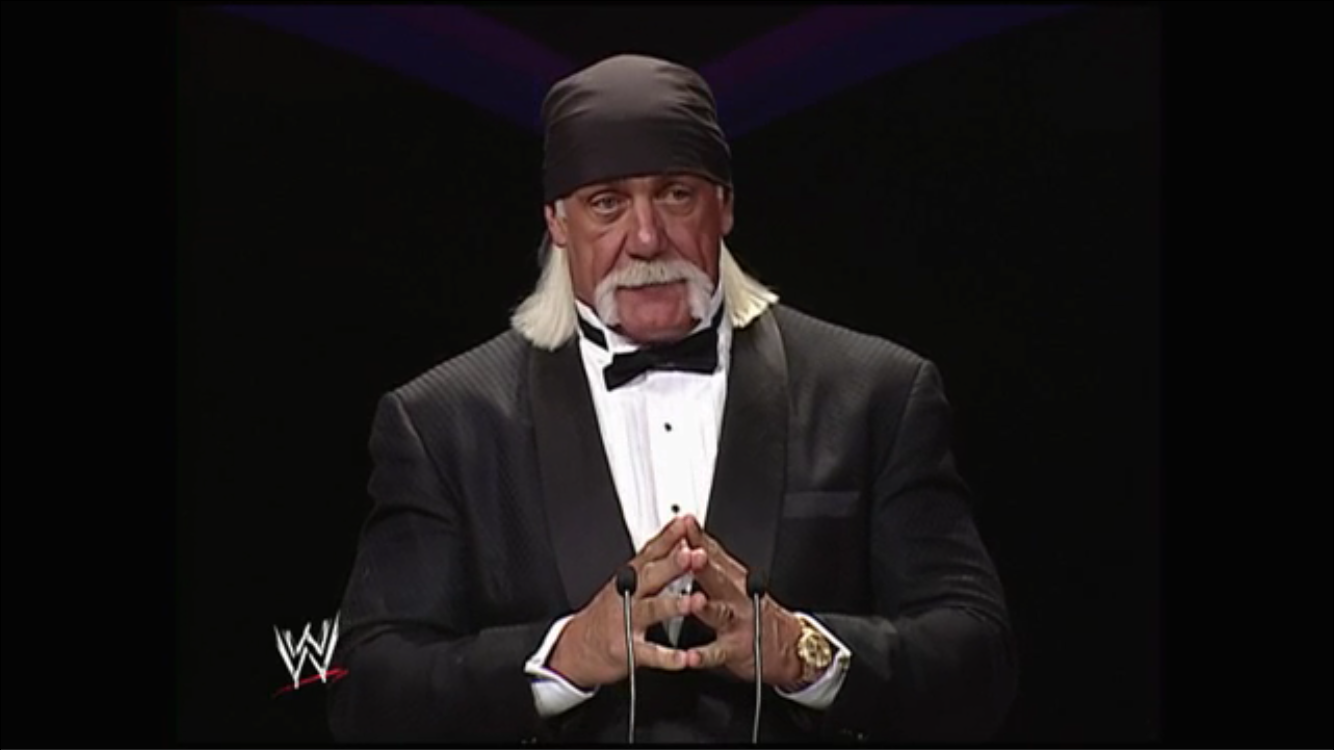 During that time I became very good friends with Mean Gene. I had no idea back then how close we would be today.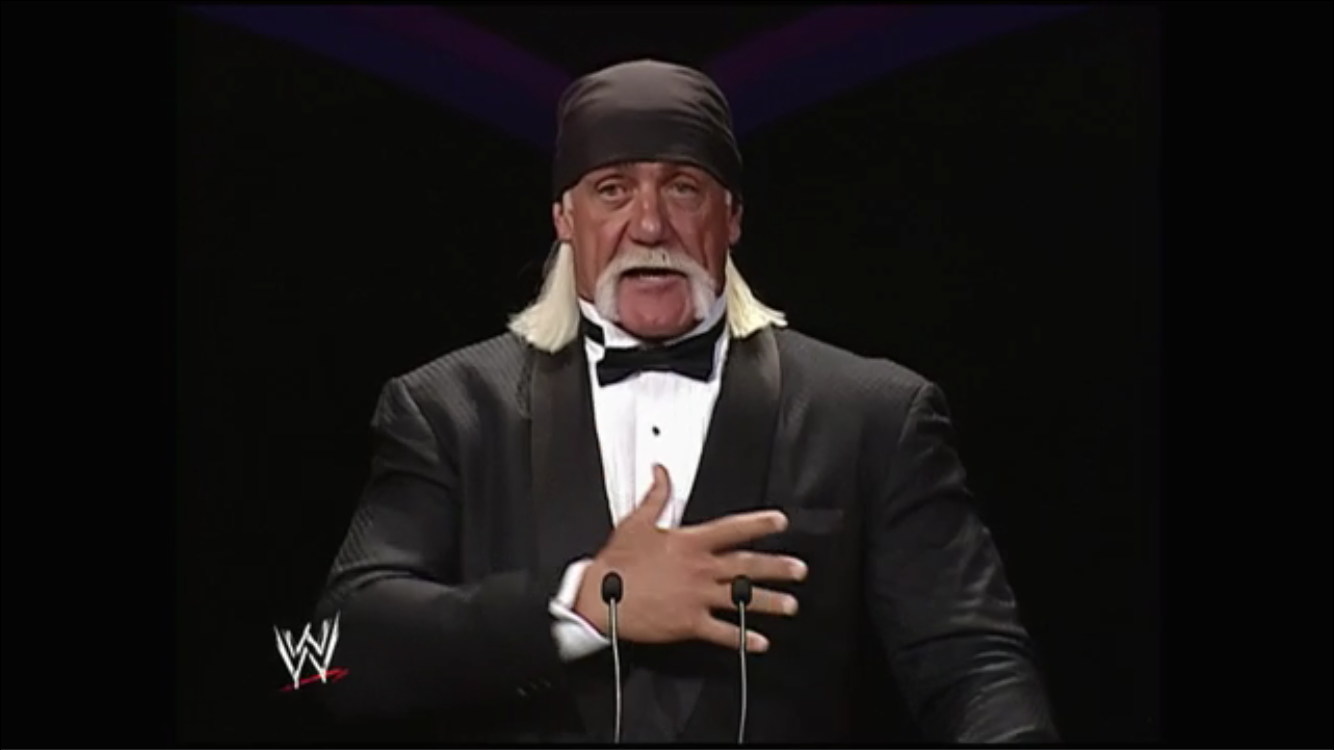 We started running around the Twin Cities. I was single at the time. Mean Gene would show me where all the parties were. We would go to all the rock and roll clubs. Stay out til the wee hours in the mornings til the sun came up. And as the days went by, we became closer and closer friends.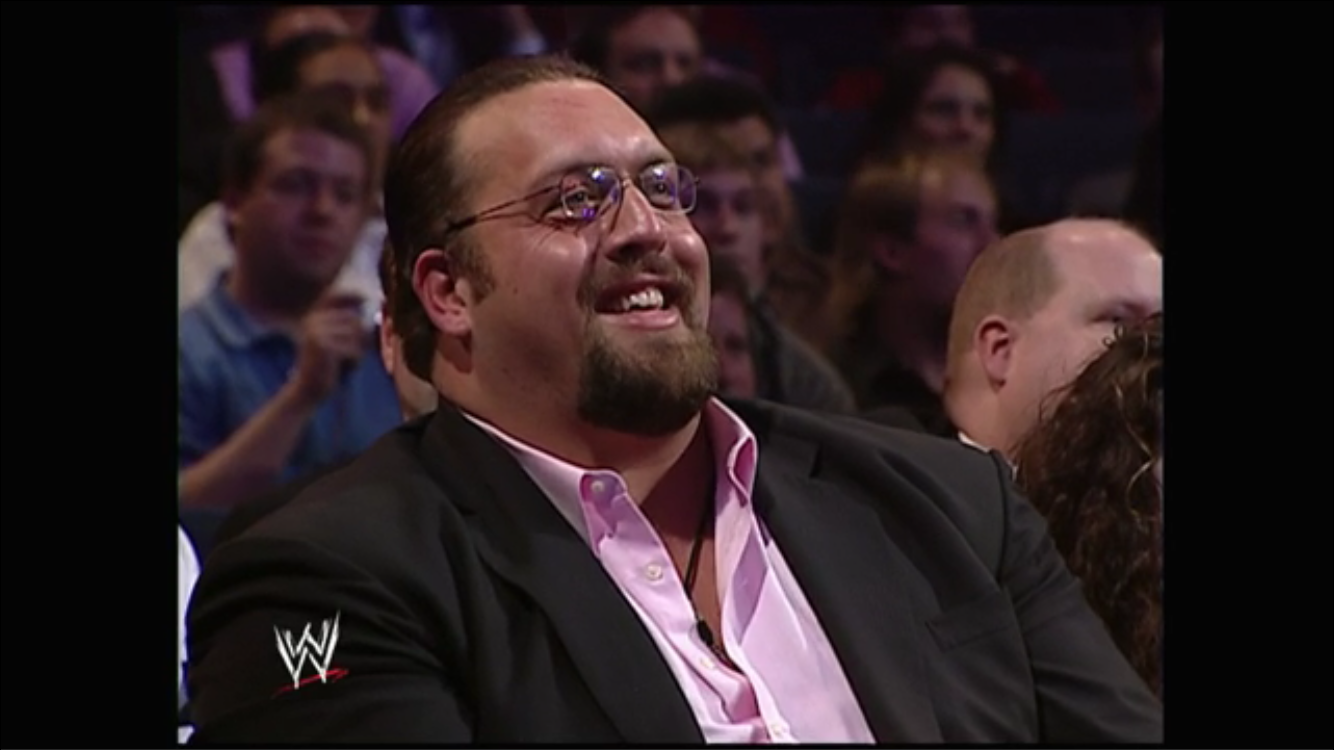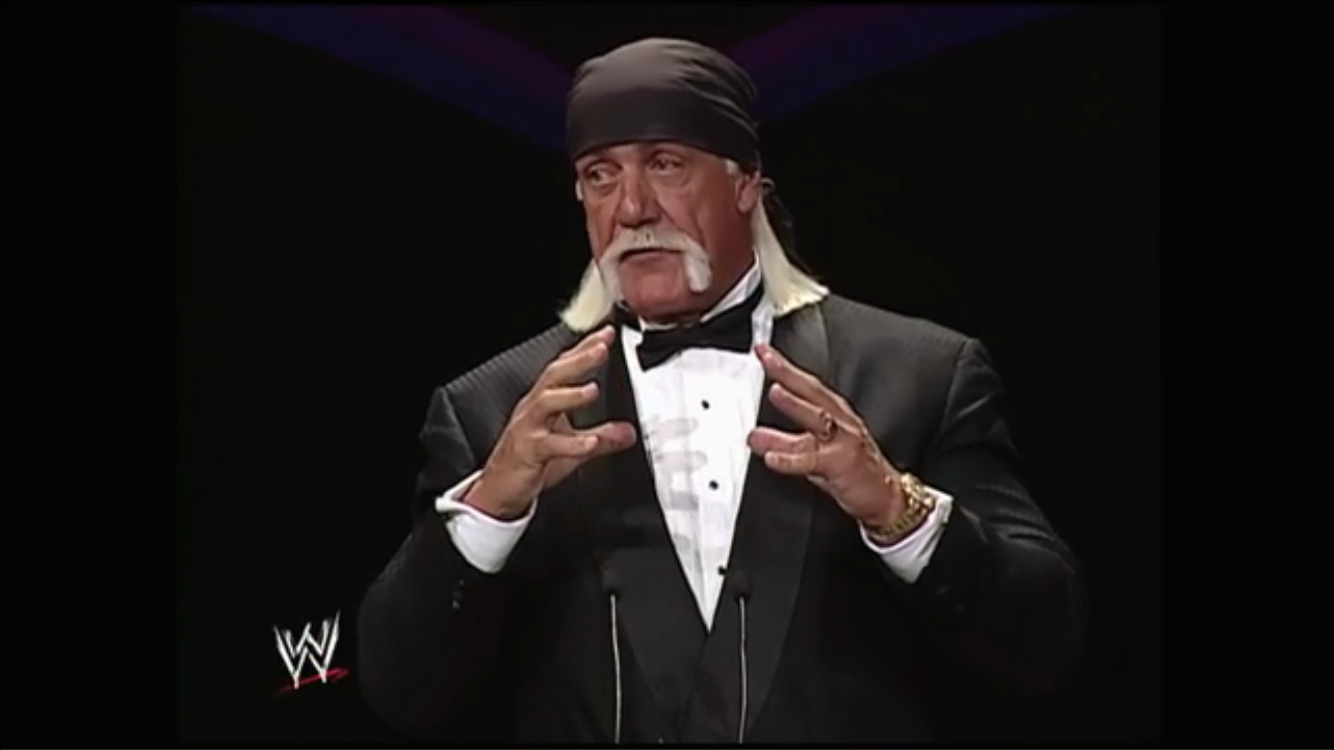 Then I got a call from Vince McMahon, and I had a chance to come back to the WWE, and I begged Mean Gene Okerlund to come with me. And thank God he came. Because at that time, the WWE was going through a huge transition. It was basically going from a very small territorial wrestling company…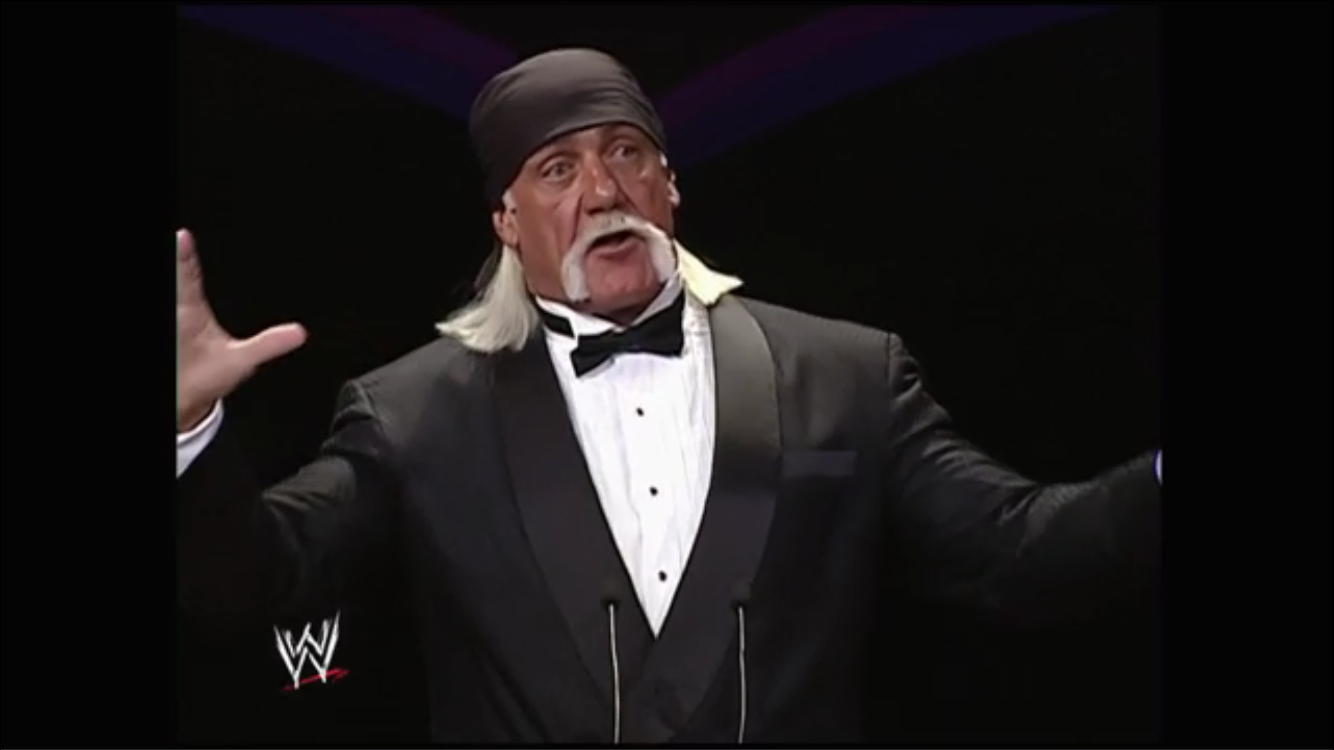 … around New York, New Jersey and Massachusetts… to this huge conglomerate that covered the globe.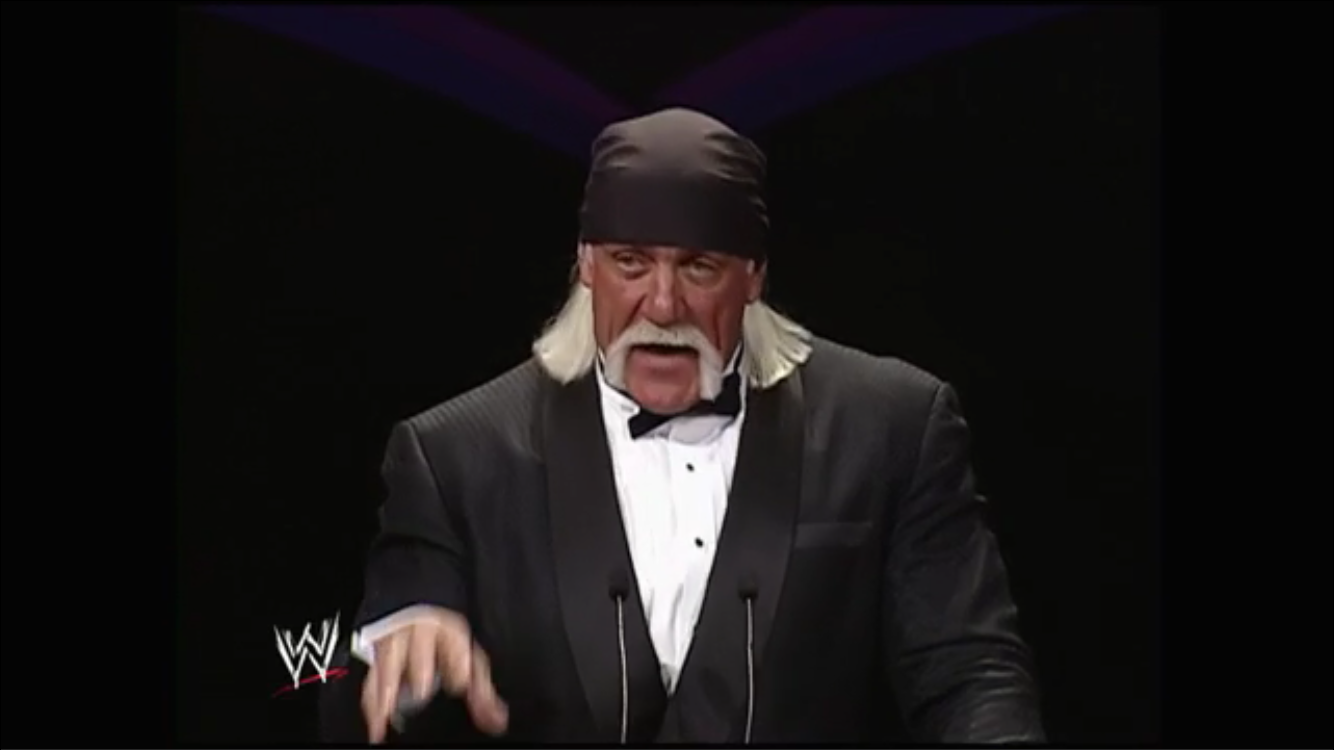 And Mean Gene — a lot of you fans don't understand — was like the FOUNDATION of this company.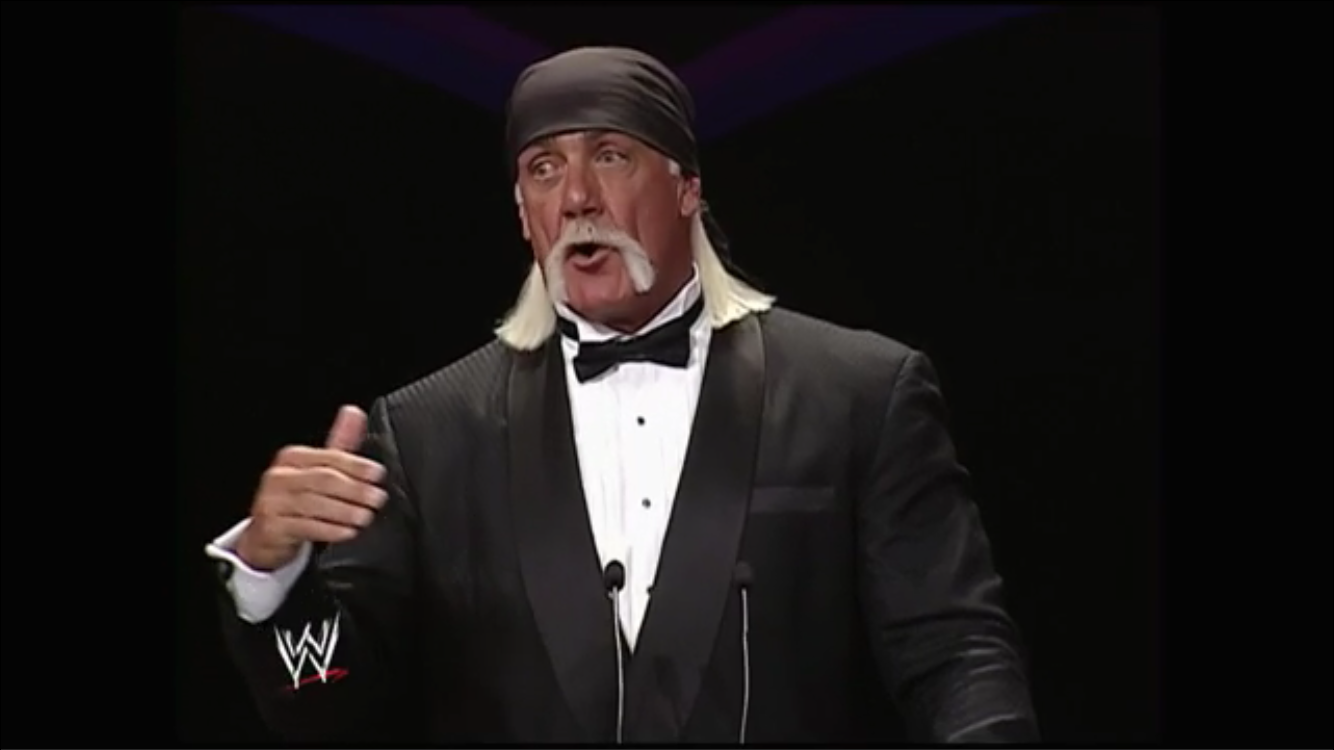 He was there for the interviews, he was there for the wrestlers like myself that at certain times wouldn't know what to say or what direction to go in. And Gene Okerlund basically worked harder than the wrestlers, traveling and sometimes you know, spent a lot more time on the road and in different hotel rooms doing interviews, because we used to do interviews on a daily basis.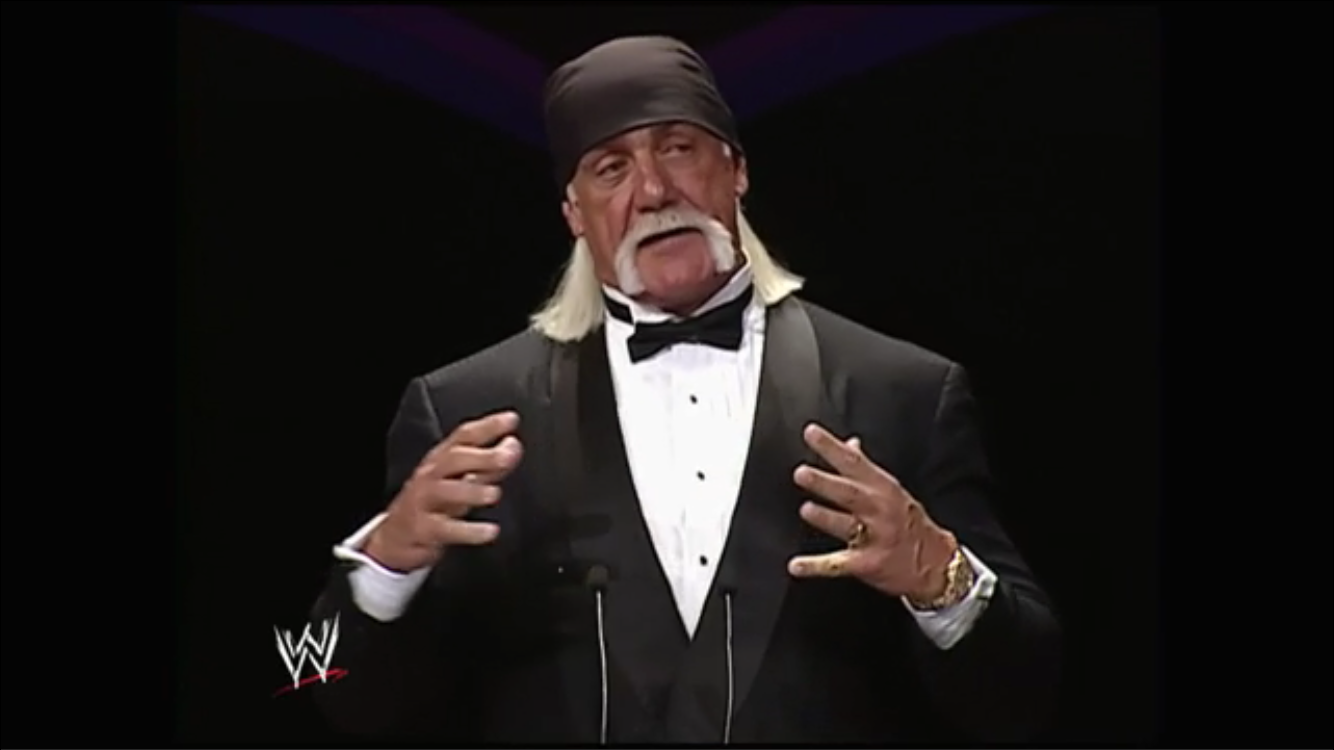 I had an opportunity when I was in the Twin Cities actually to get Mean Gene in the ring with me. And I had no idea that as I was trying to get Mean Gene in the ring as my tag team partner, he was more popular than the wrestlers at that time because he had been in the Twin Cities and he basically was the face of professional wrestling.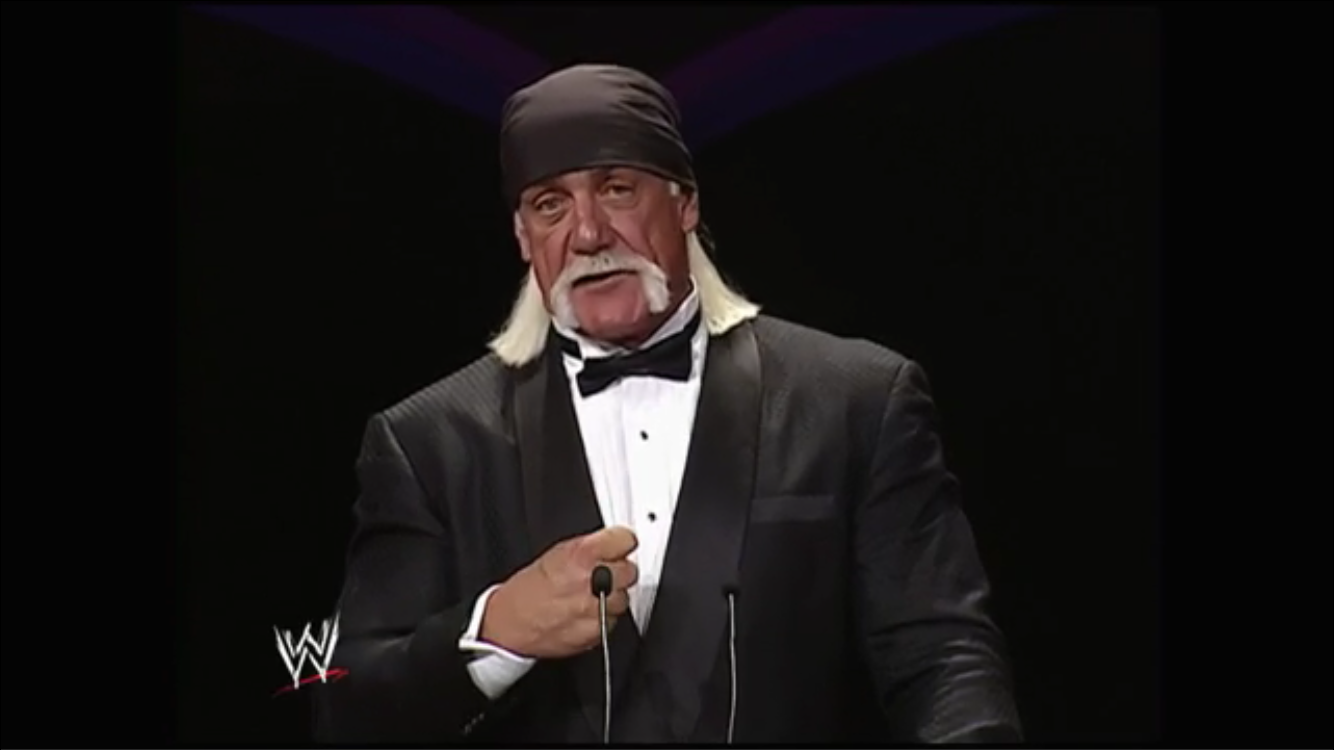 We had a chance when we came to the WWE to get things up and rolling, and Mean Gene became the VOICE of professional wrestling. Everywhere you turned, there was another wrestler standing there.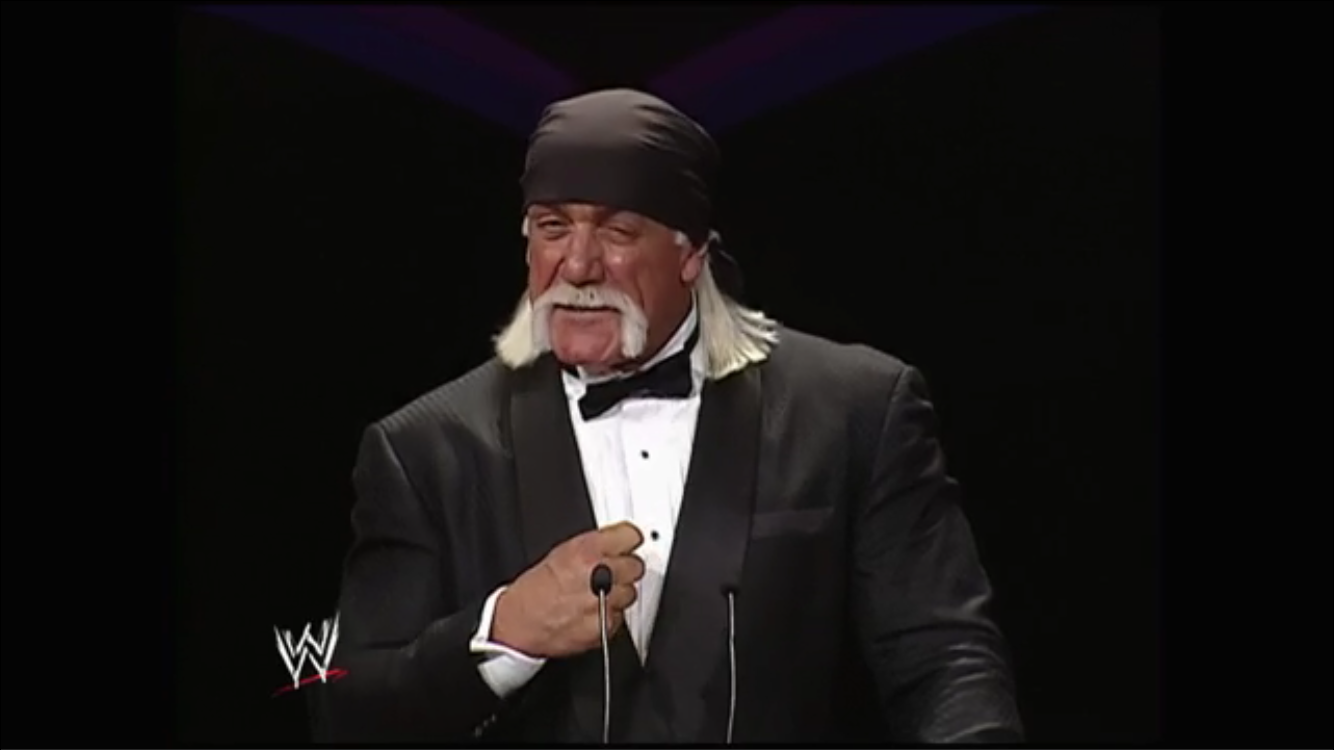 And if Mean Gene wasn't there conducting the interview, it kinda wasn't the same.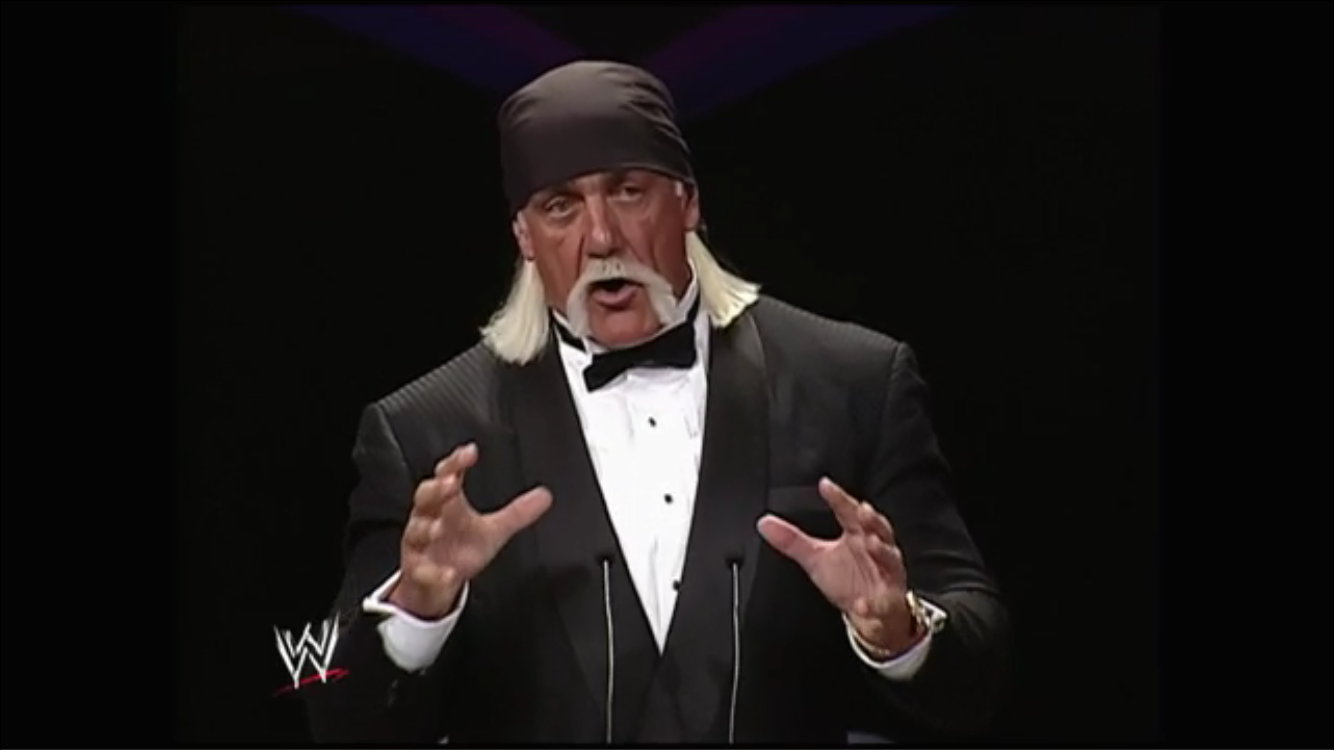 So not only was Gene like a life support for Hulkamania and myself — LEMME TELL YOU SOMETHING MEAN GENE!! — everybody else such as Bret the Hitman Hart *crowd pops massively* and a lot of the guys in this room, they depended on Mean Gene to help them a lot in the interviews.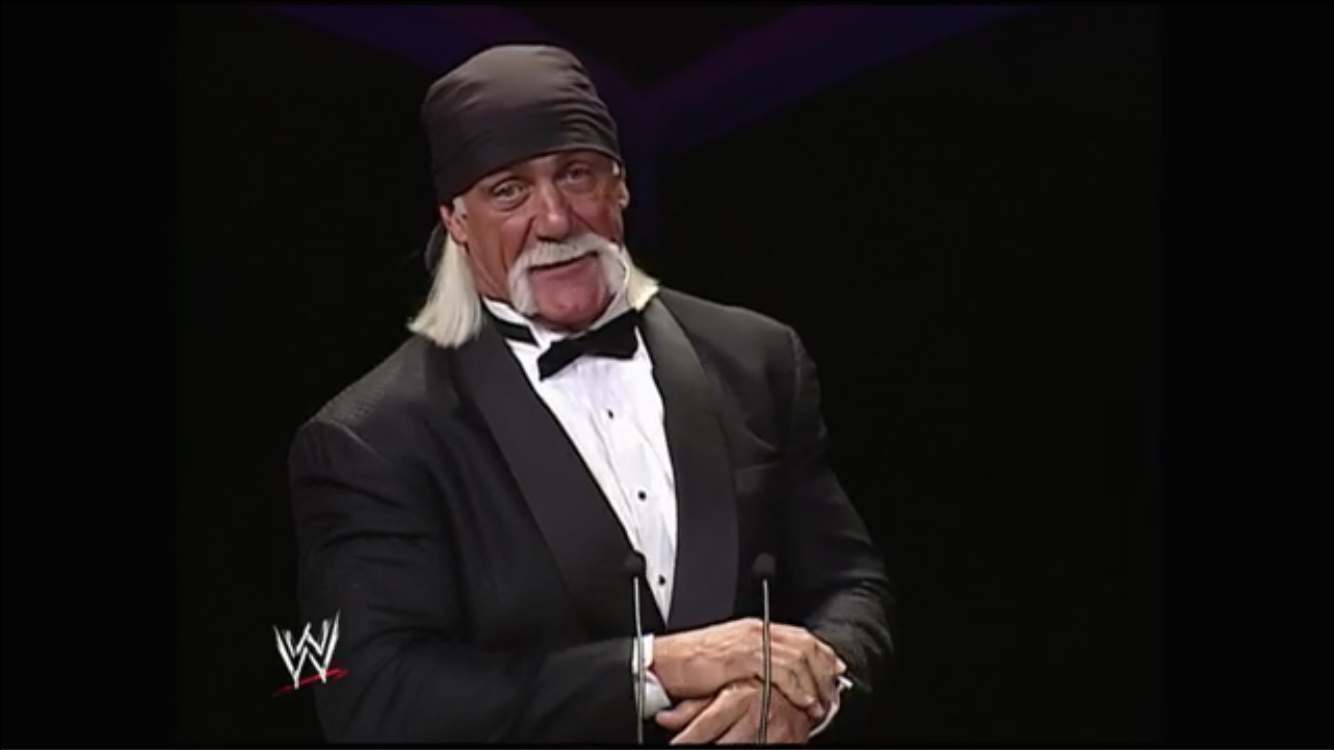 He was a HUGE part of this transition… from the small wrestling era to the huge arena of sports entertainment. You guys take a look here and I'll show you what I'm talking about.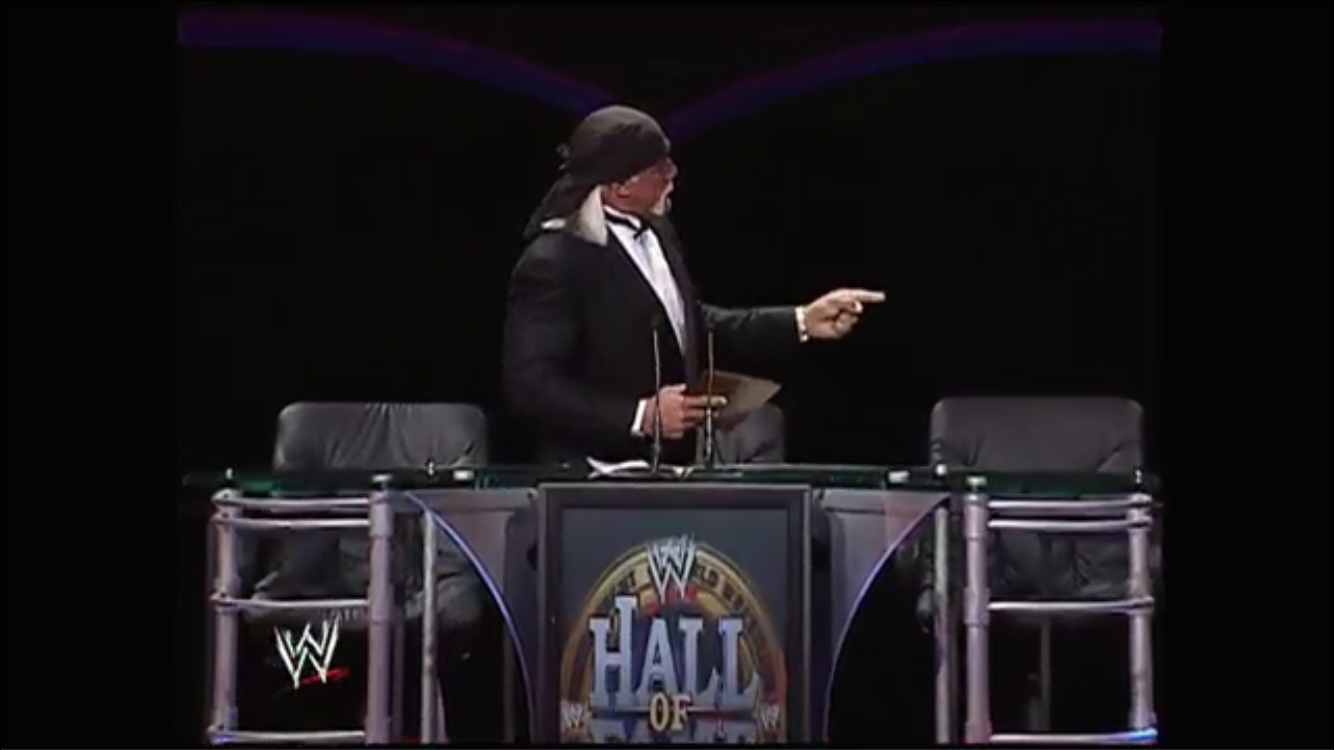 It's my honor to have Mean Gene as a friend, and now it's a greater honor to induct Mean Gene to the Hall of Fame… Mean Gene!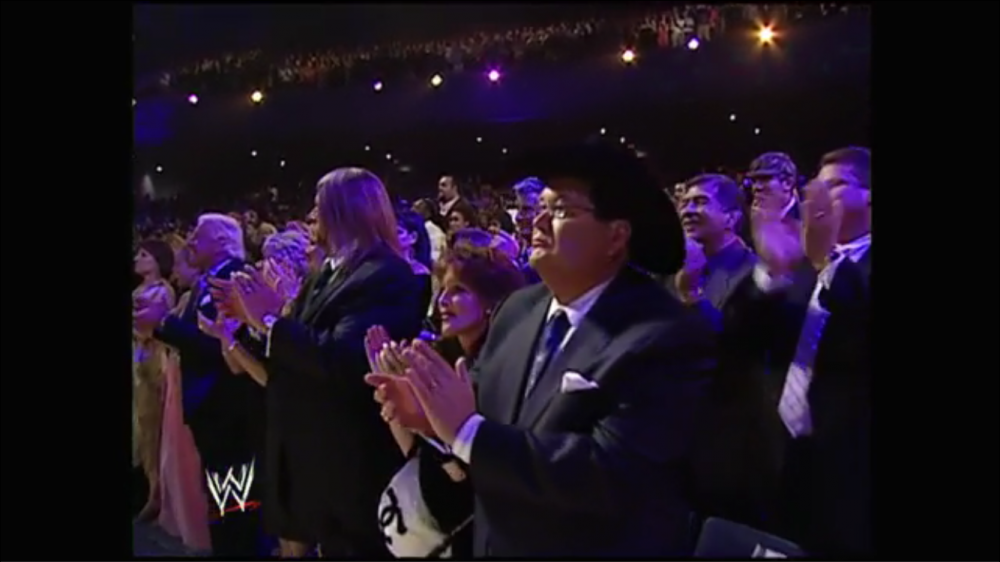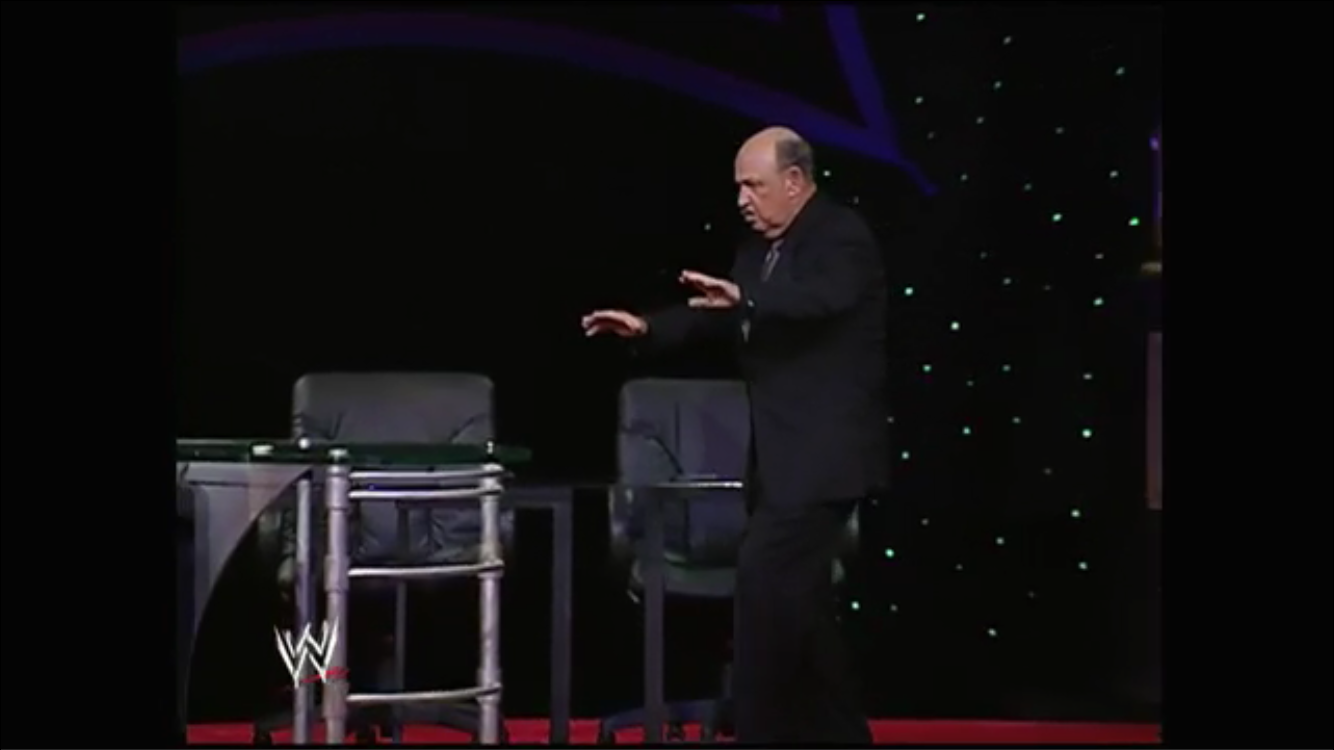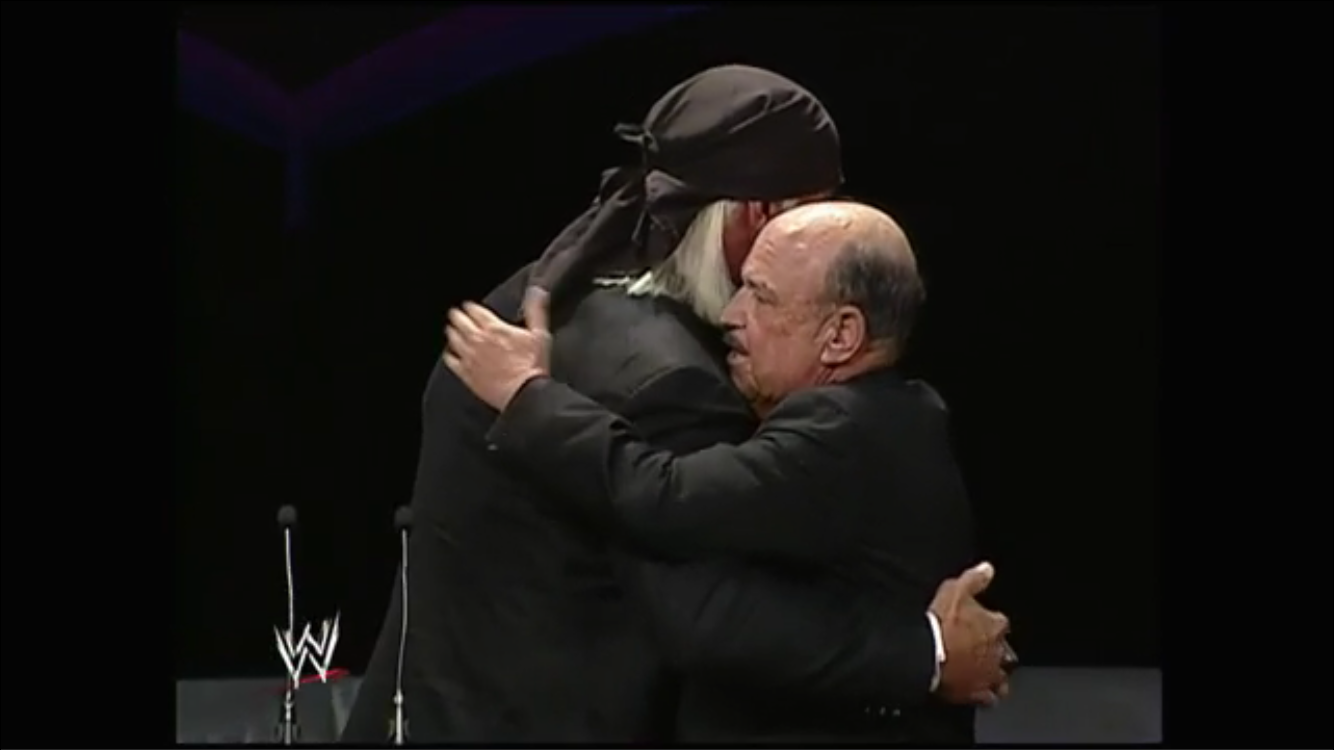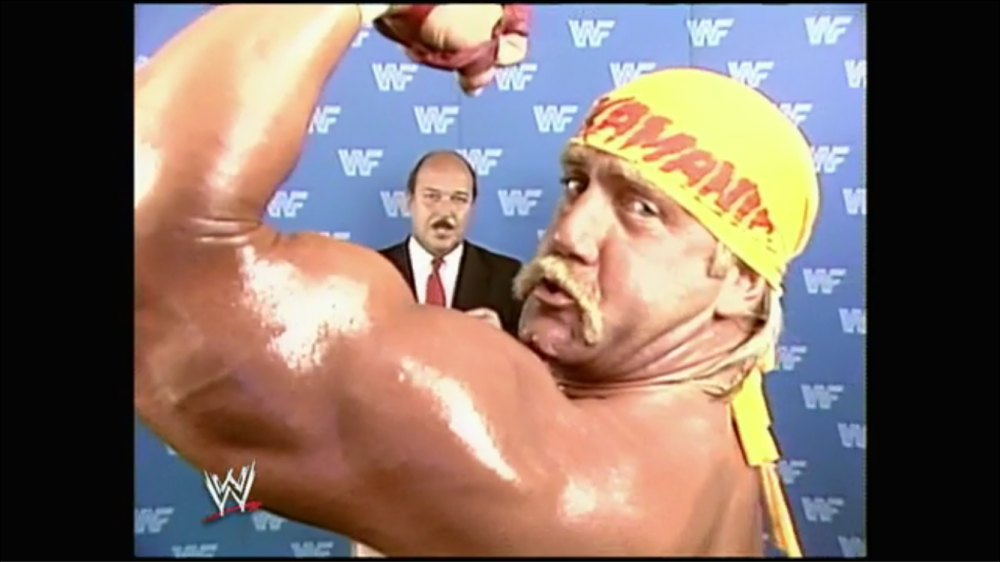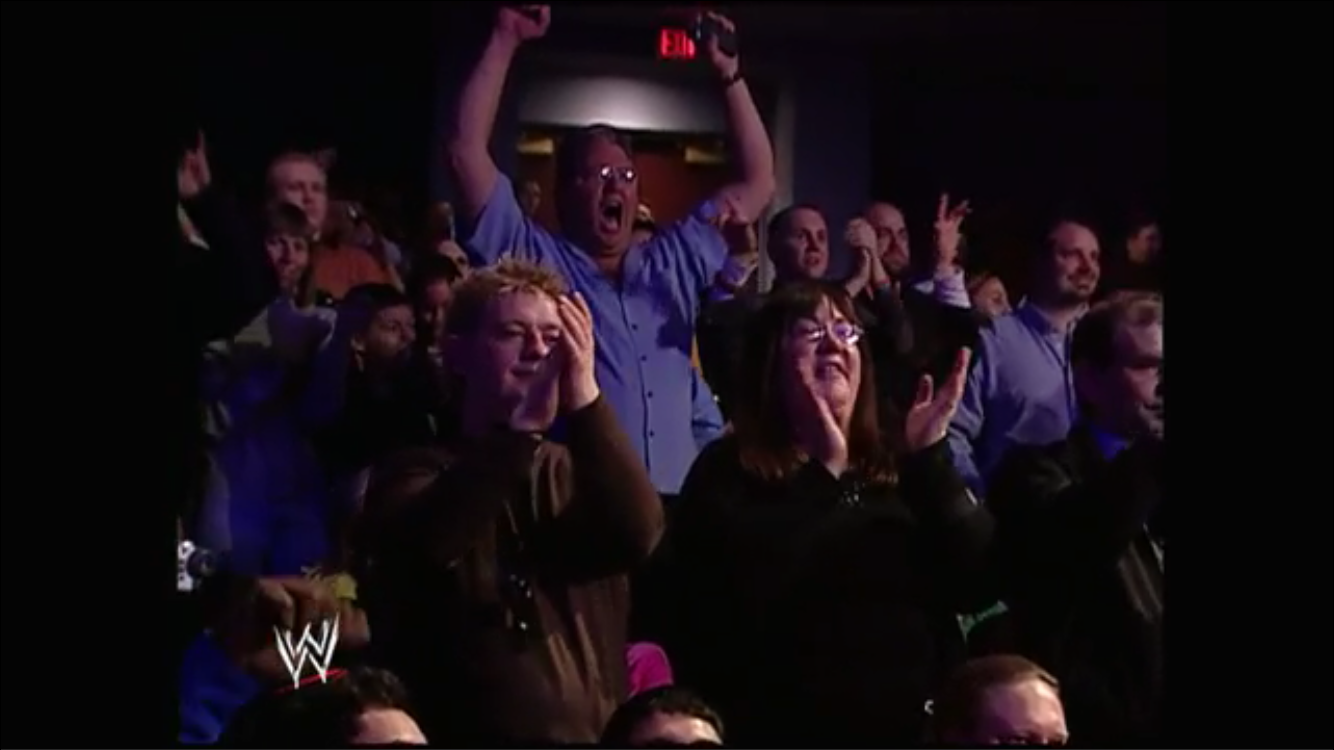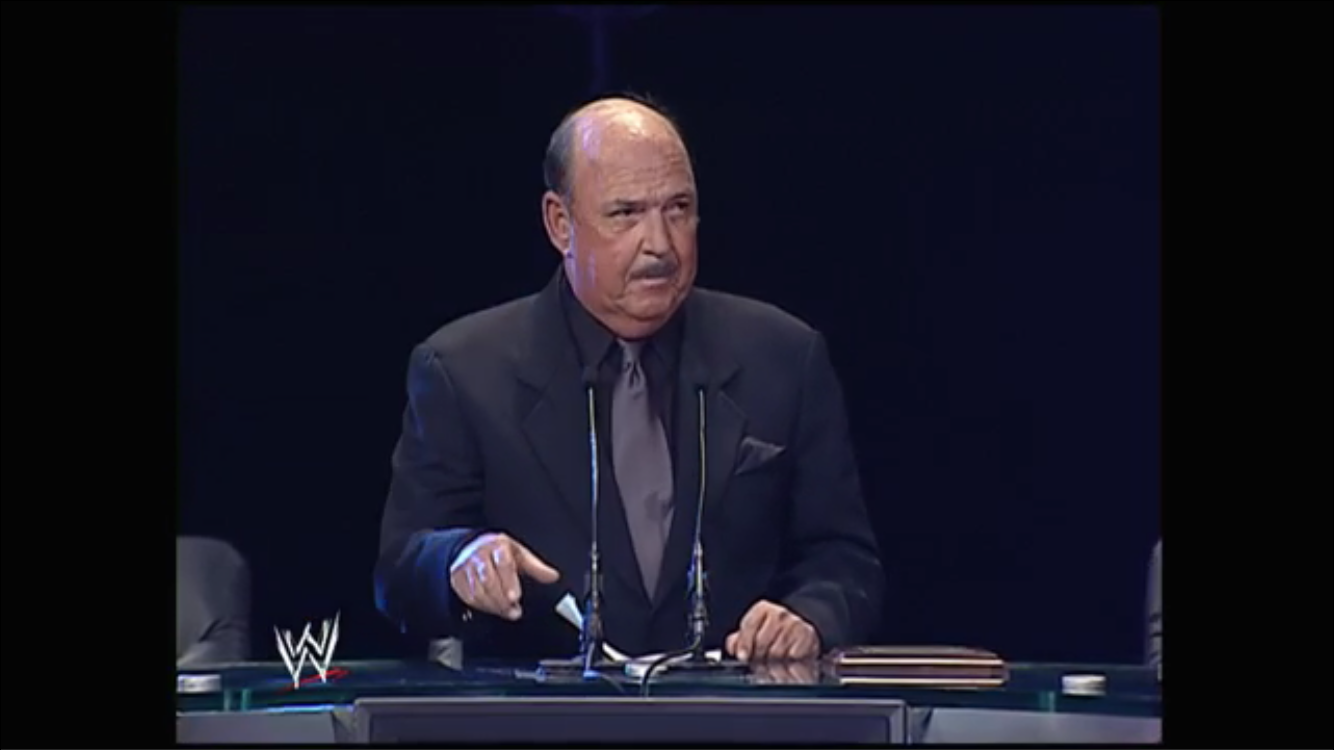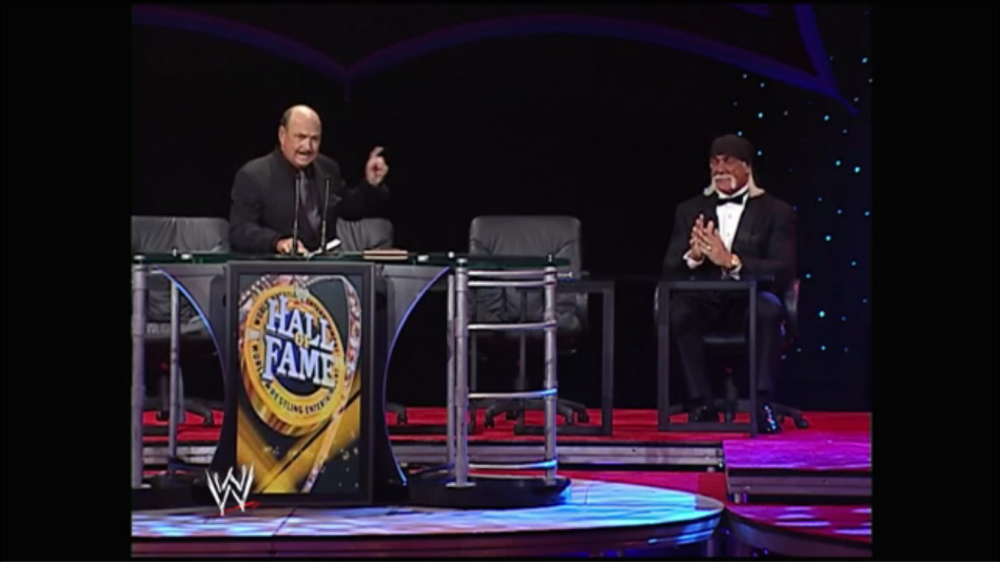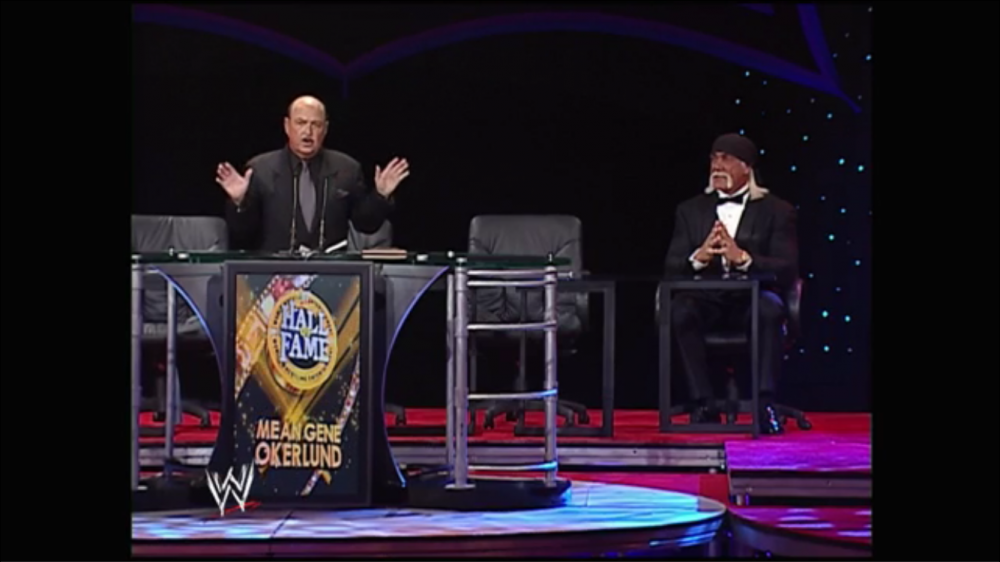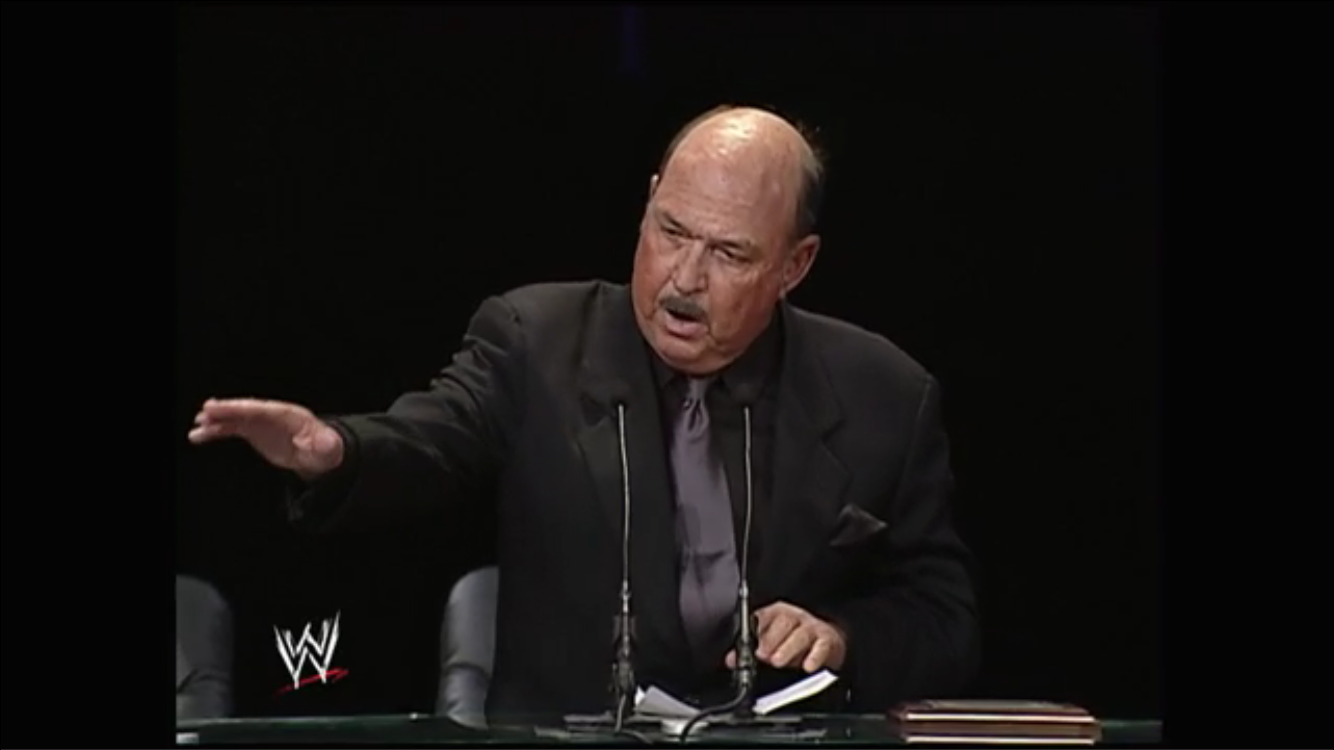 All you're gonna be is a prop in the corner, and you're not even gonna have to get in the ring with George the Animal Steele or Mr. Fuji.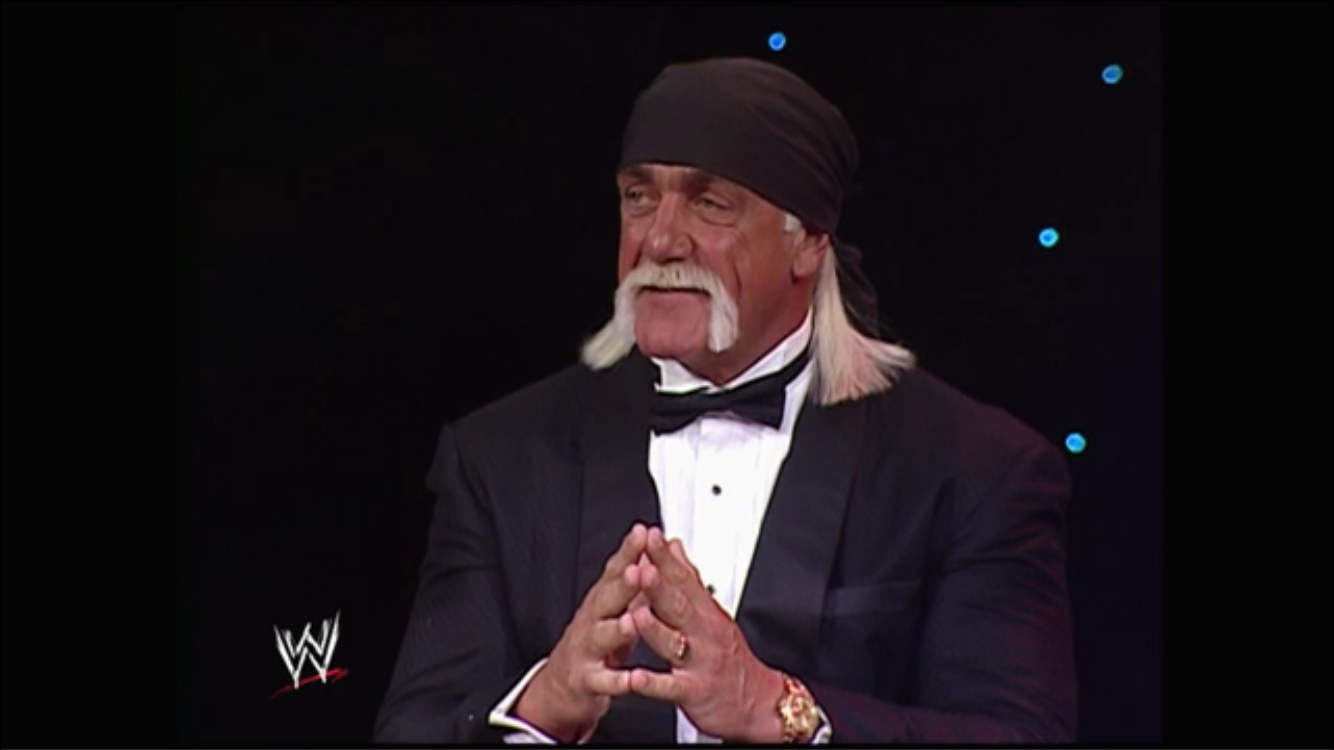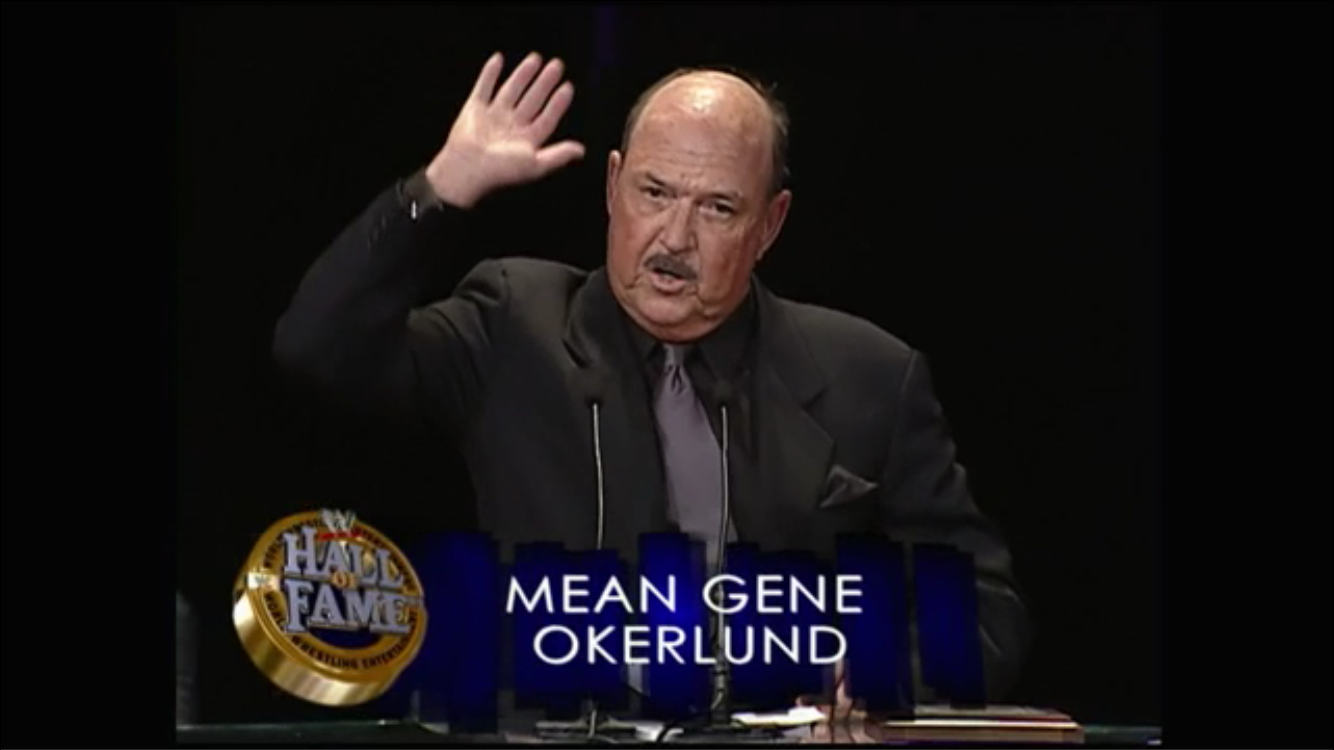 Well he got in there, cleaned house, came over, gave me a hi-five.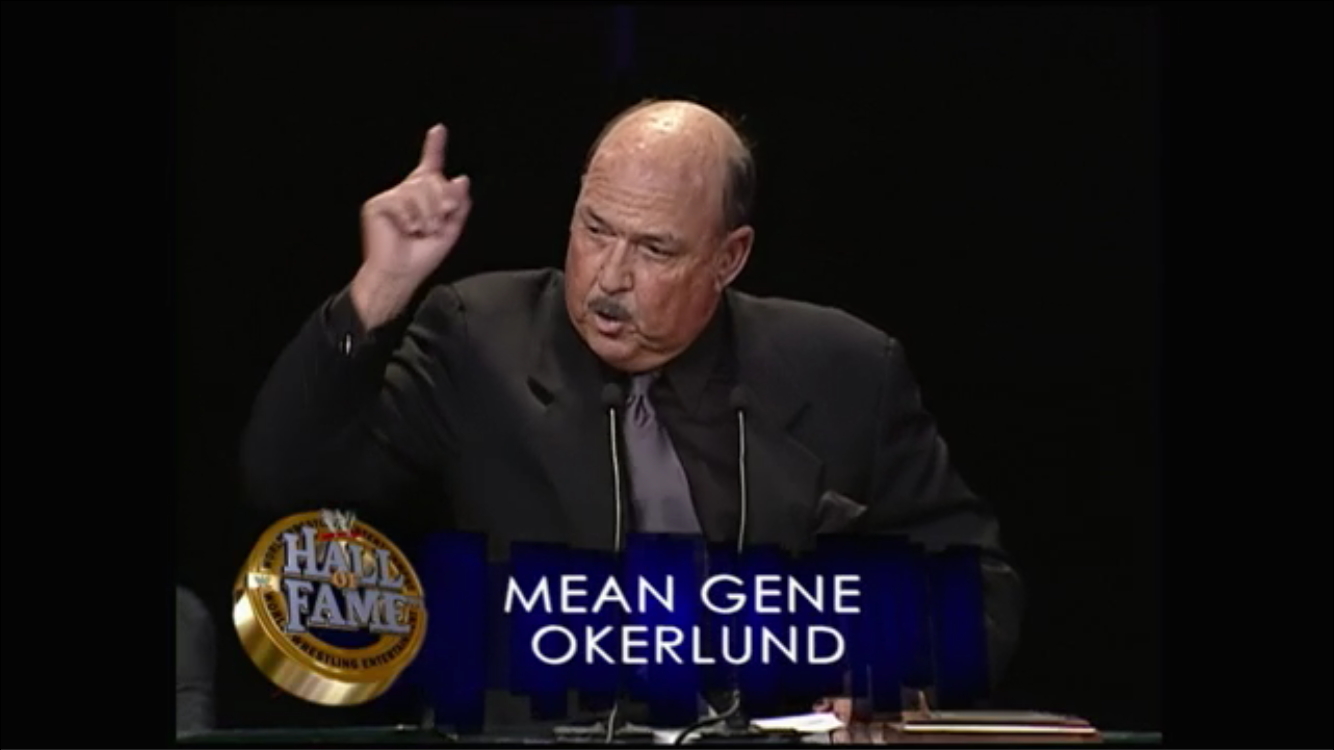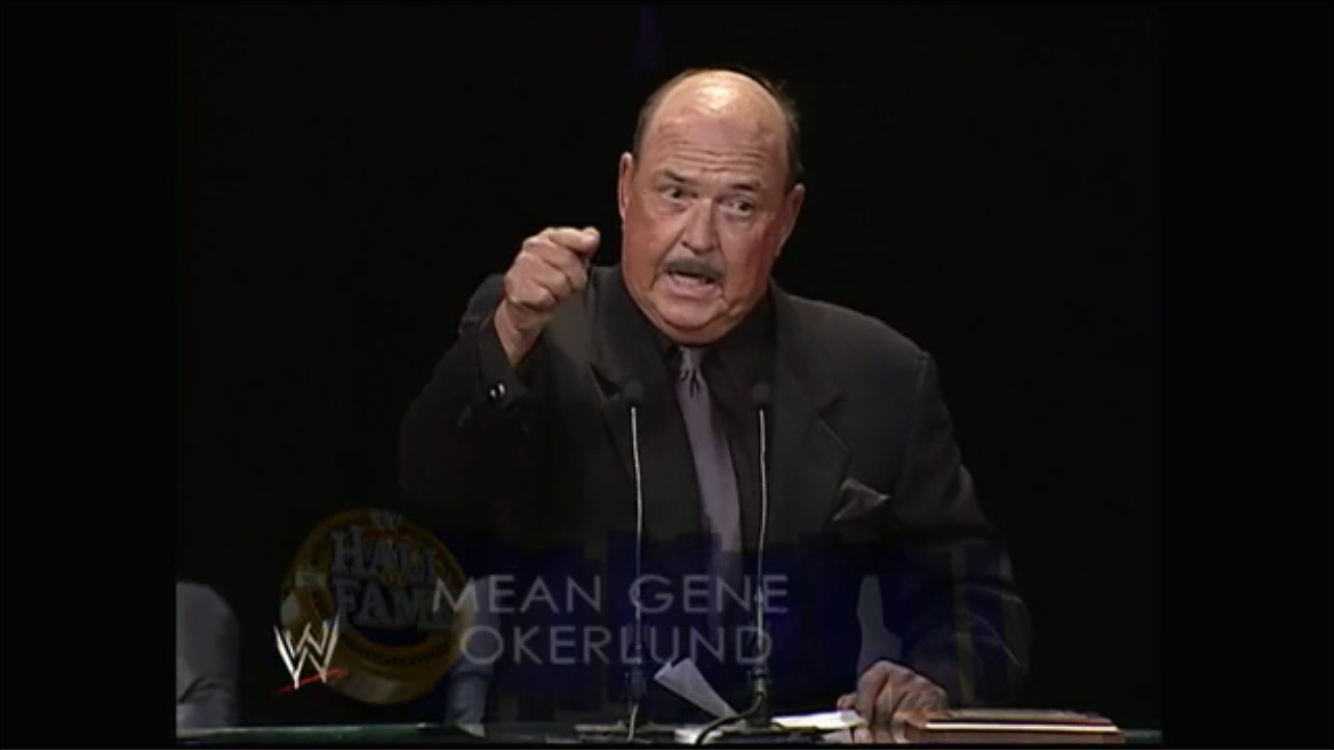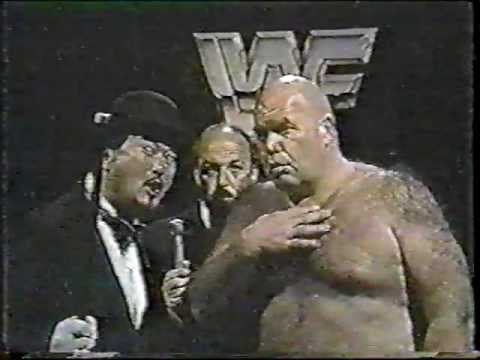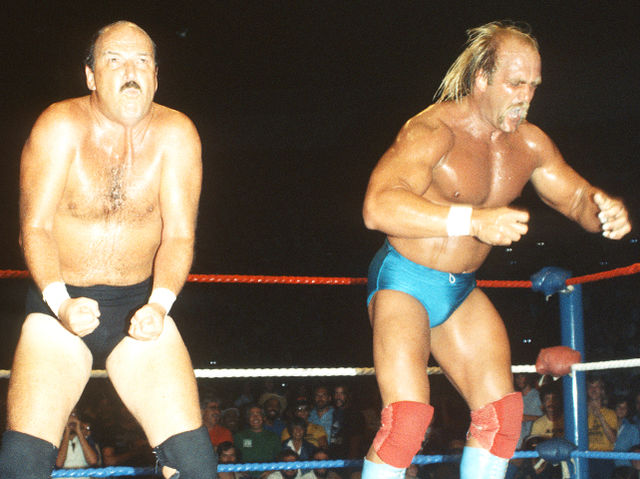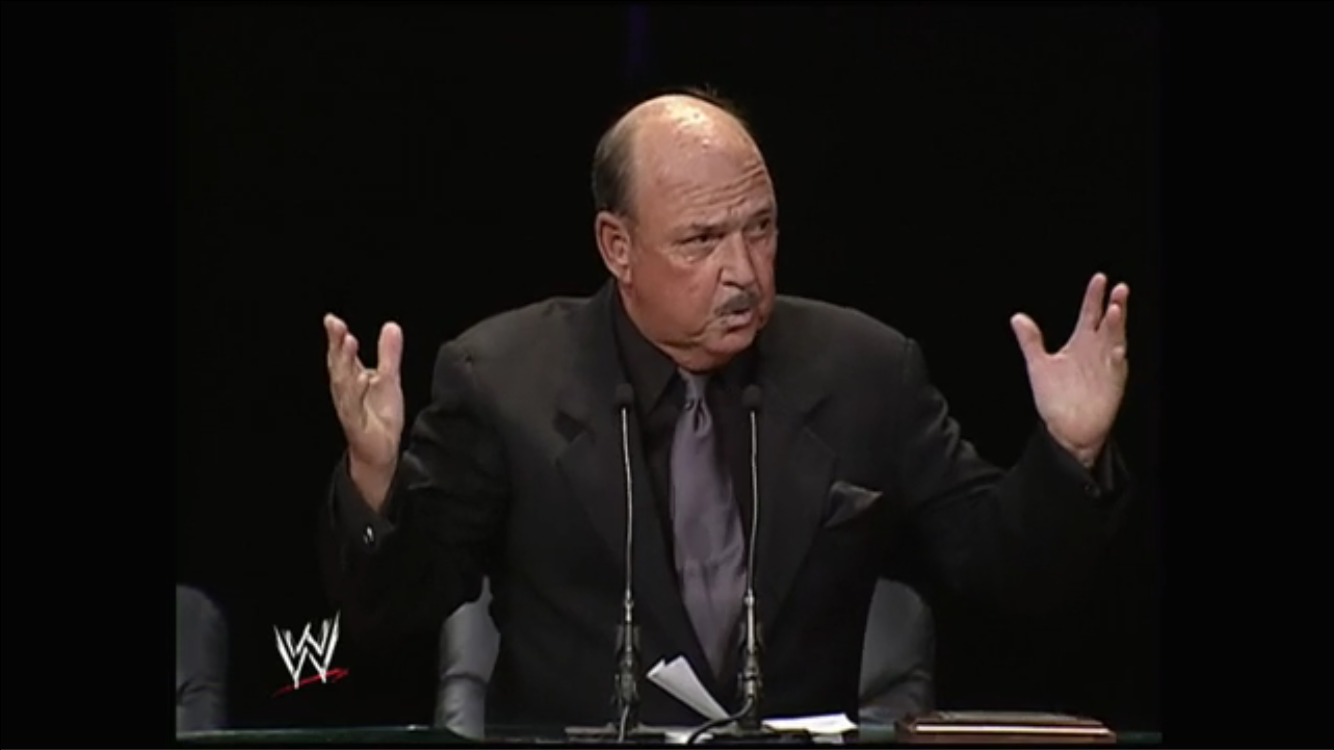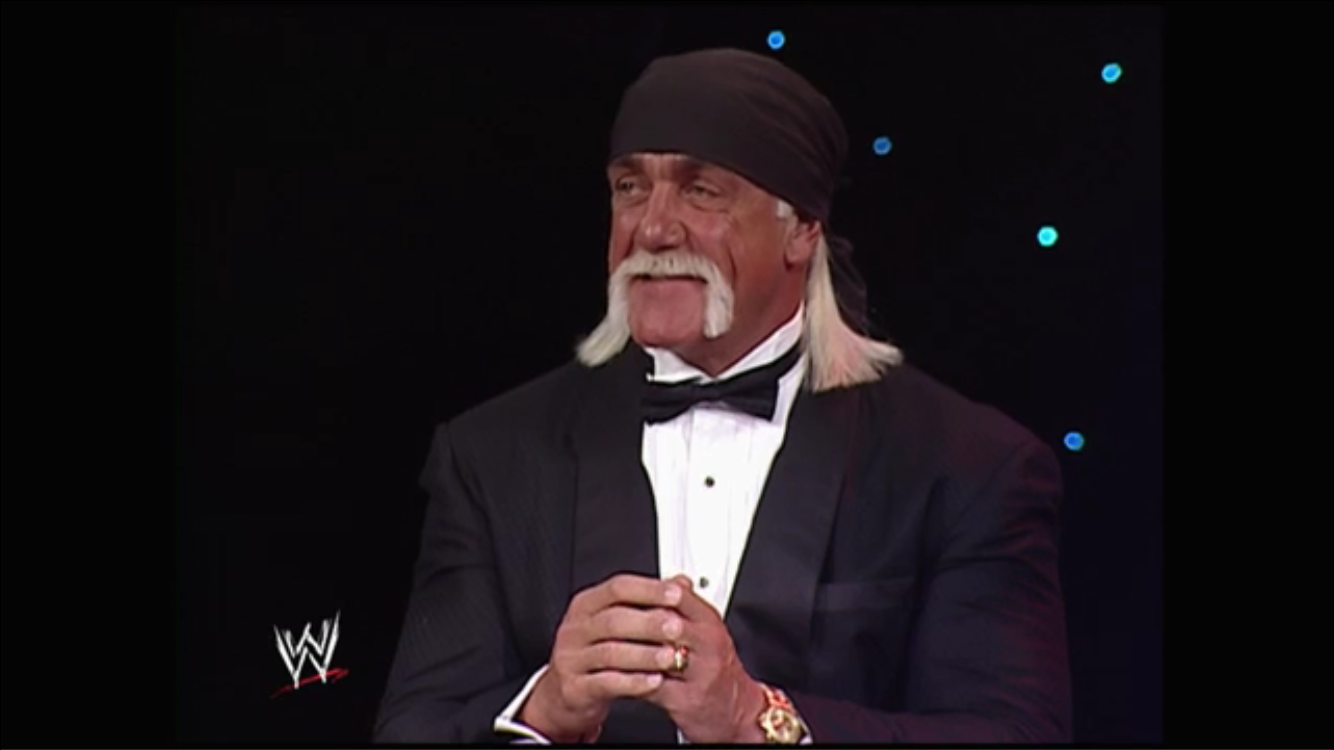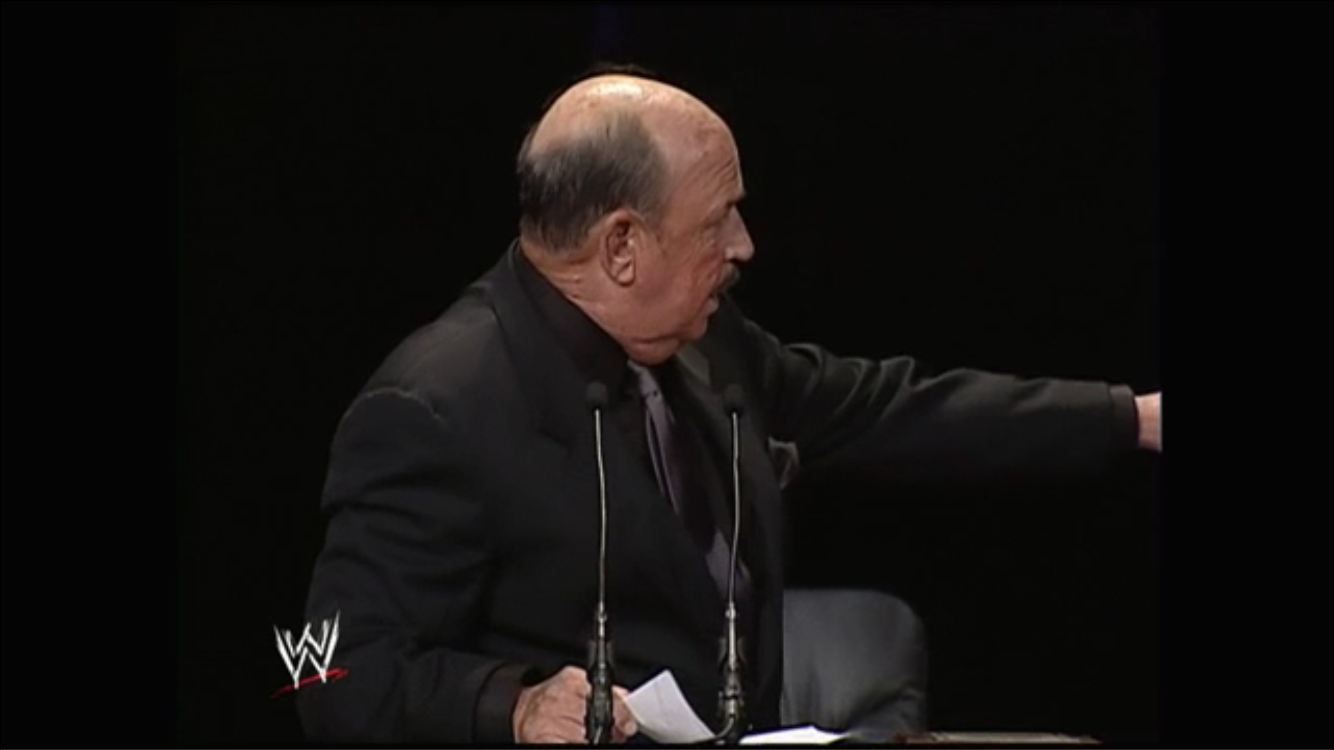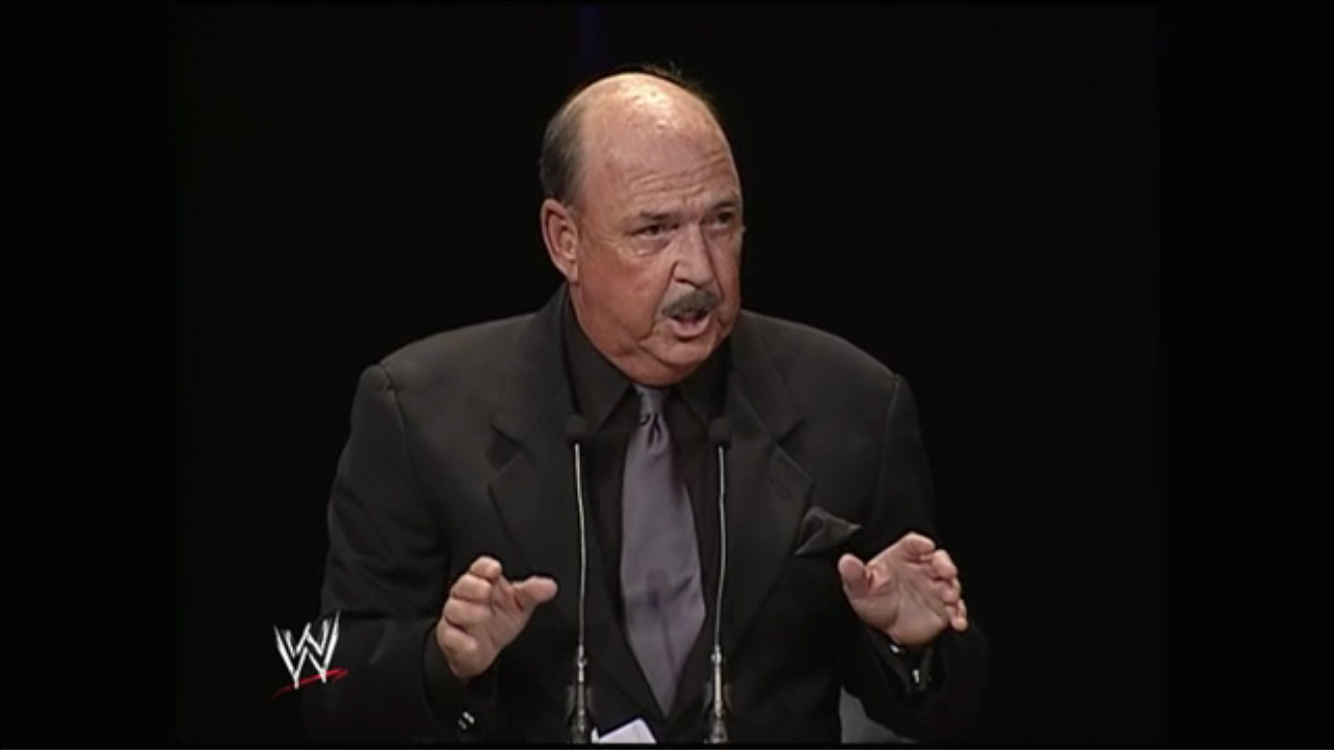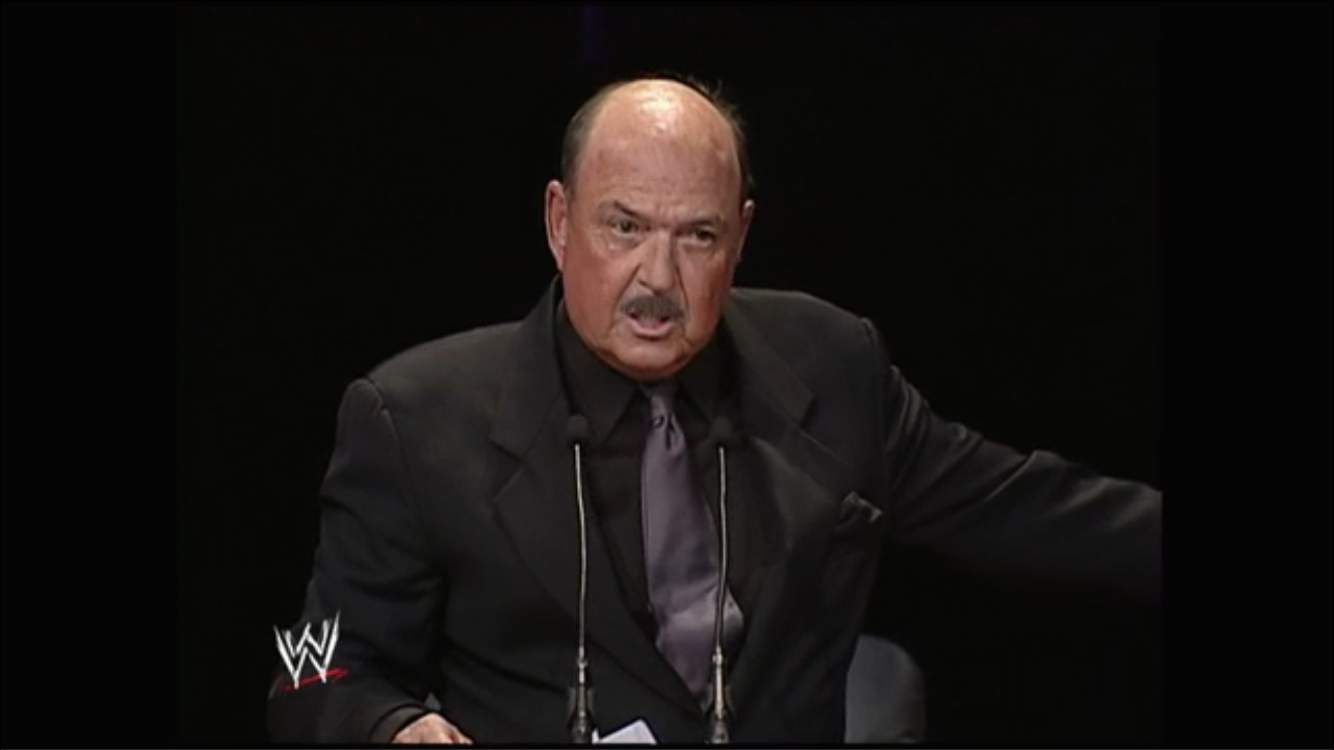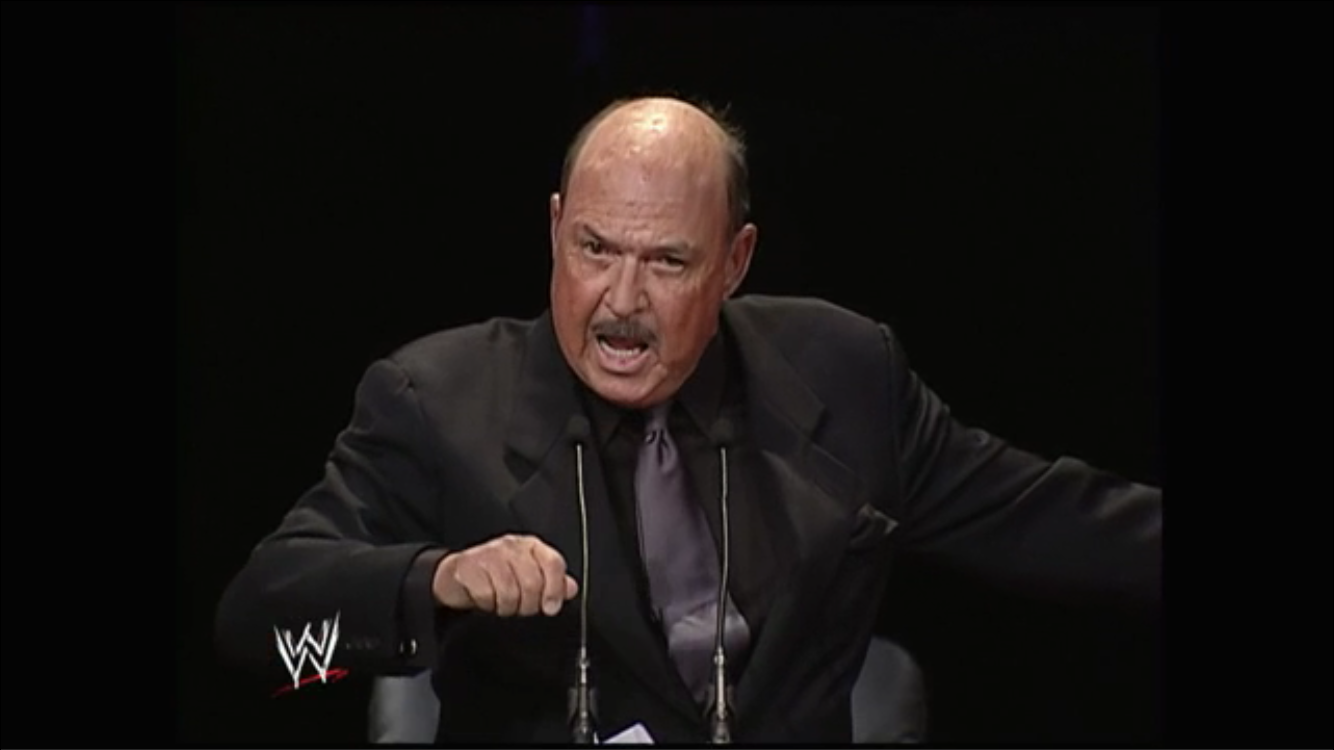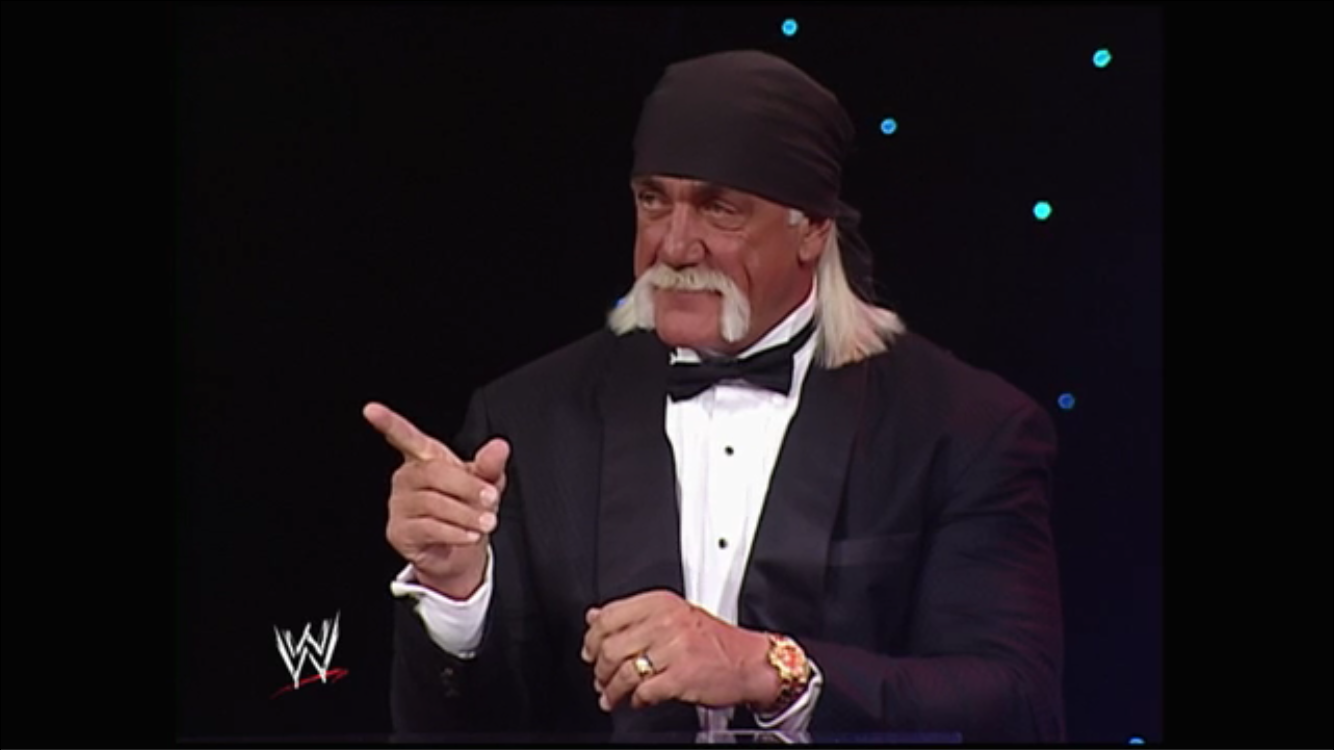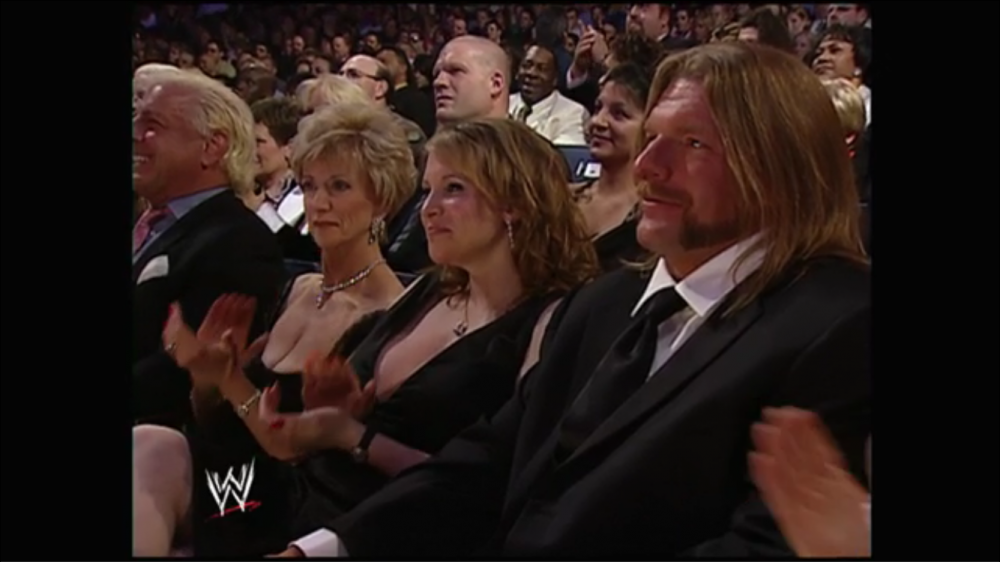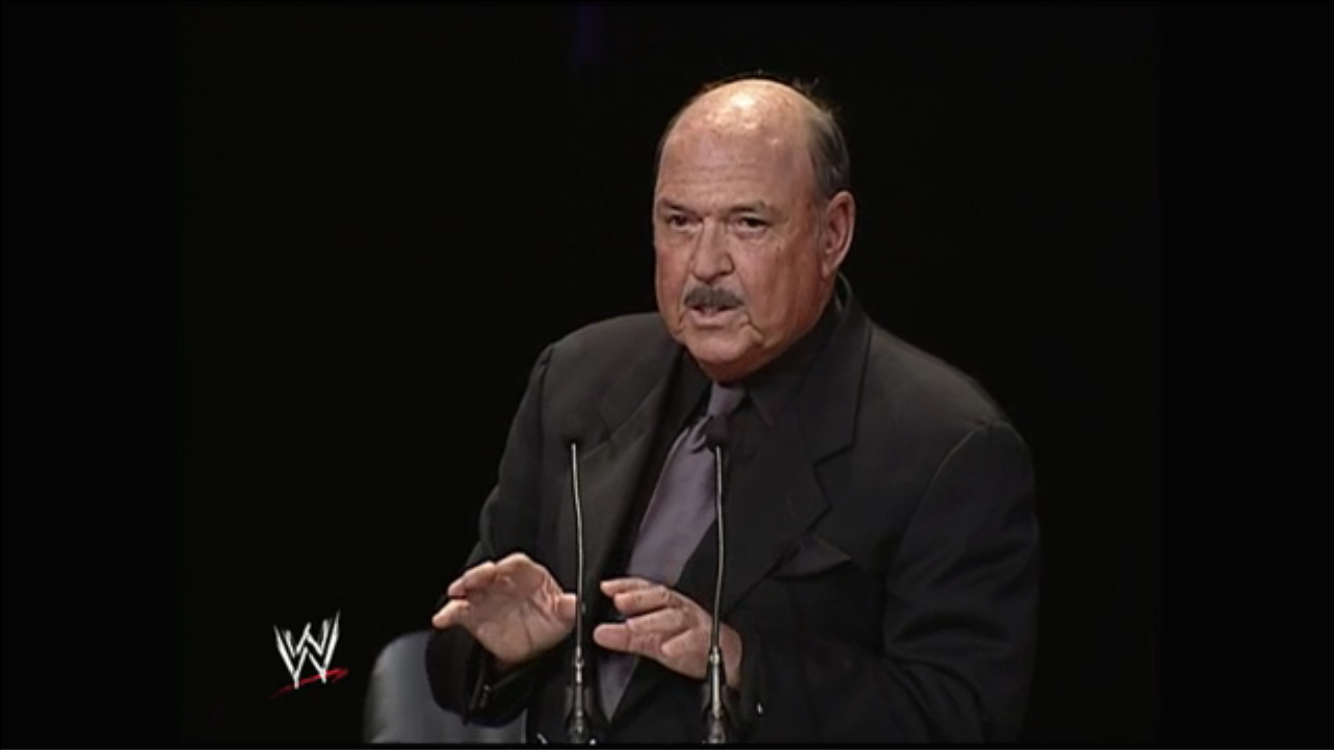 Each and every one of these guys, and gals, can stand out there and cut one hell of a promo. I can be there as a prop with a microphone and throw in a question now and then, but they know how to get the job done. And I've had some very unique experiences through the years… which I'd like to share with you.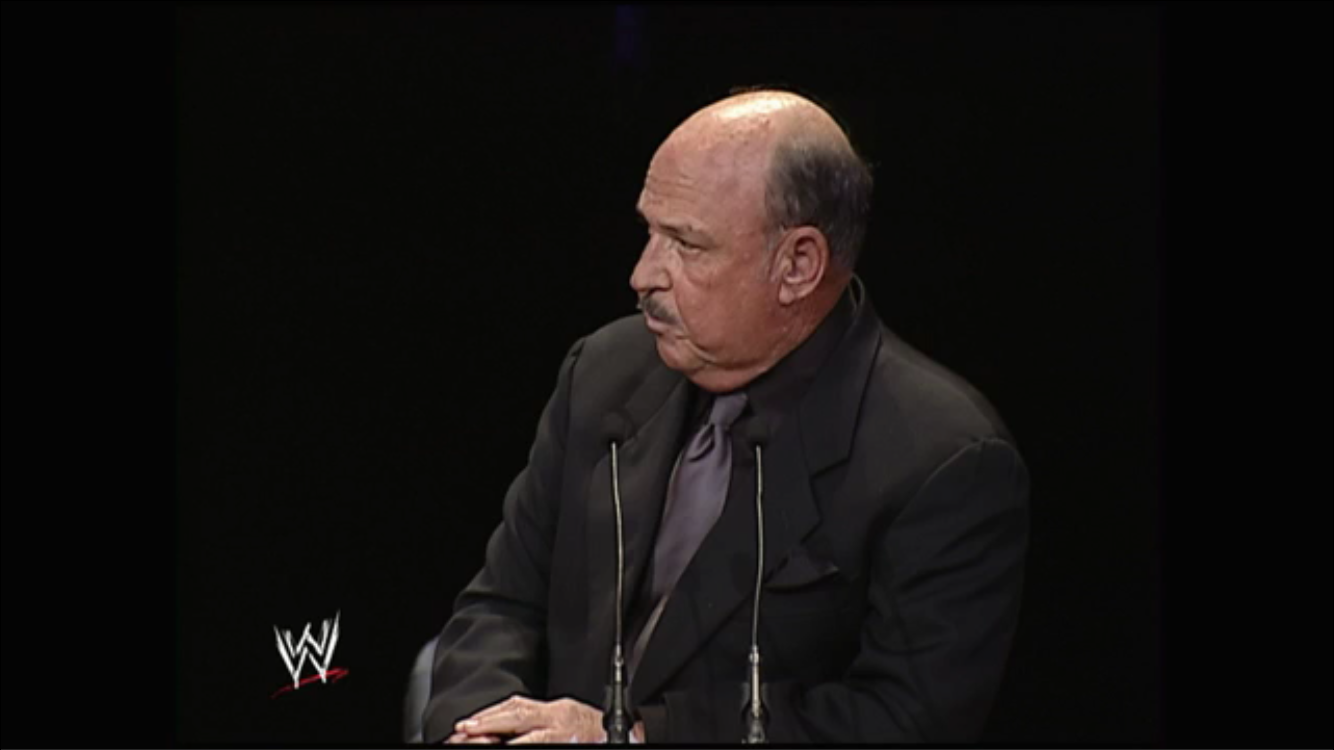 I think, uh, Bobby the Brain Heenan, we've gone through it all.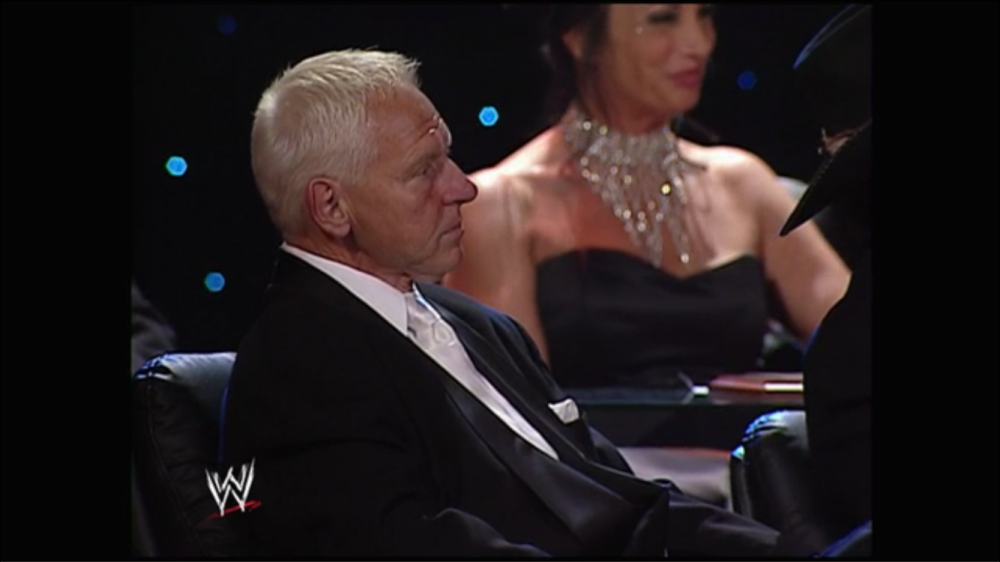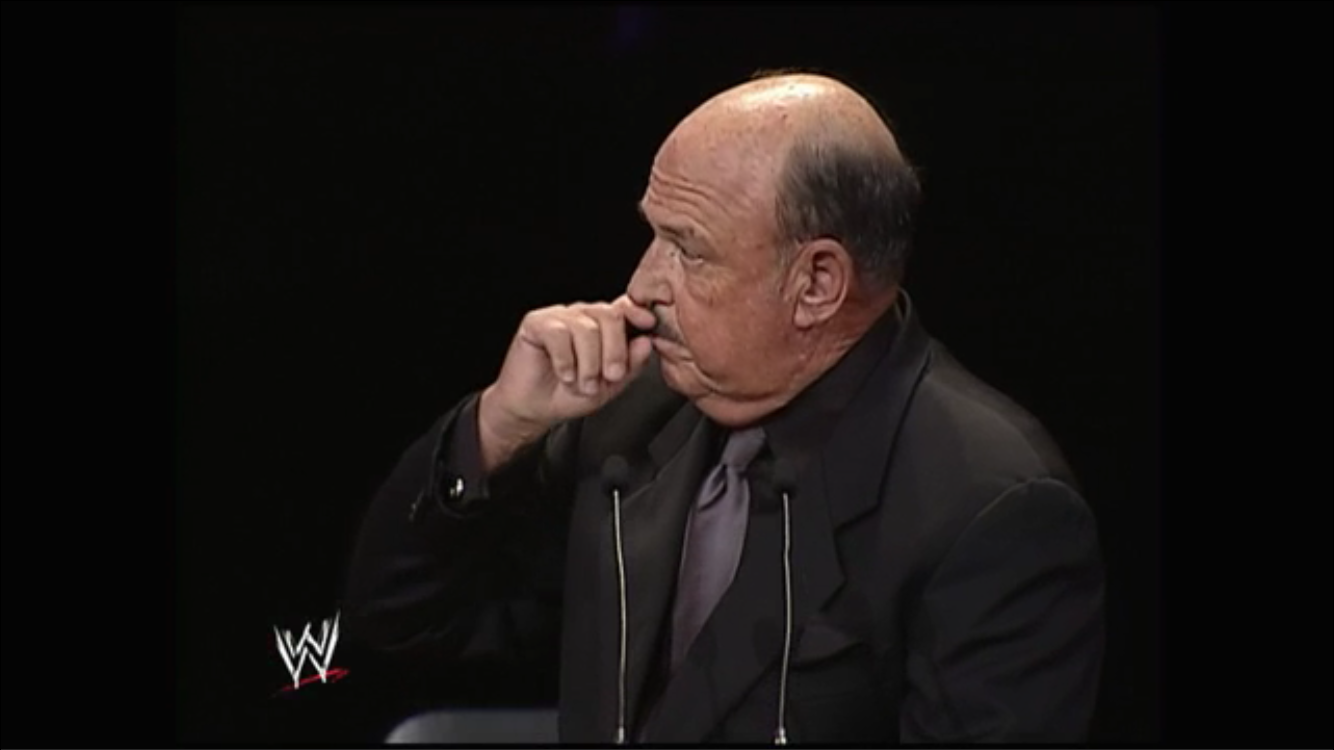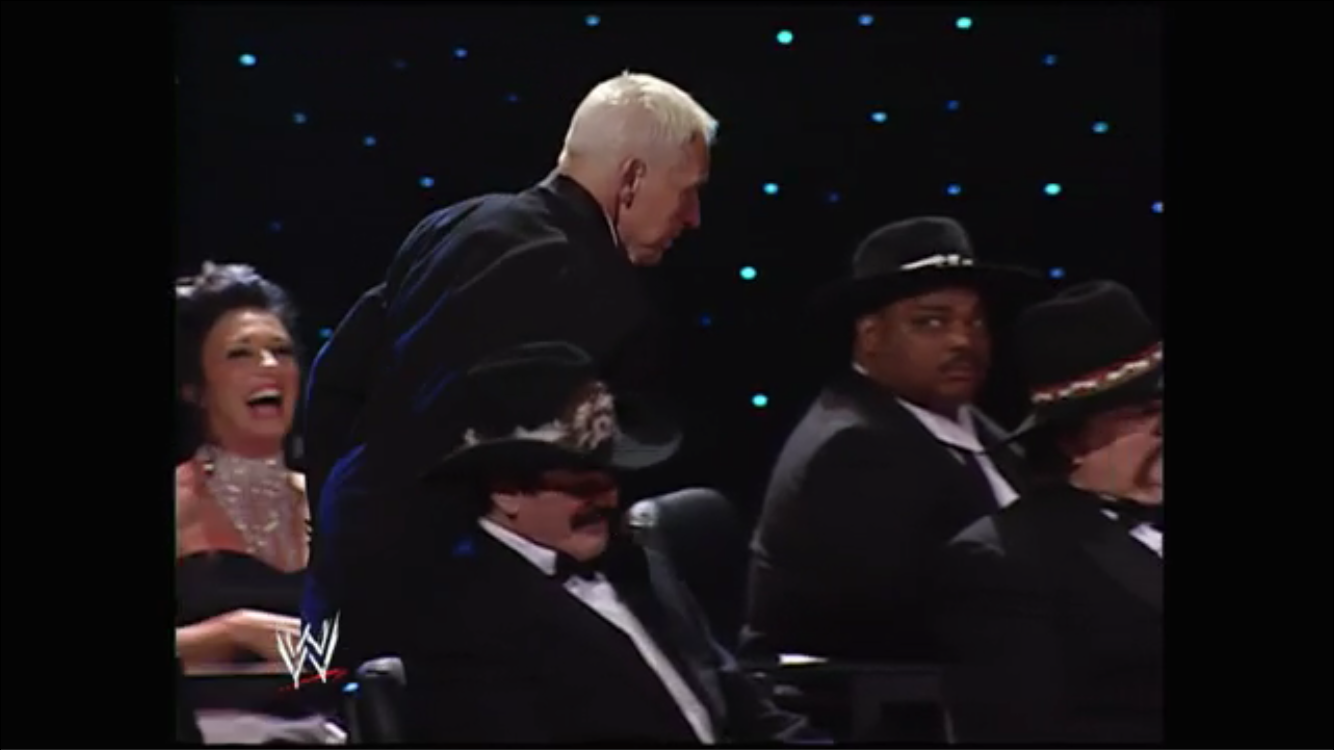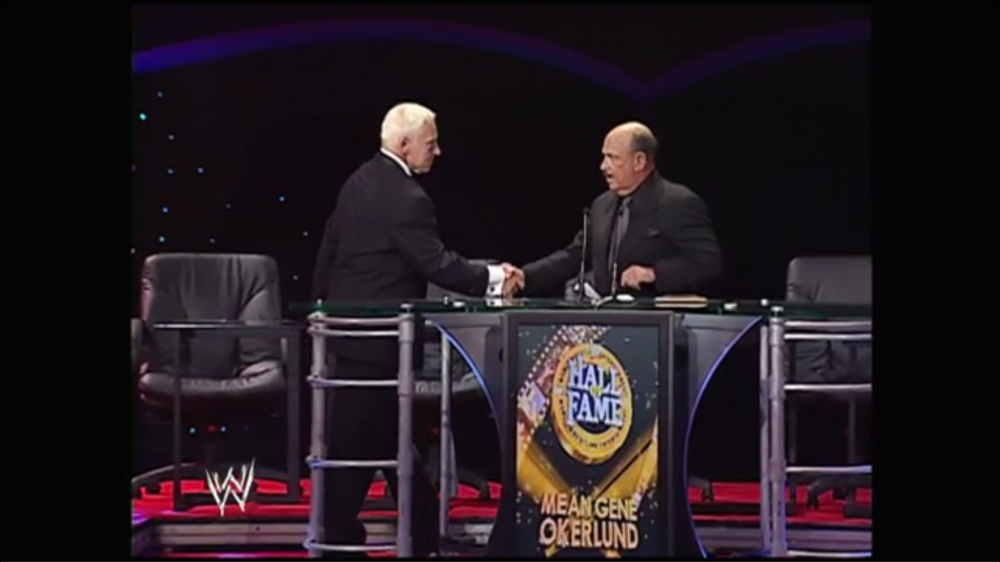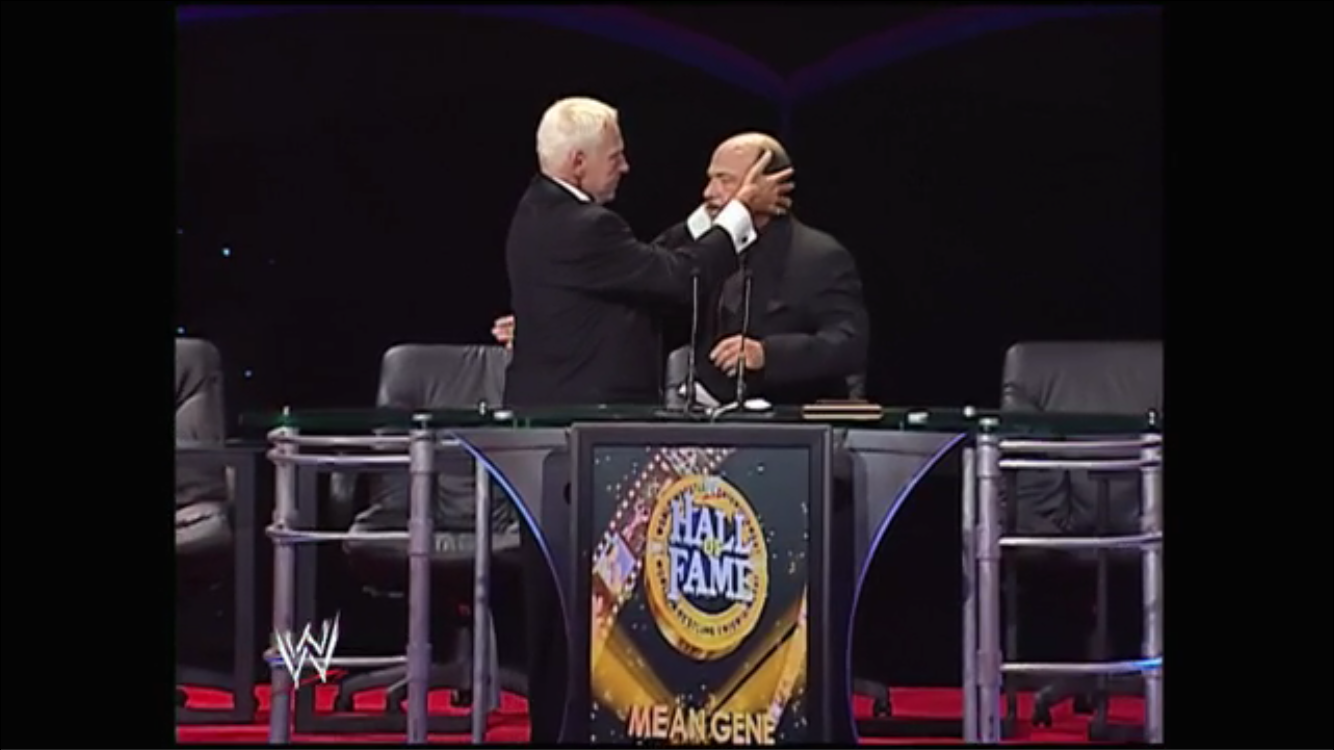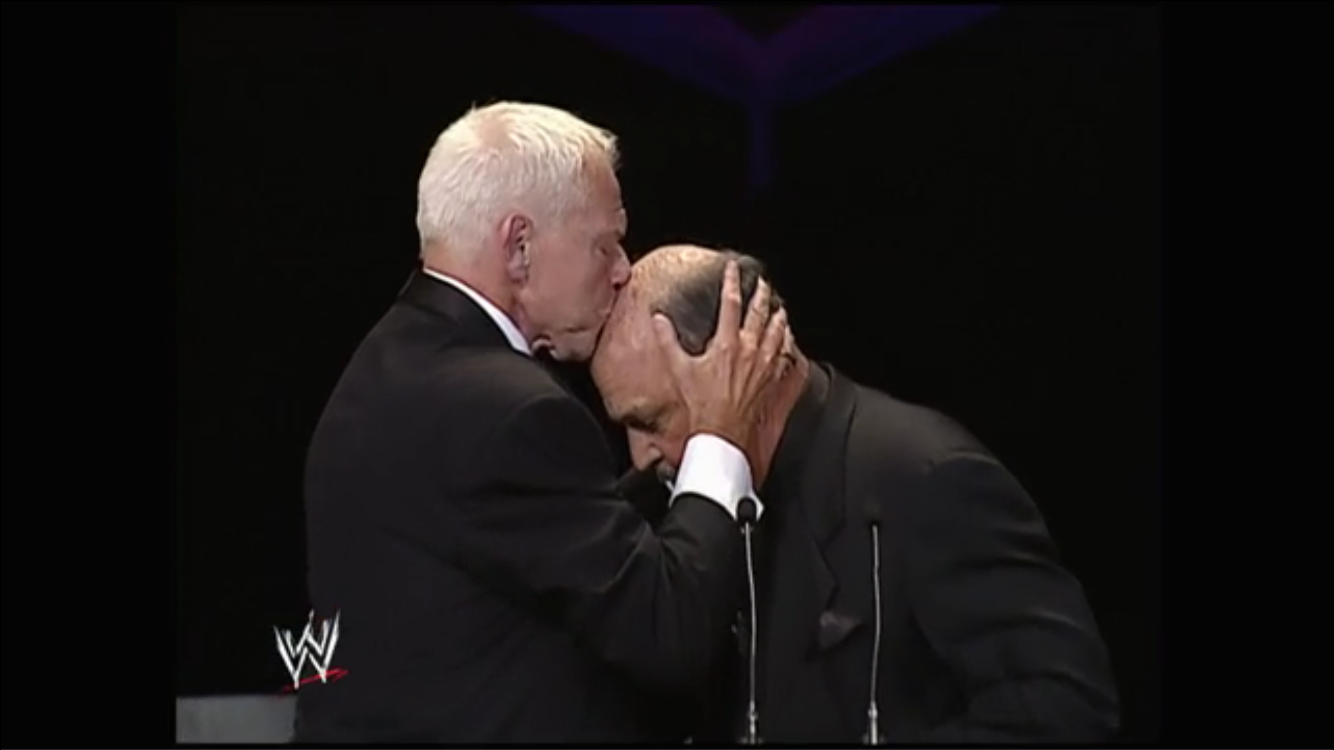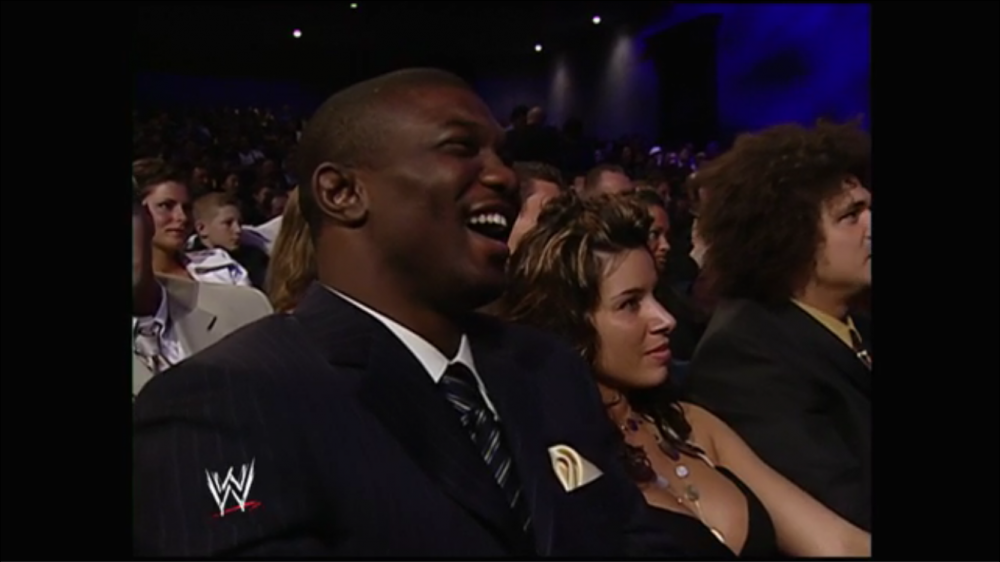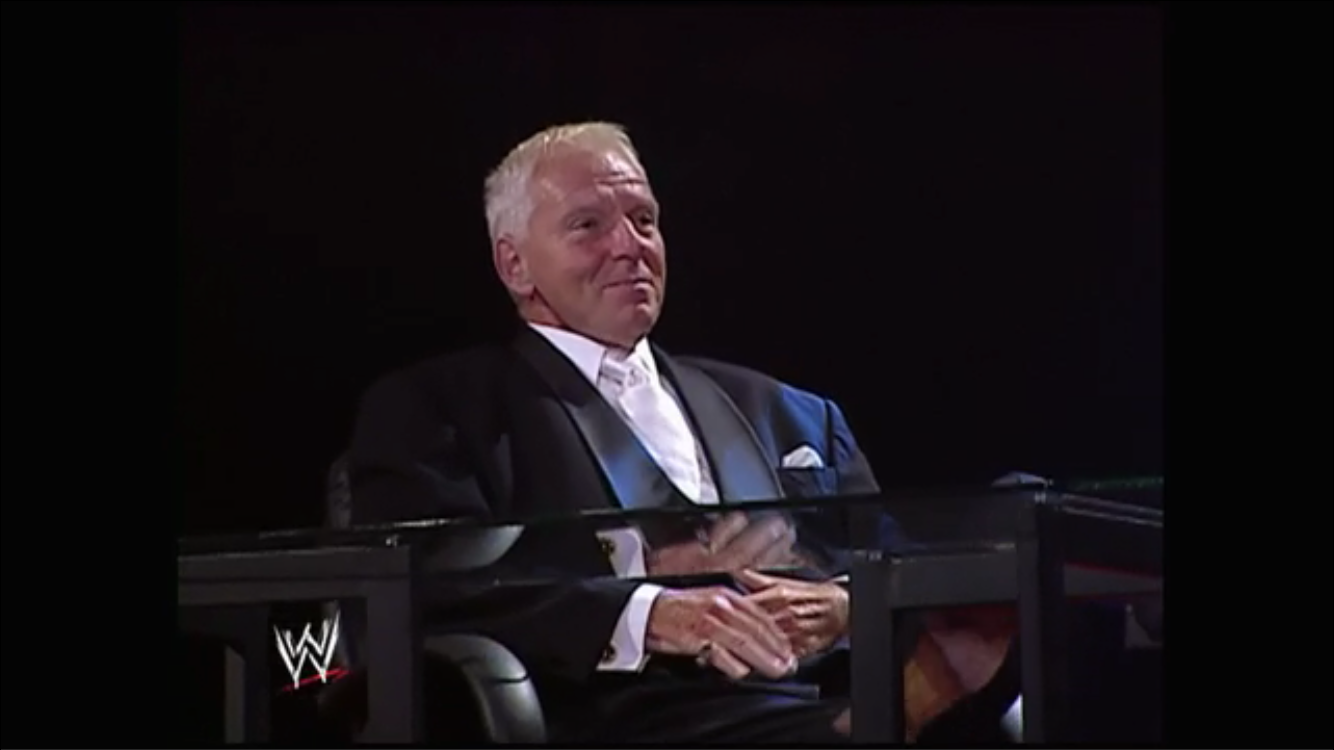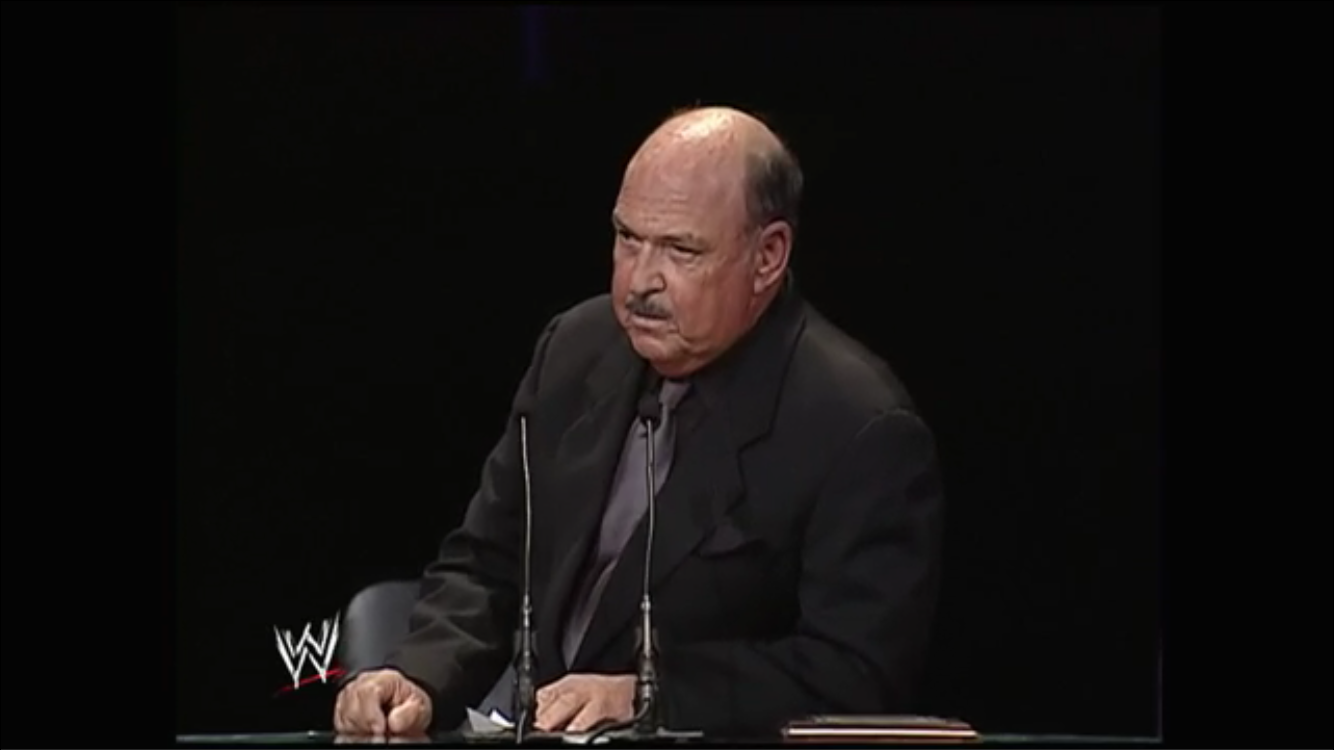 Taking a look at that hair… on that package we just saw, I'm glad I went bald! *Crowd laughs*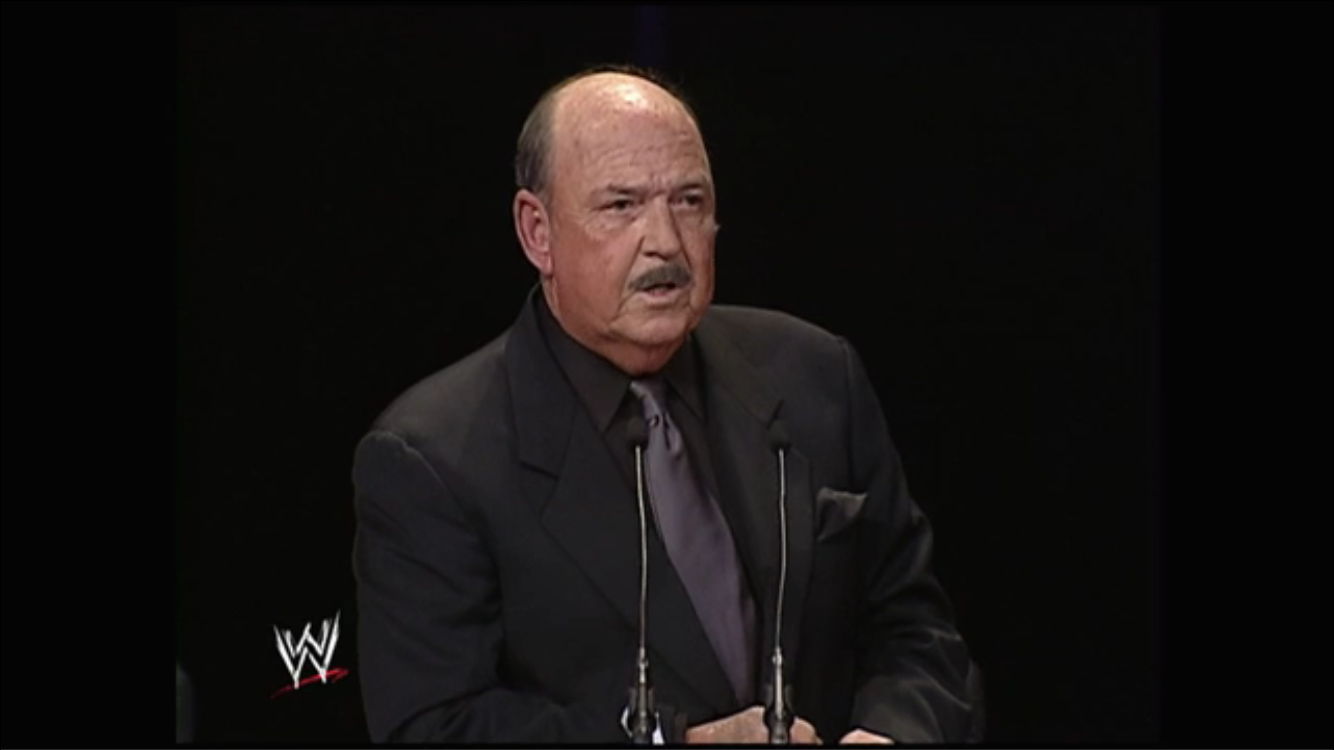 Verne Gagne… Verne Gagne started me out in April of 1971.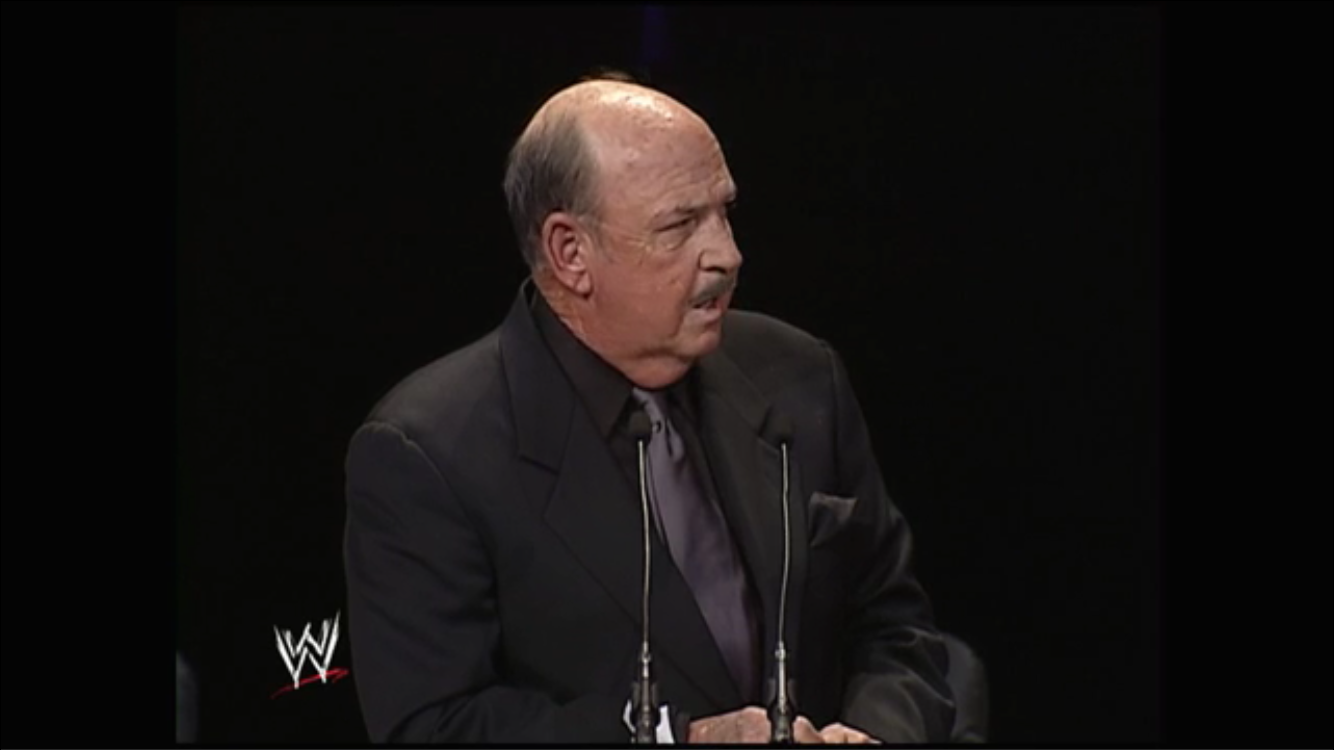 Verne, I learned a whole lot from you. Greg Gagne and the class of '72, with Jim Brunzell and Brockwinkel and all of the great stars of the AWA.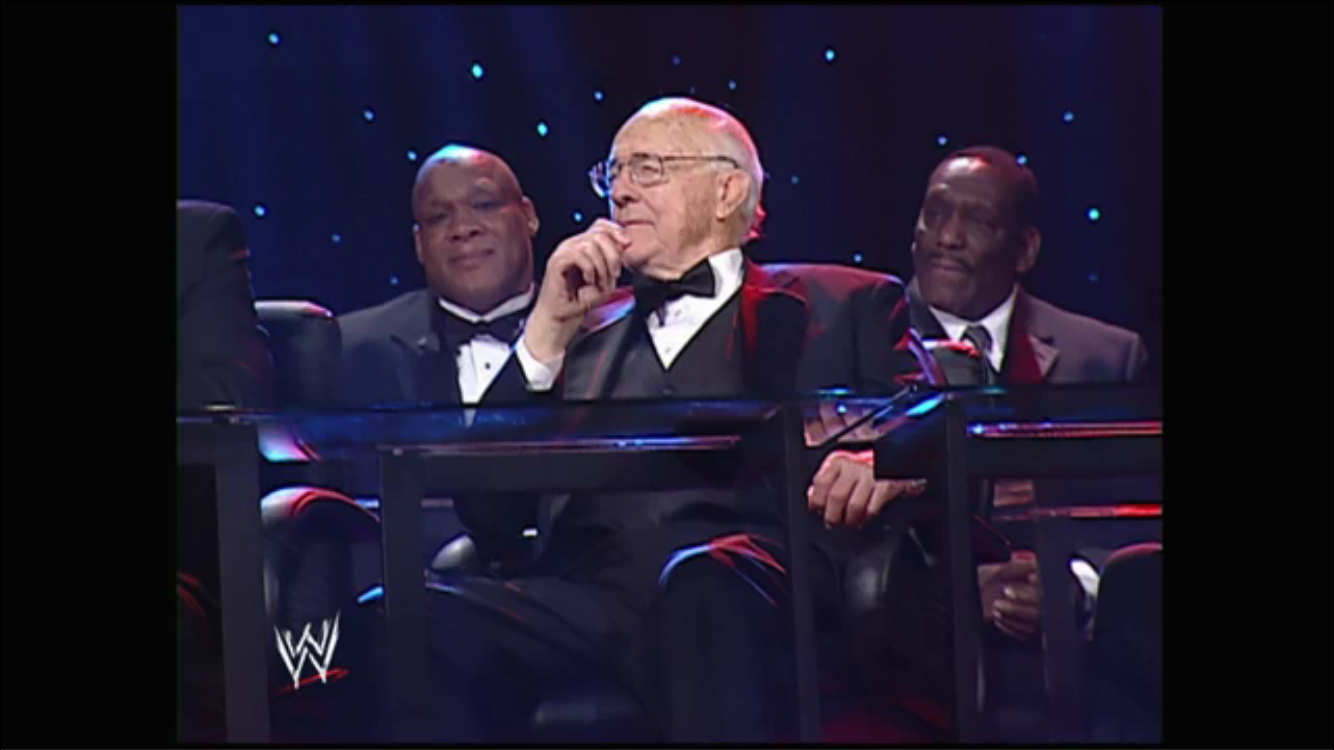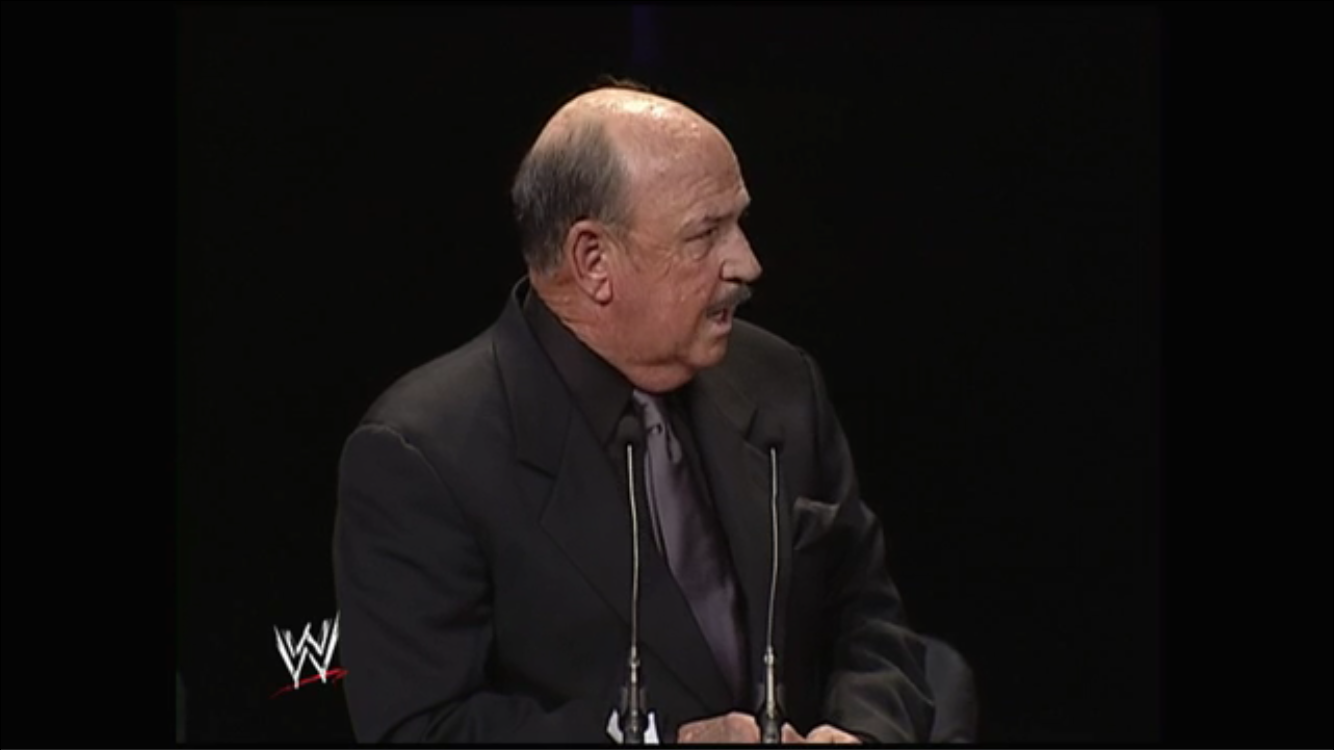 You deserve recognition — finally getting it — welcome to the Hall of Fame.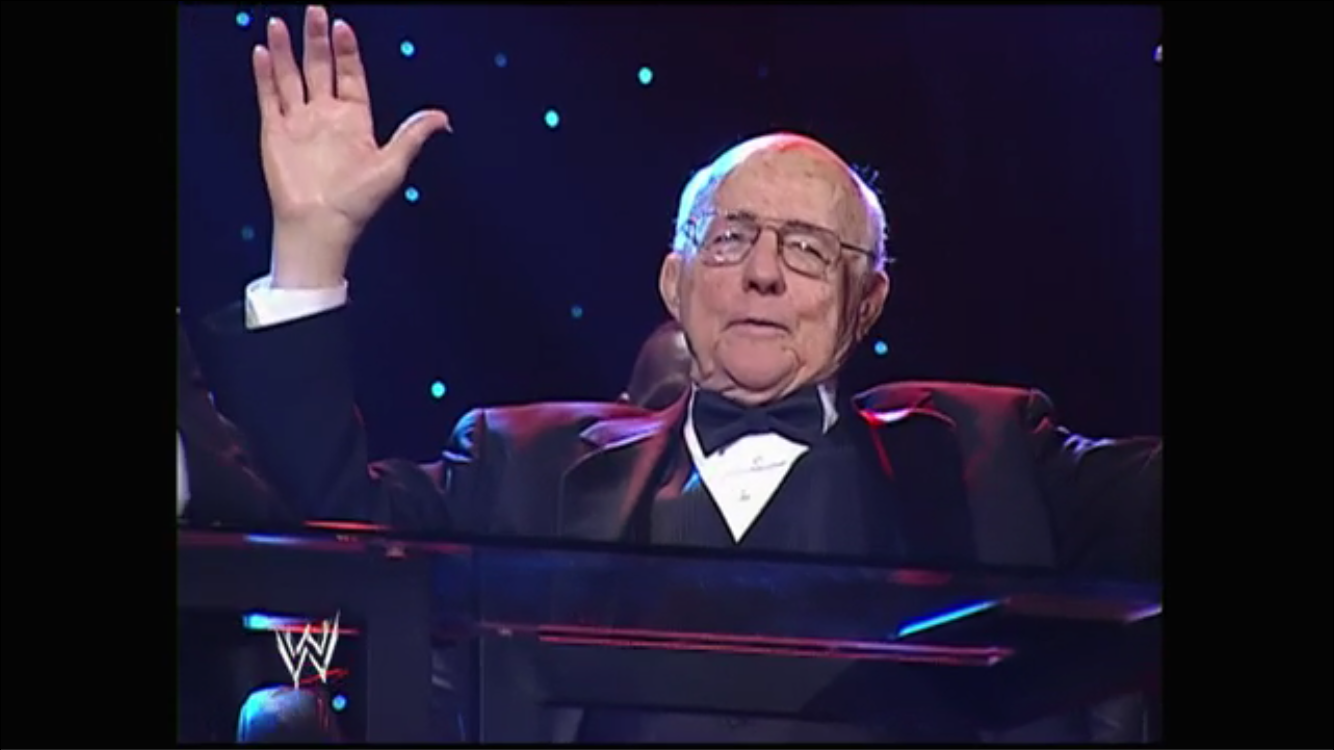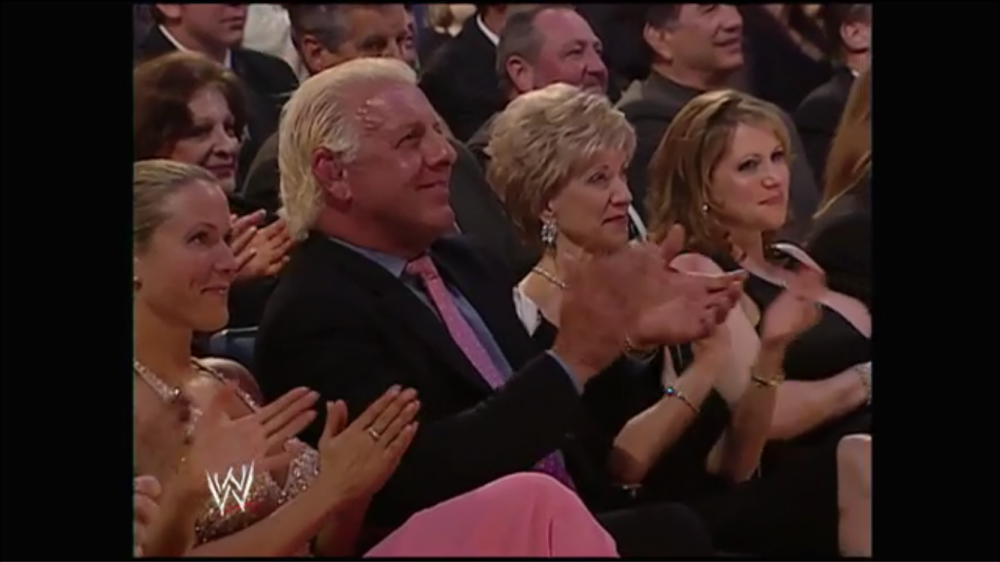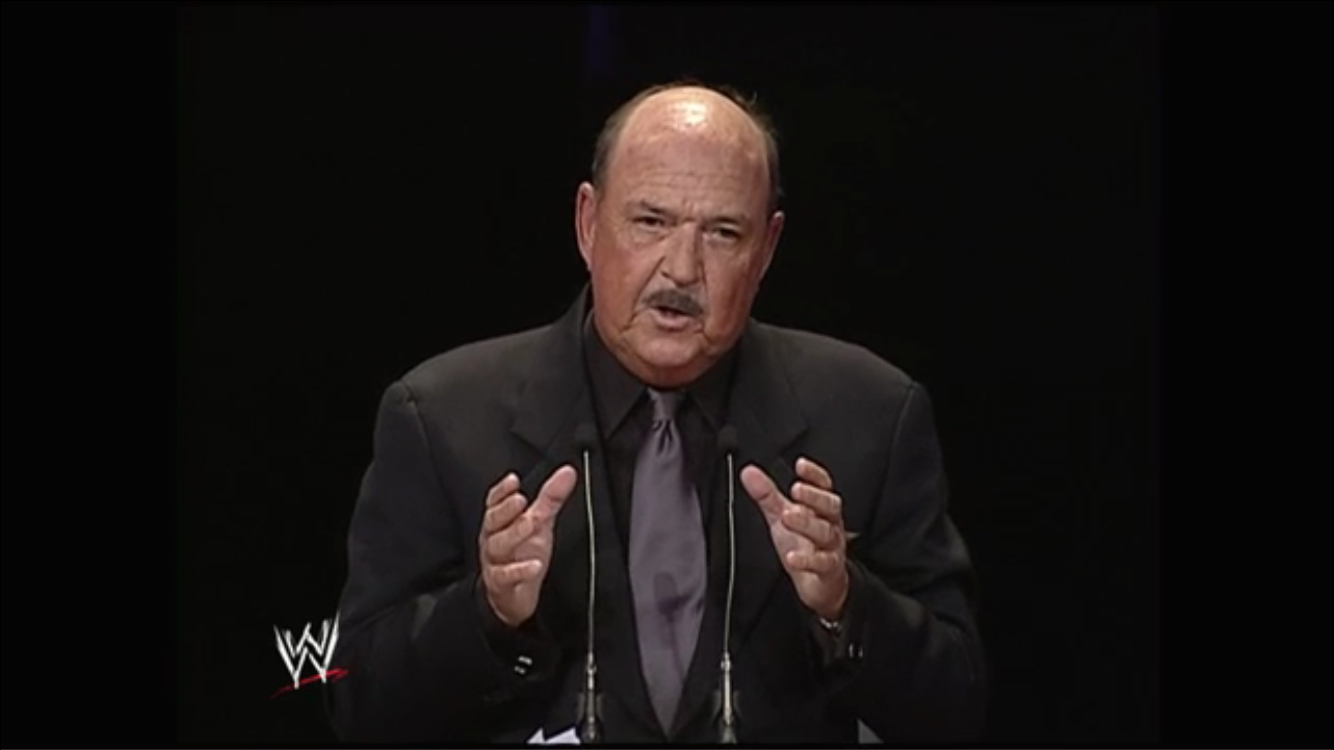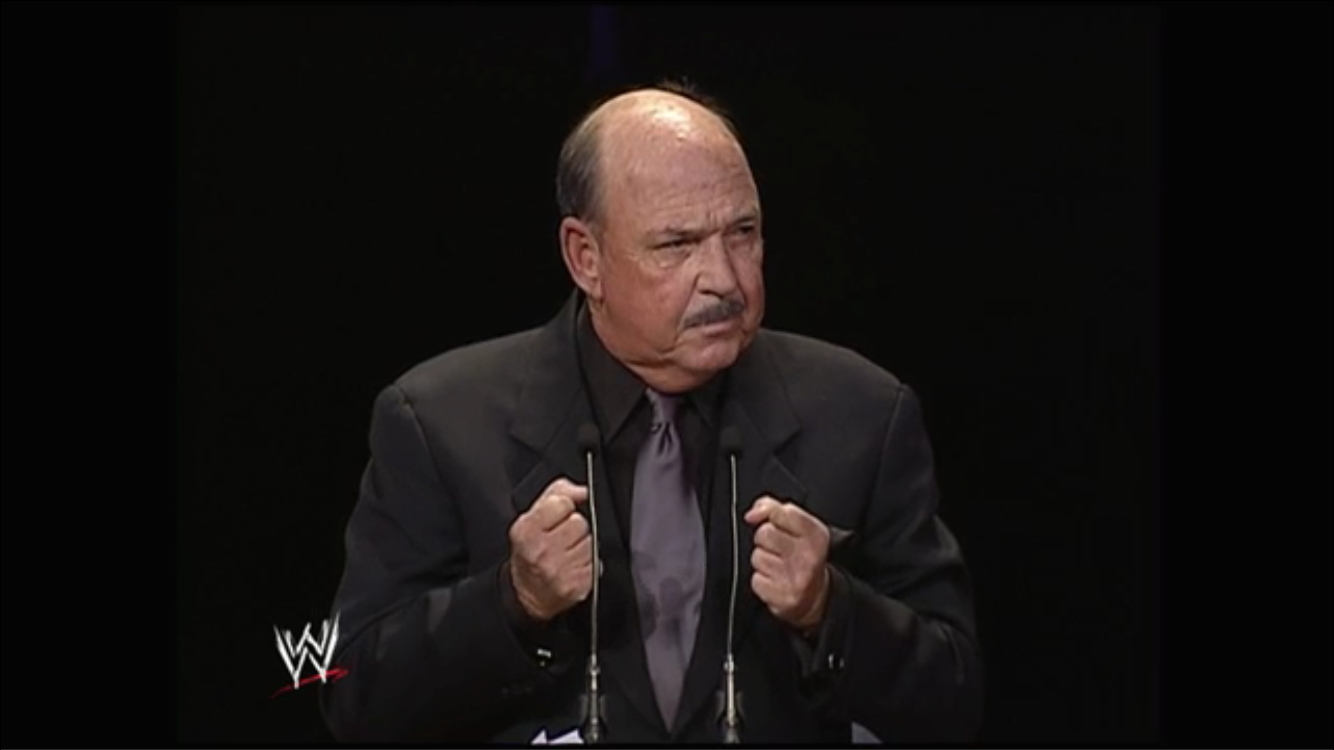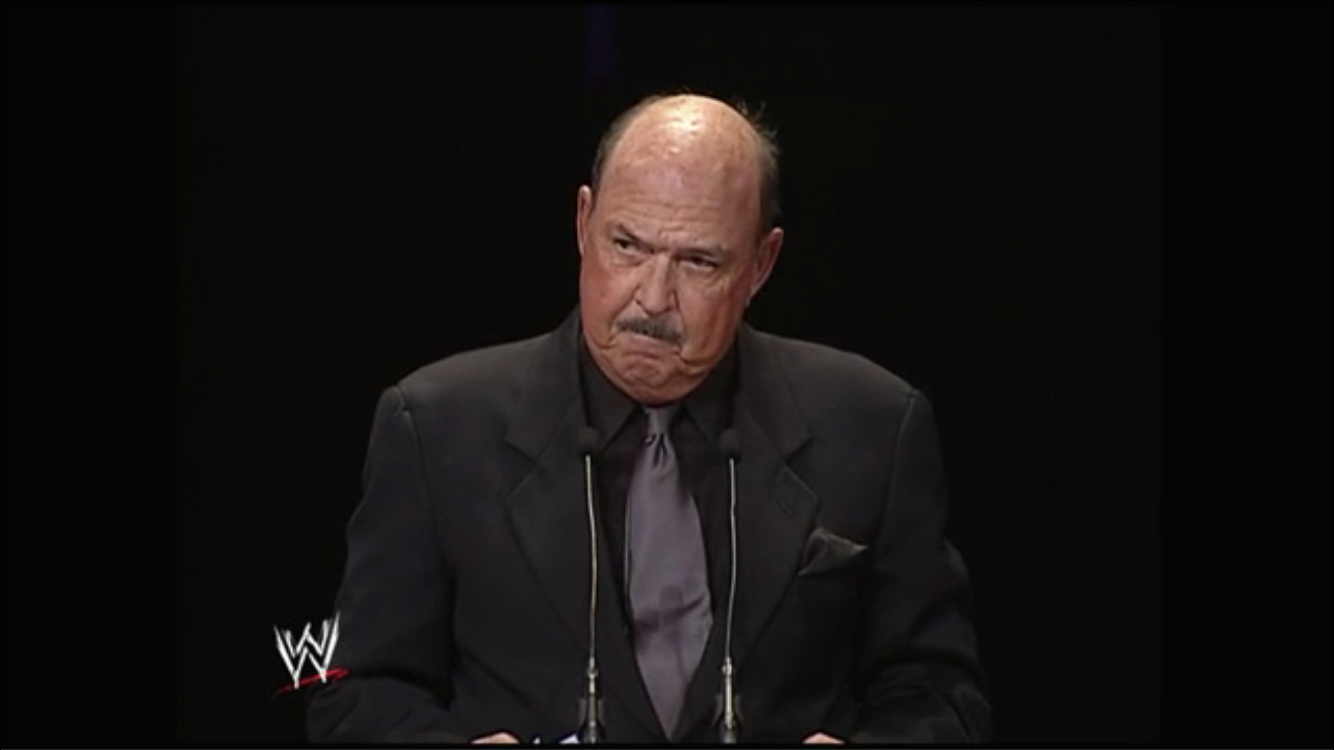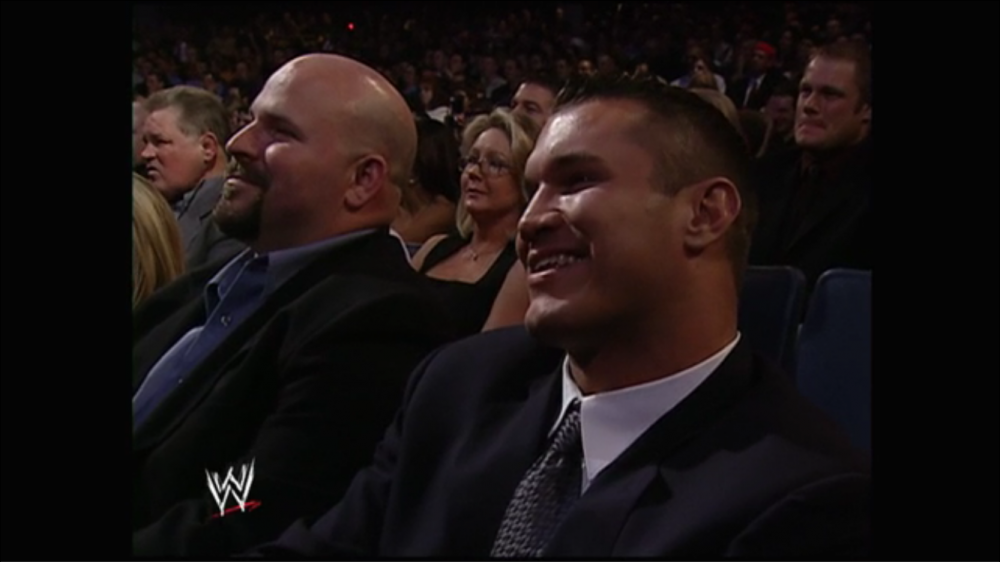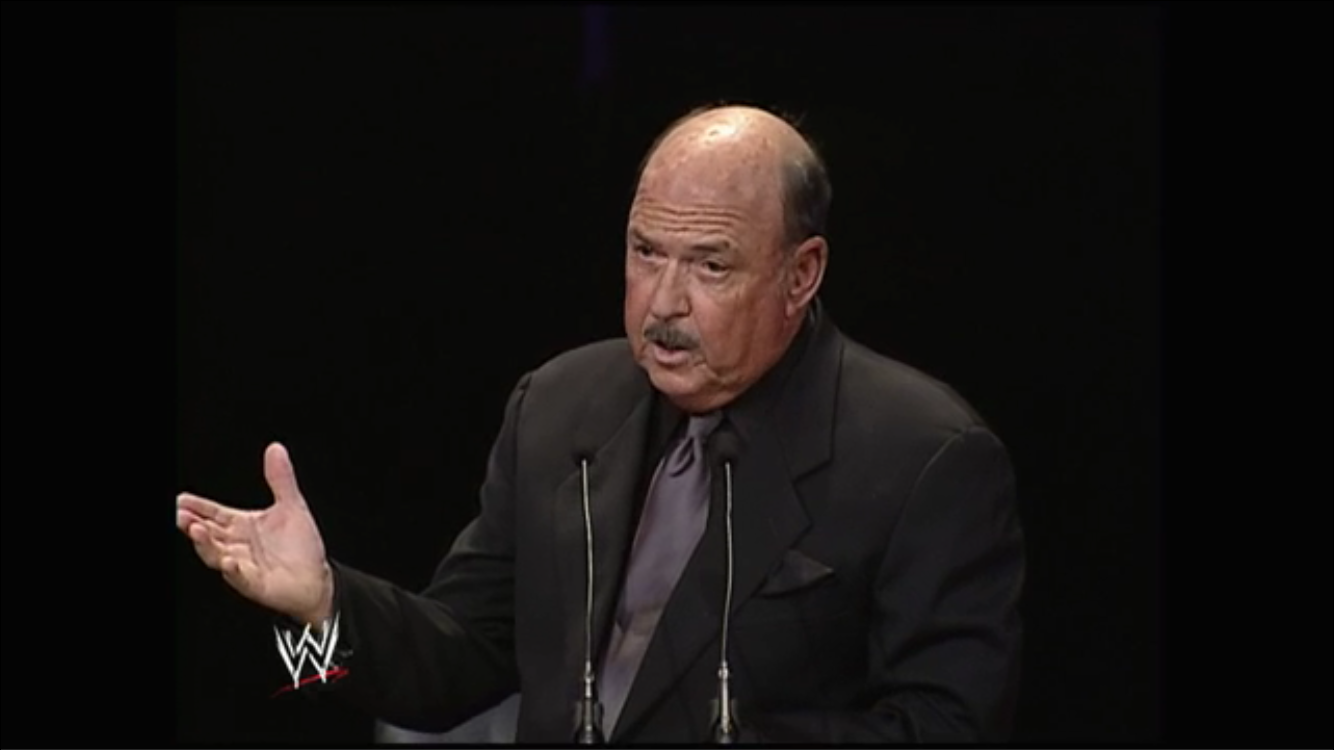 The Iron Sheik… who uh… you go to work and you're entertained *crowd laughs*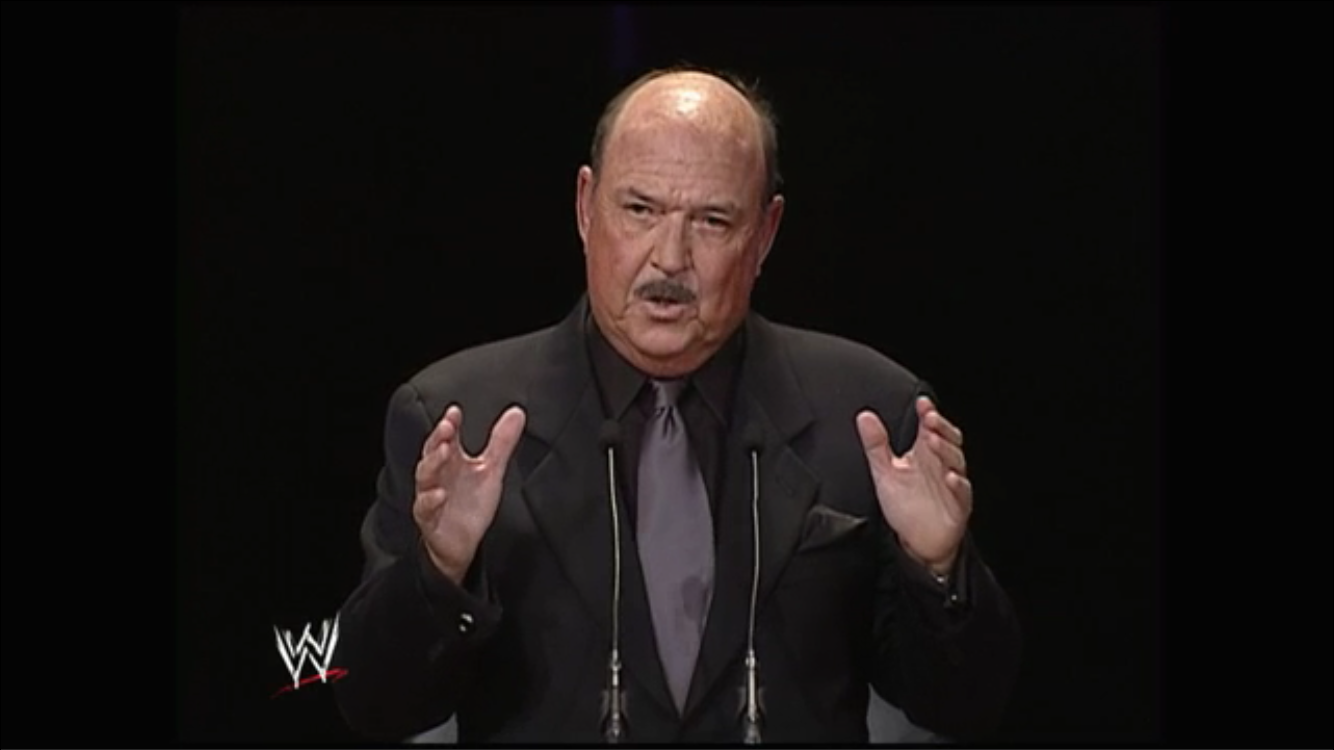 There was a promotion — I don't know who came up with it — it's called The Great Turkey Tournament. And it happened around Thanksgiving time, as usual. And all of a sudden, Howard Finkel got this turkey up in Groton, Connecticut. We were doing interviews in New Haven. He brought the turkey back in a cage. I did interviews with Paul Orndorff, Dusty Rhodes and everybody else.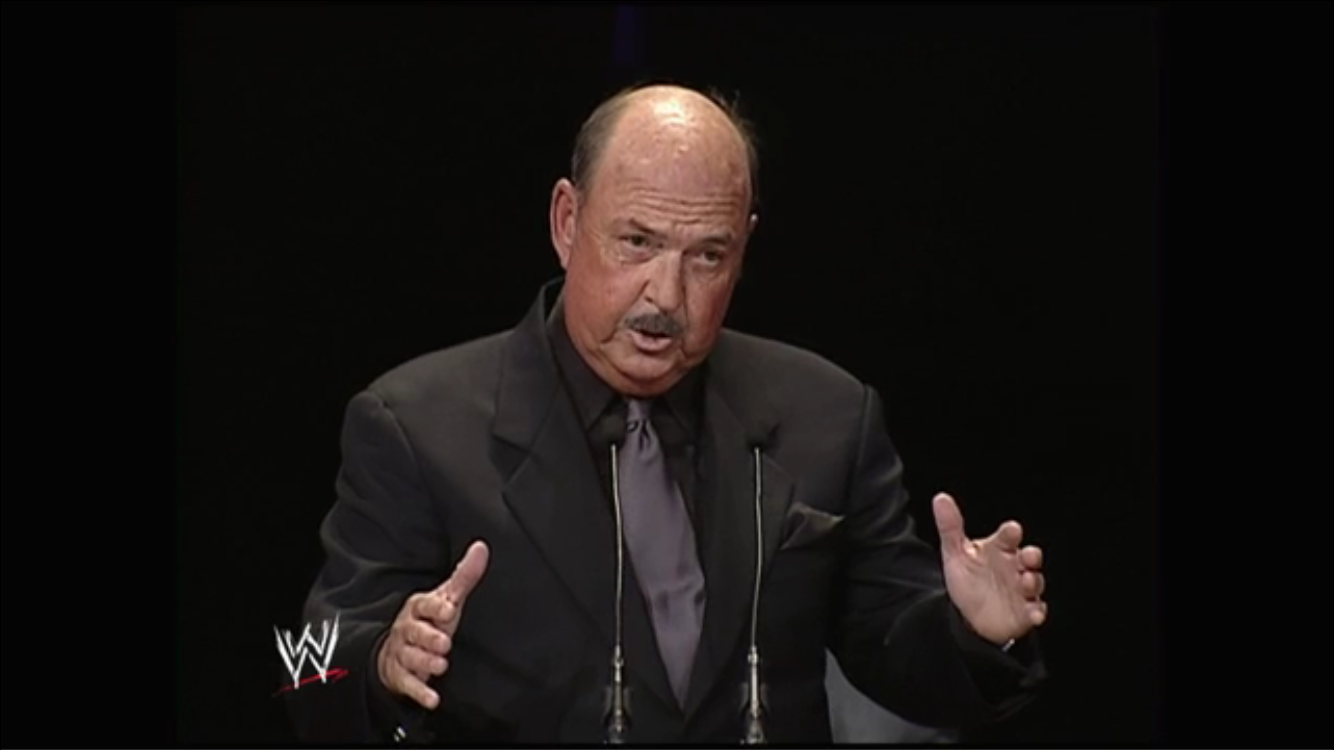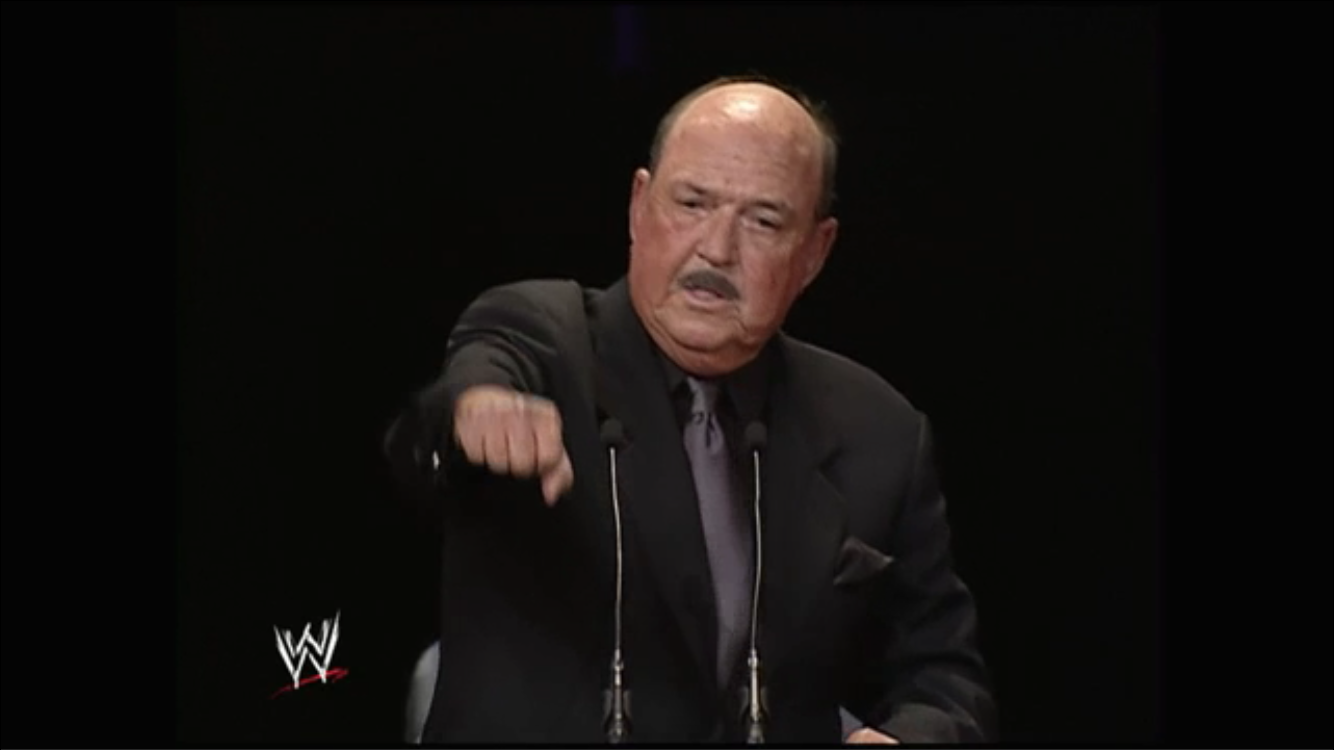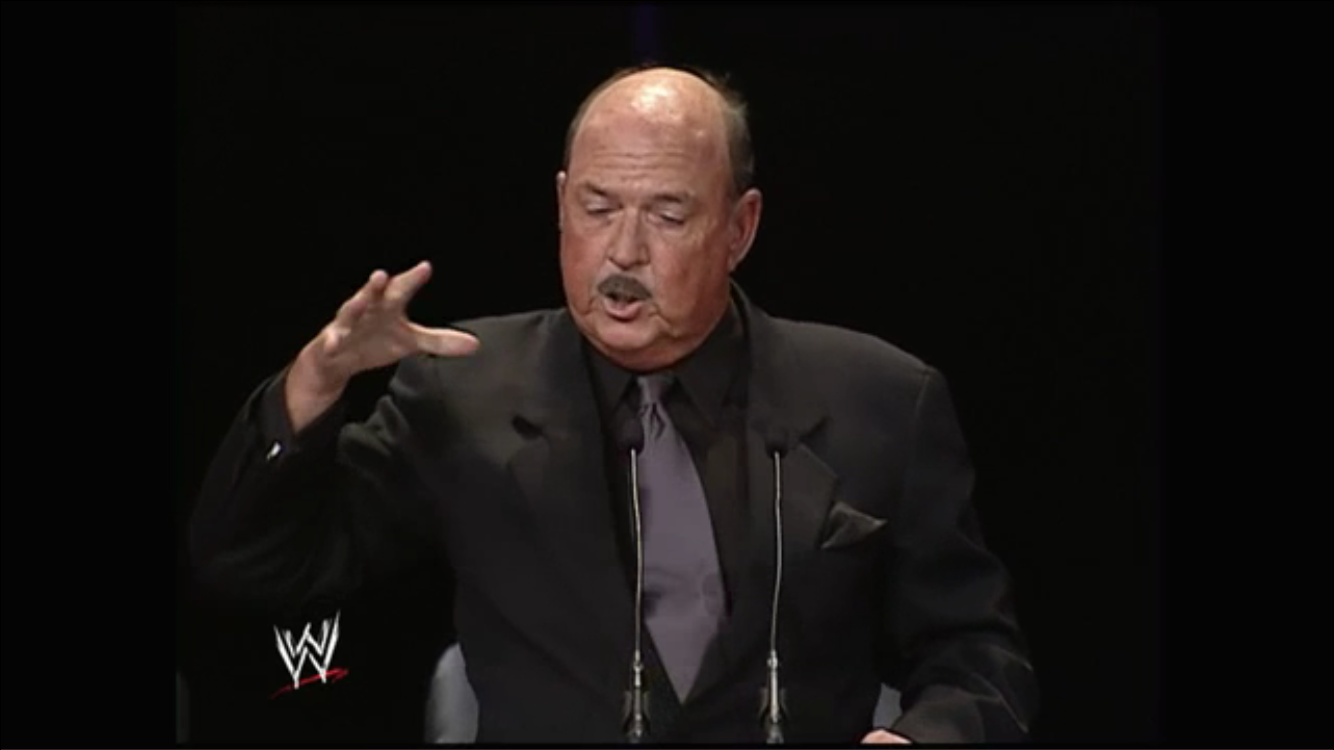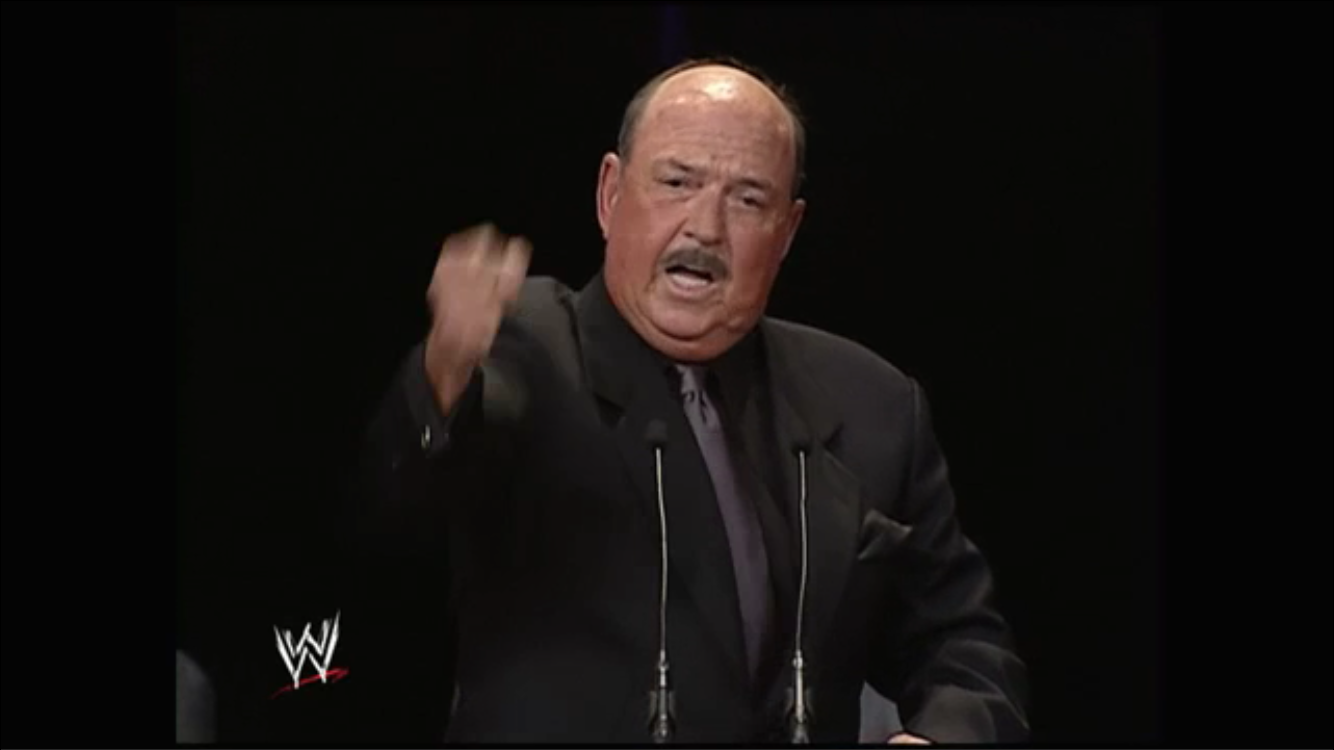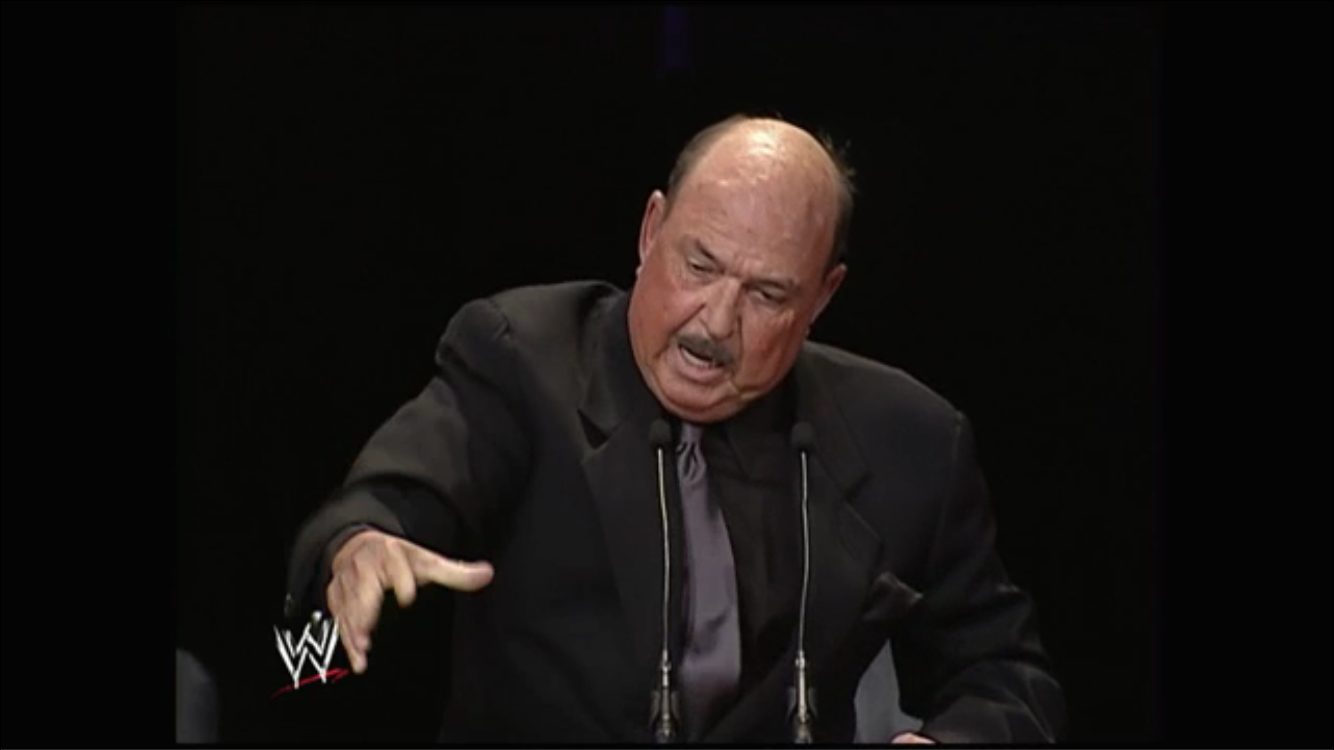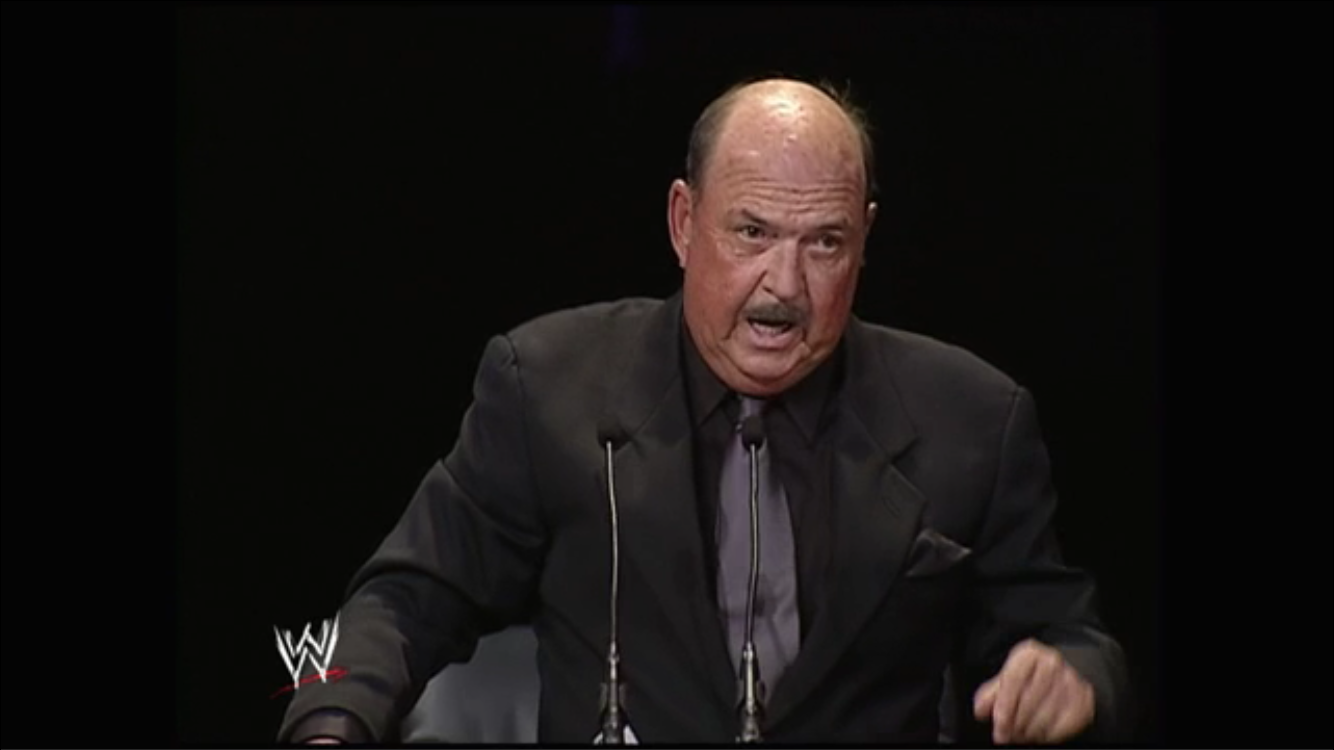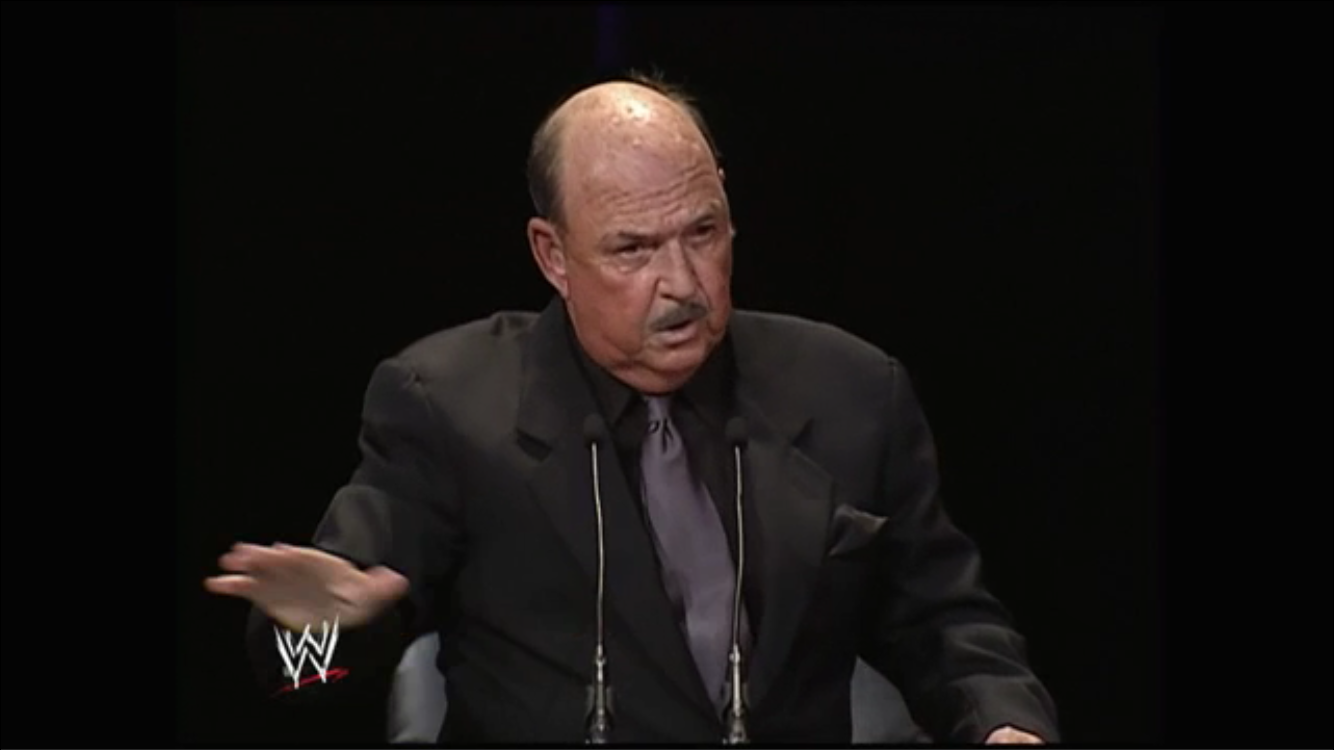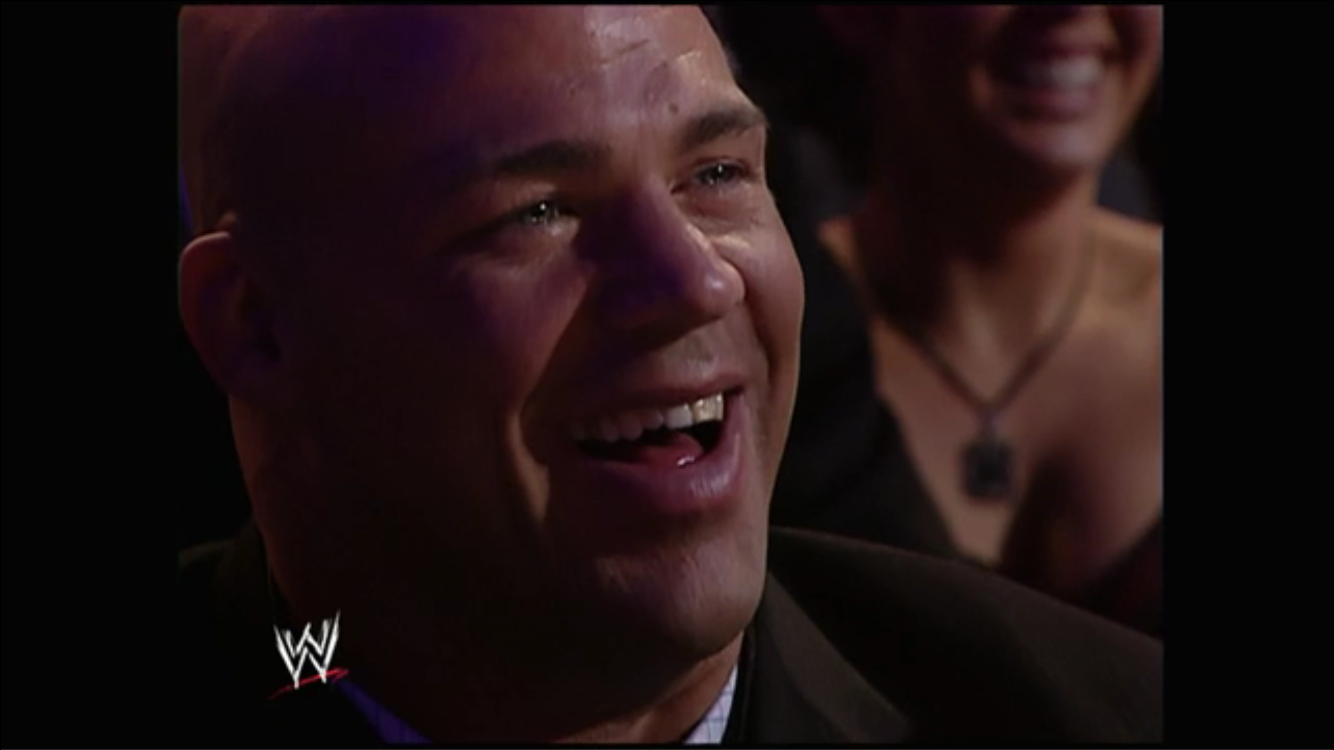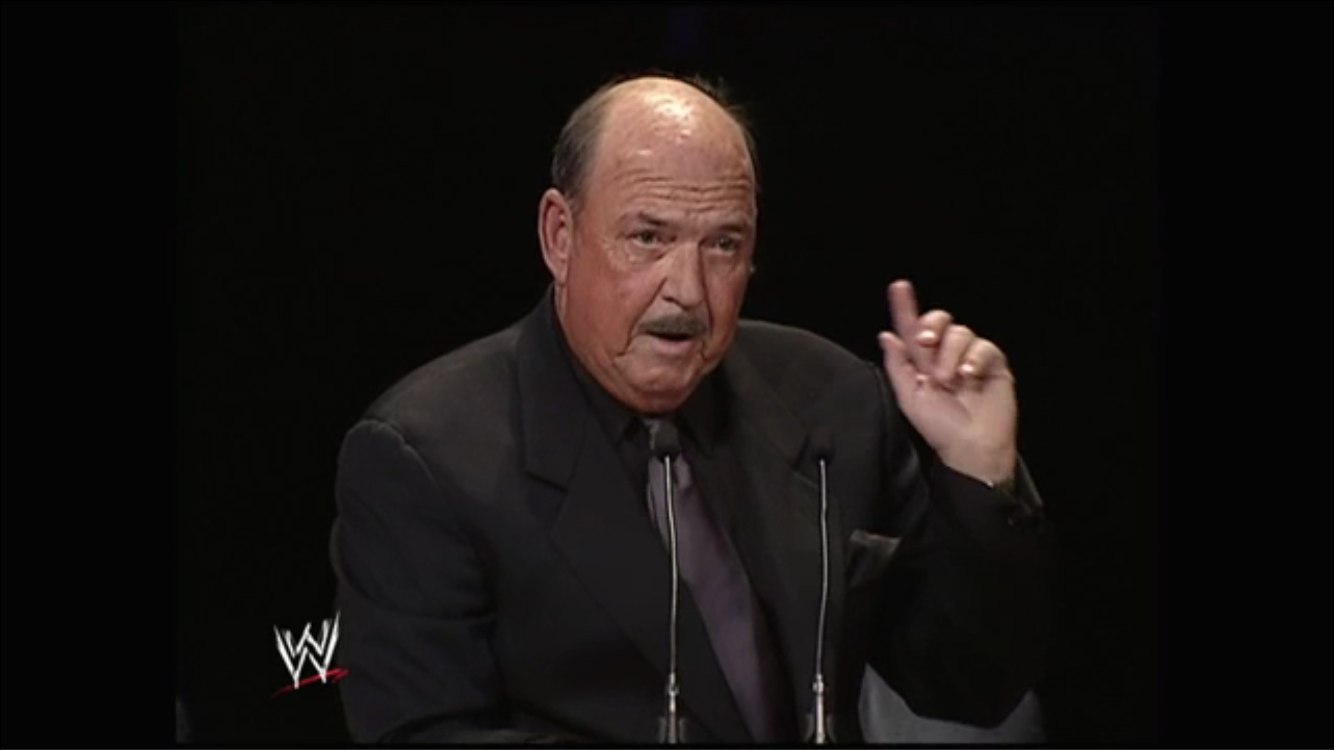 Howard had to send uh, one of the boys back up to Groton, Connecticut to the turkey farm to get another bird.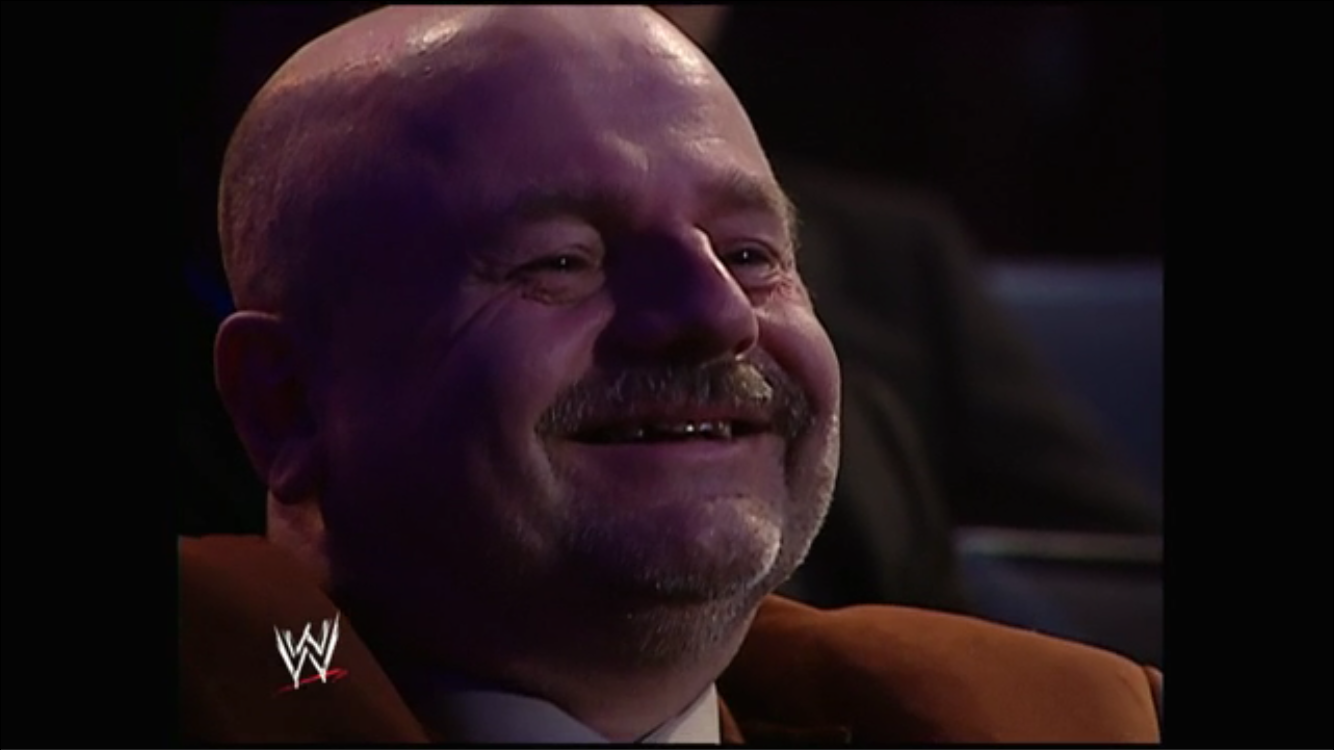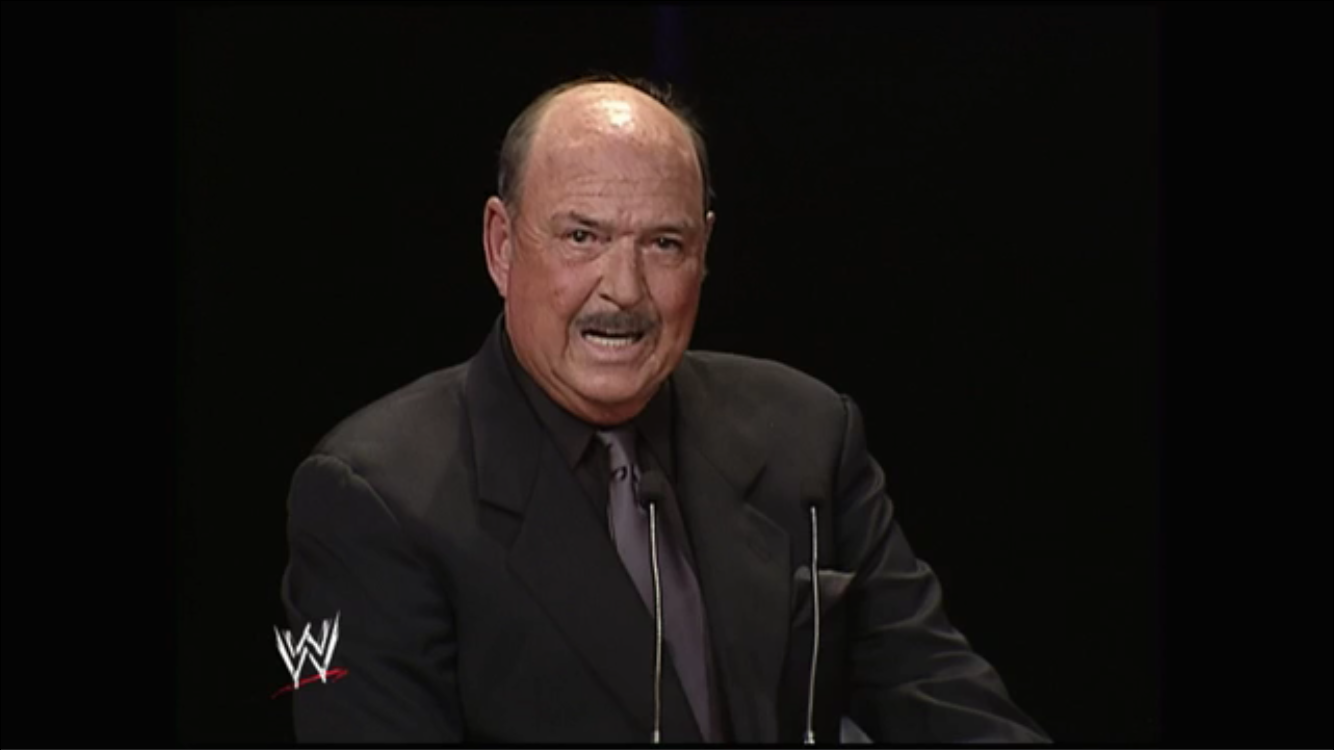 AND SPEAKING OF BIRDS… what about that COCKAMAMIE… Gobbledy Gooker?!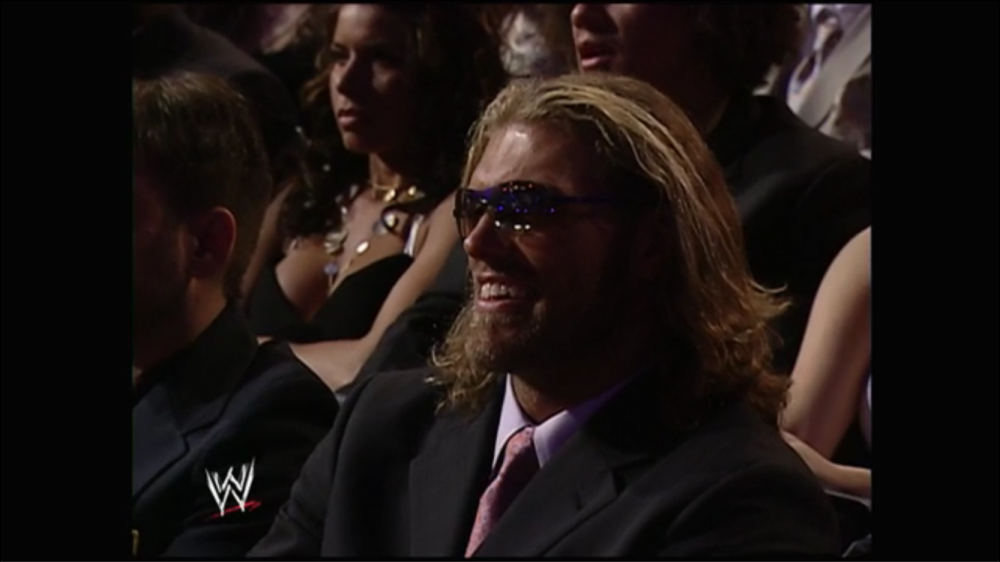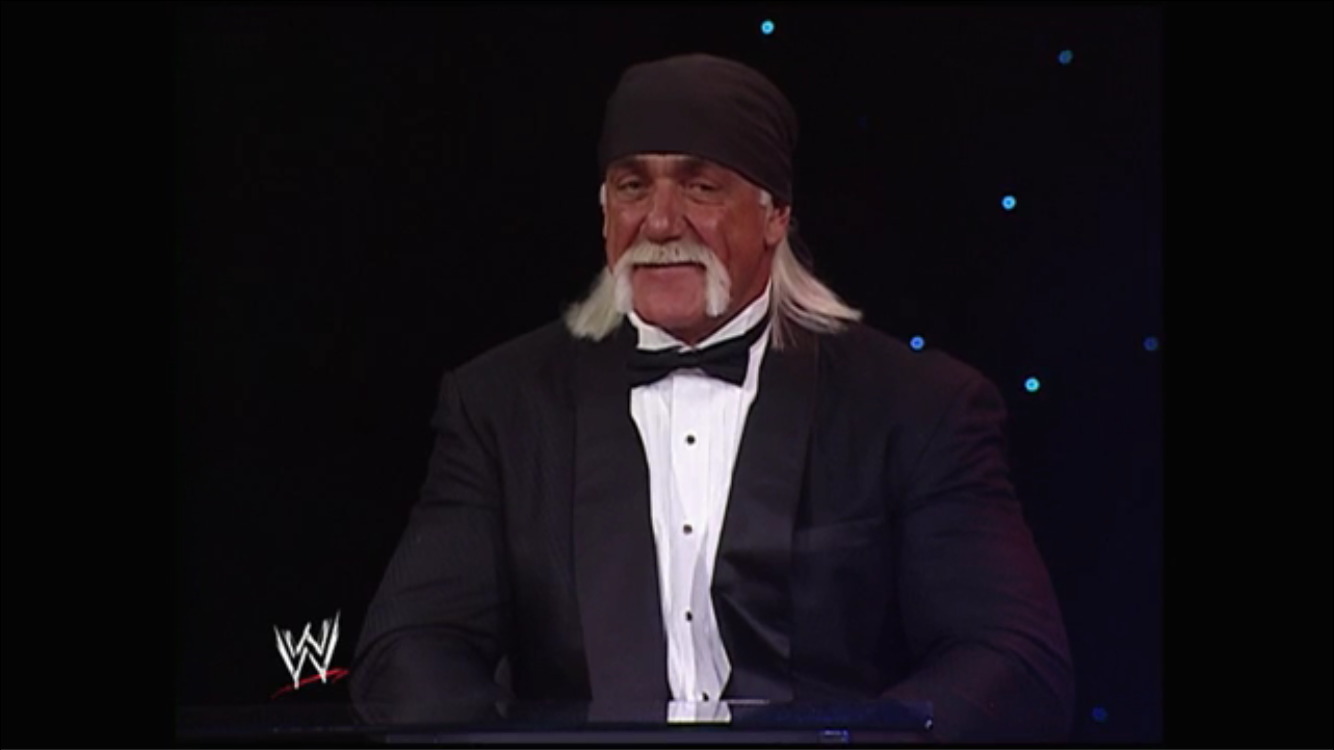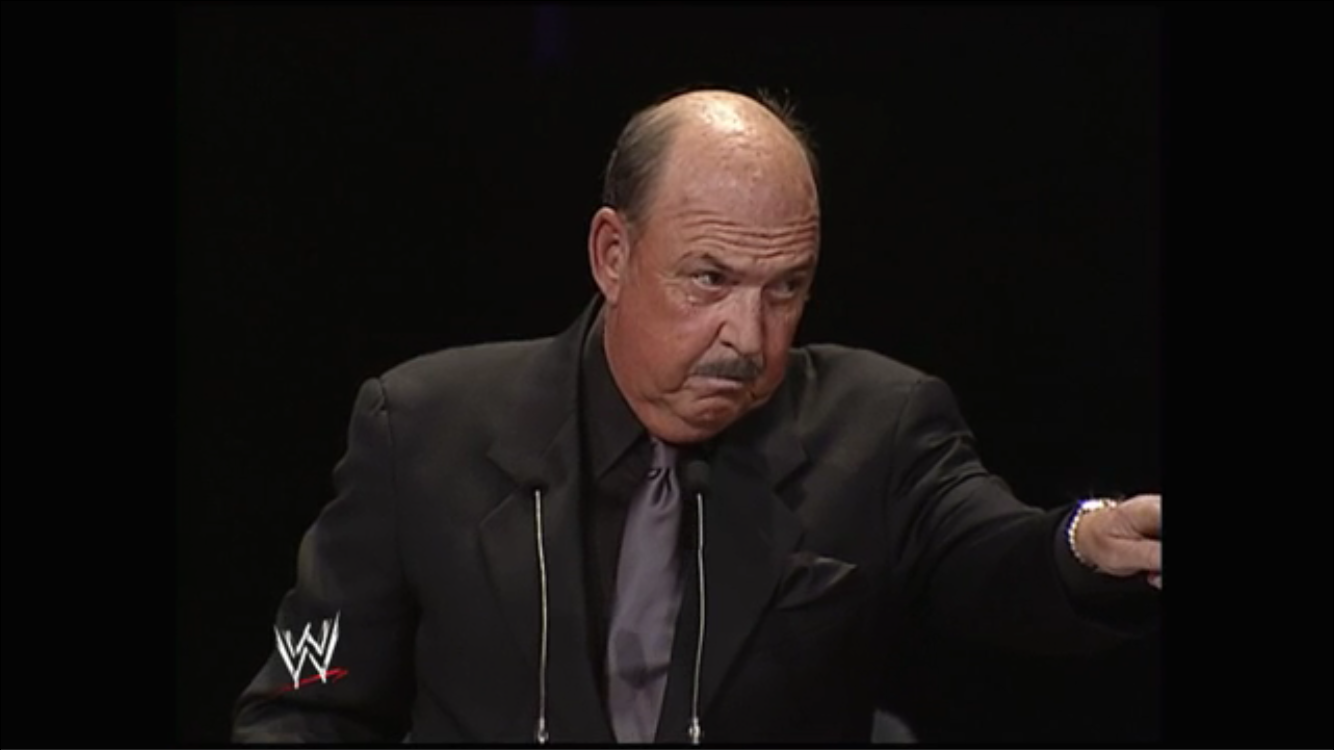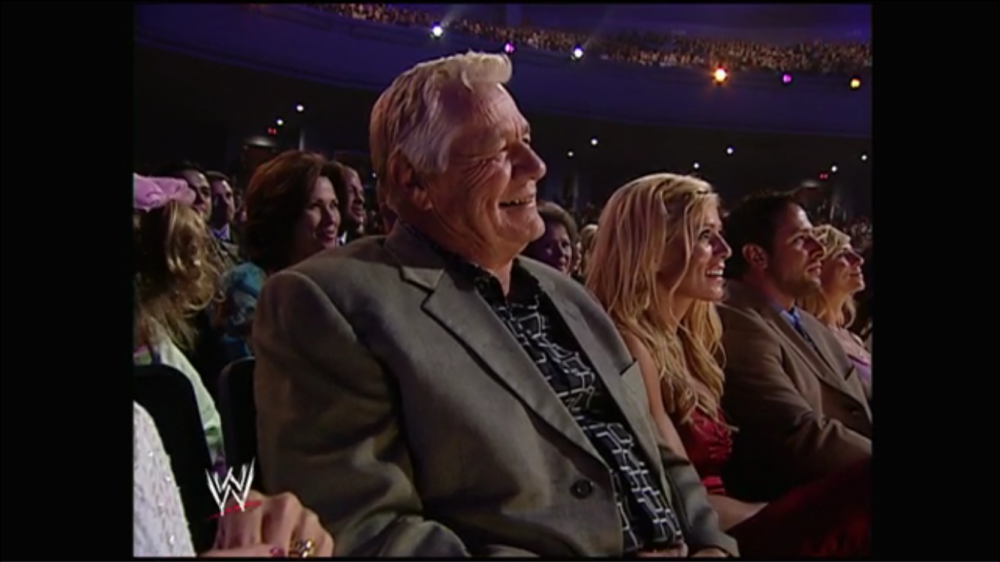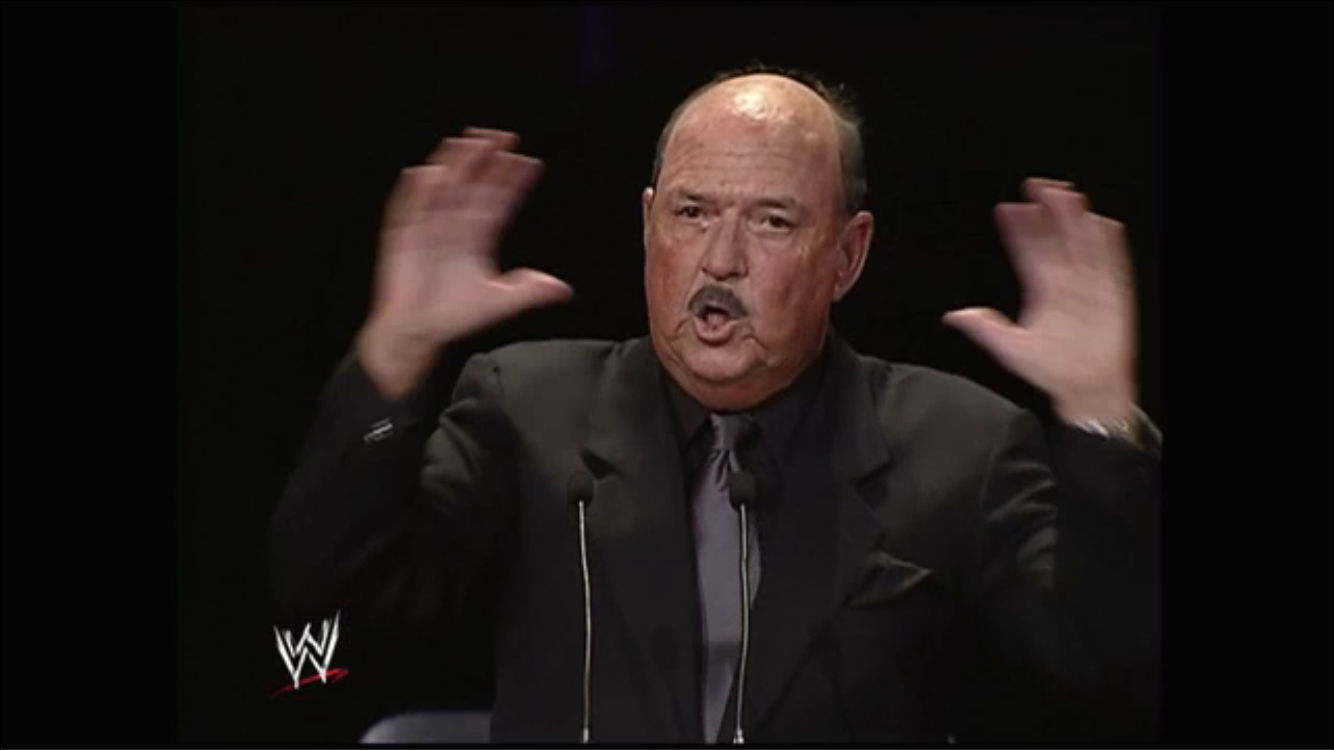 No that uh, that was quite an evening. All of a sudden we touted this big, huge EGG up to Hartford, Connecticut for the Survivor Series.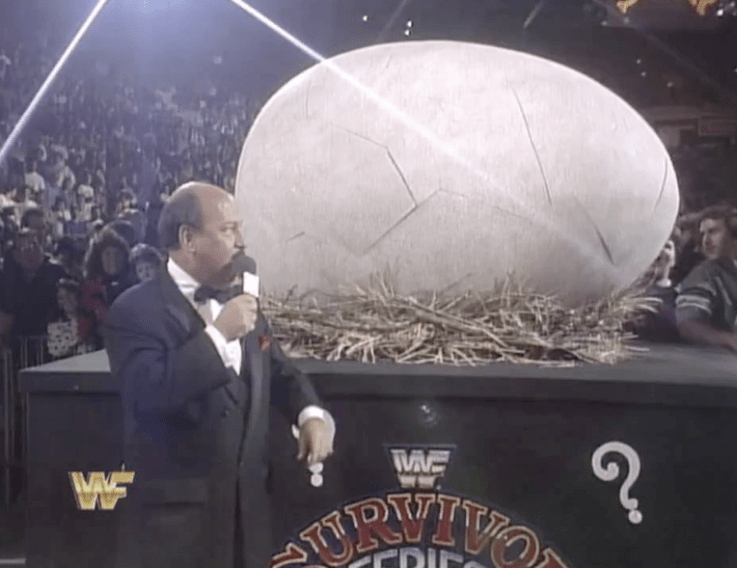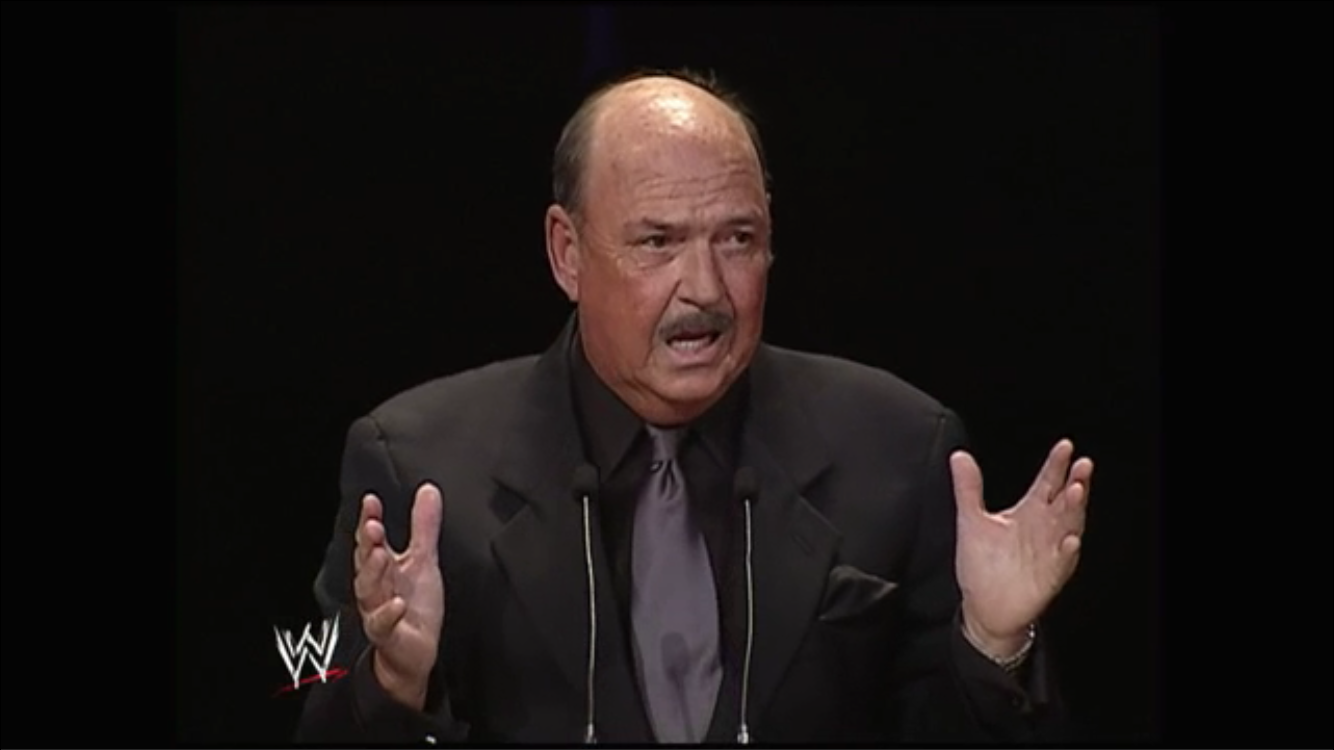 And when it finally cracked open, here comes a knockoff of the San Diego Chicken… the Gobbledy Gooker.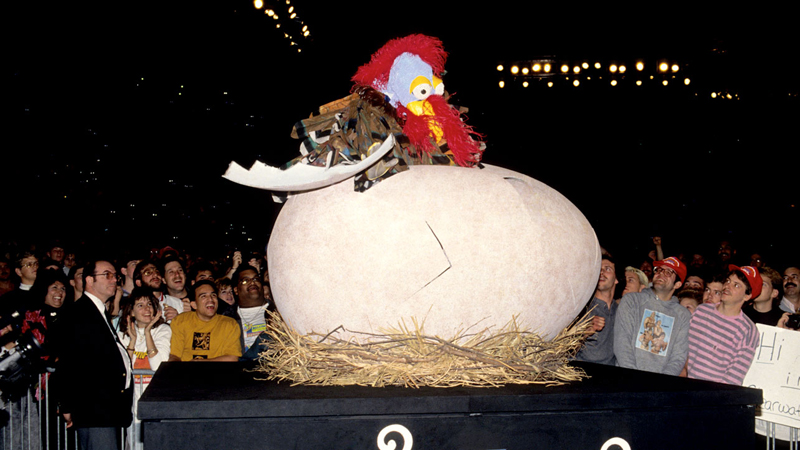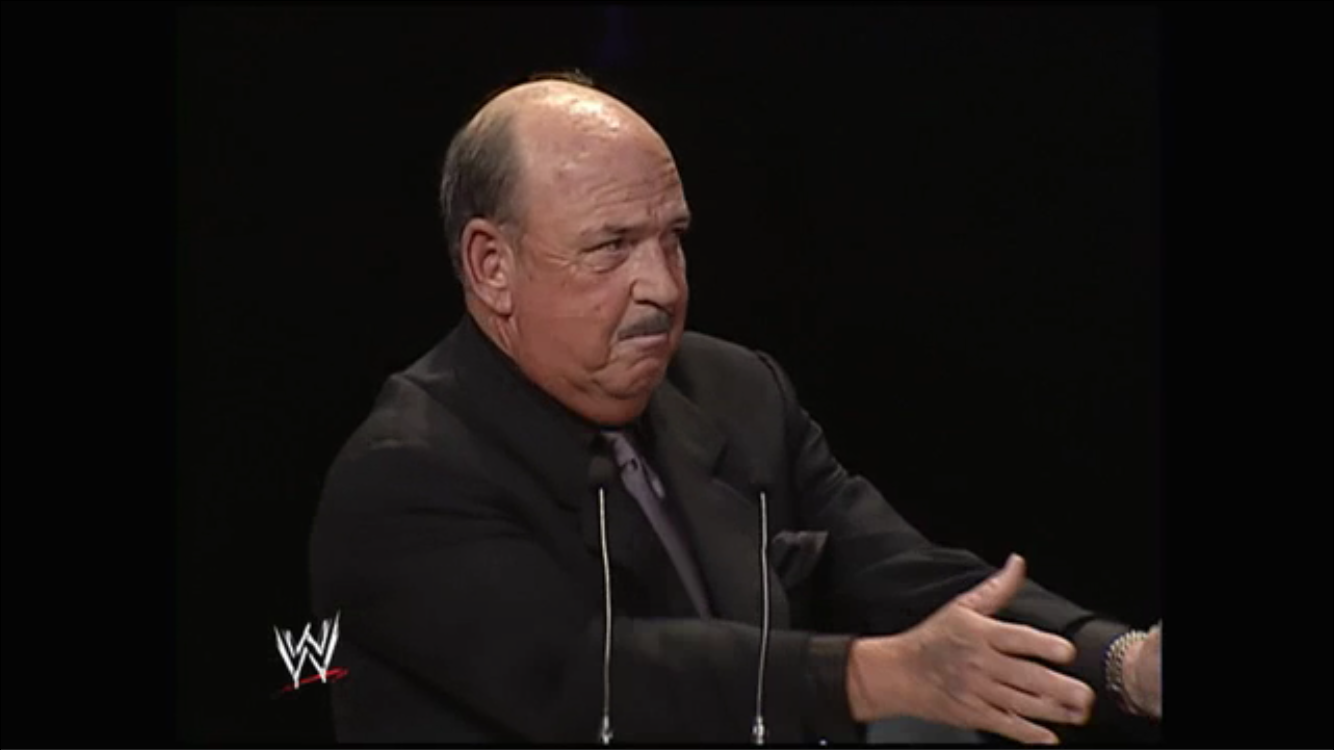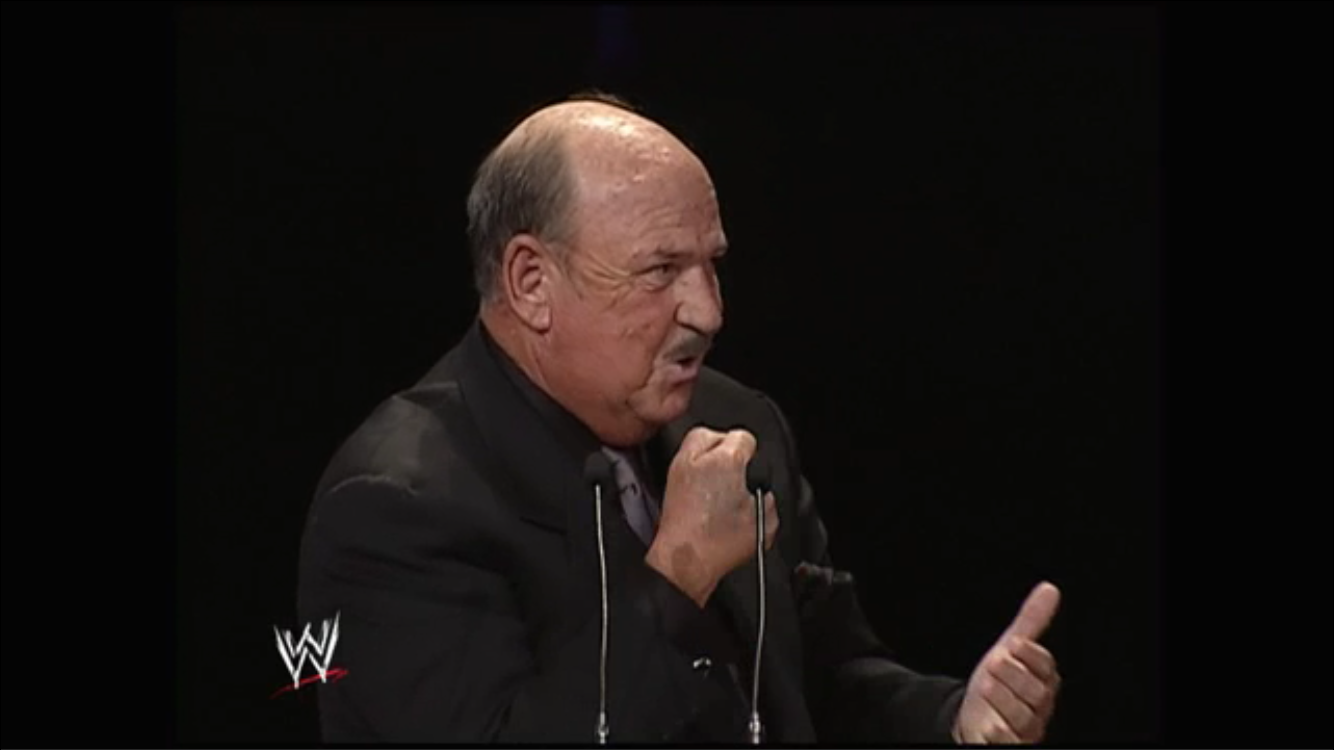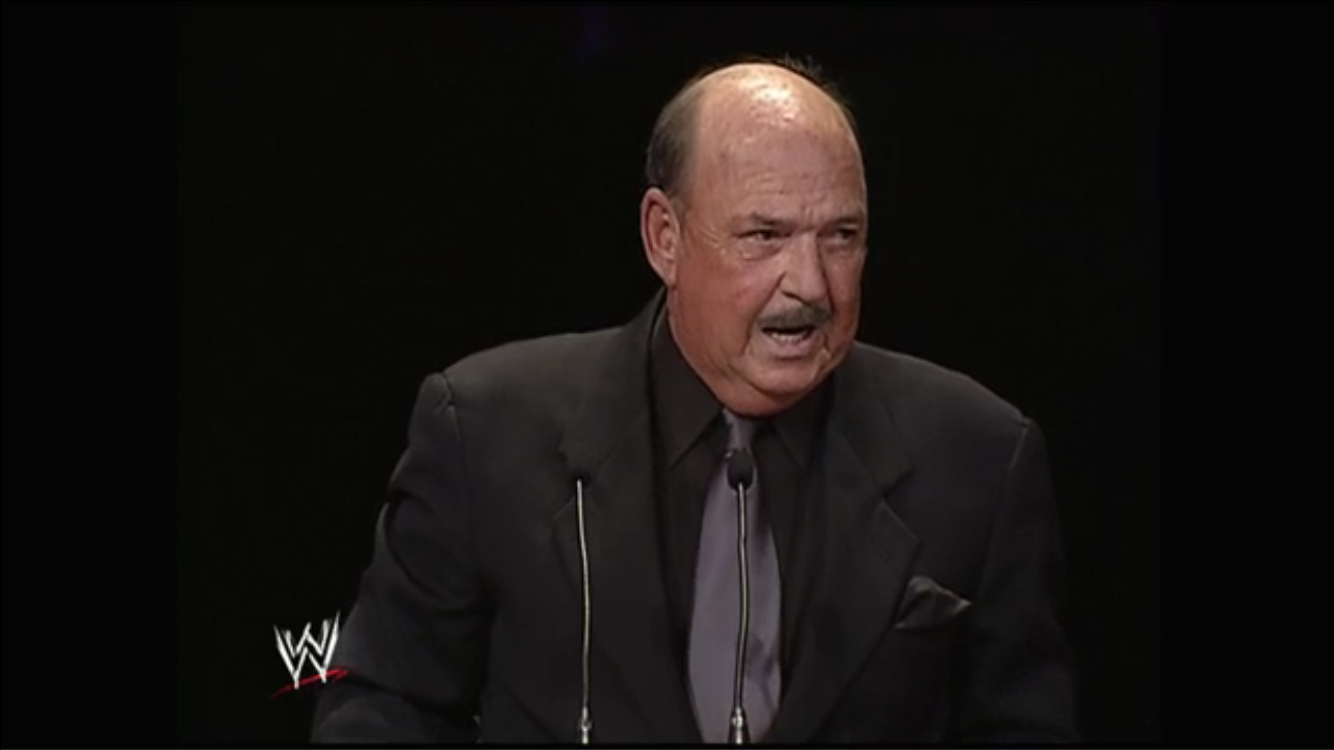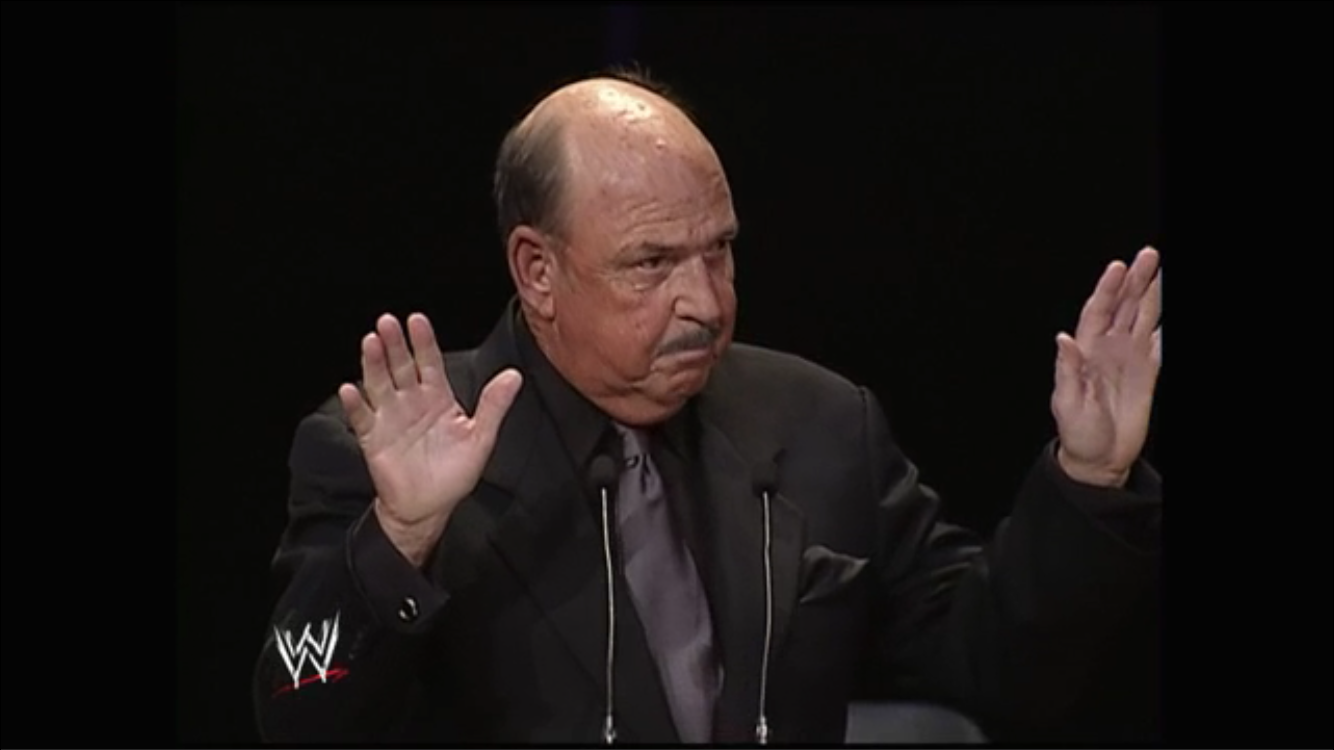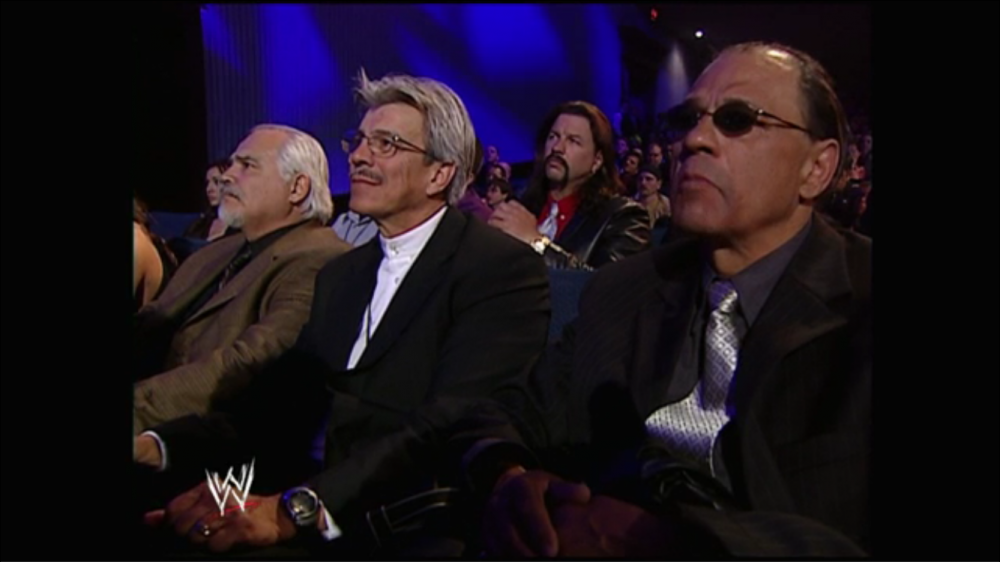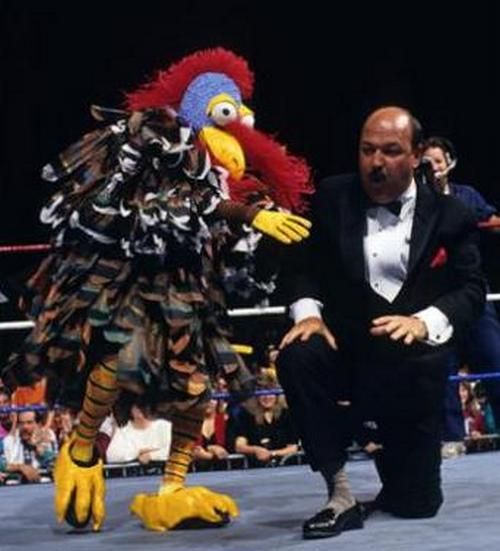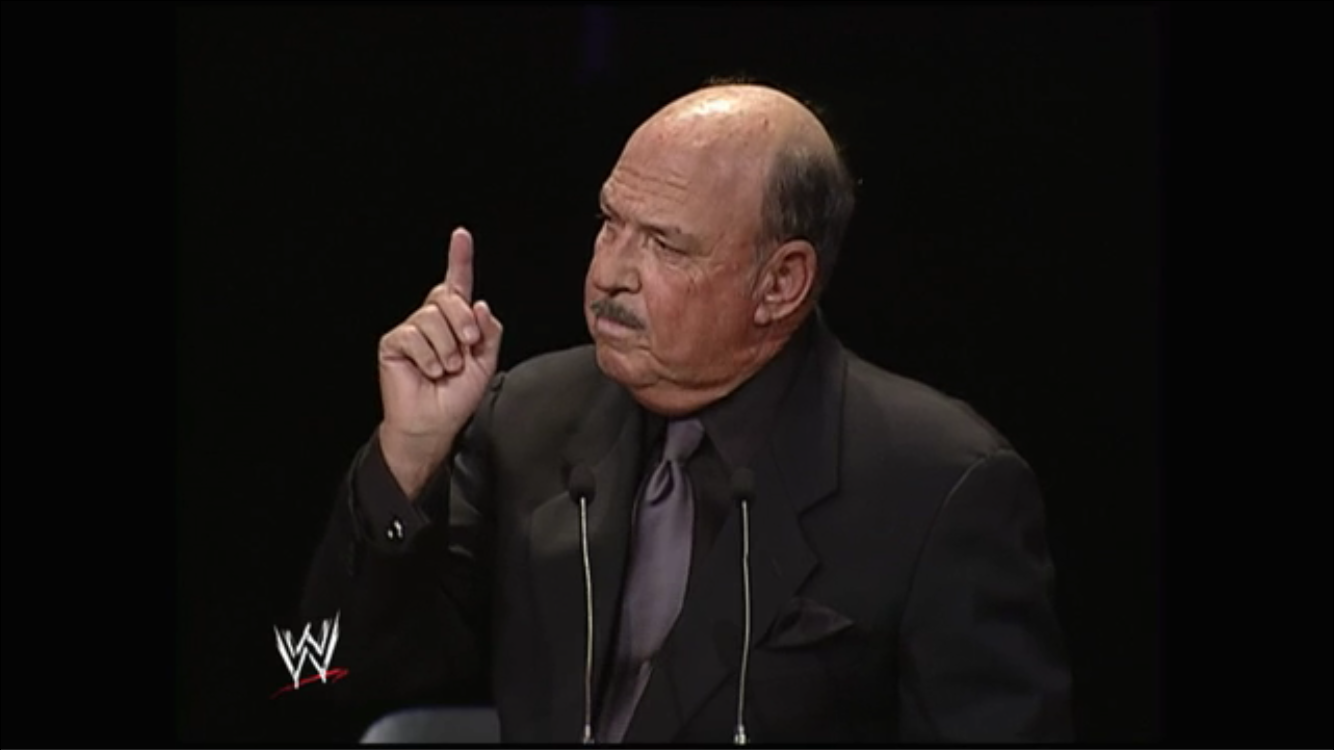 Couple of guys by the name of Hillbilly Jim, Cousin Junior… OH, Uncle Elmer!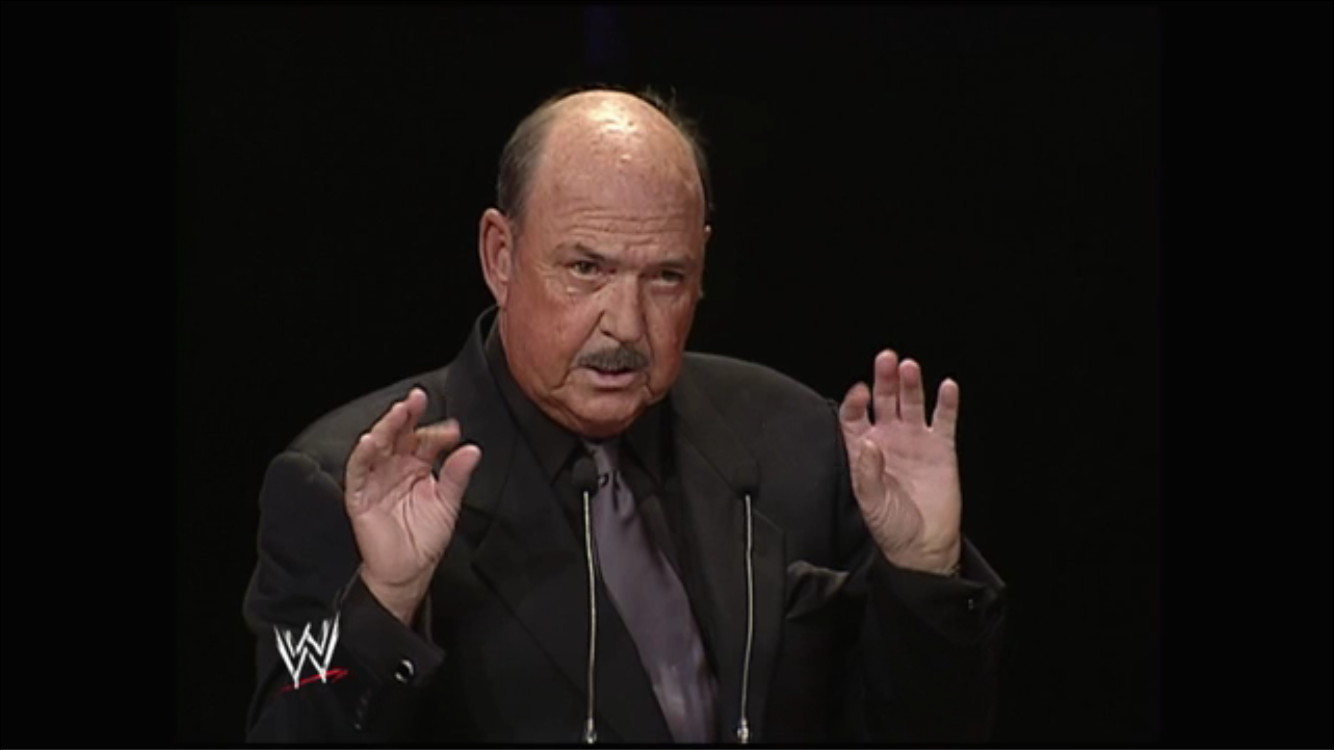 Great, great interview here. I start the interview out with Hillbilly Jim. He gives us a little bit of his own music. And finally he turns it over to Uncle Elmer.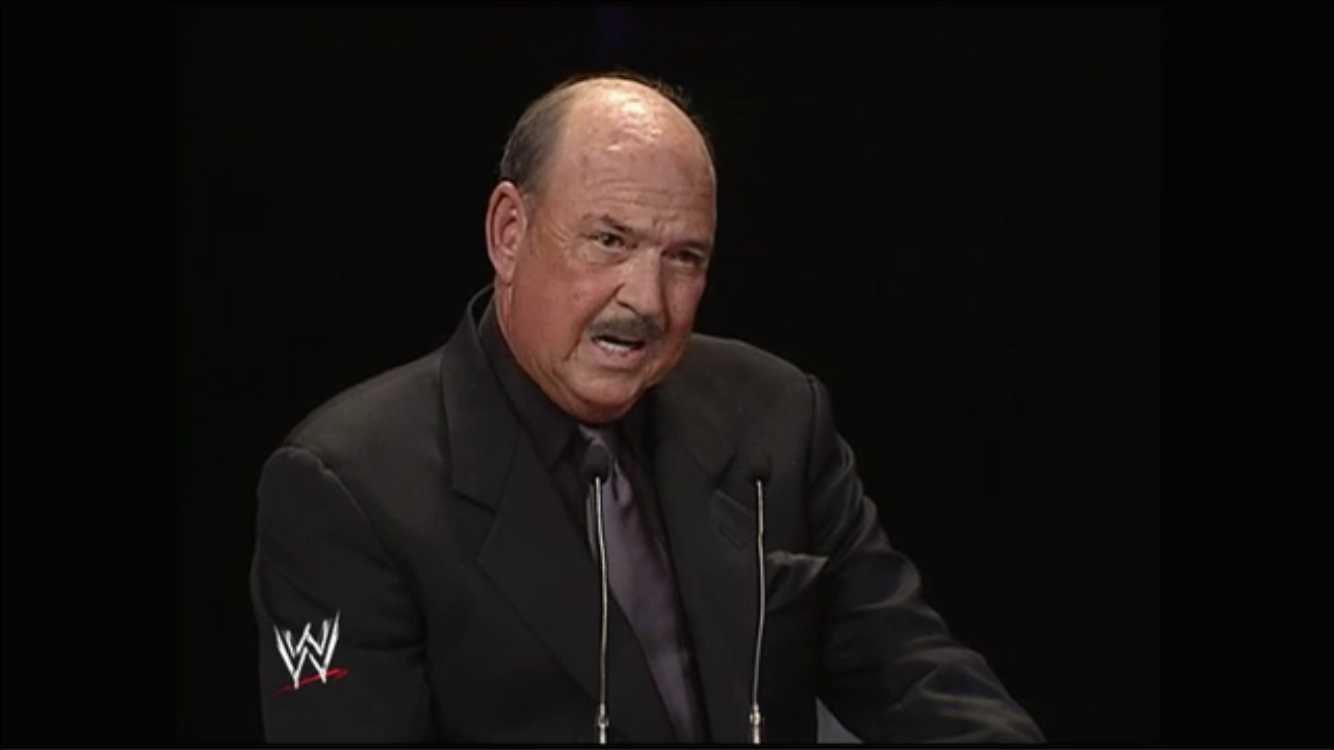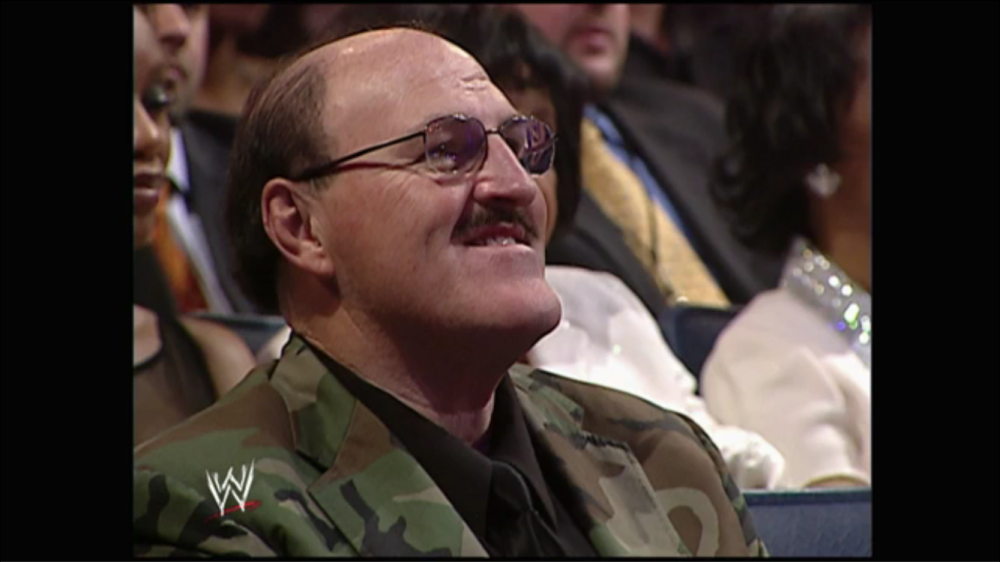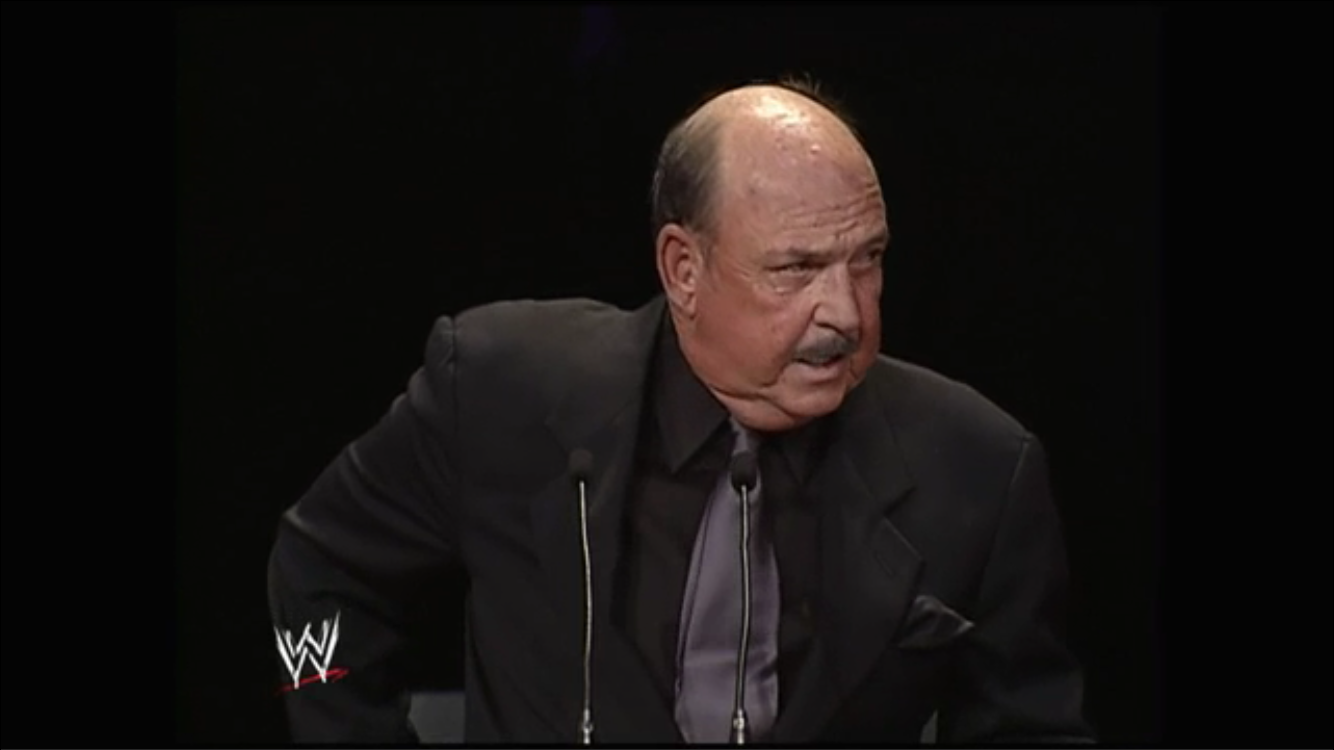 Now I'm down on my knees. And he's got a handkerchief on the back of his overalls which he's had for two months.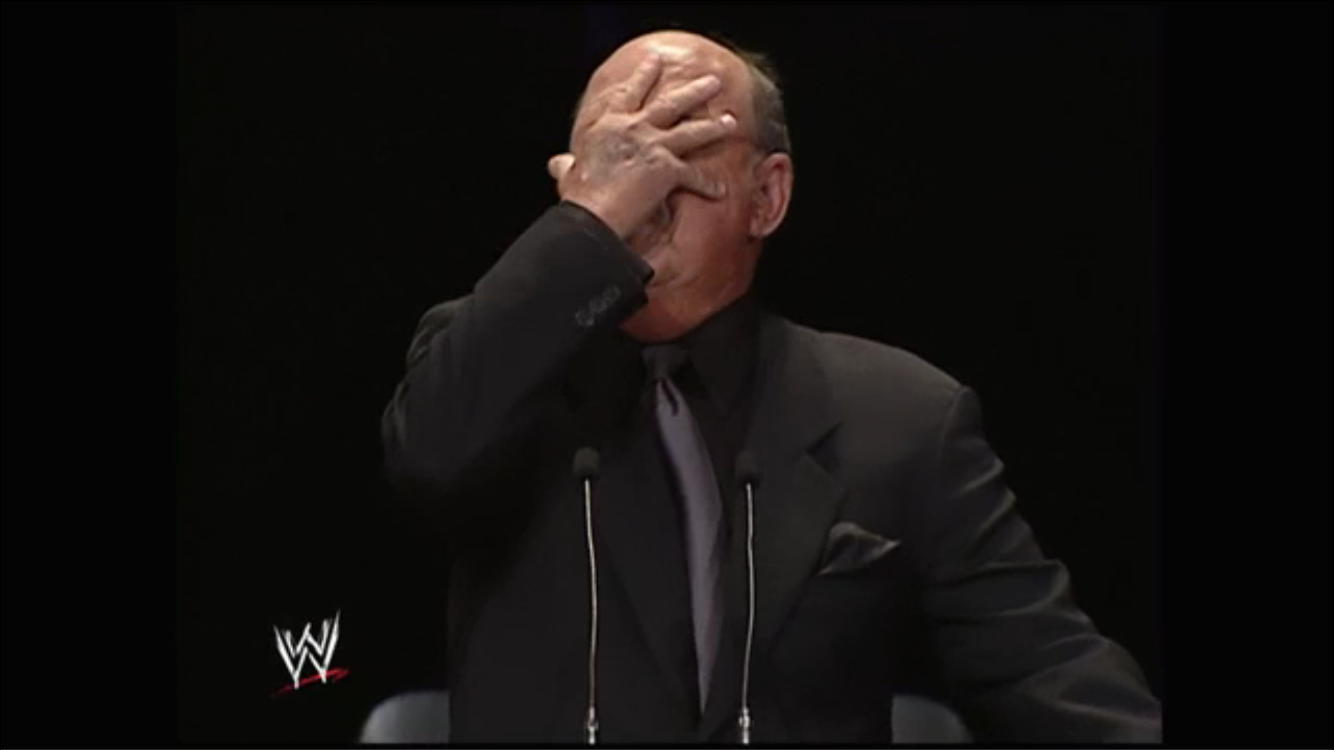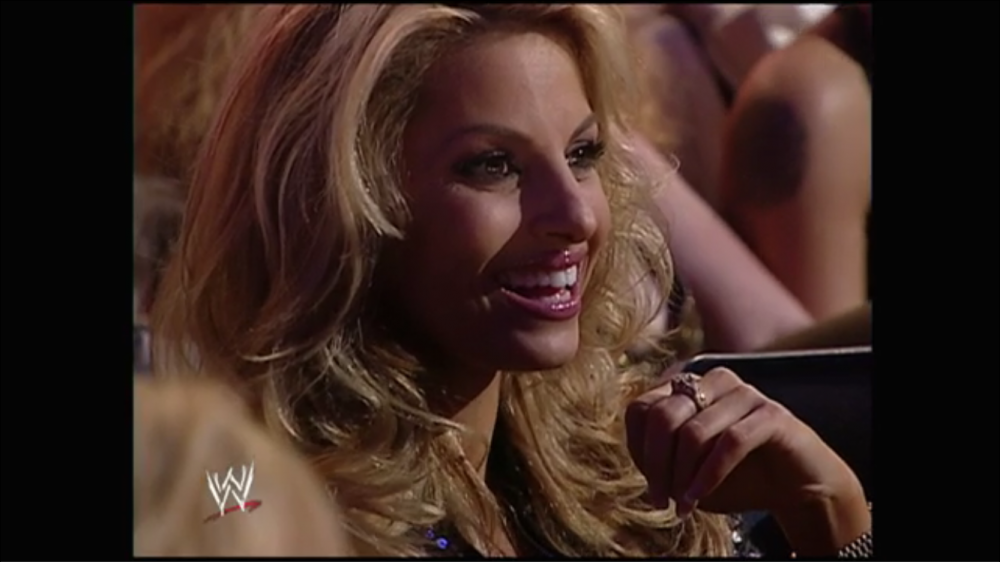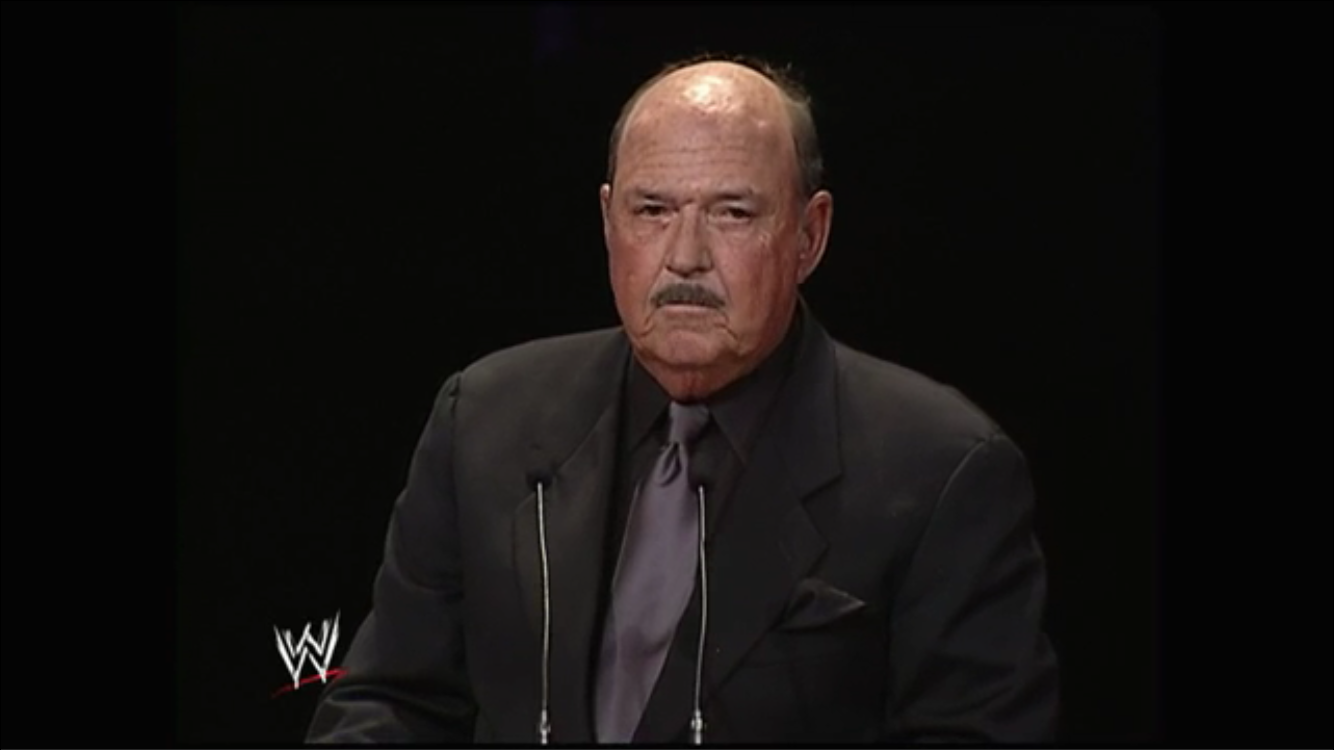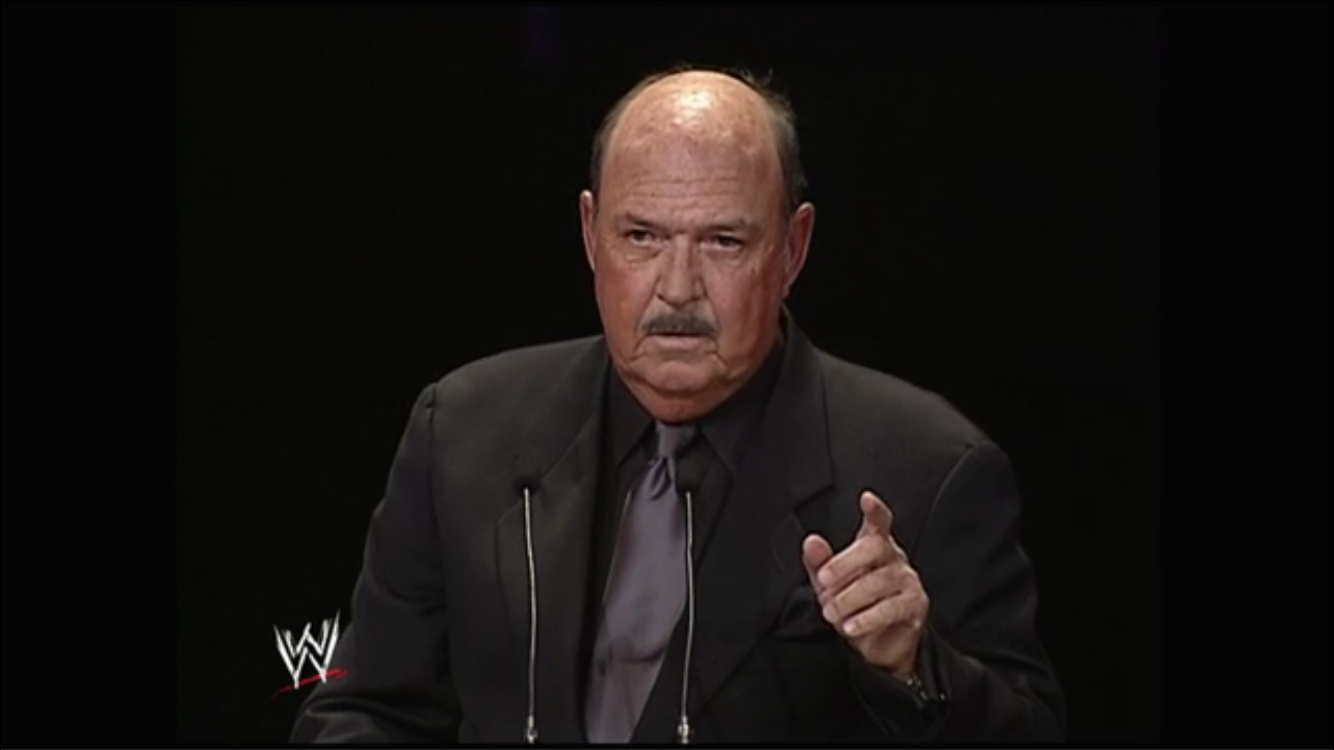 Ric Flair…
*Crowd goes WOOOO!*
Ric… everybody's talked about Ric Flair.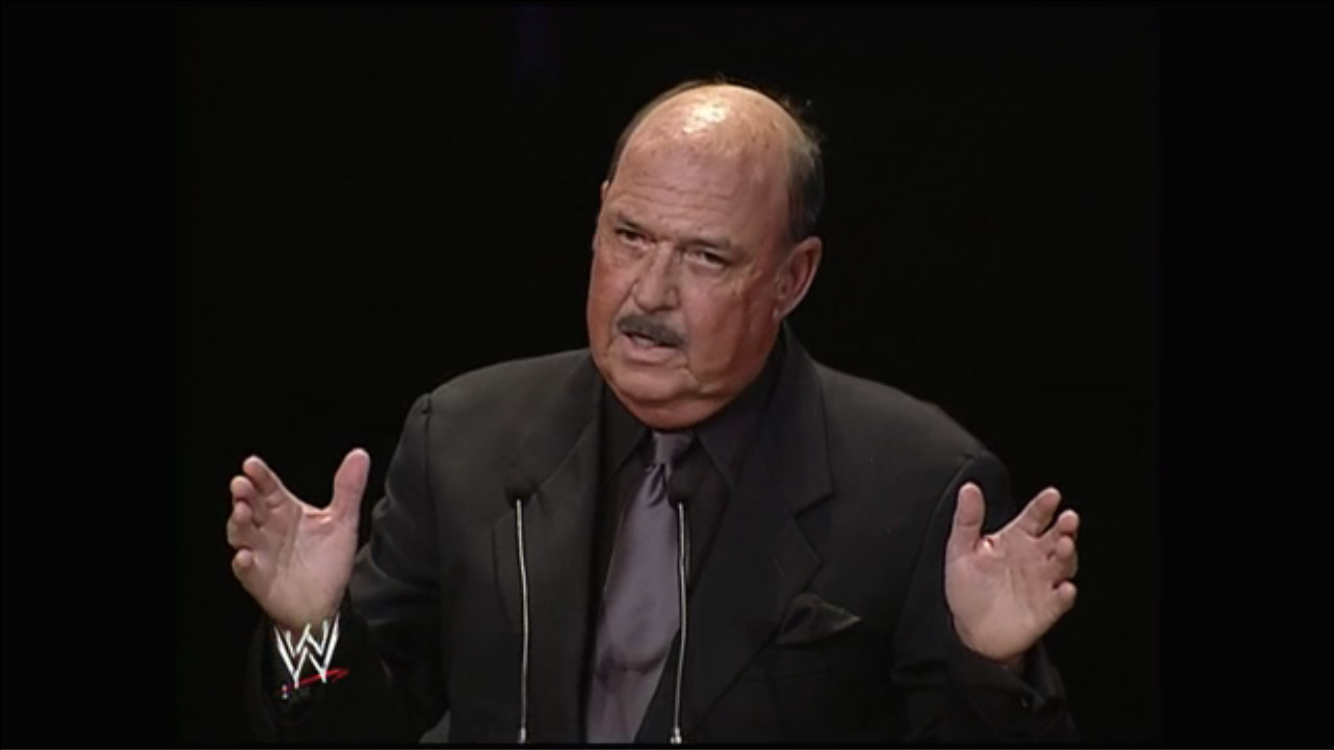 Ric Flair I saw as a BOUNCER in a bar… not that I went to many bars…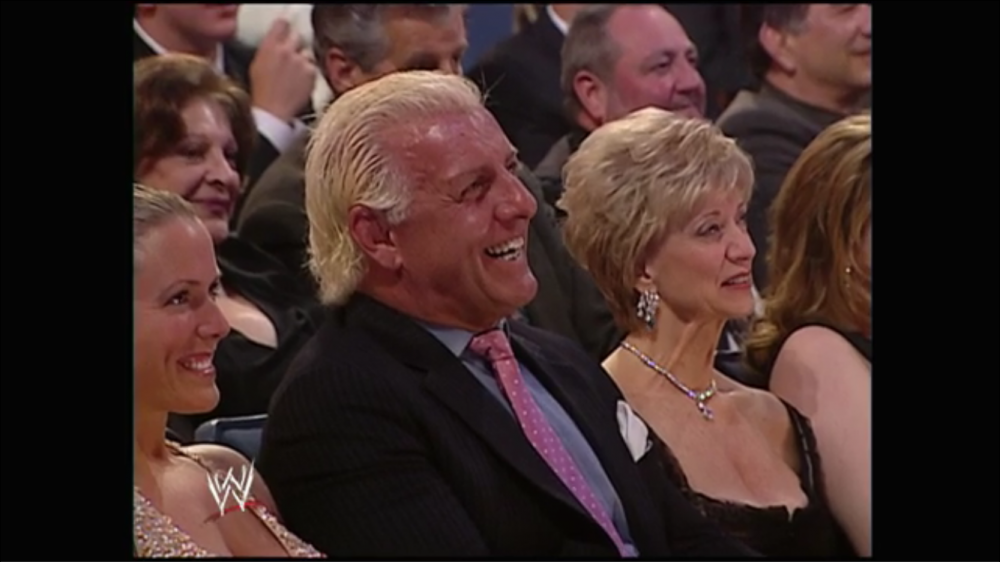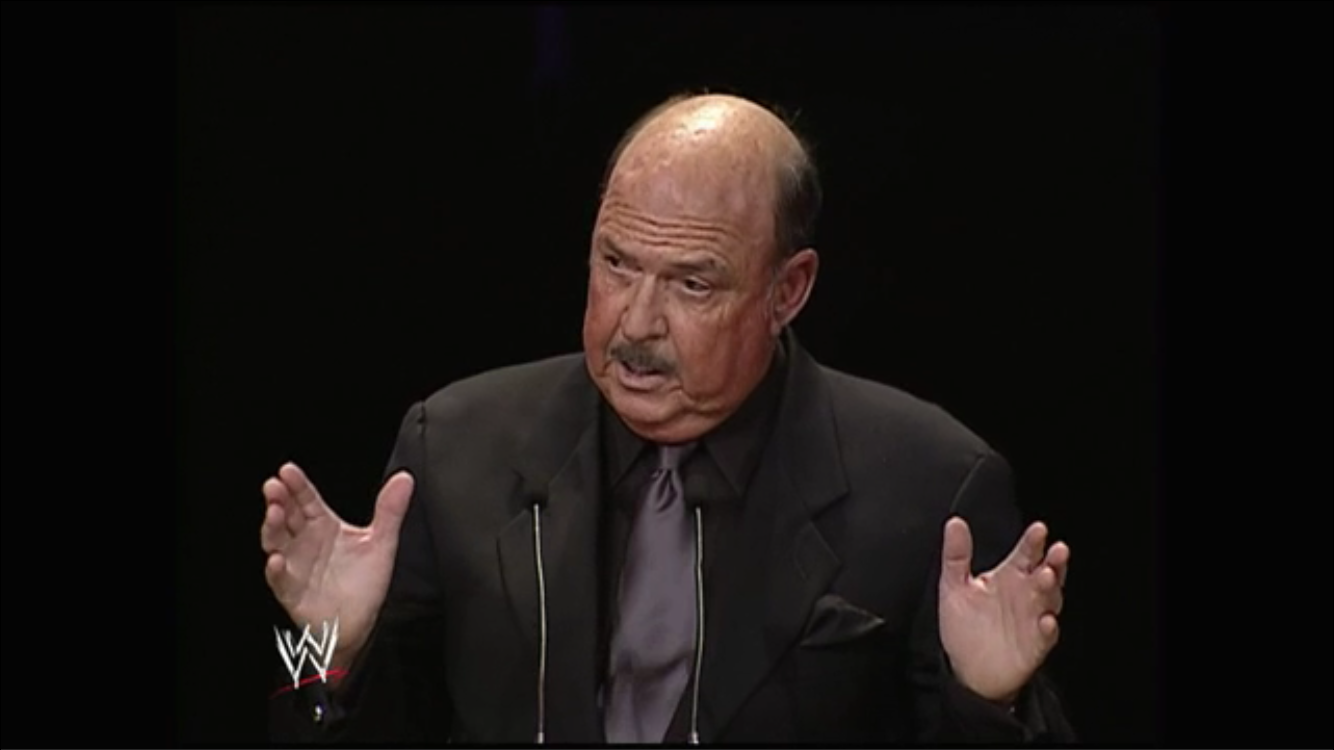 But he was there with Kenny Patera… in the Twin Cities. Then of course uh, he went to Verne Gagne's camp, and cranking it up. And that was the beginning of the Nature Boy.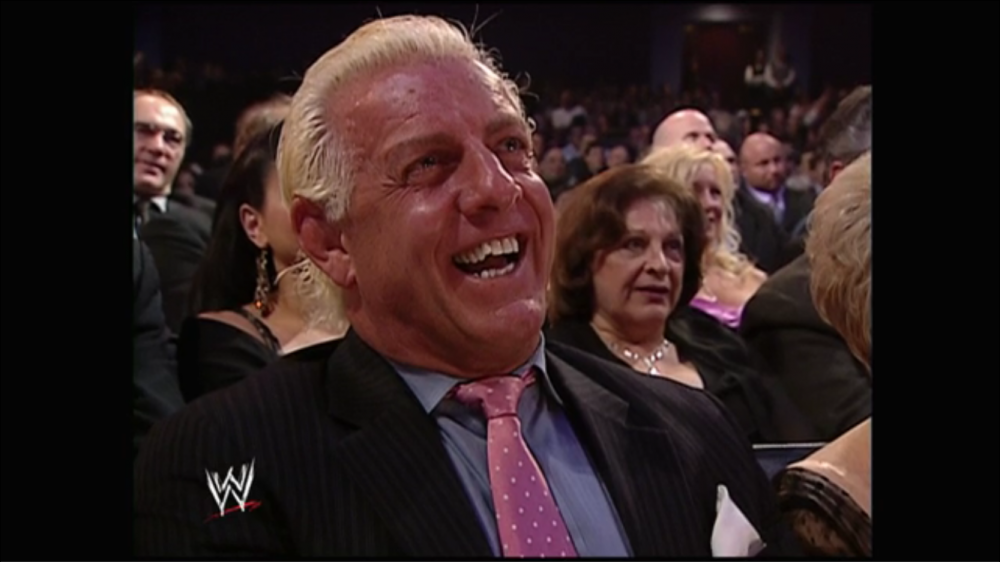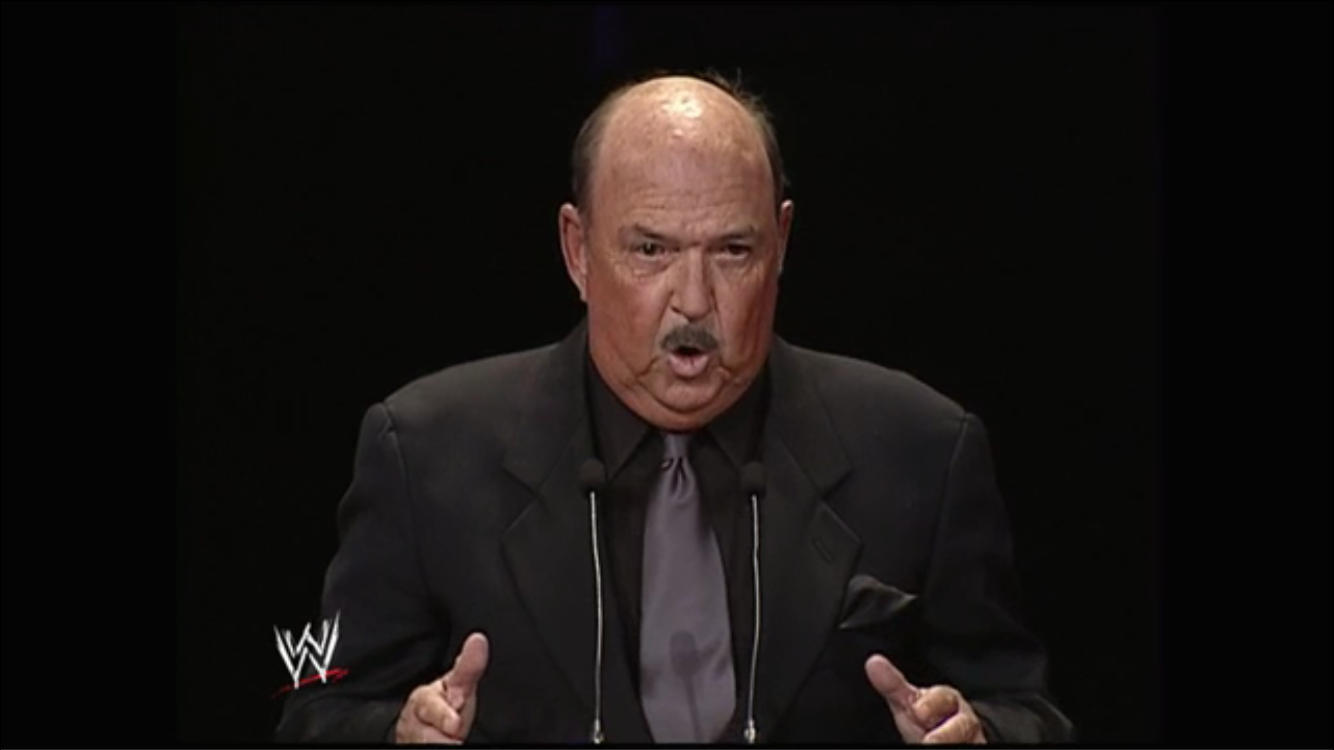 Finally ended up with a career in dancing… the robe, the bar.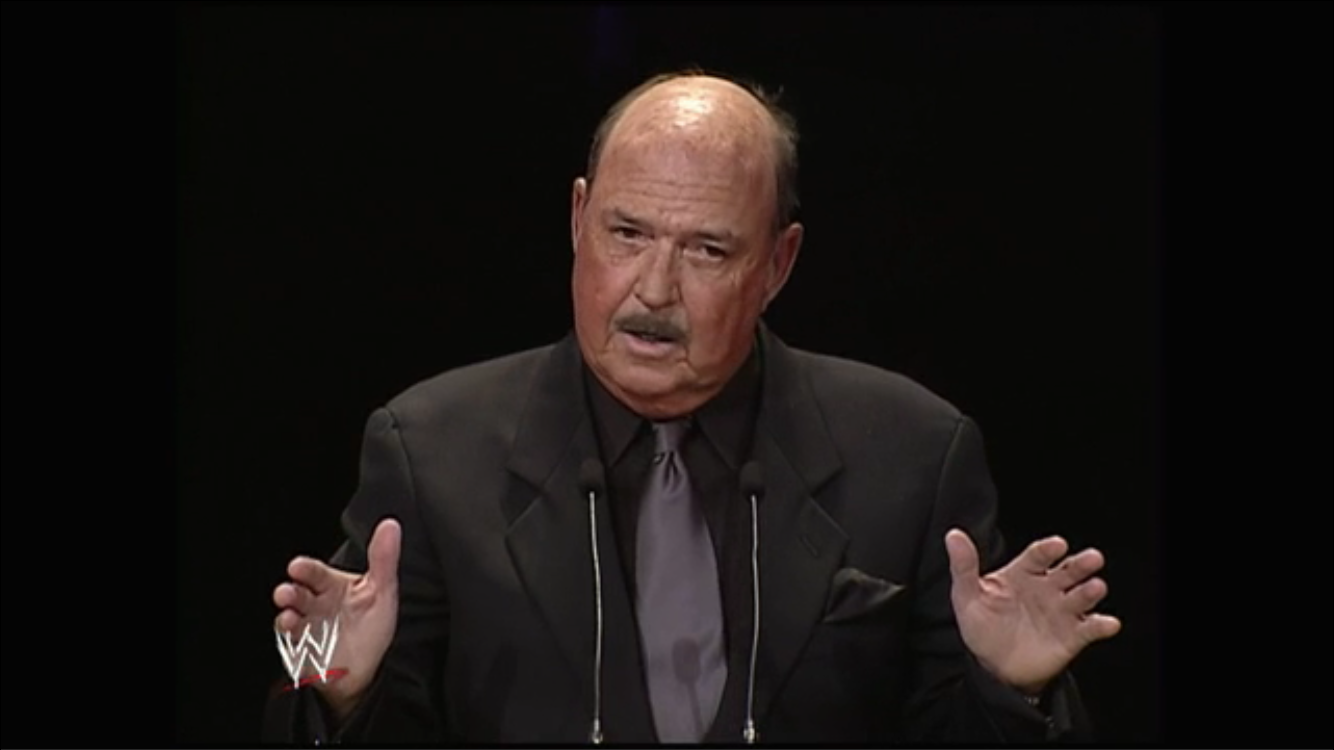 I've seen it coast to coast, and border to border and EVEN INTERNATIONALLY!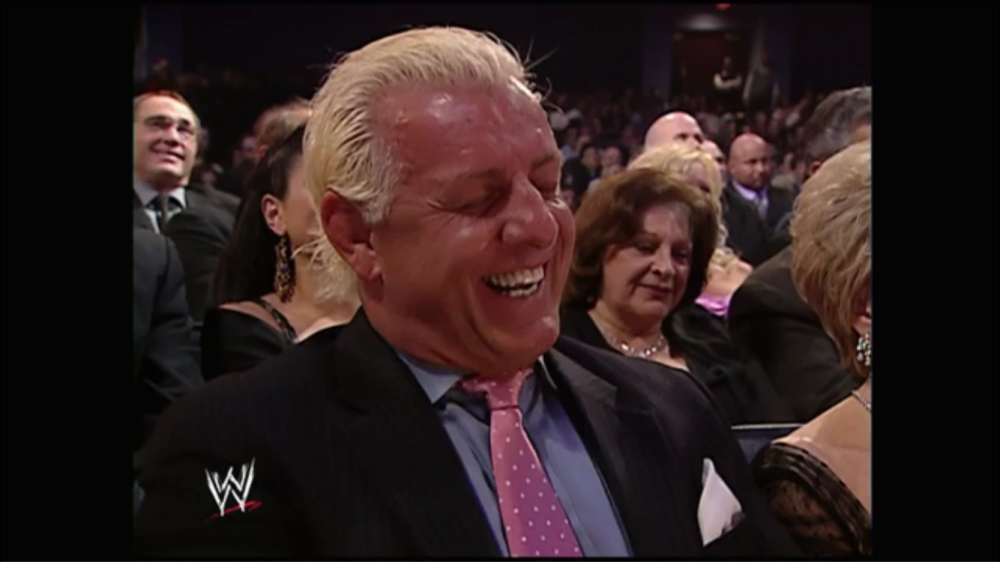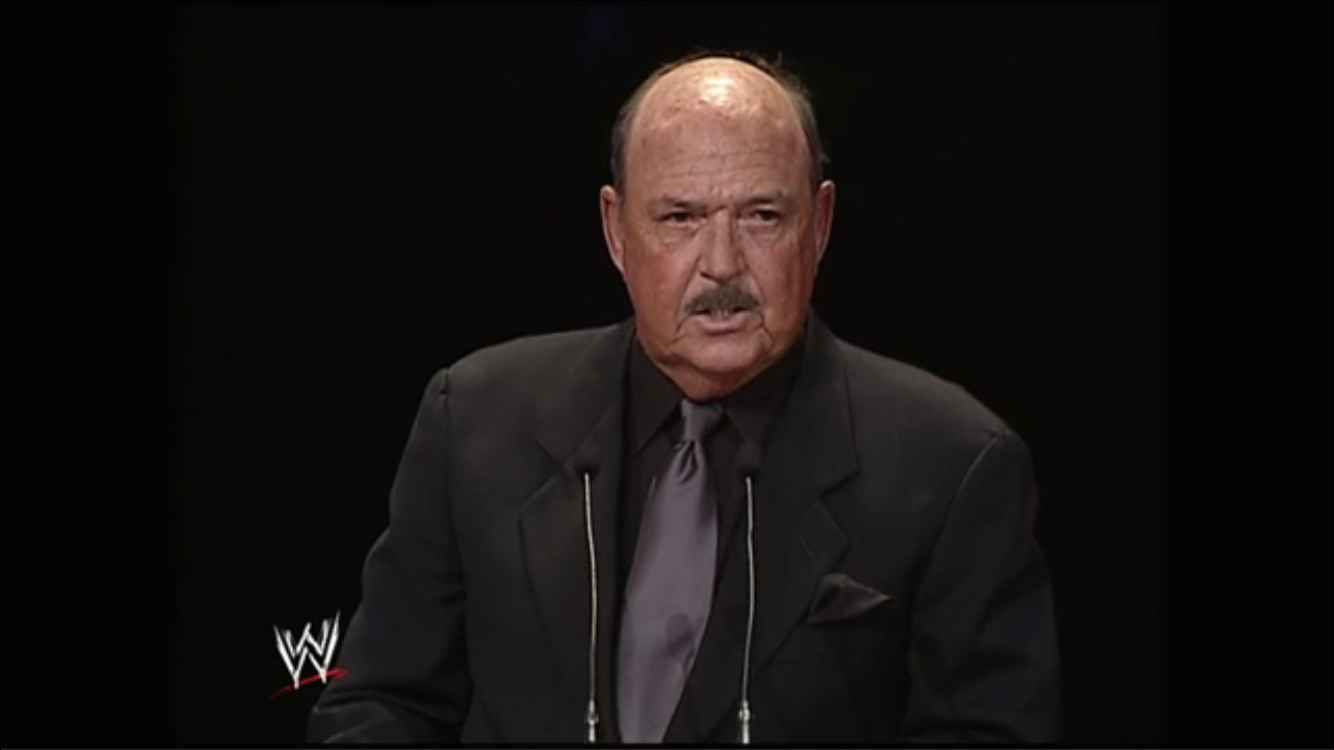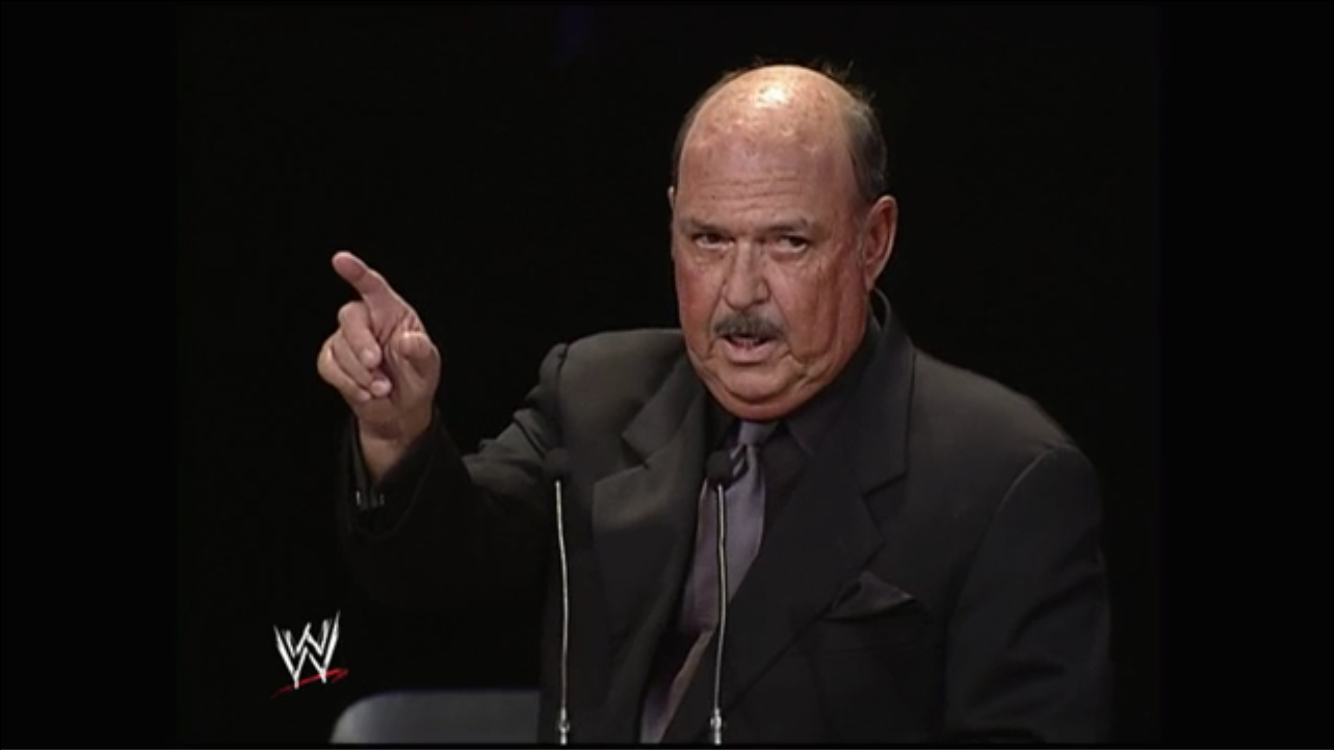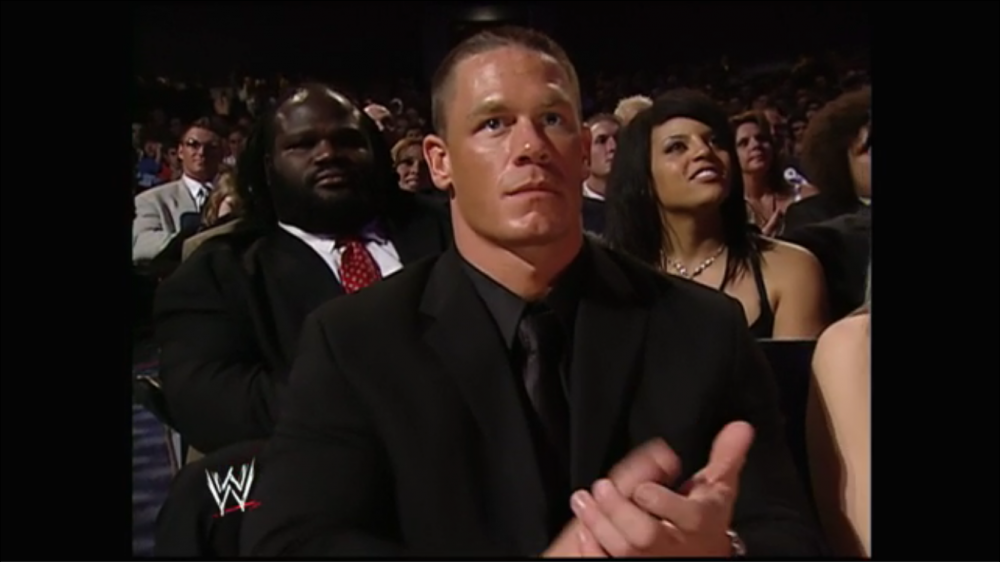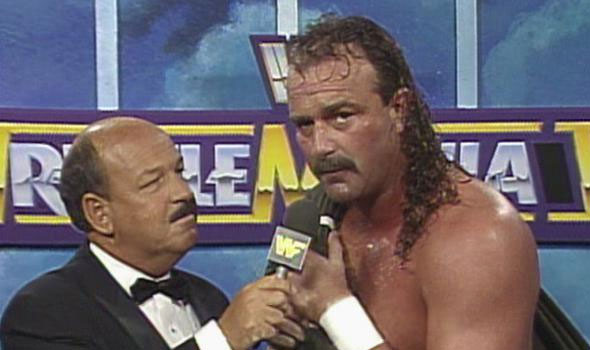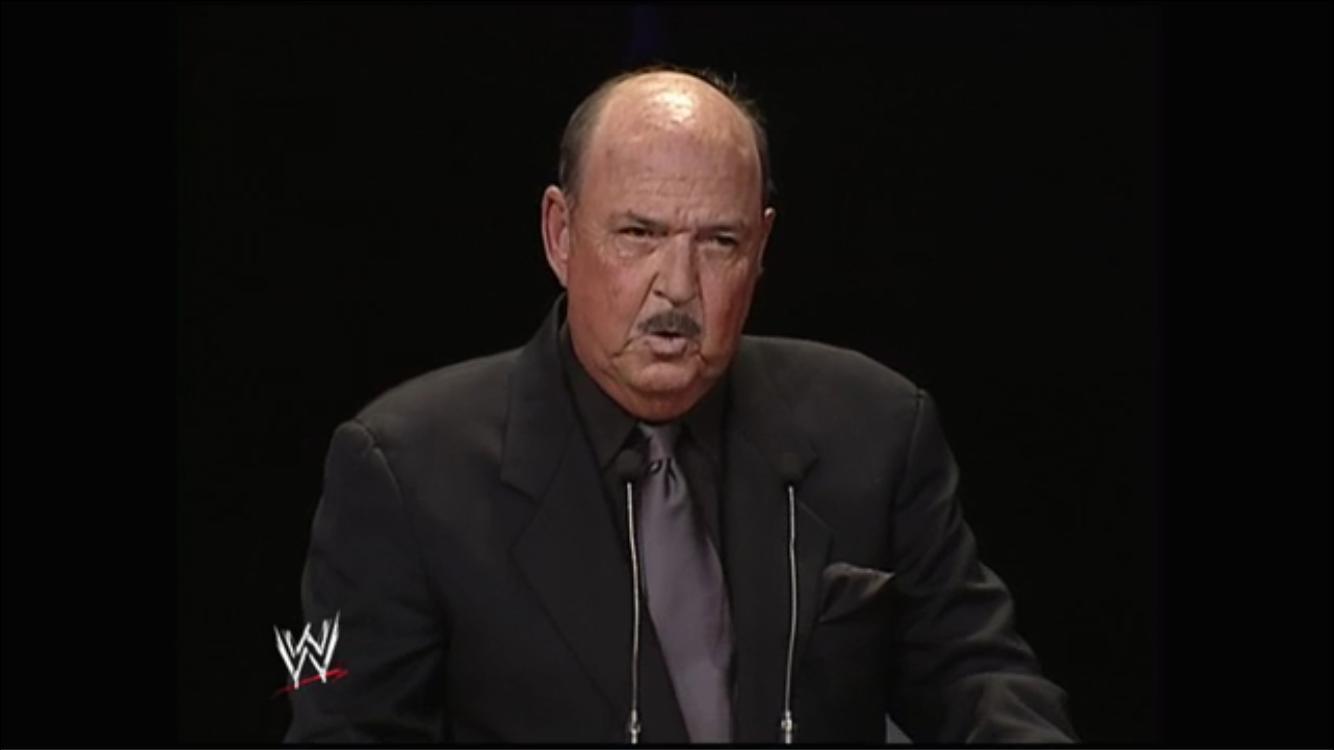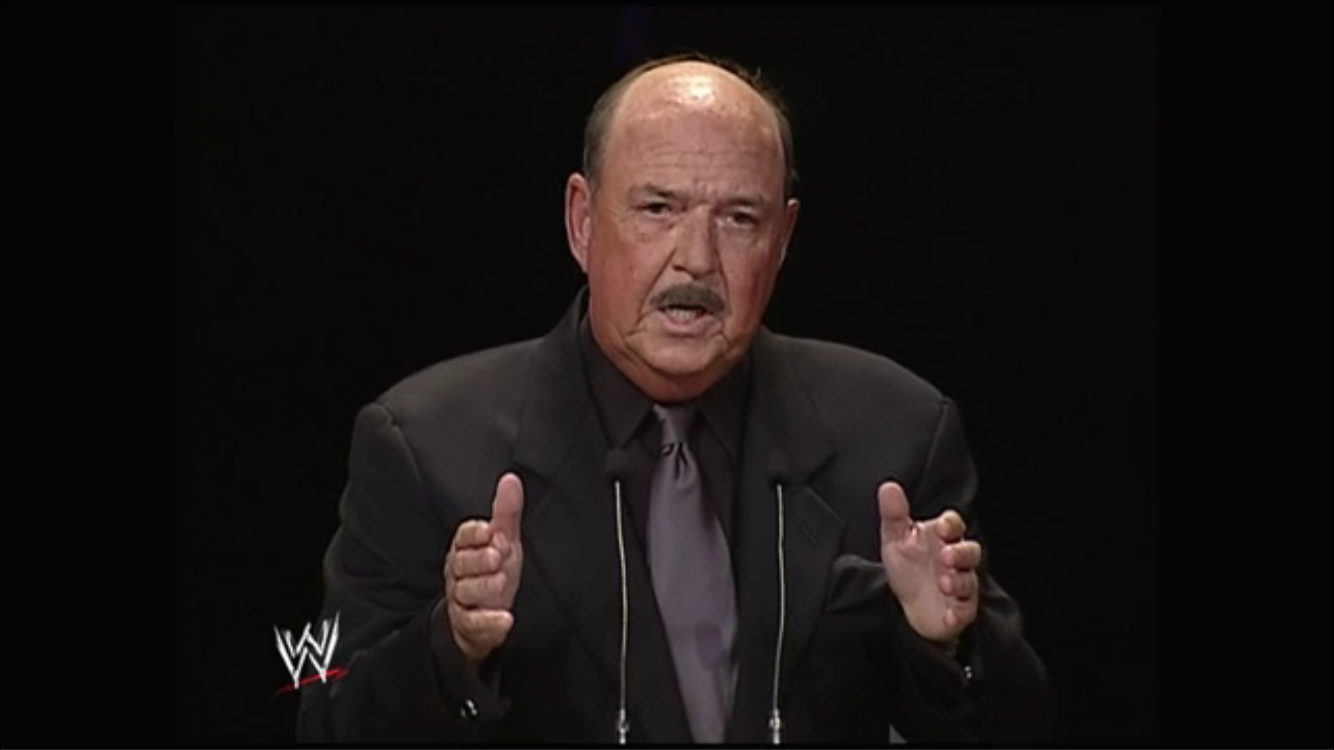 We were doing a market specific, which was an interview that would only air in Cleveland, Ohio.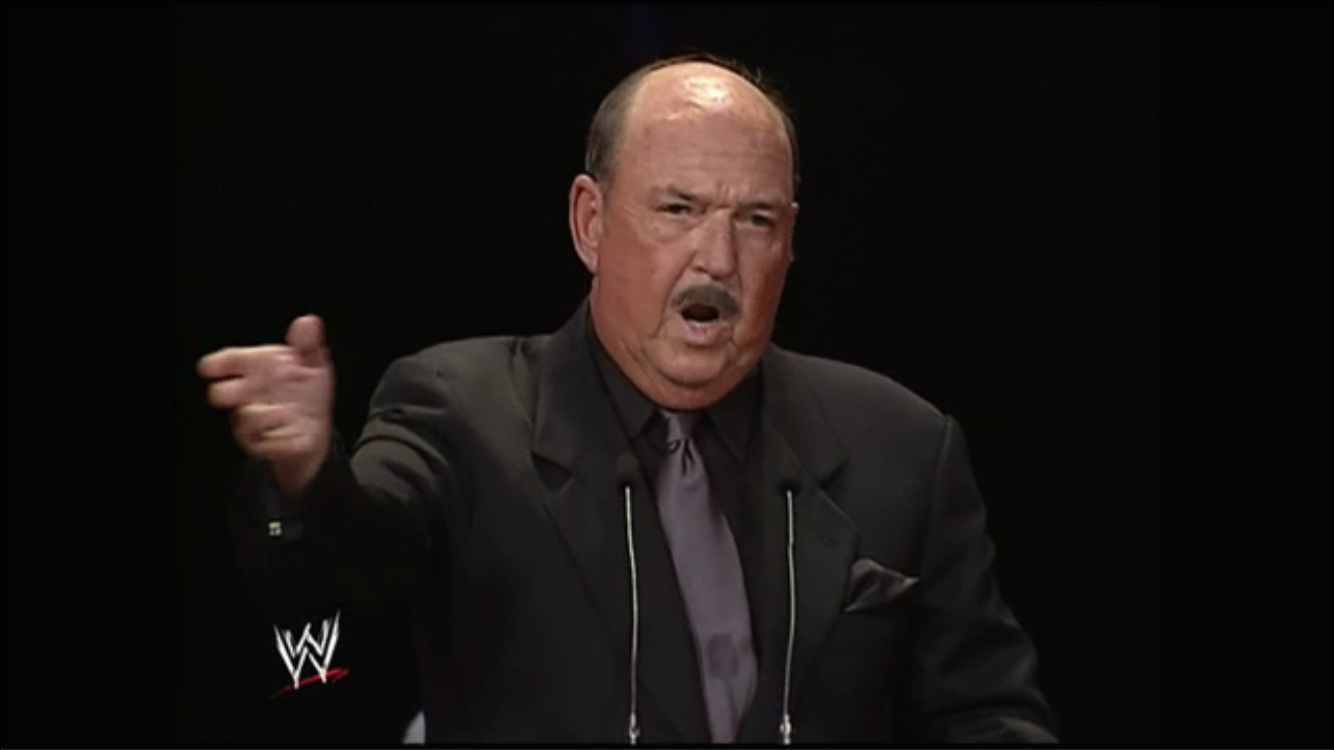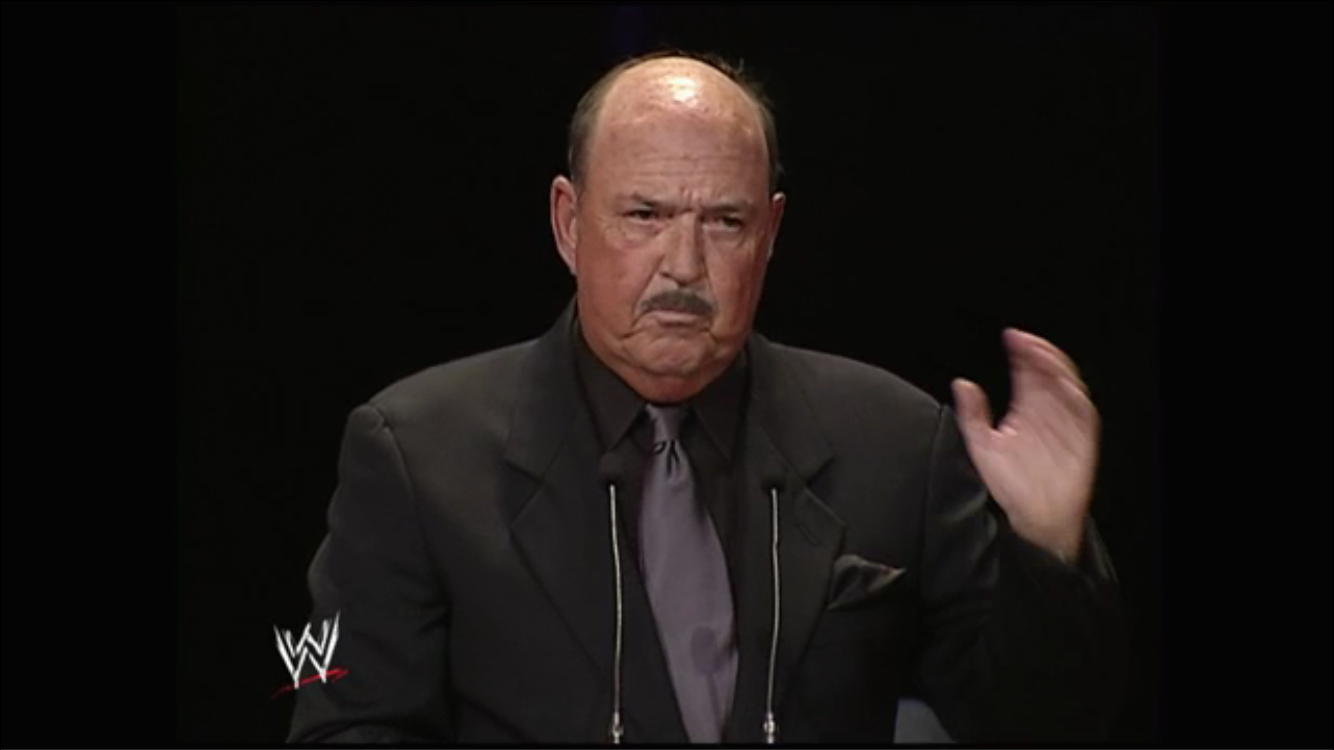 I can't think of a better town. The great fans here. The Browns, the Cavaliers, at that time the Cleveland Barons. I mean THEY HAD IT ALL. And I said the people in Cleveland are fantastic.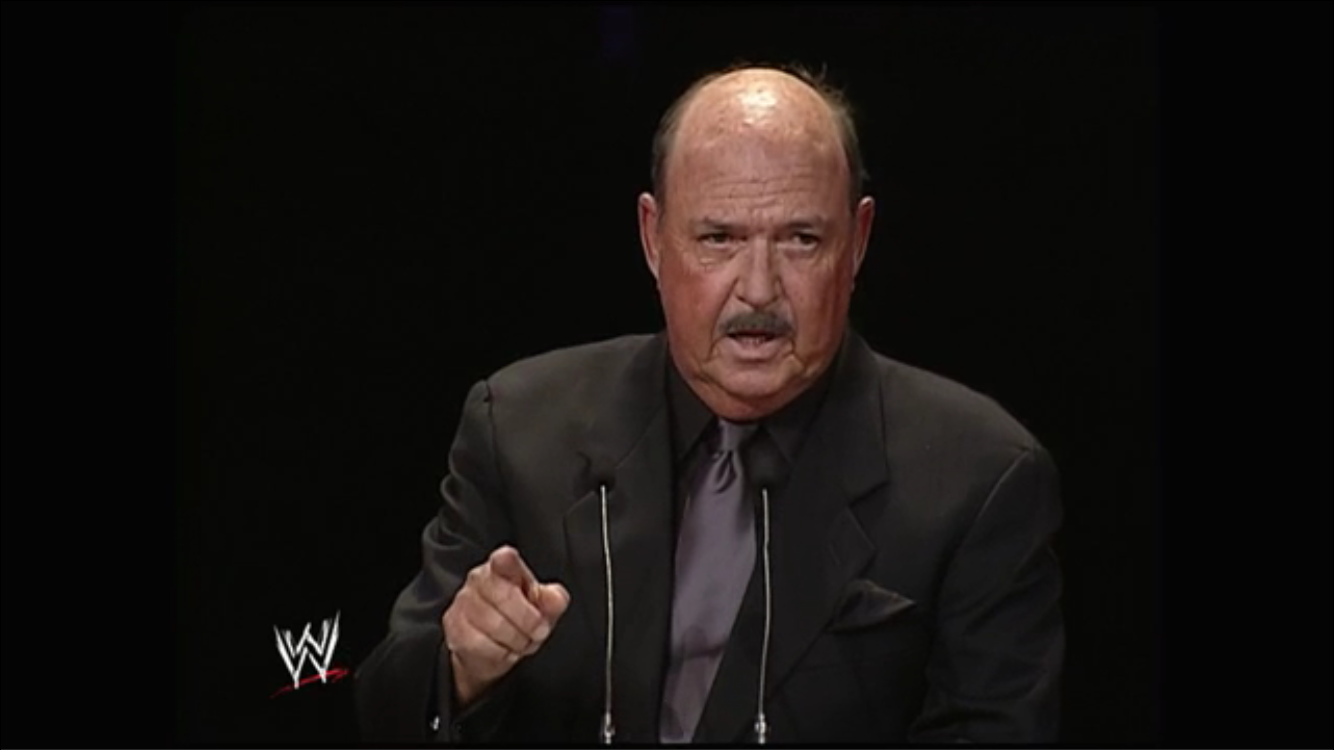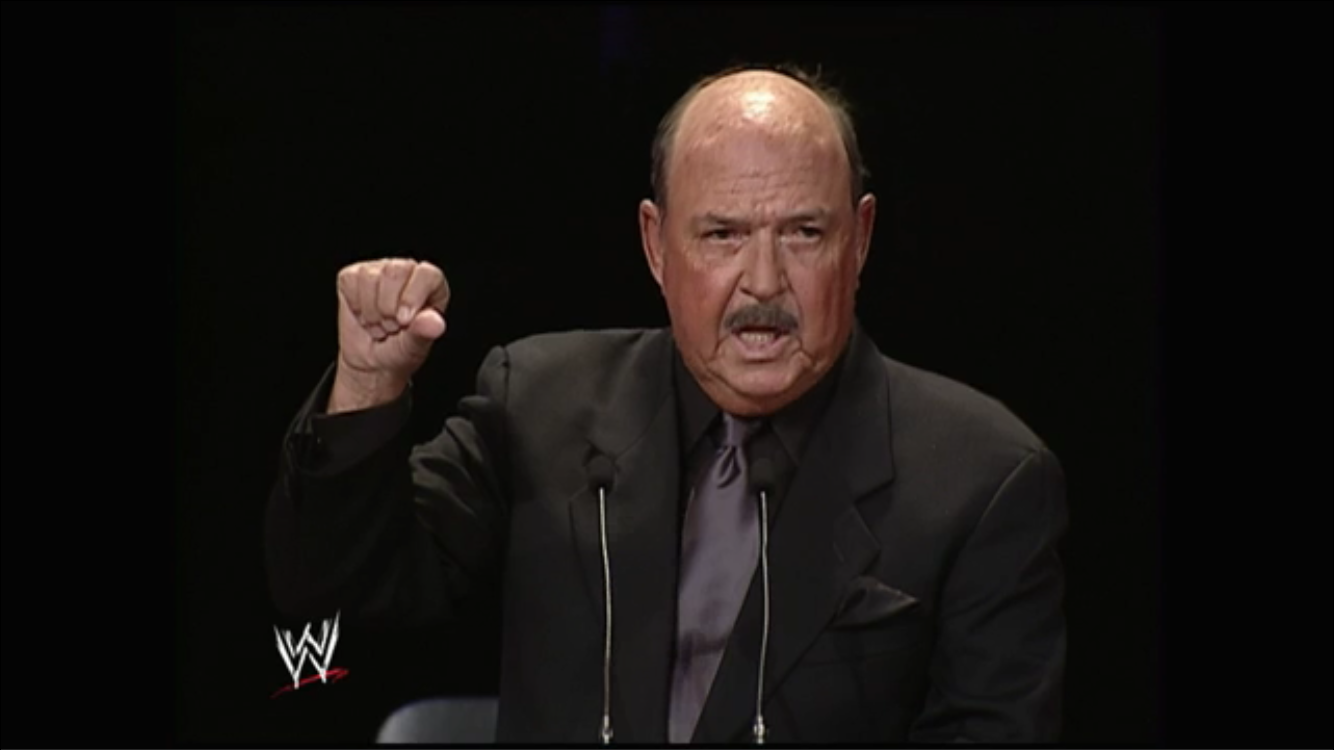 Those teams are all losers. The people here don't have any personality. They're all ugly. And uh, he says quite candidly, I CAN'T STAND THEM.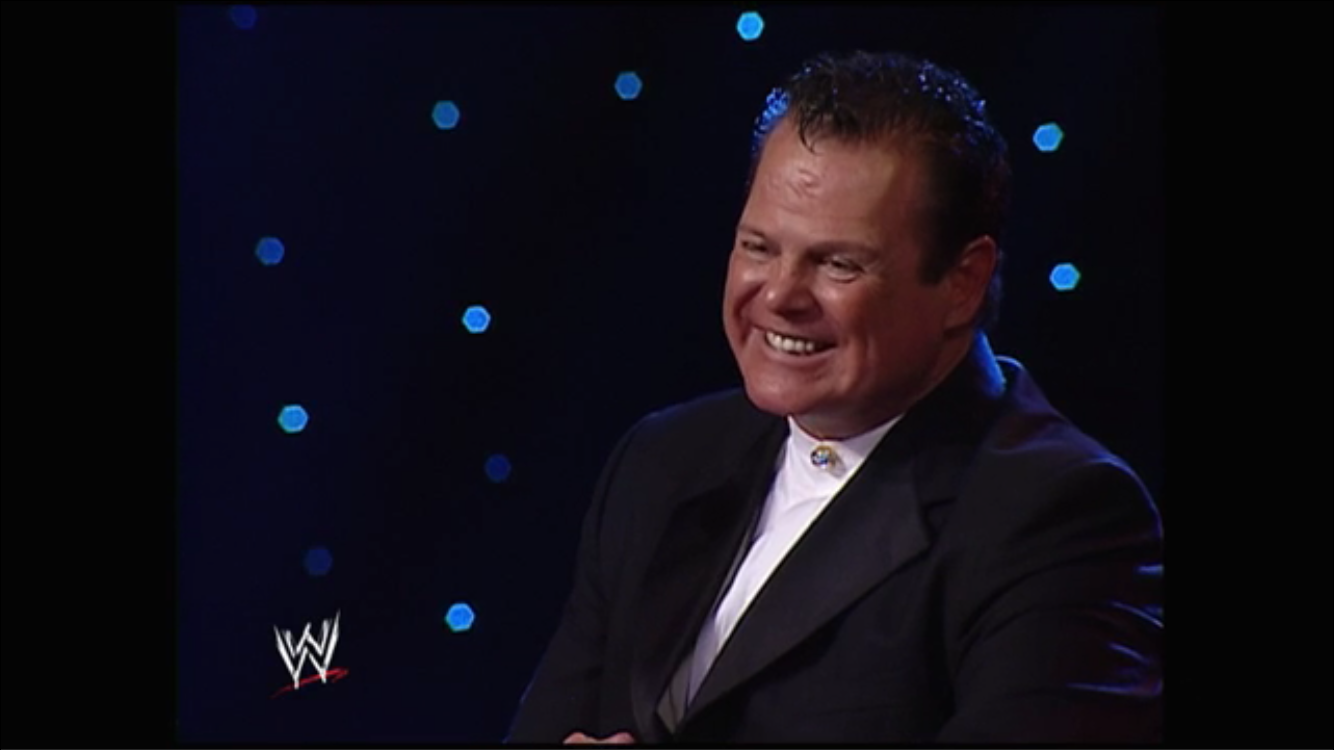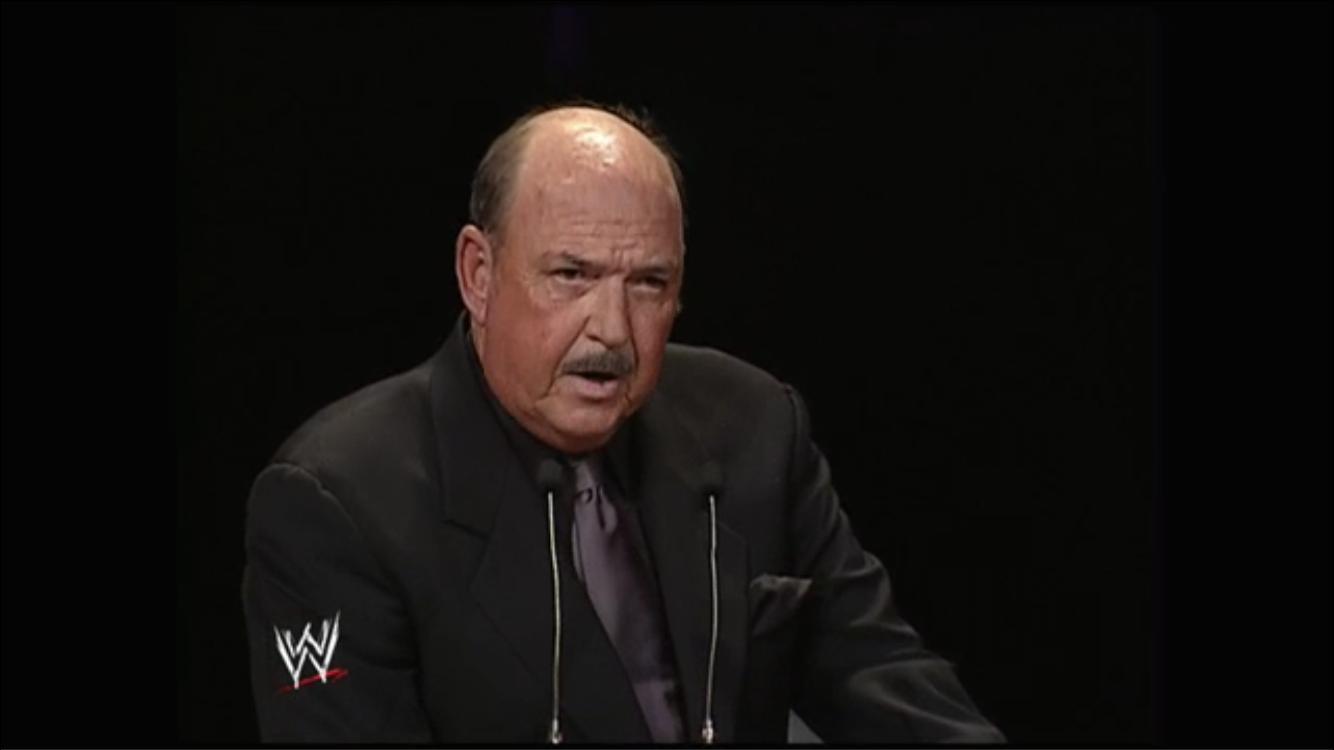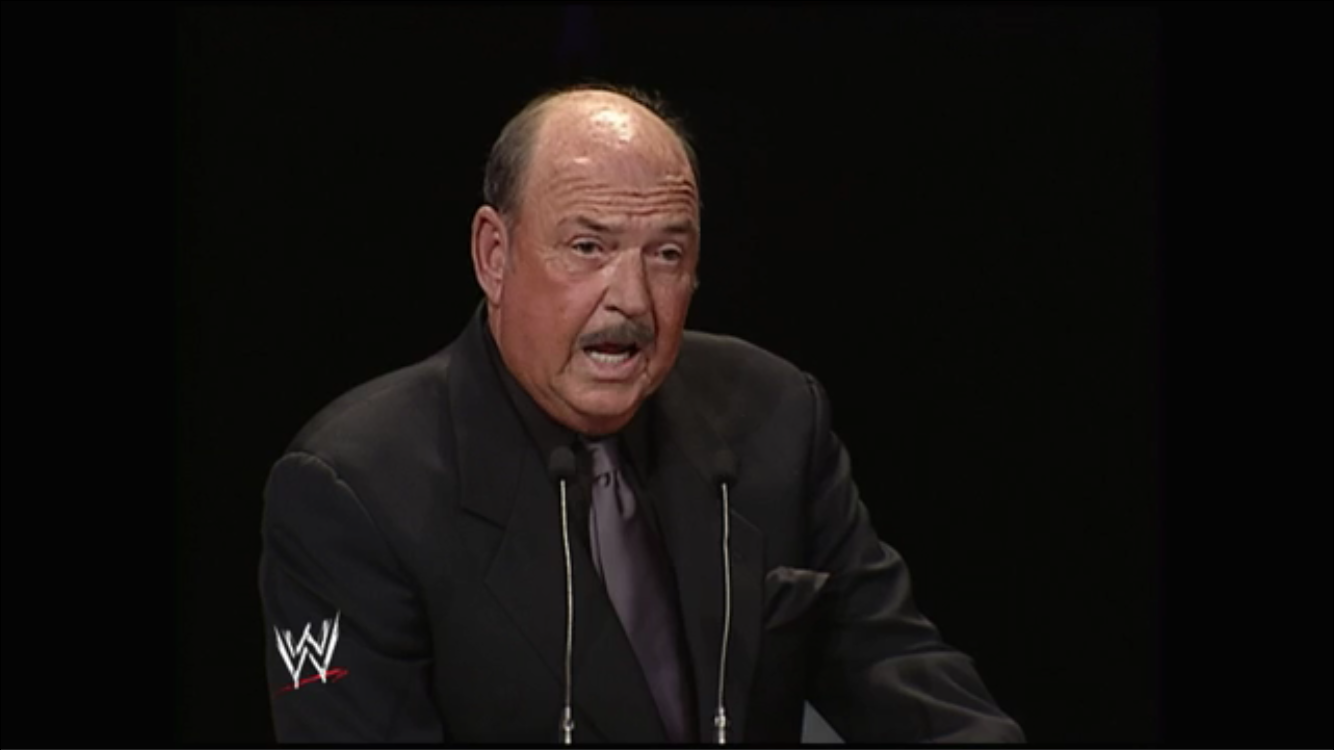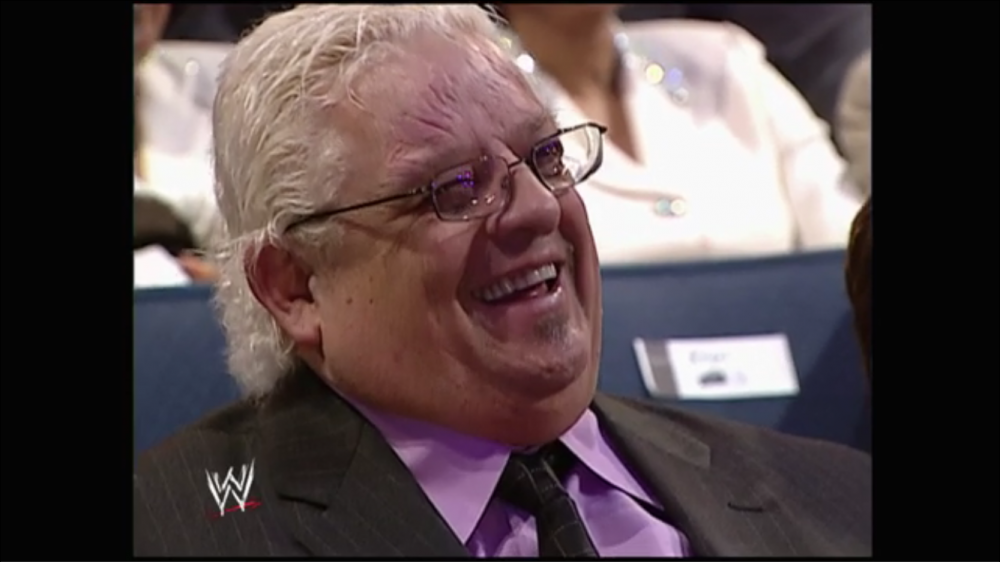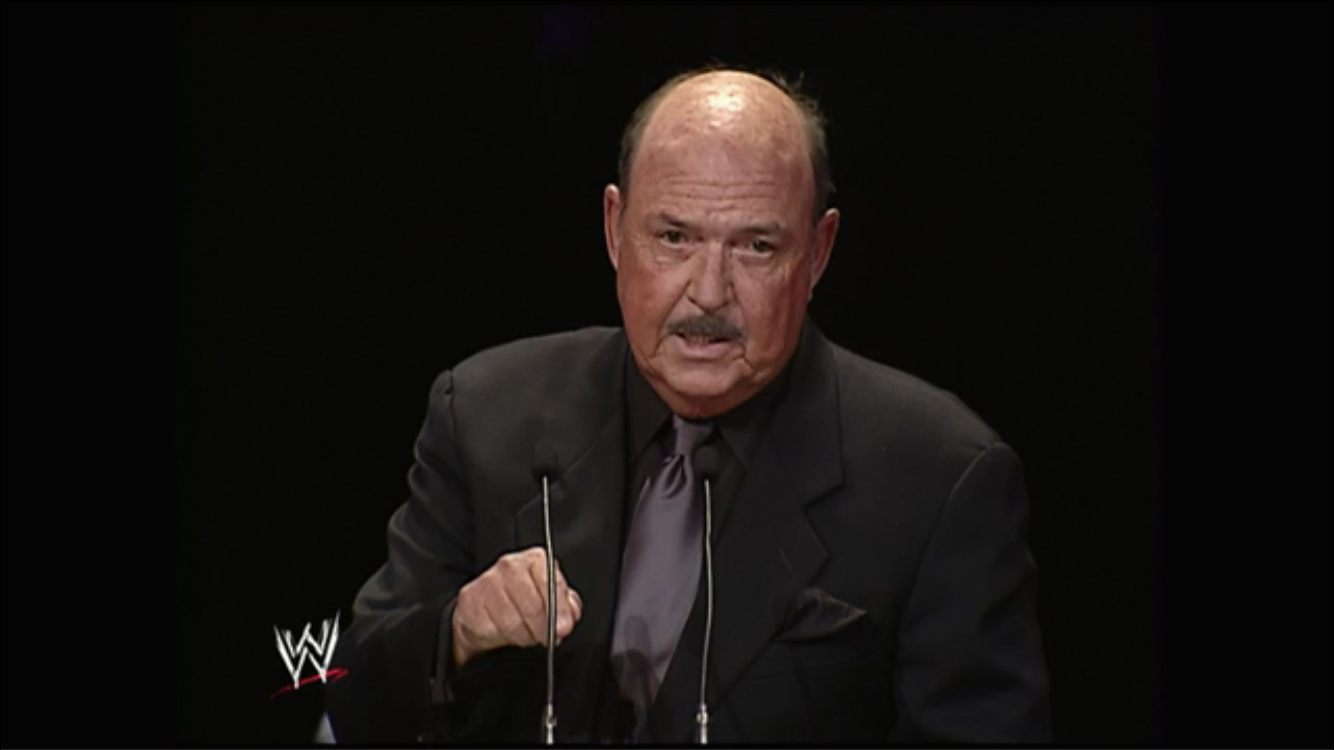 I take a look back at the years that we've been active with this Hall of Fame.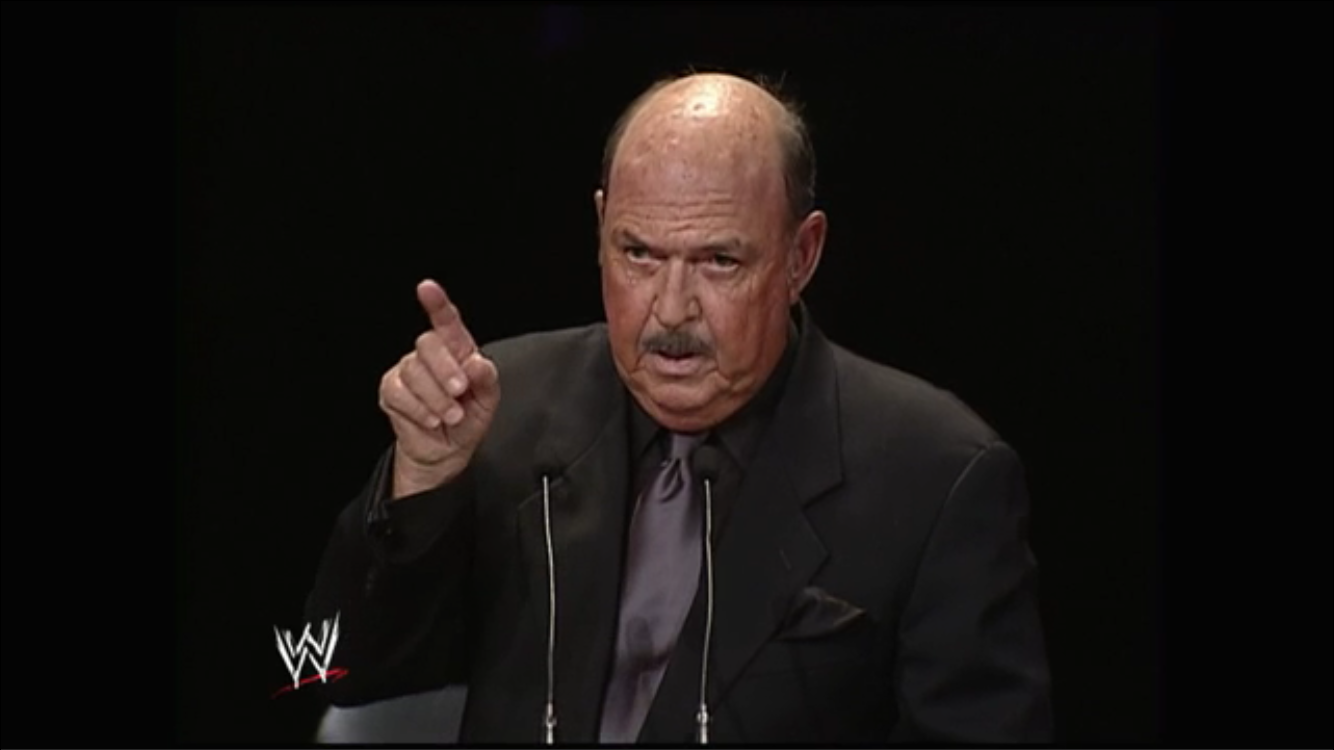 And I gotta tell ya, I've played golf with a guy by the name of Carlton Fisk of the baseball Hall of Fame, and this…*crowd pops*… and this… this honor here tonight ABSOLUTELY THRILLS ME.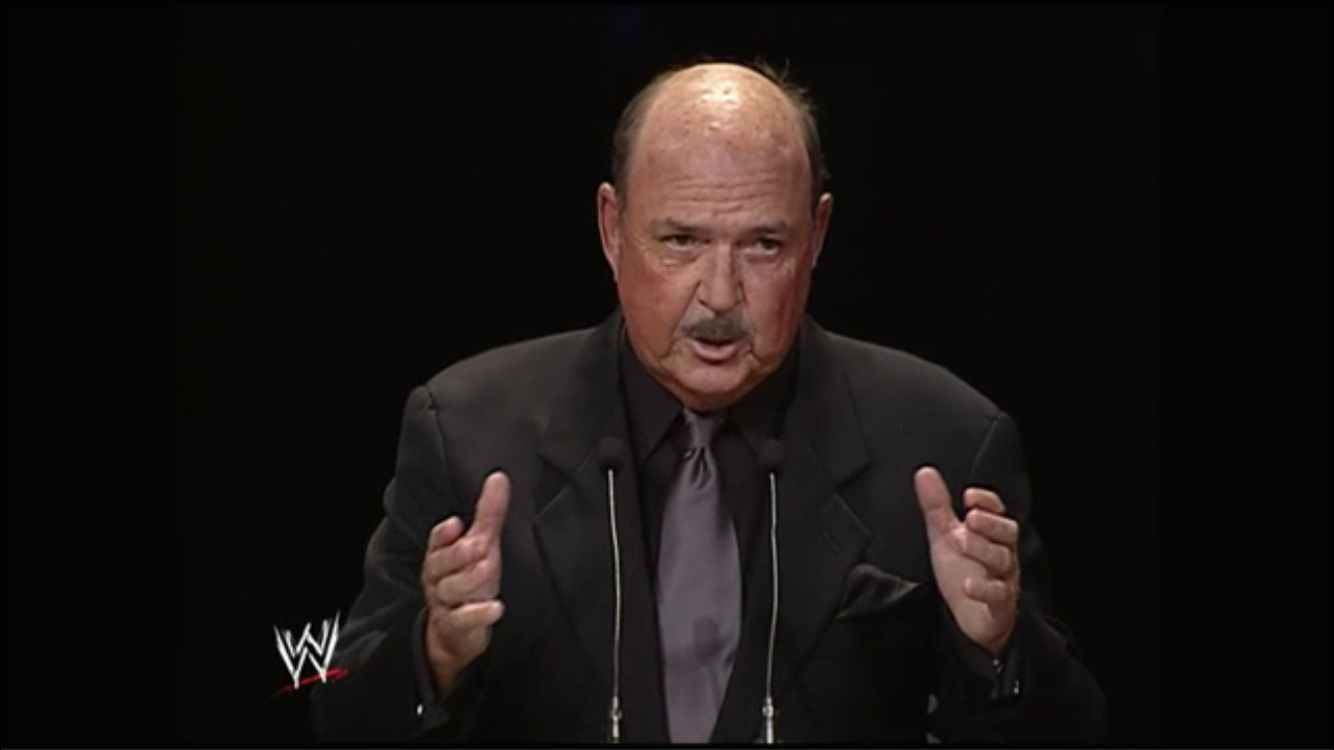 This month I'll be 35 years… in announcing professional wrestling… in one fashion or another.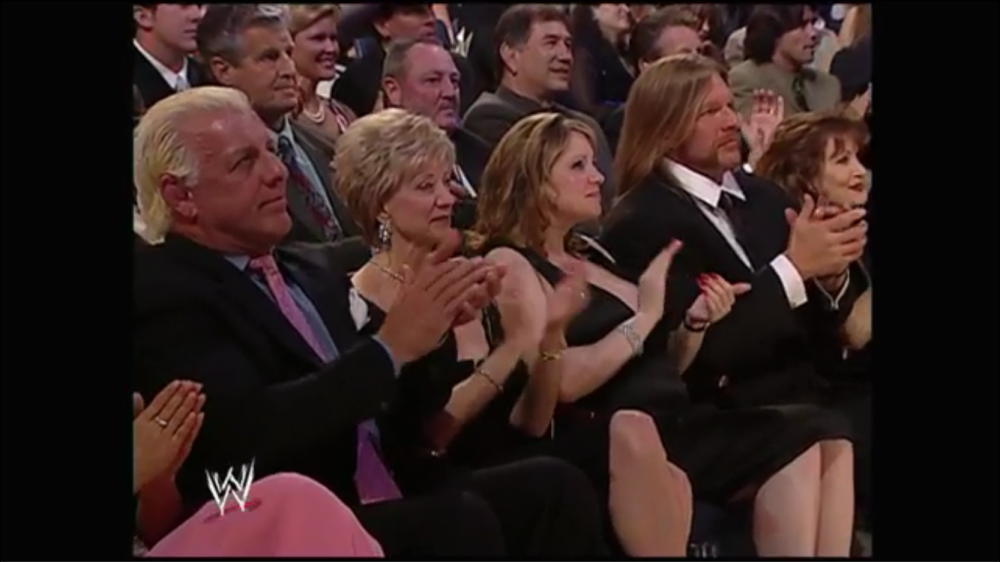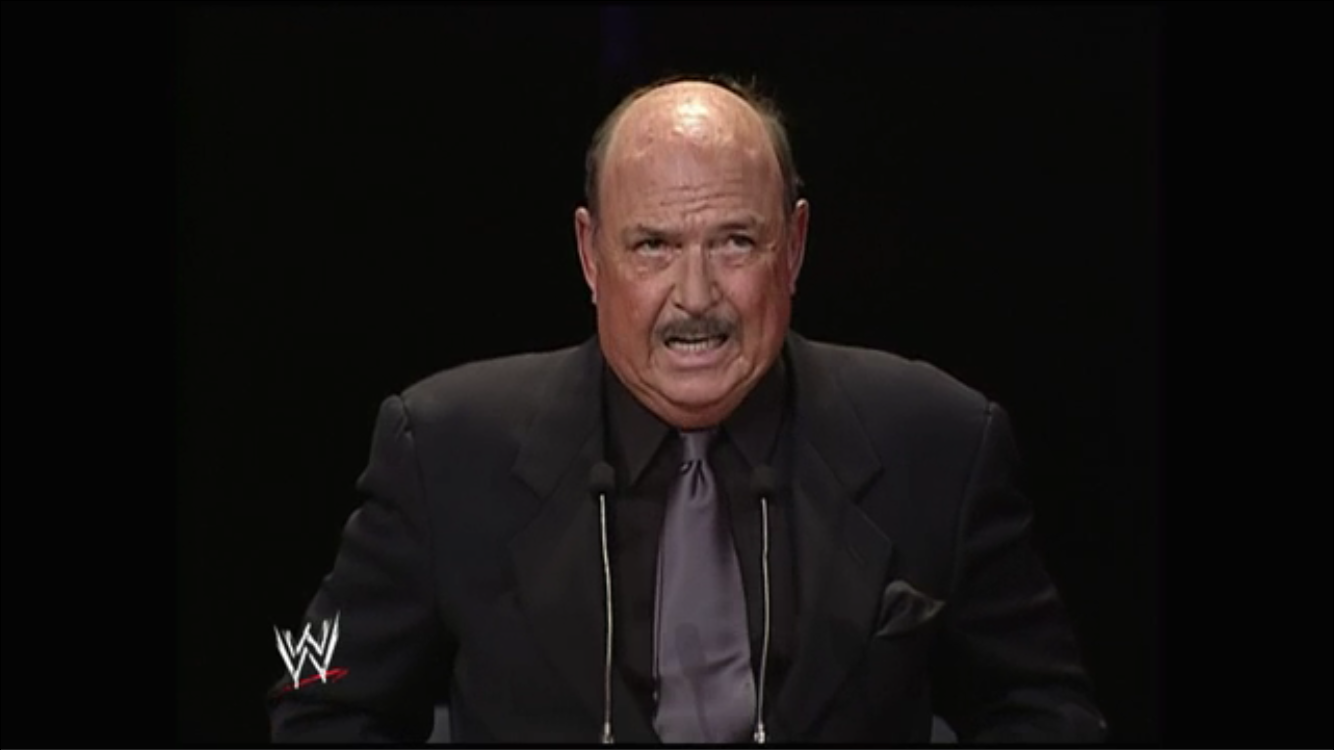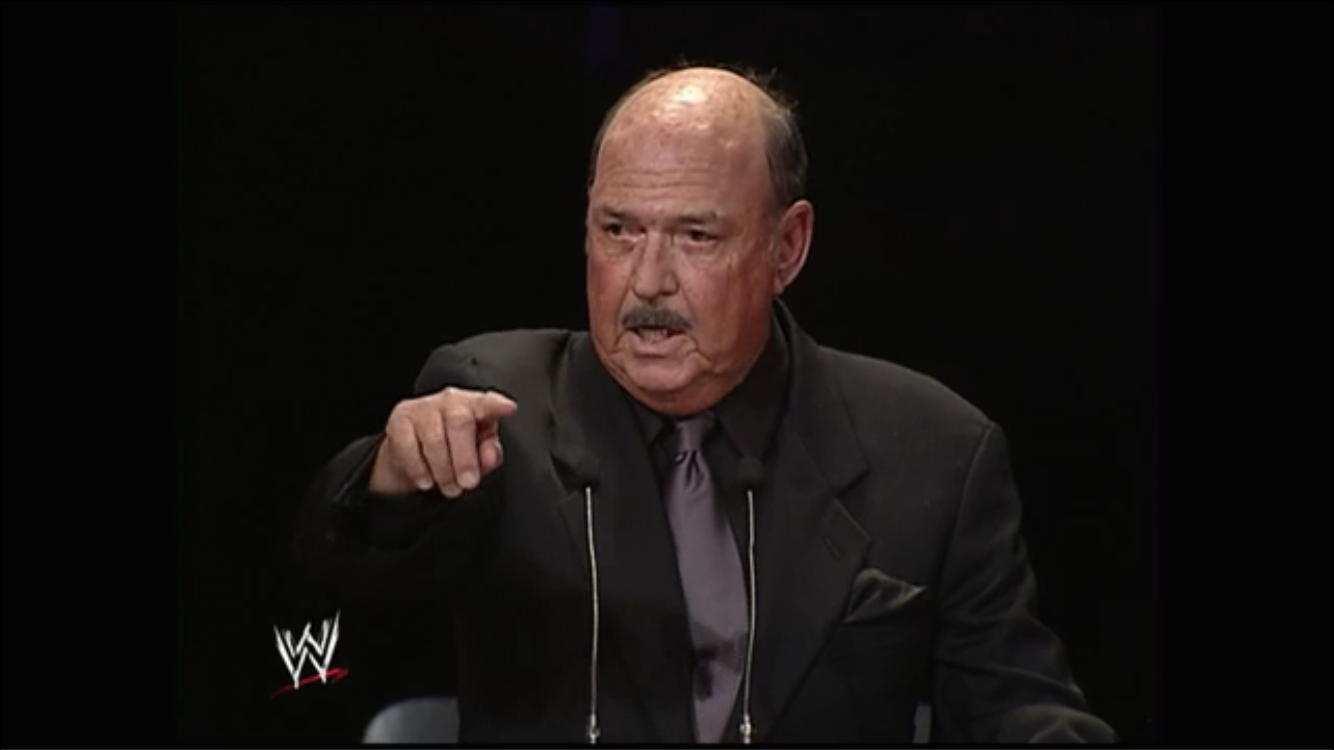 … wedding anniversary with my lovely wife, Jeanne… *crowd pops* down there somewhere.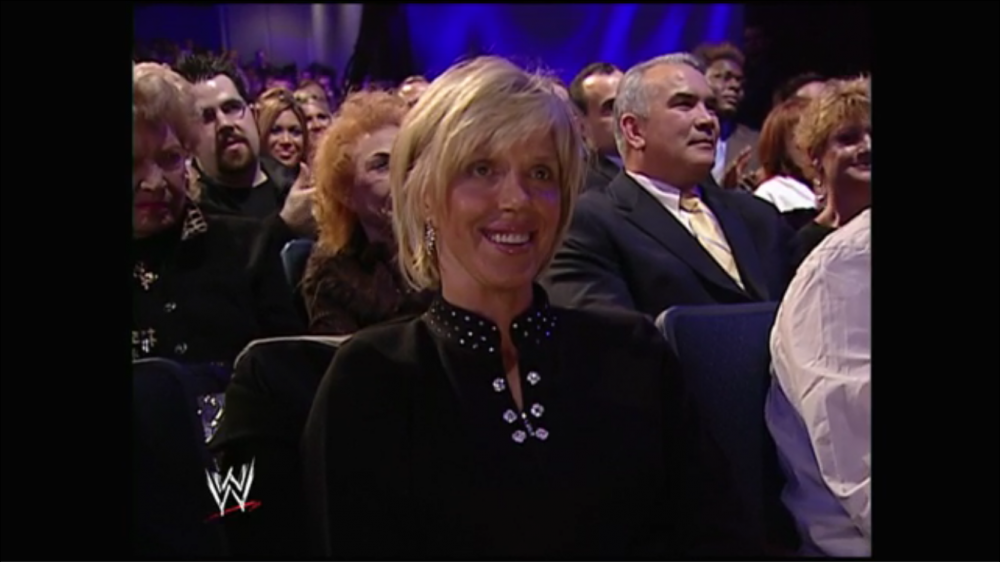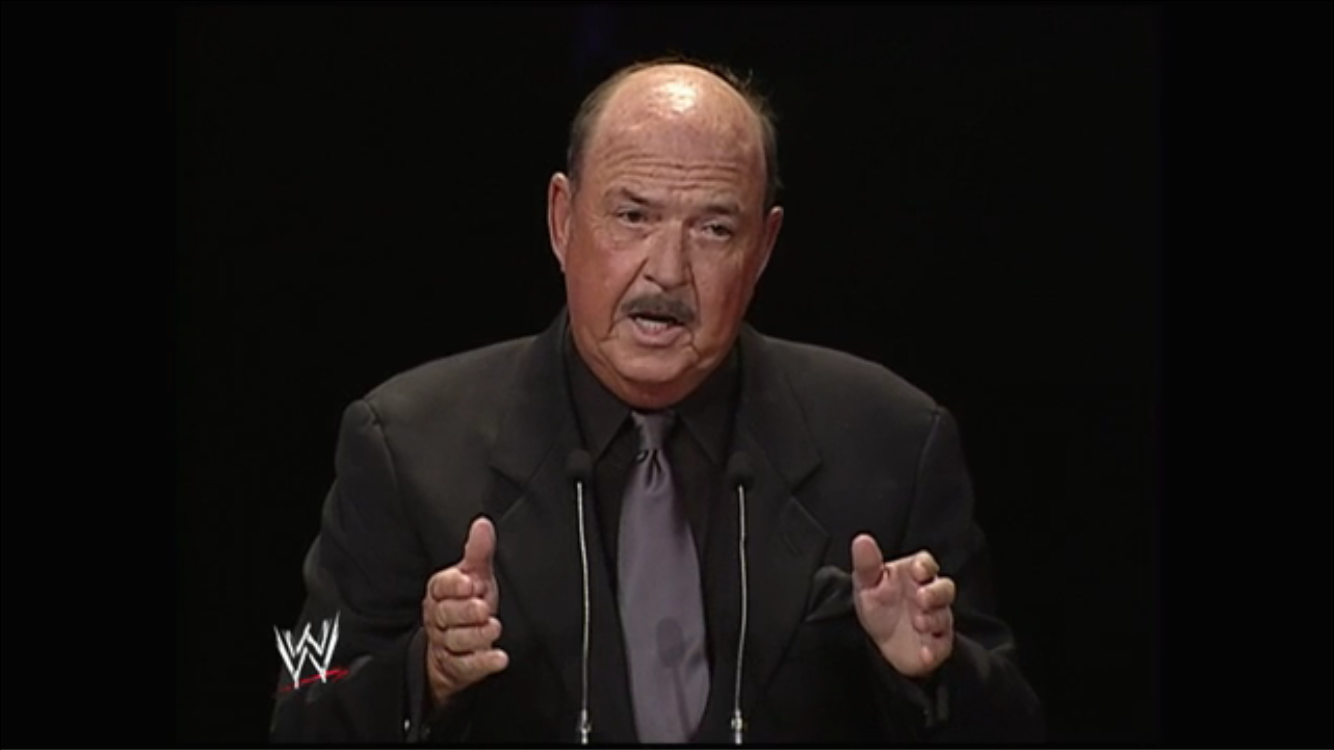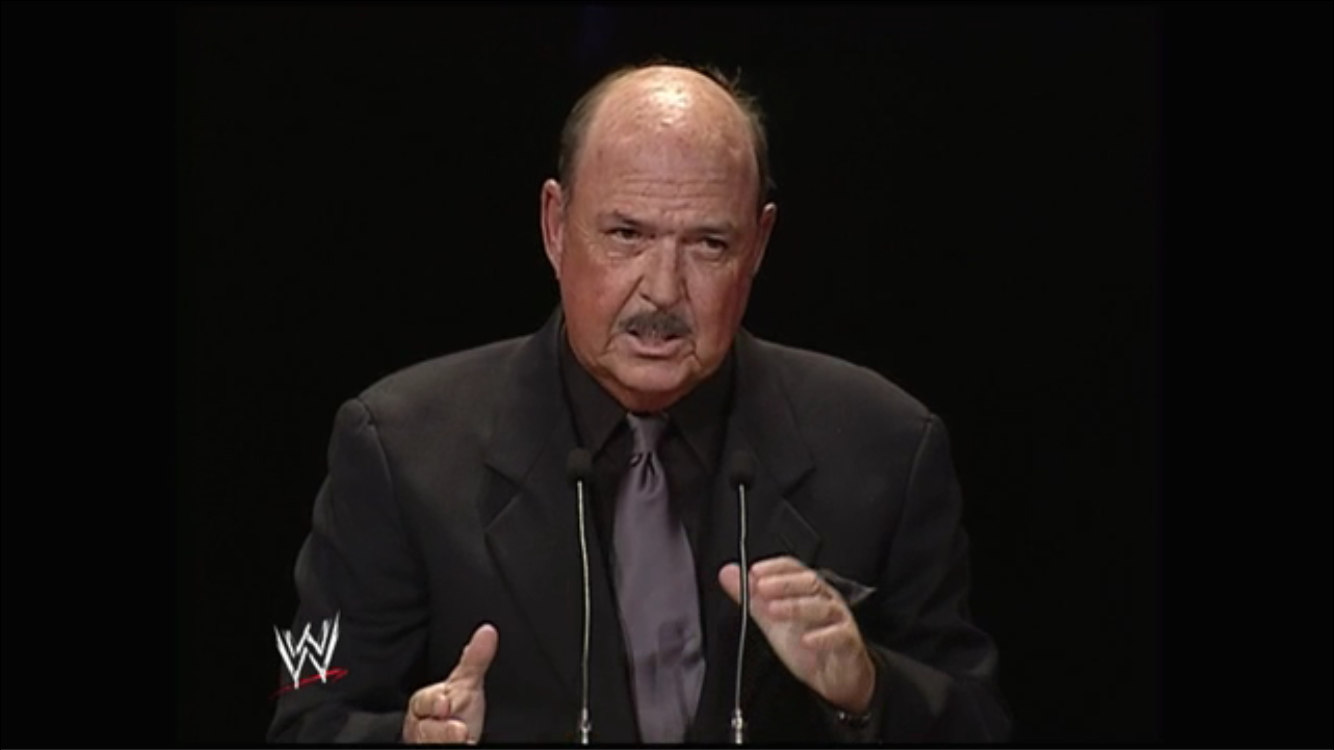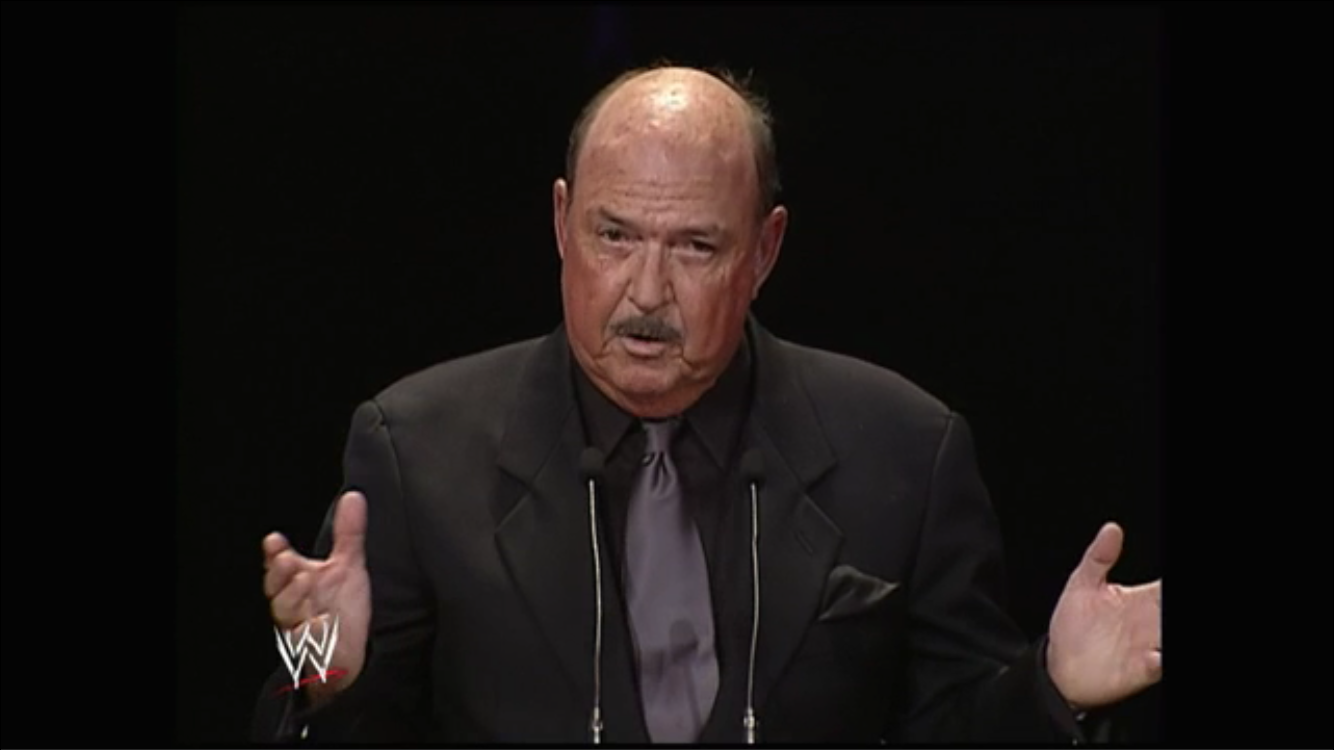 The behind-the-scenes people. They are the LIFEBLOOD of this great entertainment mecca.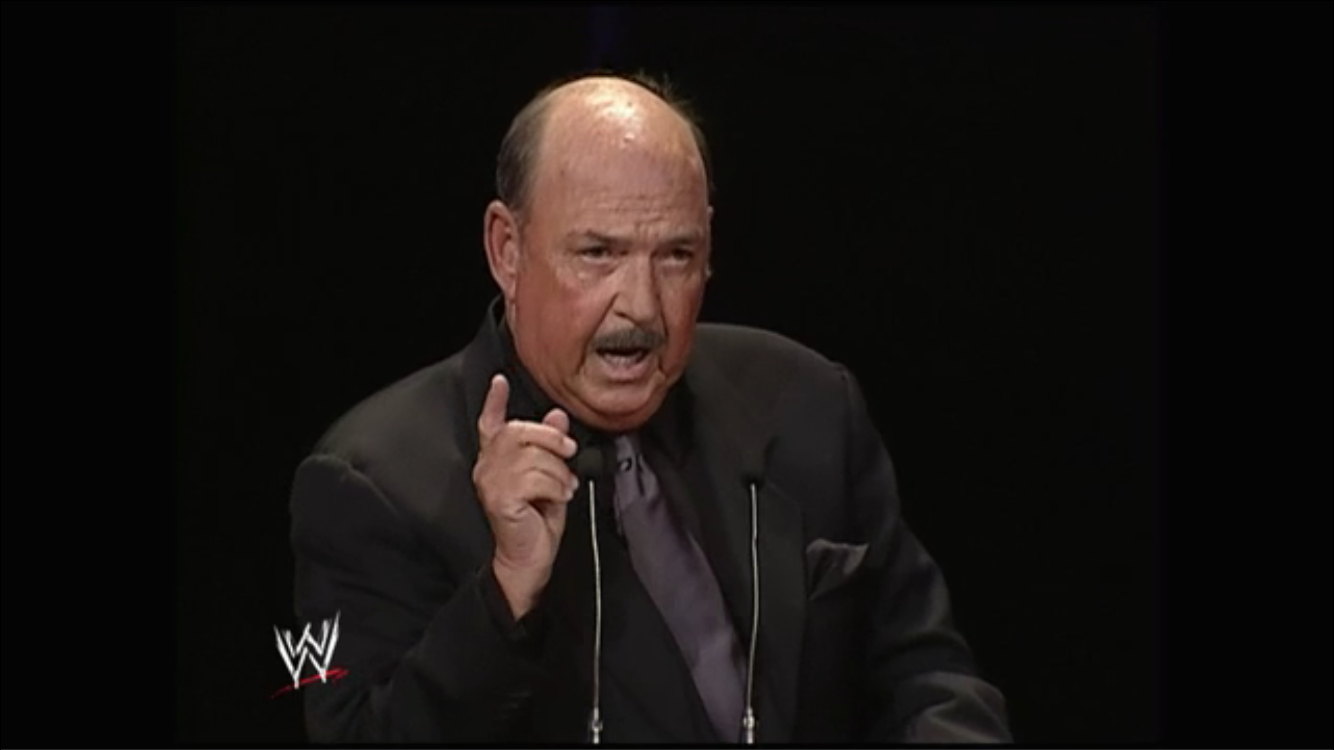 And I will say this… I've been PROUD to be a part of the WWE and professional wrestling for 35 years. And I'm gonna do it for another 35 — if at all possible.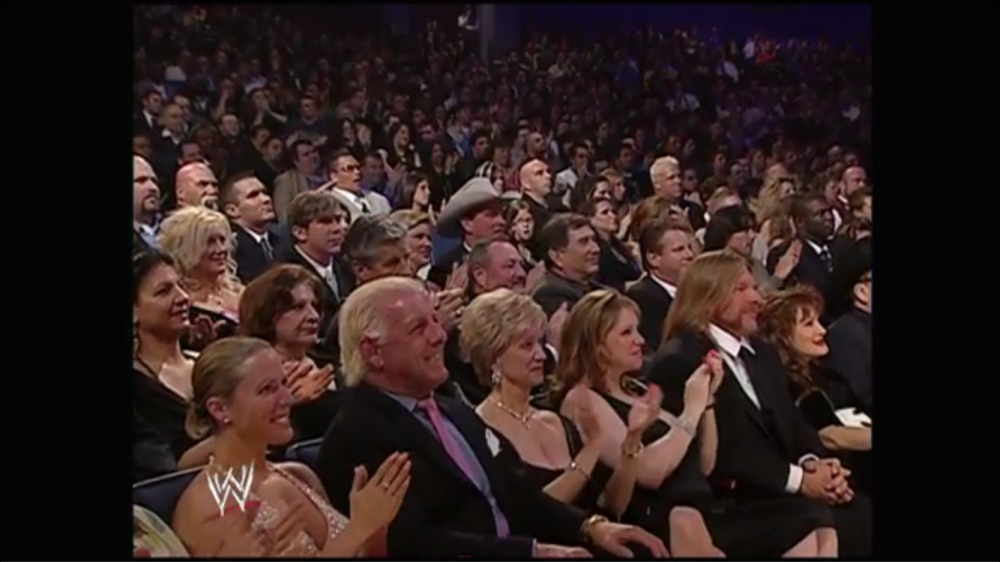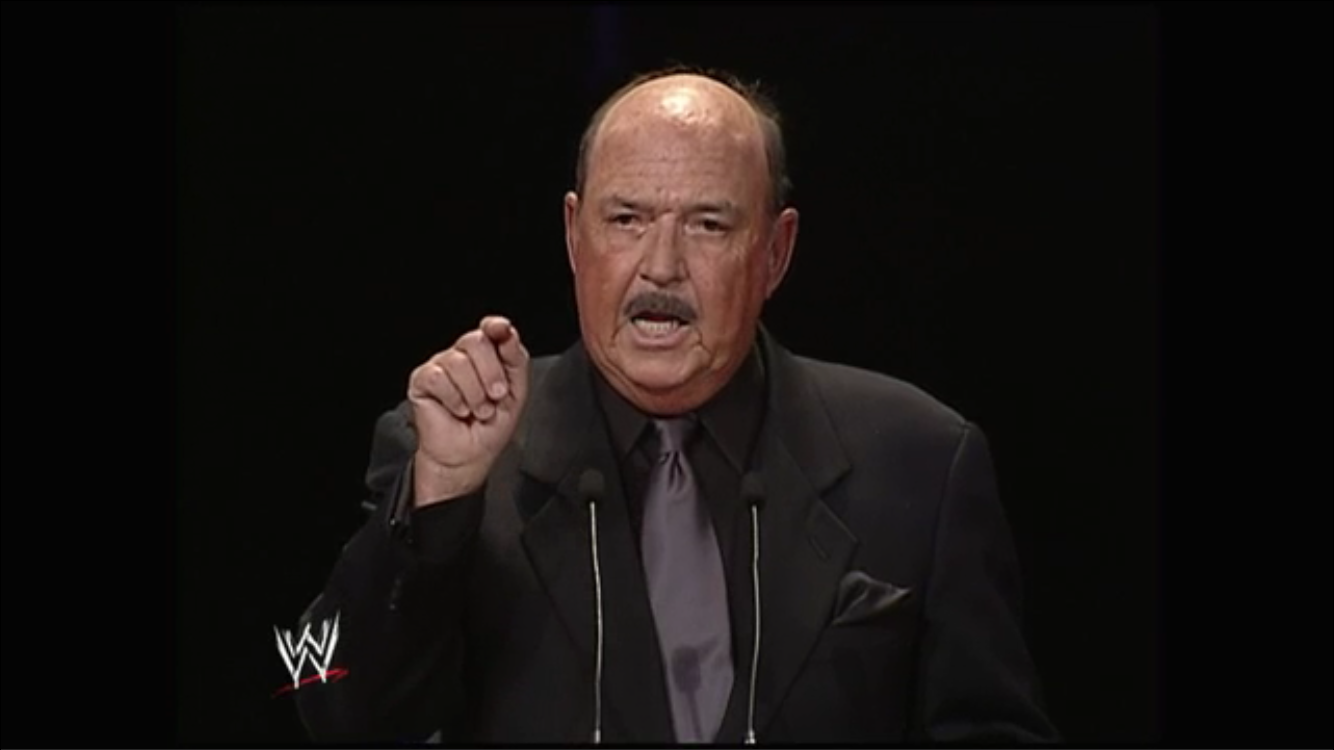 Superstar Billy Graham, I encourage signing up for ORGAN DONATION.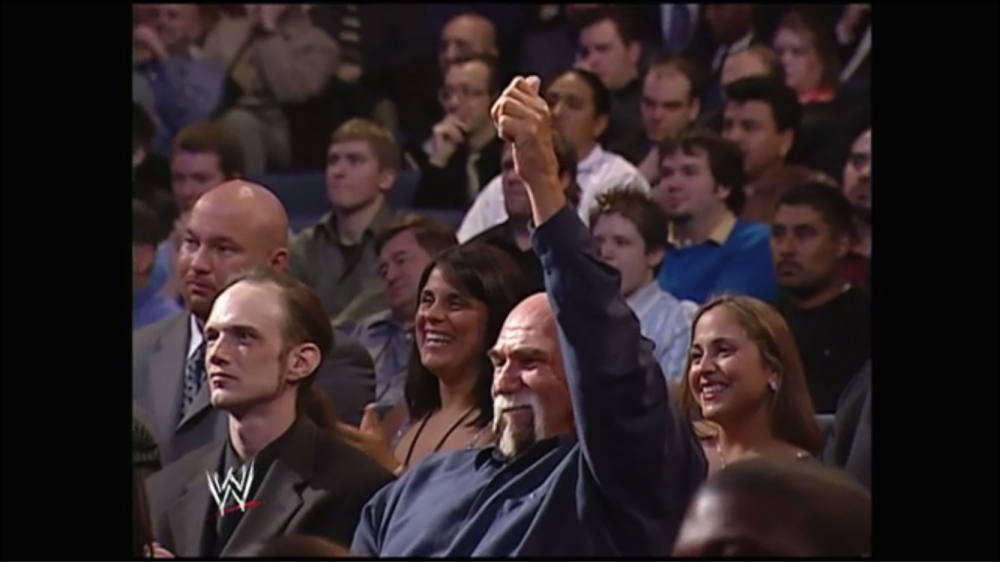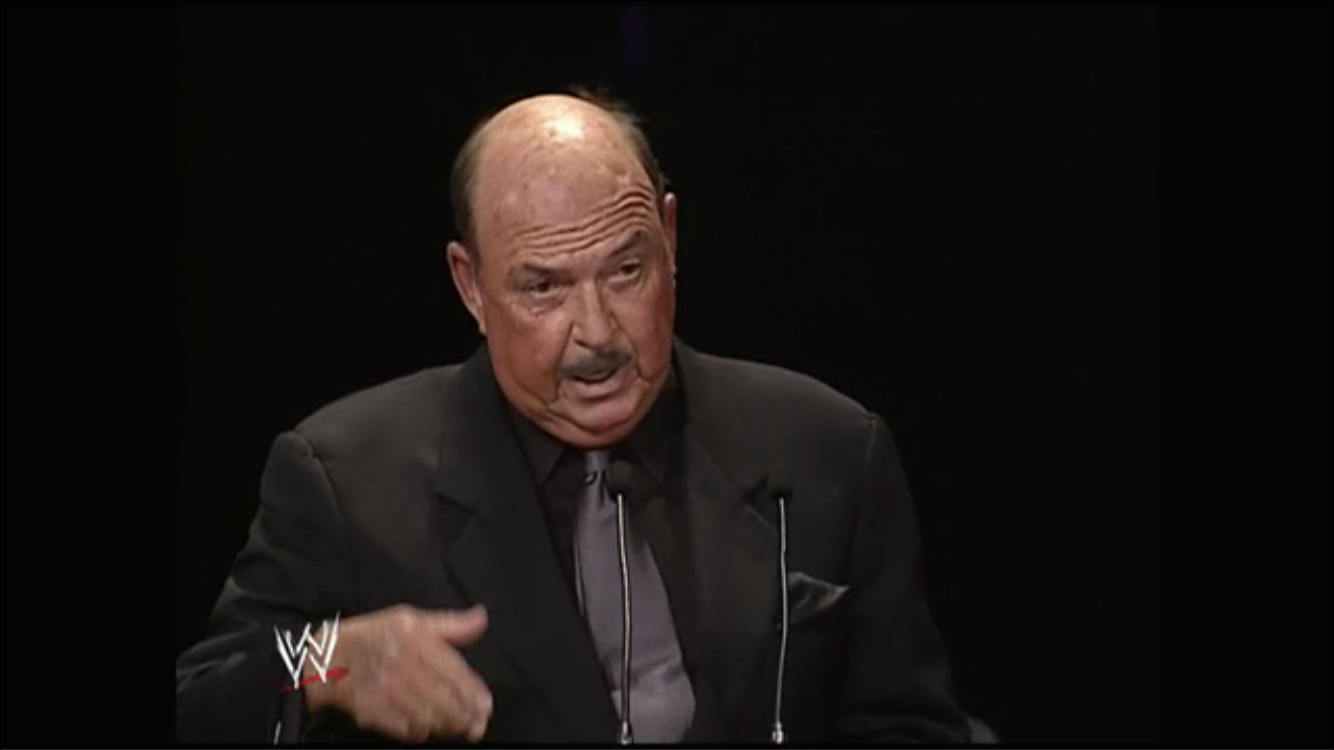 *Crowd cheers* Thank you. I got a couple of them here. That whiskey's a little tough on them but…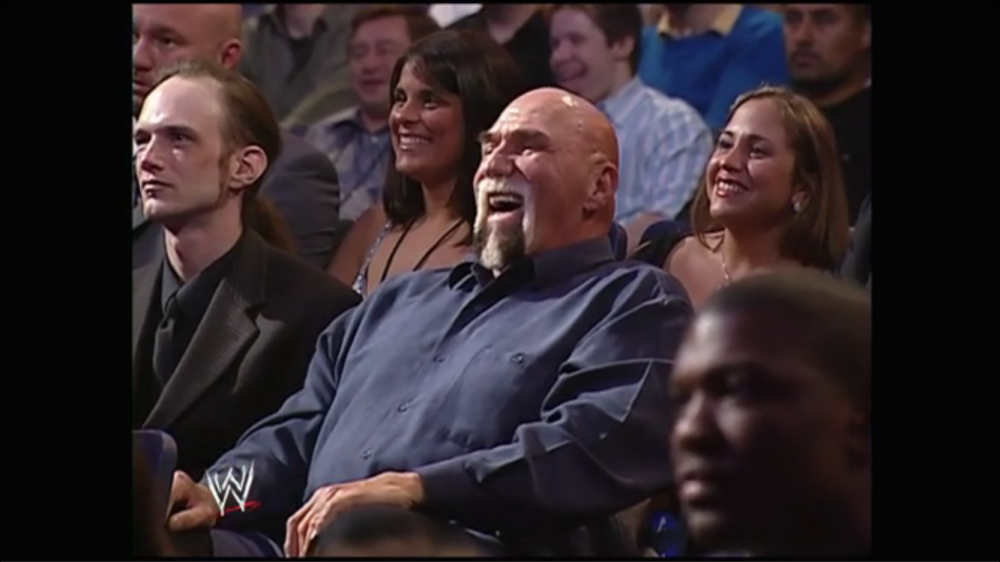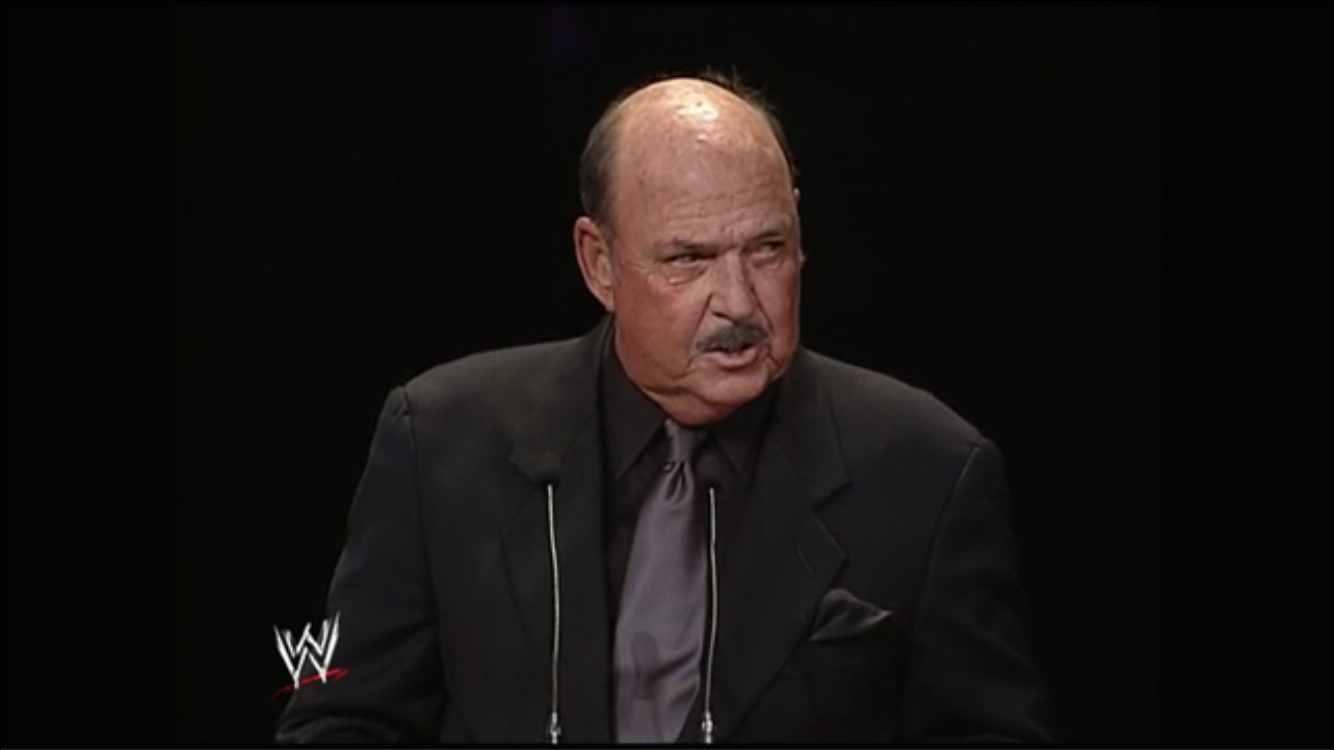 … you gotta get the right one from a trainer. You know what I'm saying?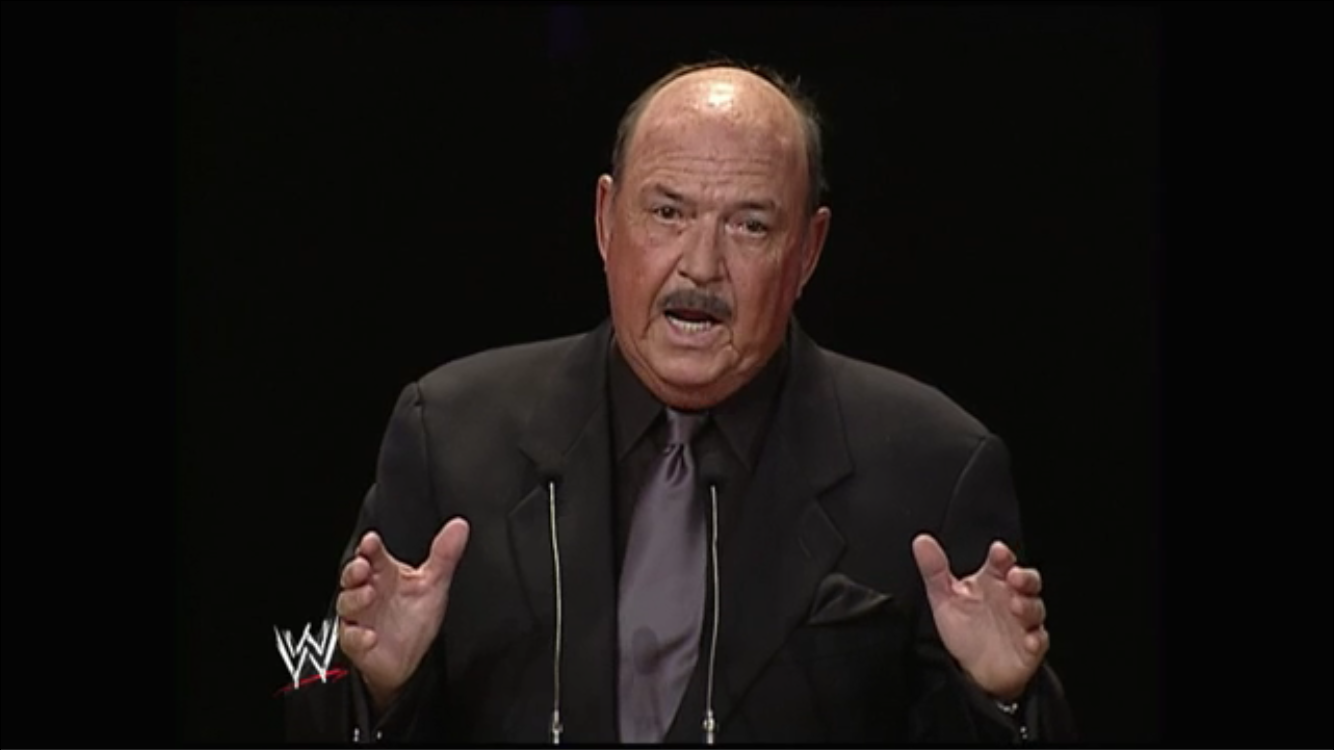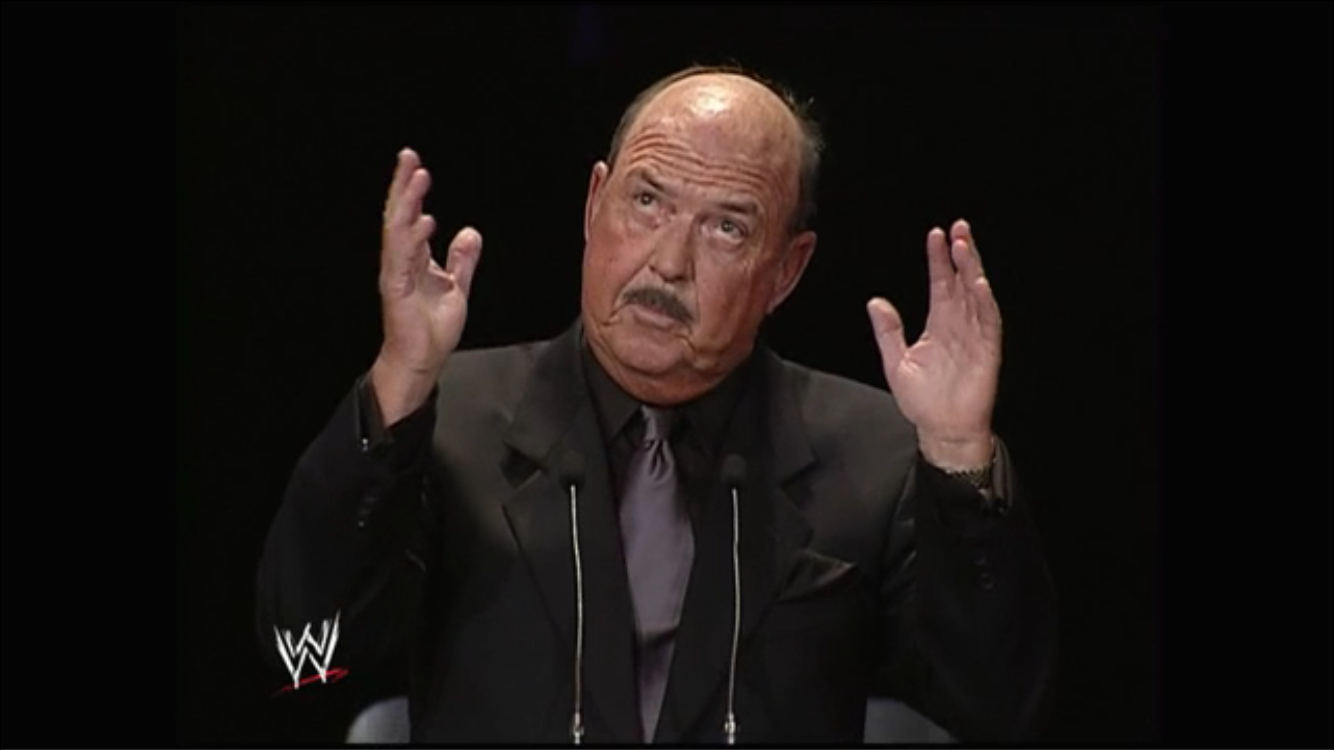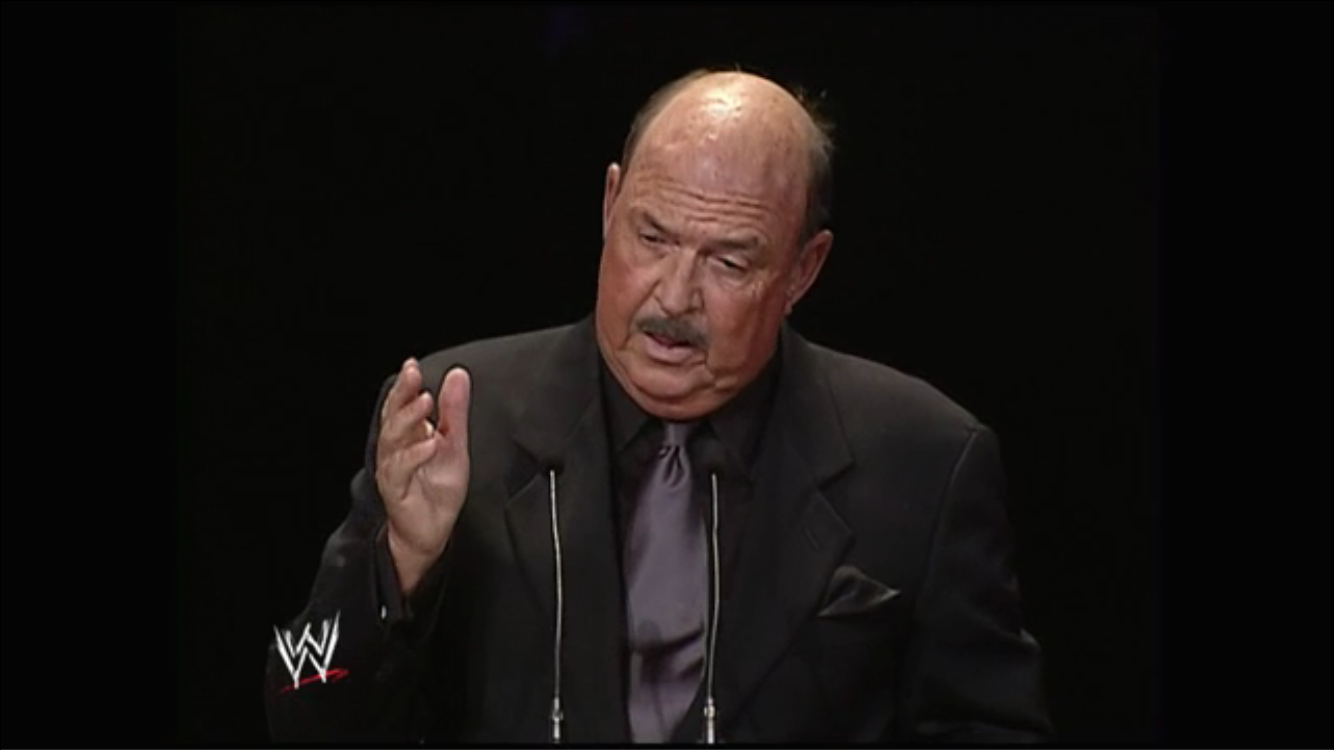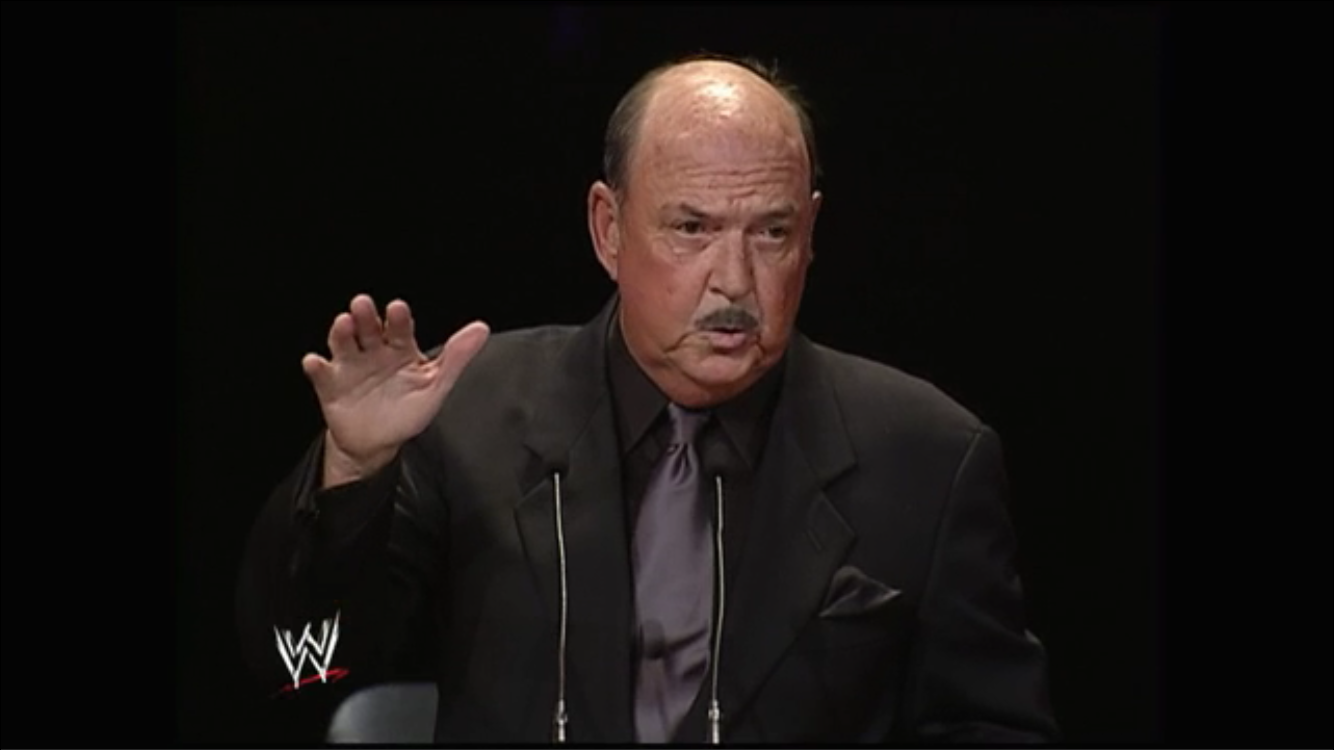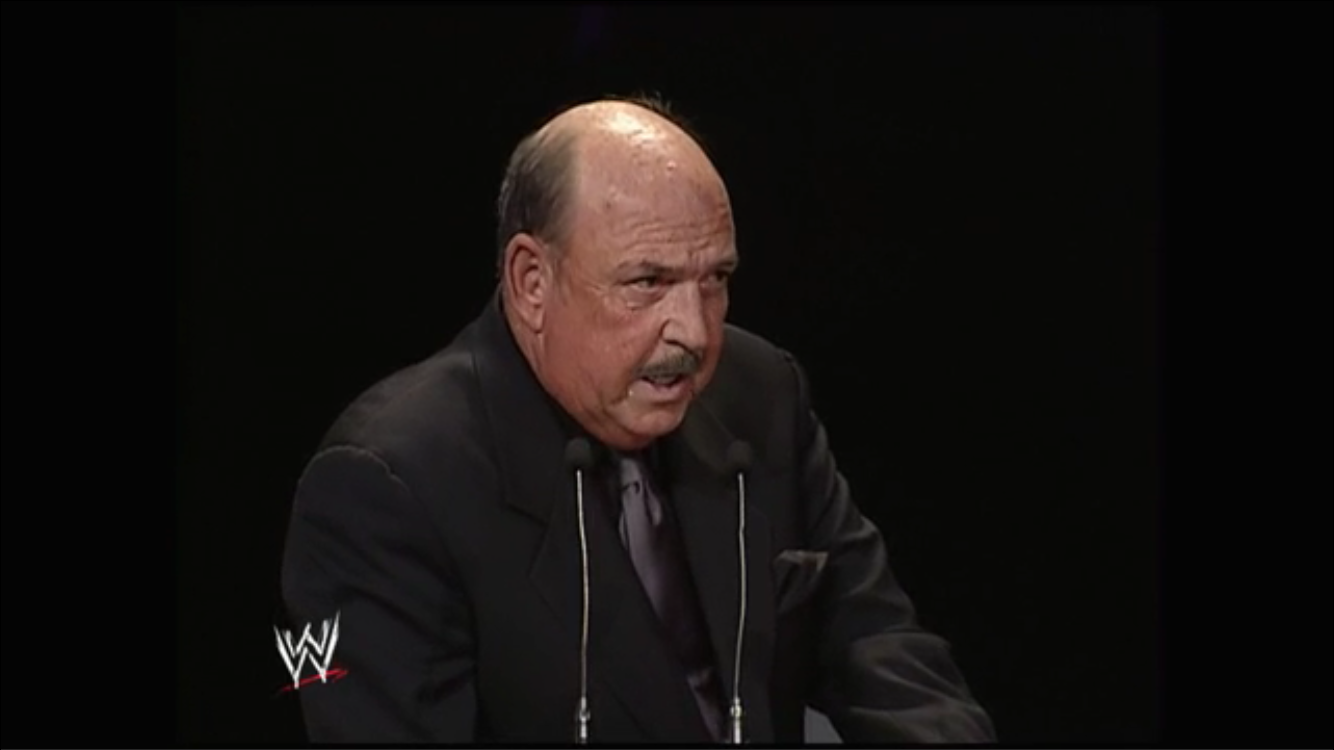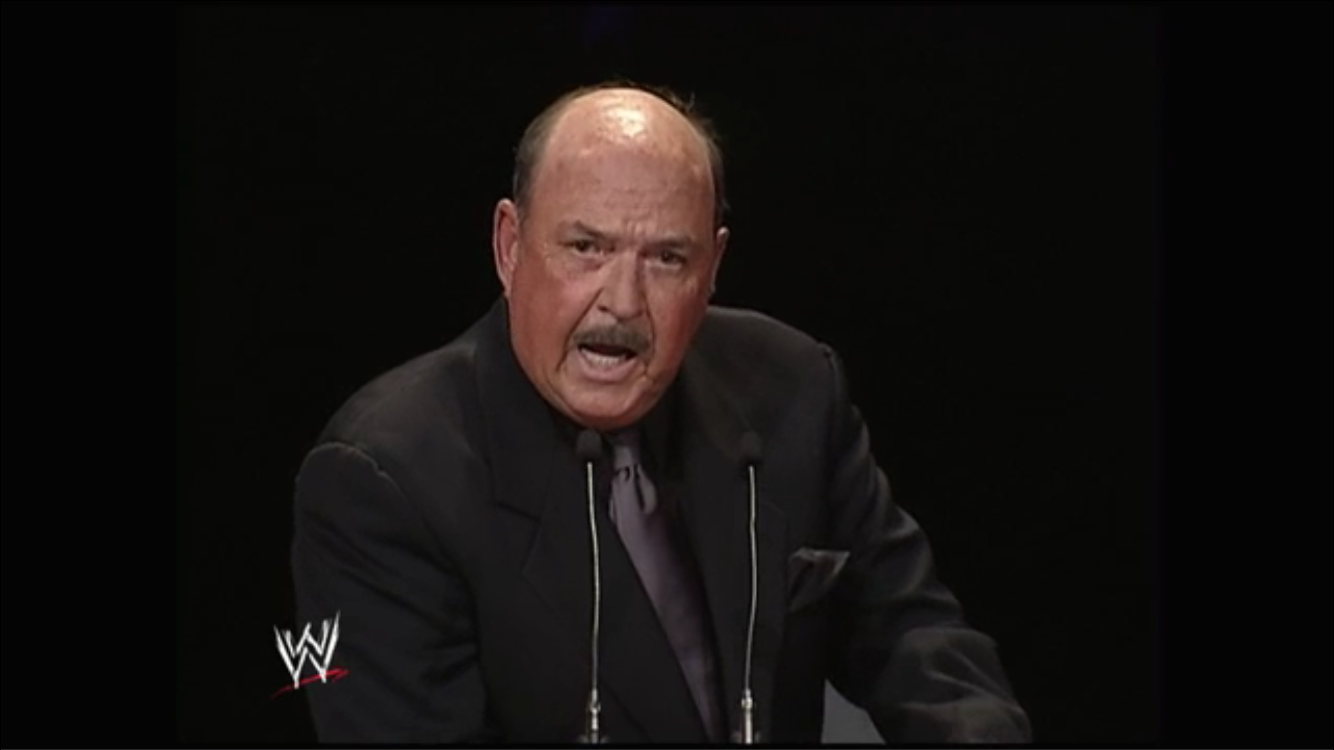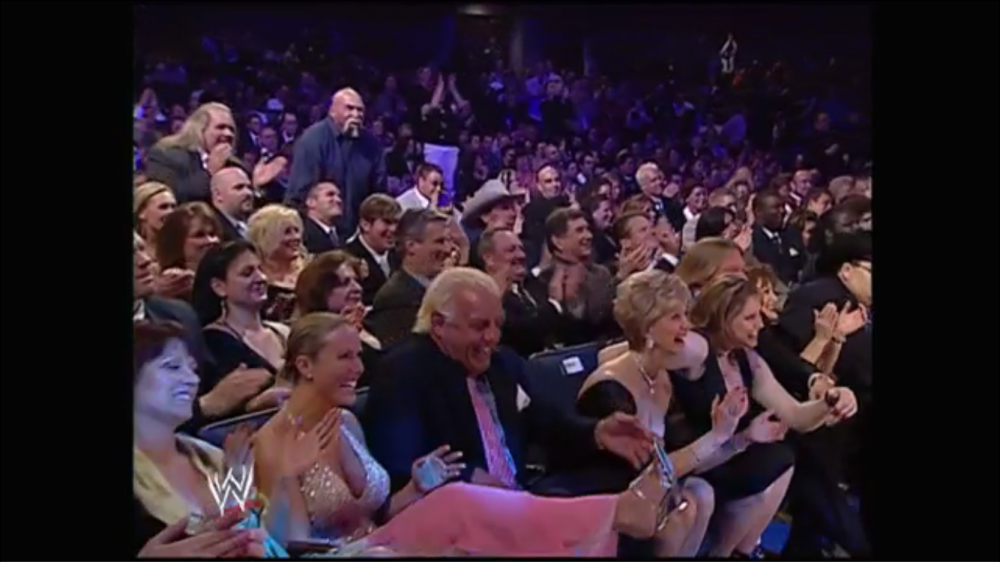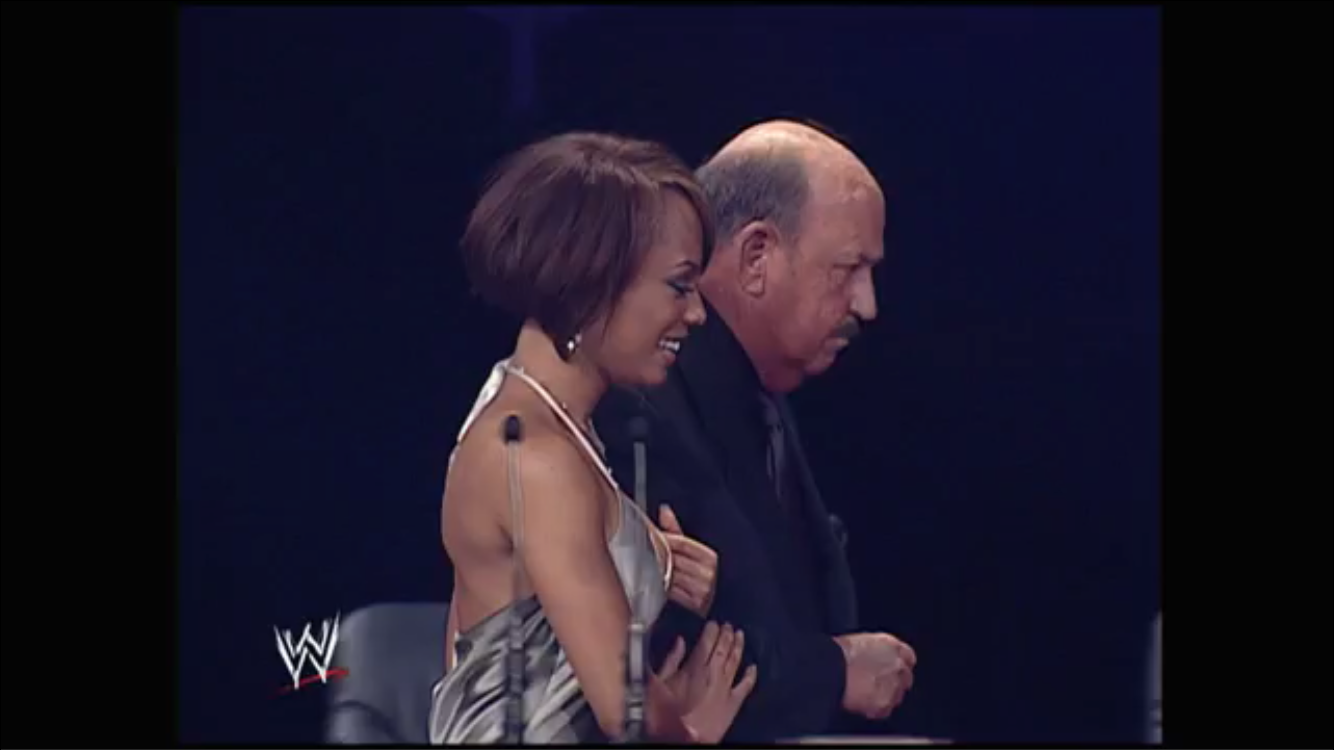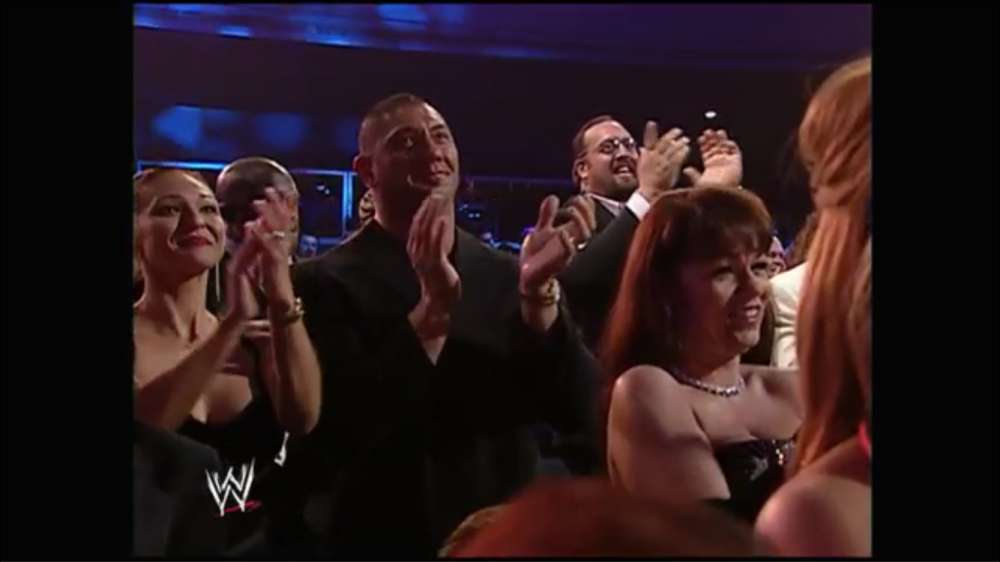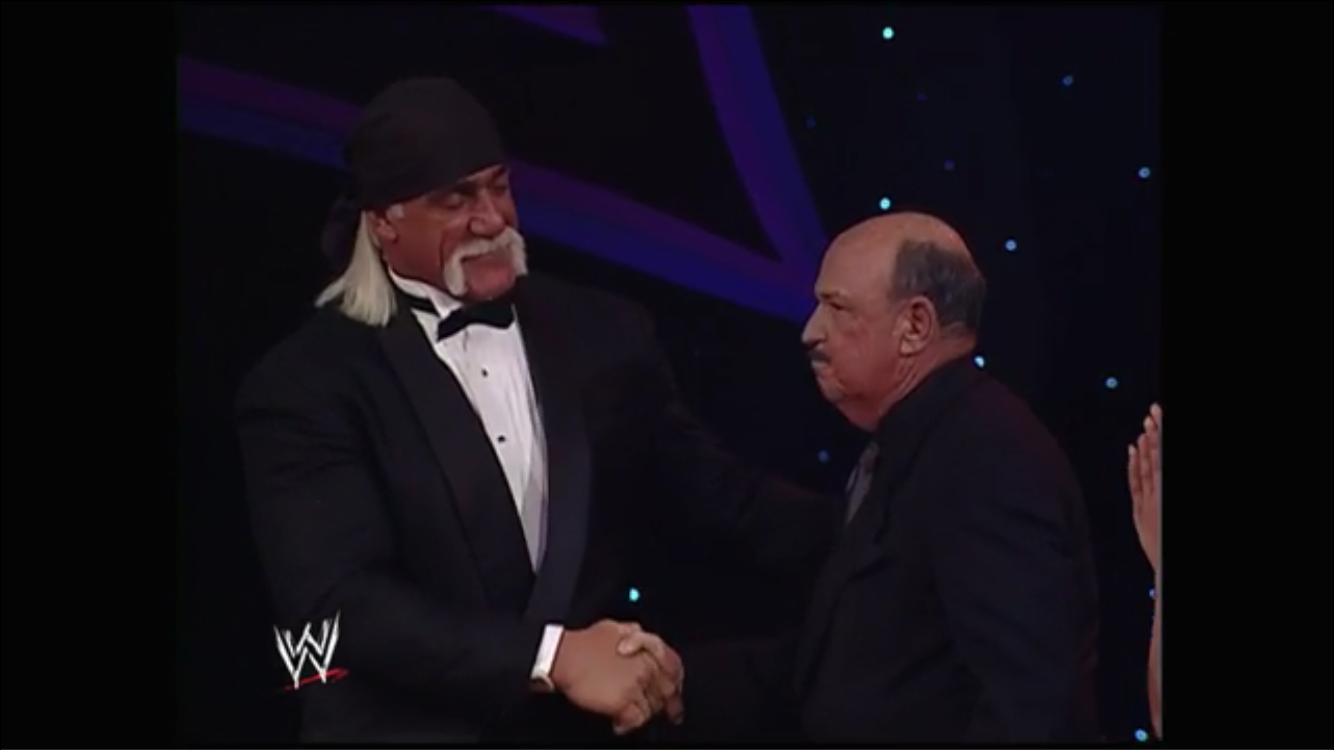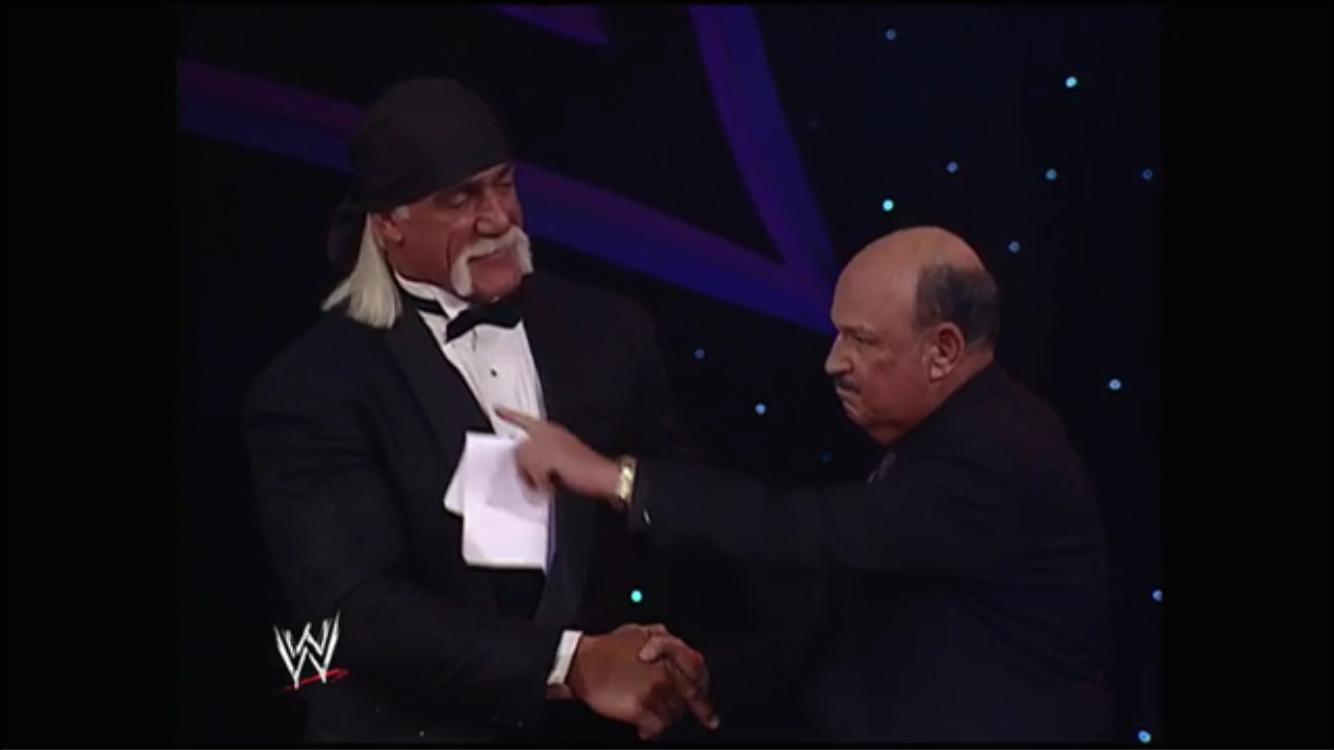 CLOSING THOUGHTS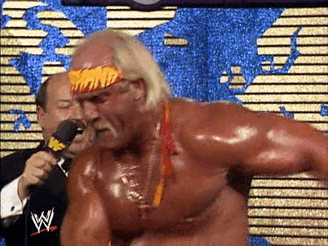 Mean Gene Okerlund will be missed but never forgotten. He left a lasting imprint on not just my childhood but countless others who grew up watching WWF in the late '80s and early '90s. A true legend in every sense of the word, they broke the mold when they made Gene Okerlund. There'll never be another one, that's for damn sure. A tip of the cap to you, Gene. Rest in Power and thanks for all the fun memories.