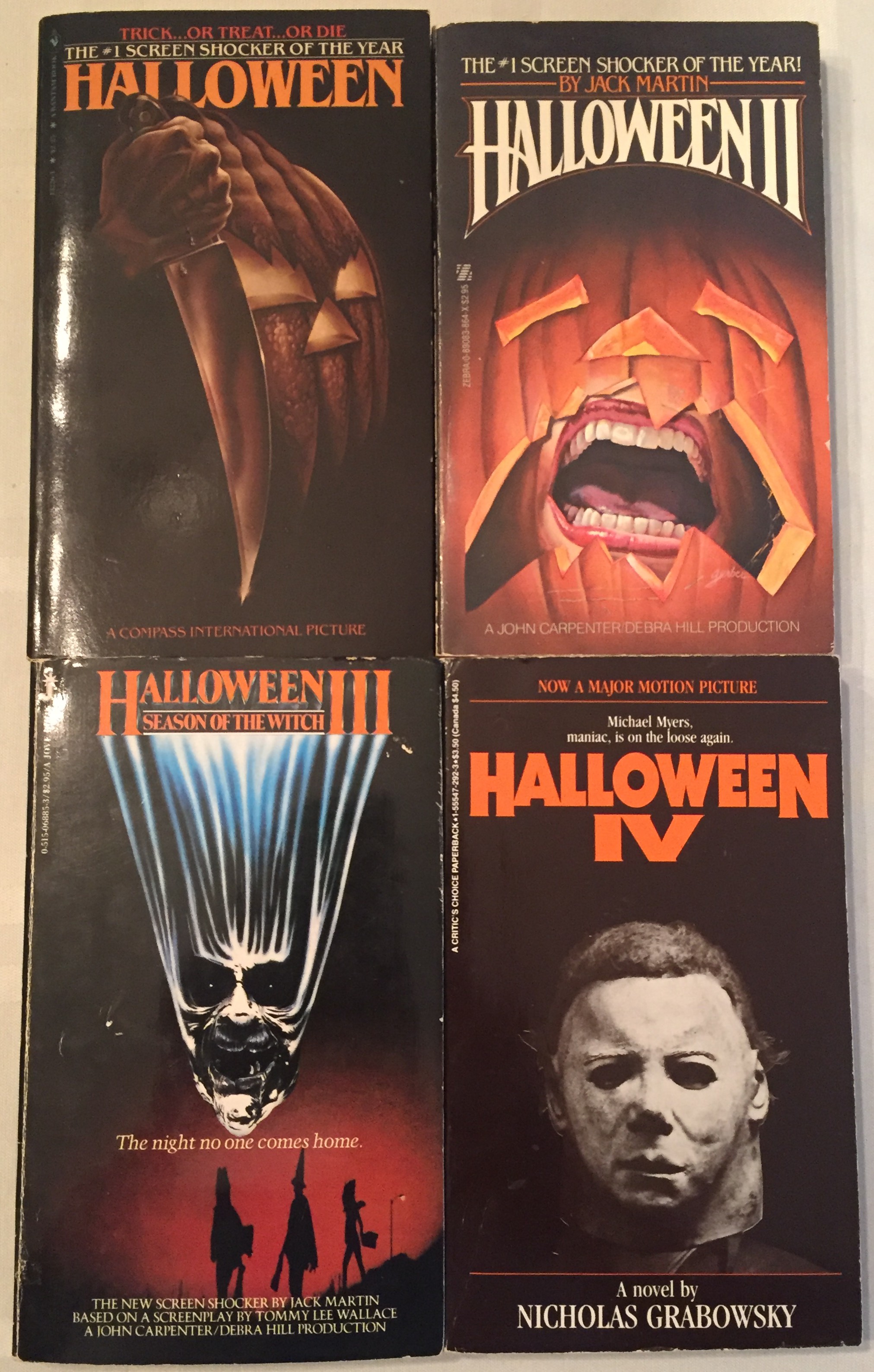 This past year I got back into books big time. For years on end my new years resolution would inevitably be to read more. But that never happened. But 2019 proved to be different. I began reading again. And once more, I've become a book fiend. I love paperback novels. I love the way they feel. The way they smell (as long as it's not rancid). The way they transport me to magical far away places. Being a massive Halloween fan, when I found out earlier this summer that the first 4 Halloween movies were novelized, naturally I was all over that like white on rice Michael's mask. As I write this intro, it's late Halloween night. I spent the past 3 weeks reading the 4 Halloween novels, having just finished Halloween IV. I had a blast with each of them, some more than others. So without further ado, let's take a closer look at the first novel, Halloween.
HALLOWEEN by Curtis Richards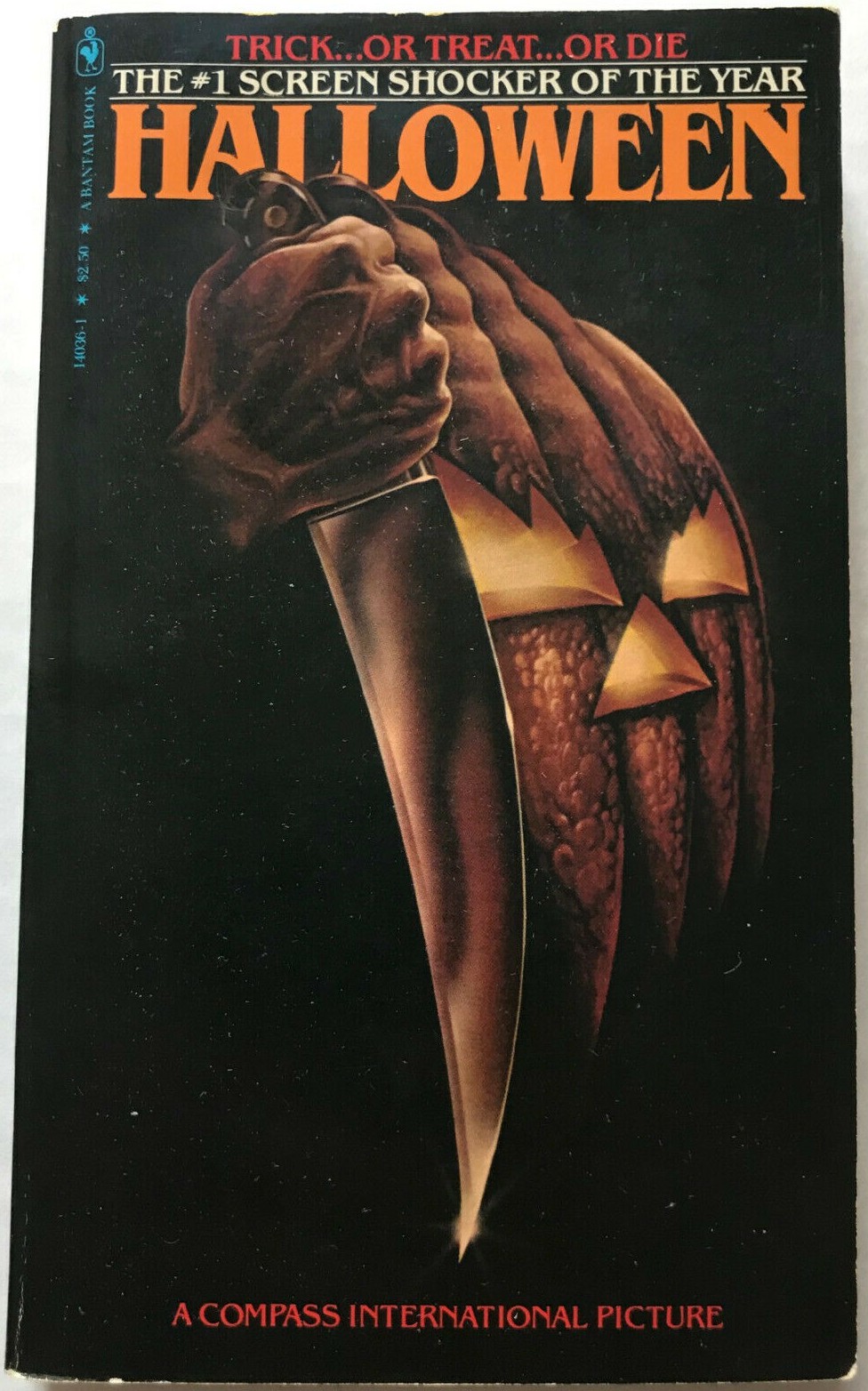 Penned by Dennis Etchison using the pseudonym of Curtis Richards, this book was released in October of 1979, one year after John Carpenter's Halloween made a killing at the box office. A rare and collectible piece of Halloween memorabilia, the book closely follows the film but adds in enough details to differentiate it from the movie. Namely, it provides a little more background information into what makes Michael Myers tick, and it really takes on a Celtic perspective. You'll read words like SAMHAIN and "The Druid Festival of the Dead." It's the perfect companion piece to the film itself, moreso in my estimation than the actual Halloween II movie sequel. It's rather well written too, and isn't merely a throwaway movie novelization. Check out Chapter 1 below for instance…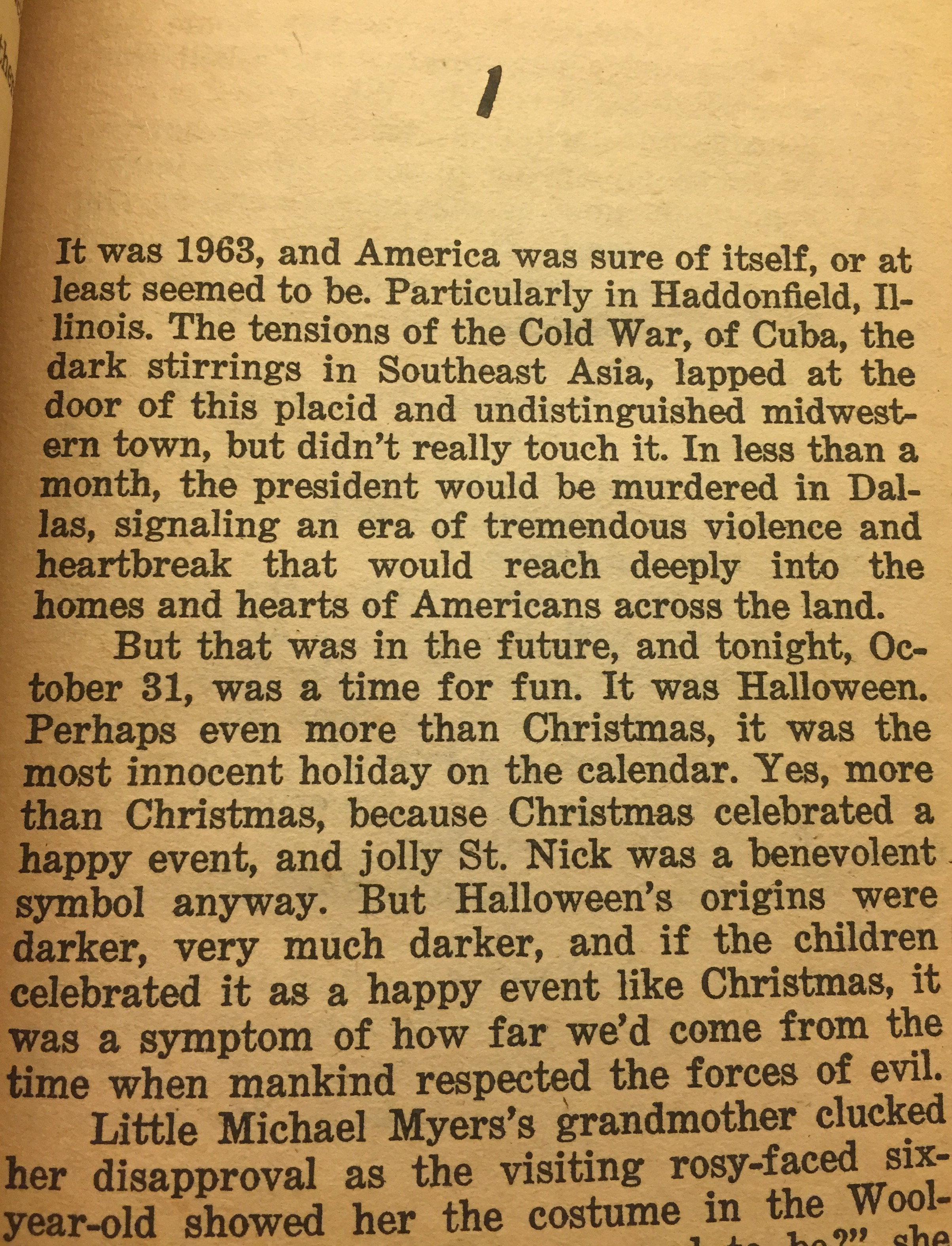 Not bad, eh? Really sets the mood and evokes that autumnal feeling of late October and sleepy suburbs where danger lurks in the darkness. Curtis Richards, er, Dennis Etchison, was something of a proficient horror writer in his day so it's nice to see someone so professional handle this project.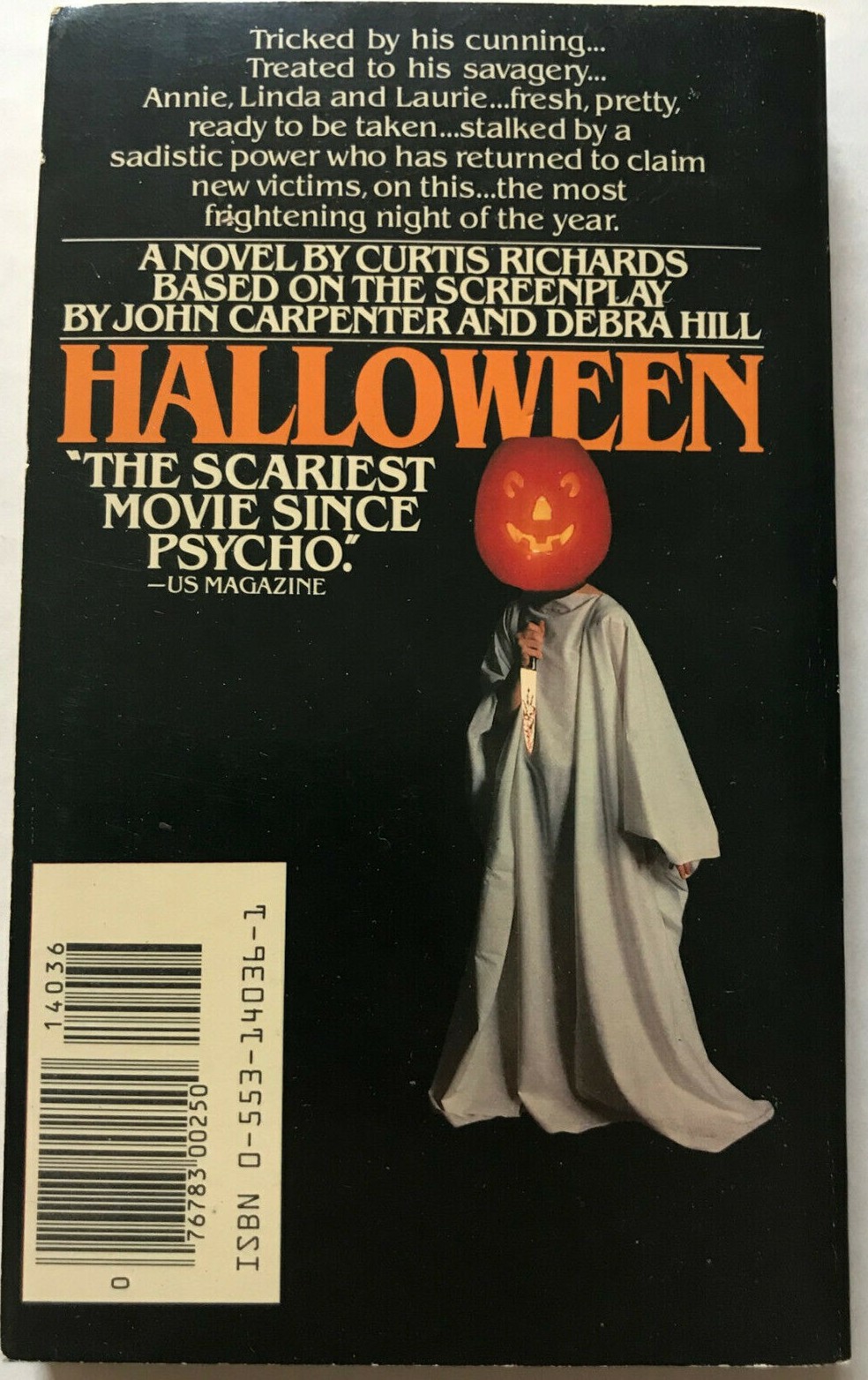 Unfortunately, being out of print and rare, copies of this book go for a pretty penny. It seems insane to drop triple figures on a book — a rather thin 166 page book at that — but this is a nice prize for diehard Halloween fans. From now on, every October I'll be watching the movie and reading the book. There's something about reading the movie in written form that is immensely satisfying. It's one of those concepts that work equally well as a novel or as a film. I'm glad we have both — the best of both worlds, as it were.

Following the smash success of Halloween, Halloween II hit theaters on Halloween Eve of 1981. The movie novelization, penned once again by Dennis Etchison who changed his pseudonym from Curtis Richards to Jack Martin, soon followed.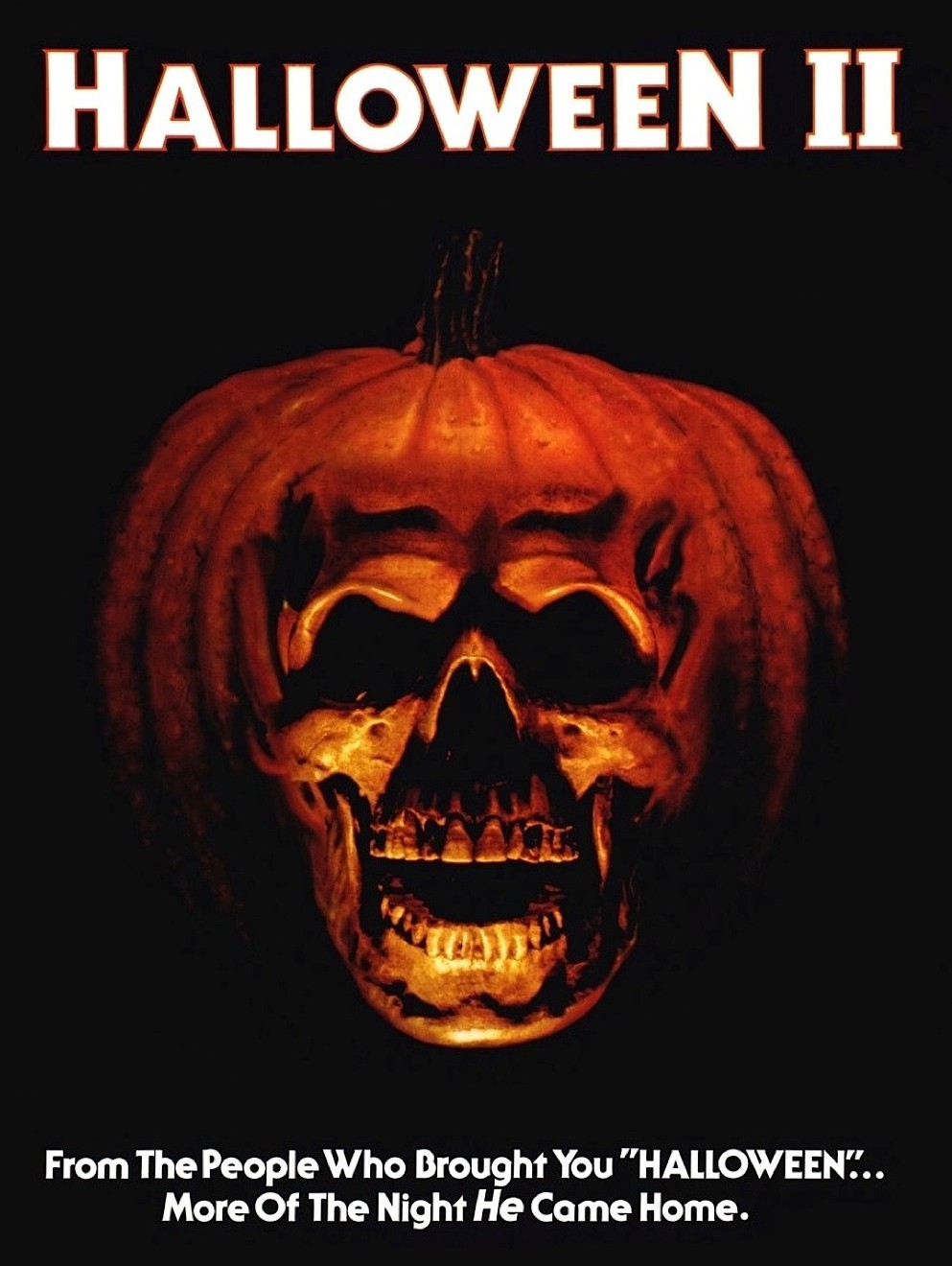 HALLOWEEN II by Jack Martin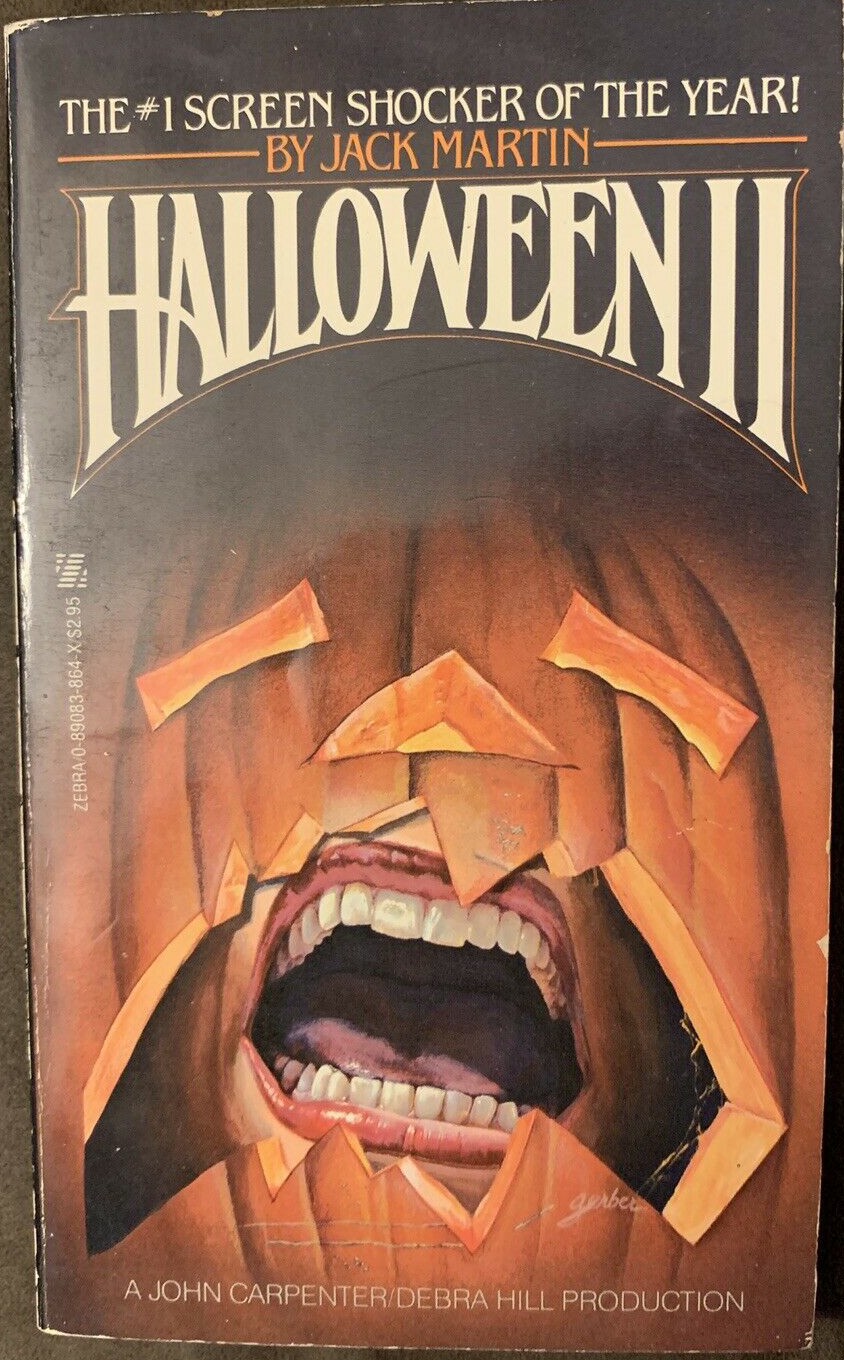 Although certainly cheesy, I appreciate the creative deviations the novelization made in comparison to its film counterpart. Seeing a human face screaming out in agony covered by a carved jack-o-lantern is quite the gruesome sight. It's exactly the kind of cover that would stop me dead in my tracks walking by a bookstore or newsstand.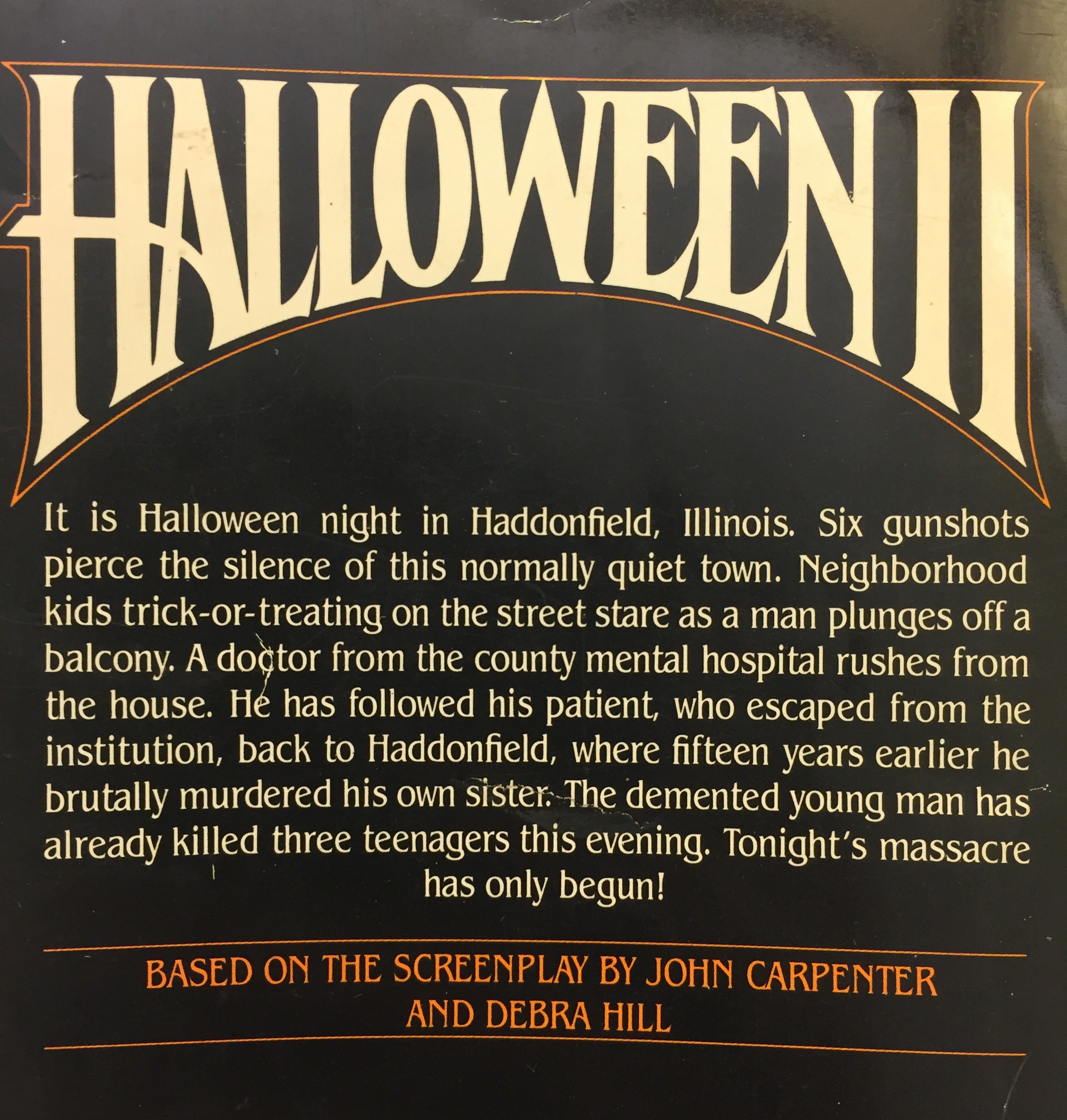 As it is with movie and video game boxes, in addition to the front cover I love admiring the back as well. The summary gives you a good idea of what you're in store for, and the back cover of Halloween II is at once simple but effective and enticing. The perfect sort of book to read snuggled up by a roasting fire on a cold October evening.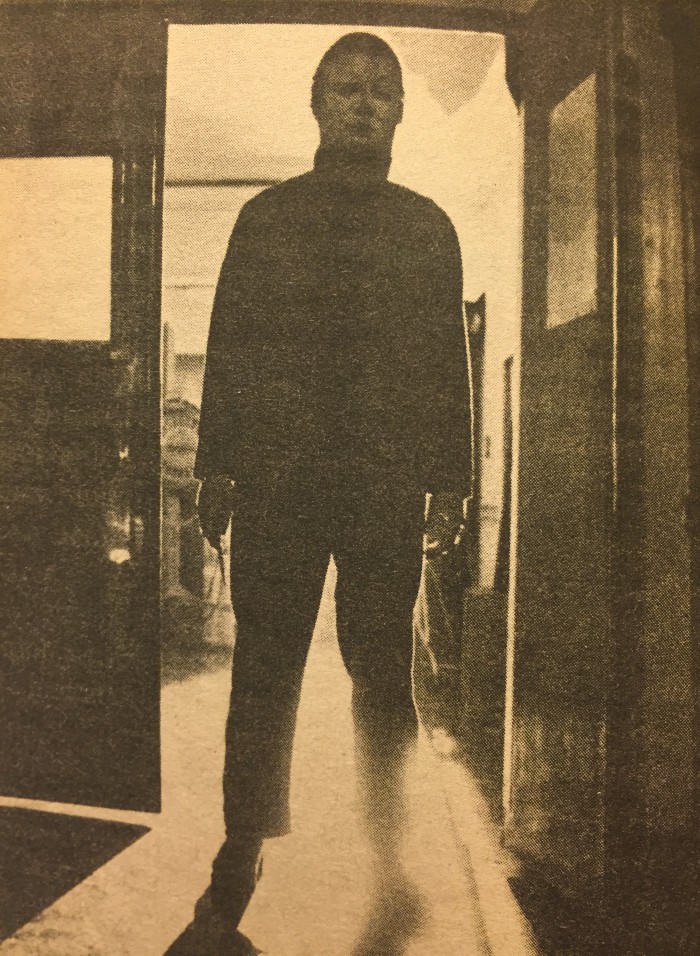 Like many movie novelizations of its time, Halloween II featured some photos plucked straight from the film. That or publicity stills, such as this eerie shot of The Shape's evil presence looming over the desolate Haddonfield Memorial Hospital.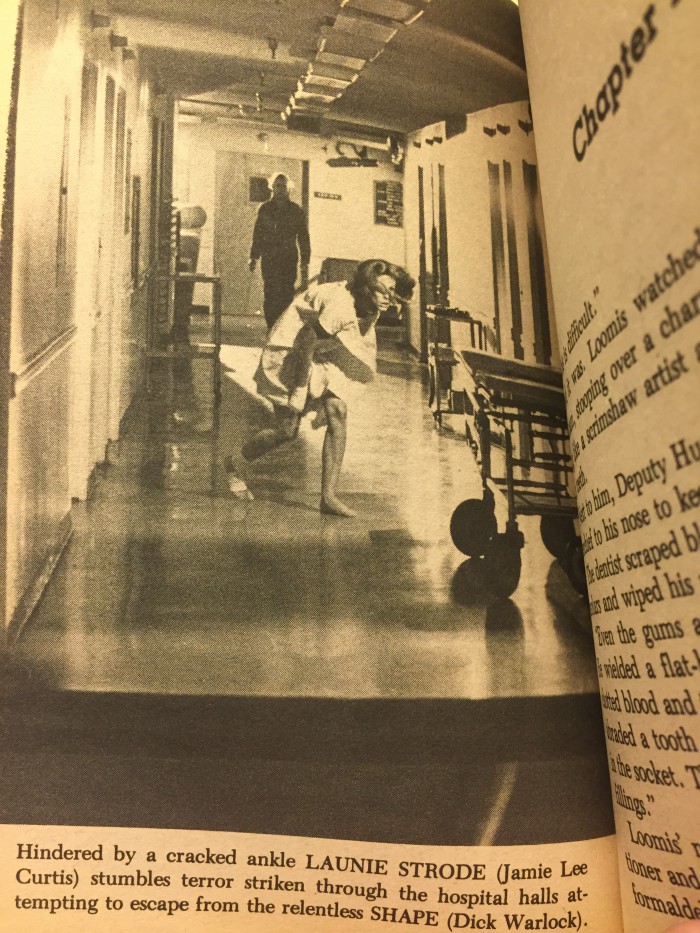 A recurring error were the photo captions which mostly spelled Laurie as Launie. How no one in editing caught that is practically inexcusable. Thankfully, they get the name right in the book and it's a small misstep that's mostly harmless. I get a kick out of it every time that I see it, though. Launie Strode? Get out of here with that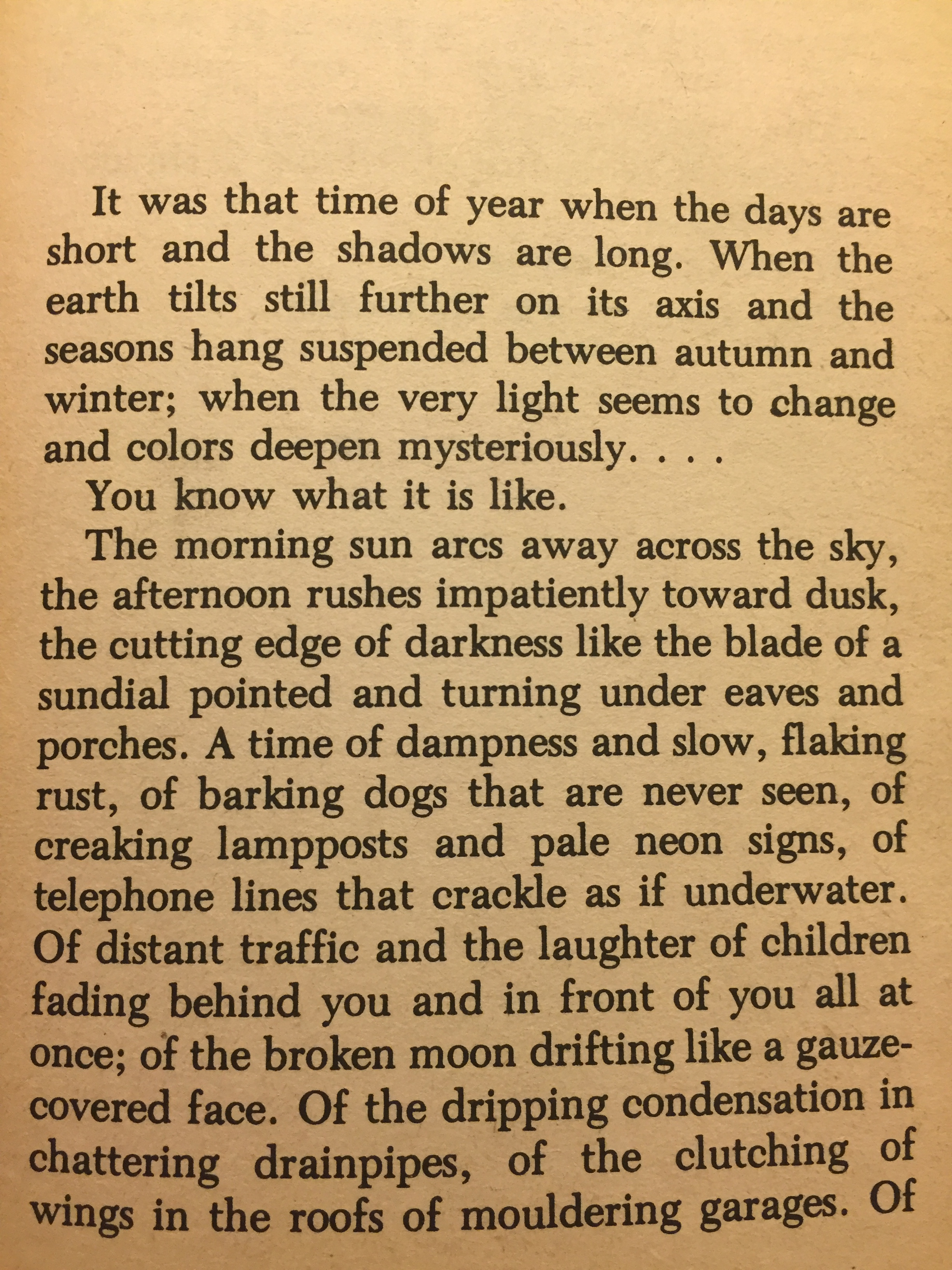 Halloween II begins with this prologue. I love the part that goes, "You know what it is like." YOU DAMN RIGHT I DO. And it's practically the best time of the year for me. Dennis Etchison (or Jack Martin if you will) does a fantastic job of painting the scene for us. It's Haddonfield. It's Halloween time. It's irresistible. Vivid sentences like "the broken moon drifting like a gauze-covered face" bring to mind gloriously rich pictures. Mr. Martin sets the mood right off the bat. You can't help but want to read on.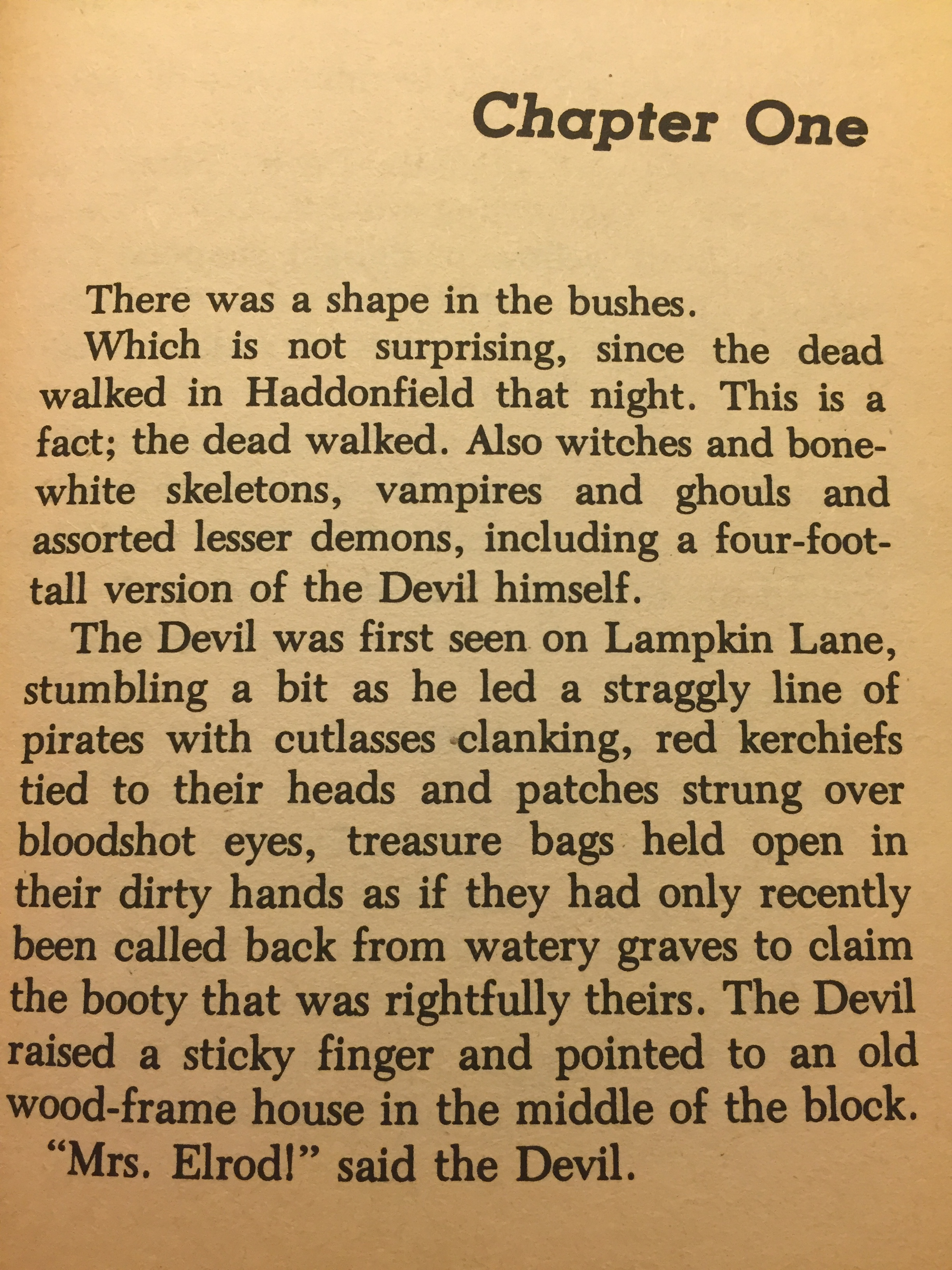 Chapter One opens with the haunting line, "There was a shape in the bushes." This is followed by letting the reader know that the dead walked in Haddonfield that night. The lines about the Devil first being seen on Lampkin Lane and being a four-foot-tall version jumps off the page to me as well. Good stuff by Etchison.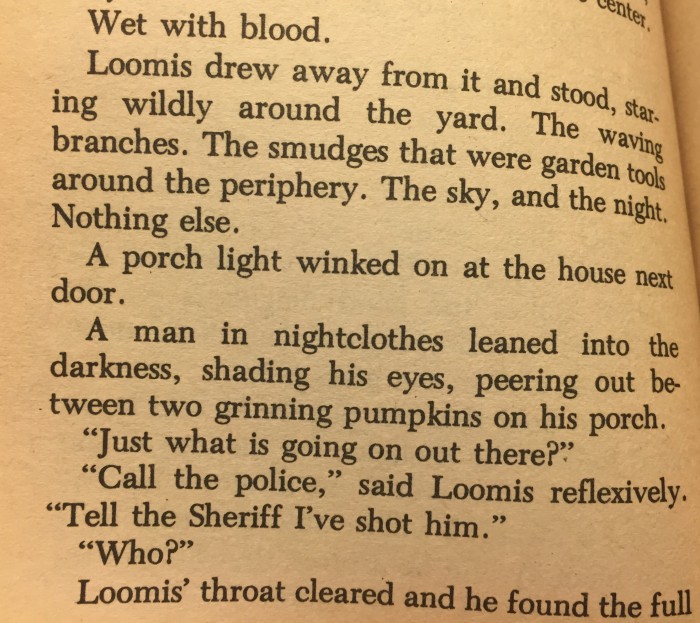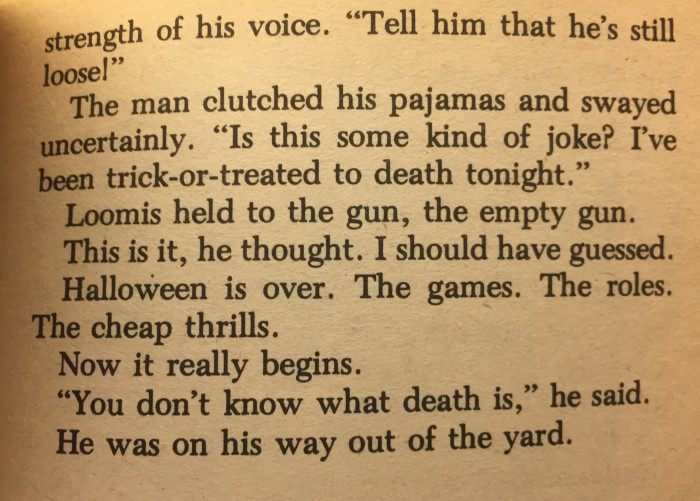 Here's the infamous opening scene of Halloween II where the neighbor comes out asking Dr. Loomis what is going on out there. It's always been one of my favorite scenes from the entire franchise. I just love when the neighbor goes, "Is this some kind of joke? I've been trick-or-treated to death tonight" followed by Loomis saying "You don't know what death is" as he runs around the house and the Halloween theme plays. Gives me the chills every time!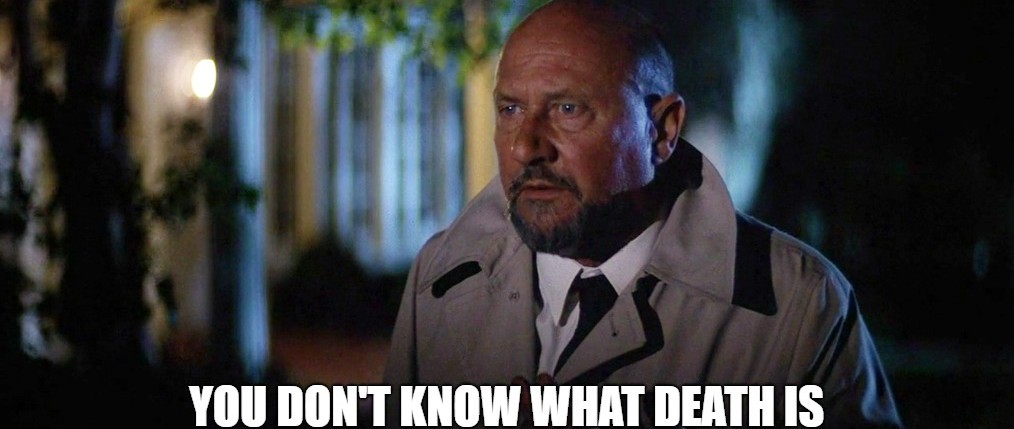 But notice in the novelization it gives a little more character insight. After the neighbor asks the question, in the film Loomis answers immediately. But here, the reader can read Loomis' most inner thoughts… how he held to the gun, the empty gun… how he thought to himself this is it. How he should have known that Michael was a force beyond human. And how Halloween is over. The games. The roles. The cheap thrills. Now it really begins. This is what I love about novelizations. The writer can color between the lines and give you a little more depth than the film does.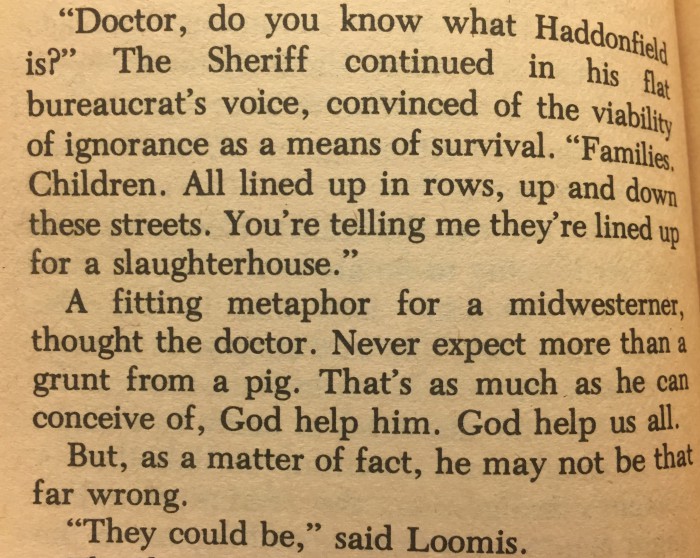 Here's another shining example of more character insight. After Sheriff Brackett asks Loomis if he knows what Haddonfield is, we see that Loomis is at the point of exasperation with the Sheriff. How one can never expect more than a grunt from a pig, how it's not the Sheriff's fault that he is merely a pig in a game ruled by lions, tigers and boogeymen. And how the Sheriff's very own term "slaughterhouse" is an appropriate metaphor for what might possibly come. God save us all. Loomis benefits greatly from the added insights that Etchison weaved in throughout, making Halloween II a wonderful companion piece to the film itself.
HALLOWEEN III by Jack Martin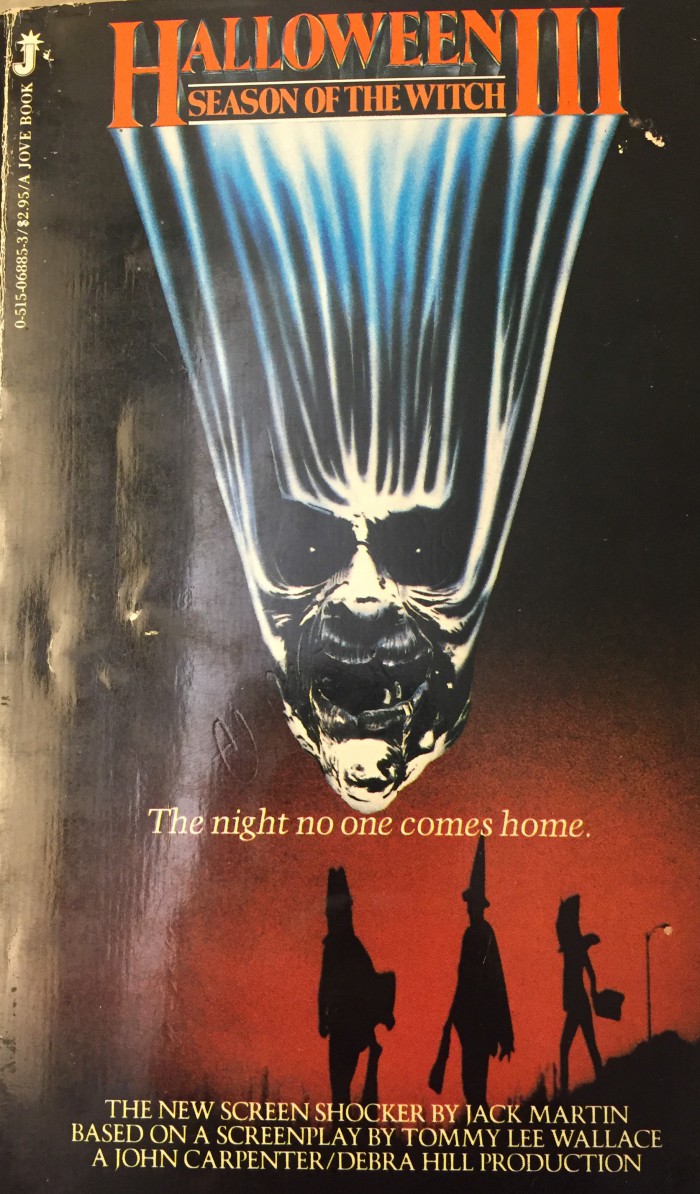 Halloween III: Season of the Witch is a polarizing and controversial film in the franchise. That's mainly because it does not feature Michael Myers outside of a meta cameo. The producers had the idea of turning the Halloween franchise into an anthology series. It was universally panned when it originally came out in 1982 as moviegoers wanted more Michael but were instead given a movie about killer masks. Over the years however, namely in the last 15 years or so, Halloween III has earned something of a cult following. It is now viewed in the eyes of many as an underrated horror film that would have worked so much better if it were given any other name other than Halloween III.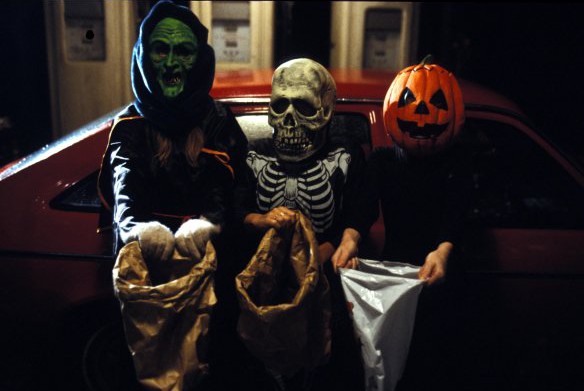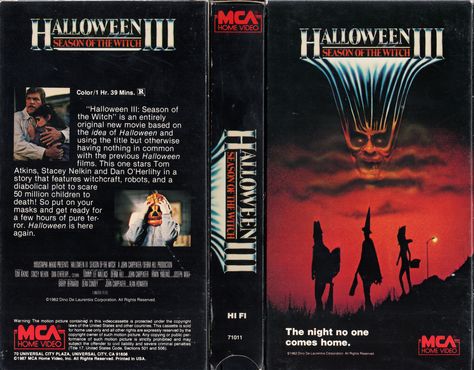 I have vivid memories of renting it from Hollywood Video 25 years ago in 1994. Back then there was no internet, no YouTube, no Twitter. I had no idea the movie didn't feature Michael Myers. I just thought from the cover and title that it would be about a killer witch teaming up with Michael to slaughter the denizens of Haddonfield, and that idea captivated the shit out of me as a 10 year old kid. Alas, there was no evil witch (in the sense that I was imagining at least) and certainly no Michael. I was PISSED. However, I finally rewatched Halloween III this past October for the first time since that disappointing night and I have to say, I really enjoyed it as an adult who was now able to get pass that whole Michael thing. It truly is an underrated horror film.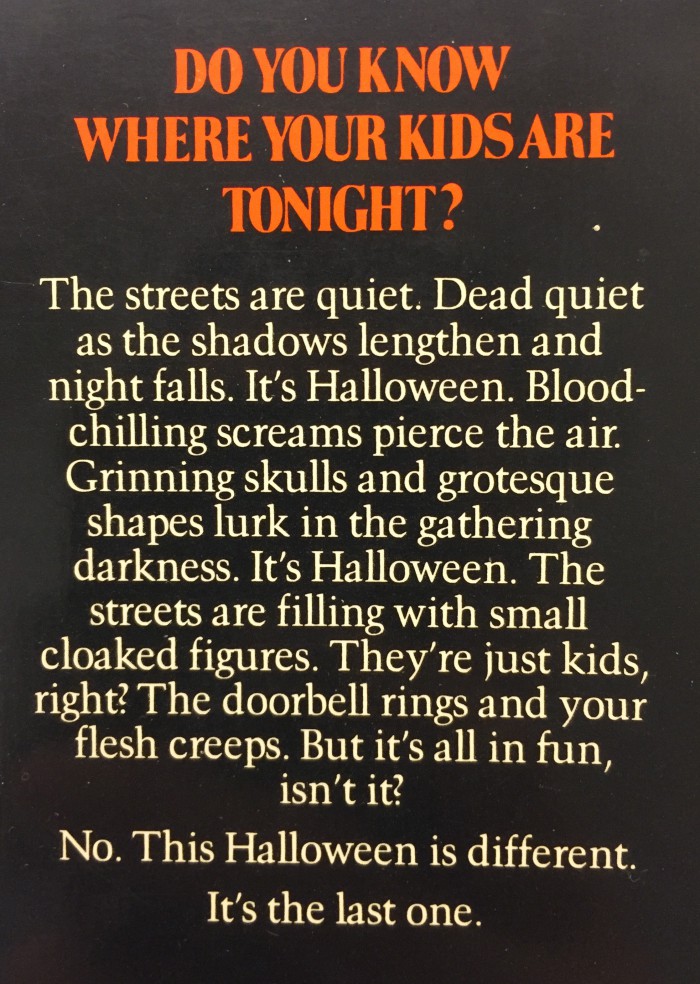 Ooh, how creepy! The back cover makes you want to snuggle up in bed and read. Alright, never mind that the description is grossly inaccurate to how the actual story goes…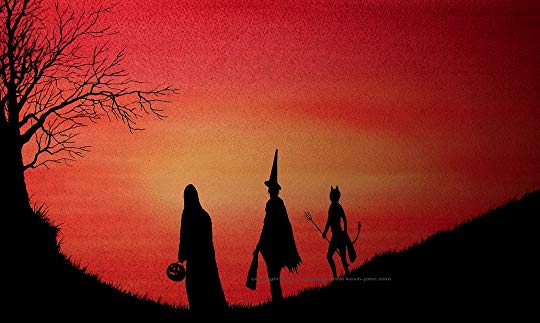 Something about those shapes… downright demonic. The witch in particular with its sharp pointed hat… it's an image that has burned itself into my retina from when I first saw it in 1994. Say what you will of Halloween III, it has a badass cover and the tagline "The Night NO ONE Came Home" is a clever play off the original film's tagline "The Night HE Came Home."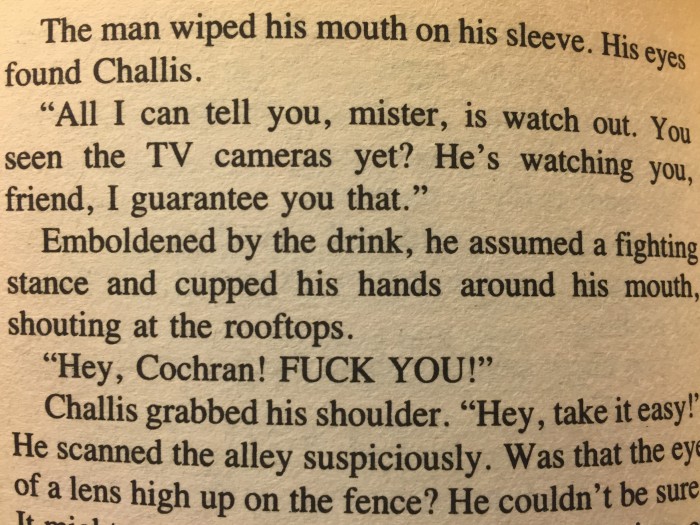 I love the scene in the movie where the homeless guy in Santa Mira — you know, the ONE guy in town who isn't brainwashed by Silver Shamrock — tells Cochran to go fuck himself. It was a joy reading it in the novelization. Could totally visualize the actor shouting that line with rebellious fist thrown in the air and all. The paranoia is real, bleeding off the pages, and with good reason. Some shady shit is happening in the small cultish town of Santa Mira, and it's up to Dr. Dan Challis to find out why…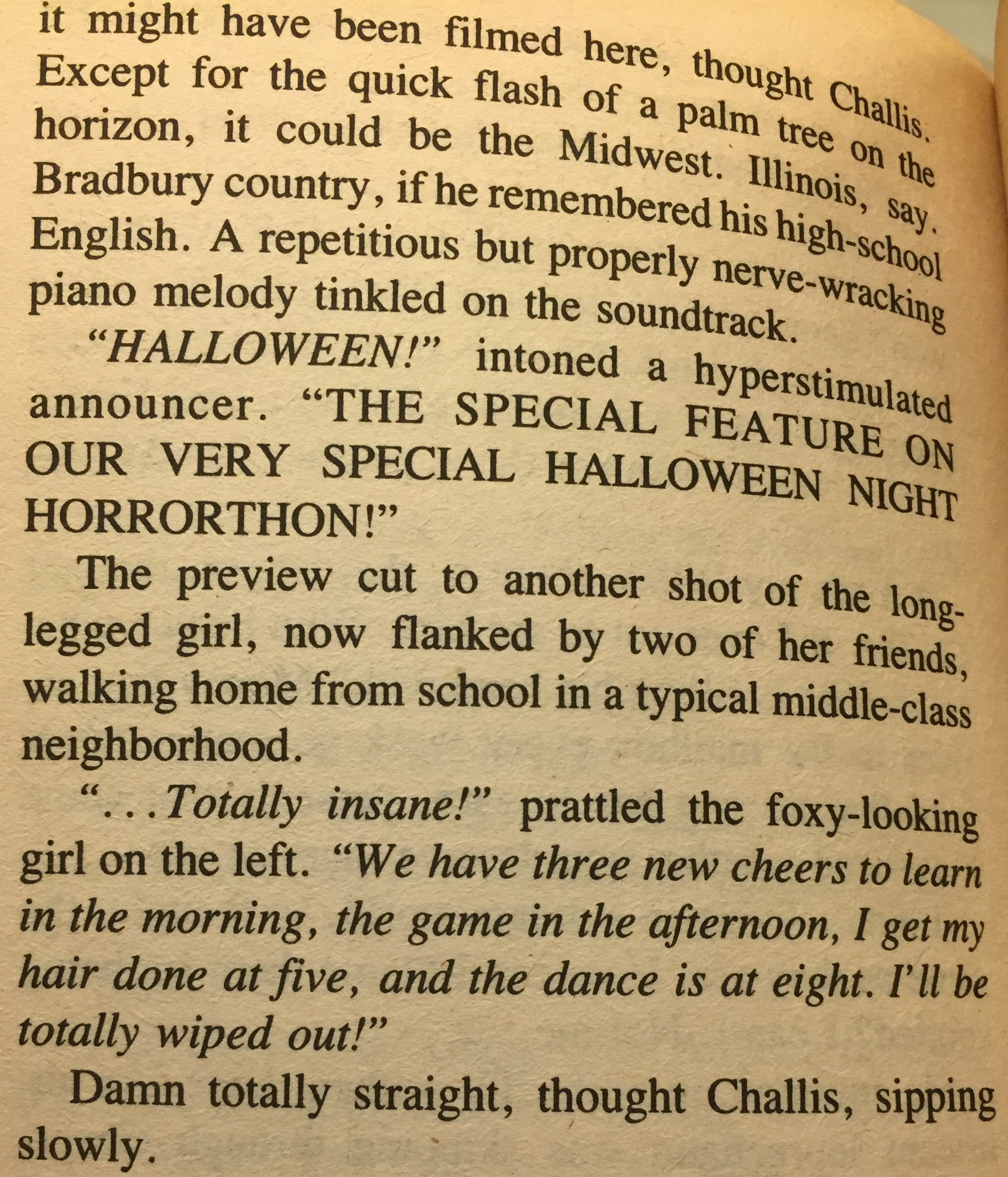 Here's a nice added bit by Dennis Etchison. The actual film only showed a small snippet of the first Halloween film, but here Etchison dives in a little deeper. You might be wondering why, or if it's just a bit of fan service, but the next paragraph reveals the true reason why…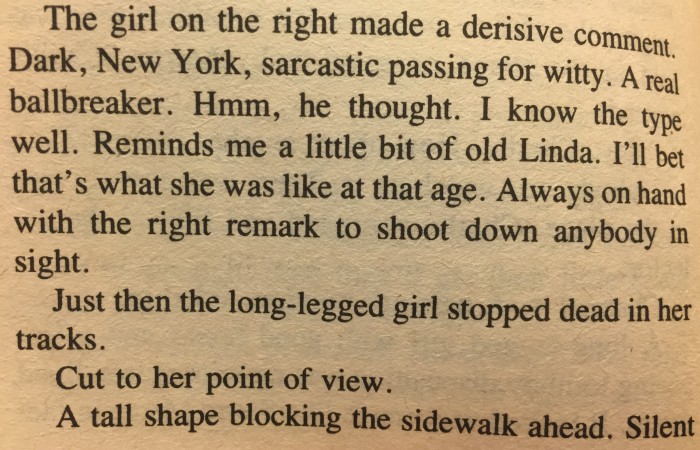 Challis' wife in the movie, Linda, was played by Nancy Kyes. She also played Annie Brackett in the first Halloween film. So after Etchison wrote about the teenage girls walking down a street in the sleepy suburbs of Haddonfield, Dan Challis sees Annie and thinks to himself, "Hmm. I know the type well. Reminds me a bit of old Linda. I'll bet that's what she was like at that age. Always on hand with the right remark to shoot down anybody in sight." That part made me laugh out loud. That alone is worth the price of admission!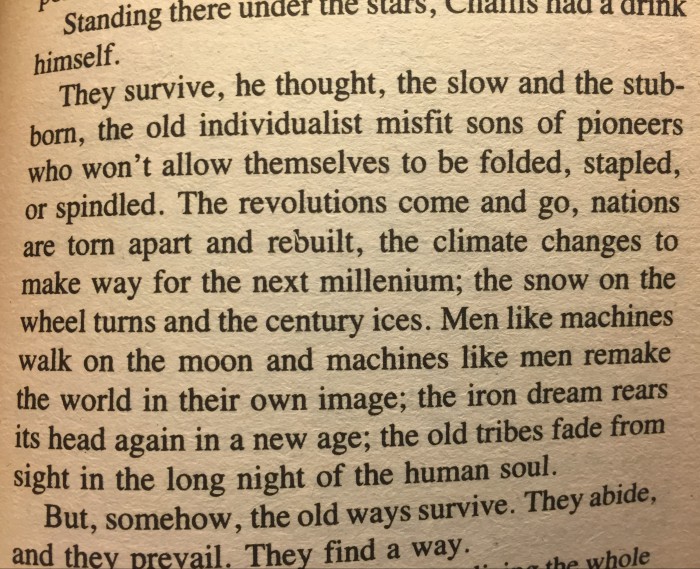 As Etchison wasn't shy on doing, Halloween III has its quiet moments of introspection and philosophy. It added a lot of extra depth to the characters than what the movie was able to portray. Books can just describe a character's innermost thoughts in a way the film medium simply cannot. While I enjoy the movie itself, the novelization of Halloween III is definitely a hit and one I plan to revisit in the years to come.
HALLOWEEN IV by Nicholas Grabowsky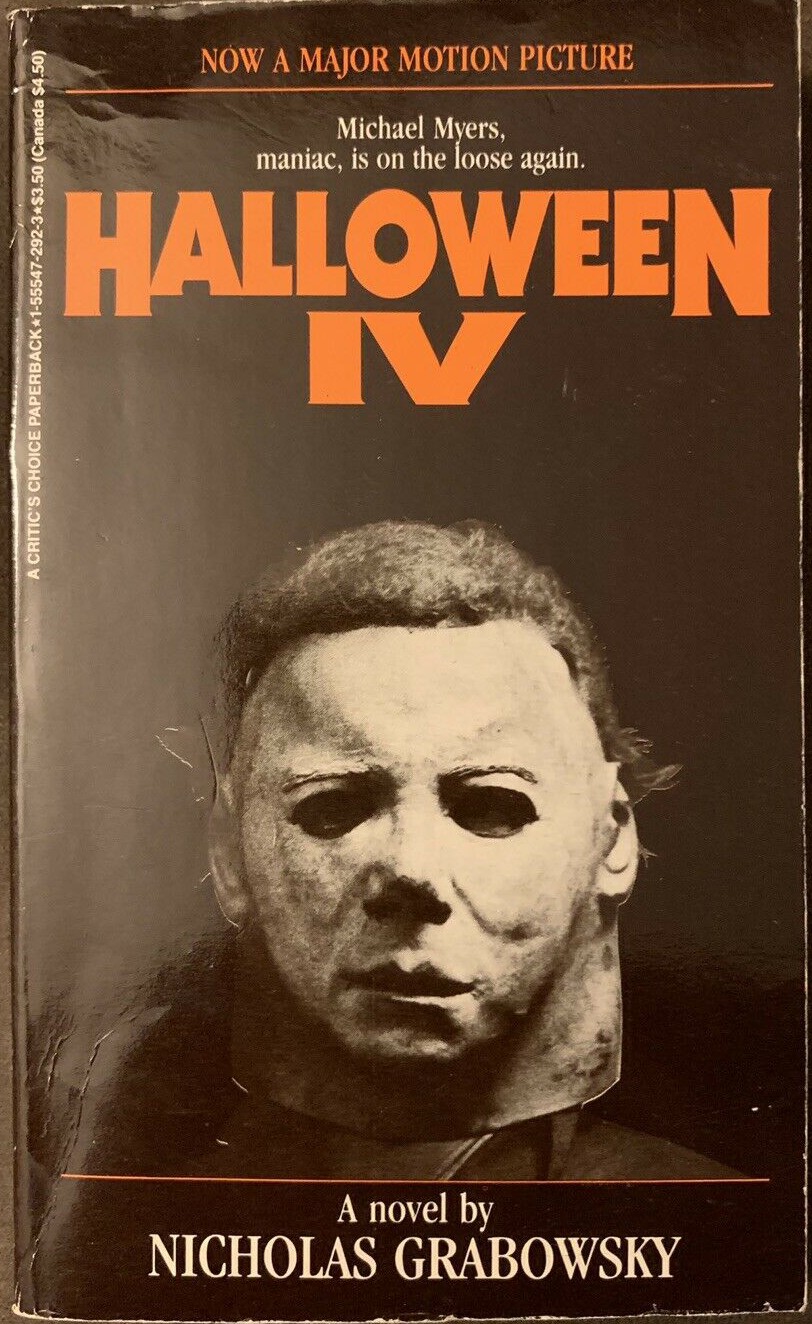 The first Halloween novelization not written by Dennis Etchison (AKA Curtis Richards AKA Jack Martin) was Halloween IV. While I find the cover to be simple and cool, I wish Grabowsky had gone with the classic poster version of the actual film.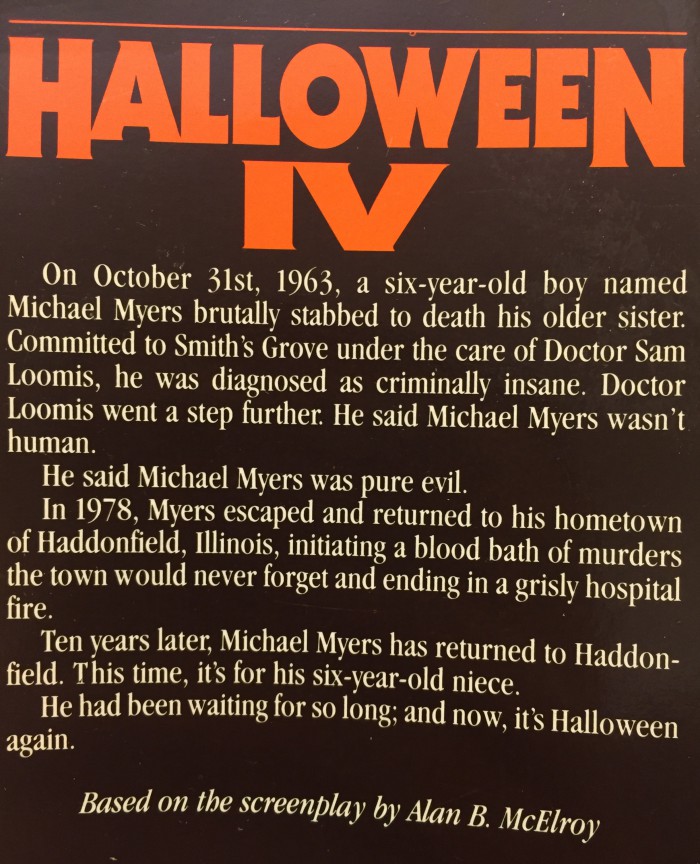 The back is a bit wordy one might say, but you gotta love that bright orange for the title and the font itself.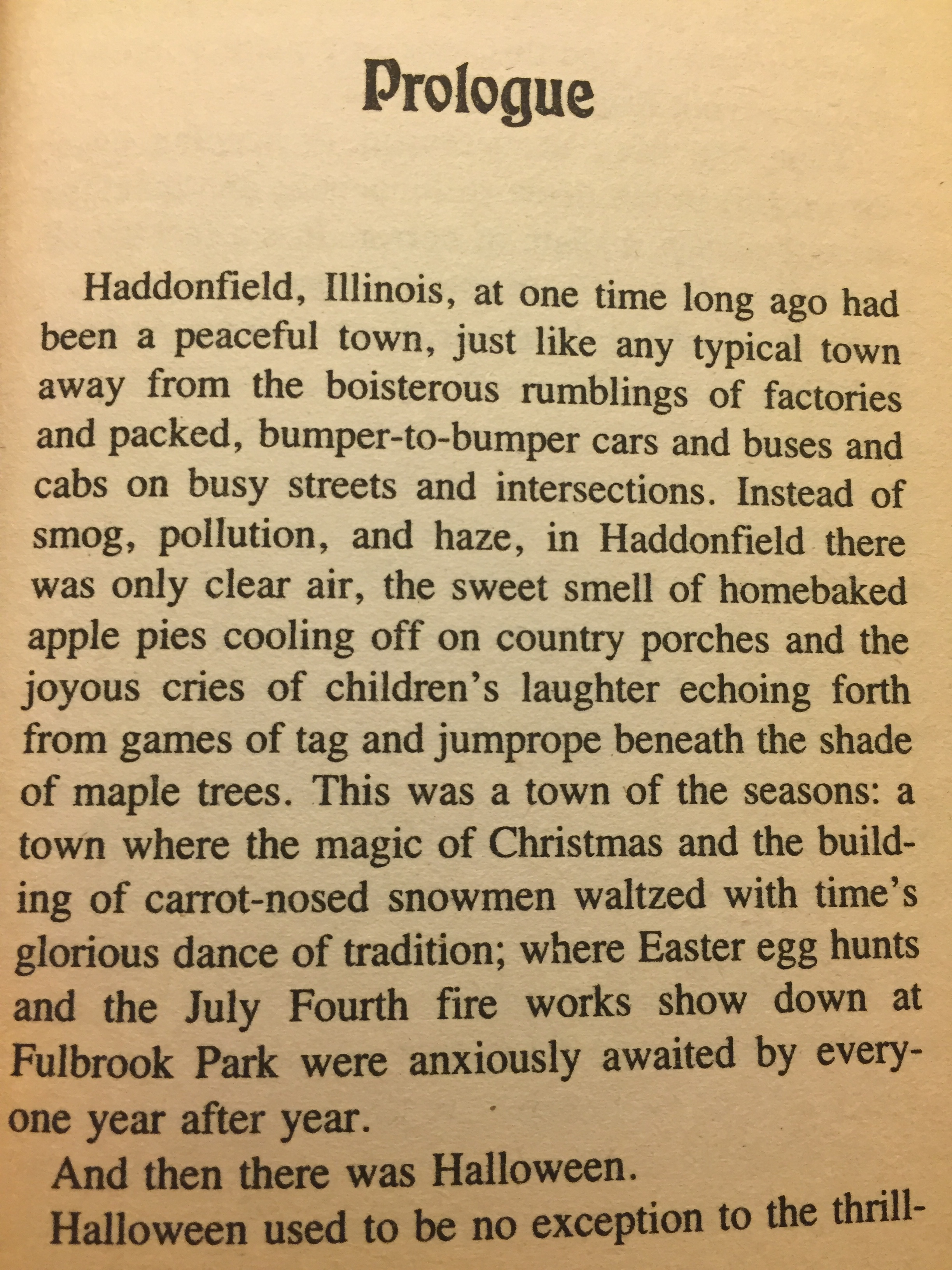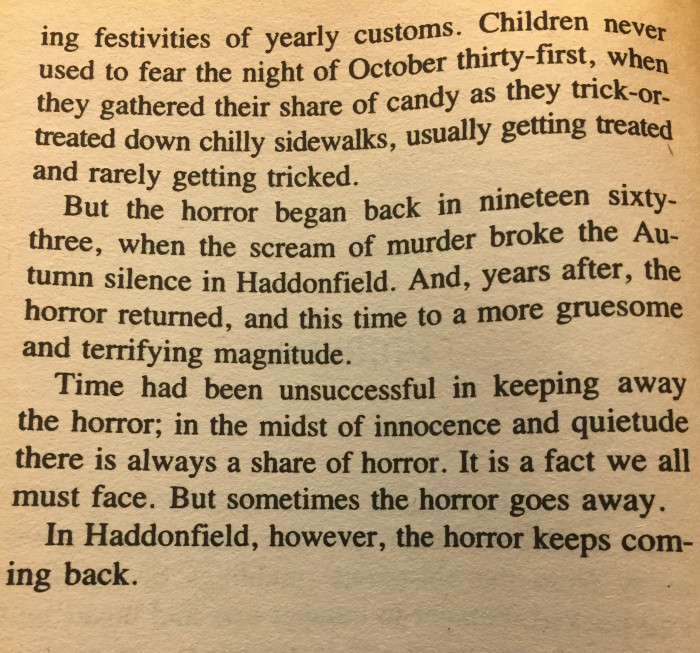 The book starts off with this stellar prologue, immediately hooking the reader in. Once again, as with the other Halloween novelizations, there are some extra details here and there that help to better flesh out the various characters. My favorite example of this was when Brady was brawling with Michael Myers. Before he bites the dust, Brady thinks to himself for a second HEY… what if I actually put an end to this guy and become a folk hero of Haddonfield lore? It's small stuff like that that makes it a little more interesting.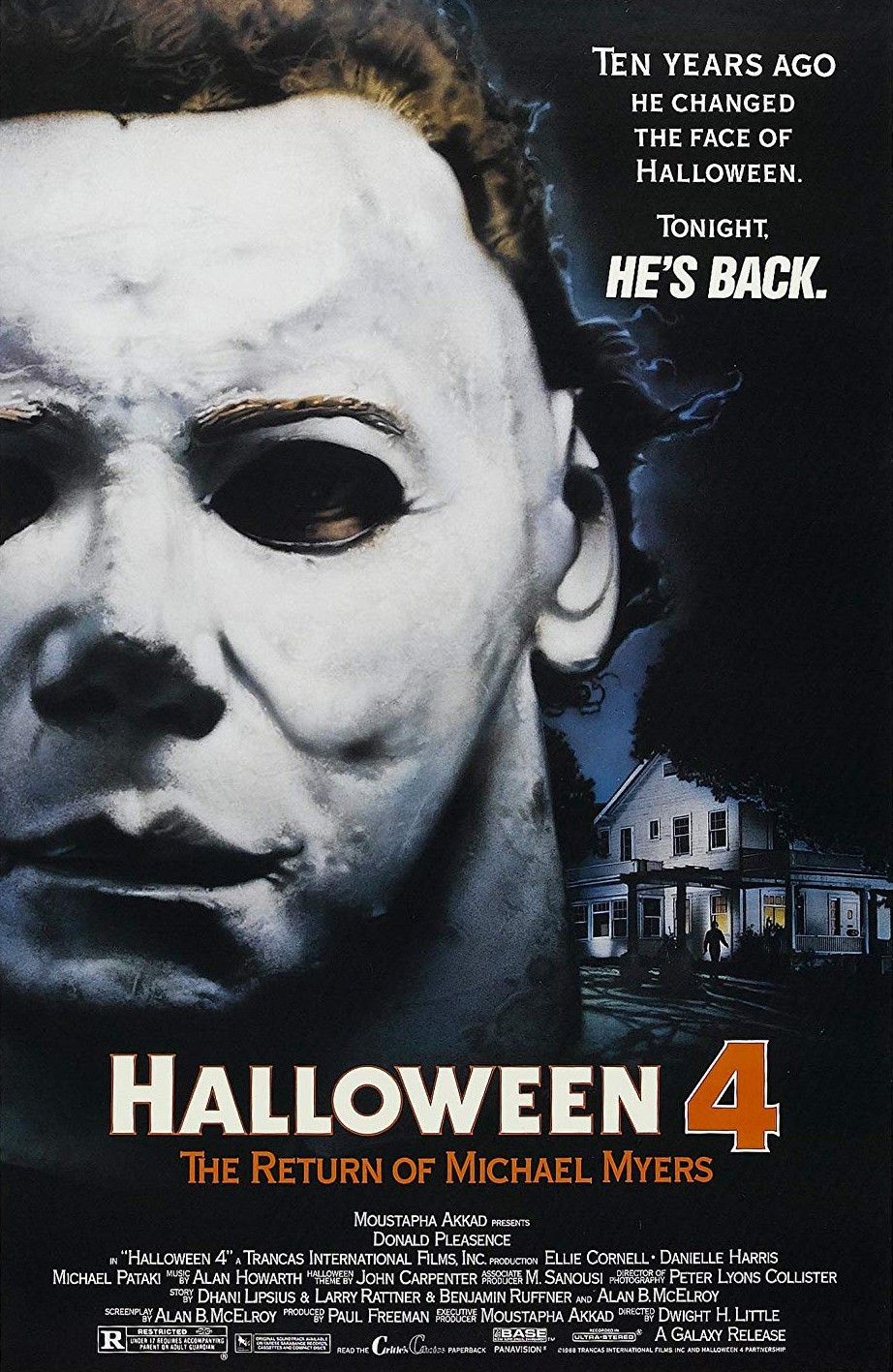 Sadly, this is where the movie novelizations stopped for Halloween. It ended at Halloween IV in 1988. There was no novelization for Halloween V in 1989, or Halloween 6 in 1995. And so forth. Who knows why? Maybe Nicholas Grabowsky's novel didn't sell as well as they were hoping. Or maybe the (horror) movie novelization business as a whole was starting to die out a bit.
THE CHANGING SHAPE OF AN ICONIC SERIES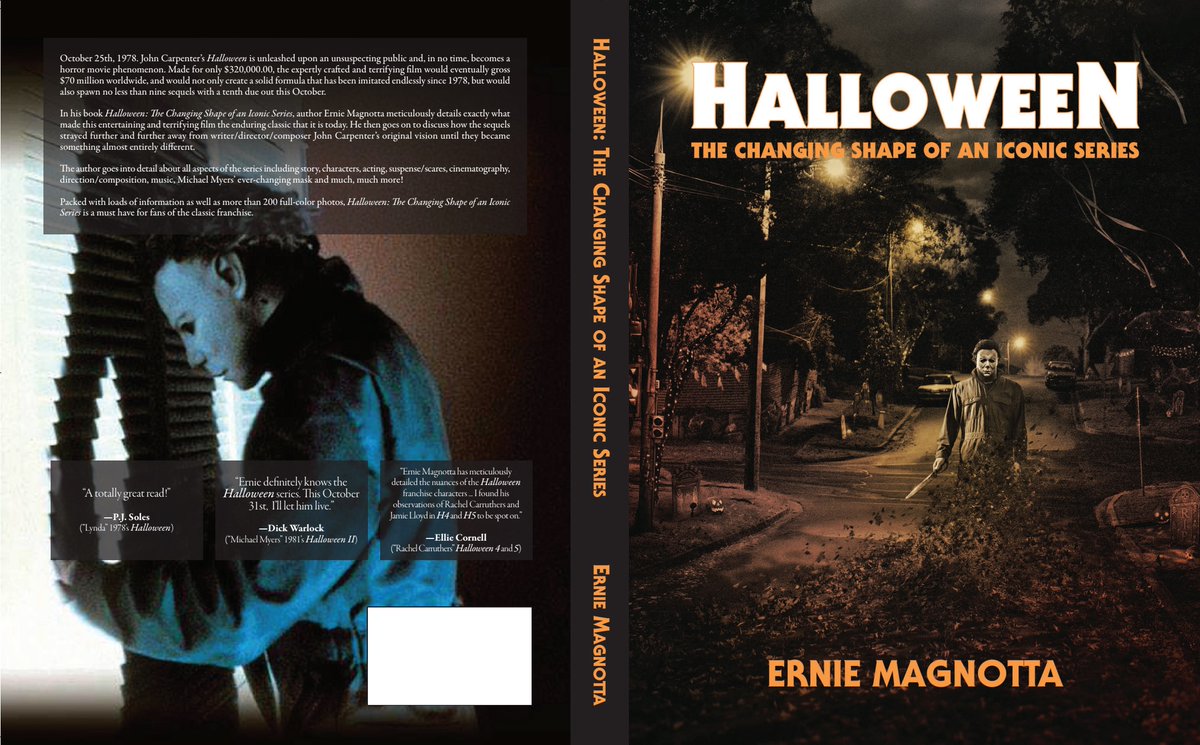 Last but not least, we come to Ernie Magnotta's Halloween: The Changing Shape of an Iconic Series. This is a comprehensive retrospective on the series that covers the entire franchise sans Halloween III and the 2018 version (it came out just one day after that film premiered).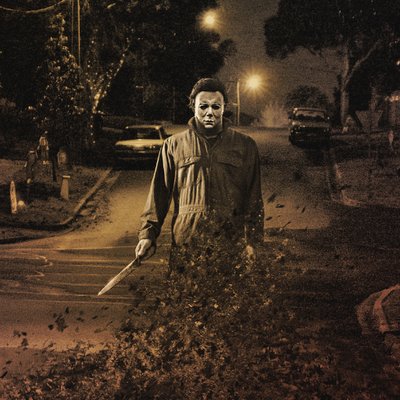 Although not a novelization, I wanted to give Ernie some love. His book isn't definitive or the Halloween Bible by any means, but it's kind of fun to read one man's opinions on the Michael Myers saga.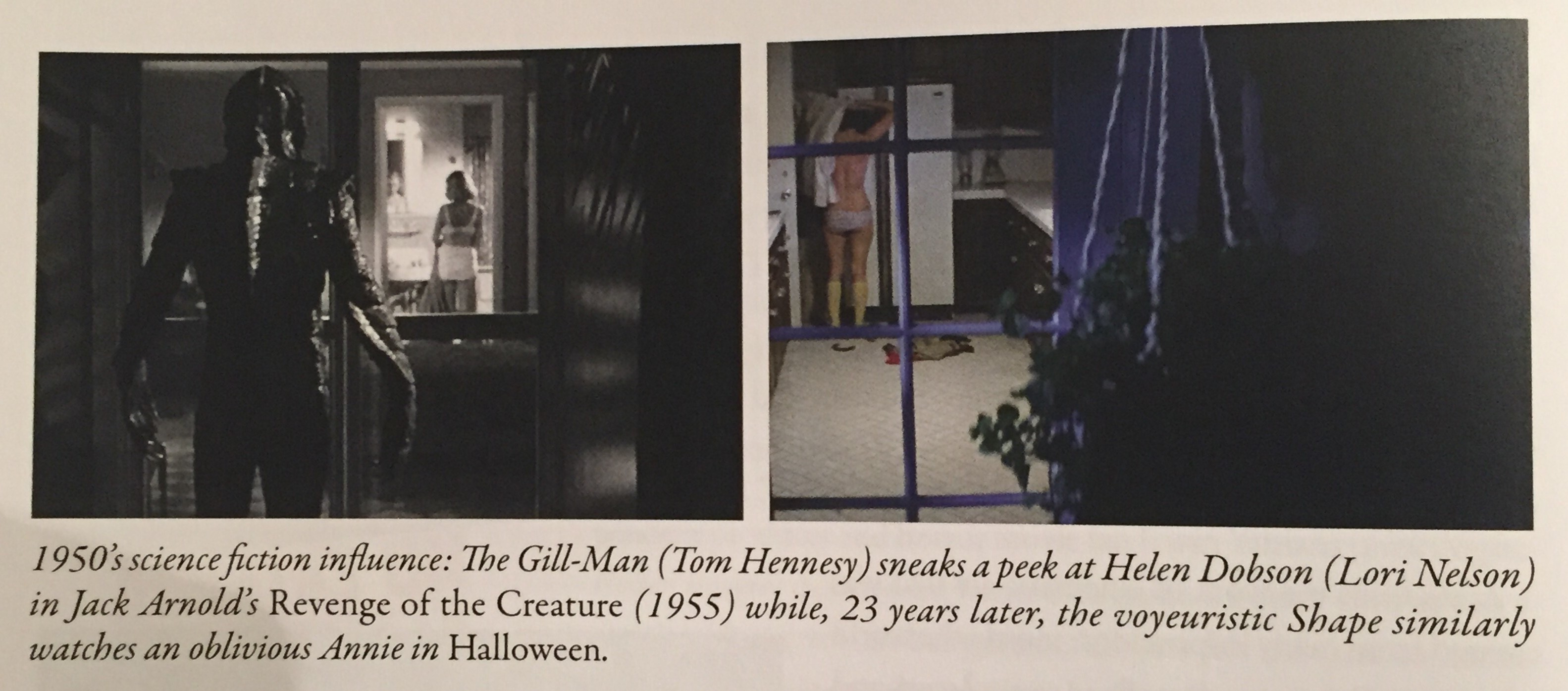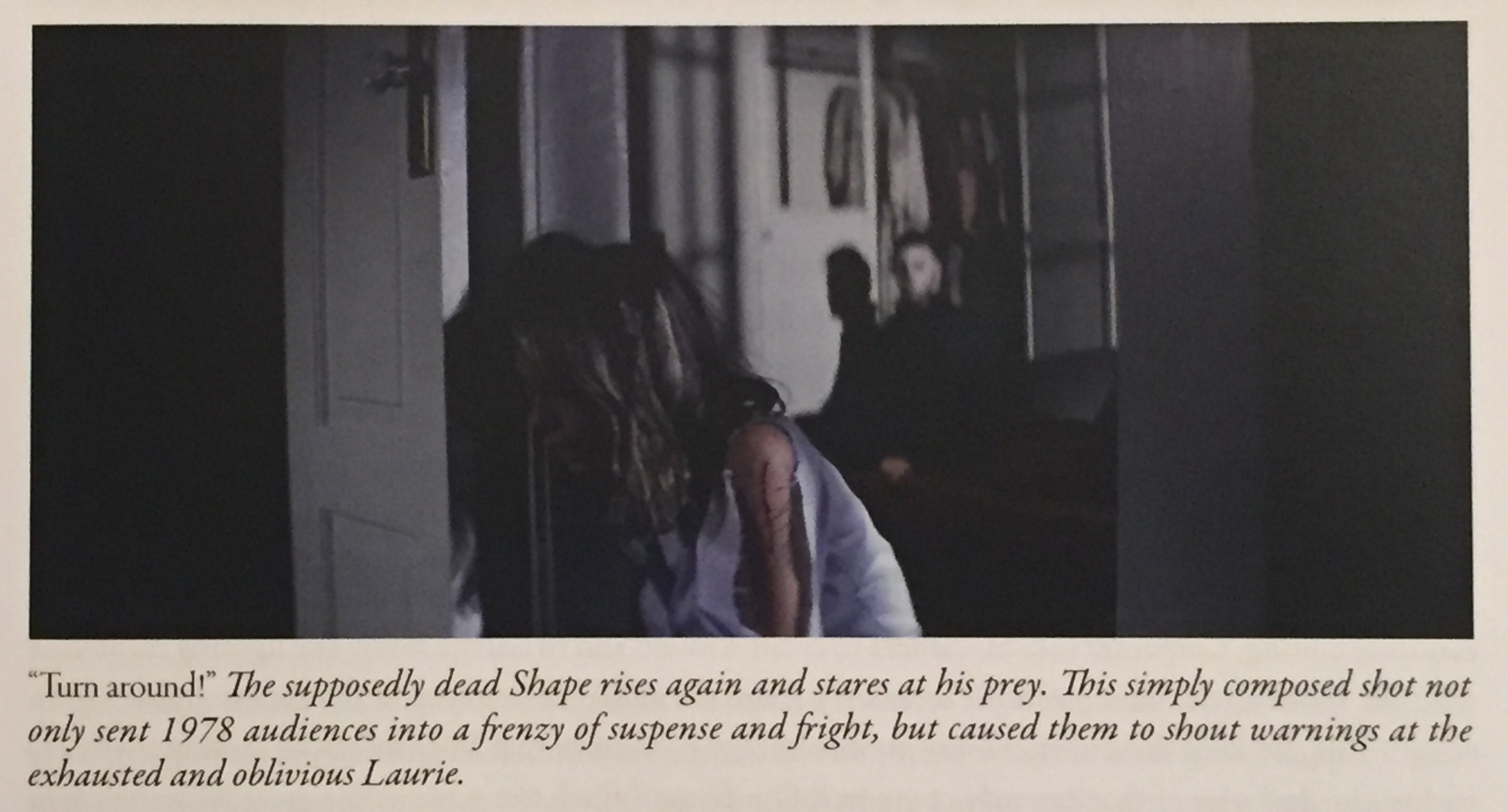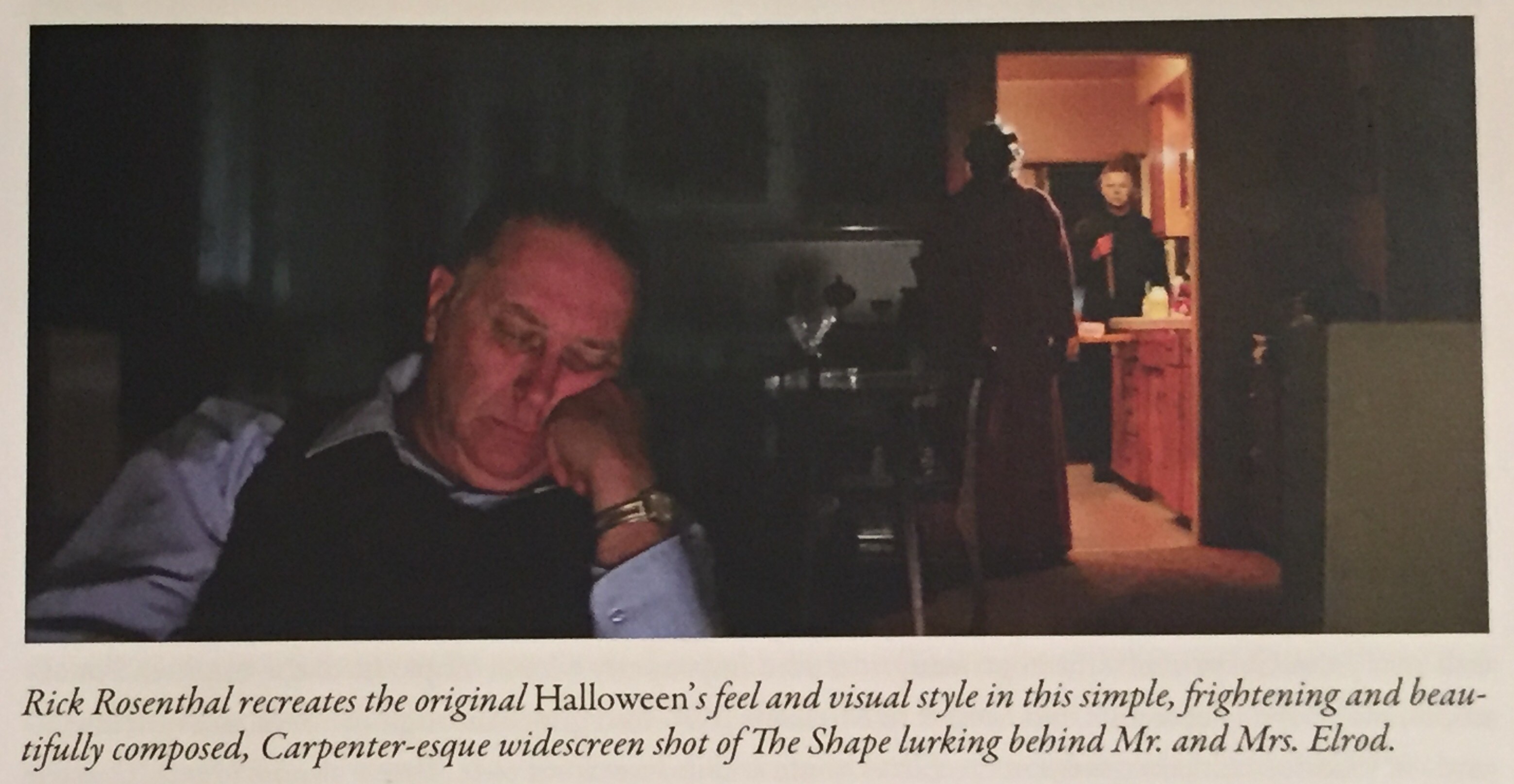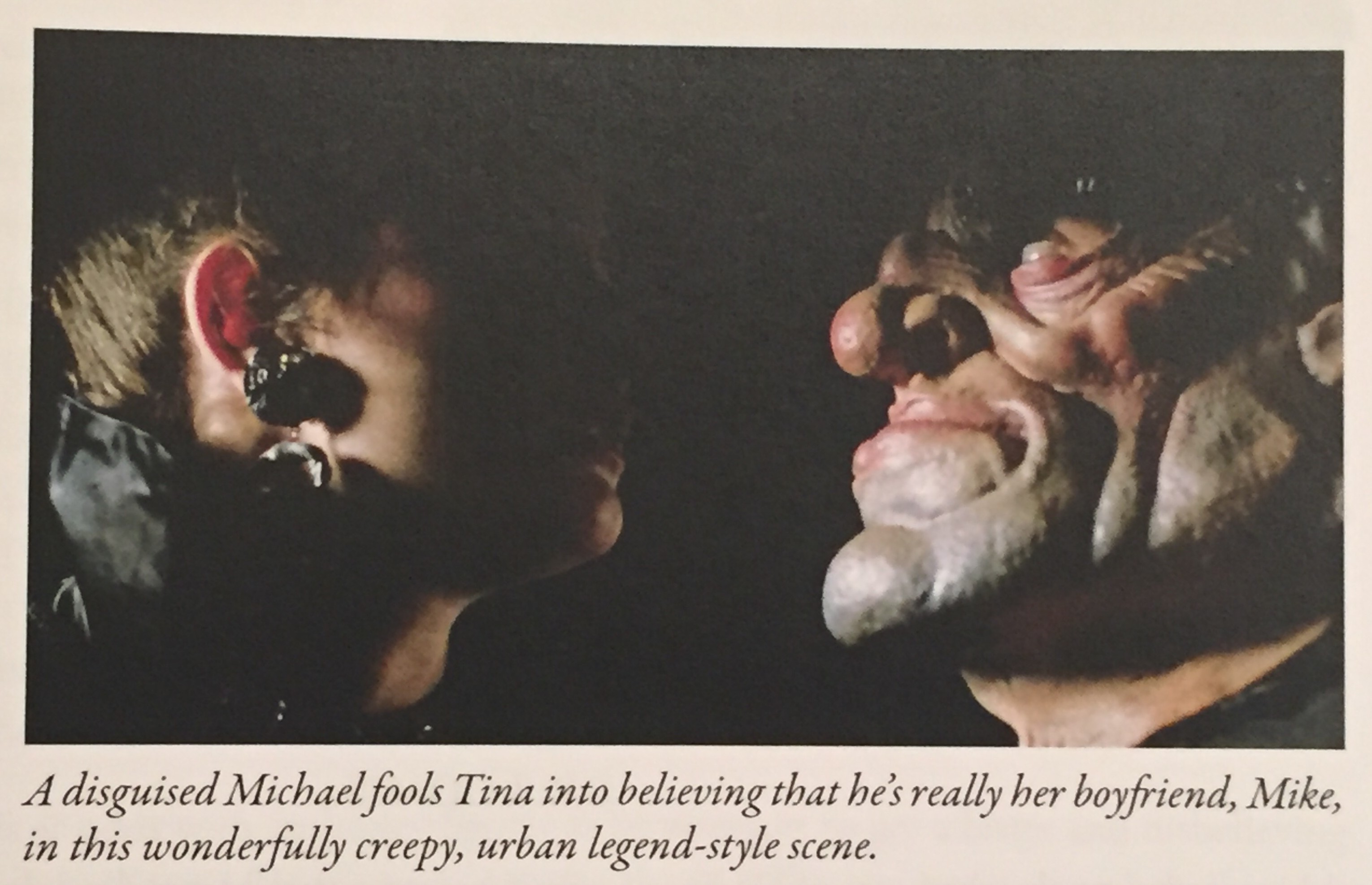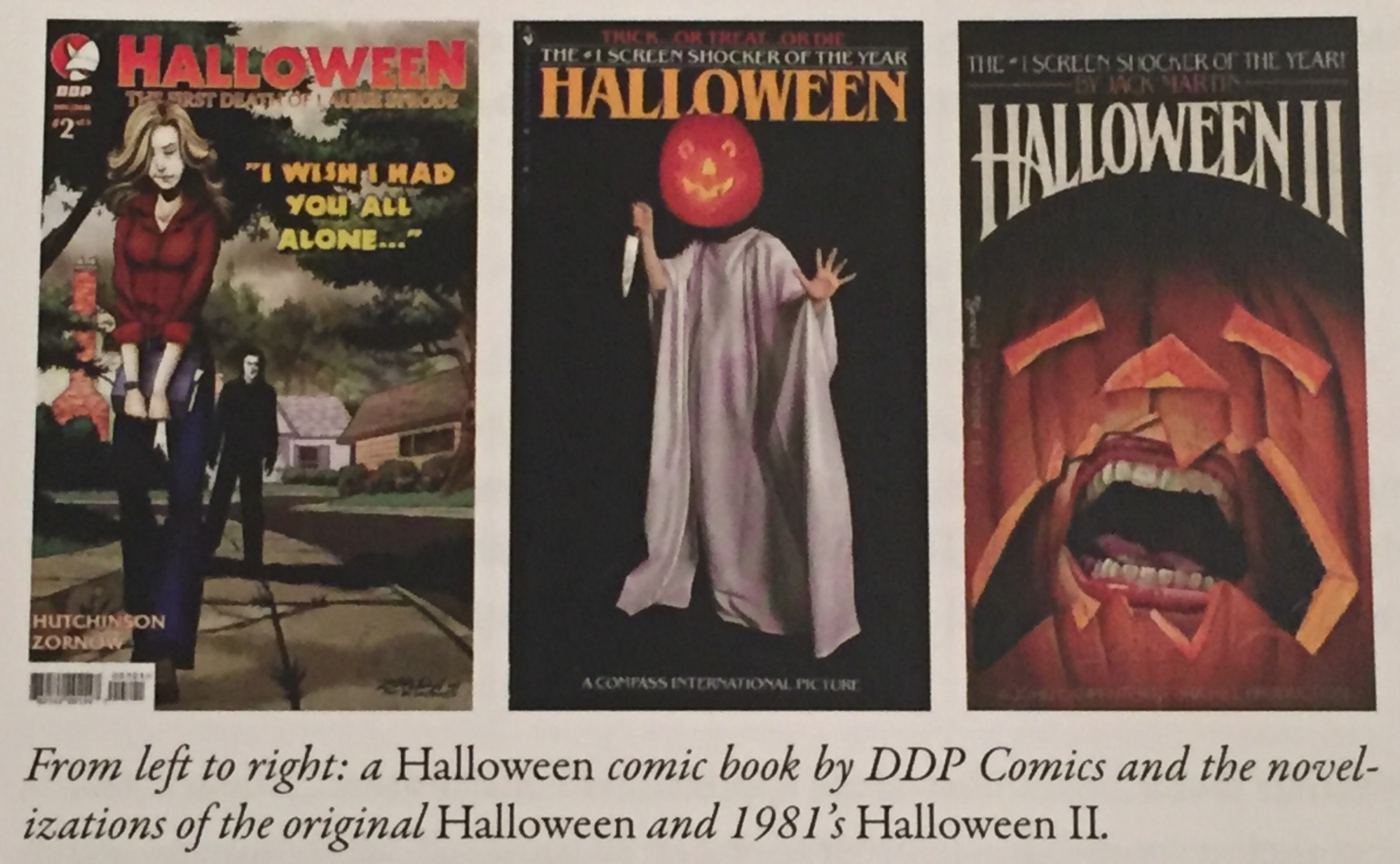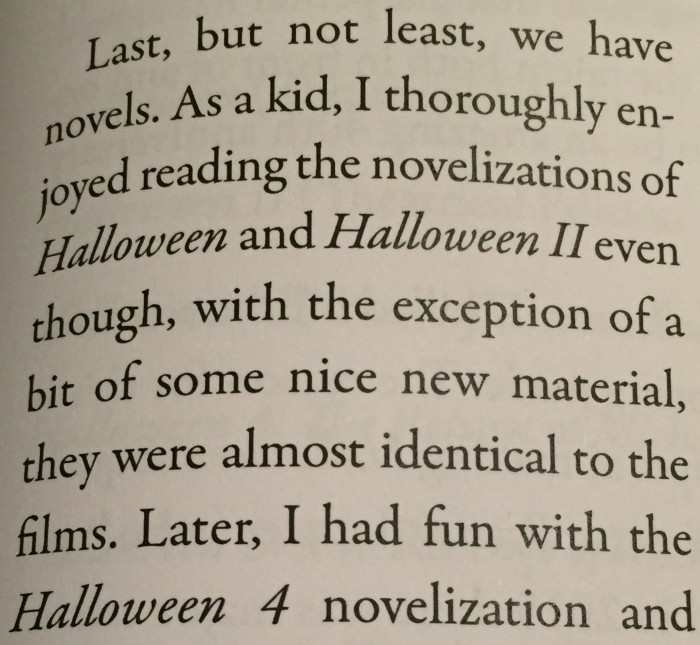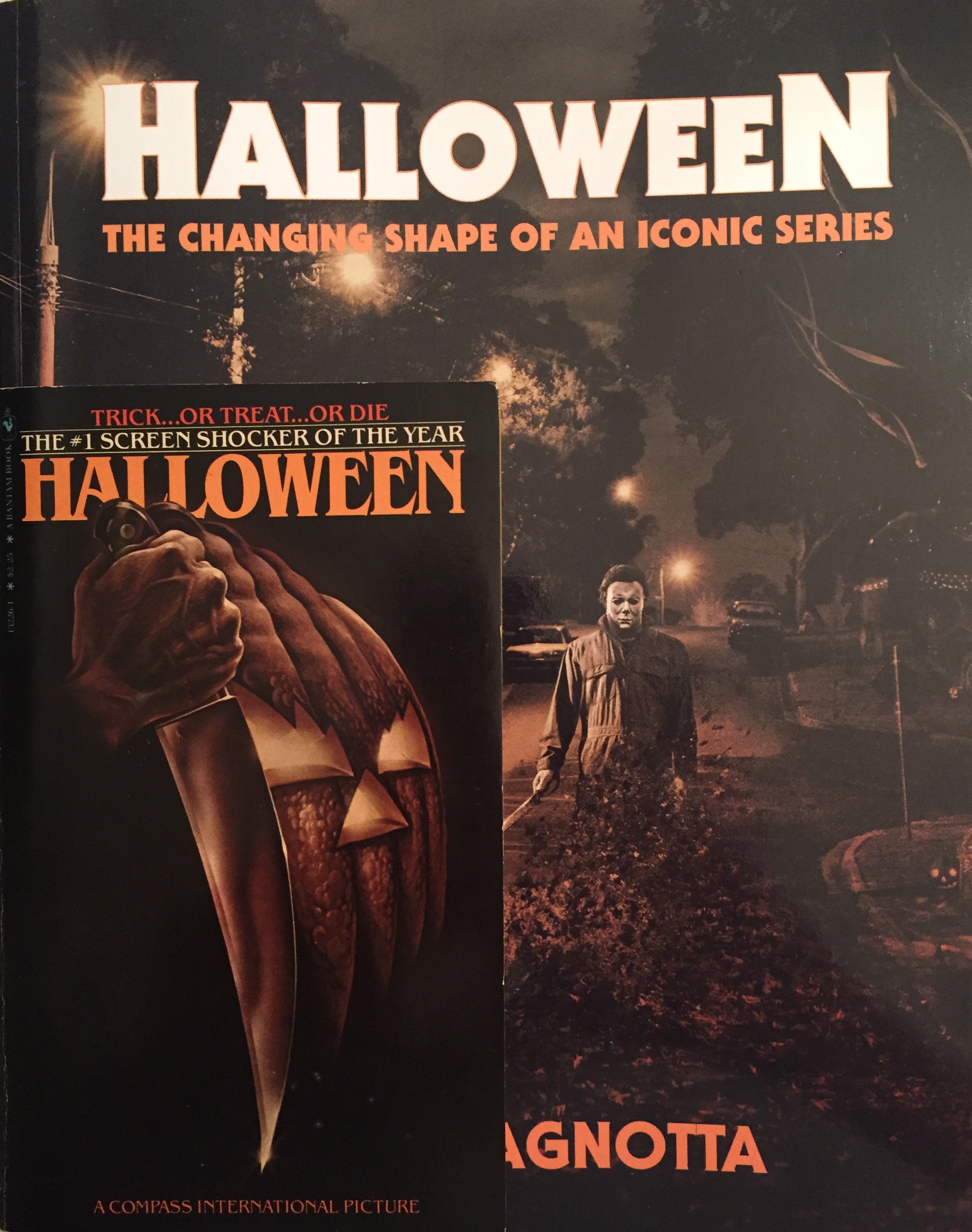 CLOSING THOUGHTS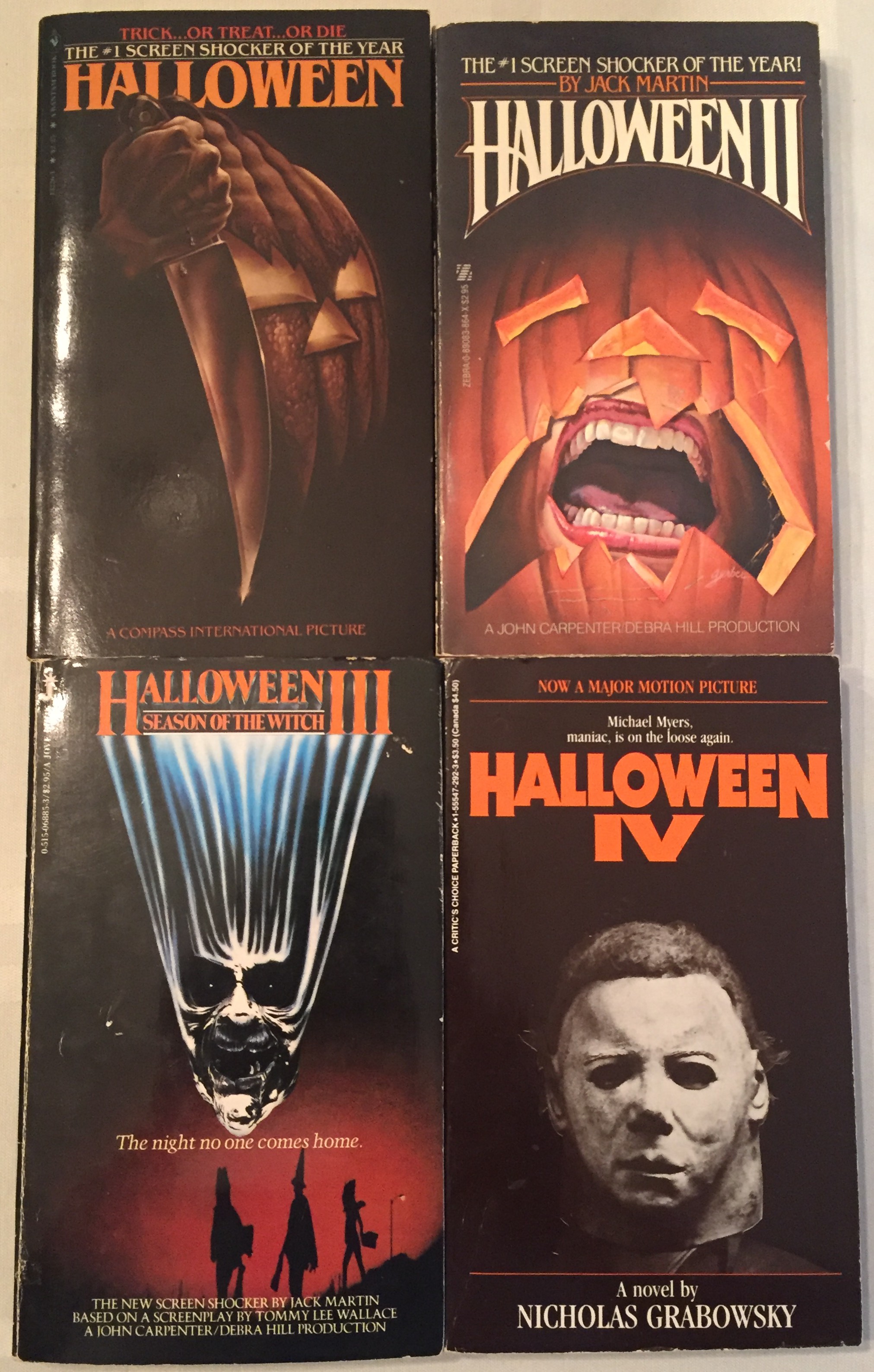 I enjoyed reading all four Halloween novelizations this past October. They're worth seeking out if you love the movies and you enjoy reading. The older ones will be a bit pricey, but c'mon, it's HALLOWEEN. Everyone's entitled to one good scare! If I had to rank and rate each book out of 5 stars, it would go as follows:
1. Halloween ****½
2. Halloween IV ****
3. Halloween III ****
4. Halloween II ***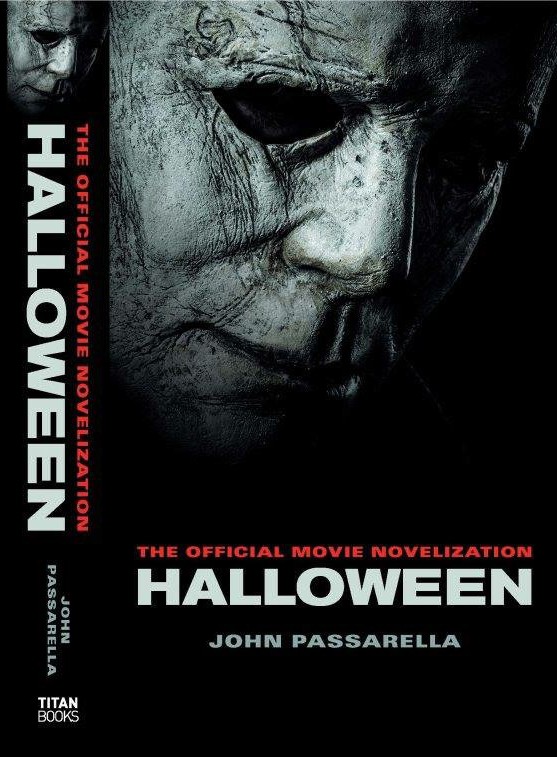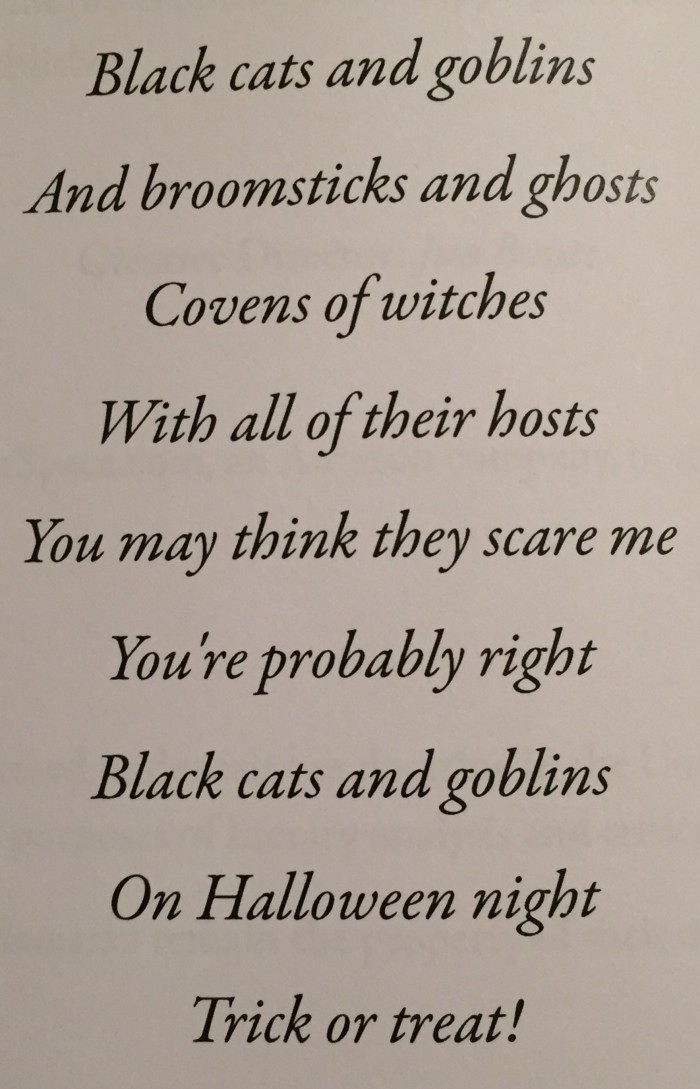 BONUS: THE PAPERBACK HUNT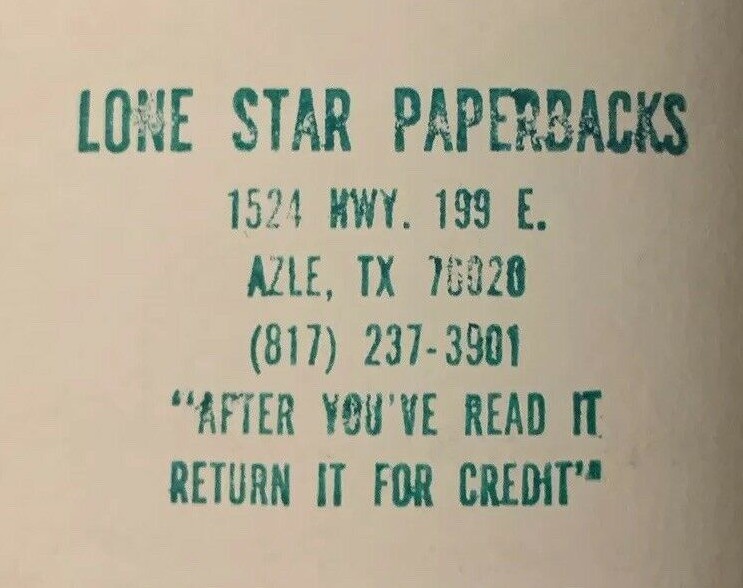 So with these older books, it's always fun to find a stamp inside the book telling you which paperback store it once belonged to eons ago.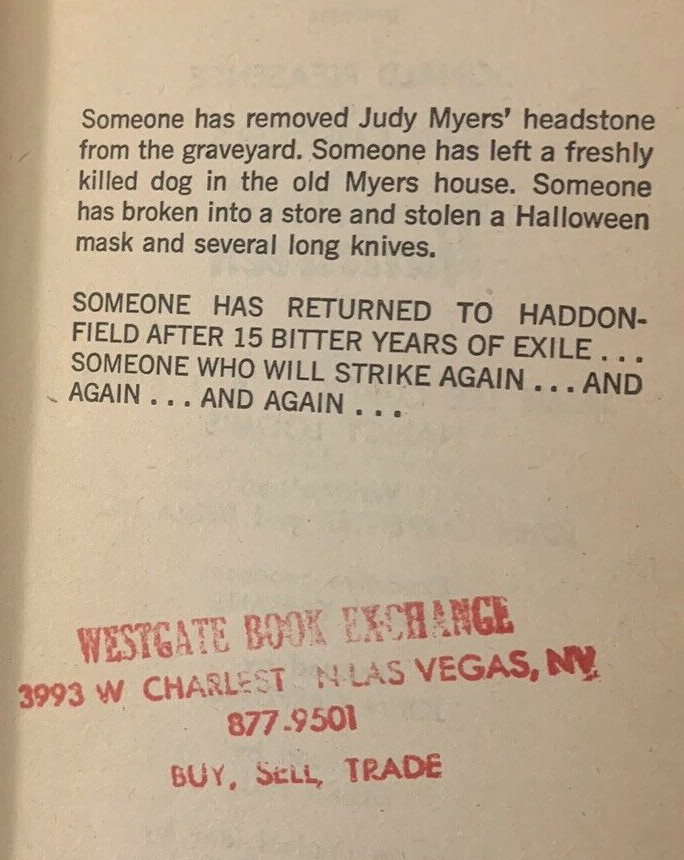 Two of the Halloween novels I bought off eBay came courtesy of Westgate Book Exchange in Las Vegas. What a trip!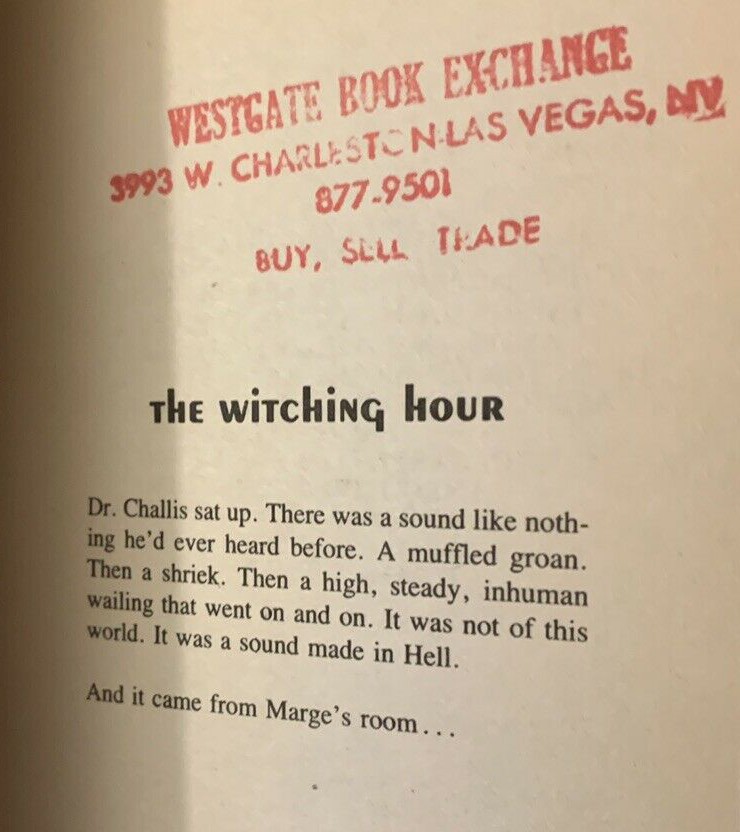 A quick online search and I found the place! It was fascinating to see the store pictures and visualize where my Halloween books came from however many years ago. Sadly, they seemed to have closed some time in 2015.