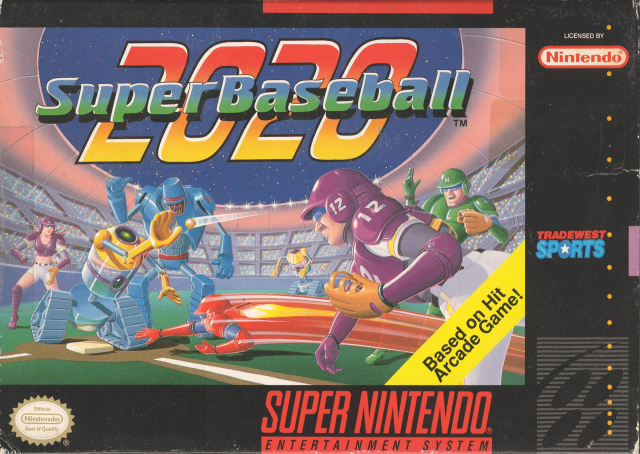 Super Baseball 2020 was originally released in the arcades back in late 1991 as part of the Neo Geo lineup. It was later ported to the SNES in the summer of 1993. It's crazy that we're only two and a half years away from 2020! When I first saw the arcade cab in '91 I remember thinking to myself that 2020 would never get here. Indeed, at the time it was nearly 30 years away. 30 years to a kid is an eternity. Yet here we are. On the brink of 2020. That blows my mind. Looks like we won't have super robots playing baseball a couple years from now, though. But hey, you can always simulate that with Super Baseball 2020!
WELCOME TO THE YEAR 2020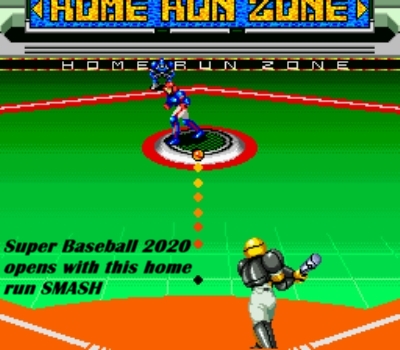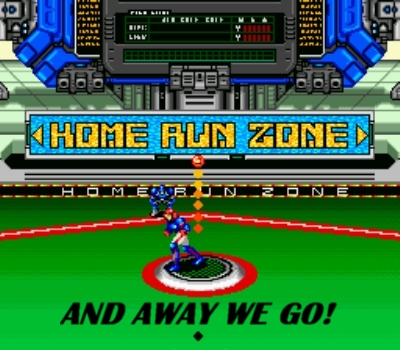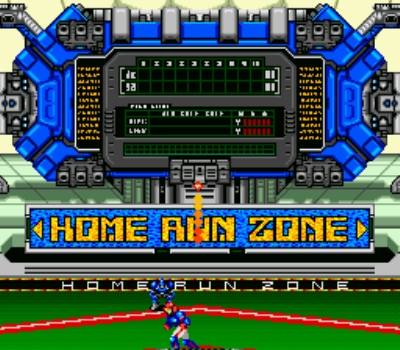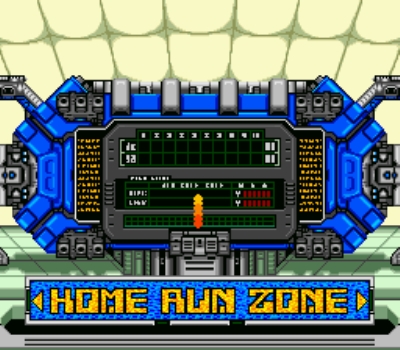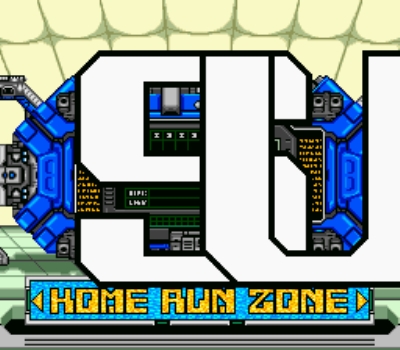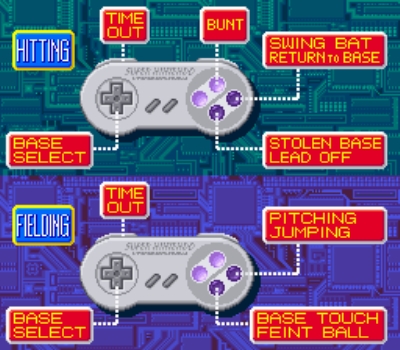 FAIR OR FOUL?
Baseball rules and regulations have drastically changed by the year 2020. Now the emphasis is on a larger fair playing field, making action quicker and more exciting. The foul zone's been reduced to strictly behind the catcher. As a result, one can score hits all over the field!
SHOW ME THE MONEY
Upgrade your robotic players to super soldiers of destruction. Money is earned based on positive plays. Similarly, money is lost on negative plays. Adds a bit of depth and strategy to the old baseball formula.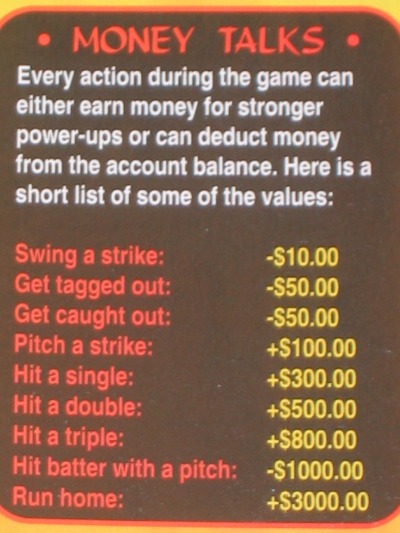 SPECIAL CUTSCENES
Exceptional outs are highlighted by cutscenes, just like in the arcade!
Check out the timing on this one. The ball should sail off those fancy blue glass plates for a single or double, but alas…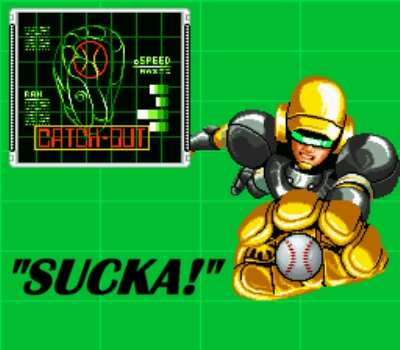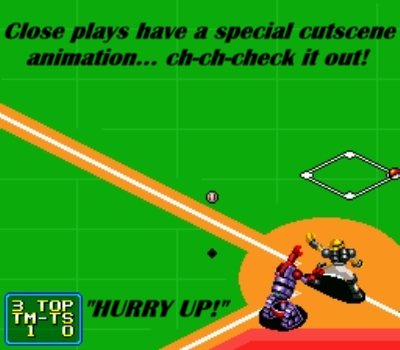 "DAMNIT UMP, I WAS SAFE!"
"DAMNIT UMP, HE WAS OUT!"
WHAT THE PROS WEAR IN 2020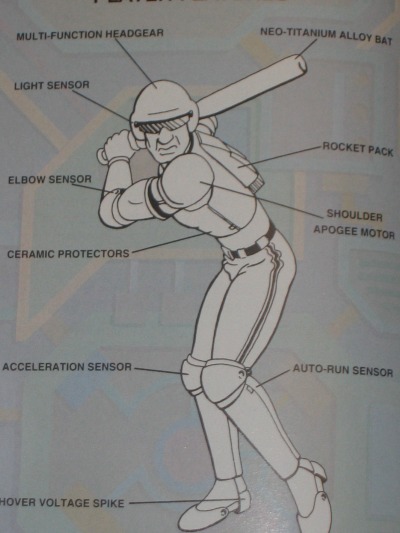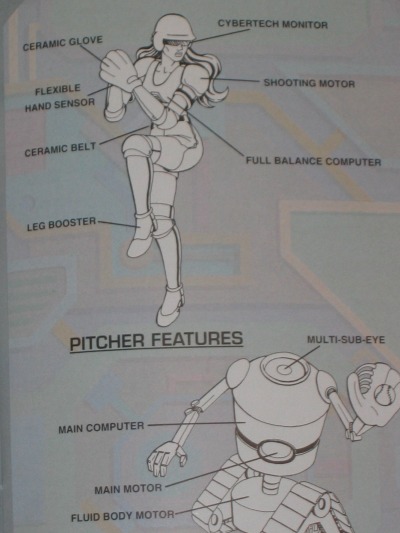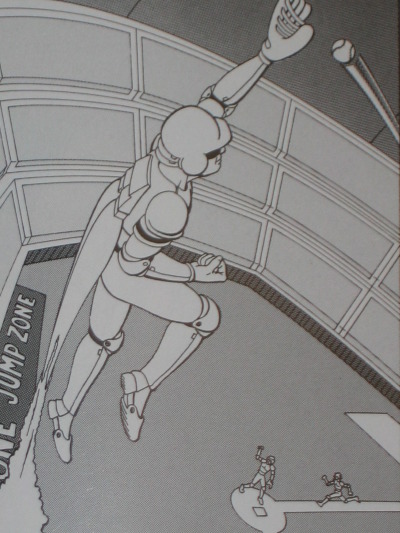 KICK SOME GLASS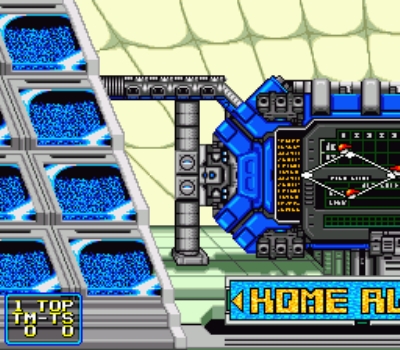 One of the best things about this game is no doubt those futuristic looking blue glass plates that cover the audience. More than cosmetic, balls that are hit on the glass plates are considered in play! This leads to what I like to call "Wall Ball." Nothing beats smacking a ball so hard that it rolls down several planes of glass, allowing you to stretch singles into doubles or even triples!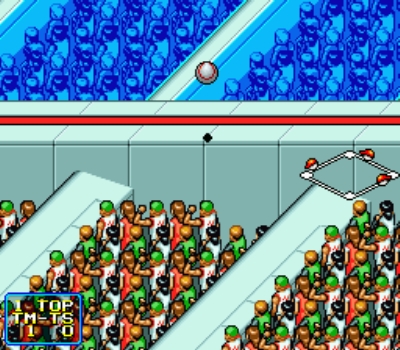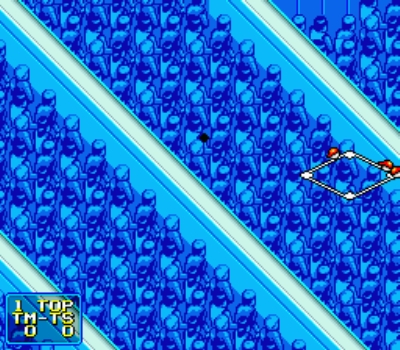 Wall Ball is a hoot. It's even better when you have runners on base. Balls hammered to the far reaches of the stadium bounce slowly off the glass as your men round the bases.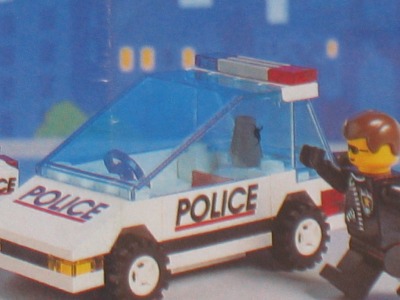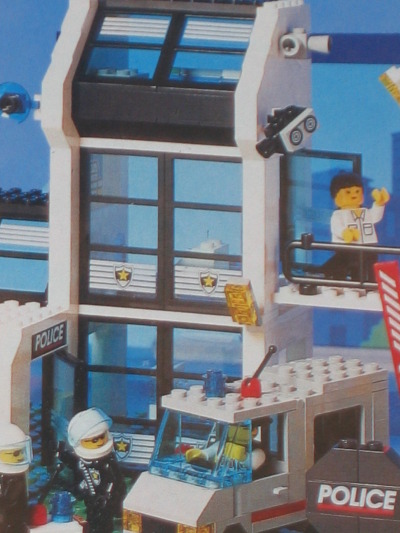 Who didn't love Lego back in the day? In addition to the huge bases and fortresses you could lose yourself in for hours on end, I was always fascinated by the color glass plates. Playing Super Baseball 2020 takes me back to those innocent childhood days playing with my favorite Lego sets. One of my favorites was the Metro PD Station. The glass windows resemble those of Super Baseball 2020 so much.
WHAT'S THE PASSWORD?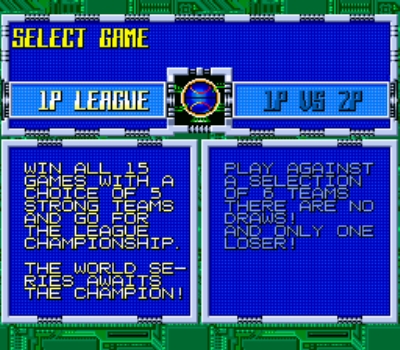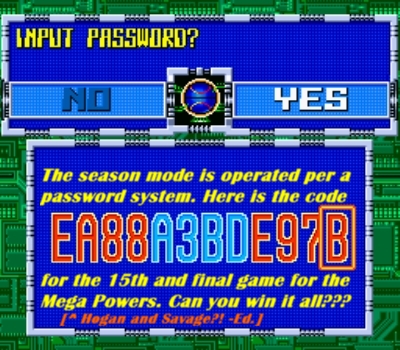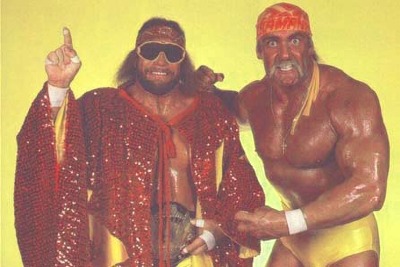 The password feature is a bummer. Baseball games of this era mostly used a battery backup memory. Thankfully, seasons are only 15 games long. It makes the password tracking a bit more bearable. Also, the 12 character passwords aren't the worst in the world. Not ideal, but not a deal breaker.
THE TEAMS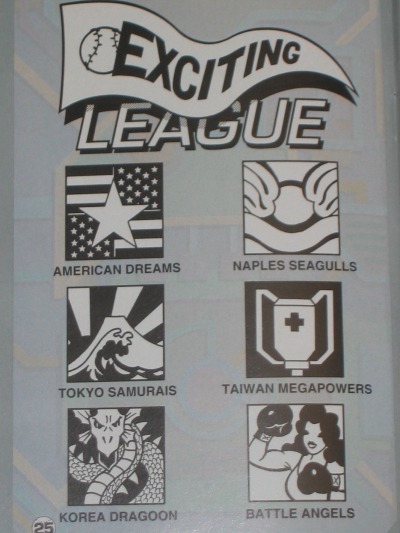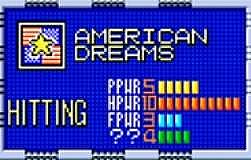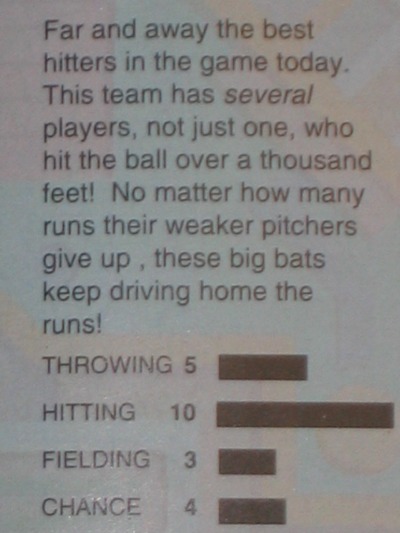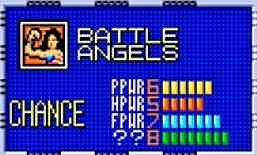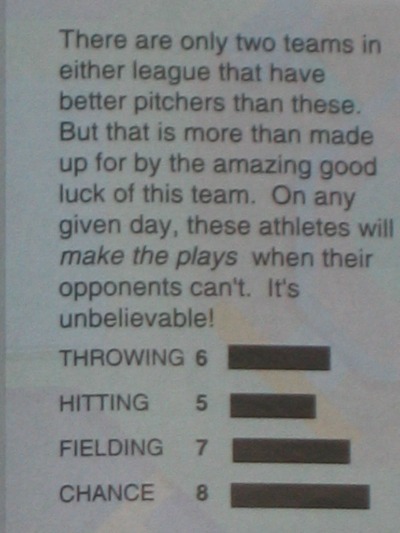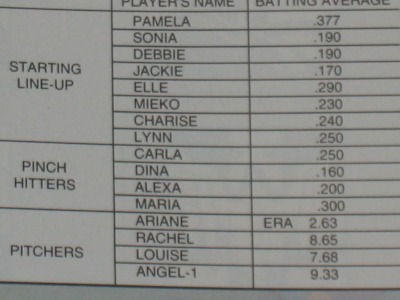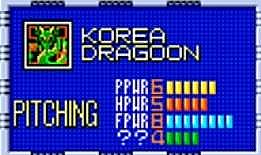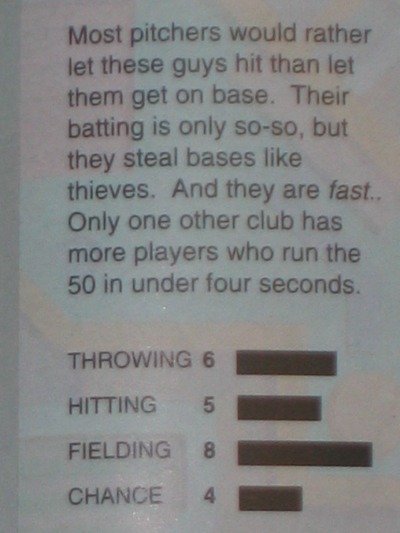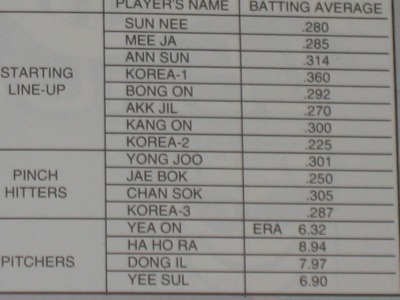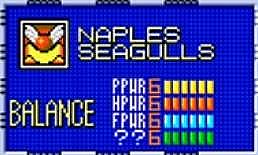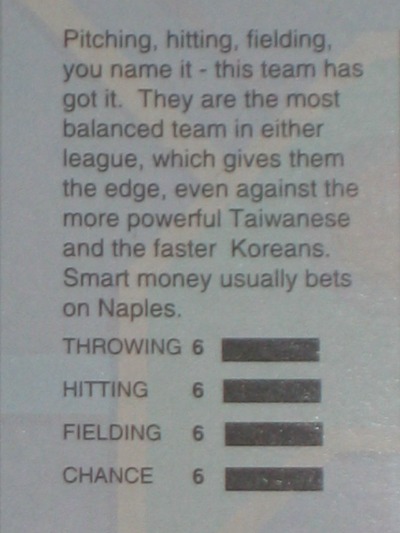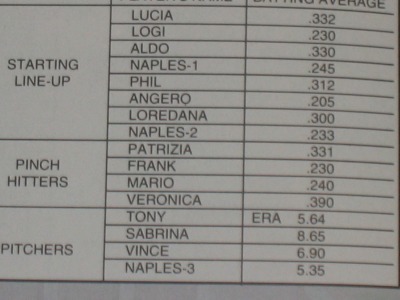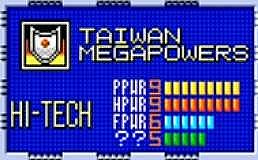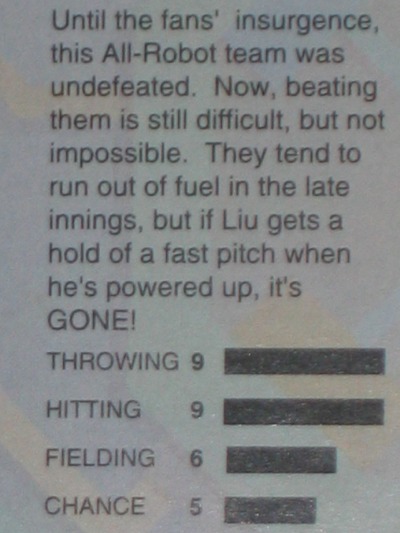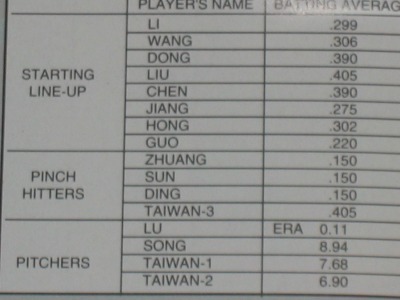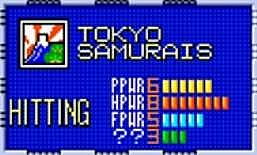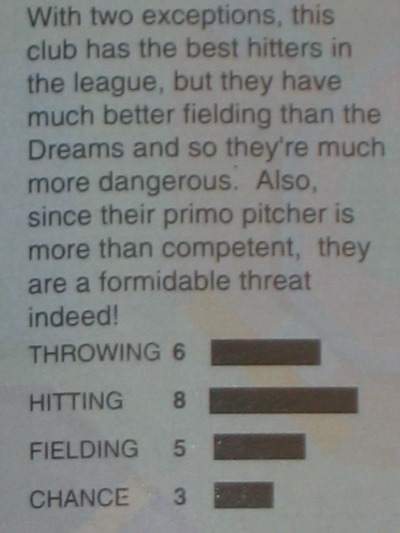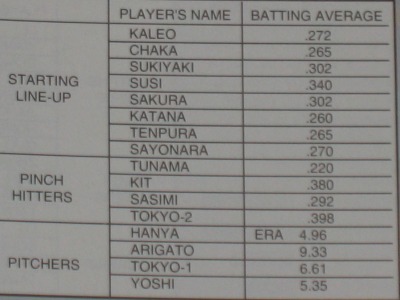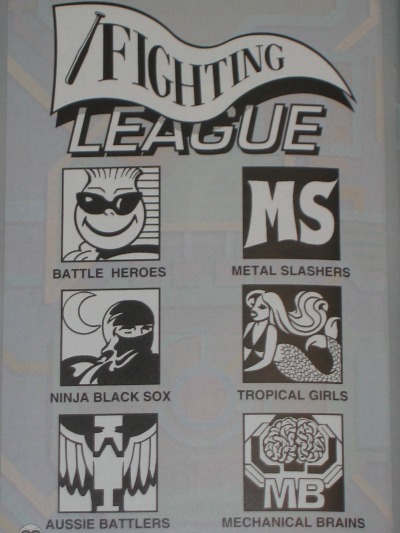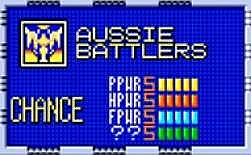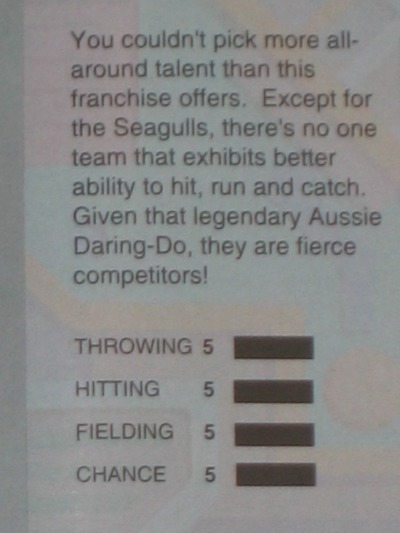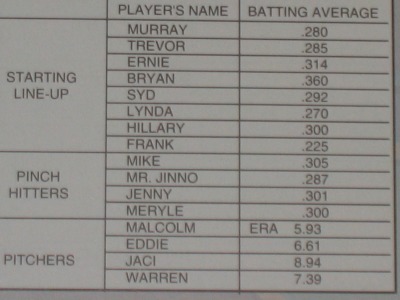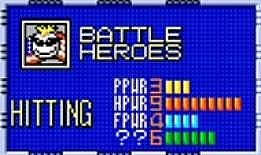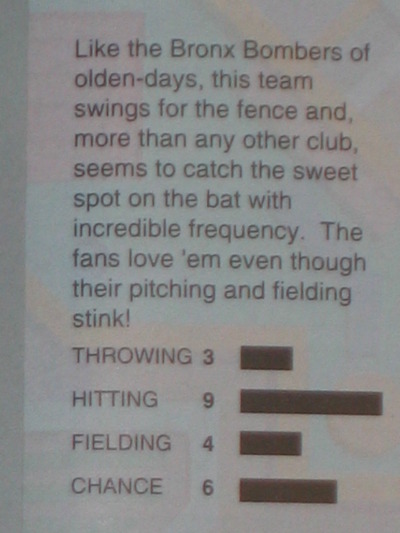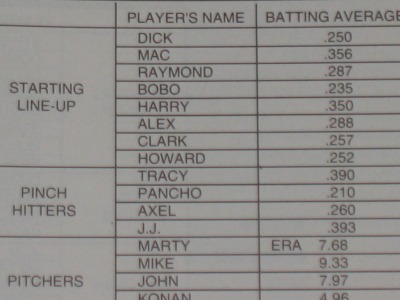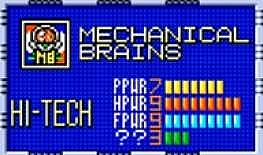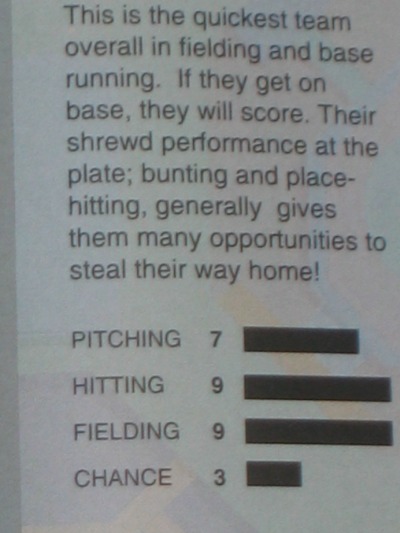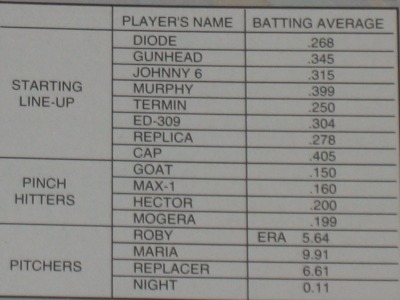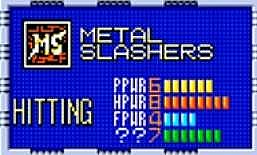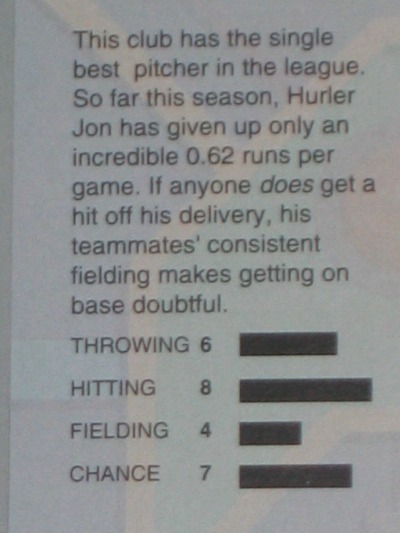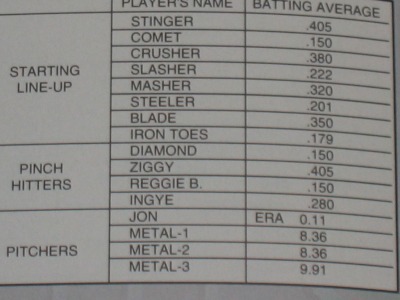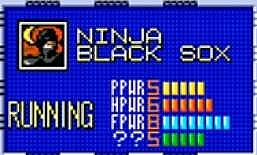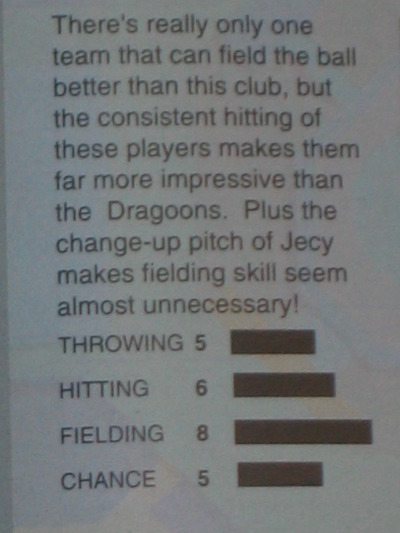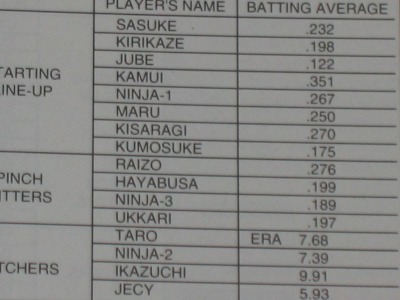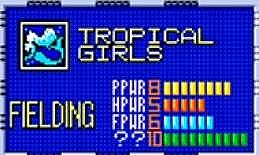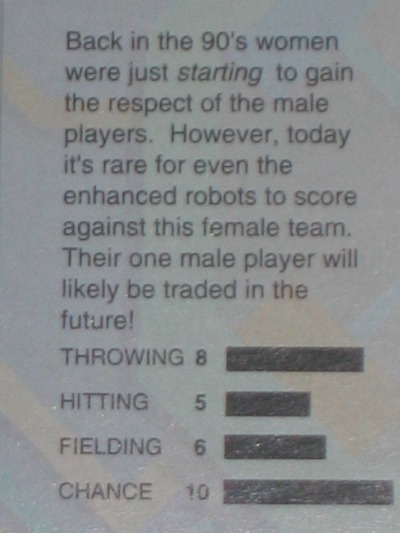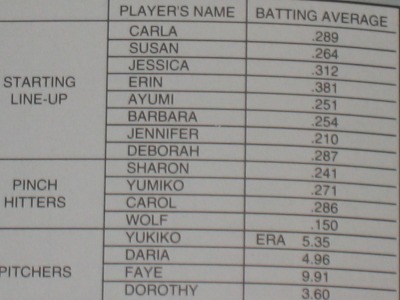 Lowest team in terms of total points: Aussie Battlers (20). Highest team in terms of total points: Taiwan Mega Powers and Tropical Girls (29). The Tropical Girls and the Battle Angels are the two all-female teams. I love that each team has its own pros and cons.
PLAY BALL!
Overwork your players and robots will falter and break down. Once they explode, they become extremely ineffective. As soon as they show signs of wearing down, you'd do well to replace them.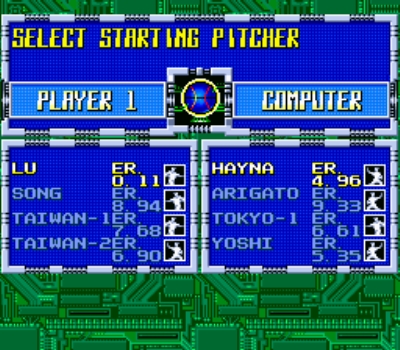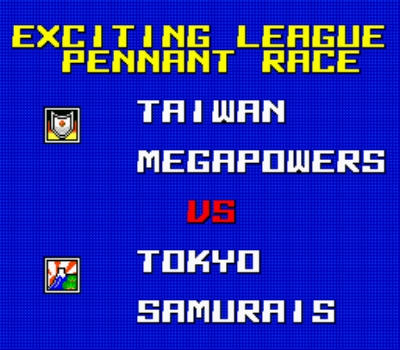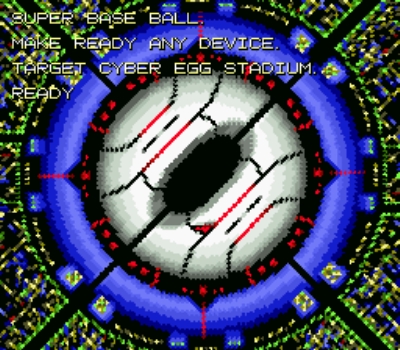 All games in the year 2020 are played exclusively in the Cyber Egg Stadium. Gone are unique team stadiums and home field advantage. It's a bit of a shame but the Cyber Egg Stadium is so cool that it almost makes you forget about there being only one ballpark to play in. Almost.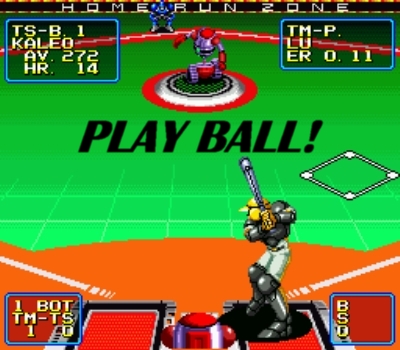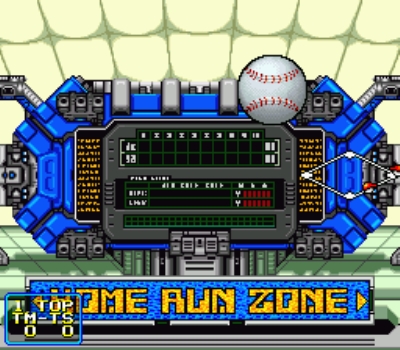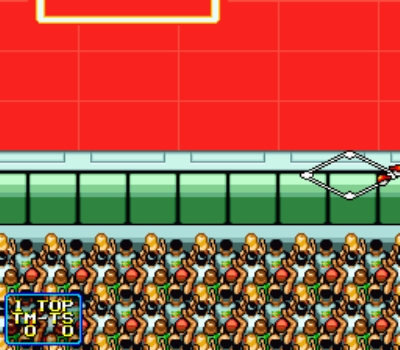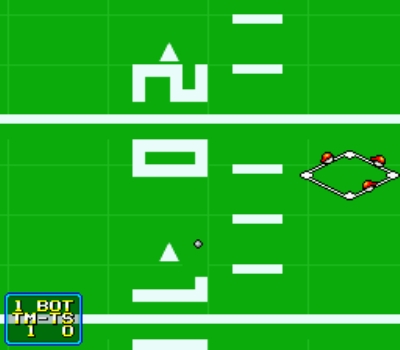 Apparently, even in the year 2020 some things never change. Seems like in the off-season the Cyber Egg Stadium also acts as a football stadium. Oakland A's and Oakland Raiders, I'm looking at you.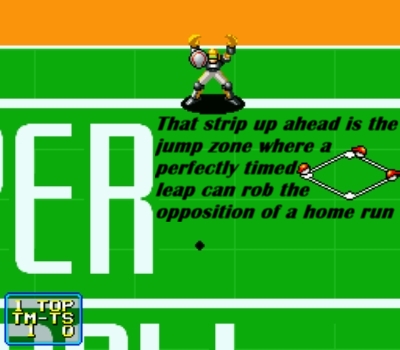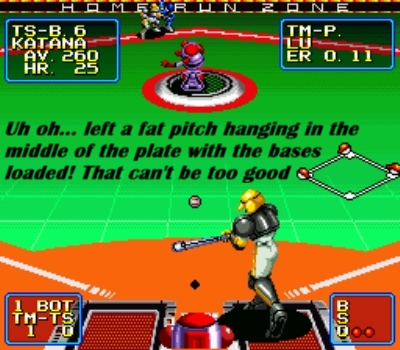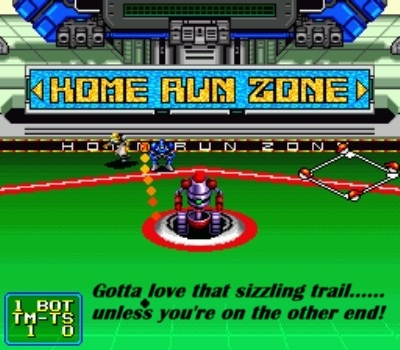 HURRY, get in position! Now jump! *CLUNK* D'OH!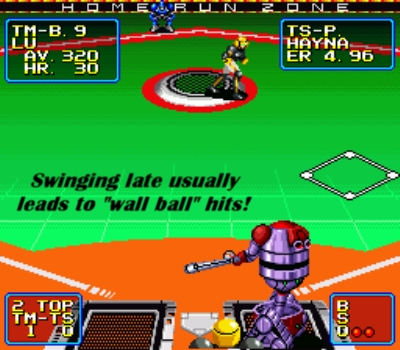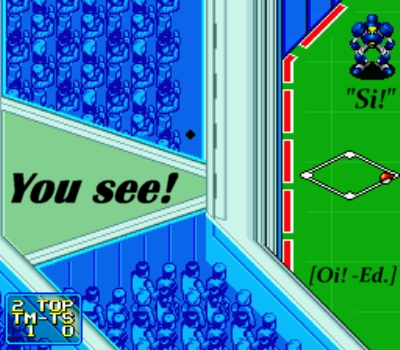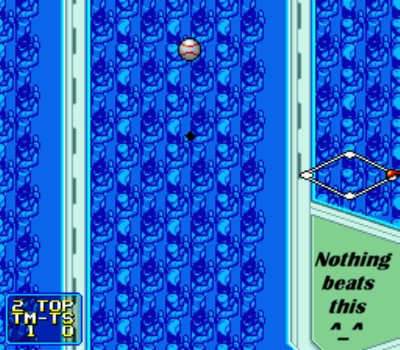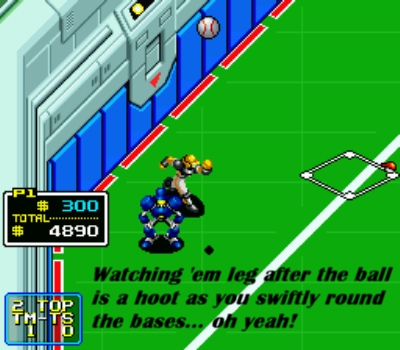 Replace your pitcher, fielders, base runners or hitter with a robot off the bench, or upgrade if you have the cash.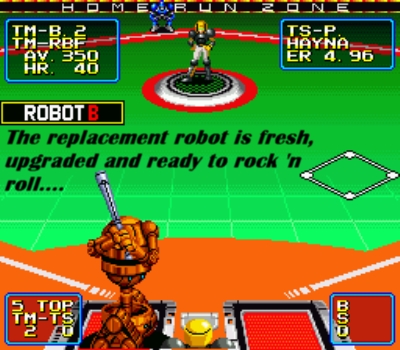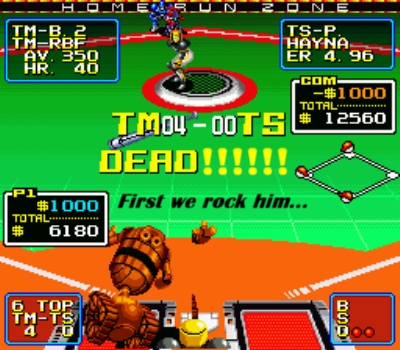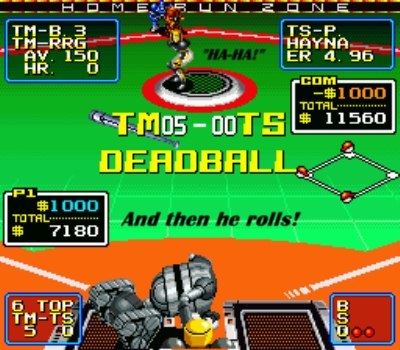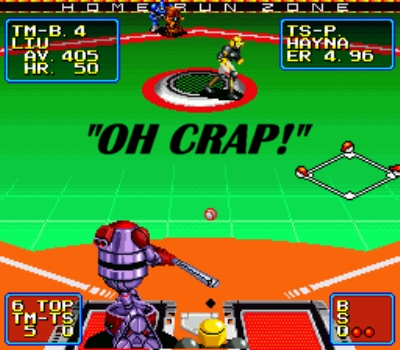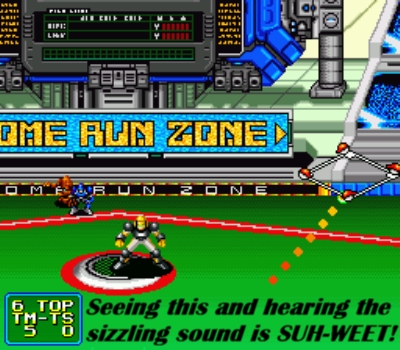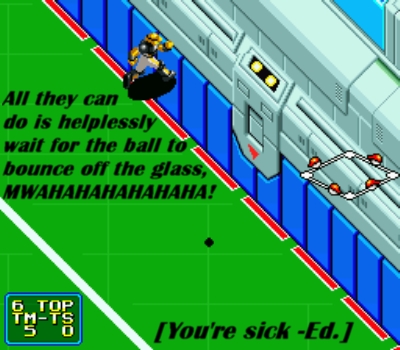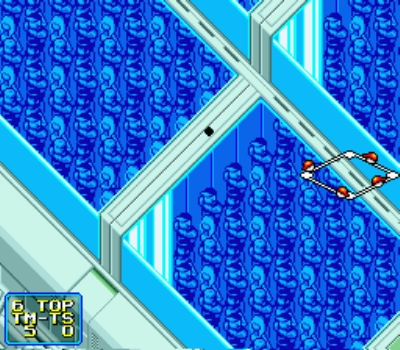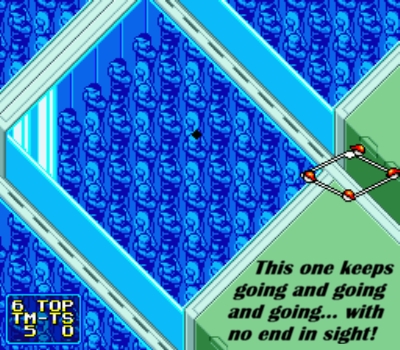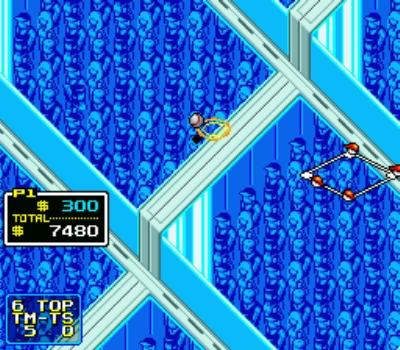 After being crushed way to the top of the upper deck, it finally lands somewhere on the 8th glass plane and begins to bounce off several on the way down. Meanwhile the runners are circling the bases like mad ants and the opposition can't do a DAMN thing about it but wait and curse. This unique feature alone makes Super Baseball 2020 a blast to play with a friend.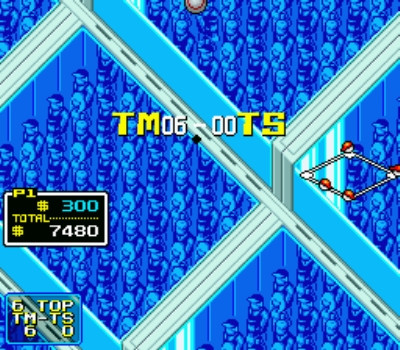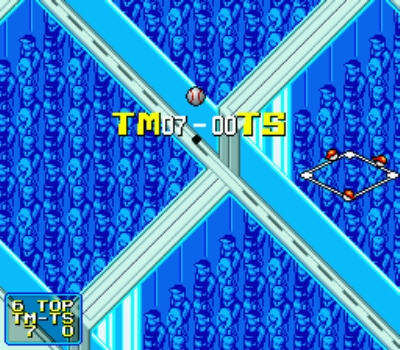 It cannot be overstated how much fun comes from the trash talking that ensues in moments such as this. My brother and I had a riot taunting each other while playing this game. Having only one stadium for all 12 teams is a bit of a bummer but like I said, when the one stadium is as cool as the Cyber Egg Stadium, it's a lot easier to overlook.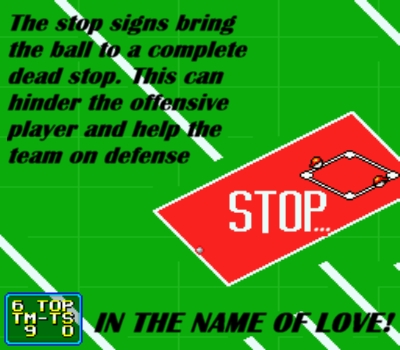 Instead of the typical 7th inning stretch, in the year 2020 the 7th inning means only one thing: the WILD CARD INNING. This is where both teams receive a major boost of added power. Because you know, baseball and steroids have never been linked together before. Things tend to get a little nutty in the 7th…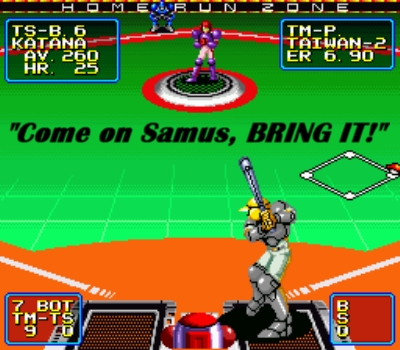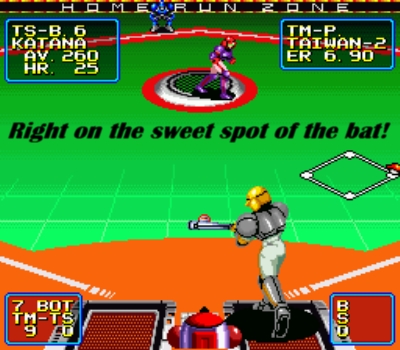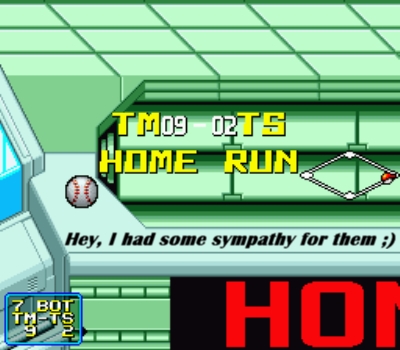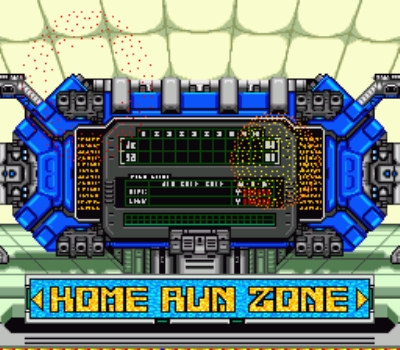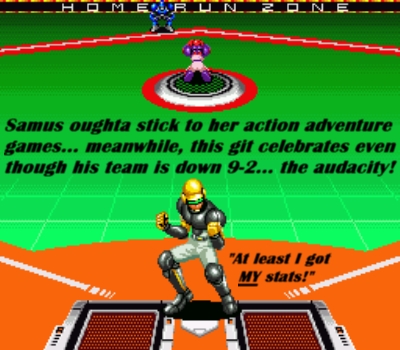 MEGA POWERS WIN IT ALL
I played a 15 game season with the Mega Powers and was neck and neck with the all-female team, the Battle Angels. The most epic game of the season came in Game #13 which saw my Mega Powers (10-2) going up against the Battle Angels (10-2). I was up 6-4 going to the bottom of the 9th, but the Angels scratched back to tie it at 6 a piece. I ended up surviving a barn burner 7-6 after 13 innings and five (!) dead robots. It was one of those epic games you never forget. I finished the season 13-2 and went on to defeat the special team in the Championship game.
THE FUTURE ISN'T ALWAYS BETTER
No tagging back. If you attempt to advance on an outfield out, there's no turning back. I guess the robots were programmed with this flaw and no one caught it during quality assurance.
No way to change the batting order or fielders.
Zero individual stat tracking.
You can't run to the next base until the other runner passes it. This becomes glaringly annoying when you have a fast robot trailing a pair of robots that would make Bernie Sanders look like Deion Sanders.
Fielding is about 75% automatic. The other 25% of the time it's not as smooth and well executed as the baseball game that set the standard for defensive fielding, Ken Griffey Jr. Presents Major League Baseball.
WHAT THE CRITICS SAID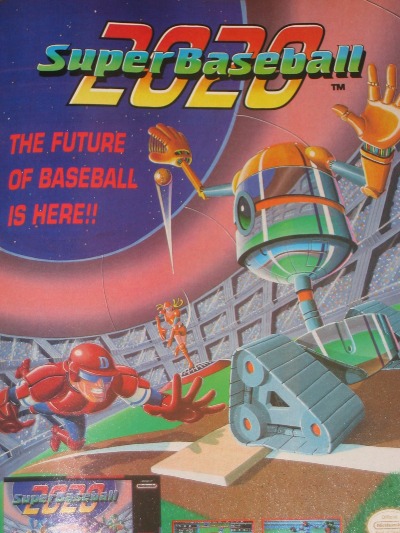 The SNES port of Super Baseball 2020 was well received for the most part. GameFan gave it ratings of 70, 76, 80 and 82%. Super Play rated it 85%. The SNES port did an admirable job replicating what made the arcade game such a fan favorite. Appealing even to non baseball fans, Super Baseball 2020 brings a refreshing new take on America's favorite pastime.
CLOSING THOUGHTS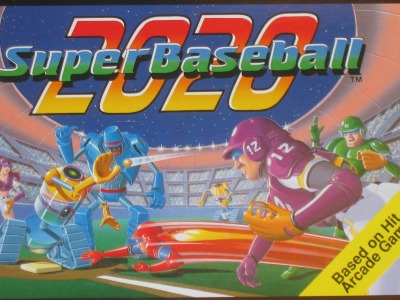 It was quite the thrill seeing this childhood favorite of mine at a retro gaming store back in 2006. Seeing Super Baseball 2020 in the wild brought back a flood of fond memories of playing the Neo Geo cab at Safeway as well as renting the SNES port. Being that the game takes place in the year 2020, there's a neat little futuristic feel to the whole game. This includes the robotic players, the sleek looking blue glass planes that cover the entire Cyber Egg Stadium, and the interesting financial aspects that bring a new dimension of strategy and know-how to the old baseball formula. Put together, it all works rather well. I can't stress how fun it is to play this game against a like-minded friend or sibling. OK so there are only 12 teams, only one stadium and too many players look alike, but the fun factor covers a multitude of sins.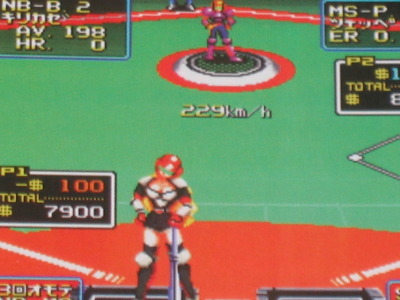 Is it the pinnacle of baseball games? No. It's certainly not without its flaws (as noted earlier), but you simply won't find another baseball title like this on your 16-bit Super Nintendo. Any time a game can put itself in a "special class" of its own and is fun to play, that game is going to earn bonus points with me. Nothing beats hitting those scorching wall ball hits. The best ones are the rare hits where the ball doesn't bounce but roll slowly down the glass planes. These hits can lead to inside the park home runs but are extremely rare, which makes it all the more satisfying when it does happen. Aside from the missing bombs, speech samples and some frames of animation, this is a faithful translation of the arcade smash hit. The graphics are big and colorful. There's a certain solid simplicity to the visuals. The sound is nothing to write home about, but not anything I hated. This is just a fun little baseball game. It doesn't come close to touching the epochal Ken Griffey Jr. Presents Major League Baseball, but for a decent alternative with a neat futuristic ambiance and quirks you just won't find elsewhere, Super Baseball 2020 smashes a solid double in the bottom of the 9th.
Graphics: 8
Sound: 6
Gameplay: 7.5
Longevity: 8