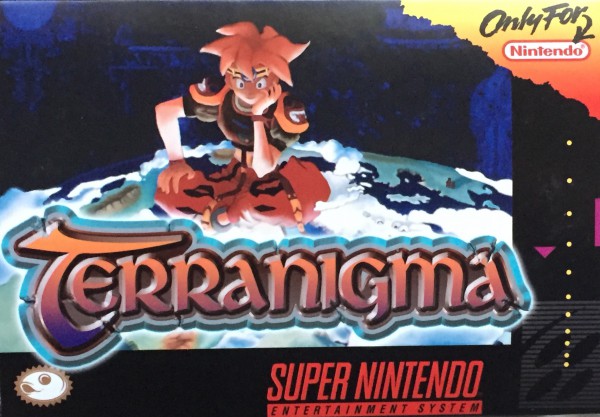 For years on end I had heard about a Super Nintendo title that was never officially released in the US. A game so amazing that it had to be played to be believed. A game that was supposedly the pinnacle of 16-bit gaming. A game the stuff dreams are made of. Of course, I'm talking about none other than TERRANIGMA. Does Terranigma live up to the massive hype? Is it worthy of being called one of the best on the SNES? Let's have a closer look…
BLACK FRIDAY 2010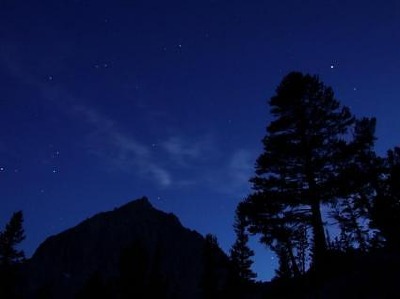 A little over seven years ago I first played Terranigma. When it comes to game playing, there's nothing quite like playing an (action) RPG in the months of November and December. Nothing beats playing such games on a cold, chilly winter evening. There's something about those darkening late afternoons, the wind whipping outside your window and the feeling in the air as you work your way through a magical fantasy world ruled by big eyes and EVEN bigger hearts. Where wise old men pass down their wisdom to the younger generation, where spirits roam, where kings rule and where monsters stalk the land. It was on Black Friday of 2010 that I first began my trek with Terranigma. I remember it fondly as if it happened only yesterday. I had just got back home from spending Thanksgiving with my family. They began discussing their Black Friday master plan around 9 PM while I decided to duck out. I partook in the festivities the year prior — once was more than good enough for me. Instead, I wanted to head home, take in the quiet serenity of the early morning hours and fire up Terranigma for the first time ever. That proved to be the right call — it's a memory I fondly recall even seven years later. Now there isn't a Black Friday that rolls along where I don't think of Terranigma somehow!
LOG IT!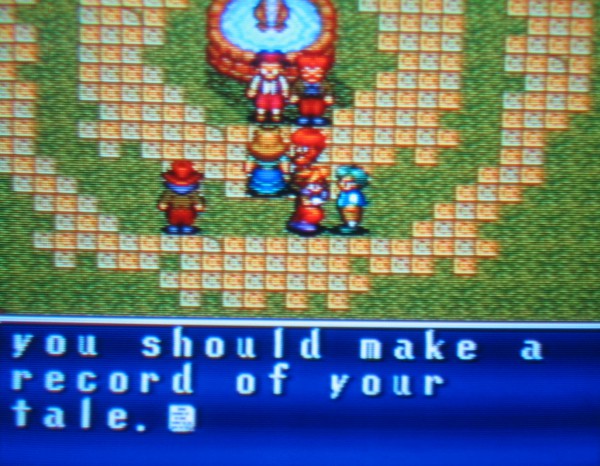 I finished it about two weeks later, logging nearly 30 hours. It was incredible. One of those rare magical gaming experiences I'll always cherish and remember. Ark, renamed Steve, ended on Level 37 (639 HP). As one NPC in Terranigma once suggested, it pays to keep a log. I've always been into archiving. Having a record allows me to go back in time to recall past events. Since early 2006, I've kept a log of my SNES activities.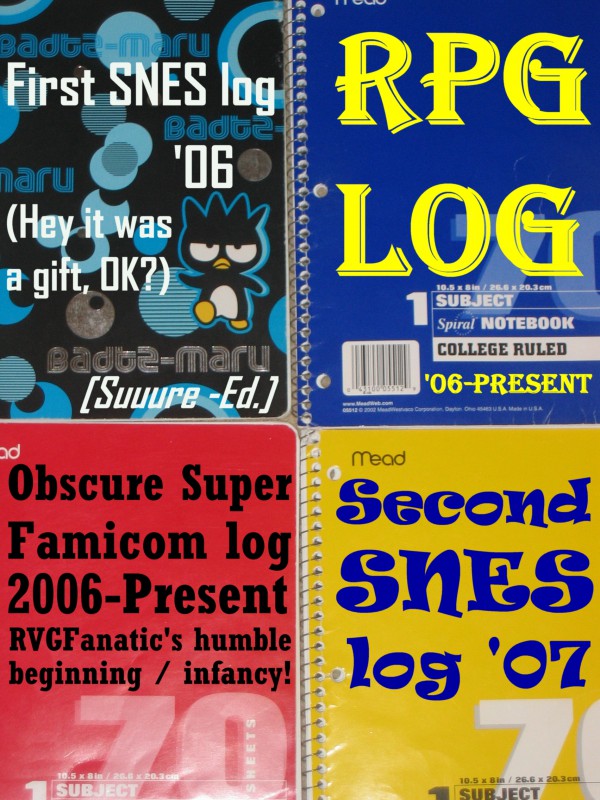 I'm so glad I did; I would have forgotten all the quirky details and crazy little stories if I hadn't. The following will be an account of my Terranigma experience. And on a side note, this marks my 100th SNES review. I had to go big for the magical 1-0-0, and I can't think of many better choices than this. Surely you didn't expect Lester the Unlikely, did you? That would be highly unlikely…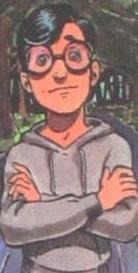 THE STORY GOES…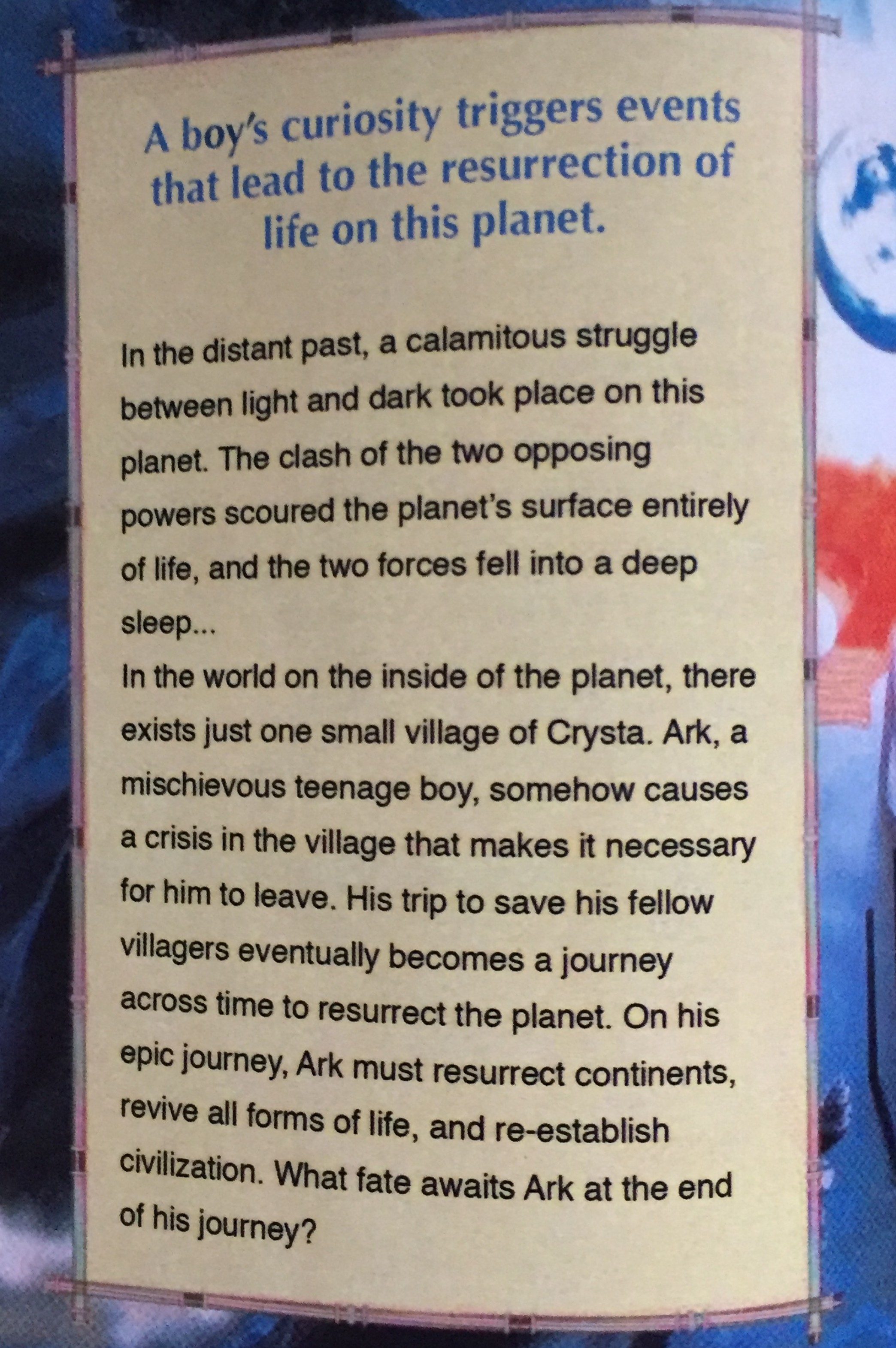 MEET THE CAST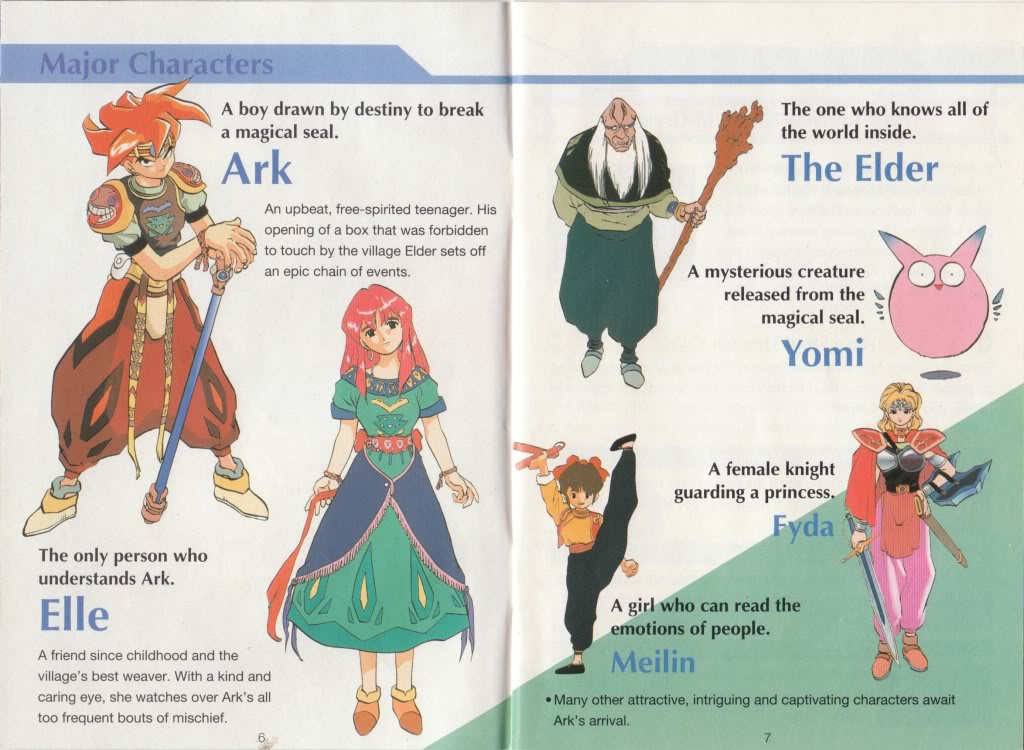 THE JOURNEY BEGINS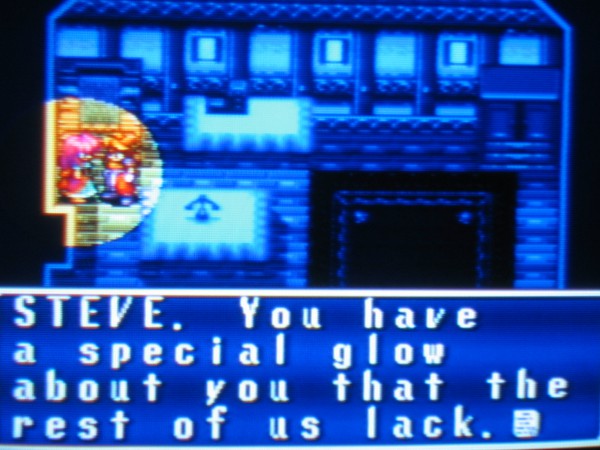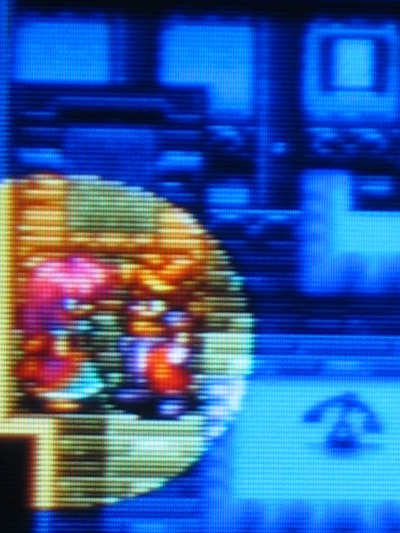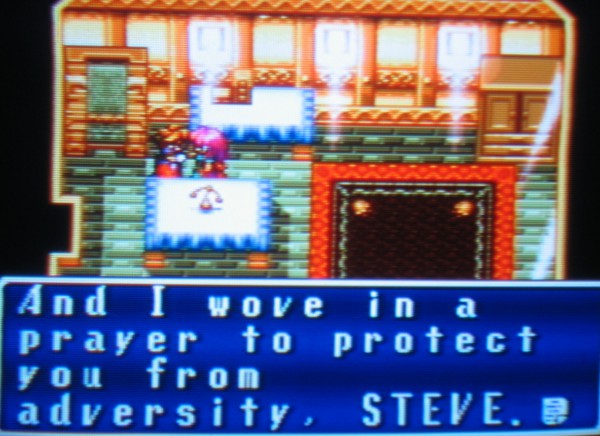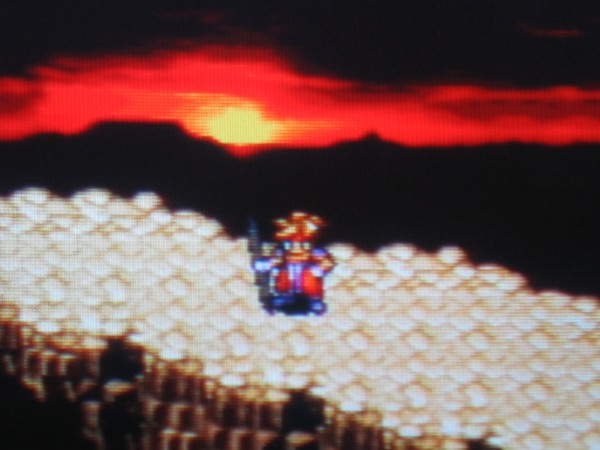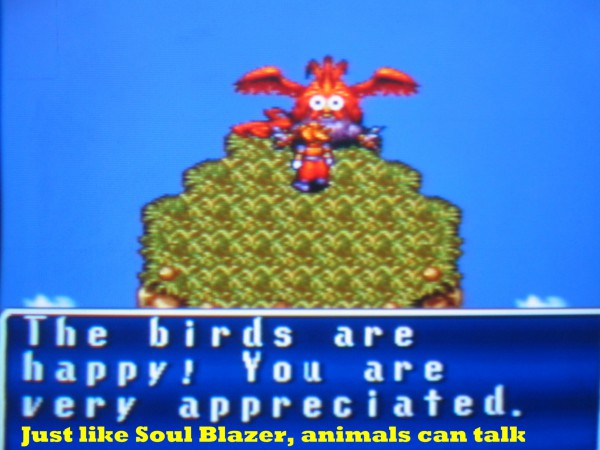 The Quintet trilogy as some like to call it started with Soul Blazer and concluded with Terranigma. It's nice to see the odd nod to Soul Blazer here and there throughout.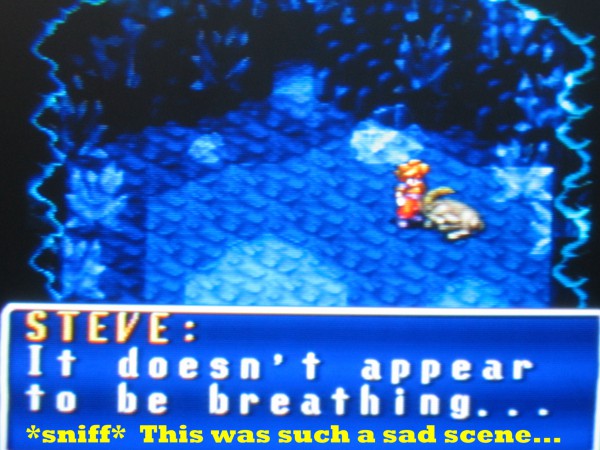 One of many unforgettable and touching moments from Terranigma. If you're not moved in the least when you play this, then you, sir, have no heart. No heart at all!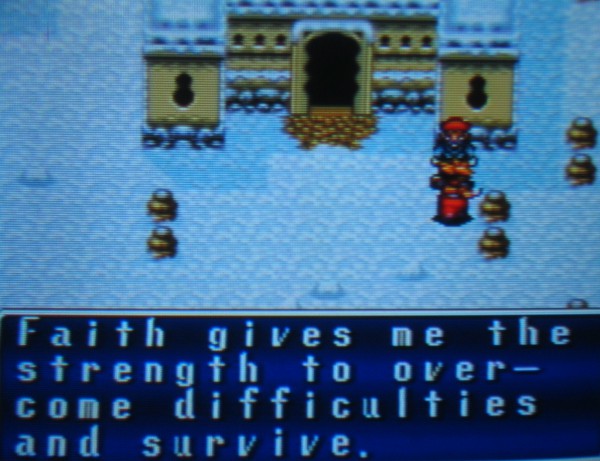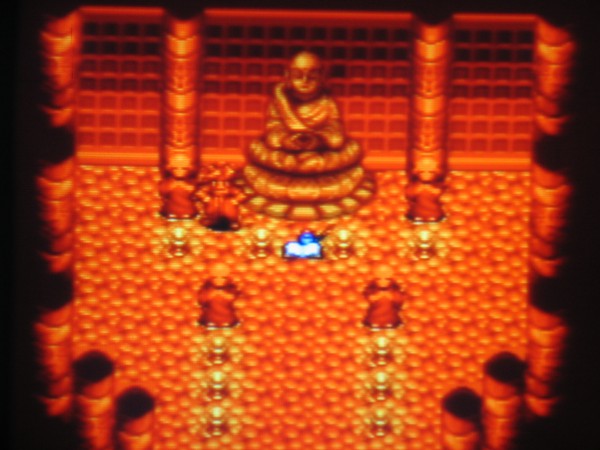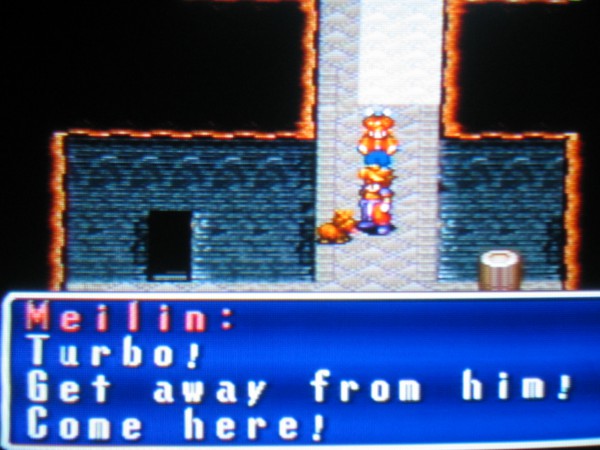 Hey, remember ol' Turbo? Sure you do! He's the mutt from Soul Blazer and Illusion of Gaia. That canine sure gets around!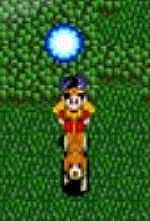 Who could ever forget this infamous scene in Soul Blazer? The Quintet Trilogy always had some… ahem… controversial moments littered here and there. Some… well… perverse scenes, as you will see a little later on.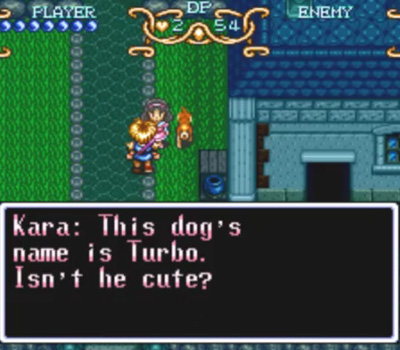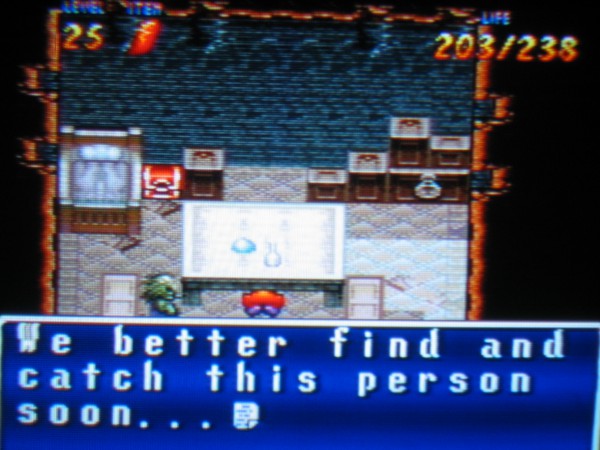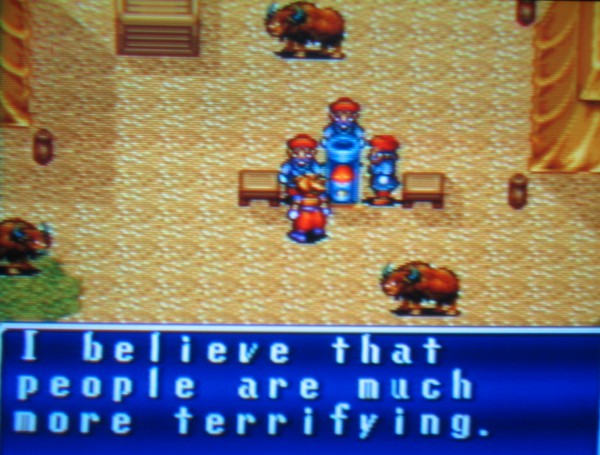 The random things people say ranges from amusing to whimsical to even sometimes downright philosophical. Some statements are rather bizarre, others plain silly, while others ring true in many aspects. In that regard, there is a pulse to Terranigma unlike (nearly) any other SNES game. It was definitely ahead of its time and as a result of that, it holds up well to this day.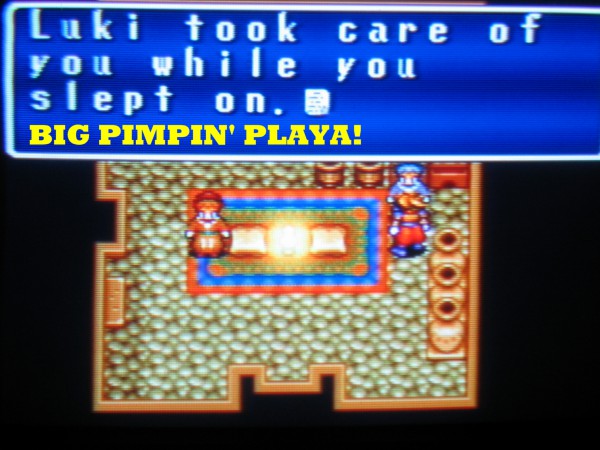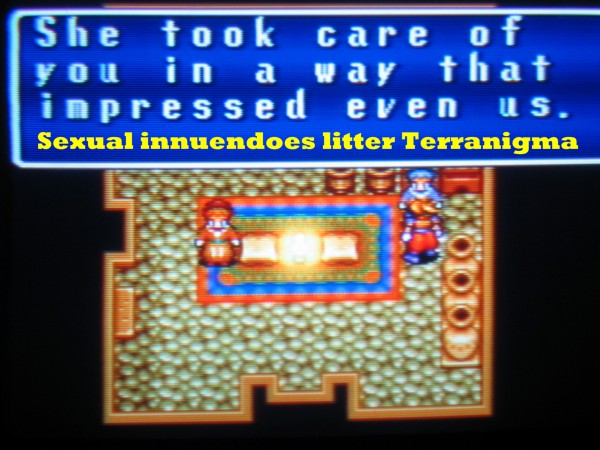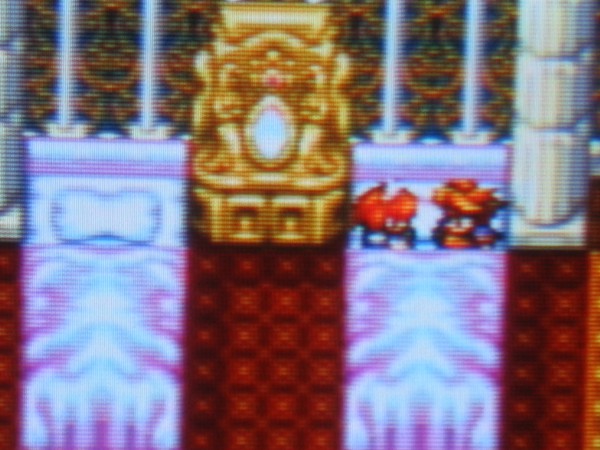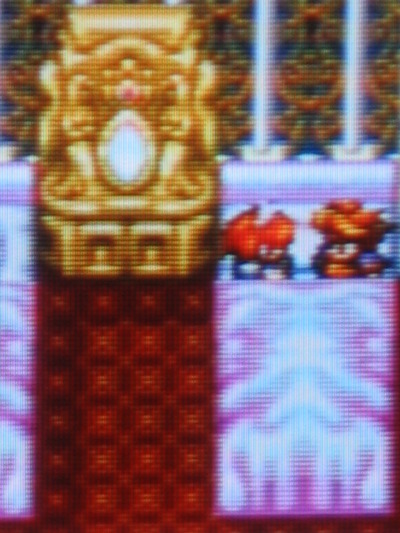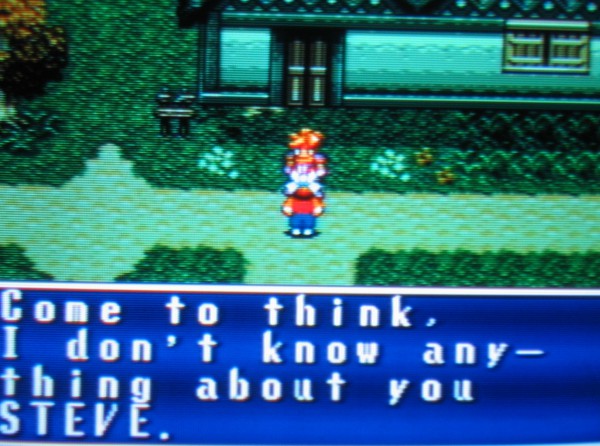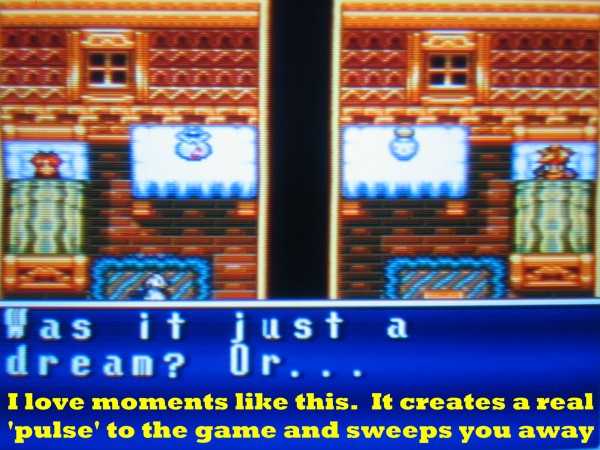 Video games serve as a form of escaping the daily grind and troubles of everyday living. And nothing transports you to another world quite like a good ole adventure game. I especially love playing them on a cold winter's night.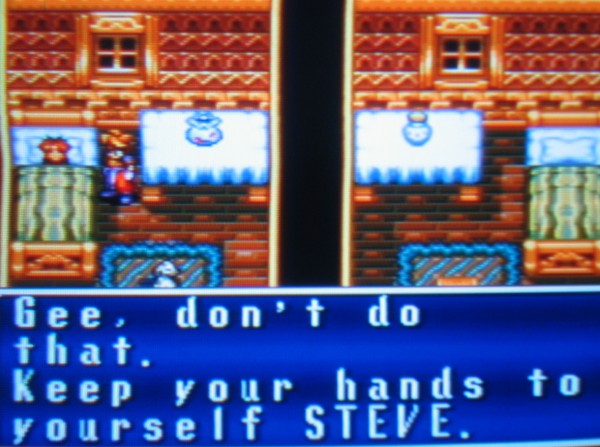 I told 'cha I'm not imagining these sexual innuendos! I only tell it like it is, you see. Not my fault that Quintet was a bunch of sexual deviants!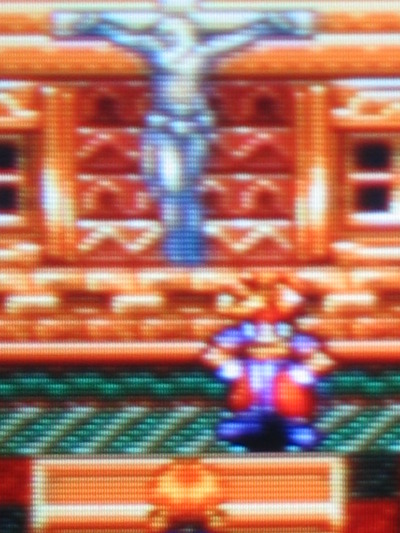 After playing so many censored RPGs in America, it was refreshing to play one that was true to its core. Look no further than the town of Litz, where a huge statue of Christ proudly hangs. Such an image would have never passed Nintendo of America's standards back in the mid '90s. And since Terranigma came out in Japan October of 1995, an English translation would have pushed a potential US release date into the first quarter of 1996, a time period where the SNES was simply no longer a viable market. The game was doomed, then, to never make it to American soil.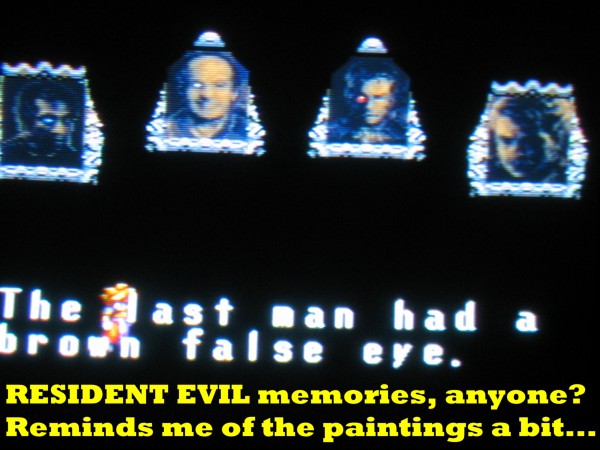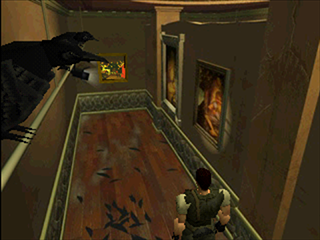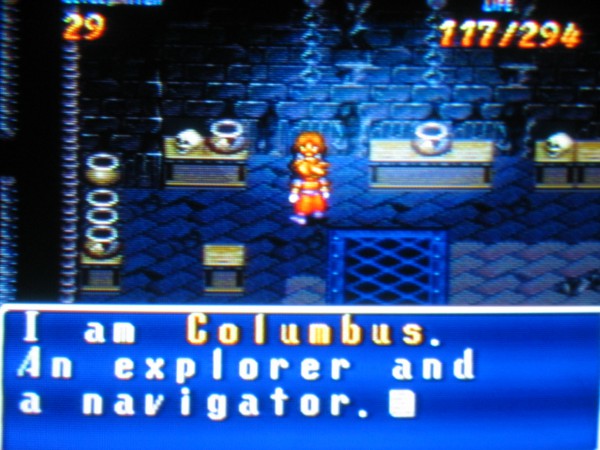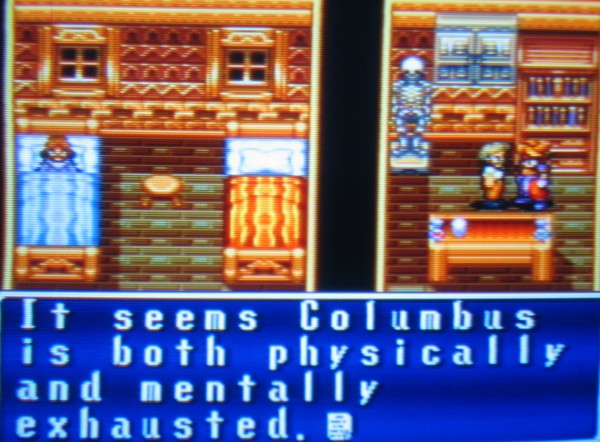 Love the skeleton displayed in the background there. There are many great details that helps to bring the game to life, in addition to its memorable characters and epic storyline.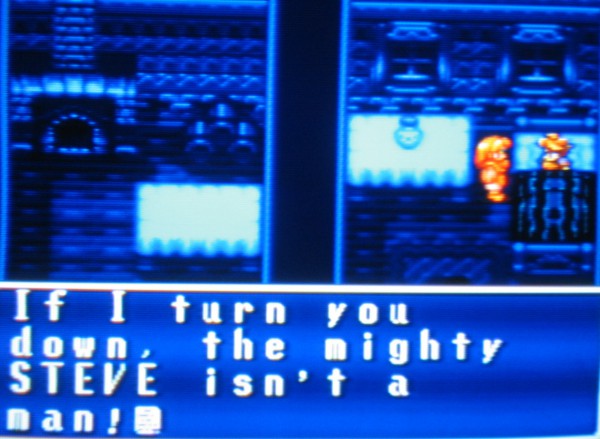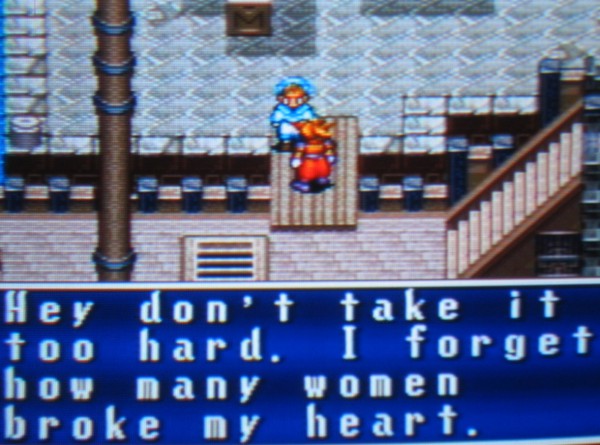 There's even a few bits about women and how they can break our hearts. Here we see some poor soul comforting our hero. So many ladies have shattered his poor heart; he's lost count. Makes you feel for the lad. And hey, how many of us, at one point or another, can relate exactly to what the NPC is saying? This moment almost makes you flashback to all the heartbreaks in your life. Maybe even the one who got away. It's moments like this that really bring Terranigma to life and almost makes you forget you're only playing a video game. ALMOST.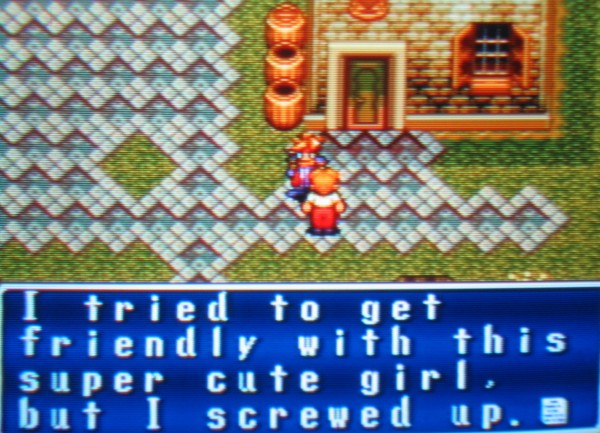 FRIEND ZONED, ouch. But in life I've learned this: you never want to be with someone who doesn't want to be with you back. Always stay true to yourself and live your life. If the time is right, you'll meet a suitable match and the rest will be history. Meanwhile, don't beat yourself up too bad over dates that go nowhere. We live in such a disposable society that you want to take your time to find the right person. I don't know if this may be speaking to anyone but yeah. If you can currently relate to that guy in the picture above then chin up!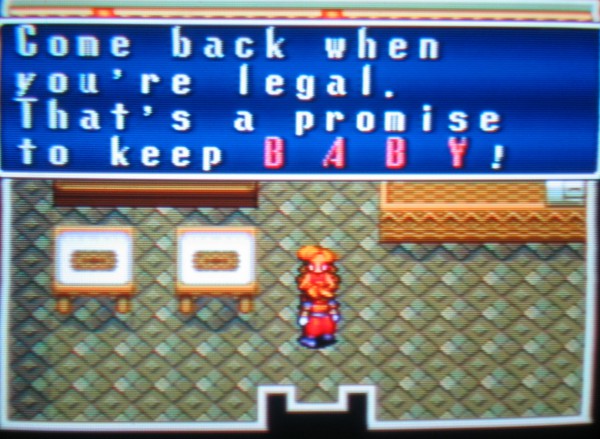 Freaking Quintet…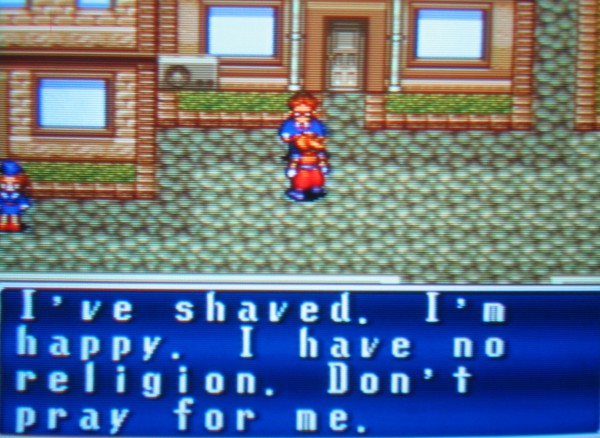 This got a chuckle out of me. It brings me back to the first time I can recall being prayed for. It was at my retail job back in 2004. I was in college and worked at a toy store in the mall. It was a Sunday. I'll never forget it. This father walks in with his two adorable twin sons. He was dressed in his Sunday best so I figured he just came out of church. I wasn't anti-Christian but at the time I didn't pay religion much mind. He bought a couple race cars for his twin boys, then he asked me out of the blue if he could pray for me. I was totally caught off guard. I asked him pray for what? He said good health, wealth and success in my college career. Eh, what the hell I thought. Couldn't hurt. So he placed his hand on my shoulder as I awkwardly looked ahead at his twin boys standing in the doorway some 20 feet away from the register counter. They both wore the look on their faces that said, "UH OH… DADDY'S DOING IT AGAIN!" Looking back, I appreciated what Francis (still remember his name) did for me over 12 years ago. Even though I was shaved, happy and had no religion at the time, I didn't mind him praying good health and wealth over me. But some people, like that business man in Neo Tokio, wants no part of prayer. To each his own, right? Just another interesting little moment of many in Terranigma.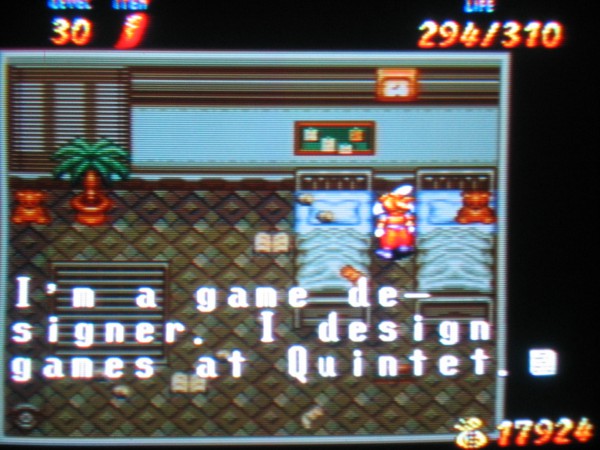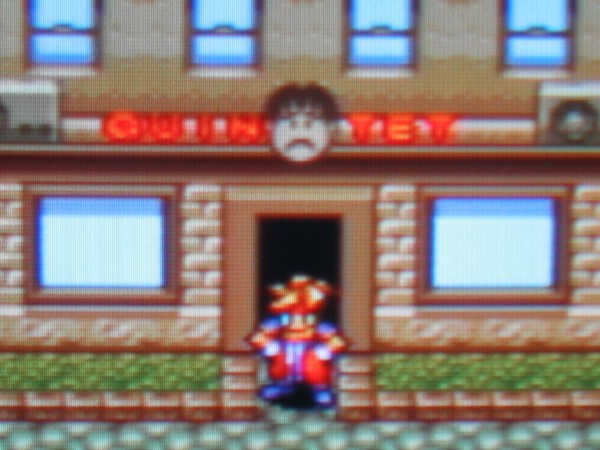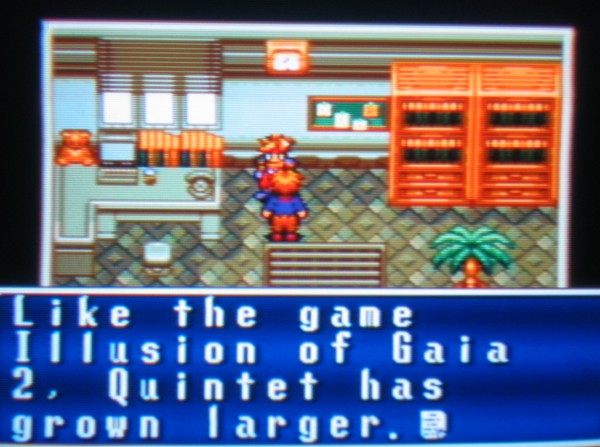 Was Terranigma originally named Illusion of Gaia 2? From this bit of dialogue it would appear so. Interesting indeed.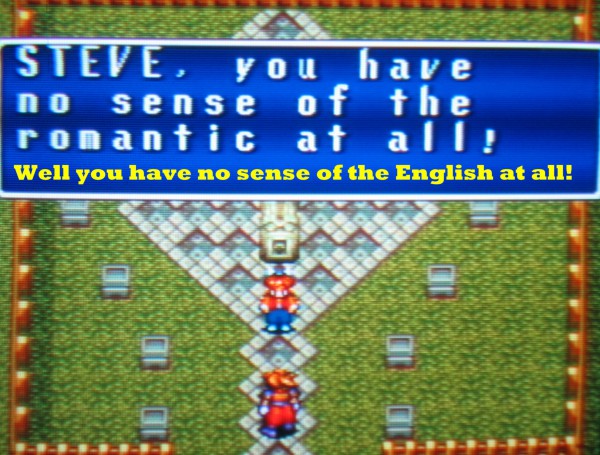 Meilin?! What's up with her and you?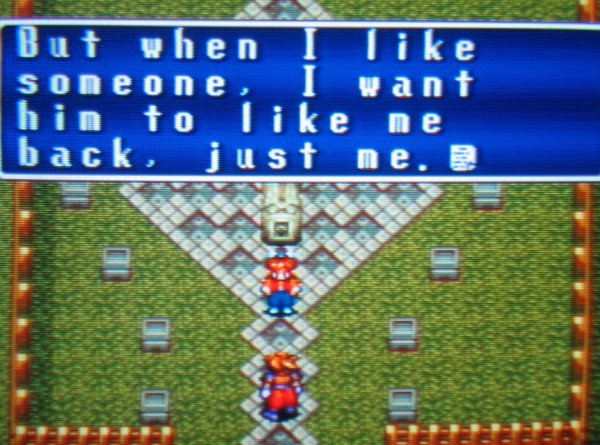 Ah, philosophical musings and whimsical introspection are just the order of the day here in Terranigma. It's times like this that makes one reflect on their own life, or maybe that's just me. At any rate, it definitely all adds to the pulse of the game. It's as if you're really in another world — one far far away yet hits close to home, too.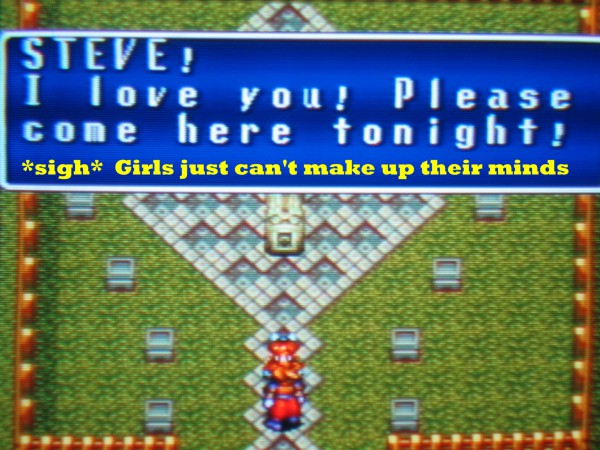 Alright, not to be sexist. SOME girls…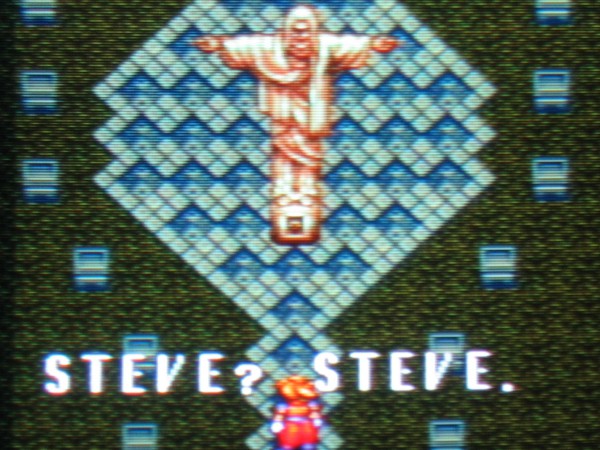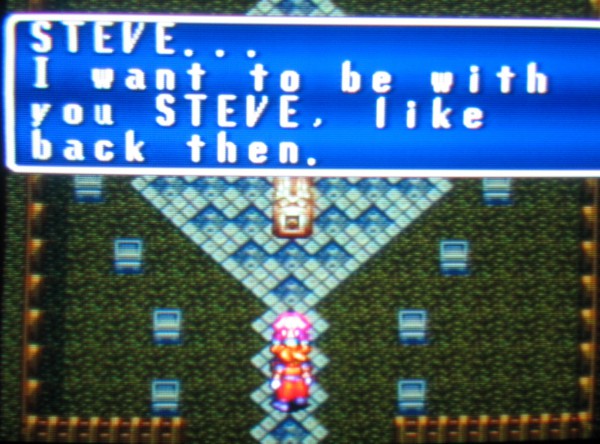 Elle?! Oh man, all the ladies simply cannot resist the valor and excellence of Steve!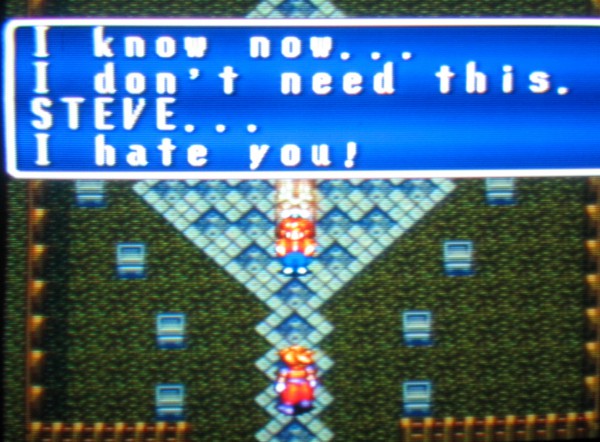 "There's a lotta things about me you don't know anything about, Dottie. Things you wouldn't understand. Things you couldn't understand. Things you shouldn't understand."
"I don't understand. And who's Dottie?"
"You don't wanna get mixed up with a guy like me. I'm a loner, Dottie. A rebel. So long, Dott."
"WHO'S DOTT?!"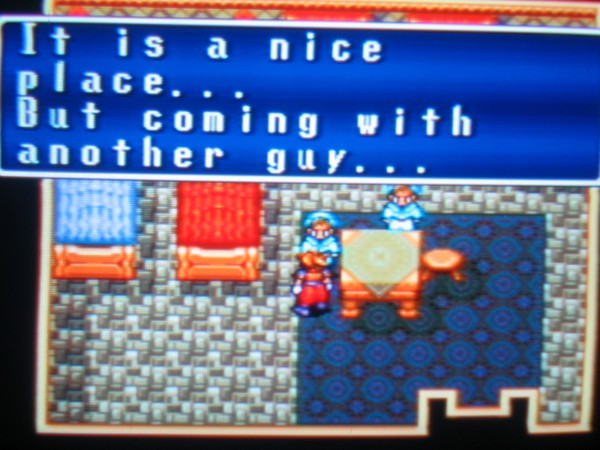 Some more interesting dialogue ensues. You can't help but grin at some of the comments.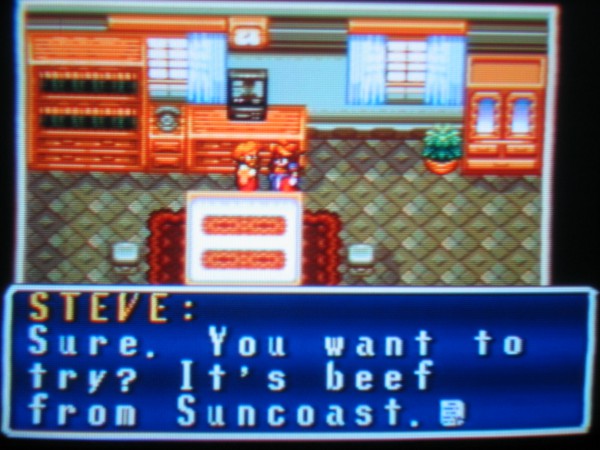 You have the opportunity to expand many different towns throughout the course of the game. Suncoast is but one example.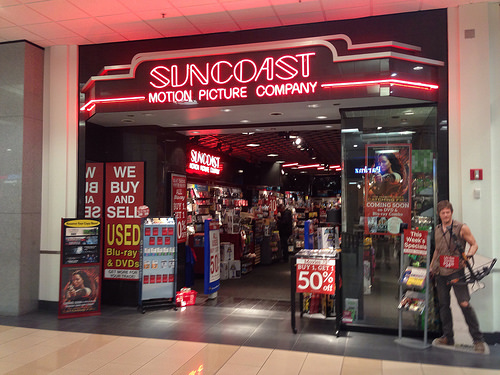 Back in the late '80s to early-mid '90s, Suncoast was a staple of my childhood. It was always the first store I visited whenever my mom took me to the local mall. It was en route to other classics such as SOFTWARE ETC., Walden Books, B. Dalton, Sam Goody, and of course, the awesome CYBERSTATION arcade hall on the upstairs wing.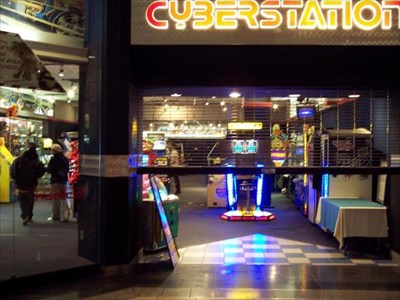 Upon hitting Suncoast, I would raid their vast horror and sci-fi section, drooling over the mesmerizing horror movie boxes and reading the back of every Godzilla VHS box. There was a definite sense of idyllic innocence to those olden days that a small part of me still misses to this day. So yeah, thanks Terranigma for conjuring up fond memories of days gone by.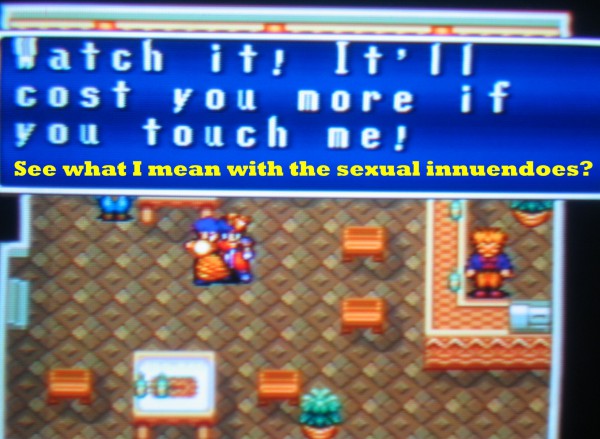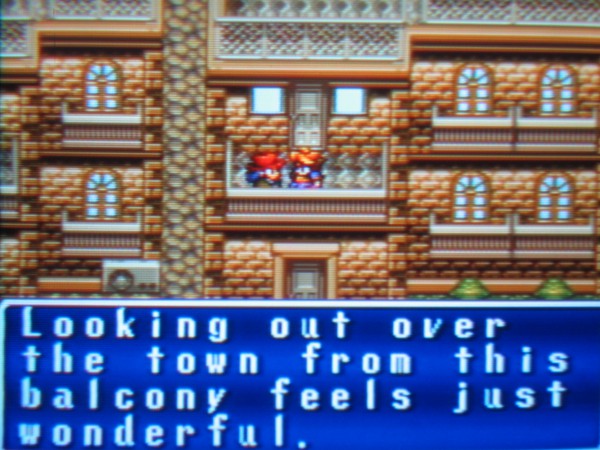 This part exemplifies the great power of a magical world tucked inside a 16-bit cartridge. The game never shows you what the view actually looks like, but you can practically imagine it. Elaborate 3D graphics need not apply. All you need are just some proper words linked together and your own imagination to be swept away.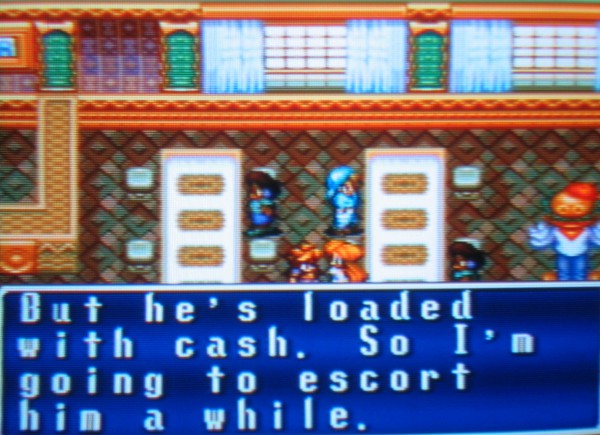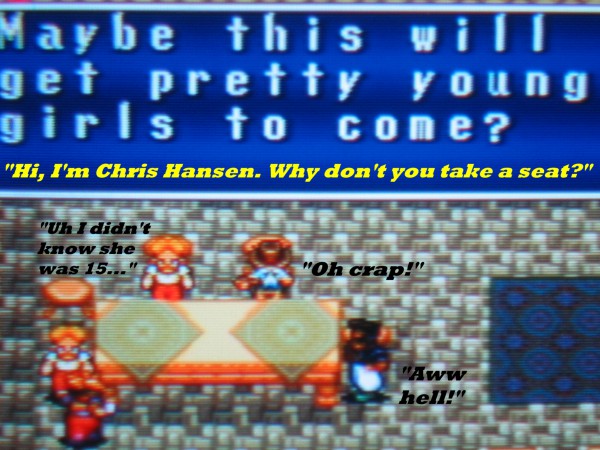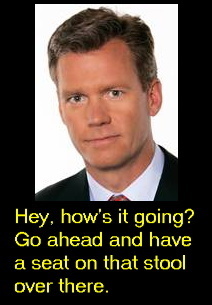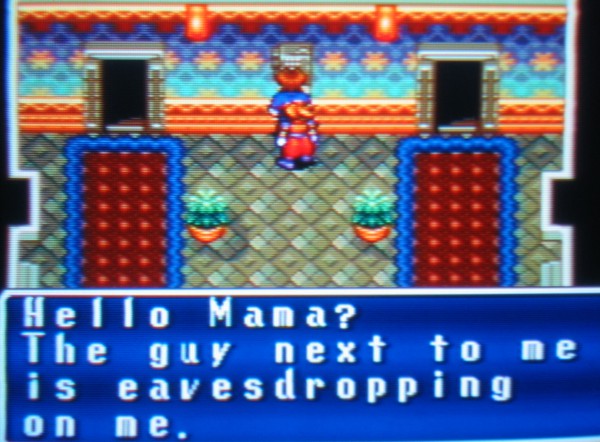 Unexpected little moments like this bring the game to life and makes it easy to suspend your disbelief for a bit. It's a real living breathing world that you're navigating.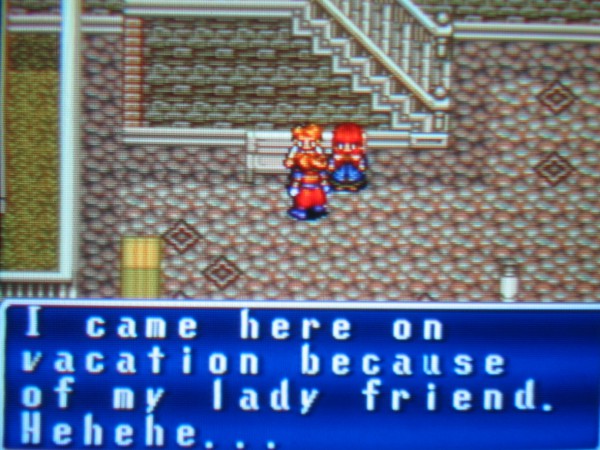 Poor guy. Little does he know…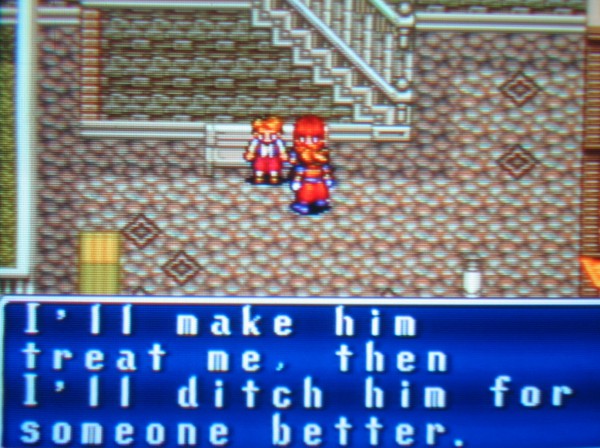 Hurt people hurt people. Word.
WHAT THE CRITICS SAID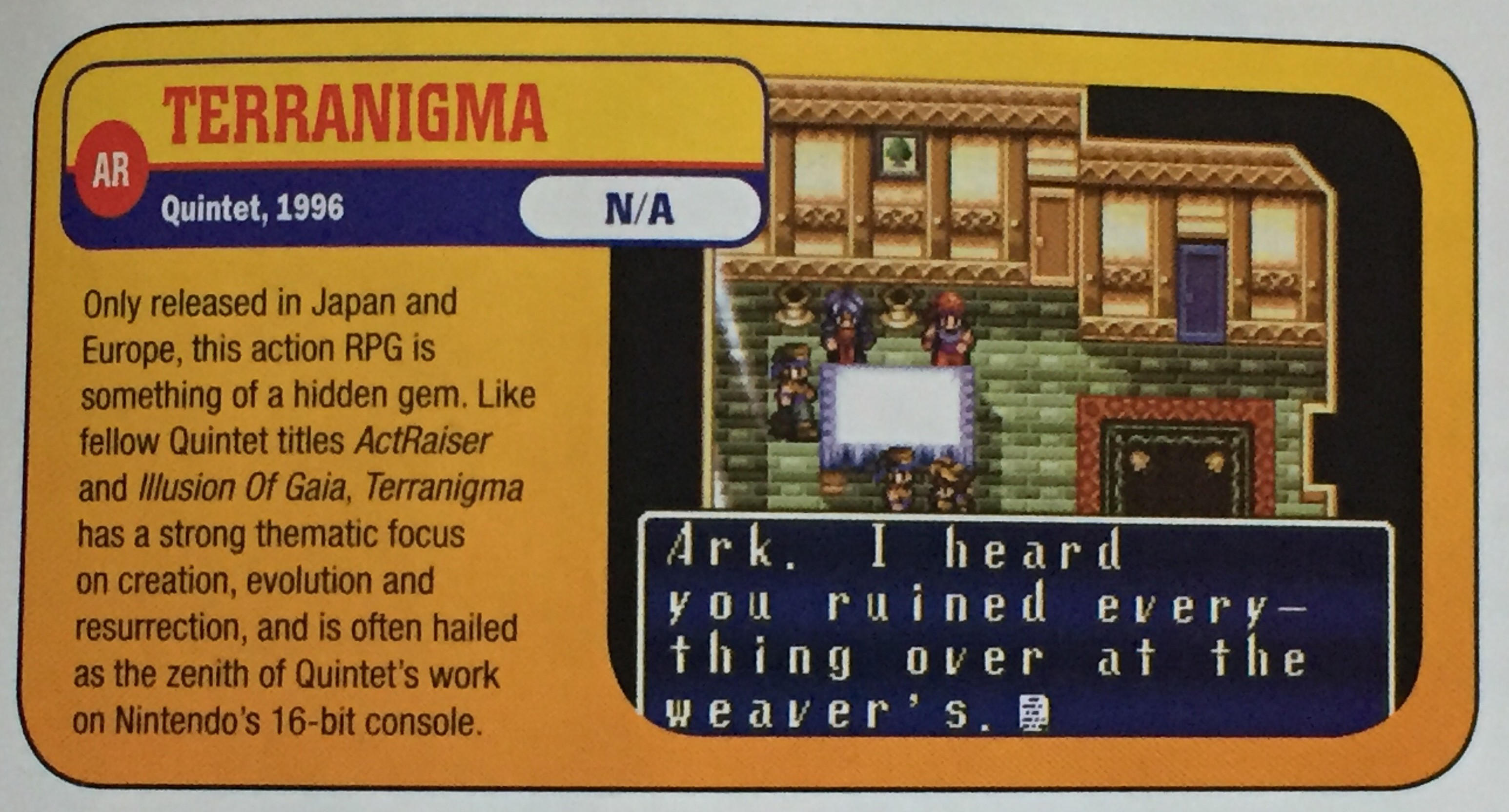 Terranigma is a beloved classic. It's one of those games few people played back in the mid '90s only to finally experience years and years later. It's now considered one of the finest games in the SNES catalog, and rightfully so. Many moons ago, I ran a poll on my original RVGFanatic site asking readers which of the Quintet Trilogy they most preferred. Not surprisingly, Terranigma won that vote going away. I love Soul Blazer and Illusion of Gaia as well, but they don't stand a chance.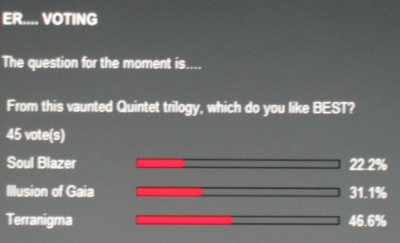 Speaking of the people, I've compiled a gamut of opinions regarding the awesomeness that is Terranigma.
WOW! A masterpiece in every possible way. The gameplay is simply phenomenal. The plot is so amazing that it's difficult for me to put into words how incredible the story actually is. There are so many interesting twists and turns throughout. -Rbball13

You love me…
You really love me!
It holds the greatest appeal to people who enjoy an intriguing, engrossing story that will make one go into contemplation, fans of the style of gameplay, and those who value engaging characters. Terranigma is a rewarding experience that, if one is willing, will enrich one's mind and soul. A classic that is worth every gamer and story lover's time. -Nepheliad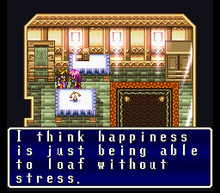 Terranigma is a unique experience among RPGs. The game has a few jokes, side quests and secrets to keep people busy, and while the plot doesn't preach any philosophical morals to you directly, it will probably make you think about things differently. -Big Cow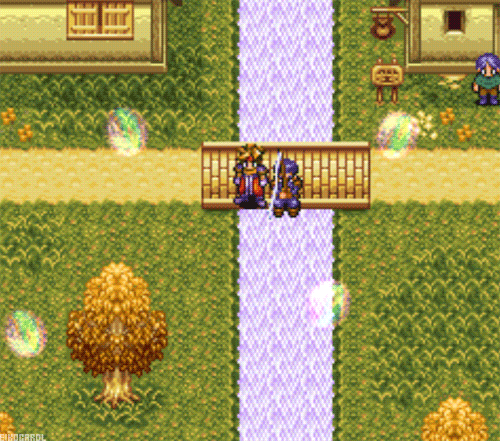 It really is difficult to describe Terranigma with mere words. It's an experience unlike any other on the Super Nintendo. An adventure every serious video gamer has to go on in order to see what makes this game one of the best Super Nintendo games ever — maybe even the best of them all. It's the magnum opus of Quintet every SNES gamer should check out. -Darth Julian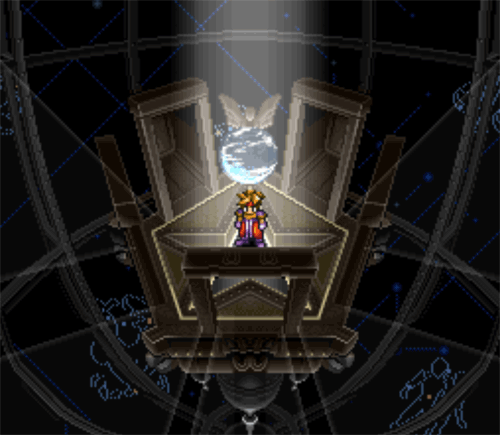 Can you remember the last time you loved a game so much that you were actually afraid for it to end? I remember getting this feeling from this game right here. It is possibly Quintet's finest hour, and a tribute to what these video game developers could and did accomplish during the wonderful and immortal 16-bit era. -PizzaDude371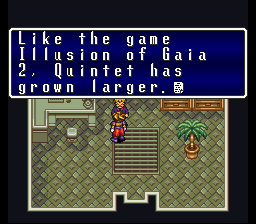 This game offers the freedom to explore a vast world and continually find new things on a level I have not experienced before in a Super Nintendo RPG –- not with Tales of Phantasia, Final Fantasy III, The Legend of Zelda: A Link to the Past or any other. It stands out in its own right as the richest, most brimming game world I have known. Over nearly 30 hours of gameplay I never failed to be excited when I opened a treasure chest or returned to a village to engage in fresh dialog –- even if it was just for the most elementary update to that NPC. I found that I was growing each town thoroughly, and meticulously inching over the world map so as not to miss interacting with a single character or place. This all amounts to a level of commitment that I did not think I would be able to meet given my busy lifestyle, but Terranigma simply bewitches you in this way. The best praise I can give Terranigma is that it was the last game of my adolescence that truly consumed me. -Midget35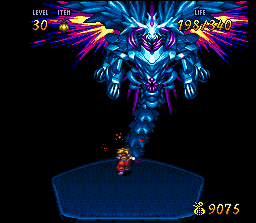 This game will enlighten you as much as it will entertain. -MaullarMaullar
CLOSING THOUGHTS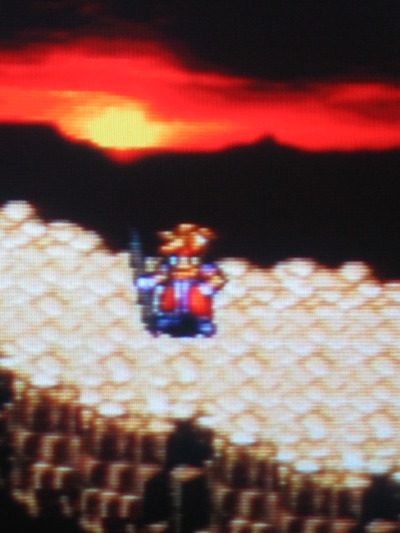 It was on a late, blustery November night that I began my trek through Terranigma. Black Friday (2010) to be precise. Somewhere miles and miles away, my crazy cousins were plotting their great raid. Me? I was warm and cozy gearing up to unravel the marvelous worlds inhabiting Terranigma. The game completely consumed me over the following two weeks. Whether I was searching for the Five Sandstones, deciding to vote for Jean or Louis, or just simply looking out for poor old bloke Bell in Freedom, Terranigma grabbed a hold of me from the very start and didn't let go until the bittersweet end. Expanding the various towns is always rewarding and tasks such as delivering nine letters for the cause of Nirlake all adds to the game's greatness. Plenty of NPC interaction and slaying of foul monsters to satisfy even the most jaded of ARPG fans. Terranigma truly has it all.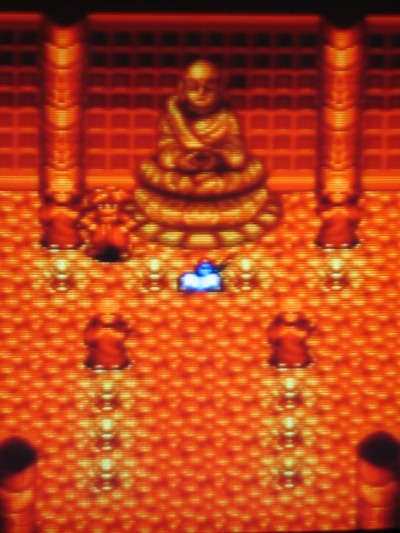 It should be noted that the game is on the easy side; it hardly gave me any trouble at all. But that's easily overlooked (and forgivable) when a video game is as enjoyable and sweeping as Terranigma is. You're simply too busy having a good time instead. The visuals won't wow you even though they are top-of-the-line quality. The soundtrack is utterly amazing. This is truly a global adventure. Along the way you'll see various sights and meet folks from all walks of life. Towns expand, things pass and fade away, love blossoms, evil reigns, hope abounds. Some of the puzzles were a bit tricky but the solution was always right under my nose. The final boss is way too easy and a bit anticlimactic as a result, but the emotional ending left me feeling both satisfied and saddened. Simply put, Terranigma is a special game worthy of its hype. If you haven't played it yet, what are you waiting for? It's one of the best Super Nintendo games ever created.
Graphics: 9.5
Sound: 10
Gameplay: 10
Longevity: 9.5
Overall: 10

Few games have moved me much as Terranigma has. It's a sprawling epic adventure that spans not only the globe but generations. Terranigma delivers like few others can!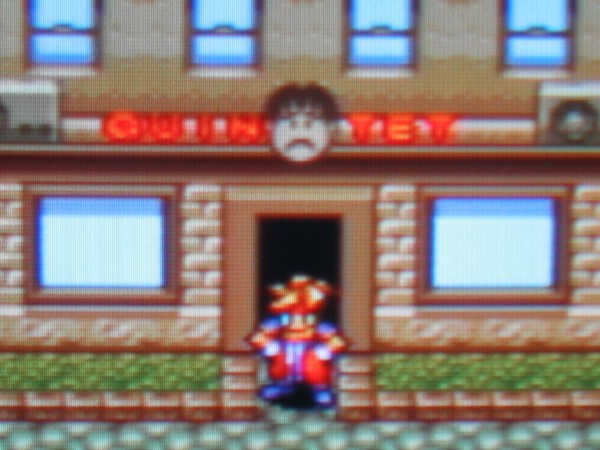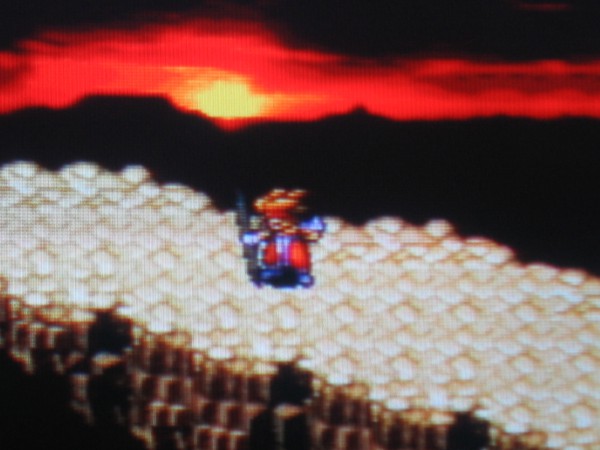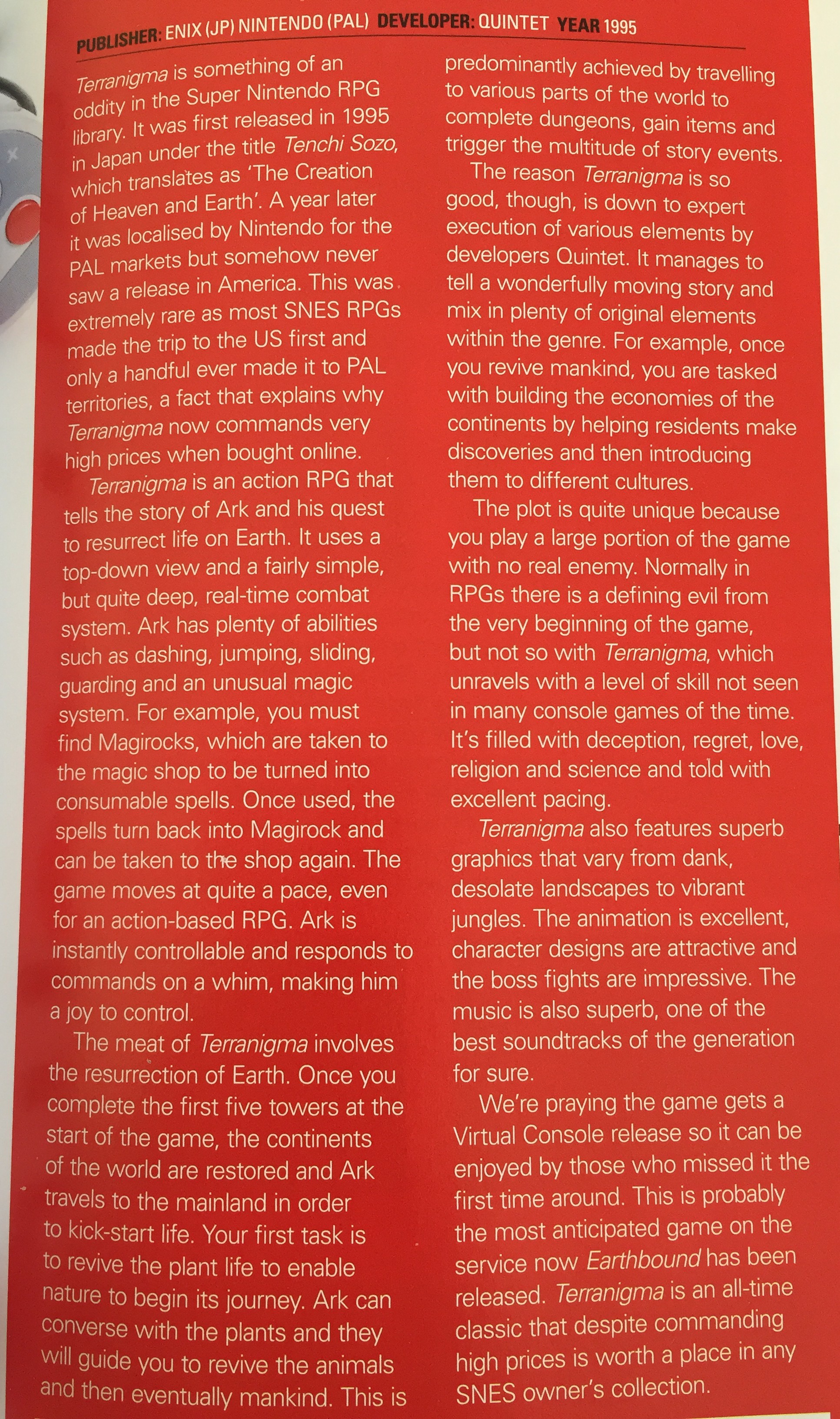 100 SNES reviews in the books!
Here's to 100 more!