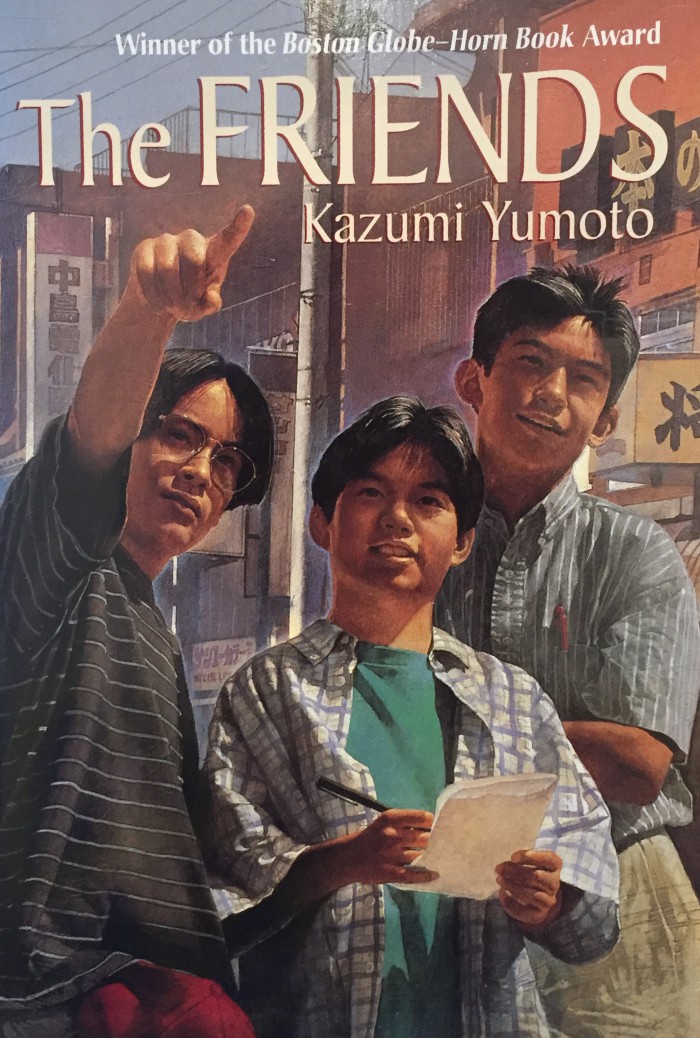 Nothing beats discovering an obscure video game that turns out to be a "hidden gem" and then sharing it with the community. It's no different with books, as I have found out over the past year or so. And God, there are so many books out there. So many great ones. So many bad ones. But every once in a while, you come across one that leaves a lasting imprint long after you've read it. It magically leaves you feeling nostalgic about the story as soon as you finish that final fateful page. Kazumi Yumoto's The Friends took me back to the good old days of boyhood summers and crazy adventures shared among friends under a scorching sun. More than a summer of fun, it's a summer of life lessons that shape your world views, helping you to take steps toward adolescence.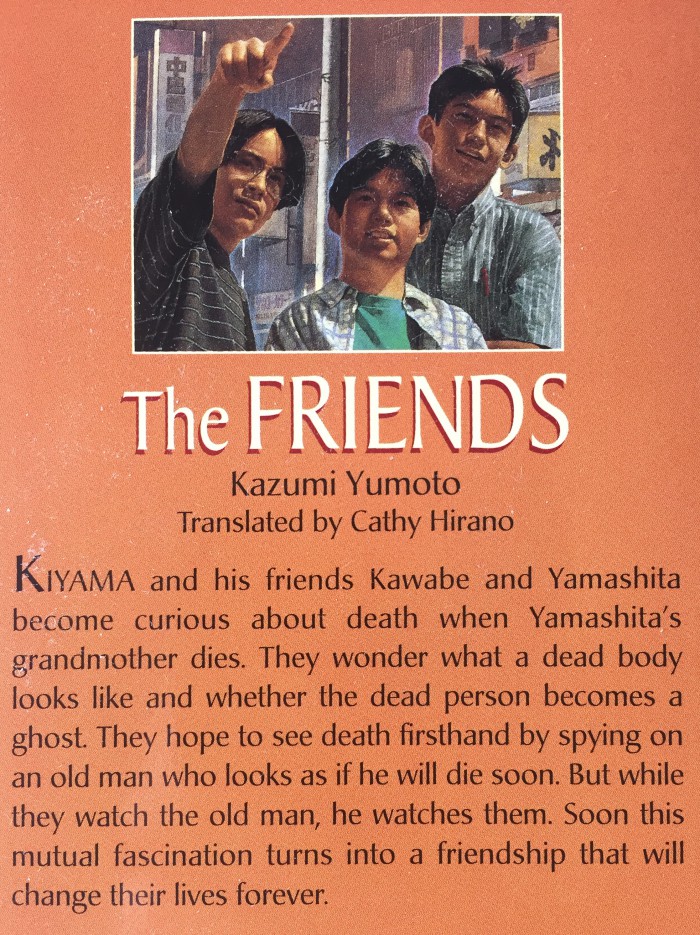 Last year I found myself browsing the middle grade fiction aisle when I first ran across The Friends. Even though I'm in my mid 30s, you can never be too old for a good book with a message that even adults can appreciate. The simple title and the cover grabbed my attention. Looks like an easy read about 3 Japanese boys having random adventures in the suburbs of Japan. But what's that boy pointing at, and what's written on the list the other boy is holding? And good God, look at those haircuts. I swear almost every Asian boy had that hairstyle at some point in the mid '90s! I know, because my brother had it! I flipped the book over to read the synopsis on the back. It had vibes of Stand By Me meets Tuesdays With Morrie in a Japanese setting. TAKE MY TWO BUCKS!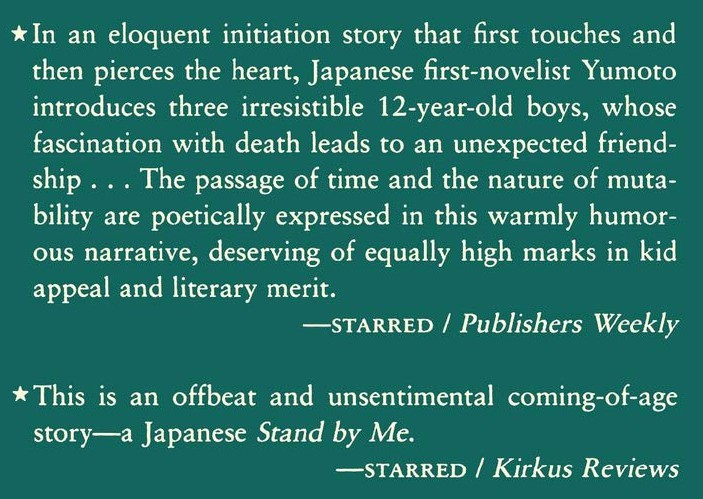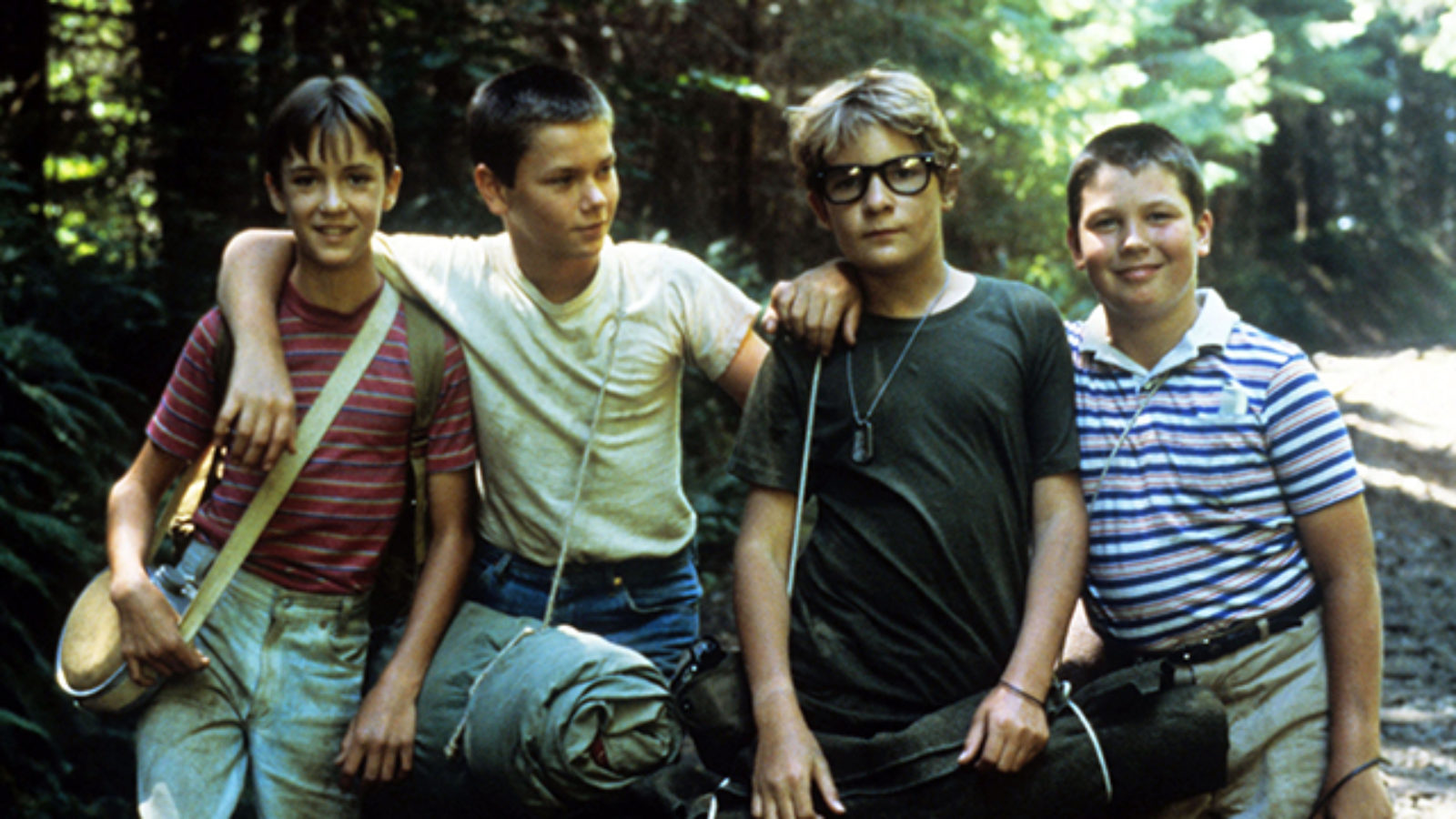 Summer has once again arrived. But for 12-year-old Yamashita, this is no regular summer. His grandmother has passed away. Yamashita and his two best friends, Kiyama and Kawabe, are suddenly interested in what death entails. Do the dead go on to become ghosts… or what? It isn't long that they spot a very old man who looks like he's on the verge of crossing over to the other side. Morbidly fascinated, they begin watching him. But soon, he begins watching the boys back, and they ultimately become friends. Life lessons, both fun and hard, naturally ensue.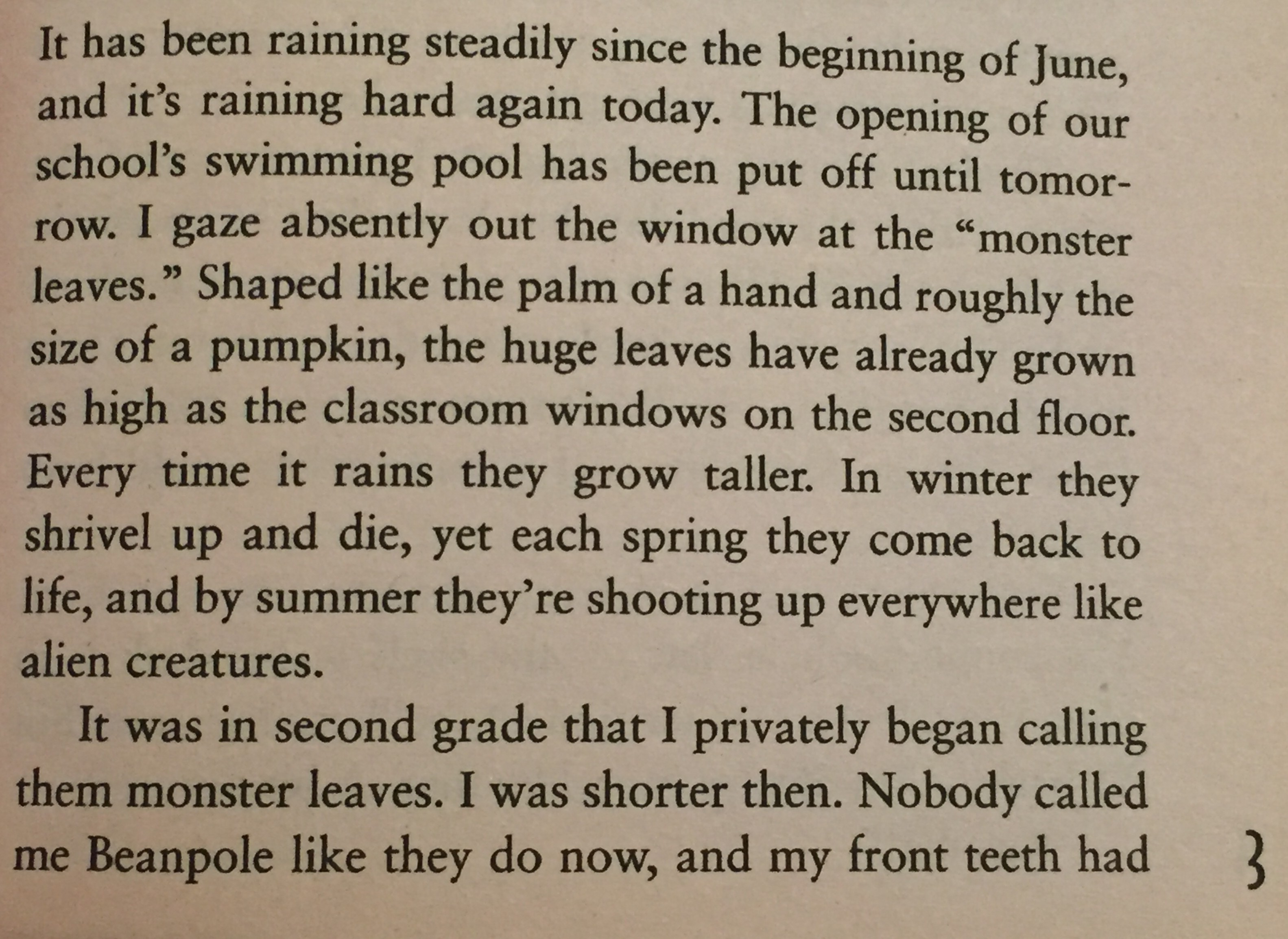 I read this book last June, and coincidentally enough, it opens in June. I love when that happens in books. It makes me feel like it was "meant to be." I'm a dork, I know!

But yeah, Kazumi Yumoto's writing is simple and flows easily. It is a comforting read, even though the book touches on some deep and heavy themes. I'm actually glad I read this one first as an adult, as I don't think I would have appreciated it nearly as much if I had read it as a kid instead.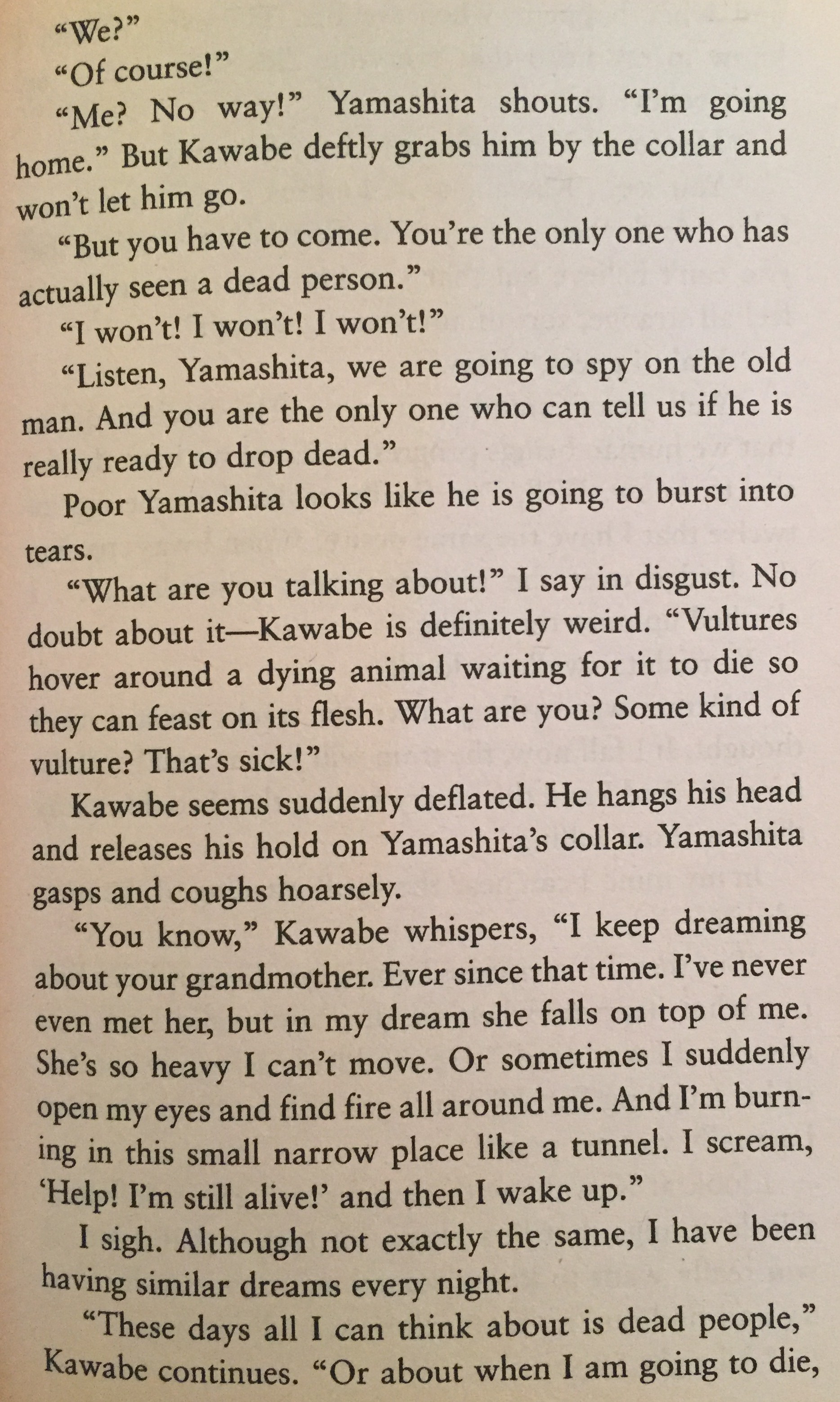 The bond shared between the 3 boys is endearing and nostalgic. It takes me back to my childhood summers, long and lazy hot days that seemed like they would never end. No school, no homework. Just all the hours in the day to hang out with your buds and do nothing and everything. Ahhh. Even though I didn't grow up in Japan, I can still relate to Yamashita, Kiyama and Kawabe. They feel like friends I grew up with. Heck, at times I felt as though I were one of them. It carries the book from beginning to end, and throwing the old man into the mix gives the concoction the right amount of spice it needs. Life is not all rainbows and sunshine, and I love how Kazumi Yumoto walks that fine balance between simple and nuanced. For a middle grade book, this is a remarkable achievement!
THIS REVIEWER SAID IT PERFECTLY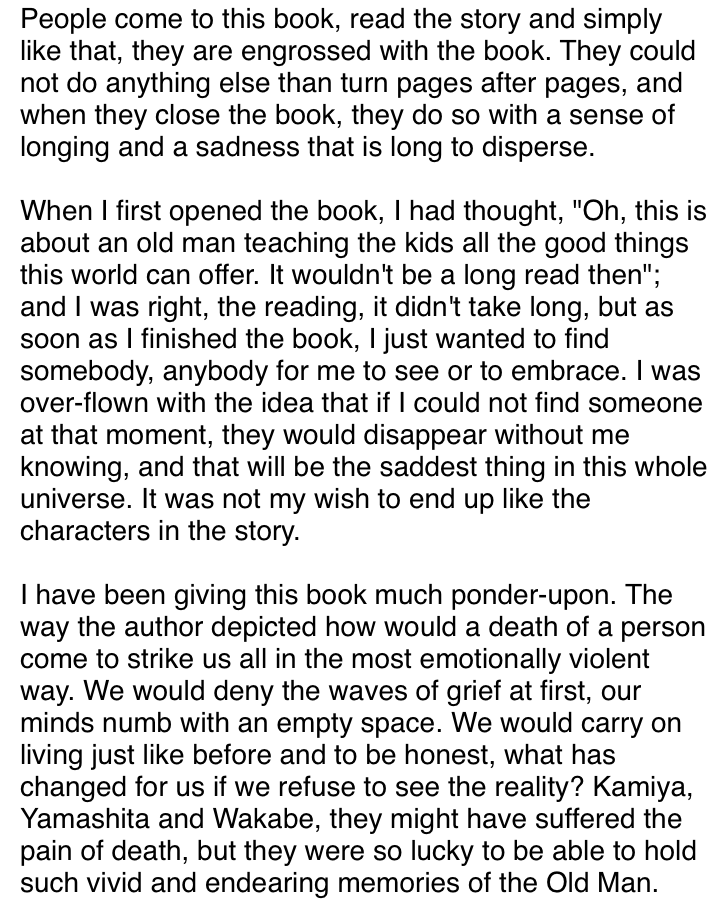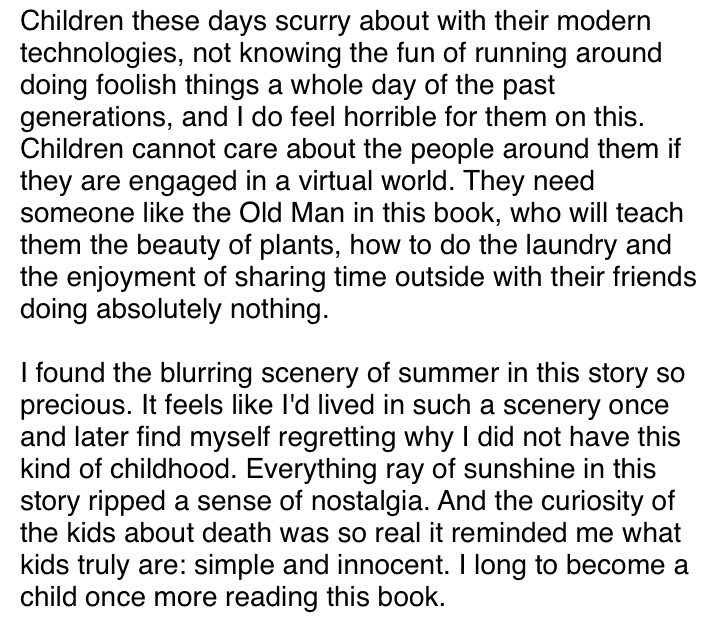 I couldn't have said it any better. There is something special about the way this book was written. It came from a time when cell phones, social media and such did not exist. When boys went out of the house to hang with their best friends and find adventure together. The humanity behind this book, and the relationship between the boys and the old man is touching and magical.
CLOSING THOUGHTS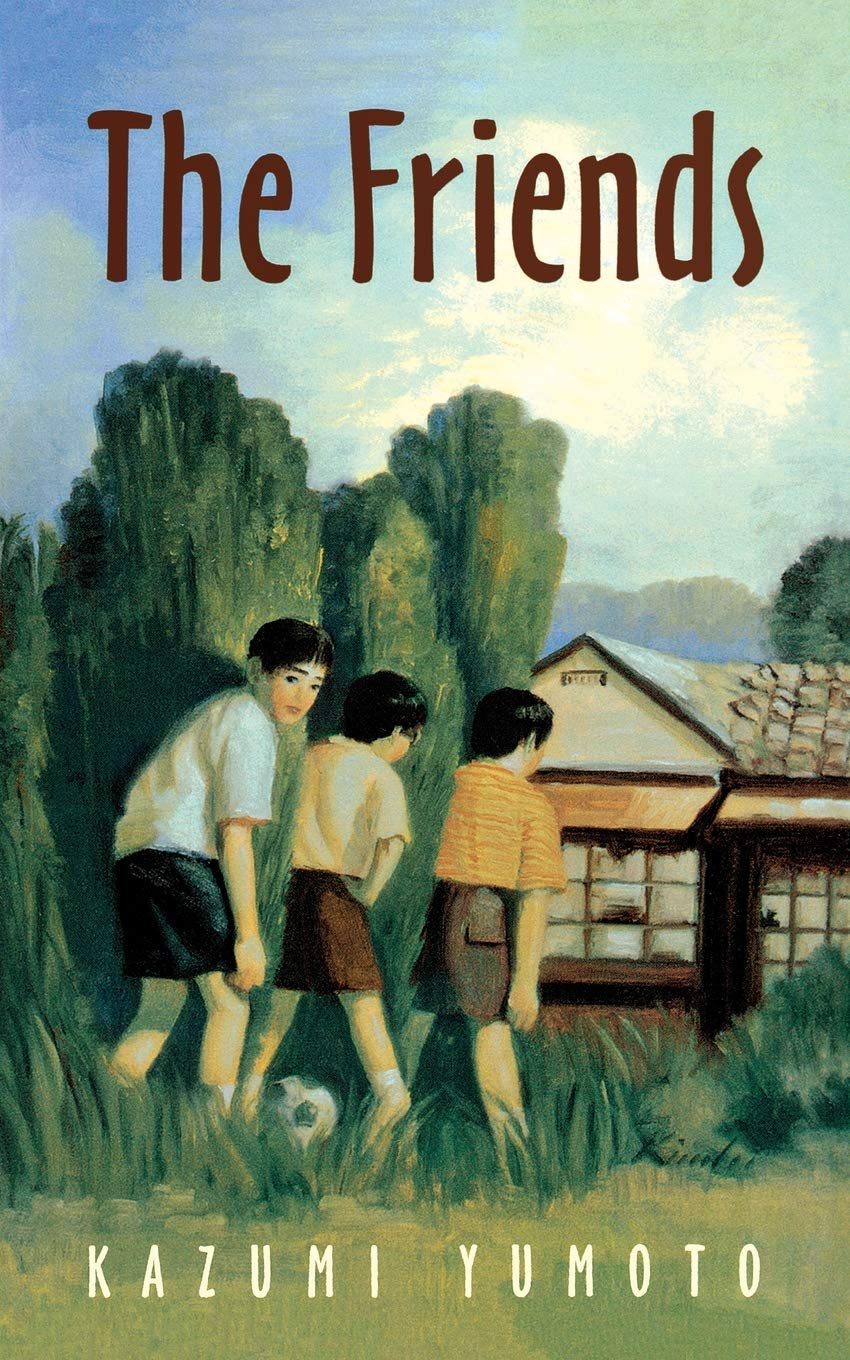 If you enjoy coming of age stories about best friends, or if the idea of Stand By Me meets Tuesdays With Morrie peaks your interest, then I cannot recommend The Friends wholeheartedly enough. It's only been a year since I read it, and already I have — illogically perhaps — an immense amount of nostalgia toward it. It's definitely because of the way Kazumi Yumoto wrote this book. There is a timeless quality to it… the kind of book that begs to be read every few summers or so. In another author's hands, The Friends could have been cheesy or hokey. Luckily, Yumoto found a way to make the lessons land without being overly preachy.