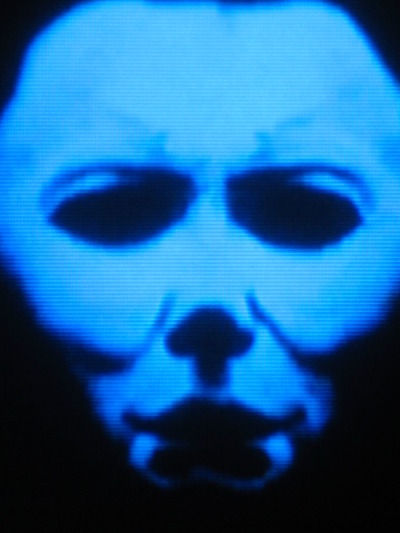 Halloween is almost here. It's one of my favorite days of the year. And this game is perfect to play on Halloween night. In the late '90s I bought Clock Tower for the PlayStation and played it to death (pardon the pun). It was a few years later that I discovered the first Clock Tower originated on the Super Famicom. Thanks to the efforts of some diehard SNES fanatics, the game has long since been translated into English for the rest of us to enjoy. And enjoy it we did. One of the true Halloween staples in any video gaming collection, Clock Tower delivers one creepy and tense adventure the likes of which few SNES games can claim!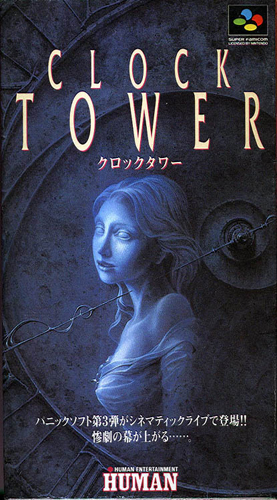 Clock Tower combined two things I absolutely love. It resembles a horror movie — I like its creepy villain, SCISSORMAN, almost as much as Michael Myers — and it's on my favorite system of all time, the Super Nintendo. What more could I ask for, right? Unfortunately, the game never received a North American release. By the time it came out in Japan on September 14, 1995, the SNES was quickly losing steam as the 32-bit machines gained more and more momentum. That and, of course, there was no chance (even with the Play It Loud! movement) that Clock Tower was going to get approved by Nintendo of America! What a shame it never saw American soil because this is one of the most unique and original efforts on the Super Nintendo. But thanks to the fan translation scene, we can now experience this macabre game in all its gory glory.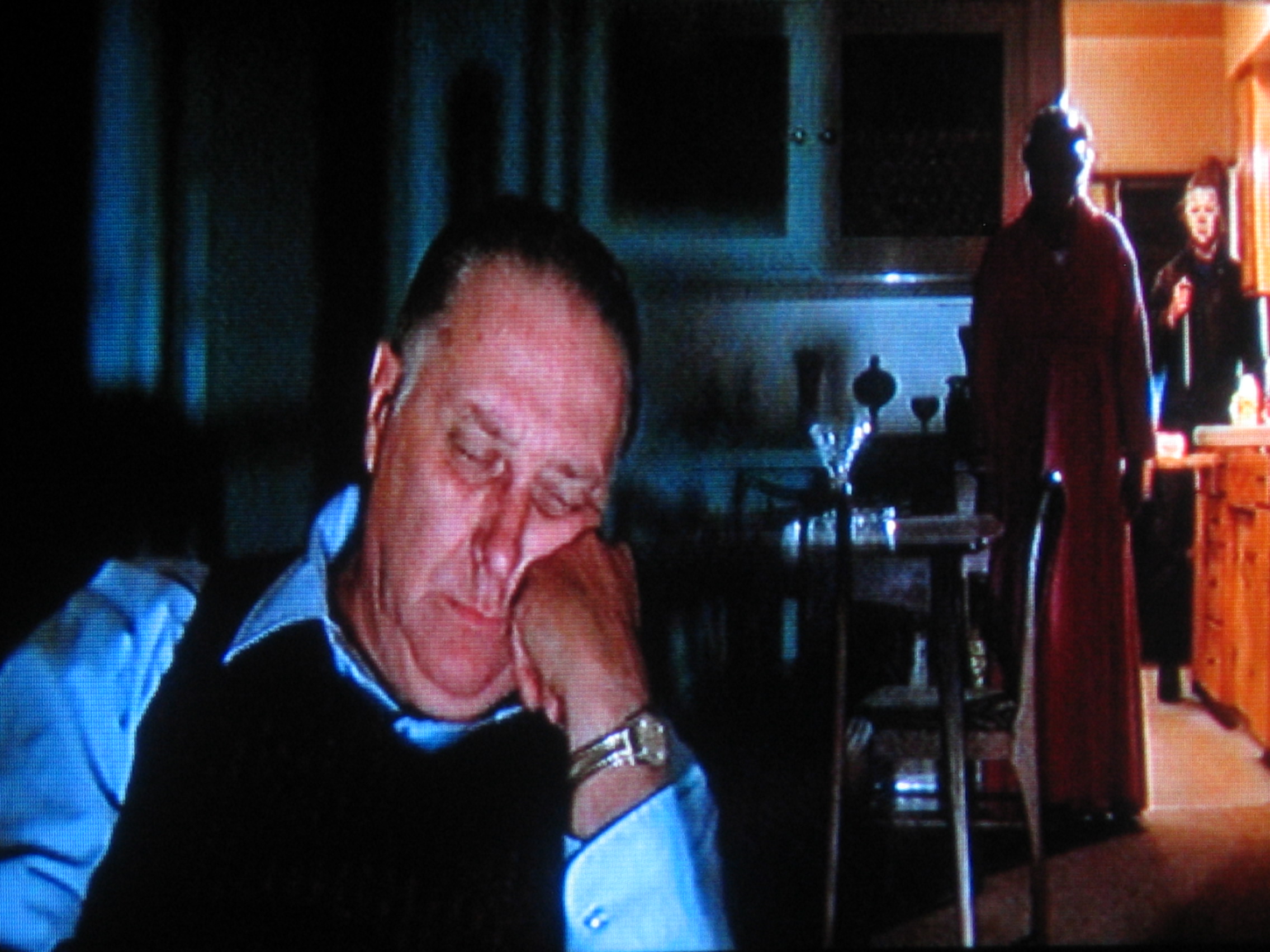 Anyone who knows me knows how much I love the HALLOWEEN series. Uncle Jimmy let me rent the first one back in 1989. I spent more than half the movie hiding behind the sofa with one hand covering my eyes. I even had a nightmare of Halloween's iconic madman, Michael Myers, later that night. And I was hooked. Go figure. I dreamt about someone turning the Halloween concept into a video game. I mean, how awesome would it be to take control of a protagonist who is constantly being chased by a masked maniac? That every room you enter he could be lurking in the shadows… watching and studying your every move… waiting for the right moment to jump out and slit your throat wide open. Clock Tower delivers that sense of dread and drama in spades!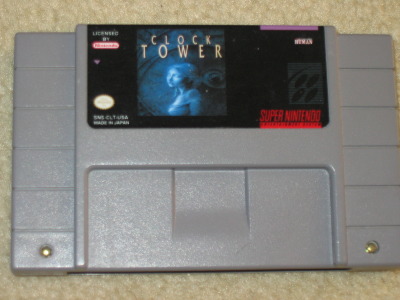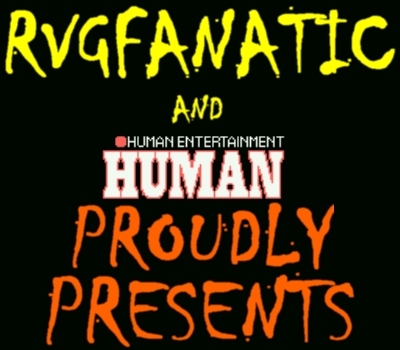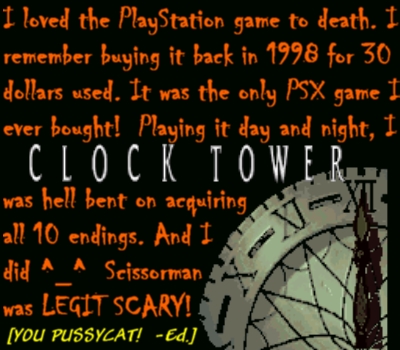 MY -FIRST FEAR- WITH CLOCK TOWER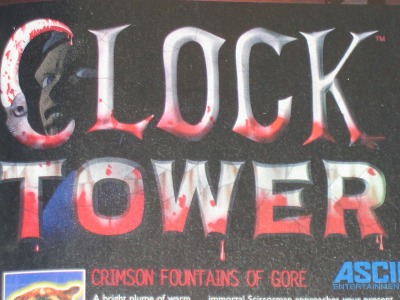 My first exposure to Clock Tower was in 1997. I'll never forget it. From the moment I read its splendid three page ad in EGM #97 (August '97), I was hooked. Seriously the best advertisement ever. I knew I had to buy the game then, and it was the only PlayStation game I ever cared enough to buy! The ad is so awesome that I am going to replicate parts of it below.
CRIMSON FOUNTAINS OF GORE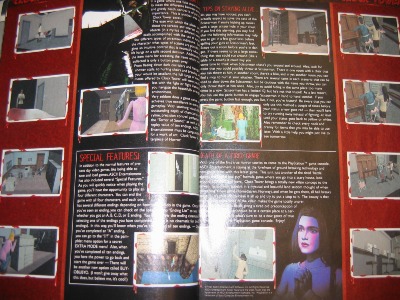 A bright plume of warm crimson rain erupted as the giant scissors rent the flesh of his next victim… this is certainly not the game for the timid or weak of stomach! From corpses at your bedroom door to half eaten bodies in the restroom, ASCII has packed Clock Tower to the belfry with some of the most gruesome and spectacular graphics of the year! Watch in horror as the limping gait of the immortal Scissorman approaches your present hiding place — only to see the bright fountain of your own blood if he happens to find you! Any horror fan will quickly recognize the brilliance of the programmer's virtuoso performance in the lighting, shadowing, angles, and sheer volume of gruesome content! Lots of animation and full 3D polygons were used to bring the bloody, murderous surroundings to life. This, in conjunction with the well detailed backgrounds and characters, will have you at the edge of your seat — praying that you make it through the night!
THE HORROR OF SILENCE
The chilling sound of the banshee's scream itself couldn't have been more dreadful than the sound of the sheering scrape of sharpened steel blades sliding past each other — not to mention the wonderful effect of pure silence in some of the most chillingly tense scenes of the game. There's something terribly dreadful in the sound of your own two feet echoing through some of the most profoundly evil halls ever wrought, and I couldn't agree more with the programmers when they spoke of the "Terror of Sound" which they labored for in this game! ASCII's purpose in the sound scheme of this game is fairly easy to understand… with sounds that aren't there when they should be, sounds in impossible places, the chilling music of the chase, and the haunting scrape of the Scissorman himself as he stalks you with inhuman determination… they want to scare you out of your skin!
Of course, the voice-overs and sound effects of the surrounding environments are a beautiful addition to the already impressive audio display. The tightly knit unison of background noise, voices, sound of movement, music and silence create a living auditory atmosphere that will draw you into the world of terror on the screen right before you.
RUN FOR YOUR LIFE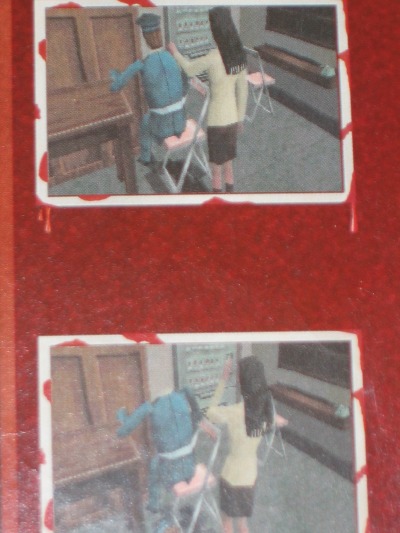 In a game where one false move could easily mean the difference between escape and grisly death, control is of paramount importance. This is another area where Clock Tower excels! From fleeing down dark corridors and hiding in shower stalls, to hurling chairs and brawling with your would be assailant, the full range of movement offered by Clock Tower will leave you breathless with the fight or flight instinct. For those who like to hide, just try to avoid hiding in the same spot too many times in a row. Scissorman has a limited IQ, but he's not that stupid!
Also remember to check every nook and cranny for items that you may be able to use later. With a little help, you might just live to see the light of tomorrow.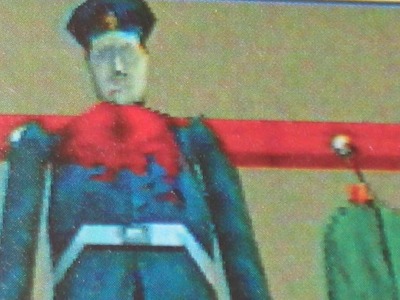 A series of brutal murders have signaled the return of one of the most terrifying killers in the history of Romsdaaren, Norway — Scissorman! Terror gripped the hearts of the mixed party of ten as they finally reached the unholy walls of the Barrow's family mansion in England. No one could have imagined the unspeakable horrors that lay behind the infamous Scissorman case when the malevolent butcherings had begun. Now, the dreadful search for the answers had culminated into a lynching party that brought them all here, to the very doorstep of Hell itself. Would they finally find the key to send this twisted soul back to the nether regions of death that had so maliciously spat him into their lives? Only time will tell…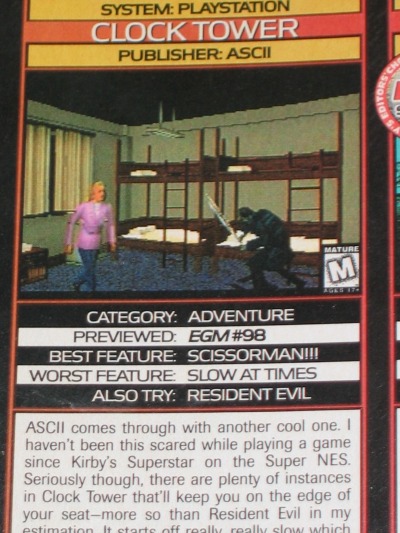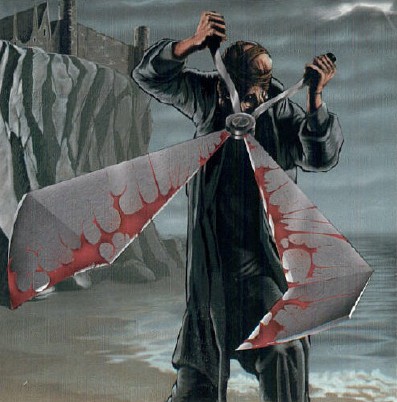 I have such great and fond memories with this game. As I said it was the only PlayStation game I ever bothered to buy. For a while there in '98 it was all that I played. I used it to scare the living daylights out of my then 10 year old cousin, David. Uncle Jimmy, the one who rented Halloween for me back in '89, used to visit us a lot back in the late '90s. David would always come to watch me play this, only to run out screaming whenever Scissorman gave chase. Ahhh, the good old days eh?

So when I found out Clock Tower originated on the SNES, I simply had to get my hands on it.
THE STORY GOES…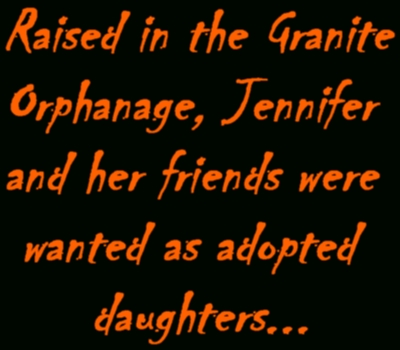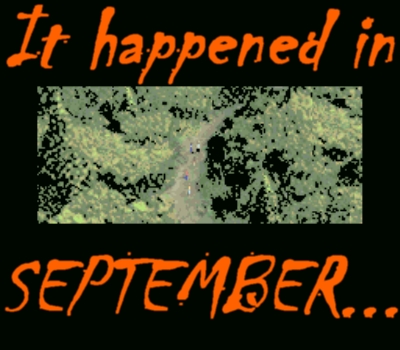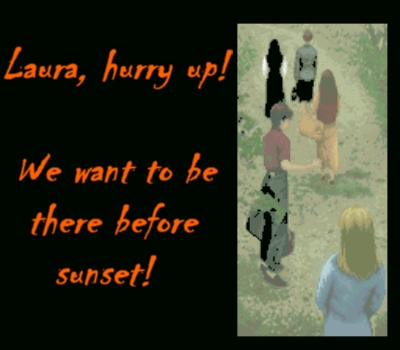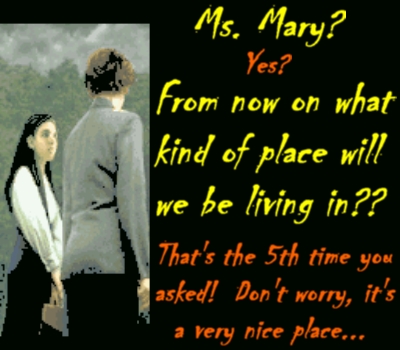 There's something about the way her finger is pointing that inexplicably gives me the heebie jeebies. Ms. Mary definitely has the low key witch vibe about her…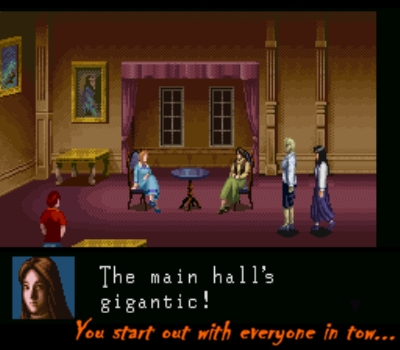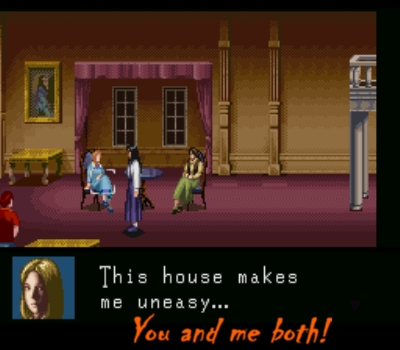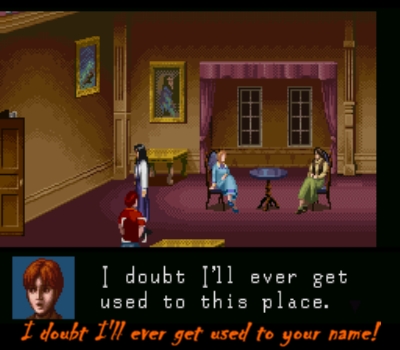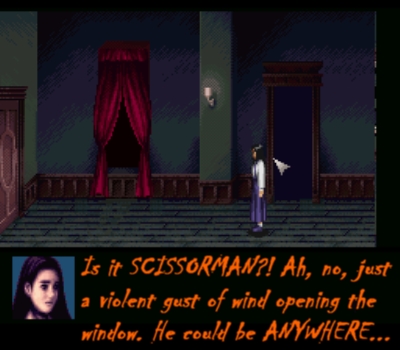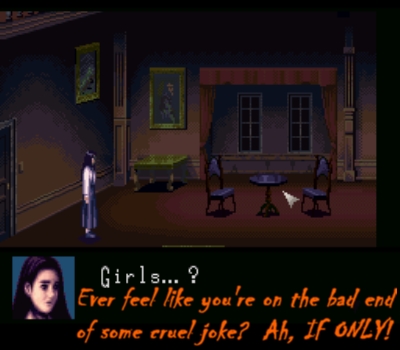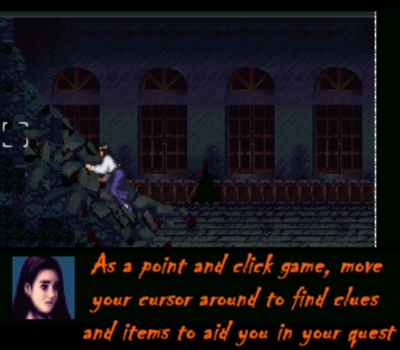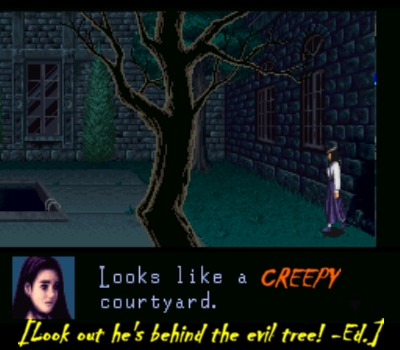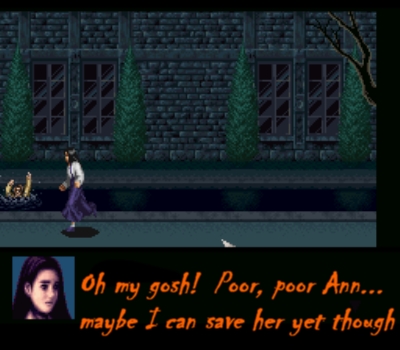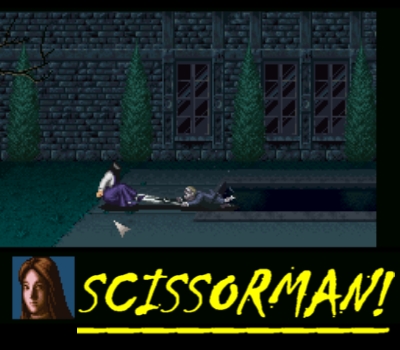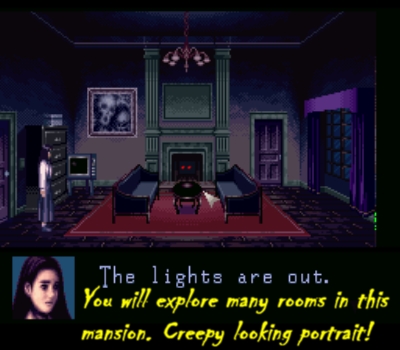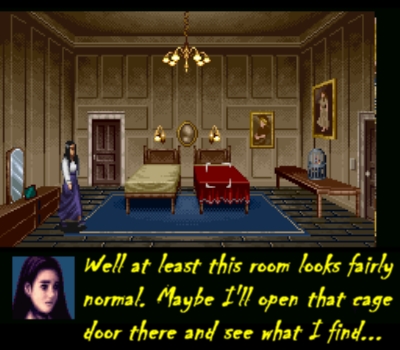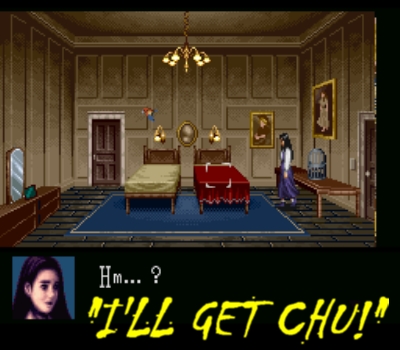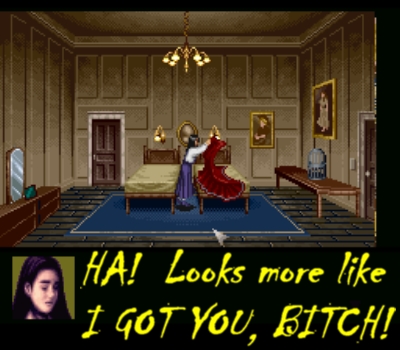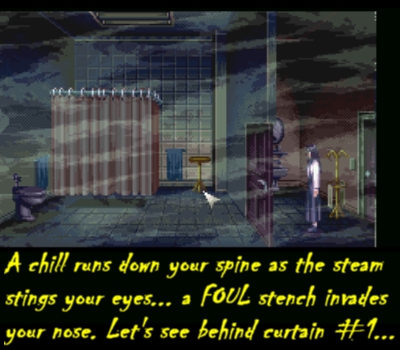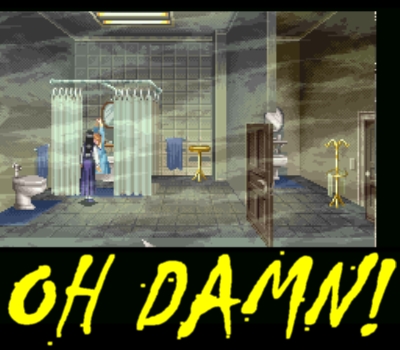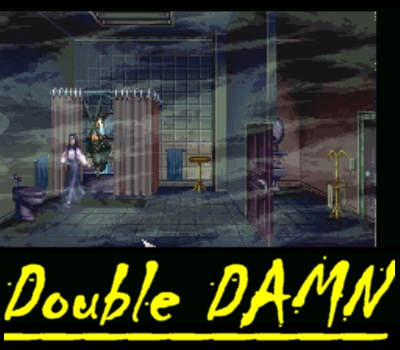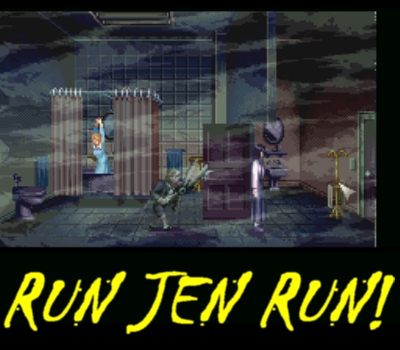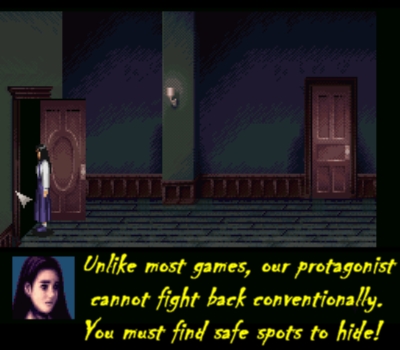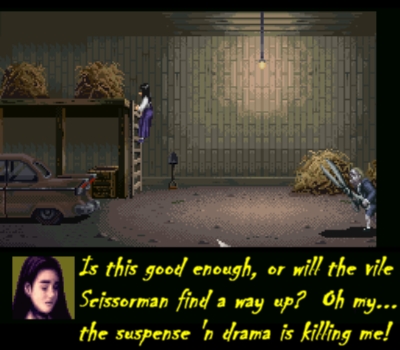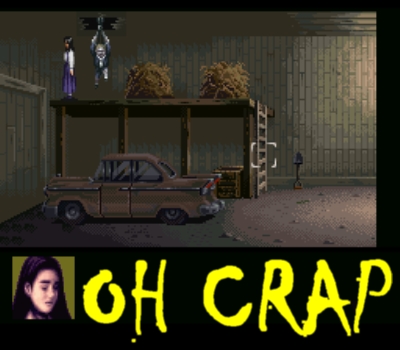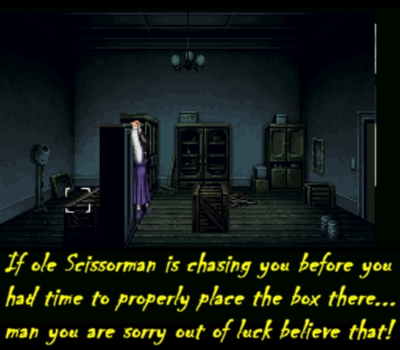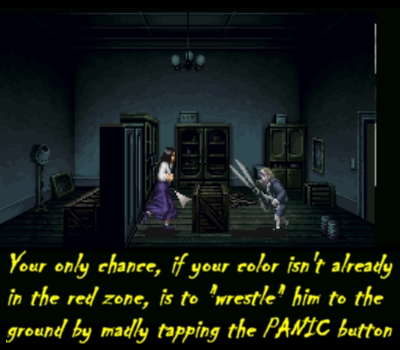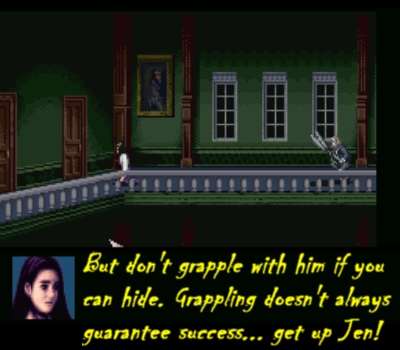 "Puzzles" in Clock Tower are quite elementary [Good thing for you! Ha! -Ed.]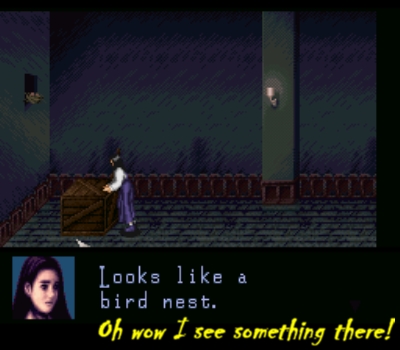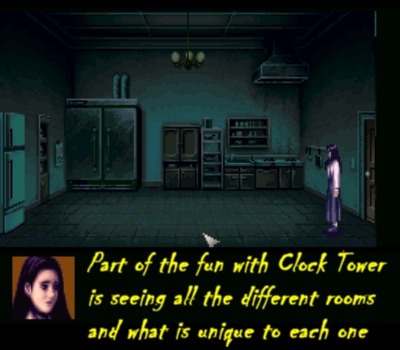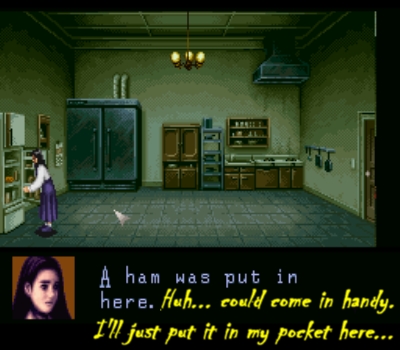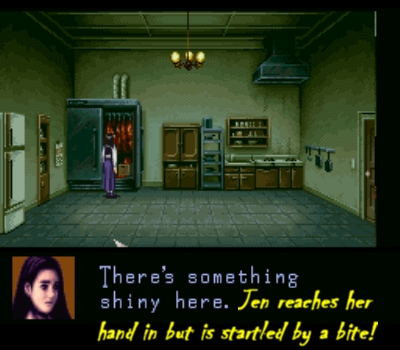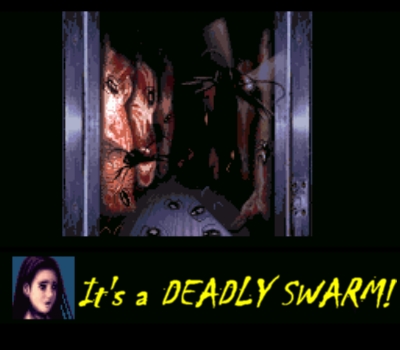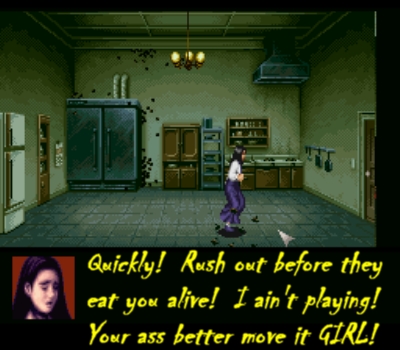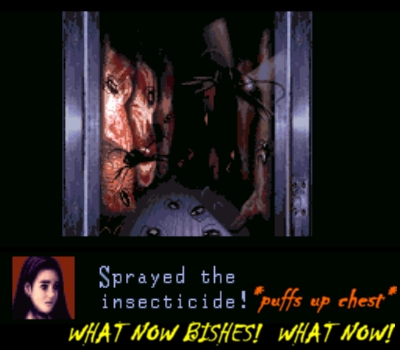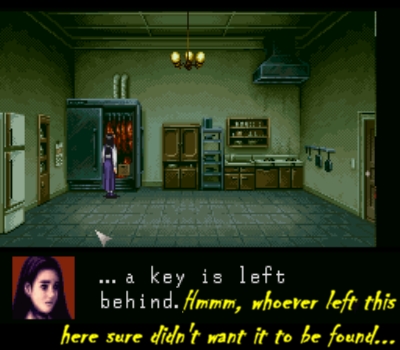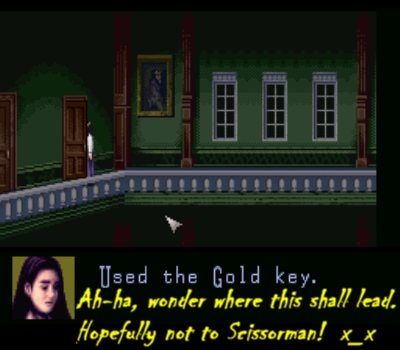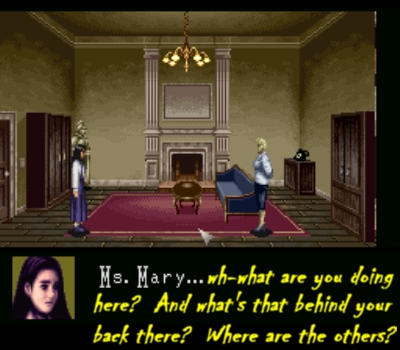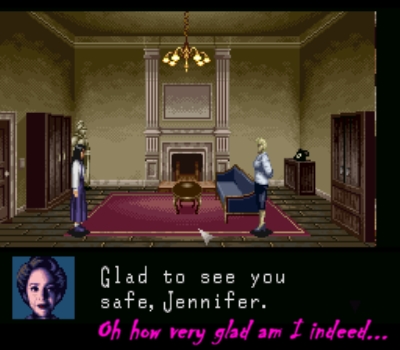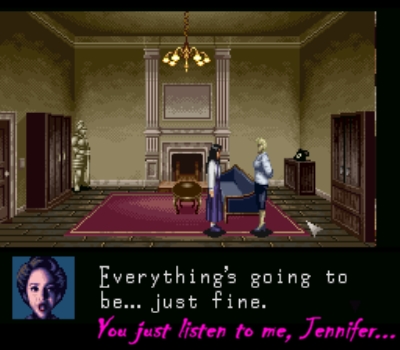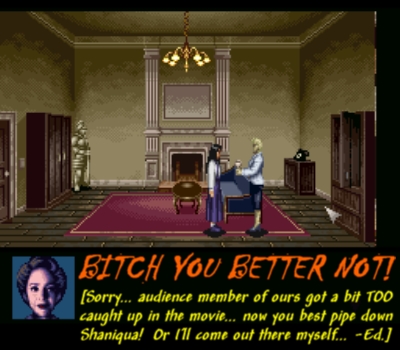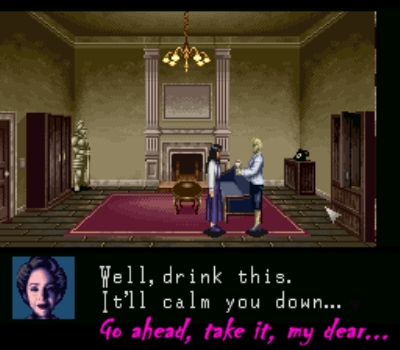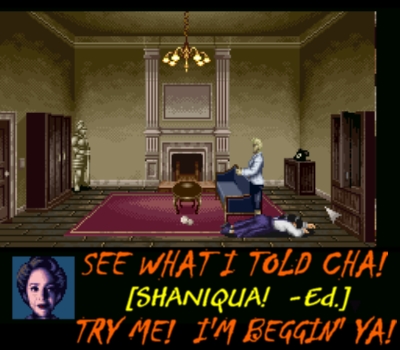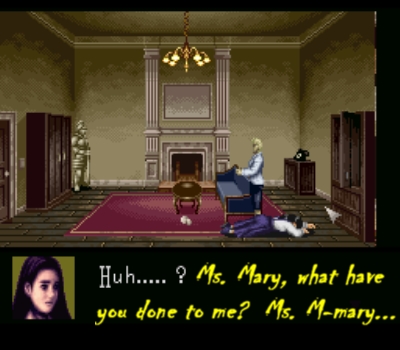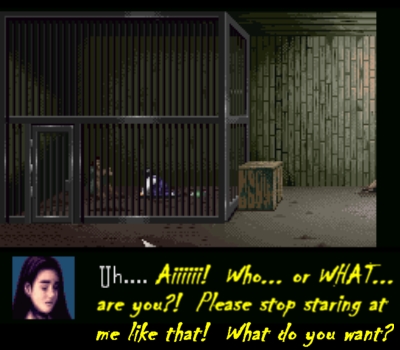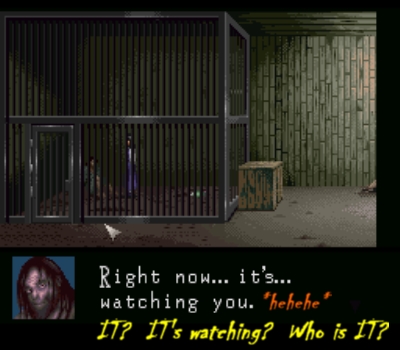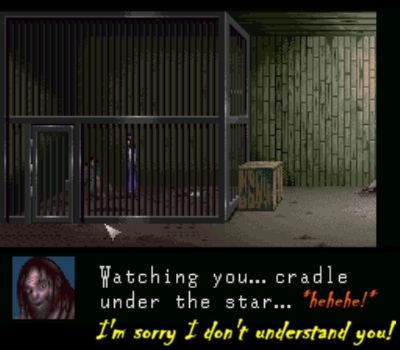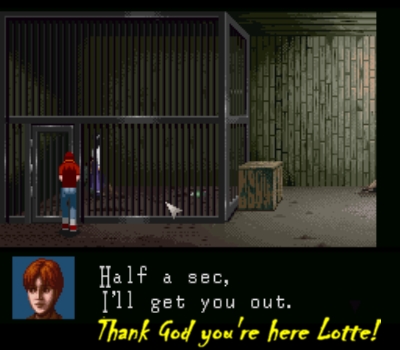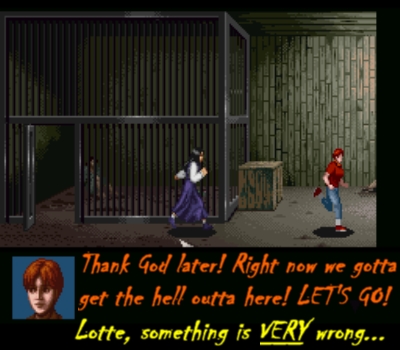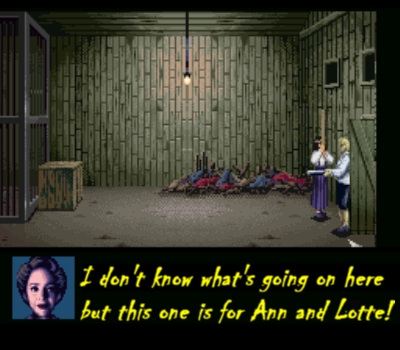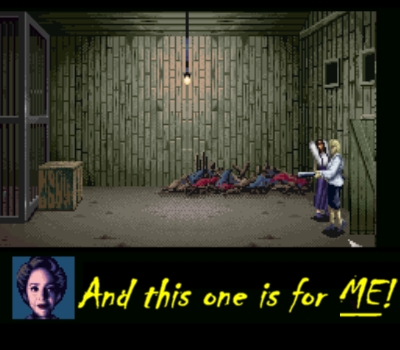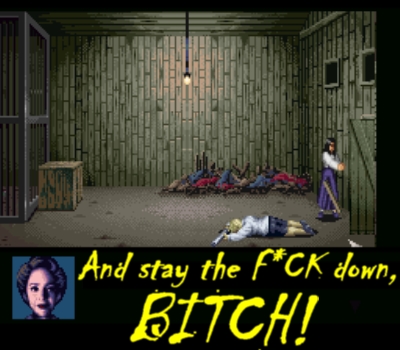 What happens next? Find out on your own! What secrets are tucked away in this mansion of unspeakable horrors? What's the deal with Scissorman? Is someone pulling the strings? Was it Ms. Mary, or something far more demonic? Will you survive the grisly night to see the light of day? CLOCK TOWER awaits! Turn off the lights, crank up the sound and say a prayer…
WORKING THAT ROOM LIKE A PRO, BABY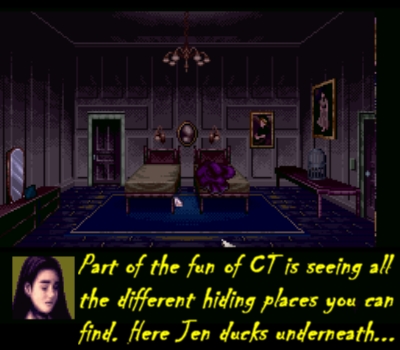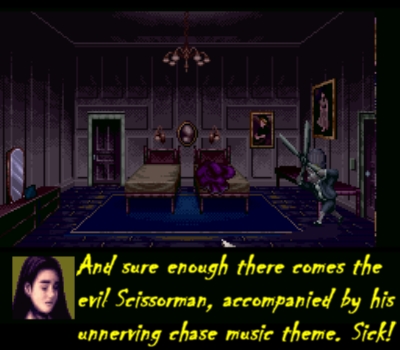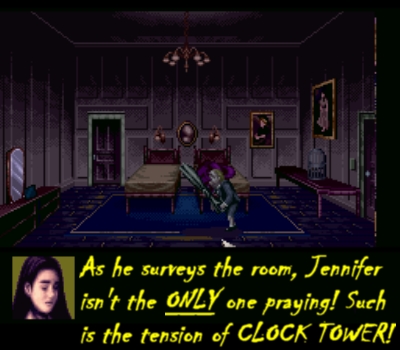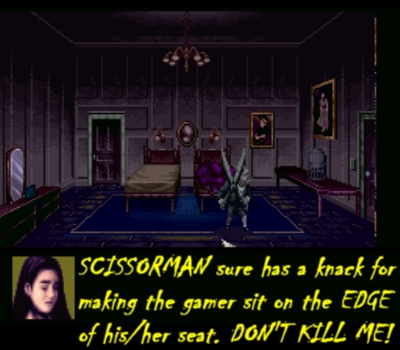 WHAT THE CRIT — FANS SAID
Normally this is where I'll put the game's scores according to the "Super Three" (EGM, GameFan and Super Play Magazine — if applicable). But with Clock Tower being a special fan translated repo, I'll cite some fan comments instead. The following haunting stories come from various gamers who have encountered Scissorman's wrath over the years…
Clock Tower creates an underlying wave of fear throughout the game's course, and there are certain scenes in the game that may act as a proverbial moon to bring in this terrifying tide. Clock Tower doesn't pull any punches, and the horrifyingly real atmosphere of the Barrows' mansion had me paranoid for at least a week! In fact, one of my friends who I first played the game with noted that the scariest part of the game was that almost everything in it can easily be connected to real life. Compounding off this, my first playthrough of the game was at a small party I held for six or seven close friends, and with the exception of one (she's oddly impervious to that sort of shock value), we were all scared out of our wits. Clock Tower is just cool that way  -Amai Yuuwaku
Gloomy and ominous, Clock Tower is a wonderful experience for any fan of interactive horror, and well worth playing through whether as a longtime fan of the series or a wide-eyed newcomer  -Tachibana Ukyo
After playing through it for only a meager half-hour, I know that I am never going back to it! I am a bit tense when it comes to Hitchcock movies, and I must say, this game has a lot of Hitchcock-esque horror elements. Clock Tower doesn't make the game scary with blood and gore, no sir. It's just the sounds and sudden happenings that cause you to psychologically snap (a lot like Hitchcock movies!)  -Alain Garamonde
Clock Tower: the story of hope, betrayal and survival. The game revolves around Jennifer and a couple of her friends who get adopted by a family. They get to the mansion in the woods in hopes of a new, happy life. All seem well, until the group gets split up. That's when they start to meet Scissorman. Instead of a happy life, what they got was a heart-pounding adventure. Their test was a test of wit and resourcefulness against the wrath of Scissorman  -xTurksx
I'm never scared by any horror video games. Never ever. So my friend bet me $20 at my birthday party that I would be scared by this game. I took that bet and I definitely lost that bet. This game is absolutely scary  -Windscar18
I didn't know what to expect when I tried this game out. I found myself in control of a teenage girl all alone in a huge mansion, so I figured I was meant to go exploring. I went walking down the nearby hall, passing a couple of doors when all of a sudden this creepy music starts playing! Just like in a horror movie! So of course, like a total imbecile, I explored the door I was in front of when it began to play. I found myself in a hazy bathroom, and looked at the various fixtures. The only thing the cursor responded to was the closed shower curtains. So again like an imbecile, I went to look. The tub was full, but the person in it was hanging from her wrists from the shower curtain's bar. Apparently it was one of the girl's friends, but I didn't have long to think about that. Suddenly this figure jumped out of the bathtub, brandishing a huge pair of scissors! It was a blue-skinned dwarfish being in a schoolboy's outfit, with a four-foot-pair of scissors. This was the beginning of my Clock Tower experience…  -The Manx
I hate this game. I can't tell you how much I do. That may be misleading, but I hate this game in a I'm-too-scared-to-turn-it-on way, not the I-don't-want-to-play way. I've played Clock Tower for PlayStation. Clock Tower for the SNES is 4 times as good. This game really messed with my mind, and it reminded me of Maniac Mansion in its control scheme, but that's a good thing. The interface is easy to control and actually fun, as you run through rooms chased by the maniacal Scissorman, trying to find a place to hide, with his shears getting louder and louder as he dogs your steps, the clicking on objects getting more frantic as you realize he's just one room behind you… and then SNAP! DEAD END!  -Nevergrace
I type this as I look out my door on Christmas Eve. He's coming. I can hear it. It's been about two whole days since I've played the game, but I am still rather leery  -Lord Flamingo
CLOSING THOUGHTS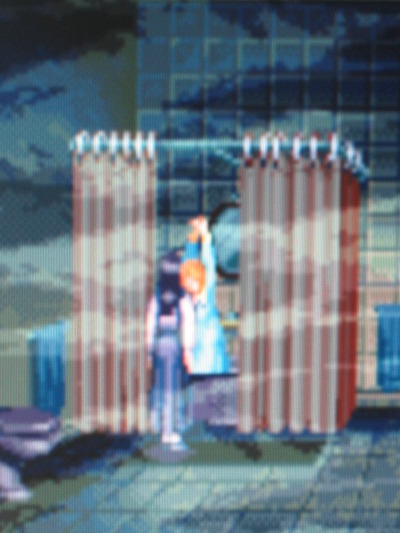 My fellow gamers above said it best. I echo many of their sentiments. Have you ever had one of those special gaming experiences you'll never forget? Perhaps it was, in addition to the game itself, the weather, the season in your own life, or the place where it happened. Christmas 2010. I was sleeping over at my parents' huge two story house, and that was the first time I went through Clock Tower from start to finish. Playing til 4:30 AM, every bloody sound that emanated from either the game or the house had me on the edge of my seat and peeking over my shoulder with much trepidation. It's been a long time since I've been a little kid, but that night Scissorman sure made me feel like one. With multiple endings, a sinister masked maniac and a simple yet compelling story, the game draws you in like few others and then spits you out leaving you feeling exasperated, a bit uneasy, and completely satisfied.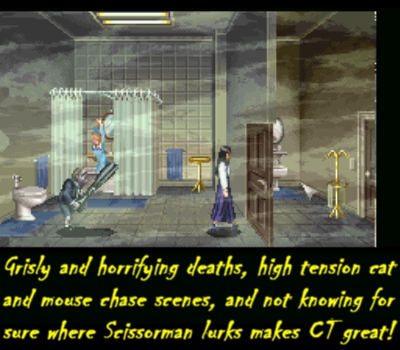 Simply put, there is no other game quite like Clock Tower on the SNES. That alone makes it noteworthy. Throw in the fact how well it was executed and what you have here is one uniquely special game. Scissorman is easily one of the most memorable villains in SNES history. He waits in the shadows and pops out at the most (in)opportune moments. Grisly and horrifying deaths, high tension cat and mouse chase scenes, and not knowing for sure where Scissorman lurks makes Clock Tower great! The graphics are well done and give the game an ominous atmosphere. The sound will raise the hair up on the back of your neck. It's not too long but the nine endings give incentive to replay. After that night at my parents', I met up with my cousin David the following day. Yes, the same one I scared with PlayStation Clock Tower more than a decade ago. I told him how I spent much of last night playing the original Clock Tower on Super Nintendo and what an awesome experience that was, with the whipping rain outside, and I swear, just the mere mention of SCISSORMAN gave poor David a horrid flashback. Heck, I don't blame him. Just saying Scissorman out loud gives me the heebie jeebies. Do what you gotta do to play this game and be sure to turn off the lights, lock your doors and pray for mercy!
Graphics: 8.5
Sound: 9
Gameplay: 8.5
Longevity: 7
Overall: 8.5

THE SCISSORWOMAN?!?!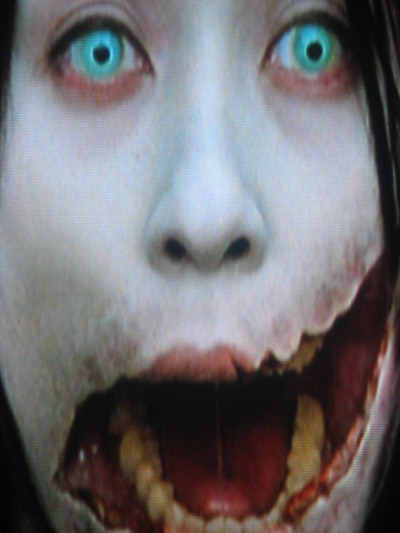 In 2007 a Japanese horror film was released based on a rumor that ran rampant throughout early 1980's Japan — the Slit (or Severed) Mouth Woman! This horrible disfigured lady apparently roamed the streets of rural Japan looking for children to answer her one simple, deadly question: "AM I PRETTY?" The wrong response was met with grave consequences. Through comic books and magazines this became a popular urban myth. It became such a hysteria that ALL students were forbidden to go home alone and groups were formed for safety. There was even an incident where a lady chasing some kids was struck by a car. Her mouth was revealed to have been slit from ear to ear! Was it the Slit Mouth Woman?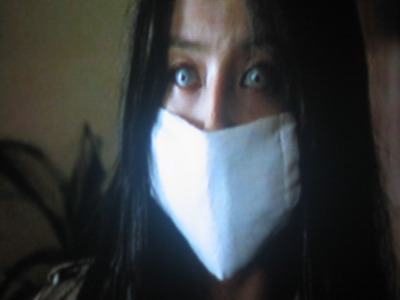 This mysterious and deranged woman wore a surgical mask to cover her scar. In addition, she wielded a giant pair of scissors similar to Scissorman. Was Clock Tower influenced in any way by the Slit Mouthed Woman urban legend of 1980's Japan? We don't know for sure, but I can tell you this, the 2007 movie is creepy as hell! I saw it with my cousins (again, poor David) and they could barely finish it! As most Japanese horror films tend to be, and much like Clock Tower the game itself, the movie is something of a slow burn. But once it gets going, shit hits the fan. Some of the scenes still haunt me to this day. Even I felt a little uneasy… there's something about the movie that makes you feel terribly unsettled…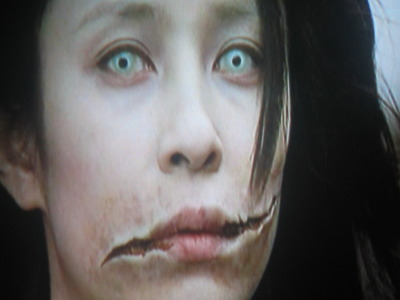 The movie is known as "Carved." There was also a sequel. It wasn't too bad for a sequel, but much like Halloween itself, the original will always be the best. I recommend this film to horror buffs. It's sick, twisted and if you happen to love Scissorman as much as I do, this is the closest we might ever get to seeing Scissorman in movie form. Who doesn't love a good old fashion ghost story urban legend? I don't know why but any movie taking place in rural Japan is automatically 50 times scarier and creepier than any American horror film. Those Japanese artists have some sick minds. Carved is a solid slasher and the fact that it's based off a real Japan urban legend "Kuchisake Onna" makes it all the more unsettling and spooky.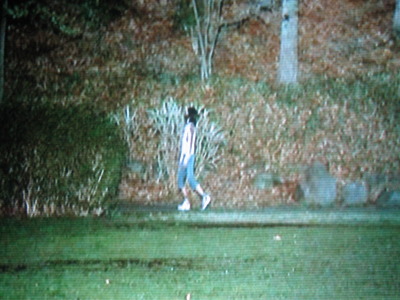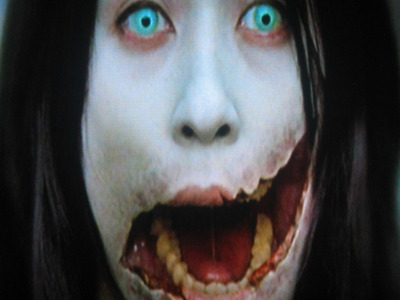 Click for more info on the Slit Mouthed Woman.
Warning: the following video is a bit creepy. Watch at your own discretion:
Sweet dreams indeed, eh?
Finally, looking for more Halloween-esque games to play on the SNES? I got you covered! Check out my SNES Halloween Special.