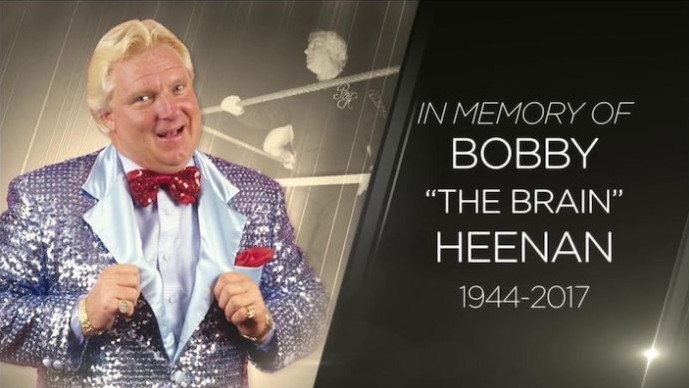 On September 17, 2017, we lost one of the truly great ones. Bobby "The Brain" Heenan. THE heel manager of the late 1980s and early 1990s, if you were a pro wrestling fan you loved to boo Bobby Heenan. He was a once in a lifetime performer. Always entertaining, Bobby knew how to make you laugh and hate him all at the same time. When he passed last September, I wanted to convert over my old review of the Shin Nippon Pro Wrestling games. That's because in that review, I used Bobby Heenan to call the action. But life got busy and it never happened.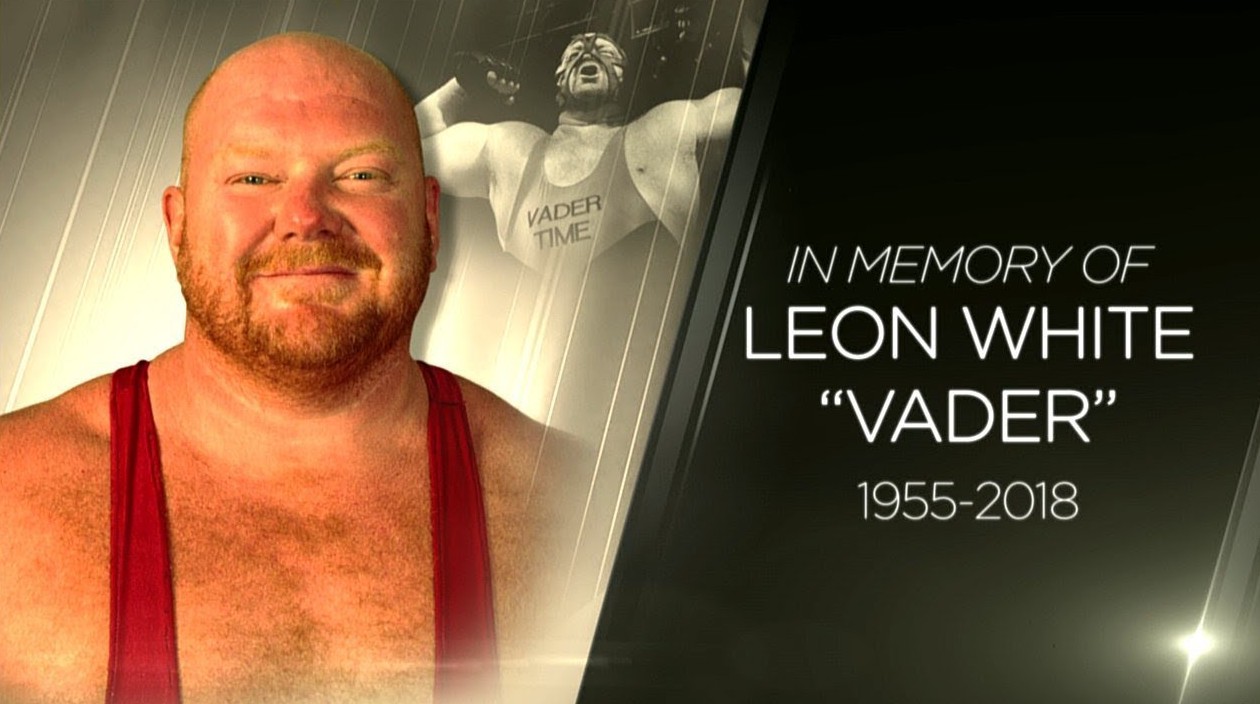 Earlier today it was announced that Big Van Vader passed away on June 18, 2018. Vader was featured in the first Shin Nippon Pro Wrestling game so it's time. It's Vader Time!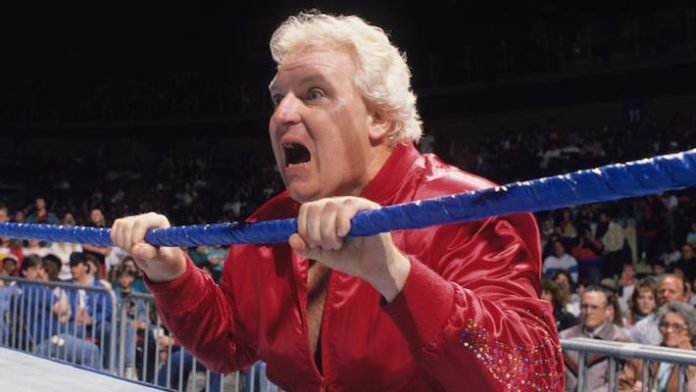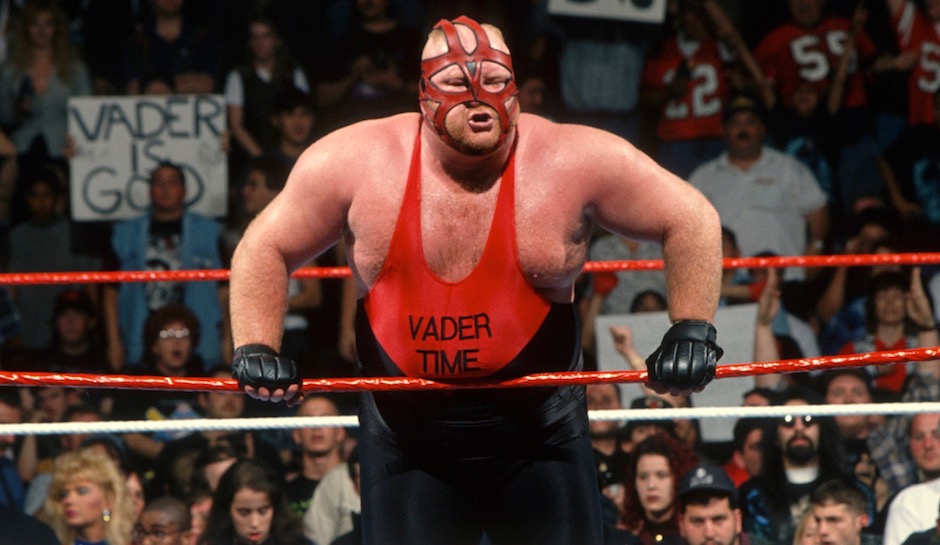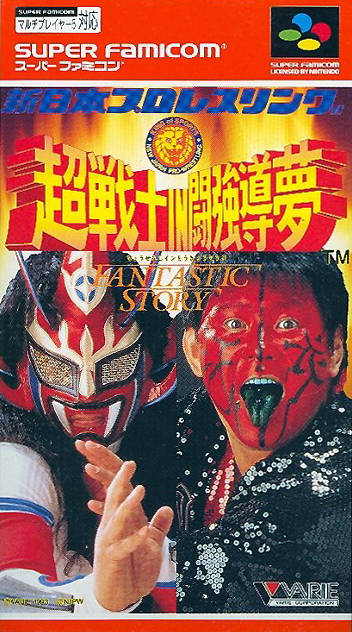 Shin Nippon Pro Wrestling is something of a sentimental purchase for me. The reason being it was the first Super Famicom game that I bought, and what started the "obscure" Super Famicom march for me. I remember it fondly. It was an early Monday morning, March 27, 2006. 4:22 AM. Yep, I was a vampire. I sniped Shin Nippon Pro Wrestling on eBay with 3 seconds to go. Crazy times. Anyway, this is the first of Varie's Super Famicom wrestling trilogy. It features impressive big sprites of famous wrestlers like LIGER and VADER (10 in all).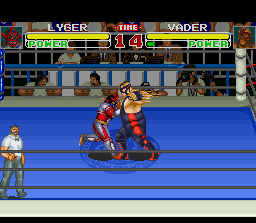 The grapple system relies on timing similar to the Fire Pro series. I was hoping it would be as good as Fire Pro. Unfortunately I think Varie spent too much time on the graphics because while they look great, the frame rate is choppy to the point where it's just not very fun to play. This game was a huge letdown for me. The graphics are awesome, sure, but it doesn't play very well. It's too bad because it had a lot of potential. In terms of visuals, it actually reminds me a bit of WWF WrestleFest. Just a shame it didn't play better.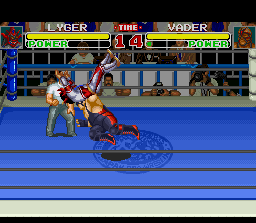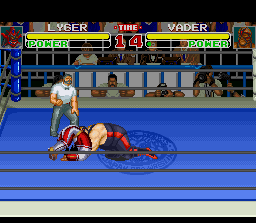 A bittersweet experience, then. My first Super Famicom purchase so I'll always remember it. But as a game itself? Not all that great. Varie followed this up with a sequel. Let's see if it's any better.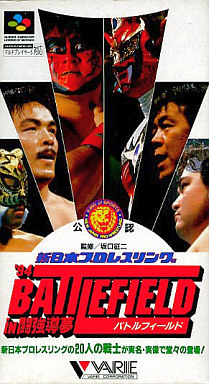 The first game, Shin Nippon Pro Wrestling: Chou Senshi in Tokyo Dome, was released on September 14, 1993. The sequel, Shin Nippon Pro Wrestling '94: Battlefield in Tokyo Dome, came out less than a year later (August 12, 1994). The sprites have been downsized and as a result the frame rate has been improved, making this sequel much more playable than its predecessor.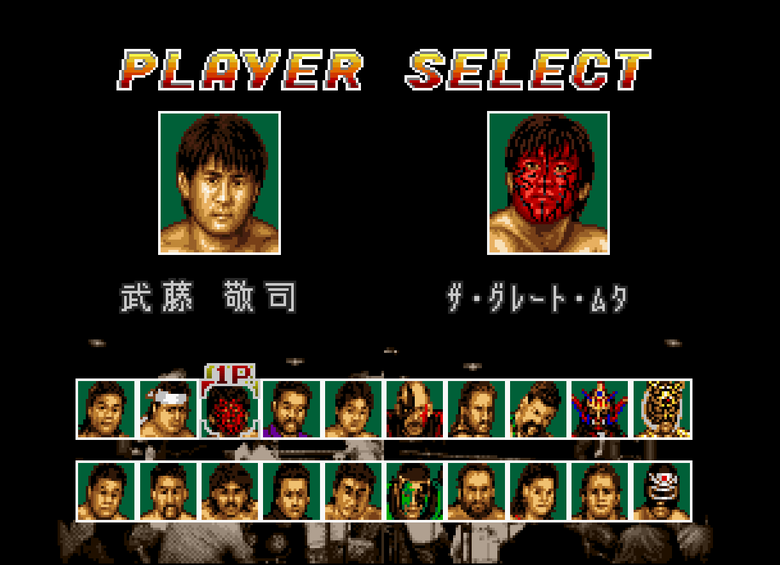 The roster doubled, going from 10 to a whopping 20 (including the Legion of Doom and yes, a very young pre-homicide Chris Benoit). Unfortunately, it still doesn't quite come together.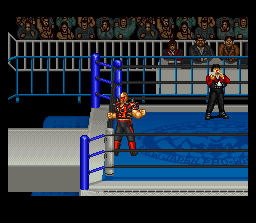 Similar to the first game, it looks pretty good but something about the gameplay is a bit off, despite the improved frame rate. It's a much better effort than the first one though, but it still doesn't match the quality of a Fire Pro.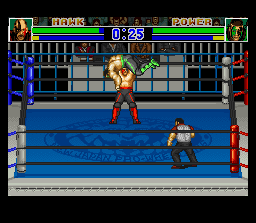 Varie would give it one last try. Might the third time be the charm?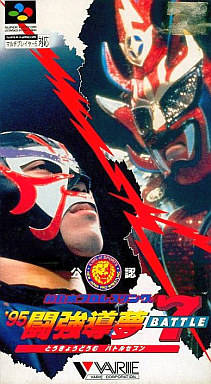 Released on June 30, 1995, Shin Nippon Pro Wrestling '95: Tokyo Dome Battle 7 is the third and final game in the Shin Nippon trilogy (not counting the female version Stardust Suplex). Did Varie finally get it right? Well, somewhat. It's easily the best of the trilogy but it still pales in comparison to Fire Pro. Some roster changes were made, though 20 remains the count. Say goodbye to the Great Muta and hello to the Great Sasuke. The frame rate is the best of the trilogy and the graphics were not sacrificed either. Weapons are introduced. But what really makes this game is the new FATAL FOUR WAY BATTLE ROYAL mode. It's good fun and slightly reminiscent of Capcom's Saturday Night Slam Masters (although that one was a Texas Tornado Bedlam rather than a true Fatal Four Way Match).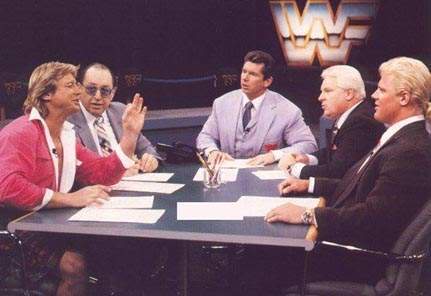 At this time, I'll hand the mic over to my two all-time favorite commentators: the late great Gorilla Monsoon and Bobby "The Brain" Heenan. They'll call the action that follows. Tonight we have a special treat for you. A blistering Fatal Four Way Battle Royal!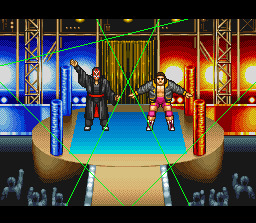 Introducing first… from PARTS UNKNOWN… he IS… THE MASKED MAULER… THE MONARCH OF THE MAT… THE MINISTER OF MENACE… THE GREAT SASUKE!!!
And introducing, from Michigan, Scott Steiner.
[The f*ck! -Scott Steiner]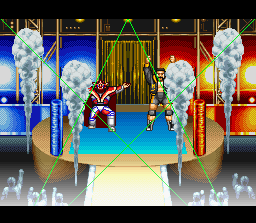 And THEIR OPPONENTS… first he hails from THE COSMOS… he IS… the SUBMISSION SPECIALIST… the SADISTIC SAVAGE… the SANGUINARY SOLDIER… JUSHIN "THUNDER" LIGER!!!
And finally, he resides from Bay City, Michigan… Rick Steiner.
[HEY! What gives? -Rick Steiner]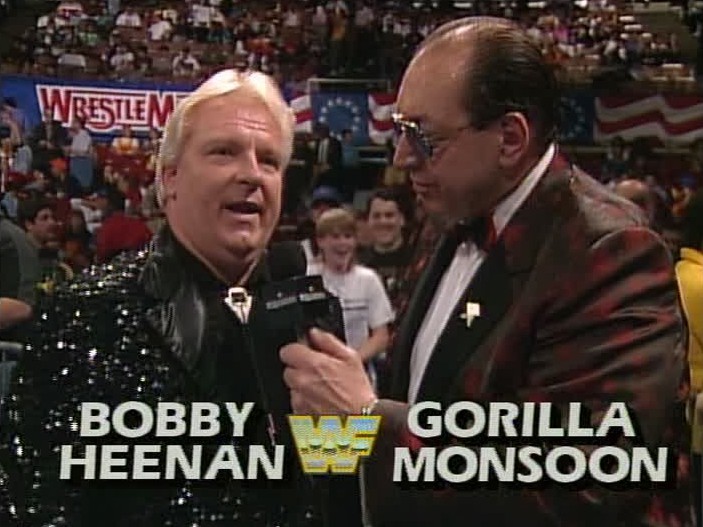 Bobby: You know Monsoon, the Steiners are brothers.
Gorilla: Give me a break!
Bobby: I hate all four of these guys. I hope they all cripple each other.
Gorilla: Will you stop! How do you sleep at night?
Bobby: Oh, on my side, usually…
Gorilla: You need professional help.
Bobby: What?! Just answering your question! Sometimes I sleep on my stomach though…
Gorilla: WHAT A PIECE OF WORK YOU ARE!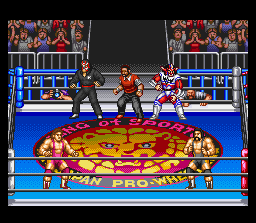 Gorilla: [ignoring the Brain] Ladies and gentlemen, history will be made here tonight. Capacity crowd, jam packed to the rafters, the electricity is so thick you can cut it with a knife.
Bobby: I have to give the edge here to Liger, much as I can't stand his guts, Monsoon. He's the quickest.
Gorilla: Rick Steiner might be at a distinct disadvantage here because he's the most lethargic of the four.
Bobby: And he's slow too!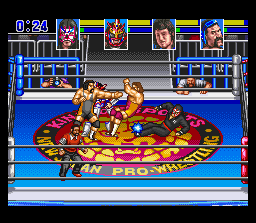 Gorilla: WHAT A PEARL HARBOR JOB!
Bobby: I told you Monsoon! Sasuke was my guy all along!
Gorilla: Will you be serious? The guys with the white coat and the net are going to be looking for you.
Bobby: I rather not see your family again.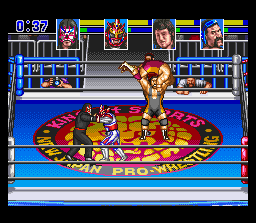 Gorilla: The irresistible force meeting the immovable object.
Bobby: So much for that theory.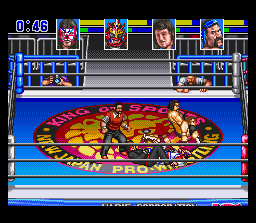 Gorilla: Sasuke is really stretching out those lateral collateral ligaments in the knee.
Bobby: IN ENGLISH PLEASE!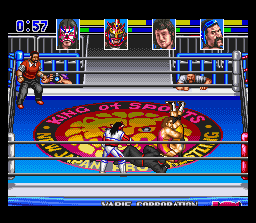 Gorilla: Ouch! That's excedrin headache number 2,182. Makes me glad I retired.
Bobby: [Mocking Gorilla] There's one to the cervial dervial part of the neck!
Gorilla: Oh will you stop!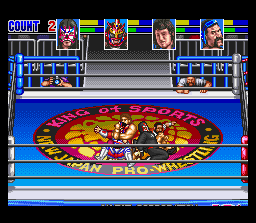 Gorilla: Sasuke just pinned and eliminated Rick Steiner! We now have a triple threat match! It's pandemonium!
Bobby: I told you Monsoon, he was just too slow for this type of match.
Gorilla: [Mockingly] And lethargic too, right?
Bobby: Yeah, that too.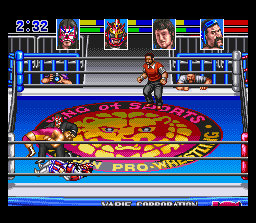 Gorilla: Good night nurse!
Bobby: Not if she spent it with you!
Gorilla: Grow up, Brain.
Bobby: Hey Monsoon, you know why the Great Sasuke wears a mask?
Gorilla: No, why?
Bobby: Have you looked in the mirror lately?
Gorilla: Will you please!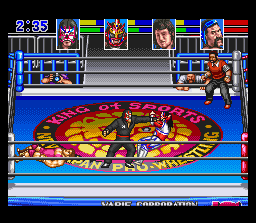 Gorilla: Sasuke has taken over the match! The arena is deafening!
Bobby: Get that Benjamin ready for me, Monsoon!
Gorilla: Will you stop! What kind of broadcast journalist are you?
Bobby: The kind that takes cash only!
 CLOSING THOUGHTS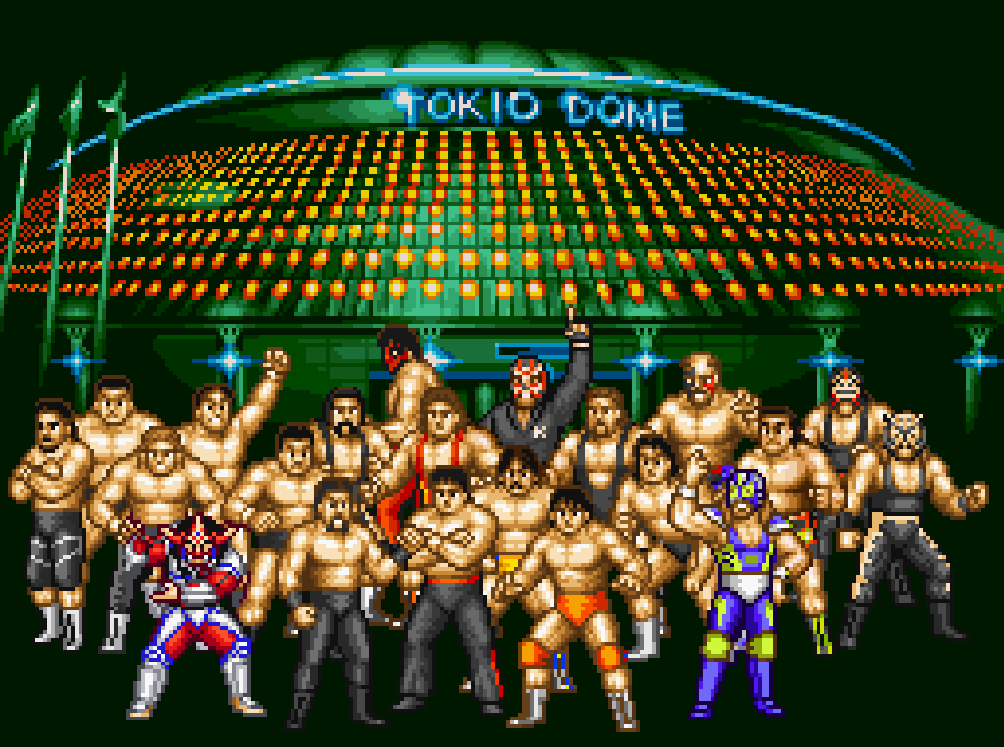 Tokyo Dome Battle 7 isn't a shabby wrestling game, but it's not as good as the Fire Pro or Zen Nippon Pro Wrestling titles. But to Varie's credit, Tokyo Dome Battle 7 is the most refined of the trilogy. The added Battle Royal mode is chaotic and a good amount of fun. If you're a diehard wrestling fan and you have to have one from this Varie trilogy, make it Tokyo Dome Battle 7. It pretty much renders the two previous entries useless unless you're a collector or the type who enjoys seeing the 'evolution' of a series.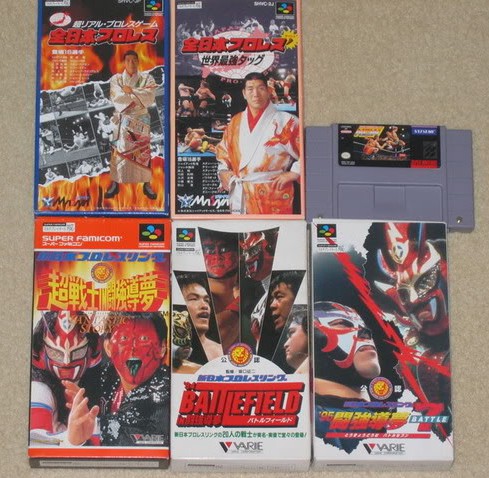 It's pretty obvious why all these games stayed in Japan, although Natsume Championship Wrestling (a variation of the Zen Nippon Pro Wrestling games) did make its way to North America in the summer of 1994.
Pouring one out for all these guys and gals plus all the others we've lost in the past couple years since this great music video was released. Thanks for the memories, y'all.