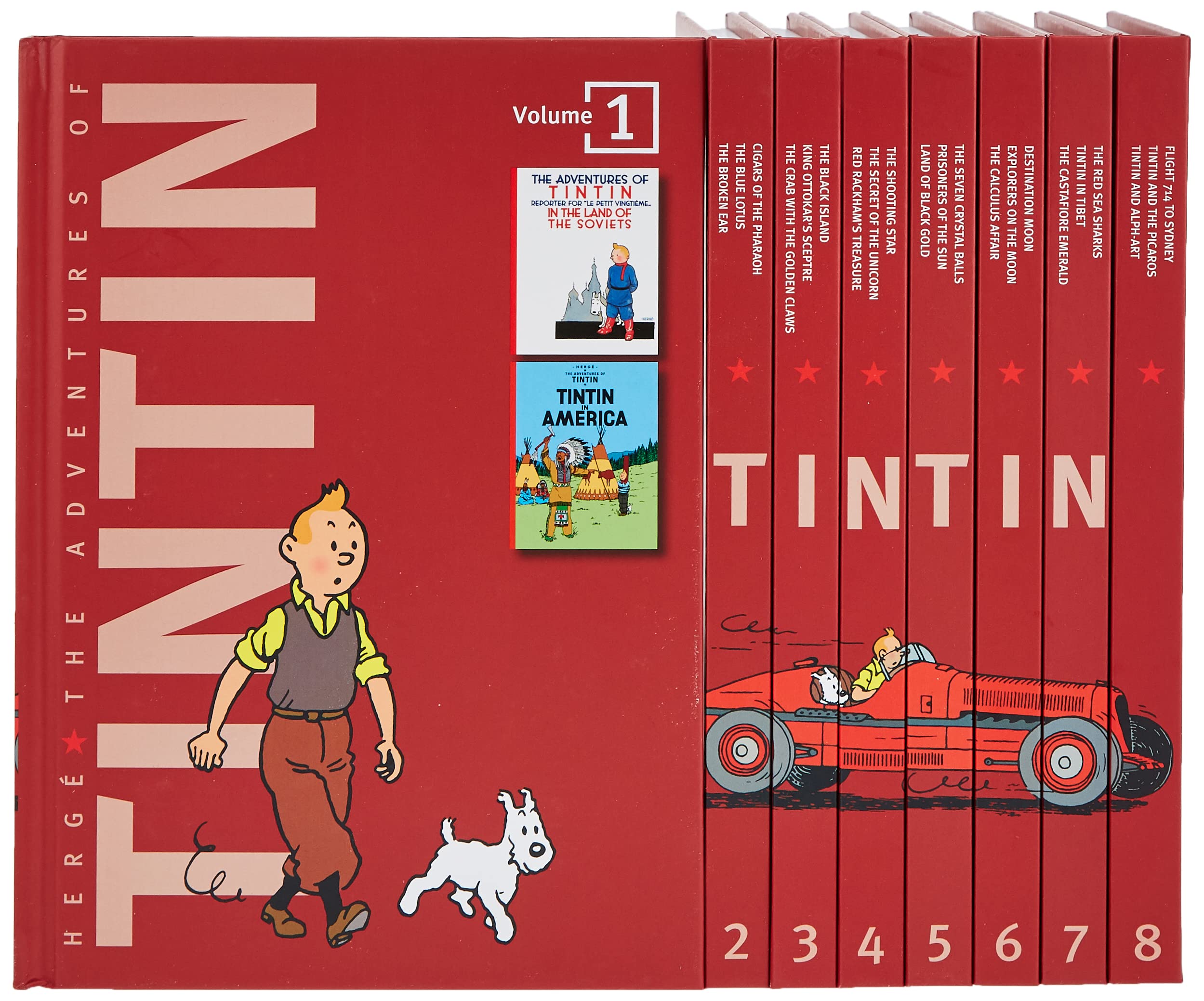 Apologies for the lack of updates — this is RVGFanatic's first update in a little over 2 months. In late May, my wife gave birth to our first child! So as you can imagine, we've been pretty busy with Owen. It's amazing to be a father after 38 years on this earth. We're enjoying our time off work to take care of our little one. During my downtime, I'm still reading and visiting the odd book store here and there. Last week, at Half Price Books, I came across a set of comic books known as The Adventures of Tintin. Now I didn't grow up reading comics much, and I knew of Tintin but never read one. However, I know they're one of the most beloved and nostalgic comics for people the world over, especially for those who grew up outside the US, where this series was mega popular and adored.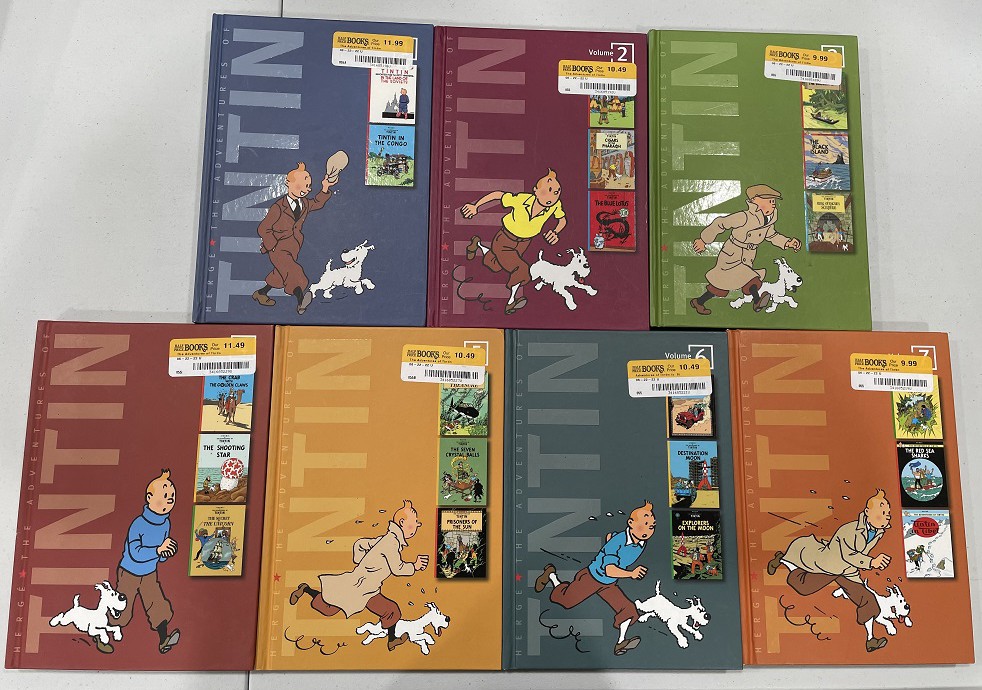 Unfortunately, whoever sold this set to Half Price did not have the 8th and final volume. That one in particular is a lot harder to find, and much more expensive. But I was lucky enough to find this lovely compact hardcover set for such a great deal. One of my favorite reasons visiting a used book store is you never know when you might be at the right place at the right time. Sometimes you walk away with an amazing haul of treasured goodies!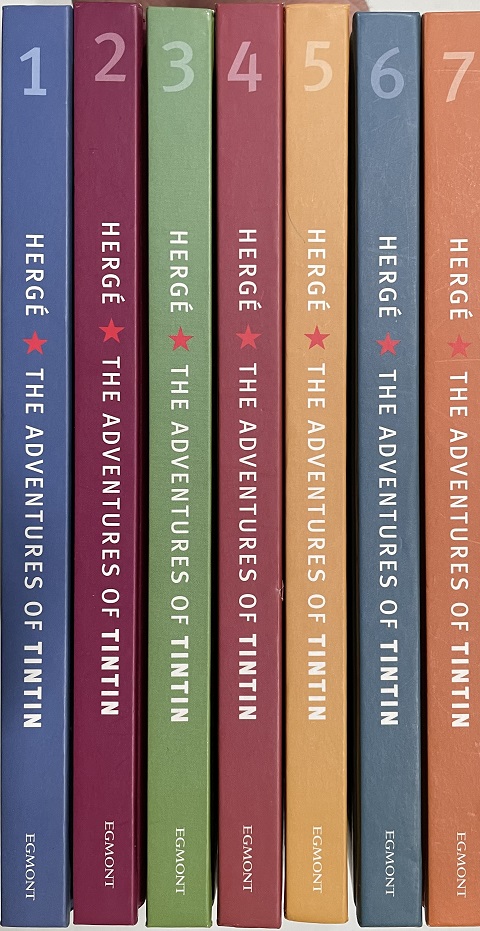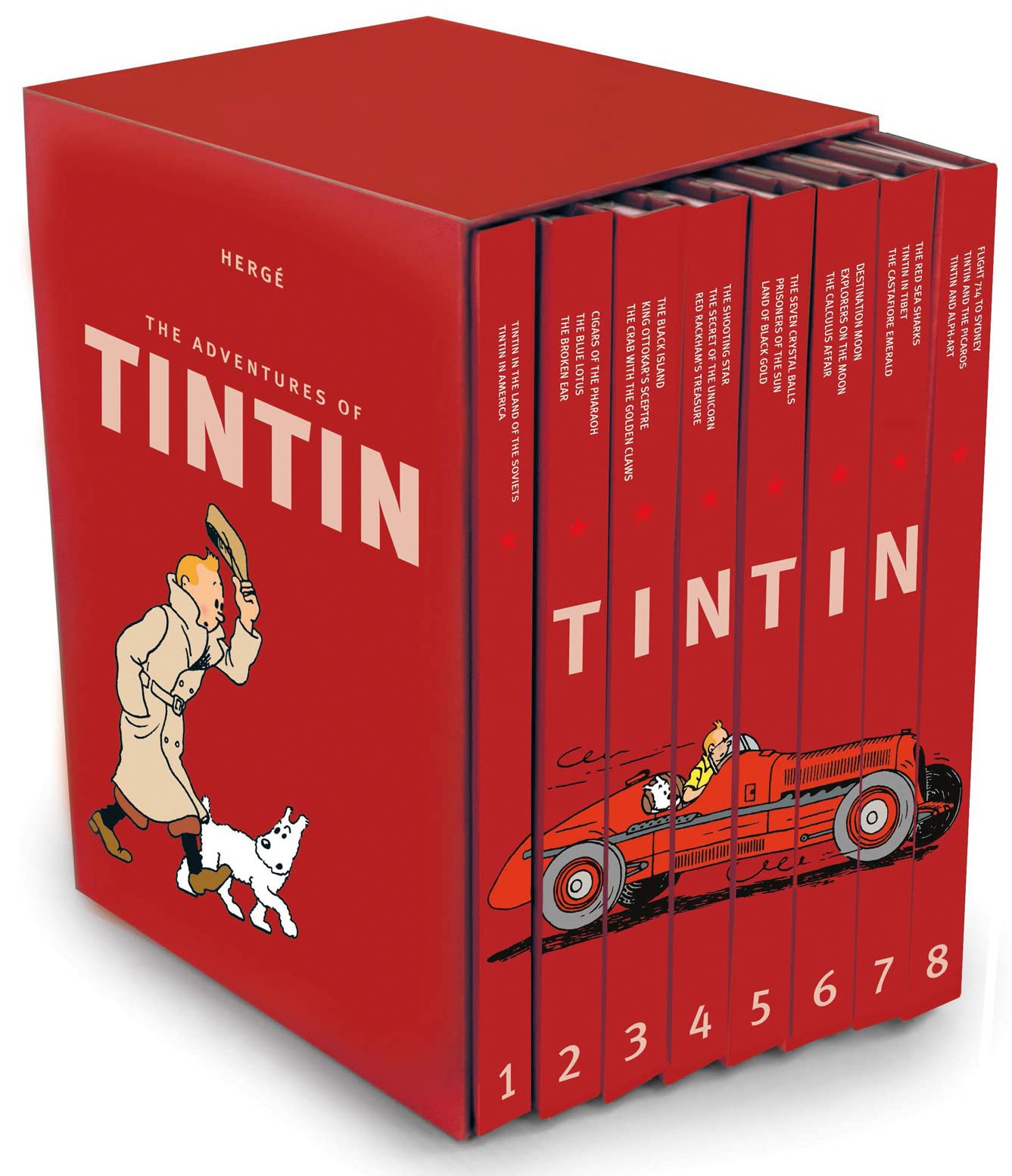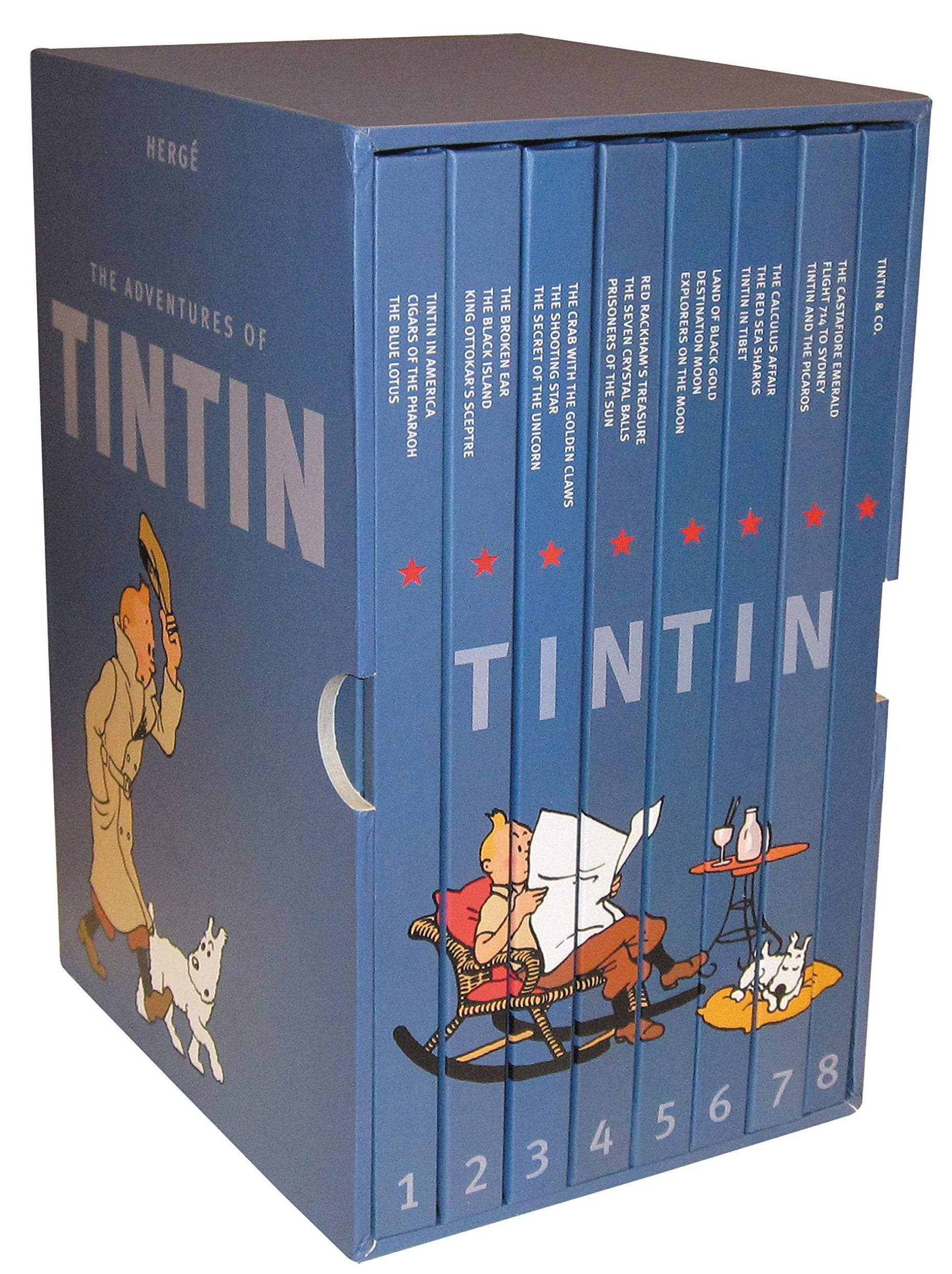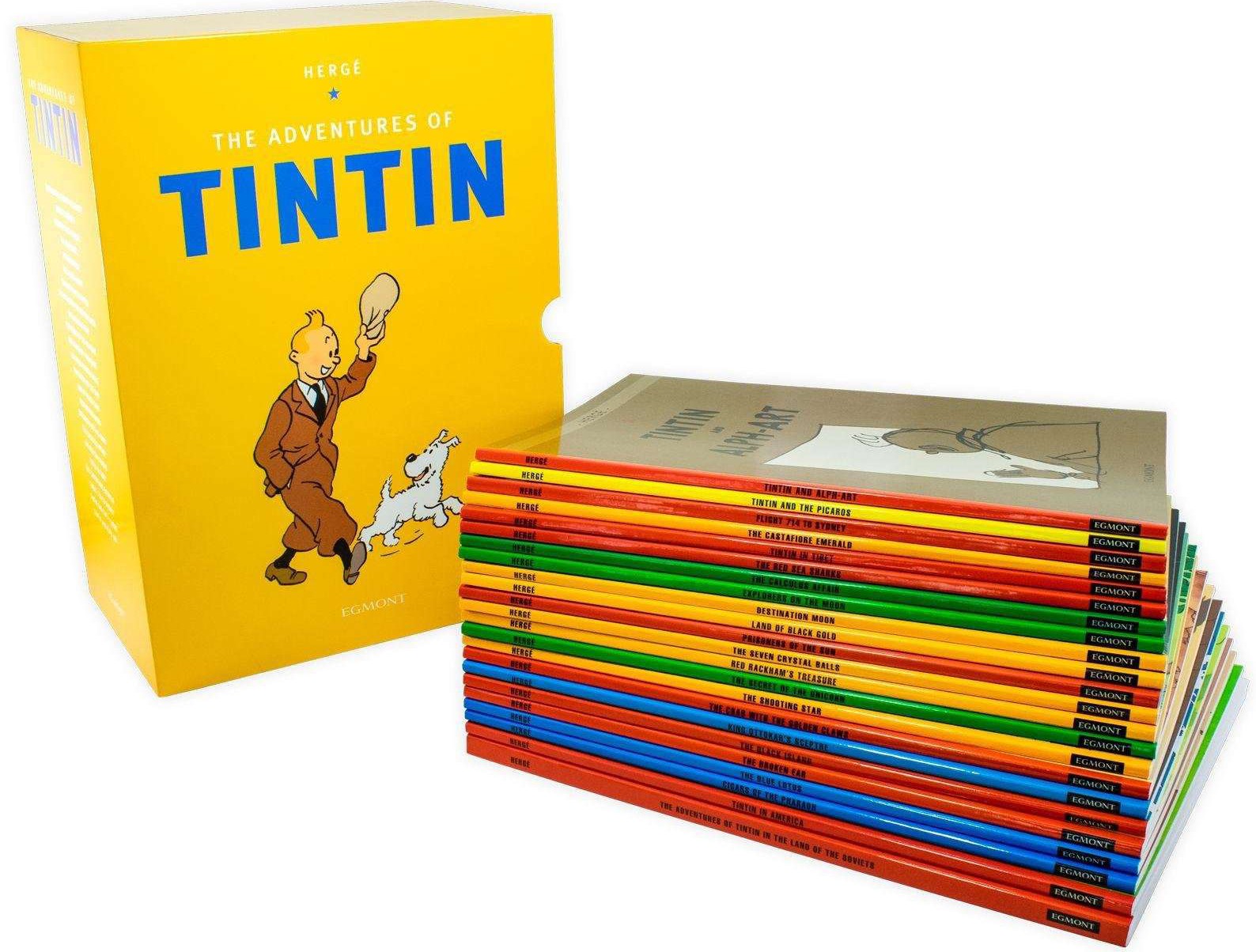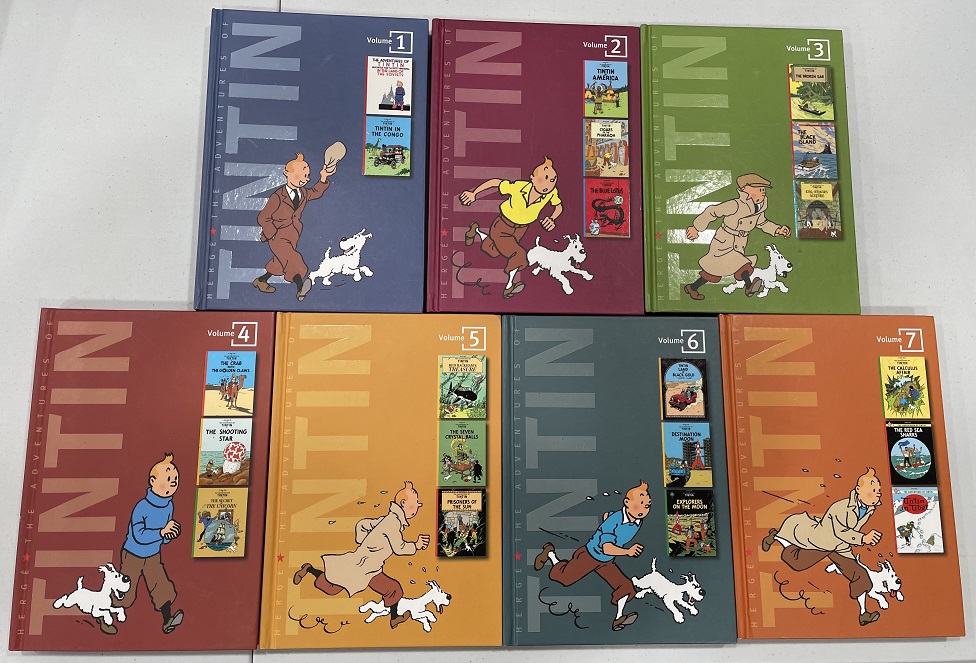 According to the stickers, this set came in a week earlier. I almost walked out of the store and missed it too! But I decided to glance at the beginning of the graphic novel and comic section and lo and behold, there she was. Flipping through some of the pages, I was filled with an overwhelming sense of awe and nostalgia, even though, as stated previously, I had no childhood connection to these books really. It's just something about the fantastic art style that harkens one back automatically to childhood and simpler times. A time in your life when your most pressing task was to make your bed and do your homework. This article is not a review of the series but rather an overview. I haven't read any of the books yet, but I look forward to doing so in the years to come. And I can't wait to read them to my son!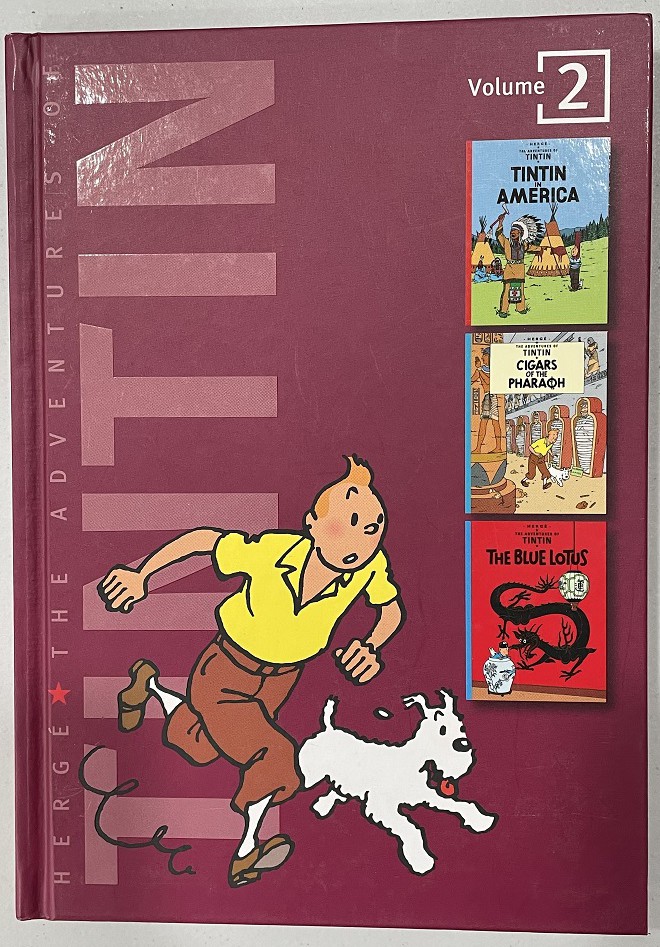 This particular hardback edition contains mostly 3 stories in 1, with the two exceptions being volumes 1 and 8. The first volume contains 2 stories while volume 8 contains 4 3.5 stories — the last 3 Tintin adventures number 21-23 and the 24th story which was never finished but released posthumously. The original paperback covers are shown to the side of each front cover.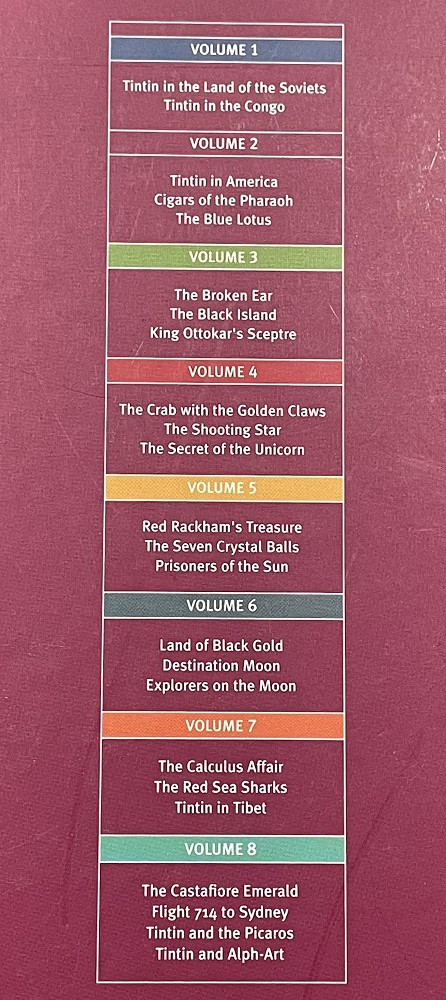 The back of each book is simplistic with an overview of each title contained within each volume. Nothing fancy, but it works.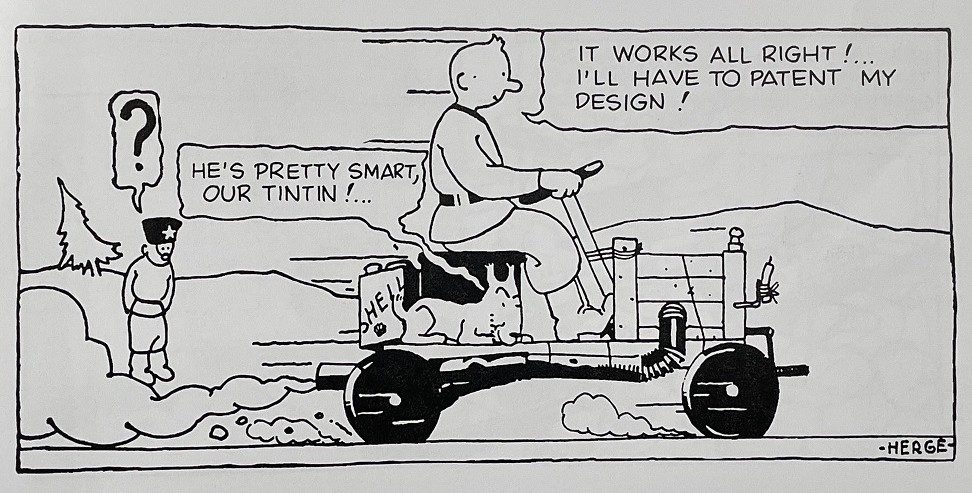 The Adventures of Tintin was first published in 1929 by the artist Hergé, whose real name was Georges Prosper Remi. He was born on May 22, 1907. That's crazy because my son Owen was born exactly 115 years later! Hergé's first story, Tintin in the Land of Soviets, was published in black and white.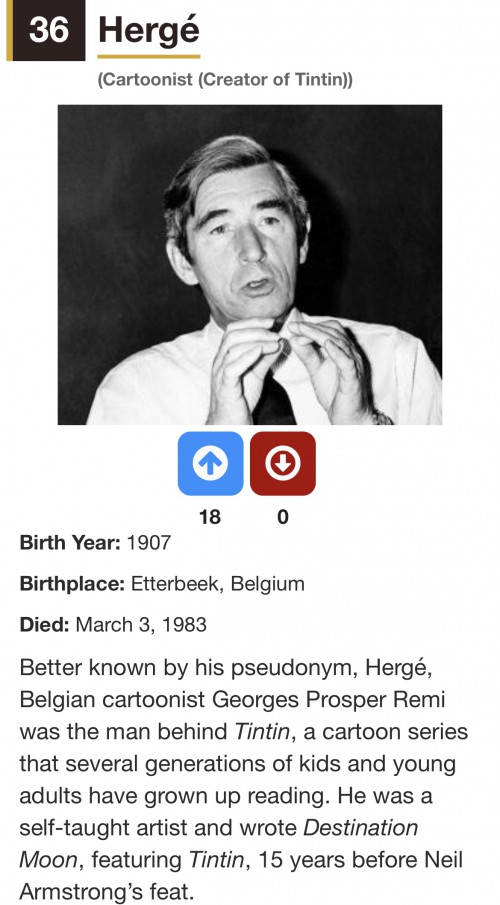 My man is pretty far down the list of famous people born on May 22, so I had to do my part and give him an upvote.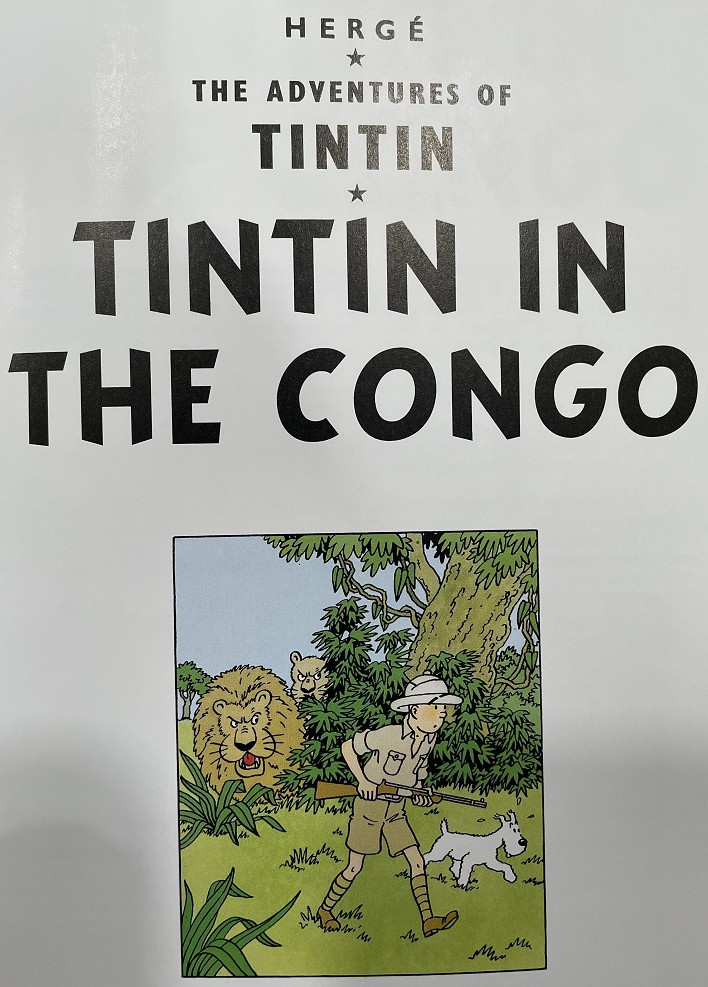 His second story, Tintin in the Congo, carries a bit of controversy. The African natives were depicted in a way that can be offensive to some. It's often stated that similar to other artists of long ago, he was portraying them in a way that was "according to the time period." As a result of such outdated depictions, Tintin in the Congo is often excluded from his various collection box sets. This set, however, includes it.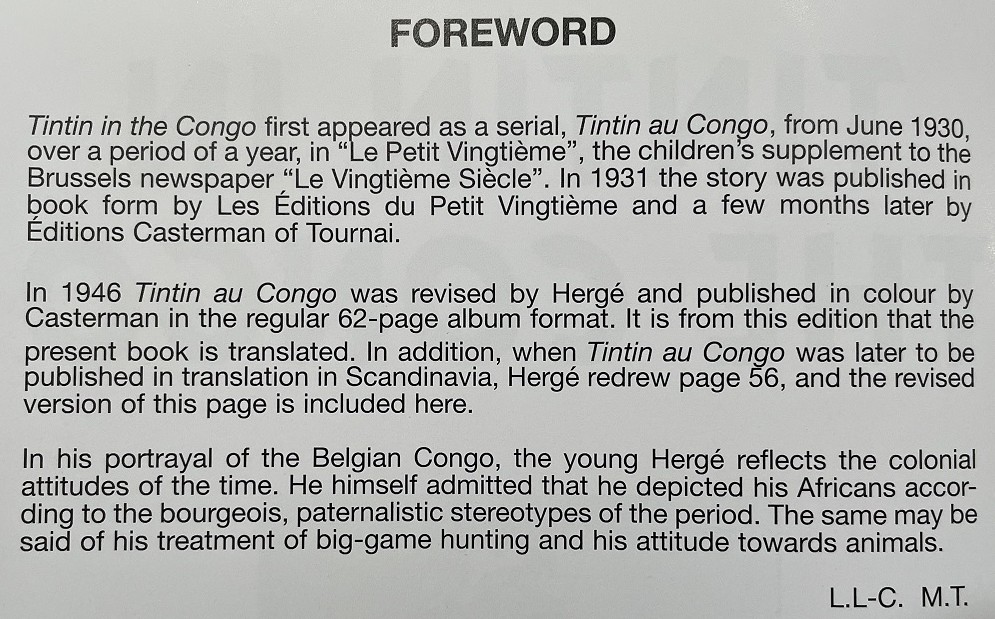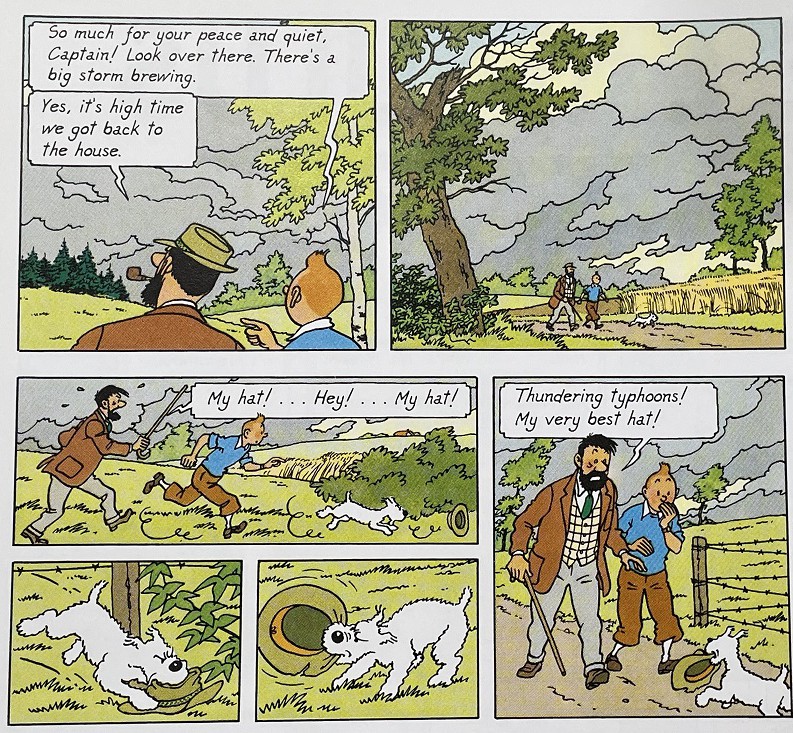 Many people often agree that Hergé's first two works are his weakest ones. The later entries supposedly get drastically better. Here's a fun little scene between Tintin and one of the recurring allies, Captain Haddock. Thundering typhoons indeed! Love this page. Makes you just want to curl up under a warm blanket and lose yourself in Tintin's madcap world for an hour or two.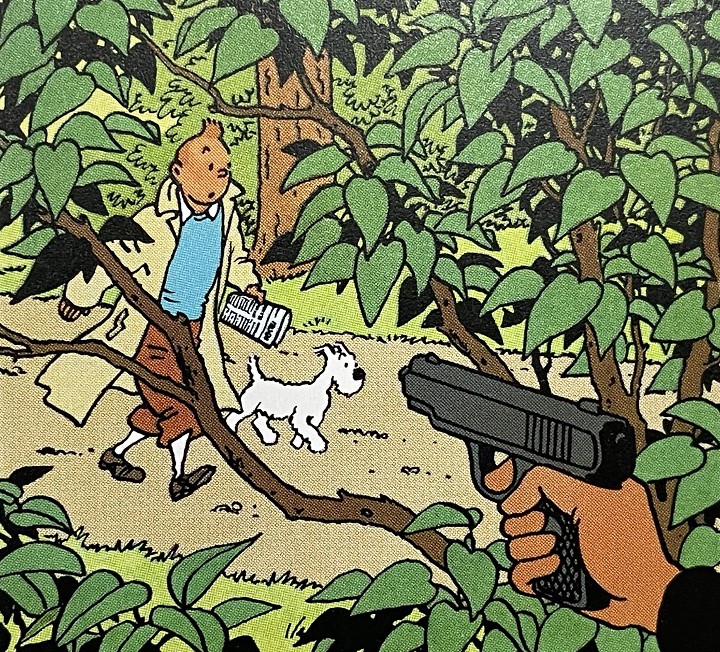 The Adventures of Tintin involves a little bit of everything: action, humor, mystery and even the slightest hint of the supernatural. Tintin is an upstanding character that appeals to many kids and even (young) adults.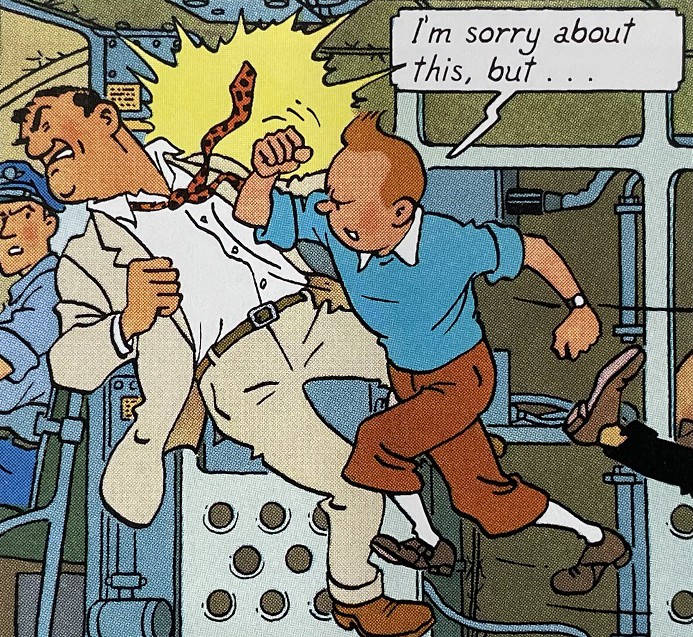 My son is gonna love this stuff. Wish I read it as a kid; I would have ate it up.

Hergé's art never fails to impress. His style has long since been imitated (but never quite duplicated).

Tintin's adventures take him all over the world. The various locales presented in each unique story ensure that readers will take delight in embarking on a special voyage to many magical lands.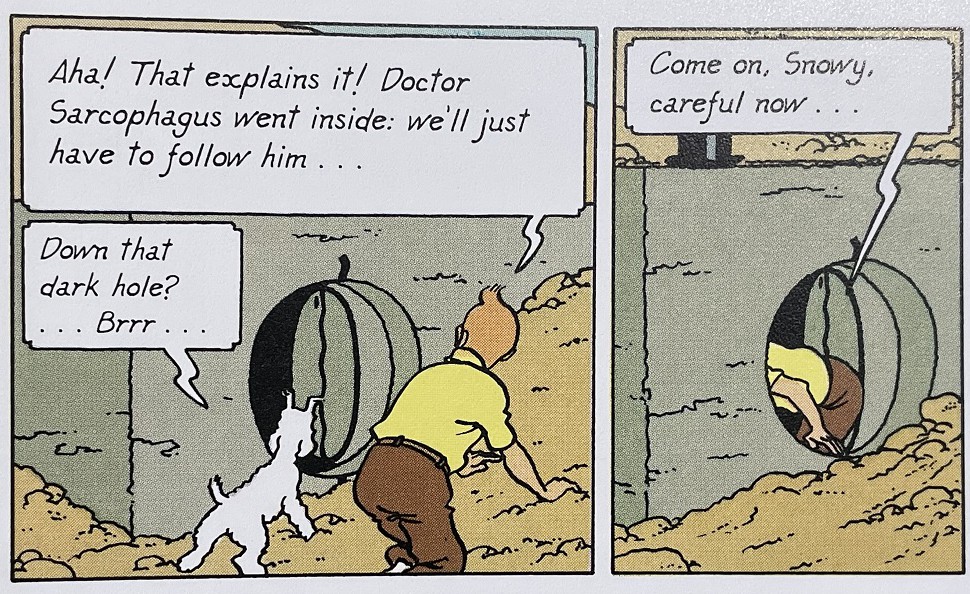 There are a plethora of intriguing panels within each of the 23 stories. So many moments full of wonder, imagination, mystery, excitement and peril. It's no wonder that these tales are cherished the world over.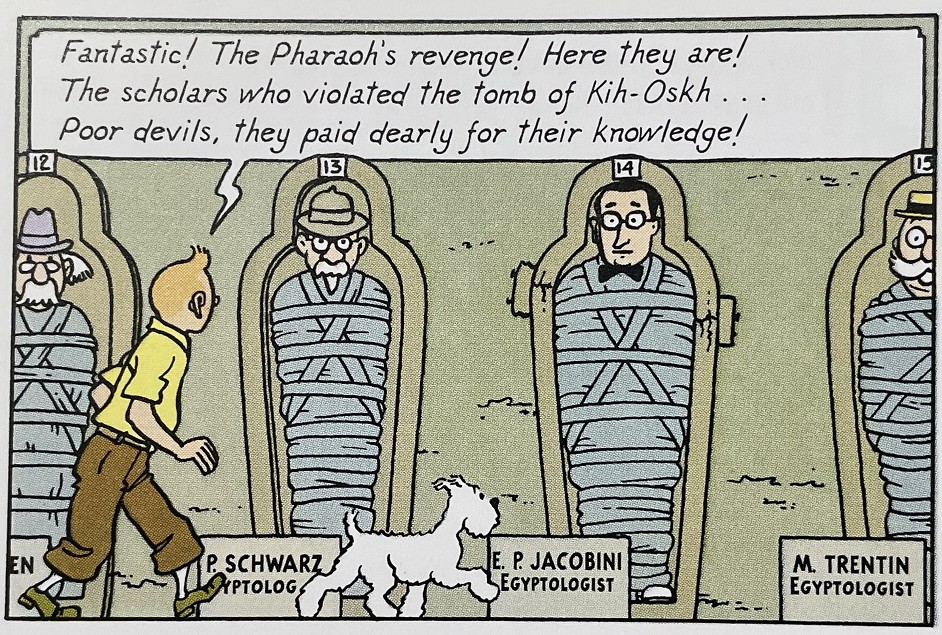 Tintin is a young reporter who spans the globe thwarting bad guys and righting various wrongs the best he can. The stories sometimes even have a slight historical slant, which only adds to the overall package.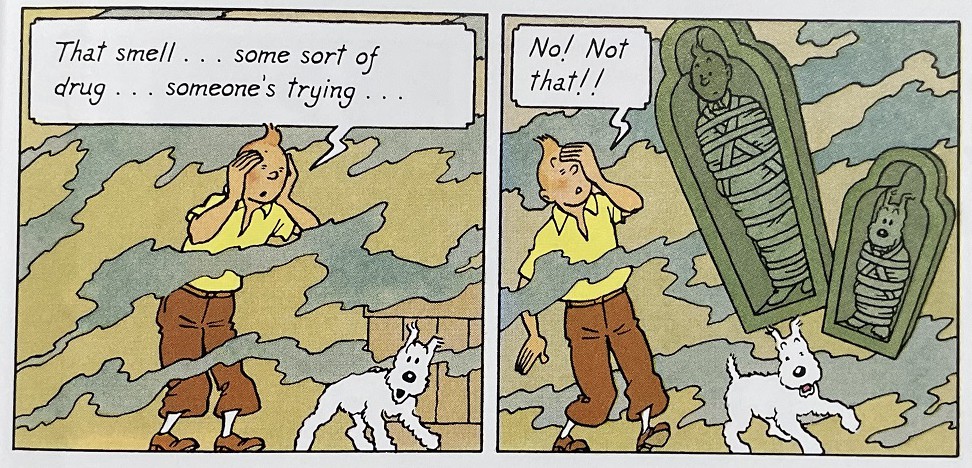 It can get a little creepy at times as well! By the way, is it just me or does that look a lot like Doug Funnie and Porkchop there? Hmm.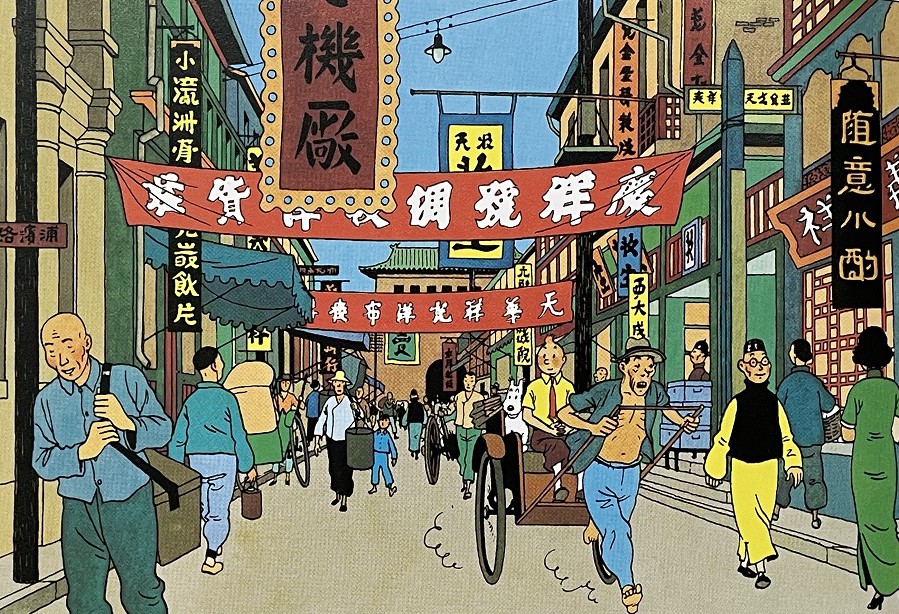 More stunning artwork from Hergé. It's simple yet extremely striking. My man Tintin rocking the rickshaw like an absolute boss there, yes sir!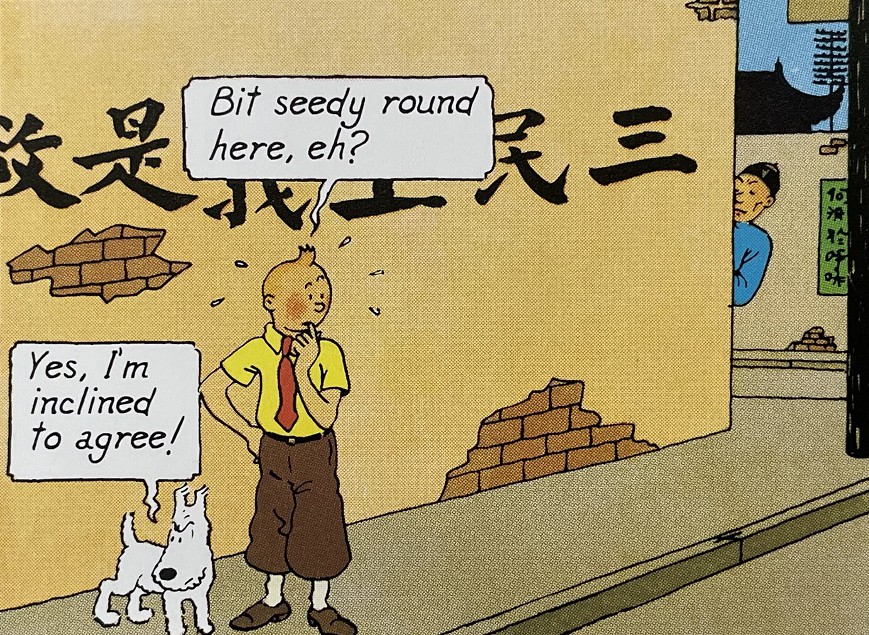 The mood and atmosphere that Hergé creates through his dialogue and art is truly terrific. Although I haven't delved in entirely just yet, already it's clear to see what a master he was at crafting mood and a sense of palpable danger just around the corner that drives both the story and reader forward.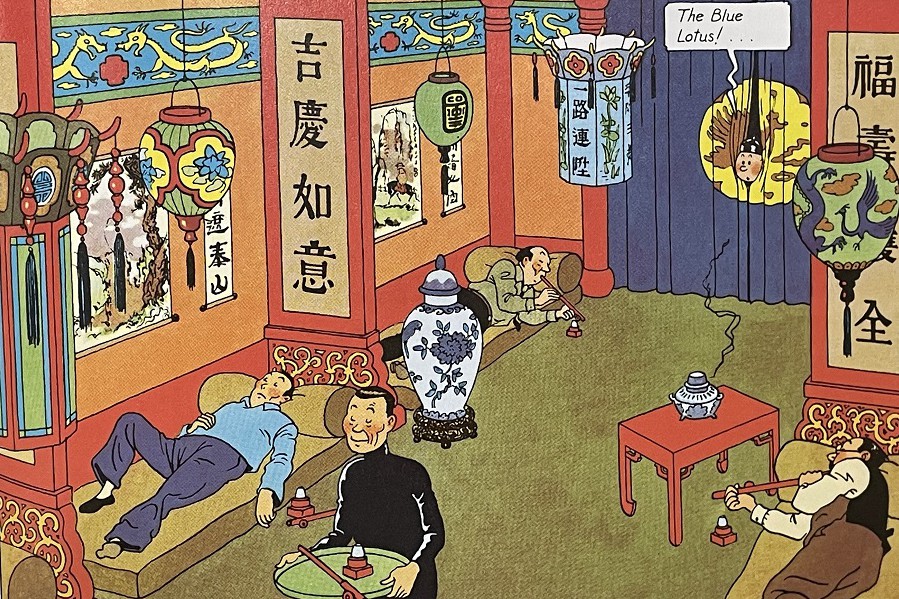 More absolutely amazing art by the man, the myth and the legend. This stuff is simply phenomenal.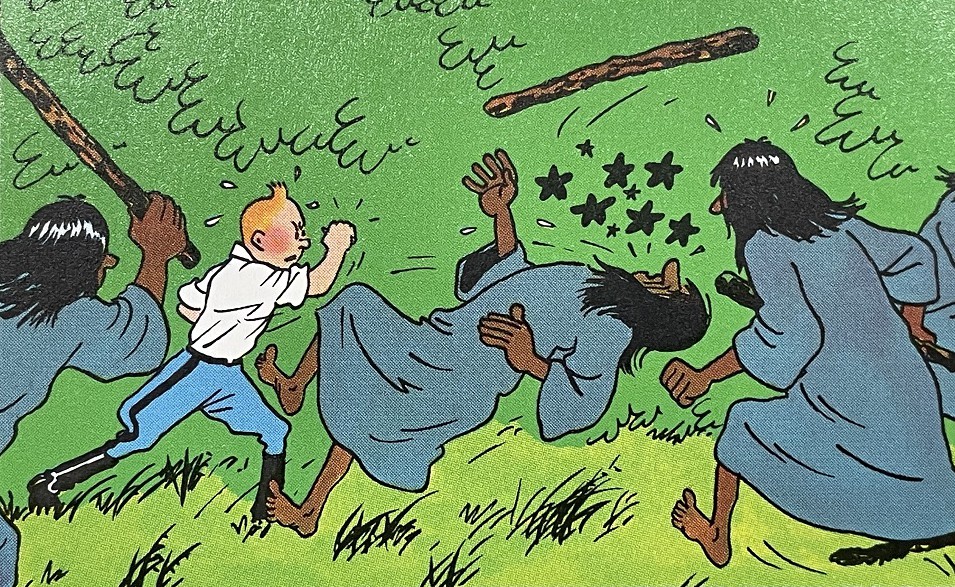 Tintin definitely wasn't afraid to get his hands dirty. He threw down when he had to!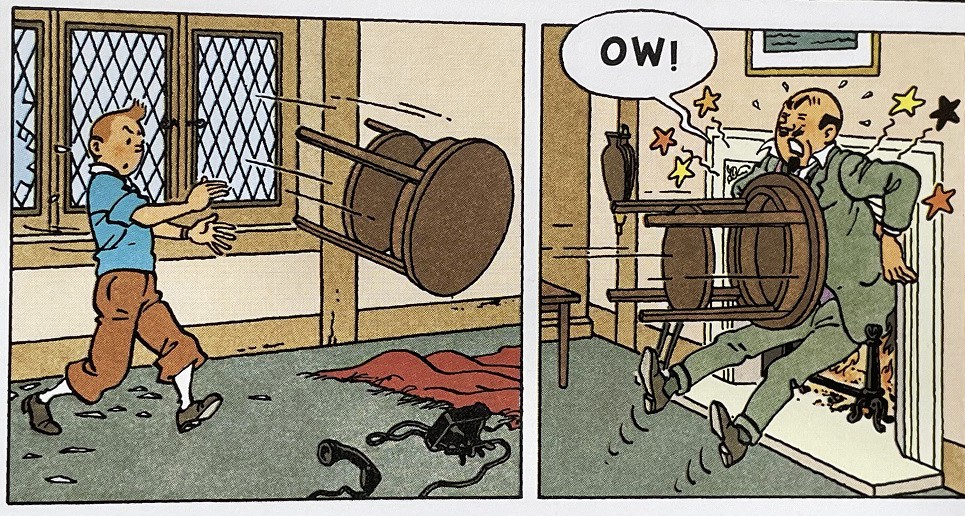 Like watching a mini movie unfold before your very eyes.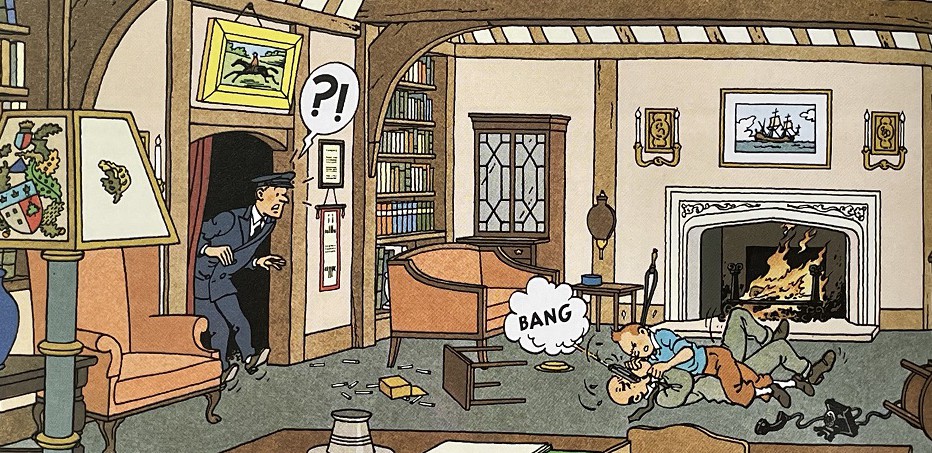 I love his bigger panel shots because of the insane amount of intricate details found within them. This is such a great series for reluctant readers.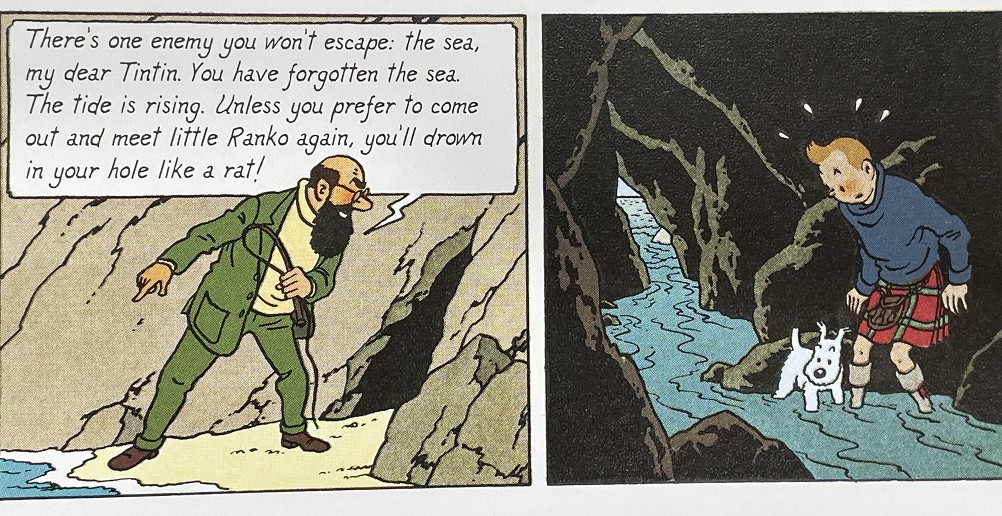 Throughout Tintin's wild escapades we find some recurring villains who are wicked to the core. After all, what's a great hero without some diabolical bad guys to thwart?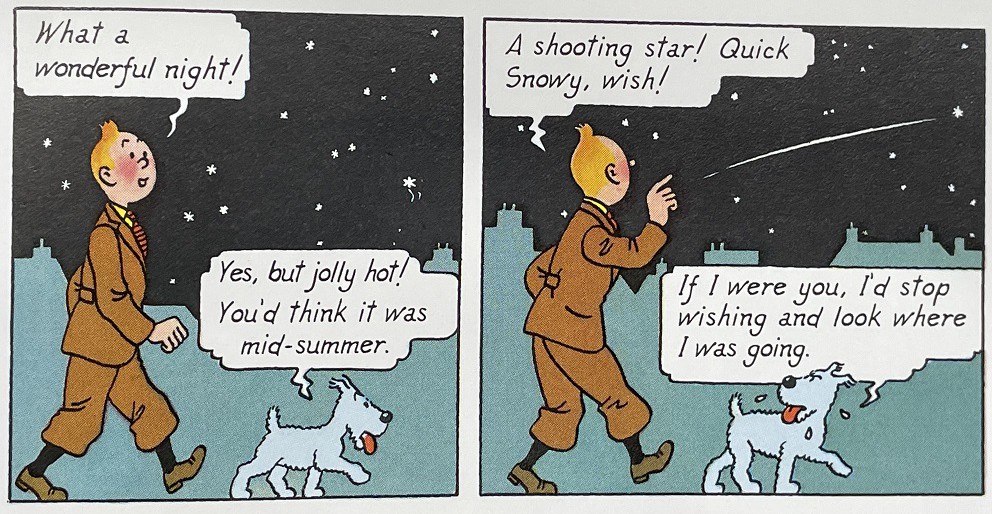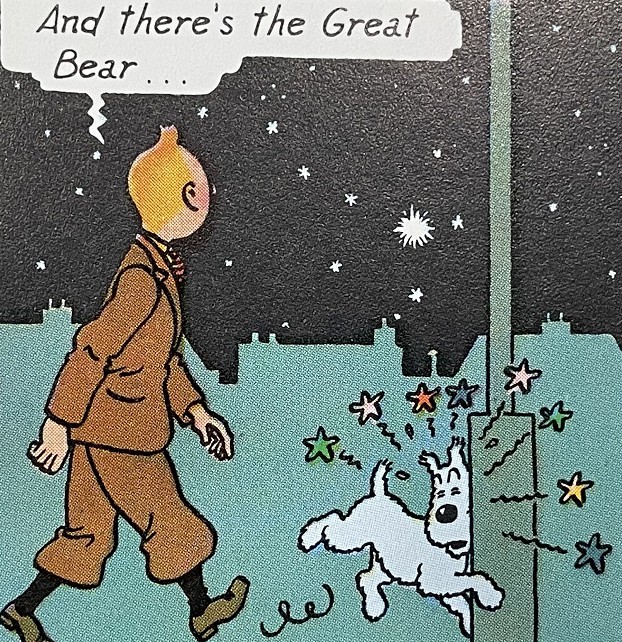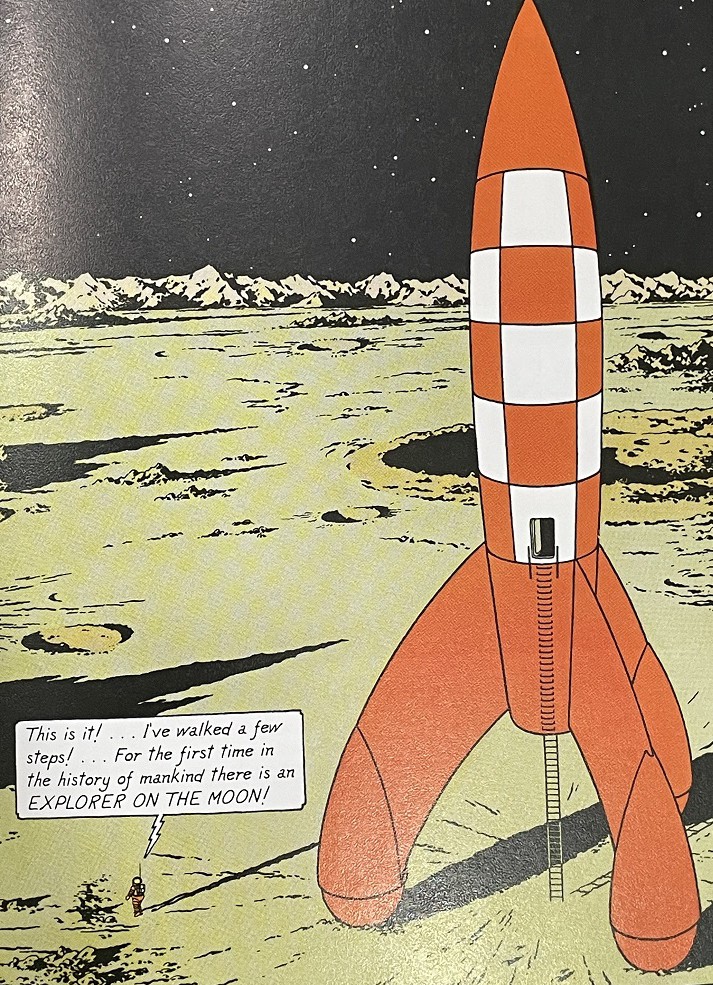 Explorers on the Moon, published in the early-mid 1950's, saw Tintin roaming around on the moon — a decade and a half ahead of famous astronaut Neil Armstrong who would go on to accomplish that feat in 1969. Pretty dope.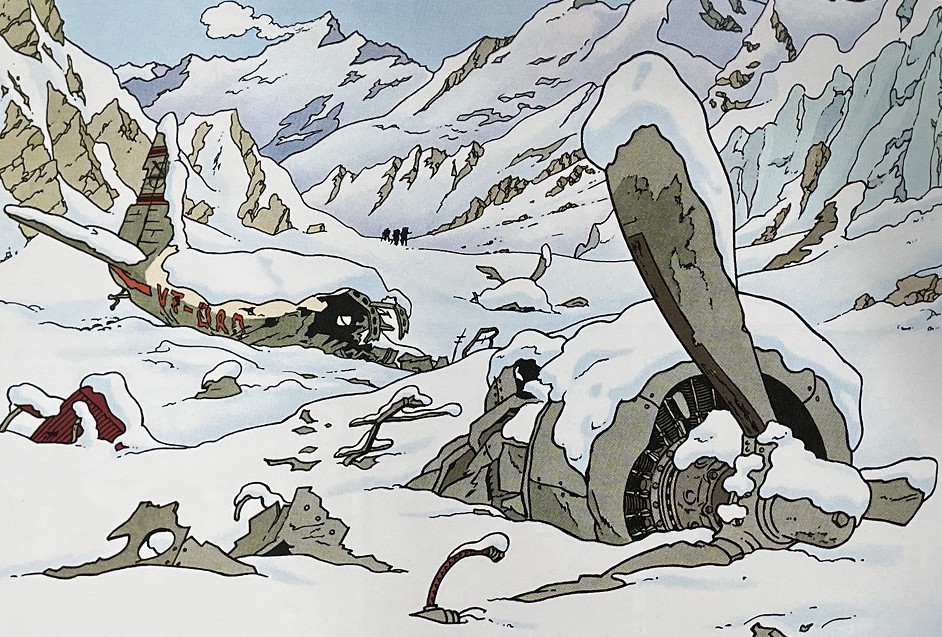 Why am I suddenly getting strong Yuri Stranger Things Season 4 vibes here?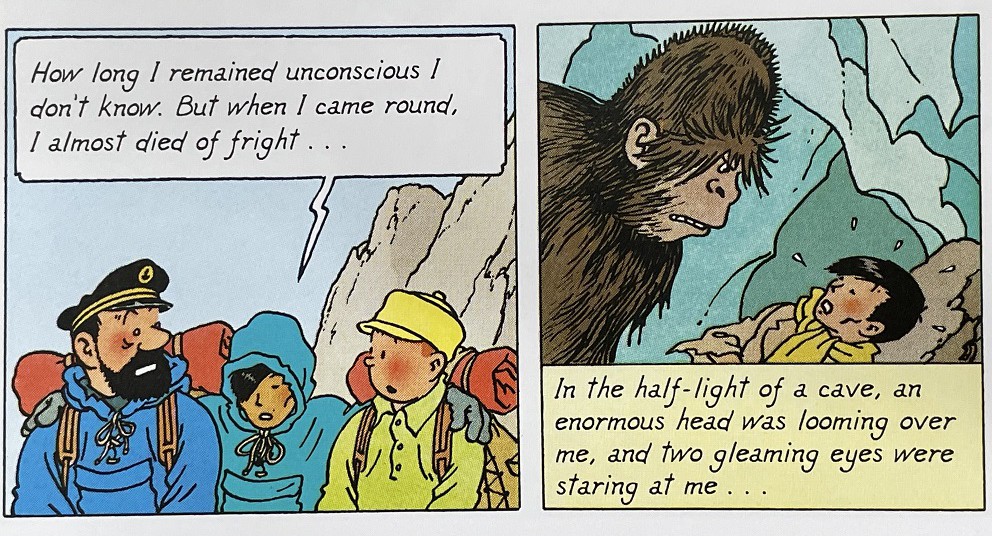 WATCH OUT FOR THE DEMOGORGON!!! Er… or the Abominable Snowman at least.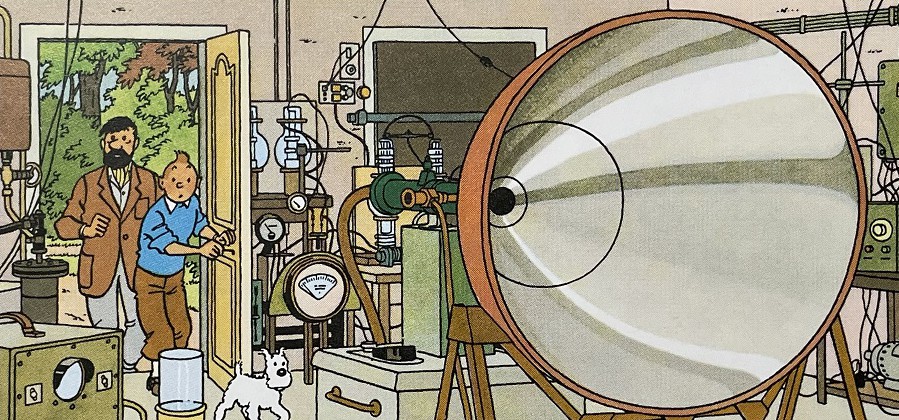 I could post more of his stellar artwork for days, but I think — pardon the poor pun — you get the picture by now. Hergé undoubtedly created an epic series that deserves to be seek out and read by anyone remotely intrigued by these shots. I can't wait to dive in, myself!
CLOSING THOUGHTS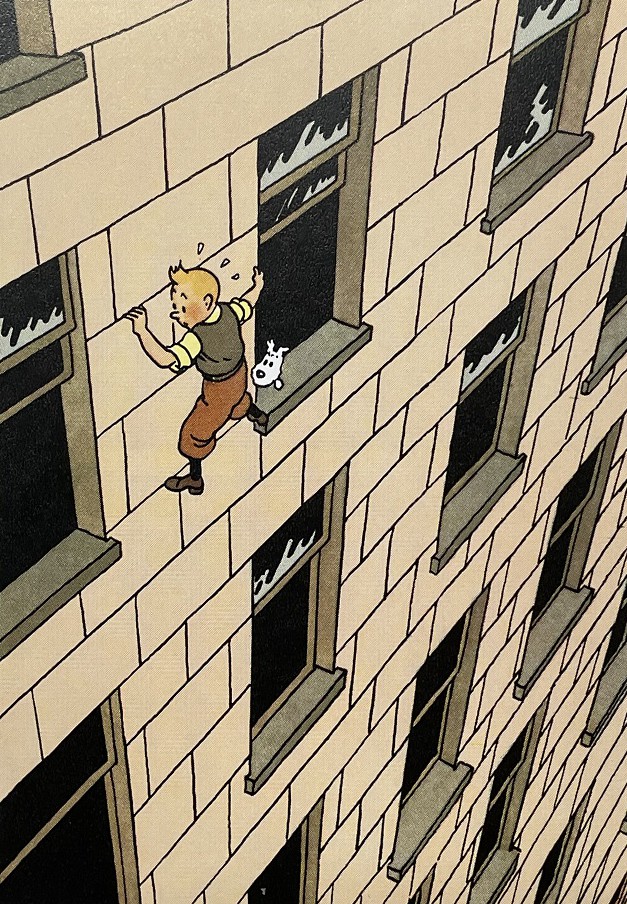 The Adventures of Tintin has been translated in over 70 languages and has sold more than 230 million copies. Its legacy is no doubt one of the most beloved comics ever created. The stories are almost 100 years old, but countless readers remember them fondly and reread them to this very day. There is a timeless appeal to this series that I can't wait to personally experience for myself. And in about 5 or 6 years from now, I'll be ecstatic to introduce them to my son. I have a feeling Owen will love Tintin, his zany companions and his outrageous globe-trotting adventures. For those of you who have read this series — perhaps you even read them growing up — I would love to hear some of your personal memories and thoughts down below! I'm so thankful that I was lucky enough to run across these copies because I'm sure someone else would have snatched them up not long after. Now, if I can only find that elusive 8th and final volume for a decent price… "Thundering typhoons!" as the good captain might say