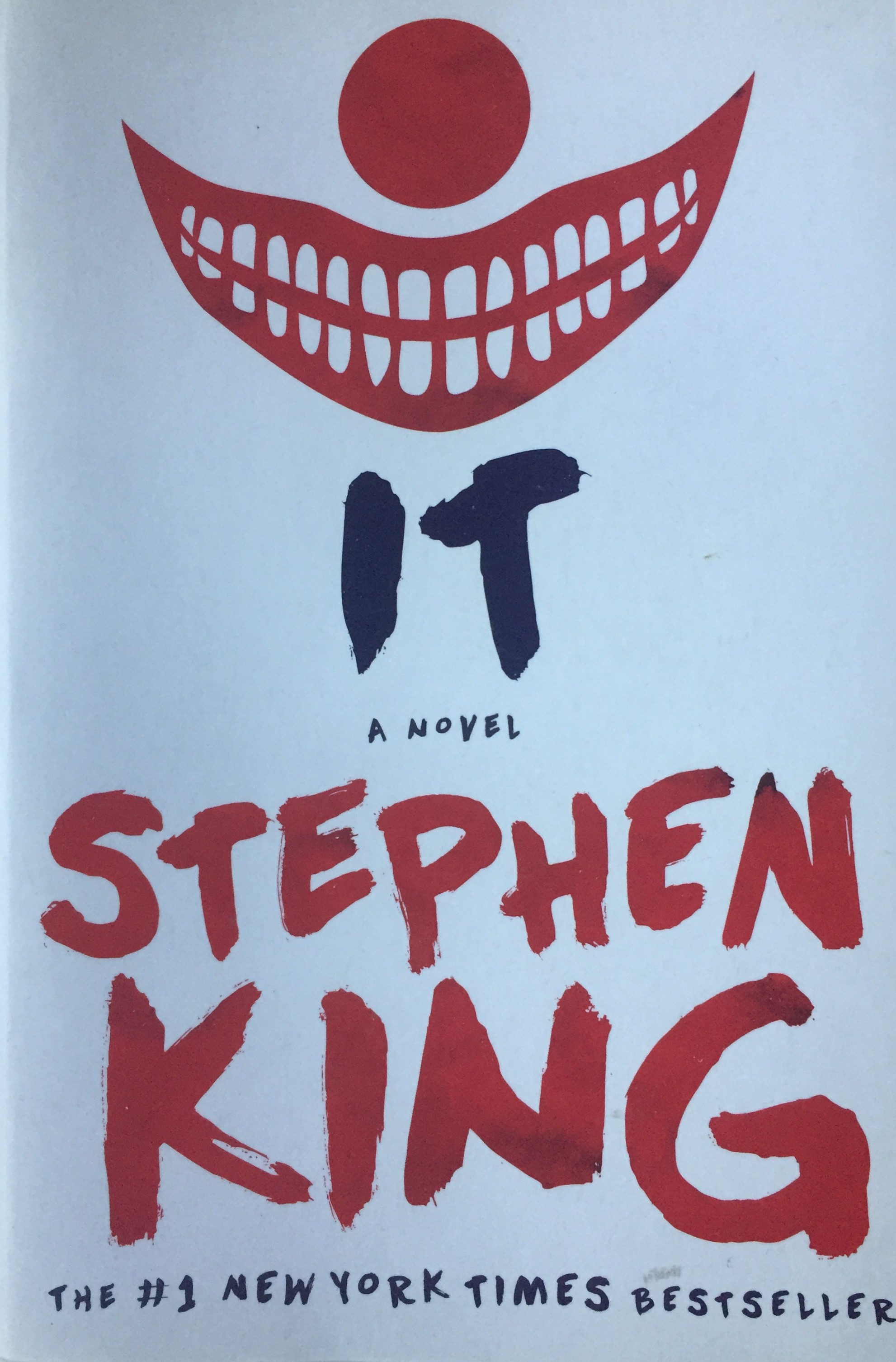 34 years ago yesterday, Stephen King's It was first published. September 15, 1986. I had no idea that was the case until moments ago when I googled the original publication date for this review. Imagine my surprise when I saw it was just yesterday 34 years ago! What a random fun coincidence. Earlier this year I set a goal to read all 1,000+ pages of It, and I'm proud to say I did that. It was also the first Stephen King book I have read, and it definitely won't be the last. This is often considered Stephen King's most popular book. It has been critically acclaimed, has been translated into a mini series back in 1990, and also received two full length feature film adaptations. It is as synonymous with the words "horror novel" as any other horror book one could name. But did it live up to the hype? Let's take a look…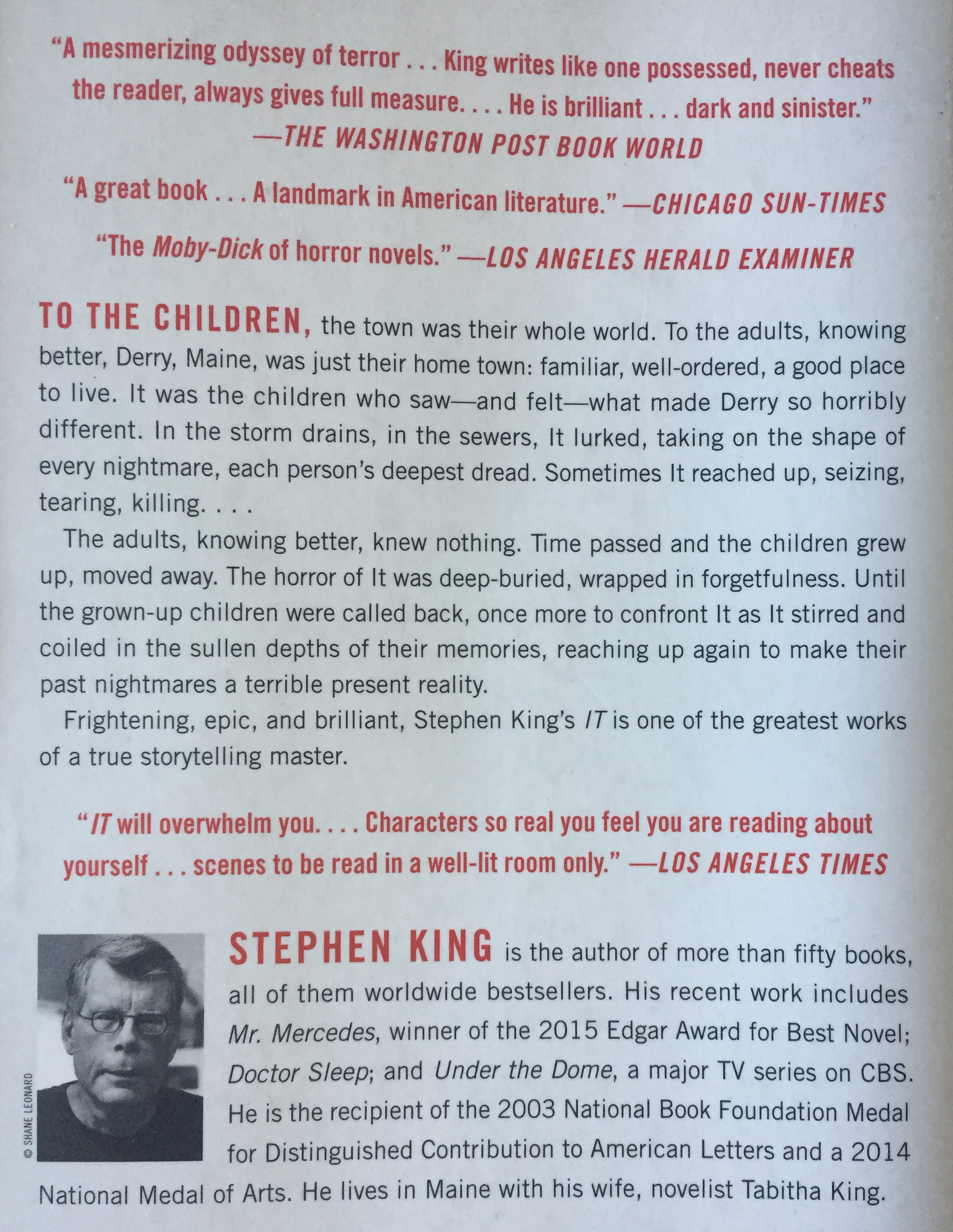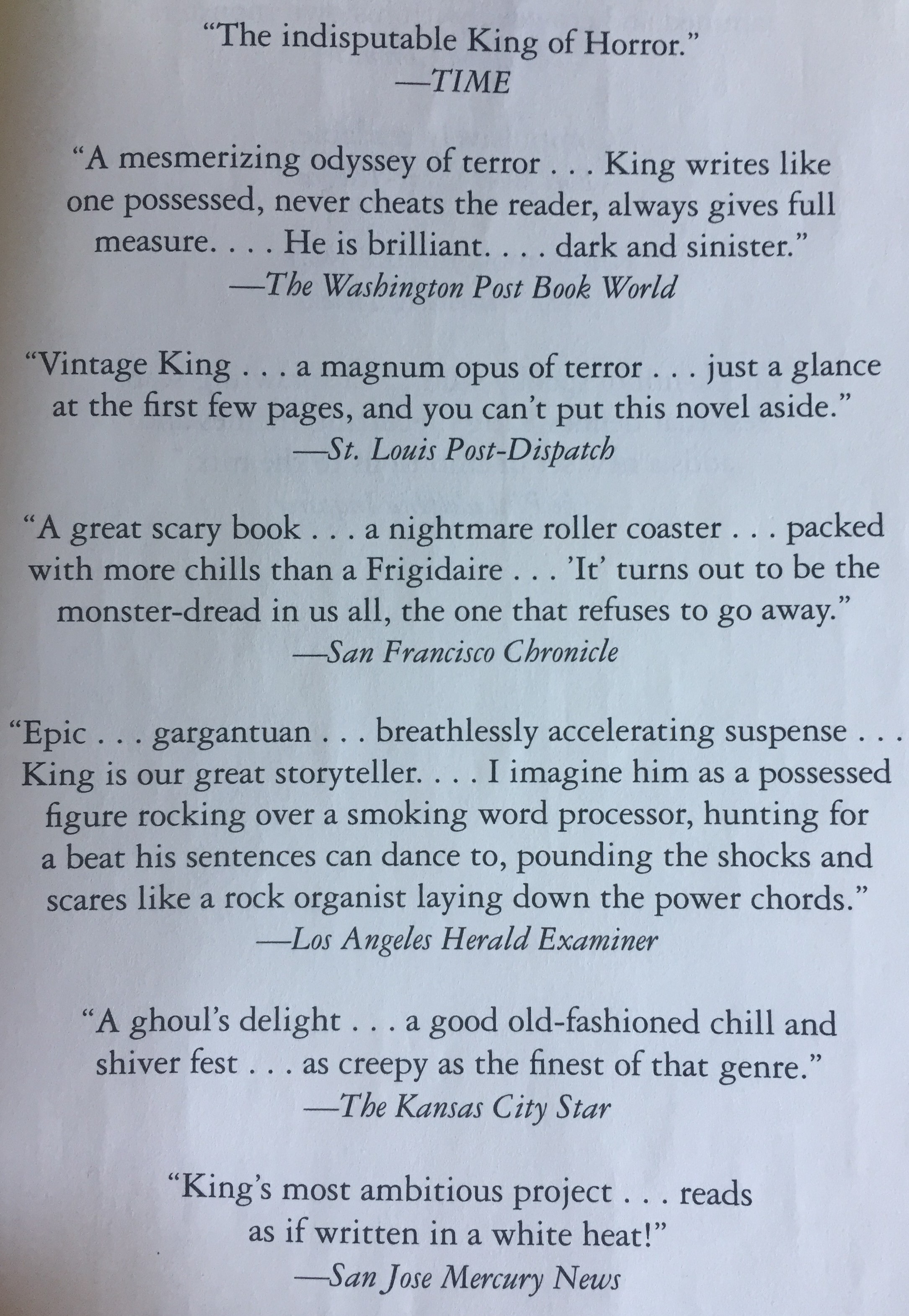 IT MEMORIES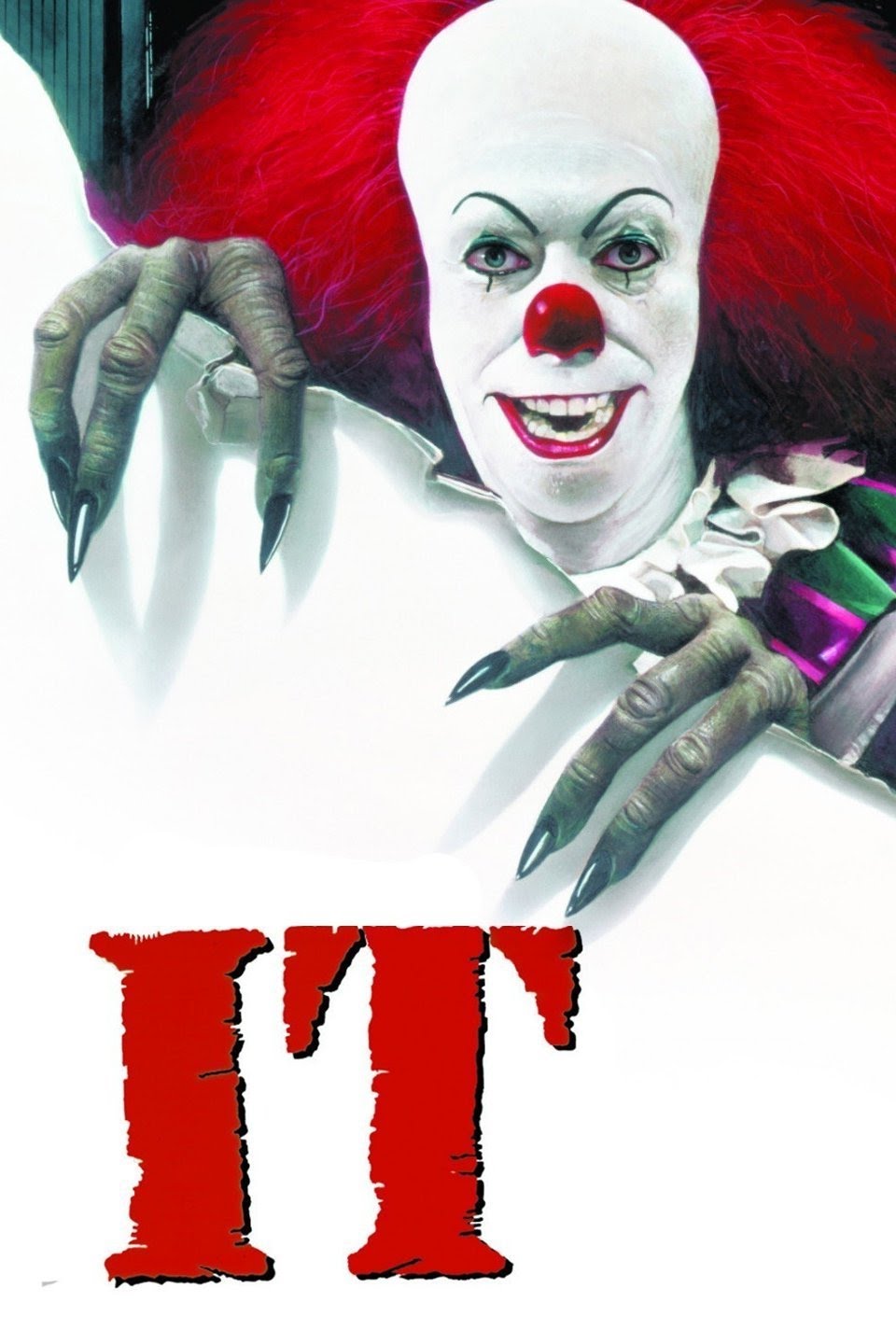 I can vividly remember getting my dad to buy me the VHS of the 1990 movie at a Suncoast at the local mall. At the time I had no idea it was based off a book. I just knew there was a creepy clown on the cover and I was sold. I remember watching the movie with my best friend Nelson, and not liking it as much as I hoped. I was a kid at the time so I definitely didn't understand all the complexities and subtleties. The best part for me of course was whenever Pennywise the clown appeared onscreen (played by Tim Curry). The other "boring" parts Nelson and I didn't care much for, but like I said, we were just little kids at the time who wanted their horror films to be over the top.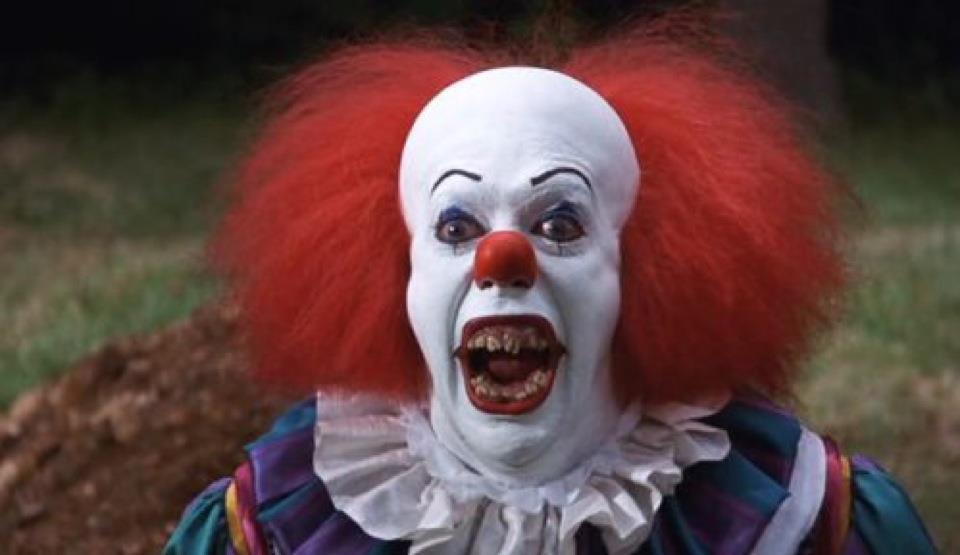 It was only years later that I found out It originated as a book. A really thick ass book. I was probably in junior high by then, and had no interest in reading a book well over 1,000 pages… especially when Goosebumps scratched my itch for the macabre at just around 120 pages per entry.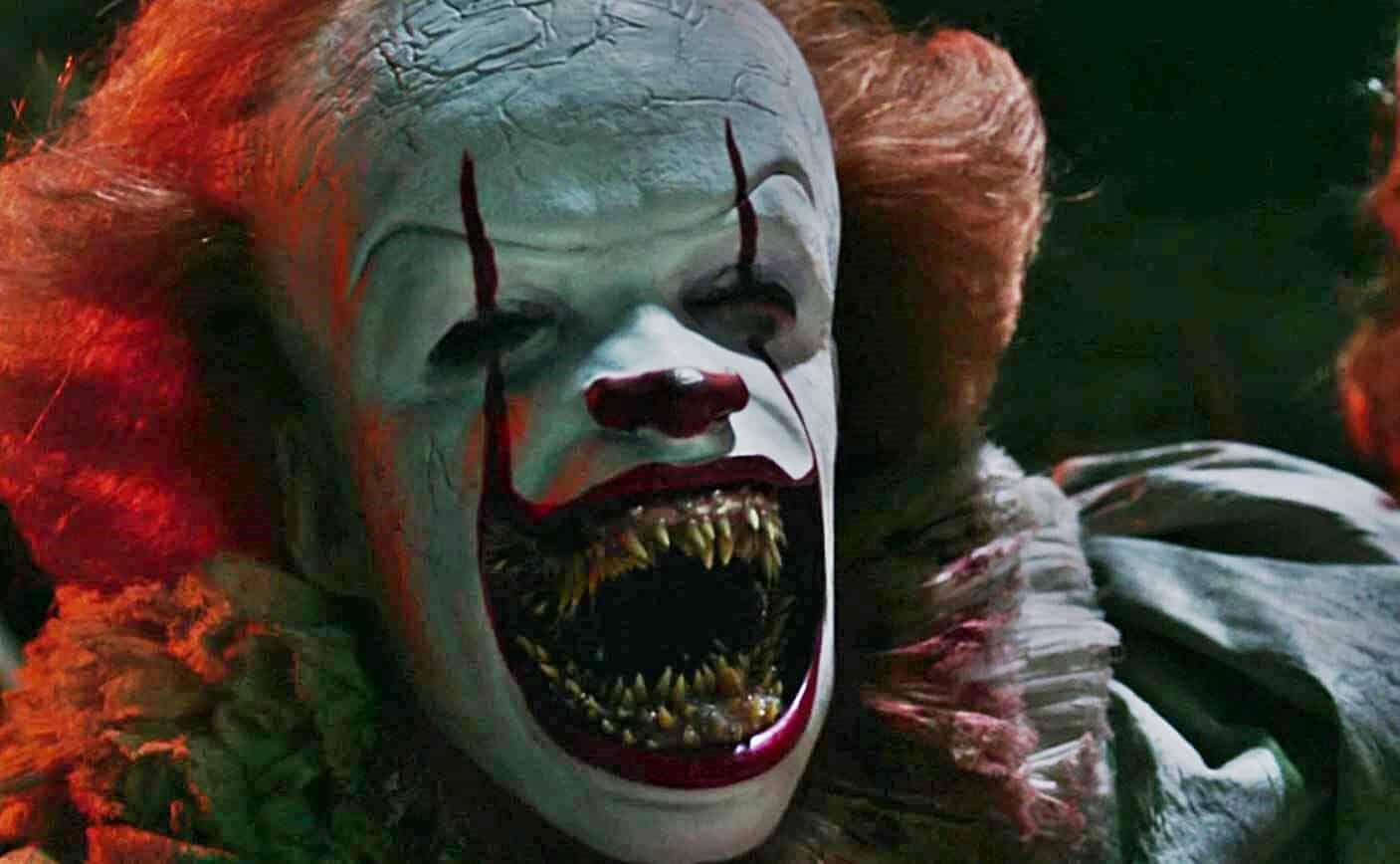 Then It was released in theaters on September 8, 2017. A girl I had just started dating wanted to watch It, and so I took her. I wanted to see it as well, but kept my expectations low because of how disappointing I found the 1990 version to be. We ended up really liking the 2017 version and then earlier this year my wife and I watched It Chapter Two. I enjoyed it so much that I decided to tackle the book.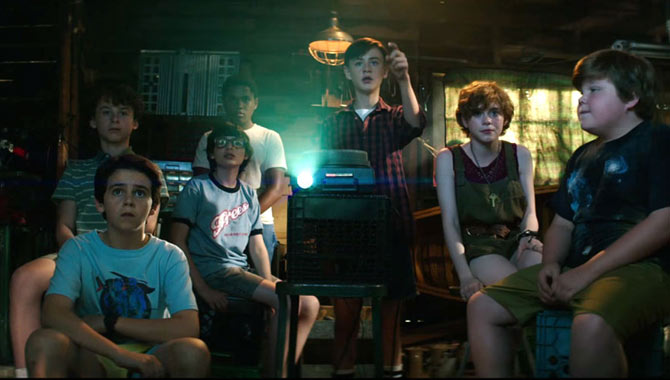 At its core it's a story about relationships: friendship and love. Loyalty. Courage. Overcoming fears. Regrets. Redemption. It was never meant to be focused on the clown, Pennywise, even though he does play a significant role. It is truly "The Losers," as they're affectionately called in the book, that make It work on so many different levels. It was that shift in mentality that allowed me to enjoy the movies and the book as much as I did. Of course, it helps to view things from an adult lens as opposed to the one we had when we were 9 or 10 years old. It follows these friends and their adventures in the small town of Derry both past and present, as they are haunted and stalked by a vengeful clown spirit that won't let them go. Or, is it the kids then turned adults who won't let It go? Hmm. It could be both…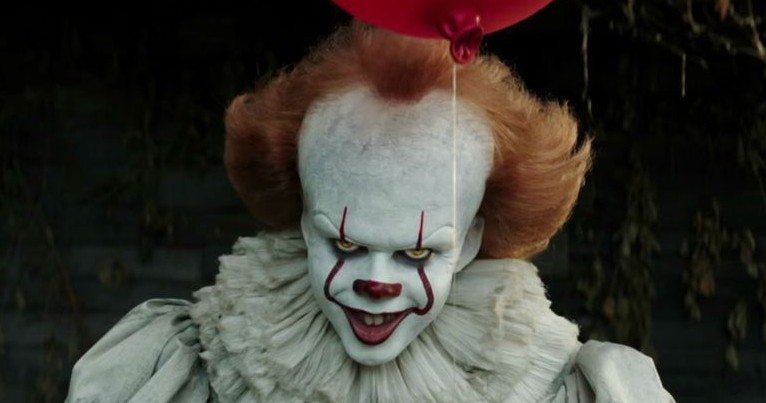 There are large portions of this very large book that don't implicitly involve Pennywise the clown. So if you go into It expecting a ton of scary clown thrills, you will likely be disappointed. To be sure, there are a fair share of chills, and the spirit of Pennywise permeates the subtext of the story, but as I said it is more about relationships and righting old wrongs. The more you care about the human characters, the more you will get out of this book. And for the most part, I was quite invested in the human characters, even if Stephen King does seem to go on and on and on at times. He is an exceptionally skilled writer, no doubt about that, but It easily could have been trimmed to around 700-800 pages without losing its soul. Hell, it would have been even better had it been!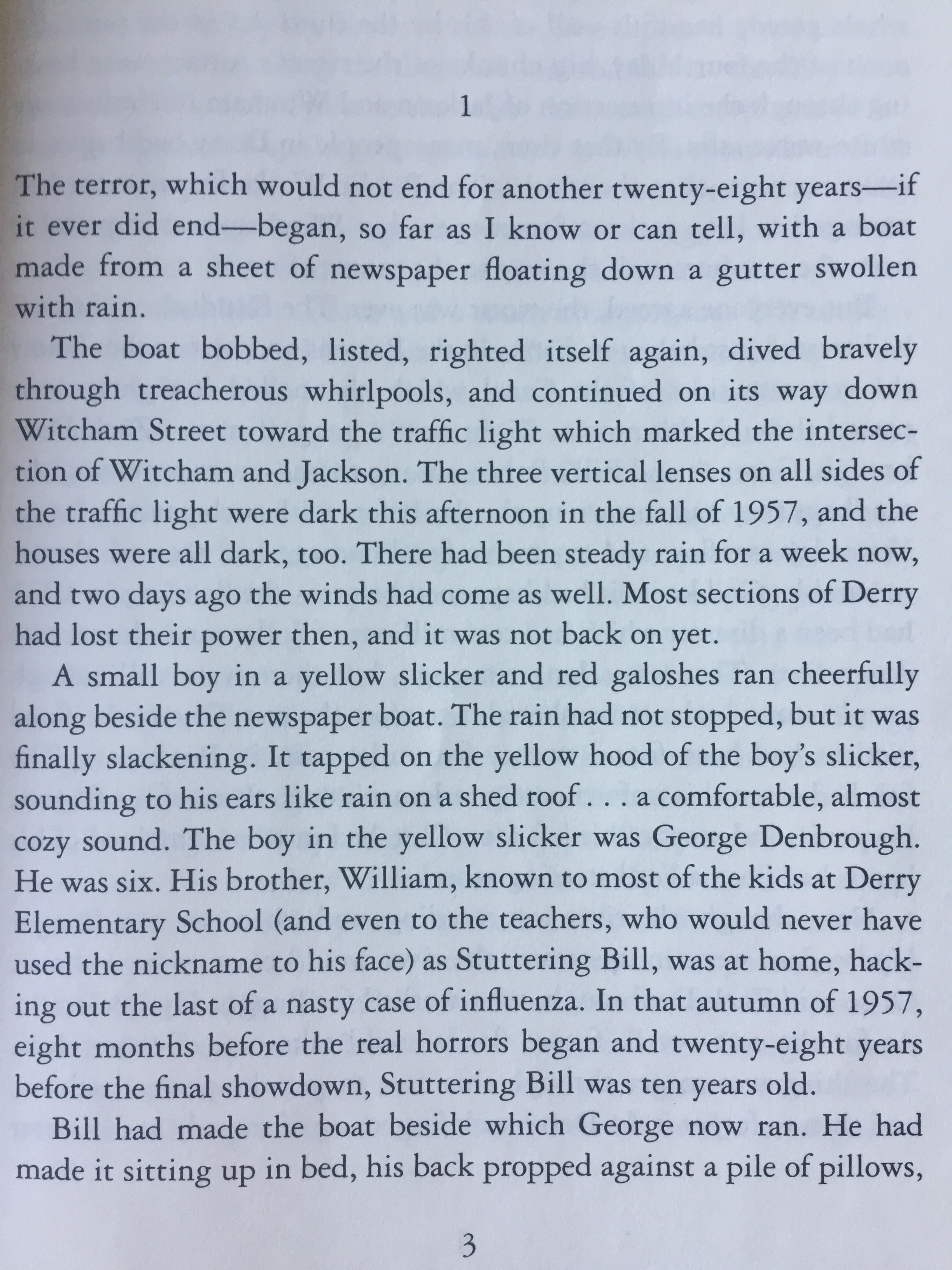 The first page sets up the infamous sewer scene, one of the most iconic moments in horror literature. Poor little Georgie just had to be on that rainy street on that rainy day, didn't he? But in the famous words of Frederick Douglass, "If there is no struggle, there is no progress." And what a struggle Georgie had with Pennywise! A struggle that would cost Georgie his arm and ultimately, his incredibly young life. And with that struggle, we get the progression that we need to drive the story forward. Georgie's older brother, Bill Denbrough, and his "Loser" friends, are then moved to action and sworn to vengeance. Even if it does take them 27 long years…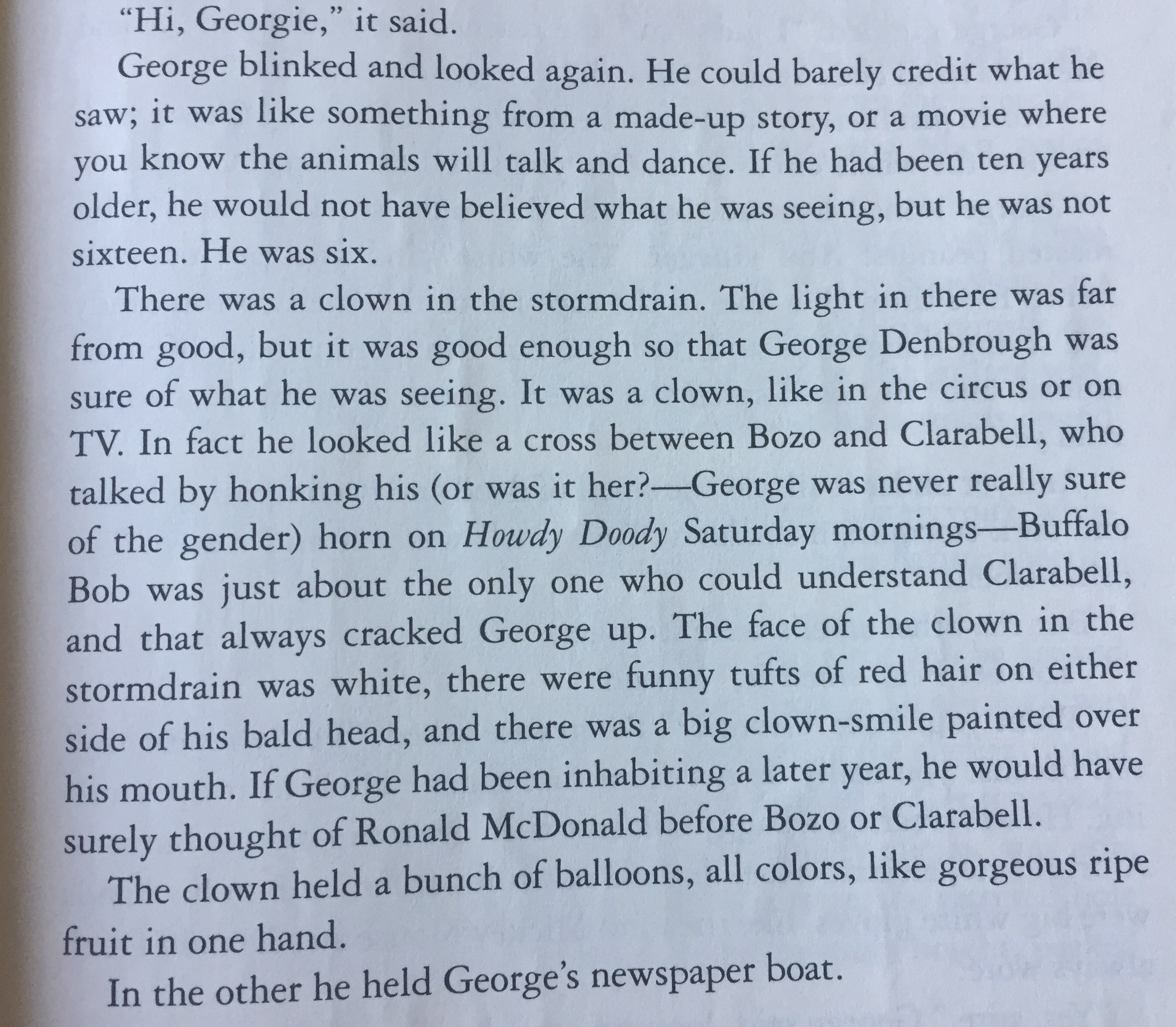 As I said, Pennywise doesn't always show up, but man, when he does, he steals the scene. As you can see, Stephen King has a way with words. It's nothing overly complex. In fact, it's pretty straight forward and simple. But he has a way of painting these pictures in your head. At least here he does, anyhow. My favorite line from this page is a very simple but creepy one: "There was a clown in the stormdrain." Like, what?! It conjures such an unsettling image in the mind that you can't help but feel a little uneasy, especially if you were George himself. Six year old George, no less! So It definitely opens up with a bang. I won't spoil the rest!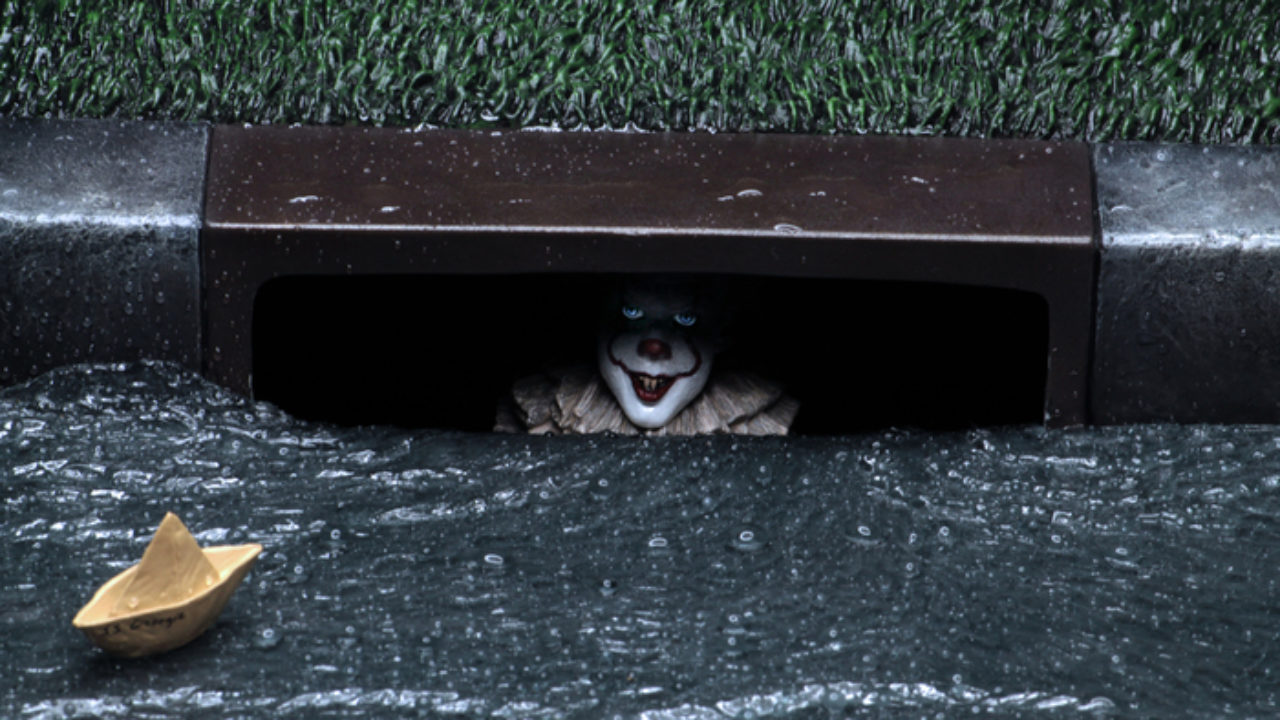 CLOSING THOUGHTS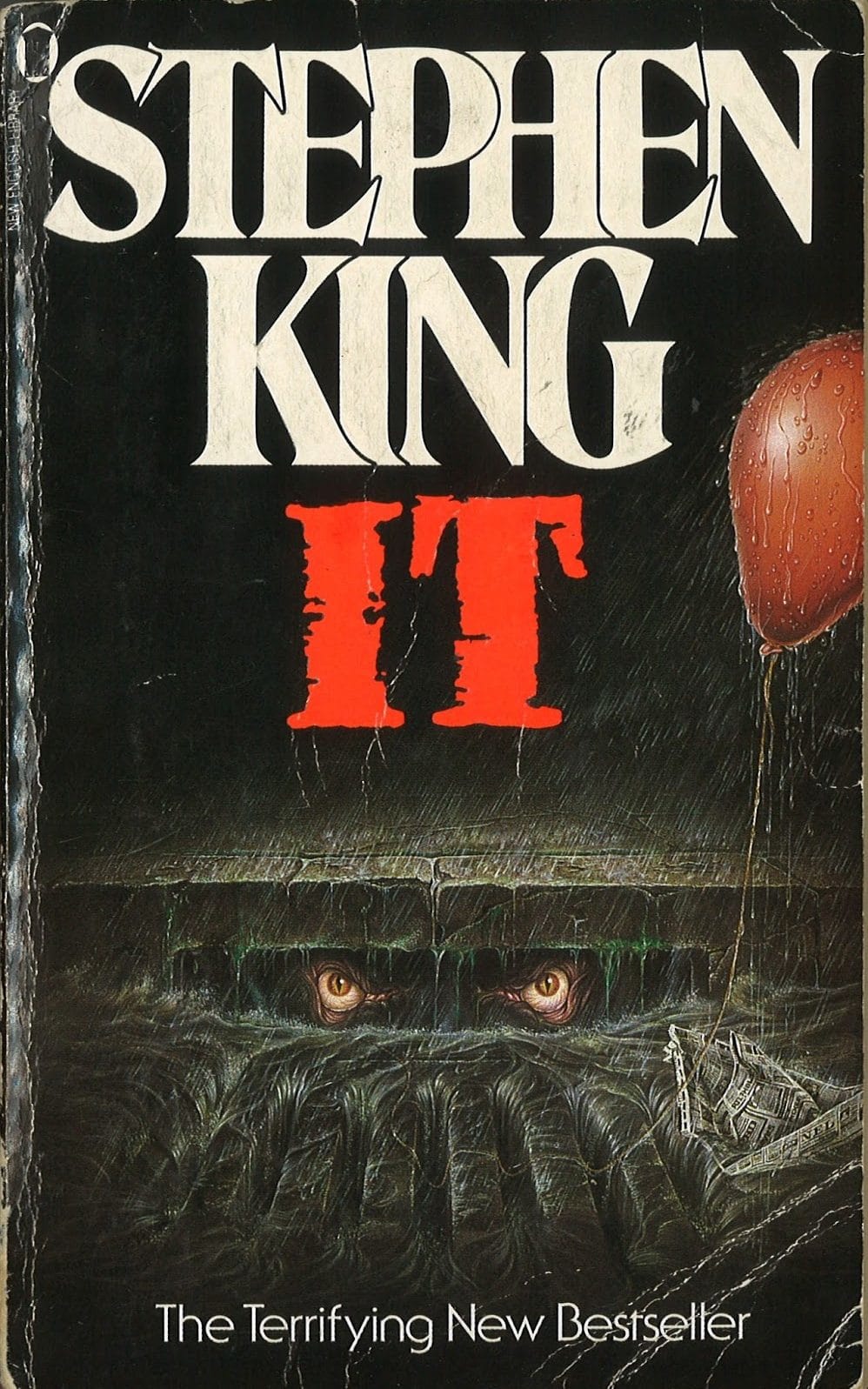 The 2016 Scribner edition I read in particular is 1,153 pages long. Not every page is as thrilling as the first couple pages you see here, so some readers have expressed disappointment or even "bait-and-switch" in the most extreme cases. I don't think it's bait-and-switch. For example, look at almost any Godzilla movie. Godzilla rarely appears for a very long running time in his movies, yet they are not bait-and-switch. The same with It and Pennywise. You just have to be ready to dive into Derry and its world, its cast of flawed and imperfect human characters. If you want unabashed wanton clown terror mayhem, then go watch Art the Clown in the Terrifier movies. Don't read Stephen King's It because you would only be setting yourself up for disappointment.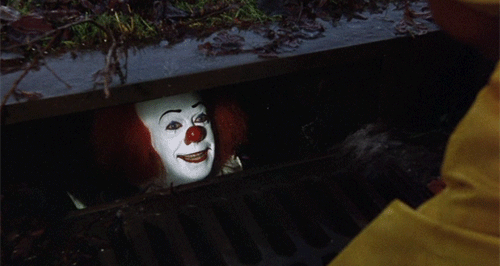 For those patient enough however to stick it through, I think you will find It to be a more rewarding read than not. I really enjoyed it, and would easily give it 4+ stars had it been trimmed down a good 250-300 pages or so. Also, toward the end, there is a certain scene with Beverly Marsh that thankfully did not appear in the movie that completely took me out of it and made me go "WHAT?!?!" I had to read that particular part 3-4 times to believe my eyes. WTF Stephen King?! You'll know it when you read it. I found it gross and completely unnecessary to the story. Some have defended that part by saying Mr. King did his job — it is the job of the author in a horror book to shock and offend, but "that moment" came so out of left field for me that I cannot comprehend or defend it in any way. But It certainly has earned its place in horror literature lore, and I do recommend diehard horror fans to read It at least once before all is said and done.