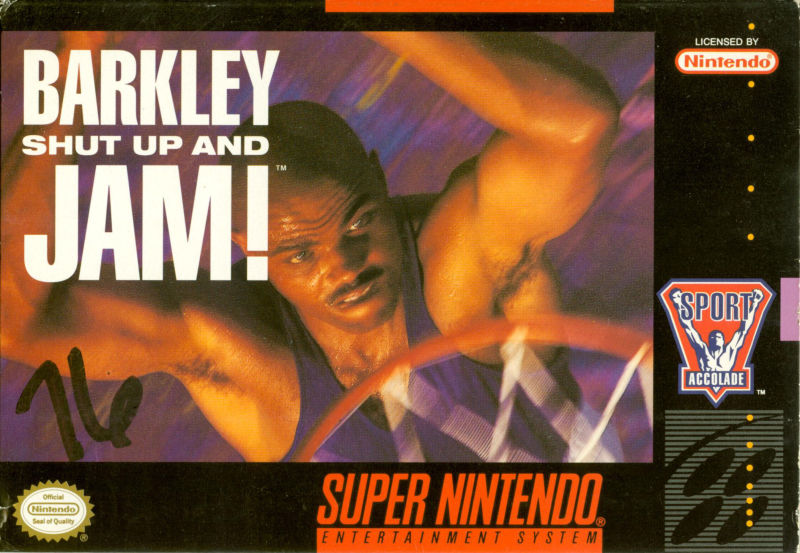 25 years ago this month, NBA Jam hit the arcade scene and became a worldwide phenomenon. It's become embedded in the fabric of pop culture and remains as relevant today as it was back in April of 1993. Even to this day, people quote phrases such as "HE'S ON FIRE!" and "BOOM SHAKA LAKA!" Naturally, clones would soon appear following the smash success of NBA Jam. One of them was Barkley Shut Up and Jam. Let's just say, there's a reason why people fondly reminisce about NBA Jam even 25 years later and there's a reason why many people have forgotten about Barkley Shut Up and Jam. But does that mean the game is completely without merit? Time to pump my Reebok sneakers and find out…
BATS, BOBCATS AND BARKLEY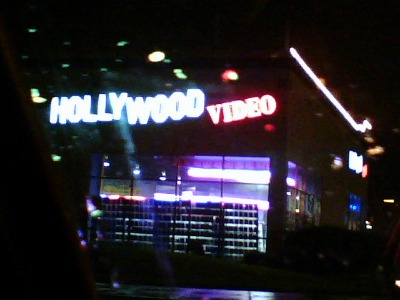 On a quiet rainy Monday evening of January 30, 2006, just two weeks into my Super Nintendo comeback, I stopped by my childhood Hollywood Video. That evening I drove to my old stomping grounds hopeful to add more games to my rapidly growing collection.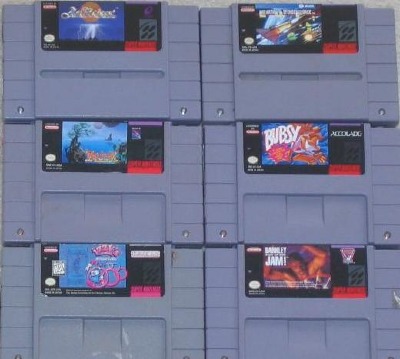 Entering the giant store like I'd done so many times before more than a decade ago, I wasted no time in making a beeline straight for Game Crazy. Hell, not even the horror section could entice me on this night. I ended up getting six SNES games. While I was ecstatic to buy ActRaiser, the game that thrilled me most at the time was actually Barkley Shut Up and Jam. Aside from Bubsy, it's the only game of the lot that I rented as a kid. I remember enjoying it with my brother and friends back in the summer of 1994, so I had a strong nostalgic connection to it. I was morbidly curious to see how it would hold up some 12 years later.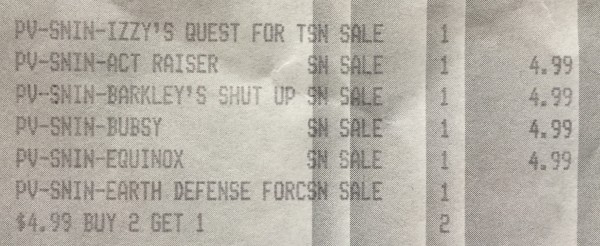 THE CHUCKSTER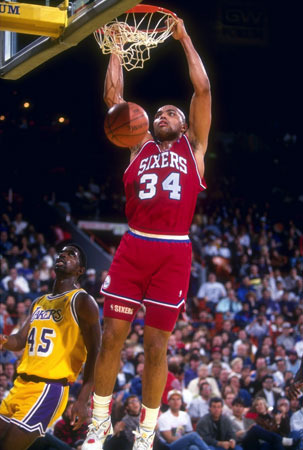 Born and raised in Leeds, Alabama, Sir Charles Barkley averaged 19.1 points and 17.9 rebounds per game his senior year in high school. He played three years of college ball for Auburn University, averaging 14.1 points, 9.6 rebounds and 1.7 blocks per game. He declared for the NBA draft in 1984 where he was selected #5 by the Philadelphia 76ers, just two slots after Chicago took Michael Jordan. He averaged 14 points and 8.6 rebounds per game his rookie season. He gave the 76ers' organization and fans eight tremendous years. His best years there included averages of 28.3 points and 11.9 rebounds per game. Another season he averaged 23 points, 14.6 rebounds, 4.9 assists, 1.8 steals and 1.5 blocks per game. Barkley was traded to the Phoenix Suns following the 1991-1992 season.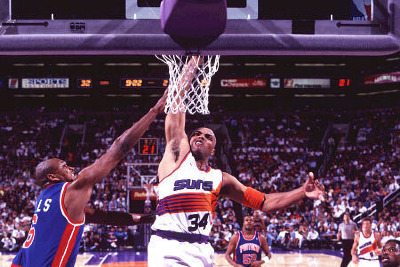 Barkley continued his reign of dominance in the Valley of the Sun. His first year there was arguably his best. Averaging 25.6 points, 12.2 rebounds and a career high 5.1 assists per game, Barkley led the Suns to a 62-20 record and was deemed MVP. The Suns made the NBA Finals that year (their first since 1976) but lost in six games to Michael Jordan and the Bulls.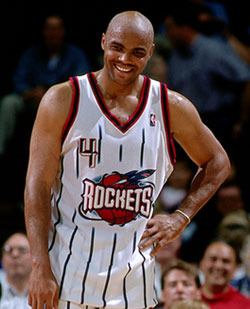 Barkley was shipped to the Houston Rockets on August 19, 1996. Now at the back end of his career, Barkley was joining a veteran team in hopes of finally capturing a Championship ring. Playing alongside Hakeem "The Dream" Olajuwon and Clyde "The Glide" Drexler, the Rockets were considered title contenders. In the '96-'97 season, Barkley averaged 19.2 points and 13.5 rebounds per game. The Rockets made the playoffs several times but always came up short. Barkley's last NBA game took place on April 19, 2000. He was 37 years old.
LIFE AFTER BASKETBALL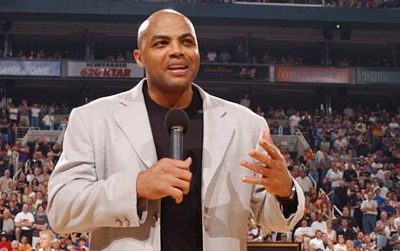 Charles Barkley has always been a magnetic character. Outspoken and brash, Barkley went on to become a key member of TNT's award winning Inside the NBA post-game show.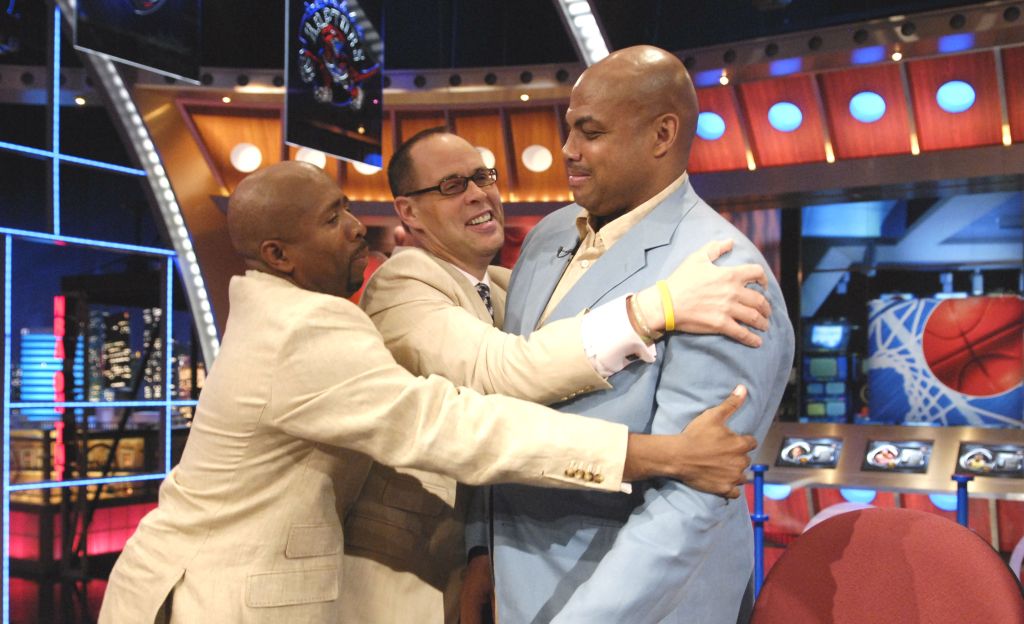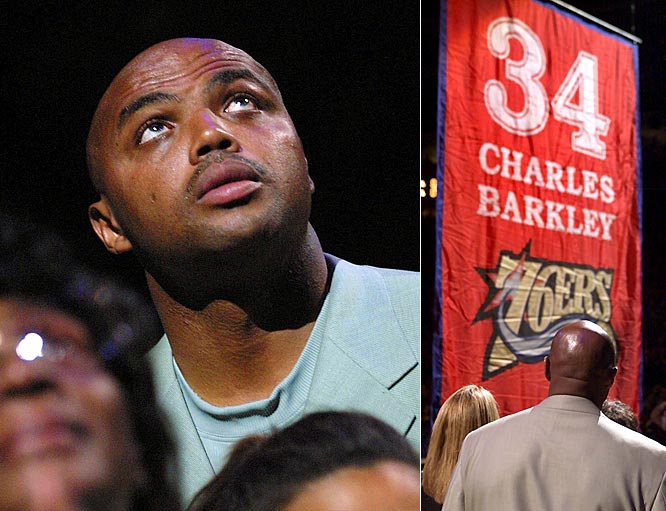 SHUT UP AND JAM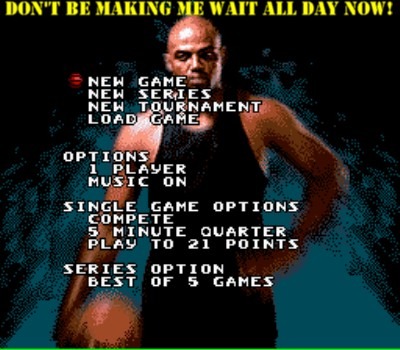 Shut Up and Jam is 2-on-2 street basketball. Play by the clock (1, 3 or 5 minutes per quarter) or by points (first team to 21 or 50 wins). Select from single game, series or tournament. A password feature is implemented to save your progress. Barkley is the big boss in the tournament mode if you manage to make it to the Finals.
SWEET 16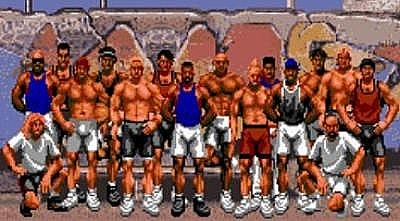 Select from 16 players, including Barkley himself and 15 street legends. As you would expect, each one has different strengths and weaknesses.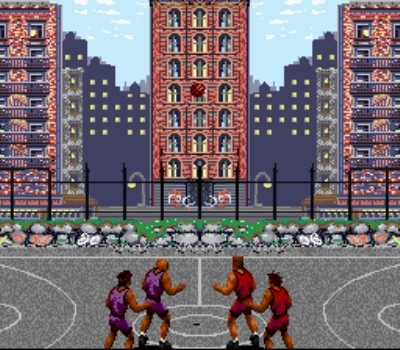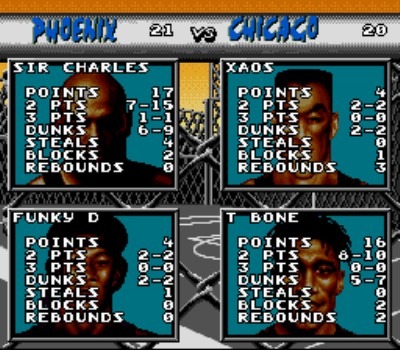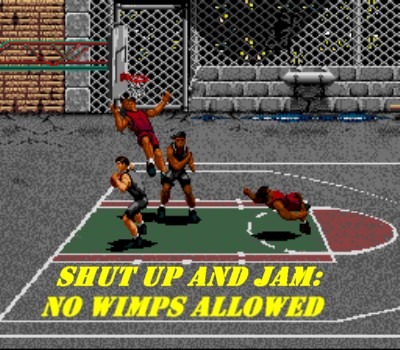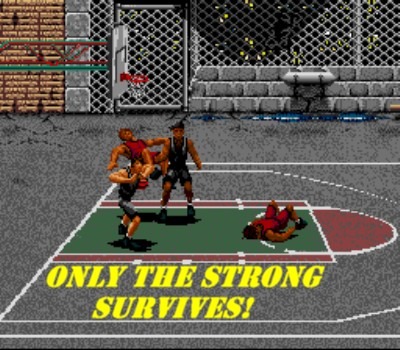 POWERFUL JAMS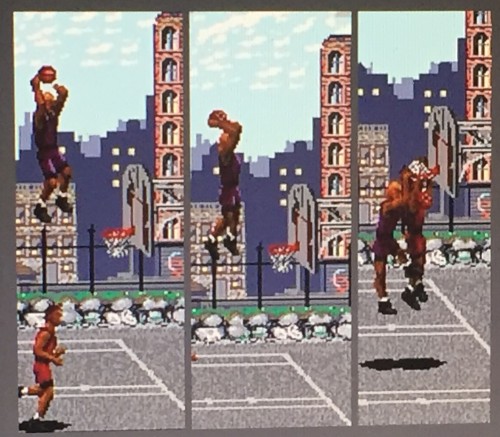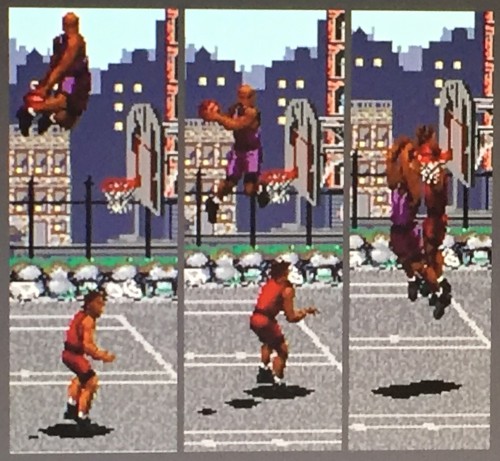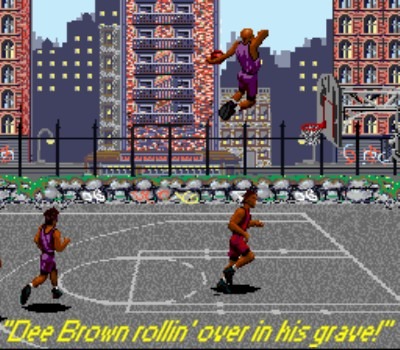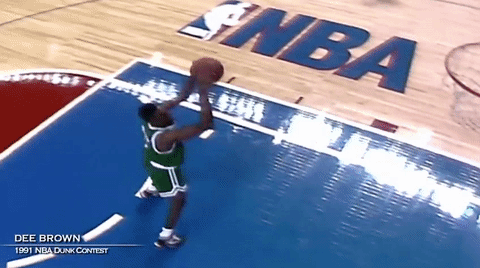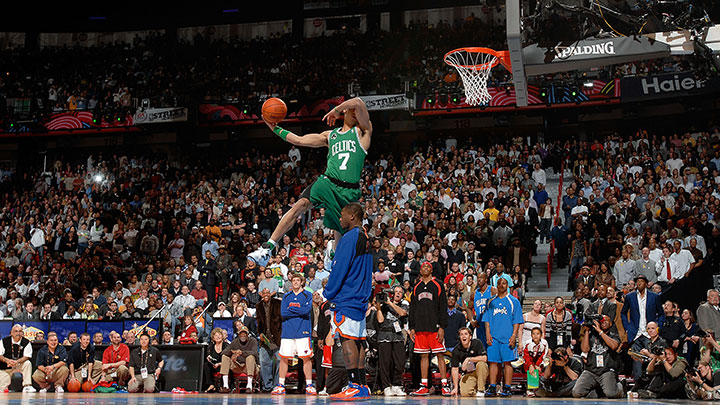 PLAYERS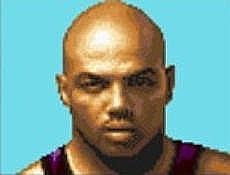 The round mound of rebound, Barkley is arguably the best player in the game. A fierce rebounder and competitor, Barkley is the king of trash talking.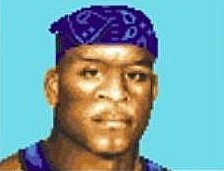 Two words: rebound specialist. Sans Barkley, no one can touch Chilly when it comes to pulling down boards. He's got great speed, he can shoot twos and he can jam. Match him up with anyone who can shoot the three to create a potent 1-2 punch. Why is he called Chilly? Don't piss him off and you'll be lucky never to find out why.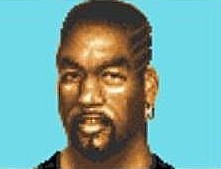 There's nothing wimpy about D. This dude will swat it if you pull up in the lane. He'll rip your head off if you get in front of him for a rebound. Combine his speed and defensive ability with a guy who can shoot the rock and you've got a blacktop team to reckon with.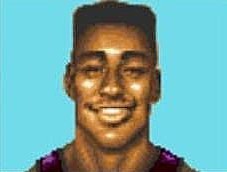 Scouts drool over Dane. A jack of all trades, Dane has made a name for himself on the blacktops. Many believe he could not only play in the NBA but dominate it. But Dane isn't about the travel life. He's content being a legend in his own backyard where all the little kids look up to him. He's not the greatest dunker around, but he does everything else very well to great.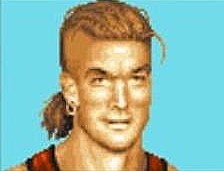 One of the worst 3 point shooters on the circuit, he didn't earn his name for marksmanship. But if you want spectacular speed and slam dunks, Fly By is your guy.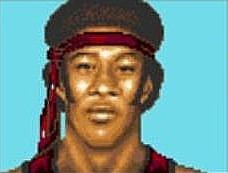 At the three point arc, this cat is LIGHTS OUT. Sure, he can't dunk for diddly. And he bricks badly on the occasional 15 footer. Yeah, he gets bounced around inside like a rag doll. But if it's bombs you want, it's bombs you'll get with the Funkster. Oh and you gotta love how he rocks that mini fro.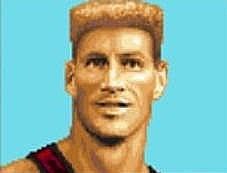 Gunner earned his nickname for being the best damn shooter around. Sure, he can't jam for shit, but who cares when you've got a guy who can hit from anywhere, is quick as hell and rebounds like a mad man.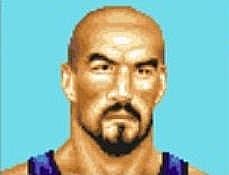 Scouts don't know whether to offer him an NBA tryout or call the FBI. Pure destruction down low, rumor has it Newts once broke a guy's arm just for looking at him funny. Even Barkley is a little cautious around this certified nut job.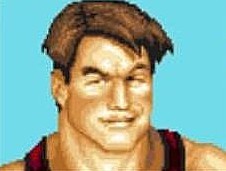 There's nothing flashy about Sarge, but no one ever outworks or outhustles him. Not the best talent on the streets, but he's respected for his sheer tenacity and will to win.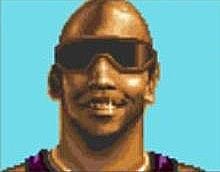 Smoothy is quicker as a hiccup. Many have tried to knock off his shades but none have been successful — he's just too damn fast! Aside from minor rebounding issues, he's a dynamic little bastard.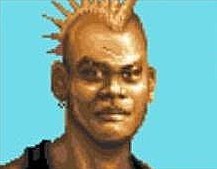 While not the most talented player on the circuit, Spike is a legitimate double threat. Crowd him at half court and he'll blow by you. Give him too much space and he'll be hitting bombs from downtown.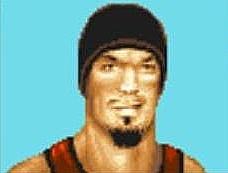 A monster on the boards, Stonewall guards the paint like it were his booze. Big on intimidation, low on finesse. The battles for rebounding supremacy between him, Chilly, D-Train, Barkley and Newts are legendary.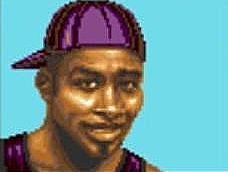 If you like the long ball, Sweet Pea is your man. He practically knocks down threes in his sleep. He can also high rise with the best of them. A true showoff, Sweet Pea always puts on a show and has developed a cult following. He's blessed with NBA talent but chooses to keep it in the streets.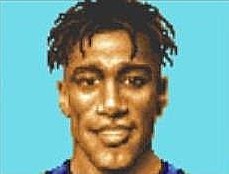 If Barkley is the best of the 16, then T-Bone is definitely #2. Essentially the improved version of Dane, who in his own right is a jack of all trades, T-Bone is a KING of all trades. The only player in the game with at least a six out of eight rating in every single category, T-Bone could walk onto an NBA court today and instantly be a top 3 player. His legend grows with each passing day. His battles with Dane are legendary as the two battle to be the LeBron James of street basketball.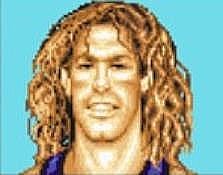 Gifted with blinding speed and a tremendous ability to dunk the basketball, he's earned the moniker of Wildman because that's the only way to describe his game. He may look like that one unskilled guy you played ball with growing up who could only hustle and jostle, but Wildman is a better shooter than one might think.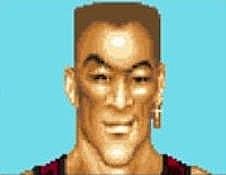 A poor man's Wildman, Xaos has trouble hanging with the big boys. He's not bad, especially if speed and dunking is your thing. But everything he can do, Wildman does as well or better. If you like underdogs, Xaos is your guy.
BALLIN' ALL OVER THE STATES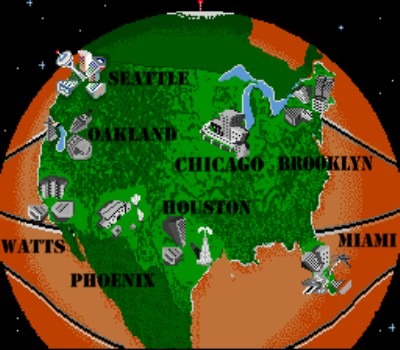 There are eight locations to choose from. Aside from Phoenix, they all take place in the streets. Let's take a quick tour, then, shall we?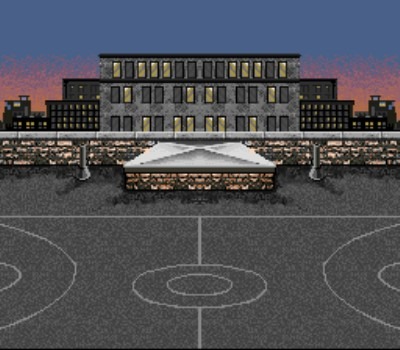 This rooftop blacktop has seen many battles and bruises throughout the years. Those living in the apartment nearby get quite the view.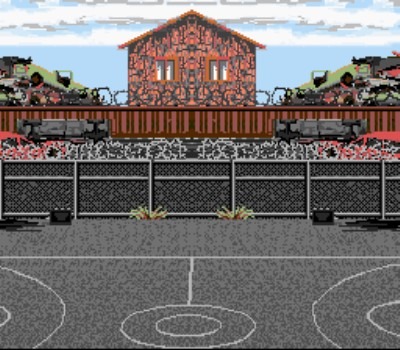 Better bring your A-game, or you'll quickly join the heap of trash.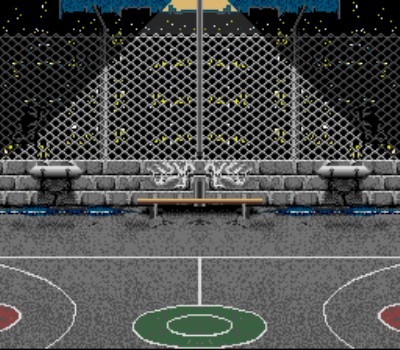 Watts is a residential district in southern Los Angeles. Hoop it up in the schoolyard at night, where a single street lamp oversees the intense action. Don't bitch about how you can't see — just shut up and jam.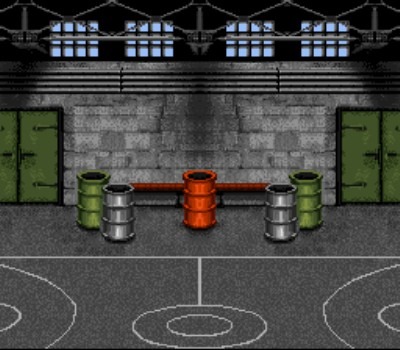 Players duke it out in this abandoned warehouse. The best players come here every weekend to stake their claim. For them, it's the perfect way to spend a Saturday morning. Or any other morning for that matter.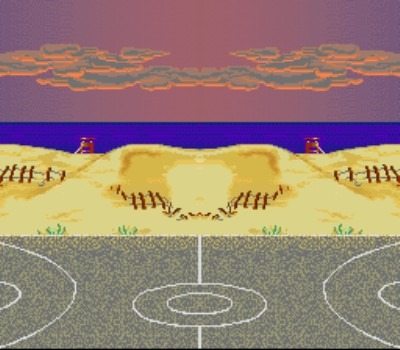 It's always a good time in Miami, unless you're getting your ass kicked on this beautiful court. The ladies here like to size up the best of the best. While some will play to win their affection and adoration (among other things), others just want to win the game.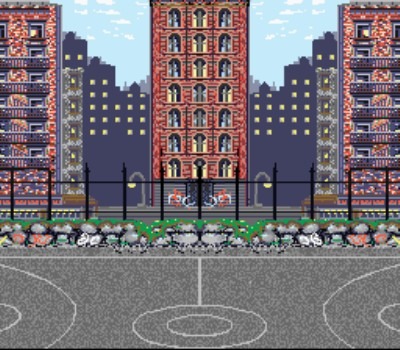 It's not quite the fabled Rucker Park (of Harlem fame), but this court is famous in its own right. Word on the street is Michael Jordan honed his craft here a time or two. There's always a big rowdy crowd on hand. Can't handle the intensity? Best go back to your driveway, rook.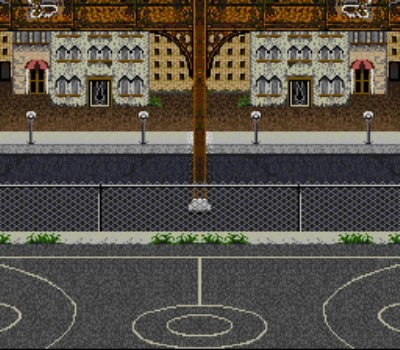 Play by the infamous L Train in the shadow of the Windy City. This is yet another famous blacktop where the toughest and roughest have etched their name in the annals of street ball history.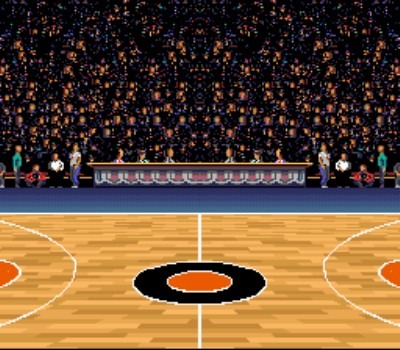 Last stop of the grand tour is the Valley of the Sun where you'll go up against the great Sir Charles Barkley himself. Few street ballers have earned the right to play ball here and nobody, NOBODY, has ever beaten Barkley in his own building. Can you be the first to rewrite history? [Or solve a mystery… WOO HOO! Ahem, sorry… -Ed.]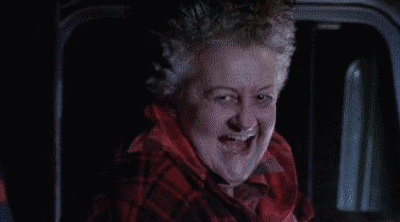 Hope y'all enjoyed the grand tour. Be sure to stop by the gift shop and tell 'em… ah, you know the rest!

WHERE AMAZING HAPPENS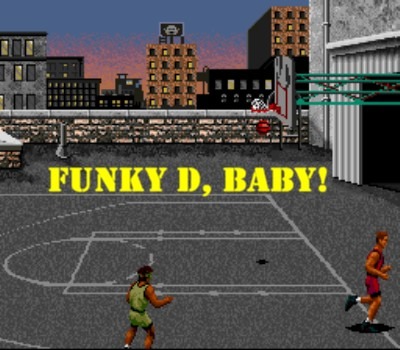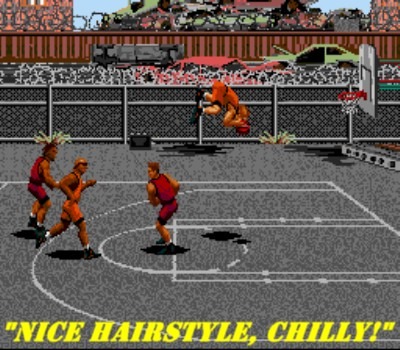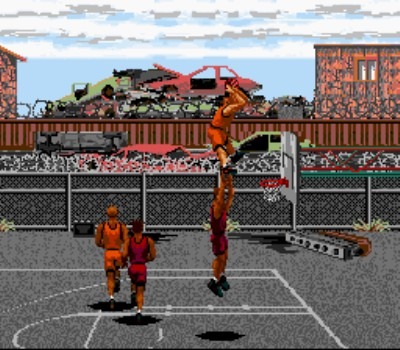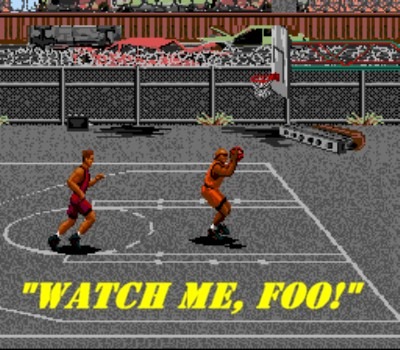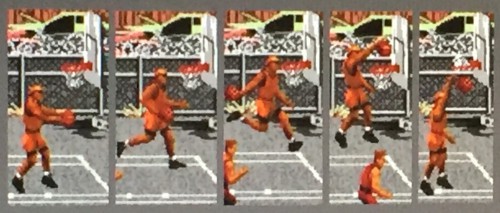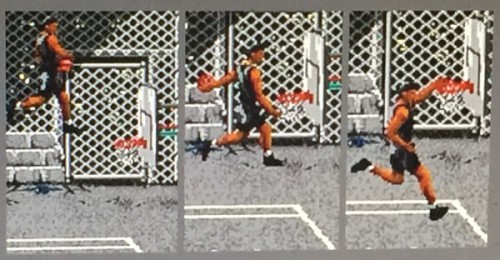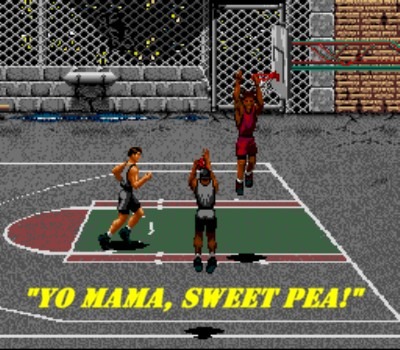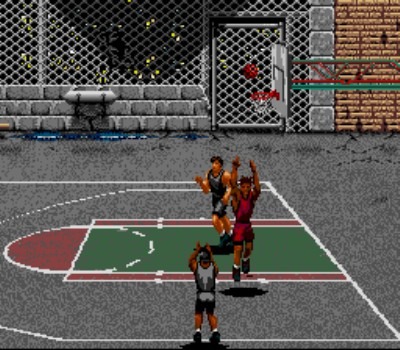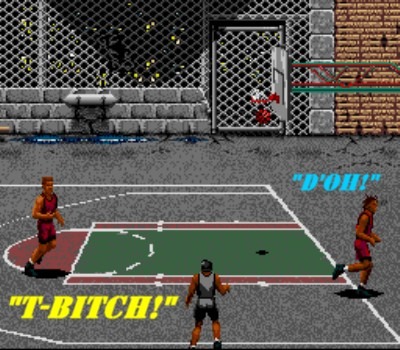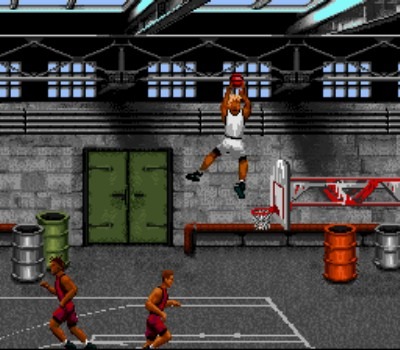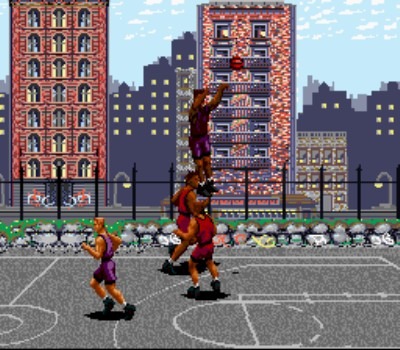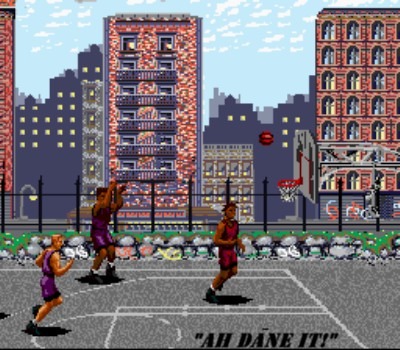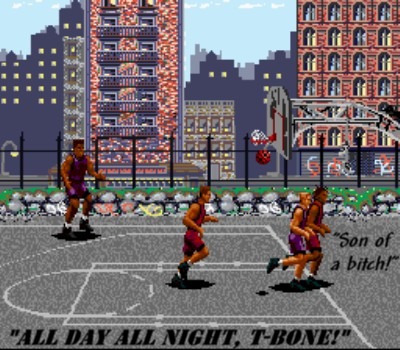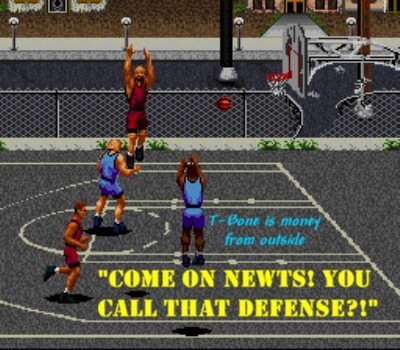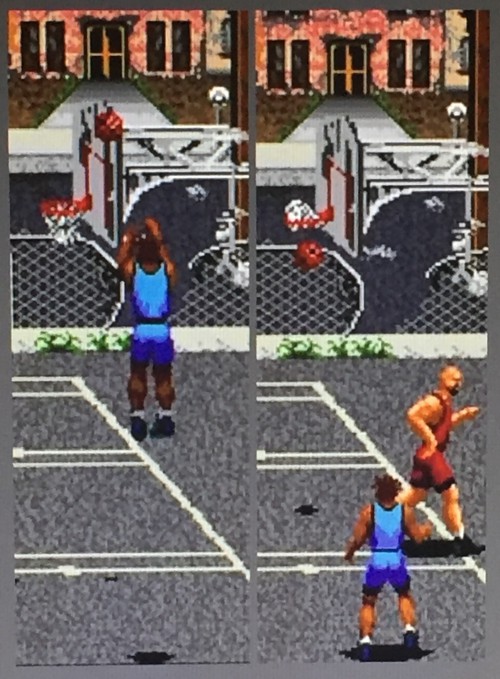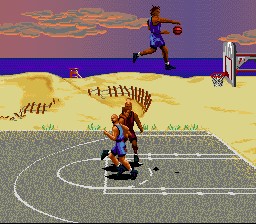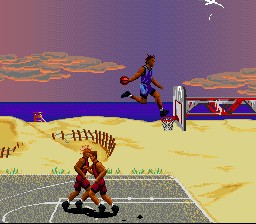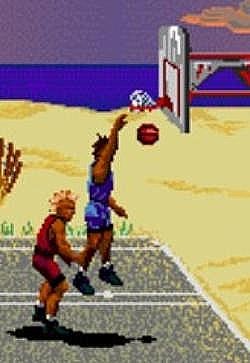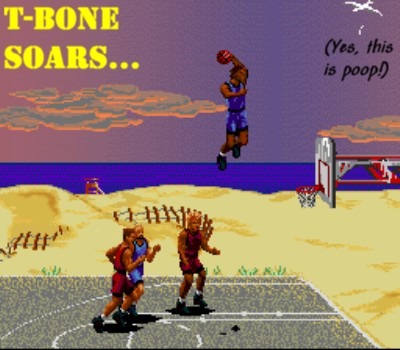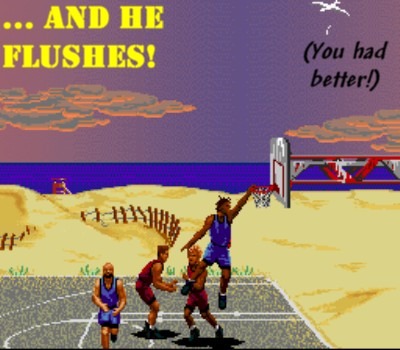 GODZILLA VS. BARKLEY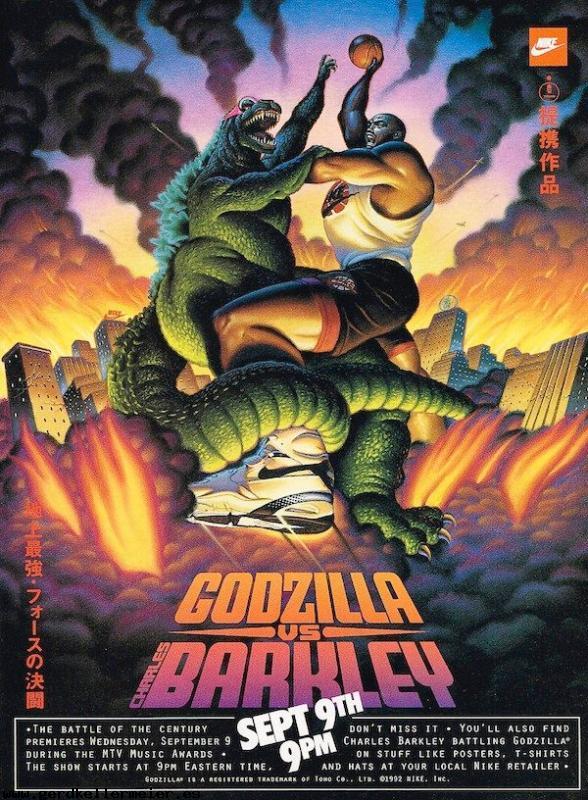 The year was 1992. I was watching TV on a random Saturday night when I first saw the commercial for Godzilla vs. Charles Barkley. As a huge Godzilla fan, I couldn't believe it. At the time I had no idea about the Heisei series (Godzilla films were still being cranked out in the early '90s on a yearly basis). With no internet back then, the last I saw Godzilla was in Godzilla 1985. So to say that I lost my shit would be a gross understatement. The Big Guy was back!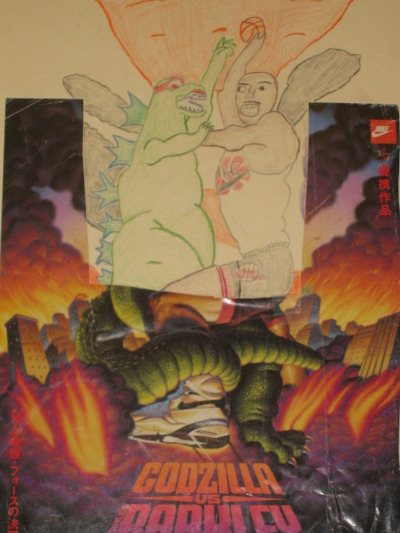 I even drew a picture of the fight for an art class in junior high. I can't draw to save my life, but I had a blast drawing this all the same. Good times.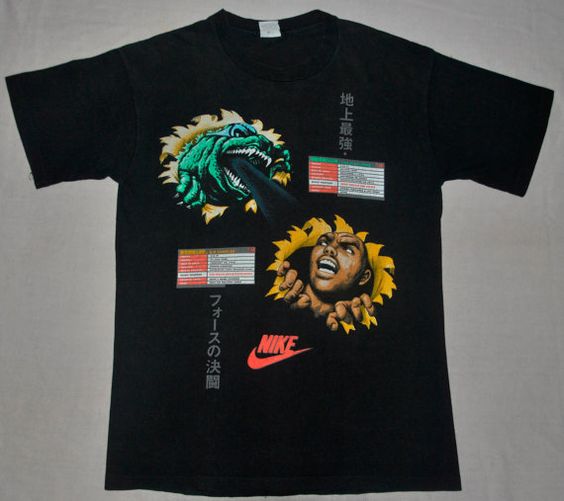 I actually thought when I first saw the commercial in 1992 that they were going to turn this into a movie. My mom even bought me the t-shirt, which made me the coolest kid at school. My friends and classmates loved reading the profiles for Barkley and Godzilla. I recall Barkley's favorite meal being mom's home cooking!
Over 25 years ago now!
Bigger than King Ghidorah! Deadlier than MechaGodzilla! It's… Charles Barkley?!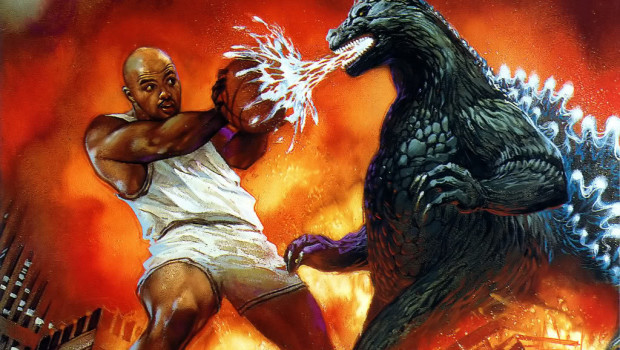 CHARLES BARKLEY INTERVIEW
As I blew the dust off my old drawing, the wheels started to turn. What if, somehow, I could show Chuck this? And in the process, score an interview with the Round Mound of Rebound? I also asked if I could interview Barkley about his SNES video game. I sent out an email to Barkley's PR people just over 10 years ago in 2008. Imagine my shock and disbelief when I saw the following in my email box…
From: Charles Barkley's PR people
Sent: Tue 3.18.08 9:05 AM
To: Steve

Your Godzilla vs. Barkley drawing was sent to Charles, in addition to your request for an interview for his old video game. It was well received. We can set something up for next week. Charles is very busy but he said he can swing 10 minutes.
As a result, I found myself interviewing Charles Barkley on March 26, 2008!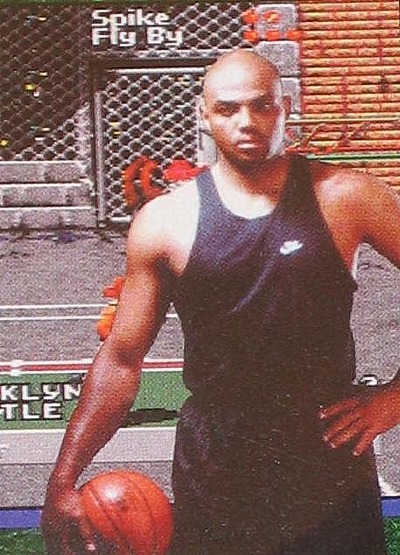 Me: I know you're busy, so thank you for taking the time.
CB: You gonna give my game a good score, right?
Me: Sure. Of course… so, have you ever heard of RVG Fanatic?
CB: Never in my life.
Me: Real quick, what was the Godzilla gig like?
CB: Fun as hell. The Japanese people love me, and who can blame them?
Me: Do you mind fielding a few general basketball questions before we get to the video game?
CB: Fire away.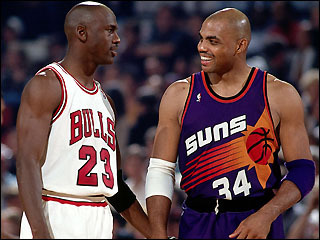 Me: You've played against both Michael Jordan and Kobe Bryant. Many think Kobe is this generation's Michael Jordan. How wide is the gap between the two?
CB: I think Kobe's great, he fantastic, all of that. But people who think he as good as Michael was, they must never have seen Michael. Because if they did, they would say no such thing. But for 2008, Kobe is as close as you gonna get. And I like Kobe, he's a tremendous talent, but Michael? Come on now!
Me: You've had such a wonderful career. Ever wake up in the middle of the night and get that itch?
CB: I used to, you know. But now it's mainly an itch from a bug bite or something *chuckles* Yeah, those days are long gone. I'm happy where I'm at. Life is good for the Chuckster.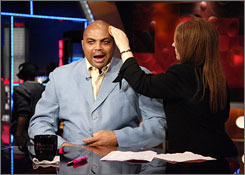 Me: I love your work on TNT with Ernie and Kenny. What is it like being on that show?
CB: It's great, aside from the lousy pay and some jackass studio people who think they know it all. But man, lemme tell you something, I get to work only one day of the week, I have some good people looking out for me, and best of all, sitting next to two losers like Kenny and Ernie makes me look really good! *chuckles*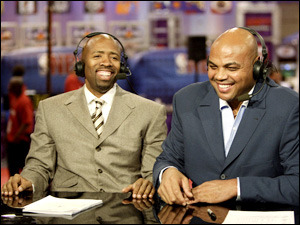 Me: Good ol' Kenny. You gotta love that little Tar Heel bastard. What's it like working with Kenny?
CB: Like a gawd damn root canal. Naw, working with Kenny is interesting. He always makes me laugh… whenever I look at that ugly ass mug of his *chuckles*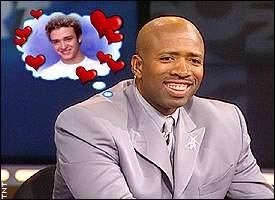 Me: I remember that time you guys played that little joke on Kenny about Justin Timberlake hitting a jumper in his face…
CB: Oh yeah he had that coming. They always trying to clown the Chuckster so any chance I get, I'll get him. As long as I'm around, he'll never live that down.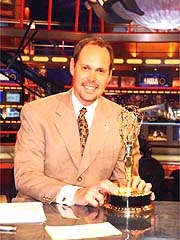 Me: What about Ernie? What's it like working with him?
CB: Ernie who? Oh you mean that middle-aged white boy riding my coat tails? Oh OK, that Ernie. Naw, Ernie is just wonderful. People stop me on the street all the time to ask me if Ernie is black or white.
Me: And you tell them… ?
CB: That he white as hell. White as Wonder Bread *chuckles*
Me: He keeps you and Kenny in check, eh?
CB: That he does. Naw listen, he's one of the best in the business. I'm really happy for his success. Couldn't happen to a nicer guy.
Me: I know your time is precious, so let's jump to the game now. What are your memories of it?
CB: I was never a big game player, even then, but I saw an opportunity to get involved with a basketball game that I wanted to have my style of play on it. Physical, fast, no rules.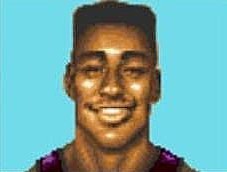 Me: Were the 15 street ballers real? Your partner in the game was Dane. Was he legit?
CB: Most were real, others based off players I seen on the streets. Dane was real. He and I used to play ball growing up. There was nothing the kid couldn't do. He could have made the NBA but he made some bad choices along the way. You see kids like him in the 'hood all the time. All the talent in the world but then they get caught up in something that ruins them. Or they simply get caught at the wrong place and wrong time.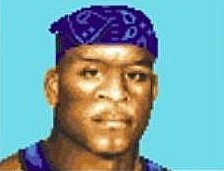 Me: That's too bad. Any others you have a story about?
CB: Every 'hood has a Chilly. He's the guy you don't mess around with. Hell, I think there should be more guys like Chilly in the suburbs. Kids these days too damn soft!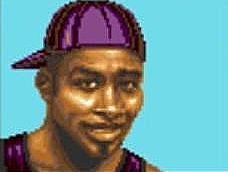 Me: My bro's favorite player was Sweet Pea. What's the lowdown on him?
CB: Sweet Pea was real. Ton of talent, big heart. The bigger the crowd the better he played. He used to steal kisses with the honeys on the sideline as he dribbled the ball up. I ain't never seen that before. Hey, more power to him.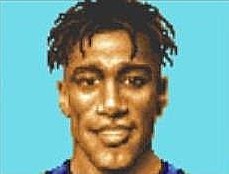 Me: My favorite was T-Bone. Was T-Bone real?
CB: I haven't thought about T-Bone's ass in years. So my main man Dane was great, but man, T-Bone was special. He was ahead of his time. He was like the T-Mac of the streets. 6'8″ and there was nothing he couldn't do. The best player I ever saw who never made it to the NBA.
Me: To bring the interview to a close, I'm going to mention some names of the people who worked on the game with you. Feel free to say something if a name strikes your fancy.
CB: Shoot.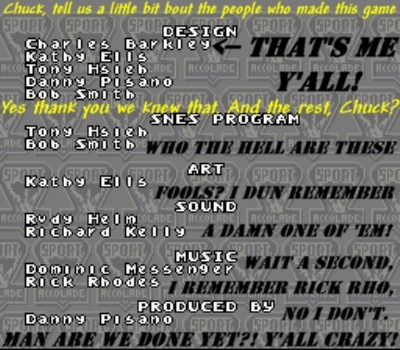 Me: Thanks Sir Charles, it was a real honor.
CB: You got it. Good luck with JVG Fanatic.
Me: RVGFanatic.
CB: Whatever *chuckles*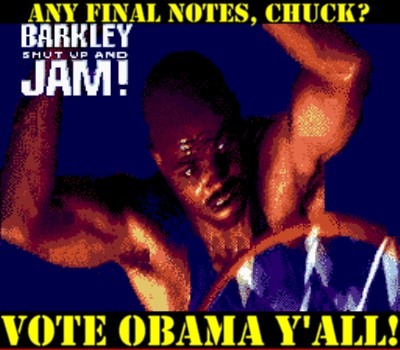 April FOOLS! Sorry I couldn't resist. But seriously, not to leave you feeling totally cheated, here's a LEGIT design session held with the Chuckster from back in the day.
SHUT UP AND JAM! DESIGN SESSION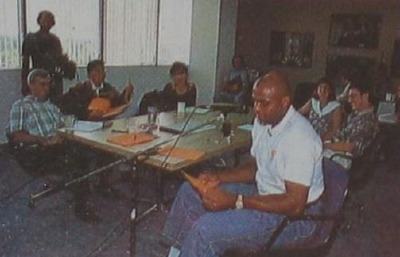 "So this is what you people do? What's the world coming to?" Thus, amid much laughter, did Charles Barkley start his visit to Accolade. When the day was done, Barkley's style and personality were part of the product and the design team was happy to have met such an individual who cuts through the "image is everything" athletic Public Relations bull. Refreshing.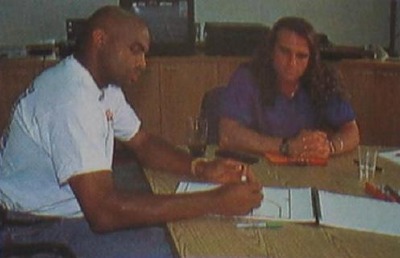 The morning began with an overview of competing products. While Barkley is not a big video game player, he already knew what he wanted.
"I think it would be great to be different," said Barkley. "You don't want the same old boring thing."
The basic premise put forward by the design team was a two-on-two game, and within a tournament, a number of games played around the country in different locations. The games would be played in the streets and it was this point that Barkley emphasized.
It was immediately clear that the NBA star felt very strongly that the roots of basketball are in the neighborhoods and playgrounds of America, not in the $200 courtside seats of the NBA. "Basketball is a playground game," he told the game designers. "It's where I got my start and it's where the game of basketball originated." He told them about players in his old neighborhood who had as much or more talent than guys playing in the NBA, but just didn't have the breaks or the bucks to make it.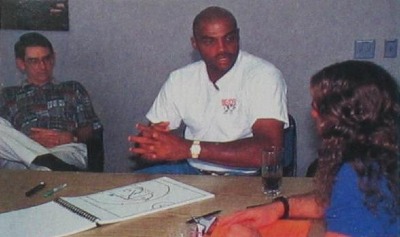 "The level of talent is just tremendous," he said. "It's more passionate on the street and people just play because they love the game. We used to play all day in the streets. It's tremendous basketball, because you have to compete at such a high level. With 10 guys on the side you knew if you lost you wouldn't get to play for a long time."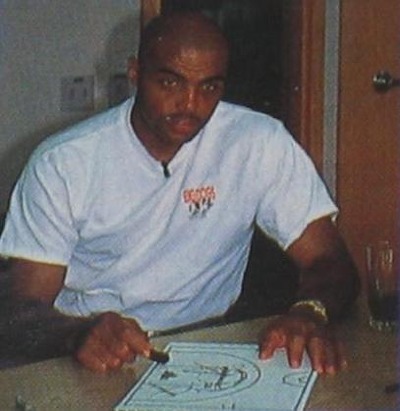 "Basketball has gotten away from its roots," Barkley explained. "I love the street game. LOVE IT. When you go to the neighborhoods there are legends — people just known by their nicknames."
Teamwork was another item Barkley mentioned. "It's important to work as a team. You have to have teammates to help each other. The street game is more passionate. This game will be based off of my personality. I play physical. I play hard. I play aggressive. I want the players to work together. I want the game to be fun."
Each of these suggestions, along with basic Barkley moves such as the thunder dunk have been incorporated into this game. Interestingly, Barkley had no burning desire to beat other celebrity endorsed products. "I just want to put out a good game."
HOOK IT UP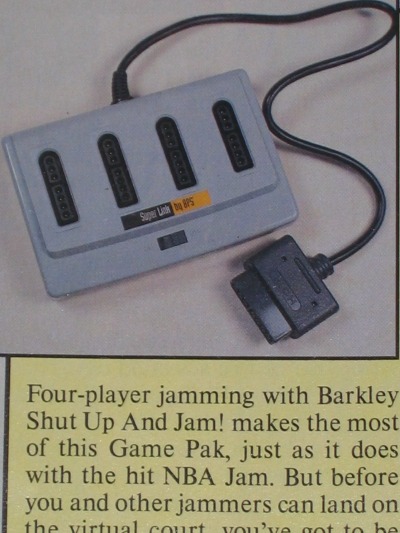 Shut Up and Jam! takes advantage of the SNES multitap, allowing for up to four players to partake. The computer is a real pushover, so the real fun lies in playing this game with three others (provided you can find three pals who would be willing to play this over NBA Jam…)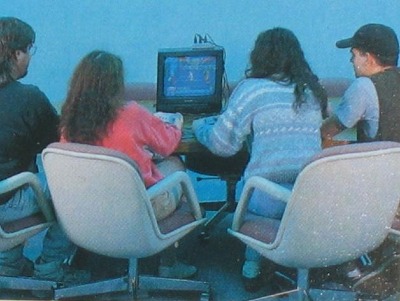 My brother and I, along with our friends from the neighborhood, used to play four player Shut Up and Jam! before competing in some real life 2-on-2 in my backyard. Ah, those were the days. We squeezed lots of fun out of the game, even if it wasn't very good.
WILT WHO?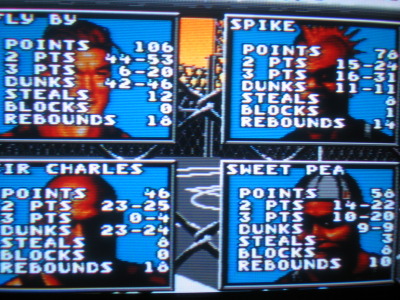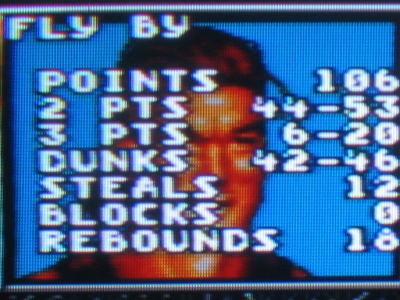 TRASH TALK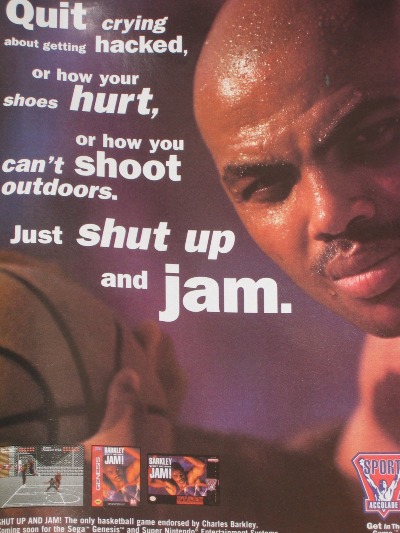 The ads for Shut Up and Jam! matched the trash talking intensity of one, Sir Charles.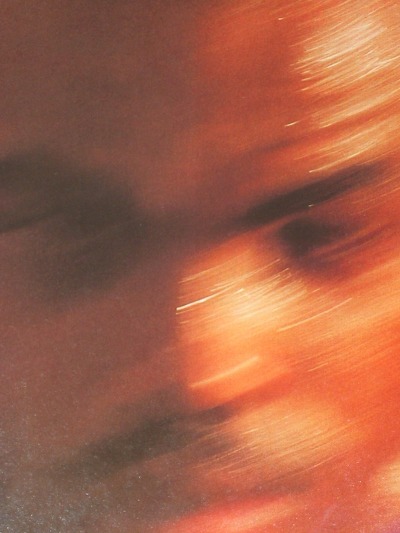 This photo ain't blurry.
It's just how you're
gonna see me
after I knock
your sorry self
to the blacktop
and dunk
on your head
ten times.
WHAT THE CRITICS SAID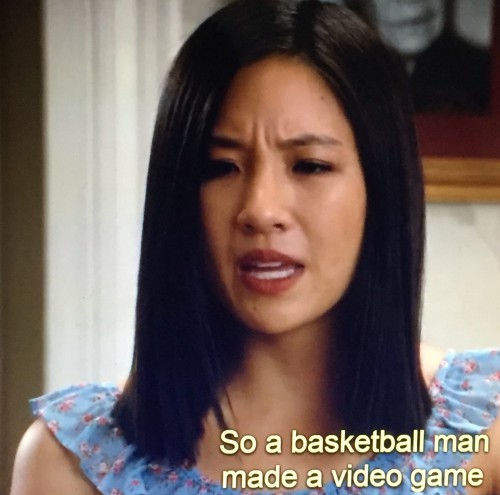 Back in the '90s, most games with the name of a professional athlete in its title usually sucked. It was like a cheap way of marketing a subpar game to the gullible masses of kids who looked up to these star athletes. Once in a while you got a gem like Ken Griffey Jr. Presents Major League Baseball. Or surprisingly decent efforts like Michael Jordan: Chaos in the Windy City.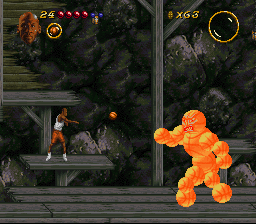 But for the most part, games featuring a star athlete's name in its title were pretty bad. Remember Bill Laimbeer's Combat Basketball? Or how about…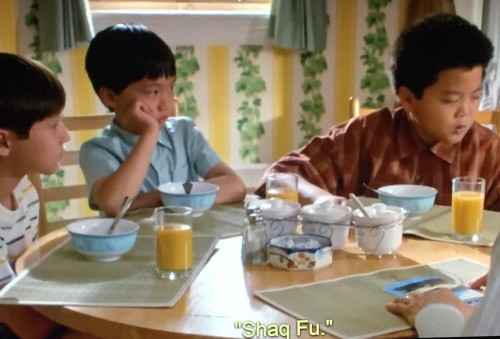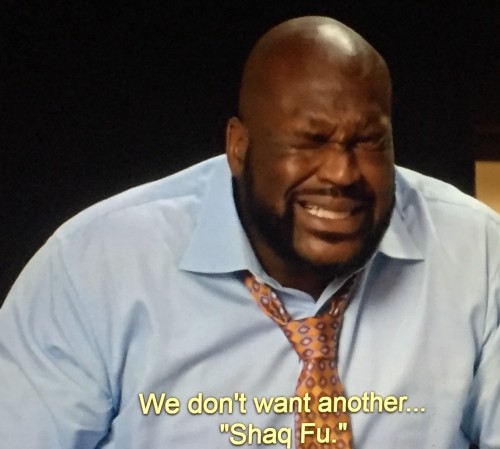 Barkley Shut Up and Jam! was never reviewed by EGM, GameFan or Super Play. It doesn't have a savory reputation, to say the least. It's definitely closer to Shaq Fu than it is to Chaos in the Windy City, in terms of fan reception.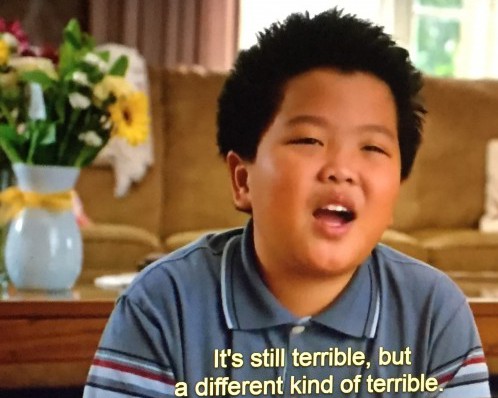 CLOSING THOUGHTS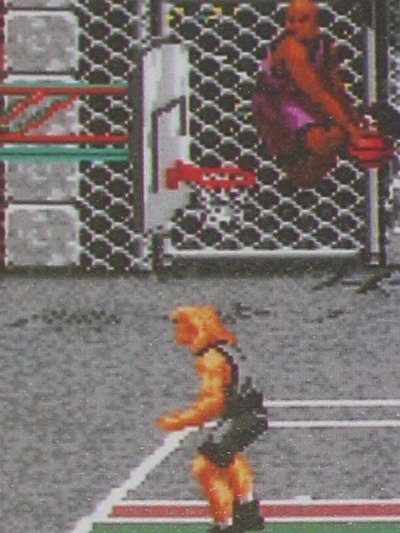 Shut Up and Jam has more going against it than it does going for it. But that doesn't mean it's completely worthless. The gameplay felt a little funky at first and the roster isn't the greatest, but Shut Up and Jam oddly grew on me after a while. Revisiting this game over a decade ago was an interesting experience. Believe it or not, I liked it quite a bit back in 1994. It was a fun alternative when my friends and I wanted a break from NBA Jam, even though we knew it had fundamental flaws. In spite of its numerous warts, I can still pop it in today for 10 minutes and have a decent time messing around with it.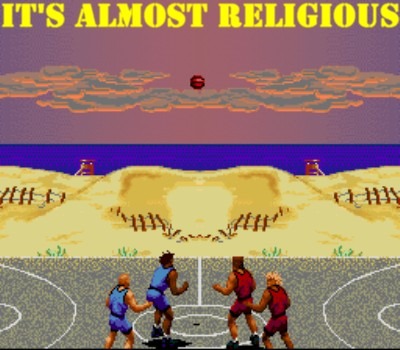 The graphics and sound are below average. The visuals look muddy, but in some respects I guess it reflects the gritty feel of street ball. The animation is extremely lacking and so players move a bit awkwardly. Despite some stiff animation, thank goodness the game plays fairly fast and tight. There are some digitized speech samples from Barkley, but you hardly notice it.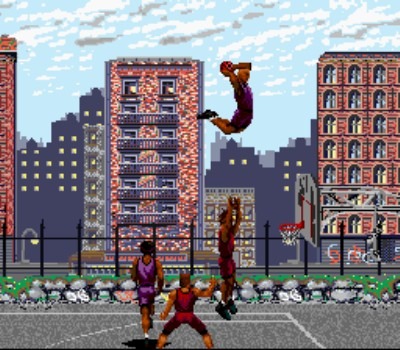 You shoot, slam, shove and swat. You can run over the opponent, or you can jump and knock their ass to the ground when they go for the big jam. It's not meant to be taken seriously and when taken at face value, it can be oddly enjoyable. Trying out the different players and team combinations is part of the fun as well. Jump shots must be released at the peak of your jump or you can expect an airball, which happens more here than any other basketball game I've ever played. Annoying to say the least!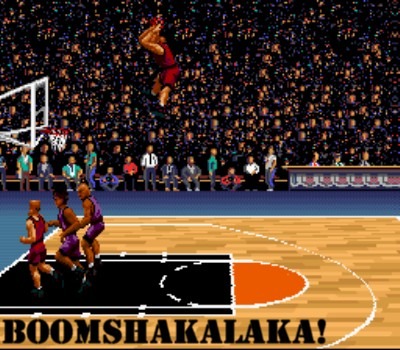 Although on the surface it may seem a lot like NBA Jam, it really does have its own feel, somewhat. Sans the one arena, I enjoy the blacktop gritty atmosphere the game generates. It's just a bunch of dudes from the 'hood balling to be the best. And even though Shut Up and Jam advocates the slam dunk, nothing beats weaving through the lane and then kicking it out to your wide open teammate for the sweet 18 foot jumper. That swish is music to my ears. Let the trash talking begin! And if you're thinking of making any cheap excuses, just remember this one thing…

Graphics: 4
Sound: 4.5
Gameplay: 4.5
Longevity: 5
Overall: 4.5