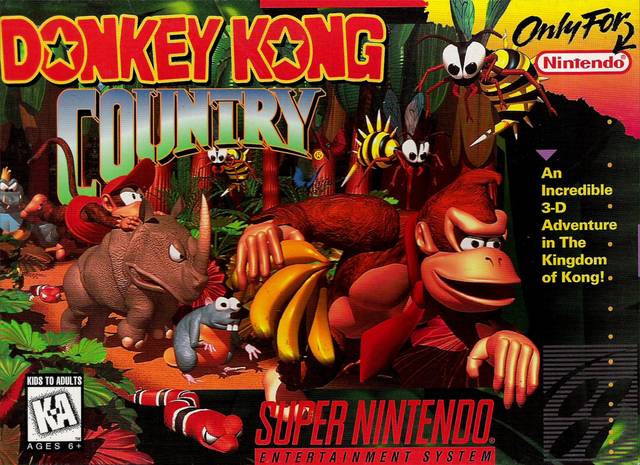 Released on November 21, 1994 — the four year anniversary of the Super Famicom — Donkey Kong Country ushered in a new era of SNES gaming. Using pre-rendered 3D graphics and a technique known as ACM (Advanced Computer Modeling), Nintendo pushed DKC as an answer to the 32-bit war machines looming over the horizon. Nintendo's message was loud and clear: 16-bit ain't dead yet. No, as a matter of fact, 16-bit has a lot left in the tank. Donkey Kong Country is arguably the most hyped game to ever come out on the SNES. One thing is for sure: it's the second best selling game on the system. Moving NINE MILLION copies, it's second in sales only to Super Mario World. So whether you love DKC or find it overrated, there's no denying the game was a commercial smash hit in every respect of the word. Let us return to the jungle…
HOW RARE REINVENTED 16-BITS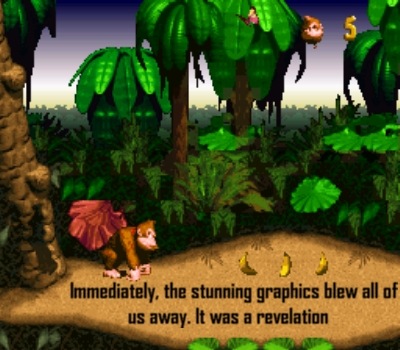 In the fall of 1994, Donkey Kong Country dominated the gaming press. You couldn't pick up a video game magazine without seeing DKC on the front cover. It was a revolutionary effort set to redefine 16-bit gaming as we knew it. Magazines like EGM and GameFan hyped it beyond the moon. The screenshots looked absolutely amazing. We never thought such visuals were possible on the SNES and nearly crapped our pants the first time we saw it live in the flesh. It's one of those moments in your gaming fandom that you never forget.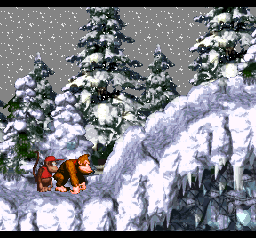 One of my favorite memories with this game came over 20 years ago. My old best friend Nelson was in love with Donkey Kong Country. I vividly remember one frosty Friday morning Nelson and I were chatting on the playground before school. Nelly said, "I'm buying Donkey Kong Country after school. I've been dying to play a good adventure game!" For some reason that always stuck with me. When I think about Donkey Kong Country, the very first word that comes to mind is adventure. From snowy mountains to lush treetops to shark-infested waters, this game exudes ADVENTURE. Whether you control Donkey or Diddy Kong, one thing is for sure… it's going to be one hell of an adventure. At the end of the day, isn't that what video games are all about?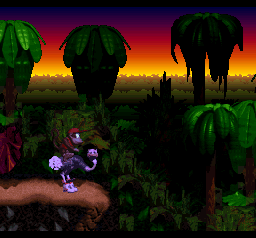 IT WAS A DARK AND STORMY NIGHT…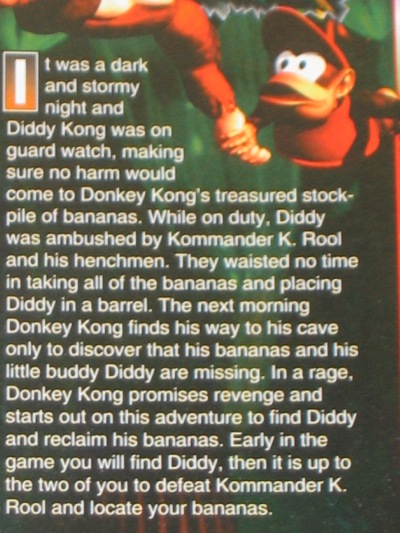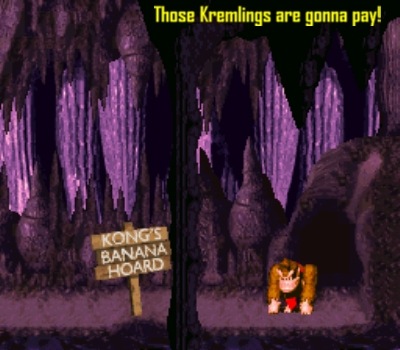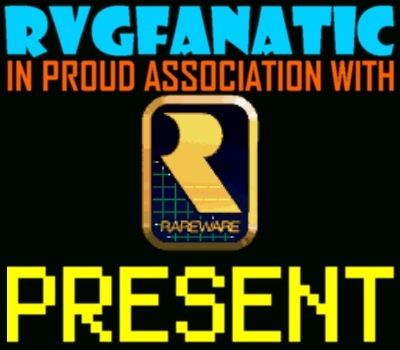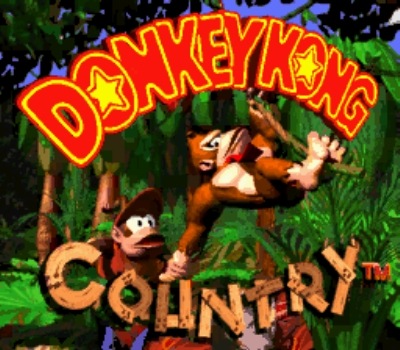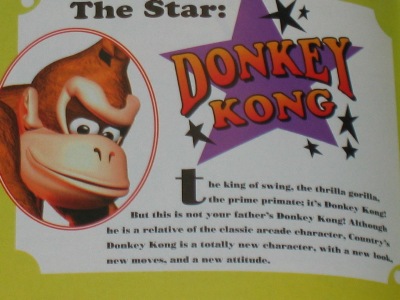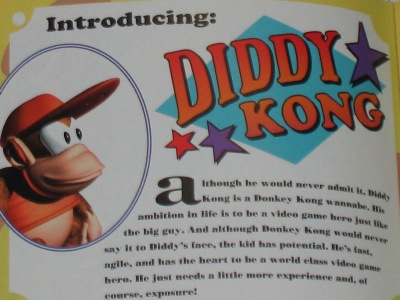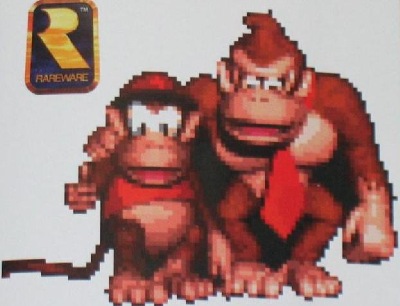 OTHER KONGS IN THE JUNGLE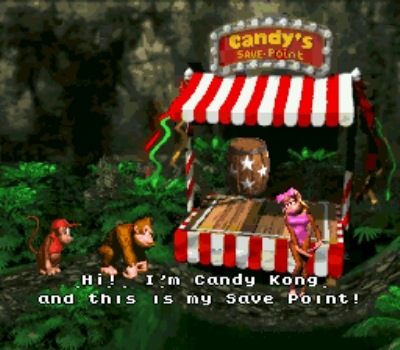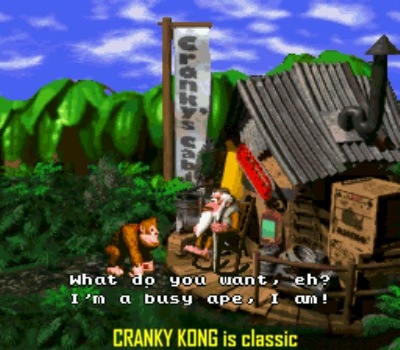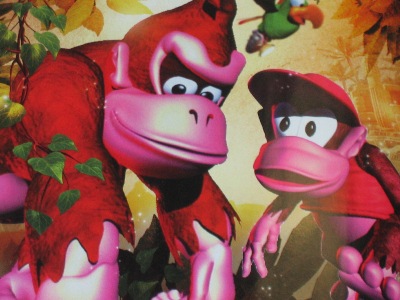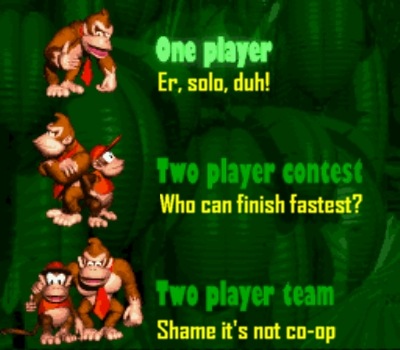 LEVEL 1: JUNGLE HI-JINXS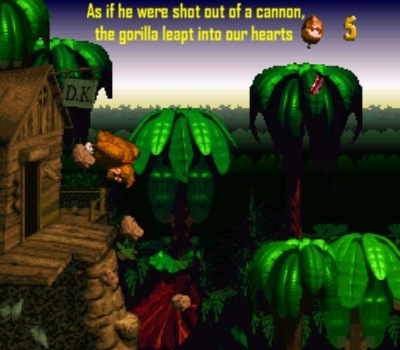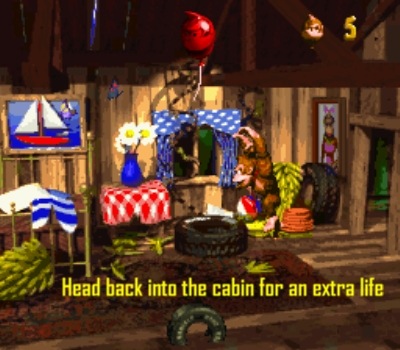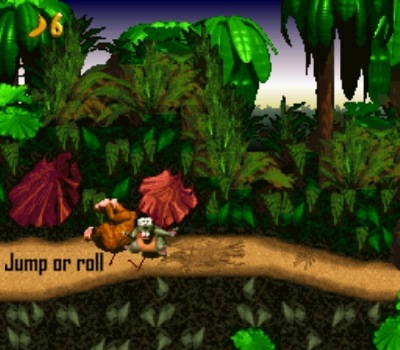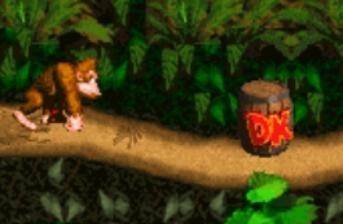 Barrels featuring the letters DK unlocks your partner (if necessary). These barrels somehow always seem to be positioned just right on most stages. A job well done by Rare who clearly thought out each centimeter of their game with meticulous care.
Break the barrel to free a young and vibrant sidekick by the name of Diddy Kong. Now you can switch off to play as either Diddy or Donkey. Diddy is faster and can jump a bit farther than Donkey, but Donkey has the power advantage. Donkey can kill certain enemies that Diddy can't. The differences in the two add to the fun and strategy of the game.
Rescue animal friends throughout the levels to assist you in your quest. The first being Rambi the raging Rhino! These animal friends each have their own pros and cons. Rambi is one of my favorites. It's tough to beat riding a rhino and goring the hell out of anything that gets in your way.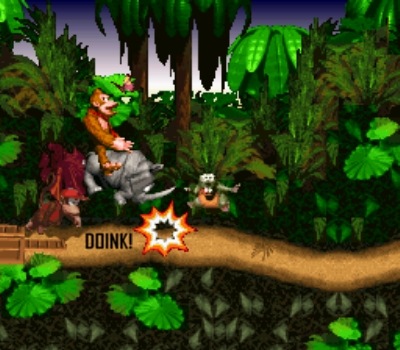 Hidden bonus rooms are scattered throughout. Try to find them all.
Cranky Kong interjects with his classic "back in MY day" spiel. I love how he breaks the fourth wall. Back in 1994 this blew my 11-year-old mind.
LEVEL 2: ROPEY RAMPAGE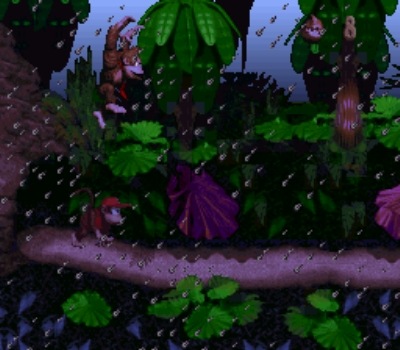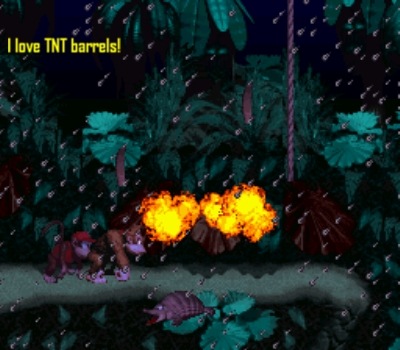 LEVEL 3: REPTILE RUMBLE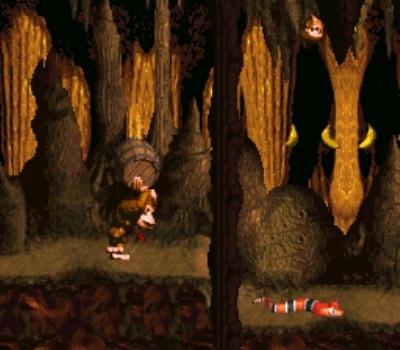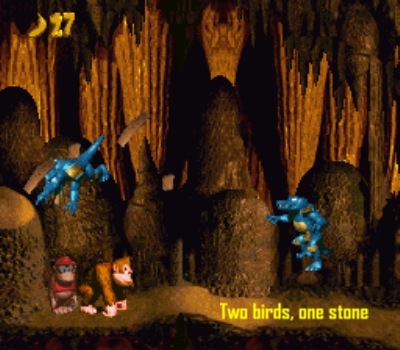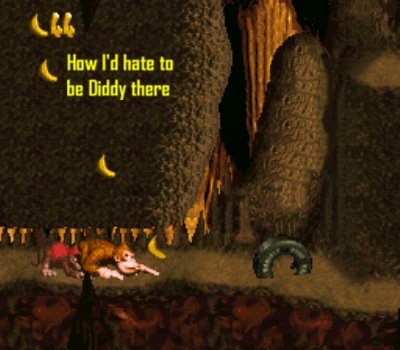 Barrels can be used to find hidden bonus rooms. Be experimental!
LEVEL 4: CORAL CAPERS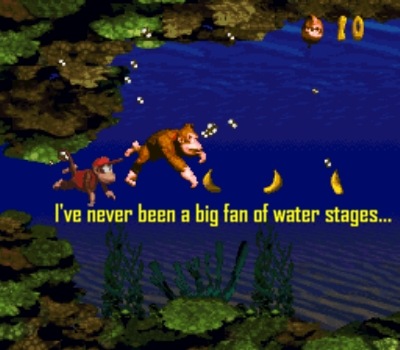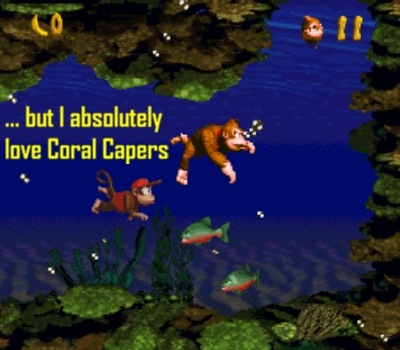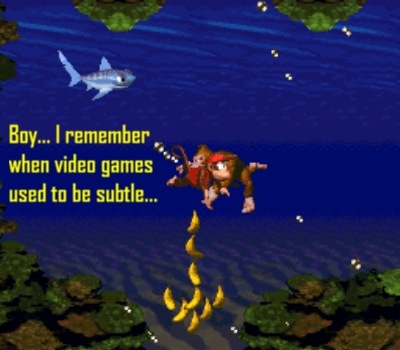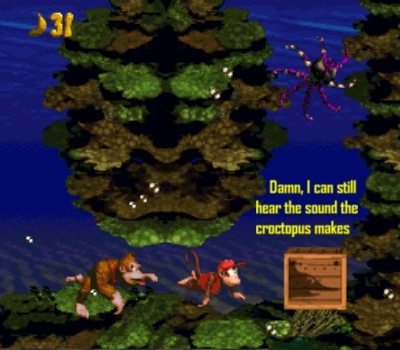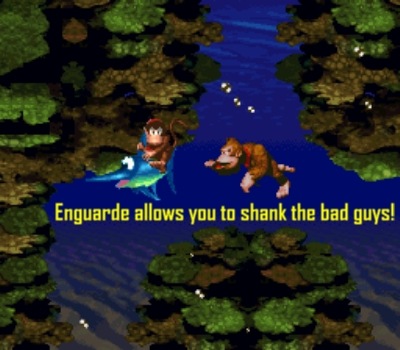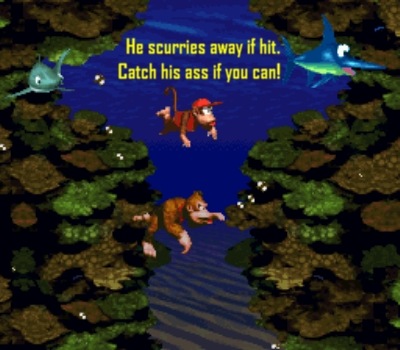 STAGE 5: BARREL CANNON CANYON
Barrel Cannon Canyon (try saying that fast five times) is, as one might expect, littered with a classic Donkey Kong Country staple: barrel cannons. Some spit you out instantly while others rotate continuously, forcing you to manually leap out. Timing is everything!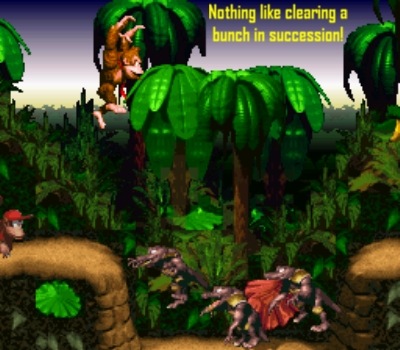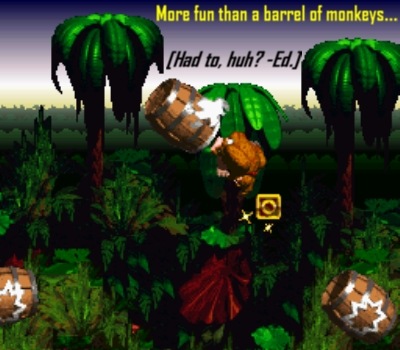 Zingers made going from one barrel to the next a bit more difficult. Laugh it up while you still can. Because later on you won't be laughing so much…
LEVEL 6: VERY GNAWTY'S LAIR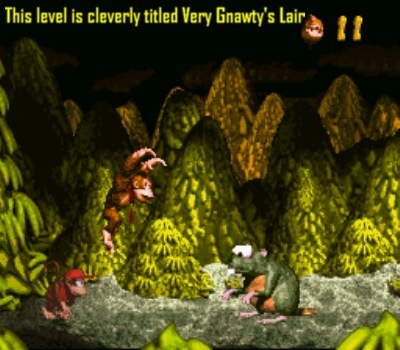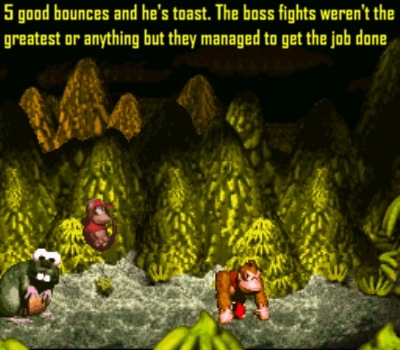 LEVEL 7: WINKY'S WALKWAY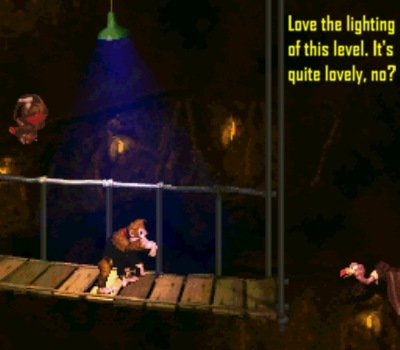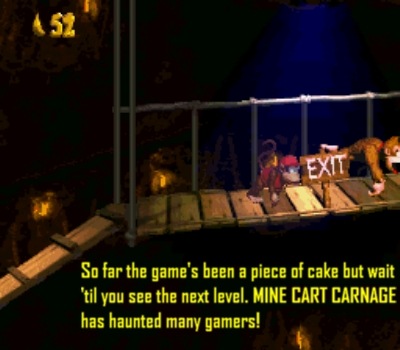 LEVEL 8: MINE CART CARNAGE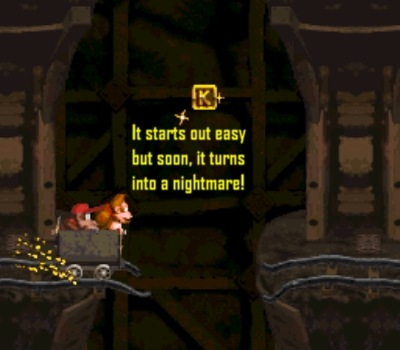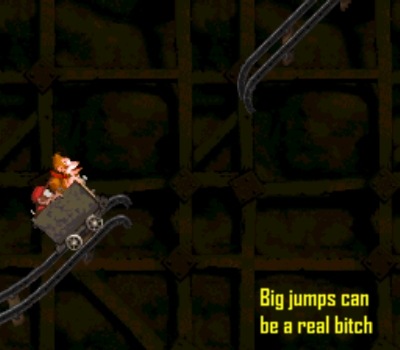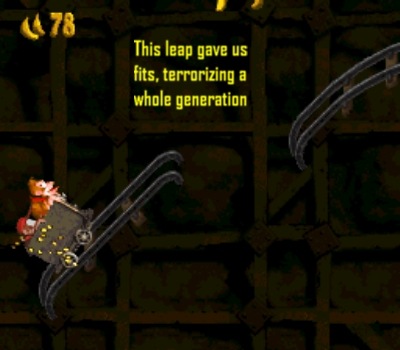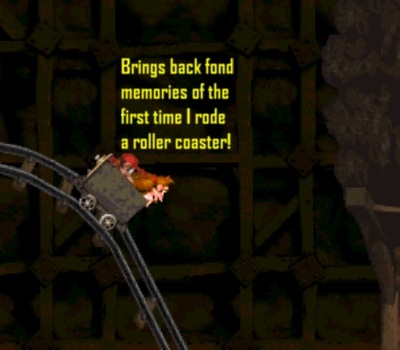 LEVEL 9: BOUNCY BONANZA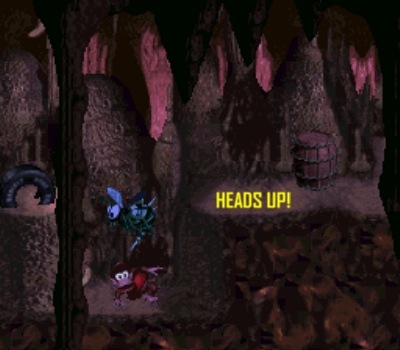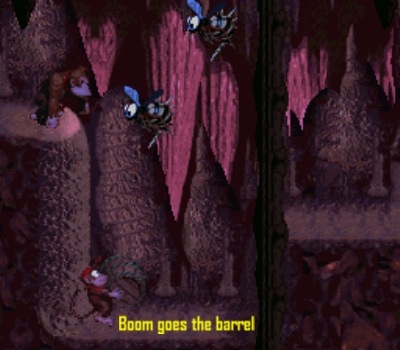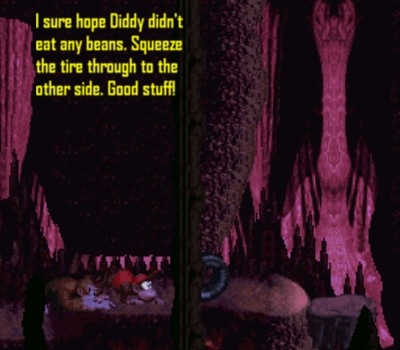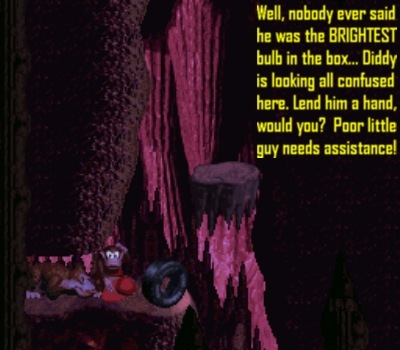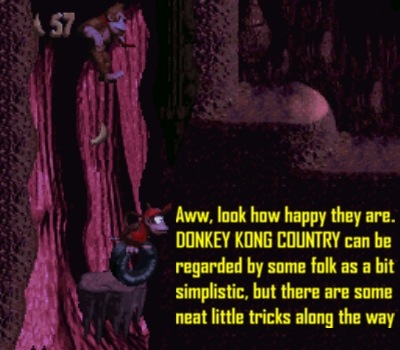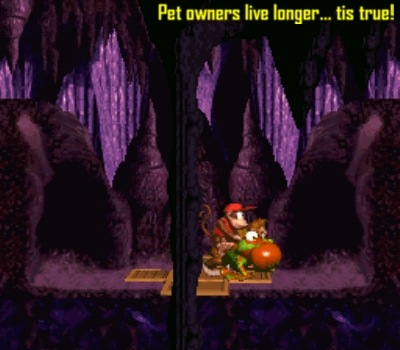 LEVEL 10: STOP & GO STATION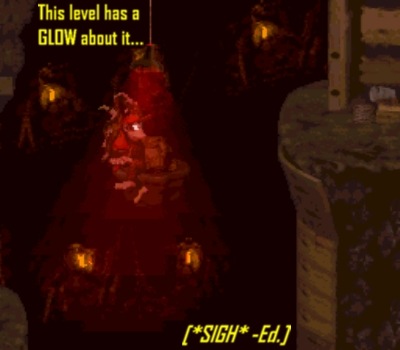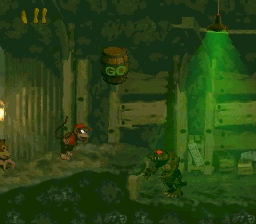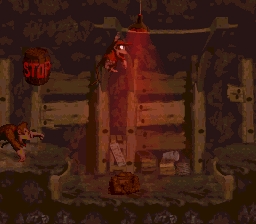 Interesting gimmick here. The rock-like monsters with red glowing eyes cannot be killed. You have no choice but to skillfully avoid them. Do this by touching the various barrels carefully positioned throughout. When you touch a barrel to stop, Rockkrocs assume the fetal position, allowing you just enough time to safely pass by. It's a nice change of pace.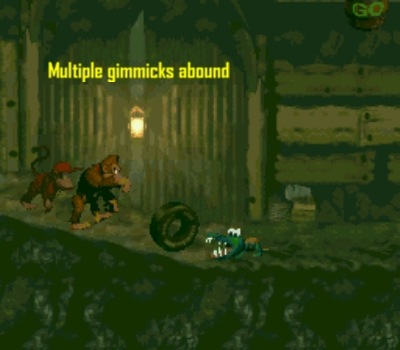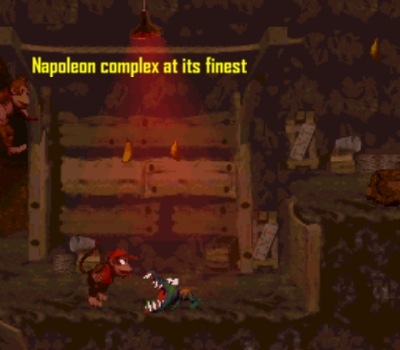 LEVEL 11: MILLSTONE MAYHEM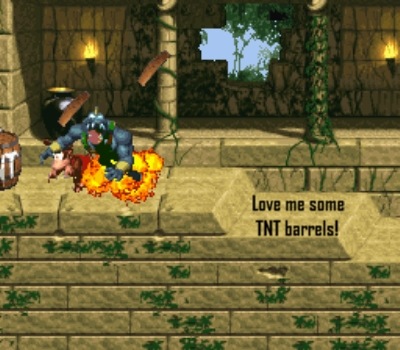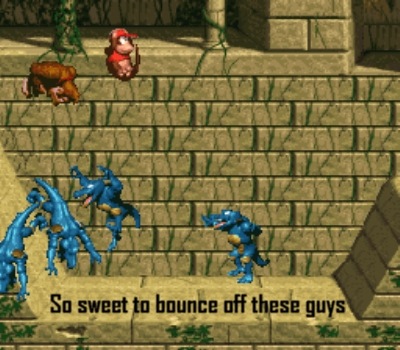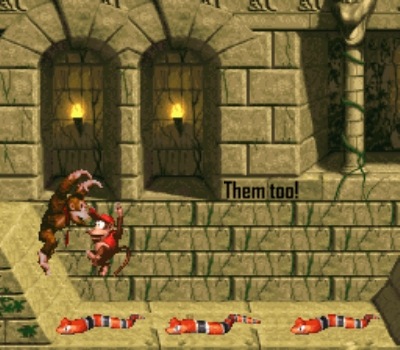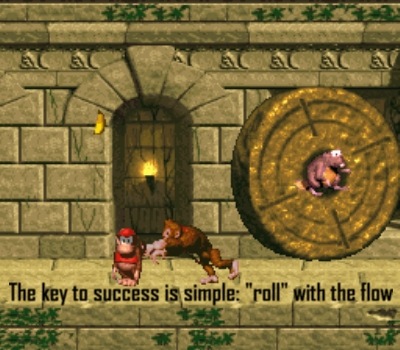 LEVEL 12: NECKY'S NUTS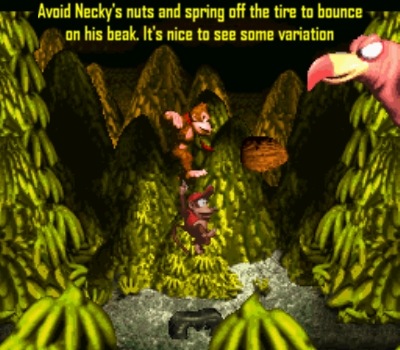 LEVEL 13: VULTURE CULTURE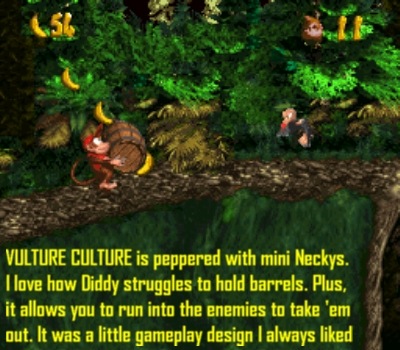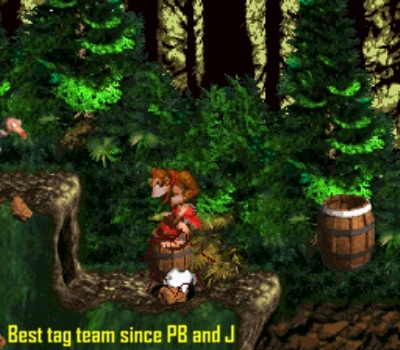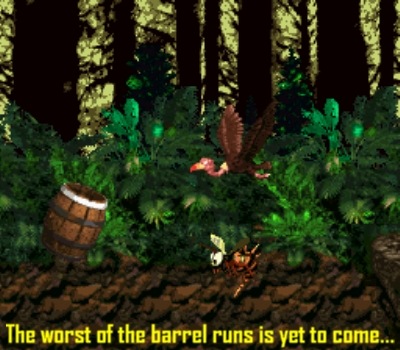 LEVEL 14: TREE TOP TOWN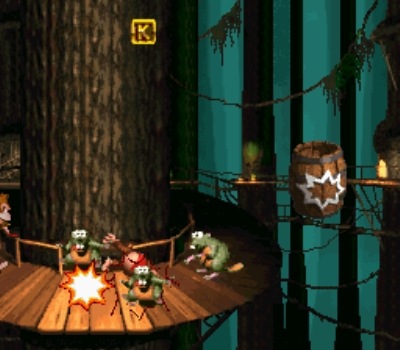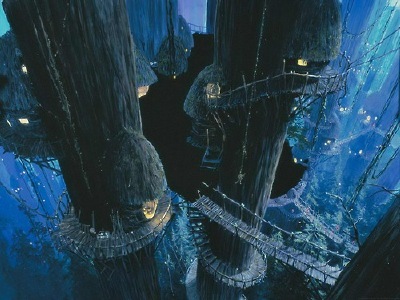 Barrel cannons galore — only the boldest of adventurers will pass.
LEVEL 15: FOREST FRENZY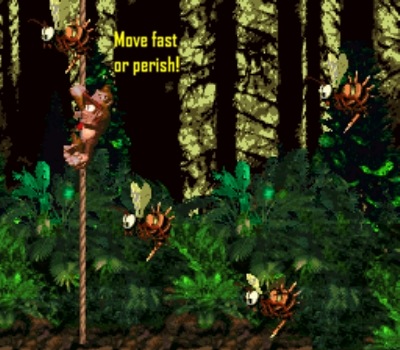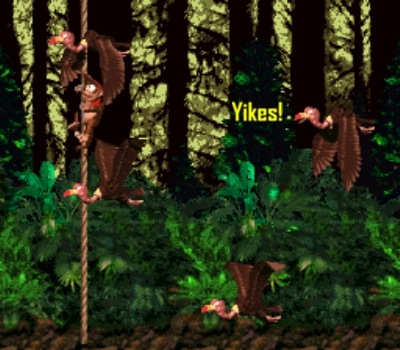 LEVEL 16: TEMPLE TEMPEST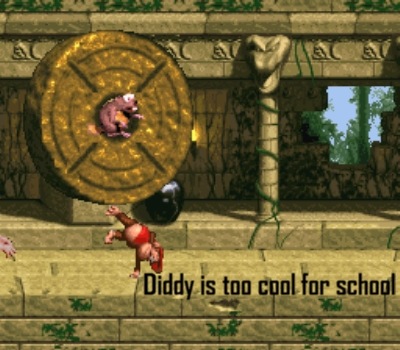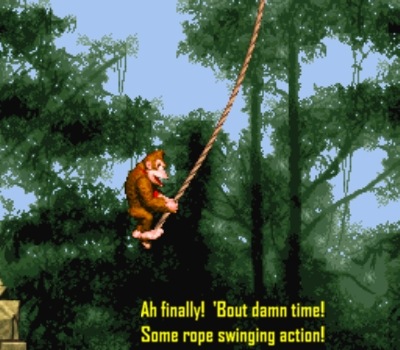 LEVEL 17: ORANG-UTAN GANG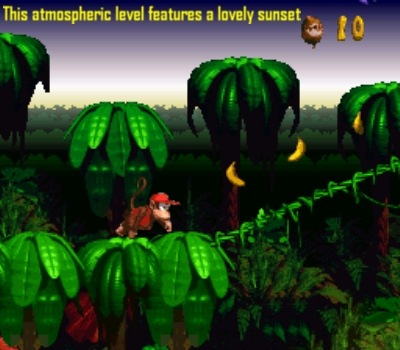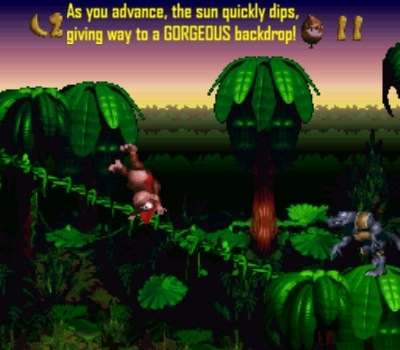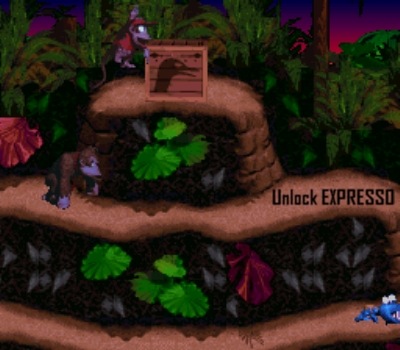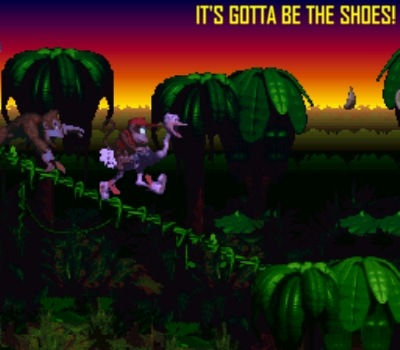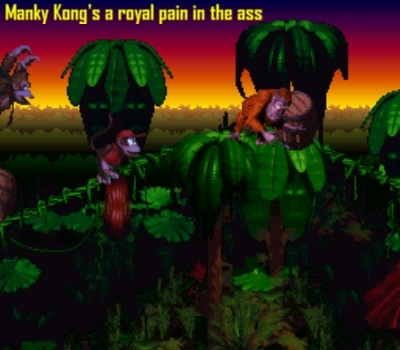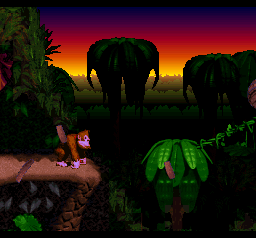 LEVEL 18: CLAM CITY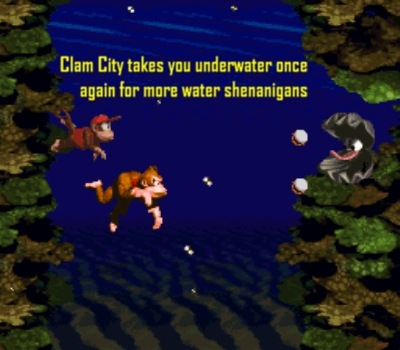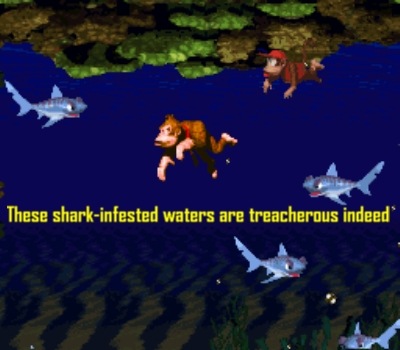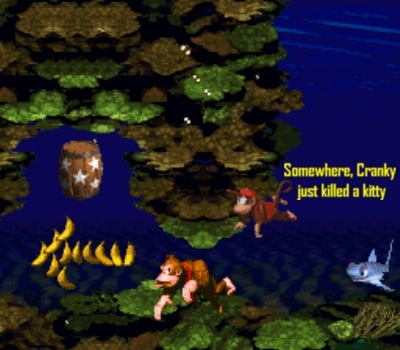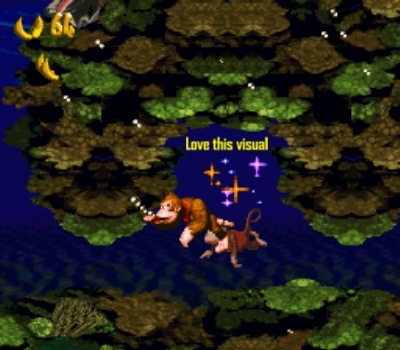 LEVEL 19: BUMBLE B. RUMBLE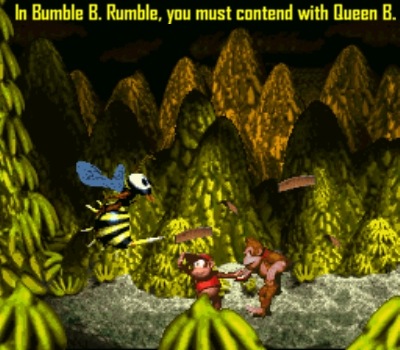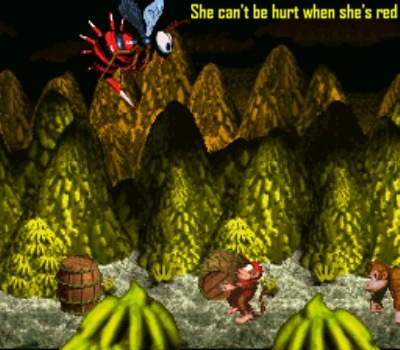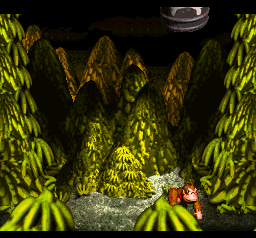 LEVEL 20: SNOW BARREL BLAST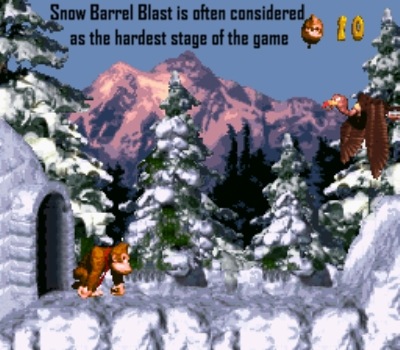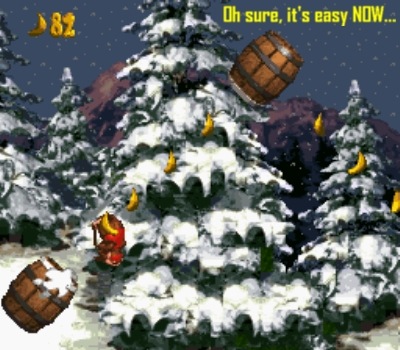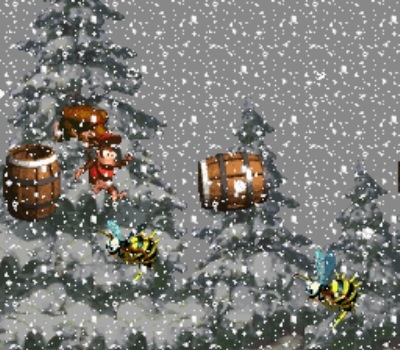 EXTRA EXTRA — READ ALL ABOUT IT!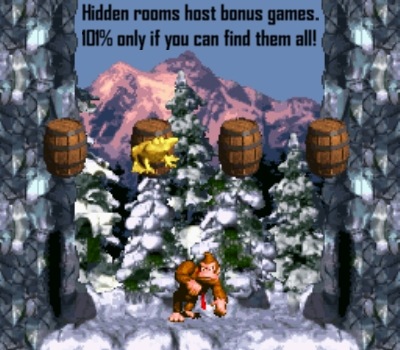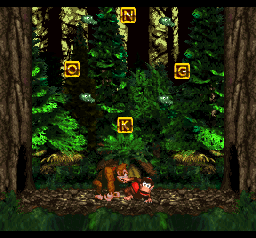 "B-B-BUT IT'S TOO EASY!"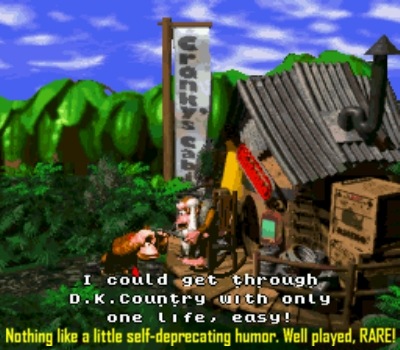 Many found Donkey Kong Country to be too easy. Rare probably knew that as well, because they weren't afraid to poke fun at themselves. While I do agree it was easy on the whole, there are a few levels sure to kick your ass.
Cranky breaks the fourth wall, AGAIN. What an endearing character!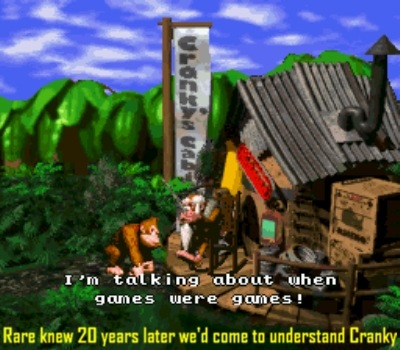 WHAT THE CRITICS SAID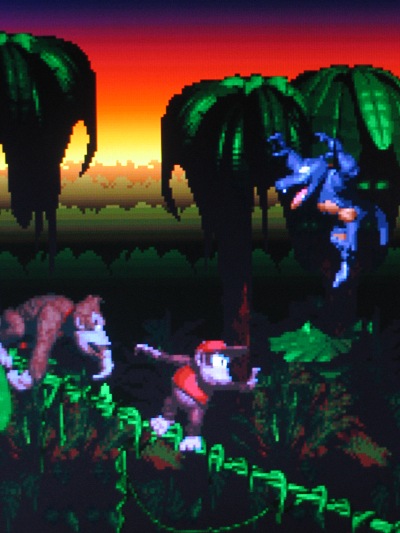 Donkey Kong Country was a critical and commercial success. Prior to its release, the hype surrounding it was off the charts. It graced endless gaming magazine covers. And not surprisingly, Donkey Kong Country was met with rave reviews. EGM awarded it Game of the Month with scores of 10, 9, 9 and 9. GameFan gave it a perfect trifecta. It scored 100, 100 and 100%. Super Play was a bit less than overly impressed, but still gave it a robust 90%. The hype for Donkey Kong Country stirred much gaming discourse, lifting the game to nearly mythic proportions even before it could reach gaming stores worldwide.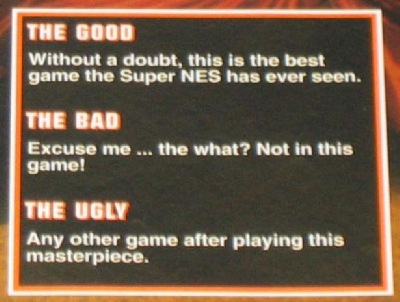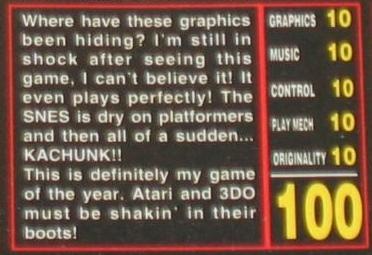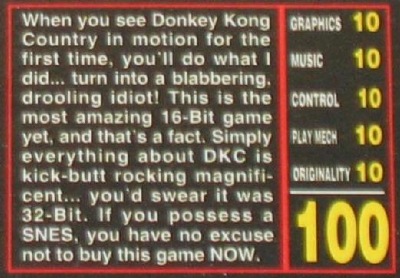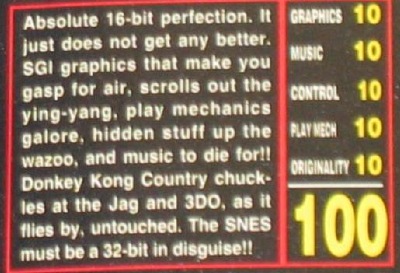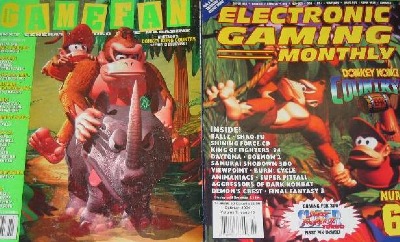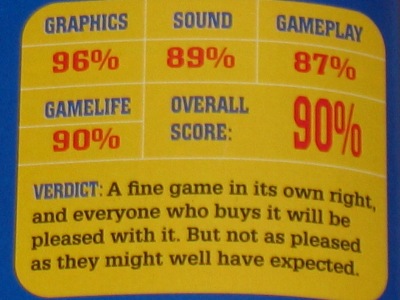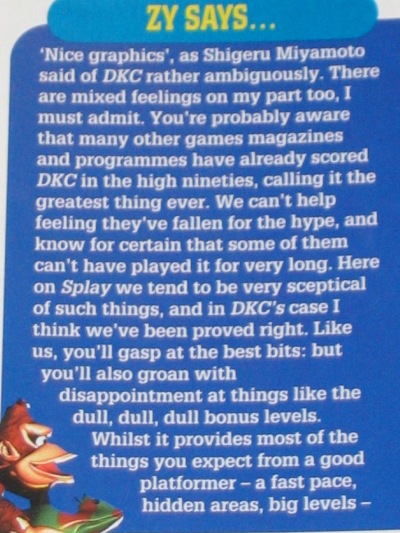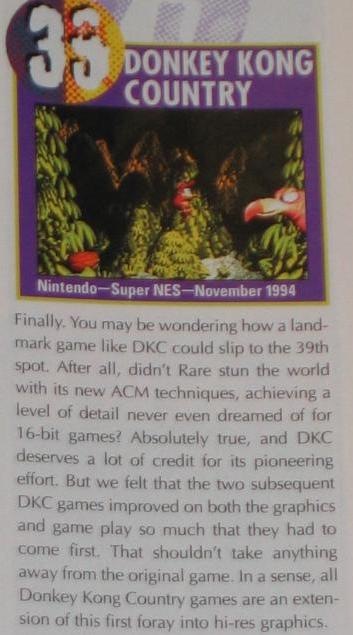 WHAT *YOU* SAID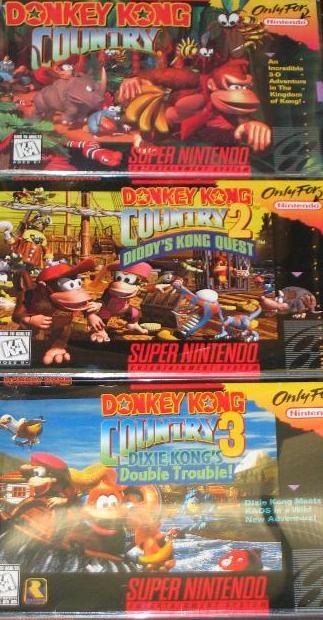 Curious as to see what my readers consider to be their favorite DKC game, I put it to the test with a survey years ago. The results of the poll were pretty much what I expected, and matched overall online consensus. Donkey Kong Country received the most votes at 39.3%. Diddy's Kong Quest finished just a hair behind with 37.5%. And Dixie Kong's Double Trouble came in last, with a respectable 23.2%. From my online travels over the years across various retro gaming forums, when discussion of the DKC trilogy pops up, it seems to be a dead even tie between the first and second games as people's favorite. Those who prefer the first game find it to be most "pure" of all, plus the nostalgia never hurts.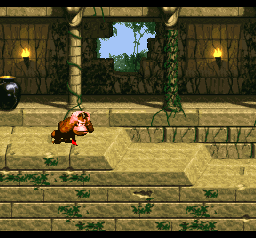 Folks who prefer Donkey Kong Country 2 love it for its refined and more difficult gameplay. They tend to also prefer controlling Dixie (with her smooth hair spinning ways) over the bigger and more cumbersome Donkey Kong. Last but not least, there's even a small pocket of fans who claim Donkey Kong Country 3 to be the best of the trilogy. They often cite it as having the best graphics and the most satisfying level design.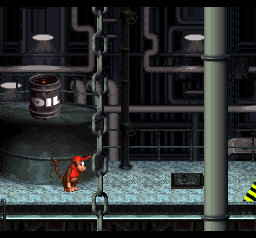 I can see the argument for all three games — it's just a matter of personal taste. There's no right or wrong answer. Myself, I agree with the majority. The first game is my favorite in the series. I concede that perhaps Donkey Kong Country 2 does play a bit better overall, but for pure fun and enjoyment there's nothing like the original. The first one has a special spot in my heart and that will never change.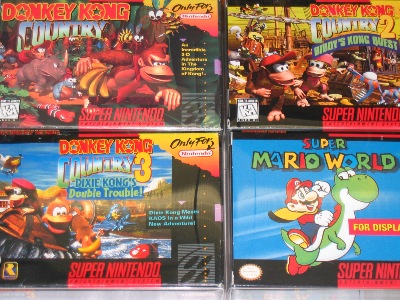 CLOSING THOUGHTS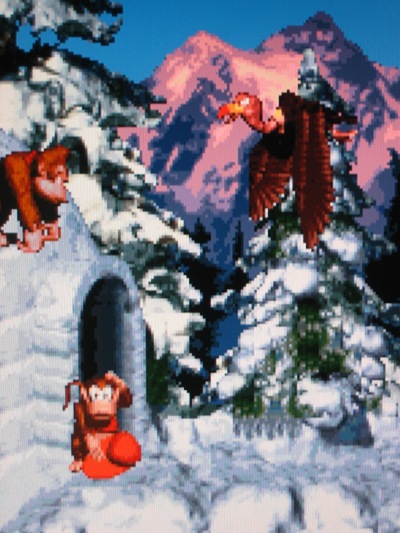 Donkey Kong Country isn't the mega epic adventure it was hyped up to be back in '94, but it's definitely a great overall package. I love the sense of adventure that it exudes — lush jungles, snow-capped mountains, mining caverns and more bring the action to vibrant life. The game's adventurous atmosphere resonates deeply with me. The journey that Donkey and Diddy Kong embarked on left an indelible mark on countless gaming hearts. Rare did wonders on the Super Nintendo that few thought was even possible. By the end of 1994, with the 32-bit era looming, Donkey Kong Country stood as a proud testament to the power and potential still remaining in Nintendo's trusty old 16-bit wonder. Do not go gentle into that good night. Your time is no doubt coming soon, 32-bit, but DAMNIT — NOT TODAY!!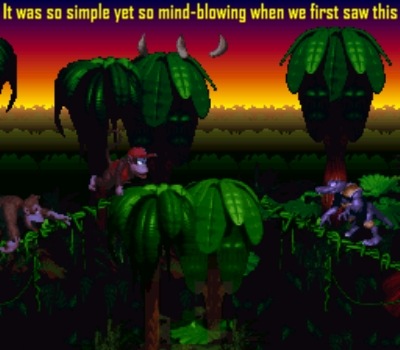 Some complain that the game is too easy. I've always cared more about how fun a game is rather than its difficulty. Whether it's easy or hard, if it's fun then I'm sure to play it. And do so with a big fat grin on my face. I love romping through the diverse world of Donkey Kong Country. It's one of those games where you can race straight to the exit or you can take your sweet time carefully uncovering all of the secrets. It's as basic or complex as you want it to be. The game has a lot more depth than one might initially think. DKC has layers of substance behind the style and to me that's the mark of a great game. The visuals were revolutionary for its time (hell, I still think it looks awesome today) but more importantly the gameplay holds up to this very day. It may not be one of the top 10 greatest Super Nintendo games but it's certainly a bonafide SNES classic.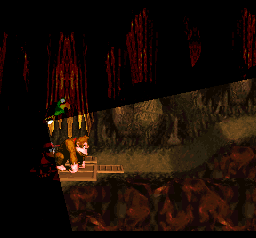 The additions of Diddy Kong and a fun diverse group of animal allies round out a remarkable adventure. Diddy was an instant star. Switching between Donkey or Diddy was seamless and smooth, helping to make Donkey Kong Country feel different from other platformers of its era. And of course, that soundtrack. Some of the most memorable tunes in all of SNES lore. While not a flawless masterpiece by any stretch of the imagination, Donkey Kong Country is a fantastic game that has stood the test of time. Even more than 20 years later it's still as fun to play today as it was back in the fall of 1994. Well done, Rare. Well done.
Graphics: 10
Sound: 9
Gameplay: 9
Longevity: 8
Overall: 9.0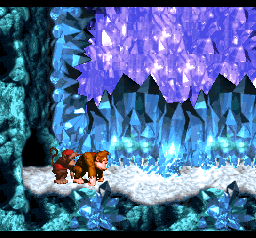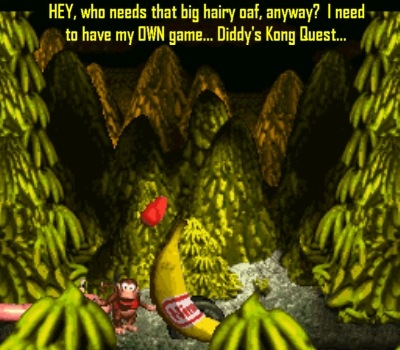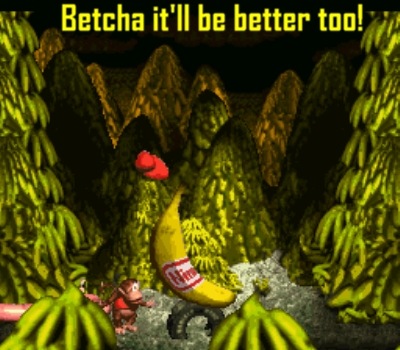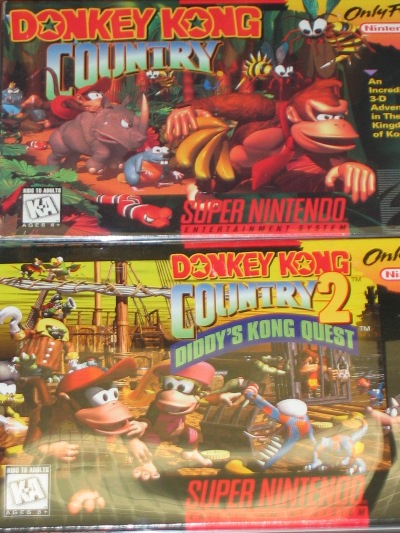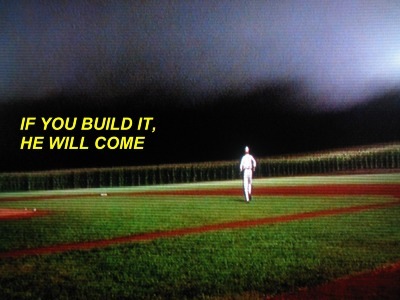 Give both a listen for yourself…
Listen to the first 10 seconds in particular…
Pretty similar, right? I love both tracks. They're so whimsical and fun ^_^